Parenthood is a pleasurable responsibility. While it's definitely not easy, it feels so fulfilling to successfully teach your toddler.
Teaching toddlers how to eat solid food can be very messy. At My Baby Nursery, you can easily find the best line of baby products for all of your baby needs, including a wide range of baby highchairs, plate trays and feeding booster seats. This way, your little one can have a place at the table and partake in a true family moment.
To get the best value for your money, it is important to identify your baby's specific needs first. Remember that there are childcare high chairs with added features like built-in storage space, adjustability and wheels. With our online baby store, you can browse products by category, brand and price. Of course, there are also plenty of styles to choose from – courtesy of the best baby brands in the market.
Should you require additional assistance, feel free to contact our customer support team members for expert insights, recommendations or answers to any of your enquiries. Our team is more than willing to help you shop for kids high chairs and feeding products with confidence.
From flying food and tumbling crockery, tears, smears and mess, feeding time can be a challenging experience, so the last thing you want is a highchair that hinders rather than helps.
High chairs should be sturdy and safe and have all the right features to make feeding time easy. This guide includes things to consider when buying a stand-alone high chair, as well as other options like portable or clip-on baby chairs.
High chair safety
The most common form of injury involving high chairs is when the child falls after trying to stand up in, climb in to or get out of the chair. Other serious injuries can result from having their fingers, toes or limbs pinched or crushed by moving parts or gaps, or choking on easily detachable small parts.
Make sure you check out the chair when it's set up in the store, and really get in there – rock it to check stability, get your fingers into cracks and crannies and play with moving parts to check for finger or limb traps.
When shopping, look for chairs which comply with the Australian Standard for high chairs, AS 4684:2009 or the European Standard EN 14988 – there's a variety of different styles, so you shouldn't have to sacrifice safety to buy one that looks good in your kitchen or dining room if that's important to you.
And when you get home, make sure you set up the chair at least half a metre from anything your child could use to push off from and topple over – windows, large furniture, blind or light pullcords, and so on.
What to look for
Five-point harness
This means a harness with shoulders, waist and crotch straps so kids can't fall or climb out.
Shoulder straps that attach to the seat at shoulder height provide more effective restraint than ones that attach to the back of the waist strap.
The crotch strap should be anchored close enough to the back that the child can't slip through one side.
The buckles should be easy for you, but not your child, to release.
Ideally, the harness should be non-removable, or at least require a tool to remove it (such as undoing a screw); this is so that you or your child are unlikely to take it off and lose it, or forget to reattach it.
Construction
This should be sturdy and robust enough to carry the weight of a child. Push on the seat and backrest to see if these squeak, sag, deform, move out of position, or collapse.
Stability
Look for legs that spread outwards further than all other parts of the chair – the area of the floor space between the four legs should be greater than the area of the seat. Perfectly vertical legs aren't as stable.
Moving parts
These shouldn't be able to pinch, crush or trap a child's finger, toe, limb or head (or the fingers of an adult folding or adjusting the chair). Also check for sharp edges and points along the edges of the chair and tray, and easily detachable parts (including stickers) that could pose a choking hazard.
Castor wheels
Useful for moving the chair around. These should have brakes that lock in position on at least two of them (the front or back set). If the chair doesn't have castors, make sure it's light enough to move easily without them.
Large or adjustable seat
Useful if you plan to use the chair for some years, as it will accommodate a toddler.
Reclining back or seat
Good for younger babies who can't sit upright for long.
Tray
This should be secure when fitted, but easy to remove, attach and adjust.
Height adjustment and back-reclining
These should be easy for you, but not your child, to operate. The mechanism should be out of the child's reach and require some strength or dexterity to use.
Foldable
Handy for storage. The chair should be easy to fold and unfold, and preferably lock in its folded position.
Lightweight
If you're going to be regularly getting the chair out and storing it away again, make sure it's not too heavy.
Footrest or leg support
This is important to support the child's feet or calves. Adjustable footrests are useful as the child grows.
Simple to clean
Watch out for nooks and crannies in the chair frame, cushion or straps where food can be hard to cleanout.
Portable high chairs
Harnesses, boosters and clip-on toddler and infant seats are compact alternatives to a standard high chair – here are additional things to consider if you like this option.
Fitting
The seat should fit securely and easily. Most stores (and product websites) have them set up so you can see how they work.
Security
Make sure the seat won't move, or tip over the table or chair, once it is attached and your child is in place. Give it a firm tug up, down, sideways, back and forth to make sure it's anchored securely.
Seat
The seat should have back and side support, and prevent the child from leaning too far and unbalancing or falling. A seat that reclines is useful for seating an infant.
Tray
If provided, the tray should be secure when fitted but easy to remove, attach and adjust.
Washable
The chair should be easy to clean.
Height-adjustable
Some booster seats can be height adjusted for smaller or larger children.
Capacity
Check that the recommended age and weight for the seat suits your child.
Junior chairs
When your child has grown up a little and no longer needs a harness to sit safely, you could consider a tall junior chair as a replacement for the old high chair. These are simply elevated, child-sized seats that allow your youngster to sit at the dinner table with the family. They usually have a footrest so the child can sit comfortably without their legs dangling.
The high chair standard does not technically apply to chairs like these, so check that the chair is stable enough not to topple sideways or backwards if the child pushes against the table.
Welcome your little one up to the table! We've rounded up the best high chairs on the market to help you choose the one most suited to you & your little one's needs.
We have compiled a list of some of our favourite Baby High Chairs here:
SWITCH – Adjustable Baby to Toddler High Chair ($199)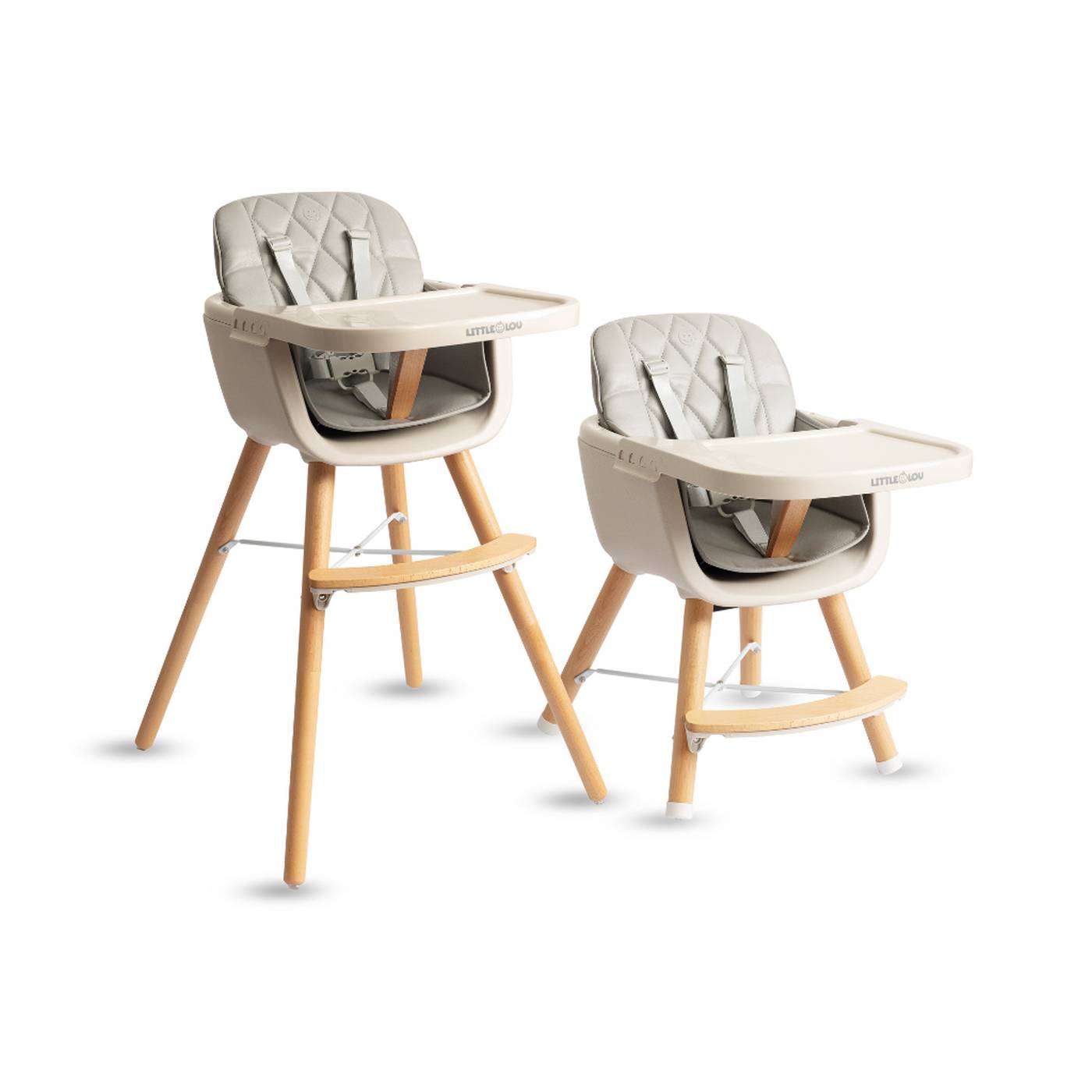 We know one size doesn't fit all when choosing a high chair. That's why our cleverly designed Adjustable High Chair offers both you and your baby the perfect seat for every stage and mood.
The Switch is easy to clean, blends in beautifully with your home decor, features a 5-point safety harness that won't rub or cause chaffing on baby's delicate skin, provides stability during feeding time and much more! Plus you'll have five color choices: bright lime green, refreshing mint blue, classic cherry red or glamorous black! The swivelling S hooks at the back of chair add a contemporary touch to this already innovative design.
Jenson Highchair ($129)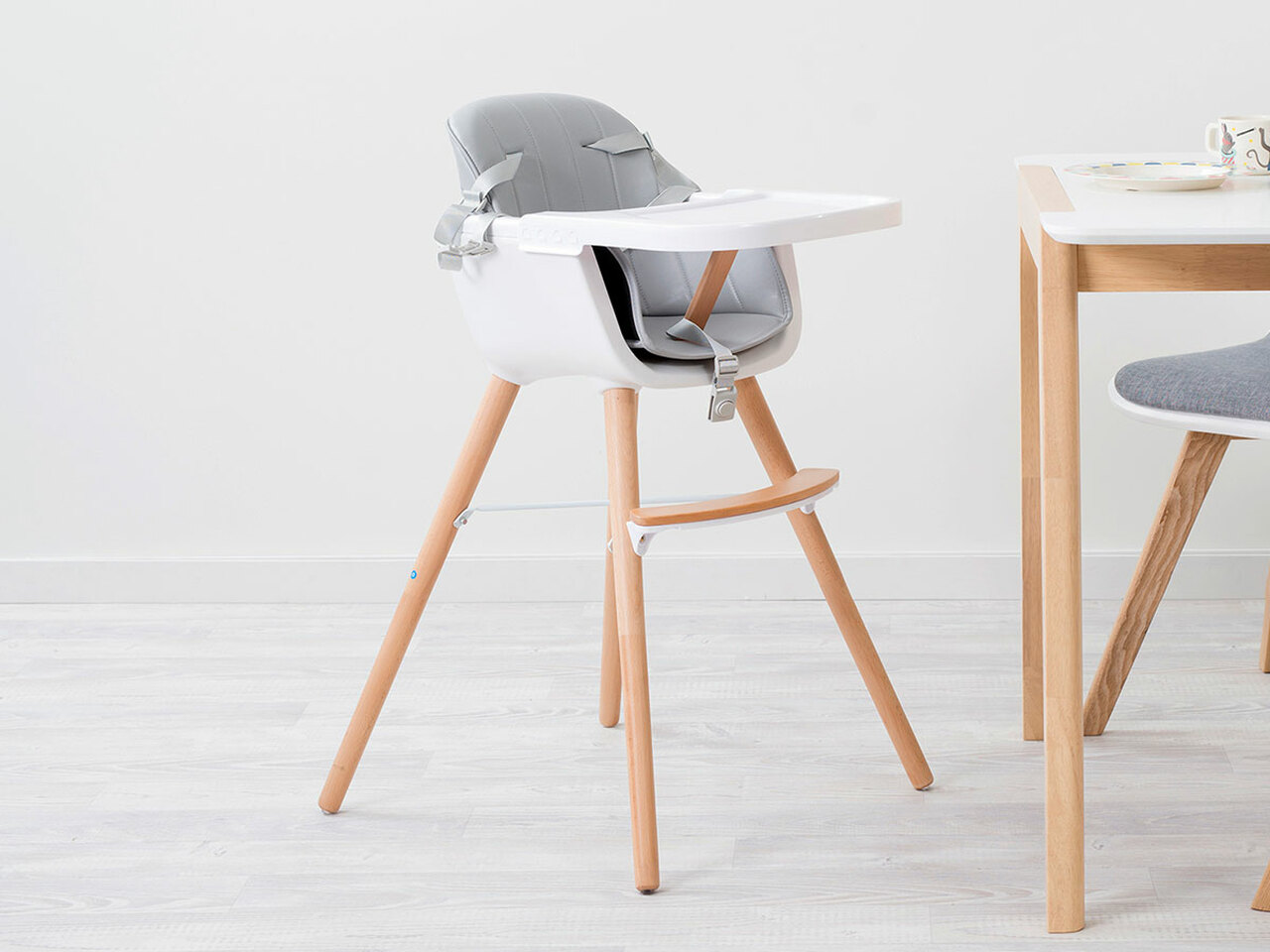 Designed to make every day parenting easier, the Jenson Highchair – Grey is multi-functional and will assist your baby through their stages of development. Children love being a part of the action and meal-times are certainly no exception! This stand-alone highchair ensures your child is safe and secure as they explore food and taste on the handy tray right in front of them. Cleaning is easier than ever – a simple wipe is all this highchair needs or remove the tray and wash at the sink.
Once your child is ready for the tray to be removed completely, you can use the toddler chair to place at the dining table – and on the same level with everyone else in the family. This inclusive eating experience helps baby's develop important eating and social skills (not to mention giving parents the ability to keep an eye on little ones while getting a bite in as well).
Available in a chic, gender-neutral white, grey and wood-look design, this modern design is sure to give your child a stylish and comfortable seat in the house. Safety is paramount to our designs, so the Jensen Highchair complies with the mandatory safety standards and comes with a safety harness so you can rest assured any baby sitting in this highchair is safe and secure. Make meal times are joy with the Jenson Highchair!
Wooden Baby High Chair | 3in1 Highchair with Tray and Bar ($139.95)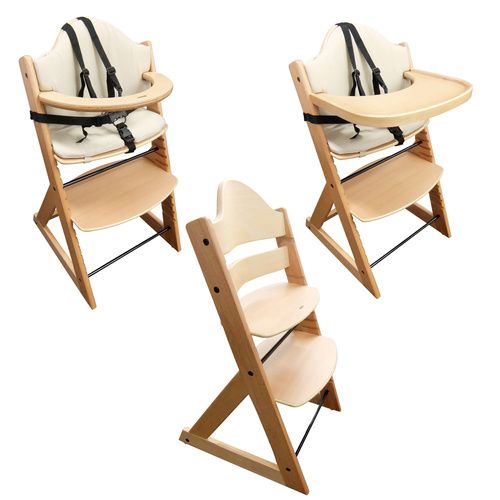 Sometimes, your baby just gets tired of running circles around the living room. But it's time for lunch, and their new favorite restaurant is way too far away to be practical! However, this high chair lets you feed them wherever they get hungry. It comes with multiple attachments so that as they grow up, your baby will have a sitter suited perfectly for how big they are. The cushion and harness keep them comfortable while the tray features easily adjustable height so your child can eat more comfortably without feeling bored or overwhelmed by loud noises all around them. You'll never be wondering where to find a place to put down the plate again because its safely ridable design means you can take these chairs anywhere: deck parties don't only happen indoors anymore!
ORIBEL COCOON HIGH CHAIR ($349)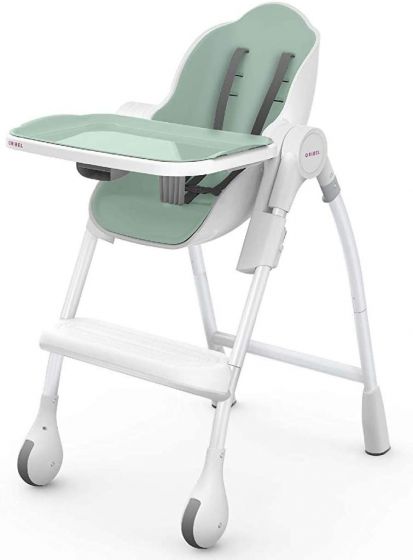 Inspired by the butterfly, the Cocoon transforms from a comfortable recliner to an early feeding chair with its unique and ergonomically designed Food & Cup Holder. It also comes complete with adjustable height and recline positions, easy clean foam seat, magnetic stow away tray and a foldable design for the most complete high chair you and your little one will love!
Cloud 360 High Chair ($159)
The Childcare Cloud 360 Degree High Chair by Childcare has an innovative rotating seat that locks into 12 positions. It gives you the choice to swivel the seat so that you can face your baby towards you for one-on-one feeding. Face baby out to keep them happy and let others entertain them. Face baby forward toward the table for regular mealtimes. It is fully loaded with features such an adjustable and removable tray for easy cleaning. It has an adjustable footrest for added comfort and the highchair also grows with your child converting into a stool or a mini stool. It is a stylish modern design with sturdy wood legs and a 5 point safety harness to ensure your child is safe and secure at all times
Grotime Birch High/Low Chair ($249)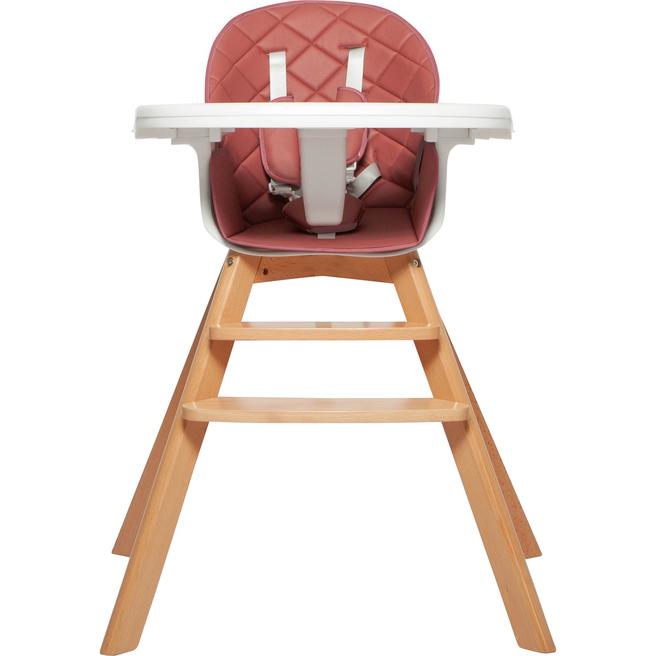 Feeding time can sometimes be difficult, so having a high chair that is convenient, reliable and versatile is a must. With the Birch High/Low Chair you will be able to have the perfect meal time with your little one.
Childcare Osmo Timber Highchair ($149)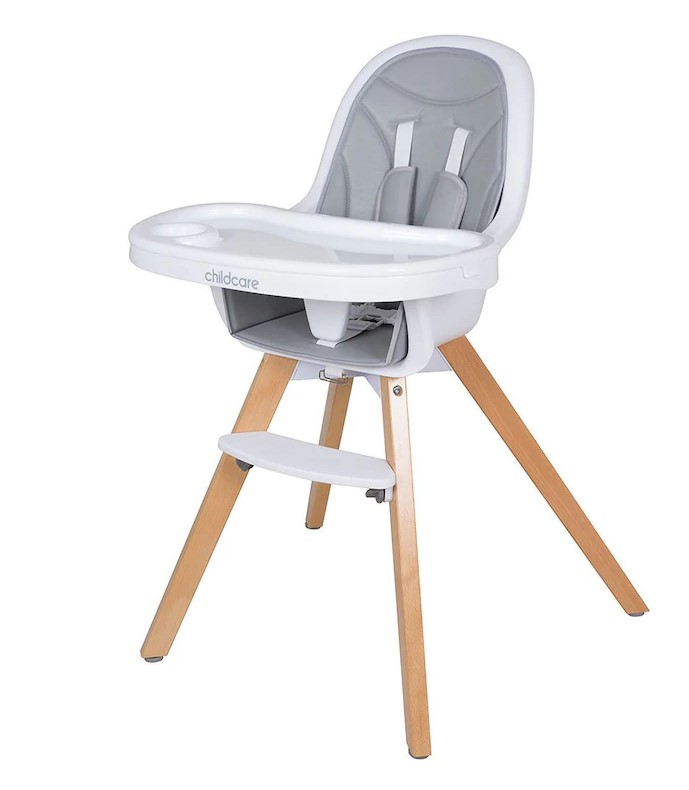 The Childcare Osmo High Chair is a fresh and modern design to perfectly complement your decor, it's also light and compact to be a stylish, yet practical addition to any living space in your home. It features sturdy beech wood legs with a removable tray for easy cleaning. The highchair also has a 5 point safety harness to ensure your child is safe and secure at all times.
GroChair – Island Bench Seat for Toddler ($129)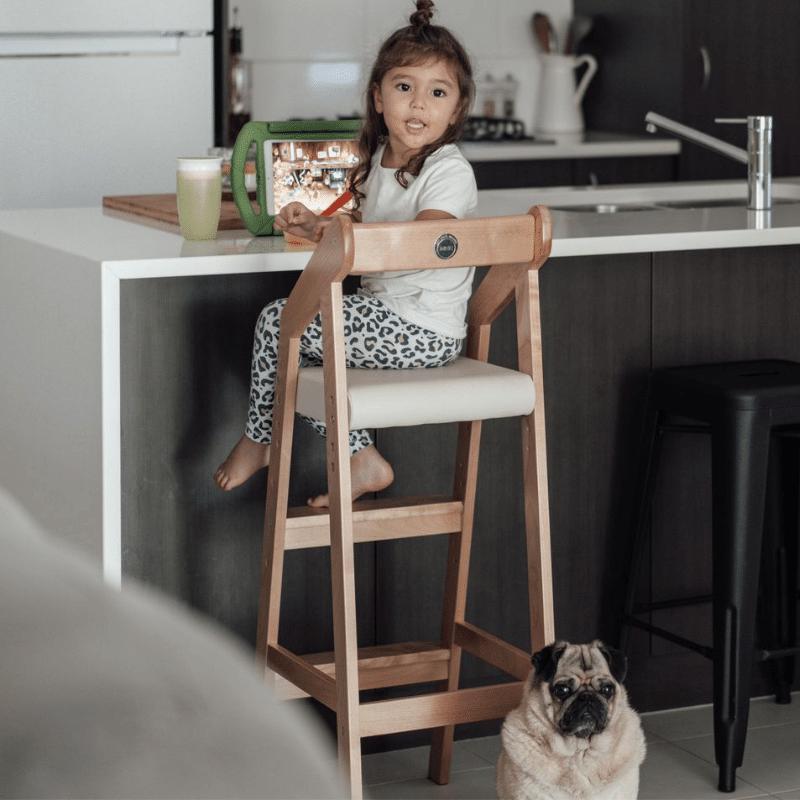 My Happy Helpers GroChair is the unique solution to your little ones meal time seating needs. Our adjustable dining chair is designed to be used when your little one is too big for a high chair, but still too small to comfortably sit in a regular chair. Our chairs adjust in height so that your child can remain in his / her chair from transition age, right through until late Primary School age. Our Toddler Dining chairs have specifically designed seats, sides and back-rests to ensure that your child can sit comfortably at the benchtop and actively participate in mealtimes. Our Adjustable, GroChairs are your solution for a transition from a High Chair.
Baccani Cibo High Chair ($198)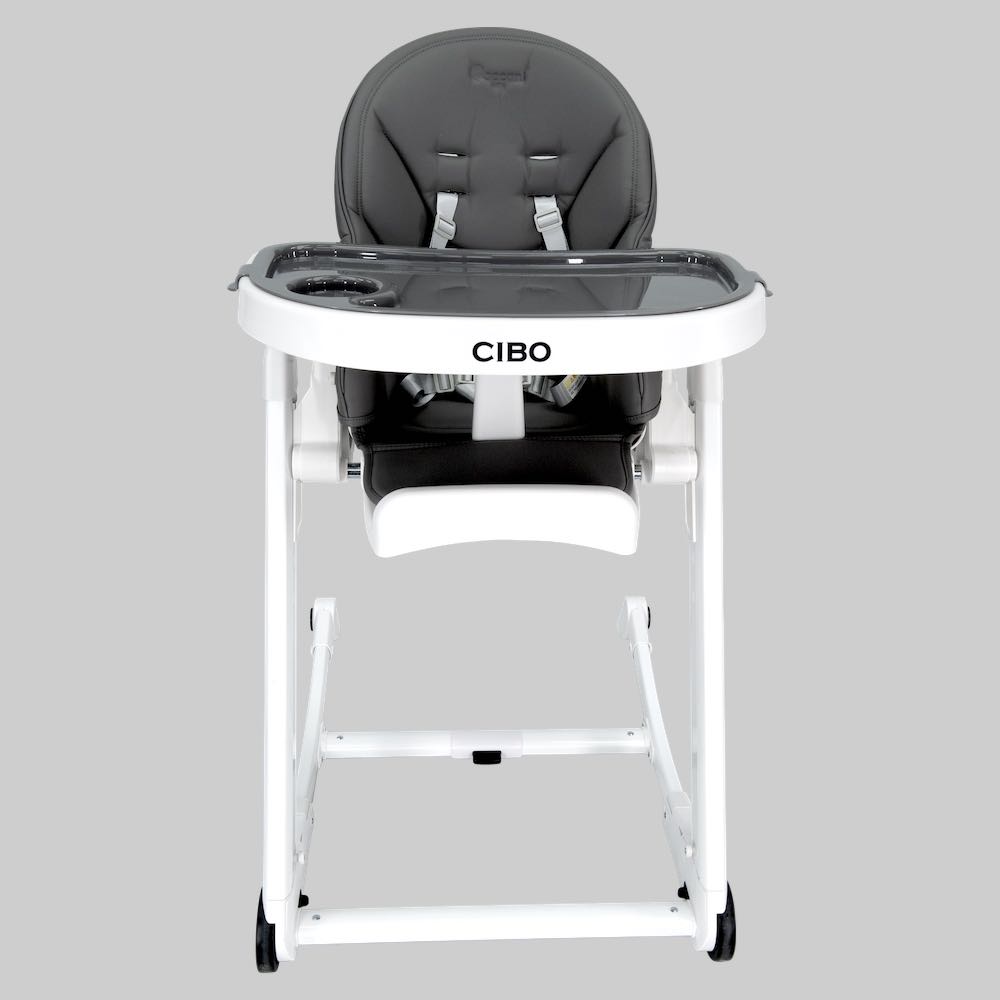 Baccani CIBO High Chair is one of the most practicable two in one luxury high chair in the market features an ultra-slim 30cm compact fold with adjustable footrest, recline-able backrest and 5 different height positions. You can use CIBO as a rocking chair or a highchair when the baby is ready for solid food. When your child is older, the food tray can be removed making it easy for your child to move right up to the table with the family.
Bebe Care Modi Timber High Chair ($209.99)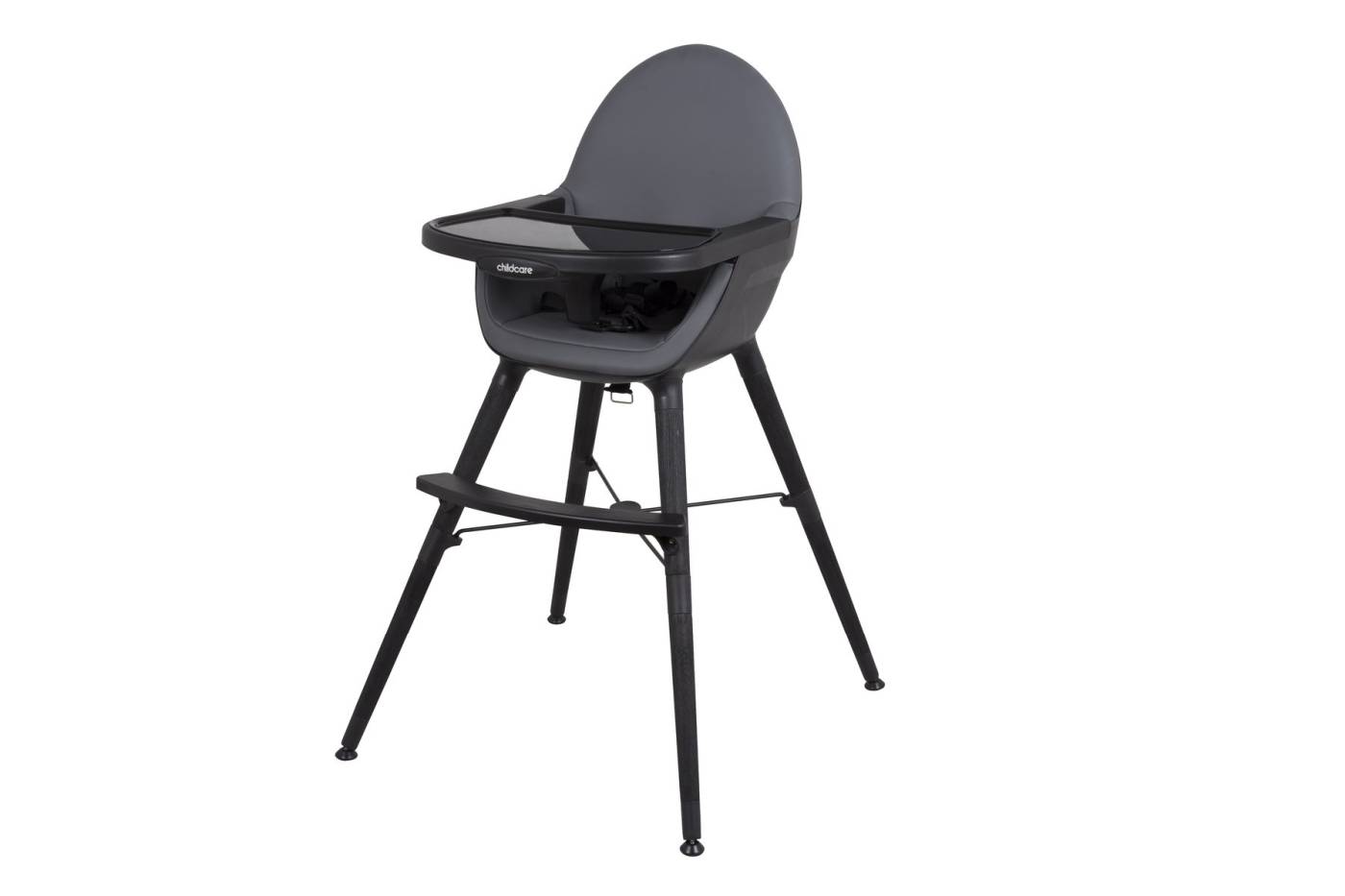 The Bebe Care Modi Timber High Chair is a playful chair which will appease the modern parent with its workhorse design and interest in style. Sure, sturdy, practicality are crucial when it comes to finding the right highchair for your baby – but they're not as fun! The Bebe Care Modi Timber High Chair's time-warped aesthetic of timber designs and iconic minimalism blends retro elements from momma's living room set into one sleek package with top of the line safety features that can handle even your most energetic toddler.
The spindle legs on this combo offer an element of rustic beauty matched only by the subtle hints of playfulness offered by our awesome removable tray. Transitioning between 2-5 positions while also rotating 360
Beaba Up & Down Highchair ($280)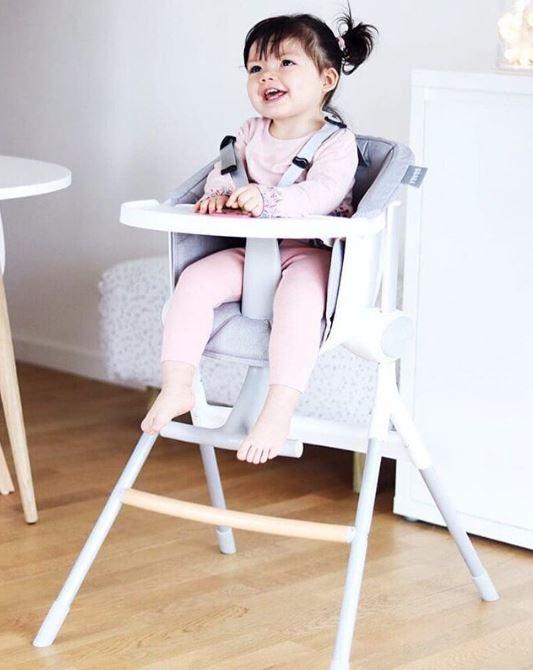 The Up & Down High Chair is an ergonomic, height-adjustable designer highchair. Béaba®'s patented Up & Down technology makes this chair adaptable to all dining areas allowing your child to participate in all moments of family life from 6 to 36 months. No DIY tool is necessary. The Up & Down system allows the height to be adjusted in a few seconds on 6 levels. This highchair is also a very well thought-out design which matches your child's body shape perfectly to offer them maximum comfort and ensure an optimum position to eat with their parents.
Understanding the special importance of interior decoration, Béaba® has set out to offer parents an ultra-modern and elegant high chair which will decorate your interior. With the Up & Down high chair, Béaba® transforms children and parents mealtimes into special shared moments.
STOKKE CLIKK HIGH CHAIR ($369)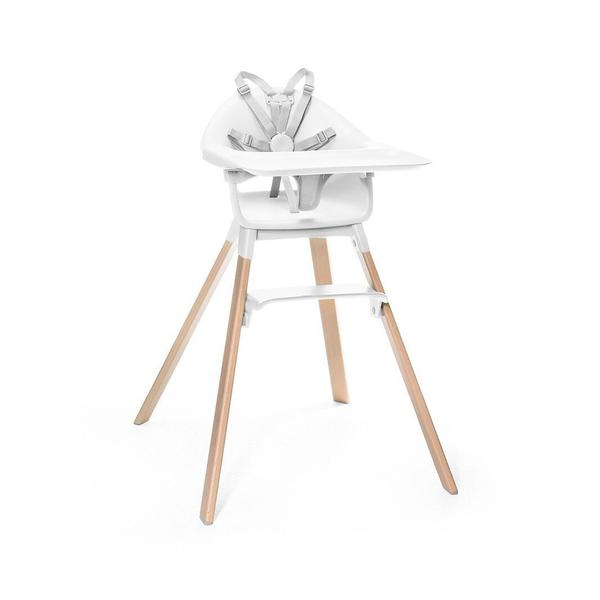 Stokke Clikk High Chair was developed to address all your needs… all in one box! Beautifully designed with smooth lines means you're ready for easier, cleaner & closer mealtimes in just "1-2-3 Clikk". Mealtime made easy – Assembles in 1 minute, tool-free!- Can be used from 6 months up to 3 years- Adjustable footrest for comfort at each age- Easy to wipe clean, dishwasher safe tray- Includes everything – high chair, tray & harness.
JOY BABY Amelia 2-in-1 Timber Highchair – Grey ($149.95)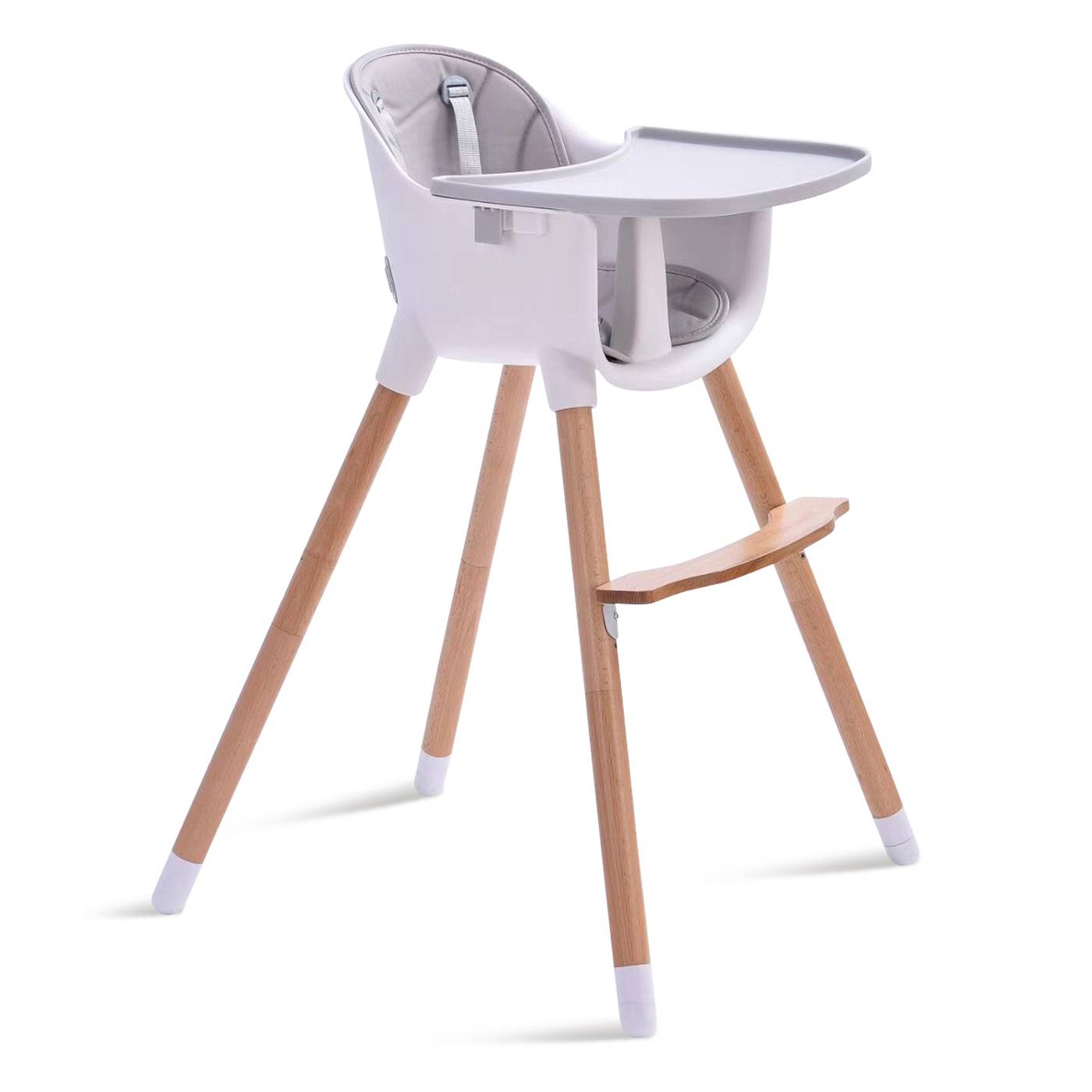 Feeding time can be difficult for young parents, especialy when you have your first one, so a high chair that is convenient, reliable and versatile is a must have. With the Grace High Chair in Natural from Joy Baby, you will be able to have the perfect meal time with your little one. With it's removable and adjustable tray that is easy to operate, it's lightweight feature and removable footrest. Furthermore, It can even be converted to a handy toddler seat. It's the seat that grows with your prince/princess.