After that first ride home from the hospital, the next scariest thing is probably putting the baby to bed—away from you—for the first time. Monitors help you keep tabs on the baby through audio and/or visual surveillance, giving you (relative) peace of mind. 
The most important thing you can do when buying a baby monitor? Be completely familiar with the store's return policy and save the receipt. So much of a monitor's performance depends on the wireless gear in your own home as well as your 'neighbours, so there's simply no way to know what'll work for you until you buy and try. This might mean going back to the store a few times…yes, annoying, but not as bad as the uncontrollable static coming from an ineffective monitor.
Baby monitors are designed to help you keep a close eye on your baby whilst they are sleeping, so you have a chance at catching up on the latest series on Netflix, without worrying about your little one! For safety reasons, your baby should sleep in your room for the first six months, but most new parents use a monitor when their baby naps during the day and then also at night time once their baby is in his room. Keeping tabs on your little one has never been easier!
Buying a baby monitor offers peace of mind. You can hear baby (and in some cases even see her) without running to the crib every few minutes.
But choosing the right baby monitor is no easy task. You have so many options: Do you want a video baby monitor or just an audio baby monitor? Do you want a monitor that tracks a baby's heart rate, temperature, or oxygen level? Do you want to monitor the room temperature? Does it need to be a budget-friendly unit, or are you willing to spend a bit more for special features or higher quality?
Check out My Baby Nursery for all your baby product needs.
What is a baby monitor?
This essential piece of kit has a transmitter that goes in your baby's room and a monitor that you can take around the house with you, so you can hear if he wakes. There are a number of options available and the best baby monitor for you will depend on your budget and additional features you may be looking for. Ensure that all electrical cords from the monitor are kept well away from your baby's cot, or play area, so they will never get caught up in them.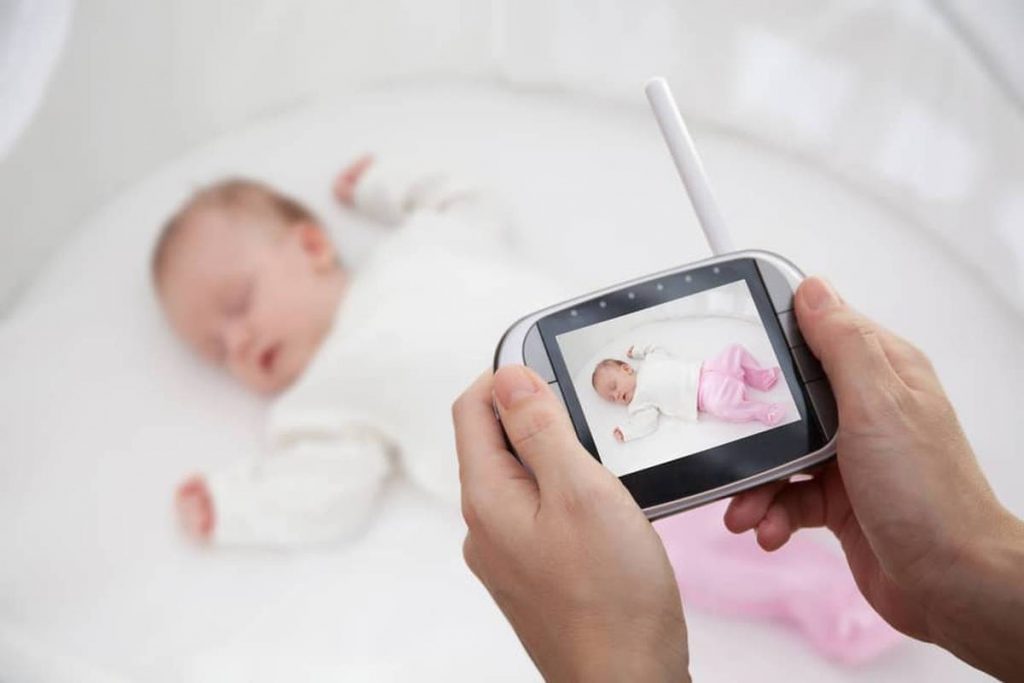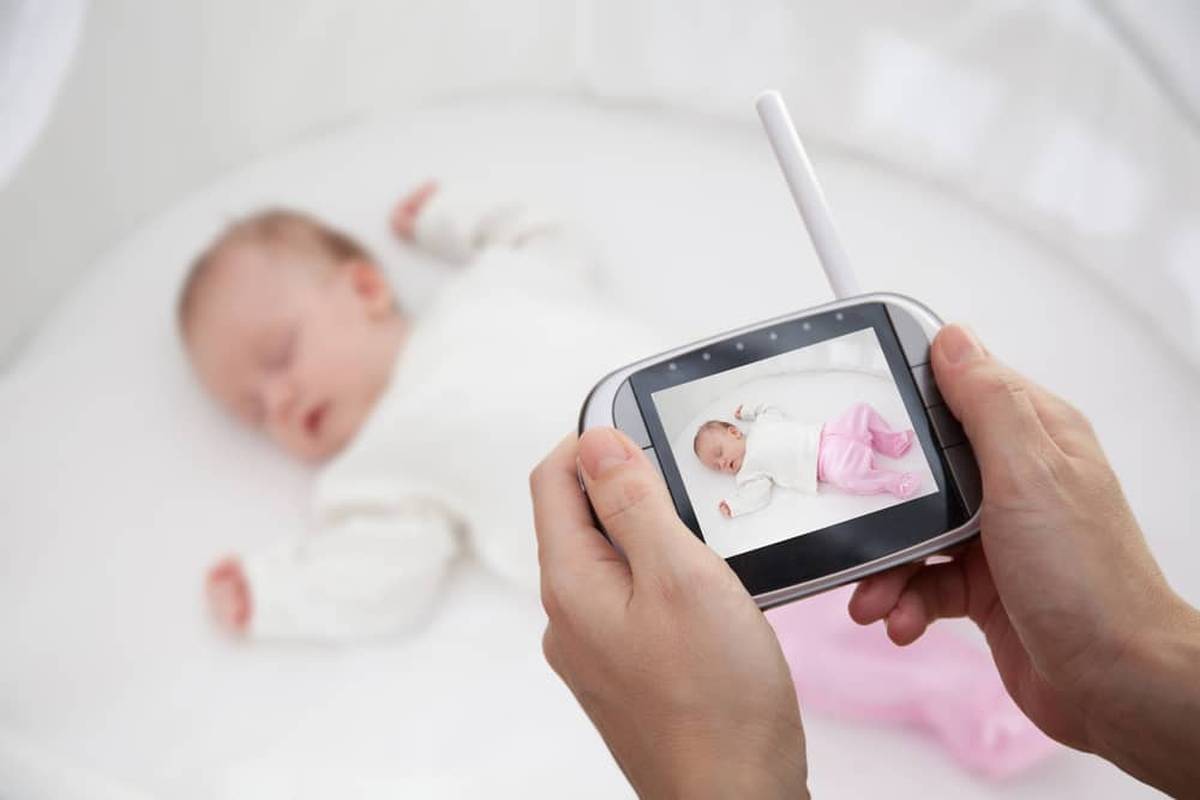 What's available?
Check the clarity and range on your monitor before you buy and consider the size of your house; you need to know that if you are having a cup of tea in the kitchen, you will hear your baby if he starts crying. The cheaper options will have a smaller range, whilst the top of the range monitors will stretch further.
Older houses may have thicker walls that may result in issues with the signal, whereas newer the signal is likely to be clearer in more modern homes. Most baby monitors are digital rather than analogue, so they will not pick up sounds from other children's nurseries, who are using the same radiofrequency. Some monitors will have a number of channels to use, which can be useful if you live in a busy urban area, which will be more prone to interference.
We have compiled a list of our favourites.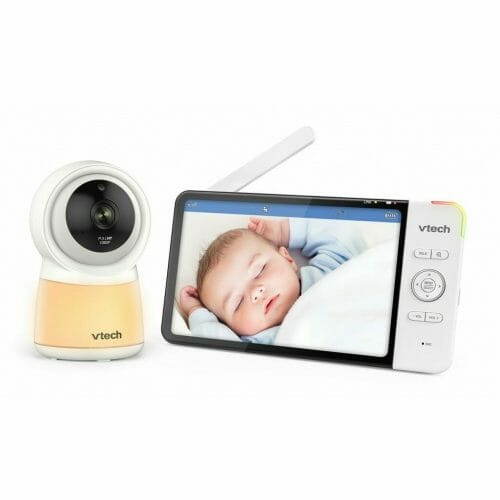 Vtech
RM7754HD Smart Wi-Fi 1080p HD Video Monitor with Remote Access
The Vtech RM7754HD Video Monitor includes a 7" Colour Parent Unit with a HD video baby camera. Watch your child in real time on the parent unit, or on the MyVTech Baby app either way you can be rest assured that your babies sleep can be monitored from anywhere!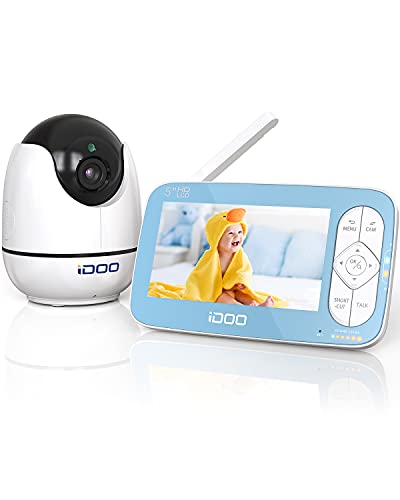 iDOO
Baby Monitor with Camera and Audio
Clear real-time view and large display: Large 5-inch 720p video baby monitor display (for parent) provides a detailed view of your newborn in 10x sharper clarity. It also supports remote camera panning (355°), tilting (90°) and zooming (2x magnification) to ensure that you can remotely keep track of baby's every move.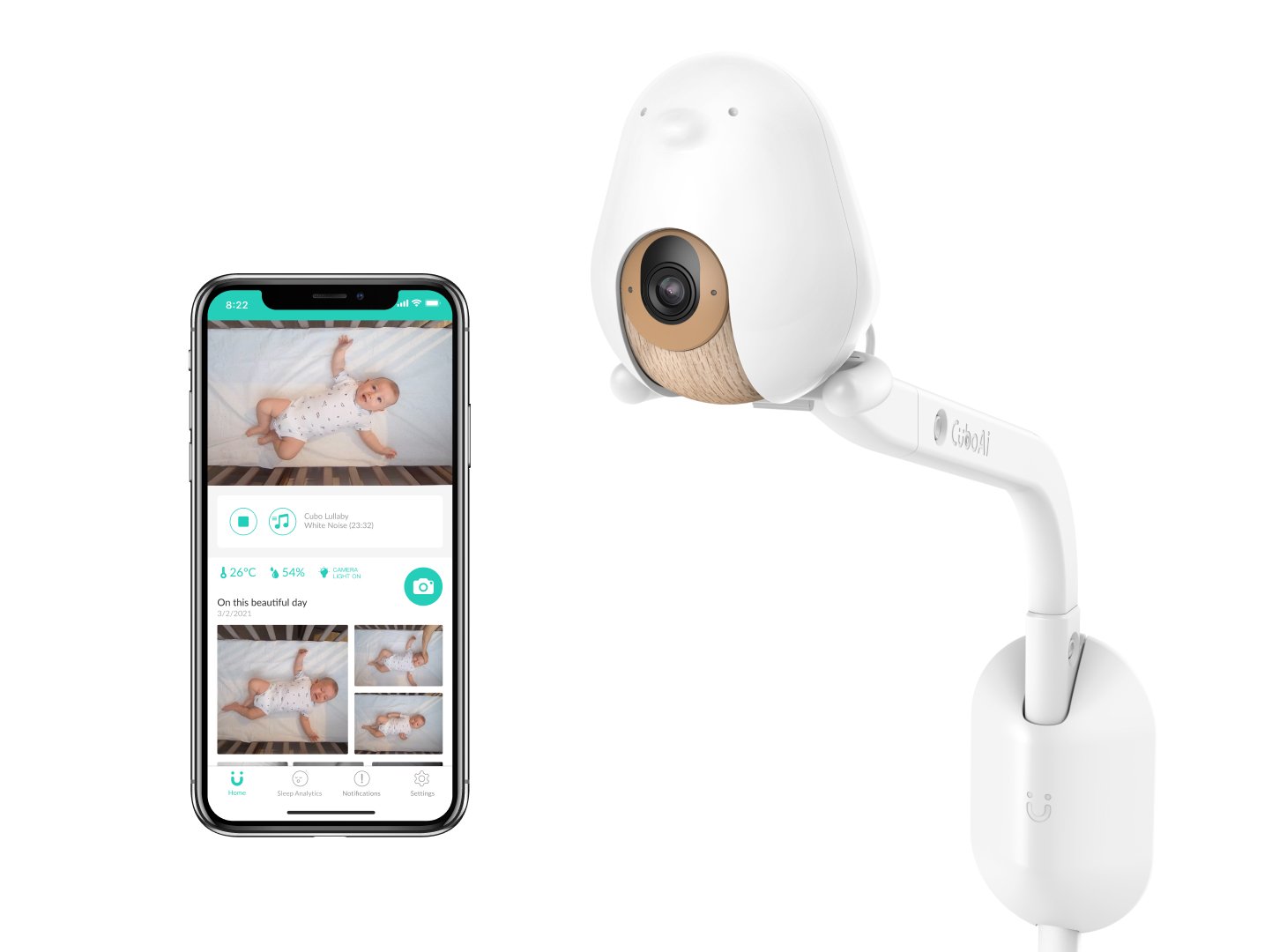 Cubo
Cubo Ai Plus Smart Baby Monitor
The best AI baby monitor to safeguard your baby's safety from 0-5 years+. AI detection for covered face, danger zone, cry detection, auto photo capture and lots more.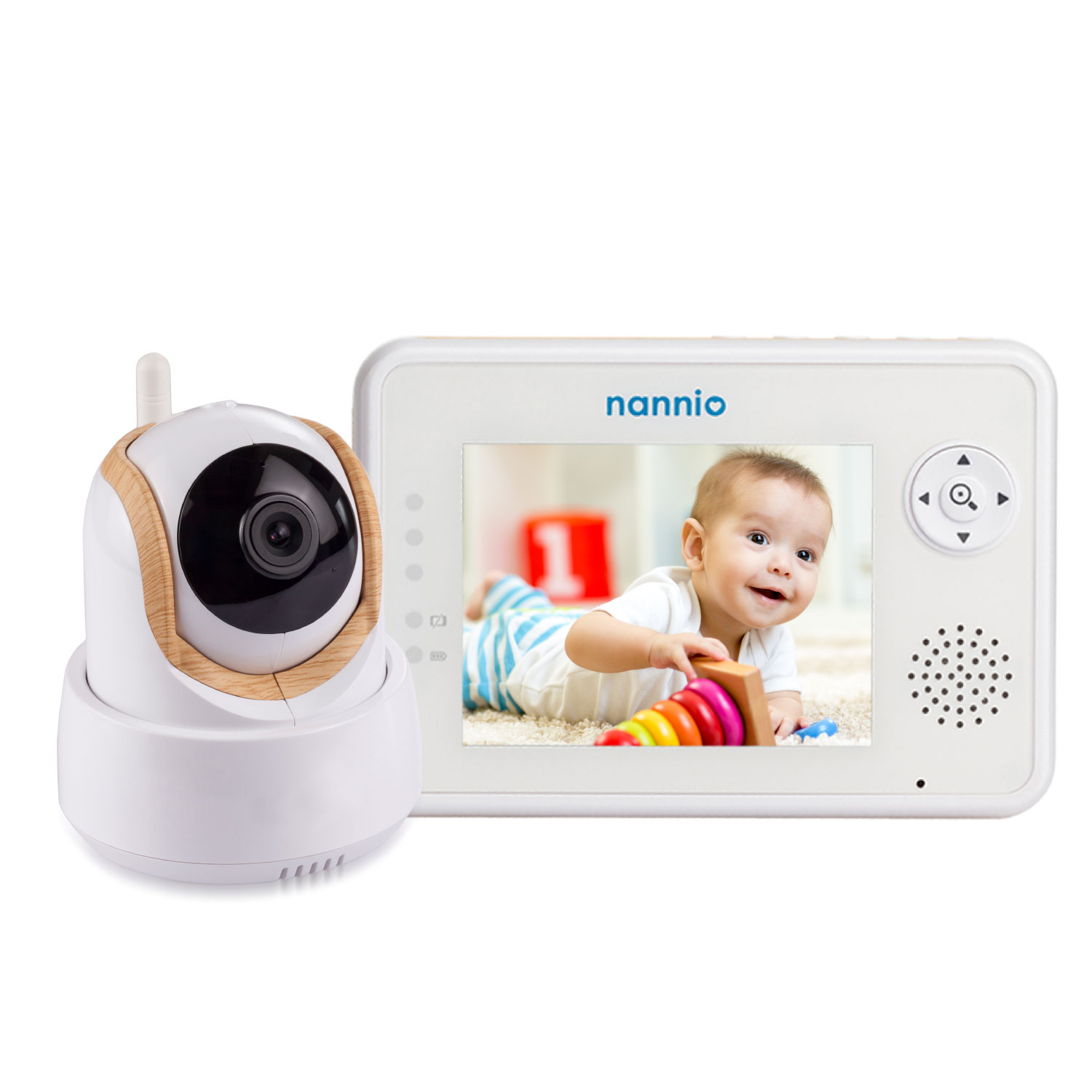 Nannio
Comfy Video Baby Monitor with Camera and Audio
Say goodbye to sleeping in separate bedrooms when you have the Nannio Comfy Video Baby Monitor. This monitor lets you see your baby's room from up to 1,000 feet away with it's long range Wi-Fi signal giving you peace of mind that they are safe and sound. With a 3.5" LCD screen, parents can watch their little one anytime they want in vivid detail- day or night!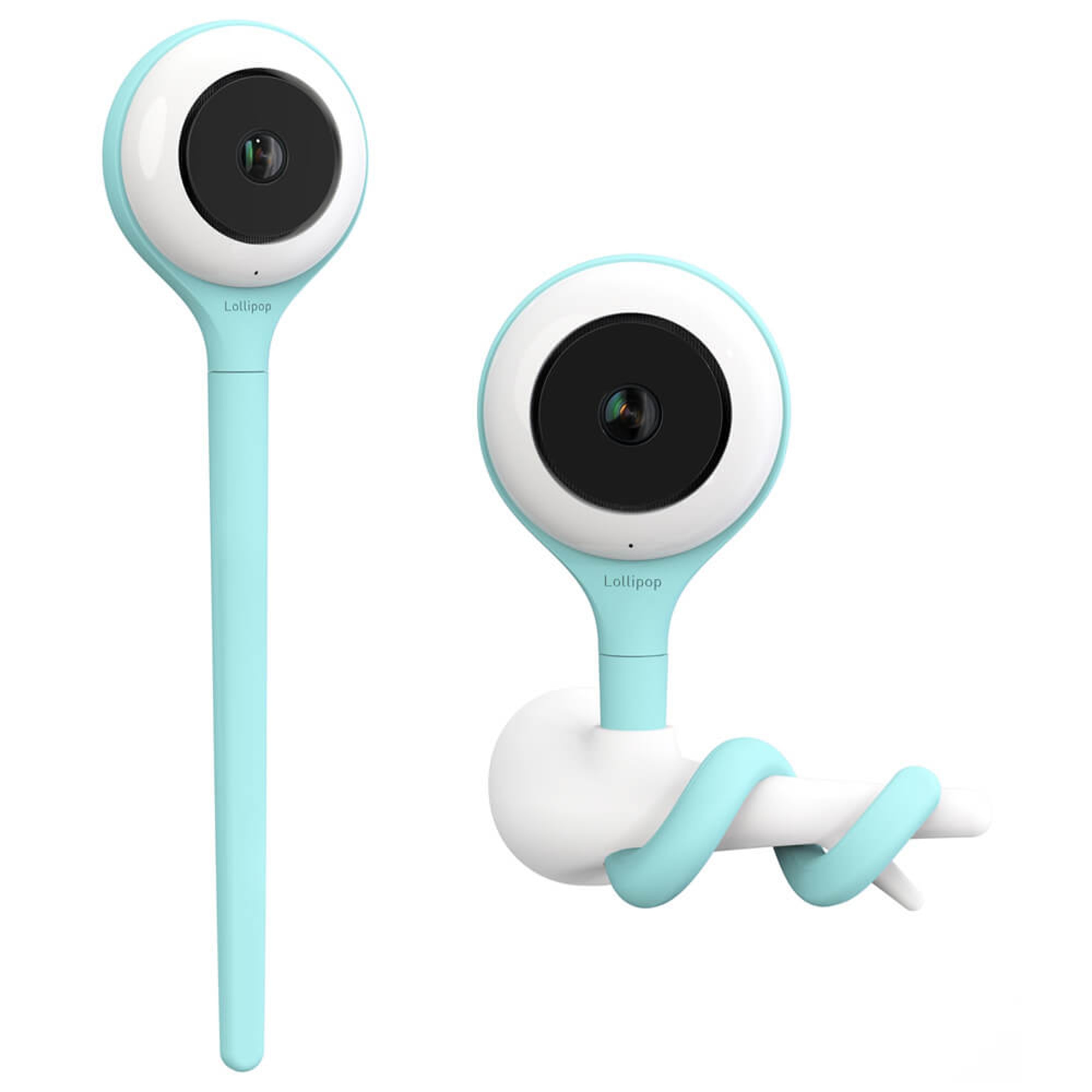 Lollipop
Smart Baby Monitor with True Crying Detection
You and your baby will love the Lollipop smart camera. With a non-invasive and gently contoured set of devices, you can both watch and be aware of all in your baby's room wherever you might be. The system is smart, easy to set up and use, and gives you a window to look in on baby whenever you may need. Setting up the Lollipop is a breeze. Secure it to weefiee's crib, attach it to the wall or stand it up on a flat surface.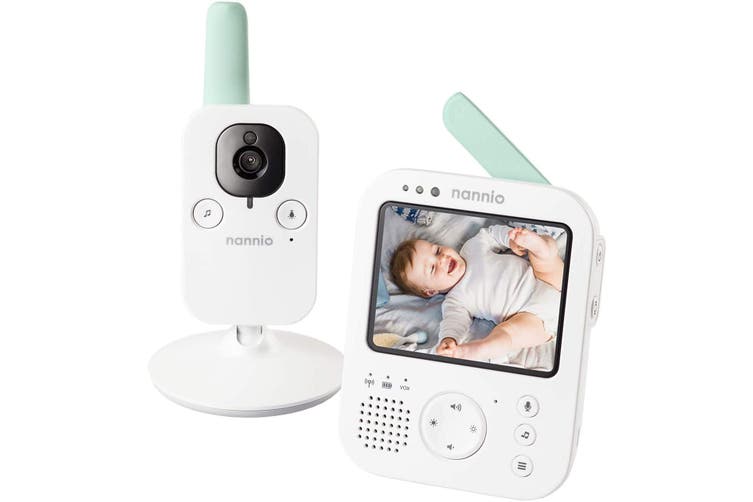 Nannio
Hero3 Video Baby Monitor with Night Light
The NANNIO Hero3 Video Baby Monitor is the smartest, most reliable way to monitor your baby in their room or maybe even outside when they are in the backyard. The video camera connects wirelessly up to 900ft away wit crisp and clear images for crystal clear clarity. With two-way talk you can hear everything that happens in another room which includes 5 lullabies with 3 volume levels for any kind of sound preference.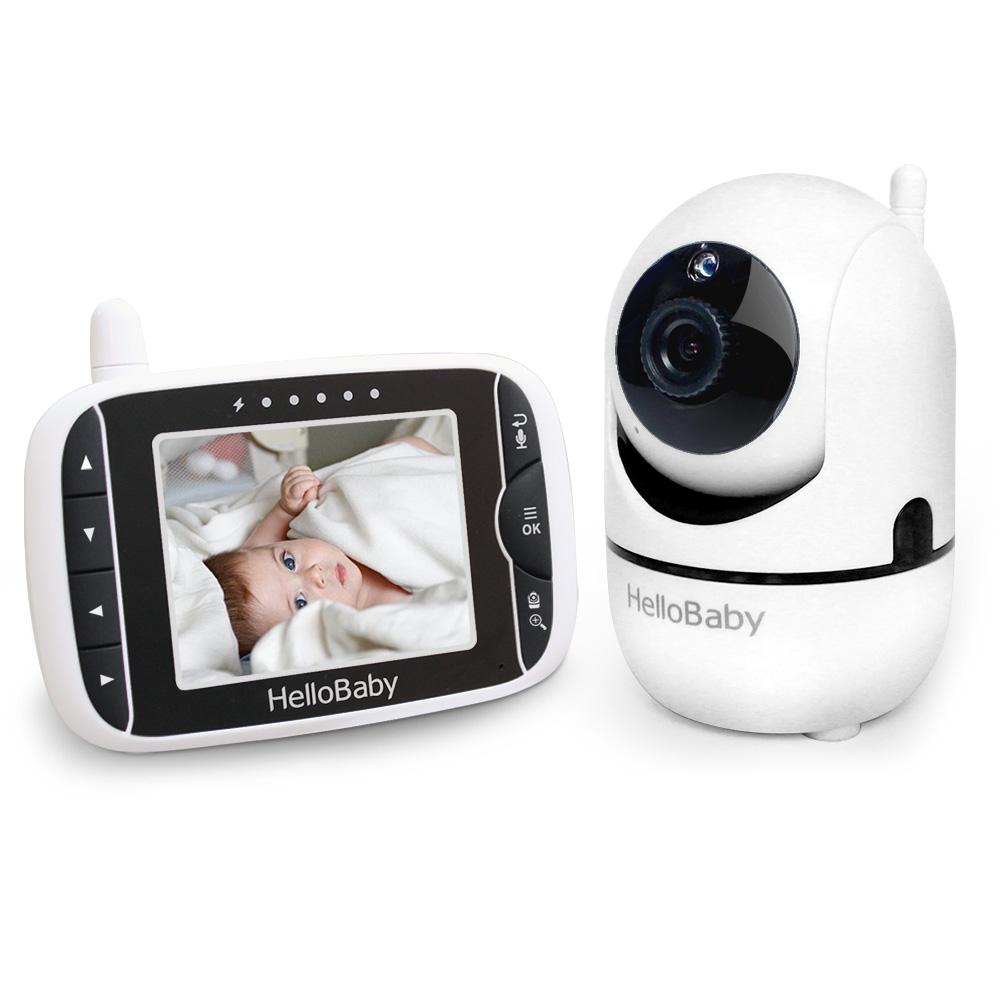 HelloBaby
Baby Monitor,Hello Baby Monitor with Camera and Audio
Home care for the most precious. Our range of baby monitors bring you over 270 degree pan-tilt and zoom camera, two-way talk to provide crystal clear audio, all without breaking a piece out of your budget! The user-friendly controls make it easy for you to navigate through the features like night vision and nursery temperature monitoring.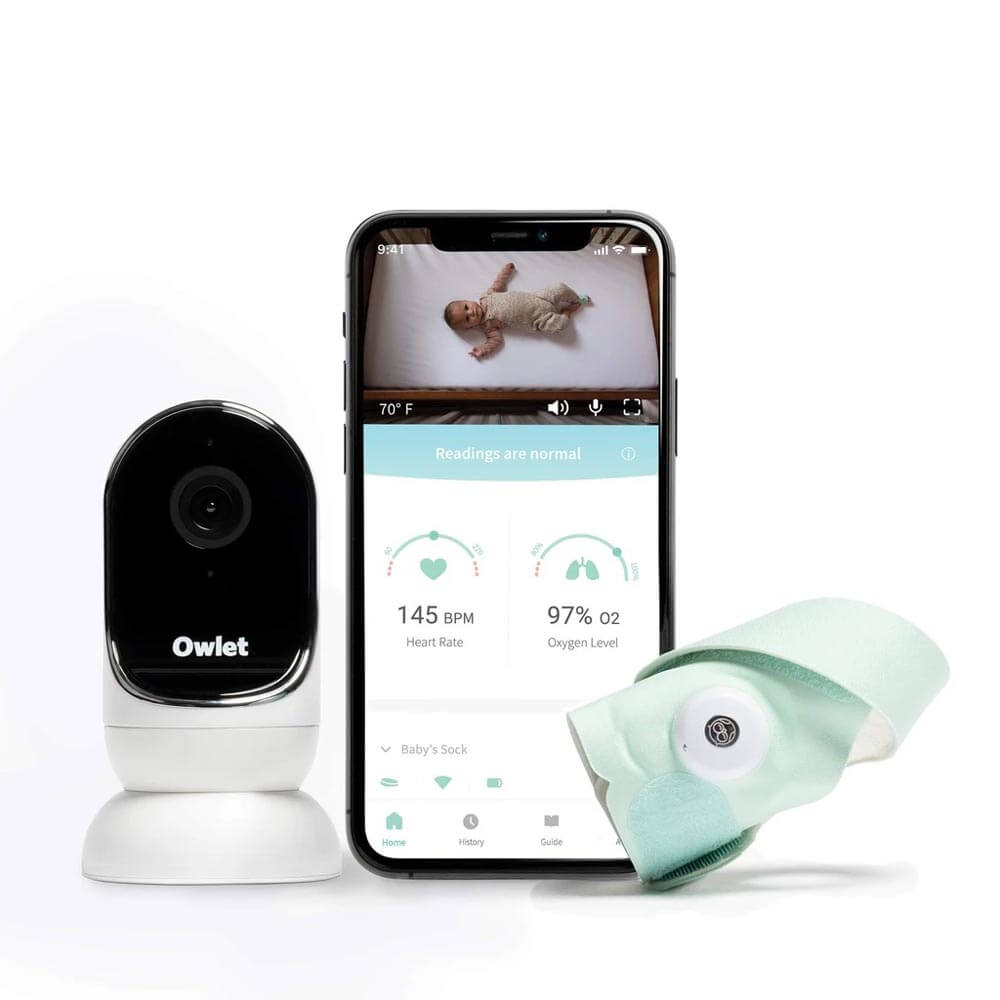 Owlet
Baby Monitor Duo + New Smart Sock 3
The Owlet Monitor Duo combines the award-winning Smart Sock with the Cam for the most complete picture of your baby's well-being. Track your child's heart rate, oxygen level, and sleep trends, while streaming live HD video to your phone. View your child's readings in real time, from anywhere, in our free App and receive notifications if readings leave preset zones, and sound and motion notifications to stay informed of your child's needs.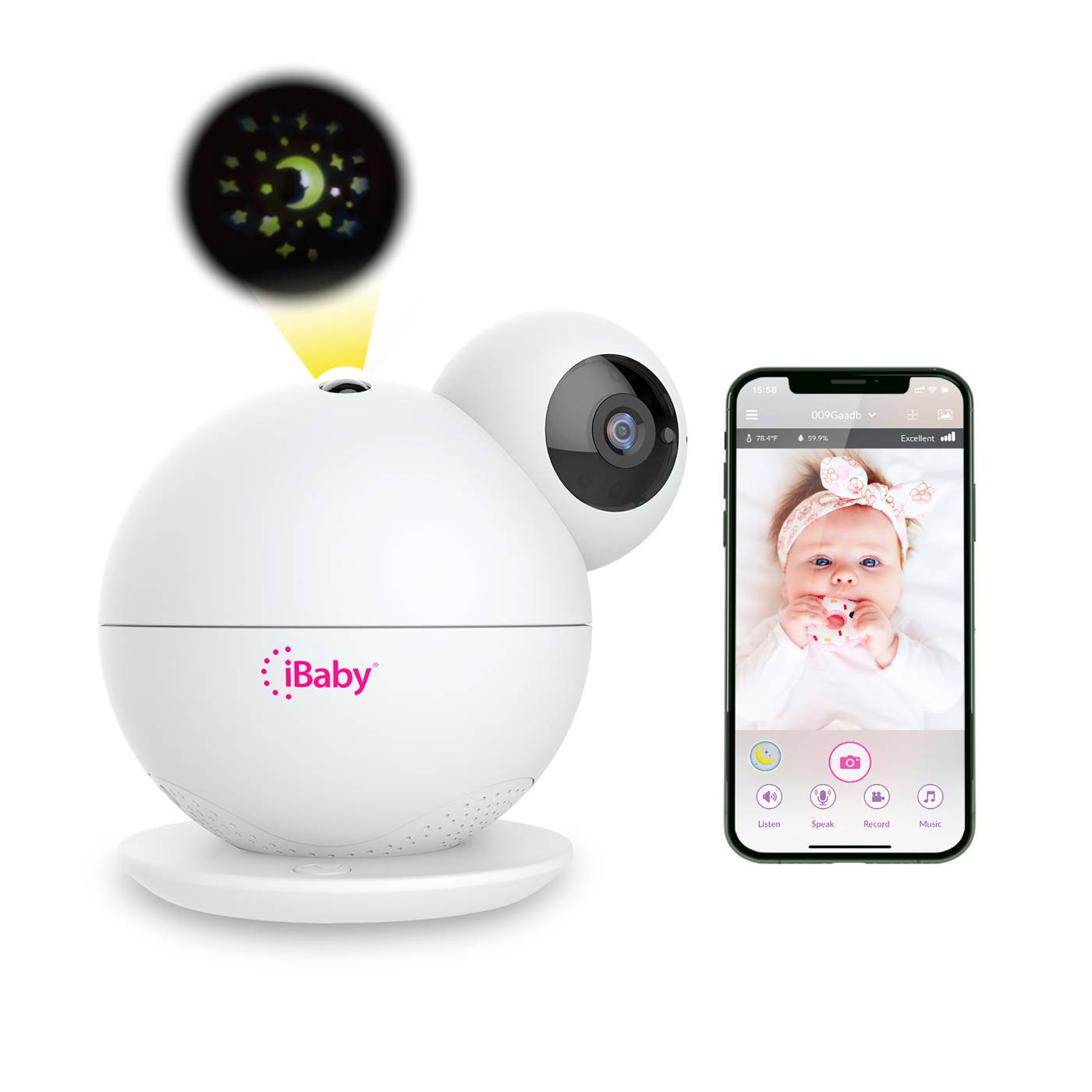 iBaby
Ibaby M8 Baby Monitor
Use iBaby Care M8, our smart baby monitor, using industry-leading baby technology and built-in starry night moon and star projectors to bring your child to sleep. M8 is meticulously built and full of smart functions. It turns into a parenting assistant, allowing you to sit back and relax and help you parenting easily and happily. M8 includes a wall bracket.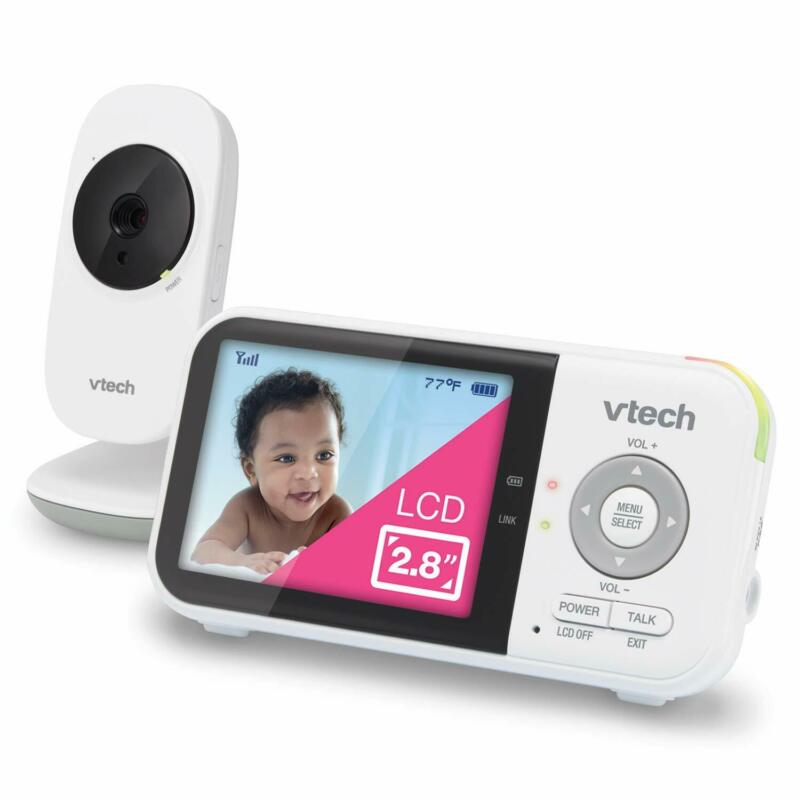 Vtech
VM819 Video Baby Monitor
Check in on your little one with a 2.8-inch LCD screen on the VTech VM819 Digital Video Baby Monitor. Soothe your baby using the lullabies and soft sounds that play right from the baby unit. Plus, you can make sure your infant is cozy by monitoring the nursery temperature that's displayed right on the LCD screen. Best of all, with the industry's best battery life, you can easily monitor your baby throughout the night with up to 19 hours of video streaming on one charge.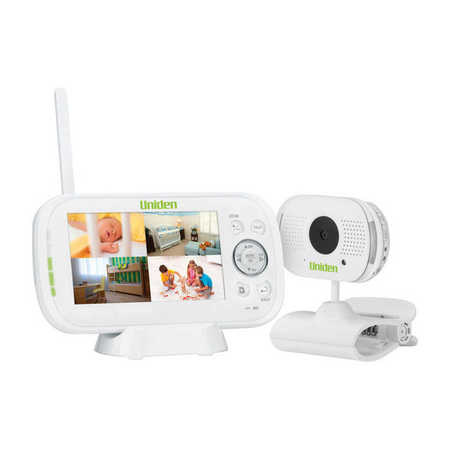 Uniden
BW3101 - 4.3" Digital Wireless Baby Video Monitor
From the range of award winning baby monitors, Uniden is pleased to introduce the latest in Wireless Video Monitoring Systems. This system has a large 4.3″ colour screen designed to monitor the safety of your sleeping baby or kids playing with an exceptionally user-friendly, high quality digital encrypted monitoring system. This Baby Watch even lets you view your child on a smart phone from anywhere in the world∧.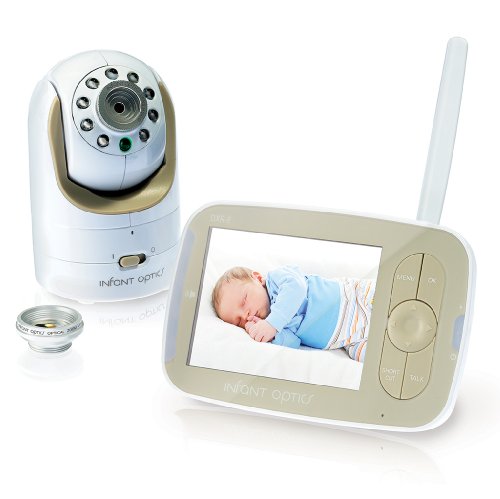 Infant Optics
Infant Optics DXR-8 Video Baby Monitor with Interchangeable Optical Lens
The Infant Optics DXR-8 Video Monitor is the first baby monitor with interchangeable lens technology. Three separate lens types normal, wide angle (sold separately) and zoom allow you to choose the most suitable focal length and viewing angle for the specific environment, just like a professional camera system.
Types
There are two basic types: audio and video/audio. Some are analog, and others are digital. All monitors operate within a selected radio frequency band to send sound from a baby's room to a receiver in another room. Each monitor consists of a transmitter (the child/nursery unit) and one or more receivers. Prices range from about $25 to $150 for audio monitors and about $80 to $300 for audio/video monitors.
The higher the price, the more features you'll find, such as high-definition colour monitors and a vibration feature so you can "feel" your baby's call.
The Safety 1st True View colour video monitor, for example, has night vision, the option of corded or battery use for the monitor and the camera, and a power-saving video on/off option.
Keep in mind that a higher price doesn't always mean higher quality. Even the most sophisticated and expensive models can suffer from audio and video interference, fuzzy video reception, and faulty parts.
Audio Monitors
You might prefer one that has lights as well as sound. All the audio monitors we rated had this feature. The Philips Avent DECT SCD510, which sells for about $120, has a series of small LED lights on the parent monitor. The louder the sound in your baby's room, the more lights go on, so you'll notice his crying even with the unit set on mute. Audio monitors are generally less expensive than audio/video models.
Analog Monitors
These send signals from the monitor to the receiver in a straight shot, rather than being encrypted.
Digital Monitors
These encode the signal as it travels between the monitor and the receiver, making it nearly impossible for recognizable sounds to be heard by others. To find one, look for the word "digital" on the packaging.
Video/Audio Monitors
Video/audio monitors have a small wall-mounted or tabletop camera to transmit images to a video monitor. The receiver may have a belt clip for portability.
Wireless Network Monitors
The Dropcam Echo is an example of a digital video camera system that uses your existing wireless network, allowing you to use your computer or other devices as the receiver. (We haven't tested this type of monitor.) Parents go to the Dropcam website, sign in to their account, and then connect the Dropcam to their router using an Ethernet cable. (Once the connection is made, you don't need to use the cable again.) The Dropcam locates your wireless network, you enter your unit's serial number, and the unit begins streaming encrypted video that you can view on a computer, iPhone, iPad, or Android device. You mount the camera in your baby's room and plug it into an electrical outlet.
Like other systems, the Dropcam Echo allows you to put up more than one camera and monitor different rooms. The manufacturer says the Dropcam Echo automatically detects motion and sound, and you can get an e-mail message or notification on your smartphone or iPad when something changes in the baby's room. Dropcam will store your video feed for either a weekly or monthly fee.
Features To Look Out For
Lots of parents are happy with a cost-effective audio-only monitor so that you can hear your baby's gurgles or cries. However, thanks to modern technology, there are many other clever additional features available for those parents who love gadgets or think some extra features will come in handy.
Video: Video baby monitors are not essential but will allow you to see your baby during nap times and whilst they slumber at night using infra-red, via a mini screen on the parent unit. Some wifi baby monitors offer remote access, so you can view your baby if you are in the office or away from home on a tablet or computer.

Temperature: There are clear guidelines about the temperature your baby's room should be to reduce the chance of SIDS, and some monitors show the room temperature and alert you if it is too hot or cold.

Night lights: These monitors have in-built night lights to help your baby sleep peacefully and ensure you don't trip over nursery furniture during night time feeds or nappy changes!

Talk-back: These models have talk-back features, so you can chat with your baby and help them self-soothe from another room in the house.

Music and lullabies: Tired of singing to your baby? Some monitors will play lullabies or nursery rhymes when the monitor is activated.

Light display: Lots of little ones enjoy light displays, and this monitor projects a light display onto your baby's wall.
Sound-activated lights: If you are watching TV, doing daily chores like vacuuming or playing with older children, these lights will let you know that your baby has made a noise.
Movement sensor: This feature on more expensive models is connected to a pad that is placed under your baby's mattress, which will sound an alarm if the movement is not detected for a certain period of time.
Remote control: This allows you to control some features on your baby's monitor, such as music and turning the nightlight off, without going into their room and disturbing them.
Looking for baby monitors for baby nursery? Look no further. Check out our range here.
Here is what you should consider when picking a baby monitor:
Clarity of Daytime and Night Vision
When wireless baby monitor systems with screens were first introduced onto the market, they used somewhat outdated display technology that made for a grainy, distorted and often unreliable picture. Newer baby monitors use a liquid crystal display similar to the ones used in your smartphone and other consumer electronics, so these HD video baby monitors tend to have very nice colour contrast and high resolution and are also substantially more reliable. All of the stand-alone baby monitors we list above have high-quality displays, and we do not recommend some of the relatively old fashioned ones that can still be found on the market. Of course, night vision doesn't use colour - so the display will be either grayscale or show a slightly green hue. That's important to keep in mind before you try it out for the first time; not even military special operations have colour night vision, so don't expect anything amazing, even from the best baby monitor!
Traditional versus wifi Baby Monitors
Starting around 2010, parents began to switch from using baby monitors with a yoked camera and screen to using wifi cameras that can stream over smartphones, tablets, and personal computers. At the time, there weren't very many wifi cameras aimed towards the baby gear market, so people were going with familiar wifi camera brands like Nest and Samsung. Over the next few years, companies slowly began introducing baby-themed wifi cameras onto the market. While even high-quality HD wifi cameras can be found for under $50 (like this one) nowadays, companies began to realize they could package a wifi camera as a baby monitor, change the colours and themes of the app, and charge 3-4 times the price. And they continue to use this strategy to this day! So which is better? Well, this comes down to one thing: do you want to be able to view the nursery while you're not at home? If you answer yes to this question, then you need to use a wifi monitor as opposed to a typical baby monitor. A wifi baby monitor (or any wifi camera) will connect to your internet (some are wired, some through wifi only) and stream live (well, slightly delated) video to an app on your phone. That will work in the house or out of the house, as long as you have a fast internet connection. So you can BYOP (bring your phone) and leverage 20th-century technology! That seems appealing, and we highly recommend some of the newer ones (like the Cocoon Cam, Lollipop, and Nanit), but there are some things to keep in mind when figuring out the type of monitor to buy:
Portable Base Unit with Good Range
Babies go to bed earlier than parents, and they also nap during the day. Unless you want to spend your time sitting next to the baby monitor base unit watching the video stream, you're going to want a unit that has far range and good battery life. This will let you take the unit and, say, take out the trash or let the dog out, while still being able to see your baby. Better yet, many of our best-rated baby monitors are completely wireless and operate by running iPhone or Android apps on your smartphone to view the digital colour video stream wherever you are wireless. In this way, you're no longer buying a camera and monitor, you're only buying the same cameras that modern security cameras use. This gives you a universal baby monitor and makes portable wifi baby monitoring more convenient than ever, and we're definitely in support of this new trend. Want to keep an eye on your child while you're on date night? No problem, but only with one of these modern systems.
To know more about baby monitors, check out our post on What are the pros and cons of baby monitors?
Adjustable Camera Pan/Tilt/Zoom
One of the most annoying things that can happen when you're using a baby monitor is closing the door and then turning on the video monitor only to realize that your camera isn't aimed at the baby at all, and you can't see a thing. Most of the baby monitor systems would require you to go back into your baby's room and manually adjust the camera. Some of the systems we review below have remotely adjustable camera angles, so you can pan side-to-side, tilt the camera angle upward/downward, and zoom in or out, without having to go back into your baby's room. Super convenient, and a critical feature to stay at the top of our baby monitor list. It's also nice to have a relatively wide-view camera, like the Summer Infant wide baby monitor, so that even if you don't have wireless camera panning and tilting, the odds of still seeing your baby are pretty high if you have a wide-angle camera.
Interchangeable Camera Lenses
Some of the newest baby monitors have interchangeable lenses to best suit your baby's room. If you have the camera positioned close to the baby, like on the edge of the crib or a nearby dresser, you might prefer the wide-angle camera. If you have the camera positioned relatively far from the baby, like on a bookshelf on the other side of the room, you might prefer the regular narrow-angle camera. Flexibility is nice, particularly if you end up rearranging the room or have to move things out of the reach of a growing menace.
Intuitive and User-Friendly Menu and Features
What good are 25 fancy features if you can't figure out how to navigate the menu and customize settings or change options? All of the best baby monitors reviewed above have great utility, with high video quality and a nice feature set. Still, some of them have relatively high usability, which comes in handy when you don't want to spend too much time shuffling through menus to change one silly setting.
Integrated Intercom System
Some of the best baby monitors have a two-way audio intercom feature built-in, allowing you to talk to your baby (sing a lullaby?), or allow the parents to talk to each other ("can you bring more wipes please!?") without yelling down the stairs or hallway.
Child Safety
We care a lot about the safety and well-being of your babies, and our baby monitor reviews are no exception to that rule. Most of the safety issues with baby monitor systems revolve around the parent's due diligence:
Secure the wires out of reach and out of sight from your baby.

Make sure you put the camera out of reach (especially when you're mounting to the rail of a crib).

Always keep them away from water and a running humidifier.
In addition to these basic safety tips, the newer heart rate monitoring, breathing monitoring (see our review of the Levana Oma Sense here), and movement monitoring systems can add confidence to parents worried about their baby sleeping in a different room. A good example of a baby monitor with heart rate monitoring is the Owlet Smart Sock that can track heart rate and blood oxygenation levels, and stream that information to an app on your smartphone. Of course, don't be too confident because these devices are not hospital- or laboratory-grade monitoring systems, so keep that in mind.
Encrypted Wireless Communications
Here's something creepy and strange - there are reports of people tapping into even the best baby monitors and getting some bizarre pleasure from watching your baby sleep or watching you feed the baby in the middle of the night. A few of the manufacturers have included wireless encryption on their systems to make this much less likely.
Reliability
This is a tough one, as it requires long-term knowledge of system reliability, through thick and thin. Many baby monitors on the market start excellent but tend to glitch out or completely fail within the first several months of ownership. This is especially the case for many unrecognized brand names that are saturating the market. If you're buying this as a baby registry gift, the last thing you want to do is make the new parents think you cheaped out on a junky baby monitor! All of the best video monitors that make it onto our list have withstood the test of time, lasting at least six months, and in some cases several years at this point (like the Infant Optics option!). Another point about reliability that's worth mentioning is that most modern wifi baby monitors will keep a local connection to your app even when the internet is down. So as long as you're still in your house, you can continue streaming video even when the internet is down.
Regardless of what type of unit you're looking for, safety is always paramount. If the monitor you choose has a cord, keep it at least three feet away from the crib, so it's not a strangulation hazard. To avoid the risk of electrical shock, never put your monitor near water.
Are you concerned about hacking and privacy issues? You can take simple steps to shore up security. First, secure your router by updating the firmware, removing remote access, and choosing a strong password for your wifi. Once you buy a monitor, register it with the manufacturer to make sure you get any software updates or bug fixes. When in doubt, check with your manufacturer about how to increase the security of your baby monitor.