There's that old saying that nothing in life is certain except death and taxes. Well, I'd like to suggest a parent's update to that: nothing is certain except death, taxes, and diapers. Endless, endless diapers.
No day with a new baby is ever quite the same, but no matter what your little one throws your way, you can always count on them needing you to pitch up with a fresh diaper and no judgment. You love your baby, I know, but you might not love the endless conveyer belt of poop they seem to generate for you.
Changing tables are designed to make the whole diaper process stink just a little less. A good one is like your changing battle station, with everything you need to conquer diaper duty conveniently stored at arm's length.
We have compiled a list of some of our favourite (and stylish) change tables.
Little Nation – Scania change table w/ Change Mat ($149)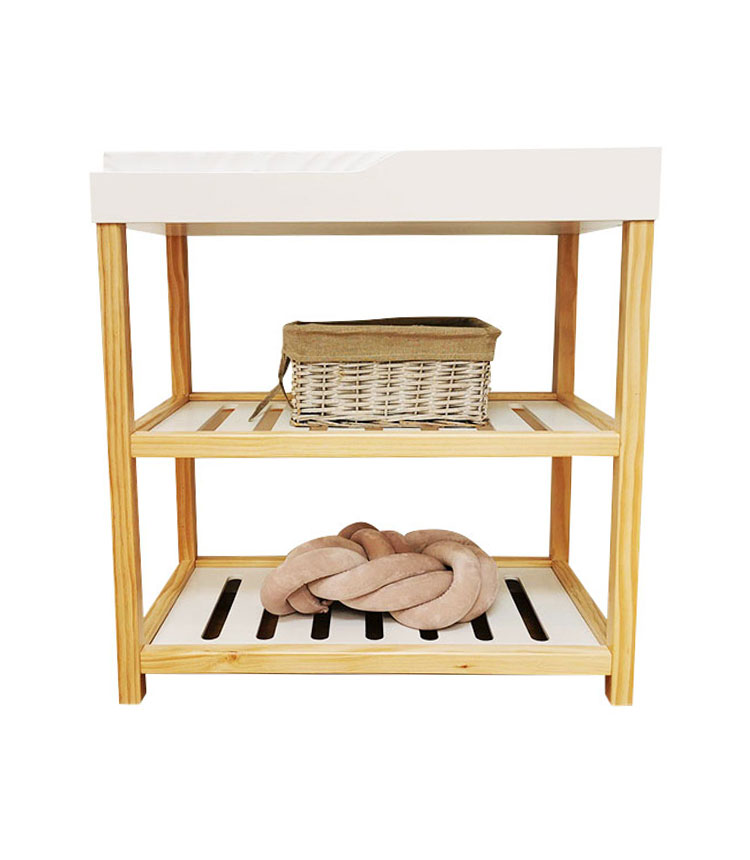 Stylish Simplicity! Our Little Nation 'Scandi' change table is both easy on the eye and easy to use. By keeping our design simple, we've ensured that you'll be able to easily reach all the nappies, wipes, creams, lotions and potions required for a baby change without having to worry about momentarily moving even slightly away from your baby's side. Easy to reach shelving and a safe and secure changing tray that comes with its own change mat…all thats left for you to do is match your change table with our 'Scandi cot' and your nursery is almost complete!
Jimmy Change Table ($149)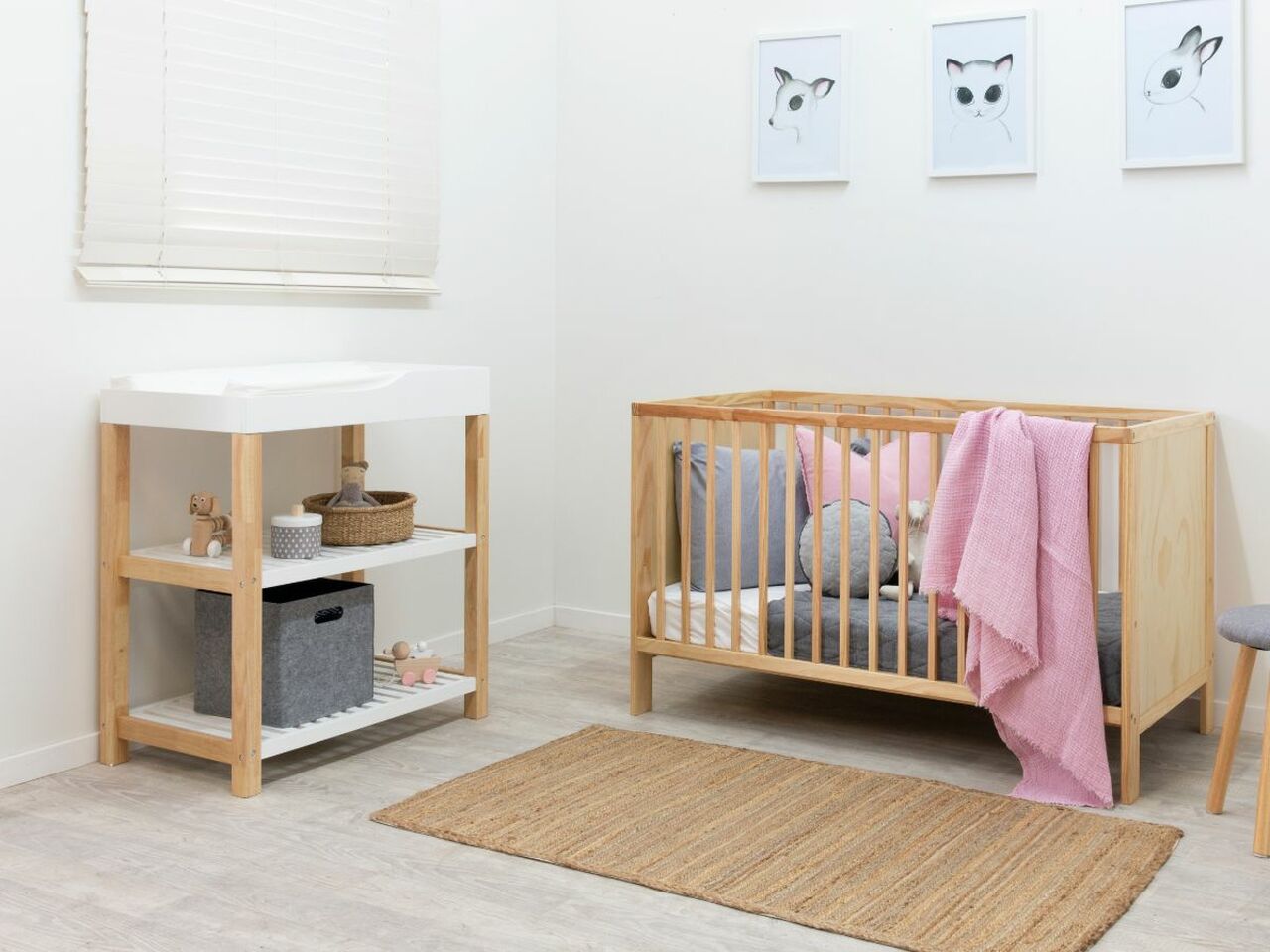 Make time with your new babe so much easier with the Jimmy Change Table. This simple change table has everything a new parent will need – easy to reach shelving and a secure changing tray. Perfectly designed to fit our Change Mat (sold separately) to a tee, you'll enjoy one-stop shopping for nursery furniture that makes sense. Keep nappies, wipes and lotions on hand using the two available shelves without having to worry about leaving your baby's side. This changing table features the same wood and white styling as the rest of the range, so you can easily fit out your home and nursery from among the Jimmy collection.
Baby Direct Change Table With Drawers – White ($399)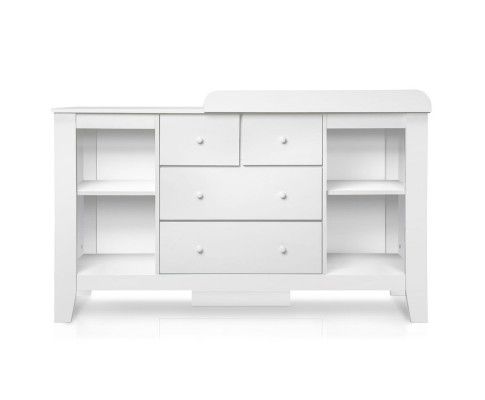 Impeccably designed, our practical Baby direct Baby Change Table is the perfect storage solution for your little one. The baby change table makes changing your baby's diapers and clothing a breeze. It also features four spacious drawers and four open shelves to offer ample storage space for all your baby supplies, including diapers, clothes, accessories, toys and more. The top change platform can be easily removed for extra table space, so that you can use the baby change table as a normal storage chest in the children's room or even the master bedroom. Most importantly, it is finely finished with certified non-toxic paint that is completely safe for you and your baby.
Boori Neat 3 Tier Changer ($212)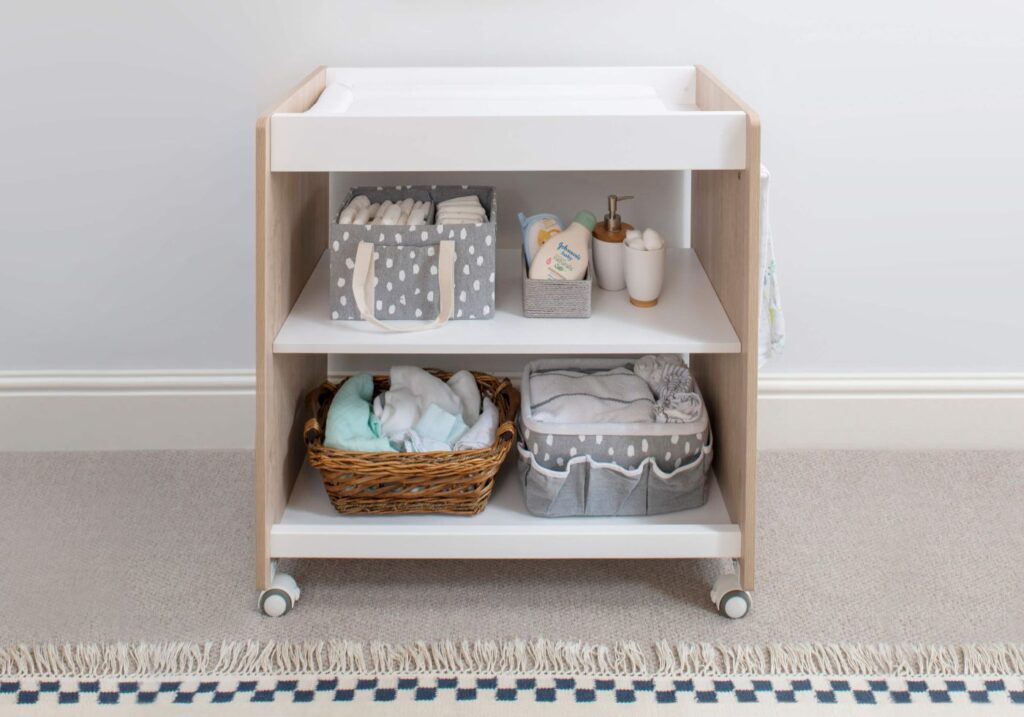 Featuring a modern, muted two-tone oak-effect design, the Neat 3 Tier Changer is designed to complement the Natty Cot Bed. To make nappy time easier, this unique changer features 3 storage shelves with space for a changing mat and all your baby changing essentials.
Castor wheels allow for easy mobility and two are lockable to keep the changer safely in place whilst changing baby.
Grotime Duke Change Table ($359)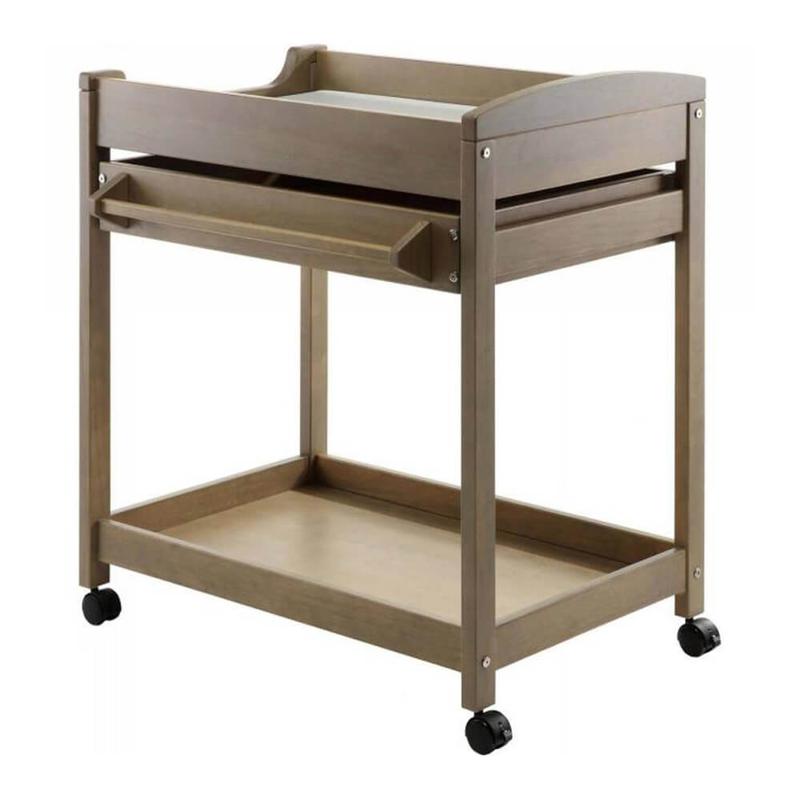 The Grotime Duke Change Table is a great modern design giving access to baby's changing needs and suits all nurseries.
It has one draw that slides out on both sides and a fitted shelf down the bottom to store baby lotions and more.
The Grotime Duke Change Table is made from Sustainable Plantation Pine so it is good for the environment.
Target Childcare Osmo Change Table ($149)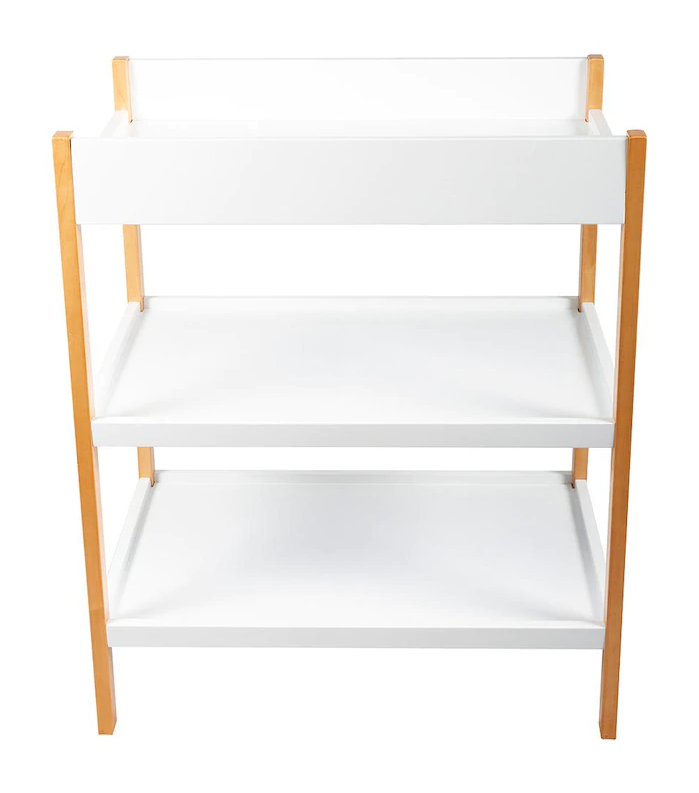 This Childcare Osmo Change Table is a basic storage space that has endured child's play for generations. With its classic three-tiered timber construction and universal colouring, this timeless change table will stay constant through your children grow up all the way from newborn to toddler. The sheer versatility of this product makes it perfect for any nursery whether you want to store clothes or toys in baskets on large storage shelves or just as an attractive natural focal point for reading new books with friends!
Love n Care Omega Change Table ($149)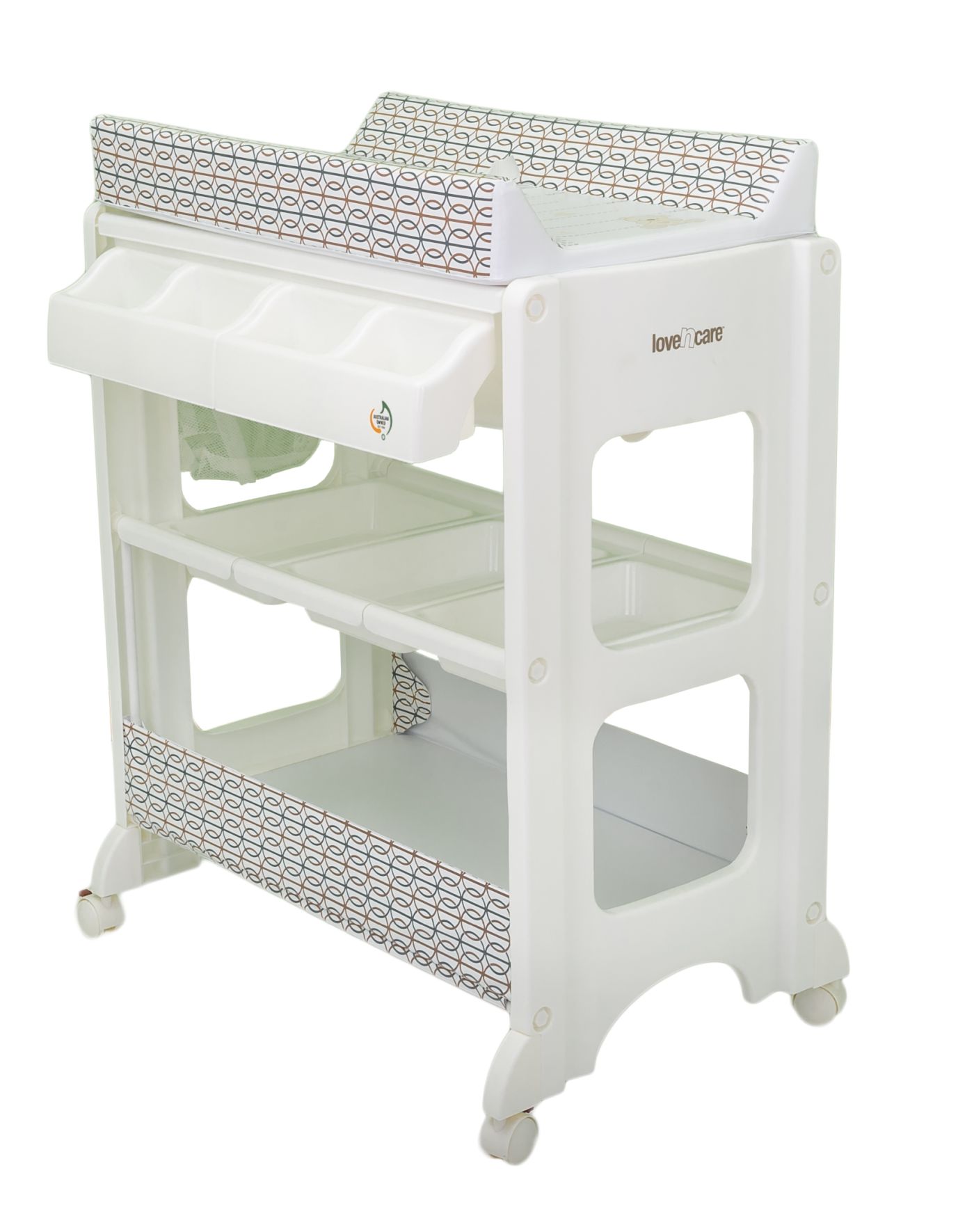 It's never too early to change the world. Your job begins at home. Start the day with a healthy, happy, for life kid starting with a rolling changer that is just as prepared as you are! The Love N Care Omega Change Table has parents covered by providing an adjustable harness, drain hose & plug and lockable wheels that make early parenting easier than ever before! Place your child on top of their very own fully-equipped changing station where they can enjoy soft padding and wipe-clean material while receiving loveNcare from mummy or daddy.
Mocka Darby Change Table ($99.95)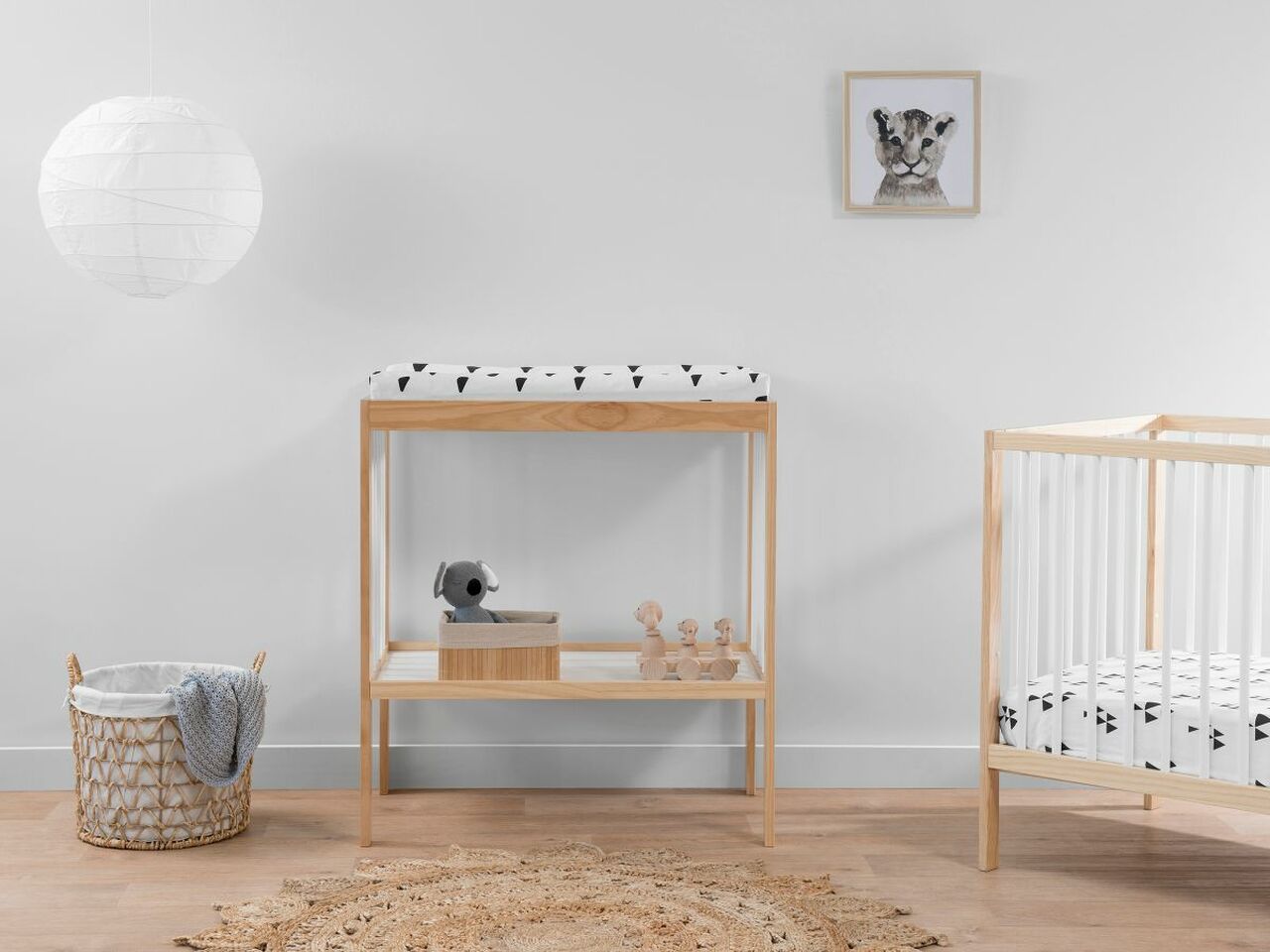 The Darby Change Table – Natural/White has everything a new parent needs – easy to reach shelving and a secure changing tray. With an inset tray, this changing table fits our change mat (sold separately) perfectly so you can provide a soft, padded surface for your baby to lie. Keep nappies, wipes and lotions on hand using the bottom shelf without having to worry about leaving your baby's side. This change table features the same natural and white styling as the Darby Cot – Natural/White, so you can easily fit out your home and nursery with this gorgeous pair.
Metro Baby Lukas Change Table ($329)
Troll is a Swedish company which has been producing nursery furniture since 1994. Troll manufacture quality baby products with the mindset of designing affordable nursery furniture whilst minimising their impact on the environment during production processes.
This baby change table with drawer is a great addition to your nursery and a perfect match to your LUKAS cot. It offers ample storage with both a drawer and two shelves yet it compact for tight spaces. The modern two-tone design adds a contemporary flair yet it also suits a more classic setting.
Boori 3 Tier Changer Barley Bio ($239)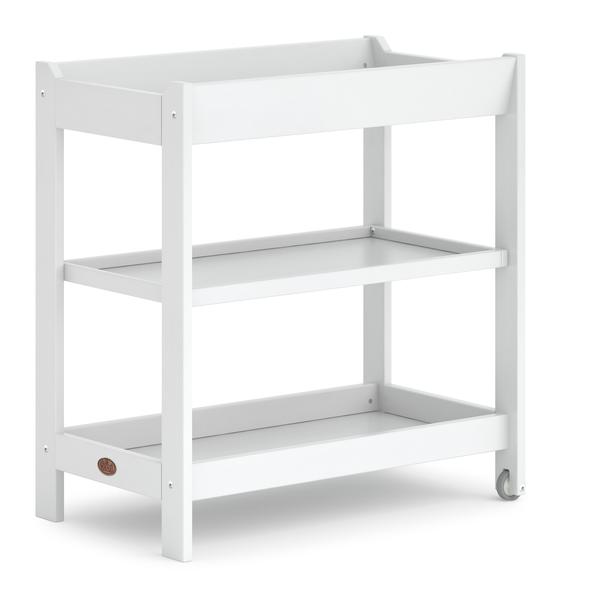 The Boori Changer is designed to coordinate with all Boori cots and furniture and is finished in Boori's unique Eco-blend Bio Paint. Eco-Blend Bio is an environmentally-friendly paint finish made with renewable, non-toxic plant extracts including soybean and corn. As well as enhancing natural beauty, these natural ingredients will help reduce chemical exposure in your home.
April & Oak Sofia Change Table ($632)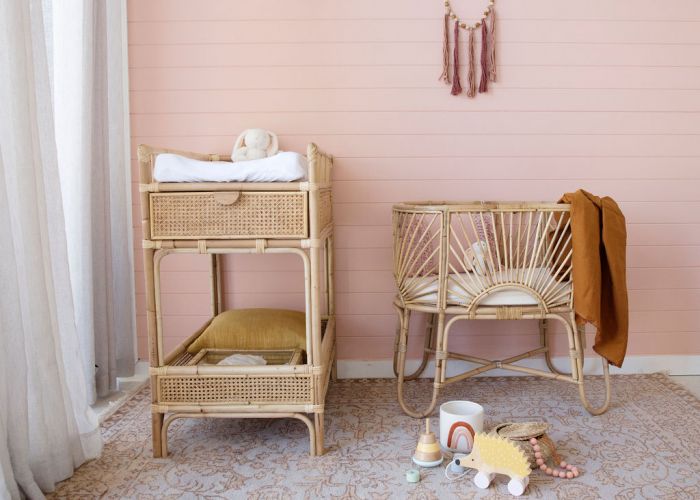 Our beautiful Sofia Change Table is exclusive and unique to Abide Interiors. Made from cane and rattan peel, the unique and naturally beautiful Sofia Change Table is a statement piece for any baby's nursery. It features a unique draw just below the changing area so nappies, creams, bags and other baby essentials are easy to grab while changing nappies or dressing your child. The below storage area is fantastic for large items including nappy bags, nappies or toys.
Mocka Jersey Change Table ($229)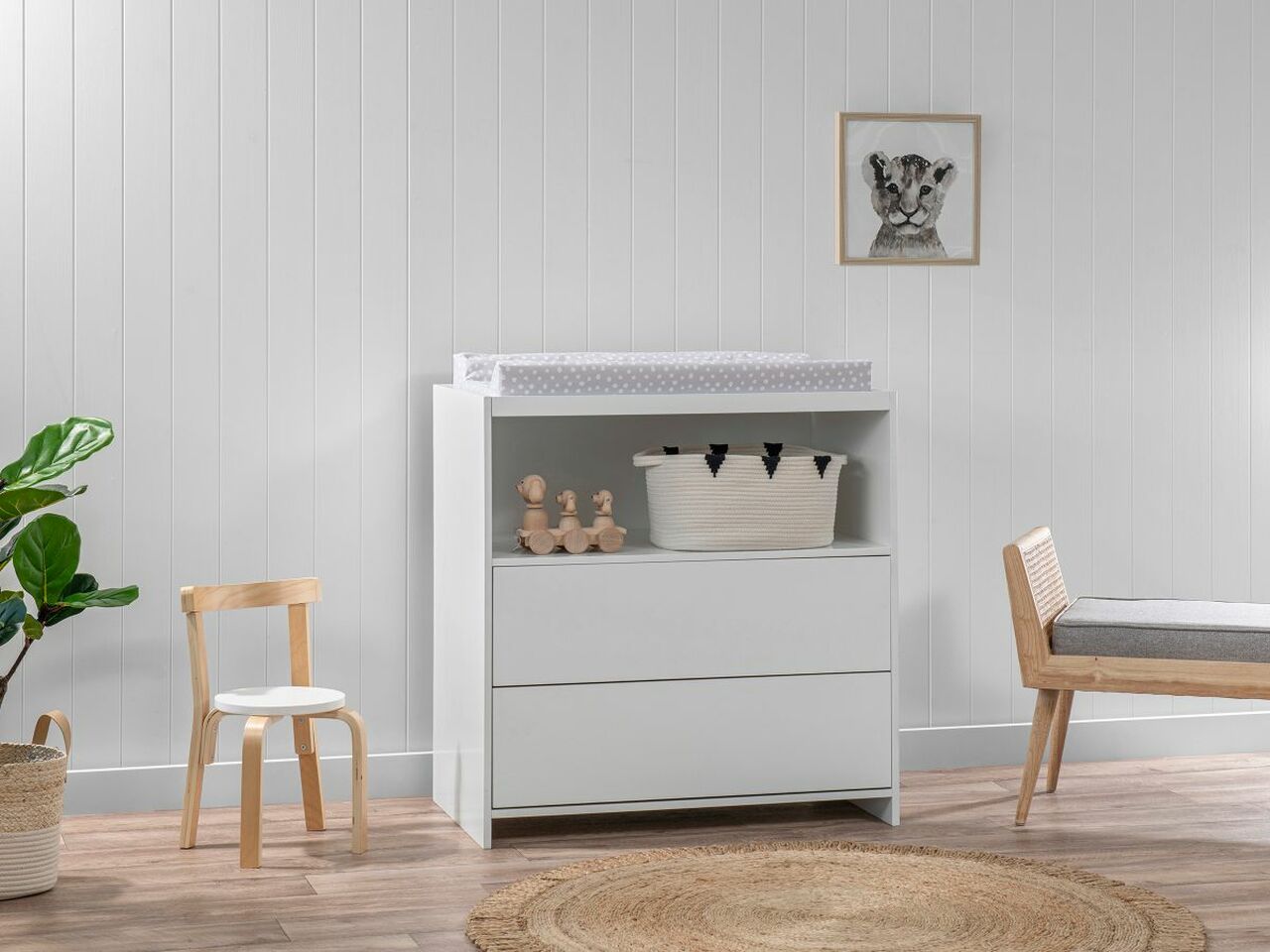 Our Jersey Change Table is a simply designed changing table for any modern parent. With this changing table, you'll be able to create a comfortable nappy routine that works for both you and your baby. Featuring easy to reach open shelving, spacious spring-loaded drawers for greater accessibility and a secure changing tray, this modern change table has everything a new parent needs. We love the simple design and white finish for practical nursery furniture. And an added bonus? The tray perfectly fits our Mocka Change Mat (sold separately) and covers giving you one-stop shopping for extra comfort and style.
4Baby Deluxe Bath Changer White ($119)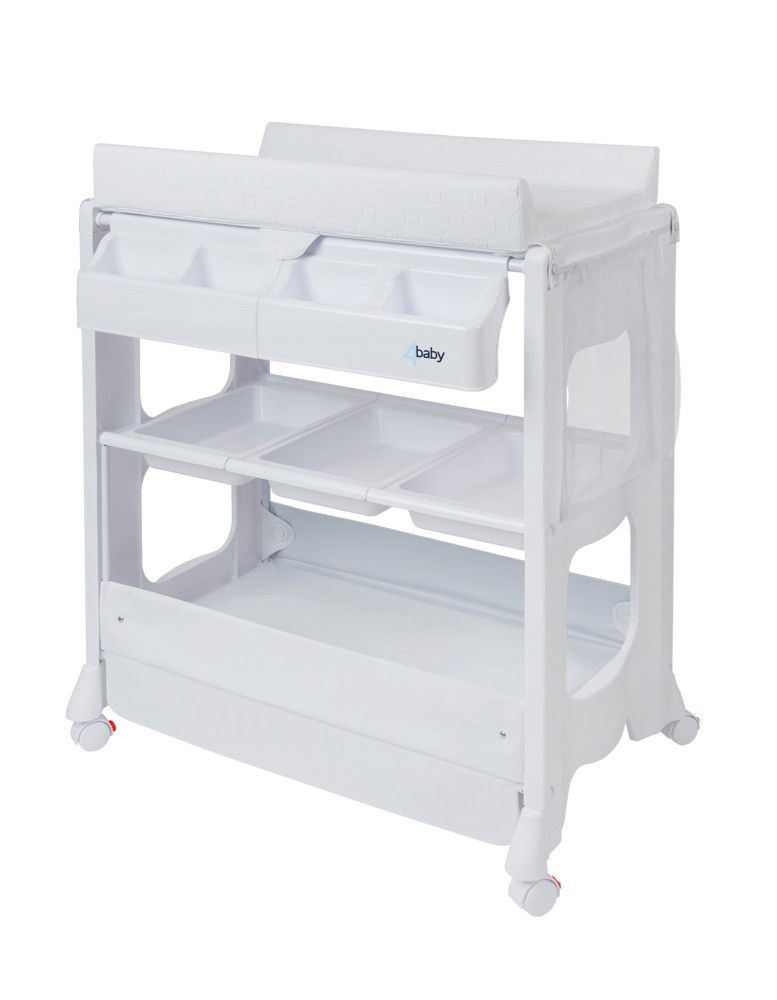 Your little one can lie back and relax on the padded changing mattress. 4baby deluxe bath changer is the ideal height for handling your baby, taking the strain so parents don't have to. With handy trays for neat nappies and tidy towels, all supplies are on hand. Lockable casters mean you can be mobile then stop sturdy when you choose.
Changing station with comfy padded changing mattress
Concealed bath with practical drainage tube to minimise mess
Lots of storage trays underneath for towels, nappies, and more
Features lockable castors
Alta Change Table – White/Natural ($299)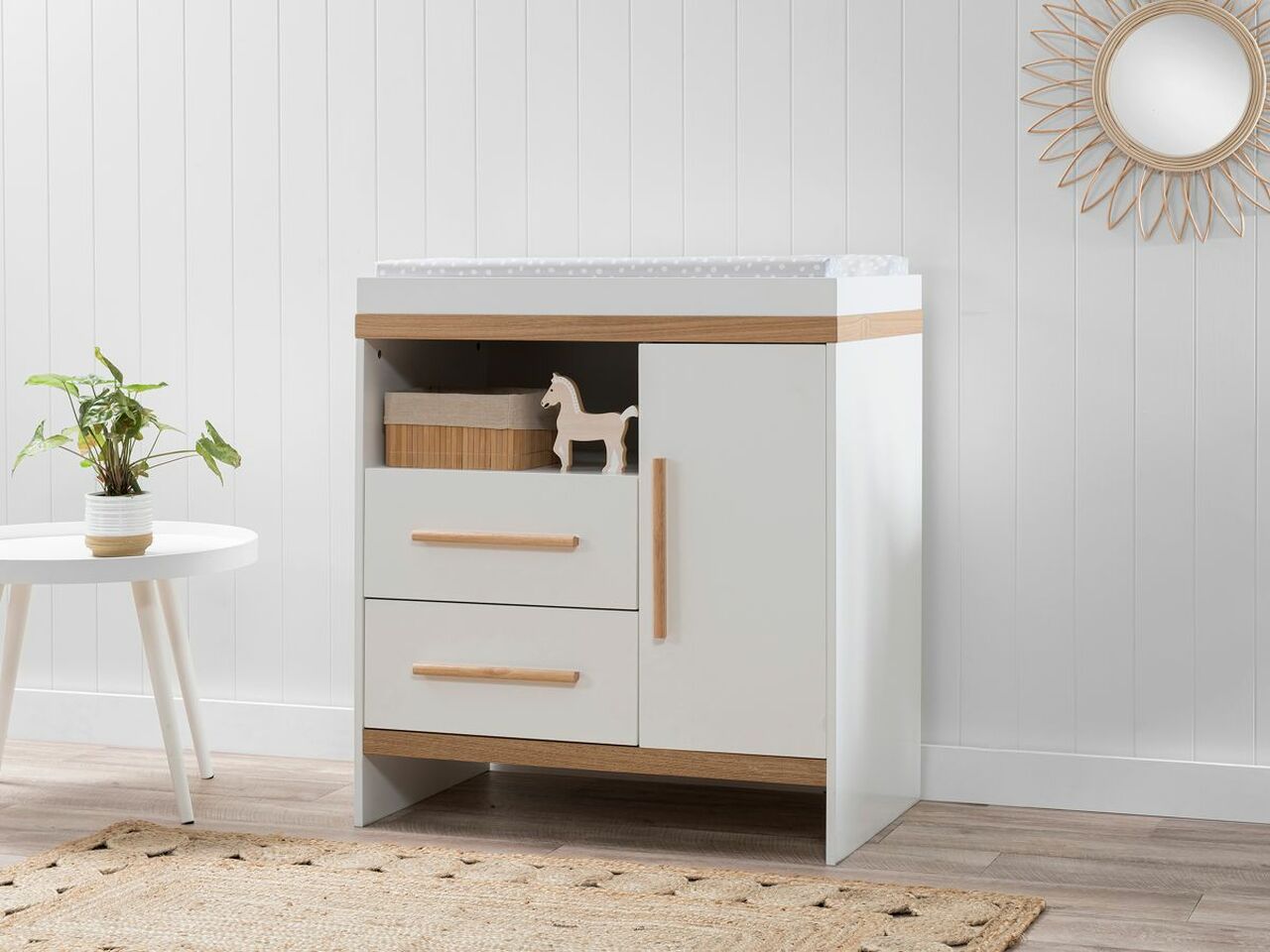 The Alta Change Table – White/Natural is sure to improve the style and practicality of your nursery. This modern change table has easy to reach storage with two spacious drawers, a swing door cupboard and a secure changing tray. In short, everything a new parent needs to make changing your baby's nappies organised and smooth. Delivered in a super chic design, we love the bright, white finish accented with wooden detailing. Our Mocka Change Mat and covers perfectly fit this change table, so you can add extra comfort for your baby and extra style to your nursery.
Kiddie Country Troll Sun Dresser Change Tray ($169)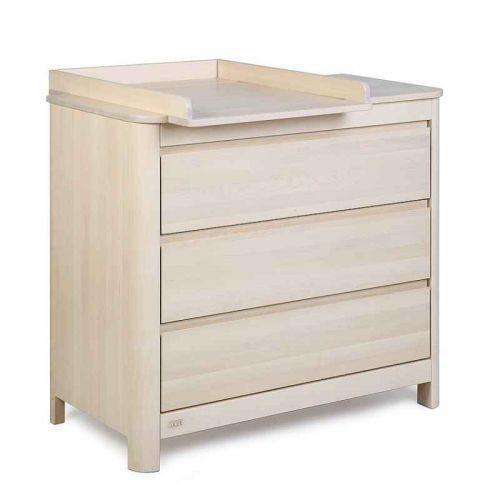 The Troll Sun 3-drawer dresser has a clever change tray and mat as an option. It can be fitted to the left or right side of the dresser, attached securely to the unit. With the change tray fitted, the dresser is a change table saving both space and money in your nursery. Once you no longer need a change table simply remove the tray again.
Mocka Tahoe Change Table ($269)
Elegantly understated, our Tahoe Change Table is the perfect modern change table for any parent. This change table has everything a new parent needs – easy to reach shelving, spacious sliding drawers, a secure changing tray and a stunning, chic design. Enjoy the bright, white finish highlighted with wooden accents that'll give your nursery statement style. All of our Mocka change mats and change mat covers perfectly fit this change table, so you can add extra comfort for your baby and extra style to your nursery.
Eclipse Change Table Eclipse Change Table ($299.95)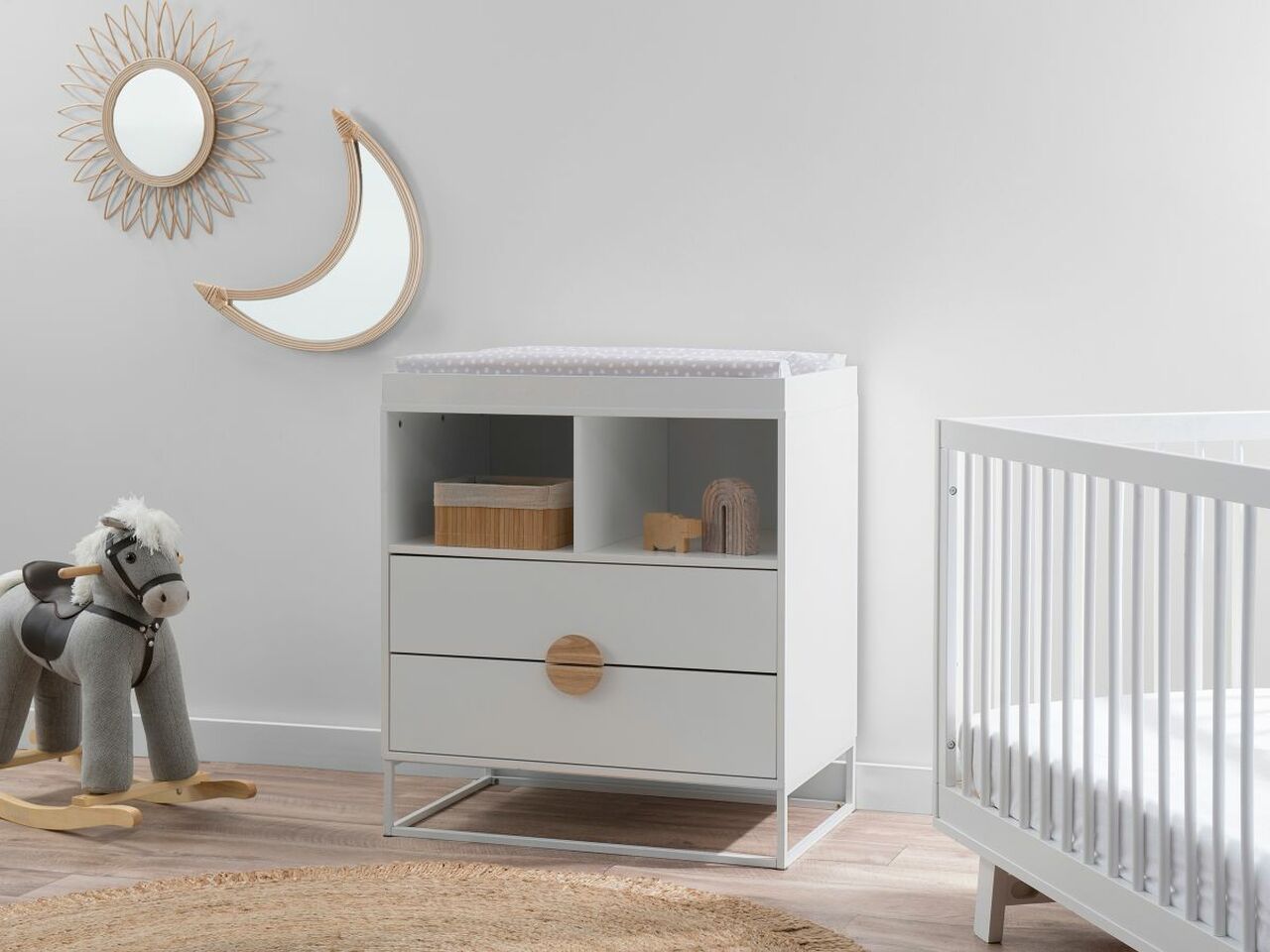 Introduce stellar style into your nursery with the Eclipse Change Table. Perfect for creating a comfortable nappy routine that works for both you and bub, this modern change table has everything a new parent will need. Easy-to-reach shelving and spacious sliding drawers, a secure changing tray and a stunning, gender-neutral design. This change table perfectly fits our Mocka change mat and change mat covers, making it the ideal addition to your nursery.
We love designing practical nursery furniture which is why this changing table is the perfect height so you can pick bub up and put them down with ease. It also features two handy open shelf compartments and two spacious sliding drawers, so you'll have plenty of storage space for clothes, nappies, wipes and other supplies. Located just under the changing tray, they'll always be within easy access so you'll never have to worry about leaving your baby unattended.
While the change table boasts plenty of storage space, it is still compact enough to suit nurseries of all sizes. For added comfort and style, be sure to check out our Change Mat and range of Change Mat Covers. Create a beautiful nursery both you and your child will adore with the Eclipse Change Table.
Linea by Leander Changing Table, Natural ($699)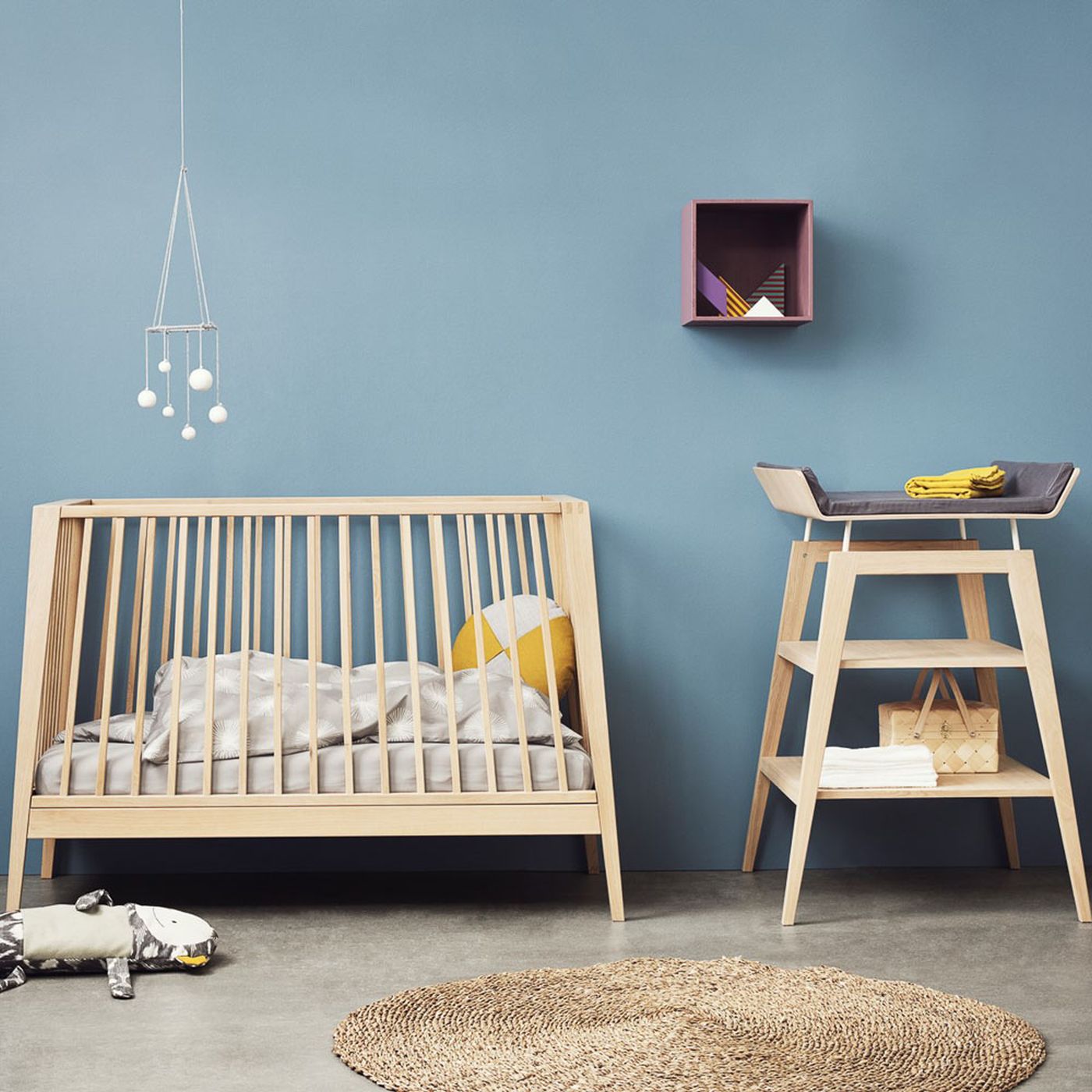 When buying baby equipment, you have many choices to make – and you have many alternatives to choose from. The same goes when you're about to choose your changing table. Keeping your baby safe is crucial. The Linea by Leander® changing table therefore has raised sides to prevent your baby from rolling off the edges. A changing table should be a pleasant space for both mum and dad – and you should be able to stand by the table for many times during a day (and night) for several years – without having back trouble. That's why we've made the Linea changing table height adjustable – to ensure both mum and dad the optimal work height and contact with your baby.
The Linea changing table has two shelves that give you storage space for everything you need – from nappies and clothes to baby oil and washcloths, meaning everything is within reach!
Tiny Tots Baby Store Leander Changing Unit for Leander Classic Dresser ($299)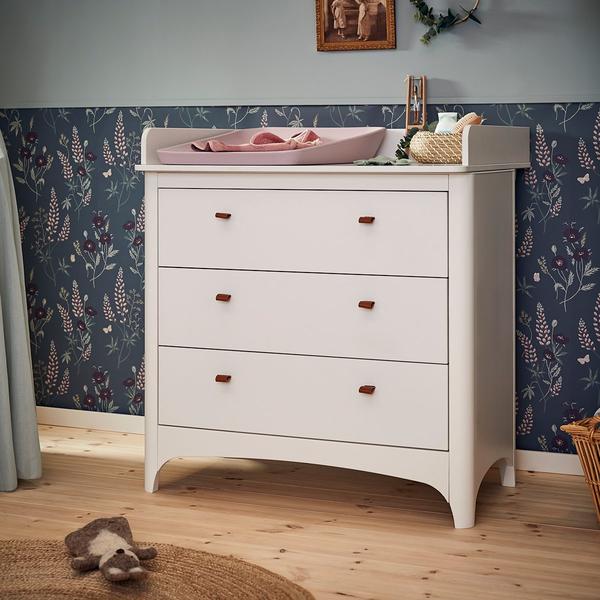 Convert your Leander Classic Dresser into a change station with the Classic Dresser Changing Unit. The unit provides a large, functional changing surface on which to change your baby. Raised sides keep your baby safe and ensure things like baby wipes, clothing and nappies don't fall off. Add the Matty change mat to make changing time even easier.
Specially designed to sit securely on top of the dresser. A great solution if you are short on space. Convert your Leander Classic Dresser to a change station with the Classic Dresser Changing Unit. Also add the Leander Matty change mat for even more comfort and ease. Simply place the changing unit or mat on the dresser – done! And it is just as easily reverted back.
Estelle Change Table Blush Pink ($959)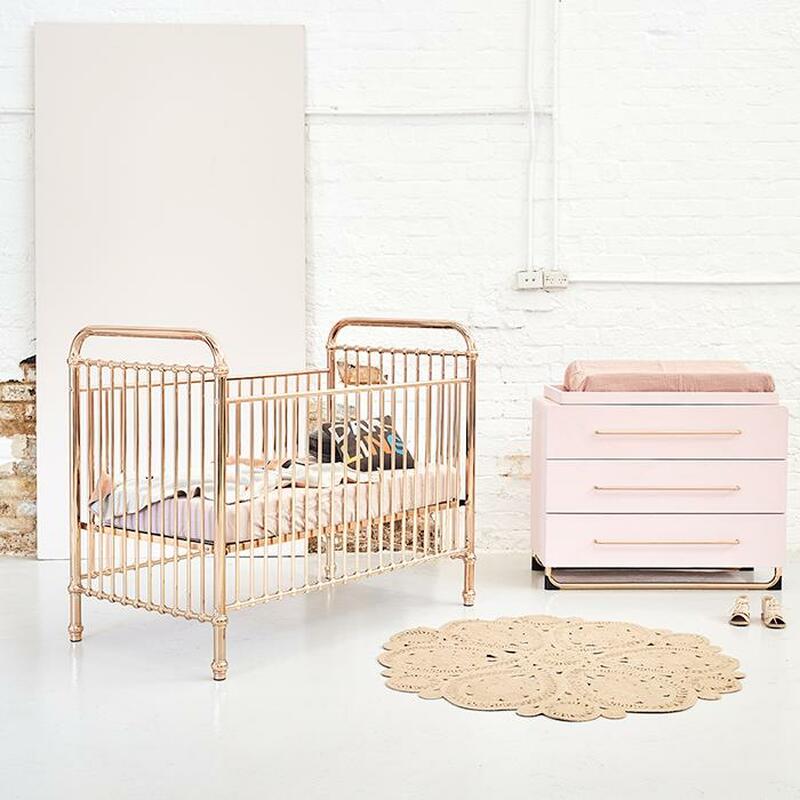 Change time is never fun, but having a cute change table certainly helps the cause. This pretty in pink change table boasts simple clean lines with a smooth matte finish and converts easily to a dresser with the removal of the matching topper which comes standard with every change table purchase. With three spacious drawers on runners, stylish rose gold hardware and a tip kit for wall attachment, the Estelle change table is the perfect combination of style and safety for your babes nursery or bedroom space.
Smallable Leander ($266)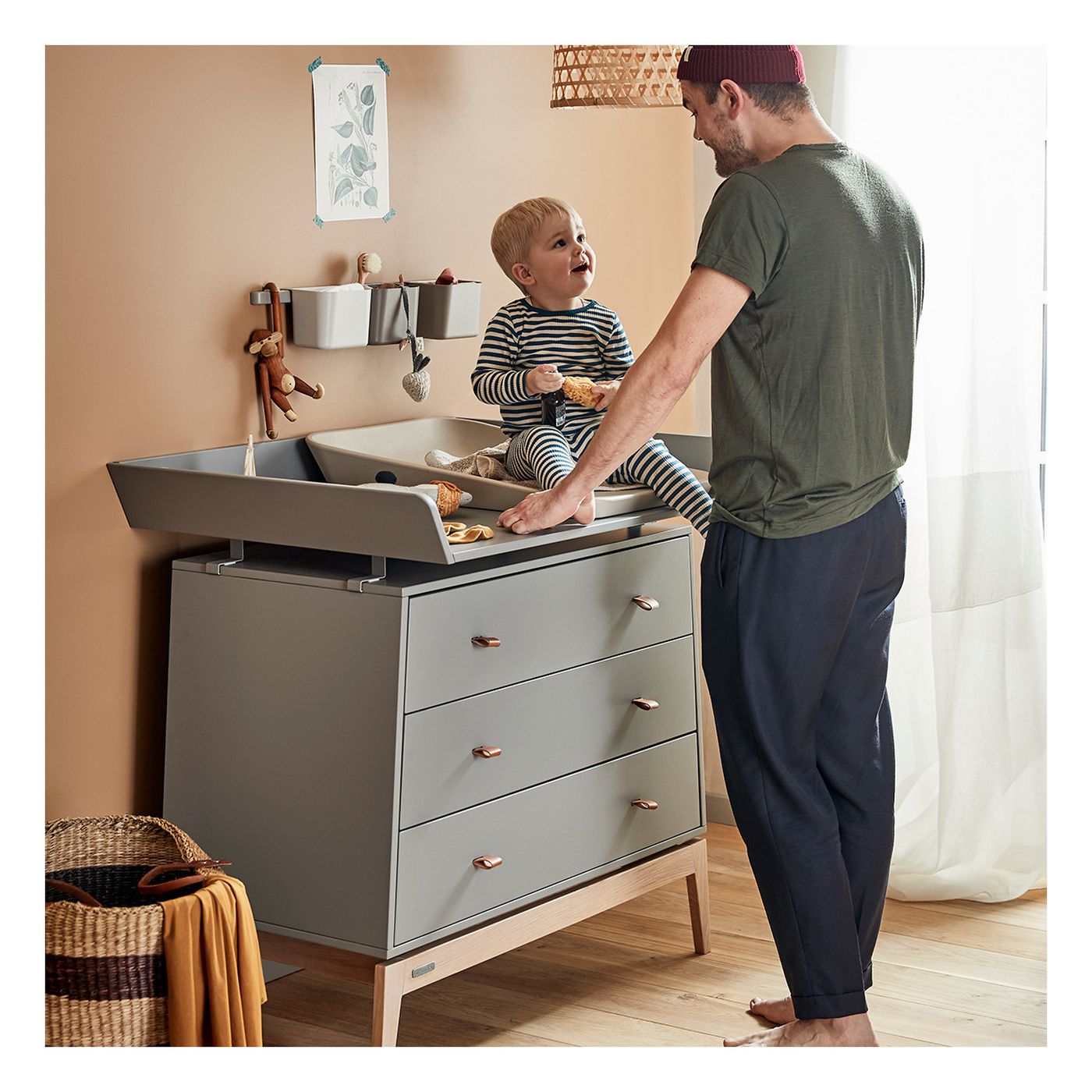 This changing table offers the utmost security for you and your child thanks to its raised edges. It saves space when attached to the Luna dresser by Leander.
What should you look for when purchasing a baby change table?
We'll break down whether you really need a changing table, exactly what you should think about before purchasing one, and which models we think are the best changing tables.
Reality check: changing diapers is probably not going to be your favourite baby-and-me activity. Having whatever it takes to make you and your little one most comfortable for swapping diapers (up to 10 times a day!) may not make the job any more fun, but will make the process a whole lot easier.
Newborns need about 12 nappy changes a day (eeek!) so you'll get to know your change table pretty well in the first few weeks of parenthood!
Want to make sure you choose the right one? We'll help you consider your nursery shape, where you'll be using the changing table and what you're going to do with it between kids.
Before you decide what to buy, you need to know what you can buy and why. We've answered some basic questions for you to get your head around what's out there and what you might need.
Types of Change Stations
Change mat
A change mat has elevated sides that can be placed on any flat surface (including a changing table, change tray or chest of drawers).
Change table with shelves
A designated change table that uses a change mat on top, and usually has at least one open shelf for storage below. Some have castors and can be easily moved around.
Change table with drawers
A converted chest of drawers that has a change tabletop attached that can later be removed.
Folding table
A lightweight table that can be folded flat and put away for easy storage between uses.
What to Look For
Little babies quickly grow into wriggle pots more interested in escaping off to their next big adventure than lying still to get dressed or have their nappy changed. So you'll want to make sure you have everything you need within arm's reach.
Some change tables and mats come with a safety belt like attachment, however, the current recommendation is never to leave your baby unattended on a changing table and not rely on them.
Location
Let's get straight to the point – nappy changing can be a smelly business. And sometimes that smell lingers in a room like a distant relative overstaying their welcome at Christmas. Look for a room with good ventilation, close proximity to rubbish bins has little distractions for bub and enough space to have everything you need within arm's reach.
Where will you be changing baby?
In the nursery – change tables aren't just for changing nappies, it's where you will also be dressing and getting ready for a bath. In the nursery, everything is in one room. You can also control the number of distractions and use it as part of your sleep routine. If your nursery is upstairs, you'll be running up and down A LOT, and you'll be surprised how quickly the dirty nappy bin fills if you're not emptying it regularly (remember the smell!).
In the bathroom – often a good space for ventilation and it's close to the water and the bath. You'll have to remember to bring the clothes in for dressing and the room temperature can sometimes be cooler than the rest of the house. A good space to consider if you're using cloth nappies and have to drop number twos down the loo.
Around the house – having a portable change station, like a caddy with all the essentials (nappies, creams, a change of clothes and wipes), gives you the freedom to change baby where you like.
Do you have a double-storey or large house?
Investing in two change tables may be handy in a two storey home to save you taking the stairs each time there's a stinker. Or you could get an extra changing mat or portable change station for daytime use downstairs.
Foldable change tables can be moved up and down stairs easily.
A change table on wheels can be transported from room to room – good at bathtime!
Getting a specially designed nappy bin that contains the smell of dirty nappies could be a good option so you don't have to run downstairs after each nappy change.
Style
Wriggly baby and a pooey nappy make for an interesting combination – will your change table be up to the test? You need to always keep one hand on bub when changing, so consider where the storage is on the change table.
Things to consider:
Can you easily access nappies, wipes and lotions with one hand?
Change tables with drawers let you easily store everything in a top drawer, well within your reach but out of reach of inquisitive little hands. They also keep everything out of reach when baby starts walking.
Change tables with open shelves have everything in the open and within reach without having to take your hands off bub to open drawers. The only drawback comes when bub gets older and starts the game 'look what I can put on the floor' – your piles of perfectly stacked nappies disappear forever.
Is there enough storage to stop you having to constantly restock?
Babies go through a lot of nappies – you'll want to keep as many as possible close by so you don't run out at a crucial moment.
Check there is room for all the extras too, such as lotions, nappy bags, wipes, face washers and a change of clothes.
Consider a table with a second shelf if you like your space. It also means you won't have to reach as far for your supplies.
Longevity
Your baby's change table is going to get a good work out, especially if you have more than one child. With a bit of forward-planning, it can last a lifetime.
Things to consider:
Is the table easy to clean?
A changing pad with a removable cover means easy washing after those extra messy changes.
Are you having children close together?
You may end up using the changing table for more than one child at the same time – make sure there is enough storage for all the newborn and toddler bits and bobs.
Think about locating the table in a place that's handy to use for both of your kids.
Can it be easily converted?
Get more use out of a changing table by choosing one that has a second life after your tot is out of nappies, like a chest of drawers, desk or even an artist's easel.
Safety
There is no Australian safety standard for changing tables. Care should always be taken when using a change table to avoid serious injury to your baby.
Make sure collapsable change tables can be locked open securely.
It should be sturdy and strong, with roll-off protection, like raised sides.
Side barriers should be at least 100mm high.
There should be no entrapment hazards where little ones can get a finger or limb stuck.
Check if the table comes with a child restraint or strap to help keep baby secure.
Optional Extras
There can be a lot required for a simple bum-change for your little one. Make sure you have everything you need on the ready with these added extras.
Nappy stacker: a tidy way keep those nappies in order.
Change caddy:  keep all the essentials close at hand.
Change mat:  lets your bub lie back in comfort. If your table doesn't come with one, you'll need to make sure you can buy a mat the right shape and size to fit.
Change mat cover:  great for catching little (and big) spills and to make change times cosy for bub.
Should I buy a change table?
In short, yes! A baby change table is a safe and sturdy way to help you change your baby's nappies easily. Changing nappies is a messy business, and something you can expect to be doing roughly 10 to 12 times a day (on a good day). So, laying them down on the coffee table or the bed is just not a practical solution in the long run. Here are a few benefits you get by purchasing a baby change table:
It is a purpose-built space that allows you to safely and easily change your baby's nappy at a suitable height
Good change tables include storage areas to make accessing nappies and other equipment very easy, and keep them organised!
It prevents making a mess in other parts of your home
It will last for many years, and be practical even once your child outgrows it
How long will my change table last?
Well, as long as you purchase a good quality baby change table, then you can expect them to last for the whole time your family is growing up. All our listed change tables are built to last, and we have heard many stories from our happy customers about change tables easily lasting for two or three children with no issues. Better yet, even once your baby grows up, the storage space can easily be converted into a chest of drawers for storing all of your child's toys and games!