The variety of clothing for newborns these days is impressive. Every brand that offers outfits for kids has included the collection for the youngest ones in their range. Parents who are waiting for their first baby are often searching for a newborn clothing checklist that can help them out. Look no further. Here, you will find the information that will help you out.
Planning your newborn's wardrobe can be tricky, but it's a lot of fun. There are so many little things to remember, from socks and hats to pyjamas and bodysuits. To help you sort through the many options available, here's a handy rundown of everything you'll need for the first six weeks and beyond. Depending on how big your baby is and how fast he or she grows, this wardrobe maybe everything you'll need from birth until three months old.
Is it even possible to have too much baby clothing? Considering you might need to switch outfits five times a day (hello, spit-up!), the truth is—probably not. Add in how fun and adorable baby outfits are, not to mention how many people are excited to buy them for you, and it's easy to overspend your budget and overflow your nursery dresser. So how much baby clothes do you need? Here are the maximum—and minimum—numbers for your baby's newborn layette.
It's hard to resist putting a million baby outfits on your registry. But the truth is babies grow quickly, and your child won't fit into specific sizes for very long.
However, it's also true that having many clothing options for quick outfit changes can be handy, particularly when spit-up or diaper blowouts happen. So how many clothes does your baby need?
Change table for baby nursery have you stressing? Look no further, My Baby Nursery have you covered with our extensive range of baby change tables.
Think about laundry
How often you do laundry can make a big difference in how many items of clothing you'll need to have on hand. Below, we've compiled a list of newborn essentials based on doing a couple of loads of laundry throughout the week.
You might need more or less clothing if your laundry routine is different. Here's how to adjust the numbers: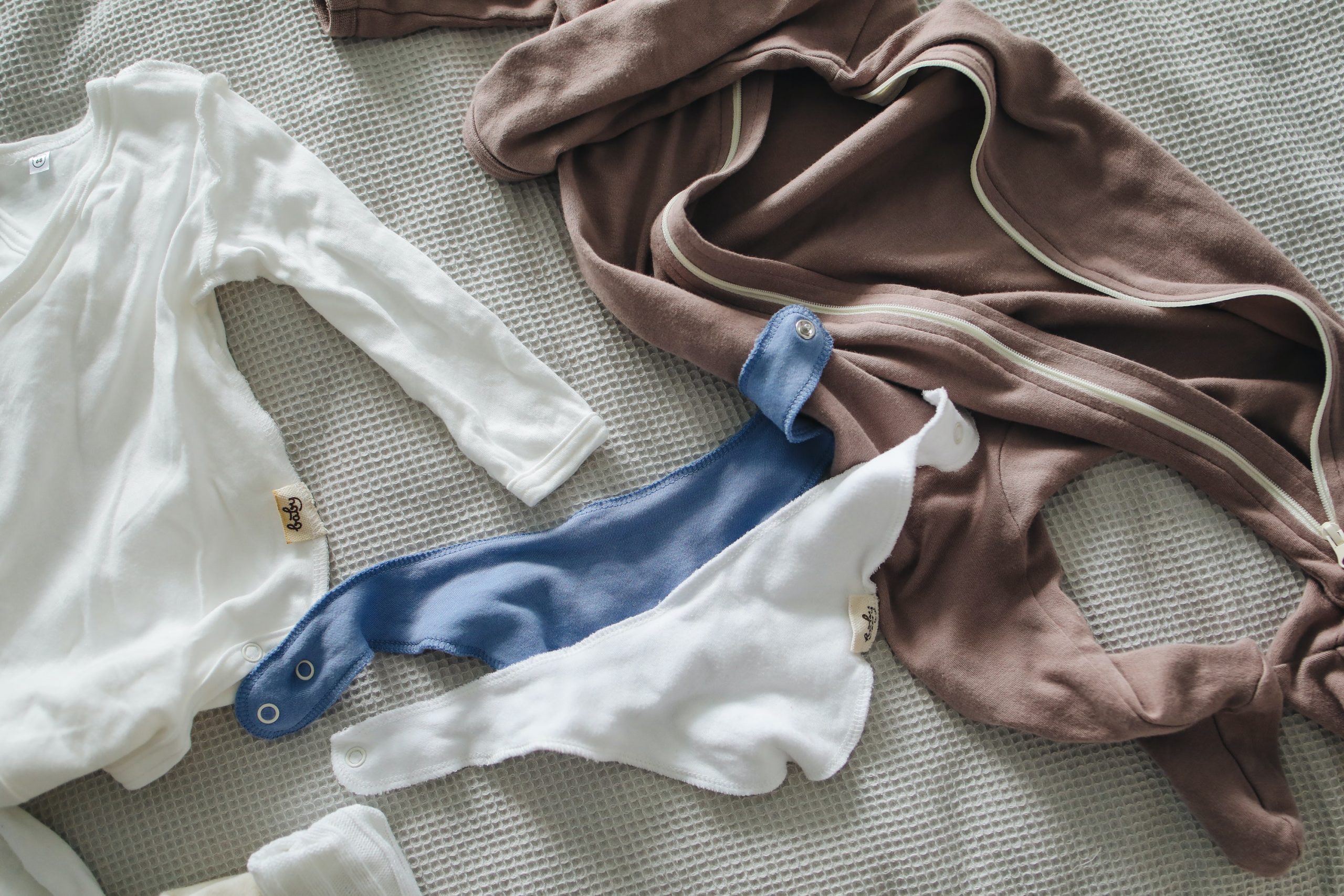 Think about sizes
You may be tempted to only register for newborn sizes, but many babies will outgrow those quickly. Most newborn sizes top out around 8 lbs, so if you have a bigger baby, they might not even fit into them.
When adding clothes to your registry, pick a few newborn items and then focus on 0-3 months sizes. This size option will usually fit babies up to around 12 or 13 lbs.
Take a look at our breakdown for the standard number of clothing items you'll want to have on hand for your newborn's wardrobe (also known as a layette). We've also included items to add for summer and winter babies and special occasions.
Remember about the safety of your child. 
If you have never heard about the SIDS, check the info on the web and avoid the risks that are depicted. Among the others, there are certain restrictions on the choice of clothing. In particular, be sure not to cover your child with a blanket while it sleeps at home. Thus, to ensure comfort during sleeping, outfits have to be selected accordingly.
The rules of dressing for a car seat are crucial. 
Not every parent, even the most caring one, knows that placing your newborn in a car seat when it is dressed in a warm overall imposes additional danger. Remember that safety belts have to be tightly fastened over one or two layers of clothes. The first travel by car will take place on the way home from the hospital. Thus, think of safe coming-home clothing for a newborn in advance.
The quality of fabrics. 
Thinking about what baby clothes to buy, do not forget about the materials. This is especially important for cold seasons. For summer, most outfits are offered in linen, cotton, and other light materials. At the same time, winter collections are abundant in synthetics. Be sure to have the first-layer items of natural fabrics. At the same time, it is reasonable not to buy too many synthetic items. Just a couple of items so that to check the reaction of your newborn skin to these materials.
Mind your laundry habits. 
Every family has got different approaches to laundry. Some do not mind doing it daily or three times per week, while the other families do the laundry weekly. Suppose you belong to the latter group, double the newborn baby clothing checklist. Besides, it is important to remember that you need special hypoallergenic washing liquid and a double-rinsing mode for your newborn laundry. Check the reaction of the skin after the first laundry.
Above are the essential considerations that influence the choice of outfits, as well as are among the basic rules of care for newborns. Let us reply to the most common questions that are asked by parents waiting for their first baby.
How Many Outfits Should I Have for My Newborn?
Waiting for a baby, every parent needs to be prepared as much as possible. How many newborn clothes do I need? This is one of the most common and reasonable questions. However, there is no single answer to this query. Why? The main reason is the different lifestyles and habits of parents. Thus, before compiling a newborn clothes checklist, answer the following:
Answering these questions, you will already understand if you need to foresee a large wardrobe for your baby or a basic baby clothes list that will be sufficient for you.
We have the best storage solutions for your baby nursery. Check them out here.
Basic Baby Clothing List for Your Newborn
No matter how you have replied to the above questions, there are still certain outfits that must be included in the wardrobe of your child. Here they are:
For Cold Seasons:
The basic list should be complemented with a warm overall, hat, mittens, socks, and blanket. You can also get booties or slippers. Besides, it is crucial to pay attention to the humidity and temperature inside. The recommended temperature is around 65 degrees. Thus, outfits for indoor activities should also be warm enough.
For Warm Seasons:
Be sure to get a light blanket for sleeping outside, as well as a good hat to protect against ultraviolet rays.
For Personal Preferences:
Active parents would also need diverse accessories for travelling, as well as outfits to visits diverse venues. The family looks for photoshoots are also very popular these days. Remember that dressing your newborn is not just following the rules but being satisfied as well.
How Long Do Babies Wear Newborn Clothes?
When you have already determined what to buy, it is no less crucial to think about the size to choose. Newborn outfits are usually fit for babies up to 8 lbs. Thus, some newborns outgrow this size in several weeks. In comparison, others do not even wear this size. That is why it is better not to buy all the outfits in newborn sizes. This especially refers to the warm clothes needed for a newborn.
It is better to opt for the size 0-3. It is intended for the weight range up to 13 lbs. Thus, you can be sure that your baby will wear the clothes you buy. Remember that kids grow very fast in the first months. The speed of their growth and how long babies wear newborn clothes depend on the type of feeding, as well as the individual development of every child. Still, it is recommended not to pile the wardrobe of your baby with newborn-size outfits.
Newborn Clothes Checklist
So what is worth investing in newborn size? Well, newborns are known for blowouts and spit ups. This is because the poop of a breastfed baby is fairly liquidy and almost seedy. It felt like if the diaper was even slightly askew, a blowout followed and another change of clothes. As you're learning to breastfeed and milk lets down, you will also get breastmilk on you and baby which like any other milk smells sour.
For these reasons, you'll want enough clothes so that you're not doing laundry more than once a day, but not too many that it feels wasteful. Aside from blowouts and spit-up, you can get a fair amount of wear out of the clothes because a newborn won't get "dirty".
Four-pack – long and short-sleeved bodysuits
I would recommend grabbing a pack of each, no matter the season. We often still put our summer baby in long-sleeved bodysuits and loved the ones with a little fold-over to cover her hands so she couldn't scratch herself.
Bodysuits are the shirts with the snaps at the crotch. It prevents the shirt from riding up and is easy for diaper changes. Often, the neck is designed so that when there is a blowout, you can simply pull the shirt down and off of them and not deal with poop going over the head.
Two pairs – soft pull-on pants
Something to go with those bodysuits when you take the baby out of the house in their car seat or babywearing. This will be especially important if you have a baby during a colder time of the year.
2 – Kimono-style long sleeves
These are shirts with buttons on the side that you put on like a jacket. They can be an easy way to add a layer on the baby without having to pull something over their head.
2 or 3 – Footed pyjamas
Don't go crazy in the newborn size with these, but having a few, especially if the baby is born in a colder month, are great for hanging around the house when they aren't swaddled or to keep them warm at night.
People are usually divided into two camps on this one, all about the zipper or all about the snaps. The zipper PJs was my husband's favourite because you couldn't mess it up. They go on quickly, and there is no button aligning to deal with in the middle of the night.
Others like the button PJs (me!) because you don't have to take the entire sleeper off to do a diaper change. Simply unbutton the bottom to access the diaper.
How Many Baby Clothes Do I Need In Each Size?
This is tricky to navigate because you just can't predict how fast baby will grow in order to shop seasonally for the appropriate size. However, the basics and essentials listed above you will pretty much use until your baby is walking so investing in those numbers through size 12-18 months is probably a safe bet.
Basics like snap-crotch bodysuits, footed pyjamas and stretchy pants are going to be your mainstays even as baby gets mobile. I found myself shying away from any shirts that didn't snap until N was walking. With a wiggling, crawling baby, their shirts always ride up and get twisted. Once they are walking is a good time to get on the cute pull-overs
How Many Onesies Do I Need In Each Size?
On the low end, you're going to want to have at least six onesies in each size throughout baby's first year. The same is true for bodysuits and footed pyjamas. Don't plan too far out in the realm of more seasonal items because you can't predict baby's growth.
Check out our range of nursery change table change mats here.
What type of baby clothes is the best?
Baby clothes are big business, with so many different types of outfit from jeans to formal dresses and dressing up clothes to hoodies. 
It can be easy to be tempted by all of the pretty outfits, but there are a few facts you need to know about babies and clothes: 
This is by no means a message to not buy any adorable, pretty outfits for your baby. But try to focus on the practical aspects most of all. 
You'll want clothes that make it easy to reach baby's nappy for simpler changes, and clothes that you can get off and back on again in a dimly-lit room. 
While getting ready for a baby, parents ask numerous questions and follow the recommendations they are provided with. In this hassle, it is important to remember what you like and want. All the recommendations can be divided into two groups: health-and-safety concerns, as well as opinions of the other people.
It is easy to guess that following logic and common sense, and you will make the choices that will not endanger your child. All the other decisions should be based on the convenience of parents. Should I buy newborn clothes in advance? Can I do to the seaside with my 2-months-old baby? These all are the decisions to be made by parents, not other people. Enjoy the shopping and let yourself buy whatever you like so that to enjoy dressing your beloved baby.