It's amazing how such tiny people come with so much stuff!
Once your little one arrives, trying to keep their room in order will become a project in and of itself. Luckily, with the right storage pieces for all those toys, books and stuffies, tidying the room can be a quick job. Even though they're practical, shelving, storage bins and bookcases don't have to be boring. Well-designed pieces like our picks below keep everything neatly in place and can add character too!
Preparing your home for the newest member of the family requires some next-level organizational skills. For someone so small, a
newborn needs a
surprising amount of gear, and as you start to set up the nursery, you might be wondering where you're going to put it all—not to mention how to afford big-ticket items like a crib, glider and changing table on a budget. Check out our
top tips
for how to make the most of your space and budget with these clever nursery storage ideas.
1. Use a Large Dresser in Place of a Changing Table
When you're investing in new furniture, there are two key points to keep in mind: How many functions can it serve and how long will it last? A changing table is a one-trick pony; outside of the infant stage, it doesn't serve much purpose. But a sizeable chest of drawers can easily grow with your child's storage needs and play double duty as a diaper changing station. Simply put a changing pad with a nonslip base on top and you're set. Most pads even come with safety straps to attach them to the dresser for extra security. Store your diapering essentials in the drawer below for easy access.
2. Stash Small Items in Bins and Baskets
It's probably no surprise that babies come with all manner of little accessories that are as tiny (and cute!) as they are. But keeping these mini essentials corralled is no easy feat. Stock up on attractive nursery storage baskets and bins that match your nursery décor so you can organize with style. Drawer organizers are also indispensable when it comes to sorting teeny socks, hats and more. Tip: Think about this when choosing a dresser—deep drawers are key.
3. Place Storage Furniture in Baby's Closet
Obviously baby's clothes don't take up nearly as much hanging space as the adult variety, so don't let that lower half of the closet go to waste. (Nursery storage space is precious!) Instead, fill the gap with a modular storage unit or stackable drawers, so you can customize the shape to fit in a tight spot. A cube shelf organizer with removable bins is especially convenient for hiding toys when not in use. Bonus: As your child grows, they can learn to take out what they need and (more importantly) easily put it back!
4. Hang Blankets on a Decorative Ladder or Hooks
Nursery storage isn't only about camouflaging what you don't want to see—it can also mean finding a special place to showcase beautiful items. After family and friends hear about the exciting new arrival, you might be overloaded with adorably printed swaddles or handmade baby blankets. Don't hide these sweet gifts away in a drawer; display them on a stylish blanket ladder (aka a towel ladder) or hooks hung on the wall.
5. Utilize Your Wall Space
Here's another nursery storage idea: Think vertically. If baby's room has a limited footprint, look to the walls for simple storage solutions. Hang baskets on hooks for easy and portable access to necessities (like diaper supplies next to your changing station) or opt for book rails, or even picture ledges, in place of a stand-alone bookshelf. Wall shelves are also great for displaying baby's keepsakes, treasured stuffed animals and books, and you can always stash less attractive items in decorative boxes.
6. Hide Storage Boxes Under the Crib
That crib skirt isn't just a cute accessory to match the rest of your nursery décor, it's also an invaluable way to conceal essentials like extra packs of diapers, or to tuck away clothing baby has yet to grow into. Pick up some low-profile storage containers to slide under the crib and no one will be the wiser.
7. Use a Toy Box or Bookshelf as a Window Seat
Take advantage of valuable space below a window with a combo storage solution and seat. A sturdy toy box, storage ottoman or even a reinforced bookcase turned on its side can all serve as an extra spot to curl up with a book and admire the view. Simply top it with a custom cushion to complete the look (if you lack sewing skills, enlist a crafty relative or professional to make one for you).
When it comes to nursery storage ideas, our best advice is to keep an eye out for furniture that serves more than one function. You'll be surprised how easily you can make use of every available square inch.
At My Baby Nursery, we carry all nursery essentials that help new parents at every step. We understand that anything that your child touches or plays with should be safe. Our baby storage boxes are made from child-friendly materials. When looking for baby storage boxes, make sure you browse through our huge selection of storage bins and baskets. With our stylish storage boxes, your nursery would look tidier and better than before. We offer baby products from numerous brands and you can easily choose based on your needs such as material, colour and design. 
Here are some of our favourite baby nursery storage units.
Ikea Trofast ($126)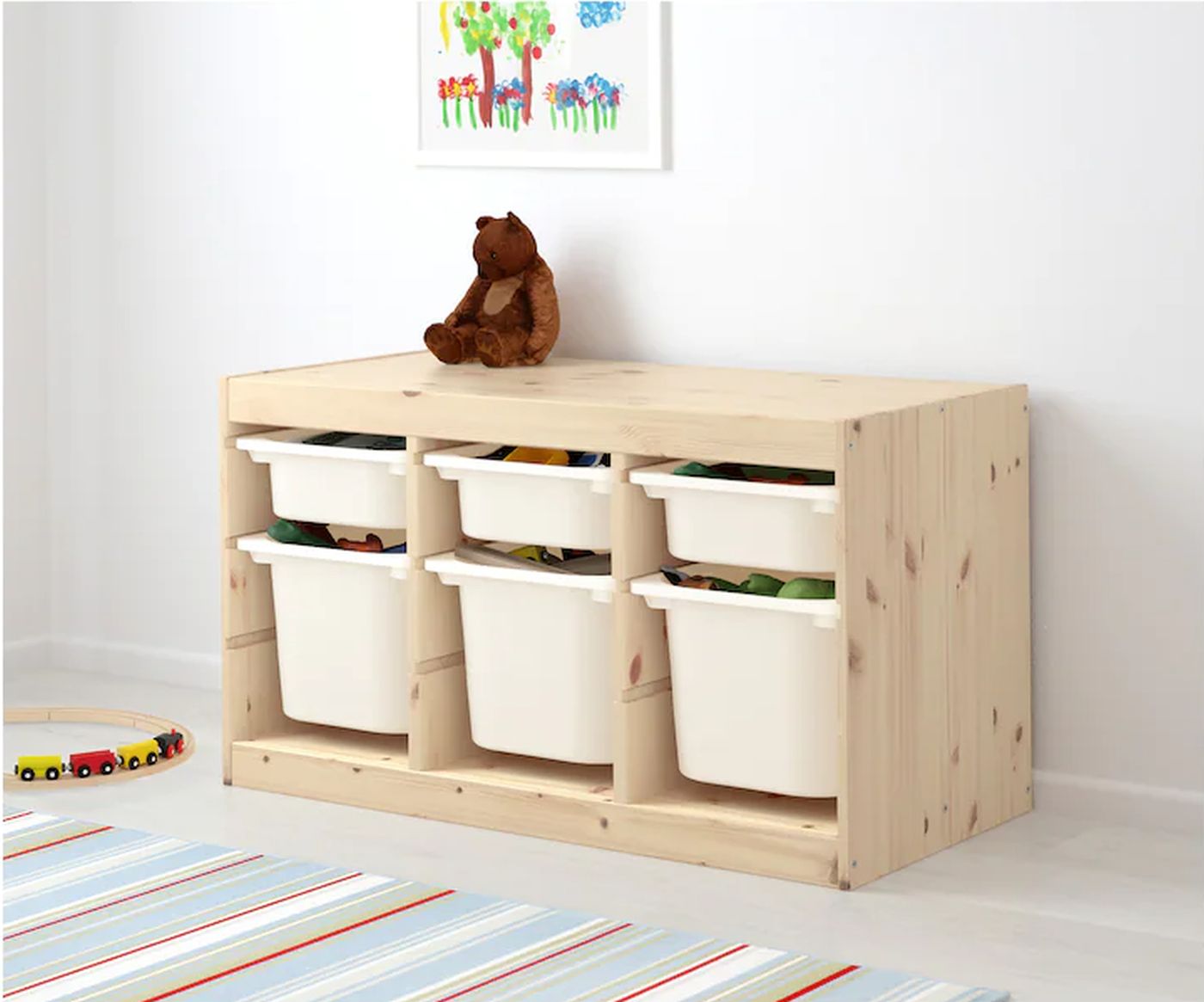 Children need room for play – and good storage for toys like TROFAST – a series of sturdy wooden frames and lightweight plastic boxes that your child can easily slide out, carry and put back again.
Hip Kids Felix Storage Unit & 2 Cube Set ($199.95)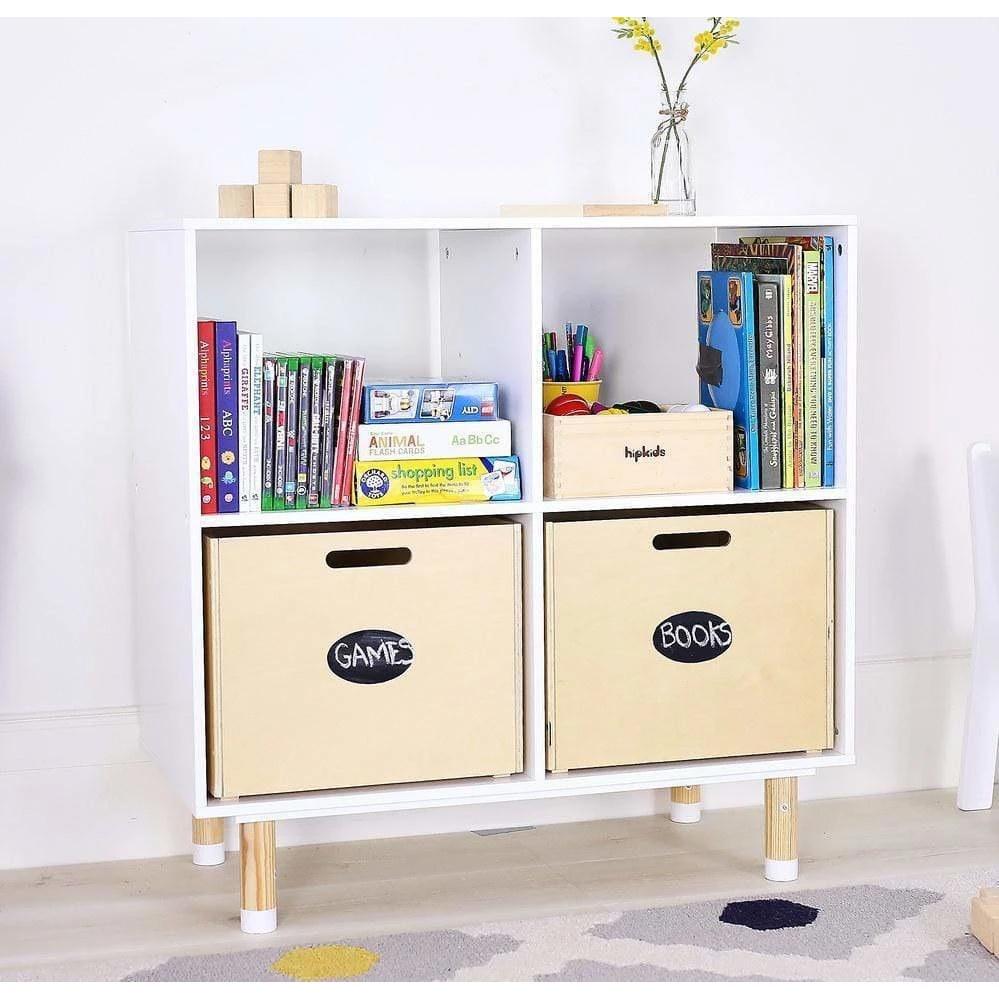 This Felix Storage Unit & 2 Cube Set is super practical as the storage unit is reversible. On one side the four open compartments allow room for cubes to be inserted, turn it around and the 4 compartments become concealed (due to the 2 x horizontal supports) making it deal for storing such things as toys, balls, shoes etc. Cubes are also stackable and ideal for conserving floor space. The finger cut outs make it easy for these cubes to move around and the chalk labels great for organisation & labelling.
Price Right Home Grey and White Stars 6 Bin Storage Unit ($79.95)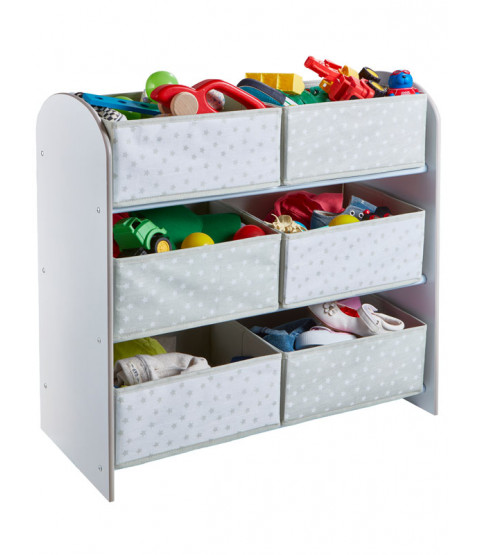 Tidy up in no time with this useful Grey and White Stars 6 Bin Storage Unit. Designed to make tidying up a pleasure rather than a chore, its strong MDF frame and 6 sturdy fabric drawers are ideal for storing books, games and toys. The stylish design has a plain white frame with pretty grey and white stars on the drawers that your little one will love. Coordinating items are also available from our website to complete the look of your child's bedroom or playroom.
vidaXL Wooden Cabinet 3 Left Weaving Baskets White ($151.99)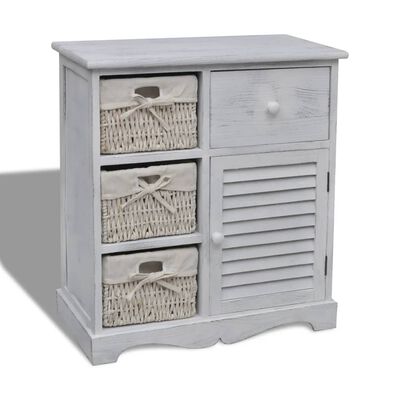 This stunning cabinet, made of high quality wood, features a simple but stylish design. It not only stores your stuff but enhances your room decor as well.
Coming complete with three weaving baskets, this durable wooden cabinet provides you with plenty of space to store your valuables, and at the same time brings country style to your room. Our wooden cabinet will surely be one of your favorite furnishings in any room.
AU Choice 2 In 1 Kids Wooden Bookshelf Book Storage Organiser Small Table and Stool Set Baby Furniture- Mint Green ($200)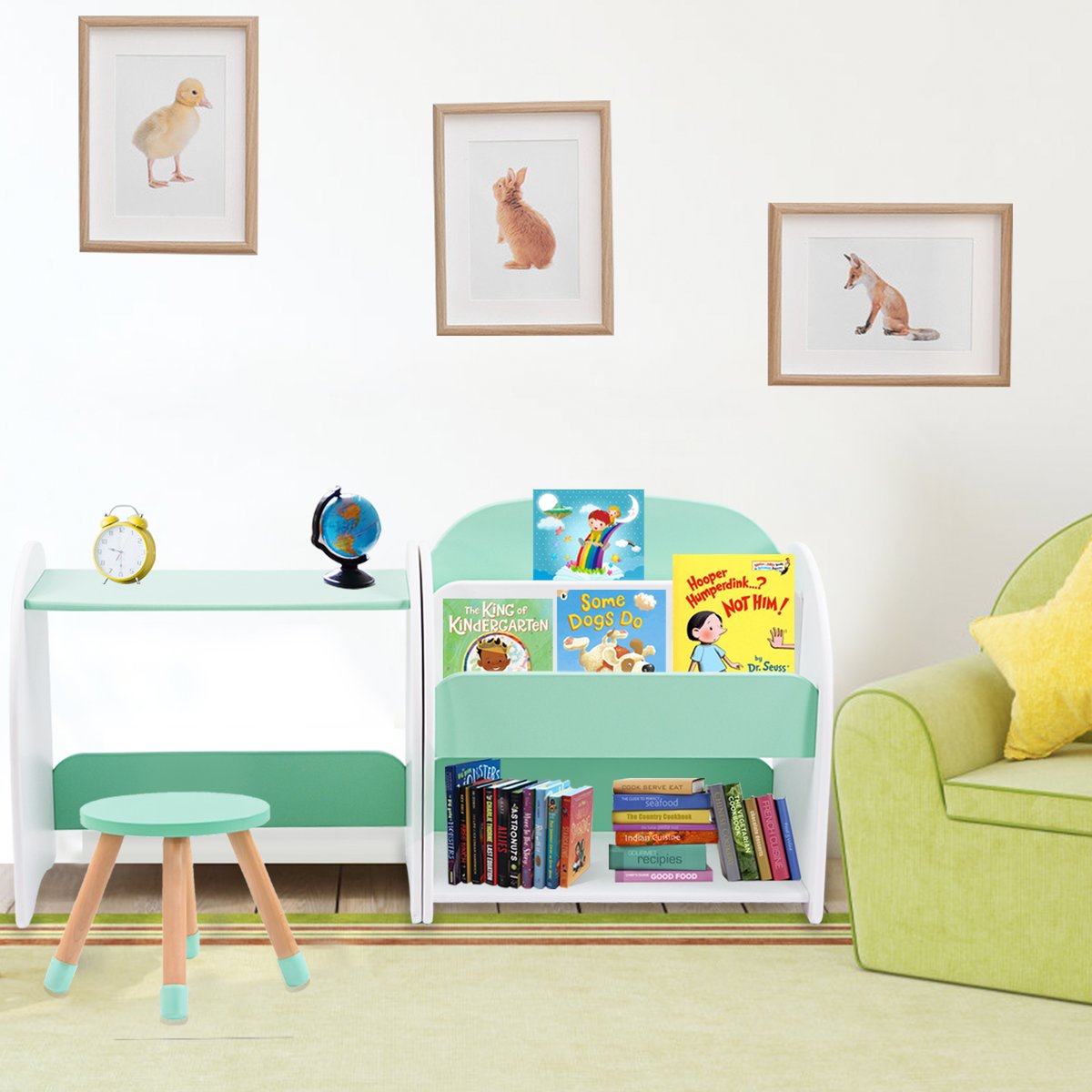 Learn, read, and play- 2 In 1 kids wooden bookshelf book storage organizer small table and stool set is a multifunctional decoration that teaches children responsibility while encouraging interactive design. The product meets all necessary safety standards while ensuring plenty of space for your child's needs. Its dimensions are most suitable to furnish little rooms such as bedrooms or living room reading desk tables with matching shelves. Place it in the perfect place so your child can enjoy their own private study spot and retreat (or maybe find the perfect position for some quiet time).
OMF Mia Storage Box ($74)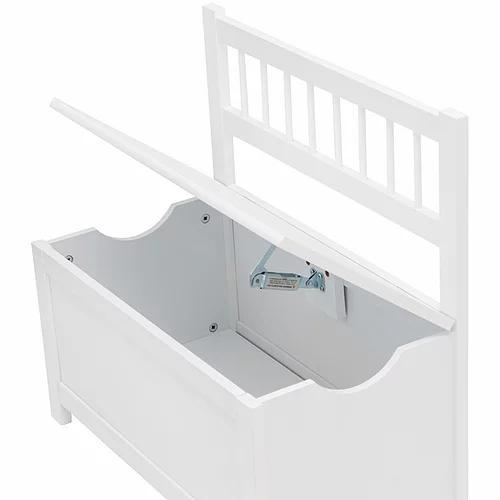 Store away your child's toys with this handy Kids Storage Bench Seat. Doubling as a toy box and a seat, this great 2-in-1 is sure to save you some space in your little ones bedroom. Made from MDF with a crisp white painted finish, it's sure to match the decor of any child's bedroom features a safety closing hinge.
A cute but affordable storage solution!
Kaspar Storage Trunk ($319)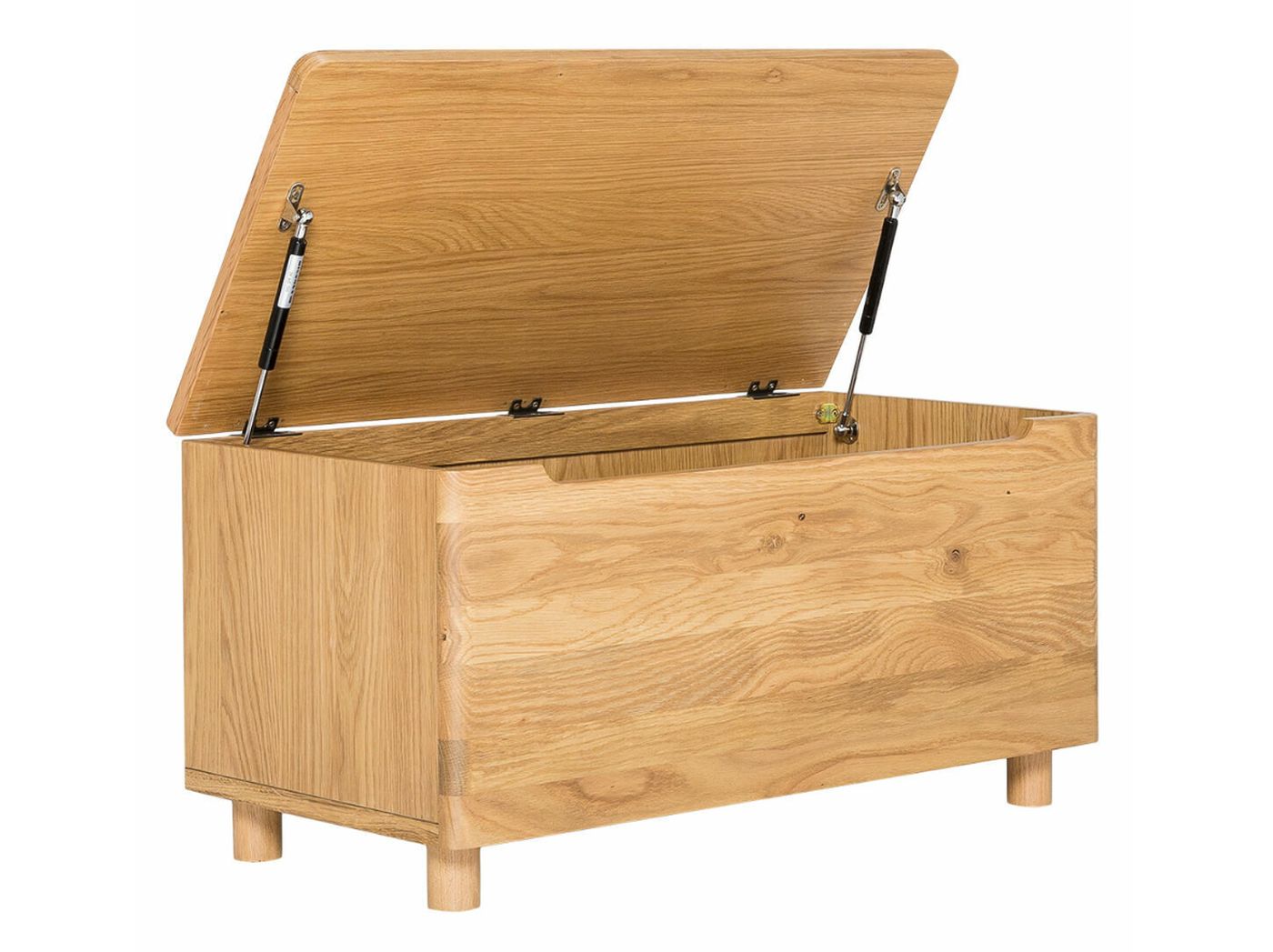 With a light timber finish and rounded details, our stylish Kaspar toybox is a roomy bedroom storage solution that's built to last. Hide away clutter, toys and bedding for easy reach. Made from solid oak, its easy lift up top opens to reveal generous storage. The backboards are weighted internally to help prevent tipping.
Coda 4 Cube Shelf ($79)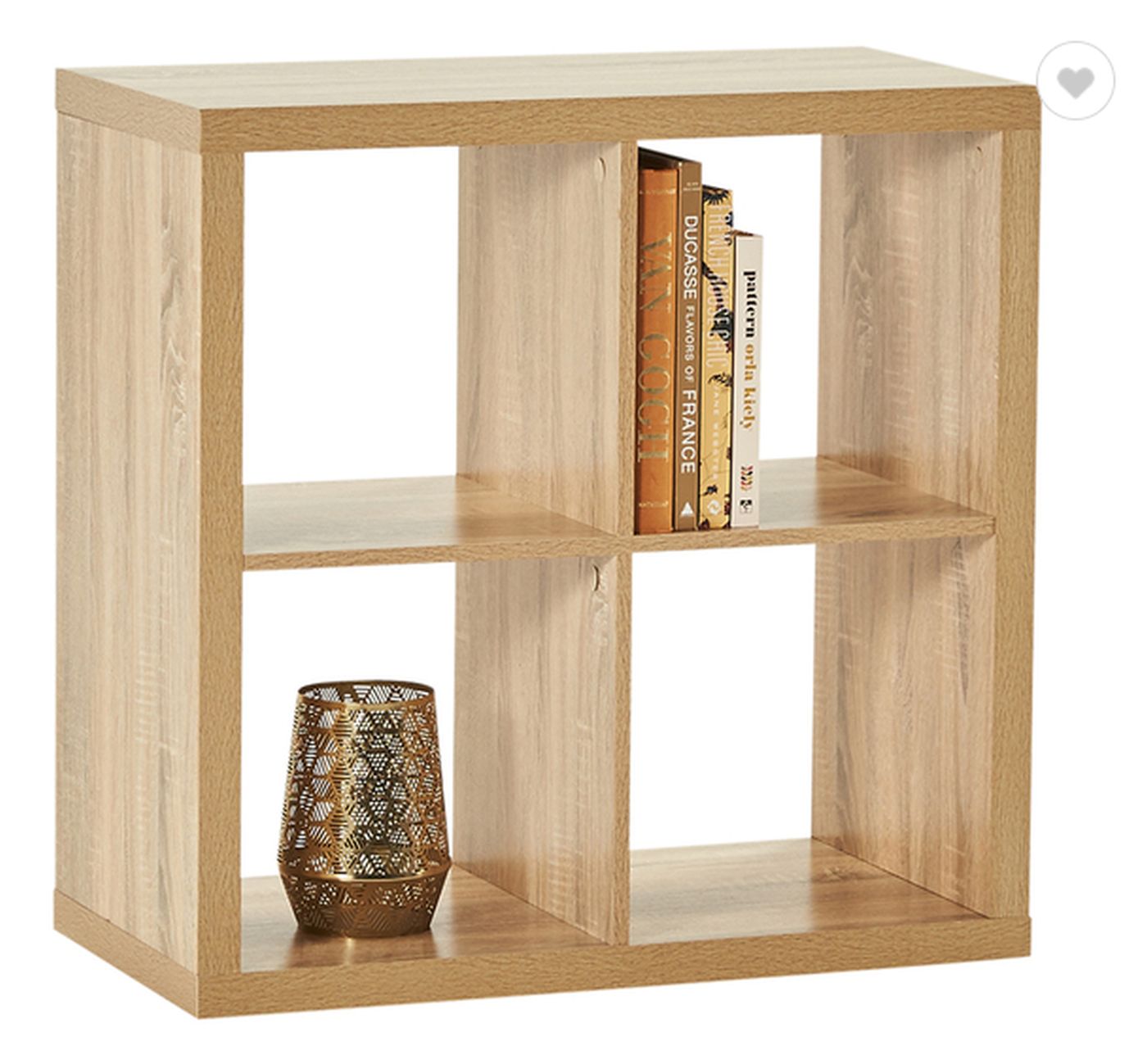 This spacious 4-cube bookcase will house your books, files, photographs and ornaments in contemporary style. Use as a stand-alone piece or place two together to create a smart wall storage unit. Inserts can be added to keep things stored away but within easy reach.
Fresh look – Finished in a crisp white or modern oak, choose your colour to suit your décor.
Easy to Clean – The melamine finish is scratch resistant and easy to clean.
Toy Universe Kids Bookshelf and Toy Storage Box in Natural Wood Colour ($849.97)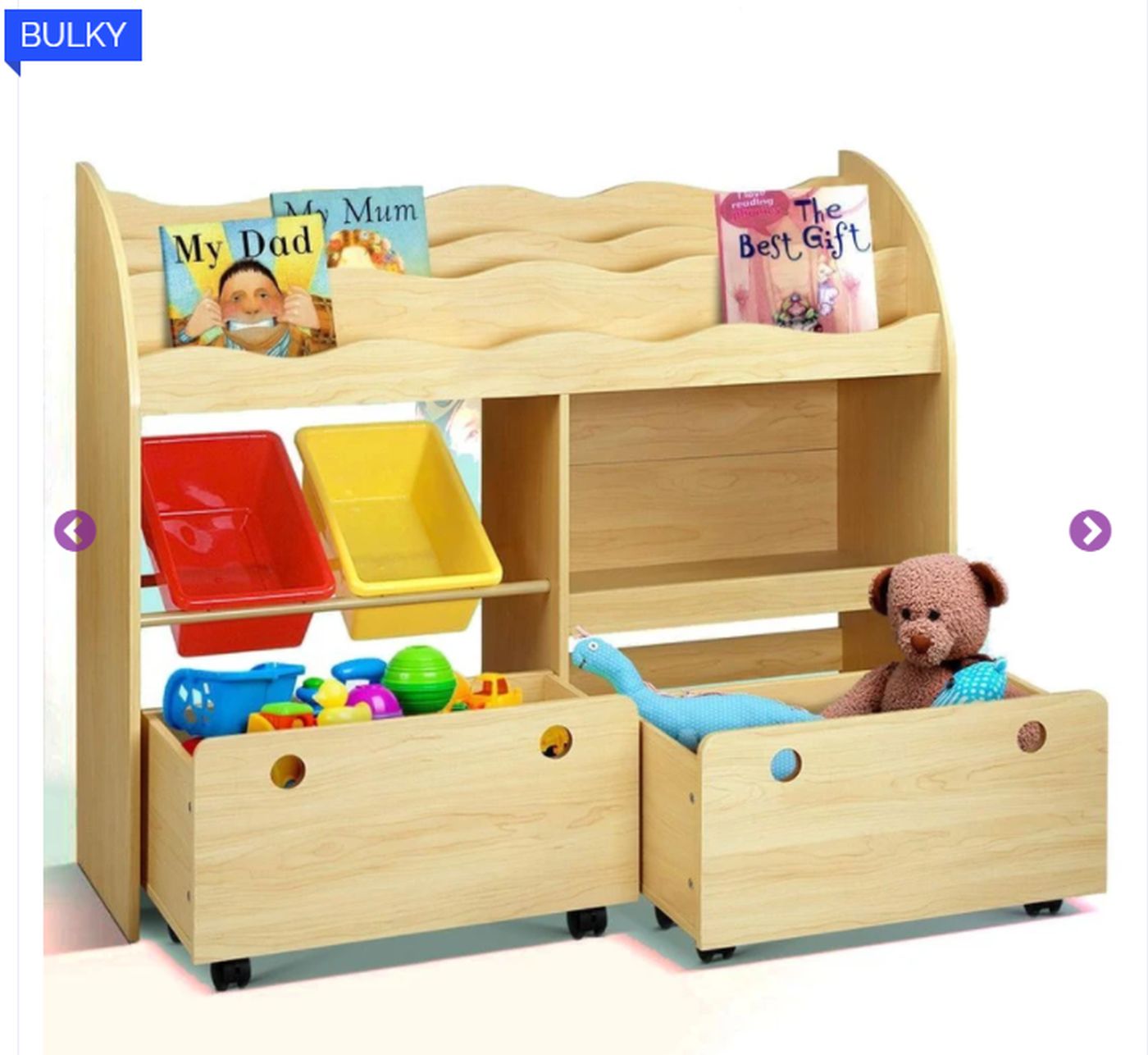 Reading is an essential part of learning, and this lovely, modern Kids Bookshelf and Toy Storage Box in Natural Wood is perfect for displaying and storing your children's books. Made from eco-friendly MDF board this Kids Bookshelf and Toy Storage Box in Natural Wood is easy to wipe clean and comes with display shelves, storage boxes and removable drawers so your child can organise their books and toys. Two removable storage boxes that slide neatly into the bottom of the bookshelf are perfect for storing toys and art materials, two brightly coloured buckets and a storage shelf make great display options. Smooth round edges and oval handles make this bookshelf safe for little fingers.
White Tyler Toy Storage Unit ($199.95)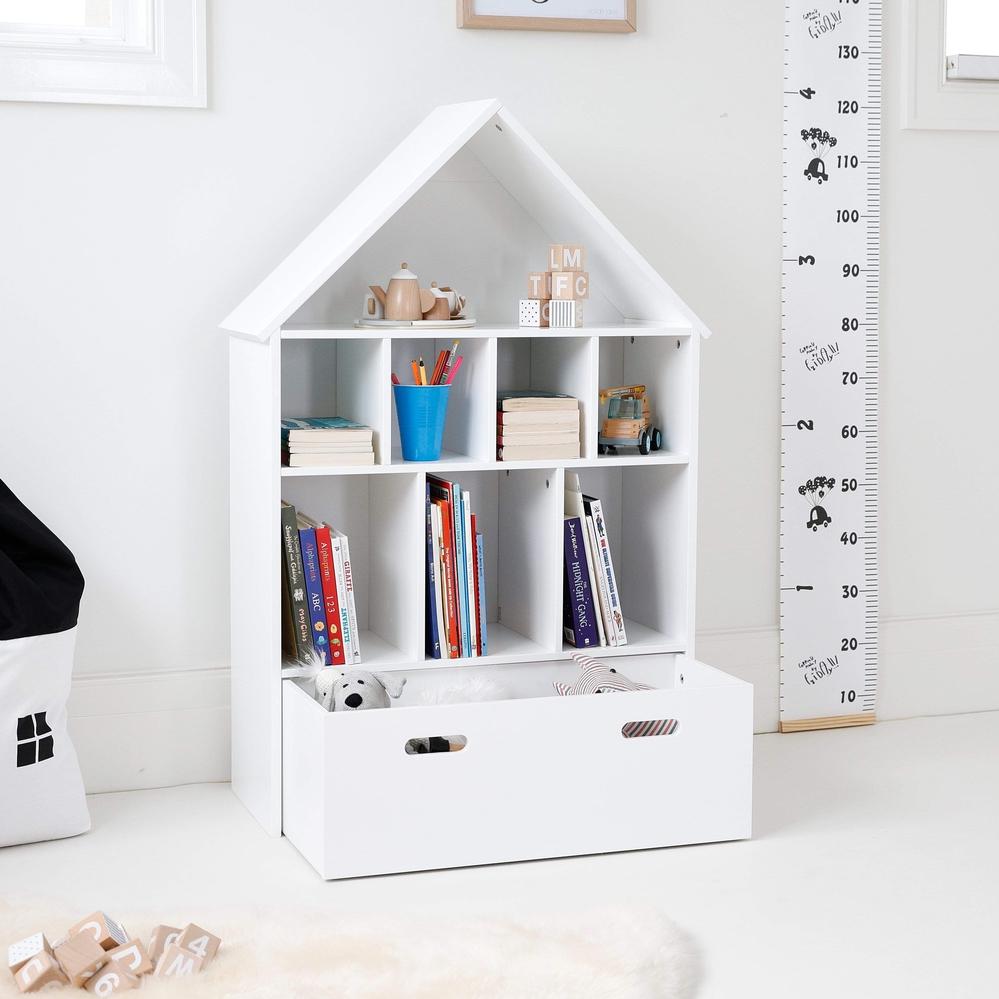 This toy storage unit will make a fabulous addition to any home. With dimensions of 74cm long, 113cm high and 30cm deep, it is the perfect size for smaller bedrooms or studies. The built-in safety straps help keep the unit securely in place by attaching to a sturdy wall with included screws. It can also be turned into an island embellished with fun colors!
This toy storage unit from White and Tyler is a classic. Interchangeable shelves make it easy to create your own playroom or bedroom at home! Looks amazing in white, which matches any decor well. A set of safety straps are included to keep the unit safe and secure when secured against a wall as well!
Little Nation Toy Storage Maple with White Bins ($89.95)
Our Maple Wood Frame toy organiser features 8 standard and 4 large interchangeable storage bins. The plastic bins are BPA or Phthalates free, so you can rest easy knowing your child isn't handling a harmful or product anytime. It also has rounded corners to make sure your child is secured from sharp edges that could potentially hurt them.
Little Nation's Toy Organiser with Plastic Bins is easy to assemble, transport and clean! Stylish furniture make it ideal for organizing your child's nursery, bedroom, playroom, closet, even the living room. Exposing your kids to early organisation of their toys and stuff help them learn to be clean and organized while at the same time teaching sorting and cognitive skills.
Grayson Stackable Storage Unit (Set of 2) ($199.95)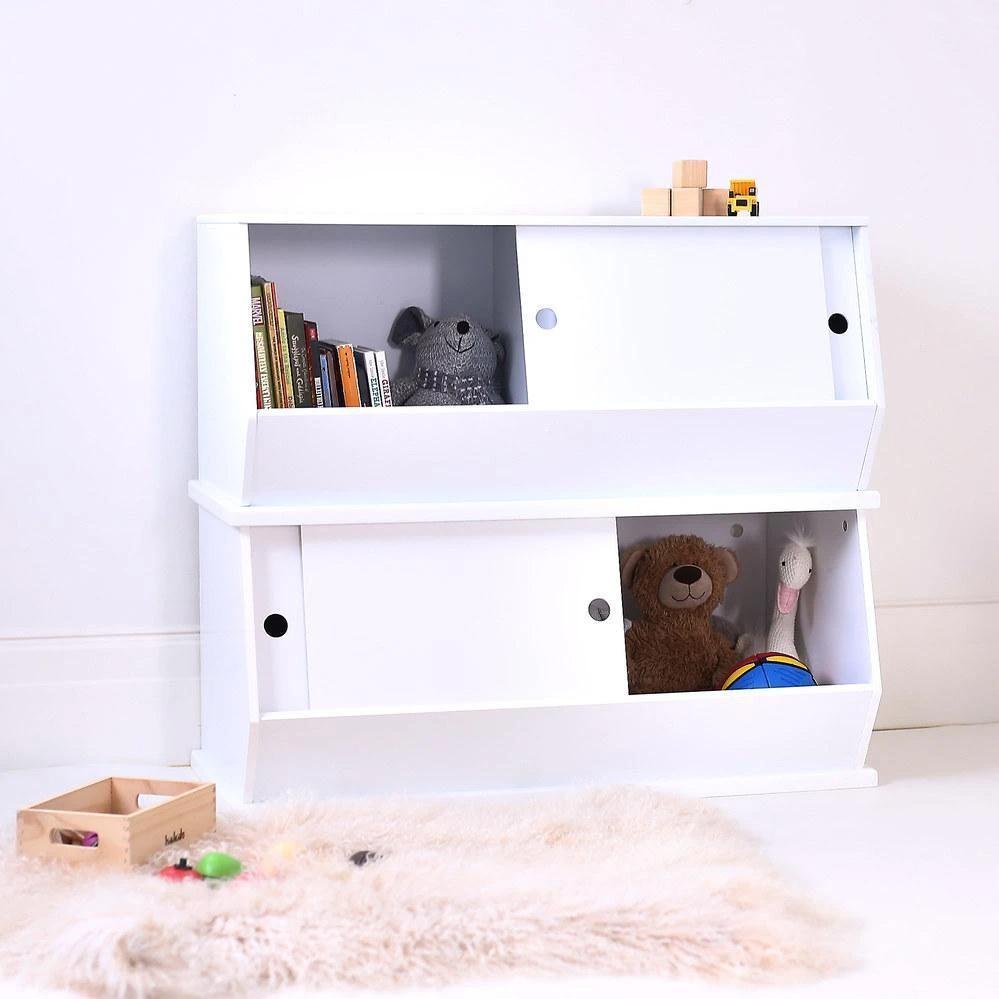 Conserve floor space with our large sturdy Grayson Stackable Storage Units. They can be stacked on top of each other, securely connected by concealed metal fastener brackets to avoid tipping, or alternatively they can be placed next to each other.
These stylish stacking bins are ideal for use in playrooms, bedrooms, study or garages for storing toys, books, games, shoes or anything you fancy. Complete with sliding doors to keep toys and books concealed.
Mocka Wilbur Kids Storage Shelf ($69.95)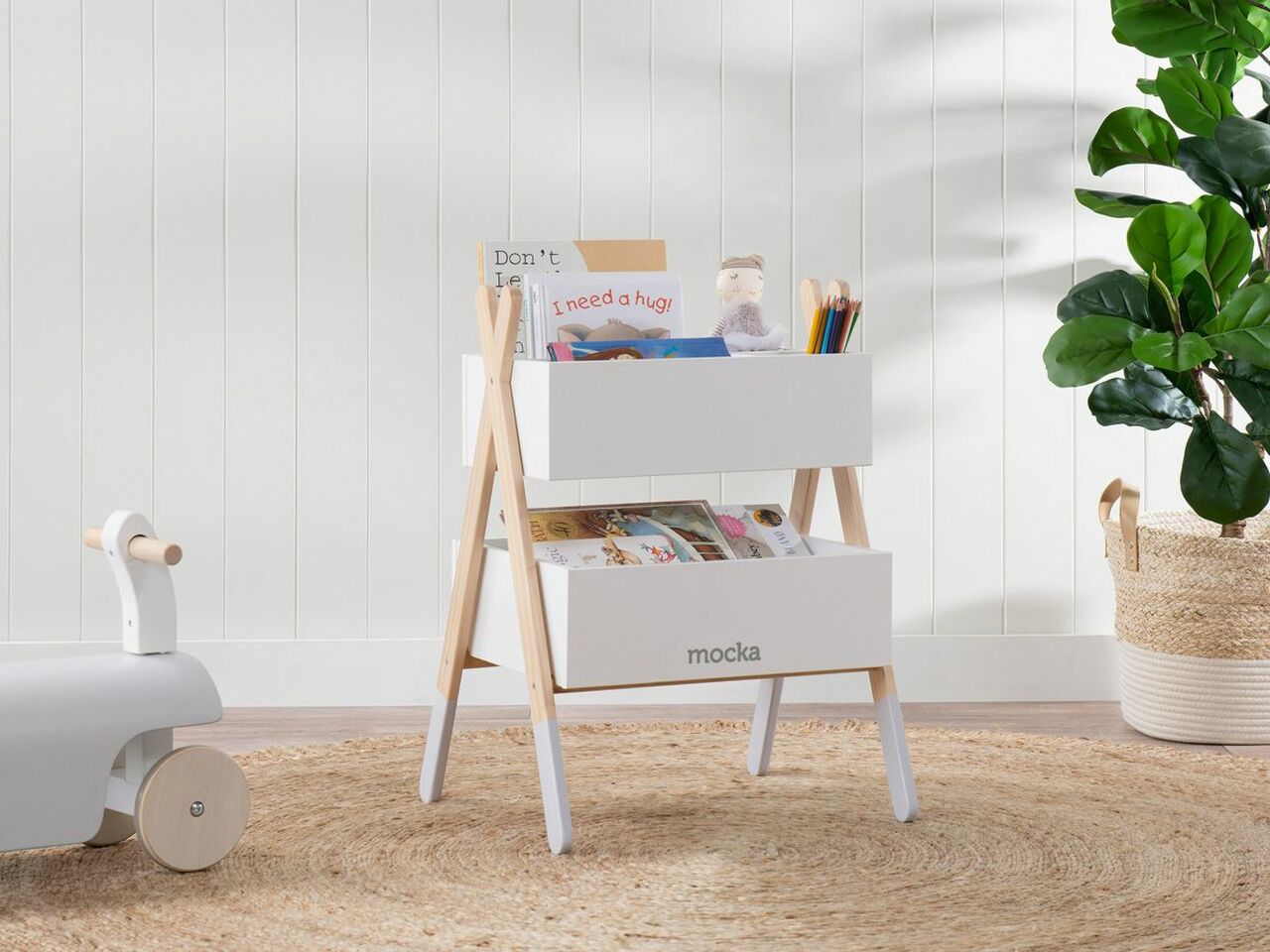 Organise your child's bedroom with the Wilbur Kids Storage Shelf. Stylish and versatile, this kids set of shelves works great in a kids bedroom or playroom. The ideal spot for all your child's books, pencils and toys, this storage shelf will keep littles ones rooms organised and tidy. With two shelves featuring a mix of compartment sizes, and a removable bottom shelf, you'll have the versatility to store a range of items.
Our Wilbur Kids Storage Shelf offers kid-friendly storage that looks very stylish. Stunning in any space, this children's storage shelf boasts a unique design and mix of natural and white colour palette that easily works with any interior. This gorgeous design means your child won't outgrow it easily.
You'll have the versatility to store a range of items with two large shelves, one comes with a mix of compartments sizes helping you store more. The top shelf has four sections which are perfect for books, toys, pencils and other craft supplies. The bottom shelf is larger and can be removed, making storing and stacking items in this shelf even easier. The whole storage unit has been designed with kids in mind, which is why all shelving is at the perfect height for kids to access.
With this multi-purpose storage shelf, you'll have ample space to help keep your child's bedroom or play area tidy and organised. Add easy kids storage to your children's bedroom with the Wilbur Kids Storage Shelf.
Boori Tidy Wooden Toy Box ($119)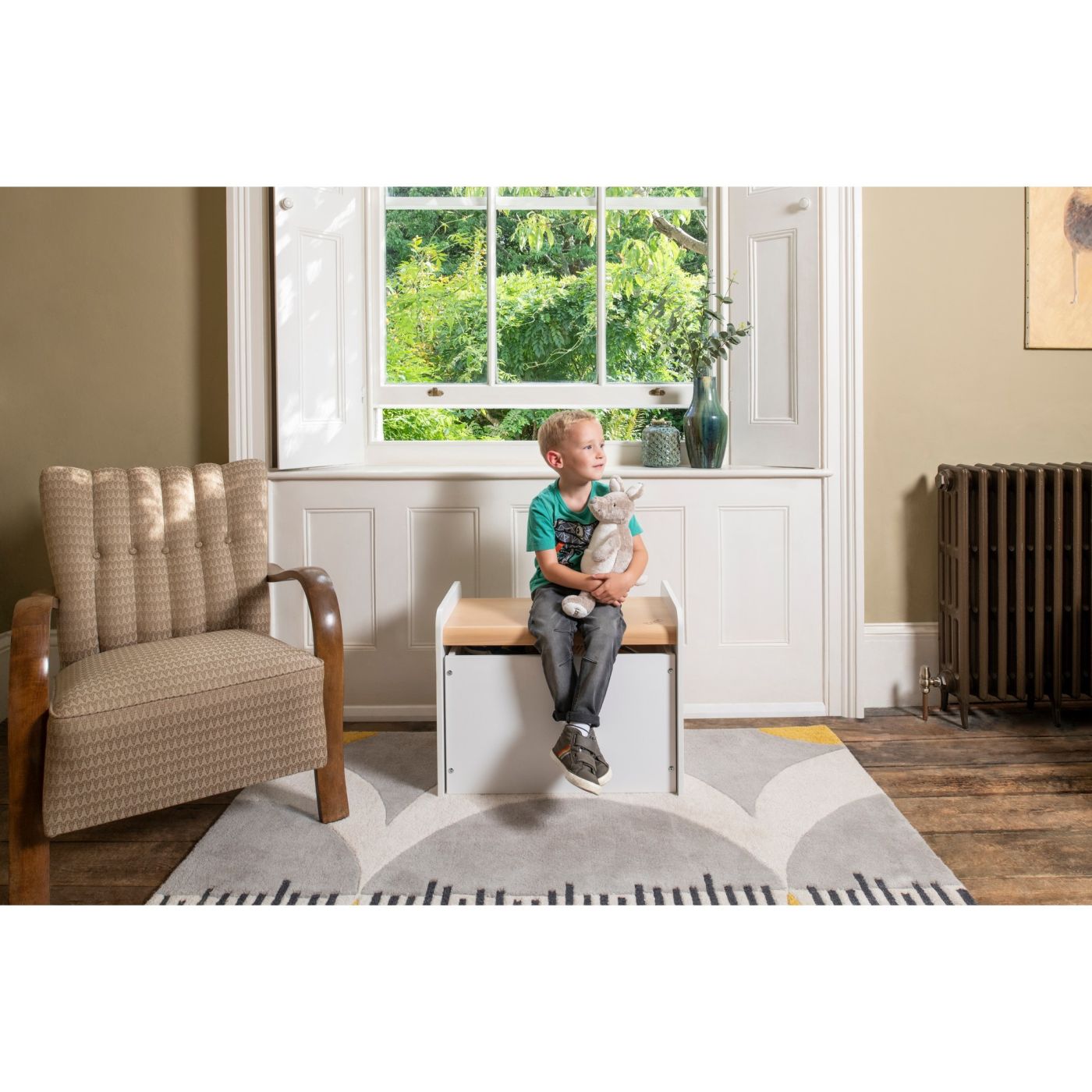 The Tidy Toy Box is the perfect solution for tidying up your child's bedroom, playroom or any other space they are going to use. Use it as a toy box with plenty of internal storage to keep toys organised, but also be able to house sheets and bedding at the same time. The two-tone design can match your entire Boori Tidy collection, and includes wheels on its bottom so you don't have to try folding away their tiny clothes from cross-crissing them when in a hurry! All you need is some creativity and imagination for all the games you can play with such safety!
Fantastic Furniture Bergen Large Blanket Box ($199)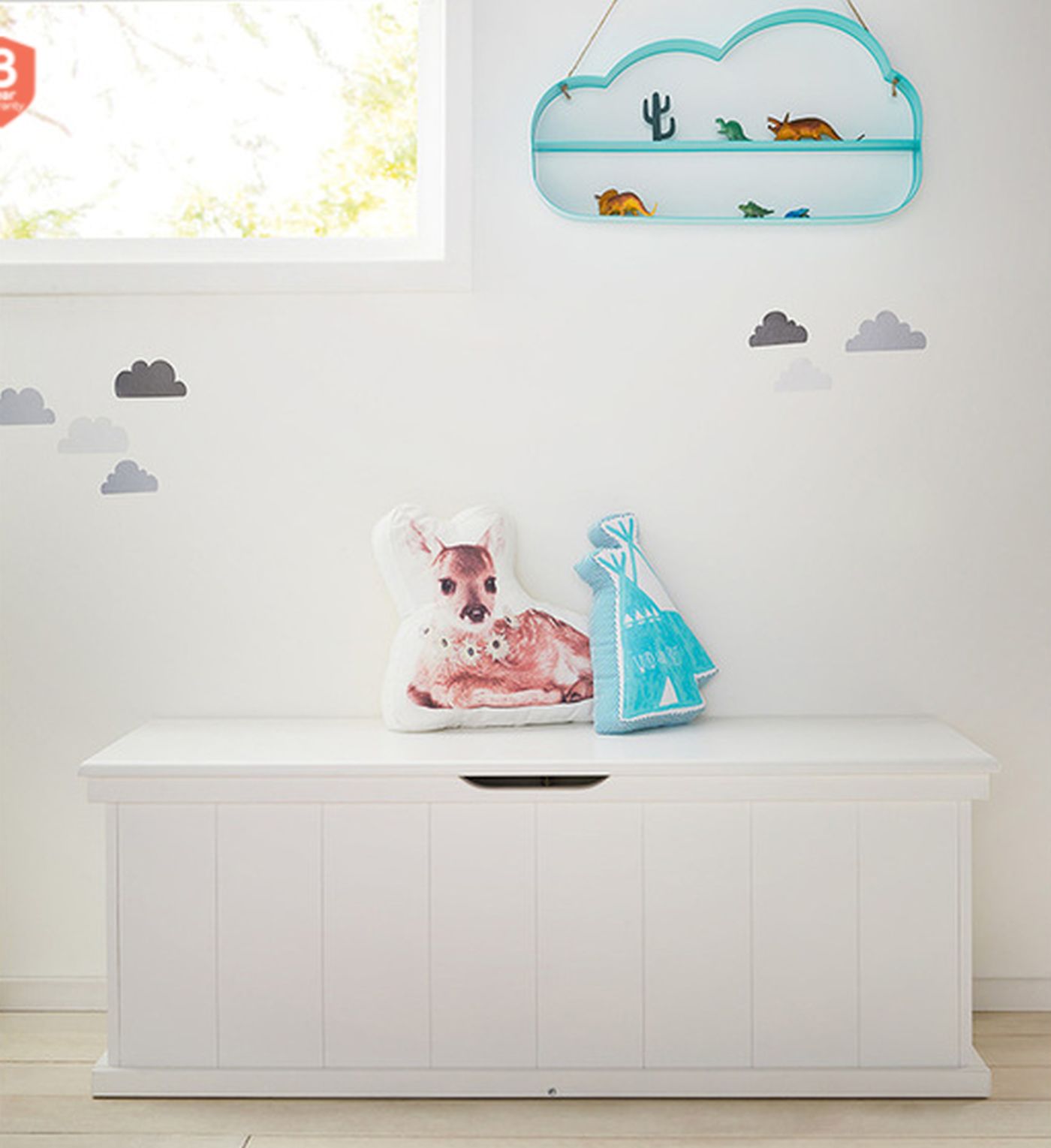 Store bedding, books, toys and keep everything tucked neatly away to enjoy a tidy home with this smart storage box. Made from a combination of solid pine and veneer, white will suit any interior.
Pottery Barn Kids Angled Bookcase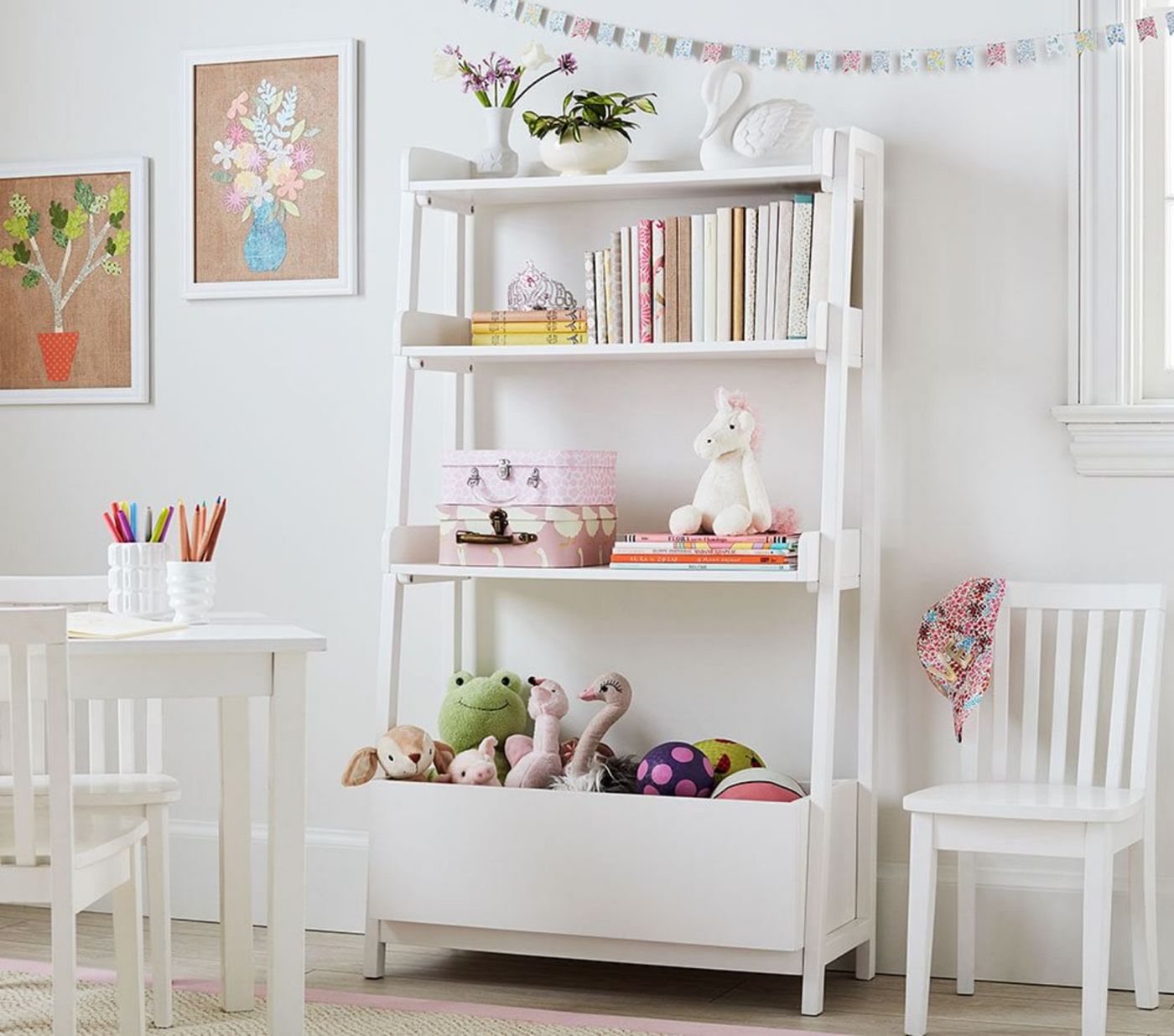 The Angled Bookcase is a piece that will be excellent in any room. With four shelves, you can store all your little one's treasured toys and books neatly on display. The contemporary design works well with most styles of homes and the durable construction will guarantee years of use. Water-based paint adds rich colour to each piece and offers consistently high quality time after time so your little one can enjoy safe playtime for many generations.
Dollhouse Bookcase ($1199)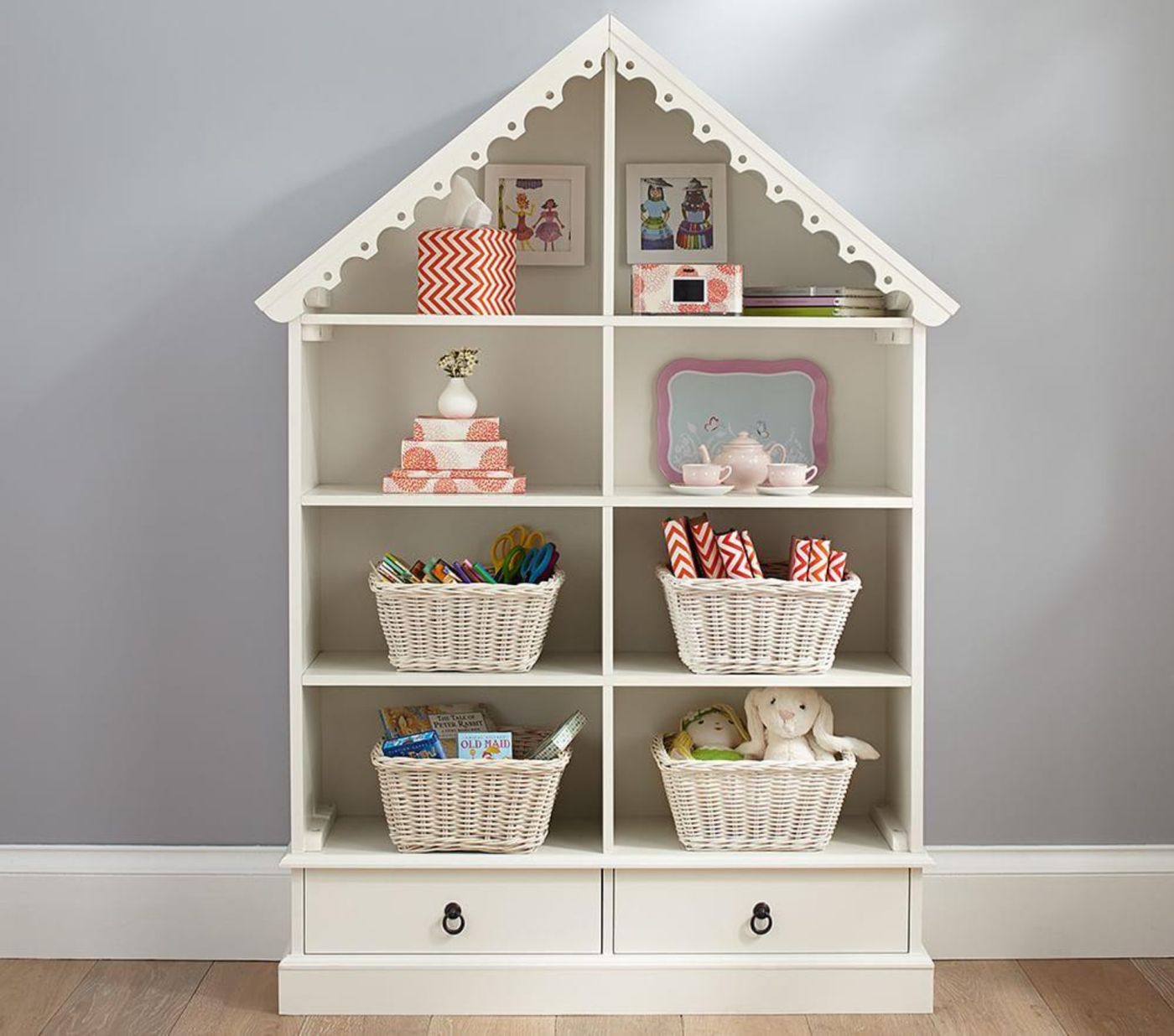 This dollhouse bookcase is the cutest and most creative way to show off your prized books and toys. The shelves are large enough for everything from shoeboxes to dolls, with just enough space in between for a teddy bear or nice plant. A simple peg system holds each shelf securely in place, so little ones can play with it without worrying about spilling their favourite things all over the floor!
The Vintage Simply White paintwork only adds to the charm of this project, making it one of our most popular pieces both online and in stores worldwide. It's also quick-drying to help you get back up on your feet after any potential messes; which is particularly useful if children tend not to be as careful with what