A pack and play are one of those lifesavers for many parents. But sometimes they are not used 100% because there are some issues you may not know about. In this article, we answer the main questions about pack and plays and their mattresses and how to use them as useful tools for your baby's care.
Having a pack and play, playard or travel crib around for your baby or toddler is so handy. Not only will it provide a comfortable bed or secure playard at home, but it can be taken around with you for some napping on the go.
A pack n play needs to be four things – safe, comfortable, easy to use and portable. 
However, the standard base supplied with a pack and play is often hard, cold and uncomfortable. 
Many parents add in a specially sized mattress for increased coziness. A pack 'n' play mattress can offer comfortable sleeping space for your baby, or extra cushioning for playtime in the pack and play crib.
To help you make a decision on which mattress is best for your pack n play, here are some things to consider before buying one, and a list of the best pack n play mattresses for your baby! 
You don't necessarily need an extra mattress for a playpen, especially with babies. However, some playpens don't have a cushion at the bottom, so buying an extra floor mat will add more comfort for your kids. On the other hand, as your child grows and becomes heavier, the thin cushion that cam with the playpen might need an upgrade. This is why some parents opt for an extra mattress.
We have a wide range of playpens for your baby right here at My Baby Nursery.
Do pack and plays come with a mattress?
​No, just the firm pad that comes with the pack and play. It doesn't matter what brand the pack and play is, and it happens on Graco and other brands. I recommend a pack and play mattress if you want your baby to have a bed to sleep on for the long term. The pad the playpen comes with is safe, but not comfortable at all. If you press a little bit, you can feel the support bars.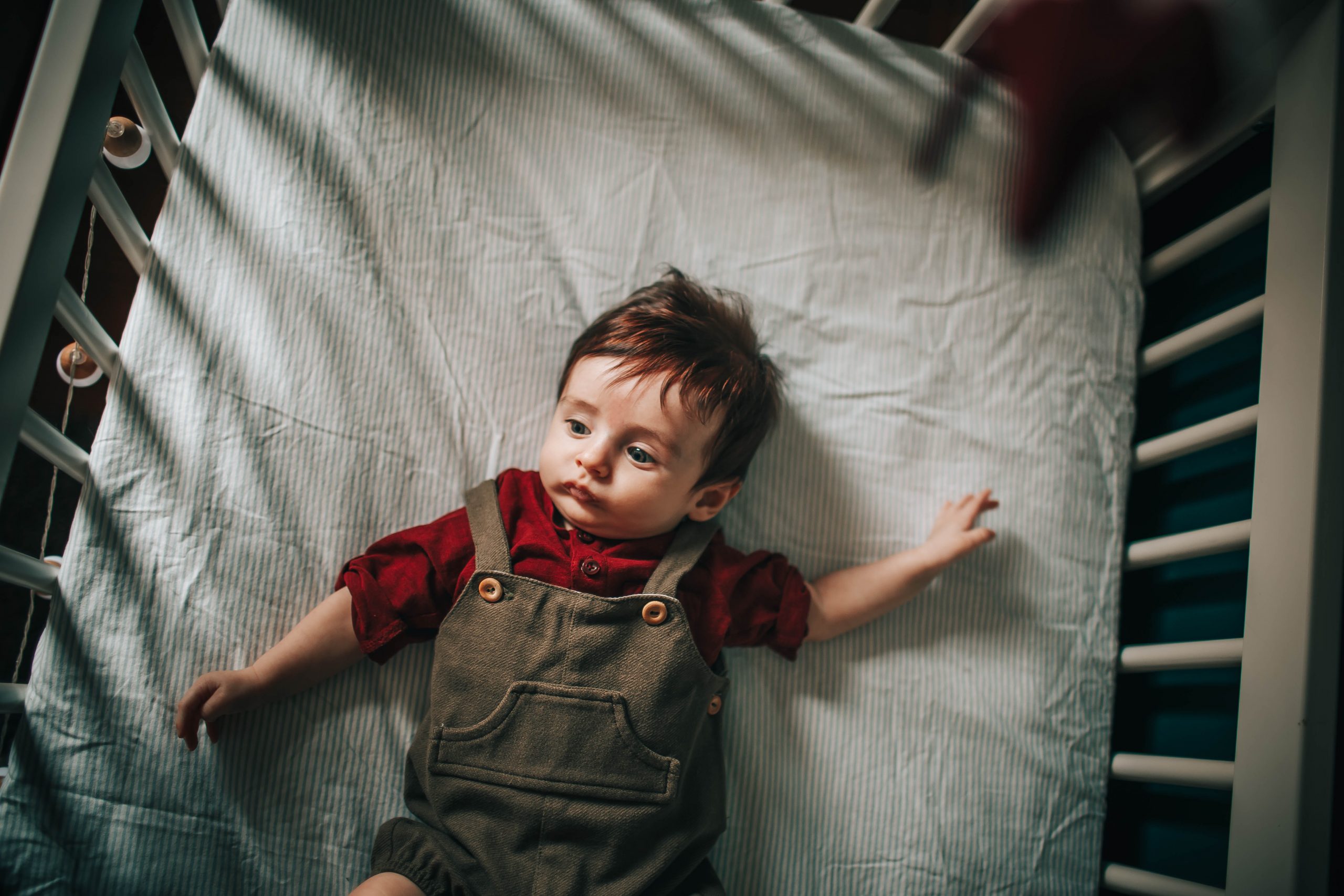 Does a pack n play or a playpen ever need a mattress?
Some parents put their baby in a pack 'n play in their room, to be as safe as possible from SIDS. But the pack 'n play mattress is made of wood underneath, and they want a more comfortable mattress for their little one. What we recommend is only to use the hard mattress of the playard because it leaves no gaps in the corners or edges. These gaps can cause entrapment and suffocation.
Yet, if you plan to use one, make sure there are no gaps on the sides. The mattress has to be firm, but it's better than wood. Roll up a sheet and make sure everything is flat and fit tightly.
Is there a mattress for Pack n Play?
There are several specific solutions for pack n plays. Some are mattresses, and others are padded sheets.
A recommended mattress is the Dream On Me. It fits beautifully into the playpen. The baby may like it a lot more than the original "mattress" of the pack 'n play.
There are also organic products: the Sproutwise Kids soft organic folding playpen mattress. It remains firm but much more comfortable and fits the playard perfectly. It is placed on top of the playpen mattress, and then both are wrapped in crib sheets.
Finally, you can get Little One's quilted sheet. This offers a little more cushioning but keeps the firmness of the mattress. First, you put this padded sheet on the pack n' play, then a regular crib sheet, so if she spits or has an accident, all you have to do is change the crib sheet.
Will a Crib Mattress Fit in a Pack and Play?
As I told you in the answer above, there are specific mattresses for a pack and play. Crib mattresses don't have the standard size of a pack and play and so cannot be fitted into it. They are bigger and in general, when using a baby bed, the rule of thumb is that the mattress should fit perfectly, it is the safest thing for your baby. That said, don't worry because it's easy to get very good mattresses on the market with the exact dimensions of the pack and play, especially for the Graco brand.
Do I Need A Separate Pack N Play Mattress?
For busy parents, a pack n play can be such a useful baby item. It gives your baby a safe place to play during the day, while still allowing you to keep an eye on them.
A pack n play, with a comfortable and safe mattress, is also a great sleep space for your baby. It can be moved around the house as you do, or be taken out when on holiday or visiting family and friends.
Most pack n plays do come with a mat or pad, but these often very hard and plasticky and are not comfortable enough for sleeping, so, yes, an additional specially designed pack n play mattress will finish it off perfectly.
Consider The Style of Your Pack and Play
If you already have a pack 'n' play at home, you will need to purchase a mattress that fits your model, and one which suits its style as well.
That is, some pack n plays have an attachable bassinet sitting at the top, and others are just an open structure. Make sure that the mattress you choose will fit the style of the pack n play you have at home.
Will it Fit? What Size Mattress to Get
Just like the style of the mattress, the fit is so important.
Most pack n plays are made to roughly the same size (~37″ x 27″), but there tends to be a small difference of 1/2 inch to an inch between each so double check before buying.
If you can test the mattress in the pack n play before buying then, that's a good idea. Otherwise, you'll have to check your pack and play user guide for the dimensions as measuring accurately by hand is tricky.
The mattress should sit snug in the pack n play, and you should not be able to fit more than one finger between the edges all the way around.
The right fit goes a long way to ensure your child is safe when inside the pack n play.
Make Sure The Mattress is Breathable
To keep your baby cool and dry, and to create a hygienic sleep and play place, you should choose a mattress that has good ventilation.
Some mattresses are naturally breathable, while others come with built-in vents on the sides.
If you are adding on a mattress protector, make sure that is also breathable and hypoallergenic.
NOTE – we saw on one forum one mom thinking that the term breathable meant that the baby could lie flat on its face and breath through the mattress!!!
NO, NO, NO!! Breathable means a small amount of air can circulate through the mattress to create ventilation. It does not mean 'breath-through-able'. Please under no circumstances allow you, baby, to lie nose and mouth down on any mattress of any kind!
Firmness
As comfortable as it might sound, a soft mattress is not ideal for a baby. Soft bedding is considered to be a possible SIDS risk and should be avoided.
If you are able to, you can test the firmness of the mattress by pressing a finger down on the surface. If it indents easily, it is too soft for your baby.
Check out our range of baby playpens at My Baby Nursery.
Material – Foam v Innersprung
There are two types of mattresses you can choose from – foam and innerspring.
An innerspring mattress is not always best for a pack n play as they tend to tear. That said, however, a good quality innerspring mattress is better than a cheap foam mattress.
Our recommendation is to get a good quality foam mattress for you to pack n play, they are comfortable and safe, and often lightweight and hypoallergenic. 
Some mattresses come with a vinyl waterproof covering.
Should I choose a second-hand mattress?
Pack and play mattresses aren't crazily expensive. A decent quality one should set you back $40 to $50, and a budget one can be bought for 20 bucks.
With that in mind, it is always a better option to buy a new one.
You can never be sure of what a second-hand mattress has been through, and it might be harbouring bacteria or fungi growth.
Rather; spend a little bit extra to buy a brand new mattress for your baby.
Portability 
As the name 'pack and play' suggests, these cribs / playards are designed to be packed up when finished with or when you want to travel.
Most pack and play mattresses are single piece designs that are quite big and bulky – albeit quite light.
They're not too bad to carry around in a car as they are quite flat and don't take up much space. Rather the biggest concern is them getting dirty in transit.
[TOP TIP: when you get your mattress open it carefully and keep hold of the plastic wrapping it comes in. This makes the perfect protector for when you are on the move.]
That said, it does make life a lot easier if you choose a pack n play mattress that is easy to travel with, and which folds away easily. Some roll-up and some fold together, but whichever you choose, make sure it can be carried around easily.
Safety
As with any child's mattress ensure that it is manufactured to the required national standards for flammability (16 CFR 1632 / 1633 in the USA, BS 5852 in the UK) and the toxicity of the material inside. 
You'll want to get one that is phthalate and lead-free and does not outgas.
Make sure it sits snugly in the bottom of the pack and play to ensure that it doesn't bunch up and form a suffocation hazard (this especially applies to a fold-up model – make sure it is securely fitted down).
Should I get a Waterproof Mattress?
A lot of packs and play mattresses come with a waterproof vinyl coating, and these are great for the practicality of preserving the mattress longer and for making it easier to clean.
They are, however, a little less comfortable to sleep on and we always end up putting on a cotton mattress protector anyway – which kind of doubles up the protection and makes it softer.
In short, a waterproof mattress is nice to have but not essential.
Do I need a Mattress Protector?
Some pack n play mattresses come with a waterproof vinyl coating, and some have just a plain material surface.
Either way, a soft, cotton mattress protector is a good idea. The protector pad will help keep the mattress safe and clean and is more comfortable than a vinyl surface.
While protecting the mattress, it is still incredibly soft and comfortable for your baby.
Why do you need a pack n play mattress?
Soft, comfortable and warm
Pack n play mattress pad/protector has a softer material than the mattress. Most of our pack n play mattress pad is made of cotton, bamboo fibre, and Tencel, so softness and comfort are your first choice. So using them makes the pack n play a bit softer for the baby. Besides, babies feel warmer sleeping on a protector than on a mattress pad. This makes them feel cozy and thereby sleep longer. 
Extend the life of the mattress
Diaper blowouts, reflux, spit-up, and drool will probably make the mattress dirty and look super gross. Over time, the mattress might get stains that are very difficult to clean. If the mattress is not wipeable or the cover is not removable, it is important to get a few pack n play mattress pad/protectors.
The pack n play mattress pad/protector will catch most of the spit-up and diaper leaks so you will not have to spend time scrubbing out the stains on the mattress.
However, you might want to put a waterproof pad underneath the protector in order to protect the mattress from any leaks. 
Helps prevent dust mite allergies from acting up
Dust mite allergies are very common and can lead to issues such as sneezing, runny nose, wheezing, and shortness of breath. Dust mites eat dead skin cells, and there will be dead skin cells in your mattress if you don't use a protector.
Reduce sleep noise
In cert parenting forum, a mom noted that her baby used to wake up several times a night before she started using a pack n play mattress pad/protector.
She explained that the mattress pad that came with the pack n play was a bit hard for the baby to lie on directly. It also made some noises with every movement the baby made, which reduced after placing a protector over the mattress.
Therefore, using the pack n play mattress pad/protector minimizes the noise allowing the baby to sleep longer.
Easier to clean
Pack n play mattress pad/protector are easier to clean and dry that a mattress. If the baby spits up, pees poop or vomits while in a pack n play, you remove the pack n play mattress pad/protector and clean it.
However, if the mattress is not protected by a waterproof pack n play mattress pad/protector, you will be forced to take it out, and wash and rinse it thoroughly to remove stains and smell. Drying the mattress may be a big challenge as it may take several days to dry completely and avoid stinking.
How do you clean a Pack 'n Play mattress?
Here we offer three different ways to keep your playpen mattress completely clean.
The first is to clean it with a baby wipe; it could remove stains. However, if you want to do a deep cleaning, you can soak it in a tub full of hot water with laundry soap, vinegar, and baking soda.

Maybe you couldn't get the smell of vinegar out, and it drives you crazy. In this case, we recommend Oxi clean baby stain overspray or powder with no perfume. Fill your bathtub and soak the mattress if necessary. This option removes 99% of stains.

The last option is quite simple. Just buy crib sheets for the baby playpen mattress and wash them whenever you need to.
My Baby Nursery has a wide range of baby nursery playpens for your little bub.
What age can you put a baby in a playpen?
The ideal age to use a playpen is six to eight months. At this age, most babies can sit, reach, and grab nearby toys. They are generally accepting, so you can leave them in the playpen (always staying close, of course) for a short period of time without the infant making too much fuss.
Babies this age also love new toys, so be sure to put something in the playpen with them. Don't try to tie toys to the sides or top of a playpen, such as ropes or chains that can present a suffocation hazard to babies.
When your child is eight to ten months old, he or she will probably be crawling and even standing up. For this reason, he may be tired of being in the playpen. He'll want to explore a larger area and might even stand in the playpen and cry if you don't take him out. Keep her happy in the playpen by providing new toys she hadn't seen before.
You may well start to stop using the pack n play once your baby can walk. He will likely protest loudly once he can walk if you try to confine him to a small space.
So do I need a pack n play mattress pad/protector? Of course, you do. Pack n play mattresses are not washable like sheets. Therefore, spreading well-fitting pack n play mattress pad/protector helps to protect the mattress from spit-up and diaper leaks. Also, pack n play mattress pad/protector are soft and warm, and thus, they make your baby feel comfortable and cozy, which promotes better sleep.
Everybody needs some pack n plays mattress pad/protector on their mattress. Having a mattress without a protector is like having an expensive smartphone without a case. If you don't have one, get one.