Minimalism can help add a much-needed sense of control, elegance, and style within the home, especially for new parents, but there are just some things you can't cut out. If you've been looking for ways to help minimise the amount of baby gear you require without feeling as though your child would miss said piece of gear this article is for you. Think back to the months before your child was born, you probably sat down and made a lengthy list of all the things you thought you'd need over the first year of their life. In your list of items, there was most likely a playpen, a piece of gear you didn't necessarily put too much thought into but added to the list anyway. In this article, we wanted to help dispel the recently arising notion that simply owning a playpen is a bad thing within itself.
Parents frequently use playpens for a number of reasons. The first is to keep the baby safe, perhaps out of reach of a family dog or older toddler. The second is to entertain the baby in a confined, controlled space.
The third reason parents often use playpens is for sleep. Playpens are sometimes used as a portable crib, especially when travelling.
Not so long ago the playpen was a very common and ordinary part of a young child's life. Ask your parents or grandparents, and there's a good chance they not only used one but did so without spending much time pondering over its evils or benefits. The playpen was as ubiquitous as the pram or the highchair.
But today it is far less common to see a playpen. Those who do use them often joke uncomfortably about "locking" their baby away, to buffer against the criticism of others. Forums are littered with parents questioning their pros and cons and asking for advice about whether a playpen will help or harm their baby and their family. Many feel the playpen has become a sort of anti-status symbol, where parents who use one believe they are looked down upon by those who do not.
We have a wide range of playpens for your baby right here at My Baby Nursery.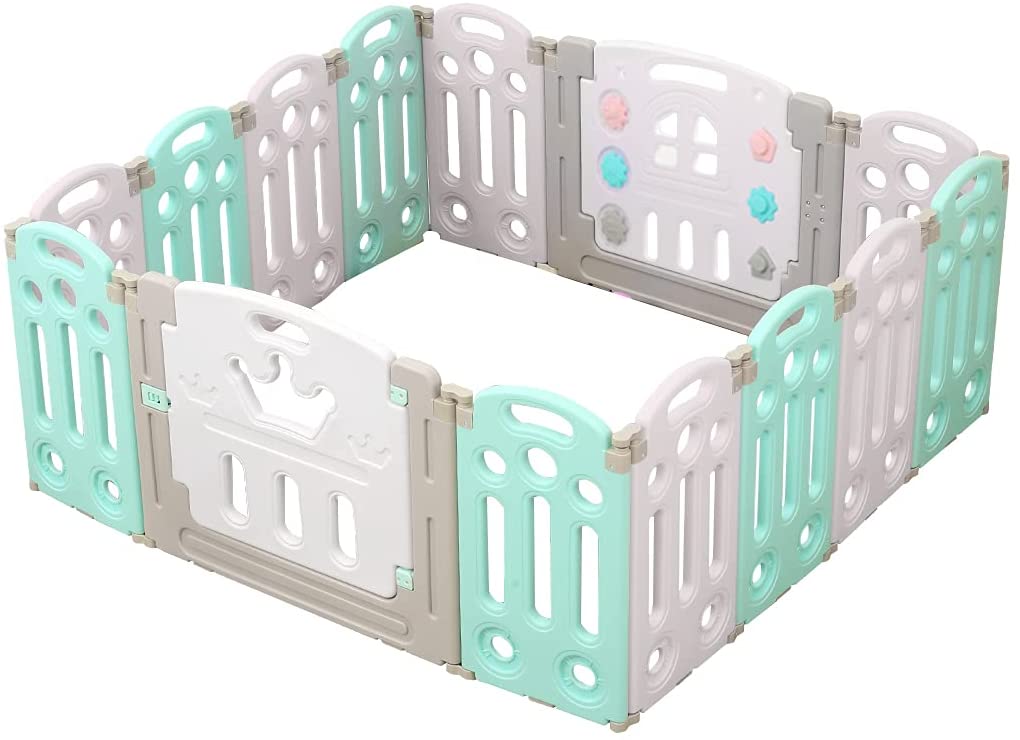 BoPeep Kids
Playpen Baby Safety Gates Kid Play Pen Toddler Fence Room 14 Panels
Create an ideal imaginative play area for your beloved growing children with the help of the BoPeep Kids Baby Foldable Playpen.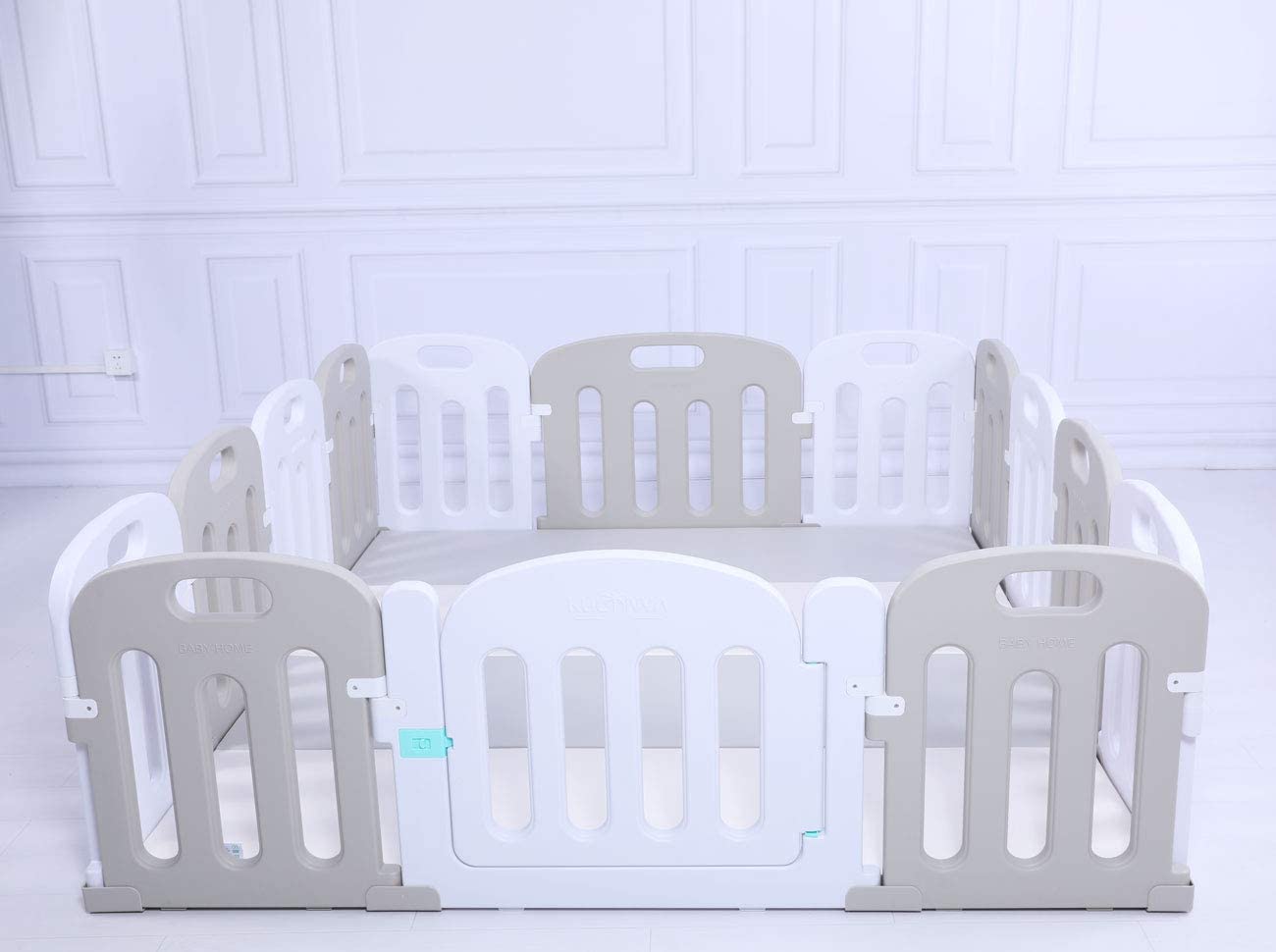 AU Choice
Premium Quality Baby Kids Playpen Toddler Baby Safety Gate + Slide + Play Mat Options Home Indoor Playroom
The Premium Quality Baby Kids Playden combines safety and durability as your baby's first discovery centre. It features a height that's perfect for children to stand up and walk around, while the area inside is plenty of room for them to play and explore. The anti-clipping design of the junction will ensure that your child can't get stuck by the product, either.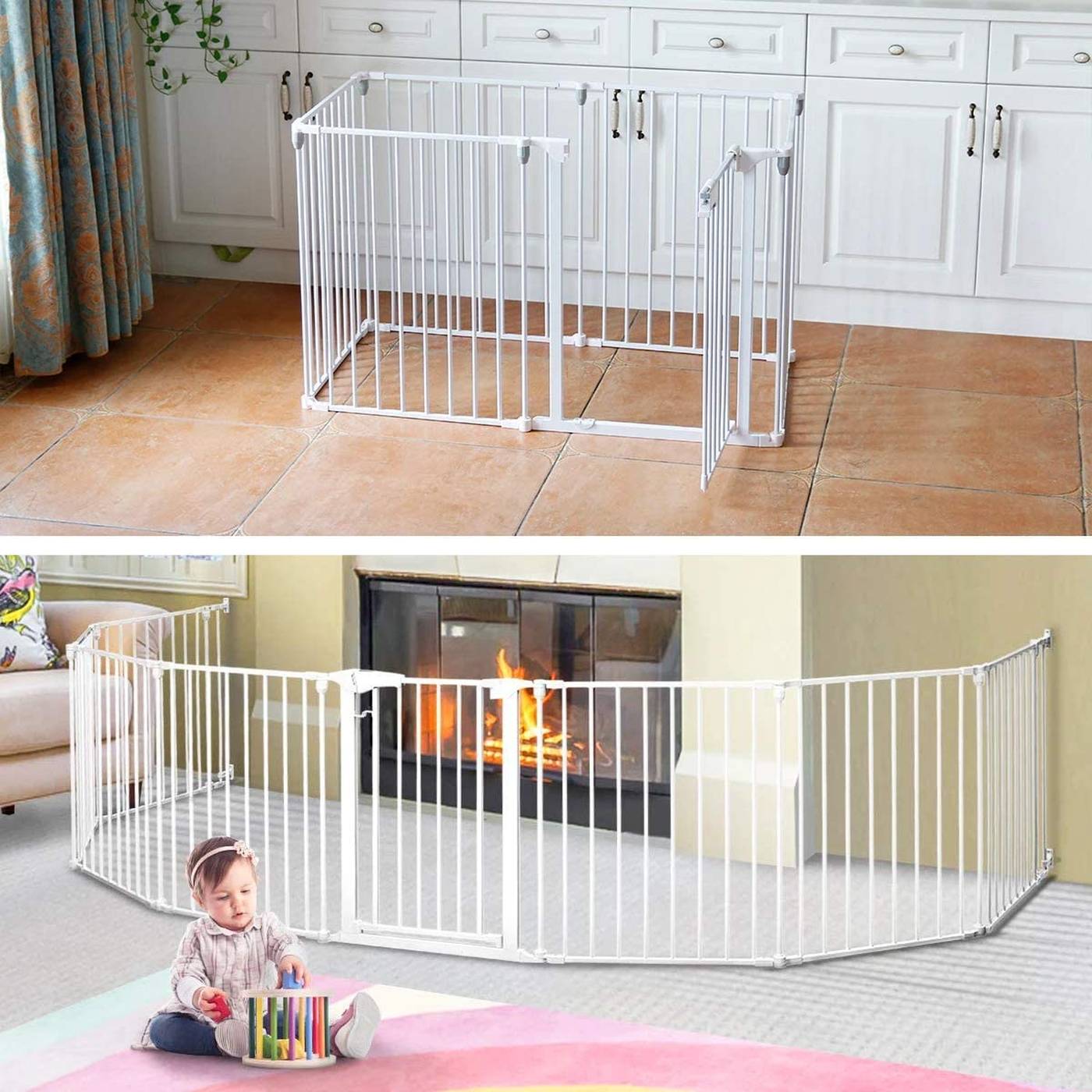 Yozzi
3-in-1 Super Wide Adjustable Baby Safety Gate and Play Yard Pet Playpen
This is no ordinary baby gate. We know you want safety that won't compromise the look of your home or allow critters in. The package comes with the necessary mounting hardware to keep climbing children at bay while allowing easy access for you and your guests. The one-hand release latch will have them out-of-the-way in seconds when the company arrives so foot traffic can flow right through - no awkward balancing act to disable the barrier during a potty break needed here either.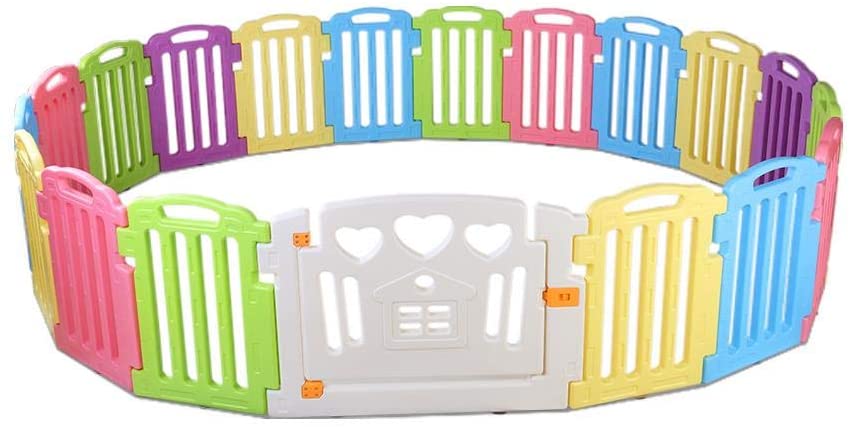 cuddly baby
19-Panel Plastic Baby Playpen with Interactive Safety Gate for Kids Toddler
You can finally breathe a sigh of relief as you keep your baby safe and sound without worrying about anything coming in contact with their skin! This Cuddly Baby Playpen has everything to make playing and learning more enjoyable for kids: 19 panels, safety joints, interactive safety gate and door lock, plenty of toys – the list goes on. Take advantage of this amazing opportunity before someone else does!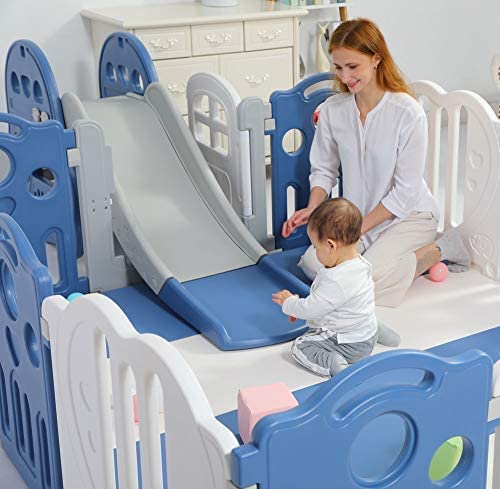 AU Choice
Premium Quality 148x173cm Kids Baby Playpen Options Toddler Baby Safety Gate Room Home Indoor
The Premium Quality Baby Kids Playpen is the best play area for your little adventurers in the home. The rubber base keeps it sturdy,65cm high panels are perfect for children learning to stand and walk,the safety lock on it ensures parents' peace of mind when they face hands full with life. Come take a look at this sweet baby pen!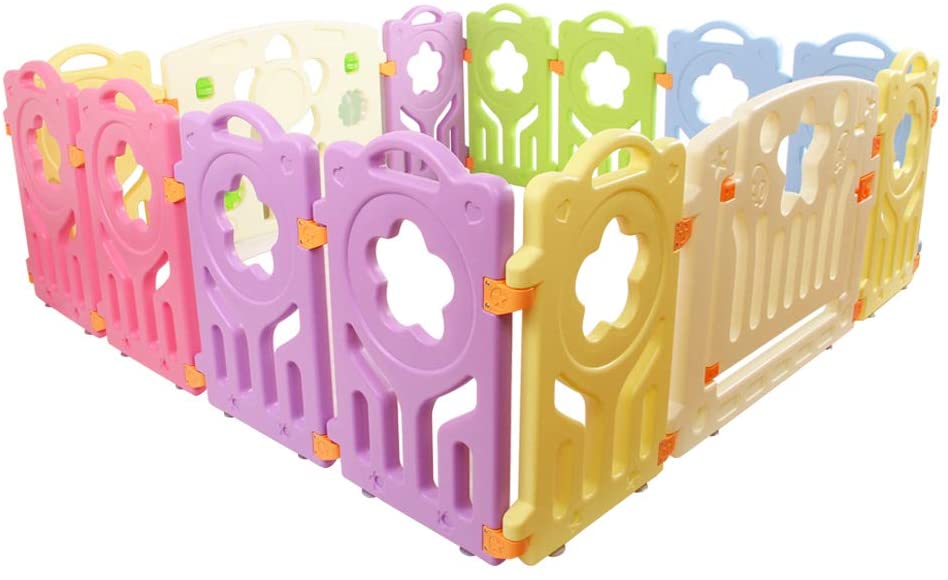 Timsolo
Baby Playpen Kids Toddler Plastic 14 Panel Interactive Safety Gate Divider Lock
We all live in busy lives that constrain us from spending much time with our babies. With the installation of this playpen, pat yourself on the back for providing your baby with their own personal minibox! The Playpens are easy to assemble and light-weighted; you'll be donning it in seconds within a minute or so after unpacking. It can brightly decorate up any area where it is installed, making things more fun for both adults and children alike.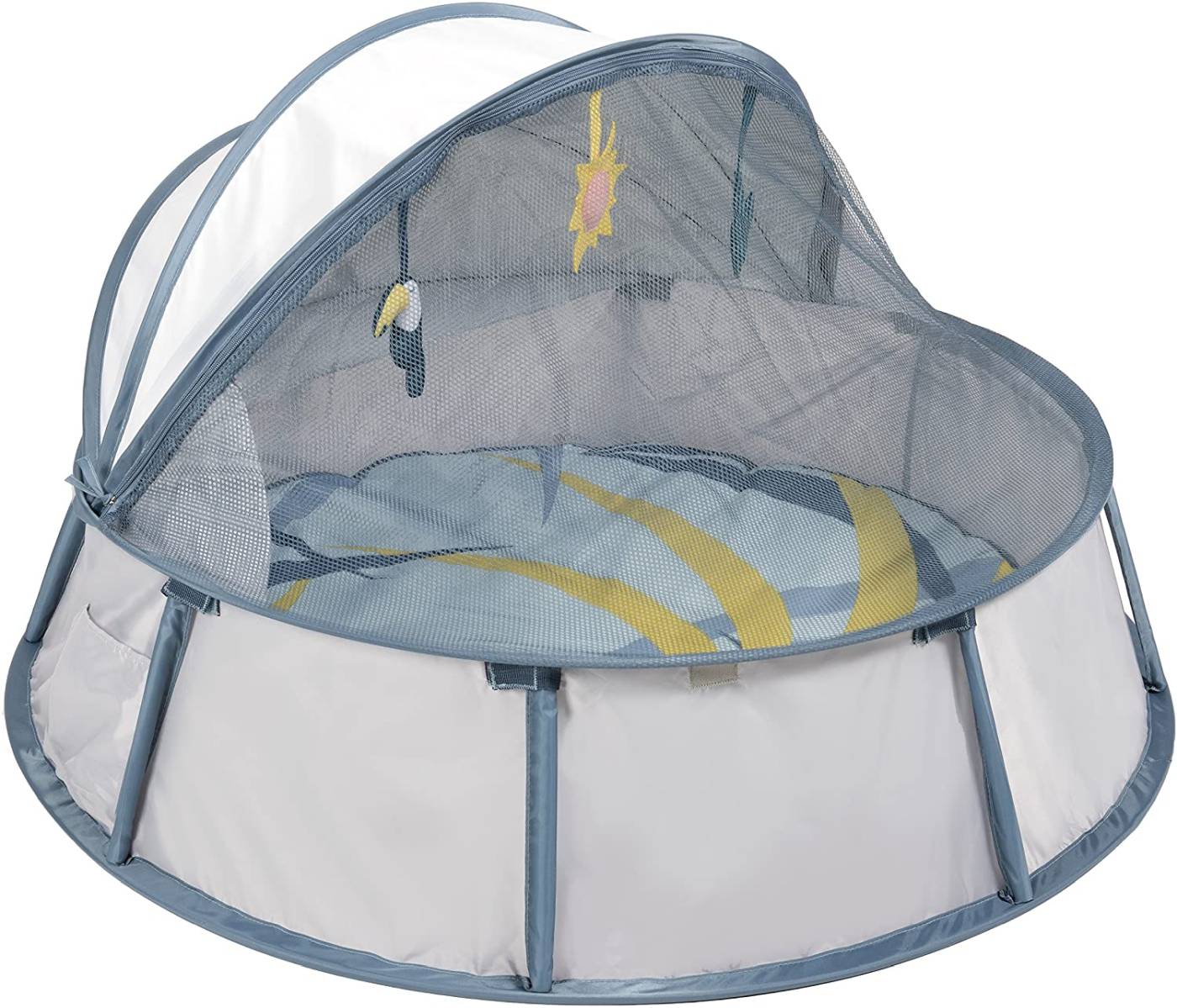 Babymoove
Babymoov Babyni Playpen, Activity Gym & Napper with Pop-Up System
With this playpen baby can enjoy the outdoors without any of the harshness. With UV protection, sand-proof canopy and a mosquito net, your child will be comfortable while you relax by the sea!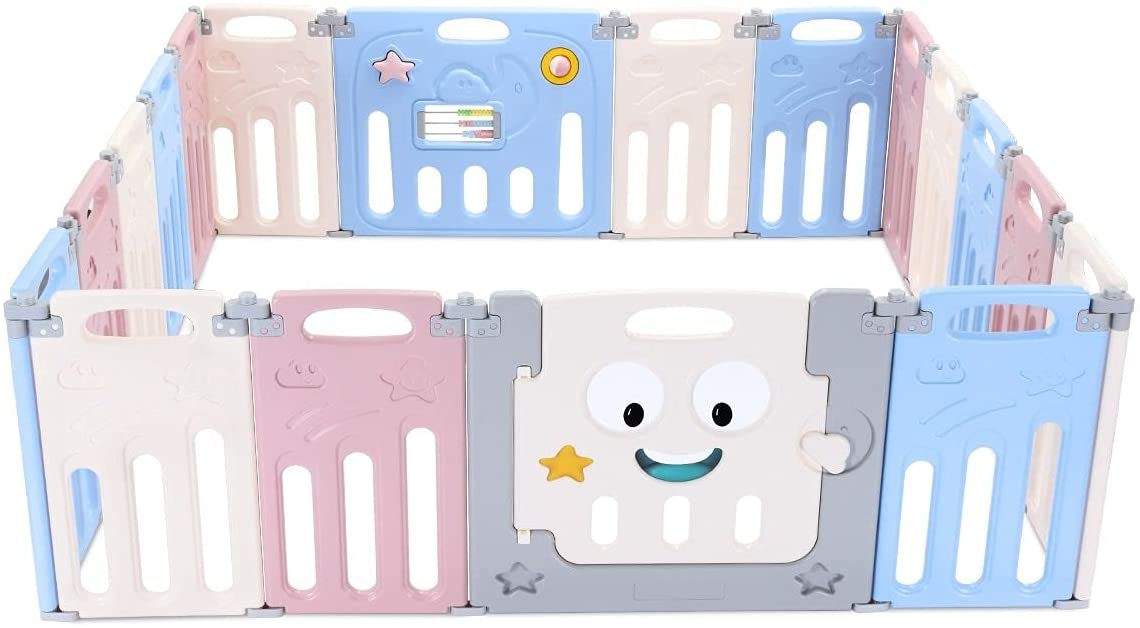 AUSWY
Baby Playpen ABST 18 Panel Safety Gate
The AUSWY Playpen is a welcoming place for babies to grow and learn. It's designed with safety, durability, and creativity in mind, so that parents can rest easy knowing their child is playing in comfort. Get ready for boundless fun with the 18 Panel Design- you'll be able to create any play space your imagination desires!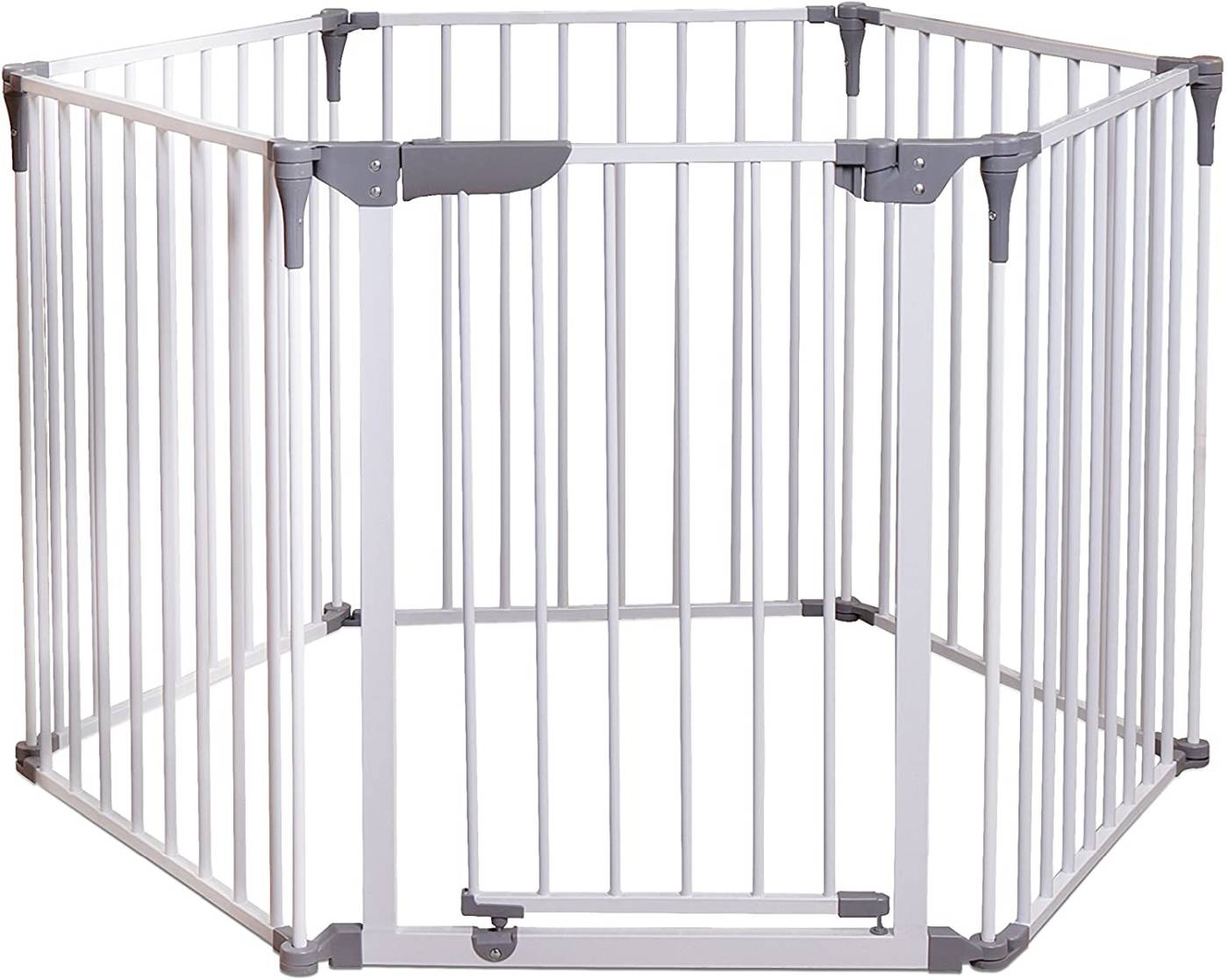 Dreambaby
Royale 3-in-1 Converta Play-Pen Gate
Whenever you want to keep your kids in one place but want them to have some space, this multi-purpose play pen is the answer. Six panels create a gate that surrounds more of your room - not just an area of rug or carpet. One side works as a convenient walkthrough door! The sturdy metal construction will last for years and doesn't need tools for assembly. Give indoor spaces without yard access the same functionality of outdoor yards with this convertible playpen.
Playpens and Baby Development
If you search online, you'll find various websites and forum conversations that point to "studies" demonstrating placing babies in playpens will cause developmental delays and negatively affect learning patterns. Still, none of these allusions points to any real or credible sources. In fact, according to Alison Gopnik, a professor of psychology at Berkeley's University of California and author of The Philosophical Baby, there has been no conclusive systematic research on these claimed effects. I firmly believe that the confusion arises from the fact that it is very important to allow a baby to move and explore their environment throughout their day to help them learn and thrive. While this is assertion is undoubtedly true, it is not intended to bash or speak negatively against the use of playpens.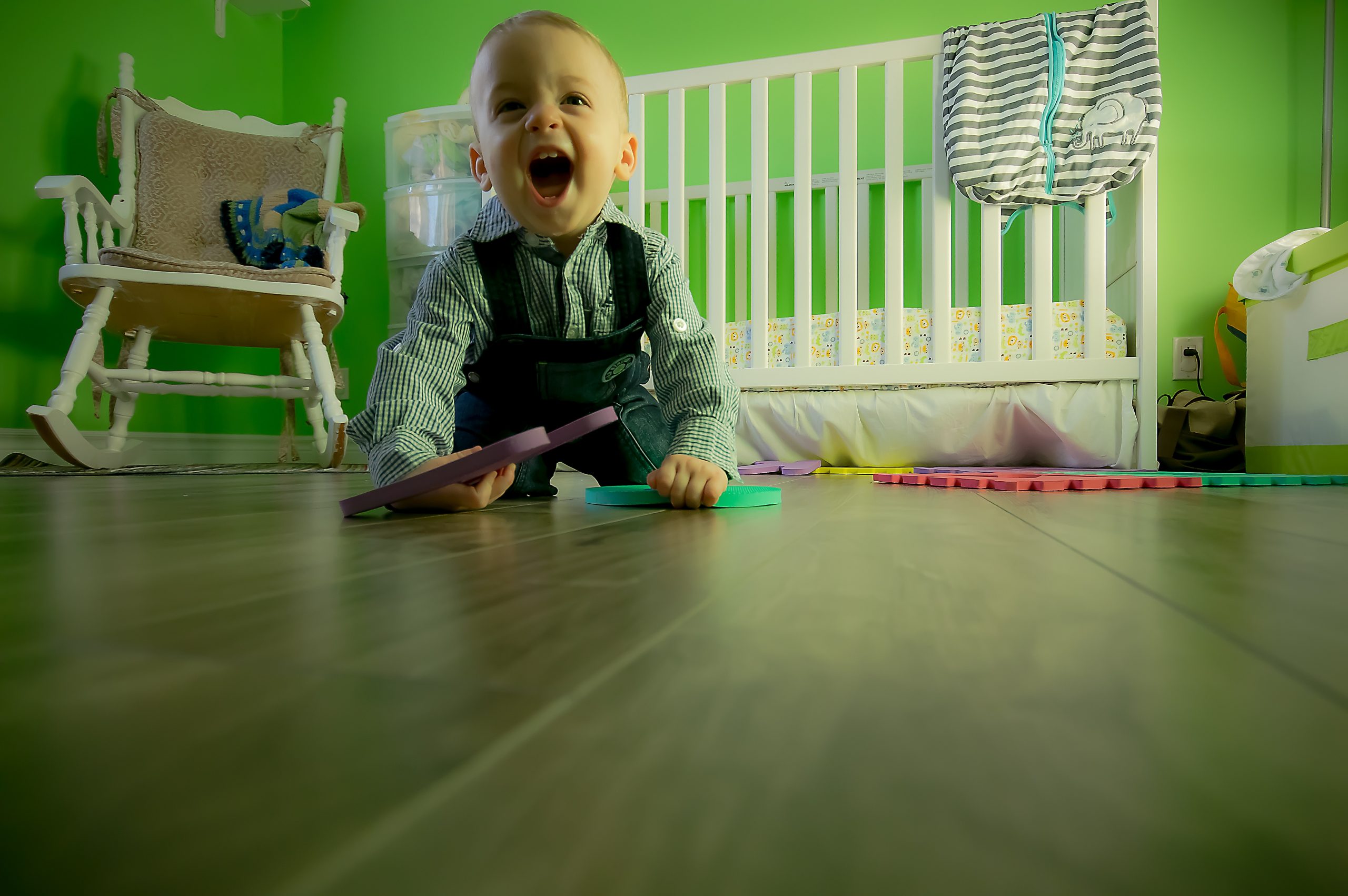 Striking a Balance
Just as with many other things in life, it is important not to abuse or overuse the resources we are given. While there is nothing specifically wrong with owning or using a playpen, it is certainly not healthy or okay to confine your child to the playpen space for extended periods. Doing so would inhibit essential exploration and experimentation time of your child's surroundings. With that being said, we wanted to go over some of the ways playpens can be used correctly and can work for you and your family.
The Benefits of a Playpen can Include:
Playpens provide you with a safe area to place your child in when you need to engage in tasks such as going to the bathroom, cooking dinner, or answering an unexpected but important phone call.

Many playpens in today's market are what is referred to as being "multi-purpose". This means that they can be essentially transformed into other useful pieces of baby gear, including a baby gate or a changing station, and most can be easily folded down or broken down flat for travelling. (If you're looking on ways to cut back and minimise on items finding multi-purpose gear is the way to go)

Playpens provide your child with a safe area that is his or her own and is ideal for independent play.
Four to six months
Newborns should not be kept in a playpen.
They need a lot of stimulation from adults, but the distance from a newborn lying in a playpen to an adult's face is much too large to provide stimulation. Not only that, but newborns cannot move enough to entertain themselves in a playpen.
Wait until your baby is old enough to roll over, grasp a toy and lift her head before placing her in a playpen. Introduce her to the playpen at no later than four months so she can become comfortable with it by the time you use it frequently. If you wait until she is older, she might be too scared of the new place ever to feel safe in it.
Six to eight months
This is the ideal age to use a playpen. At this age, most babies can sit up, reach for and grab nearby toys.
Babies of this age are generally easygoing, so you can leave them in the playpen (always staying nearby, of course) for a short amount of time without the baby putting up too much of a fuss.
Babies this age also love new toys, so be sure to put some in the playpen with him. Do not try to tie any toys to the sides or top of a playpen, as cords or strings can present a choking danger for babies.
Eight to ten months
At this age, your baby is probably starting to crawl and even pull herself up. For this reason, she might be getting tired of being in the playpen.
She probably wants to explore a larger area and might even stand up in the playpen and cry if you don't lift her out. Keep her happier in the playpen by providing new toys that she hasn't seen before. You will probably have to stop using the playpen once your baby can walk well because she is more than likely to protest loudly once she can walk if you try to confine her to a small space.
How a playpen can work for you and your family
But all these concerns about limiting your child's ability to explore and have the freedom to move and play are being presented in extremes – where children are either left in small playpens all day or never have their movement curtailed at all. One forum user claims using a playpen will cause "neurological disorganisation" and draws a link between parents who use playpens and those who "chained children to bedposts or locked them in closets" causing them to become "idiots [who] only grew to half their normal size." This kind of ridiculous comparison leads parents to the other extreme where, to avoid being child-abusing monsters, won't place their children in large secure areas with toys for short periods.
We don't seem to worry about the damage we might be doing to our children when we confine them to a pram or a car seat or a high chair or a fenced playground. I see no reason why a medium to large playpen cannot be part of a range of gear used to keep our children safe and facilitate everyday life when used in moderation. It would be wrong to keep a child in a playpen all day. It would be wrong to keep a child in a pram all day. But knowing you have a safe place to leave your child when you need to have a shower, or go out to the clothes-line, or answer the front door, or any time you cannot directly supervise them is a real lifesaver. If you've let them spend time in the playpen from a young age, you child will most likely enjoy this space (provided you make it fun, and don't use it as a punishment place) and happily play while you are busy.
If your baby is in the playpen for short periods of time, and other times free to explore more freely, you are damaging them no more than if you sometimes restrict your baby's movement when walking to the shops, or driving to a park. You can get the bulk of your chores done in a concentrated hit and then are better able to give your child all your focus later, rather than splitting your attention all day. By spending time on the independent play, your child is learning valuable emotional and physical skills, feeling confident in your absence and experimenting autonomously.
Check out our range of baby playpens at My Baby Nursery.
Is it okay to use a playpen for our baby?
It's funny how we can feel comfortable about strapping an active baby into a car seat, a stroller, or a backpack but still feel as if there is something too confining about a playpen. 
Playpens used to be as routine a part of baby furnishings as high chairs. Parents plopped infants in them without questioning whether there were any disadvantages to the baby. Then child development experts began to worry that the babies who were parked in playpens were less able to explore their environments and might not be getting enough stimulation or attention. As often happens when new advice is given to parents, the expert's concerns were translated into "Never put a baby in a playpen" rather than "Don't keep your baby penned up all day."
Anyone who has ever tried to answer the telephone while a fast crawling baby is racing to eat the dog's food knows that some babies do need to be corralled at times.  
Many parents find that a playpen is a convenient way to allow a baby to be in a place where he is safe but able to watch family activities. Many playpens can be folded to move between rooms. A playpen can also be used if you must leave your baby unsupervised for brief periods. It can be a convenient place for an occasional nap, although it can be confusing to some babies to have the same place used for sleep and play. 
A playpen in your home doesn't restrict your baby's ability to learn any more than a stroller does outside the home--but you wouldn't think of letting your baby crawl around the floor at the market, would you?
If you want to be able to use a playpen, it's important to start using it for your baby before he begins to crawl. However, if you wait until your baby is older and crawling or pulling himself up, he is less likely to be agreeable. At that point, you would be putting him in place that keeps his movement restricted just when he's learning the fun of being chased. If he already knows the playpen as one of the pleasant places in your home, he won't mind so much.  
At first, a young baby will probably be content in a playpen for ten to fifteen minutes while you are in the room talking to him or handing him toys. If there are older children in your home, your baby will probably love to lie in his playpen watching them play. Take him out when he seems a little fussy, play with him, and then put him back. That way, he won't build negative associations with being there.
When buying a playpen, it is safest to buy a brand new one or a used model that is still being manufactured. If you buy a used playpen, compare your model to that in the store to make sure that all the parts are assembled correctly. Always keep the sides fully up and locked in place. It's also a good idea to check the model and brand you buy at the Consumer Product Safety Commission web site (cpsc.gov) in case there have been any safety problems or product recalls. (Don't forget to recheck this site every month or so--recalls happen all the time.) 
An active baby can have an accident even in a "safe" place, so don't leave your baby unattended for more than a few minutes—you do have to go to the bathroom, of course!
My Baby Nursery has a wide range of baby nursery playpens for your little bub.
Playpen Safety
Most parents depend on playpens (sometimes called play yards) as a safe place to put a baby when Mom or Dad isn't available to watch him every moment. Yet playpens, too, can be dangerous under certain circumstances. To prevent mishaps
Never leave the side of a mesh playpen lowered. An infant who rolls into the pocket created by the slack mesh can become trapped and suffocate.

Once your child is able to sit or get up on all fours or when he reaches five months, whichever comes first, remove any toys that have been tied across the top of the playpen, so he cannot become entangled in them.

If your playpen has a raised changing table, always remove the changing table when your child is in the playpen so he cannot become entrapped in the space between the changing table and the side rail of the playpen.

When your child can pull himself to a standing position, remove all boxes and large toys that he could use to help him climb out.

Children who are teething often bite off chunks of the vinyl or plastic that cover the top rails, so you should check them periodically for tears and holes. If the tears are small, repair them with heavy-duty cloth tape; if they are more extensive, you may need to replace the rails.

Be sure that a playpen's mesh is free of tears, holes, or loose threads and that the openings are less than 1⁄4 inch (0.6 cm) across so that your child cannot get caught in it. The mesh should be securely attached to the top rail and floor plate. If staples are used, they should not be missing, loose, or exposed.

Slats on wooden playpens should be no more than 2-3⁄8 inches (6 cm) apart, so your child's head cannot become trapped between them.

Circular enclosures made from accordion-style fences are extremely dangerous because children can get their heads caught in the diamond-shaped openings and the V-shaped border at the top of the gate. Never use such an enclosure, either indoors or out.
Like so many things in life, moderation is the key. A playpen should not be a place to dump your baby while you lounge around drinking wine and sneering at parents who say babies are hard work. But if you use your playpen for short periods of time, to allow your baby to play in a secure and safe environment when you cannot be as hands-on as you need to be, you won't regret adding one to your home.