Pint-sized passengers seem to be pros at falling asleep in the car. But those on-the-go naps — while relaxing for you! — aren't your baby's safest route to Snoozetown.
While a few minutes of R&R on the road isn't a big deal, you shouldn't let your sweet pea sleep in the car for long stretches or use her seat as a dedicated sleep device.
The safest place for your baby to sleep is on firm, flat surfaces — such as her crib, bassinet, portable crib or play yard. Your baby should always be put to sleep on her back (never her tummy) without anything else in the crib or bassinet — no blankets, pillows, stuffed animals or bumpers, recommends the American Academy of Pediatrics (AAP).
These practices are the best way to reduce the chances for sudden infant death syndrome, or SIDS.
Products that place your baby in an inclined position like swings, bouncers, seats or even strollers aren't safe spaces for your baby to sleep, especially for long stretches. Sleeping while sitting upright (or semi-upright) can cause a baby to slump down and end up in a chin-to-chest position, potentially causing suffocation.
If your baby falls asleep in the car on the way home from the grocery store or park, there's no need to panic. As long as the trip is short and you or another rider has an eye on your little dreamer, you can head on to your destination without waking her.
It would help if you moved her to her crib or bassinet as soon as you can, recommends the AAP. (Easier said than done, we know!) While she's dozing on the drive, keep a close eye to ensure she doesn't slump into a chin-to-chest position and that her nose or mouth don't become covered.
Even though the peace of an unexpected car nap might be tempting, don't let your baby snooze in her car seat for longer than necessary. And never put your baby in her car seat to go to sleep.
As for long car rides? There aren't any expert guidelines for how long it is too long for your baby to sleep in her seat. But if you plan to be on the road for a longer trip, it's a good idea to pull over every two hours so your baby can stretch her legs.
Ideally, you should plan to make longer trips with another adult whenever possible so one person can supervise the baby while the other focuses on the road.
Parents and caregivers should feel confident that using an infant car seat is essential in a car, but a baby shouldn't be left unattended in a car seat, and it shouldn't be your baby's primary sleeping place, Thomas says. Neither a car seat nor an inclined sleeper is an appropriate substitute for a crib or bassinet.
Pediatrics recommends against routine sleeping in sitting devices for infants, and a new study shows why. Car seats are the safest place for babies when they're being driven around, but it's another story if parents use them as an alternative for a crib or bassinet once they get home.
2 hours
There is no published evidence stating how long babies should stay in a car seat when travelling. However, infant healthcare professionals, safety experts and most car manufacturers recommend that babies should not be in a car seat for longer than 2 hours at a time, and they should be taken out frequently.
However, using car safety seats for sleep when not travelling can pose a risk to infants. Experts suggest not letting your child sleep or relax in the car seat for more than two hours.
As they do, parents using an infant seat generally switch to a larger, convertible seat anywhere between 9 months and two years, depending on their child's size (bigger kids will likely move on faster). However, they can opt to do so sooner if the seat is rated safe for their child's height and weight.
How to make sure your child is safe in their car seat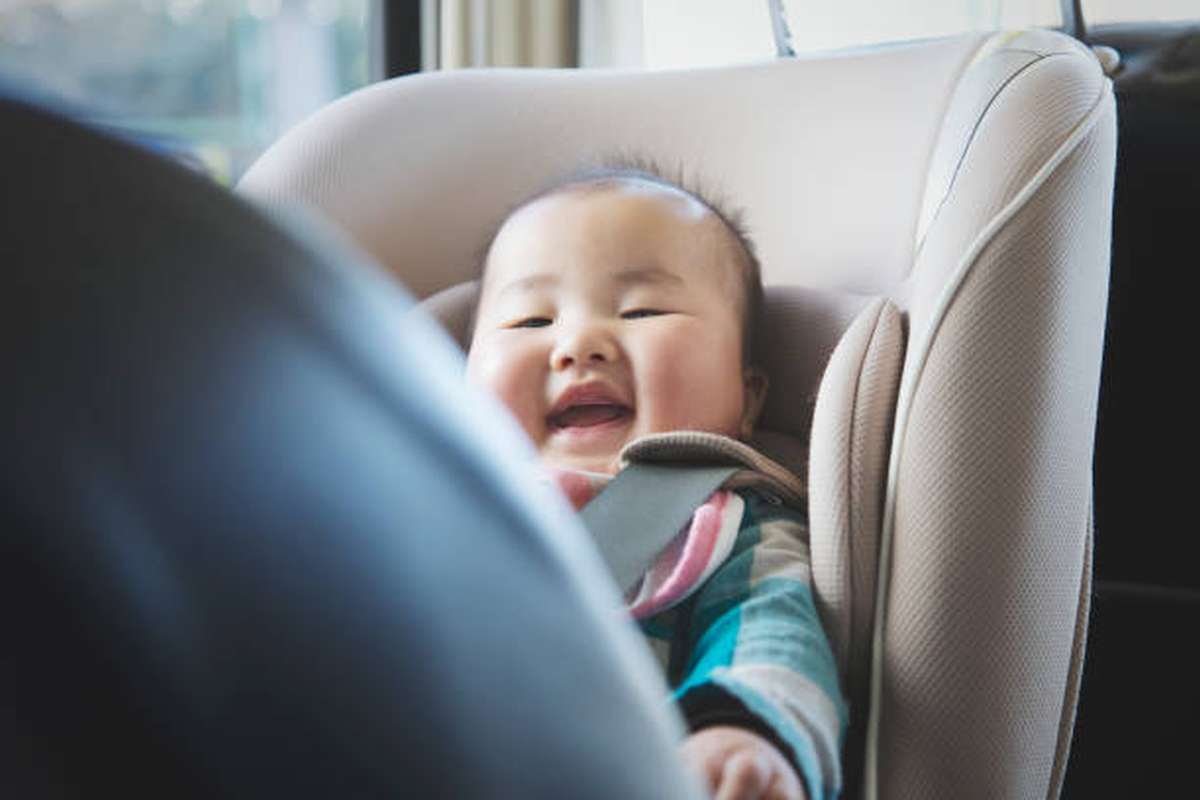 Keeping the snoozing to a minimum isn't the only thing you can do to ensure your baby's ride is as safe as possible. Some more tips to keep in mind: 
Make sure your seat is installed correctly. Follow the manufacturer's instructions to ensure the seat is installed tightly, either with the LATCH system or a locked seat belt. A Certified Passenger Safety Technician (CPST) can help you install the seat correctly — or act as a second pair of eyes to see that everything is secure.

Put the car seat in the back and keep it rear-facing as long as possible. Your child's car seat should always be installed in the back seat of the car, never in the front. And she should stay in the rear-facing position for as long as possible — until she reaches the maximum height or weight as listed by the car seat manufacturer, according to the AAP.

Make sure the seat meets all safety requirements. All seats on the market today are required to meet basic safety standards. So if you're buying new, check key information like the car seat's expiration date (located on the seat itself) and hold on to the manufacturer's instructions. If your car seat was previously used (even by an older sibling), look for the expiration date to confirm it's still safe to use, check whether it's been recalled (you can find them listed at nhtsa.gov) and examine the seat thoroughly for any cracks or missing parts. If you don't know the history of a used seat, don't use it. Car seats that have been involved in a crash should not be reused. 

Take breaks on long trips. On long trips, pull over every two hours so your baby can stretch her legs, feed and have a diaper change.

Don't offer food or drinks. Both can pose choking hazards. Save the snacks and sips for when you get home, or serve them on a stretch break during longer trips.

Don't use the car seat outside of the car. Car seats shouldn't be used as a space for naps or sleep or as a seat or carrier when you're not on the road. Resist the urge to put your baby's car seat in the shopping cart when at the store, too, since it can potentially cause the cart to tip over. Put your baby in a sling, carrier or stroller instead, the AAP recommends.

Avoid using aftermarket car seat accessories. Headrests, support inserts, shoulder pads, harness covers, seat belt adjusters and other accessories sold separately from your car seat by a third-party manufacturer haven't been tested for safety — and in fact, they could make your child's seat less safe. Keep them out of the car, recommends the AAP. If your baby seems to recline in her seat, you may be able to put a tightly rolled receiving blanket on either side of her or place a tightly rolled diaper or cloth between your child and the crotch strap, the AAP says. But always check the manufacturer's instructions to confirm that it's safe to do so for your specific seat.

Don't put your baby in bulky clothes. Stick with light, thin layers and drape a blanket or coat over your child's buckled harness straps if she needs more warmth. Bulky coats, snowsuits or heavy layers can compress in a crash, causing the seat straps to become loose and putting your child at risk for injury.
As many parents know, babies often love to sleep in the car. The droning sounds of the engine remind your little one of the womb—and may help send them into slumberland. And the jiggly movements seem to keep babies stimulated enough to promote breathing. 
The thing is, sleeping in a car seat for long stretches is unsafe, according to the American Academy of Pediatrics (AAP). The danger stems from your little one sleeping in an upright, seated position or on an incline.
When your baby is seated, their heavy head can fall forward, causing difficulty breathing…and even suffocation. "That's why car seats—outside of moving cars—are not safe for naps or overnight sleep for the first year of life.
The same risk holds for babies taking long periods of sleep in good strollers and baby swings. The good news is that your wee one can still enjoy gentle rocking similar to, say, a car or baby swing, but while flat on the back with SNOO Smart Sleeper. It's a perfectly safe way to boost your baby's sleep with the womb-like rocking all infants love.
Don't panic if your baby dozes off in the car! The AAP recommends moving your child to a flat, firm sleeping surface as soon as you leave the vehicle.
Install the Seat Correctly
The AAP recommends that children ride rear-facing (in either an infant seat or a convertible seat) until at least age 2, or as long as they fit the height and weight restrictions of the car seat. All rear-facing seats are designed to be installed at a 30- to a 45-degree angle, depending on the seat.
"Most manufacturers either provide a line on a label or a bubble indicator to show you how to position the car seat at the appropriate angle," says Sarah Haverstick, a safety advocate and child safety technician for Evenflo, which makes baby products such as car seats and strollers. 
Make sure that you're installing the product according to that manufacturer's instructions—which include age and weight requirements—because that's how the seat was crash-tested, and that's the angle that's safe for most typically developing infants.
Use Only an Approved Positioner
If you want to use an infant positioner in the car seat—for example, if your infant isn't big enough to fit ideally in the seat—"only use what is approved for and provided by your car-seat manufacturer," Haverstick says. "If the car seat came with a head pillow and an infant insert, the car-seat manufacturer has crash-tested that product with those materials. 
Using a positioner that's never been tested by the manufacturer means we don't know what could happen in a crash," or whether the baby's head will be properly supported for airflow.
Also, be aware that positioners are meant to be used only for infants of a particular weight and height. So read the instructions carefully to know when you're supposed to remove the positioning accessories from the car seat.
Buckle Up the 5-Point Harness System
Buckle your baby into the harness—with a snug fit—whenever they are in the car seat. The five-point restraint system keeps infants secure during a crash. 
And even during an uneventful drive, it prevents babies from sliding down, squirming out of the seat, or rolling over into the car seat's fabric, all of which could lead to suffocation.
By contrast, infant inclined sleepers—which usually position babies at an angle of about 30 degrees—were never adequately safety-tested for infant sleep. They have a three-point crotch harness that doesn't prevent slumping, squirming, or rolling over. 
Inclined sleepers also place babies on a curved surface with soft padding, which increases the chance of suffocation. "We know that babies are at risk unattended in inclined sleepers," Hoffman says. 
The AAP warns against using infant inclined sleep products and recommends that infants sleep on their back, alone and unrestrained, on a firm, flat surface free from soft bedding or padding.
Watch Your Baby Carefully
Remember that car seats are designed to be used with adult supervision, so even when your baby is appropriately positioned in one, check on them regularly. It's particularly important when on long drives to stop periodically to allow your baby to get out and stretch, says Jennifer Stockburger, director of operations and head of CR's car-seat testing program at its Auto Test Center.
Use the Car Seat With Its Approved Stroller
Many infant car seats are designed to be used with a stroller base that locks the car seat into place. This allows parents to transfer a sleeping baby directly from a vehicle to the stroller travel system without removing the baby from the car seat or carrier. 
If you plan to do this, make sure the stroller base you have is designed for your car seat, and don't leave your baby unattended in the travel system.
It might be tempting to loosen the car seat's harness straps or unfasten one of the buckles to give your baby more room to move around when not riding in the car. 
But never do this because it increases the chance that they could slump down in the seat and cut off airflow or wiggle around and gets entangled in the harness straps. Babies can be strangled in loose or partially buckled harness straps.
Don't Use a Seat Outside of the Car or Stroller.
Once you remove the car seat from the car or stroller base, and it is not being used the way it was originally designed, the risk of respiratory issues and other problems increase.
For instance, if you're transferring your sleeping baby from a car into your home, it's okay to place the car seat on the ground briefly. But don't put it on a high surface like a countertop or a soft surface like a bed or couch. 
Even an infant strapped into the harness can move slightly and tip the balance of the car seat so that it falls to the floor or topples over onto a soft surface that blocks the baby from breathing. An unbalanced seat can also allow the baby's head to fall forward and obstruct the airway.
When you get to your final destination, if the baby is still sleeping, the best thing to do is to remove the child from the car seat fully and put him or her into a safe sleep environment, such as a firm, flat crib or bassinet.
In other words, car seats are safe for travel, not prolonged sleep. Parents and caregivers should feel confident that using an infant car seat is essential in a car, but a baby shouldn't be left unattended in a car seat, and it shouldn't be your baby's primary sleeping place. Neither a car seat nor an inclined sleeper is an appropriate substitute for a crib or bassinet.
What Makes A Car Seat An Unsafe Place To Sleep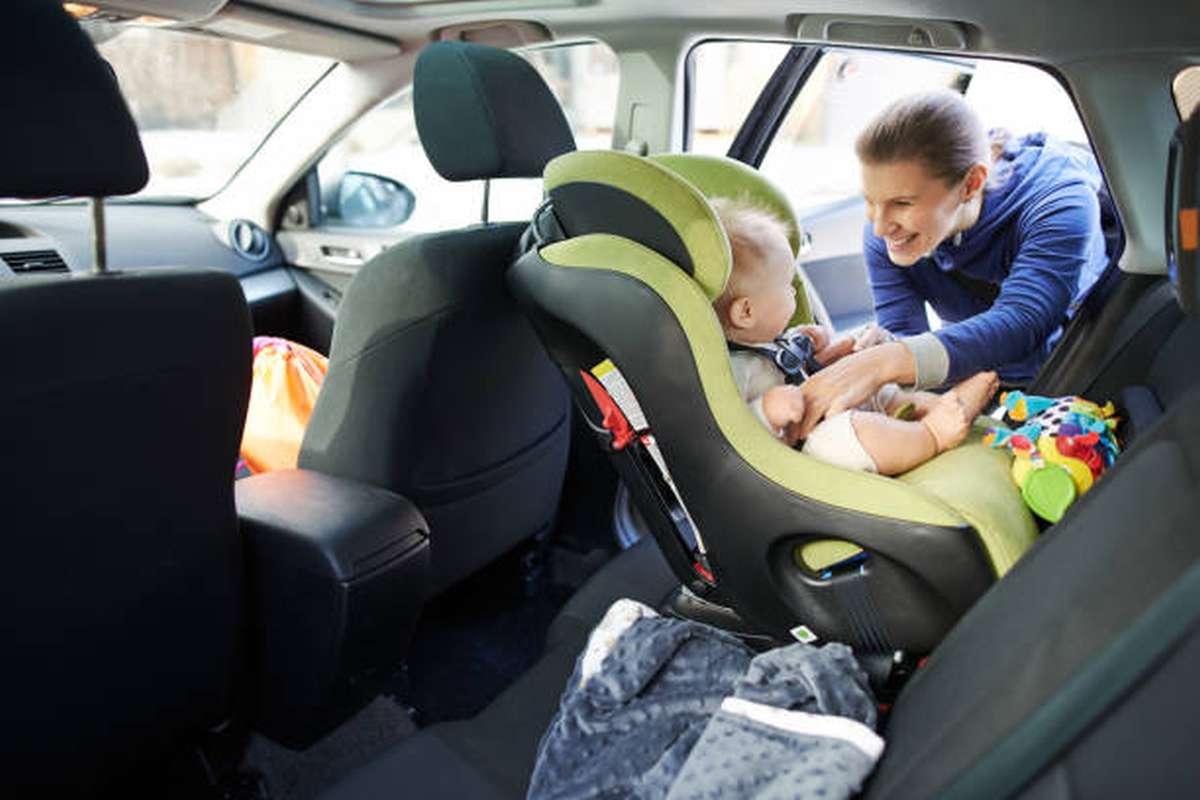 When babies sleep in the sitting position, their heads can fall forward, restricting their airways and causing them to stop breathing. 
This devastating phenomenon, known as positional asphyxiation, was the cause of 48 per cent of deaths in car seats in a 2015 study published in The Journal of Pediatrics, affecting children up to age two. The other 52 per cent of deaths were caused by strangling on straps, often because they weren't properly secured.
While it's safe for your baby to have a cat nap as you drive from point A to B—provided it's not too long of a journey, though no evidence-based limits have been determined—you shouldn't continue to let them sleep when you arrive at your destination. When you remove the bucket seat from its base in a vehicle and place it on another surface, the baby's position can change. 
A car seat is tested at a specific angle.
Many strollers and shopping carts now offer the option to clip in the car seat, which seems super-convenient, but means babies are spending a lot of time sitting, and some stroller systems place babies in more upright positions than the car seat base.
When the seat is taken out of the car, parents will also often loosen the straps or fully or partially unbuckle them, thinking they're no longer needed and it will be more comfortable for the baby; however, this is extremely dangerous. 
The baby can easily slide into that unsafe C shape where they go chin to chest. When you don't buckle a baby up, they can squirm and squiggle and even get fully sideways or upside down in that car seat and get themselves trapped and compromise their airway.
Sometimes caregivers will only buckle up the chest clip and leave the ones between the legs undone. As a result, a child can slide down in the seat, catch their neck on the chest strap and strangulate themselves.
The length of time babies were in car seats was a factor in many of the deaths in the study. In about 30 per cent of all sitting device deaths, the caregiver was sleeping when the death occurred, suggesting the baby was sleeping in the car seat unsupervised for an extended period.