What are some of the fun things to do with your newborn? Find out if your favourite pastime is appropriate for a baby and what other activities might be suitable to try. 
There are so many great ways to spend time with your baby, but there may also be some things that just aren't safe or advisable. Make sure you know the difference! Check out My Baby Nursery for all your baby product needs.
New motherhood is incredibly joyful, but face it: It can sometimes be downright dull for both of you. So check out these activities and let the good times begin.
Activities for Newborns and Developmental Milestones
Having a new baby is a beautiful time for mother, father, relatives, and friends. The first few weeks are filled with celebration, introductions, and excitement. 
But the first month is also a time for the mother to recover and the infant to get adjusted to life in a new environment.
If you are expecting a new baby or have recently welcomed a new baby into the world, you may be having some questions and concerns about what should be expected. 
What to Expect With a Newborn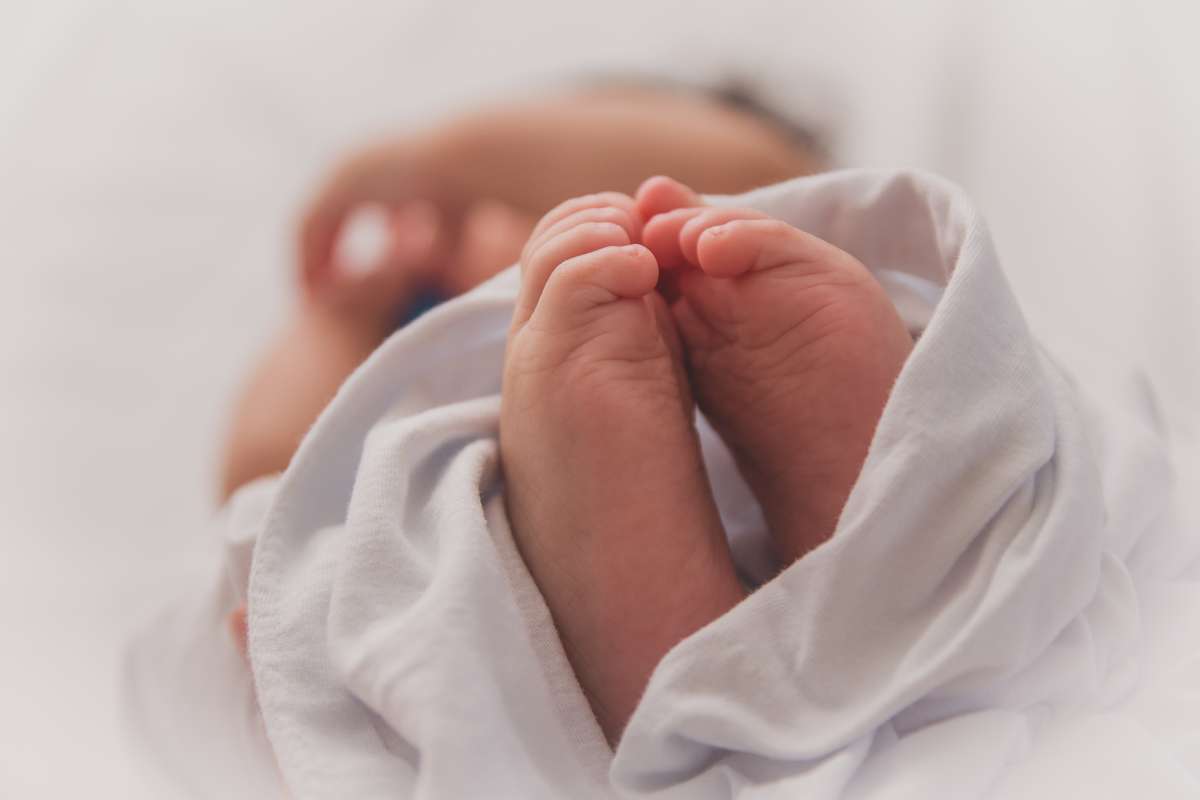 There Will Be a Lot of Sleeping
Typically, newborns will sleep around 16 hours a day. Keep an eye on the clock and make sure that he or she is not sleeping through feedings. If your baby is having trouble sleeping, there can be many different reasons why.
Your baby could be overstimulated, constipated, hungry, have a dirty nappy, or just needing some mummy time.  
He or She Will Be Growing
Your baby may lose a little bit of weight in the first few days out in the world. Typically babies will lose around ten per cent of their weight due to excess water.
They should be back to their birth weight by two weeks old and will continue to gain weight throughout their development.
Discover what changes to expect with your new baby over their first month and suggestions for simple and easy activities to do with your newborn that you can DIY and collect together.
If you are reading this as you are expecting, check out our list of things you need for a newborn.
Your Baby Will Recognize Smells
If you are breastfeeding, you will notice that your baby is somewhat an expert on tracking down your milk. 
Your baby recognises the smell of your milk and will move his or her head and mouth towards the scent when hungry. If you don't breastfeed, then the baby will soon learn to recognise you; whether it's your family's washing powder that all members will smell of or your body products, the smell is something that develops quickly in the first month.
Discover what changes to expect with your new baby over their first month and suggestions for simple and easy activities to do with your newborn that you can DIY and collect together.
Your baby will also make a sour face when he or she smells something they do not like.
He or She Will Notice Sounds
By one month old, your baby's hearing is fully developed. He or she will recognise familiar sounds, such as your voice.
Also, though your child will not have an entire conversation with you just yet, be sure to talk to your child daily. Use different tones of voice and match those tones with your facial expression.
Your Baby Will Improve Their Vision
Your baby can focus up to one foot away during the first month when making cute little faces at your lovely bundle of joy. Lean in a little closer so he or she can observe your face and expression.
Your baby will try to make connections with their environment regularly, so move slowly, pronounce your words so he or she can see your lips moving, and smile a lot.
Physical Development
Your baby will not be running around anytime soon, but every milestone is going to be an essential step towards that day where he or she learns how to walk, climb, and tumble.
In the first month, your baby will be able to move his or her head side to side and move their arms and legs.
Your baby's head will need to be supported during this time because the baby will not be able to lift his or her head on their own for a couple of months.
Activities for Newborns
Even though they may not be awake very much, there are plenty of simple activities you can do when they are. It's easy to involve other family members, including older siblings, so check them out below.
Stretching
A great activity to do with your baby is holding their hands gently, singing and stretching their body moving it.
Reading
At first, your baby will mainly focus on shapes and patterns, ideally in black and white, so black and white pattern pictures are ideal for use with your newborn.
Singing
Sing some nursery rhymes to your child and watch their eyes over this first month, you will soon catch on to their favourites, and you can sing those more frequently as well as enjoy the smiles and giggles over the coming months from these fun songs.
Making Noise
A fun activity that you can try with your child is to use a slight baby rattle and lightly rattle it to get the baby's attention. 
See if he or she will try to track the sound. Make your DIY rattle to use with your baby, or even sew up some "dancing bells" and use them as a rattle.
Playing With Puppets
Use simple puppets like our Monkey, Duck, Frog, and Spacemen to "sing" and act with your baby. As their vision improves over this first month, you will find that they can focus and watch the puppets and will love to hear your voice as you sing the fun rhymes to them as well.
Pack a Picnic
Head to your local park with a blanket and lunch. Let your baby feel the grass tickle his feet, and have him lie on your lap and watch the leaves rustle in the wind. 
Even if he's too young to roll a ball, he'll love watching other people play. Frisbee games, bikes, dogs, birds, and squirrels are all five-star entertainment.
Consider a Class
Because of unpredictable naps and moods, babies younger than six months don't always get a massive amount out of classes. 
Moms probably benefit more from them – and that's okay as long as you choose an activity you enjoy! 
Some examples are Mommy and baby yoga (check your local yoga studio), a music class like a group exercise class such as infant massage (hospitals often offer classes).
Visit the Pool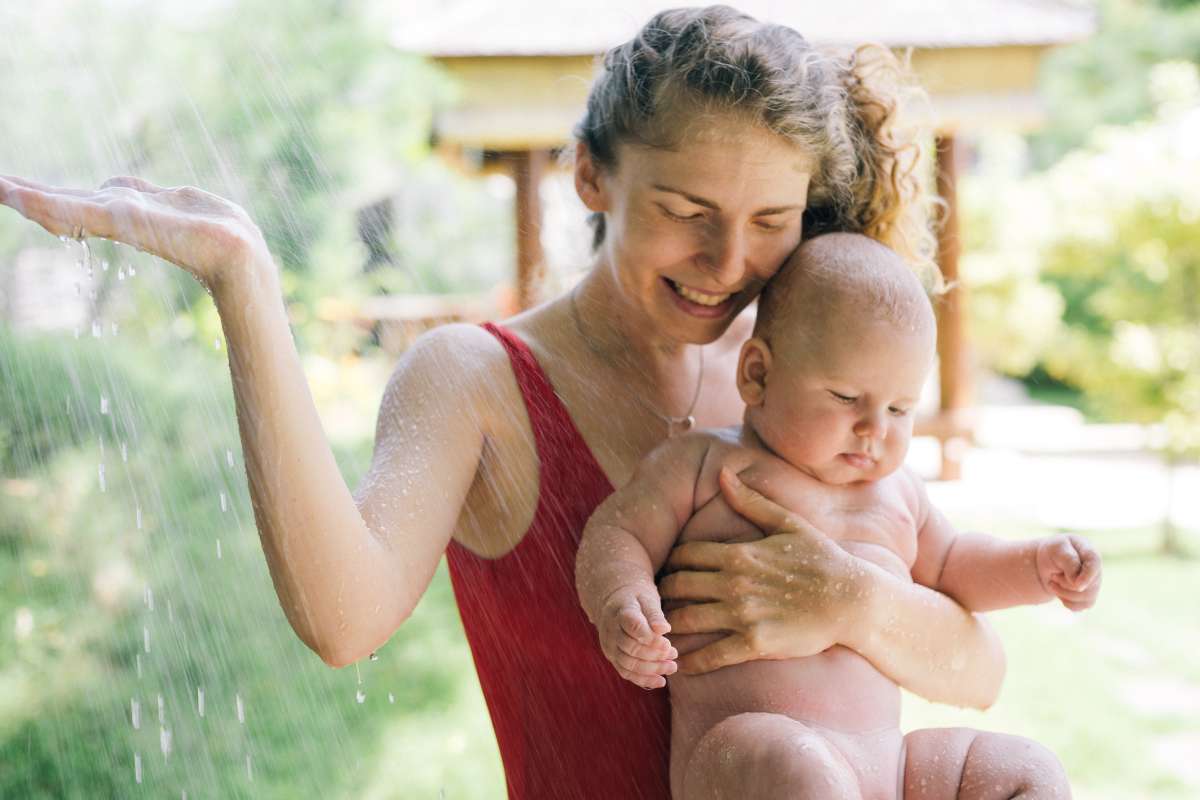 Many community pools will post designated times for family swim when the crowds thin out, and you don't have to avoid splashing teenagers or severe lap swimmers.
Hop in and watch your baby's face light up as she experiences the magic feeling of weightlessness for the first time.
Host an Art Show
Buy a big box of chunky sidewalk chalk and sit beside your babe, doodling all over your driveway or sidewalk. 
It doesn't matter if he isn't old enough to draw his stick figures. He'll enjoy "helping" you, and you'll end up with a colourful entryway to your home.
Make a Home Movie
As soon as you manage to send one batch of baby photos to loved ones, you're hounded for new pictures. 
Thankfully, today's technology can make sharing milestones a creative project. Use a digital camera to record mini videos of your baby each day. 
Then send the short movies via the Internet to your baby's grandparents. Not only will you record funny moments, but it will also help your baby's grandparents feel close to him/her.
Visit a Pet Store
Go to the pet store, and watch your baby laugh with glee when she sees the puppies and kittens jumping around. Identify the animals and then help her wave hello to each of them. 
Exotic-bird stores can be entertaining, too, especially if the bird gives your baby a shout-out.
Take a Field Trip to One of These Places:
Zoo
If your baby lights up every time you reach for Good Night, Gorilla, he'll have a blast pointing to lions right in front of him. You don't have to make a day of it, either. Laugh with the monkeys, and then head home for naptime.
Butterfly Conservatory
Strap your sweetie into your baby carrier for a stroll through a world of fluttering, colourful creatures. If one lands on your baby's head, make sure someone's there to snap the moment.
Botanical Garden
Many of them now have playgrounds and fountain areas that are a haven for toddlers. And you get to smell the roses and feel like an earth goddess.
Animal Farm
The snorts and brays may fascinate or startle your baby at first, but if you enjoy the sounds, he'll take his cue from you. Plus, chickens bobbing IRL is the fantastic sauce!
Relive your wedding day
Get out your wedding video and have fun reminiscing about your big day while pointing out all the guests your baby knows. He'll be amazed to see them on TV! 
He'll love watching your video so much that more than years later, he would still ask for you to turn on "The Wedding Show".
Learn a New Language
Always wanted to polish up your Spanish or learn the basics of French? Do it! Borrow language tapes from the library, or find them online. Then practice them around your child. 
You can also find storybooks to read aloud. Your baby may not pick up any words, but research has shown that a baby's exposure to another language can help improve her mastery of foreign languages down the road.
Share a Soak
Relaxing in a tub can be a reality! Listen to classical music or sing a lullaby as you soak together in warm water. 
If your baby feels more playful, add in some bath toys and plastic cups, and sing Ernie's "Rubber Duckie." 
Either way, it's a great bonding experience. For safety reasons, be sure not to fill the tub too high, and always have a firm hold on your child.
Walk Down the Aisle of a Fabric Store
For some reason, new motherhood can bring out our inner craftswoman. Dreams of adorable, hand-sewn stuffed animals dance in our heads (even if we've never held a needle and thread). 
Spend some time in a fabric store, and you'll be inspired to channel your energy into a creative project. If you're feeling overwhelmed by the selection, ask staffers to suggest some ideas, including those of the no-sew variety. We have the best range of baby nursery blankets to keep your baby just right day and night.
At the same time, make the shopping experience a visual and tactile adventure for your baby. Expose him to furry fabrics, yards of shimmery sequins, and rolls of satin ribbons.
Make a Pit Stop on the Way Home
Play With Water 
Dip your baby's toes in an outdoor park's water fountain and get rewarded with peals of laughter.
Admire New Construction
Pause across the street from that big cement mixer; it's fascinating for wee ones and really for anyone. How do those things work?
Visit the Local Farmer's Market
Life is good when you can teach your baby his colours by strolling the produce stands! Also, it's an opportunity to hit up the dog moms so your baby can meet a furry friend.
Other Activities to Do at Home With Your Baby Based on Age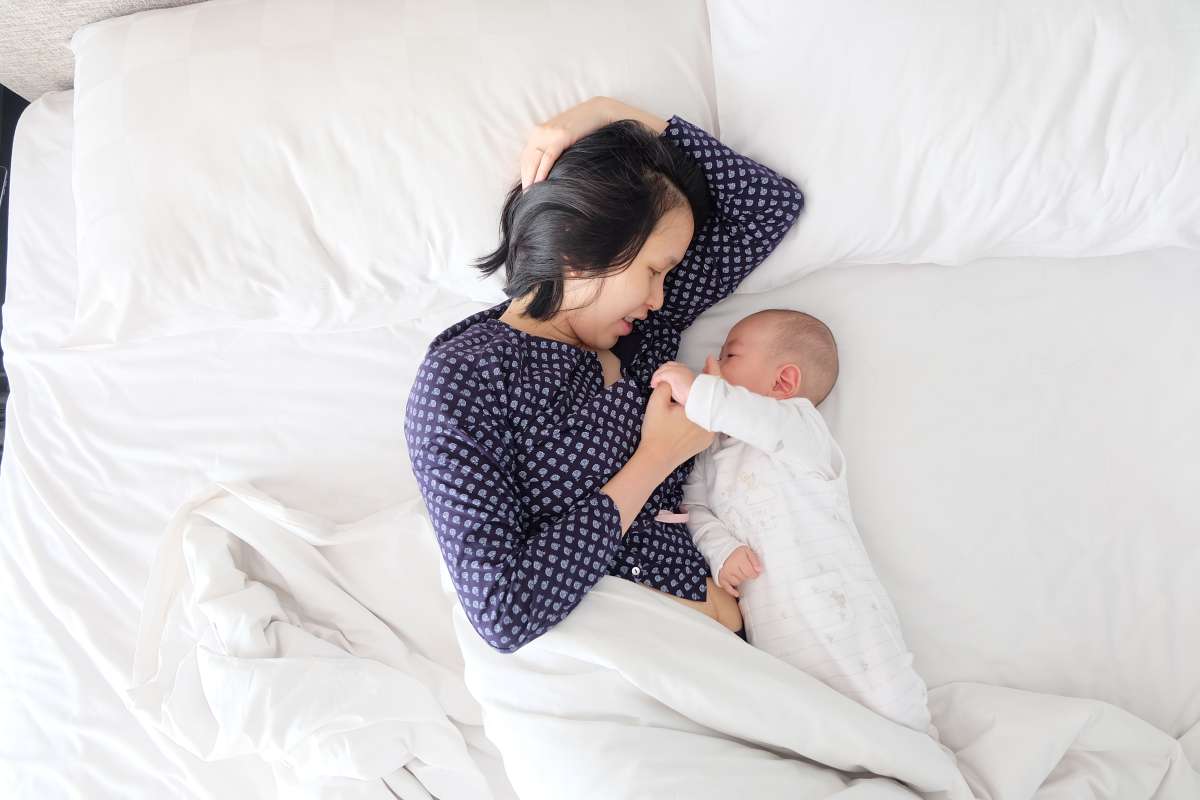 Each of these easy activities offers rich developmental benefits with little to no prep. 
0-3 Months
Skin to Skin
Skin to skin time isn't just for newborns. Babies (and caregivers) of all ages are calmed by its soothing effects and other physiological benefits. Try it in a bath, during feeding, or face-to-face during tummy time.
No-Fuss Tummy Time
Tummy time is recommended for full-term babies starting in their first week, but tummy time can be stressful if your baby doesn't love it. Here are some ways to make tummy time off the floor and make it more enjoyable for you both.  
Tracking Sounds and Sights
Your newborn baby's world is pretty small, and you are at the centre of it. Around one month old, their horizons start to broaden, and they begin to show an interest in the sights and sounds around them. Help them tune into their newly developing senses with these four easy ways to play. 
Building Leg Muscles
As your baby starts to uncurl from its womb-like position, you may notice they want to push up against anything within foot's reach. This super simple strengthening activity helps them build their leg and foot muscles. 
4-8 Months
House Tours
Taking your baby on a tour of their home exposes them to rich experiences with real-life objects and situations, enabling language synapses to form. The best part: zero prep and no toys required 
Kicking Play
Kicking builds the muscles your baby needs for rolling. It also gives them an immediate response to their movements, setting up an exciting feedback loop. Try these four ways to get your baby kicking and learn about cause and effect.
Sensory Tummy Time
Tummy time is the best place for your baby to gain strength for crawling and walking, but keeping it interesting can be challenging. Try these tummy time ideas to engage your baby's senses and keep them excited to be on their belly. 
Fun With Sensory Bags
Fill sensory bags with water, pom poms, buttons, straws, or anything else you can dream up. Sensory bags give your baby a way to examine the small objects they are so interested in without getting potential choking hazards in their mouth. Do keep a close watch on your baby as they explore, especially if they tend to mouth the bag. This DIY activity takes a little bit of prep, but your baby will love it. 
Pillow Crawling
Finding new ways to burn off energy at home requires some creativity and willingness to experiment. For pillow crawling, your baby must use both body and brain to climb to the top of Pillow Mountain and (hopefully) find a nap on the other side.
9-12 Months
Balls and Muffin Tin
Taking things out of a container and putting them back in is so much fun for your baby, who's gaining control of their hands. Muffin tins and a few balls (or pom poms) are all you need for this scientific exploration of in and out.
Water and Ice
With just water and ice, you can compare temperatures, explore solids and liquids, and (of course) splash. Best of all, it works at every stage of development.
Montessori Treasure Baskets
Treasure baskets are a Montessori favourite for a good reason. They're versatile and can be filled with objects from nature or your home to inspire your baby's natural curiosity for exploring their world. 
Sing-Along on Spotify
Music is good for building brains and shifting moods. Turn it up and dance out the wiggles or turn it down and set the tone for sleep. Whatever the time of day, there will be a Spotify playlist for it. 
Conclusion
Whether it's a light switch, tea bag, or cooking spice, our babies are often interested in what we're handling. It's okay to go ahead and let them explore. We have a wide range of playpens for your baby right here at My Baby Nursery.