As a parent, you know that it is essential for your baby to be safe. One of the most common things people do when they have babies in their home or home is getting baby gates. 
Baby gates are necessary because if there were no barriers, the child could crawl into dangerous areas and hurt themselves. The first step in choosing a baby gate would be deciding what size you need.  
Once your baby starts exploring the world on his or her own – lookout! 
While this new level of independence is an exciting time for both you and your baby, it can undoubtedly increase stress levels as you watch your little one wander near stairs and other potentially hazardous places.
Baby gates offer a great solution, enabling your baby to happily explore while providing you with peace of mind knowing your baby won't be able to get anywhere you don't want him to. 
Install them at the top and bottom of stairs and any other spaces that are off-limits, and you can rest easy – well, more accessible!
A baby gate is a great way to keep your little one in a safe space and away from any hazards. Read on for some tips on choosing the best one for you!
Barrier or Gate?
Barriers are an essential, fixed device that keeps bub where they need to be and tend to be a cheaper option. 
However, remember that you'll need to step over or remove it to get access to the closed-off area, which can be tricky when child wrangling and a safety concern for the adults in the house! 
Gates swing open and closed and are more convenient when you need frequent access to the closed-off area but may cost more.
If you want to block off half a room and there's no door frame available, you may want to choose a playpen consisting of several panels (including a safety gate) that can double as a room divider/barrier. 
However, make sure you buy one specifically designed for this purpose as it will include the necessary wall mounts.
My Baby Nursery has a wide range of baby car seats to help you choose.
Types of Baby Gates
If you're wondering what the best baby gate is, it will depend on where you'll be placing the gate. 
Below are the two main types of baby gates, the installation method, and the best places to use them.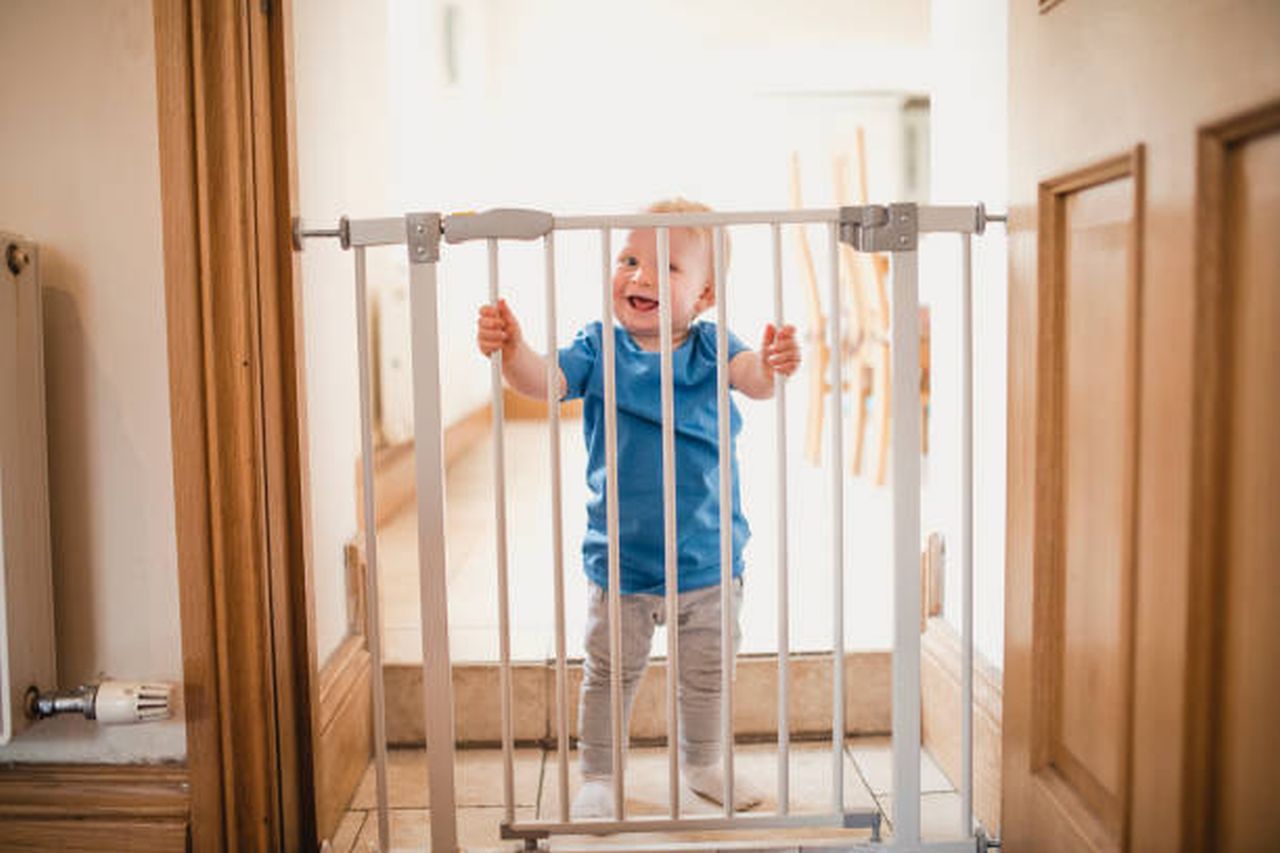 Pressure-Mounted
Pressure-mounted baby gates don't require any hardware to install, as they're placed in a door frame between two walls and rely on pressure to keep them in place. 
They're super easy to install and can be conveniently moved from one location to another. They're also the best option if you're renting since you won't need to drill holes into walls.
However, these gates aren't fully secure and can potentially be knocked over by a child since they're not permanently fixed into the wall. 
This is the best baby gate for doors between two rooms and anywhere else; falls aren't likely to occur, such as the bottom of stairs. Avoid placing this type of gate at the top of the stairs. 
Hardware-Mounted
Hardware-mounted baby gates are anchored to the walls with screws or brackets, providing extra security and sturdy protection. 
Because of the added safety, this is the best baby gate for the top of stairs, and anywhere else a dangerous fall may occur.
Note that there are also double duty gates that can be mounted both ways. Many of our pressure-mounted gates include hardware for extra safety.
Additionally, baby gates come in metal, wood and plastic. Metal ones are the sturdiest and should be your go-to choice for spots where you need extra protection, like at the top of the stairs. 
What to Look For?
Standard Certification
There are two international standards for safety gates: the European EN 1930 and the American ASTM F1004. 
As there isn't currently an Australian standard, certification to these standards is a good starting point.
Pressure Mounts Vs Hardware Mounts
Gates and barriers are often fixed to the doorway by pressure mounts, which screw out from the gate frame and hold the gate in position by pressure alone. 
Make sure these tighten firmly enough to hold the gate securely in place. Pressure mounts are easy to install and usually sit inside wall cups that stick onto the door frame or wall using adhesive. 
For added security, wall cups can usually be bolted or screwed directly into the wall or doorframe. 
This is a more permanent hardware solution for riskier areas, such as the tops of stairways.
Some styles of safety gates, such as retractable designs, don't use pressure mounts and instead require you to screw amount directly to the frame or wall.
Looking for a baby nursery cot mattress? Look no further. My Baby Nursery has you covered.
Latches
An adult should efficiently operate gate latches, but impossible for a toddler. Gates should require two separate actions to open, such as unlocking and lifting. 
The gate should close quickly (some have an auto-close mechanism), and it should be clear whether the latch has adequately engaged, with an audible or visible indicator. 
Children have fallen downstairs in cases where a latch has not adequately engaged. Ideally, you should be able to operate the gate with one hand, so you can get through quickly while carrying your child or that giant basket of washing, for example. 
Some gates have a convenient foot pedal.
Adjustable Width
Most gates or barriers will fit a range of door widths, but some are more adjustable than others. 
Their mountings usually extend a few centimetres, which allows for fine adjustment. A more significant adjustment will need an extension kit, which is only available for some models. 
Some barriers and gates have sliding or extending sections that can be adjusted to many doorways.
Gaps
Gaps between bars should be between 50mm-95mm to ensure your child's head can't fit through or get stuck.
Any accessible smaller gaps should be between 12mm-30mm (to avoid hands or feet getting caught) or less than 5mm (to avoid trapping little fingers). 
Check the bars (or mesh) are rigid so that a child can't force gaps more comprehensive than the recommended dimensions. Our CHOICE tests look for these hazards.
Footholds
There should be no horizontal bars – they could be used for climbing.
Material
Gates and barriers can be made of metal, wood, plastic or mesh. Choosing one type over another is mostly a matter of personal preference.
Pet Access
An extra tall gate is also helpful for keeping out pets (which can often jump a standard height gate), and a cat flap can be handy to allow your feline friend to come and go while still keeping your child on the safe side the gate.
And pet owners rejoice: once bub grows out of it, you can always use the gate or barrier for your resident canine.
Beware the Criss-Cross Accordion Gates
Baby gates and barriers are meant to stop toddlers from falling downstairs, but this older-type gate, which opens criss-cross like an accordion, can trap a child's head or clothes and is too easy to climb. Overseas they've caused significant injuries and deaths.
Considerations Before Buying a Baby Gate
Toddlers can be shockingly quick and curious when they want to be – so you'll need to block off access to stairs and any other areas of the house that contain hazards, such as the kitchen, bathroom, garage or fireplace. 
This is where safety gates and barriers can come in handy, keeping dangerous areas out of reach and keeping your child out of harm's way.
How to Choose the Right Baby Gate?
To make the shopping experience a breeze, you'll want to consider the following four factors. 
Taking these steps ahead of time will save you a lot of hassle, helping to ensure you get the right gate for your purposes and that your gate is the correct size for its intended location.
Measure the width of the opening where the baby gate will go.
If it's a staircase, measure both the top and bottom of the stairs. If it's a doorway, measure between the walls and the skirting boards for a perfect fit.
Choose how you want to fix your gate.
Pressure mounted, also called "on-pressure", baby gates fit all doors and staircases. They are ideal for rentals or occasional use, as you provide the gate without drilling into the walls. 
These gates are strong and fit well, but you need to have a doorframe or banisters strong enough to support the gate.
There are two types of pressure fit baby gates: U-Pressure Fit gates have 'U'-shaped frames and are suitable for everyday use thanks to a wide walk-through section. You can buy gate extensions so your gate can fit more expansive spaces.
Safety Barriers don't have a walk-through section. They're ideal for occasional use – for example, when you're travelling or when the baby is at his grandparents'. 
They are extendable, so they don't need extensions.
Fix to wall gates are recommended for the top of staircases and long-term use. You need to make holes in the walls and use screws to fit the gate into them. 
The gates have two extendable panels so that you won't need extensions.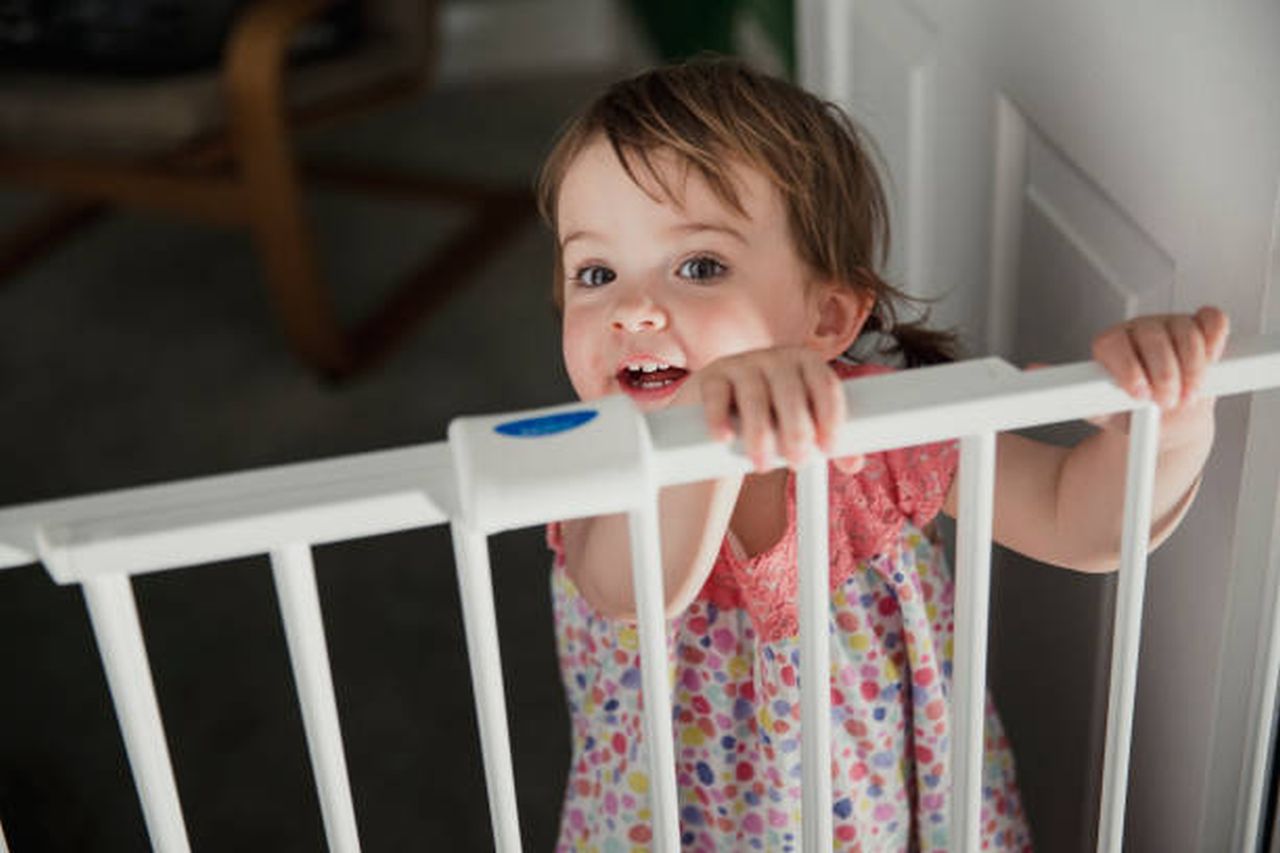 Decide how you want your baby gate to open and close.
There are lots of different options available.
Opening options

3-Action opening for the most curious children or to reassure anxious parents when standards require only two actions

Gates that swing open in both directions

Gates you can open with one hand

Gates that have a stay-open option when children are away

Closing options

Gates that close automatically

Slam-shut gates

Manual close gates you need to shut yourself
Choose your material and finishes.
You'll want your gate to look good and complement your home décor. We offer different finishes to suit all styles, from classic to contemporary.
Materials include:
Wood

Steel

Net interiors for portable gates
Is it a trip hazard for you?
Some gates pose a trip hazard as the floor bar is high enough for you to catch your foot on as you walk through. 
To lower the risk of dropping your baby while carrying them through a safety gate, look out for a safety gate with either a low-profile floor bar with chamfered edges – or one that doesn't have a floor bar at all.
Is it easy to open and close?
Some safety gates can be tricky to open and close, and some even need two hands to open and close them. 
Given that parents tend to have their hands full most of the time, this could mean that you either don't close the gate properly or stop using it altogether – which rather defeats the purpose of having a safety gate in the first place.
Is it difficult to assemble?
If you're a parent, you're likely to be running on reduced sleep, so a safety gate that's difficult to assemble may tip you over the edge! 
Make sure you check the ease of use scores in our review so you can avoid the models that are a nightmare to set up.
Lack of Australian Safety Standards Across the Baby Industry
Unfortunately, there's no Australian Standard for safety gates – they're just one of several babies and kids' products that don't have to meet any particular standards for safety, even though they're designed for use by one of our most vulnerable populations.
In the absence of this vital law, we rely on Standards, but what happens in the absence of those?
When we buy products specifically designed to ensure the safety of our children, we should be able to make a fair assumption that the product is safe to use. 
But without duty on manufacturers to guarantee this, we can only hope that the product will not harm our family.
Safety Issues
As soon as your little one is on the move, life as you knew it takes a swift left turn. It's time to move the breakables up, lock down the cupboards, and baby-proof you're home as best you can to keep your baby safe.
The first port of call is often a child safety gate to keep little wanderers out of areas they're probably not ready to venture to, like stairs, kitchens and bathrooms. 
However, you might not know that currently, there's no Australian Standard for child safety gates.
The failed safety gates pose risks such as finger and limb entrapment and even potential strangulation risks. 
Here are safety issues to consider if you're buying a safety gate.
Finger entrapment:

a child's finger could get caught in the gate.

Limb entrapment:

a child's arm, leg, head or neck could get caught in the gate.

Snag projection:

the entrance has a component that can snag or catch onto a child's clothing, creating a potential strangulation hazard.

Inadequate secureness:

the gate may be left in an insecure position or appear to be locked when it's not.

Sharp edges:

some components of the gate have sharp edges that could cause an injury.
Baby Gate Shopping Guide
If you're shopping for a baby gate, you've come to the right place. We'll take you through the steps to make it easy to find a gate that fits the needs of both you and your baby. 
We will help you become familiar with all the different options to make it easier when choosing a baby safety gate.
Before you begin your search for the perfect baby gate, you will need to think about a few things to help keep your baby safe. Ask yourself the following questions:
Where Do You Want to Put the Gate?
You can find a child gate to use in a standard doorway or entryway, at the bottom or top of stairs, or even in extra-wide or odd spaces.
How Do You Want to Mount the Gate?
A pressure mount is best if you plan on moving the baby gate around a lot because it is easy to reinstall and does not use any hardware to set up. 
A hardware mount uses screws to keep the gate connected to the wall or doorway securely. A pressure mount baby safety gate should never be used in certain places, including the top of stairs.
Will the Gate Be in a High or Low-Traffic Area?
If you will be placing a baby gate in a high traffic area, an entrance with a swinging door (pass-thru design) is best because you can easily slip in and out when needed. 
If you need a gate for an area where you will not enter and exit as frequently, a barrier gate may be appropriate to help ensure the baby stays where you have determined the baby is safe.
What Type of Material Do You Prefer?
Baby safety gates come in various materials such as metal, plastic, fabric or wood, giving you a choice to select what is most desirable for your home, yourself and baby.
What Kind of Design Best Matches Your Home Décor?
Generally, moms like to have aesthetically pleasing items in their homes, and a mismatched baby safety gate can detract from your overall design scheme. 
Once you choose the best gate to help keep your baby safe, think about what gate colour or pattern fits well with your home.
Take a look at our range of mattresses for baby cots.