Parents asking this question are usually concerned that they may spend money on more than they'll need. Unfortunately, the number of crib sheets needed to take care of your baby adequately is more than one.
If crib sheets are compared to bedsheets, why do babies need so many crib sheets? Unfortunately, babies are notoriously messy. They spit up, vomit and have accidents. Although experts suggest changing crib sheets at least once or twice a week, extra sheets are great to have to be extra prepared.
In an ideal situation, having two crib sheets should be enough: one for the mattress and one prepared for change. However, this system requires that the sheet being changed out should be washed and dried right away. Unfortunately, having only two crib sheets may not be the most practical solution for a realistic household.
The main factor to consider when deciding how many crib sheets to get is how often you plan (or expect) to change the crib sheets.
For parents planning to change the bed sheets every two to three days, three to four crib sheets should be enough. However, parents planning to change the crib sheets every one to two days might want to get four to five crib sheets. These numbers already include additional sheets for some unexpected accidents.
You're about to become a new parent, and you're trying to figure out what to purchase– everything from a crib to the number of crib sheets you'll need.
Trying to sort things out as you get ready for parenthood can be overwhelming, and it's always helpful when you're able to have an idea of where you should begin.
As we all know, with babies, their top priority is either eating or sleeping. As a parent, a typical day will consist of doing laundry, changing crib sheets, washing blankets, and giving baths to your baby.
Apart from all of the above, you still have to do your regular chores and ensure that your baby is happy, healthy, and comfortable.
Where do you start with crib sheets? Below we'll take a look at some of the factors that you should take into account when deciding on the crib sheets that you need and some suggestions on the type of crib sheets that you should purchase.
Remember to check your baby's crib and sheets regularly for any overlooked spots that might be soiled! If you want to place fresh sheets in your baby's crib once a week, plan for two or three crib sheets. But if you plan on changing your crib sheets out every day, we recommend having at least five to seven crib sheets.
Always make it a point to change your child's bedding sheets 1 to 2 times per week. For any spills or upsets, always clean immediately.
A firm mattress that fits the cot snugly without leaving spaces around the edges so your baby cannot trap their head and suffocate. Sheets to cover the mattress – you need at least four because they need to be changed often; fitted sheets make life easier but can be quite expensive so that you could use pieces of an old sheet.
Dust, hair, and dead skin cells also accumulate on the sheets over time. Consequently, your baby's sheets would attract bacteria and pests that adversely impact their health. Because of that, your baby's sheets need to be washed at least every three days, which is twice a week.
You should wash the baby's clothes, blankets and other washable items that will contact her skin.
You Need More Than Two Crib Sheets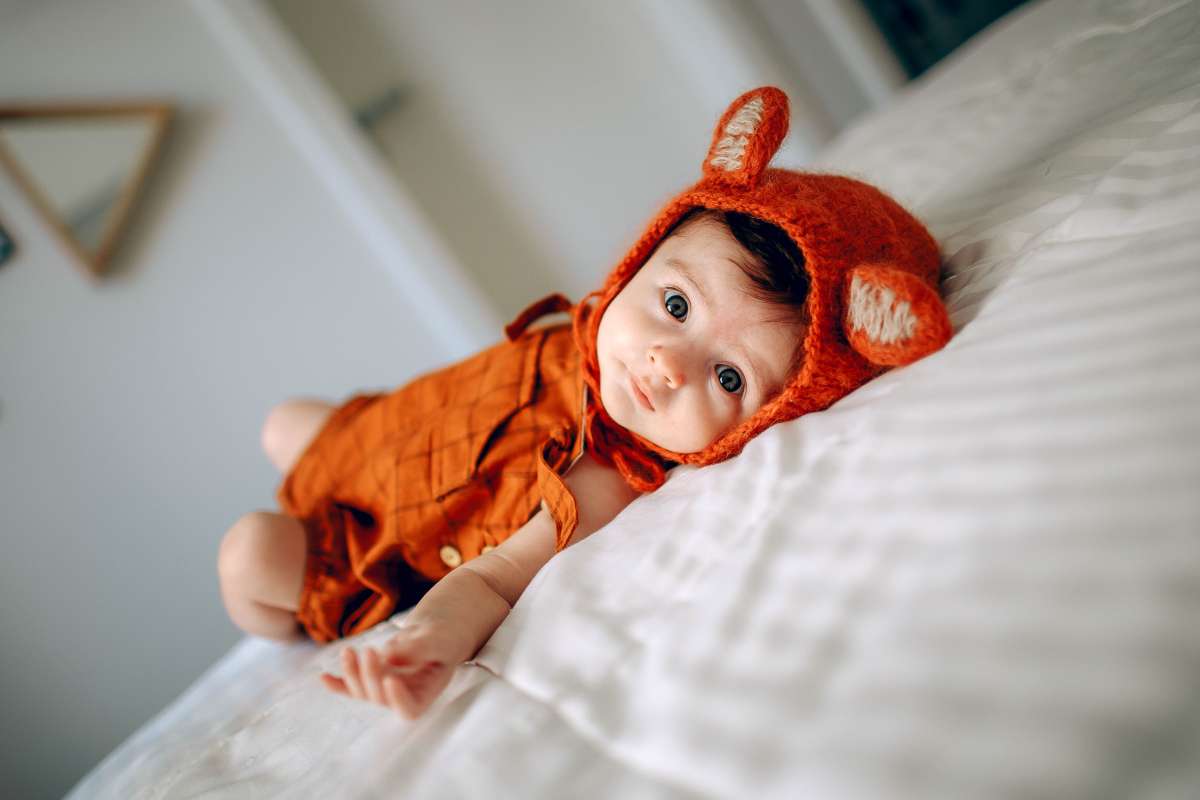 Changing your baby's crib is no different from changing your bed. So if you change yours once a week, as sleep experts recommend, then your baby's crib will be the same, if not more often, due to other factors.
As a parent, you will need to decide how often you would like to change crib sheets and factor in reality.
The reality is that babies are notoriously messy little creatures. They often spit up, drool, sweat, and have diaper leaks in their beds. When this occurs, you will need a spare crib sheet to change to keep your baby's crib clean and safe.
So having two crib sheets will be fine. But in reality, having more will make your life simpler.
Factors To Consider When Purchasing Crib Sheets
The crib sheets that you choose are just as important as the mattress and the crib that you prefer. Your baby's safety should always be your number one priority.
With this in mind, there are a few things that you need to consider when purchasing sheets for your crib.
Breathability
Babies sweat; they sweat a lot. This is more of an issue with newborns because they spend a lot of their time lying on their backs unless they are being held. As they do not move around greatly, there is limited air circulation.
The sheets that you purchase should be made from a naturally breathable fabric, which will help them to stay cool and comfortable while they sleep.
Fit
The fit of the crib sheet is critical. You must ensure that it fits your crib mattress correctly and that the mattress fits the crib tightly with no gaps around it. This is important as your baby's crib must provide a safe environment for them to sleep and rest.
As babies grow, they tend to move and wriggle a lot in their sleep. By using a sheet that fits the mattress snuggly, you can ensure that your baby will not work it loose. If they squirm in their sleep, it won't bunch up and pose a potential danger to them.
It is also not advised to place extra material on your cribs, such as bumper pads, stuffed toys, and pillows. This is because when your baby is small, they cannot move away if something is pressed to their face.
For instance, if they wriggled themselves against the bumper pads, they would not be able to move away again.
The fit of your baby's crib sheet is an important part of sleep safety. The sheet should fit tightly around the mattress, and the mattress itself should fit tightly inside the crib. 
Babies tend to move around quite a bit in their cribs. Using a tight-fighting crib sheet leads to less chance of it bunching up and being moved around, which could be dangerous for your baby. 
Because your baby is not yet able to move away if something is pressed against their face, avoid placing any extra fabric in your baby's crib because it could obstruct their breathing. This includes stuffed animals, bumper pads, extra blankets, and pillows. 
Babies Get Sick
You have decided that you will only need two crib sheets. One in the crib and another in the laundry. This is practical and well thought out until your baby is sick. No parent wants to see their child ill.
Unfortunately, it does happen as our little ones become acclimated to life outside the womb. If this does happen, then there is a chance that they will soil their bedding more than once a night. They may also sweat more than usual, and you will need to change their sheets more often.
My advice is that it is better to be safe than sorry. Buy a few extra sheets for your sanity!
If you have a sick child, you do not want to be worrying about whether you have enough crib sheets or that you need to get laundry done asap because there are no clean crib sheets.
The last thing you want is your baby to get sick, but, unfortunately, it happens. It's normal for your baby to get sick now and then while they adjust to the world around them. 
If an infection or sickness is going around in your home, the germs will settle on your baby's clothes, toys, and sheets. Sometimes there are even unfortunate sick days that call for a sheet change as often as a diaper change. 
This is why it's not only important but necessary to change out your baby's sheets frequently — possibly daily — during this time. Whether your baby is in a crib or bassinet, they need to sleep on clean sheets to stay healthy. 
In addition, remember to use proper handwashing techniques and keep those sick away from your baby to reduce the opportunity for sickness to spread in your home.
To sum up, the exact number of crib sheets you'll need for your new little one is a personal choice that depends on your family's unique situation. We recommend a minimum of two crib sheets and a maximum of seven. 
There's no need to over-buy crib sheets, but you want to make sure you're prepared for anything that comes your way.
Allergens
We often forget how delicate a baby's skin can be, especially when purchasing items such as bedding. If you are concerned with allergens and how they may be affecting your baby's skin, it is best to look out for bedding that states it is hypoallergenic.
This does not guarantee that your baby will not be allergic to it or that it won't cause a reaction, but you can minimise it. Most babies will sleep in their crib for several hours a day, so you must try to limit factors that may cause them to be uncomfortable or irritated.
The term "hypoallergenic" describes products — specifically cosmetics and fabrics — that contain fewer allergy-producing substances known as allergens. 
While it's impossible to guarantee that these products will never cause an allergic reaction, they are known to minimise reactions. Because your baby will sleep on their crib sheet for several hours each day, it's important to give them the most hypoallergenic materials possible. 
At Newton Baby, we only use hypoallergenic materials in our products. The breathability factor and breathe-thru technology keep humidity and moisture build-up away, eliminating an environment for dust mites to multiply. 
And all of our products can be washed easily, which helps keep dust and allergens at bay.
Mattress protector
A great idea that will save both your crib mattress and your sanity is a mattress protector. These can be purchased from most stores and offers a little bit of peace of mind for a parent.
The mattress protector fits over your crib mattress the same way as a standard crib sheet. It has a waterproof layer that stops liquids from seeping through to your mattress. These are fully removable and washable, so if they do become soiled, you can pop them in the machine.
Your baby can get sick, or their nappy leaks and goes through the crib sheet it often does, I'm afraid. If you are using a crib mattress, then you have the added protection that the soiling will not get onto your mattress.
What Size Crib Sheet Do I Need?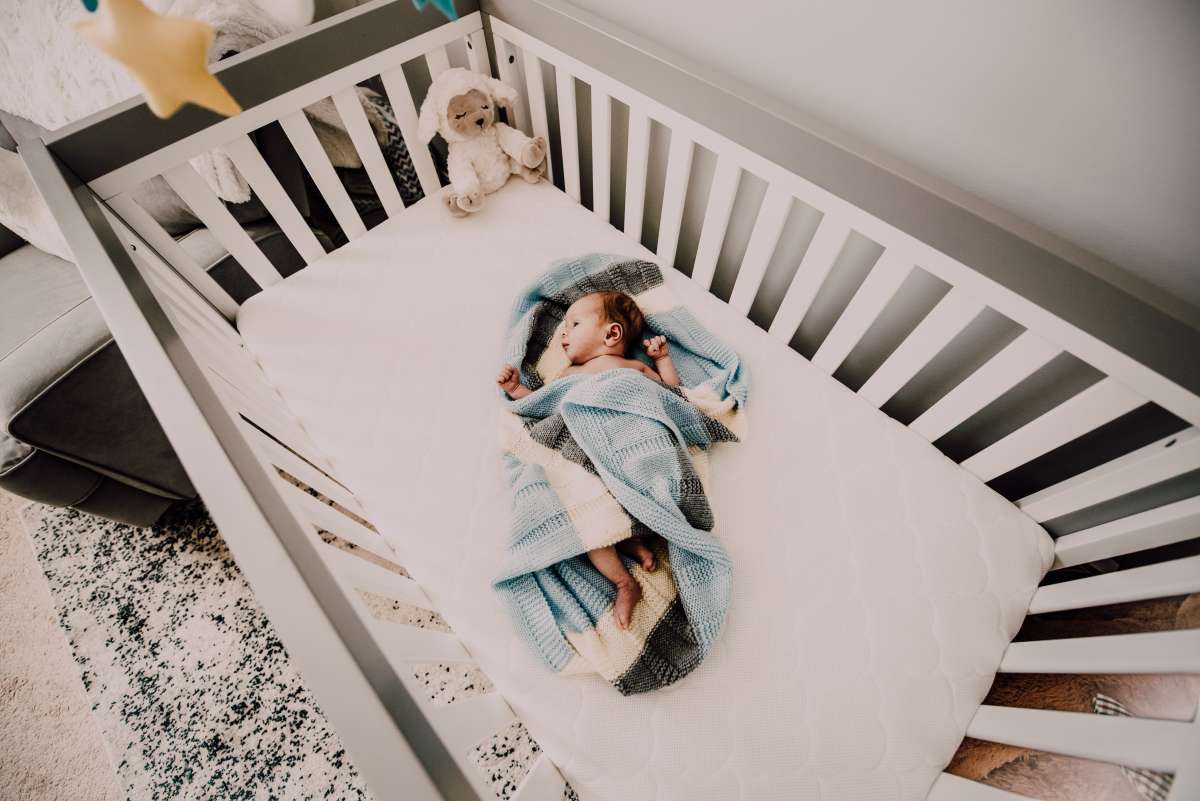 The fit of your crib sheet is essential. You must make sure that you purchase the correct size for the mattress in your crib.
Crib sheets come in two sizes:
Standard crib sheet 

– the dimensions for this are 52 x 28 inches. This will fit a standard crib mattress and a toddler mattress.

Mini crib sheet

 – the dimensions for this are 38 x 24 inches. This will fit a mini crib mattress and fit a most standard Pack n Play mattresses of 39 x 27 inches.
How To Choose The Best Crib Sheet For My Baby?
Fabric Breathability
When laying in their cribs, babies are supposed to be placed on their backs. As they lie there, babies will sweat as their bodies cannot change positions. To help keep your baby cool, you want sheets made from breathable fabrics.
Organic cotton sheets, such as the Burt's Bees Baby Fitted Crib Sheet, are a popular choice for maximum breathability. Although organic cotton crib sheets are the most popular choice for breathability, regular cotton crib sheets work too, plus they are a bit more budget-friendly.
Some parents will switch to flannel sheets during the colder parts of the year. While this is great for older kids and adults, it's not an ideal choice for babies.
Flannel sheets often keep babies too warm, which leads to poor sleeping at night. Cotton fabrics, including jersey weave, provide a cooling effect if too warm and warming up effect if it's too cold.
Crib Sheet Sizes
When it comes to crib sheet size, you have two basic choices: standard and mini crib sheets. What size you need to purchase depends on the size of your baby's crib mattress.
mini crib sheets are designed for mini crib mattresses. These smaller sheets are made to fit mattresses for things like a Pack N Playstyle crib. Mini crib sheets fit a few different sized mattresses, including 27" x 39", 25.5" x 37.5", and 24" x 38" with a thickness ranging from 1 inch up to 5 inches.
Cribsheet dimensions for a standard crib are 52" x 28". A crib sheet of the standard crib sheet size is designed to fit snugly on a standard crib mattress, such as this crib sheet by Mebie Baby.
To ensure you are buying the correct sheets, always check your crib mattress's measurements or measure the mattress yourself. Most mattresses are about four inches thick, but some are thicker, so always double-check the crib sheets measurements to ensure they fit.
No matter if you are purchasing mini or standard crib sheets, always purchase fitted sheets. The reason for this is a fitted crib sheet fits snugly around the mattress, with no risk of the sheet coming loose or bunching up.
Never keep extra bedding or loose objects in your babies' crib, especially when they are less than a year old. Flat sheets are discouraged, and they serve no real purpose in a crib.
Hypo allergenicity
We already mentioned how sensitive a baby's skin is compared to any adult. When shopping for the best crib sheets, look for ones that use hypoallergenic in their name.
Stating they are hypoallergenic means they aren't made with known substances that can produce allergic reactions. There is no way to guarantee that a product won't cause an allergic reaction, but hypoallergenic products greatly reduce the risk.
And as your baby lays in their crib sheets for several hours a day, you want to do everything you can to create a safe sleeping environment.
Machine Washability
It seems weird that we even have to mention this, but we strongly encourage you to purchase machine washable crib sheets for your sanity. The last thing you want is to hand wash any soiled sheets; not many new parents have time for that.
Tossing them in the washing machine and walking away makes it easy to clean up the worst messes. Just be sure you are using a laundry detergent that is safe for babies, such as Dreft Hypoallergenic Liquid Baby Laundry Detergent or Puracy Natural Liquid Laundry Detergent.
Conclusion
The answer to how many crib sheets you need varies based on your personal choice and how many babies you have. 
We strongly encourage parents to have a minimum of two crib sheets for just one baby, but more is often better as you won't have to wait for a dirty sheet to be laundered in emergencies.
It's not just about the number of crib sheets you need; what is most important is keeping your baby safe and sound while they are sleeping.
Hope we answered your dilemma on the "how many crib sheets do I need?" question! If you have any suggestions, comments, or other thoughts on how many baby crib sheets a parent must-have.