Babies are one of the most loved creatures on this earth, and they deserve to be spoiled with the best. Melbourne has many shops that sell baby clothes, toys, nursery items and more. 
We know that it is tough to find quality baby products these days, so we are here to help with our list. From clothing and toys to furniture, there is something for every parent here with a growing child. It's never too early to start preparing them for their future. 
​​If you are looking for the best baby shops in Melbourne, Victoria then looks no further. This blog post will tell you about some of the stores that are worth your time exploring. We have put together a list of the best baby shops in Melbourne, Victoria for you and your family.  
Best Baby Shops In Melbourne, Victoria
The Baby Gift Company - Baby Shop Melbourne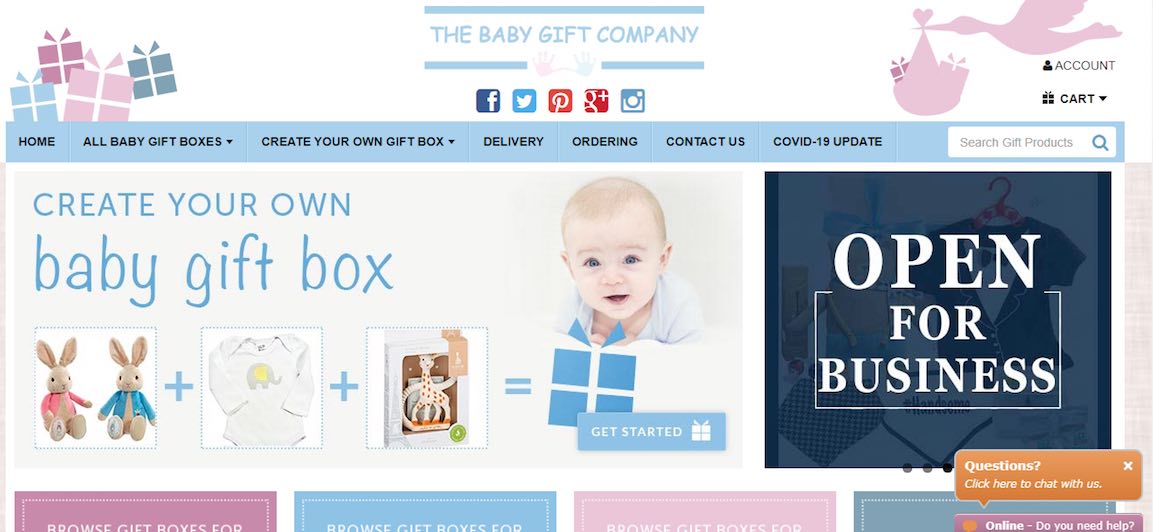 03 9782 1374
The Baby Gift Company is an Australian family run business set up in 2008 and based in Melbourne.
We aspire to create a unique online gift shopping experience that is fun, easy to use and secure. We also designed our website to allow customers to create their own bespoke baby gift boxes, which are beautifully packaged and affordable.
Baby occasions are all wonderful and memorable moments, which is why at The Baby Gift Company, we treat each gift request as if they were our own. We offer the utmost love, care and attention to all our gift boxes by hand, preparing each one upon receipt of the order.
Baby Gift Hampers
The Baby Gift Company sells unique baby gift hampers and baby gift boxes to suit all budgets & with fast delivery throughout Australia.
Our gorgeous selection includes new baby boy boxes, baby girl gift boxes, unisex baby boxes, new mum gift boxes, baby christening gift boxes and gift boxes for twin babies. Our new baby hampers and gifts are delivered within 1-2 working days to Sydney, Melbourne, Brisbane, Adelaide, Perth and 2-4 days to Rural towns in Australia.
If you are looking for baby gift ideas and don't want to pay extra for shipping, then check out our special collection of baby gift boxes for free delivery. These free delivery baby hampers contain lovely presents suitable for babies aged from newborn up to 6 months old.
We sell an expansive range of unique and exciting baby boy and girl items to meet their every need. The proud parents will also love our stylish, organic, practical, and fun baby gifts to welcome their new bundle of joy. Our gift collection includes popular brands such as Purebaby, Bubba Blue, Bonds, Nike, Marquise, Doterra, Moet, Lindt, Beatrix Potter, Peter Rabbit, MooGoo and more. 
All of our adorable baby gift boxes are full of quality baby goodies, all beautifully presented, making them a wonderful surprise to celebrate a baby's new arrival.
To help you decide on the perfect gift for a mum to be, new mum or newborn baby, we have put together a collection of gorgeous baby boy gift boxes, baby girl gift boxes, unisex, and new mum gift boxes. Or you could create your very own unique gift box by choosing from our extensive range of adorable gift products. In addition, we have recently introduced a new gift category selling Toy & Siblings, so that big brother and sister can feel special too.
We offer a cute selection of Free Delivery Baby Gift Boxes, starting at just $60.00.
We delicately wrap the products in soft tissue paper, a white keepsake gift box, satin ribbon, and a smart gift card with your own personal message to complete your baby gift.
At The Baby Gift Company, our aim is to consistently deliver exceptional customer service levels and quality baby gifts that bring joy and happiness to all those receiving them.
We hope you enjoy shopping with us, and we look forward to creating baby gift boxes for you in the near future.
ABC Design Australia - Baby Shop Melbourne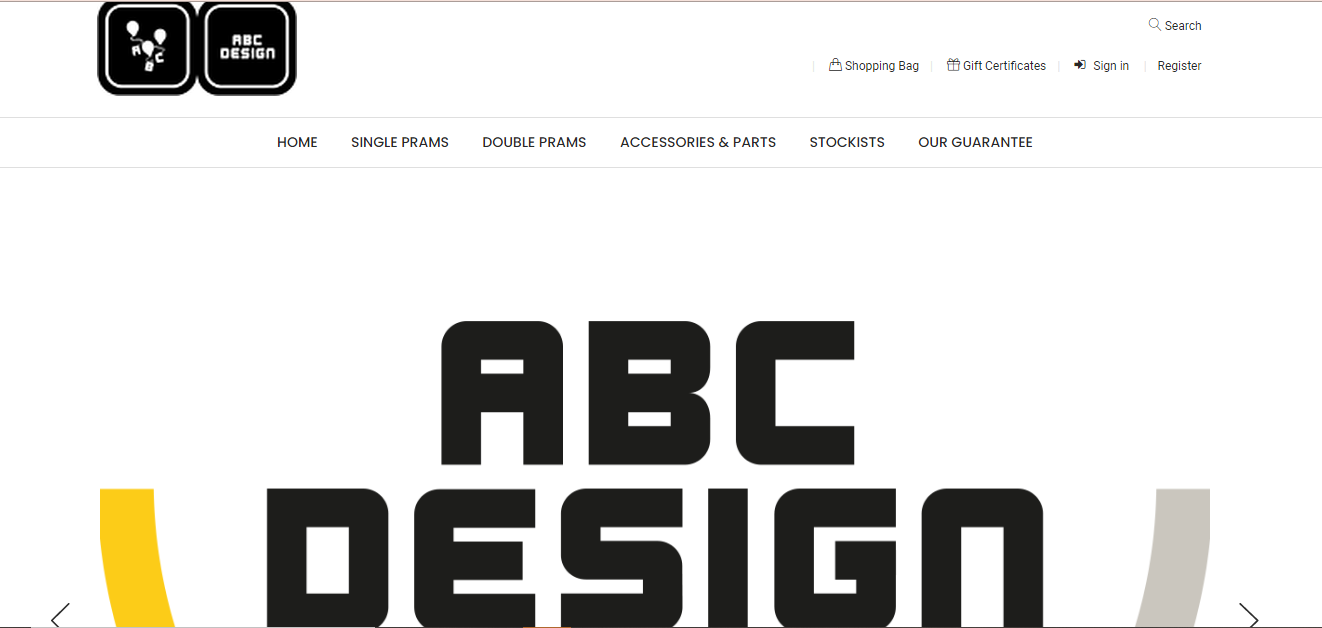 1300 301 621
ABC Design Prams Australia
The ABC Design Prams are carefully crafted and designed in Germany for the Australian family and their growing importance in the baby world.
ABC Design prams is a leading manufacturer in nursery products, with Australia playing an integral part of the worldwide operation in delivering a superior and improving product to the Australian mum
Since 1988, ABC Design has had a clear goal in sight that is to deliver high-quality children's products at affordable prices. Almost 30 years later, ABC Design is becoming a market leader in combination travel systems for Australian families.
The range of prams ABC Design Prams are bringing to Australia at present include both the Zoom pram and the Condor 4s Pram.
The ABC Design Zoom Pram is one of Australia's most versatile twin prams, helping many parents across Australia when their second child has come along. Still, most importantly, the ABC design pram is a great bonus for p[parents who have the delight of twins being born.
The ABC Design Zoom Twin Pram is a great pram that will help ease the load of parents of twins and multiple birth children. There are so many accessories you will be amazed at selecting accessories for the ABC Design Twin Pram.
The ABC Design Condor 4S pram is a light and compact pram with such style that every mum will want to be out and about in this trendy pram designed to help make your life easier.
Categories
Single Prams

Double Prams

Accessories & Parts

Stockists
Top Products
Salsa 3 2019 Diamond Series Asphalt

Backpack Tour Diamond Series Asphalt

Salsa 3 2019 Shadow

Zoom 2017 Additional Shopping Basket Black

Carrycot 2017+ Coal

Mosquito Net

Carrycot 2017+ Wood
See why ABC-Design is considered one of Australia's leading pram manufacturers by browsing our stylish, versatile range of twin prams and baby strollers today! With up to 2 years warranty and a 14-day money-back guarantee, you can shop with confidence.
Room to Bloom Baby Shop Melbourne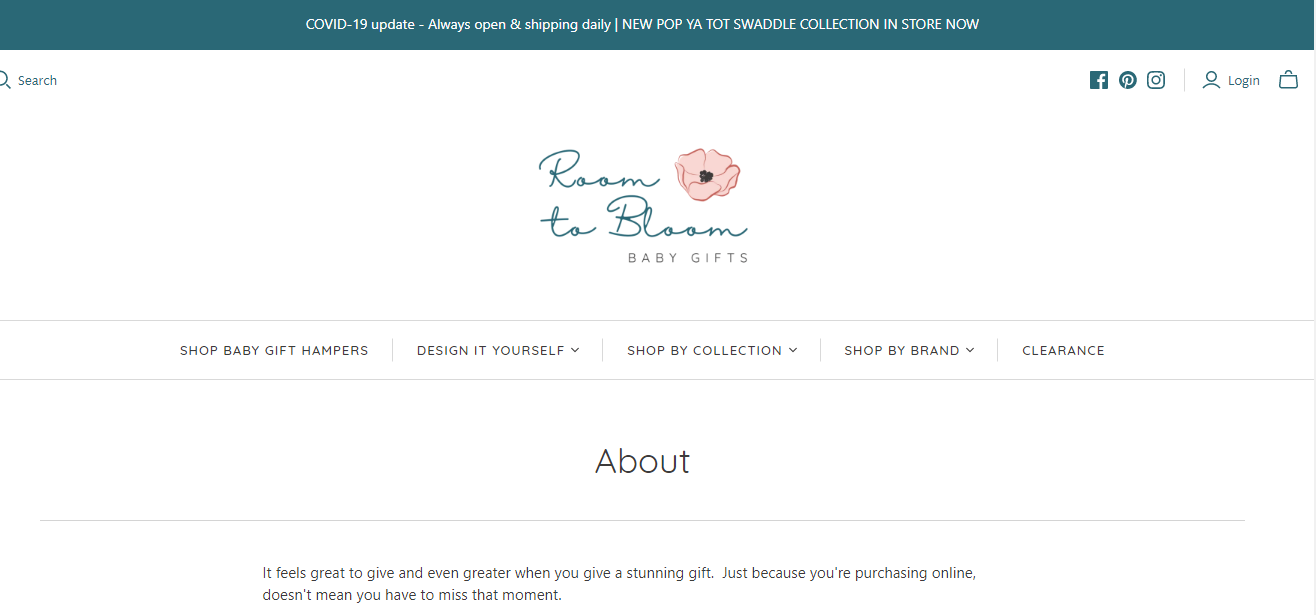 0403 062 087
It feels great to give and even greater when you give a stunning gift. But, just because you're purchasing online doesn't mean you have to miss that moment.
I proudly create beautiful gift box hampers full of precious keepsakes for babies.
Each baby hamper is truly unique and features only the highest quality natural and organic baby essentials. I also love supporting innovative Australian brands.
You'll always feel confident when you purchase from Room to Bloom. You'll even receive a photo of your beautiful gift and a message before your gift arrives. 
Since opening in 2012, I've established many satisfied customers and am very proud of the reviews I've received. Please read my Google Reviews, testimonials and Word of Mouth Reviews.  
In the meantime, If you enjoy my posts and photos on Facebook and Instagram, feel free to like and share them. Thanks for stopping by.
Give from the heart.
Collections
Babywear

Bath & Skincare

Bibs

Blankets

Headwear, Socks & Shoes

Milestone Sets

Swaddles

Teethers & Rattles

Toys
Shop By Brand
Bubba Organics

Foxx & Willow

Jellycat London

Lamington

My Little Giggles

Nana Huchy

Pop Ya Tot

Sapling Organic

Snuggle Hunny Kids

Wilson & Frenchy
Room to Bloom Baby Gift Hampers
Each Room to Bloom Baby Gift Hamper is unique and features the safest, purest and most stylish baby essentials available. These items are arranged in a natural finish wood box with complimentary ribbon and embossed paper wrap and delivered with a signature Room to Bloom gift card.
As each hamper is unique at the time of sale, in most cases, once it sells, it will no longer be available. If you see a hamper, you love, make it yours while you can.
To modify an existing Gift Hamper:
Add to Cart the Gift Hamper.

In your cart, remove any items not required.

Continue shopping to add other gifts.

Checkout when complete.
Or, simply Create a Customised Gift Hamper complete with your choice of gifts and Room to Bloom will do the rest!
A gift for you! A photo of your completed gift hamper will be emailed to you before the gift is delivered. If you're arranging the gift on behalf of others, you may like to share this photo with them.
Frequently Asked Questions About Baby Shops
At around the 12-week mark (the end of the first trimester), that's when most new parents find out if their baby will be a boy or a girl, and that's when they go out and start shopping for baby products like clothes and toys. The answer to this question? There is no definitive answer. You can start shopping immediately after you find out the gender, or you can wait till the second or third trimester (when baby showers usually happen), so you're not buying a lot of duplicate items. But remember, you have nine months before your little bundle of joy arrives, so you have plenty of time to shop! Don't feel like you have to rush.
If you're a mama who wants to have everything all ready to go before the baby is born, go for it! But if you're trying to decide what you can buy and what can wait, here are some items you can hold off on buying until your little one arrives: joggers, swingers and bouncers, noise-making toys, educational toys, and a lot of bottles and pacifiers.
All a newborn needs are diapers, food, clothes, and love. First, however, let's make your job as a new mama easier. So here are the baby products you really need for a newborn: a crib, bassinet, car seat, stroller, crib linens, formula or breastfeeding feeding gear, newborn/infant clothes, and diapers and wipes (especially diapers and wipes). Your newborn will go through many diapers and wipes, and these don't expire, so be sure to stock up.
Just like there are the essentials and necessities, there are some baby products your newborn won't really need. As a new mama, we want to make sure our baby has everything, and that's understandable. But there are some things your newborn can do without. For example, you don't need expensive bedding, clothes, or shoes, only because a newborn is messy and grows out of shoes and clothes (very quickly). You also don't need a complicated stroller (strollers don't need to have many levers and buttons; they just need to be safe). There are other things your newborn can also do without, like a newborn bathtub, but what you need and don't need depends on your situation and your budget. Go with your gut!
A newborn's skin is soft, sensitive, and easily irritated. Therefore, make sure that any products you buy for your newborn (that you will use on their skin) are fragrance-free. This includes bath soap, shampoo, and even the detergent you wash clothes in (even though you won't use detergent on the skin, detergents with fragrances will irritate the skin).
Suppose you are a mama that is conscious of the footprint she leaves on the environment, then yes. In that case, there are many eco-friendly newborn products made from organic and sustainable materials, such as glass bottles, organic cotton swaddling blankets, bamboo spun lace baby wipes, and washable cloth diapers.
It may be tempting to purchase a baby product that you've heard other moms rave about, but only purchase it if it fits your child's age limit. Products provide age limits and weight limits for use and guidelines for your baby's safety. Each product should have an age limit listed that you must abide by from baby carriers, baby seats, sleeping blankets, and toys.
This is a very helpful question to ask for products where you can put the baby down by themselves. Safety measures on car seats, baby beds, exer-saucers, bouncy chairs, strollers are all of these types of products you will want to know and locate the safety belts and how to use them properly.
For larger purchases, be sure to research if these types of products will fit your needs and your baby's needs. But a very important element to that is how safe the product is. So look for safety precautions and read about how much the product needs you to rely on the safety tools on the product.
This is important to ask concerning baby products because some products now do not include instructions within the packaging but are only available online. Therefore, you'll want the instructions on hand to review before use. Instructions not only give you an idea of how to assemble and use the product, but they should also include warnings about how not to use the product as well. Reading these warning signs will help you be aware of what not to do with the product.
Organic Babe & Kids Wear - Baby Shop Melbourne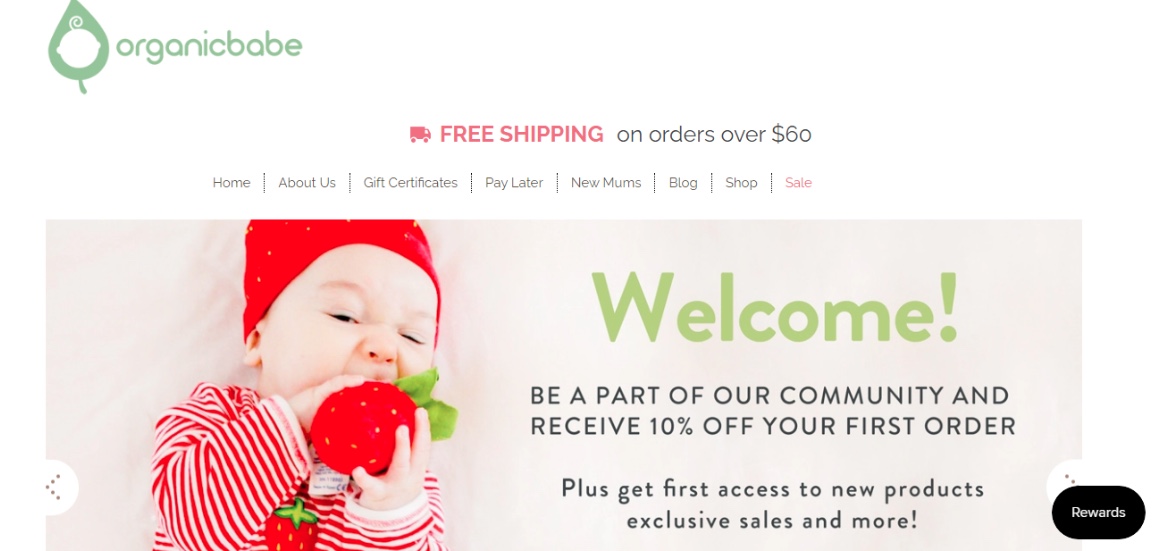 0412 760 408
As Mums ourselves, we know caring for your baby is the most important part of your life.
That's why Organic Babe was started in 2006, specialising in organic baby products that are safe for babies and children.
We Love our wonderful range of organic baby clothing, baby gift sets, organic baby wraps, baby gifts, toys and accessories. We're proud to say we are certified 100% organic. You can rest assured our organic products are free from pesticides, chemicals, dyes, or anything harmful for your baby.
All of our organic clothing is soft on a baby's delicate skin and comes in a range of colours and sizes, while the toys are safe enough for them to put in their mouth without any risk of harm. They're even washable, coming up like new every time.
Whether you're a new mum, pregnant, a father, uncle, aunt or anyone with a baby in their life, this site is for you. Not only will you find a full range of organic baby and kids wear, toys, baby lotions, accessories, maternity wear and even kids furniture, we also have some helpful resources for parents.
Every Mum experiences joy for the first time being a mum - it's scary to think you have bought this little bundle of joy into the world, and you are going to nurture and love your baby unconditionally forever.
Organic Babe & Kids Wear lead the way and are committed to providing safe, healthy, environmentally friendly products.
New Mums
Whether you're expecting your first child or you have half a dozen beautiful kids running around the house, you'll always be learning something new about parenting.
We all want the very best for our children, which is why we've put together this collection of parenting guides and articles on the issues many parents face. Read about fun things to do with your kids, as well as ways to deal with stress, bedtime and more.
We know the issues you can face as a first time mum, which is why we provide links and resources on everything from what to expect during your pregnancy to sleeping in the first six months with a new baby, parenting guides and resources for help with issues such as depression.
There's always information on hand.
You can sign up to our email list to receive new articles on pregnancy and parenting and information on the latest organic baby products in our store.
Organic Baby Clothes for your Baby.
Organic Baby Products
Baby Bedding

Baby Bibs

Baby Cards

Bottles, Bowls, Pacifiers, Teethers, Toothcare

Baby Shower Gifts

Baby Soft Toys

Blankets and Wraps

Beanies and Hats

Bodysuits and Rompers

Booties & Baby Socks

Dresses & Skirts

Favourites for Mum

Favourites for Newborn

Gift Certificates

Jumpers & Cardigans

Mother & Baby

Nappies & Wipes

Newborn & Toddler Gift Packs

Newborn & Toddler Toys

Nursery

Organic Accessories

Pants-Shorts-Leggings

Singlets and Underwear

Sleepwear

Swimwear

Tops
We Care About You and know that your precious baby is now the centre of your universe and loved unconditionally. Your bundle of joy deserves only the best and relies on your love and care. This is why we sourced the best garments manufactured with organic fabric. The plants used to produce the material were not sprayed with pesticides. Nor was the cloth chemically treated in any way. As a Mum, you are now loving, caring and protecting your baby from skin irritations or allergic reactions.
Designer Bums - Baby Shop Melbourne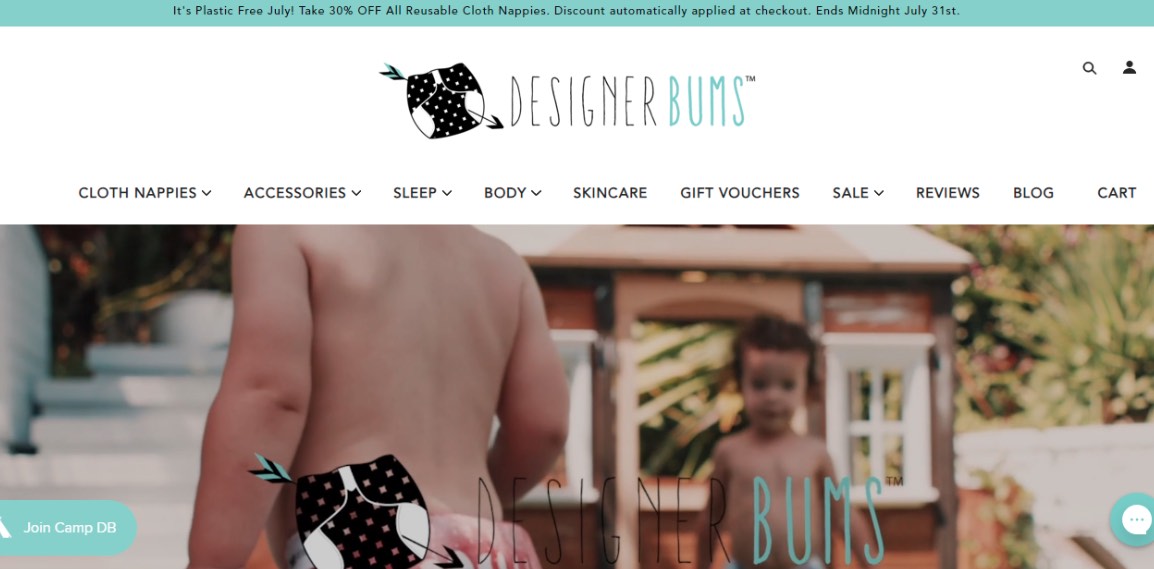 8763 638 234
Proudly Australian owned and operated, and Designer Bums is the original home of eco-friendly designer cloth nappies. We've been nurturing little humans and the environment for close to a decade.
Beginning in 2010, our cloth nappies were originally hand-sewn in a home in Melbourne. Because the demand for our eco-friendly nappies grew, our products are now mindfully manufactured offshore in a small family-owned factory with premium quality materials that are sourced both locally & overseas. Our eco-nappy prints are limited-edition and exclusively designed by talented artists.
Not willing to compromise on convenience or style, our cloth nappies showcase the unique designs of local and overseas artists and designers. We exclusively commission genuine and limited-edition prints so that our loyal customers can shop new designs every season. Being the first brand to pioneer hand-illustrated custom artworks, we've been able to make eco-friendly parenting enjoyable by bringing colour, fun and nostalgia to cloth nappies.
Our commitment to the environment is at the forefront of everything we do.
Designer Bums was born out of a need for stylish and high-quality nappies that wouldn't harm the environment. We're conscious about reducing landfills and creating products that are gentle on babies and the planet. This carried through to all aspects of our business. Not only are our products helping to lessen the impact of waste on the environment, but our mailer bags are also zero waste and made from plant-based materials, which are 100% compostable.
Our customers are more than just customers; they are part of a community. 
We are proud to have provided parents worldwide with high-quality, designer cloth nappies and have created a community on social media where they can come and share their passion for our products, parenting and the environment.
Join our amazing DB community of like-minded families
Popular Collections
change mats

hand-illustrated cloth nappies

travel wet bags

swaddles

nursing pads

pillow covers

And More
Top Sellers
aurora nights

add to cart

thunder moon

add to cart

blue crush

add to cart

Highland cows

add to cart

jellyfish garden

add to cart

my sunshine

add to cart

kitsune nights

add to cart

dark prism

add to cart

intergalactic

add to cart

bright Botanics

add to cart

fox forest

add to cart

blush moon
Welcome to the home of easy-to-use and stylish, Designer Cloth Nappies. Designer Bums have been nurturing little humans and the environment for a decade with our reusable cloth nappies and eco-parenting products. Founded in Melbourne, Australia, we are the birthplace of beautifully hand-illustrated, reusable modern cloth nappies and environmentally-friendly baby accessories. Featuring organic and premium fabrics, our exclusive signature artwork and thoughtful touches provide the best in design while being versatile, unique and sustainable. So if you've always wanted to switch to modern cloth nappies, then you're in the right place. Our multi-award-winning cloth nappies and baby products are ethically made and the premium choice when it comes to design and quality, whether you are a minimalist parent or enjoy a wide variety of options.
We embrace the mindful parenting practice of being gentle on the earth while still being the leader in stylish designer cloth nappies. Enjoy our range of luxurious modern cloth nappies that are designed to last with your growing family.
Sapling Child - Baby Shop Melbourne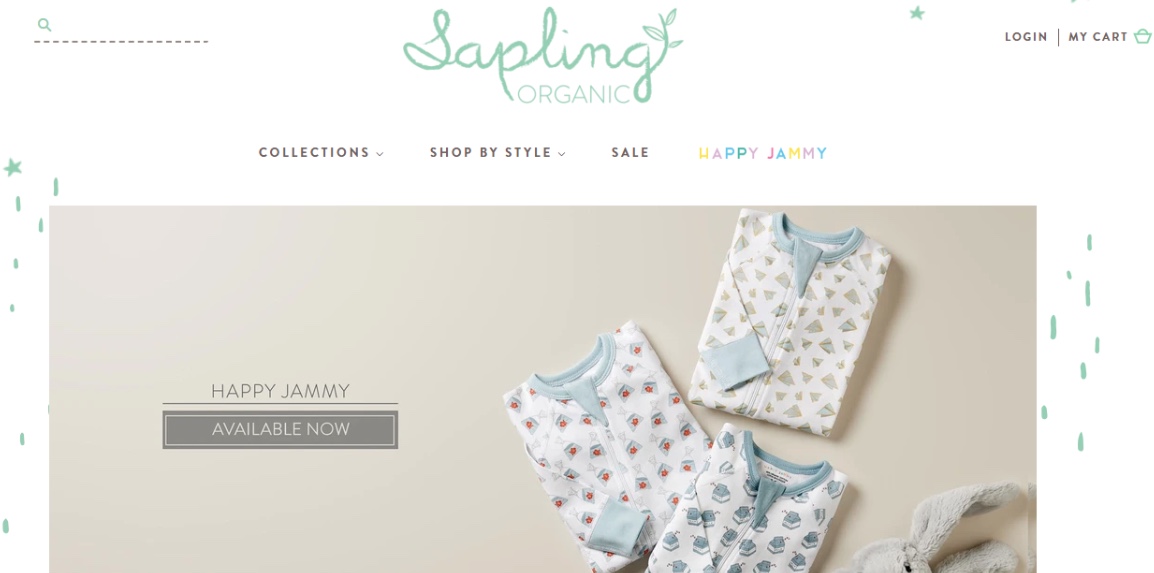 6927 743 013
We are a proud Australian-born company based in the US that specialises in 100% organic cotton baby clothes. We are currently growing our product offerings to include other beautiful eco-friendly items as well.
Established in 2011, Sapling Child was born not long after our third child. Diagnosed with meningitis when he was only a few weeks old, he was a susceptible baby. While he overcame his illness quickly, we were determined to source organic baby clothes without compromising style
At the time, there was a growing number of baby clothes made with organic cotton. Still, we found many of them were printed with non-organic dyes, which were bad for the environment and babies' sensitive skin. We also found that most organic baby products were 'earthy' in design, which made sense but the greatly limited choice for parents who were more style-conscious like ourselves.
With Sapling, we wanted to make beautiful baby clothes that were truly organic, and we wanted to make them as comfortable and as practical as possible.
Our prints are all exclusive to Sapling. We use a soft palette of colours, and we try to make our nature-inspired prints fun and whimsical and hopefully, in some small way, they will remind you of your own childhoods.
All of our garments are made with the softest, most luxurious 100% organic cotton and are proudly made in India under fair trade terms and conditions.
We ensure that the cotton is sourced organically from farms that are sensitive to their environmental impact and the social impact and health of their farmers. The cotton is knitted in organic factories and printed with water-based organic dyes that are free from toxic chemicals and heavy metals.
Buying organic is a better choice for the environment, a safer choice for the health of farmers, and a softer and safer choice for babies' sensitive skin.
Finally, at Sapling, we are dedicated to quality – we continuously search for ways to make the finest quality and most comfortable baby clothing possible. Everything is double stitched. We use flat seam stitching on side seams so that there are no irritating inner seams. We use chemical-free iron-on labels to ensure no itchy tags. Our garments have been designed for your babies' comfort – with wider hips for extra nappy room and extra length in cuffs for room to grow. We use only the best quality snaps and zips, carefully placed for easy changing.
We truly believe that we offer the finest quality baby clothing available anywhere in the world. Why? Because we care about the little things.
Collections
customer favourites

embroidered heart rompers

spring/summer 2021

fall/winter 2020

winter zip suits

essentials

happy jammy
Shop By Style
zip rompers

heart pants

bodysuits

tops & tees

dresses

pants

shorts

bloomers

skirt bloomers

baby blankets

hats

winter zip suits
Our Quality Promise
At Sapling, we continuously search for ways to engineer the most comfortable, highest quality baby clothing possible.
Sapling products are always made with the finest organic cotton and printed with water-based organic dyes.
Our designers painstakingly address the smallest details, ensuring that we continue to provide you with the best in quality and durability. Closed seam stitching protects your little ones from irritating inner seams. Back leg pleats add extra nappy room without compromising fit. Silk-screened labels mean no itchy tags. Double stitching ensures durability on every hem and bind, and longer cuffs for folding allow growth and longevity.
We believe we offer the finest quality baby clothing available anywhere in the world.
Why? Because we care about the little things.
Baba Slings - Baby Shop Melbourne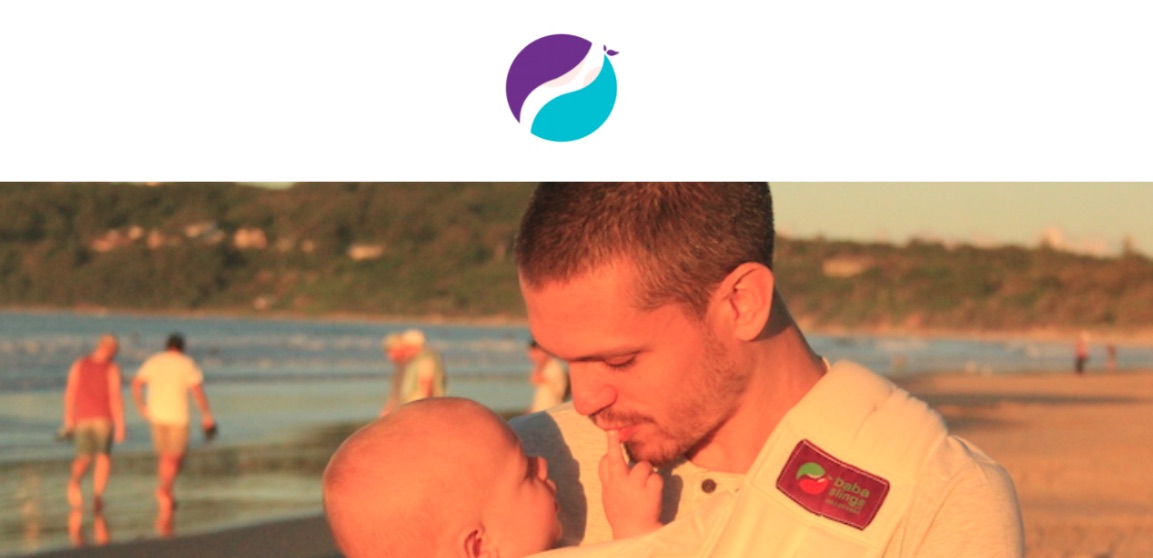 2 6685 8828
Our double adjustment strap system means you can wear your baby comfortably from birth up until 2 years + One size fits all! It also provides greater security. Make sure the top railing is tighter than the bottom one to keep your baby snuggled close.
Your baby's weight is going to be distributed evenly in the sling without putting pressure on their developing hips and spine. It is the perfect fit that you need to fly with your baby whilst on the go. 
Our heavy-duty buckle is easy to release, which means taking your sling off can be done smoothly without any unnecessary fuss or waking a sleeping baby.
All Baba Slings® come with a smaller safety strap and buckle for your peace of mind.
In addition, you can carry your baby in 5 different positions. Check out our video instructions to find out more. If you're looking for a baby carrier that's versatile and allows you the flexibility you need as a parent of a little baby, our BabaSling is it.
Easy to adjust - lengthen the straps by reaching back, lifting the large buckle, & tighten them by reaching back and pulling on each strap. It will help you swiftly get into a comfortable breastfeeding position when you need to.
The Baba Slings label helps you position the sling correctly while wearing it and ensure you have the Original and Genuine Baba Sling.
Machine washable
Our baby slings are manufactured in a small, family-owned factory in Bali, Indonesia. Made of breathable, lightweight 100% Cotton Baba Slings, they come in a wide variety of beautiful designs.
Products
Baba Slings® Standard

Baba Slings® Two-Tone

Baba Slings® Boutique

Baba Slings® Batik

Baba Slings® Organic Denim

Baba Slings® Embroidered

Baba Slings® Tie-Dye

Baba Slings® Limited Edition Silver/Tie-Dye
It's important that you use your Baba Sling correctly for your and baby's comfort and safety.
Wilson And Frenchy Baby Shop Melbourne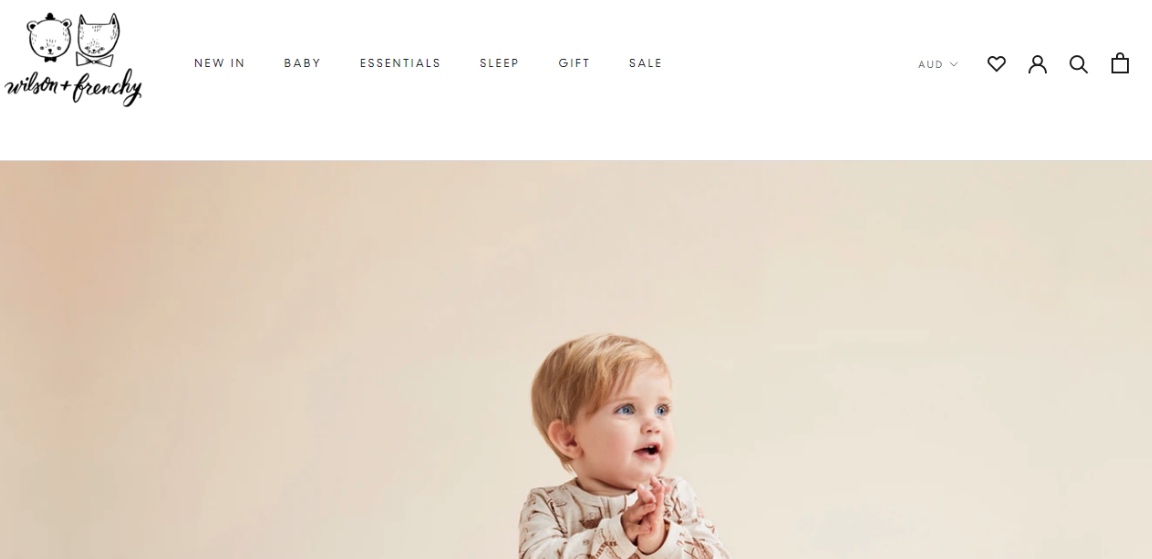 03 9877 4307
Wilson and Frenchy are an Australian baby and kids brand loved worldwide for its subtle colour palette, hand-drawn illustrations, playful graphics, natural and organic fabrics and custom designs. They specialise in preemie, newborn & toddler babywear, muslin wraps, bedding and our gift-ready kid's sleepwear in sizes 1 to 5. Wilson and Frenchy are the go-to brands for new mums and style-conscious shoppers seeking beautiful gifts for friends and family.
Each season, our baby boy, baby girl and unisex collections are meticulously collated to tell a story that is original, whimsical and beautiful. Most importantly, everything we create at Wilson and Frenchy comes from the heart, with an eco-friendly sustainable approach, from our detailed designs to the special care and thought given to all aspects of your online shopping experience with us - from the quality of our products to our bespoke cotton drawstring garment bags with our iconic gold foil.  
Wilson & Frenchy is delivered to families all across the globe! Shop our online store or find a stockist near you. We put special care and thought into all aspects of your shopping experience with us, from the quality of our pieces down to our bespoke cotton drawstring garment bags and finished with our iconic gold foil.
Nothing makes us happier than seeing your family wearing Wilson & Frenchy, both at home and enjoying adventures out and about and all over the world. Feel free to tag us on social media to share your joyful moment with us.
We hope you love our baby boy and girl collections as much as we loved creating them!
Collections
Hoot Hoot

Little Blossom

Bear Hunt

Rainbow Mountains

Sneaky Leopard

Little Feather

Jungle Mania

Bunny Hop
Trending
Everyday Basics

Knitwear

Newborn Essentials

Organic Rib

Knitted Rib

Waffle Knit

French Terry

Kids Pyjamas
Whether you're looking for beautiful newborn baby clothes, cot or bassinet sheet sets, or muslin wraps and blankets, we know you will love our thoughtfully designed collections. With a wide variety of seasonal unisex baby clothes, including organic cotton onesies, soft bamboo knitwear, swaddles and organic kids sleepwear, we deliver beautiful packages to families both Australia wide and internationally, allowing you to shop our entire baby range wherever you may be.
Little Baby Paws - Baby Shop Melbourne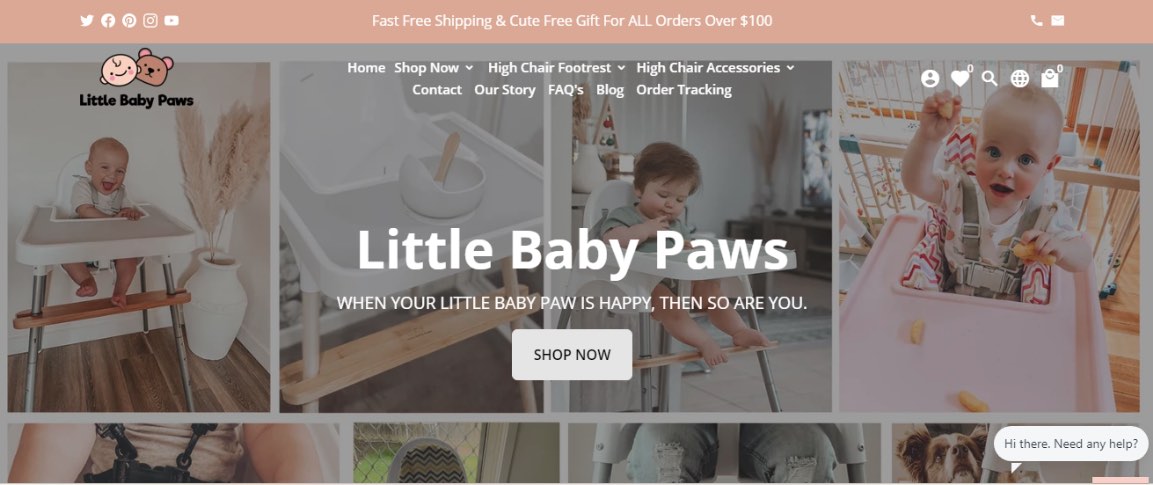 1800973518
Little Baby Paws is an online store with one main goal for all parents: to be a one-stop shop for easy to use baby and toddler essentials.
What brought us to the market is our best selling Eco-Friendly Paws Adjustable Highchair Footrest; with an overwhelming response and sell-outs week after week, it was only best for us to share our number 1 selling product with the world.
Our overall aim is to provide all parents with a fruitful online shopping experience. But, at the end of the day, isn't that what all parents are after, a quick and easy solution that does not compromise quality? I know what my answer is.
Here at Little Baby Paws, we strive to accommodate buyers with a selection of unique and high-quality goods sourcing directly from top manufacturers and distributors at an extraordinary online bargain price without sacrificing performance and quality.
We negotiate the best quality products at the lowest possible prices with our large buying capacity and warehouse capabilities.
Our range increases day by day with new products listed as they come through the door. Our aim is to drive down prices and deliver value for our customers by cutting out the middle man, making your shopping experience second to none.
Products
'Two in One' Silicone Giraffe Spoon & Fork

Additional Pawsi High Chair Footrest Clamps

Additional Thick O-Rings

Aliyah the Unicorn Suction Plate

Beautiful Night Lights

Bobby the Bear Silicone Suction Plate

Bobo the Bear Suction Bowl Set

Braided Rope Dummy Clip

Cartoon Silicone Sippy Cups

Cece The Cat Silicone Sippy Cup

Chloe the Cat Silicone Suction Plate

Dinosaur Silicone Suction Plate

Electric Baby Nail Trimmer

Ellie the Elephant Silicone Suction Plate

Flexi Straws

Geeko the Giraffe Teething Toy

And More.
Collection
High Chair Foot Rest

High Chair Accessories

Dummies & Accessories

Animal Suction Plates & Bowls

Silicone Baby Food Range

Baby Accessories & Toys

Gift Cards
Little Baby Paws is proud to partner with Starlight Foundation Charity, which donates to life-saving medical equipment and support to children under 5 who require medical support.
Cherub Baby Shop Melbourne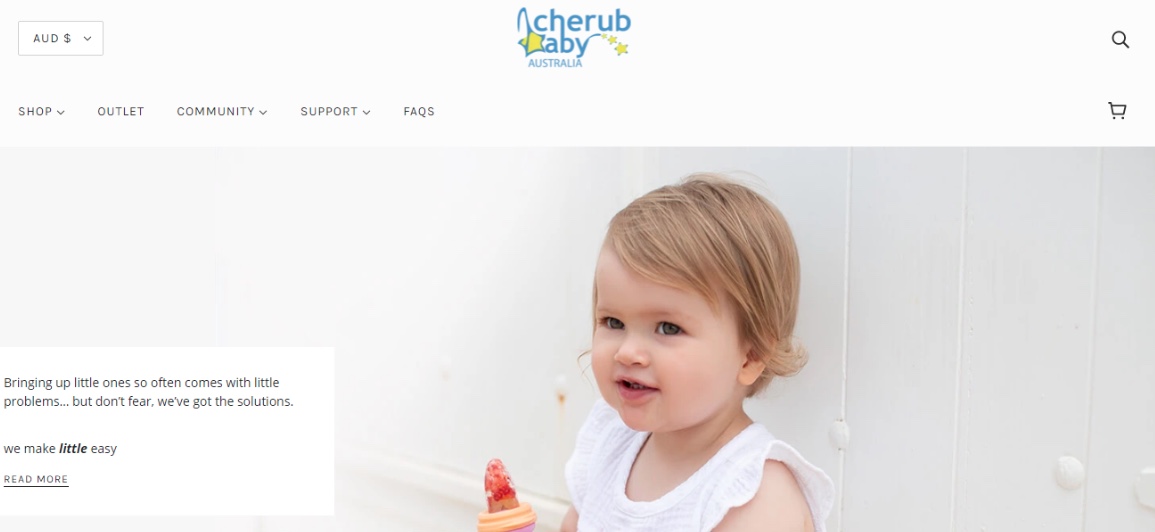 03 9005 1734
Balancing parenthood and work is challenging, but those challenges present us with opportunities to create tools to ease the chaos of young family life through our commitment to responsible and functional innovation.
Our passion for making a genuine difference in young families lives goes beyond our products. Expert-led guidance, from healthy and nutritional baby food recipes through to aged based informative what to expert guides, will assist you through the little years of your parenting journey.
A passion for innovation has always played a large role in my life. The challenge of solving problems creatively is what led me down a career path as an Architect. As my siblings began starting their own families into babysitting duties, I somehow solved parenting problems. This quickly snowballed to the point where I quit my "day job" to solve parenting problems full time.
As many a small business would attest, sometimes it feels like a clock never stops. I partly started Cherub Baby to chase that dream of freedom and flexibility, to be in a position to plan a family of our own together, but I soon realised I couldn't do it alone. So, after a little bit of coaxing and a shared vision to make our dream come true, I managed a successful sales career and joined the Cherub Baby team.
Products
Eat
Breast Milk Storage Bags

Baby Food Storage

Reusable Food Pouches

Reusable Ice Pop Pouches

Food Pouch Spoons & Spouts

Baby Fresh Food Feeder & Teether

Baby Food Maker

Wash off Food Pouch Labels

Food Pouch and Milk Bag Organiser
Drink
Teats

Glass Baby Bottles

Glass Sippy Cups

Glass Straw cups

Sippy & Straw cup adaptors

Universal lids
Warm
Travel Warmers

Baby Bottle Sterilisers
Protect
Bathe
Shop By Age
0-3 Months

3-6 Months

6-9 Months

9 Months +
Shop By Colour
Blue

Green

Orange

Pink

Yellow

Grey
Spare Parts
Silicone Sleeves

Travel Seals

Glass Bottles

Baby Food Maker Jug & Blade

Baby Food Maker Lid
What's New
Silicone and glass storage containers are designed to freeze, store, transport, and even cook babies' meals.
When you purchase a pack of these breast milk bags, you can smile knowing that, yeah, it's plastic, but it's plastic with a plan.
Prevent spills, control flow and protect little mouths against sharp edges with these super-soft silicone food pouch spouts.
Being mindful of how our products and our operations affect our planet is something we feel we owe, not just to you, our customers, but our customers' kids and our kids too!
All Baby Hire - Baby Shop Melbourne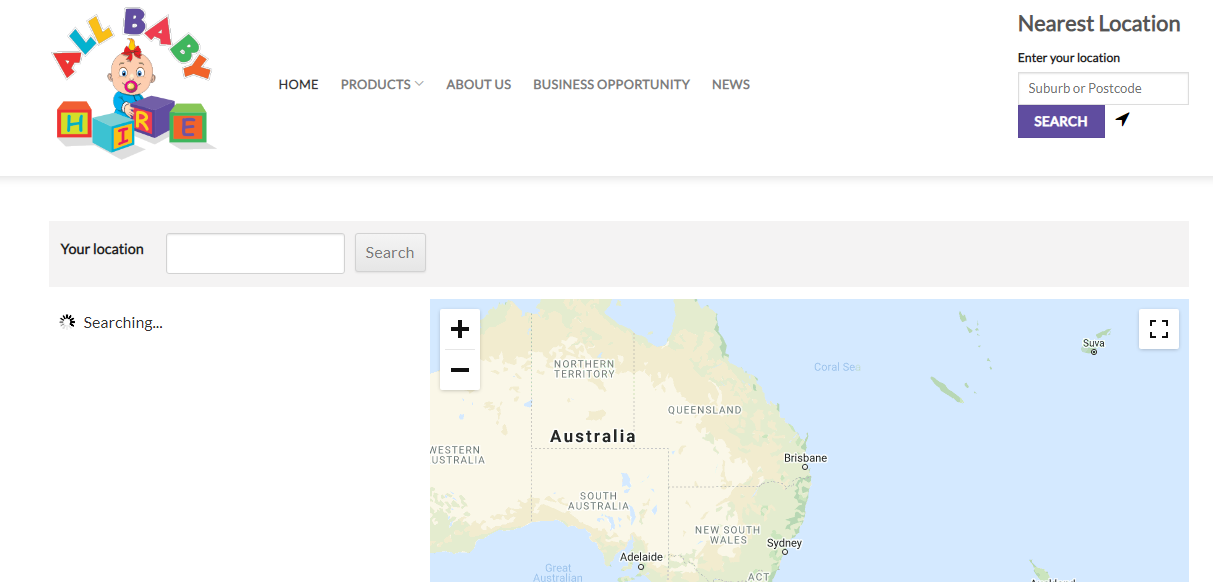 5314 757 865
All Baby Hire opened their doors in 2004 on the Gold Coast in Queensland and is fast becoming a major player in the baby equipment hire service industry. The principal of All Baby Hire, David Parrish, established All Baby Hire with the vision of becoming the leader of baby hire equipment hire in Australia.
Our Commitment
Our commitment to quality service and equipment will ensure you feel confident hiring from us. We understand your concerns, and our friendly, professional team are keen to provide you with the best advice. Whether you're after a single day or long term hire, All Baby Hire has the solution for all your needs. So let All Baby Hire take away the worries and hassles of travelling with young children. You'll feel like you've never left home.
Products
Transport

Getting Around

Sleeping

Bath & Change Time

Playtime

Feeding

Safety
Recent News
Make Your Own Baby Food the Easy Way

Keeping Your Baby Safe – Living With Pets

Tips for buying baby clothes

The Importance of Baby Sleep

All you need to know about kids swimming lessons
All Baby Hire is your 'one-stop shop' for baby equipment hire. We provide an Australia wide service in baby equipment for hire to holidaymakers and our local residents. Our Accredited Child Restraint Fitter installers can deliver to your accommodation, hire car, home or work. So we take the hassle out of travelling with children. At All Baby Hire, our aim is to provide you with the best and most convenient service so you can relax on your holiday or rest assured you have the highest quality, safest and most hygienic products for your family. From one day hire to monthly hire, All Baby Hire has got you covered.
Hire for Baby Shop Melbourne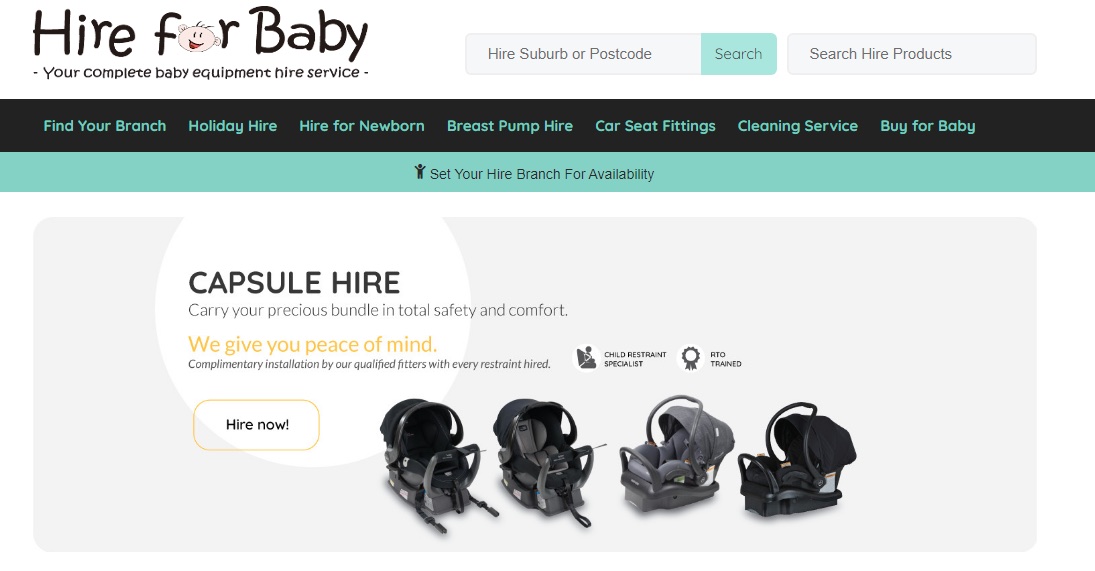 1300 363 755
Hire for Baby was originally established as Hire for Babe in NSW in 1988, with the first franchise granted in 1992.
Within 30 years, it has grown into a nationally recognised network of over 75 franchises – Australia's largest baby equipment hire organisation and one of Australia's largest restraint fitting networks.
Hire for Baby aims to strengthen, develop, and expand the brand across Australia whilst maintaining a strong focus on the needs of both its customers and corporate relationships. We are one of few companies investing in regional towns by establishing services back into communities.
The complete baby equipment hires service.
Let Hire for Baby help you with all your baby equipment hire needs for a day, a week or a few months with our friendly, professional service. Here at Hire for Baby, we offer high-quality baby equipment rental services at great prices. We stock a wide range of products, from car capsules and car seats to breast pumps and portacots.
You and your baby deserve the best, so hire baby equipment from one of our 75 branches all around Australia. From Perth, Darwin and Adelaide and baby equipment branches are located along the East Coast from Brisbane, Sydney and Melbourne. All of our baby equipment for hire is purchased brand new, carefully cleaned & safety checked to ensure it is in the best possible condition for your use.
Hire for Baby strives to
Provide prompt, caring customer service.

Provide safe, clean equipment in good working order.

Provide a valuable service at a competitive price.

Keep up to date with all aspects of equipment and car safety.

Make it easy for our clients to do business with us.
Hire Products
Adapters

Breast Pumps

Capsules & Infant Carriers

Child Car Restraints

Feeding

Play

Prams

Pre Birth

Restraint Fittings

Safety

Sleep

Travel Systems

Cleaning Services

Fly With Us
Hire for Baby saves your money, time & storage space by offering a cost-effective way to access safe, clean, quality baby equipment. We pride ourselves on our professional customer service and friendly, experienced staff.
Let Hire for Baby help you, your family and friends – because you and your baby deserve the best!
Baby Mode - Baby Shop Melbourne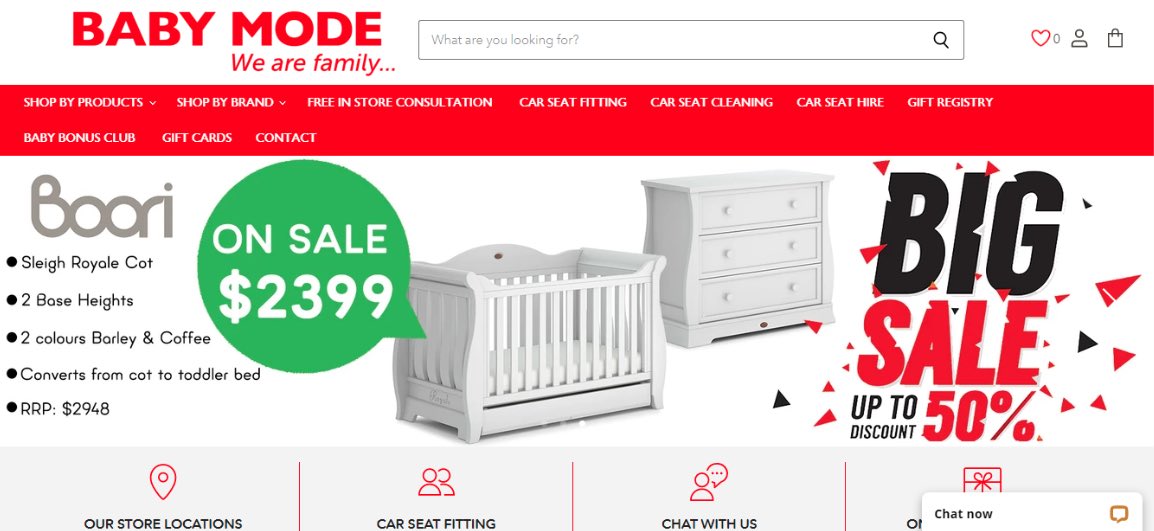 03 9401 566
We at Baby Mode would like to extend our sincerest congratulations and best wishes on the exciting journey you and your family are about to experience. Baby Mode's essential philosophy is to make this very special time in your family's life a shared and wonderful experience.
At Baby Mode, you will experience an unparalleled level of expertise. Our staff are continually trained to demonstrate to you all the features and benefits our product selection offers you as an individual in a pleasant, caring and helpful manner. Baby Mode is a 2nd generation family business that values excellence in customer service, and we work very hard to deliver exceptional value for money to all our customers.
When you visit our store, you will notice how eager we all are to make you feel welcome and comfortable. Our product categories are carefully selected to give you a large variety to choose from as we understand each family's needs and desires are special and unique.
Finally, like any other life-changing event, we understand the importance of feeling comfortable, safe and confident in your purchase. No question is too difficult for the Baby Mode team, and no product demonstration is a bother. For these reasons and more, only Baby Mode can offer a level of specialised care that ensures your upcoming event is greeted with confidence and joy.
Shop By Category
Prams & Strollers

Car Seats & Boosters

Nursery Furniture

Baby Feeding & Parenting

Baby Bathtime & Changing

Sleeping & Bedding

Out & About

Gift Registry
Pregnancy and having children can be one of the most exciting times in your life, but it can also be downright stressful, especially for first-time parents. The team at Baby Mode understand that this can be a confusing experience, but we also know that this is meant to be a special time, so we're ready to help you every step of the way. We hold customer service as one of our key business values, and we are always here to help by providing you with an easy and comfortable shopping environment, a wide variety of high standard products and friendly staff with expert knowledge.
Don't hesitate to get in touch if you require some additional product information, details of your order or lay-by, help with a refund, or even just advice on where to start. You can email us using the form below, call us or have a chat with our friendly staff in-store. 
Baby Care Nursery - Baby Shop Melbourne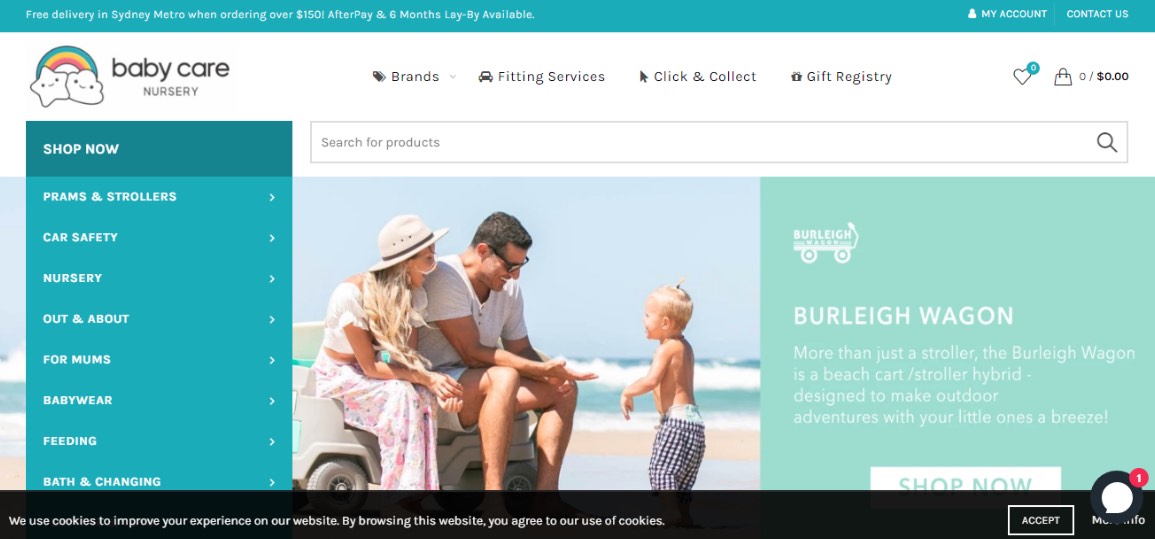 02 9724 6191
Baby Care Nursery is a family-owned and operated business that was originally established in 1986
We have a carefully selected range of products from Australia's leading brands to cater to all the needs of bubs, mums and dads.
We know how overwhelming shopping for a newborn or baby can be. So our goal is to provide the best service, experience and prices to our customers to help make your parenthood journey as easy as possible.
So if you can't find what you're after, don't know where to start, or are simply looking for advice and recommendations, just contact us here at Baby Care Nursery!
Shop Now
Prams & Strollers

Car Safety

Nursery

Out & About

For Mums

Babywear

Feeding

Bath & Changing

Playtime & Toys
It only takes a second to be the first to find out about our latest
news and promotions.
Nanny Annie - Baby Shop Melbourne 
232 852 025
Here at Nanny Annie, we have been servicing the Australian public since 2007. Our focus is on providing top quality children's products with fast delivery Australia wide.
At nanny-annie.com, we sell high-quality children's furniture, baby furniture, and nursery furniture together with baby nursery items and toys direct to you at best possible prices. Shop from the comfort of your own home and have your purchases delivered right to your door! 
We sell a range of children's furniture, including playpens, highchairs, cots and cot mattresses, tables and chairs, and lots more.
Orders are shipped out daily via Australia Post eParcel. Parcels are collected from our warehouses in Thornton & Wetherill Park, NSW. Delivery times vary between towns, but you will usually have your item within 2-10 working days after your payment is verified.
Products
Playpens

Table and Chairs

Bassinets

High Chairs
Top Selling Products
Baby Playpen With Door - Super Giant Interactive Playroom

Star Kids Intimo Deluxe Baby Bedside Bassinet - Light Blue

Wooden Baby High Chair | 3in1 Highchair with Tray and Bar (Beech)

Amico Plus Light Travel Cot Portacot - Black

Star Kids Compagno Baby Bassinet - Purple

Star Kids Vicino Deluxe Baby Bedside Bassinet - Silver Cloud
Placing an order with us is simple - simply find the item you would like to buy by browsing or searching our website, and click the 'Add to Cart' button beside it. After doing this, for any more items you want to purchase, proceed to the checkout. 
Our shopping cart software will calculate the postage cost based on your town, and after filling in your details, you will be redirected to the payment page.
Baby Barn Discounts - Baby Shop Melbourne 
23 6443 6744
Our family business, Baby Barn Discounts, first opened in 1992 as a very humble shop selling new and used baby goods. On 1 July 1995, it was taken over by the store while looking for a stroller for their 6-month-old daughter Sinead.
After 21 years in the Commonwealth Bank, Paul was made redundant and was no longer a practising Physiotherapist in Australia, and it was time for a change. Seeing a small ad in the business for sale section of the Daily News, the couple decided to try their luck in this industry.
With no experience in the baby retail world, Debbie gave the novices 3 months of intensive training on all aspects of the operation and stayed to work with them for the next 2 years. With rent and little capital, Sandy and Paul worked hard to build the business selling used furniture and equipment and cleaning used baby clothing in one section of the building.
Shop/Products 
Prams

Safety

Car Seats & Boosters

Nursery

Bath & Changing

Toys

Feeding
We'd love to hear from you - please use the form to send us your
message or ideas. Or simply pop in for a cup of fresh tea and a cookie:
Hello Charlie - Baby Shop Melbourne 
355 663 466 
Australia's best online eco store and blog for your baby, beauty and home.
Since launching in 2004, Hello Charlie has been researching the best eco products from around the world. So we've got you covered for all your eco baby, beauty and home needs.
They started Hello Charlie because finding products they were willing to use on my own children seemed difficult.
They wanted to use a combination of modern cloth nappies and eco disposable nappies; They wanted great wooden toys and eco-friendly soft toys; They wanted glass baby bottles; They wanted products that were free from nasties like BPA, phthalates and PVC; They wanted organic and biodynamic skincare for my babies, and they wanted to buy all this stuff and more online after the children had gone to bed. 
More than 10 years ago, they had just moved back from the UK with my husband and family. They were used to buying online, and they had several favourite stores that they bought from. However, they couldn't seem to find the same stuff here in Australia. They kept having to explain to people why it was really important to me that products should be sustainable, recyclable, eco friendly and non-toxic
And so Hello Charlie was born.
These days we're stocking great natural beauty products and home products, too, and we've got over 3,000 items for you to choose from. 
They are pleased to say that there is much more awareness now about why we should be using more eco-friendly products and why reducing the use of toxic chemicals is so important. There are a lot more choices out there.
Baby & Kids 
Baby Carriers

Baby Change

Backpacks & Lunch Boxes

Nursery

Sleeping

Teething

Baby Bath Products

Dummies & Accessories

Baby Feeding

Hats & Sunglasses

Maternity & Breastfeeding

Pram Accessories

Swimming
Cheat Sheets
Our Famous Cheat Sheets

Eco Nappies

Natural Baby Wipes

Natural Sunscreen

Best Laundry Detergents

Natural Nappy Rash Creams

Natural Baby Bubble Bath

Natural Baby Lotions

Natural Baby Shampoo

Natural Baby Body Wash Review

Paw Paw Balms

Best Makeup Wipes

Best Moisturisers With SPF

Natural Mascara

Natural Deodorants
All the products that we stock are tested by us here at Hello Charlie. We use them ourselves, and in our own homes, so you can be assured that you're getting the safest and best products for you and your family. We'd love to hear your thoughts and suggestions, so please get in touch. We'd love to hear from you!
Tiny Fox  Baby Shop Melbourne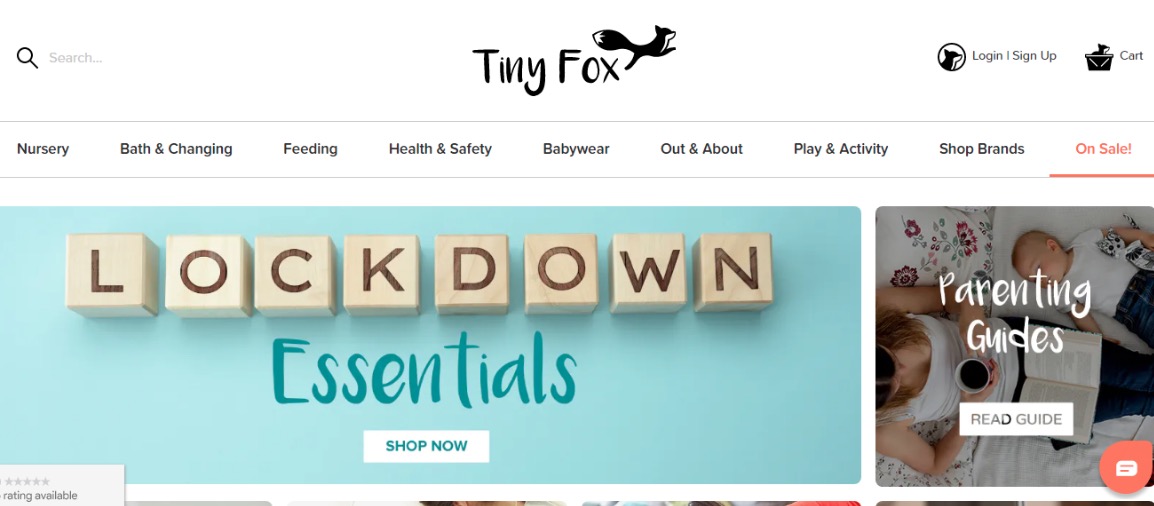 3524 234 53
Tiny Fox was born out of a desire to make life as easy as possible while you're navigating the wonderful mayhem of babies and toddlers. We like to think we're a guiding light, helping you wade through all of the contradictory information and advice on what to buy and saving you precious time, so you have a remote chance of having at least one cup of coffee a day in peace (no guarantees).
We're intensely pragmatic - we're honest about parenting and the ups and downs that come with it. We provide the essential information, the essential products and the essential services to help keep a smile on your face as your babies get bigger and bigger and louder and louder.
We're like an agile fox, ferreting out the best items for you, no matter what your budget, curating the best selections and offering them to you at the best price, with fast and often free delivery.
We're determined to offer you the best possible range of products and services for this fun and exhausting stage of life.
Shop Bath & Changing
Baby Powder

Bath Toys

Bathing & Bath Stands

Changing Tables, Mats & Pads

Nappies

Nappy Bags

Nappy Bins & Refills

Oils & Creams

Potties & Potty Seats

Shampoo & Conditioner

Step Stools

Toothbrushes & Toothpaste

Towels & Face Washers

Wipes, Warmers & Cases
Top Brands
Angelcare

BabyBjorn

Boon

Dreambaby

Love N Care

Shnuggle

Skip Hop

Yookidoo
Shop Nursery
Comforters

Cots & Bassinets

Decor

Furniture & Storage

Manchester

Mattresses & Protectors

Mobiles

Monitors

Playpens

Sleeping Aids & Night Lights

Sleeping Bags & Sleep Suits

Swaddles & Wraps

And More.
Tiny Fox may, from time to time, offer promotional discounts or discount codes. The promotional period will be specified at the time of promotion. Tiny Fox reserves the right to withdraw promotions or promotional items at any time without notice.
Urban Baby Shop Melbourne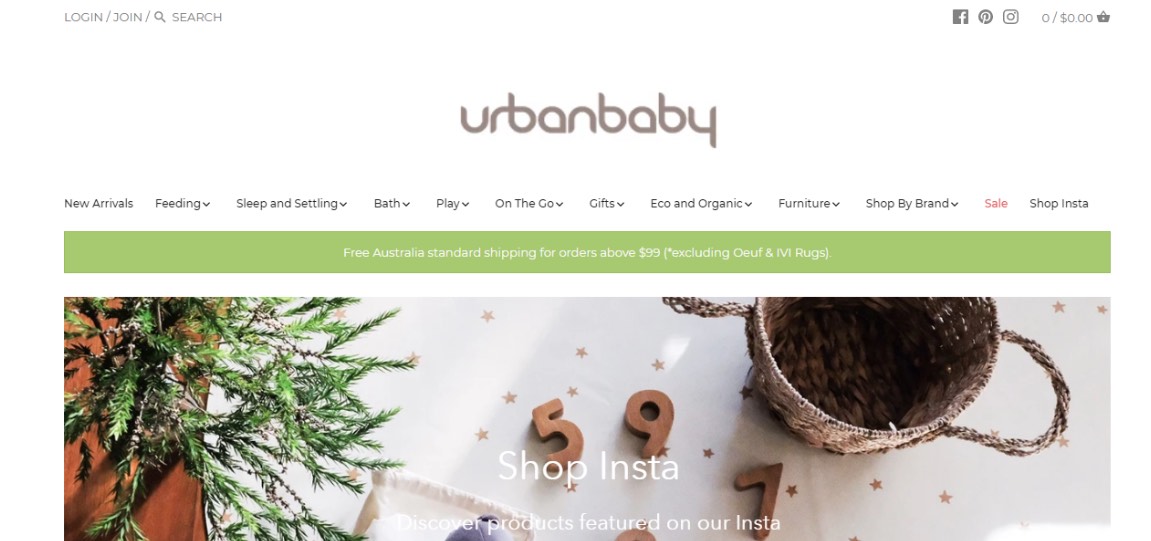 453 5754 3228
Proudly owned and operated in Australia, UrbanBaby is a small family business, with a small team in our Caringbah warehouse, servicing both Australian and a global range of customers for over 18 years.
With the humble beginnings of the UrbanBaby Padded Travel Cot Sheet, and after experimenting successfully with the sale of their favourite baby products, UrbanBaby.com.au went live in 2002 
Products
Feeding
Breastfeeding

Bottle Feeding

Bibs and Placemats

Bowls, Plates and Dinner Sets

Feeding Spoons and Cutlery

Cups and Drink Bottles

Food Preparation and Storage

Lunch Bags and Lunch Boxes

Cleaning Tools
Sleep and Settling
Teethers

Pacifiers/Dummies

Comforters

Sheets and Blankets

Swaddles. Wraps and Sleep Bags

Monitors and Light
Play
Theme 

Wooden Toys

Soft Toys

Puzzles

Baby's First Toys

Toys for Toddlers

Toys for Big Kids

Books

Musical Toys

Beach Toys

Learn through Play

Travel Toys
Bath
Bath Tubs, Mats and Storage

Bath Toys

Towels and Washcloths

Skincare and Hygiene
The UrbanBaby Promise
We promise to provide our customers with prompt, efficient, reliable and friendly service. 
We are constantly looking for new products that will enhance your life as a parent and strive to make your online baby shopping experience easy and convenient. 
Please join our email list to get all our updates on new products and special sales.
We dispatch most items the next business day. However, if you do have an order with some urgency, please call us, and we will accommodate you as best as we can.
We will notify you as soon as possible if there are any problems or delays in delivery.
Mocka Baby Shop Melbourne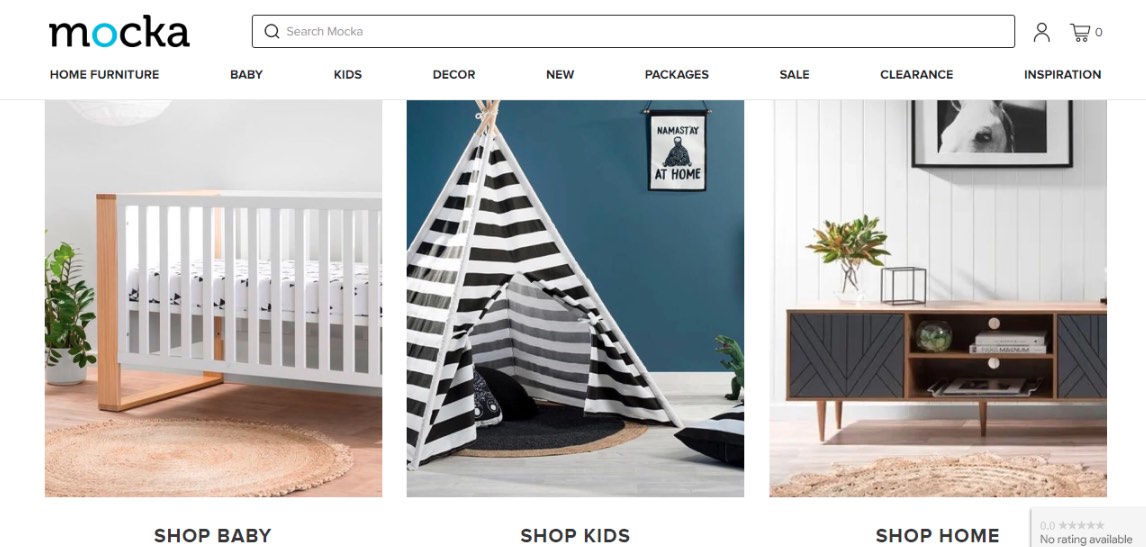 09 7295 5638
Mocka was first imagined as a brand with children in mind. We wanted to make great products accessible to families with babies and children. As we grew, so did our motivation to make great products available to everyone. Today, our vision is to enhance people's lives and environments by offering well-designed, super functional and stylish home and living products at exceptional prices. 
We work hard to build long-term relationships in all parts of our design, manufacturing, supply and distribution chain. We take a long-term view to ensure that our new product pipeline and how we serve our customers continue to be market-leading. Above all, we seek continuous improvement in the quality of everything we do, all intending to build a better quality business for the benefit of our customers. We will continue to deliver value without compromising quality.
Baby Products
Change Tables

Cots

Cot Bedding

Highchairs

Nursery Chairs

Nursery Decor

Nursery Furniture

Playtime

Strollers

And More.
Shop The Look - Nursery
Are you looking for nursery ideas for your impending bundle of joy? Mocka has compiled our favourite nursery styles into one section, so you can browse through a range of looks and styles until you find one that you love. When you do, you can shop the look directly from the image by adding the products to your cart without leaving the page! Take the time to look through our range of baby room ideas - we've included boy, girl and gender-neutral designs, so there's something for every home.
It's the perfect place to find nursery inspiration, as we know there is so much that you could possibly do with your baby's room. In our experience, it is especially difficult with the first child, as you are not sure exactly what you'll need! Our styles are designed to be timeless and are based on feedback from Aussie mums and dads who have been buying and styling Mocka nursery products for years.
My Little Love Heart Baby Shop Melbourne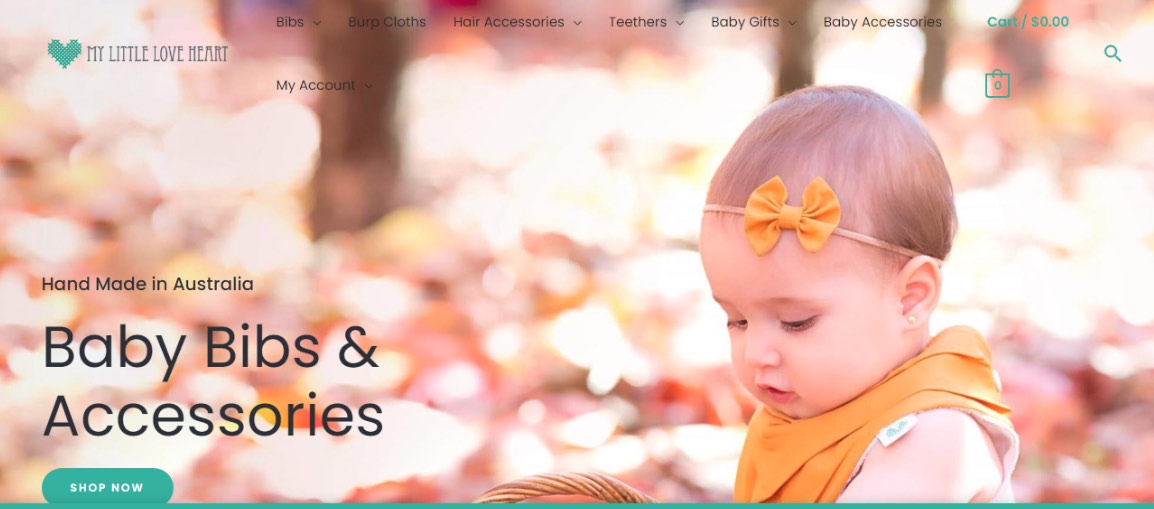 794 0703 7234
Founded by Luisa Figueroa in 2015, it is a brand that handmakes baby accessories including bibs, hair accessories, burp cloths and teethers in Australia. 
My Little Love Heart is a boutique brand that hand makes Bibs, Bandana Bibs, Bandummy'sTM, Top Knots, Burp Clothes, Headbands, Bunny Teething Rings and Love Heart Teething Rings.
Handmade in Perth, Western Australia, all pieces are created with love using 100% cotton, organic cotton and cotton/bamboo, making our garments not only eco-friendly and safe but also providing extra comfort and softness to your baby's delicate skin.
We take pride in providing creative styles and customised designs from our selected array of patterns and textiles, emphasising quality, value, safety, and comfort.
Our Products
Bibs
With our selection of premium bibs, we have a style and design for any boy or girl.
Our range of handmade bibs includes the baby, bandana, large style. All of which are adjustable to suit a growing baby.
They are designed with two layers to capture excess drool and keep your baby dry. Made in Australia with organic materials, they are an Eco-friendly alternative. 
Burp Cloths
Our burp cloths are hand created in Perth, Australia, using a range of stylish and eco-friendly fabrics.
The front of the cloth is made with cotton, while the backing is a bamboo material. These are soft to touch and are ideal for absorbing spit-ups and drool.
They are designed to fit snugly over your shoulder to protect your clothes and are available in a range of stylish and trendy prints.
Hair Accessories
Whether you are at the park or playing around the house, we have the baby hair accessories for you.
All of these are handmade in Australia to suit your baby's individual style.
The newborn bows are the smallest of the four and are perfect for a new baby girl. The baby headbands are the middle size, while the headbands are the largest. Finally, the top knots are designed as a knotted headwrap that covers the baby's forehead.  
Teethers
We have a selection of teethers suitable for teething babies.
We hand make wooden teethers that have been tested and approved to Australian Standards, making them safe and organic. They are eco-friendly and made from sustainable materials making the baby teethers an organic alternative.
Baby Accessories
We just had to include some in our online store, so many baby accessories to choose from.
The range we have chosen are of the highest quality and fit with the ethos of our brand. Our accessories include a pregnancy journal, baby books, Natursutten dummies, dummy chains and three different baby cards.
Wrigglepot Baby Shop Melbourne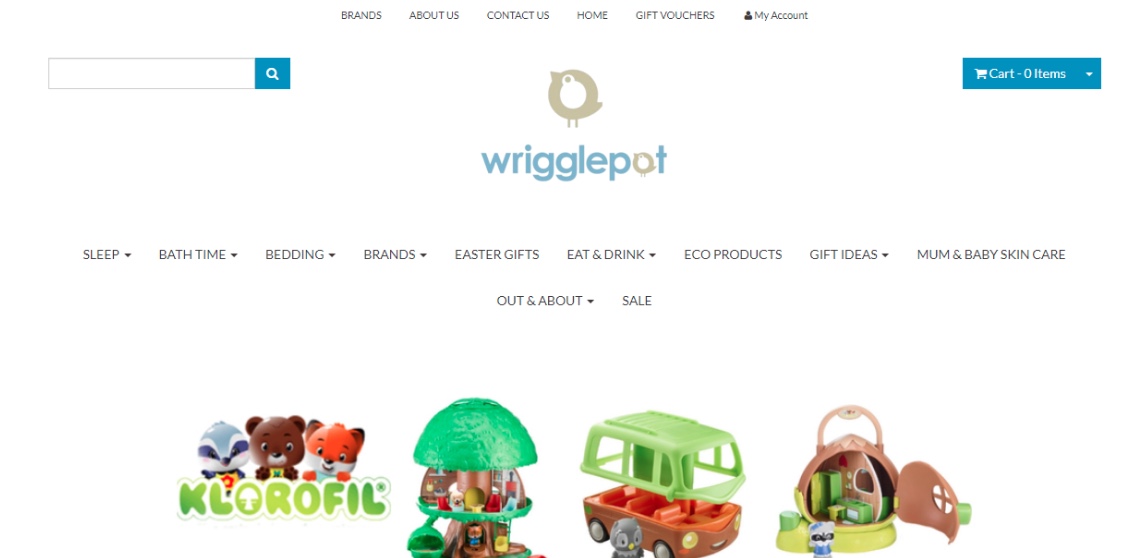 874 8294 9272
Tried and tested quality brands such as ergopouch, Love to Dream, Wean Meister, Skiphop, Aden and Anais, little bamboo, Woolbabe and many more. Sleeping aids, swaddles, Nursery bedding, sleepsuits and bags all are natural fibres, and many are organic. We source all the best Brands and superior quality for your babies comfort.
With FREE SHIPPING on all Australian orders over $50.00
Wrigglepot was established in 2009
We are a family run business myself Louise, my daughter Renee and my husband, Peter. We are very lucky to have our very own product testers.
The future of Wrigglepot.
The goal is to expand our product lines here at Wrigglepot, ensuring only the best quality products for you and your little one. Our stock would be highly valued any questions and suggestions as to what you would like to see. I hope to be able to help make your motherhood journey somehow a little bit easier. You can be assured that your order will be processed and dispatched in a timely and professional manner, and all orders placed by 11 AM will be sent the same day with free postage within Australia on all orders over $50.
Our Brands
 Airwrap      

Aden + Anais

Baby Shusher

Boba - Baby Wrap Carrier

Bubble

Bumkins

Constructive Eating

Contigo

Cuski

Ergopouch

Is Gifts

Kid O

Kiddies Food Kutter & Safety Food Peeler

Klorofil

Lil Fraser

Little Bamboo 

Love To Dream 

Natures Child 

Peekapoo

Skip Hop

Skip Hop Zoo Collection

Snuggle Hunny Kids

The Little Linen Company

The Lunch Punch

Woolbabe

Yogasleep By Marpac
Nursing Angel Baby Shop Melbourne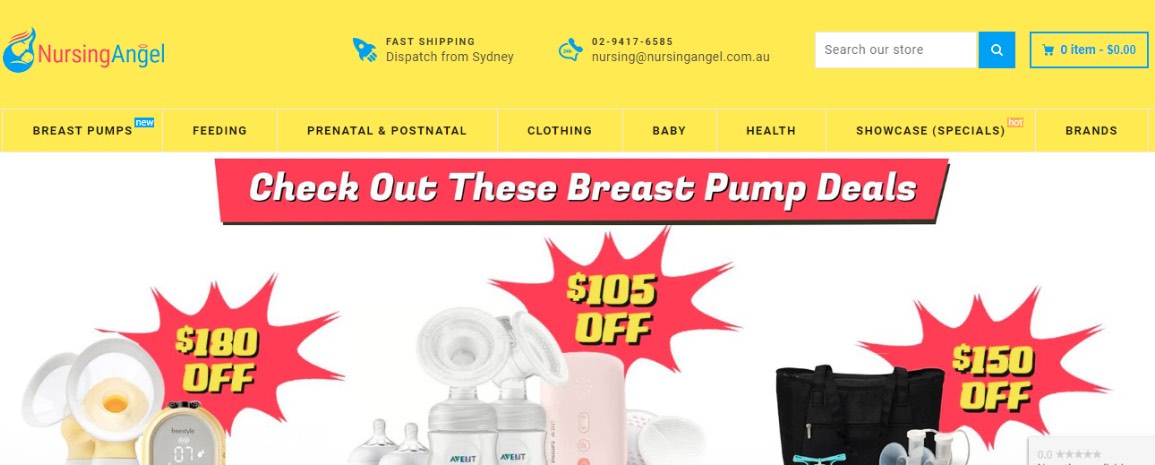 4647 087 024 
Nursing Angel is one of Australia's most popular online stores for breastfeeding products, baby feeding, breast pumps, baby monitors, bras & baby carriers. We specialise in these areas so you can be assured of knowledgeable support and after-sales assistance. We now stock the largest range of Breast Pumps in the Australian Market. 
Since our humble beginnings in 2007, we've grown to become one of the leading niche stores in this area and are known for our large, diverse product range, excellent customer service and support (not to mention fast shipping!) We seek out products that reflect great quality & value for our customers, including top brands, hard to find specialty items and overseas bestsellers. Our resources section, particularly the Breastfeeding Q&A page written by a resident lactation consultant and our Doctor owner, is recognised as one of the most comprehensive in its field by customers and healthcare professionals.
Our Products
Breast Pumps
ALL Breast Pumps

Medela Breast Pumps

ARDO Breast Pumps

Ameda Breast Pumps

Avent Breast Pumps

Haakaa Breast Pumps

Manual Breast Pumps

Hire A Breast Pump

Breast Milk Storage
Feeding
Baby Formula

Lactation Supplements

Baby Food

Bottles & Teats

Breastfeeding

Speciality Feeding

Skin Care

Breast Care
BABY
Baby Carriers

Prams

Baby Monitors

Soft Toys

Sleep Time

Baby Essentials

Baby Health

Out & About

Nappies

Sleep Aids

And More.
We are also A Google Trusted Store! Giving you peace of mind when transacting with us.
We love hearing from our customers, so please feel free to contact us with any questions or feedback.
Yogee Toys Baby Shop Melbourne 
748 9279 7823
Yogee Toys is a family-owned and operated online toy store.'
Our single purpose is to bring joy to kids (as well as to kids at heart) by providing the widest range of toys at the lowest prices possible (without a red suit, white beard and twelve reindeer!) and delivering them right to your door. So you can avoid car parks and queues and can shop securely online whenever you have the time.
The company was founded in 2007 by two brothers, who have combined their respective passions and talents to create Australia's favourite online toy store.
We aim to ensure that your buying experience is as pleasant, prompt and stress-free as humanly and technically possible.
We strive to delight our customers by providing:
A secure online shopping environment with fast order processing

Top-quality customer service

Articles and information to help you choose the right products

An ever-growing wide variety of products at ultra-low prices

Fast delivery
Category
Toys & Hobbies
Action Figure Toys

Arts & Crafts

Animals

Bath Toys

Blocks, Building Sets, And Model

Dolls & Dollhouses

Educational Toys

Games & Puzzles

Musical Toys

Pretend Play

Remote Control Toys

Ride-on Toys

Soft & Plush Toys

Vehicles & Trains

Wooden Toys
Sports & Outdoor Play
Balls

Blasters

Bubbles

Climbers, Slides & Seesaws

Cubby Houses

Jumping Castles

Outdoor Furniture

Play Tents & Tunnels

Pools & Water Fun

Sandpit Toys

Swings

Trampolines
Baby & Nursery
Meal Time

Nursery Activity

Nursery Bedding

Nursery Accessories

Strollers & Car Seats
Children Books
Activity Books

Educational Books

Fiction Books

Picture Books
Our small size not only means we have lower overheads (and therefore lower prices), it also means we can offer a level of service the bigger retailers find difficult to match - we are available by phone whenever you need to ask a question.
Thank you for visiting our site, and we look forward to doing your shopping experience a delight!
Bambella Designs Baby Shop Melbourne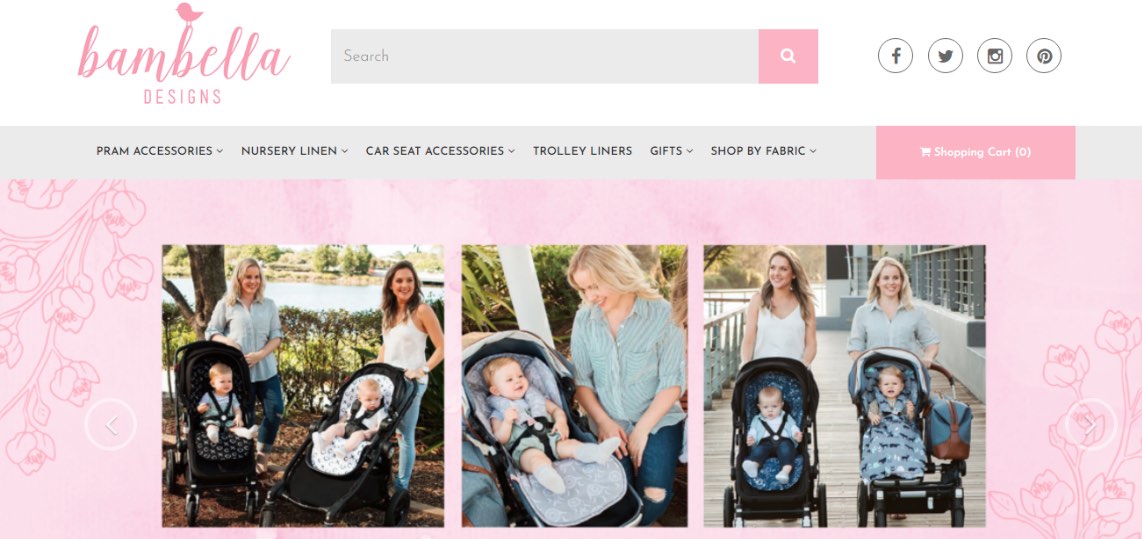 009 7218 9024
After witnessing a child having a complete meltdown about getting into the stroller, inspired to find a solution that would make things more fun for children and a lot less stressful for parents. The idea? A collection of pram liners in colourful prints kids love offered practical protection from dribbling babies, snacking toddlers, & potty training kids. What started out as just a hobby quickly grew into Bambella Designs, which launched in 2012 selling through our Facebook page. But within 18 months, the business was full time and all hands on deck, and it was like a dream come true.
"As a mother of two, I realised there was a limited selection of contemporary pram accessories on the market and knew I could make a difference". 
As the brand grew, so did our ideas and product range, but the goal remains the same: To create practical baby products that save parents time (and look amazing too). Though we do outsource the sewing to our Chinese warehouse now (due to the sometimes overwhelming volume of orders), we are still owned and operated by your average Aussie Mums, so we really know our stuff and the quality of our range. It is next to none!
We will continue to improve our amazing range of pram liners, playmats, change mat covers, waterproof cot sheets & car seat accessories and make a positive difference to the mums of Australia and hopefully around the world. So our story is a work in progress but will have a fairytale ending.
Categories
Pram Liners

Play Mats

Harness Strap Covers

Waterproof Cot Sheets

Car Seat Protectors

Infant Head Supports

Trolley Liners

Bed Wetting Sheets

Weighted Calming Blankets

Blankets

Waterproof Bassinet Sheets

Package Deals

Shop By Fabric

Bar Covers

Pram Privacy Curtains
Motherhood is such a busy time, caring for a baby while juggling all of your other daily duties and responsibilities. Day by day, you find a new need for a particular baby accessory or product to help care for the baby, keep them safe and comfortable or help make your life a little easier. 
That's where Bambella Designs come in. We were born to make it easy and accessible for mums across Australia to access a large range of quality newborn baby accessories online. 
Attipas Baby Shop Melbourne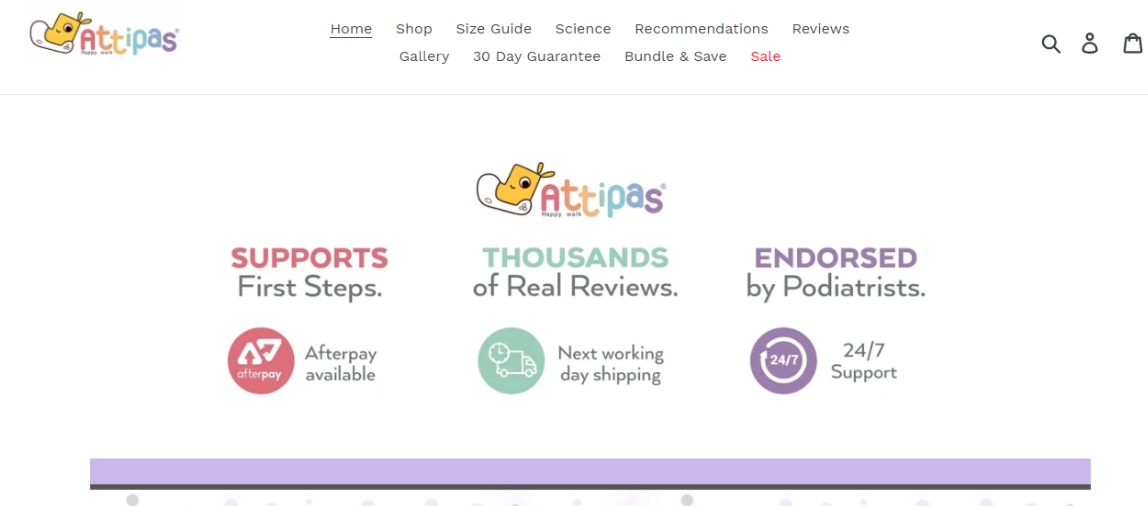 1300537453
She discovered Attipas shoes 7 years ago and made it her mission to bring Attipas shoes to Australia and generate awareness about the importance of toddler foot health, especially in the early stages of pre-walking and first steps.
Products
Attipas pre-walking shoes are the perfect first pair of shoes for babies before they start walking.
Browse our range of pre-walking shoes and rubber-soled sock shoes today!
Attipas Sneaker - Grey

Attipas Sneaker - Blue

Attipas Attibebe - Pink

Attipas Pet - Black

Attipas Mary Jane Black

Attipas Mary Jane Red

Attipas New Marine Boy

Attipas New Marine Girl

Attipas Shooting Star Navy

And More
Metro Baby Shop Melbourne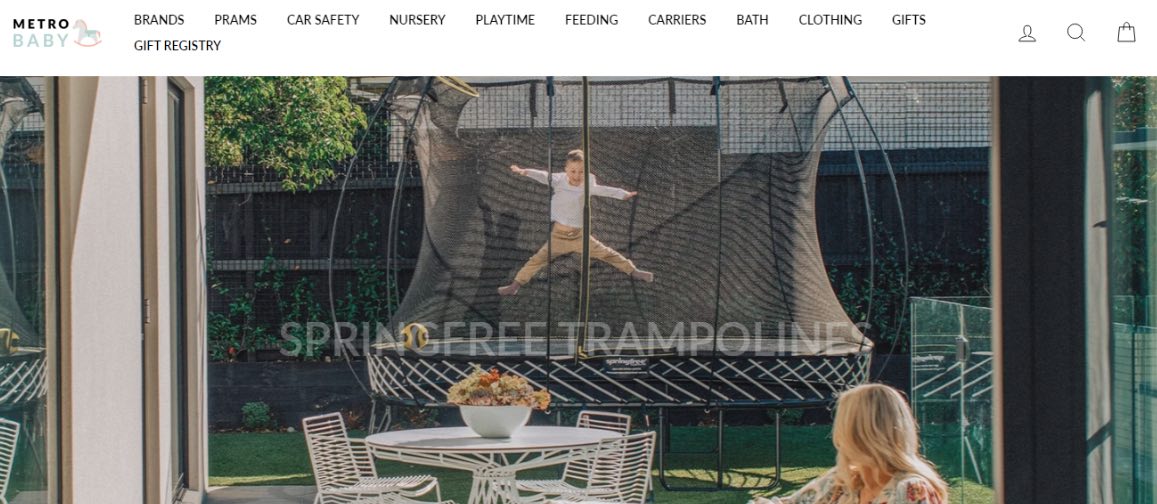 446 9205 8423
Metro Baby is Australia's one-stop online baby shop. We pride ourselves on exceptional customer service and a comprehensive range of products for your baby. We stock only a curated selection of specialty baby products, from prams and cots to baby bottles, milk formula dispensers and play mats.
Our buying team consists of Mums that have been through the often overwhelming process of selecting the ideal products for your baby's needs. At Metro Baby, we hope to pass our knowledge and experience to our customers, so you get your choices right the first time.
Many of our products are stocked exclusively by Metro Baby and unavailable at other baby goods retailers. The team at Metro Baby takes great pride in our handpicked selection of products to ensure a happy Mum and bub!
Collections
Aden & Anais

Atelier Choux

Baby Shusher

Baby Bjorn

Babyzen

B.Box

Beaba

Bibs

Bumbo

Cam Cam Copenhagen

Charlie Crane

Childhome

Cocoonababy

Comotomo

Cybex

Susukoshi

AND MORE.
Australia's one-stop online baby shop.
We pride ourselves on exceptional customer service and a comprehensive range of products for your baby. We stock only a curated selection of specialty baby products from the most renowned and reputable brands locally and internationally.
M&B - Baby Shop Melbourne 
284 8299 8264
We are the not so nappy bag, baby bag company.
Our mission is simple; create practical baby bags that are both stylish on the outside and super organised on the inside. 
Made from high quality, durable faux leather materials tough enough to withstand anything your mini-me throws at it (literally).
Explore The Collection
Baby Bags

Baby Accessories
Nappy Bags
We're not just a nappy bag store; we supply luxe faux leather nappy bags for Moms who love organisation. Shop fashionable baby bags and backpacks in a variety of styles and colours with accessories included. Our faux leather nappy bags are easy-care, provide limitless organisation options, and make the perfect gift for a mother-to-be. Find your baby bag love here.
Scarlett

Paige

Ava

Zara

Sophia

Ella

Chloe

Chloe - Black Edition

Harper

Gift Box Experience
Baby Accessories
While our nappy bags come with the essentials any Mumma needs while she's out and about, here are the must-have newborn, nursing and baby accessories to make mother and baby a little more comfortable. Crafted with high-quality, natural, BPA-free materials, our nursing accessories are safe, durable, and make life a little more luxurious for both mother and baby.
Comforter Blanket With Teething Ring

Adjustable Breast Feeding Pillow
We're reinventing what it means to be a Mumma by designing beautiful, practical baby bags that love the life you live.
Our nappy bags are universally loved by Mummas from Australia and worldwide for their chic look, luxurious feel, and ultimate organisational potential.
Unlike other brands, each M&B. The baby bag comes with an essential accessories bundle included.
Try our nappy bag backpacks—you'll quickly realise you can't live without your M&B.
Pat Pat Baby Shop Melbourne 
3455 252 1133
PatPat was founded in 2014 by close friends in Mountain View, who earned their Master's degrees at University, PA. They also worked together as Principal Engineers at Oracle shortly after that. When Ken was expecting his first child, he discovered the children's clothing industry severely lacked fashionable, functional options. So together with his friend, they created a shopping platform for moms to find great deals for themselves and their families without spending a lot of time and money.
Categories
Graphics 

Baby 

Toddler

Home & Baby Gear

Kids

Shoes & Accessories 

Licensed Characters 

Matching Outfits
Baby & Maternity Products
Baby's Socks & Shoes

Toys

Baby's Bedding

Cloth Diapers

Baby Souvenir

Baby's Accessories

Bibs & Burp Cloths

Wet Bags

Prenatal Care & Antenatal Care

AND MORE
As parents, we want all the best for our families. PatPat is using the latest social networking and big data technologies to improve our shopping experience constantly. In addition to delivering great daily deals, we are also dedicated to our shoppers' satisfaction. 
In fact, we're using the latest social network and big data technologies so we can forever improve the online shopping experience. From the moment you begin browsing PatPat to your first delivery, we care. That's why we've adopted a rigorous three-step system to ensure each and every order meets our high quality and safety standards.
Little Lou Baby Baby Shop Melbourne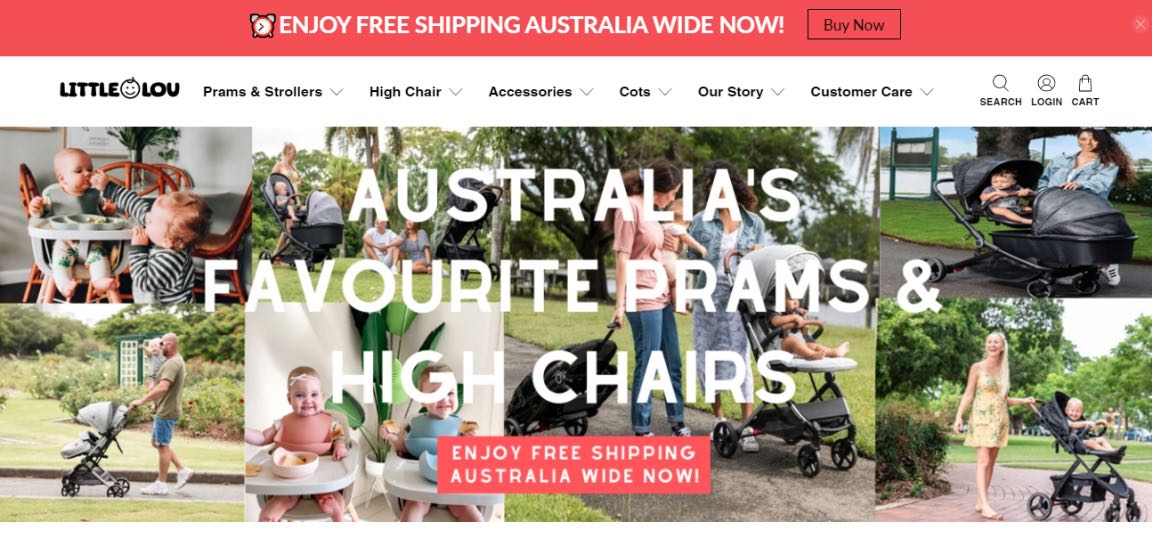 23 218 518 457
The image for Little Lou came about in 2017. Experience from owning a business in the childcare industry and having an additional business in a tireless shopping centre. Over the years, we have engaged with an array of mums and dads-to-be, first-time parents and family orientated people and found the wants and needs of features and styles of prams, strollers, high chairs and cots in Australia quite limited. So we made it our quest to find baby products to meet the wants and needs of everyday Australian families. 
Little Lou believes that your baby products should look great and meet the high standard style with practicality. Therefore, our products and their features have been meticulously thought about to ensure the best is available – for the baby and you!
Products
Prams & Strollers

High Chair

Cots

Accessories

Sale

Compare Prams & Strollers
Cots
You can rest assured with our premium "Crystalline" Cot, your baby will get the most comfortable night sleep ever, and as parents, we all know how important that is in their first few months.
Our cot is the perfect solution for helping parents and children bond during the night. Designed with robust see-through panels giving you peace of mind, being able to see your baby's exact position when checking on them, whether physically walking into the room or nursery or when using a baby monitor. 
Little Lou's products are highly engineered and aesthetically well thought out to ensure your baby is in complete comfort and safety and to suit the busy lifestyle of every Australian family.
Baby Online Direct - Baby Shop Melbourne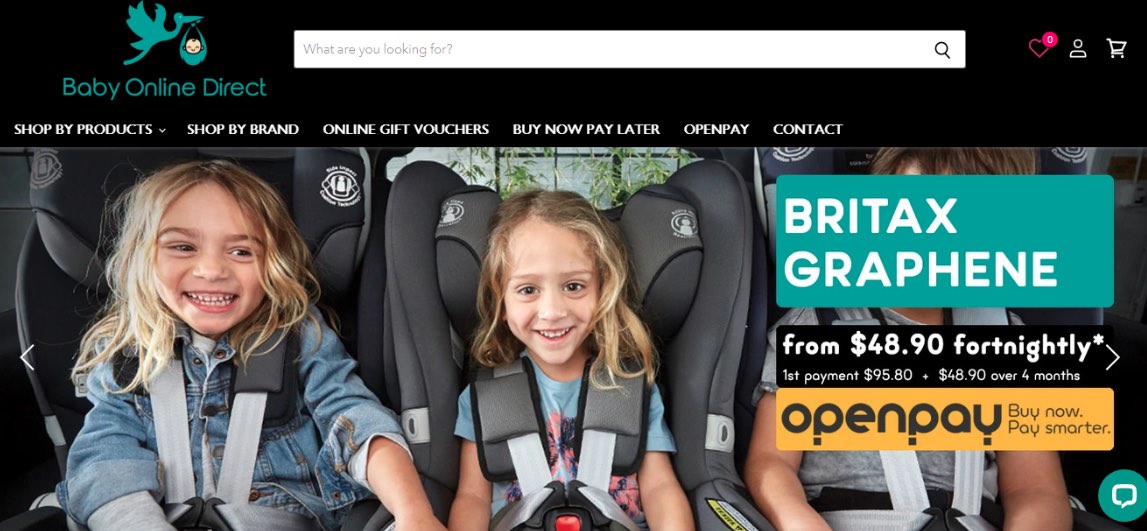 03 9311 5843
Baby Online Direct is an online web store offering discounted pricing on all products sold via our website. We only stock leading baby nursery brands that are manufactured in Australia and around the world.
Before any brand or product range is advertised for sale on this site, Baby Online Direct has assembled and tested the integrity and durability of all listed products for peace of mind to our customers.
Shop by Products
Prams & Strollers

Car Seats & Boosters

Nursery Furniture

Baby Feeding & Parenting

Baby Bathtime & Changing

Sleeping & Bedding

Playtime & Learning

Out & About

Baby Clothing & Accessories

Baby Carriers

Portable Cots

Travel Accessories

Health Essentials
All products sold via the Baby Online Direct website must meet or exceed mandatory Australian Standards where applicable. While products carry enforced manufacturing standards, we still research products thoroughly before entering our range to ensure they meet our highest standard for design, functionality and safety.
Real Nappies Baby Shop Melbourne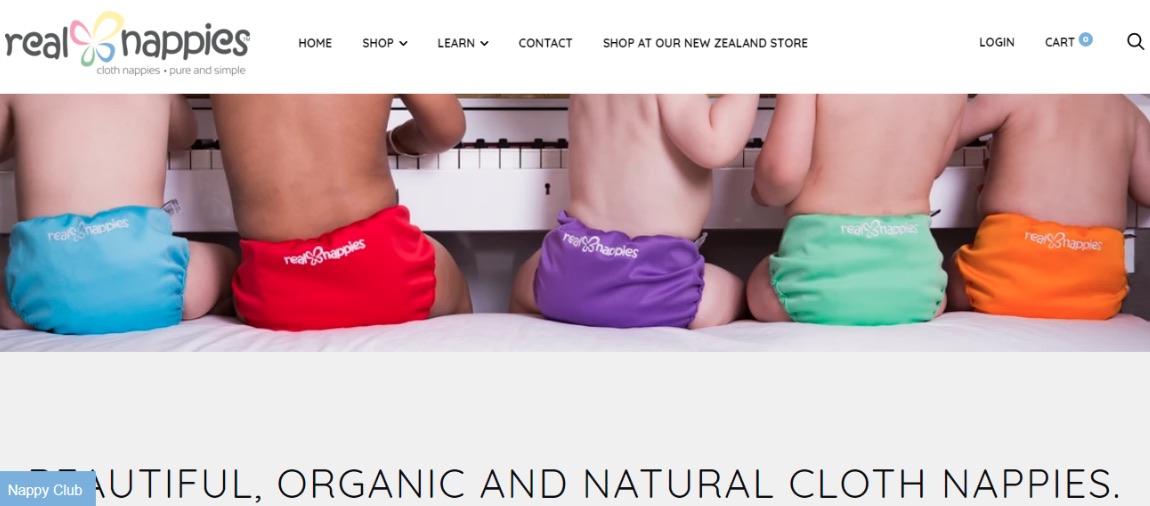 16 630 166 356
We are a small family with a love for all things natural. James is the reason we got into Real Nappies. When searching for the ideal nappy, Hamish found Real Nappies, and it ticked all of Claire's boxes. We loved the nappies so much we bought the company!  
Claire was originally working in administration and also as a Naturopath. With the birth of her first child, she became a full-time mother. With a background in natural health and wanting the best for her baby, she wanted products as natural as possible, including nappies.
Hamish started out his career in the helicopter business, but after starting a family, he looked for something that would keep him closer to home. Being a very hands-on father, getting a great nappy that worked well was pretty important to him.
What do we believe in? 
Keep it Natural - At Real Nappies, we love to keep things as natural as possible. You wouldn't want to put anything else next to your baby's skin. This is why we choose to use 100% cotton for our prefolds. In addition, we have tried to find the best product for all our add-on products that will keep what you use on or for the baby as natural as possible.
Cost efficiency - We know a baby costs a lot of money, and we don't want to make it any tougher on you. We have managed to keep our costs low so that you don't have to break the bank just to keep your baby in nappies. We also sell great bundle deals to help you save even more.
 Eco-friendly  - We are trying to help reduce landfills. Cloth nappies are great. Even our disposable nappies are made from sustainable forests. We try to keep our packaging as natural as possible. This is why our prefolds are in drawstring bags that you can re-use.
Products
Cloth Nappies

Nappy Bundles

Nappy Inserts

Organic Nappy Inserts

Nappy Covers

Accessories

AND MORE.
Are you looking for cloth nappies that will fit your baby snuggly, give great absorption and have fewer leaks, are affordable and healthy for you, your baby and our planet?
Real Nappies answers your problems and comes with a two-child guarantee! Real Nappies provides nappies from your snuggly newborn size right through to your bouncing toddle, including our award-winning Birth to Potty Pack.
Baby Baby Online - Baby Shop Melbourne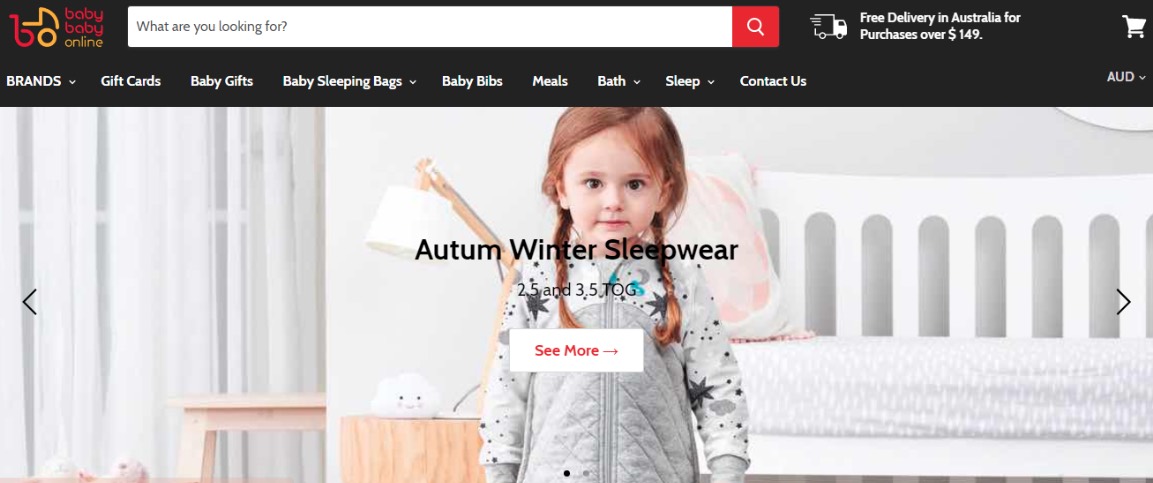 0478 620 562
Baby Baby Online is committed to offering the best collection of high-quality products for babies and toddlers, offering practical, unique and eco-conscious solutions for everyday parenting.
We focus on providing our customers with exceptional customer service and a personalised online shopping experience.
We ship orders daily within Australia and are happy to offer free shipping if you spend over $149.00 on one order.
One of our main goals is to offer you high-quality products from the most superior brands. A few popular brands that we feature include Aden and Anais, ergoPouch, FLATOUTbear, Love to Dream, Plum, Grobag.
Brands
3 Sprouts

Aden and Anais

Ashdene

Australiana

BBox

Baby Studio

Babymoov Bags

Bebe au Lait

Boon Baby

Bubba Blue

ergoPouch

Flatout Bear

Grobag by Gro Company

Haba

AND MORE.
We welcome you to our store and are thrilled to have you visit Baby Baby Online. We wish you an enjoyable and relaxing shopping experience from the comfort of your home!
We want you to choose Baby Baby Online for your online shopping needs, and we will go that extra mile to earn your business!
Babynest Baby Shop Melbourne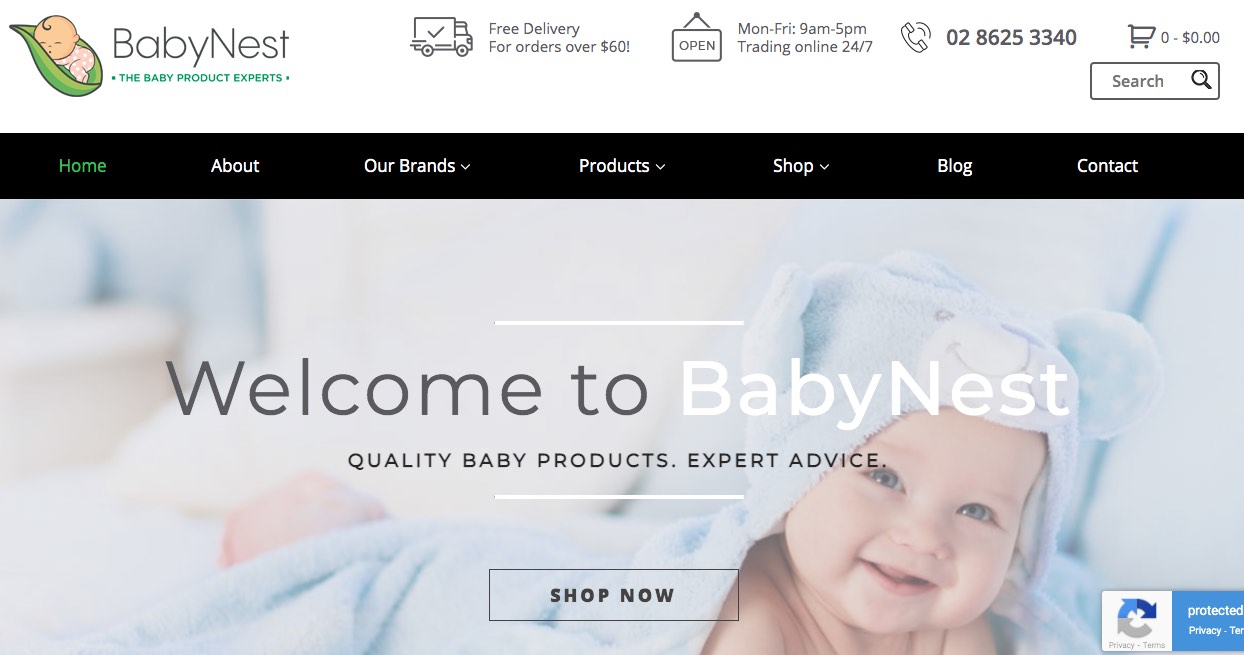 babynest.com.au
02 8625 5736
At BabyNest, our passion is to bring the very best baby brands to parents in Australia.
We are baby product experts with over 40 years of experience sourcing and distributing leading brands like MAM, Sassy, Dream Baby, Heinz, Les Folies, Gaia, Cloud B, Luv Me, Ever Earth, Huggies and more. We have award-winning products and award-winning brands, and there's a good reason why.
We have the experience and the ability to source the very best products internationally – to help make parenthood easier.
Our Range
Feeding

Soothing

Oral Care

Teething

Toys

Bath Toys

Safety

Skin Care

Baby Foods

Gift Packs

Play Mats & Gyms
Milk and Love Baby Shop Melbourne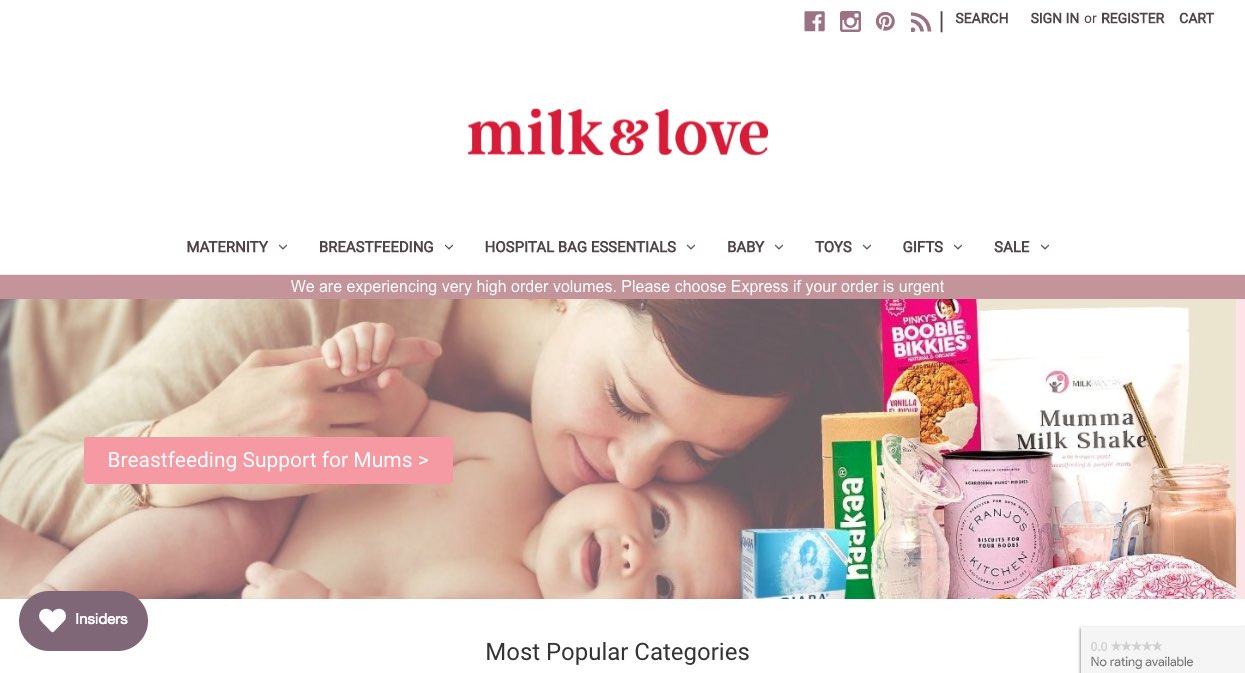 (07) 3160 9418
We're a Maternity, Breastfeeding & Baby Boutique hidden away in the leafy streets of Paddington, Brisbane. Our team loves finding beautiful clothes for Mothers and Babies, and we especially love when our lovely customers tell us how fabulous they feel when they wear our clothes or enjoy using our products. 
Our team all have a lot of personal experience with pregnancy and motherhood, and we love finding thoughtfully designed new products and brands to share with our Insiders community. But, of course, we're also available for any questions you have (no question is too embarrassing!) - motherhood is full of new experiences.
We hope you love our handpicked range of stylish maternity wear, breastfeeding clothes, baby clothes and other beautiful items for Mums & Bubs in our Maternity Store!
What is Milk and Love all about?
All your baby needs is Milk and Love, and that's how the brand's name came about! It's really what our philosophy is about as well. We're all about enjoying motherhood with natural, eco-friendly solutions that make your life easier, so you can focus on providing Milk & Love for your baby! The team and I have put together a range that we hope will make your life a bit easier and help you with your breastfeeding journey.
Milk and Love Supports New Mums and Mums-to-be
No mother and baby are the same, so we're also all about supporting you with where you're at. We've put together many really good blog posts and videos that we hope you'll find informative and supportive. We're also doing virtual mothers groups now in our Milk and Love mum's Facebook group, so make sure you join us there. In addition, you can connect with other regular experts and us that we have to ask questions and get support.
Banana Baby Shop Melbourne 
02 9550 2888
Banana Baby is now located in St Peters. St Peter is located 10 kms from Sydney CBD. We are minutes from IKEA Tempe and Sydney Airport.
We have a large showroom display of all your baby needs. Products listed on this online shop are on display in-store. We also have a large display of nursery furniture and a large range of prams and strollers. In addition, many popular cots and furniture are in stock and ready for immediate pickup. 
Bubs Warehouse Baby Shop Melbourne 
1300 304 513
Being parents ourselves, we understand that you want the best for your bubs. Whether it's clothing, toys or manchester, we know it's about finding the right product for your child. However, it can often be confusing being a first-time parent and travelling with your bundle of joy just to go shopping can be challenging at the best of times. 
This is why we founded Bubs Warehouse. An online marketplace established by parents for parents - where you can browse from our large range of baby brands and products, at very competitive prices, all from the comfort of your own home.
Because each baby is unique, we've made it our mission to provide you with a wide selection of products on one convenient site. Bubs Warehouse boasts one of the broadest product ranges available, from Australian brands through to our internationally supplied products, and we have something for every bub!
We also understand that raising a family can be expensive. So to provide our customers with the best possible price, we ship products straight from our extensive range of local and international suppliers directly to you while ensuring that your online shopping experience is secure and risk-free.
Here at Bubs Warehouse, our team is always looking for new and innovative products to add to our ever-growing catalogue. So if you think there is a product that we should be stocking, please let your friendly customer service representatives know. We'd love to hear from you!
Kiddie Country Baby Shop Melbourne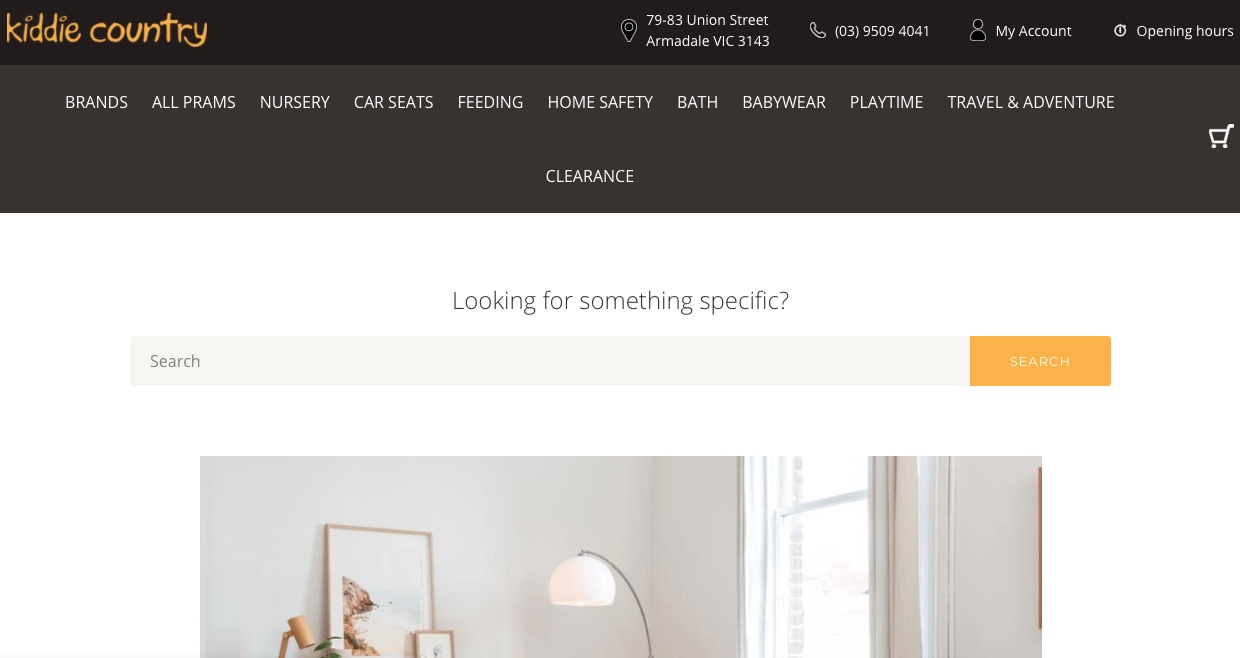 (03) 9509 4041
Kiddie Country is all about quality and customer service.
With all the best brands and qualified staff who have thorough product knowledge. We can make your shopping experience stress free and empower you with the correct information to make decisions easily. Kiddie Country is one of the most experienced baby stores around. Established in 1975, we have extensive experience in the baby industry. Our comprehensive range has been carefully selected to ensure that it has the latest, safest and highest quality products, all available to you under one roof.
We have everything you need for your new family.
With all the best brands and qualified staff who have thorough product knowledge. We can make your shopping experience stress free and empower you with the correct information to make decisions easily. Kiddie Country is one of the most experienced baby stores around. Established in 1975, we have extensive experience in the baby industry. Our comprehensive range has been carefully selected to ensure that it has the latest, safest and highest quality products, all available to you under one roof.
Why Kiddie Country?
Years of industry research and experience means we stock only the most trusted baby products and brands. If we stock them, it means they have passed or exceeded Australia's high safety standards - one of the highest in the world.
Whether it's a pram, cot or baby carrier, we will explain to you how it works and will be available to support you until you feel completely confident and satisfied.