Are you looking for the best baby shops in Perth? If you are from Perth, Western Australia, whether you are buying your first child's cot or stocking up on nappies, then it is likely that at some point in your life, you will need baby products.
There are many stores to choose from, but not all of them offer the same quality. This blog post reviews some of the best baby shops around Perth so that parents know where they can go when they need something specific.
We've compiled a list of the best baby shops in Perth, Western Australia. This is designed for parents looking to buy items they will need when their baby arrives or soon after. We hope this helps you find what you are looking for and enjoy your time with your new bundle of joy!
Add a header to begin generating the table of contents
Ultimate List of the Baby Shops in Perth, Western Australia
My Baby Nursery - Baby Shop Perth

EVERYTHING YOU NEED FROM NURSERY TO PRAMS
Specialising in baby products, including nursery furniture, manchester, prams, car seats, high chairs and many many more items, My Baby Nursery truly is your one-stop shop for everything to prepare for the arrival of your new baby as well as everything you'll need as they grow.
BABY NURSERY FURNITURE
Our range of nursery furniture has everything parents-to-be need. All our nursery products are designed to take the hassle out of nappy changing, storage and bedtime, so you have nothing to worry about except treasuring special moments with your baby! We are proud to stock an original range of change tables, cots, nursery storage and much more.
BABY COTS - BABY FURNITURE COTS ONLINE
Is there anything more gorgeous than a sleeping baby? Yes, a baby sleeping in a beautiful cot – safe and sound. A key piece of the nursery puzzle, there are plenty of things to consider when buying a cot.
With an endless range of products on the market, a quick trip to the local baby shop just won't suffice. Luckily we've scoured the baby stores to find the best sleep options for your precious little one that'll also suit your nursery budget!
BABY BASSINETS FOR YOUR NURSERY ONLINE
Decorating your child's nursery is one of the simple pleasures of being a parent. But to ensure your baby's comfort and safety, you should always consider more than just looks when buying baby products and nursery furniture. At My Baby Nursery, we have a vast collection of the best baby bassinets.
Babies are born with an instinct to be close to their mother, but when she can't be there, they need a safe spot.
A bassinet is designed for this purpose and comes in many shapes and sizes. We have compiled a list of some of our favourite baby bassinets in a range of prices to suit every budget.
Choosing the right bassinet is important because it offers your baby safety as well as comfort while he or she sleeps!
Babyland - Baby Shop Perth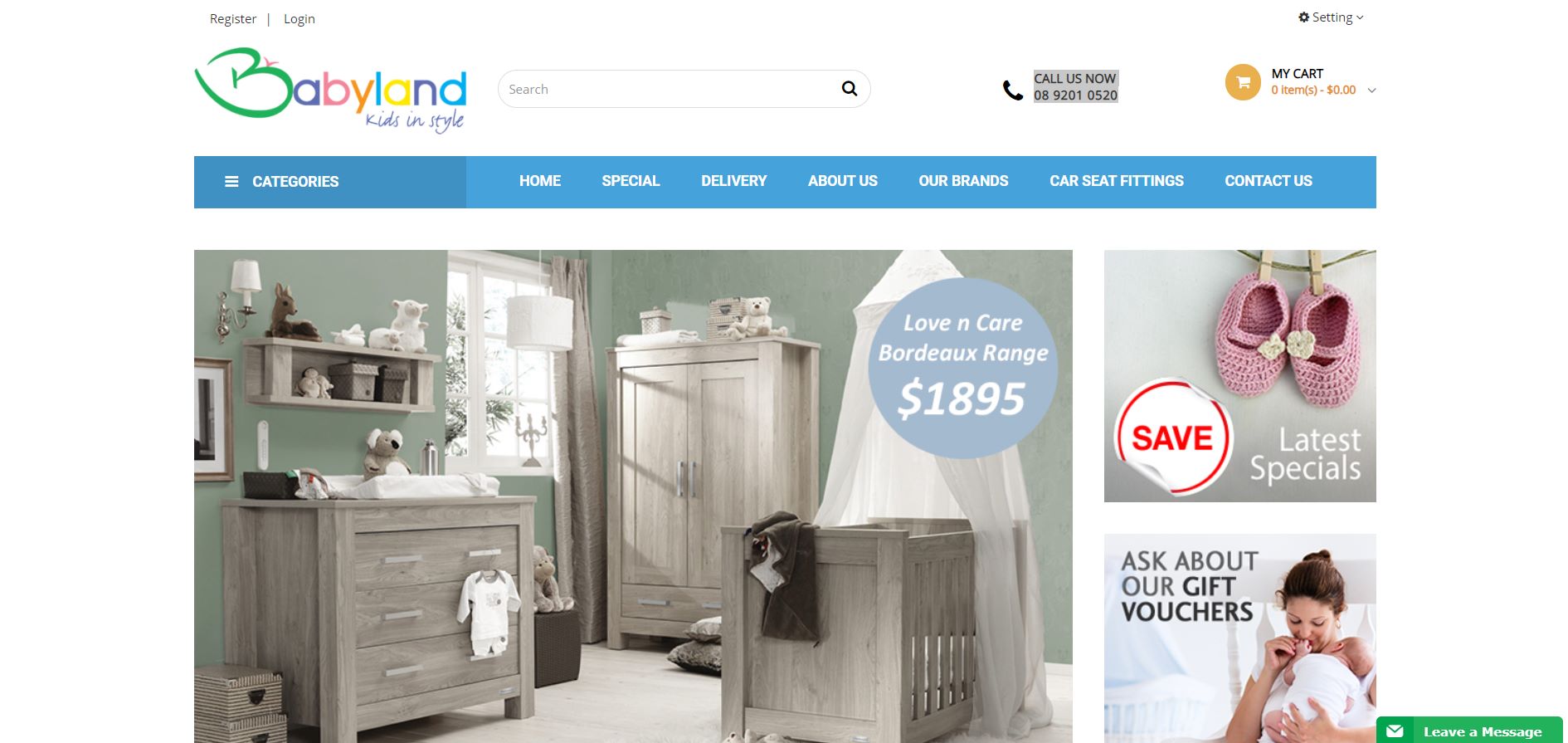 08 9201 0528
Babyland is a Western Australian family-owned and operated business established in 1997. Back then, the store was a small showroom and was started with the simple idea of providing great service and quality baby products to its customers. Since then, the baby industry has certainly evolved, with many new and exciting products available every year. Of course, Babyland has had to evolve too, and this is why you can now shop with us at our large Osborne Park showroom or for added ease at our online website.
Your child's comfort and safety is of the utmost importance. We only stock the best quality products that comply with the Australian standards so that you can be confident you are getting the best when you shop at Babyland.
Our staff are trained in order to give you the most up to date information on our products and endeavour to provide fantastic customer service. Most are also parents themselves, so understand there are different needs for every family. Bring the kids along to the bright, fun, ocean-themed play area so that they can play while you shop!
Babyland does offer a lay-by service. The terms are a 20% deposit for a 3 month holding period.
We hope that you enjoy your Babyland experience and value any feedback you may have. Please feel free to contact us via letter, phone, email or the 'contact us' page.
Happy shopping!
My Little Love Heart - Baby Shop Perth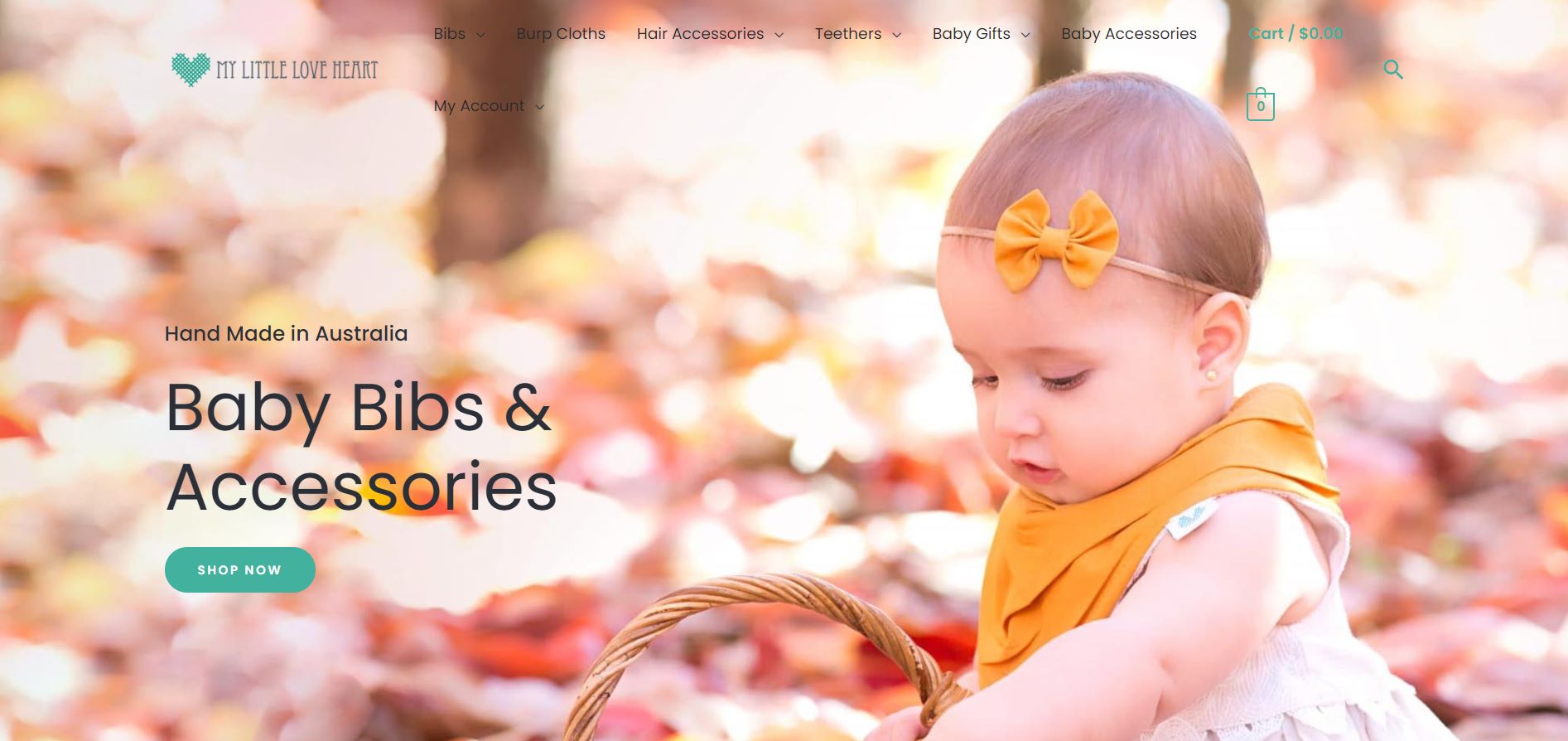 0456 714 860
Hand Made in Australia Baby Bibs & Accessories
Bibs
With our selection of premium bibs, we have a style and design for any boy or girl.
Our range of handmade bibs includes the baby, bandana, large style. All of which are adjustable to suit a growing baby.
They are designed with two layers to capture excess drool and keep your baby dry. Made in Australia with organic materials, they are an Eco-friendly alternative. 
Burp Cloths
Our burp cloths are hand created in Perth, Australia, using a range of stylish and eco-friendly fabrics.
The front of the cloth is made with cotton, while the backing is a bamboo material. These are soft to touch and are ideal for absorbing spit-ups and drool.
They are designed to fit snuggly over your shoulder to protect your clothes and are available in a range of stylish and trendy prints.
Hair Accessories
Whether you are at the park or playing around the house, we have the baby hair accessories for you.
All of these are handmade in Australia to suit your babies individual style.
The newborn bows are the smallest of the four and are perfect for a new baby girl. The baby headbands are the middle size, while the headbands are the largest. Finally, the top knots are designed as a knotted headwrap that covers the babies forehead.
The nude colour elastic is soft on the babies skin, while the prints chosen are on-trend and stylish.
Teethers
We have a selection of teethers suitable for teething babies.
We hand make wooden teethers that have been tested and approved to Australian Standards, making them safe and organic. They are eco-friendly and made from sustainable materials making the baby teethers an organic alternative.
The organic wooden teether has anti-bacterial properties that are perfect for your little one to chew on. Both the bunny ears or love heart styles give them something to grip. To learn more about our baby teething toys, read our blog or continue to shop below.
We have recently added the Oli and Carol range of teethers to our store. They are also an Eco-friendly teething solution in fruit and vegetable shapes.
Baby Gifts
Give a handmade baby gift that's both practical and stylish.
With a selection to suit any budget, you can't go past our Australia Made gifts for babies. The four styles include the newborn, baby boy, baby girl, and gifts sets. In addition to these gift sets, we offer a number of individual products ideal for baby gift ideas.
Each item in the gift sets has been chosen for its practicality. 
Baby Accessories
There are so many baby accessories to choose from that we just had to include some in our online store.
The range we have chosen are of the highest quality and fit with the ethos of our brand. Our accessories include a pregnancy journal, baby books, Naturssutten dummies, dummy chains and three different baby cards.
Baby Shops Frequently Asked Questions
Expecting a baby can be an exciting but nerve-racking experience. It can be daunting to think about everything you should be buying for your baby, especially if you are a first-time parent (or even if you aren't).
Luckily, there is an array of advice for new parents, including everything you should be buying for a newborn; sometimes, this can be overwhelming and confusing, so the first step is to consider the necessities.
We've put together a list of the essential items you need for a newborn, including things they will require in their first few days.
Crib
One of the most important pieces of baby furniture is the crib; in the first few months, consider a Moses basket or a 3-sided crib, especially if you plan for your baby to sleep in your room. If you look for longevity, you can opt for a cot that lasts until around 3 years.
Linens and Blankets
In addition to the crib, you'll need baby bed linens, including a fire-retardant mattress that fits the crib. Babies shouldn't have pillows or fluffy comforters as these are hazardous but will need crib sheets and blankets.
Nappies
Whether you choose disposable or cloth nappies, you will need a vast amount as newborns use a large number of nappies in their first months. You should also invest in a changing mat, nappy bag and essential nappy changing items such as washcloths and nappy rash cream.
Medication
It is important to have some necessities, such as a baby thermometer at hand. Still, in general, the hospital will advise you on any extra medications or medical tools you may need. If they don't, it is worth checking to be certain what their advice is.
Clothes
To begin with, the best clothes for newborns are onesies, and you should look to have around 6 of these. In addition to these, they will need a few blankets, a cardigan or jumper for colder days, a hat and socks and booties (4 pairs are enough). Depending on the season, different clothing may be required; for example, investing in more cardigans, jumpers, and warmer mittens, hats, and booties in winter may be advisable.
Many new parents choose to purchase one-piece sleepers with zips as they are easier to take on and off. However, for the early days after birth, nightgowns are best until the cord falls off.
Baby Tub
Babies will need to be bathed, so purchasing a baby bathtub is important; you will also need some baby bath towels and washcloths alongside a baby soap, shampoo and brush. In addition to bath accessories, you may want to invest in some baby nail clippers and scissors to keep their nails trimmed.
Bibs and other feeding necessities
For feeding, you will need some bibs. In addition, if you are breastfeeding, you may need a breast pump and bottles. Similarly, if you are not, you will need a formula and a measuring cup.
Car Seat
You will need a baby, rear-facing car seat; you will probably be taking the baby home in this from the hospital, so it is essential. You can get some that snap into a stroller or pram.
New parents are often told to put their babies to sleep wherever they sleep best, but that isn't good advice. There are safer places for your baby to sleep and places that may be riskier.
According to the American Academy of Pediatrics, your baby should sleep:
In a bassinet, cradle, or crib that is near her mother's bed.

On her back, not on her side or stomach.

On a firm sleep surface, such as a firm crib mattress, covered by a well-fitted sheet.

Without any soft objects (pillows and toys) or loose bedding (blankets and sheets) in her bassinet, cradle, or crib.
You should also make sure that your baby doesn't get overheated while she is sleeping.
Choosing the right mattress for your baby will optimise the chances of you both getting a good night's sleep!
The safest place for your baby to sleep is in a Moses basket, crib, cot or cot bed in your room for the first six months, and a safe mattress should fit their bed with no gaps.
Here are a few things to look out for when choosing a mattress for your newborn baby…
THE FIT OF THE MATTRESS
Getting the right size and shape of mattress is essential so your baby cannot get their little limbs stuck around the sides.
There should be no more than a 3cm gap around the edges or sides so that you can tuck your baby in comfortably, with any blankets no higher than around their shoulders.
Many cots and cot beds are sold alongside mattresses designed specifically to fit the cot size.
Some may have a sticker on the base recommending the right size. Your mattress will need to be at least 8 to 10cm deep to support your baby while he sleeps, although your crib mattress or mattress for your Moses basket will be thinner.
Some companies will provide a made-to-measure baby mattress if you can't find the size you are looking for. Make sure any mattress your purchase conforms to both BS 7177 1996 for flammability and Part 10 1997 for safety and performance.
THE BREATHABILITY
Ensure your mattress has good breathability to help your baby regulate their temperature because research has shown that overheating is associated with an increased risk of SIDS. A breathable mattress will allow any perspiration to wick away from your baby, so their mattresses stay dry.
If asthma or allergies are a concern in your family, you may want to choose a hypo-allergenic or anti-allergenic cover for your mattress, which can be washed at 60 degrees to remove dust mites that may cause allergies.
Cribs are often purchased while the mother is still pregnant. If they're interested in a certain design or colour scheme, some may wait until just before the third trimester, when they know the gender.
Parents are often encouraged to plan ahead, leaving time for the furniture's delivery.
On average, cribs are used for the first 24 months of life. With that being said, the stage at which a child makes the transition to a toddler or twin bed varies greatly.
One surefire way to tell when your little one is ready to move on is when they are noticeably too big for the crib and can climb out with minimal effort.
Baby Zone - Baby Shop Perth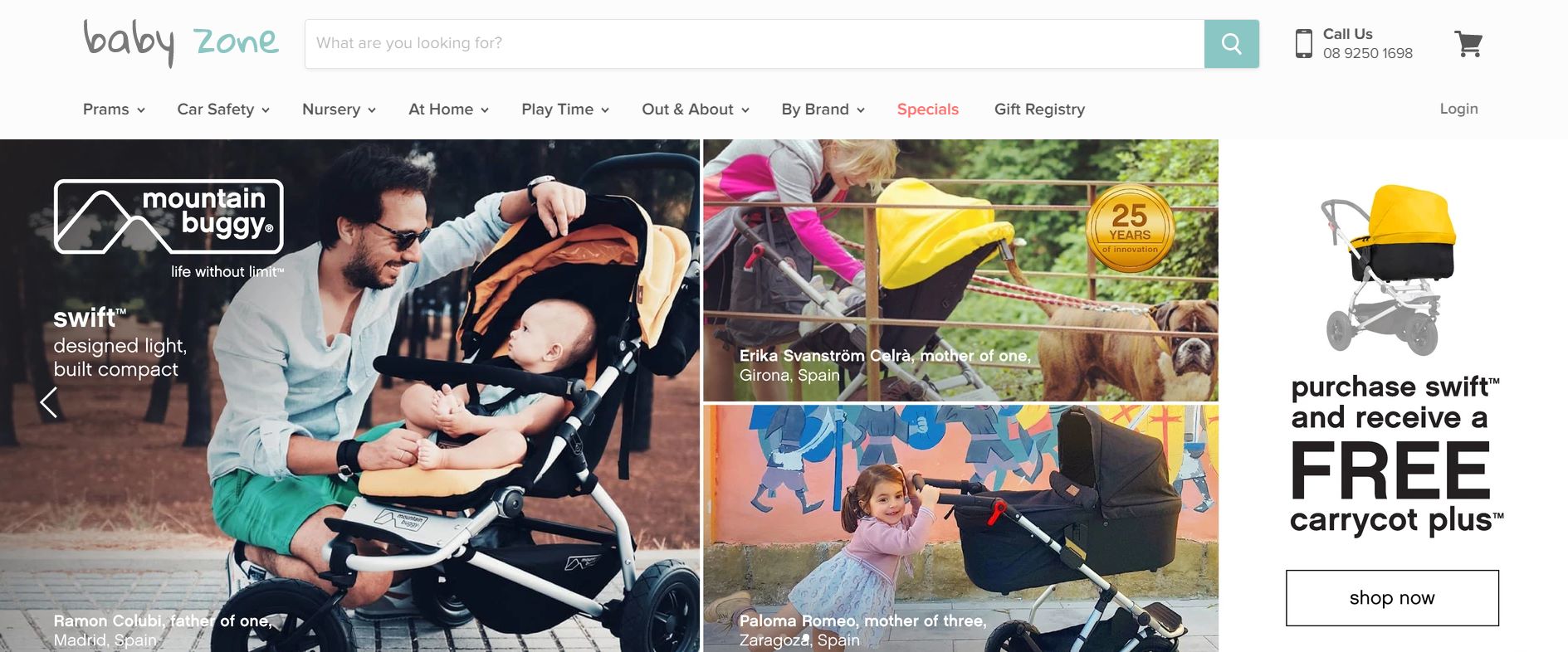 08 9250 1693
Welcome to baby zone
We are the longest standing baby shop in Perth, and we're so glad you have come to visit us! If it's Bugaboo, Safe n Sound, Ubabub, Joolz or Steelcraft that you're after - we have it all. PS: To let you in on a little secret, even if we don't sell the item you want, we will source it especially for you. Thanks for stopping by!
About Us
Baby Zone was established in 1989, and for over 27 years, we strive to provide the best service, products, sound advice and competitive pricing. Now, more than ever, we are excited to provide our clients with the best possible attention to detail. We are an independently owned and operated business which means decisions can be made quickly and orders placed right away. There is no wasteful time waiting for decisions to come from head office. Our head office is right in front of you!
Baby stores are about providing a place for parents to feel welcome and assured that they would be looked after, and that is our number one goal here at Baby Zone. Being in a business for 27 years gives us a little edge over our competitors, and we want to get to know all of our customers. We possess knowledge and skill that will answer all your questions. As a testament to our philosophy, we are now seeing our second generation of clients come through to Baby Zone. The parents of 25 years ago return to us as grandparents, and the babies of 25 years ago are now all grown up and returning to us for advice in the selection of new products for their very own precious babies. It's something pretty special, and we would like to extend a special thank you to these clients and families who have remained loyal to Baby Zone and made our journey through the years both progressive and particularly meaningful.
Baby Zone specialises in providing a one-stop baby shop to buy cots, prams, car seats both online or in our store in Midland. Our store is our pride and joy, we would love for you to drop by and see how we can help, even if it is just by providing some advice or clarification on a topic. Car safety regulations are always changing, new funky cots are being released, but we keep on top of it all to provide a baby shop that welcomes everybody.
Found a baby product online, or a friend has shown you a photo in a magazine, but you can't seem to find it anywhere? Here at Baby Zone, that's what we specialise in! If we don't have the product, we've been in the industry for all these years, that we will be sure to find the person who can find it for you.
We only have one store, located on 203 Great Eastern Highway in Midland. What's so special about that, you ask? Well, it gives us the opportunity to get to know every single one of our customers. Immediately walk in and experience a kind of service that feels timeless and welcoming. Good old fashioned honest advice and service goes a long way!
We can deliver and assemble all your baby furniture in the Perth metro area. It can be as simple as calling our store, and next thing you know, our professional staff will be assembling your beautiful cot in your brand new nursery. Pretty simple stuff!
Come by and visit and have a chat, we can't wait to meet you!
The Baby Zone Team
Bebe Boutique - Baby Shop Perth
(08) 9384 2289
Bebe Boutique is a beautiful baby and children's boutique located on iconic Napoleon Street, Cottesloe, Western Australia.
We stock a wide range of clothing, swimwear, footwear, and apparel for newborn babes through to 12 years.
We currently house well over one hundred different brands, and we're constantly on the lookout for new and exciting products!
We scour the globe in search of the latest and greatest, bringing only the best back to our lovely bricks and mortar store!
Our store is so much more than just a shop, and it is an emporium of beautiful clothing, amazing toys and exquisite gifts. We cater for everyone and truly believe within our little store lies a little something for everyone! 
Our website is merely a glimpse of what we have in store, so if you're ever in the area, be sure to pop by and say hello. There are all kinds of wonderful in here!
Baby Bunting - Baby Shop Perth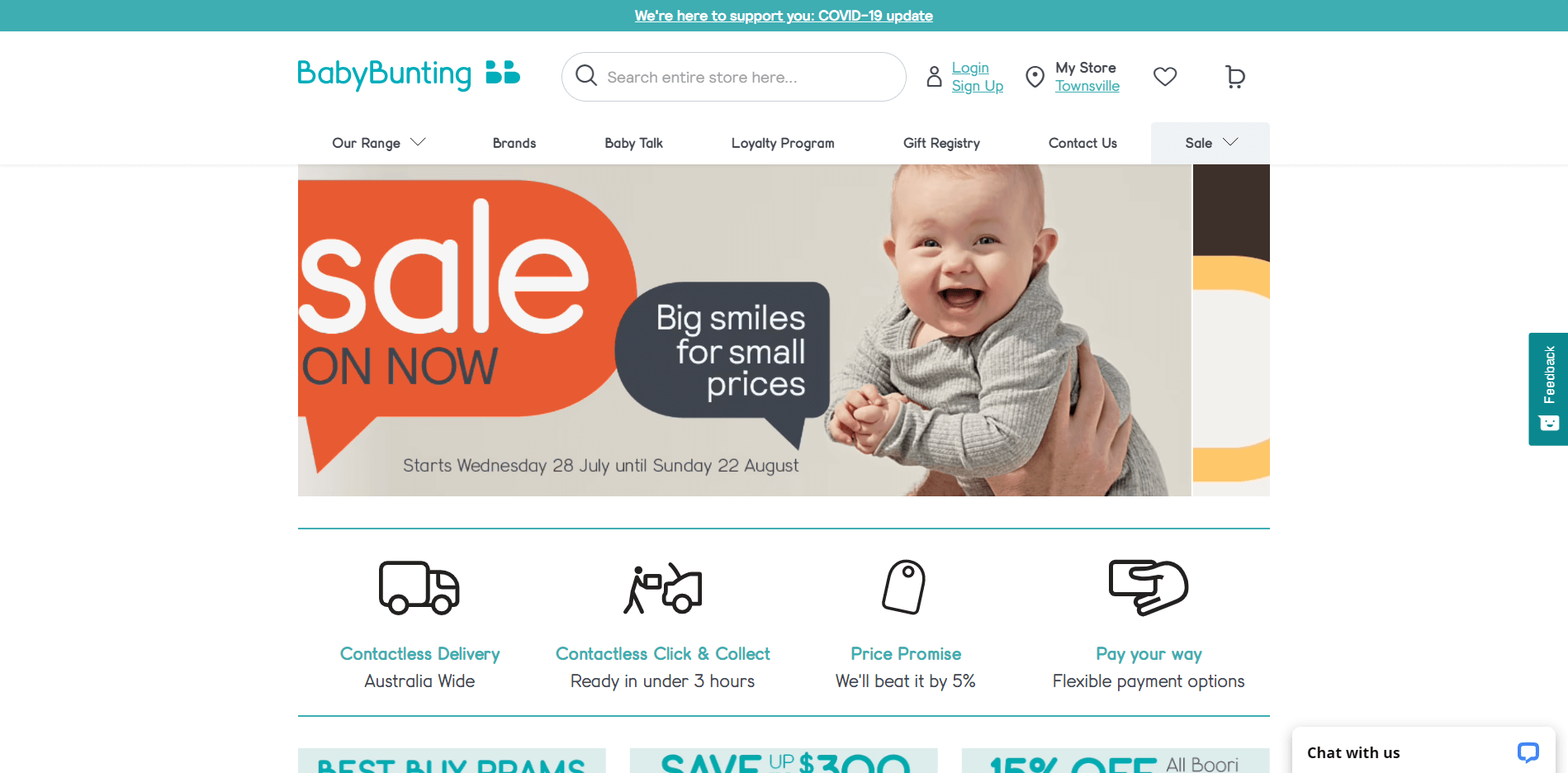 1300 422 291
All the Best Brands at Low Prices
We endeavour to provide our customers with the largest range across all departments supported with all the best brands to cater to all of our customer's needs & requirements.
Be sure to check out our exclusive ranges in 4Baby & Early Learning Centre Toys (ELC)! Our 4Baby range extends across highchairs, change tables, babywear, manchester, toys and more.
Who Are We?
Established in Melbourne as a family-owned business in 1979, Baby Bunting is now Australia's largest specialty nursery retailer and one-stop-baby shop.
From humble beginnings with a single store in suburban Balwyn, Baby Bunting now employs more than 700 people across its 50 national superstores and 11,000sqm warehouse in Melbourne.
We pride ourselves on providing our customers with excellence in service, expert advice, great quality, and value.
As a specialist retailer, we cater to parents with children from newborn to three years of age. With over 6,000 lines, we provide parents with the greatest range in prams, car seats, carriers, furniture, nursery, safety, babywear, manchester, changing, toys, feeding, and much more! We offer an unrivalled choice across all the best brands, including Bugaboo, Silvercross, Steelcraft, Britax Safe n Sound, Maxi Cosi, Infasecure, Ergobaby, Boori, Oricom, Medela, Bonds, Huggies, Bright Starts, and more!
Our parenting rooms - equipped with a microwave, change table, baby scales and glider chairs enable parents to attend to their baby's needs in comfort. These elements, coupled with onsite parking and a strong focus on customer service, provide parents with an enjoyable experience and a unique shopping destination.
We also offer a variety of services, including gift registry, click & collect, accredited car seat fittings and lay-by.
Lulu Babe - Baby Shop Perth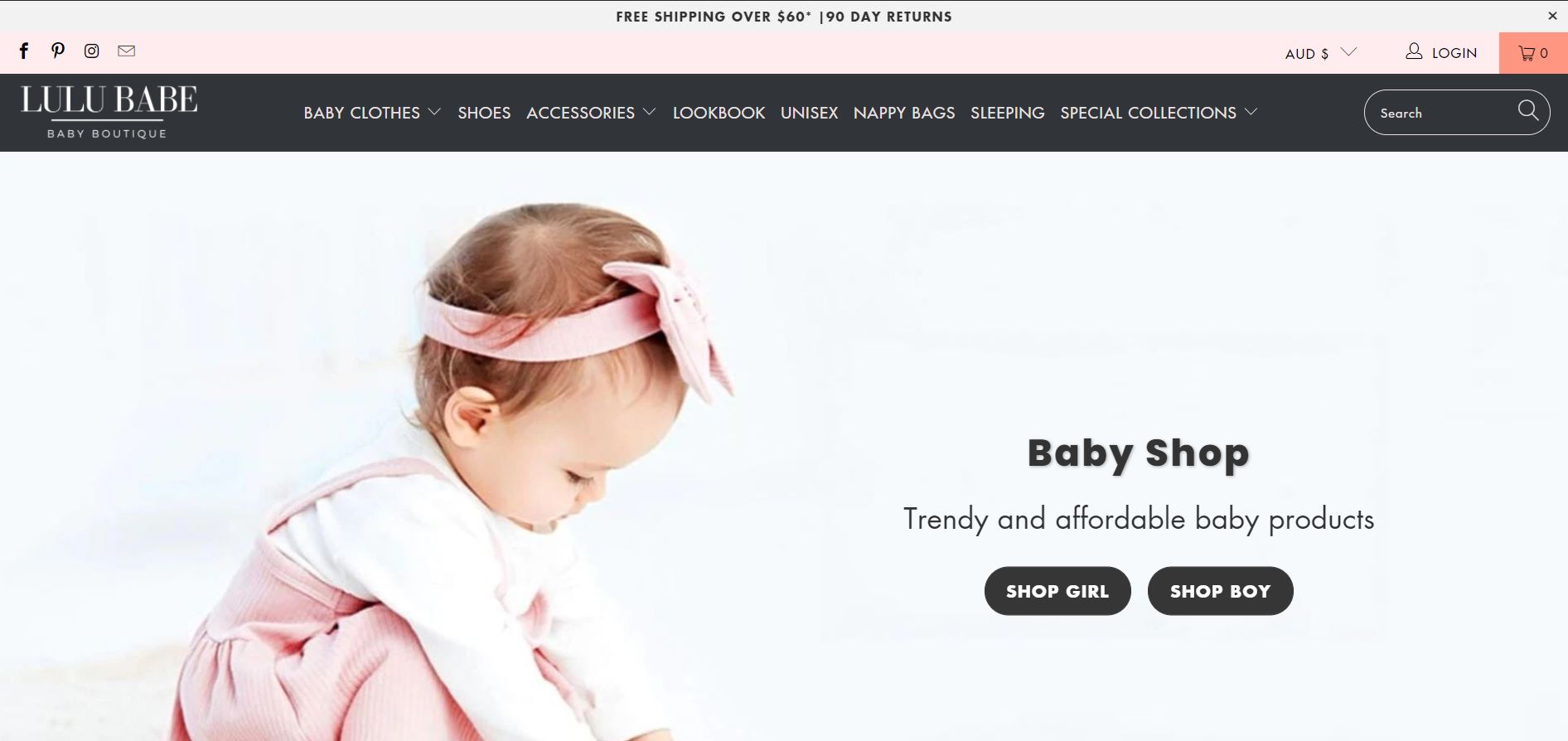 1300 875 330
Welcome to Lulu Babe, an Australian owned baby shop with a lovingly curated collection of babywear, accessories and gifts for newborns through to toddlers. We started Lulu Babe 3 years ago with a mission:
To bring you beautiful, on-trend baby clothes and accessories at the most affordable prices.
You'll find gorgeous baby rompers, outfits and dresses as well as cute accessories, baby shoes and nursery items. We also stock the award-winning Lulla Doll, Sleepytot comforters, Easymat suction plates, Doddl toddler cutlery, Mini Beanz bean bags, Little Renegade Company products, the popular Mesmerised black and whiteboard books and beautiful wooden gifts and announcement signs from Timber Tinkers.
BABY CLOTHES ONLINE AUSTRALIA
Welcome to Lulu Babe, a trusted and 100% Australian-owned online baby shop. We understand that every parent wants the best for their little one. We pride ourselves on providing beautiful and quality baby and toddler clothing, gifts and accessories at excellent prices.
Get 10% off your first order Lulu Babe 

free shipping on orders over $60 

90 day return policy lulu babe 

SSL secure checkout and trusted payment methods like paypal
USE AFTERPAY, ZIP OR KLARNA FOR YOUR NEWBORN BABY CLOTHES
To make shopping easier, we have partnered with Afterpay, Zip Pay, Klarna, LatitudePay and Humm - giving you plenty of options to buy your baby clothes now and pay for them later, with 100% interest-free instalments.
Whether you're welcoming a baby into the world or looking for the perfect baby gift, you'll find an impressive range of trendy and affordable babywear, newborn clothes, baby shoes, accessories, nappy bags, rompers, toddler apparel, swaddling blankets, sleeping aids and much more. Shop our collection of adorable baby items today!
CUTE AND STYLISH CLOTHES FOR BABIES, TODDLERS & KIDS
Dedicated to bringing mums and dads the best of baby fashion and gifts, our range features the cutest designs and cool, stylish pieces as well as comfortable staples. Add low prices, friendly customer service and complete online transaction security, and you won't want to shop for baby products anywhere else!
From essentials to party outfits, you can't go past our adorable range of babywear. Our baby clothing is stylish and practical, so your bub will have the freedom to play and explore in comfort. From fun animal prints to florals, bright colours or monochrome, you are sure to find the perfect clothes for your baby's personality and style. We also have a collection of unisex baby clothes if you're looking for gender-neutral colours.
Now you can dress your baby or toddler in the latest designer-style clothes at very affordable prices. Because let's face it - kids are messy, and they grow so fast! Take advantage of our buy now, pay later options, including Afterpay, Zip Pay, Klarna and LatitudePay, as well as free shipping for orders over $60.
Keep them cool in summer with our range of shorts, lightweight onesies and snapback hats. In winter, they'll be toasty warm with knitwear, coats and beanies from our winter baby clothing collection. We have gorgeous clothes for newborns, and clothing sizes in our toddler range go above 2 years. If you're after a fun and cheeky outfit for your little one, check out our collection of funny baby clothes or outfits for family matching.
As well as babywear, you will also find beautiful baby accessories, from headbands to bibs, socks and leggings. We also sell baby sleep aids, newborn bean bags, nappy bags and much more! If you're looking for baby shower gift ideas, then you've come to the right place. New mums and babies love the award-winning Lulla Doll, Sleepytot comforters and Mesmerised black and white baby books. Mums and kids across Australia go crazy for the cool range of caps, backpacks, nappy totes and lunch bags from Little Renegade Company. Or choose a handmade keepsake from Timber Tinkers that will be treasured forever.
We ship products Australia wide, including Sydney, Melbourne, Brisbane, Gold Coast, Adelaide, Perth, Darwin, Canberra, Hobart and beyond! No international delivery at this time.
Please visit Lulu Babe's Instagram and Facebook for some cool outfit ideas and inspiration. We love seeing pictures of your beautiful bubs wearing our clothes, so be sure to tag us in your photos ❤️
WHY BUY FROM US?
90-DAY RETURNS
We stand behind the quality of our items 100%. If you're not satisfied with an item for any reason, we will happily refund you as long as you return it within 90 days. So you can shop with peace of mind!
VALUE FOR MONEY
At Lulu Babe, we strive to provide you with unique and on-trend products at the best prices. On top of our already low prices, you can get a 10% discount on your first order just by signing up for our newsletter. You can also buy now and pay later with a range of payment solutions: AfterPay, LatitudePay, Zip Pay and Humm.
FREE SHIPPING OVER $60
We offer FREE shipping within Australia on orders of $60 or more (some brands excluded, including Lulla Doll, Sleepytot and Mini Beanz - please refer to our FAQ). Other orders are charged based on weight and start at just $4.95. There's a handy shipping calculator on our Cart Page (please add your items to the cart first).
BUY NOW AND PAY LATER
We offer a range of buy-now-pay-later options for your convenience. Choose from Afterpay, Klarna, Zip Pay, LatitudePay or Humm to pay in interest-free instalments. 
AMAZING CUSTOMER SERVICE
Our Australian-based customer service team is here to answer all your questions 7 days a week. We are a family-owned and operated business, and we go above and beyond to make sure you have the best experience shopping with us.  
Thank you for visiting our store and supporting our small business.
Bamboletta's Boutique - Baby Shop Perth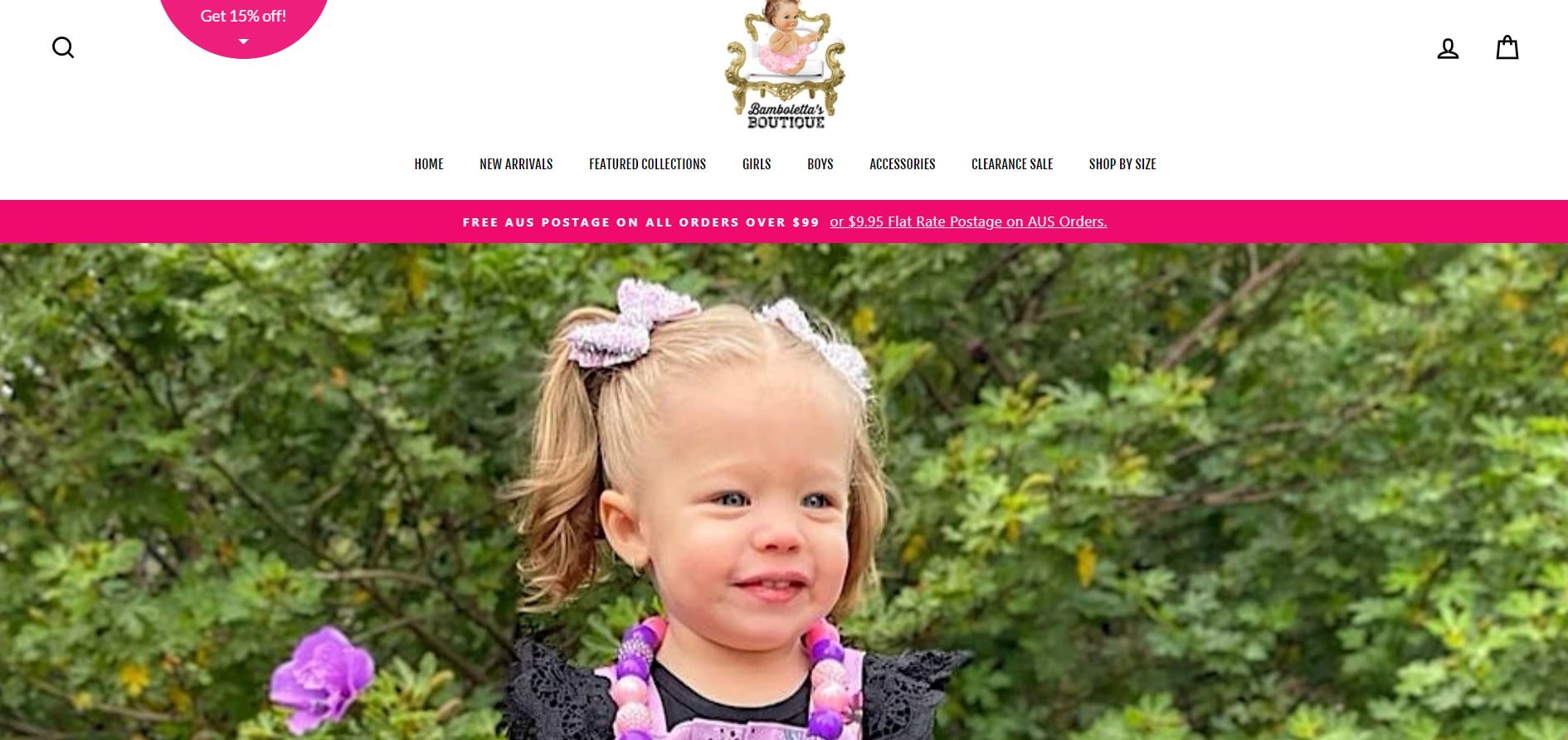 orders@bbonlinebabyclothing.com
Bamboletta's boutique was created to help mum's and dad's build gorgeous yet affordable wardrobes for their little ones. 
We are an online store specialising in baby and children's clothing and accessories. We offer a range of clothing for newborn babies, girls, boys and some specialised adult clothing. Our clothing and accessories are of high quality yet affordable.
We pride ourselves on having excellent quality products that are in stock now to ensure that you do not have to wait for your orders for weeks at a time. We stock all of our products in Perth, WA and post them directly to you from here also. This enables you to receive your orders fast and efficiently so that your little ones are looking adorable in no time. 
Perth residents have the choice to collect their order from our pick-up point in Morley, WA 6062 within 24 hours of placing an order. This service is available Monday to Friday between the hours of 8 am to 4.30 pm (excluding public holidays) 
We know children, what looks good on them and what is in fashion now. We stock many sizes, colours and styles to suit every occasion. At Bamboletta's Boutique, we believe that "Life is not always perfect, but your children's outfit can be", and we can help to make that effortless. We offer secure payment options, including PayPal, Credit Card, and Afterpay. 
As parents ourselves, we know that parenting can be hard at times, but with our help dressing your children shouldn't be. We hope that you love our products, and we thank you for your support. Enjoy xx
WHY SHOP WITH US?
At Bamboletta's Boutique, we're proud to be a Perth based business that sources the most fashionable styles from local designers and global brands.  
What sets us apart from the rest? We are NOT a preorder store 🙌🏼 We stock all of our products in Perth, WA, to ensure that they're in stock, ready to be dispatched within 48 hours. We offer fast, tracked and low-cost postage—free postage for orders over $99. 
If you're looking to add style to your child's wardrobe, take a look at our range of clothing, shoes and accessories for the little love in your life.
Bubbaroo - Baby Shop Perth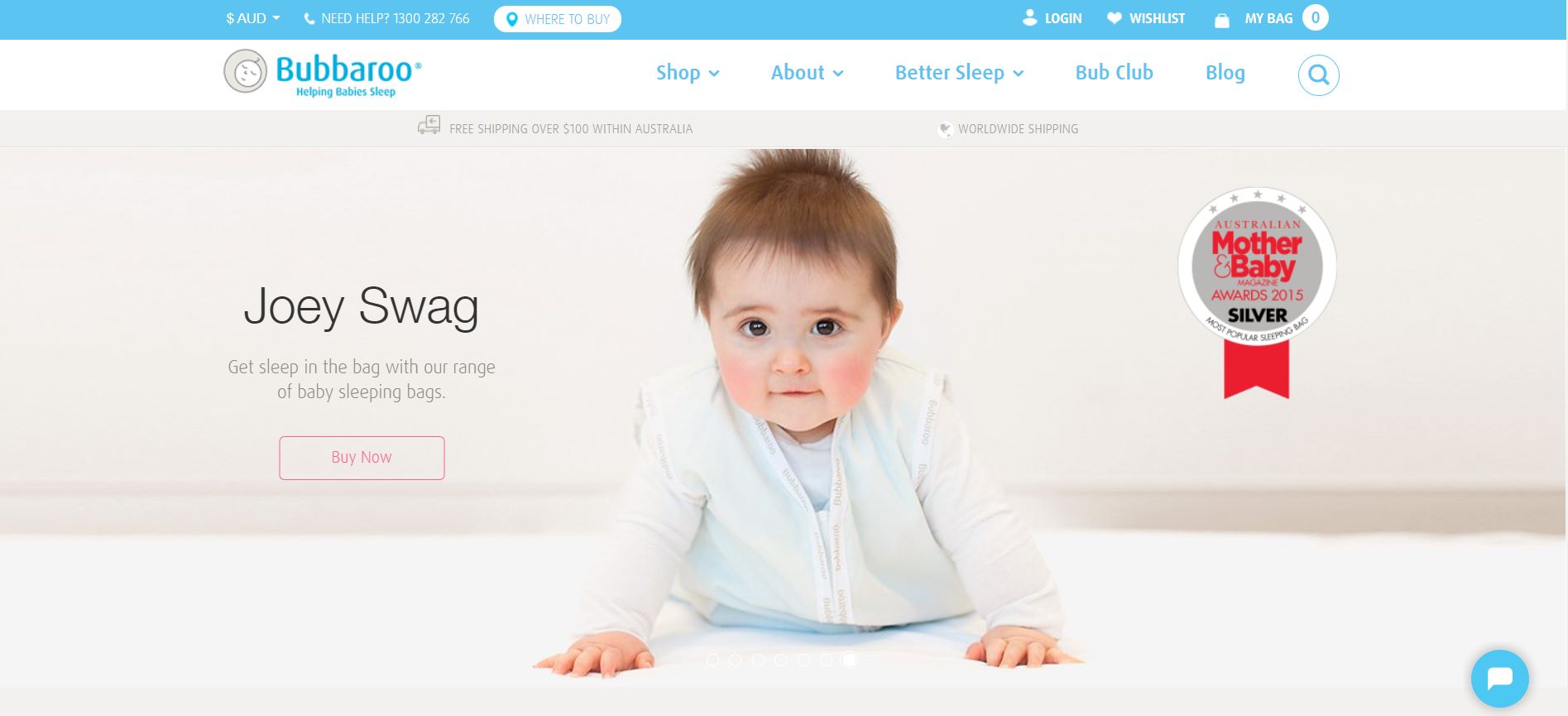 1300 282 769
About Us
Nicole and Kids
I'm Nicole Cassey, Mum, founder and owner of Bubbaroo. I was inspired to create Bubbaroo after the personal experience I had with my first child, Jacob…
As with every parent, my life changed forever after the birth of my son Jacob. When he came into the world screaming his lungs out in 2004, Jacob and I shared many sleepless days and nights with him in constant distress - he would stiffen, arch his back in pain and had an acute "startle" reflex. Three hospital stays, numerous GP visits and lactation consultations, I was very anxious, my baby was in so much pain, refusing to feed and losing weight rapidly. Jacob was finally diagnosed with severe Gastro-Oesophageal Reflux Disease, resulting in his failure to thrive.
To calm him and settle his 'startle' reflex, we tried to swaddle Jacob. Pretty soon, he began to escape the traditional blanket and repeatedly kick it off - I nick named him Houdini. I didn't like using a traditional blanket because I needed to pull the blanket so tight and restrict his movement.  
Sleep deprived and desperate, I searched for a sleep swaddle solution that would allow Jacob freedom of movement without being able to kick himself loose.
There was nothing.
So I decided to create my own swaddle product. As with most innovations, Bubbaroo's first Joey Pouch® Swaddle Wrap was born of necessity, motivation and creativity. I'd finally created a one-size swaddle solution that comforts babies weren't so tight across their chest but allowed for movement of arms and legs without forcing them into any particular position. A swaddle product that simulated a mother's womb and wasn't a straight jacket! Like a Kangaroo's pouch, hence the name Joey Pouch!
At 4 months, when Jacob got busy rolling over and moving around the cot, keeping him covered and comfortable again became difficult, so I created Bubbaroo's Joey Swag® Organic Baby Sleeping Bag as the essential complement and next step after the Joey Pouch® (this was before the launch of the Joey Pod Transitional Swaddle). For the lucky few who manage swaddle-free, the Joey Swag® Baby Sleeping Bag can be used for babies weighing over 4kg (8.8LBS). The Joey Pod Transitional Swaddle can also be used for babies weighing over 4kg (8.8LBS)
I launched our first range of Joey Pouch Swaddle Wraps and Joey Swag baby sleeping bags at the Pregnancy Babies & Children's Expo in Sydney in April 2006! Shortly thereafter, I found out I was pregnant with my second child. 
By the time my second child Emily Grace was born in 2007, she was able to benefit from the Joey Pouch Swaddle and the entire Joey Swag baby sleeping bag range until Em graduated to the 'big bed' milestone. Bubbaroo's unique travel system enabled us to use them when out and about when nap time called in both the car and pram.
Bubbaroo is an Australian owned and operated company. It's like my third child! We're a trusted Australian brand of safe premium baby sleepwear. All our products have been designed by me as a result of firsthand experience and based on extensive research into safe sleep. With input from midwives, Red Nose (formerly SIDS and Kids) and many other healthcare professionals, we conducted over a year of initial market research prior to launching.  
I know what it's like when your baby just isn't sleeping. I've been there and remember feeling so overwhelmed, no one was listening to my concerns about my child's health - I felt like a number and that no one really cared. I don't believe any mother should have to go through what I went through. Yes, being a Mum is really hard work, but I pursued so many different avenues to try to find answers as to why my "healthy" born baby was in constant distress, not thriving and not sleeping. During this journey, I was told "acid is over-rated", "you cannot feed this baby", "this is a Mother issue and just let it go". I was relentless in my quest for answers, and once we got to the bottom of Jacob's health issues, so he wasn't in constant pain and was feeding properly and gaining weight, I was able to work on improving his sleep. We did get there, and my journey with Jacob is what inspired me to create Bubbaroo. I have a passion for sharing knowledge and community. I believe that sleep is essential for our health and well-being for both babies and parents.
Bubbaroo is different because we don't try to be all things to all people. Our entire philosophy is to help families get the sleep they need in the safest possible way. We do one thing, and we do it really well. My primary goal is to help and support parents wanting to improve their baby's sleep safely. This is why we're organising and presenting various workshops. Our workshops are designed to educate expectant parents and parents with some insights into why their baby may be having difficulty settling to sleep or have sleep issues and present low-stress techniques that can be implemented to safely improve the baby's sleep. No two babies are the same, and therefore we don't believe in a "cookie-cutter" approach to baby's sleep.
We're committed to spreading the message on how to reduce the risk of SIDS. The organisation Red Nose (formerly SIDS and KIDS) do not endorse any baby care products. Bubbaroo supports Red Noses' (formerly SIDS and KIDS) safe sleeping recommendations. I personally ensure our designs, fabrics, zips, and all other materials adhere to our vision of premium quality, safety, functionality and workmanship. All our products comply with relevant Australian and European safety standards and are personally quality controlled by me together with an independent third-party testing agency.
At Bubbaroo, we're looking to the future. We're developing new product lines such as the Joey Pod Transitional Swaddle as the second stage after the Joey Pouch Swaddle and using organic cotton and Australian wool and bamboo in our Platinum Range. We're focusing on our workshops and collaborating with various specialists and experts in their field who believe what we believe and have a passion for helping and supporting parents and expectant parents.
As a parent myself, I stand by our exceptional quality and specifically designed safe baby sleepwear, bedding and accessories backed up with the latest research. We're known for our unwavering customer service, caring and supportive philosophy and integrity, our award-winning brand means you have peace of mind...
Bubbaroo. Helping Babies Sleep.
Our Philosophy 
Our entire philosophy is to help babies get the sleep they need in the safest possible way. We do one thing, and we do it really well. We're passionate about sharing knowledge and community with a particular focus on parent education. We ensure we're up to date with the latest safe sleep research and collaborate with specialists and experts in their field that believe what we believe and have a passion for helping and supporting parents and expectant parents.
Brand
We've worked hard to build the Bubbaroo brand into the dedicated premium sleepwear brand that promotes safe sleep. As a parent myself, I stand by our exceptional quality and specifically designed safe baby sleepwear, baby bedding, and accessories backed up with the latest research. We're known for our unwavering customer service, caring and supportive philosophy and integrity, our award-winning brand means you have peace of mind that your baby is in safe hands. Not just another mass-market label, Bubbaroo is a boutique identity that's small enough to retain a personal connection with parents.
Design
Our design is led by the latest research. Gone are loud stimulating colours and gaudy patterns, our stylish colour palette and minimalist designs help the baby settle to sleep and stay asleep. Bubbaroo is about sleep and fostering safe sleep habits, so we keep it simple with chic unisex appeal in keeping with current trends. 
Quality
Bubbaroo is committed to creating high-quality premium products. Our high-quality features – zips, press studs and fabric, are all chosen by me for their superior standard and workmanship. We work exclusively with 100% cotton fabric and are moving towards organic cotton and Australian wool with our Platinum Range. We look to form relationships with producers who share our fair trade ethos.
Innovation
As the first swaddle and baby sleeping bag brand in Australia, we pride ourselves on continually bringing you innovative products and ideas based on the latest research for baby's safe sleep. Born of tenacity and entrepreneurial spirit, our Joey Pouch Swaddling Wrap is unique in allowing for movement and simulating a mother's womb. Our Joey Swag Baby Sleeping Bags are of the highest quality and have a travel system, so they can be used in a pram or car seat when nap or sleep time calls. Bubbaroo is not just a brand producing product, our focus is on helping your baby sleep safely in products that stand the test of time.  
Safety
Bubbaroo puts safety first. All our products are tested in accordance with relevant Australian and European Standards. We employ independent organisations to conduct quality inspections and frequently visit our manufacturers to undertake our own inspections. We spend a considerable of time to ensure we keep up with the latest in safe sleep research, we also collaborate with specialists and experts in their field, including baby sleep specialists, Red Nose (formerly SIDS and KIDS), midwives and other healthcare professionals to allow us to innovate with safety at the forefront.
Our Research
We care about your Bubbaroo. That's why we thoroughly research all of our products with them in mind. We know what a difference it makes to know your bub is sleeping safely and soundly, so we custom design all of our products around our research into better sleep.
With input from midwives, SIDS and Kids and other healthcare professionals, we conducted over a year of initial market research. As we innovate, we conduct extensive market research throughout the product development stage. The outcome of this feedback ensures our designs, fabrics, zips, and all other materials adhere to our vision of innovation, premium quality, safety, functionality and workmanship.
Sleep
Safe swaddling has been proven to reduce the risk of Sudden Infant Death Syndrome (SIDS). Research indicates swaddled bubs experience higher quality sleep with less arousals and, therefore, less possibility of rolling onto their tummy.
Recent studies show incorrect swaddling can be harmful. This research surrounds the tight-binding techniques which restrict movement and can even reduce full lung expansion. 'Straight-jacket' wrapping carries with it the risk of newborns developing hip dysplasia due to the lack of natural joint and bone movement through the hips and pelvis.
SIDS and Kids recommend using a safe baby sleeping bag: one with fitted neck and armholes and no hood. Sleeveless sleeping bags are recommended because they provide for airflow. You can add layers of clothing rather than bedding if bub is cold.
We use all of this research to differentiate Bubbaroo in the marketplace. We make smart products backed by comprehensive inquiry into what's best for bub and you.
Safety
The highest endorsement we can give as to the safety of Bubbaroo products is to tell you that we use our products on our own bubs. In fact, our bubs were the inspiration for the Bubbaroo brand and our focus on delivering consistently safe, trusted products that stand the test of time.
All our products comply with relevant Australian and European safety standards and are personally quality controlled by Bubbaroo as well as independent third party testing and quality agencies.
We test our Joey Swag sleeping bags under British Standard BS 8510:2009 Safety of Children's Sleep Bags because this standard ensures no chemical hazards, thermal hazards or mechanical hazards, including entrapment, entanglement, choking and ingestion, suffocation, structural integrity as well as flammability.
We also test our Joey Swag sleeping bags under AS/NZ 1249:2003 Children's Sleepwear and limited daywear as having reduced fire hazards.
Our Joey Toy® also complies with various toy standards in Europe (EN71 1mechanical & physical properties, EN71-2 Flammability, EN71-3 Specification for migration of certain elements) and Australia (AS/NZS ISO 8124).
Our Craft
At Bubbaroo, we make it our business to craft rather than just source product. Our products are a result of thoughtful consideration and care – we like to think of ourselves as the anti-mass market. We prioritise safety, workmanship, quality and ideology at every stage. Each of our products is born of experience and necessity. The Bubbaroo process moves from ideation to design to creating samples. We then refine the samples by tweaking the design and materials. Next, we trial our samples out there in the baby sphere and then distil the all-important feedback from parents into furthering our design evolutions. Finally, we refine and refine again until each product is functional, beautiful, safe and fabulous.
Bubbaroo holds regular focus groups to hear what parents have to say about how our products are performing in their lives. All of our products undergo stringent testing through independent companies, making sure the process is standardised and highly professional. 
We have a saying at Bubbaroo that a product is only as good as what it's made from, and that's why we insist on premium quality of materials and craftsmanship. We use 100% knitted cotton waffle, YKK zips and YKK press studs, knitted cotton for our blankies and 100% cotton lining and exterior. Our new Platinum range also uses Australian wool padding, organically grown 500 thread count cotton sateen and rayon from Bamboo fibres.
Bassinets and More - Baby Shop Perth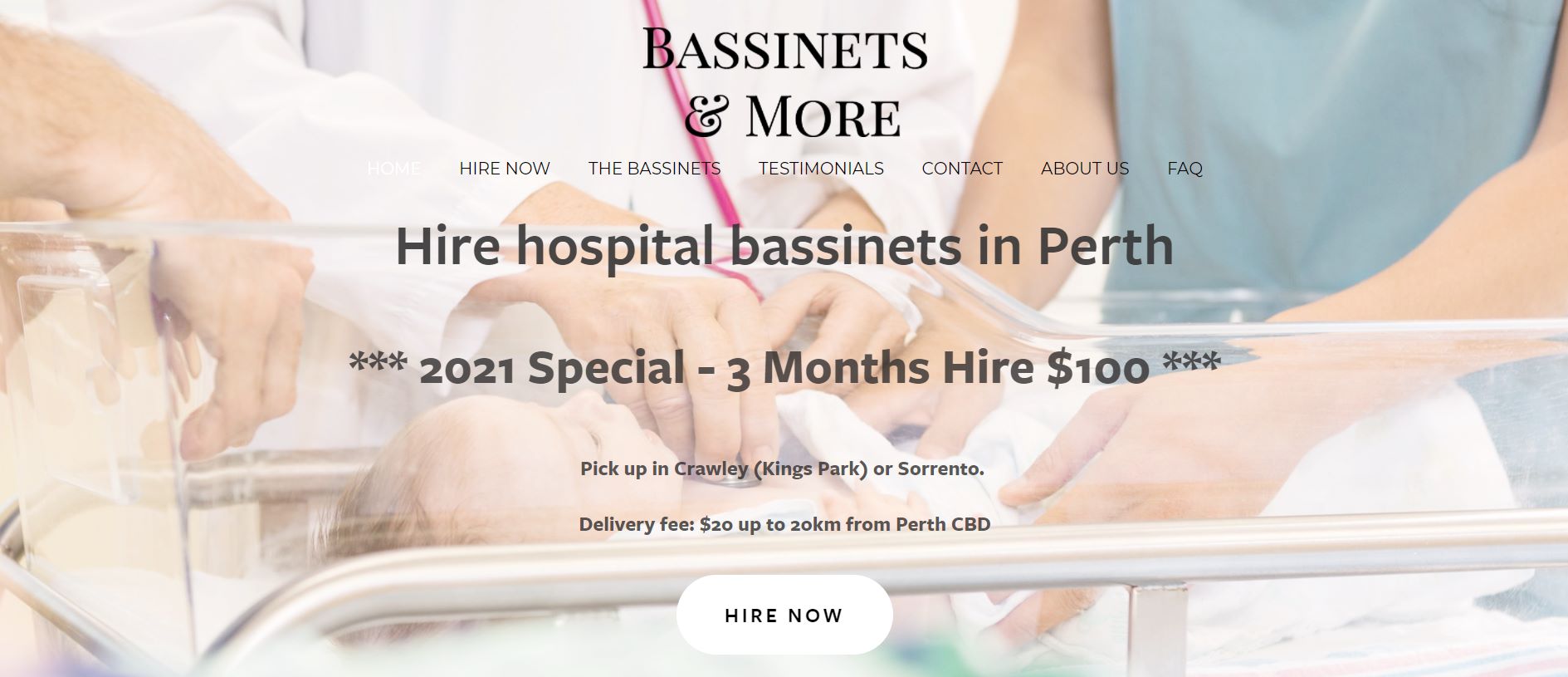 0423 195 138
The first hospital bassinet hire in Perth
Bibi Ward, a mother of 2, established Bassinets and More in 2003.
Bibi was passionate to find a solution to poor quality baby equipment on the Australian market. She wanted to replicate the comfortable conditions of the maternity ward into families homes. 
Bibi is a pre-primary teacher by profession and has worked in various schools in the Perth area. She is a keen entrepreneur, opening her first business in 1997, "Play and Learn", for children aged 4-8. 
A bed, bath and change table all in one! 
Owning the largest bassinet fleet in Perth, we are able to provide you with a hospital bassinet the day that you need it. No wait required!
Our bassinets are exactly the same as the maternity ward in Australian hospitals. 
All our bassinets comply with Australian safety standards and are checked and cleaned after every use.
On Chic Baby Clothes - Baby Shop Perth
Ethical. Beautiful.
Simple, Beautiful & Kind
On Chic Baby Clothes is the go-to shop for gifts, or if you are a mum and want shopping for your baby to be simple. 
The quality lies in the ethics of each piece. Everyone is made with sustainability in mind. Our clothes not only look luxurious, they feel beautiful to the touch and talk to the heart.
Our range of bespoke babywear is the very best of Australian and New Zealand brands. We have something special for every new arrival to the world.
Cloth Nappies
Whether you are looking for a solution to nappy rash or want to minimise the amount of waste in landfills, the My Little Gumnut Modern Cloth Nappies are a popular alternative to store-bought nappies.
Rompers
We all want the best for our baby, and that's why we have selected the very best to display. All of our Rompers are chosen for their style, softness & durability. It's the little things that matter to us.
Gifts & Bundles
Send a gift to let a loved one know you care. So exquisite, you'll want to have one for yourself! Or grab a pre-packaged set and save time shopping.
A Mother with a Mission
Hi, I'm Natasha, a mother of four who is passionate about offering mothers a simple, beautiful and ethical solution to dressing their littlest loves.
Stocking the highest quality clothes from around Australia and New Zealand. I personally shop for the pieces in our store and let our children and friend's children road test each and every one.
Customers feel confident that they are giving their child the very best when they order from us. Each order is carefully wrapped and sent with love.
Natasha xx
Mum 2 Mum - Baby Shop Perth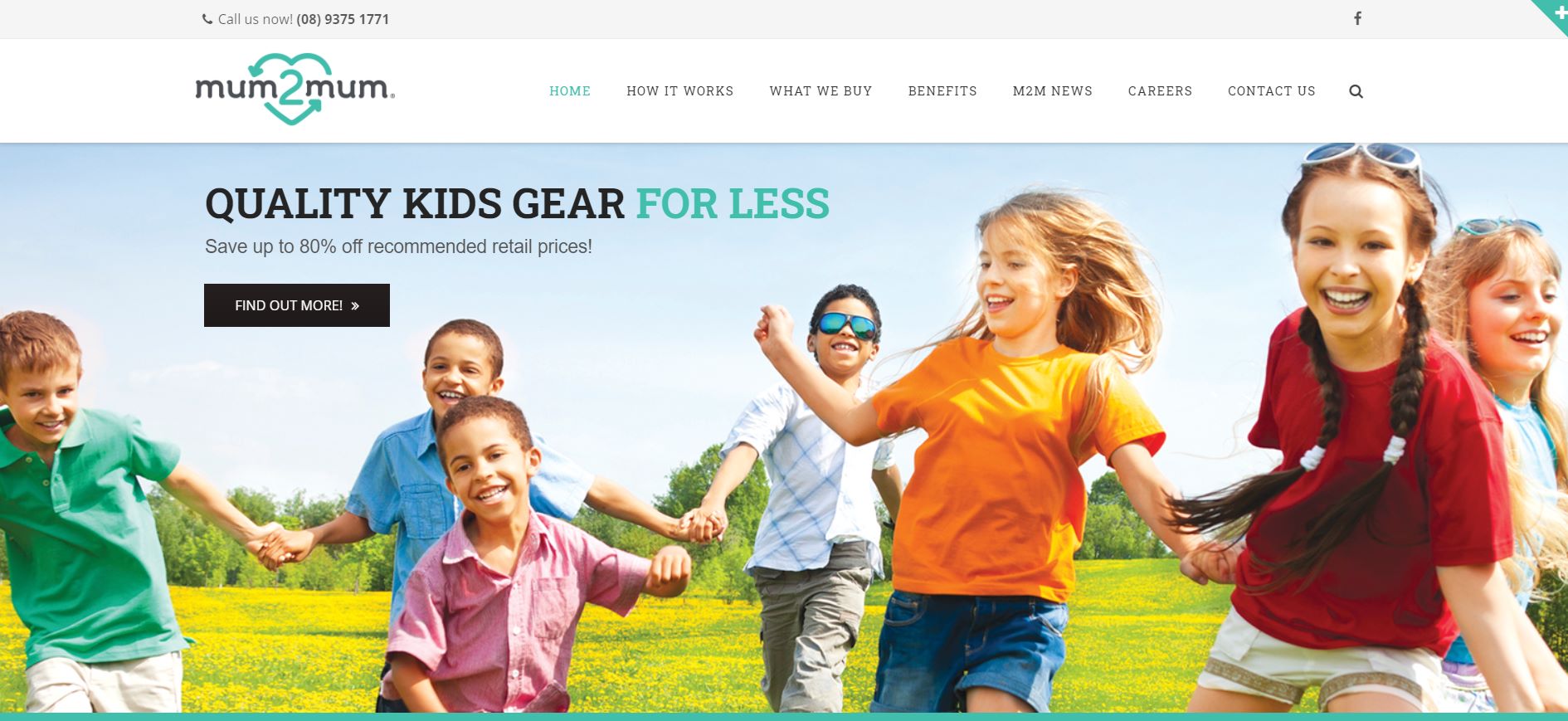 (08) 9375 1770
We buy and sell lightly used kid's stuff. Simply bring in the items your kids have outgrown or are not using, and we will offer you cash on the spot.
HOW IT WORKS
Step-1: BRING IN YOUR LIGHTLY USED ITEMS
Bring your lightly used kid's items that are still in good condition (clothing, toys, books, equipment and furniture) into our store for us to review and purchase.
No appointment necessary.
Step-2: REVIEW OF YOUR ITEMS
One of our staff members will review your items carefully and select the items that meet current style, safety and condition standards.*
While you are waiting, you can browse through our store where you are sure to find some excellent bargains. We stock many designer labels, and you can expect to pay up to 80% less than in other stores.
Step-3: CA$H
You will be provided with a quote and CA$H on the spot for all items accepted.
You will leave with some cash, great bargains, or even both!
*Disclaimer
Clothing must be in good condition, of current style, freshly laundered and neatly organised. Two-piece items placed together.

Toys, equipment and furniture must include all original parts, be clean and in good working condition.

At Mum 2 Mum, safety and product quality are our top priorities. Therefore, there are some items we are unable to buy. These include car seats, formula, recalled items, some personal items and products not meeting Australian Safety Standards.
Benefits of Buying & Selling at Mum 2 Mum
We are up to 80% cheaper than retail.

We sell brand new items as well as second hand. Younger kids are not likely to know the difference. Everything will seem new to them.

Get some much-needed space at home when you de-clutter and bring in everything your kids are no longer wearing, using, reading or playing with.

Good for the environment: items have a longer life span. There is less thrown out and therefore less landfill.

Good for the community: families help each other by paying it forward or paying it backward. When you find a bargain in our store, it is due to the help and generosity of the person who sold it to us. Families who are struggling will be able to afford designer clothing labels and good quality toys, shoes, books and equipment. You are supporting a local business and keeping the money in our community.

Kids are happy because they can get more toys, books and clothing more frequently, and their adult is more likely to say "yes!"

Adults are happy because they can buy so much more for their money, and the smart adults will work out they can buy something from us, use it for a few months, then sell it back to us, and this is a very cost-effective way of providing for their kids.
Anything baby - Baby Shop Perth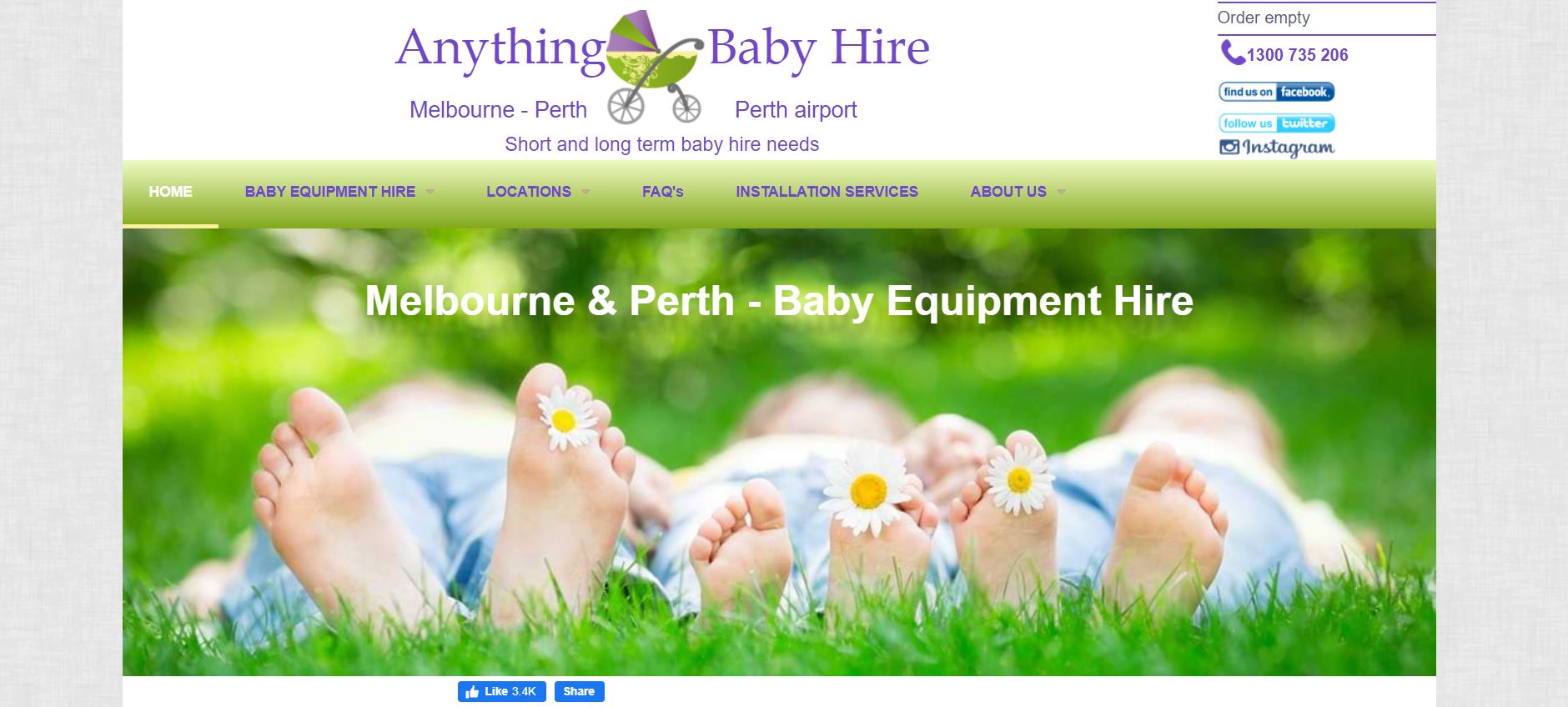 1300 735 209
Welcome to Anything baby!
We are currently servicing Melbourne, Perth and Perth Airport. All branches offer quality service for all your baby equipment hire needs. We provide a wide range of baby equipment for hire at the best prices, and the complimentary installation by our certificate team will help you keep your newborn safe and secure at all times.
Baby Equipment Hire
Affordability. Safety. Convenience. Service.
Whether you live in Melbourne or Perth and don't want to keep buying expensive baby equipment, or you're travelling and don't want to risk having yours damaged in transport, join all the parents who've figured out why hiring is better than buying.
With Anything Baby Hire, you'll be taken care of every step of the way. Our highly trained, nationally accredited teams based in both Perth and Melbourne have 8+ years of experience. We deliver, install, and professionally fit your baby equipment to ensure your little one's safety. We also provide a full installation service (including your own car seats) at the airport, at your hotel or Airbnb locations, so your baby equipment is securely installed and ready to use before you even arrive.
We understand that being able to adapt quickly is key when it comes to young kids. That's why we have a range of flexible hire plans to suit all situations and budgets. Have a look at our range of baby capsules, car seats, boosters, cots, prams, and high chairs, including:
Maxi Cosi Capsules, Car Seats & Strollers

Britax Safe n Sound

Baby Jogger

Chicco

Baby Love
Baby equipment hire - package deals?
Anything Baby Hire offers a fabulous range of discounted packages deals designed to make being away from home more comfortable. From car seats and prams, port-a-cots, or even equipment for travelling with twins, we can customise a package to your needs.
MAX & HOUND - Baby Shop Perth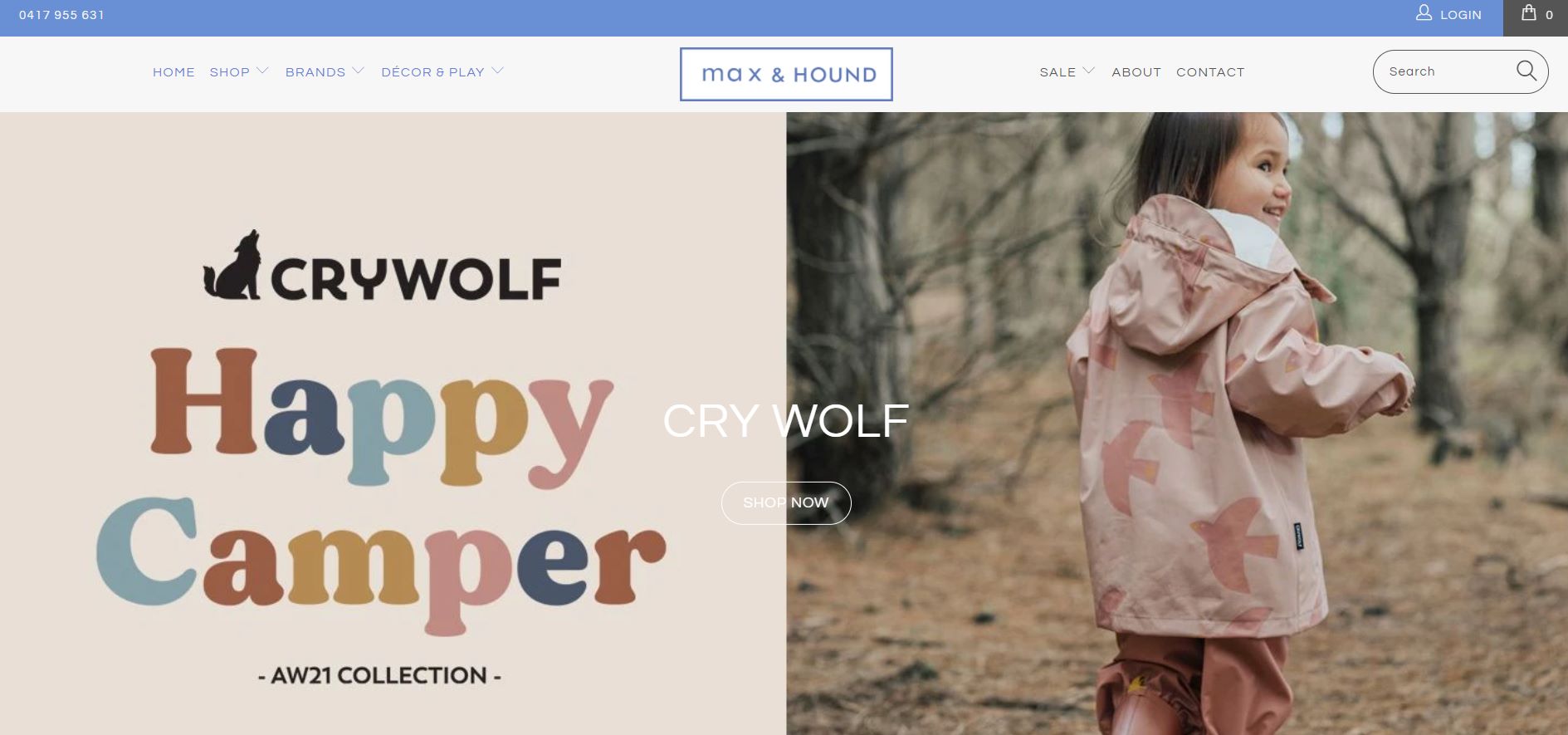 0417 955 630
WELCOME TO MAX & HOUND
For the newborn through to 7 years of age, MAX & HOUND present stylish on trend clothing, offering style and comfort for all ages. Designers from Australia and Overseas, unique brands and quality fabrics. You will find clothing, blanket and wraps, children's decor for the nursery and the toddlers room, plus toys and gifts to be treasured. The products are chosen with love and care and are everything that we would want ourselves. We trust you will enjoy them as much as we do.
ABOUT US
"MAX & HOUND" is a brick and mortar boutique with an online presence based in Maylands, Perth. My beautiful Grandson Max is the inspiration behind the store.
Becoming a Grandma is such an amazing and precious experience - little Max lights up our lives with his infectious smile, watching him grow and play brings so much joy into our lives.
Local and overseas brands are sourced with ethics and sustainability always considered in our choice. Catering from newborn to 8-year-olds, every product is chosen with love and care, offering on trend style, unique brands and quality fabrics. 
You will find a wide selection of clothing, blankets, wraps, children's decor, gifts and toys available at MAX & HOUND, including organic clothing, handmade toys, and a selection of Australian designers.
Looking for that special baby shower present, gift for a newborn or older child, we can help you right here!
Browse and enjoy Max and HOUND as much as I do.
With love,
Donna​
Cloth and Carry - Baby Shop Perth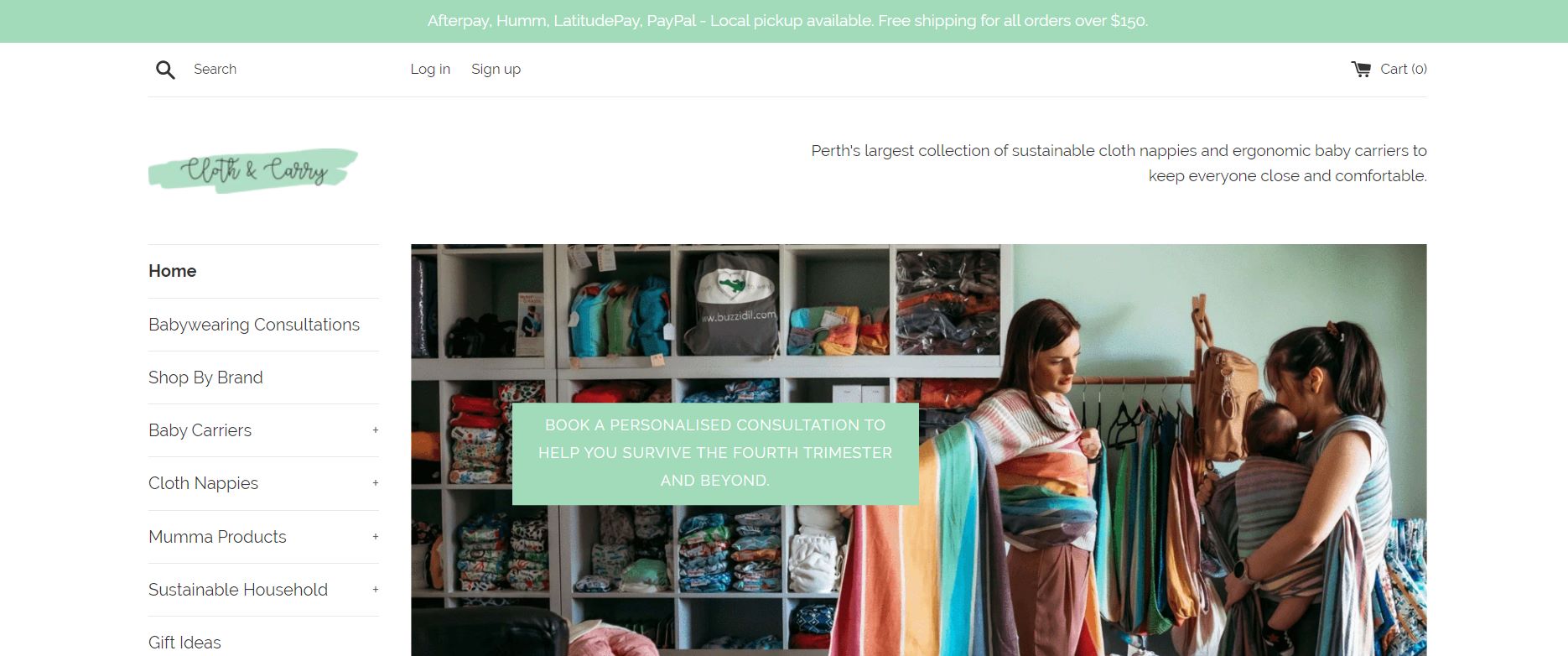 Hey there! Welcome to Cloth and Carry.
Hi! I am Alyce (pronounced like Aleese). 
I have owned an online baby boutique business since March 2016 (rebranded from Baby Mumma Perth to Cloth and Carry in December 2019) and love to help families find the right baby carrier and/or cloth nappy for their little people. 
I initially got into babywearing because it offered unlimited cuddles and easy access to beautiful baby smells. I started out with a basic soft structured carrier, borrowed a ring sling from a friend's friend, then fell down the rabbit hole and bought a woven wrap and a meh dai. I've since owned more carriers than I care to admit, but I still reach for my ring slings the most. 
The slippery slide into MCNs quickly followed behind (wink!) along with a shift to an increasingly more environmentally-friendly lifestyle. It took a little longer to get my husband Travis on board, but he will now happily spruik the ease and environmental benefits of using modern cloth nappies to anyone who will listen.
I have volunteered on the committee for Baby Wearers Western Australia Incorporated since October 2018 and completed a Babywearing School Australia Ambassador course in October 2019. I hope to soon become a fully qualified Baby Wearing Consultant. I am also a member of the Australian Nappy Association and the Waste Management and Resource Recovery Association of Australia (WA). 
You might find me at baby markets around Perth every few months, so please come by and say hello!
For advice or a general chat, please do not hesitate to get in touch. 
Juno Kid's - Baby Shop Perth

0415 490 473
OUR STORY
Running since 2013, our unique children's boutique strives to find the best quality and affordable products for you, right at your fingertips. 
Western Australia's number one store to come to for children's formal wear. 
Our "Formal range" carries beautiful Communion dresses, flower girls dresses, boys formal suits and Christening gowns for ages 3 months to 20 years.
Our product range is for baby boys and girls - ages 0-2 years and young girls and boys - ages 3-16 years.
We hope to make your life easier by searching the globe and bringing you the most unique and funky items from around the world.
Simply pop into our store at Westfield Booragoon Shopping Centre (Opposite Myer)
INFO
We are Australian owned and have our warehouse here in Western Australia, we ship Australia wide and International. Be sure to pop by our store if you are close by.
Shipping cost is calculated at checkout, and all our postage is via Australia post.
Payments are made via our secure credit card merchant or PayPal.
Returns & exchanges are accepted under certain conditions.
Room for Two - Baby Shop Perth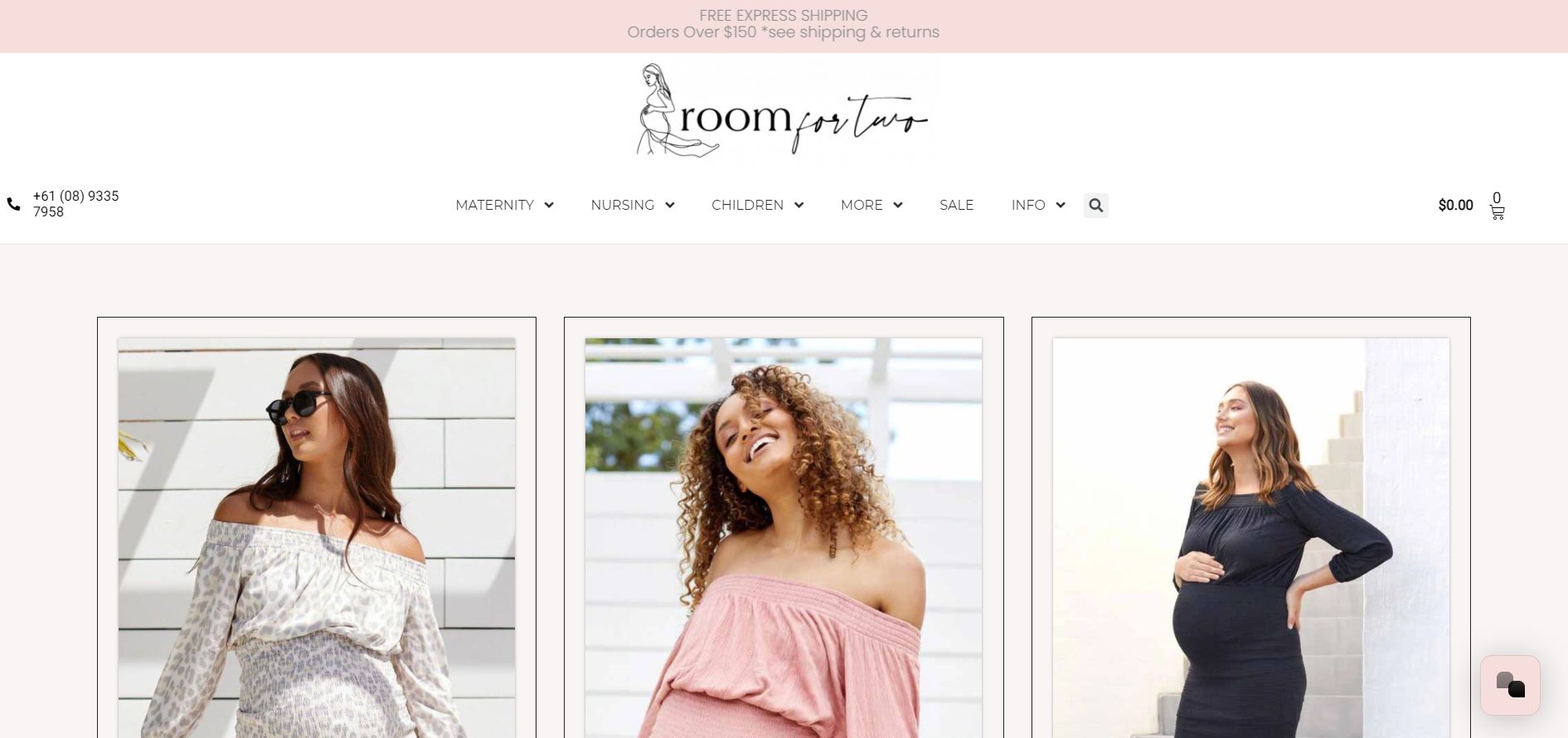 08 9335 7953
Room for Two is a name known by many mums and grandmothers in Perth – for over 40 years, it was open in Subiaco.
Now you can find our maternity stores with a curated range in Fremantle SOR and Whitfords NOR, where our staff will look after you for your needs in comfort and style.
We are also in the online world making stunning, comfy, casual, and business wear for bumps and beyond, easily accessible in the comfort of your home Australia wide.
Story
I, Lene, have been in the baby product industry since 2015, building my very own teething toy brand known as Eiress IdaBee, which has been stocked in several Australian stores and sold worldwide. (Update – due to time limitations, this brand is dormant)
In 2019 I began to feel itchy to expand and started looking into pregnancy and nursing products because I think mums often forget themselves when they are doing the most important job there is.
That is when I saw Room For Two was closing down, and I told my husband about it thinking perhaps to check it out for stock purposes. Little did we know we would walk out, ending up with the name and branding.
So in September 2019, together with my husband Chris, we took over the store's name and online presence. Such a unique name, with a unique story, last maternity store standing in Perth, not to mention the longest-running maternity specialised store – we just couldn't see that disappear.
After all – I went there when pregnant in 2013, and so did Chris' mother when she was pregnant back in 1978 (which is the earliest year we know this shop operated – if you have any info before that year, please get in touch). We hear about today's grandmothers that visited Room For Two back in the 80's which is always exciting.
After a few months focusing on online presence and doing a couple of pop-ups, we knew that we had to open a permanent store with a change room where mums could come and try in a time when the body is changing so much.
We have continued stocking the same quality and trusted brands such as Ripe, Angel Maternity, Cadenshae, SRC Health and lots more – and are proud to include new boutique brands such as Legoe, Bae The Label, BIBS, Snuggle Hunny Kids, Strucket and more.
Our brands are sourced with quality and breathability in mind. We love the thought of it being fabulous both for pregnancy and breastfeeding, so the majority of our stock will last through both stages.
They are made to support you through pregnancy, birth and during your postpartum time, and is of such great quality to last you through the next pregnancy too.
One of the things I love the most is to meet all the fantastic mums of Perth and provide those stunning quality brands often only seen online.
Let us join your exciting journey and make it as comfortable and stylish as possible.
Browse our ever growing range – and we are always here to listen if you have any requests.
Xx
Room For Two 
Verde Baby - Baby Shop Perth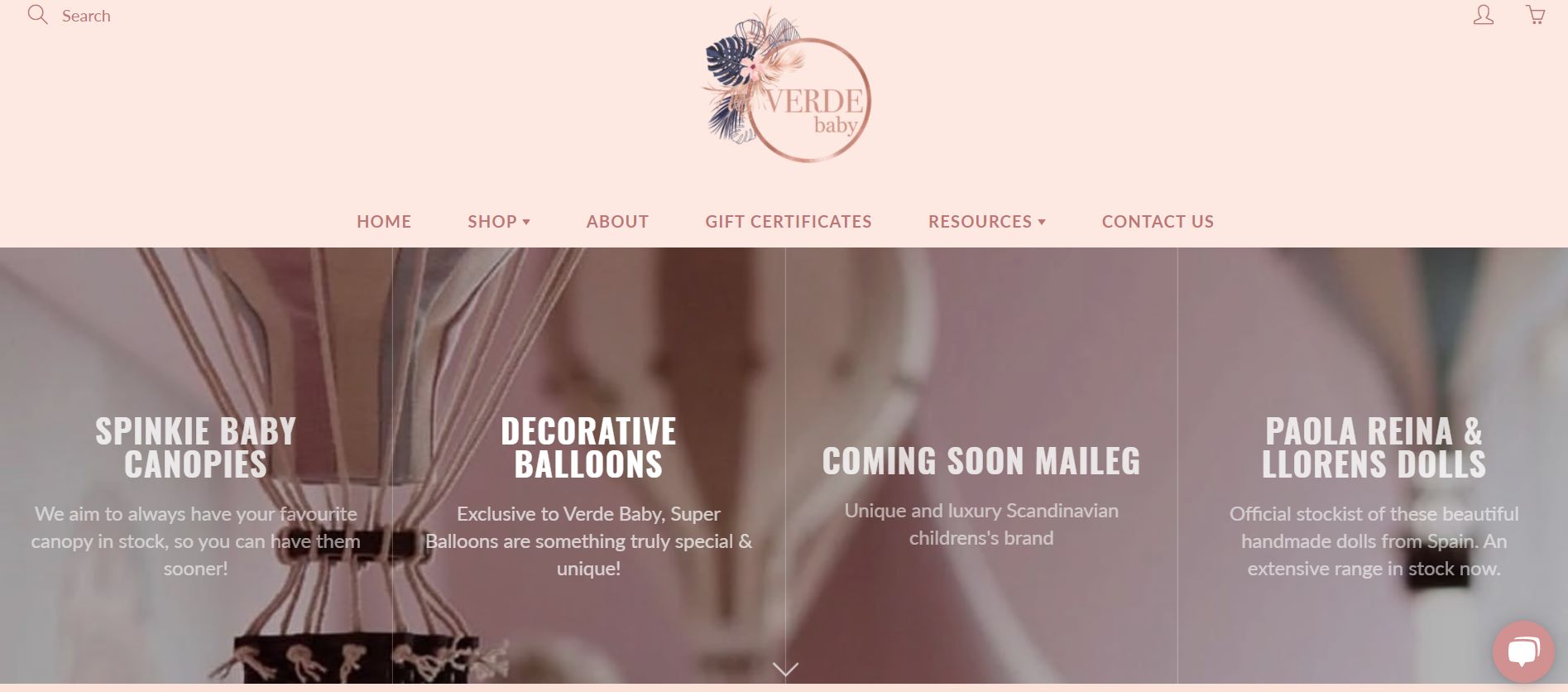 +61478777877
Welcome to Verde Baby! 
We are 2 sisters, both Mums with 4 kids between us - two boys and 2 girls. Our lives are crazy busy, like all of us with children. We've always loved high-quality pieces that take the ordinary to the extraordinary, and we love that the beautiful pieces we have at Verde Baby do just that.
Verde Baby is a collection of beautiful decor, toys and accessories for young children that support other mums in small businesses, ethical practices and eco-friendly products.
As mums, we all strive to find pieces that look fantastic but remain practical, durable, safe and affordable. 
We hope you love our collections as much as we do, and if there is ever anything particular you would like us to stock, just let us know. If you have any questions or want to collaborate, send us a message, we'd love to hear from you. 
Tamara & Alyssa 
Snuggly Bubs - Baby Shop Perth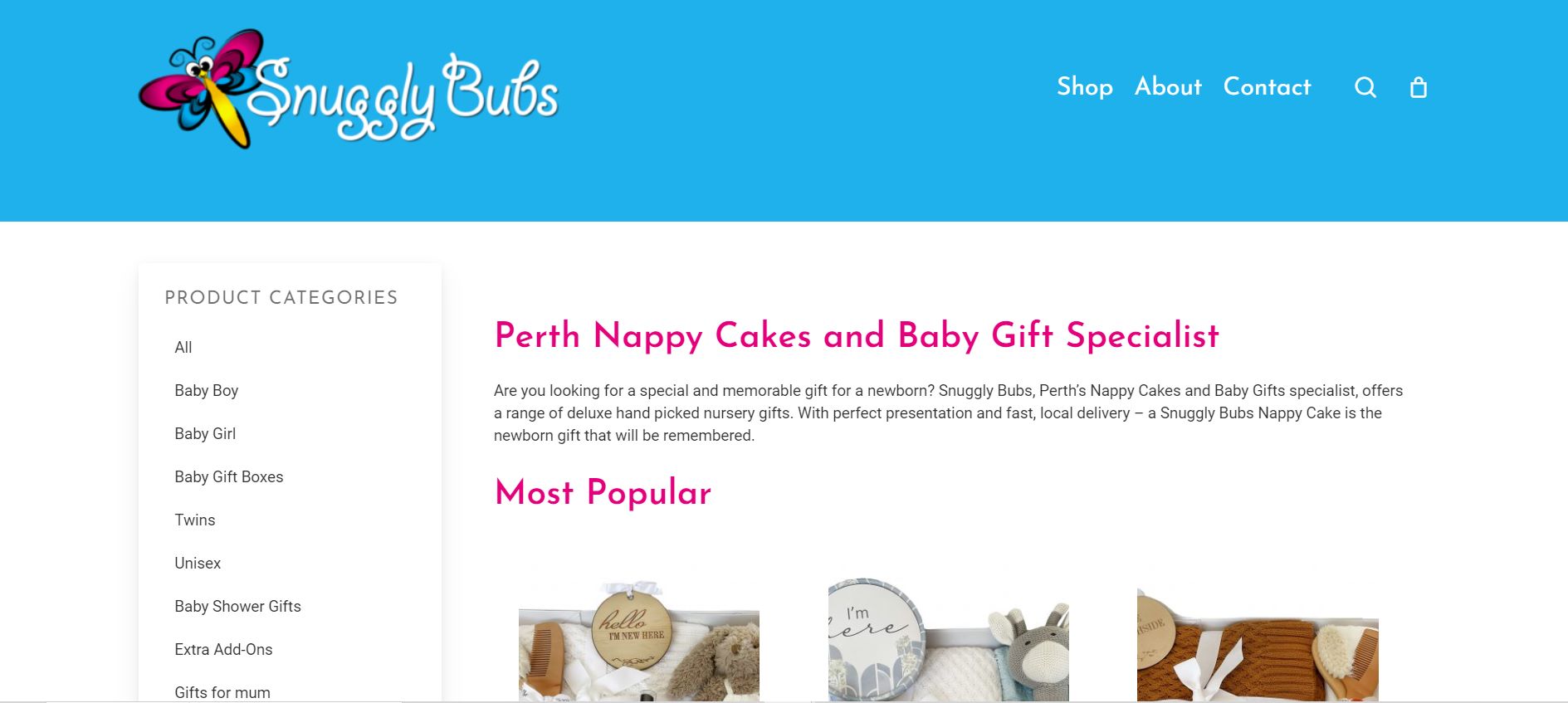 0439 947 716
Snuggly Bubs – WA owned and operated Nappy Cake Specialist
While shopping for a friend's baby shower and finding the same things in every single store, we knew there had to be other people out there like us wanting to buy unique gifts for family and friends. So Snuggly Bubs was born, and after the overwhelming response we had from our very first cake at our friend's baby shower, we knew this was going to be a product everyone would love.
We are a small locally owned business specialising in designer nappy cakes. All the products we use in our cakes are well-known quality brand names. With fun educational toys and items for bub, mum and dad will love the range of practical items that are sure to be used on a daily basis.
Imagine Mum and Dad's surprise when their new cake is presented at their home, in hospital, or at the baby shower.
GO ON, YOU KNOW THEY WILL LOVE IT!
What is a Nappy Cake?
A nappy cake is a thoughtful gift for any new parent and their baby. At Snuggly Bubs, we combine whimsical baby gifts with practical baby care products that we know parents of newborns will appreciate.
The basis of any Nappy Cake is top quality Huggies nappies, combined with muslins, rattles, soft toys and other elements, arranged in the form of a cake. Parents may choose to use all the gift items immediately or display the Nappy Cake in their baby's nursery as a decorative element.
Our wide range of Nappy Cakes has been created to offer a wide selection of baby girls, baby boys, twin and unisex gifts for every taste. Whether you are seeking a corporate gift for a valued client or team member or welcoming a new family member, Snuggly Bubs can help.
BabyHeart - Baby Shop Perth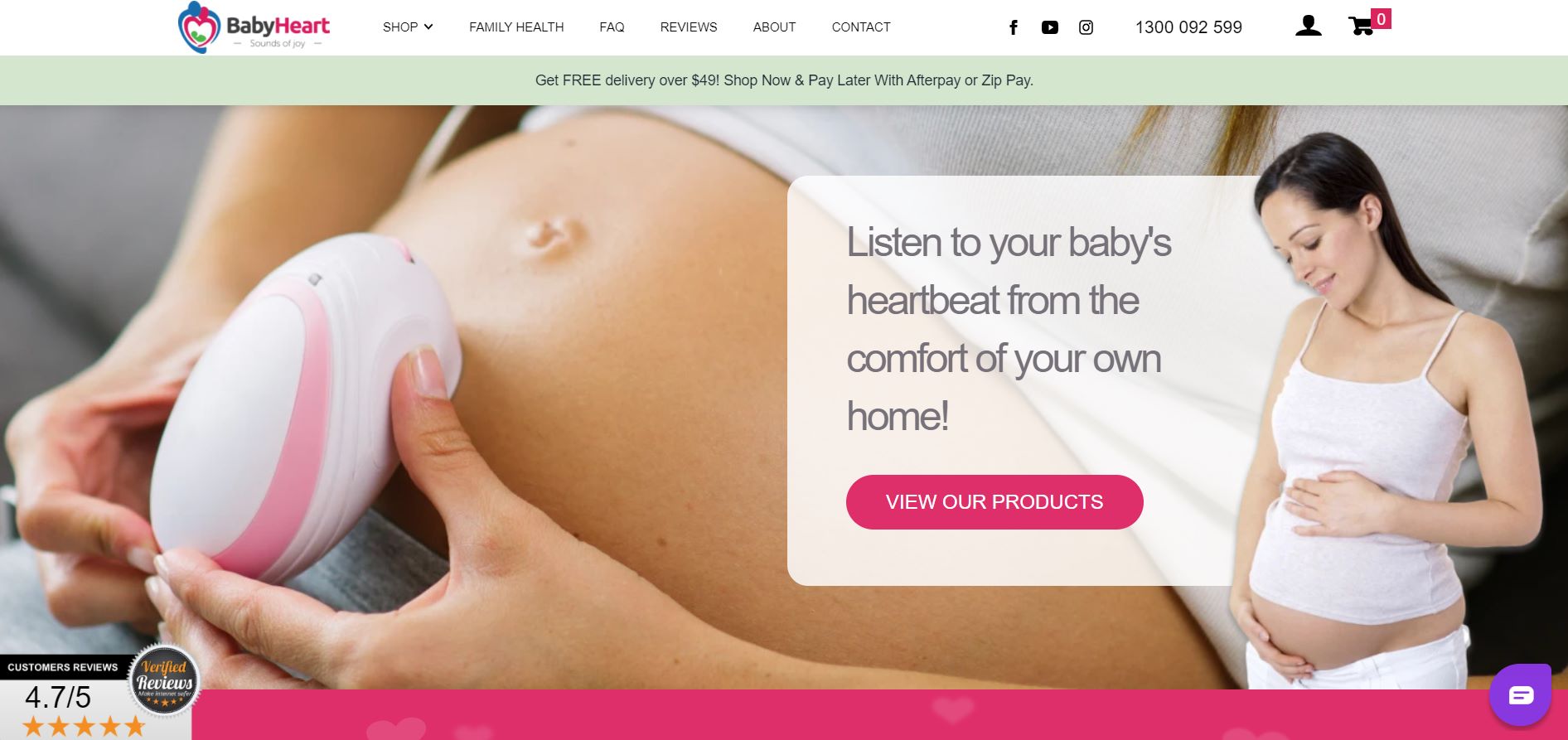 1300 092 590
What Is a Fetal Doppler?
A fetal doppler is used to listen to a baby's heartbeat while it is still in the womb. It uses safe ultrasound technology to send high-frequency sound waves into your abdomen. When the sound waves encounter movement, such as your baby's heartbeat, it sends a signal back to the device through the handheld probe. The signal is then translated into a sound which is then amplified so you can hear it.
Why Choose BabyHeart
When it comes to the health and safety of your baby, there's no better partner during your pregnancy than the BabyHeart Fetal Doppler Monitor. We carry the largest selection of baby fetal doppler products that are ARTG registered for safety and effectiveness. Our innovative product allows you to monitor the heartbeat of your baby throughout its pregnancy, bringing reassurance, joy and lifelong memories to expecting parents, as well as their friends and families.
About BabyHeart
When it comes to the health and safety of your baby, there's no better partner during your pregnancy than the BabyHeart Fetal Doppler Monitor. As industry leaders, we carry the largest selection of baby fetal doppler products that are ARTG registered for safety and effectiveness. Our innovative product allows you to monitor the heartbeat of your baby throughout its pregnancy, bringing reassurance, joy and lifelong memories to expecting parents, as well as their friends and families.
WHY USE A FETAL DOPPLER MONITOR?
As a new parent, you can be nervous about the health and development of your baby. Being able to find and listen to a baby's heartbeat for the first time can be exciting, and it can help to prevent a wide range of health problems, including a miscarriage, by giving you early detection of any problems with your baby's health.
BABYHEART'S MISSION
By harnessing the power of advanced technology and innovative solutions, we are enabling pregnant women to safely and confidently listen to the heartbeats of their babies.
WHY SHOP WITH US?
There are many reasons our customers choose us for all of their baby fetal doppler monitor needs. We offer high-quality products at competitive prices, and our express next day delivery service to most metro areas within Australia ensures that you receive your order fast. We offer a risk-free 30-day money back guarantee and the convenience of shopping either online or in-store at our retail shop. You can even use our After-Pay payment method, which enables our customers to sign up for an instalment payment plan that will make getting their new baby fetal doppler easier and much more affordable.
CONTACT US
You can contact BabyHeart's premium customer service team by calling us on (08) 6454 3871 or by emailing us at customersupport@babyheart.com.au.
Merry-Go-Round - Baby Shop Perth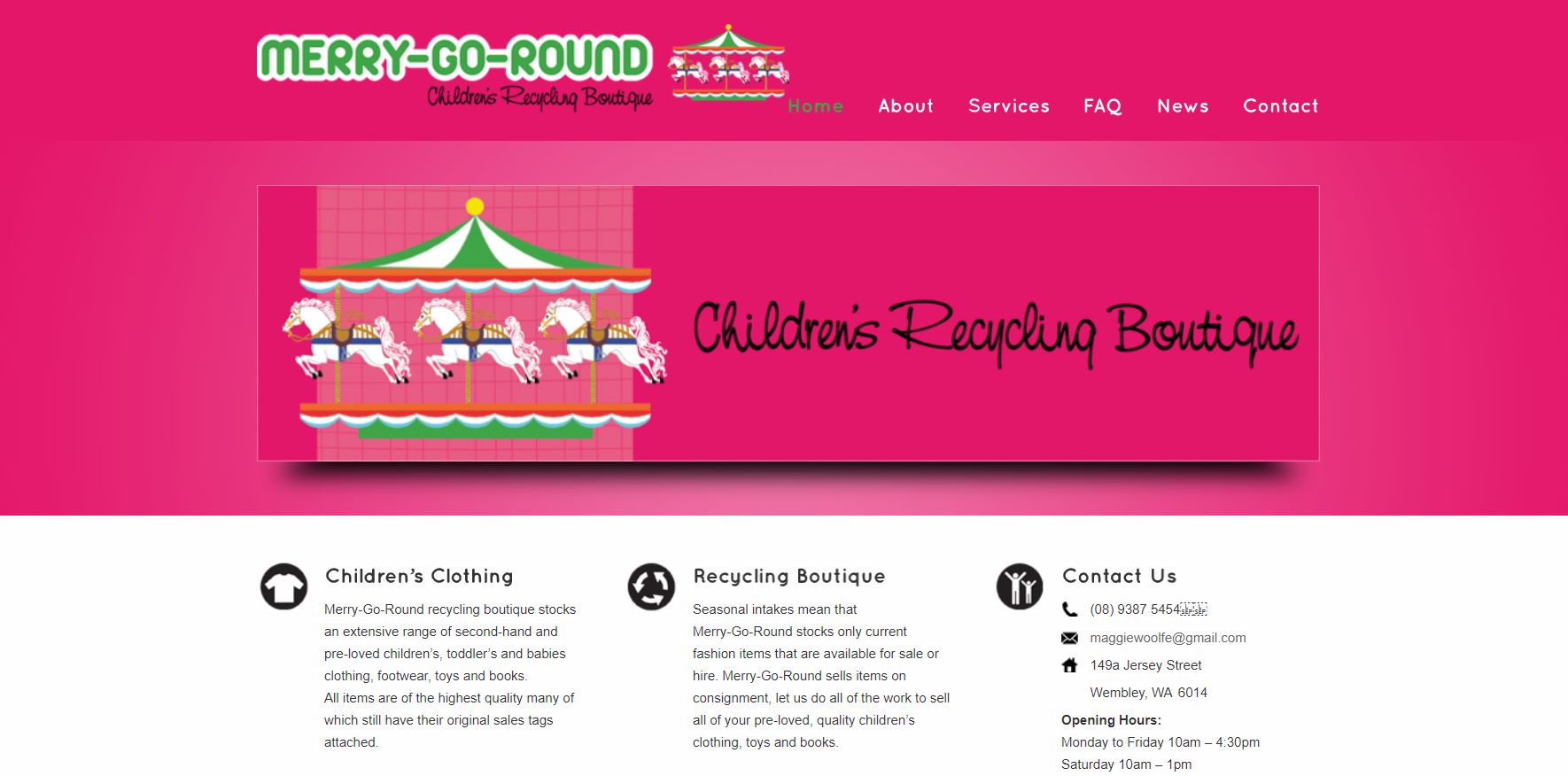 (08) 9387 5457
Children's Clothing
Merry-Go-Round recycling boutique stocks an extensive range of second-hand and pre-loved children's, toddler's and babies clothing, footwear, toys and books.
All items are of the highest quality, many of which still have their original sales tags attached.
Recycling Boutique
Merry-Go-Round stocks only current fashion items that are available for sale or hire. Merry-Go-Round sells items on consignment, let us do all of the work to sell all of your pre-loved, quality children's clothing, toys and books.
Merry-Go-Round Children's Clothing Recycling Boutique
For your convenience, Merry-Go-Round is open Monday to Friday from 10:00 am until 4:30 pm and Saturday from 10:00 am until 1:00 pm. Come in, and our friendly staff can assist you with a purchase from our extensive range of quality children's goods.
Shopfront parking is available for easy access. Merry-Go-Round boutique stocks an extensive range of Recycled designer clothing for kids from Australia, New Zealand, the UK and Europe for that stylish & individual look that many shoppers desire, all in near new condition & well presented. Merry-go-round also stocks formal wear in sizes from newborn to age 14 for Special occasions such as Weddings, Holy Communion and other formal occasions at affordable prices.
Our store provides a welcoming atmosphere to customers where they can feel relaxed and under no pressure while they shop with their children. EFTPOS is an available store, and we accept American Express, Mastercard & Visa credit cards for payment of goods.
Established in 1987 and located in Perth, Western Australia, the Merry-Go-Round concept provides an outlet for the sale of quality recycled children's clothing and other items at affordable prices. In 2020 we celebrated our 32nd year in business. We strive to provide excellent service & quality items as one of the longest trading recycled children's boutiques in Western Australia.
Merry-Go-Round is committed to always providing a friendly and personalised service to both in-store customers and telephone enquiries. Merry-Go-Round retails quality recycled designer clothing for children and other items that are just too good to throw away.
Little Lovebird - Baby Shop Perth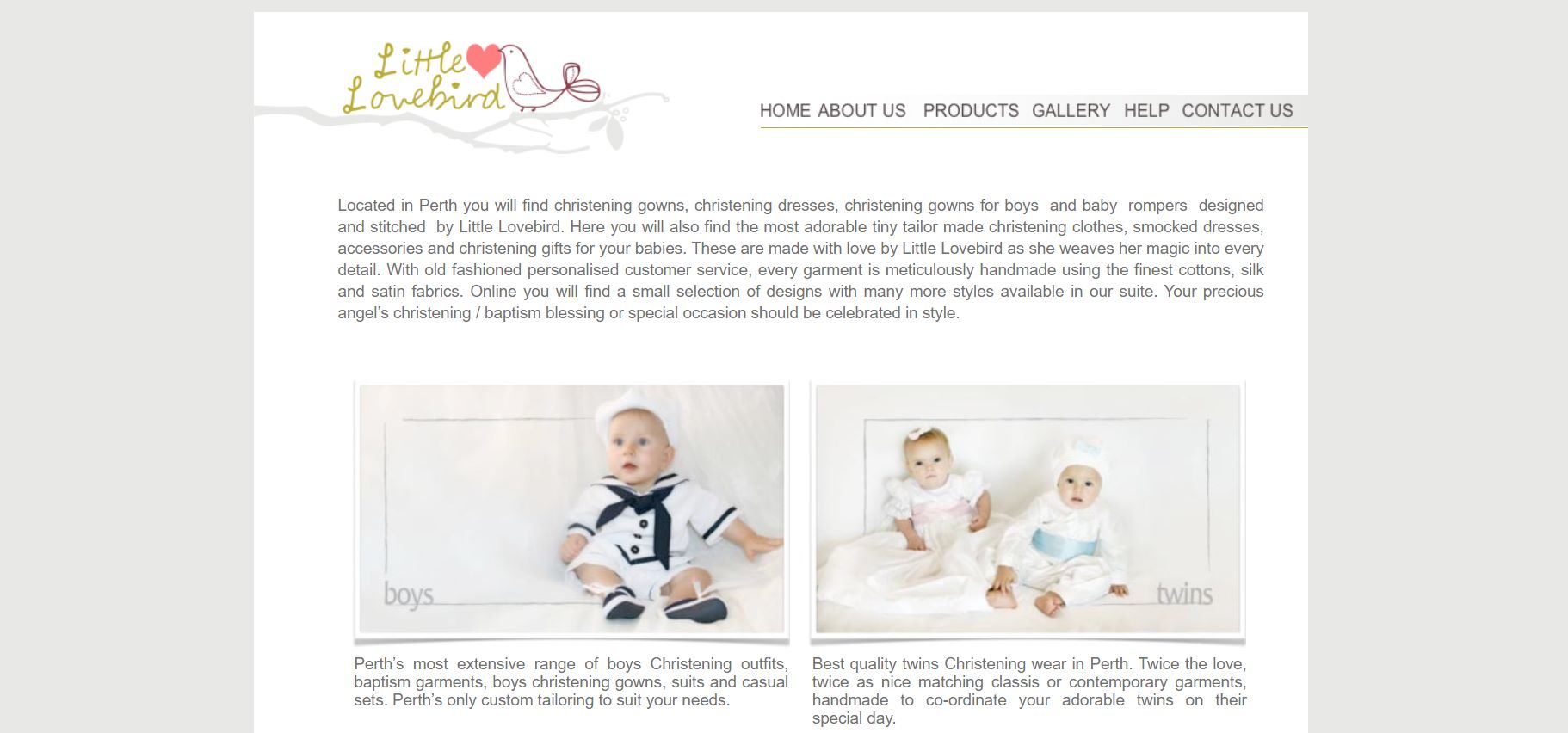 08 9437 6009
Located in Perth, you will find christening gowns, christening dresses, christening gowns for boys and baby rompers designed and stitched by Little Lovebird. Here you will also find the most adorable tiny tailor-made christening clothes, smocked dresses, accessories and christening gifts for your babies. These are made with love by Little Lovebird as she weaves her magic into every detail. With old fashioned personalised customer service, every garment is meticulously handmade using the finest cottons, silk and satin fabrics. Online you will find a small selection of designs with many more styles available in our suite. Your precious angel's christening/baptism blessing or special occasion should be celebrated in style.
Perth's most extensive range of boys Christening outfits, baptism garments, boys christening gowns, suits and casual sets. Perth's only custom tailoring to suit your needs.
Best quality twins Christening wears in Perth. Twice the love, twice as nice matching classic or contemporary garments, handmade to co-ordinate your adorable twins on their special day.
Perth's best range of christening gowns, Christening dresses and smocked special occasion dresses for your precious baby girl.
Perth's top range of mix and match Christening accessories, including shoes, bonnets, bibs, wraps, sashes, slips, headbands, candles, berets and much more.
The Cuckoo's Nest - Baby Shop Perth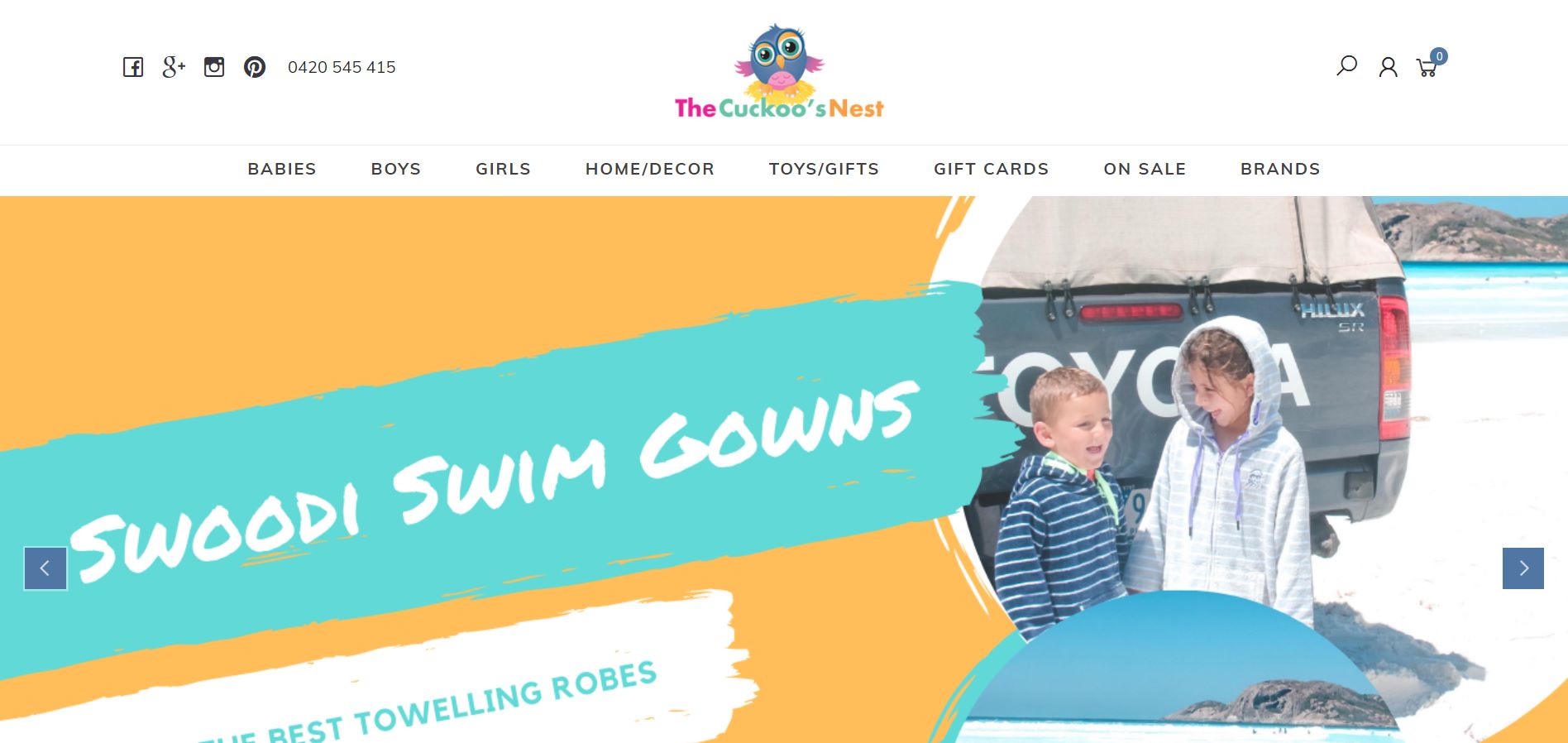 0420 545 416
The Cuckoo's Nest is more than a toy store and children's boutique - it's a shopping adventure that's full of surprises. Whether you come in for a bespoke gift, designer brand children's clothing, shoes or just inspiration, you'll always discover something fun and new. And you'll likely meet and be served by the owner and operator Teri Pearson...
Hi, I'm Teri.
I'm a nest building, a toy-loving treasure hunter who loves to help parents create picture-perfect wardrobes and unique play experiences for their children.
If you're looking for hard-to-find, unusual or handmade toys and clothing that are not in the major retail stores, then The Cuckoo's Nest is for you!
Enriching Everyday Play.
If you want to enrich your children's play with original, meaningful and unique experiences, think…
Montessori and Steiner inspired

Heirloom quality

Wooden toys and games
At The Cuckoo's Nest, I've made sure that you'll find a treasure trove of discoveries that will engage, inspire and educate. I love to help your children fire up their imagination with a play that gets them thinking, counting and laughing.
As a Parent...
I know how hard it is to keep children entertained. You want fun activities that grow their hearts and minds, toys that encourage creativity and games that improve language and development.
I know it's hard to avoid electronic toys - after all, I've been there with my 3 children! I saw how much waste there was with throw-away plastic toys and always tried to include timber toys that would last. Now with The Cuckoo's Nest, I'm mindful of supporting sustainable toymakers who create unique pieces of heirloom quality to pass down from your children to their children.
I believe…
Every parent (OK, usually Mum!) deserves to have fun dressing their little ones up. After all, there's only a small window of time when you get to choose your child's wardrobe... believe me, soon enough, they won't have a bar of it.
Whether you want a cool street look or pretty florals, I want you to be spoilt for choice at The Cuckoo's Nest. I'm passionate about keeping up with trends, watching the 'Gram for inspiration and searching the globe for new and exciting styles for you.
Elfin Kidz - Baby Shop Perth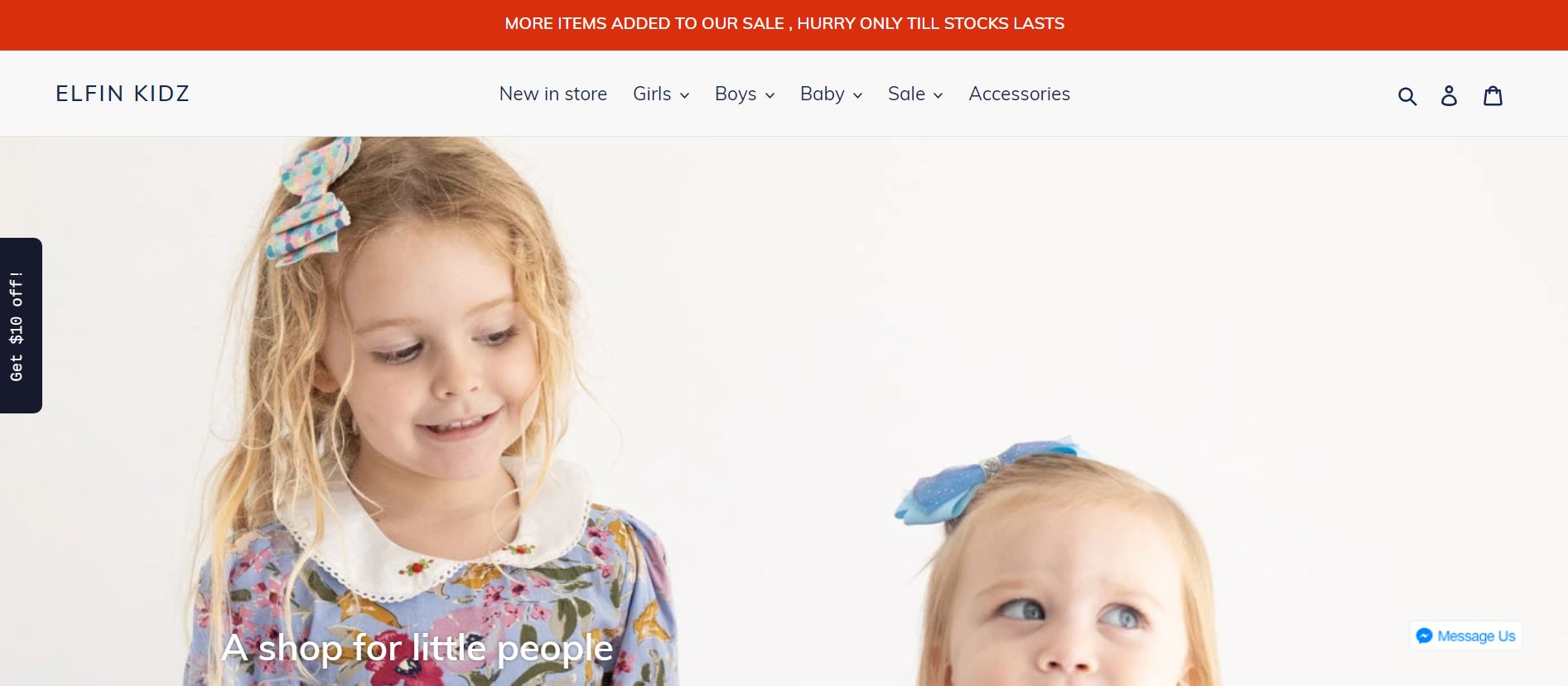 08 6112 2708
We are an Australian owned exclusive designer brand for Babies, Toddlers and Kids up to 11 years. 
Each of our products has been lovingly designed and crafted to capture the latest seasonal trends while at the same time staying true to our promise of capturing and enhancing each child's unique sense of style.
About Us - Our Story
HI Guys
I am Tasha, and Elfin Kidz is my first baby !! Now I have 2 human kids and one very cute puppy! 🙂
Elfin Kidz is an Australian owned exclusive designer brand for Babies, Toddlers and Kids up to 11 years. Each item has been lovingly designed by me and crafted to capture the latest seasonal trends while at the same time staying true to our promise of capturing and enhancing each child's unique sense of style.
Designing clothes for children has always been my passion. I studied Fashion Design and gained experience working with a few reputed companies around the world until I decided to take a chance on myself. I started EK by doing handmade markets for a few years and then open my first pop up shop partnering with a friend. Currently, I have a pop up in Westfield Booragoon and hoping to grow my business and keep designing unique, fun clothes for baby's and kids.
 I love to make fun, colourful outfits for kids & am very particular about trying to use cotton in almost all my clothes. Even with my party dress collection, everything is lined with cotton to avoid irritation from synthetic fabrics.
 I am very lucky to have two beautiful kids, one girl and one boy, who keep inspiring me to make/ design clothes that are different, fun, comfortable. They definitely challenge me every day to come up with new ideas!
Hope you enjoy my clothes, please feel free to get in touch with me for any comments or suggestions.
Tasha x
The Play Room - Baby Shop Perth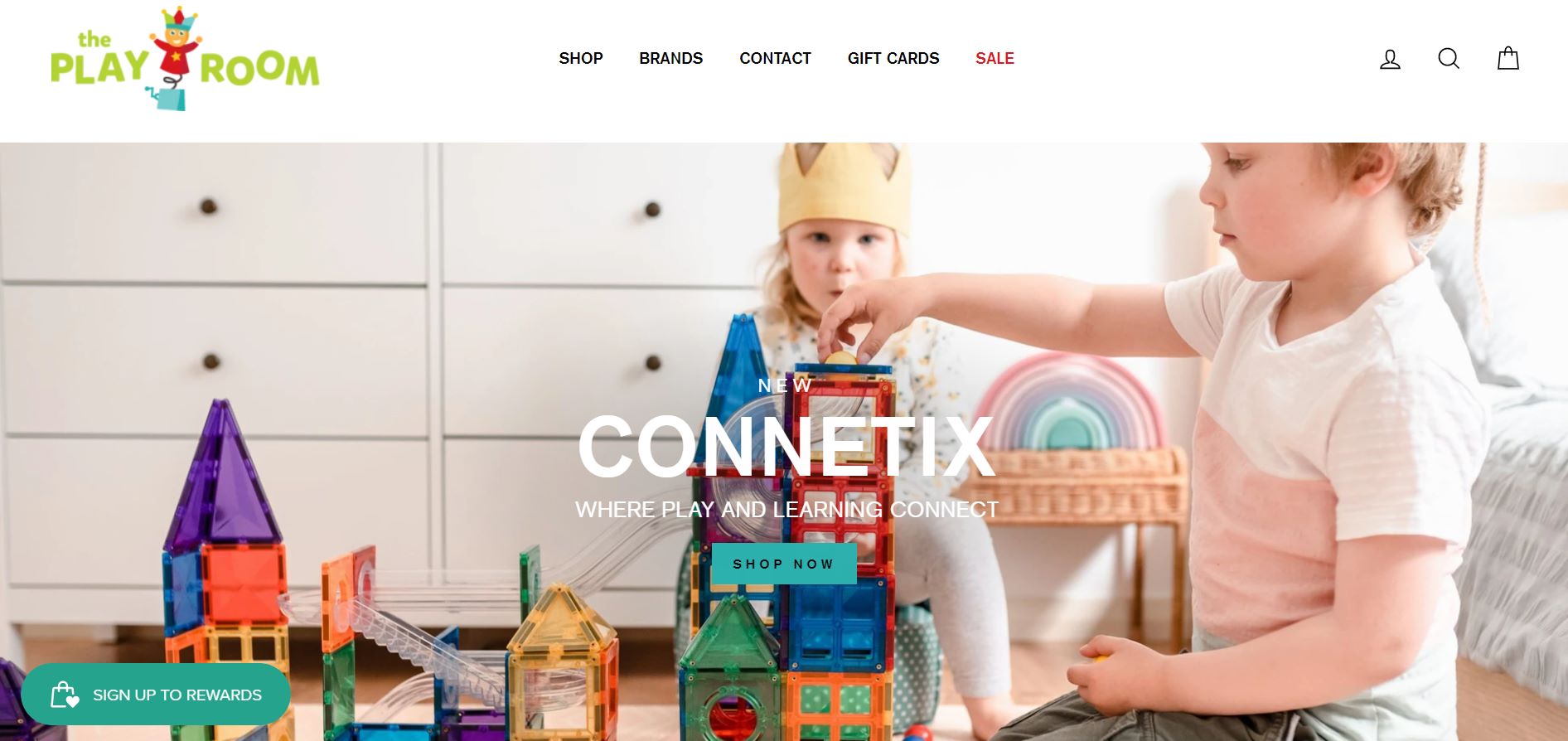 08 9331 8007
The Play Room Toys Shop Perth
Looking for educational toys? We're WA's largest educational toy supplier. With our huge range of kids toys such as kids puzzles, wooden toys, and kids games, you'll find that our toy store is your one stop toys shop in Perth for all things fun and educational. 
The Play Room is a WA family-owned business that's been around for 10 years. We're a local business, and we love working with families in the community to get young kids the best toys for their learning and enjoyment. Throughout the years, we've been working hard to ensure that we're one of the best toy shops in Perth. We've got toy stores in Osborne Park and O'Connor, with a wide range of educational toys available from various brands such as Playmobil, Our Generation, B Dot, Sylvanian Families, Melissa & Doug, Schleich Djeco Educational Toys, and so much more. You'll be spoilt for choice, looking at our in-store range of products.
We've also got an extensive range of kids toys online available, so you can have a look at our range from the comfort of your own home. And if you can't find a product you wish to see from our toy shop online, send us a message, and we'll work with you to find that perfect toy for your child! At The Play Room, you're guaranteed to find toys Perth that is fun, educational, and well-made, a great fit for your child no matter what stage of development they're in.
About us
We specialise in Playmobil, Hape, Our Generation, B Dot, Sylvanian Families, Lerado and much, much more.
A Western Australian family-owned business for over 10 years with a huge range.
Through our commercial division, we also cater to Toy Libraries, Playgroups and Child Care Centres and offer private after-hours appointments for your convenience. Although our website endeavours to display as many of our toy ranges as possible, with over 10,000 different products, we are unable to present our entire range. Should there be a product, you can't find, please contact us.