There is no set time limit for how long a baby can sleep in a pack n play. Despite the fact that the majority of playpens are similar in their maximum weight and height requirements, there are some differences. Therefore, the most important thing is to study the product's specifications so you know exactly what weight and height it can take.
As to the number of hours your baby can spend in the pack and play, there are no limits at all. You can use it as a primary sleeping place until your baby grows too big for the playard.
If you have a baby, you've probably seen all sorts of things that help with raising him or her. One of these might be a portable crib or Pack 'N Play. You might find yourself asking the question, "How long can baby sleep in a Pack 'N Play?"
It's all about safety, of course. A Pack 'N Play may be very convenient, but you want to make sure you aren't compromising your child's well-being
So how long can baby sleep in a Pack 'N Play? This is a good thing for any new parent to know.
We have a wide range of playpens for your baby right here at My Baby Nursery.
What Is a Pack 'N Play?
A Pack 'N Play is a portable crib. It functions as a small play area for your baby. Typically, these are covered on every one of the four sides by a mesh material.
These portable cribs are made out of hard and sturdy material that is strong enough to hold a baby within. Also, a transparent material makes up the sides. This allows air to pass easily to and from the interior of the crib, and it also makes it easy for the caregivers to watch the baby at all times.
Babies can sleep in a Pack 'N Play. They can also use them as play areas if they're old enough to sit up on their own. Some come with bassinet attachments, and you can use them as diaper changing stations.
Playpens and play yards are convenient, enclosed places for parents to place a baby while taking care of household tasks. Still, experts warn that you should only put your baby to sleep in a playpen while you are nearby and after you have taken precautions to ensure your baby's safety in order to help prevent injuries or possible death.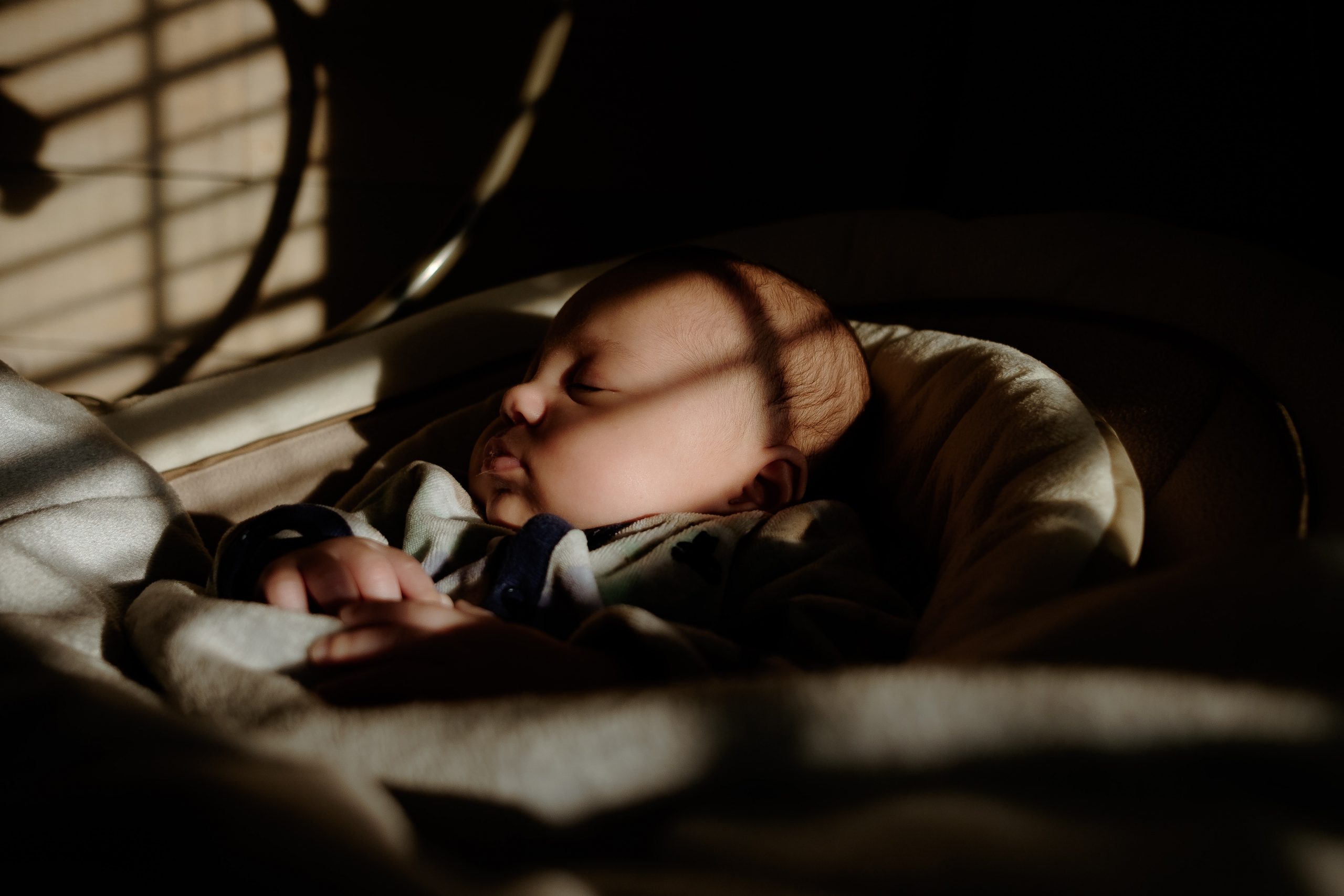 History of Harm
According to the Consumer Product Safety Commission, approximately 1,960 children were injured each year between 2000 and 2006, and 47 babies died from strangulation, entrapment or suffocation between 1999 and 2004, in play yards. The American Academy of Pediatrics found that most injuries are to the head and neck due to a fall from the playpen. In some cases, injuries and deaths were due to product failure; product misuse by consumers, such as assembling the play yard incorrectly or altering it in some way; using a separate, ill-fitting mattress; adding soft bedding in the playpen; or placing the playpen too close to a window blind cord or another strangulation hazard.
Safe Playpen Basics
Beginning in 2013, play yards started to undergo more rigorous testing, so, if possible, choose a new playpen. KidsHealth recommends finding one certified by the Juvenile Products Manufacturers Association to ensure it meets safety standards set by the CPSC. The playpen should feature mesh sides of at least 20 inches above its floor and holes smaller than 1/4 inch or wooden slats with no more than 2 3/8 inches of space between them, the padding on rail tops, a 1-inch-thick, firm mattress, covered hinges and supports and automatically-locking side rails that are out of your baby's reach. If you choose a used playpen, look for the JPMA certification and check it carefully for wear and tear, such as broken hinges.
Playpen Sleeping Precautions
When putting your baby to sleep in a playpen, always follow safety guidelines. "Consumer Reports" recommends keeping your baby in view and never adding a second mattress, comforter, pillows or toys to the playpen. Use only a sheet designed specifically for your playpen's mattress, if any at all. The CPSC suggests you dress your baby in footed pyjamas for warmth. Kidshealth advises you never leave your baby in a mesh playpen with the side lowered to prevent possible suffocation and always to put your baby to sleep on his back as recommended by the AAP in its Back to Sleep campaign, which was designed to help reduce sudden infant death syndrome.
Additional Cautions and Concerns
Put your playpen in a safe place — never put it near a stove or other source of heat or near window blinds. Don't try to move the playpen when your baby is in it. Don't tie toys across the top or onto a corner of the playpen with strings or cords. According to KidsHealth, you should stop using the playpen for play or sleep when your child is tall enough to crawl out, usually at 30 pounds and 34 inches tall.
Benefits of a pack n play
Some Pack n' plays come with a detachable bassinet and a changing table that clip to the top rail. In this way, when you buy a pack n play, you can use it right from the day you bring your newborn home. And continue using the changing table as an alternate place to do your diaper changes.
The bottom line is that s pack n play is a safe and controlled environment to put you, baby. The sides are high enough, so a young child can't climb out of it. It's a safe space for your baby to sleep, and it's also a safe space for him to play when you are otherwise occupied.
A pack n play is portable. This means your baby can sleep in a familiar environment even when you go to visit grandma or away for the weekend. Some parents even use the pack n play in their bedroom for the first six months and then move it to the baby's room.
When shopping for one, look out for a pack n play that is lightweight and easy to assemble. Some makes can be a bit heavy and bulky.
Is a pack n play safe for sleep?
The short answer is, yes. Keep in mind that there are two different places you could technically put your baby to sleep in; the bassinet or the main pack n play area. We will address both cases in the next sections.
There are, however, some caveats to remember when it comes to general pack n play sleep safety.
In accordance with the safe sleep guidelines provided by the American Academy of Pediatrics (AAP), parents must make sure that the mattress their baby will be sleeping on is firm. It has been found that soft or loose bedding is not safe for babies.
Also, remove all crib bumpers, blankets, pillows, and soft toys if you are going to leave your child unattended for any amount of time. Leave the sleeping area bare and use only fitted sheets specifically made for your pack n play make and model.
Third-party sheets that don't fit the exact size of your playard may come loose or bunch up, causing a suffocation hazard.
Make sure the mattress is thin and firm, and the sides of the pack n play should allow ample air to come in. The pack n play should preferably have breathable mesh sides which nowadays is pretty standard for most manufacturers.
Always put your baby to sleep on his back. According to the AAP, this strategy is the best way to avoid SIDS (Sleep-Related Infant Deaths).
When setting up the pack n play, make sure you assemble it properly and that the sides are locked incorrectly. Some players are very easy to assemble, but some require multiple steps. Make sure each piece is locked into place correctly before putting baby in it to play or sleep.
Check out our range of baby playpens at My Baby Nursery.
When should a baby stop sleeping in the pack n play bassinet?
Most babies outgrow bassinets by the time they get to 3 or 4 months, or when they can roll over on their own.
It also depends on the weight of the baby. Most pack n play bassinets have a weight limit of 15 lbs. However, it is recommended that babies stop sleeping in the pack n play bassinet when they weigh about 12 -13 pounds. At around this weight, the baby becomes too heavy for a bassinet attached to a pack n play.
It would be best if you also avoided bassinets where the bottom and sides are soft or made of a soft material. The bassinet should have a firm base for your baby to sleep on if you plan to leave him unattended.
Pack and Play Maximum Height and Weight Limits
The majority of play yard models can grow with the baby. Usually, they have an infant bassinet that can hold babies up to 15 lbs. The best pack' play itself can be used by toddlers up to 30 lbs or 35″ in height. The product's instructions will list the maximum weight and height and contain a note of "whichever comes first".
However, you need to understand that while developmental milestones are similar, each baby is unique. Therefore, you need to look beyond the weight or height of your little one in order to determine if the playpen is safe sleeping space for them.
Because of this, you need to stop using an infant bassinet in the pack n play as soon as your baby learns to roll over or pull themselves up. Bassinets are shallow, and once your baby learns how to do this, they will be at risk of falling out. At this point, it won't matter if they meet the maximum weight limits or if you have a "heavy-duty" bassinet that can hold babies up to 20 lbs instead of the average 15 lbs. Once your little one knows how to pull up, the bassinet is no longer safe.
At that point, you should move them so they can sleep in the playpen. It will remain safe for much longer, but you might consider adding another mattress or replacing the original. Playpen mattresses are often of subpar quality.
However, your playard will stop being safe for the baby to sleep in as soon as they learn to climb. When this happens, you should stop using the playard completely, or at least only use it as a place for playing while the child gets constant supervision.
Note that a video baby monitor isn't an acceptable safety measure in this case. Even if you see that your baby is trying to climb up right away, there is no guarantee you'll make it to them in time.
How Long Can a Baby Sleep in a Pack 'N Play?
After learning a little more about the Pack 'N Play, you might still want to know how long can baby sleep in a Pack 'N Play? Every Pack 'N Play is different, but there are certain guidelines you should follow.
If the portable crib has an attached bassinet, you should stop using the bassinet once your baby gets to about 13 to 14 pounds. If you keep your baby in the bassinet after he or she becomes heavier than this, the baby could be too much for the bassinet to support. This could end up being dangerous.
With a regular Pack 'N Play, you should stop putting your baby in it once he or she gets to about 30 pounds.
However, it's not all about weight. Sometimes, babies don't gain weight when they get older, but they do get taller. Once your baby is approximately 35 inches tall, you should stop putting him or her in the Pack 'N Play.
So should you consider height or weight first when thinking about the answer to the question, "How long can baby sleep in a Pack 'N Play?" It should be whichever milestone your baby reaches first. When it comes to your baby, it's always safety first.
Other safety considerations
There are other safety considerations that you need to keep in mind if your baby is going to be sleeping in a Pack 'N Play, in addition to the answer to the question, "How long can baby sleep in a Pack 'N Play?" If you're going to be using one of these portable cribs for this purpose, you need to keep a few things in mind whenever your baby is in it.
No extra bedding
If your baby is going to be sleeping in it, you need to not put any other items in it. The Consumer Product Safety Commission has assessed that soft bedding is a potential factor in babies' deaths in these sorts of portable cribs.
Since 1988, the CPSC has received more than 200 reports of babies who died while in these playpens. In almost half of these cases, there was either soft bedding or extra mattresses within the playpens. The babies would die of SIDS or suffocation.
Suffocation is also possible when you leave one side of the playpen folded down. This creates mesh pockets, which can be a suffocation hazard to a young child.
If your baby is under 12 months in age, put the baby to sleep on his or her back in the Pack 'N Play with no soft bedding. According to the American Academy of Pediatrics, the safest position for babies to sleep in is on their backs.
By soft bedding, we mean pillows, sheepskins, quilts, or toys that resemble pillows. Also, only use the padding and mattresses that are provided by the manufacturer.
Babies should always be sleeping alone. If you have another child, don't put him or her in there with your baby. It would help if you also weren't putting blankets, toys, or bumper pads in there.
You can use a pacifier while you're putting your baby down for a nap. However, make sure that you remember to take it out once the baby's asleep. The baby should not have the pacifier in his or her mouth when he or she is sleeping in the Pack 'N Play.
Strangulation is possible
You need to pay attention to the structure of the Pack 'N Play if you're going to be putting your baby into it.
If it has protruding components, such as rivets, it can snag your baby's clothing and strangle him or her. If you put it too close to a window, your baby could end up being strangled on blind cords or drapery. Older models often have large mesh, which catches buttons on babies' clothing and can result in strangulation as well.
If you have a mesh-sided Pack 'N Play, make sure that the holes are less than 1/4 inch in size, with no tears or loose threads.
My Baby Nursery has a wide range of baby nursery playpens for your little bub.
Avoid entrapment!
It's also possible that a Pack 'N Play could collapse on your baby. Some have side rails that collapse and entrap the babies between them. The older models have hardware that doesn't always pull out properly and can result in collapses and entrapment hazards.
Sometimes, well-meaning parents will modify a Pack 'N Play in order to keep the baby inside. They can put larger mattresses, plywood, or some other material on top. This can backfire and create an entrapment hazard.
You also want to make sure that your Pack 'N Play is in good shape if you're going to be putting your baby into it for a nap. If it's broken or damaged, it could have openings that could entrap your baby.
Therefore, you should monitor how active your baby is and what they are capable of doing as well as consider their height and weight when leaving them to sleep in a pack and play.
While the baby's age is one of the factors you should take into account, it's a minor one. Children develop at their own pace, and their growth is affected by many factors, so you shouldn't rely on the age limits listed in the playpen manufacturer's instructions.
A Pack 'N Play can be a great tool for you and your baby. However, you need to make sure to use it properly. This is why it makes sense to know the answer to the question, "How long can baby sleep in a Pack 'N Play?"
What you also need to remember is that it's not just the answer to this question you need to keep in mind. You also need to keep several other safety considerations in mind when it comes to how your baby's sleeping.
When it comes to your baby, you can't be too careful. If you've invested in a Pack 'N Play, you need to know the answer to the question, "How long can baby sleep in a Pack 'N Play?" Being conscious of this kind of information could end up saving your baby's life.
For many new moms and dads, owning a pack 'n play is like a rite of passage into parenthood. These functional items can be used for sleep, play, and even changing diapers! Being portable means, they're perfect for small spaces and families on-the-go.