Travelling for the first time with your baby can be stressful. But there are steps you can take so that you and your newborn have a safe and happy trip.
Travelling with a baby (or two!) can present its own unique set of obstacles, especially when it's your first time. 
On top of that, everyone has an opinion about the right and wrong way to travel with your family. 
Whether you've welcomed a new life into this world or your bump resembles a watermelon, if you've always loved to travel, you may be thinking, "Can you travel with a baby?" Of course, you can travel with a baby, but once part of the parent club, the question seems to become, "Should you travel with a baby?"
"It's too dangerous!" "It's irresponsible!" and "It'll be too difficult!" are few exclamations you'll have thrown your way. And then there's a particular favourite: "It's very selfish. Babies need routine; they don't want to be traipsing all over the globe."
We can attest that babies like routines — so it is essential to create new ones when you travel. But the occasional break from the norm ultimately makes infants more adaptable. 
Babies want to be with their parents; if it makes mama and dada happy to have a change of scenery, so be it.
As a new parent, chances are you're not going to be choosing a war zone as your destination, and you'll hopefully decide on a place with good access to healthcare. 
Tiny babies are more susceptible to illness, but you have more control over what and who they come in contact with when they're little.
And is travelling with a baby difficult? Yes — but so is travelling without a baby sometimes, and we still love doing that. 
There is more work involved than tossing a handful of diapers into your backpack, but that doesn't mean it's not worth it.
Babies need things, and you'll need to carry those things. Babies need to eat, and you'll need to have food. 
Babies need to sleep, and you'll need to ensure a safe place for that. (Hostels might be great for single travellers but aren't always the best for babies.) 
You'll need to adjust your pace — trying to cram as much into your days as possible will make you all cranky and tired. You'll need to adjust your expectations — your life has changed, and if you think the way you travel won't, you'll likely be disappointed.
Check out our range of nursery baby lighting here.
Survival Tips for Traveling With a Baby for the First Time
Here are our top tips and tricks to having the best travel experience with your baby.
Pre-Planning Baby Travel Essentials
There are specific ways in which you can enhance your trip by being prepared. Pre-planning goes a long way in avoiding last-minute hiccups.
Before You Depart
The planning stage is arguably the most challenging part of travelling since there are so many unknowns. 
That being said, this is also the easiest part of your travels since you have some control over your decisions. Here are tips that I have for parents travelling with a baby for the first time.
Check with your family doctor to see if it's okay to travel. You can travel whenever you want with your baby, but your doctor can advise you about anything that you may not have thought of, such as vaccines.
Try to choose a close location for your first flight. For example, my wife and I went to Philadelphia since it was only a 90-minute flight and in the same time zone. You may not have a choice, but taking a short flight first can mentally prepare you for a long haul flight later.
Although not mandatory, an umbrella stroller can be quite handy when travelling. They won't be as sturdy as your regular stroller, but since they fold up, they can be easy to transport as you travel around.
Be smart about what you pack for your baby. Despite what you may have heard, your baby won't need four outfits a day (even if they spit up a lot). There's also no need to bring a week's worth of diapers if you know you can buy some when you land.
Speaking of packing, you also need to be smart about what you pack for yourself. The last thing you want to do is overpack since you'll already be carrying so much baby stuff.
Check with your hotel to see if a crib is available. Every central hotel will have them available, but you'll want to reserve one anyway to ensure you get one.
Check to see if you need your car seat. We could travel without one since we could take trains from the airport, but in many cities, children must be in a car seat while in cars. 
The problem is, finding a cab or Uber with a car seat designed for kids under the age of 12 months can be very difficult.
Airlines will always try to seat parents with babies together, but it's still in your best interest to reserve your seats in advance, even if you have to pay for it. The window seat will give you slightly more privacy, but choose whatever you think is best for your family.
Be Prepared for All Types of Weather
Little ones often feel temperatures to the extreme, and being too warm (or not enough) can put a damper on any journey. So always check the forecasted weather of your destination and pack accordingly.
Packing essentials will help you to tend to your little one's needs, should the occasion arise that temperatures drop or increase significantly. This way can keep your newborn content and comfortable when out and about.
Bring Some Baby Food/formula from Home.
Part of the attraction of travel for us adults is trying out all the new and exciting cuisine. But, unfortunately, chances are your baby's palette is not as excited about the thought of exotic foods.
You are packing as much formula as you can help when you can't find the same brand in your holiday destination.
If your little one is on solids, try to pack a few snacks and foods that they enjoy. This will make feeding time a lot easier and keep everyone smiling with happy, full tummies.
Download Baby-Friendly Music on Your Phone
If your little one is uncomfortable or distracted with their new surroundings and gets cranky, playing music may help calm them down.
You can play soothing songs on your phone, which will relax your little one and help you feel more cheerful.
If your baby likes to groove to fun music, make sure to download lots of those, too, as they will help to keep your baby engaged and happy. 
Nursery rhymes can also be fun to sing along with and will help to keep your lovely bundle of joy entertained.
Decide Whether You Need a Travel Car Seat
You'll most likely be travelling by car or taxi at some point. Unfortunately, most taxis won't have a car seat available. So having your own will make car trips much more accessible.
Checking in Car Seat
While you can find a car seat once you're at your destination, taking your means your baby is comfortable, and you're not rushing around looking for one.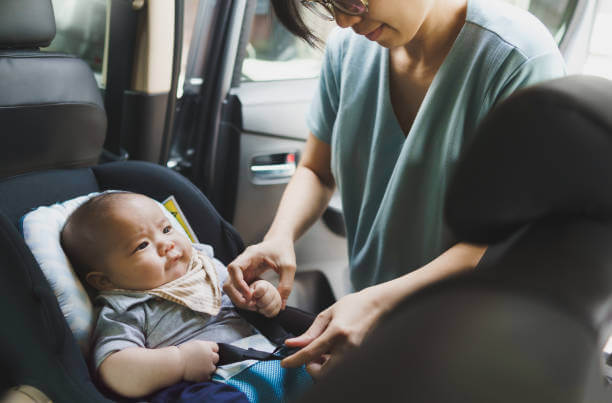 Add Extra Clothes to Your Carry On
During longer flights with babies, clothes are easily messed on. So carry an extra pair, just in case.
Also, carry extra clothing for yourself as you never know when your clothes might end up getting messy from spilt food or infamous newborn throw-ups.
Tip: You might want to consider bringing along a good travel blanket.
Pick Out Favorite Toys for the Plane
Some flights are long, and there's only so much sleeping, eating, and watching a screen that your baby will do. 
Eventually, they will need something to play with. So pick a few toys to take on the aeroplane that your baby enjoys playing with.
Check Vaccination Requirements
Certain countries might require getting a few vaccinations before you can enter. For example, travelling to Mexico calls for getting a vaccine for Hepatitis A.
Researching adequately and getting all the prescribed and mandatory vaccinations will help keep your precious one safe and healthy.
Pack Your Prescriptions
If your baby needs any prescribed meds, like an inhaler, be sure to have that handy in your carry on.
Other things you can take with you are meds for nausea, fever, and headaches. Unfortunately, the airlines often won't have these medicines on board, and finding pharmacies in a new place can take time.
Check how much you're able to take with you, and then pack your own 'first aid kit of sorts. It'll keep your mind at ease.
Call Your Hotel in Advance to Arrange for a Crib
While most hotels have a crib readily available, some don't, and it may be not easy arranging one at the last minute. 
Once you've booked your room, call up the management and ask them to please keep one aside. This means comfortable nights for all.
Another tip would be to bring along sheets and blankets from Home (if you have the space in your luggage) or even your baby's favourite pillow. 
Home comforts go a long way in ensuring peaceful sleep while travelling.
Scheduled Flights to Overlap With Your Baby's Naptime (as Much as Possible)
Babies are generally not cheerful on planes. They are also irritated by the ear pain they experience. In addition, flight journeys can get highly exhausting for a young baby.
Try to schedule your flights according to your baby's naptime. Then, if they fall asleep on the plane, you will be able to relax, too. 
You'll end up with a happier baby when you get to your destination. You can begin your journey refreshed.
This may not seem possible – especially with an older baby. And they may be so excited that they won't nap. 
But keeping them awake and entertained until you board the plane may help them get some real snooze time mid-flight.
My Baby Nursery has a wide range of baby cot nursery blankets to choose from. 
Purchase Noise-Cancelling Headphones
It may prove challenging for your baby to sleep through a plane journey. 
There is a lot of commotion that goes on, the flight attendants are constantly moving up, and down the aisle, fellow passengers are usually chitchatting. So it can get a little noisy.
If you want your baby to sleep, it helps shield it from the noise and use protective headphones to cover their little ears. This will help your baby sleep undisturbed.
Don't Forget Sunscreen.
If you are travelling to a sunny place, the chances of your baby's skin burning are increased.
Depending on where you're headed, the sun's strength could be significantly different to what your baby is used to. 
Consult your pediatrician before deciding on the SPF and the areas of application.
Book Aisle Seats Next to Each Other
Here's a handy travel hack: Try to book aisle seats opposite each other between you and your partner.
This will allow you both to get up without hassle, and you can pass the baby across as you need. You can also get up and walk a bit with the little one if they need some soothing.
Don't Overthink It
Schedules often get disrupted when you are travelling with a baby. If you plan your trip down to the T, you might end up feeling disappointed. 
You will end up feeling bad about having missed a particular tourist spot or a show that you had planned to watch.
Trips with babies can be tricky. While it is essential to plan for your family trip, leave room for flexibility and adjust on the go. Don't over plan. You will keep stressing otherwise.
Take a Lightweight Stroller on Your Trip
A stroller makes travelling with an infant much more convenient. It'll give your arms a rest and allow your baby to see all the interesting sights as you go along.
Paris With a Baby
Most airlines allow checking in a stroller. Check your airline policy and, if possible, carry one for your trip. It will end up making your life much easier.
Carry a Baby Sling or a Baby Backpack
If you do not want to carry a stroller or already have a lot of luggage, consider taking a baby sling. Travelling with a baby under 12 months old in a sling will keep your arms free.
Baby Travel Tips at the Airport
While pre-planning is essential, it also helps follow a few simple tips at the airport to ensure a comfortable journey ahead.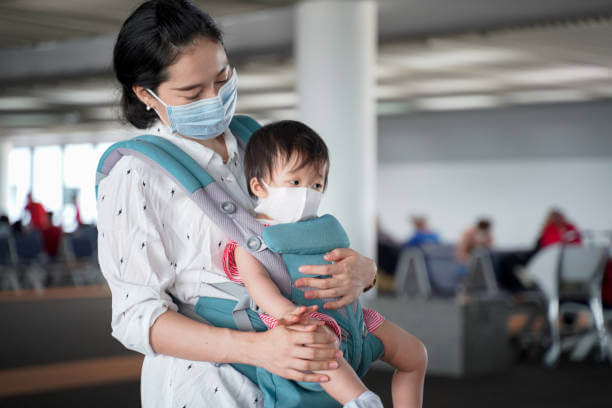 At the Airport and on the Plane
This is where things get real. When the day finally arrives to fly out, you may feel a bit anxious, but we assure you that things aren't nearly as intimidating as they seem.
Arrive even earlier than you usually would at the airport. You'll get access to some priority lines, but you'll still be carrying way more stuff than you typically do. Arriving early is always better than late.
If you're travelling for more than a week, long-term parking may save you money, but keep in mind that when you return, it may be a journey to get your car. So it may be worth it to pay the premium for onsite parking.
When it comes to boarding, remember that you get to board early with your child. Of course, first-class passengers still get on first, but you do get priority boarding.
Speak with a flight attendant after you're seated. They'll give you a breakdown of safety procedures with a child and advise you on which washroom is best for changing your baby. Also, note that when taking off, you should hold your baby in a burping position.
Dress Comfortably
Airport looks are a thing nowadays. So naturally, people strive to be well dressed on their trips. But if you're taking your first trip with a little one, we suggest aiming for a more comfy look.
Wear suitable shoes and clothing so that you can feel comfortable during your flight and won't want to change outfits. 
If you are not wearing easy to manage clothes for long flights, it'll end up getting quite uncomfortable.
Pre-Board With Your Baby
One of the perks of travelling with a little one? You get to board ahead of everyone else. This allows you to board before the crowds and get settled early from the shuffling of everyone else.
The Reality of Flying With Newborns
The sooner your baby gets adjusted to the plane, the better. The aircraft is new for your little one, and it might feel not very safe. 
Spending some time in it before take-off might help them calm down during the actual flight.
More often than not, one parent can pre-board with the little one, so the other may have to wait their turn with older kids. But it means less fussing in the queue.
Get to the Airport Early
When you're travelling without a baby, last-minute airport dashes are exciting and sometimes unavoidable. But a baby makes rushing much less appealing.
Pre-planning and leaving extra time means less rushing and a much calmer experience for everyone.
Try to get to the airport early and settle down next to the boarding gate typically. This will cause minor irritation for your baby, and you will not obsess about being late.
Ask for a Seat at the Front of the Plane
While boarding a plane, it is easier to get to a seat at the front. It also takes less time during deplaning. 
The back of the plane experiences relatively more significant vibration. It is also noisier than the front.
Request for a seat at the front to save yourself the trouble of walking through the narrow aisle with a baby in your arms. This will make it more convenient for you as well as your fellow travellers.
Opt for Curbside Check-In
If you want to travel with minimum hassle, opt for curbside check-in. 
The sooner you get rid of your check-in bags, baby stroller, and other baby gear, the better. Then, you will be able to enjoy your trip better without the extra baggage.
You can also opt for porter service at the airport. You will have to pay a little extra, but it is worth the convenience. In addition, you will not have to worry about handling your luggage while handling a baby.
While it may not always be possible if you are a frequent traveller, sometimes it might be a good idea.
Tips & Tricks When Flying With a Baby
Breastfeed. 
The best food for babies is also the easiest to "prepare" when on the road. 
Breastfeeding not only eliminates lugging bottles, nipples, sterilising, equipment, formula, etc., but also the baby will be getting valuable antibodies that will protect against illness when you're away from Home.
Bring a Sling. 
Or a baby carrier. Slings can help you carry the baby, but they can also substitute as a blanket, changing pad, or nursing cover. 
If slings aren't your thing, many lightweight cloth baby carriers offer excellent support, keep your hands free, and don't take up too much room when stored.
Bring a Stroller. 
When you're travelling, a stroller is not just a stroller; it is a high chair, a bed, and an all-around stuff-lugger. 
The type of travel you prefer will dictate whether a lightweight or an all-terrain stroller would be more appropriate but don't cheap out here. 
Good strollers are easy to push, and most are easy to fold up when needed. In warmer climes, slings and carriers can become uncomfortable, so a stroller can also offer some shade.
Pack or Buy Wipes. Lots of Them. 
Diaper wipes are a travelling parent's best friend. 
Not only do they serve their intended purpose, but they also mop up spit-up, sticky hands and faces; serve as toilet paper (don't flush!), and can clean any number of gross surfaces that you or the baby may need to touch. 
Diaper wipes and hand sanitiser (for you) can make sometimes-icky public bathroom scenarios a little more bearable.
Don't Overschedule. 
If you try to cram too much into your days and your trip, you'll all end up feeling exhausted and frazzled. 
Use your destination's local parenting websites to find parks and other baby-friendly outings that will be easy and comfortable for everyone. 
That climbable monument/jungle trek/coral reef has been there for a long time already and will still be there when your child is old enough to enjoy it with you.
Final Advice for Traveling With Your Baby
Travelling with a baby can be scary, but it's also so exciting. The disadvantages shouldn't deter you from taking that trip you have been planning.
With a few adjustments and following a few tips for travelling with an infant, you will be able to enjoy priceless moments with your unique new addition.
If you are planning on taking the trip with your partner, sharing responsibilities makes it less cumbersome. Enjoy some of the most special memories with the entire family and see the world.
Looking for blankets for baby cot? Look no further. My Baby Nursery has you covered.