Pregnancy can be a confusing time for a first-time mom. You may seem to be getting advice from every source possible, but it all can be completely confusing and conflicting. It can be really hard to keep all of the information straight between doctor's appointments, reorganising your life for a baby, and the dreaded pregnancy brain.
It might seem silly to ask, "when do you need a crib." Isn't the answer obvious?
When you have a baby, right?
Not quite.
Although you can use a crib right away with a newborn, many parents choose to use a bassinet or co-sleeper for the first little while and then transition their infant to a crib after three or four months.
Even if you're not planning on using a crib right away, it's a good thing to put on any baby registry and to have researched in advance.
That's because this is one of the bigger ticket items, something family and friends might want to chip in for, and, frankly, not something you want to be wrestling with (either the decision or the assembly) while sleep deprived and balancing a newborn.
To begin with, you have to arrange a new space for your new baby within your home. But, buying a crib shouldn't have to be the big challenge that many people turn it into!
People choose to buy cribs at several different points during their pregnancies, making it hard to know when you should be buying a baby bed for your new little bundle of joy!
This article will answer when you should be buying a crib during your pregnancy and give you a few helpful hints to get started!
Nursery Basics
Baby monitor.

Crib, bassinet, or play yard.

Crib bedding.

Crib mattress.

Diaper changing table.

Diaper pail or trash can.

Dresser or bins for clothing storage.

Glider or rocking chair.
Safe sleep can help protect your baby from sudden infant death syndrome (also called SIDS) and other dangers, like choking and suffocation. Put your baby to sleep on his back on a flat, firm surface, like in a crib or bassinet. Do this every time your baby sleeps, including naps.
Baby Products You Should Never Buy
Bedding sets. 

Sleep positioners. 

Bubble bath. 

Used car seats. 

Drop-side cribs. 

Used breast pumps. 

Clip-on chairs. 

Expensive outfits.
Many expecting parents prefer to wait to buy baby stuff until they find out the gender of their baby. This generally happens between 18 and 21 weeks, but some people find out as early as 12 weeks. Of course, you don't need to know the gender of your baby to begin buying things for them.
Whether your newborn sleeps in a bassinet or crib when you first bring her home is up to you. Babies can also sleep in a playard or portable crib. No matter what you choose, the product should meet the latest CPSC guidelines.
Set up your crib in advance
There's another reason you might want to set up your crib before your baby arrives, even if you don't plan on using the crib right away. Off-gassing. Yup. 
As I've discussed elsewhere in this series on eco-friendly, non-toxic cribs, most cribs are made with at least one toxic chemical, such as formaldehyde in wood glue or another volatile organic compound (VOC) in the paint or wood stain. 
Buying that crib and setting it up in advance, then airing out the nursery for several days or weeks even is a smart move.
Ideally, if you're the one gestating your baby, you'll have someone else setting up the nursery to reduce your risk of prenatal exposure to toxic chemicals. You'll also want to set up the crib in the room where it will be used. 
Some cribs are wider than some door frames, so you may struggle to move a fully assembled crib from room to room. If you plan on getting a crib on wheels and moving it around the house, it's good to know if it's too wide to fit through doors in your home before you need to use it.
Setting up your crib in advance also means you have some time to order and install any replacement or missing parts. If parts are missing or you lose some, it's best not improvise. Instead, call the company that makes the crib and order replacement parts.
Why DIY cribs aren't a good idea
Normally, I'd be the first to MacGyver a piece of furniture using surplus washers, screws, or bolts from a cannibalised item. We wouldn't do this for a crib, though, given what is, quite literally, resting on it. 
Cribs are built to strict safety standards, and I'm guessing that you, like me, are not an expert in furniture design and engineering who reads safety regulations for fun (OK, so I do read such regulations, but my carpentry skills are… shall we say, developing).
Time to change your mind
One other, perhaps odd, thing to mention is that you may adore the design of a crib but hate it once it's in your new space. Setting it up well in advance of the baby's arrival means you have some time to change your mind. 
You may also discover a practical concern with a crib, such as legs that stick out at an angle beyond the edges of the crib, causing you to stub your toe and trip. Why on earth anyone would think this a good idea for an item of furniture you often walk around in very low light conditions is beyond me.
So, you've decided to get a crib and set it up, stat, but what kind of crib will work for you? Let's look at your options and some key considerations for buying a crib.
Different types of cribs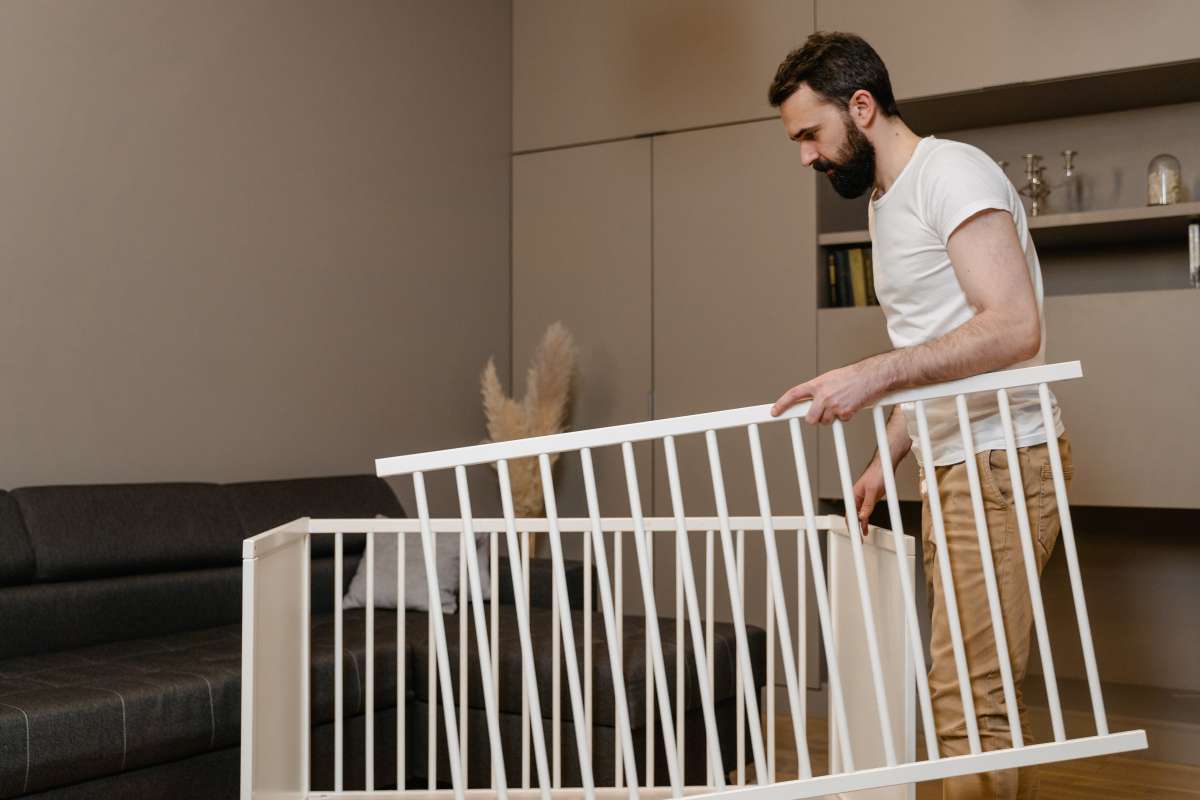 You'd think that a crib is just a crib, but you'd be wrong. There are cribs with adjustable mattress settings, cribs with a solid base that can't be moved, cribs made with in-built storage, cribs that have an in-built change table, travel cribs, foldable cribs, and even mini cribs, cribs on wheels, and cribs with teething guards. How you pick a crib depends partly on the following factors:
Space / size

Portability

Storage needs

Aesthetics

Durability

Safety / Level of comfort with toxic chemicals

Assembly skills

Versatility and adjustability.
Some cribs are, as the last item in this list suggests, able to be adjusted or converted as your baby grows. These are often referred to as 3-in-1 or even 4-in-1 cribs, which means that the crib may function as a bassinet, crib, toddler bed, and big kid bed, given a little adjustment and some extra parts.
Advantage of buying extra parts with initial crib purchase
If you plan on buying a crib that can be converted as your baby grows, my top tip is to buy all the extra parts along with the crib. They're often cheaper as a bundle, with such things as toddler rails costing anywhere from around $15 to a whopping $150 after the fact. 
Also, you may find that two years after buying the crib, that model is no longer available, which likely means that the toddler guardrail or other accessories are unavailable.
I'd also advise choosing a crib that allows you to adjust the height of the mattress. I'm fairly short and find it difficult to reach into a low crib and comfortably and safely lift out an infant. It's so much easier, especially when you're doing it several times a day (and night), scooping up a baby from a higher mattress. 
The adjustable settings mean you can easily lower the mattress height as your baby reaches milestones such as sitting up by themselves. And, as soon as they can pull themselves up to a standing position, you'll want to lower that mattress height quick-sharp to avoid climbing accidents and tumbles.
I'd recommend going for a crib with at least three levels for the crib mattress height (one for a newborn, one for an older infant who can move around but can't yet stand, and one for a toddler who can stand up and potentially climb out.
Crib Storage
The issue of crib storage is entirely personal. If you have a small room and want to keep everything fairly compact, or you're concerned about achieving a consistent nursery aesthetic, a crib with an in-built drawer, change table, and shelving unit might be for you. 
However, these cribs are a little bulkier, harder to move, usually more expensive, and harder to put together. I'm also wary of having anything beneath a crib, given the potential to block air circulation or off-gas right underneath where an infant is sleeping.
Aesthetics / Design
There's a bit of a trend at the moment for Scandinavian style cribs in varying shades of grey. Open up any copy of Dwell magazine, and you're sure to spot at least one crib that fits this theme. Cribs come in a variety of colours and designs, though, ranging from subdued earth tones to bright reds, greens, and blues, and even multicoloured, customisable cribs.
My top tip is to go for a white or grey crib and get your colour and design kicks from crib sheets, a cool mobile, and other accessories. This way, it's much easier, cheaper, and 
Environmentally friendly to change up the nursery aesthetic, compared to getting a new crib. You'll also want to avoid painting a crib yourself unless you're very confident in the safety of the paint and the quality of your craftsmanship. Babies do, after all, tend to use cribs as giant chew toys.
Choosing a neutral crib colour and design makes it much simpler to match any other nursery furniture, such as a dresser, side table or changing table.
One design feature that is worth taking note of, however, is the increasing prevalence of low-profile cribs. These cribs have a lower front rail than most models, meaning that it's much easier for shorter folks, like me, to reach in and safely pick up an infant without getting a terrible back strain.
Space/Size – Is a Mini-Crib Right for You?
If you live in a small apartment or tiny home and are tight on space, you might want to consider a mini-crib. These cribs are small enough to use as a bassinet, but they offer ample room for the first couple of years of life. 
This means that the crib can fit beside your bed for the first little while, be moved to the nursery if you have one, and then, once they're big enough, your little escapee can transition to a big kid bed.
Most kids sleep in a crib until they're two or three years old, but some continue to use a crib until they're four or five, depending on their height, weight, and tendency to climb, escape, or roll off a bed.
Some mini-cribs are also folding cribs, making them pretty awesome for taking with you when you're on the go.
Portability
Not all cribs are suited to be disassembled and packed into the car when you're visiting friends and family overnight. A travel crib is typically a better option if you're flying, taking the train, or otherwise travelling without a car and space for a full crib. 
Travel cribs can also be useful if you're taking your baby into the office, on a business trip, to visit a friend, or just hanging out in the yard and need to keep the baby contained and safe.
This type of crib warrants a whole article, given that travel cribs, are usually not made of wood and are instead made with metal, plastic, and fabric. These materials all pose different health and safety concerns, which I'll look at elsewhere.
Suffice it to say, though, that a travel crib is a great idea if you're frequently on the go, have a more mobile baby, and will be taking them with you overnight and to events and meetings where you can't keep watch on them every second. If you're visiting a friend, it's a lot easier to roll up a play mat.
Durability
The quality of materials and construction affects not only the portability, potential toxicity, and safety of a crib but also its durability. As I mentioned earlier, your baby is likely to use a crib for two or three years before transitioning to a big kid bed. 
If your crib can be converted to a bed, they might use it for several more years on top of that. And, once your baby is a big kid in a bigger bed, ideally, you would be able to either use the crib for another child or pass on the crib to a family member, friend, colleague, charity or shelter.
Durability is a key part of what makes a crib eco-friendly. A strong, sturdy crib could be used for several infants in succession without concerns about structural integrity, safety, or aesthetics. Unfortunately, many cribs are made with softwood or composite wood that acquires dings, dents, and more serious damage quite easily. 
These may only present an aesthetic concern, but they could also result in safety issues, such as when a plywood mattress base starts splitting and sagging, which could leave your baby in a very precarious situation.
Hardwood cribs tend to be much more durable and robust than cribs made with softwood or fiberboard. They can be assembled and disassembled many times and are easier to sell, making them more cost-effective than less full cribs that can't be reused and are harder to sell. Hardwood cribs tend to be more expensive than softwood or fiberboard cribs, though, and they weigh more, which makes shipping costs higher and creates issues with portability.
Bassinet vs. Crib
It may be helpful to understand the difference between a bassinet and a crib to make the best decision.
Bassinet
The Consumer Product Safety Commission (CPCS) has specific definitions for bassinet and crib. According to the CPCS, a bassinet is defined as a "small bed designed primarily to provide sleeping accommodations for infants that is supported by freestanding legs, a stationary frame/stand, a wheeled base or a rocking base, or that can swing relative to a stationary base.
A bassinet may also include anything attachable to another surface, such as the small detachable newborn bassinets that you can attach to many modern playpens or play yards. Some strollers may also have a newborn bassinet function or have a removable bassinet that can be detached for travel purposes, so those bassinets must also adhere to the safety regulations.
Crib
According to the CPCS's outlines, there are two different types of cribs: full-size cribs and non-full size cribs. The definition of a full-size crib, as outlined by the CPCS, is sleeping accommodation for an infant that has interior dimensions of 28 ± 5/8 inches (71 ± 1.6 centimetres) in width x 52 3/8 ± 5/8 inches (133 ± 1.6 centimetres) in length.
A non-full size crib, on the other hand, has the same function, purpose, and "look" as a crib but is smaller in size. The CPCS defines a non-full size crib as being 55 inches (139.7 centimetres) or smaller than 49 3/4 inches (126.3 centimetres), or an interior width dimension either greater than 30 5/8 inches (77.7 centimetres) or smaller than 25 3/8 inches (64.3 centimetres), or both.
To be considered a crib, but not full-size, the crib must also meet at least one of the following requirements:
It can fold or collapse without being taken apart, so it is smaller when not being used.

It does not have mesh, nets, or screens like a playpen.

It has hard sides and legs that can be removed.

It is circular, hexagonal, or some other non-standard crib shape.
The only exception to the rule about the dimensions of a crib is hospital cribs, which can be designed differently to meet hospital regulations and accommodate equipment.
Conclusion
The decision of where your baby has to sleep is one that you will have to make from day one. That isn't to say that you can't change your mind, but choosing a crib versus bassinet is something you should consider before your baby makes its big debut.
While you may wish that there was one clear-cut answer, the AAP does not recommend one over the other. They recommend that you choose either a crib or bassinet that adheres to current safety regulations and follow safe-sleep guidelines. 
The most important thing you can do is make sure the crib or bassinet you choose is safe, meets all current safety standards, and is the best fit for your family.