Toddlers need clothes for all sorts of occasions and seasons, so you will want to make sure your child has various clothing options.
When your baby was still a newborn, you may have dreamt about all the cute ways you would dress them as a toddler. 
Now that your baby has entered into toddlerhood, you've probably realised that dressing an adventurous tiny tot is easier said than done! 
For one thing, your toddler is now walking, talking and expressing their preferences for certain clothes (or, let's face it—no clothing at all). 
To help you build a suitable wardrobe for your little one, here are a few must-have toddler essentials you need to keep your tot happy and safe.
What to Look for When Buying Clothes for Your Toddler?
Now that your tot is walking, running, climbing, using the potty (or learning to), and insisting on doing practically everything "all by myself," you'll want to keep certain factors in mind when you dress your darling, especially if you want to hone those newfound dressing skills. 
When you're shopping for toddler clothes, look for garb that:
It won't blow your budget. While your toddler's growth rate is a bit slower than the baby pace, you'll still be lucky to get more than a season out of most clothing you buy, so why break the bank? 
Take advantage of sales, and don't turn your nose up at consignment stores. 
When it comes to basic tops and bottoms, dressing toddlers in pre-worn wear makes good (dollars and) sense.
Will hold up. Not only do toddler clothes need to withstand lots of wear-and-tear (think playground to puddle and back again), they also need to make it through multiple items of washing and dryings.
Meets comfy criteria. A toddler's skin is still as delicate and sensitive as a baby's, so parents should be dressing toddlers in soft fabrics like stretchy cotton, which is breathable and super-easy to move in. 
Also, check for well-finished seams that won't rub and non-scratchy tags (which you can always cut out, of course), and beware of appliqués and other decorative elements that can itch or irritate.
Are a good fit. It's essential to get the right size clothes for your little one, so she's comfortable.
Toddler Clothing Sizes
Here's how toddler clothing sizes generally break down according to a child's height and weight:
2T: 25–27 lbs., 32–34 in.
3T: 28–32 lbs., 35–37 in.
4T: 33–36 lbs., 38–40 in.
5T: 37–42 lbs., 41–43 in.
Everyday Items You Should Have for Your Toddler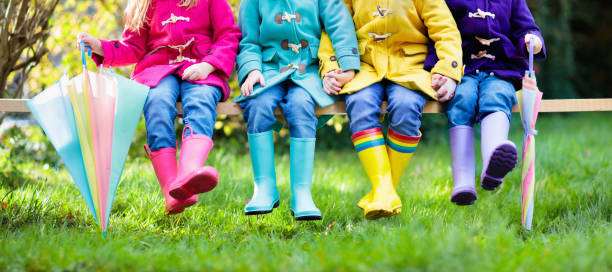 Cute and Functional T-Shirts
No toddler's wardrobe is complete without a few cute and functional t-shirts. 
For the hotter months, you can't go wrong with organic cotton t-shirts for your little one. 
Not only are baby clothes made with organic cotton soft and gentle on baby's sensitive skin, but they're also breathable.
During the winter season, make sure that you have several long-sleeve t-shirts for your toddler—preferably ones made from wool, polyester and other moisture-wicking fabrics. 
You can use them as a base layer for your toddler's winter layering outfits.
Check out our range of nursery baby lighting here.
Training Pants
Has your toddler been dropping major hints that she wants to start potty training? If so, now is an excellent time to pick up toddler training pants to help her dress for potty training success! 
Although potty training can be a daunting prospect, fitting training pants can make the transition out of diapers so much easier. 
To get potty training off on the right foot, we recommend starting with waterproof training pants for the first few weeks before switching to all-cloth styles. 
Pull-On Leggings and Pants 
On a similar note, try to avoid toddler pants with snaps or complicated buttons. Instead, look for pants and leggings with elastic waistbands and lots of stretches. 
These are quick to pull on and off, which will make dressing an excitable toddler much easier for you. When your toddler starts learning how to dress, it will also be easier for them as well. 
Best of all, toddler pants and leggings work for a variety of occasions and seasons. 
For example, you can dress up toddler girl leggings by pairing them under a cute skirt or keep it simple for playtime by dressing her in a comfy tee.
Comfortable Sleepwear 
According to Cleveland Clinic, toddlers need roughly 12-14 hours of sleep each day. 
If you're worried that your toddler isn't getting that much, there is a straightforward way to promote a better night's sleep: dressing them in cozy toddler pyjamas. 
A comfy pair of footed fleece blanket sleepers or lightweight cotton pyjamas can make a world of difference to your toddler's sleep quality—that, along with establishing a solid bedtime routine.
Shorts and Skorts
When temperatures start to rise, make sure that you have a few pairs of shorts and skorts stocked for your toddler's summertime wardrobe. 
While there's nothing wrong with letting them run around in the buff at home ('tis the season for it), you'll need to dress them for summer barbecues, park outings, and neighbourhood walks. 
Outerwear
No matter where you live, your toddler needs at least one waterproof jacket. 
If you live in an area with chilly temperatures, you may want to invest in a well-fitting snowsuit. 
A toddler's head is particularly susceptible to the cold, so be sure to stock up on infant and toddler sun hats as well. Don't forget their scarves, gloves and a pair of waterproof boots.
One or Two Pairs of Quality Shoes
Toddlers don't need to wear shoes unless their environment requires them. 
According to the American Academy of Pediatrics, letting your tot go barefoot whenever possible helps promote healthy foot development.
Even so, you'll still need one or two well-fitting pairs of shoes for your toddler in case they want to walk outside. 
Please resist the urge to buy one size up for their fast-growing feet! Your toddler is learning to walk, run and balance. They need all the support and comfort they can get.
Swimsuit 
Many toddlers practically live in their swimsuits during the summertime between water fountains, beach outings, and trips to the pool. 
In addition to applying a generous amount of sunscreen, wearing sunglasses, be sure to choose UV swimsuits for your little one for added protection from the sun.
Additionally, keep in mind that potty training a toddler girl in a one-piece swimsuit can be tricky. 
Instead, consider opting for swim separates (i.e., a rash guard and swim bottoms). It will make bathroom time a lot simpler.
Toddler Dressing Tips
Here are some other things to keep in mind when dressing your toddler:
If your child is on the short side, she may be able to wear clothing labelled in month sizes (for a baby) rather than in the T (toddler) size. 
Month sizes have the same weight range but a slightly lower height range.
European sizing is based on how tall tots are, so convert your child's height from inches to centimetres (you can try this calculator), and you'll always know exactly which size to buy.
If the toddler size of an outfit you like is out of stock, the kid-size may well fit your small fry: 
Kid sizes tend to be longer with less room in the seat (toddler sizes allow space for a diaper), so a tall toddler who's totally potty trained can probably pull off a kid-size.
Swimsuits typically run small, so you'll almost always need to buy one size up from what your tot usually wears. 
(If you buy a bigger size in one piece for a little girl, you may need to fasten the straps together in the back to keep them from slipping down her shoulders.)
If you want to spring for a fancy outfit from a high-end kiddie boutique (for a special occasion, say), go for it — but be aware that these tend to run small, too.
Make toddler dressing as me-do-able as possible. Most toddlers have a "me-do-it!" mentality that affects everything from pushing their stroller to pulling on their pants. 
Buy bottoms with elastic waists rather than a button or zipper flies (perfect clothes for potty training as well), tops with neck holes wide enough for your child's head to slip through quickly, and shirts with buttons and snaps that are big enough for your munchkin to at least try to manipulate herself. 
Those who follow these tips find dressing toddlers to be a source of fun and learning, rather than frustration, for both themselves and their independent toddler fashionistas.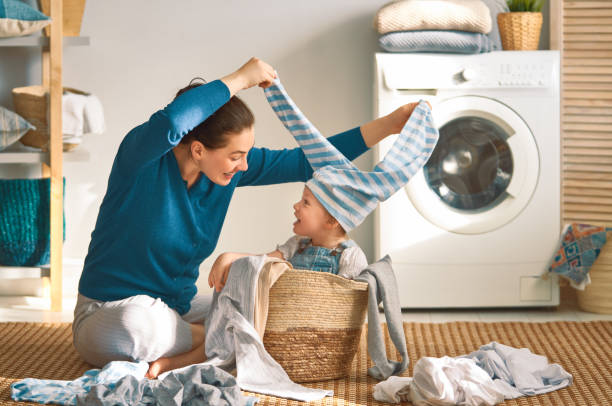 Letting Kids Choose What They Wear
If your child has suddenly become very vocal about her wardrobe, congratulations: It's a sign that she's growing up. 
Preschoolers are also at a stage where they're trying to assert their independence and test limits. 
Getting dressed provides an opportunity to put both things into practice. That doesn't mean every morning has to be a showdown, however.
Provide Choices
Most 3- to 4-year-olds are wannabe dictators, grasping for control wherever they can. So whenever possible, let them have it. 
Give your child lots of little choices about things that don't matter to you. For example, ask, "Would you rather wear your blue sweater or your red one?" Having a say will make him less likely to dig in his heels.
My Baby Nursery has a wide range of baby cot nursery blankets to choose from. 
Allow for Taste
Do you hate wool? Can't stand too-tight tank tops? It's likely your kid will have her likes and dislikes too. Within reason, try to be flexible about her preferences. 
It's OK to avoid things that bug your child. It shows that you respect her opinion.
There may be an easy fix to some of her pet peeves: You can turn socks with irritating seams inside out and cut off annoying shirt tags. 
(If her sensitivities seem more extreme, talk to your doctor.) And if she wants to wear dresses every day – well, why not? 
If you're worried about her being cold, you can always layer warm leggings or a T-shirt underneath.
Take Time to Practice
By age 3, most children can handle the basics of getting dressed, such as pulling on underwear, elastic-waist pants, and a sweatshirt. 
Most kids like to do these things. (Trickier tasks, like threading a zipper or doing buttons, may come later.) It makes them feel confident and competent. 
So even if it's slow going, let your kid dress herself as often as you can, especially on those weekend mornings when there's no need to rush. The more you can give her the power to dress, the less of a struggle it will be.
Make it a Race
Of course, preschoolers don't feel the same urgency to get out the door that you do in the morning. 
They'd rather play with Legos or watch Go, Diego, Go! With that in mind, turn dressing into a game. Then get dressed. 
Say, "I'll close my eyes and see how long it takes you to put on your shirt and pants." 
Or set a timer for ten minutes and reward your kid with a sticker if he gets downstairs before the buzzer goes off. 
You can also give him a poker chip on each excellent performance and allow him to trade them in for a treat when he has five chips.
Plan Ahead
Kids this age love looking at photos of themselves. Use this to your advantage by making a step-by-step picture guide of your child's morning activities. 
It could show her waking up, getting dressed, brushing her teeth, and eating breakfast. Hang it in her room, where she can follow it each day. 
Then the routine chart becomes the boss instead of you. 
If you have her choose her outfit the night before, you can head off one huge time-sucking morning meltdown maker: the harried search for a favourite shirt – that's then found at the bottom of the hamper.
Be Chill About Coats
Ah, the winter-coat struggle. Your child isn't cold inside, so why the heck would he want to put on that bulky, sweaty jacket and cover his perfectly warm-enough outfit? 
But he will feel different when he gets outside. Unless it's truly freezing, don't sweat the situation. 
Just carry his coat and let him go out as is. If he's chilly, he's going to ask you for it. 
Then next time, you can gently remind him of how cold he was. Chances are, your child will welcome the coat and gloves long before his fingers go numb.
Teaching Your Child How to Get Dressed
Why does Your Child need to Learn How to Get Dressed?
Learning to get dressed builds your child's confidence and independence and gives your child a sense of achievement. 
And once your child can dress himself, helping him get dressed is one less thing for you to do.
Also, getting dressed helps your child develop many other skills, including:
fine motor skills as she learns to fasten buttons and zips

gross motor skills as she stands on one leg to pull on a pair of pants

cognitive skills as she remembers which bits of clothing go on first and builds the patience and attention to finish the task

language as she names types of clothes, colours and sizes

awareness of time and space as she learns to dress for specific occasions and weather conditions.
Getting Started With Getting Dressed
Often very young children start to be aware of clothing by pulling off easy-to-remove things like socks, shoes or hats. 
Sometimes they try to put them on again. You can build on this early awareness by naming the clothes your child has taken off and the body parts they go on.
You can start to include your older baby or toddler in getting dressed by giving him a limited choice of clothes and naming them as you put them on him.
When you decide it's time for your child to start learning this skill, it can help to have some easy clothes on hand. These might include:
loose, elastic-waisted pants

clothes with velcro or large buttons and buttonholes

jumpers, t-shirts and underwear with pictures on the front to help your child work out front from back

clothes that are easy and comfortable for your child to move in.
Getting Dressed: Breaking Down the Steps
Getting dressed can take a lot of steps. It helps break it down into smaller steps – for example, putting on underwear, then a t-shirt, shorts, socks and shoes.
You can also break down each step in getting dressed, depending on your child's skill and age. For example, you could break down the steps for putting on shorts like this:
Face shorts the right way.

Hold onto the front of the waistband.

Push one leg at a time through the leg holes while also holding pants.

Pull the shorts up.
Talking your child through each step helps her know what to do. In the early stages, simple words or phrases are OK – for example, 'Shirt on.
You can say more as your child's language develops – for example, 'Push your arm through the sleeve'.
When your child can almost dress himself (usually from three years and up), you can check whether he understands the steps by asking, 'What's the first thing you need to put on?' If he can't remember, you can help him get started by reminding him.
Tips for Helping Your Child Learn to Get Dressed
If you can be positive and supportive, your child is more likely to cooperate. So a lot of praise will go a long way, even if your child has put his pants on backwards! Here are some practical tips to help.
Making time

Allow a realistic amount of time for getting dressed.

If you're often rushed in the morning, try choosing clothes with your child the night before.

When you're in a hurry, let your child do the easy tasks and help her with the complex tasks.

Practise getting dressed when you and your child aren't in a hurry or tired.
Choosing Appropriate Clothes
Let your younger child choose from a couple of options, like two t-shirts. Older or more mature children might be able to choose their clothing.
Talk about the weather when you and your child are choosing clothes. Ask your child whether it's hot or cold, raining or sunny.
Teach your child the difference between dirty and clean clothes – for example, 'Dirty clothes go in the laundry basket. You can wear them again when they're back in the drawer'. You can use some simple guidelines, like wearing clean underwear and socks every day.
Making it Easier
Have your child sit down for dressing tasks. Sitting on the floor might be easier than sitting on a chair or bed for some children.
Store clothing in drawers and cupboards that your child can get to quickly. Label clothing drawers with a picture or word to describe the dress that's in the drawer.
Wear clothes with clear front and back clues – for example, a picture on the front and a tag on the back.
Teach undressing first – it's easier than dressing. Being able to undress by yourself will boost your child's confidence.
Conclusion
With so many cute toddler clothes available, it's easy to overdo them on your toddler's wardrobe—believe us, we know! But if you're not careful, your little one's dresser is going to be overflowing with clothes that they rarely (if ever) wear.
By sticking to these toddler wardrobe essentials, you can prioritise quality over quantity. Not only will laundry day be more straightforward, your little one is guaranteed to be comfy and cute for any occasion.
Looking for blankets for baby cot? Look no further. My Baby Nursery has you covered.