While baby clothes are typically sized in a relatively straightforward manner, there are things that you should know before loading up on the basics. In this guide, we'll help you understand baby sizing conventions so you know how to buy the right sizes and how to prepare for your little one's frequent growth spurts.
Looking for organic baby clothing? Check out our range here.
Useful Tips to Find the Right Baby Clothes Size
Determining your baby's clothing size is only one of the few key considerations when it comes to clothing your baby. Here are some additional tips to help you make smarter and more efficient choices:
For infants, go for the more practical choices. This means buying quality vs. quantity. You won't need many baby clothes at this point as your baby grows quickly during this stage. Additionally, newborns don't really get their clothes dirty, so they will wear and tear longer. Also, consider buying more gender-neutral clothes especially if you're buying before your baby is born.
Don't get too excited and buy too many clothes ahead of time. This is a mistake so many newbie parents make too often. Some babies are born big and could only use newborn sizes for a short time. Growth spurts are also very common at this stage. So, it's important not to buy too much too soon.
Always consider your baby's comfort when choosing clothes. Babies don't like clothes that have to be pulled over their heads so avoid separates. Onesies are your best friend.

Also consider your comfort as a parent, avoid complicated clothes that will be hard for you to put on your baby.

Buy one size ahead of your baby's age so they can grow in them. This will also help you spend less on clothing.

Buy clothing with simpler fastenings. Pants or leggings with elastic waistbands are ideal and you should avoid anything with buttons or anything that your baby can loosen up. They are very curious during this age and accidents can happen.

Anything in cotton will go a long way to making your baby feel more comfortable in clothing and can also avoid irritation. Materials that are stretchable can also fit your baby longer as they grow.

For toddlers, pick more durable clothing. They tend to move more at this age and are prone to damaging their clothes more often.

When purchasing shoes, choose pairs that provide good comfort and flexibility. It is best to bring your baby when shopping so you can find the perfect fit.
Following these simple steps and guidelines will not only save you a lot of money along the way but also a lot of time. Dressing your baby can be a great joy you can experience without making any mistakes or having any hassle. Hopefully, this guide has helped you avoid both.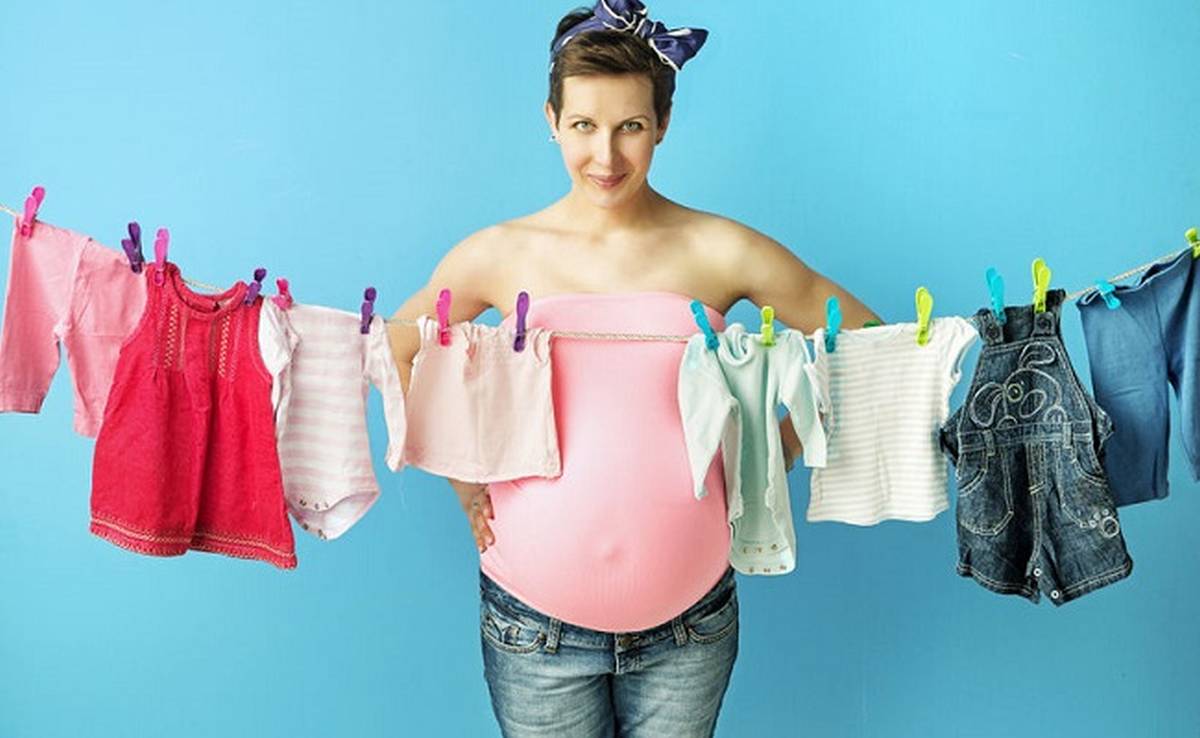 The Basics: Babies Grow at Their Own Pace
In general, baby clothing is sized by age. Newborn clothing is marked as NB (for newborn), infant clothing is marked by month (for example, 0-3M) and toddler clothing is marked by age (for example, 2T for two-year-olds). But there are some hiccups with this convention. Ask any seasoned parent and they'll probably tell you that their baby's clothing didn't perfectly match his or her age. Maybe they wore newborn clothing well into their third month or maybe they were already 3-6M at 9 weeks old.
For this reason, it's important that you're paying close attention to other factors, primarily your baby's height and weight. When purchasing new baby clothes after the baby is born, reference the brand's size chart and purchase the size that corresponds to the baby's height and weight rather than their age. The fact of the matter is that babies grow at their own pace, so you'll get a much more accurate fit when you go off your bundle's size and not their age.
You already know that a comfy, cozy baby is a happy baby, so finding the right fit is an important part of the process. Make sure that you pick baby clothes and Onesies® Brand bodysuits that are snug but not tight—especially around the neckline and leg openings—so that the baby doesn't get irritated throughout the day. When your bundle becomes mobile, it's important that you pick clothes that don't restrict their range of motion when they're dancing, running and spinning in circles at the playground.
Preparing for Baby: How Much of Every Size Do I Need?
When you're getting ready to welcome a new baby, determining how to stock the closet is a monumental task. Having a rough idea of how much of every size you need will help ensure that you're not over- or understocked. It will also help you guide friends and family so they don't shower you with too much of one size! Remember that there is simply no way to know exactly how quickly your baby will grow or how often he or she will need a change of clothes, so allow yourself to estimate rather than plan exact sizes.
During the early stages of a baby's life, she's changing at a rapid pace. She's also making messes more often. In the newborn and infant phases, make sure you have extra Onesies® Brand bodysuits and sleepers. We recommend having at least 15 Onesies® Brand bodysuits and seven sleepers on hand in each size if you do laundry once per week—that accounts for at least two outfits a day and one set of pajamas every night, which can be worn again without laundering if baby wakes up clean and dry.
Once your little one starts to walk, there's a good chance she'll have playdates, preschool and other events where you need more than just a couple of plain Onesies® Brand bodysuits and pajamas. Plus, as the baby grows, there will be fewer messes and daily outfit changes, so you can begin to create a more varied wardrobe. Introducing toddler playwear once they start walking—three per week is good, but purchase based on how often the baby will need to dress for playdates and outings.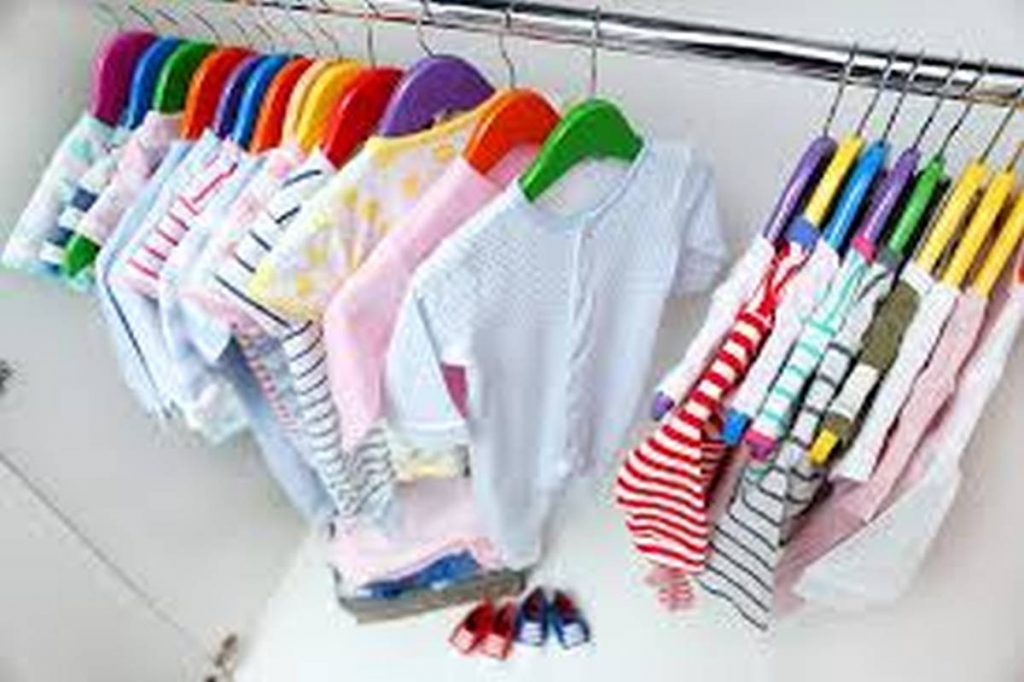 Baby Clothes – Size Guide
So what size clothes will you need for your new baby?
Below is a general guide to baby clothing sizes although keep in mind that all babies grow at different rates and, like us grown-ups, have different body shapes and sizes. Also clothing sizes will differ slightly from brand to brand.
Bamboo baby clothing your thing? Check out our range here. 
Size 00000
This size is for very small and premature babies (about 2kg). It is unlikely that a full-term baby would need 00000 clothes so no need to buy this size if you expect to make it to 40 weeks or close enough. If you do have a small or premature baby then head to the shops or online – many popular brands make baby clothes in 00000.
Size 0000
This size is for newborns (around 3kg) but don't go overboard buying an entire wardrobe in this size before your baby is born. You may end up with a 4kg+ newborn and a drawer full of 0000 clothes that never see the light of day. Buy a few clothes in this size but only the basics (singlets, growsuits etc). Even if your newborn is 3kg or so they'll be out of 0000s within a month or two.
Size 000
This size is generally for babies up to 3 months old or around 6kg. Buy comfortable clothes (growsuits are great) that will do up at the front and allow easy access to nappies as you'll still be doing quite a lot of nappy changes.
Size 00
This size is for babies up to and around 6 months old (about 8kg). They'll probably wear this size for a bit longer than the others. Clothes in 00 size will probably be the first lot of clothes your baby will make a mess of as this will be the age he starts on solid food and begins to explore the house – rolling/commando crawling/crawling. Might be a good idea to invest in some 'play clothes' in this size (go op-shopping for some cheap clothes that you won't mind them destroying!)
Size 0
Size 0 clothes are generally made for babies up to and around 9 months old. Again, these are likely to get a good workout as baby starts crawling/walking/eating solids so it is good to have a few more in this size. Look for clothes don't get in the way of your little one as they are learning to crawl and walk. It is a good idea to stick with leggings, long pants and shorts for girls as dresses and skirts tend to get a bit tangled up when they're learning to crawl.
Size 1
Size 1 clothes are made for babies aged around 12 months old. This is a fun age to buy clothes! They'll be walking, or starting to, so you can start buying dresses and skirts for your little girl. Plus as they say 'goodbye' to crawling you can say 'goodbye' to the dirty and torn knees of the size 0 clothing. Babies at this age are still messy little things so have plenty of 'play clothes' that you don't mind seeing covered in mud or with watermelon dribbled all down the front.
How Do You Measure Baby Clothes Sizes?
To put it simply, sizes can be determined by the age and weight of your baby. Keep in mind though that babies grow and develop at different rates. Aside from this, different brands also offer some slight differences in sizes.
In this stage of your baby's growth, the general rule of thumb is to not go overboard and buy a whole wardrobe full of size 0000's you will unlikely use. Buy only some basics such as growsuits and singlets in size 0000's and focus more on the size 000's to size 1's which your infant will use longer.
How To Store Baby Clothes
Wash the clothes and treat any stains. Make sure your clothes are completely dry before storage. Separate into each size/gender and label your storage container (I used old nappy boxes) and store in a cool, dry place.
Sometimes baby clothes appear yellowed when you pull them out of storage. Don't stress, the yellow stains weren't there when you (or their previous owner) put them away and they just need an overnight soak, a wash and some time in the sun to be good as new.
Don't give away your baby's pants and shorts too early as they might just fit again once they are out of nappies. A one-year-old with a bulky nappy on might fit into his favourite shorts again when he is two and wearing undies.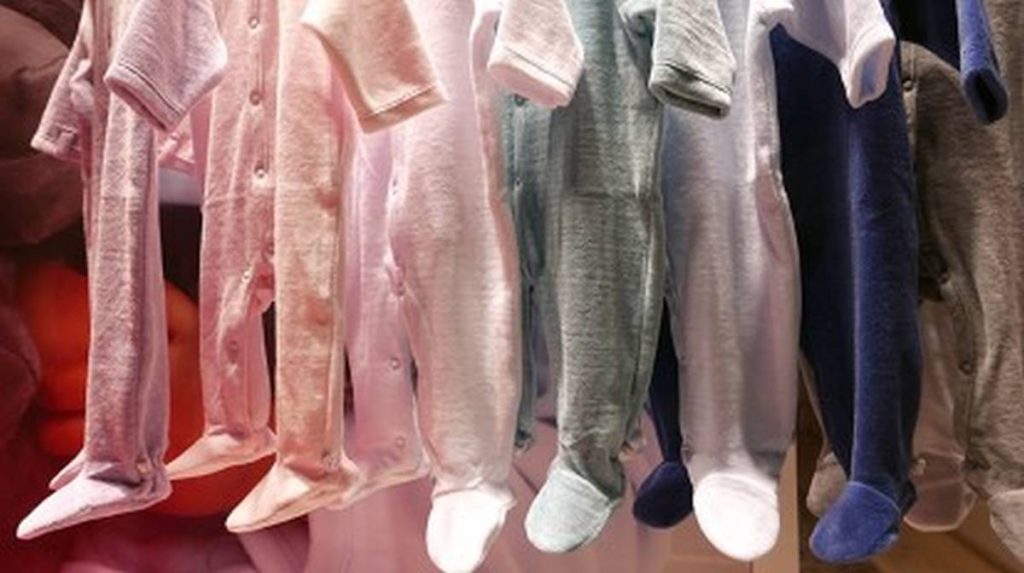 Essential Baby Clothes To Buy
Cotton singlets
Singlets (or singlet suits) are essential in all sizes. In winter they help insulate a baby against the cold and keep their chest nice and warm. In summer they might be the only item of clothing your baby wears (not in the direct sunlight of course though – make sure you're always sunsafe!)
Growsuits/onesies
The most practical item in a baby's wardrobe. Warm (but not too warm), easy to put on, easy to take off for nappy changes and, of course, very cute. Buy some with feet and some without as sometimes the baby will still 'fit' into the growsuit except for the feet. Onesies without feet are also less slippery for an older baby who is learning to walk.
My Baby Nursery has the biggest range of the best baby clothing. Check it out here.
Essential items for a newborn:
Singlets x 5 (or, even better, singlet suits – as they don't ride up!)

Short-sleeved bodysuits (can be used under clothes in winter)

Long-sleeved growsuits (you'll still need one or two even if your baby is born in summer)

Socks x 3
It's difficult to predict how your baby will develop, so buying clothes ahead of time doesn't always make sense. Growth spurts occur, and some babies are born big and only last a few weeks in the newborn size. Don't buy too much too early. Also, note that there can be some variability in sizing among manufacturers and retailers.