At the end of a long day, it can be difficult to find time or energy to go out and buy all your baby's supplies. That is why so many parents rely on online shopping! But where do you find these stores?
These best baby shops in Adelaide are highly recommended by parents. They have all the brands and products that you could ever need and more! However, there are so many stores to choose from, making it difficult to know where to go first.
We have collected a list of the top baby shops in Adelaide for your convenience. Check out these great stores today!
Add a header to begin generating the table of contents
Ultimate List of the Baby Shops in Adelaide, South Australia
My Baby Nursery - Baby Shop Adelaide

EVERYTHING YOU NEED FROM NURSERY TO PRAMS
Specialising in baby products, including nursery furniture, manchester, prams, car seats, high chairs and many many more items, My Baby Nursery truly is your one-stop-shop for everything to prepare for the arrival of your new baby as well as everything you'll need as they grow.
BABY NURSERY FURNITURE
Our range of nursery furniture has everything parents-to-be need. All our nursery products are designed to take the hassle out of nappy changing, storage and bedtime, so you have nothing to worry about except treasuring special moments with your baby! We are proud to stock an original range of change tables, cots, nursery storage and much more.
BABY COTS - BABY FURNITURE COTS ONLINE
Is there anything more gorgeous than a sleeping baby? Yes, a baby sleeping in a beautiful cot – safe and sound. A key piece of the nursery puzzle, there are plenty of things to consider when buying a cot.
With an endless range of products on the market, a quick trip to the local baby shop just won't suffice. Luckily we've scoured the baby stores to find the best sleep options for your precious little one that'll also suit your nursery budget!
BABY BASSINETS FOR YOUR NURSERY ONLINE
Decorating your child's nursery is one of the simple pleasures of being a parent. But to ensure your baby's comfort and safety, you should always consider more than just looks when buying baby products and nursery furniture. At My Baby Nursery, we have a vast collection of the best baby bassinets.
Babies are born with an instinct to be close to their mother, but when she can't be there, they need a safe spot.
A bassinet is designed for this purpose and comes in many shapes and sizes. We have compiled a list of some of our favourite baby bassinets in a range of prices to suit every budget.
Choosing the right bassinet is important because it offers your baby safety as well as comfort while he or she sleeps!
Baby Junction - Baby Shop Adelaide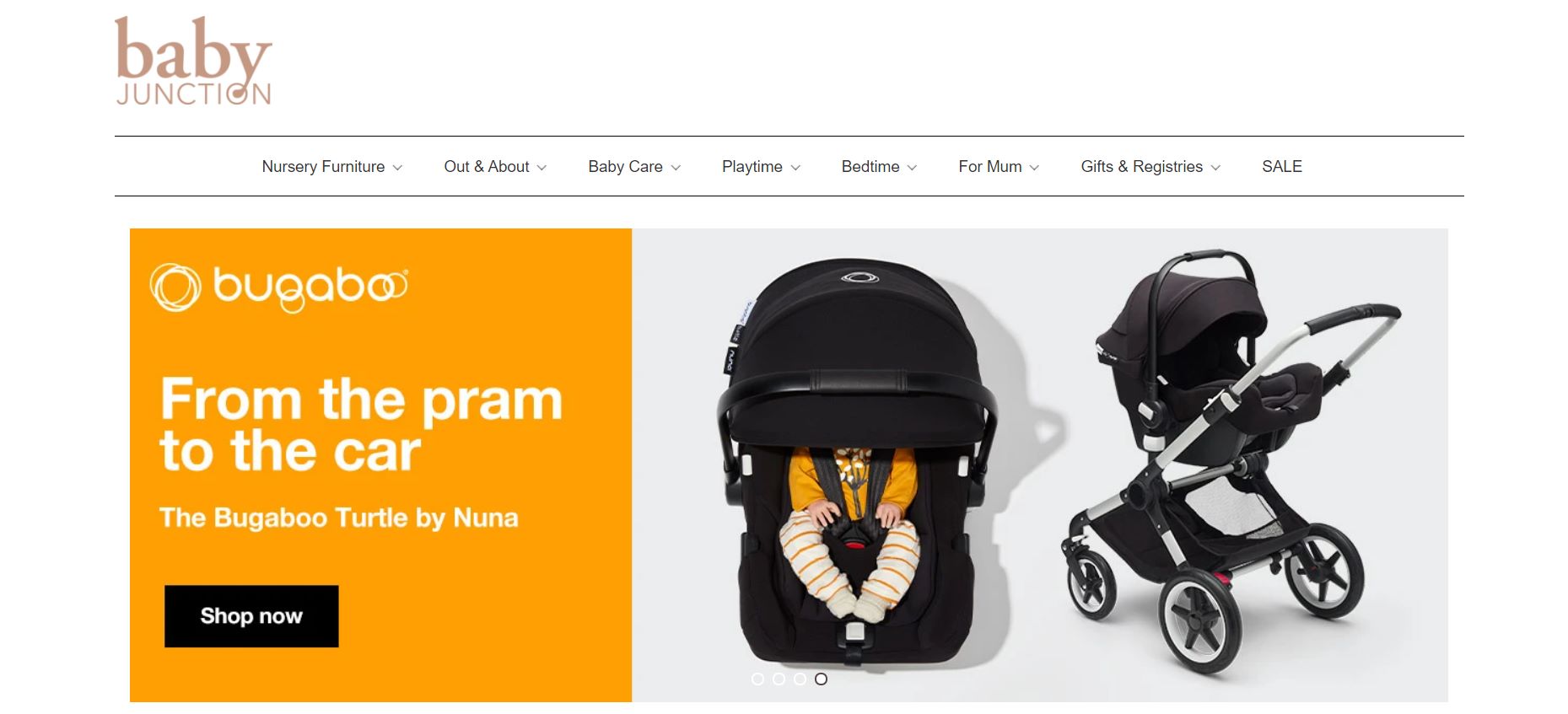 (08) 8361 2209
Welcome to Baby Junction!
Baby Junction is a boutique store located in the lovely eastern suburbs of Adelaide. At Baby Junction, we pride ourselves on providing our customers with outstanding customer service. 
We stock all the best brands and have Adelaide's best range of nursery furniture available to view in-store. Don't wait for a "one day only" sale, our nursery packages are fantastic value and available instore every day!
For a customised online quote for a full nursery package, email us at info@babyjunction.com.au
The Baby Junction Difference
At Baby Junction, we value our customers. We have everything you need for your new addition - from furniture to prams, car seats, bedding, toys and everything in between! We know your baby's comfort and safety is paramount, and we have a carefully curated range of products chosen from the best brands locally and from around the world. 
We believe in only stocking items that are not only beautiful and high quality but represent great value for our customers as well.
Every customer through our doors receives the same high level of personalised service - we pride ourselves on our product knowledge and love helping our customers choose the best products for their growing families.
Come and see us at 69 Nelson Street, Stepney and experience the difference.
The Infant Boutique - Baby Shop Adelaide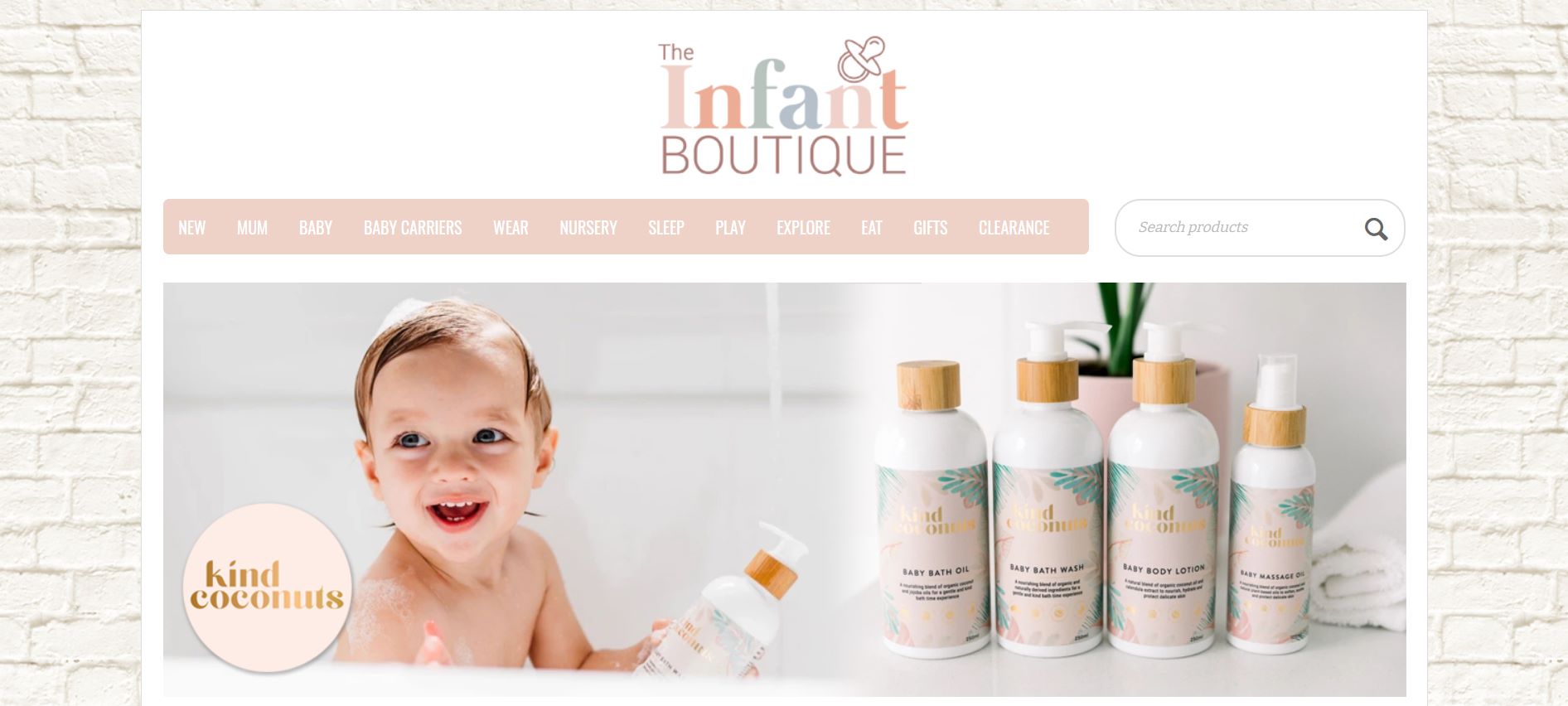 08 8362 6084
The Infant Boutique is not just a business it's a family!
Amber, (that's me!), along with my mother Jo, took over the store in December 2012 when my daughter Aubrey was just shy of 4 months old. We operated solely online for the first year and settled down in a fabulous circa 1900's villa in January 2014, in the picturesque suburb of Norwood. In July of the same year, we welcomed our newest member of the team, Aleksandr, aka The Man. We also have a second business, Send A Gourmet Basket which we run side by side, and Jo has owned and run this since 2002.
Our days are filled with laughter and, of course, sometimes tears, mainly from Aubrey (although The Man does give her a run for her money). You will usually find her perched on the window sill looking out for trucks or in the workroom drawing pictures while we pack orders. She is great at greeting you as you walk in the door and just loves to show you her favourite things. All children, whether big or small, are welcome in our store.
We just love what we do! Every purchase, whether it be online or in-store, is treated with tender loving care. We gift wrap, add little notes and sometimes a little something extra. We support and stock as many local & Australian businesses as we can. We stock products that we love, and we hope you love them too. There is so much out there that things are always changing, and we don't necessarily order the same thing twice.
Most of our adventures are posted on Facebook and Instagram, but I must admit keeping up with Pinterest and Twitter is on my 'to do list. Feel free to follow us and even keep us up to date with your adventures. Nothing makes me happier than seeing your little ones enjoying the goodies from our store.
"And...I think that's what life is all about, actually, about children and flowers."
― Audrey Hepburn
Baby Shops Frequently Asked Questions
Imagine a cute little baby has joined your family. Your first reaction is to want to dress your precious baby girl or baby boy up in funky, trendy, bright, and sometimes expensive clothes to complement all the cuteness overload.
However, there are times when those cute outfits come at a price other than money; some babies start to get rashes and other skin irritations. Many times the fabric of the clothes is the culprit.
Babies, especially newborns, have very sensitive skin. So, when buying baby clothes, most parents would defer to picking out pieces made from cotton.
However, alternatives like soy-based fabrics are also sustainable (gentle on the environment) and silky smooth (gentle on babies), which is perfect for baby clothing. So our recommendation would be to consider fabrics like cotton (especially organic cotton), azlon from soy, and rayon from bamboo.
These fabrics are from nature or derived from natural resources and have good properties to make them a good fit for baby clothes. Avoid bright colours as they may contain fluorescent agents.
Baby clothes made from materials like nylon and polyester may cause skin sensitivity and discomfort because of their inability to take up moisture and regulate babies' body temperature, so they should be avoided. 
Cotton fabric is the most popular choice for children's and baby apparel. Cotton is soft and highly absorbent, and it is gentle against a baby's skin.
Organic fabric, and organic cotton fabric, in particular, is the perfect choice for babies, as it is grown without the use of chemicals and fertilizers.
When buying baby clothes, safety is essential and sometimes overlooked by busy parents and families. Every year, millions of baby clothes are recalled because of failure to meet safety standards. Hence, it is vital to buy baby clothes that don't raise safety concerns. 
Do not buy any baby clothing with decorations like bows, buttons, flowers, and hooks because they can cause choking hazards. If a piece must contain decorations, it should be firmly attached. Also, avoid picking clothes with drawstrings and waistbands because they pose strangulation hazards. 
When you are buying baby sleepwear, either pick the ones made from flame-resistant fabrics (chemically treated) or snug-fitting to safeguard babies from burns. This is particularly applicable to baby sleepwear sizes 9-14 months -babies are very mobile during this stage. 
In general, baby clothing is sized by age. Newborn clothing is marked as NB (for a newborn), infant clothing is marked by month (for example, 0-3M), and toddler clothing is marked by age (for example, 2T for two-year-olds).
Buying an adorable baby gown for your baby only to find it too small is a disappointment and a hassle of time and effort to make an exchange. Ensure you buy clothes that fit the baby right.
The appropriate size is not only comfortable but also allows the baby to move easily. Babies grow at an amazingly fast rate, be sure to account for growth rate when you are making purchases.
Most clothes have standard measurements to guide you if you are unsure of the size that will fit your baby well. However, keep in mind that these are general guidelines, and often, babies fall in between sizes (for example, their height is 3-6 months and weight is 6-9 months). 
If you can't decide on sizes, we always recommend buying the bigger size to compensate for growth spurts. Also, ensure that baby clothes are easy to put on and take off. Between diaper changes, feeding, and burping, the last thing you want are onesies that require a lot of effort to change in and out of.
Choose clothes with snaps and/or zippers as opposed to buttons. Again, avoid fanciness and consider practicality. If you are in the stores, try out the snaps and zippers to make sure they are easy to snap on and off or zip on and off.
Bamboo is the softest fabric you can find for your baby's clothing. Many people compare it to Egyptian cotton, which is a very expensive form of cotton.
However, the bamboo fabric will cost you much less and provide you with a soft and silky feel. Bamboo fabric is much softer than other cotton options.
Another positive is bamboo fabrics are known to be hypoallergenic, so it is less likely to cause an allergic reaction to your little one.
So, if you're deciding between bamboo vs. cotton, a bamboo fabric will be a wonderful option for your baby's clothing! They'll be so comfortable in their super soft new clothes!
Petit Luxe Bebe - Baby Shop Adelaide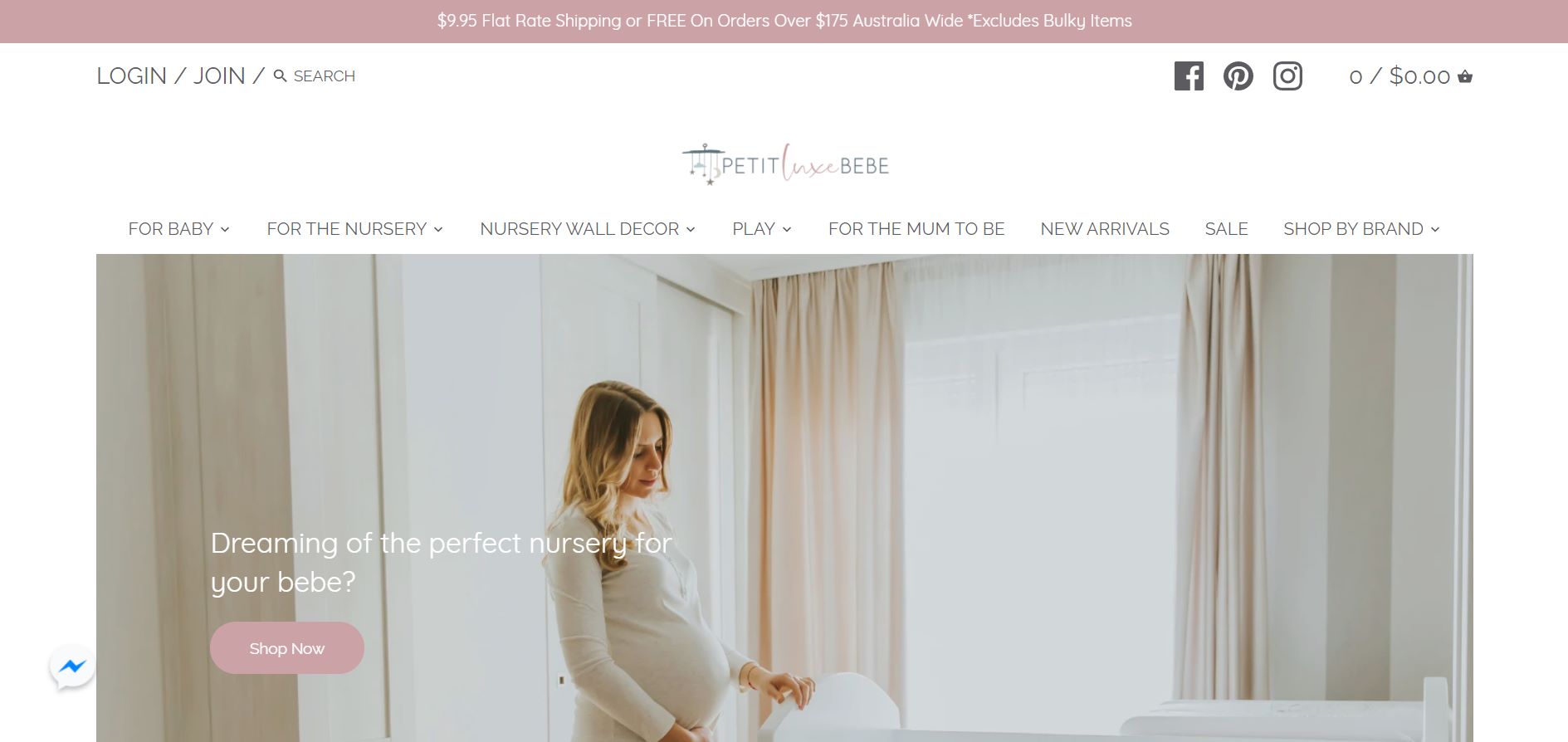 0402799213
From the time you see those 2 faint lines on the test, your mind races...
You're Pregnant!!
Will it be a boy? Or a girl?!
Will they look like you or your partner?
What do you need to buy?
And what about the nursery?! (Yep. You're going to need one of those too!)
You imagine a calm and peaceful space full of gorgeous, unique and lovingly handmade products.
A magical space where your baby will (hopefully!) sleep, take their first steps and grow into a toddler and then a child.
But... where to start?!?
Creating your baby's nursery can be daunting and exciting all at once.
I've been there before. Three times to be exact.
And I know just how overwhelming it can be.
To want to create a place full of magic where so many memories will be made.
It needs to be perfect. (And it will be! We've got you, Mama!)
Petit Luxe Bebe offers a carefully curated range of some of Australia's most coveted boutique baby brands and handmade businesses in one place so that you can easily create that incredible nursery you've been dreaming of in one simple transaction.
From whimsical wall art to luxe storage solutions. From soft, breathable bedding and linen to beautiful padded playmats, we've got everything you need to bring your vision to life and decorate a nursery you'll be proud to show off.
Ready to get started? Let's go...
Our Petit Home For Luxury Baby Gifts And Nursery Decor
Hi, I'm Vanessa, and this is my dreamy little home for simply the most exquisite luxury baby gifts and nursery décor online.
I first began Petit Luxe Bebe when I discovered I was going to be an aunty for the first time. As I searched for the perfect present for a precious little bundle, I realised there was a need for an online baby store that specialised in truly gorgeous, luxury baby gifts—a space dedicated to nursery décor and baby essentials that featured stunning aesthetics and heirloom quality. And so Petit Luxe Bebe was born!  
In addition to running my own business, I also work as a freelancer creating Facebook ads for other businesses. But my most important role is that of "Mum" to my three beautiful children, Jaxon, my 13-year-old video game addict, Mia, my 12-year-old callisthenics star and 6-year-old Austin, the super-cheeky 'baby' of the family.
Life is a juggle and my days are certainly full, but my heart is fuller. I relish the opportunity to work from home so that I am free to be with the kids when they need me. And yes, working in my pyjamas is my guilty pleasure!
And though my gorgeous kiddos are no longer babies, I am still besotted with nursery styling and sourcing the most luxe baby décor and essentials. From nursery wall decals to the perfect baby play mat, I just love exploring what's available and bringing the very best of my discoveries to my wonderful customers. And I cannot tell you how thrilled I am that my favourite colours, blush pink, mustard and grey, are having a moment in nursery trends!
A few fun facts about me: I am fuelled primarily by coffee, I can't leave the house without a slick of mascara, and my eyebrows are done, and my absolute favourite holiday destination is Bali. It's a tropical getaway that's practically in our backyard, which makes travelling affordable even for a family of 5.
So welcome to Petit Luxe Bebe, and thank you for stopping by. I simply love what I do, and I hope that's reflected in our thoughtfully curated range of beautiful things for the precious bebe in your life. So settle in with your favourite drink and enjoy a nice, long browse.
After all, shopping should be fun!
With love, Vanessa xx
Adelaide Baby Hire - Baby Shop Adelaide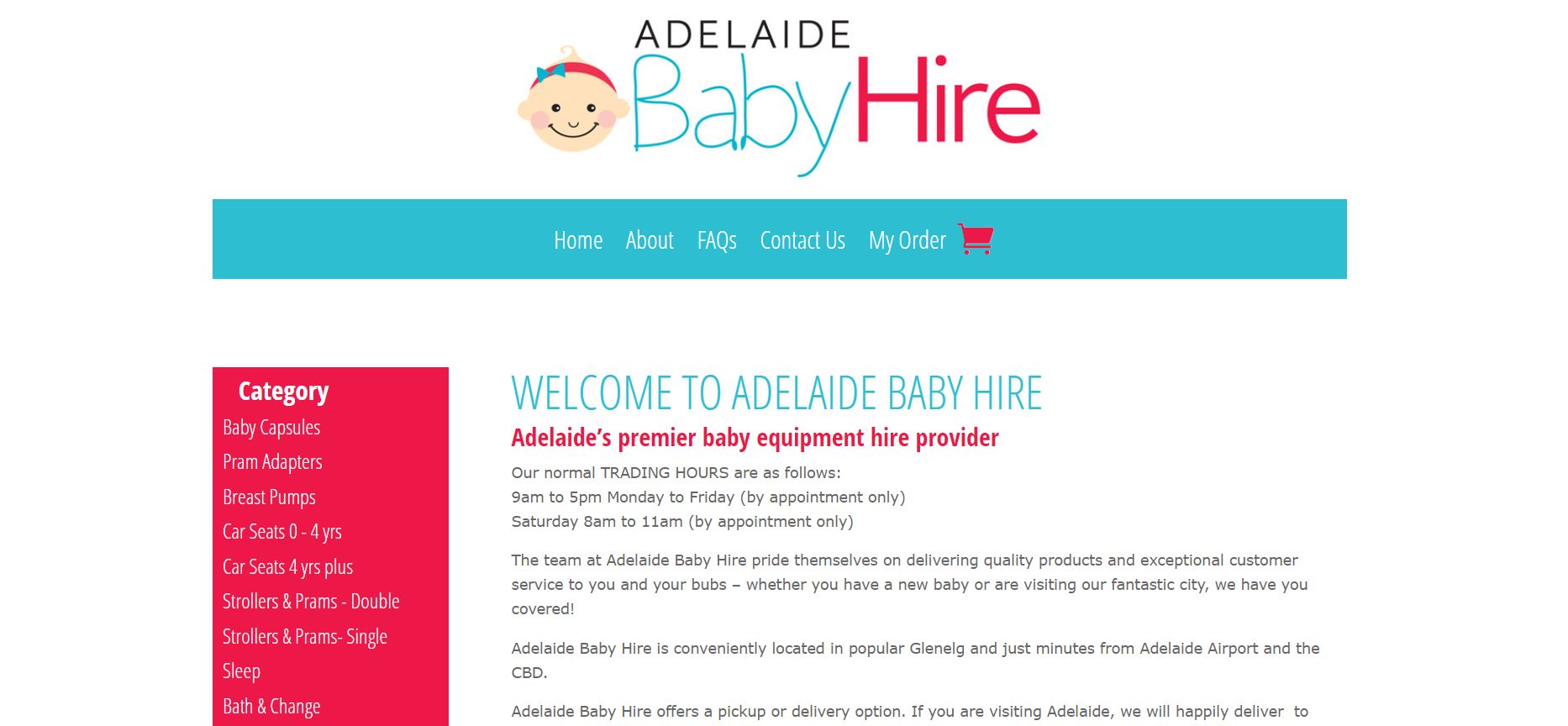 0419 808 539
WELCOME TO ADELAIDE BABY HIRE
Adelaide's premier baby equipment hire provider
The team at Adelaide Baby Hire pride themselves on delivering quality products and exceptional customer service to you and your bubs – whether you have a new baby or are visiting our fantastic city, we have you covered!
Adelaide Baby Hire is conveniently located in popular Glenelg and is just minutes from Adelaide Airport and the CBD.
Adelaide Baby Hire offers a pickup or delivery option. If you are visiting Adelaide, we will happily deliver to your choice of car rental company at Adelaide Airport or to your accommodation (fees apply).
If you are arriving late or stretched for time, we even provide a 'shop run' service for those essential items such as nappies, milk/formula, wipes etc., etc., for a small fee of $10 (find this under our 'essentials' button).
ABOUT ADELAIDE BABY HIRE
Adelaide Baby Hire was established following the first-hand experience of travelling with babies and small children. In fact, we have put together our own 'wish list' of items required for children when travelling.
Adelaide Baby Hire offers superior quality, clean and safe child and baby equipment. It is important to us that all products comply with Australian Standards and are presented to you clean, sanitised and in excellent working order.
We are always purchasing new products, so if there is something you need we don't have listed, please ask us!
Jetty Babes - Baby Shop Adelaide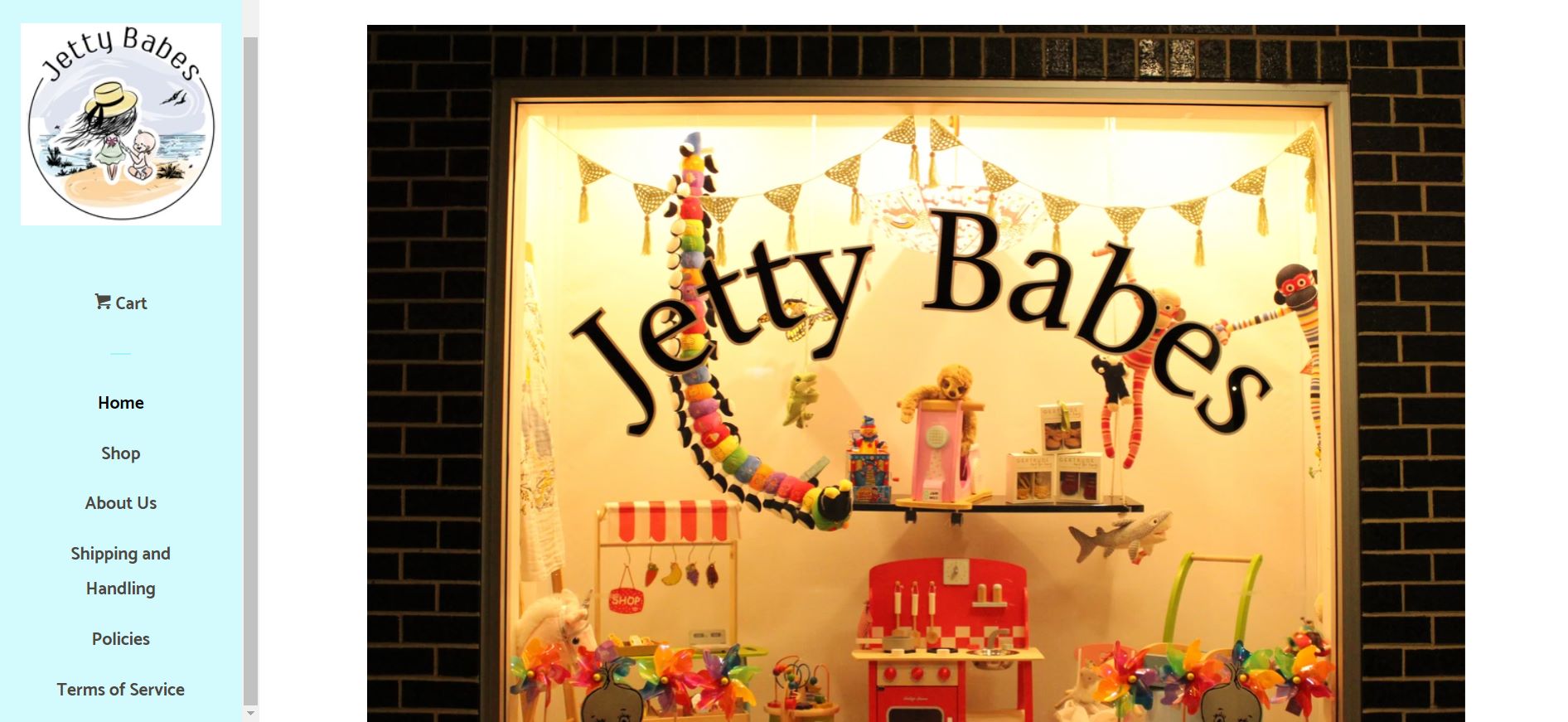 0412 419 498
Jetty Babes began as a brick and mortar store in the beautiful seaside suburb of Brighton in Adelaide in 2009. We are now offering a selection of our most popular products online with flat-rate national shipping and FREE local Click & Collect.
We stock the very best in toys, clothing and gifts for babies, young children and new parents. We stand by the quality of our products, we have been in the business for over 10 years and have 2 boys ourselves, if you are after something a bit different, that is tried and true you have come to the right place!
Little Beba Clothing - Baby Shop Adelaide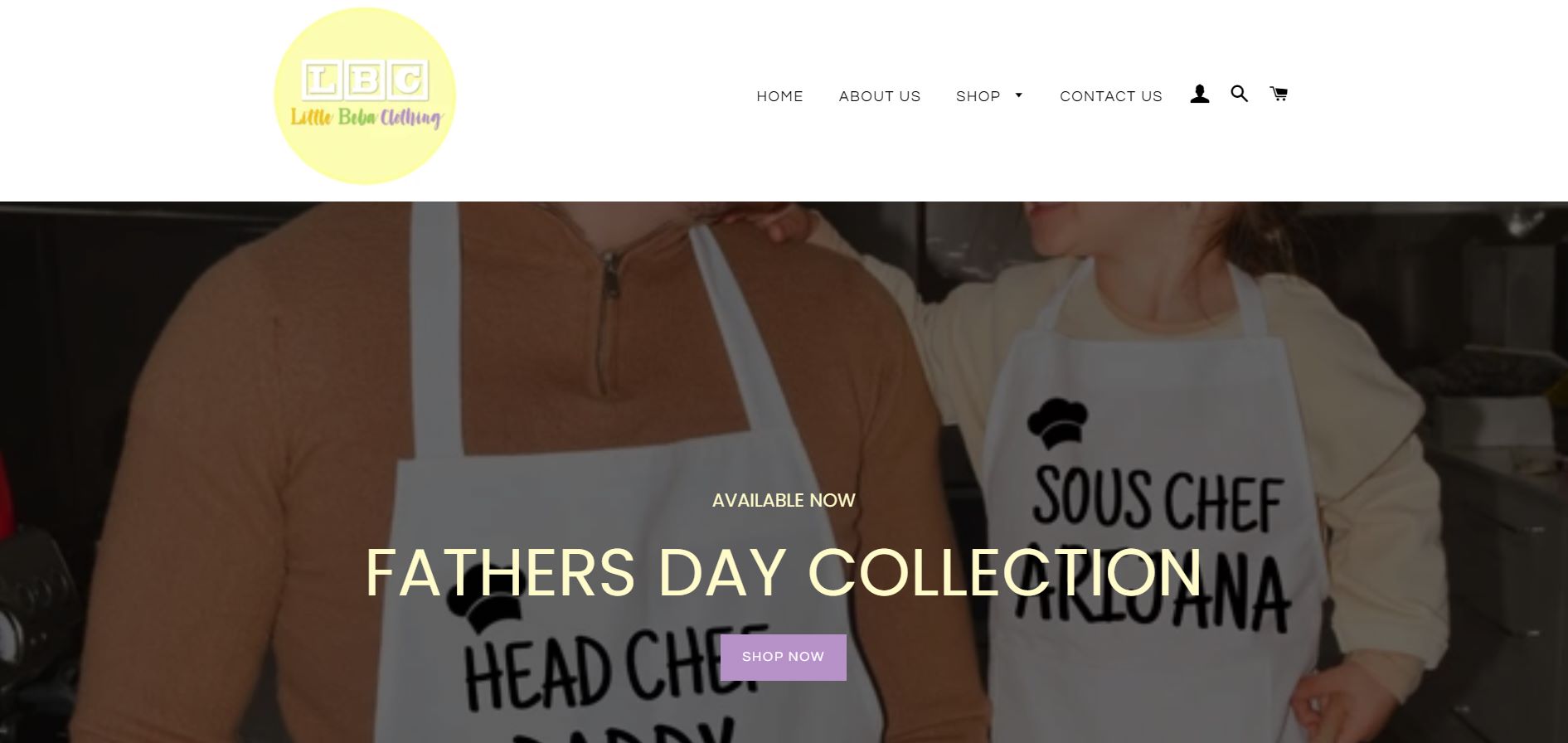 littlebebaclothing@gmail.com
WELCOME TO LITTLE BEBA CLOTHING
Getting the little ones dressed doesn't have to be a chore (trust me, I've been there) – I'm here to give you casual and comfy attire to dress your bebas with ease while still looking totally adorable! Children's comfort is the ultimate luxury, starting with their outfits. Selling newborns to size 5 for boys and girls alike, LBC has a little something for everyone. We ship worldwide!
About Us
Little Beba Clothing is an online small business run by myself - Adelaide girl MamaStephanie. I was at home with a one year old and 5 months pregnant with the next when I decided to start LBC. I wanted to provide the cutest clothing at an affordable price because who wants to spend big bucks on your bebas outfit that they outgrow after two wears?!
Fast forward down the track, and LBC is now all about casual life. Getting the little ones dressed doesn't have to be a chore (trust me, I've been there) – I'm here to give you casual and comfy attire to dress your bebas with ease while still looking totally adorable! Children's comfort is the ultimate luxury, starting with their outfits. Selling newborns to size 5 for boys and girls alike, LBC has a little something for everyone.
Kidzone - Baby Shop Adelaide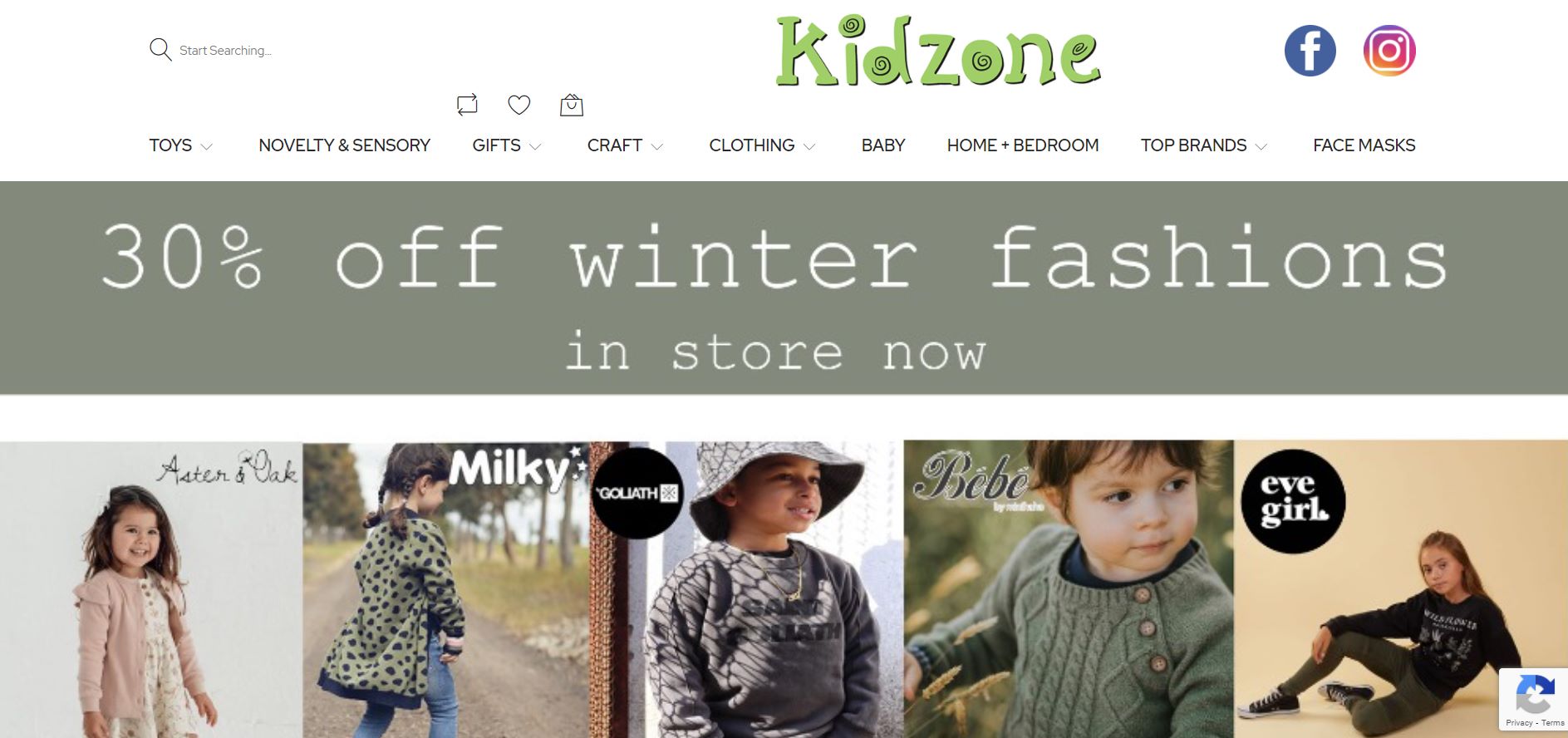 0457 814 018
Kidzone is a family-owned Adelaide children's concept shop. We are a one-stop shop for children's toys, gifts and fashions. Kidzone has been operating for over 19 years.
In June 2020, we relocated to Colonel Light Gardens. Our loyal customers have helped us create the range we have today, and we are very grateful our customers have followed us to our new location.
You'll love our large range of beautiful wooden toys, including dolls houses, balance bikes, kitchen play, train sets, and so much more. We have a beautiful baby range with lots of gift ideas for baby showers and newborns, including soft toys, bibs, blankets and baby fashions.
In addition to our baby fashions, we have children's fashions for ages 2–14. Some of the brands we stock include Le Toy Van, Sylvanian Families, Brio, Corolle Dolls, Ty Beanie Boos, Melissa & Doug, Sunnylife, Jellycats, Playmobil, HootKid, Milky, Eve Girl, Korango.
Our website is just a taste of what we have in store! When you are in the Adelaide area, come and visit us at 4/501 Goodwood Road, Colonel Light Gardens 5041. Pop in on the way to your party, you'll always find a gift to suit, and you'll love our free gift-wrapping service. Our large car park enables safe and convenient shopping for parents with children. We look forward to seeing you in-store soon.
We welcome your questions, comments and feedback, please call or email us, and we'll respond as soon as possible.
Fluffy Bums - Baby Shop Adelaide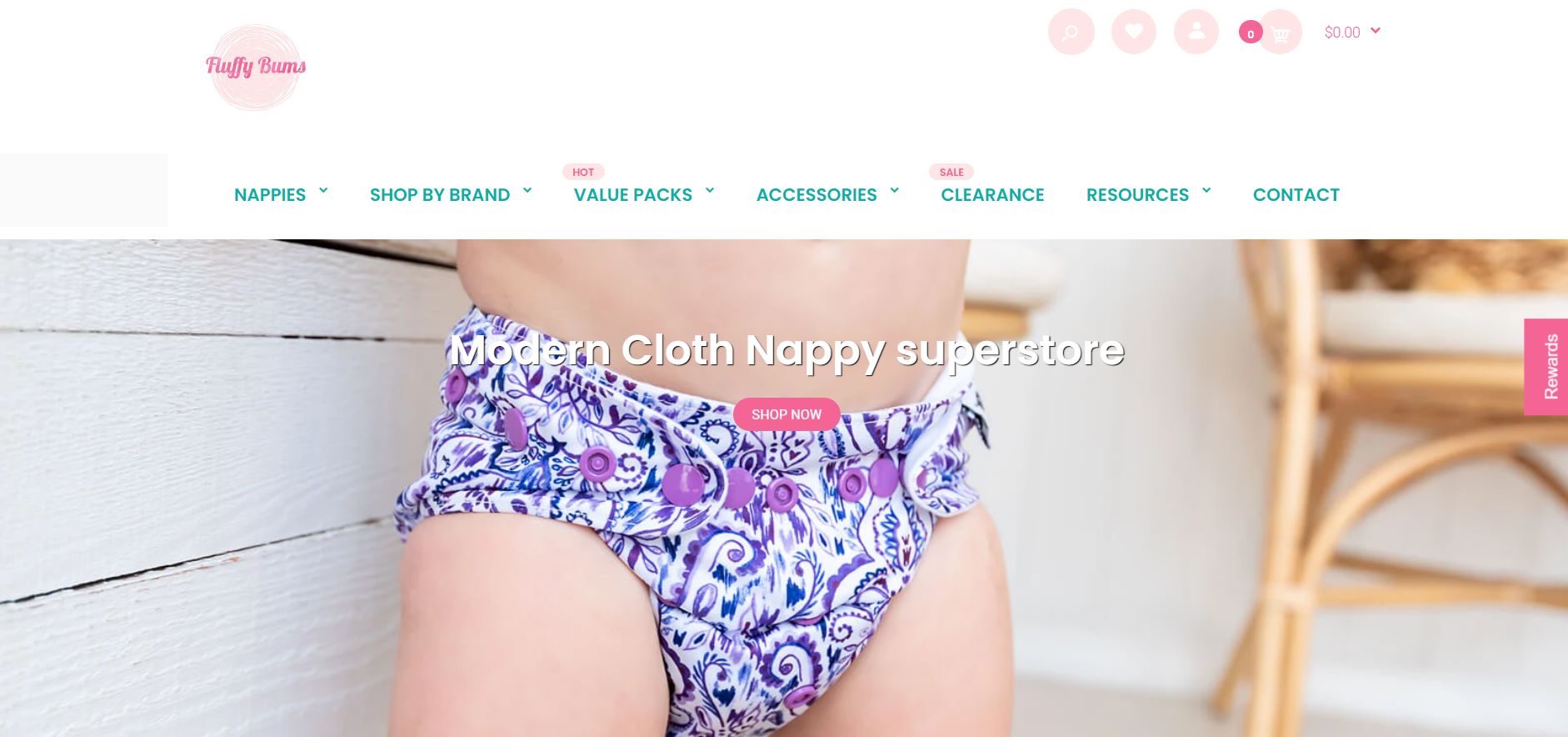 MODERN CLOTH NAPPIES FOR EVERY BUM
Fluffy Bums is the cloth nappy superstore selling environmentally-friendly, ethically made, super adorable reusable nappies your baby's bum will love.
Order online for fast, reliable delivery or head to our Adelaide showroom for a free consultation.
My name is Hayley, and I fell in love with Modern Cloth Nappies when I stumbled across them during my first pregnancy. From that day on, I spent countless hours researching everything there is to know about cloth. Once my girl arrived, we used cloth full time from day 4 and never looked back.
What I have found most startling since starting this journey is the misconceptions around the use of cloth. Visions of stinky nappies soaking in buckets of bleach and Napisan make people cringe and put them off before they ever get the chance to see how rewarding and beneficial cloth can be.
My how things have changed!
I started this business to spread the word about the benefits and ease of modern cloth use. The environmental impact of disposable nappies alone is alarming. Every disposable ever used is still laying in a landfill and will be there for the next 500 years. When I think about how many each child uses in their 2-3 years before toilet training, it makes my stomach turn. Multiply that by millions of babies...
The other amazing factor is the cost or lack of. Each family will typically spend $2000-$3000 on each child using disposables. Alternatively, a full stash of cloth nappies costs as little as $600 and will last all of your babies, not to mention they can then be sold on for a great return.
The laundering side of things is often seen as time consuming and dirty. Dry pail methods have reduced the time parents are spending in the laundry. Rinsing poo nappies can be relatively easy, and let's be honest, as a parent, you will spend time cleaning poo regardless!
So if you are interested in hearing more about the wonderful world of cloth, contact me for more information or book a consultation (Adelaide and surrounding suburbs)
Bubble and Bee - Baby Shop Adelaide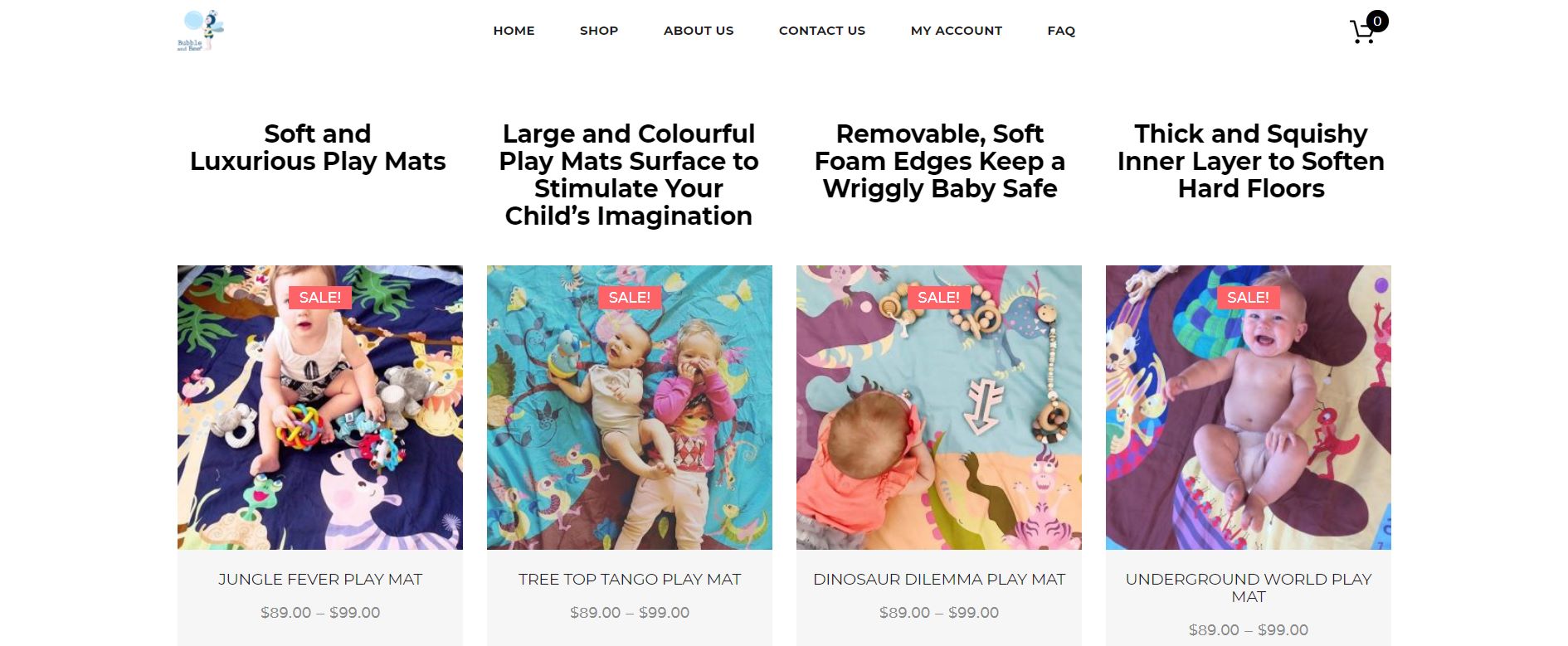 sales@bubbleandbee.com.au
Baby Play Mats That Bring Imagination To Life
Looking for kids floor mats? Bubble and Bee kids play mats are uniquely Australian, designed by an Adelaide mum. The play mats are vibrant and colourful with exclusive artwork and product design. These baby play mats provide a huge soft and squishy play space with the added security of soft foam edges. Bubble and Bee play baby floor mats are like no other play mat you have seen before.
Do You Have an Active Baby? One Who Rolls and Wriggles Straight Off Your Play Mats and onto Hard Floors and Furniture?
The Removable Soft Foam Edges Help Keep Your Baby Safe from Hard Surfaces and within the Play Mats Surface
The edges simply attach at the back of the play mat with velcro and are super quick to attach and remove.
So when your baby starts to roll, then simply attach the edges to the baby play mat.
When they show signs of crawling and exploring further, then remove them and store them away in the convenient play mat carry bag.
Bubble and Bee® baby play mats create a safe, stimulating space for babies to giggle, play, roll and explore. Whether your baby is playing in the underground tunnels of ants, a lively jungle, or a friendly, bird-filled tree, these stunning art pieces are designed for children with rich colours and happy details that also make a beautiful addition to any home.
The 140 x 140 cm play mats consist of 100% beautifully soft cotton material that is all-natural for sensitive baby skin but also washable for when accidents inevitably occur. The designs have been printed using safe dyes. The internal filling provides a plush layer of padding to support comfortable play. When your baby reaches the age of rolling and exploring, the attachable foam edges and 100% cotton sleeves provide a friendly barrier to keep your little one on the play mat and away from furniture and hazards. Playtime is also a safe time in the magical world of Bubble and Bee.
These beautiful Australian designed play mats have enchanting designs and practical functionality to stimulate both you and your baby's senses.
The gorgeous designs have been created by a mother for all mothers who love to surround themselves and their children with beautiful things!
Bubble and Bee play mats can capture the imagination of any age group. Guide your child on a journey of excitement and creativity as they explore the amazing worlds of Bubble and Bee.
Who is Bubble and Bee Baby Play Mats?
My name is Sian, and I became the creator of Bubble and Bee® baby play mats soon after becoming a first time mother to a very happy and lively baby. When baby Levi began to roll and wriggle, things became difficult, and I couldn't take my eyes off him even for a minute. At one moment, he would be happily lying on his play mat, and the next second he would be wedged between the coffee table and the couch.
So this is where my idea of soft foam bumper edges came about. I went to the local toy store and purchased four long pieces of foam, grabbed an old quilt cover and attached it all together. It worked like magic! It stopped Levi from rolling off his play mat and into danger and bumping into hard corners and wooden furniture. He had a huge space to roll, wriggle, play and explore but with a soft barrier between him and impending danger. He was able to use this playmat area for around four months, and I was able to have peace of mind knowing that he was safe from harm. The foam edges kept him enclosed and safe but not confined or restricted. He was still able to explore his new world safely. Once Levi was able to crawl, I simply removed the edges from his play mat, ready for the next stage in his life.
Floor Mat
I designed my range of baby play mats in a beautiful 100% cotton canvas with a soft plush layer that is completely machine washable. The dyes have been tested to ensure that the playmats do not contain harmful chemicals and are safe for soft baby skin.
I wanted to create a range of baby play mats with adorable designs, cute characters and beautiful colours. I began working with a very talented South Australian artist, Marsha Wajer. Together we created a range of charming and fun designs of Bubble and Bee baby play mats.
My Bubble and Bee play mats have been designed to capture the imagination of any age group. Together you can enjoy a journey of fun and creativity as you and your baby bond together in the beautiful worlds of Bubble and Bee.
Purebaby - Baby Shop Adelaide
(08) 8305 3009
Purebaby is an Australian owned company creating unique, organic clothing for babies and children. Established in 2002, Purebaby was born out of a desire for beautiful and simple products made with awareness and care. In search of a natural alternative for her first daughter Samara, Mirabai Winford, Purebaby's Founder and Creative Director, was unable to find quality organic garments.
Baby Clothing
Our baby clothing collection is designed to suit little ones from newborn to size 1. Whether you're dressing a baby boy or baby girl, our range of certified organic cotton baby clothing, from growing suits to leggings, tops and accessories, will assist you in building your little one's first wardrobe.
"When I couldn't find a range to meet all my needs — fashionable, organic, functional and most importantly affordable — I was inspired to create it myself."
Mirabai Winford, Purebaby's Founder
Purebaby's vision is to create beautiful babywear without compromising on social responsibility. Our collections are designed and manufactured with love and respect for the world in which we live, the world where our children will grow and play.
The certified organic cotton used in the Purebaby ranges is soft, strong and resilient, allowing delicate young skin to breathe naturally. It is grown without harmful chemicals, using methods and materials that have a low environmental impact. Discover more about the benefits of organic cotton.
Although the design is at the heart of the brand, Purebaby is also passionate about nurturing our communities, supporting a number of wonderful organisations. We're also equally committed to sharing our abundance of knowledge through our Nesting Workshops, designed to make the journey into first-time parenthood that little bit easier.
At Purebaby, we're always growing and expanding. Currently, we have 23 stores nationally, including concessions in David Jones. Our collections are also enchanting parents all over the world, with international distribution to more than seven countries worldwide, including the US, UK and the Middle East.
Always inspired by the beauty in nature, each Purebaby piece is soft and comfortable — beautifully designed, beautifully organic.
Hunter & Harper - Baby Shop Adelaide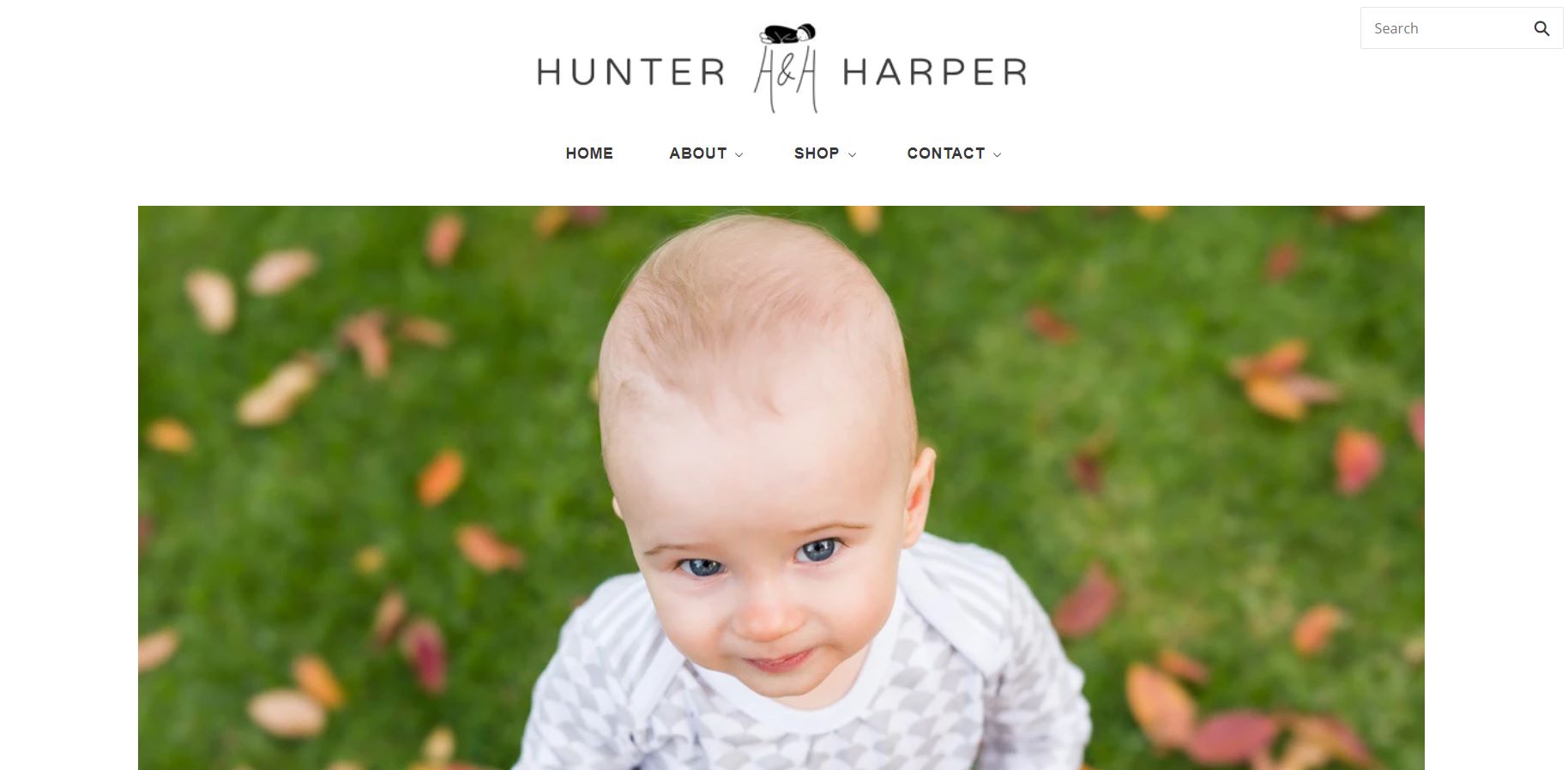 0400 955 080
Hunter & Harper aim to provide high-end quality products that are eco-friendly and safe for your children. Through extensive research Hunter & Harper personally source products from their suppliers, saving you the time and effort of having to find them yourself.
In addition to being able to purchase single products, Hunter & Harper have designed a DIY baby box kit. This allows you to individually choose products to customise your baby box to create the perfect gift.
Along with our products Hunter & Harper packaging is eco-friendly. We use only recycled or biodegradable products.
Hunter & Harper defines 'eco-friendly' as using resources that are found naturally in our environment, that are sustainable or recycled.
Behind the Name
I have always loved children and nannied for over ten years whilst completing school and studying at university. I studied in the dental field, specifically working with children.
Whilst I have always had a passion for working with children, it was not until my godson Hugo was born did I find a niche in the eco-friendly market.
I found it very difficult to find high-end quality eco-friendly baby products without having to go through hundreds of sights to find what I was looking for, hence Hunter & Harper was born.
Since launching our site in 2014, Hunter & Harper has now begun manufacturing our own garments incorporating both style and functionality into your baby's wardrobe.
Bethany
xx
Bebe Luxe - Baby Shop Adelaide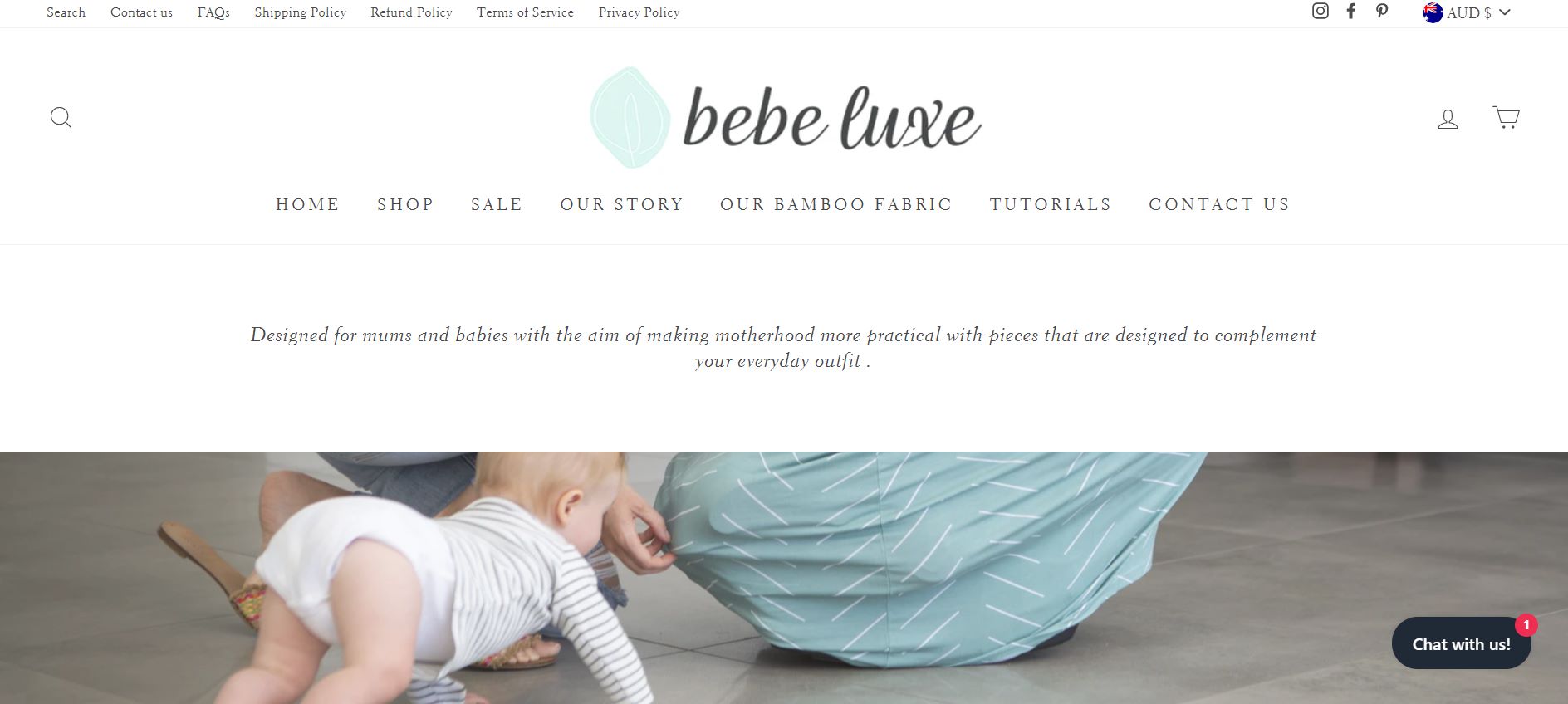 The Bebe Luxe Bamboo Multi-Use Cover
Created for mums and babies with the aim of making motherhood less stressful. Gorgeous, luxurious and practical, the Multi-Use Cover is a 'must have' for the modern mum.
Bebe Luxe was created for mums and babies with the aim of making motherhood less stressful more practical while still retaining their sense of style. You and your baby can transport, breastfeed, shop and dine with confidence when out and about. Our products have been designed and made with love we hope you fall in love with them xx
My Story
Bebe Luxe was inspired by my 4 beautiful children
As a Mum of 4, I have experienced many challenges that come with being a parent, slowly discovering what works and, more importantly, what does not. I found that keeping the baby covered, safe from germs and out of the elements was a huge challenge.
I was also continually frustrated by not being able to properly cover the capsule and pram or being able to breastfeed discreetly in public.
In the early days when you and bubba are both learning and getting to know each other, nursing in public can be a real struggle with the constant worry about exposing yourself while helping baby to latch. Plus, the frustration of not being able to wear half your wardrobe because it isn't breastfeeding friendly doesn't help the situation.
I tried many ways to coverup with my husband holding up blankets, safety pinning a wrap around me, at times holding a wrap in my mouth to free my hands while attaching!
Don't get me wrong, you should feel comfortable and free to breastfeed anywhere, but there are situations where I would rather have more privacy, or I have an outfit I want to wear that isn't breastfeeding friendly. You may want 360° coverage, maybe your baby has reached the nosey stage and likes pulling off and exposing you mid-feed or perhaps you simply struggle to keep the baby's attention on the task at hand! These were all frustrations of mine which made me think, there must be a solution…
After years of planning, I found the solution, the Bebe Luxe Multi-Use Cover
When breastfeeding, the Bebe Luxe Bamboo Multi-Use Cover provides you with 360° privacy, protects your baby from the elements and keep them from distraction. As a capsule or pram cover, the Bebe Luxe Bamboo Multi-Use Cover also protects your baby from the elements, keeps them snug and secure, and provides a physical barrier from unwanted touching and germs.
As a mamma to 4 children, I have experienced the huge changes women go through when becoming a mum. One thing I didn't want to lose was my sense of style and identity.
When going through the designing process, I couldn't mind and anything that appealed to my style. So I decided to design my own authentic pattern range.
The Bebe Luxe Covers are not made from your traditional baby colours and patterns. When designing the fabric, I wanted to use colours and patterns that help mums retain their own fashion style and identity and not feel like they are wearing or using a baby item. All the Bebe Luxe patterns have been handcrafted by me, so they are unique and individual and stand out from the standard products available today.
What makes this cover different to others?
Finding a premium quality fabric that was the safest available for babies was my priority. I needed to source fabric that was ethically made in a clean and safe environment. So, I spent months researching and discovered that bamboo fabric was the answer. (to learn more about all the benefits and qualities of this beautiful, sustainable fabric, visit our bamboo fabric page).
There was no way I was going to settle for a standard cotton or spandex based fabric that did not breathe nor could meet the Standard 100 Oeko-Tex certification criteria. I wanted the safest fabric available for my children.
I then travelled overseas to personally source the highest quality bamboo fabric, ethically made in a safe, clean and socially responsible environment. I visited many manufacturers and was able to source a fabric supplier to produce Standard 100 Oeko-Tex certified bamboo fabric that is perfect for the Bebe Luxe Multi-use Covers!
In May 2020, we welcomed our perfect rainbow baby Jack into the world and launched Bebe Luxe. While this was a very busy time, having a newborn proved the benefits of the Bebe Luxe Multi-Use Cover. I use my covers every day for a wide range of functions to make each day that little bit easier and less stressful. It is the only baby item that lives in my nappy bag, and I never leave the house without
I hope you enjoy browsing my site and that you fall in love with the products and find them as useful and practical as much as I have. I truly hope that I can make your experience of motherhood that little bit easier.
Katie xx
Critters Creations - Baby Shop Adelaide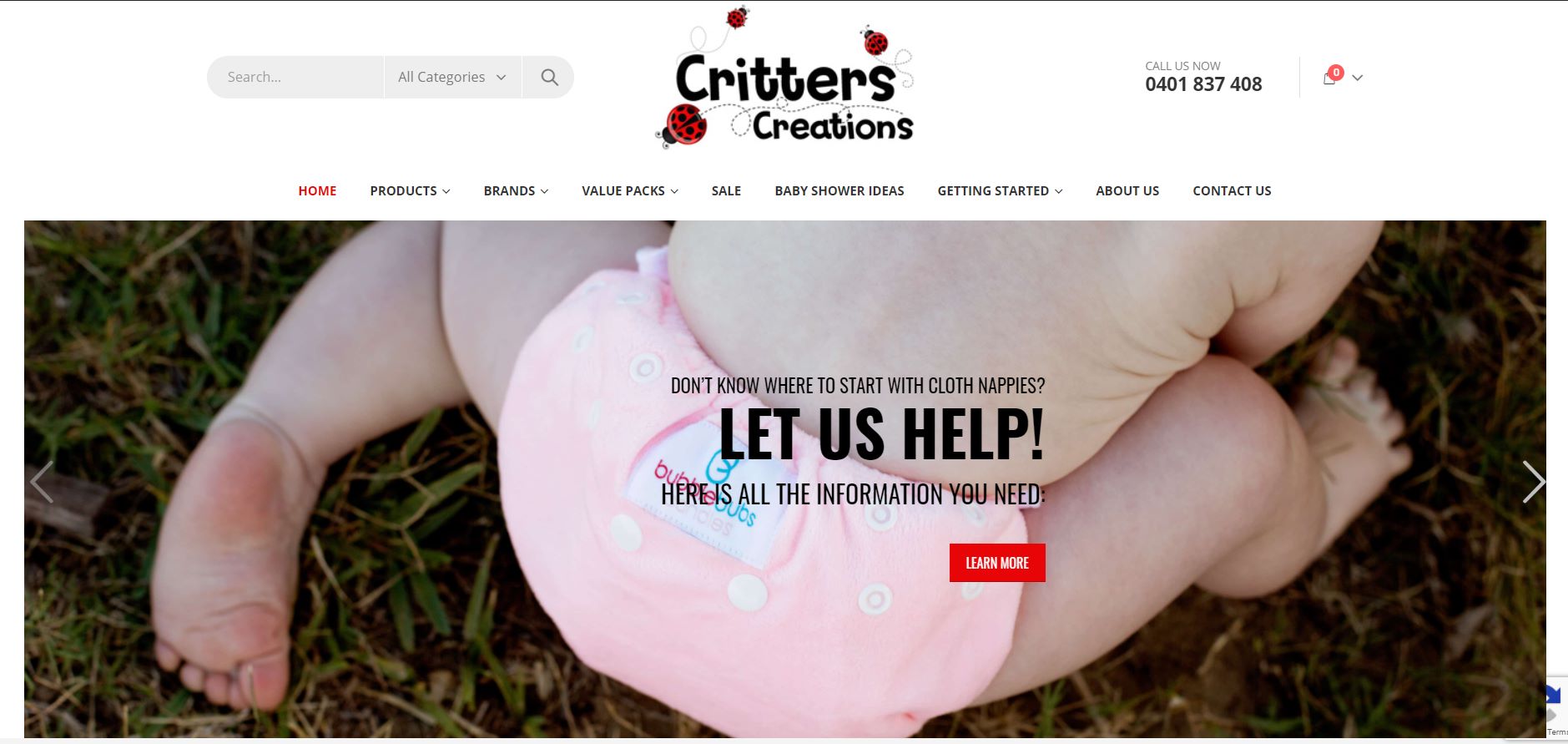 0401 837 403
We are here to bring the very best to you and your little 'critter' with our amazing range of modern cloth nappies. But, before we do, here is a little bit of information about us.
I'm Nicole, and I have been learning about and have worked with modern cloth nappies for several years now, thanks to being exposed to the world of babies by our family, extended family and having a little critter of my own. I just love cloth nappies, both old school and our lovely modern ones, and have had Critter in them since he came home from the hospital.
There is so much to learn about modern cloth nappies and how easy it is to make them a part of your routine while being environmentally friendly. They are wonderful for delicate little bottoms and even better for parents' pockets. Oh, and of course our environment! Check out our Getting Started page for all the stats and savings that come with using cloth nappies.
So, if you are interested in hearing more about them, need help with getting started or just have an issue which you can't resolve, then contact us, and we will help you through your cloth nappy journey. We are looking forward to speaking to you soon!
Impressionable Kids Australia -
Baby Shop Adelaide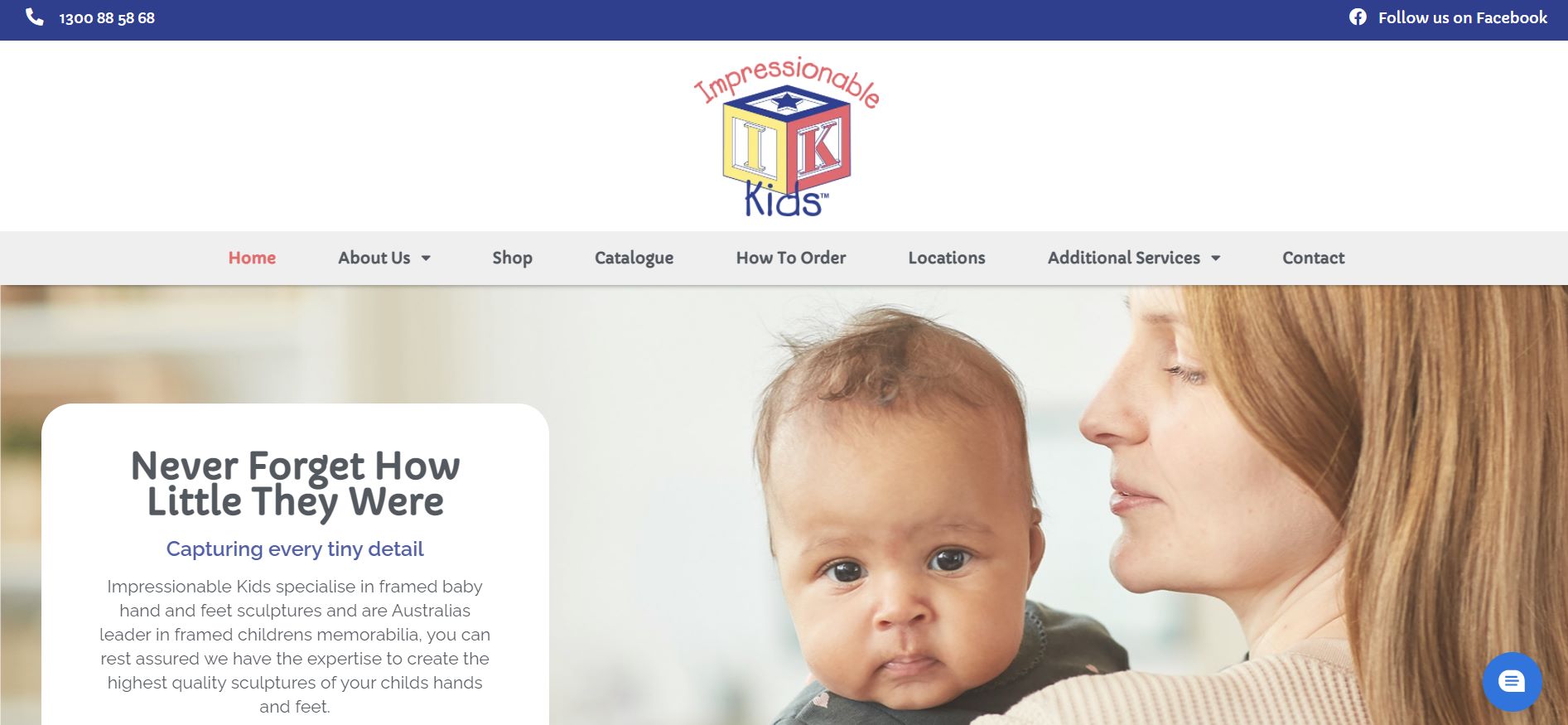 1300 88 58 63
Impressionable Kids is a truly special way of capturing your child's individuality
Impressionable Kids Australia first commenced operating in 1999 with our first outlet opening in Hornsby, New South Wales. Since then, we have expanded Australia wide and have outlets in almost every state.
We pride ourselves on offering the largest range of high-quality products as well as providing great customer service.
We are committed to providing everlasting memories which suit the individual taste of each and every parent. Please take the time to look through our keepsake section to view our range of products which can be adapted to suit your style and colour scheme.
Hand & Feet Sculptures
Capturing every tiny detail
Impressionable Kids framed baby hand and feet sculptures are a truly magical way of capturing how cute and tiny your child's little hands and feet once were. 
We capture the detail of each and every wrinkle on their hands and feet, the shape of their little fingernails, a three-dimensional replica of their hands and feet. Our casting material is of the highest quality, which ensures the best outcome for your child's sculptures.
The quality of our hand and feet sculptures are unmatched, and you will enjoy your sculptures for many years to come with the knowledge that Impressionable Kids are the only baby sculpture business that offers a lifetime warranty on all framed products.
Why Choose Impressionable Kids?
Impressionable Kids are Australia's leader in framed children's memorabilia, so you can rest assured we have the expertise to create the highest quality sculptures of your child's hands and feet.
At Impressionable Kids, we hand make products that will create a memory for a lifetime, so we make sure that our customers frames are made to last forever, unlike other sculpturing companies, we do not cut corners.
Impressionable Kids is a member of the Professional Picture Framers Association of Australia; we have access to the latest products and techniques on offer in the picture framing industry, our quality is unmatched.
We have listed below other reasons why our products are more superior:
Impressionable Kids are the only sculpturing company in Australia that offer a lifetime warranty on their frames, we are confident that our frames will stand the test of time. This is great peace of mind when dealing with such special memories that can never be replaced.

All of our franchisees undergo intensive training and must pass stringent quality checks before being allowed to operate as an Impressionable Kids franchise. In addition to this, all franchises are subject to the same stringent quality checks on a regular basis throughout the life of their business.

Our Impressionable Kids Logo and contact details are on the back of the frame where they belong, we believe this is your special piece of artwork and should not be used as an advertisement for our business.

Our casting powder is of the highest quality, ensuring as much detail as possible to every hand and foot sculpture we do.

We only use premium quality casting stone, never plaster, as it is too soft.

All of our frames are made from top-grade timber and are of the highest quality available.

We never use MDF as a backing to your frame as this will ultimately acid burn the display box.

All of our mats are professionally cut in-house and have a 45-degree bevel edge.

All of our frames use D-rings to attach the hanging cord, this ensures it will hang safely on the wall. We do not cheapen the product by attaching the cord with staples.

Our products are sealed for maximum moisture protection by an additional acid-free backing, this also makes our boxes strong.

Our products are further sealed using professional framers tape, not cheap substitutes.

We place bump-ons on the back of the frame to allow air to circulate around, protecting it from environmental damage.

We will advise you on how to care for your masterpiece and where best to place it in your house.

Our frames can be customised to meet your individual needs. We have the largest range of options compared to any other sculpturing company in Australia.

The biggest difference of all is that we care about the quality of your product, and we don't cut any corners as so many others do.

We are always friendly and interested in helping you because we love what we do.
Baby BeeHinds - Baby Shop Adelaide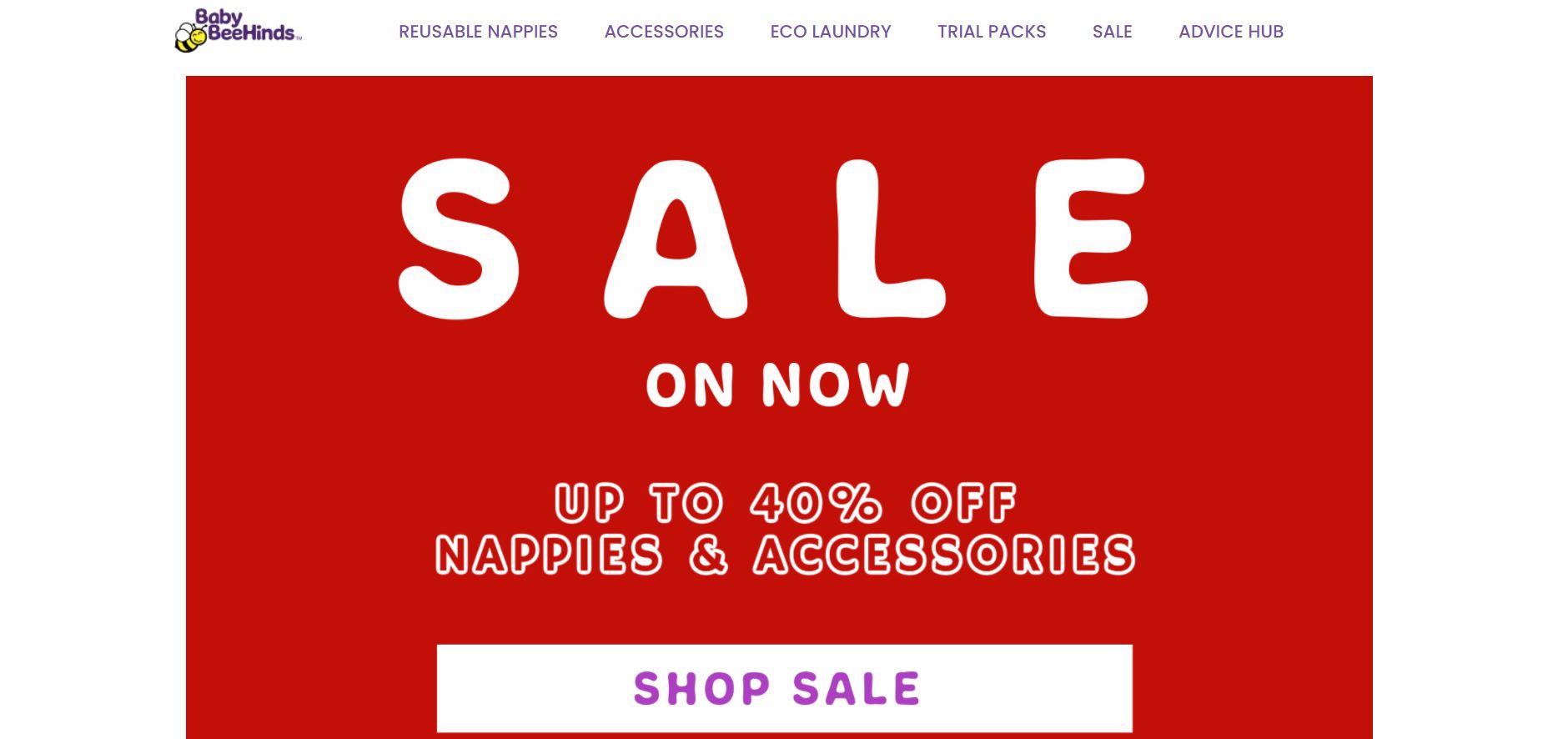 08 8362 9753
Modern Cloth Nappies
Award-Winning Reusable Modern Cloth Nappies – 100% Australian Owned
Established in 2004, Baby BeeHinds is an icon in the Modern Cloth Nappies industry. We beelieve in a simple idea – to change our planet one reusable nappy at a time. We are 100% Australian Owned & Managed, and our Award Winning Cloth Nappies are loved all over the world.
If you're new to reusable nappies or looking at our brand for the first time, our premium range gives you all the options One-Size-Fits-Most Cloth Nappies, the easy All-In-One Cloth Nappies or All-In-Two Cloth Nappies. Our popular Bamboo Nappies and Hemp Nappies are our best sellers, along with our Night Nappies and essential Nappy Covers. We are famous for our Wool Nappy Covers and have all your Nappy Accessories covered too!
We take great pride in producing premium quality reusable nappies across all styles, so there is guaranteed to be a style for every baby & every budget.
We know how daunting taking the leap into reusable nappies can seem – but don't worry, you are in safe hands with Baby BeeHinds. As a family-run business, we pride ourselves on customer service excellence, advice & ensuring our products are nothing but the best so if you have a question about any of our products, washing or general advice then give us a call on 08 8362 9758 & we would love to guide you in the right direction.
By choosing Modern Cloth Nappies by Baby BeeHinds, you are making a difference – to your family & our planet. Start small, take the leap & you will love those cute little fluffy bums as much as we do.
Our Mission
Hello & thank you for finding us! We bee-live in a simple idea—a simple plan. To change the world one nappy at a time, and we would love you to join us. When we couldn't find the perfect reusable nappy, we decided to create our own, and Baby BeeHinds was born way back in 2004. That's right, we were one of the original Modern Cloth Nappy brands to start this industry in Australia & have been leading the way for over 15 years. We have reusable nappies sorted so you can sleep easy knowing your baby's change time & our planet is in safe hands. We would love you to join our amazing community & join us in this revolution.
There are a few things we are really proud of here at HQ. Firstly we are 100% Australian Owned & Managed. All of our babies were 100% cloth nappy babies & all our staff have used cloth nappies as parents. Back then, when our babies were little, the original designs were still in place & cloth napping was still seen as an 'alternative' and a little bit 'hippy', BUT times have changed. We have re-designed styles, improved materials & fit and have a bigger amazing range of styles. Oh! & being a cloth nappy parent certainly isn't see as being an alternative so much anymore. Cloth Nappies are booming so much more talked about, largely due to the education out there, councils offering rebates, reusable swimming nappies seen in every pool & beach. Cloth Nappies are certainly not so 'hippy' now & we dare you to join us!
Our Team
Another of our finest achievements, our team. We employ people with passion. People with experience. People we love & know you will love them too. Whether it's our Customer Service Team, our Stockists, our Brand Reps or our Senior Management Team … every. single. person. In the Baby BeeHinds family is on the same mission as us. So that means you get people who passionately love what they do & will bend over backwards for you. Whether that is finding the right nappy style, problem-solving or basking in the glory of your babies rocking their #beehinds on Instagram, you are in safe (passionate) hands at all levels.
The Manufacturers
Finally, we are most proud of our relationship with our factory in Qingdao. We are one of the only manufacturers in the garment industry that has had the same factory for 15 years. This means there is a consistency of fabrics & craftsmanship. Every single batch will be the same as the last. This is one of our biggest achievements & we wear our "Made in China with love" badge with pride. Our factory team are AMAZING. European Owned & managed they have a small staff of 40 full-time employees, 3 sewing lines and many of their staff are long time employees. Their factory is spotless & the staff have working conditions. We know most of them by name. They love Vegemite & Tim Tams now (trust us, the Vegemite took a while!)
They know we accept nothing but the best from them. Yes, we provide a premium range of products, but that also means we hold our factory to the highest levels as well. They have 36% higher wages than the average seamstresses. They have led the way in ethically focused, eco-friendly fabrics for over 40 years. Feel free to drop us an email if you have specific questions about our manufacturer or product range.
The Journey
If you are just starting your cloth nappy journey, then please take a look around! There is plenty of advice, information and don't forget to check out our YouTube Channel. Got a question, send us an email to info@babybeehinds.com.au. We have heard every question under the sun, so nothing will surprise us. Bee-the-change & ride with us!
Leanne
CEO Baby BeeHinds
Ollie's Place - Baby Shop Adelaide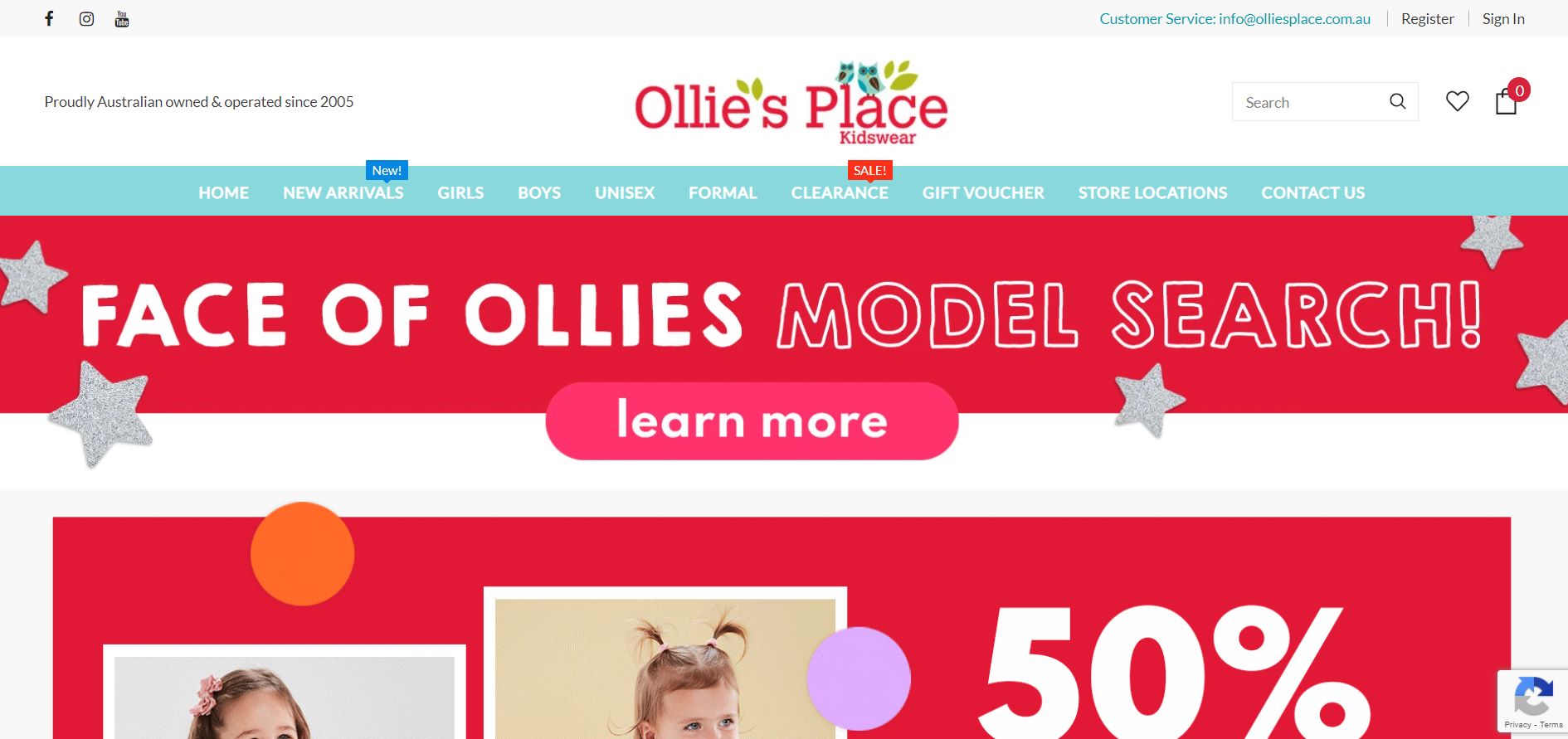 08 8353 0350
The creation of Ollie's Place is based on our commitment to provide you with pretty dresses, soft cotton bodysuits, matching sets and loads more for your little person's wardrobe.
Each season, we breathe life into Ollie's Place with a collection of stories that bring with them a timeless fairytale feel, splashed with loads of fun and a hint of current trends.
Our baby range is delicate, and our children's range is charming. Our playful prints, quirky slogans, and gorgeous colour palettes will give your little person the most stylish start in the world.
We hope that you love our clothes as much as we do and that by dressing your little person in Ollie's Place, we just might send you back to the whimsy, playfulness and innocence of your own childhood.
Much Love, 
Ollie's Place
Country Road - Baby Shop Adelaide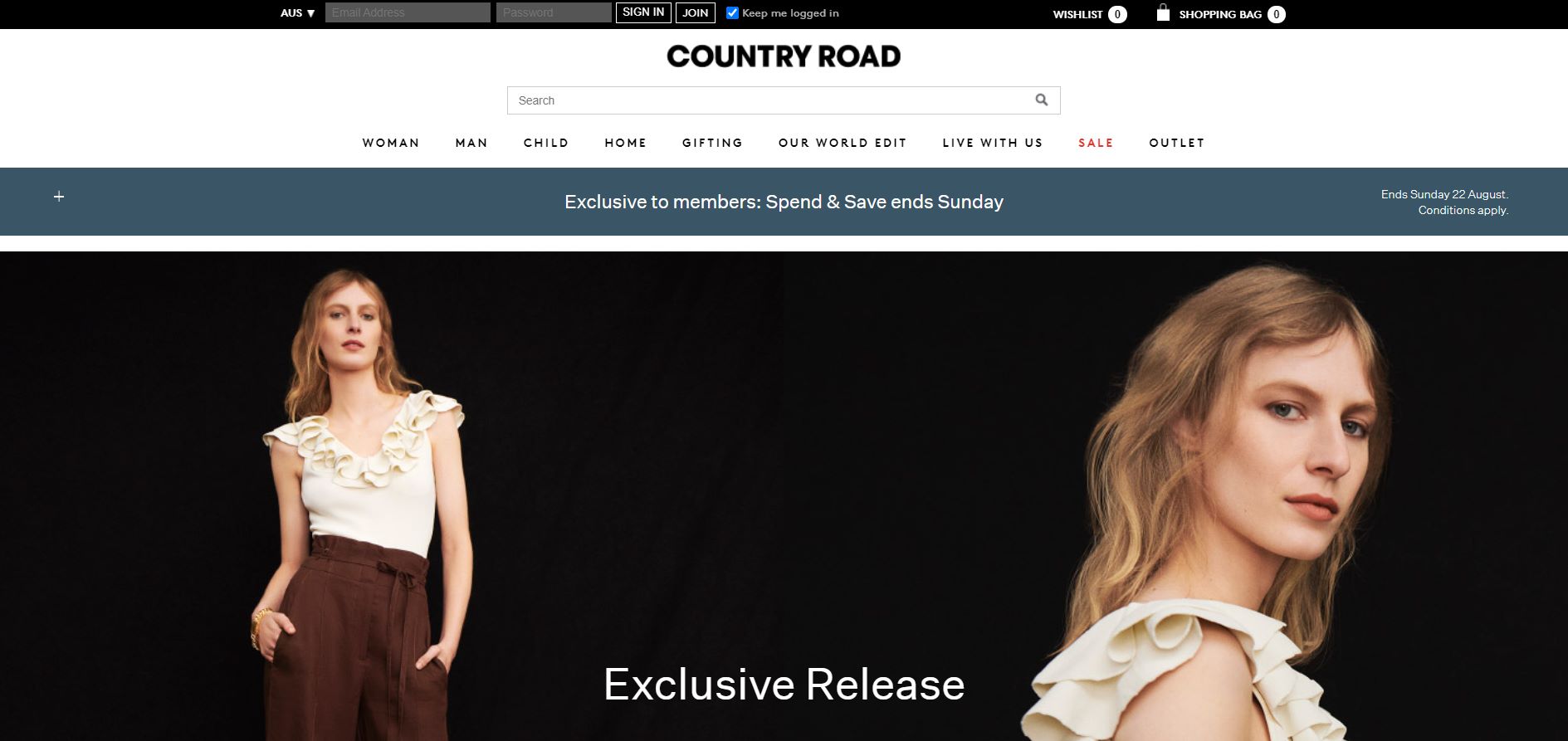 08 8224 5119
Inspiring a modern Australian lifestyle is at the heart of everything we do.
We're here for every moment, and our philosophy is simple: we design beautiful products that are made to last.
Our premium fabrics and quality craftsmanship inform every design across Woman, Man, Child and Home.
We are Country Road, and we invite you to live with us.
Our History
Country Road began as a team of four who set up shop in Hawthorn. Led by Stephen Bennett, they started with a simple shirt, known now as a Country Road icon.
The name was chosen to reflect the brand's ethos; Country was chosen to signify a strong desire to create a product with authenticity, while Road acknowledged the way forward.
A simple aesthetic became synonymous with the brand. The label quickly evolved into Australia's first lifestyle brand, styling first our wardrobes before reworking our homes.
From start to finish, inspiration to final product; every product is considered well-constructed and hard-wearing, yet effortless in approach.