Most early childhood education and care providers have heard of the Montessori approach to early learning, and many will also be familiar with the Reggio Emilia philosophy and Magda Gerber's views. However, have you heard of Emmi Pikler's teachings?
Dr Emmi Pikler was a pediatrician who lived and worked in Hungary. In 1946 she assumed responsibility for running a Home for Children (known as Loczy in Hungarian) in Budapest and this experience led to the development of her views on how best to nurture infants.
Dr Pikler mentored Magda Gerber, which is how many of her philosophies gained traction in the USA. Much of Dr Pikler's approach makes sense with what we now know about early childhood development, but what makes her teaching extraordinary is the time and context when she was working, when there was a more limited understanding about how carers and parents can best support a baby's growth and development.
The Pikler approach is based on a respectful relationship between an adult and infant, through tender care moments, a naturally paced motor development, free movement and uninterrupted play. After observing and caring for the children in the orphanage, she ran Dr Pikler determined that babies and children need certain conditions to be in place to enhance their physical and intellectual education and development.
The Genius of Emmi Pikler
There are many roads that can lead us to discover the work of Emmi Pikler. Whether we are seeking a successful infant group-care model, information on how to parent with respect, sourcing indoor play equipment or material on motor development – these roads are formed and paved with original ideas that began with Emmi Pikler and developed throughout her life's work. 
Emmi Pikler showed us the supreme importance of the relationship for the healthy development of the infant, which we now refer to as 'attachment'. She mapped out the way in which children's motor development unfolded naturally and documented these universal, natural developmental patterns with decades of detailed research. The training and guidance she designed for adults offered a new way to see and raise children in a kind and respectful manner that was revolutionary then and still is today. Her ideas were effective inside the family home and in institutions, both for the very young baby through middle childhood. But perhaps what is most interesting is that these ideas were formed while studying in the 1920s and first put into practice with great success in the 1930s.
Just as things in nature first spout and then grow bigger, so too has the development of Pikler's ideas. Through this collection of stories, we can track the development of Piker's genius, introducing people who influenced her along the way and who aided her in bringing her ideas to the world.
My Baby Nursery has an extensive range of baby nursery furniture sets to take the hassle out of choosing the right furniture that matches.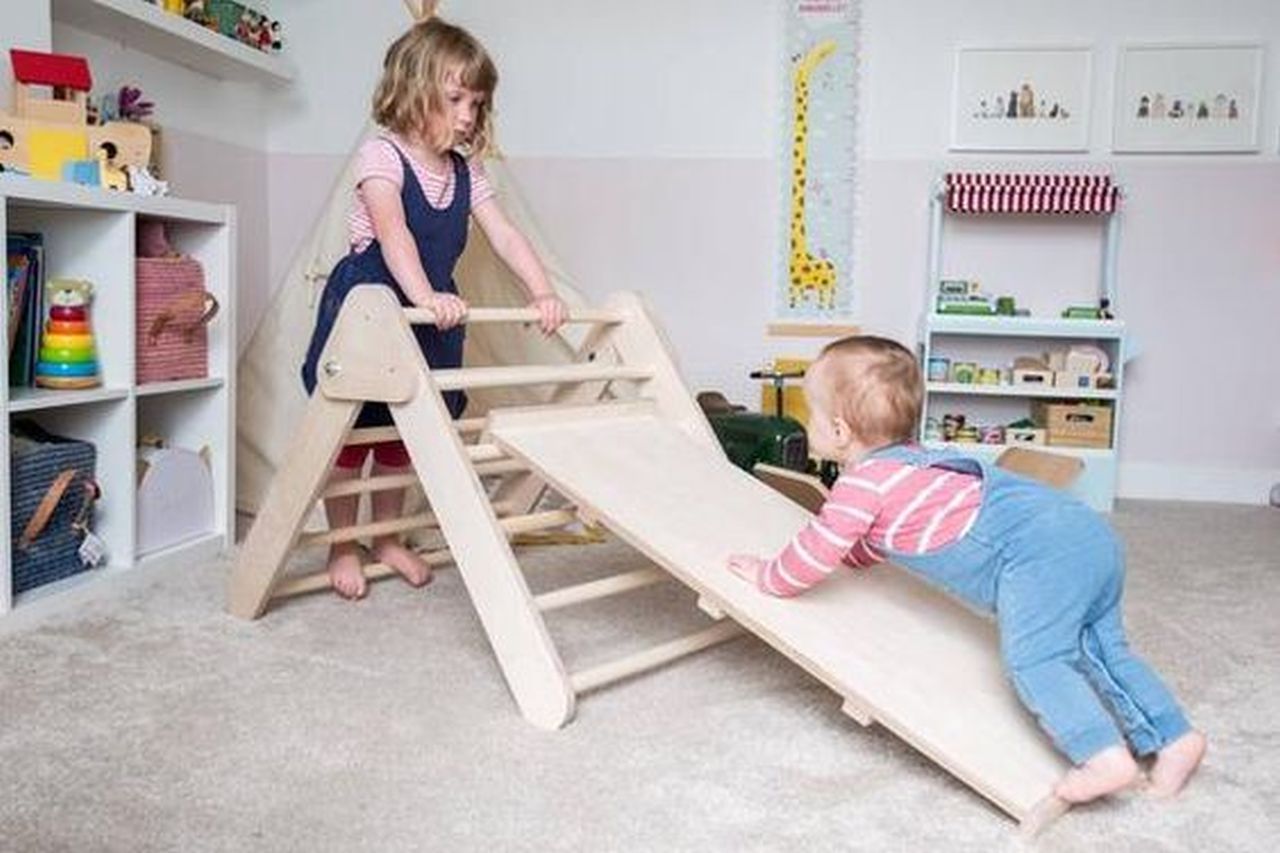 Who was Emmi Pikler?
The year was 1946; the place of a large villa known as Lóczy in the city of Budapest, Hungary. Emmi Pikler, a paediatrician of Jewish descent, had been asked by the city officials to set up a residential nursery. It would be an orphanage for infants who lost their parents during World War II. Dr Pikler took on the challenge, running the institution on the ideas that she had formed and shared with parents while working in her private practice between 1935 and 1945.
 You may not have heard her name, but the genius of Dr Emmi Pikler (1902–1984) and ongoing exemplary childcare at the Pikler Institute in Budapest, Hungary is finally beginning to gain attention in the UK. The Pikler approach has for many years influenced early childhood care in countries in Europe and beyond, and was taken to the USA and developed as Resources for Infant Educarers (RIE) by a woman called Magda Gerber. Still, it has been slow to reach these shores. Dr Pikler's contribution to our understanding of young children and how to care for them now needs to be placed beside other important early years educationalists. What was discovered, and is still practised, at the Pikler Institute can offer a new benchmark of care that is fully in line with the recent discoveries of neuroscience and attachment theory.
A place like no other
It did not take long for Lóczy to become a place like no one has seen before. Dr Pikler trained her staff to respect each baby as a person and to address them respectfully. Involving them in every part of their care by asking for their permission and cooperation.
At Lóczy, nothing was done "to" a baby – it was done "with" the little one instead. In stark contrast to many orphanages at the time, the children living at the institution were not left in cots for long hours but allowed to play and explore freely. They weren't rushed through care routines, but the caregivers used those times to communicate and bond with the infants.
Alongside the orphanage, a training institute was established. Dr Pikler continued to research natural child development at Lóczy and taught her ideas in Budapest and around the world until her death in 1984. Amongst those who were influenced by Emmi Pikler's approach, one of the best-known in the English speaking world was Magda Gerber. Gerber studied under Dr Pikler in her home country before emigrating to the United States, where she went on to teach the approach and established the Resources For Infant Educarers (RIE) movement.
Aims and principles
Pikler's aim was to assure physical and psychic health in infants and young children. She recognised (in the 1930s) that the key to achieving this was through creating secure attachment. She saw that giving respectful care, particularly during times of bodily care, was one of the main tools for achieving this. She also saw the importance of allowing the child's self-initiated activity and its deep influence on the child – herself-image, self-control and many other things. These understandings and others were developed by Dr Pikler first in her work as a family paediatrician in Budapest, then in the orphanage there that ran for over 65 years, and now in the daycare groups that are still run from the same premises on Lóczy Street. Among the many factors that contributed to her success in improving children's lives in families and residential care (which is well documented – download SIGNAL, Vol 18 no. 3–4 and see Bringing up and providing care for infants and toddlers in an institution at ow.ly/Byb0h), was the quality of care given and the understanding of the importance of self-initiated movement and play.
Surprising discoveries
Perhaps the most surprising discovery made at the Pikler Institute was that if allowed full movement freedom, infants will, almost without exception, creep and/or crawl before they come naturally into the sitting position. In one study of 591 infants, on average (with a wide deviation) the children crawled at 44 weeks, sat and stood up at 49 weeks, took first steps at 15 months and walked with ease at 17 months. In all early years of training literature in the UK, it is assumed the normal sequence is sitting before crawling. Where did this 'fact' come from? Is it based on our cultural habit of sitting infants up before they find the sitting position themselves, from where they have to try to find the crawling sequence – sometimes giving up and bum shuffling instead? In my experience in four-and-a-half years of running parent and infant groups informed by the Pikler approach, with over 100 families passing through them, infants will self-discover the creeping and/or crawling sequences after rolling, and from there find a variety of sitting positions that they can get into and out of themselves. None of them has bum shuffled.
There is a wonderful side-lying position that infants find and seem to gain much pleasure in spending time in. This position is one of several that will only be found by the child if they are free to go through all the movement progressions naturally and aren't sitting up. Unfortunately, in checklists on important developmental milestones, this position is completely missed – perhaps because it is so rarely seen. Mastering transitional positions such as this, which require subtle weight shifts, is essential for developing balance, and a good indication that motor development is on track.
Research at the Pikler Institute shows that there is a large variation in time when individual infants master a particular position or sequence – and this is later than we expect in the UK, and obviously later than when they are put into the position by well-meaning adults. Without the Pikler reassurance based on years of detailed observation, there is the danger that out of an anxiety that children may fall behind officially set developmental milestones, they are 'helped' into positions before they are ready. If this happens, important movements and positions may not be self-discovered, let alone mastered. The child, rather than helped, has been hindered in the unfolding of his natural capacities and also trust in his own body. The child needs to be allowed to go at his own pace. Faster is not better
Respectful care
I thought I knew what respectful care meant until I observed carers at the Pikler Institute. It was a profound experience to see the level of trust, enjoyment and gentle cooperation that is possible between carer and child. The care approach is highly skilled, complex and multilayered; as well as the care practice, it includes ongoing consideration of key worker roles, observation and team discussion, none of which I have time to describe here. Instead, I will give a few pointers to what this approach to childcare entails with the single example of nappy changing.
Dr Emmi Pikler lived and found her life's purpose, working with infants in her homeland of Hungary. Pikler, a paediatrician, took over the running of a Home for Children (known as Loczy) in Budapest in 1946. One whom she mentored was Magda Gerber who took Pikler's philosophy to the USA and introduced it to her new homeland.
Emmi Pikler died in 1984 and Magda Gerber in 2007. Their work, however, lives on in so many ways and places.
Pikler set an example that the world is just beginning to wake up to. She knew that in order for babies to develop perfectly in the way that nature had intended, certain things must be heeded.
These included:
The long term impact of free movement on a baby's spirit, intelligence and physical being.

Respect is shown to babies at all times – and clarifying what that entailed.

The importance of how a baby is touched and supported in the important birth to two years period.

That no babies need help to reach their milestones in life. We can, however, support them with patience. Pikler said, "As a matter of principle, we refrain from teaching skills and activities which, under suitable conditions, will evolve through the child's initiative and independent activity."
Trusting the infant
In the Western world, because of adult interference, the vast majority of infants are not given the opportunity to negotiate the full gross motor progressions from crawling to sitting, standing and walking. Sally Goddard Blythe has pointed out in her books and articles that if a child does not go through the full motor sequences, there is a danger that primitive reflexes which should naturally fade by 6–12 months do not do so. This can cause difficulties in gross and fine motor coordination, sensory perception behaviour and other obstacles to learning later on. At the Pikler Institute, primitive reflex retention was unknown! The development of balance gained through all the sequences and transitional positions, such as the side-lying position, goes hand in hand with the integration of primitive reflexes. And we cannot teach a child balance or reflex integration – they master everything through their efforts. Allowing infants time to unfold their motor capacities could prevent many learning difficulties we see in primary schools.
We have a wide range of nursery high chairs for your baby. Check them out here.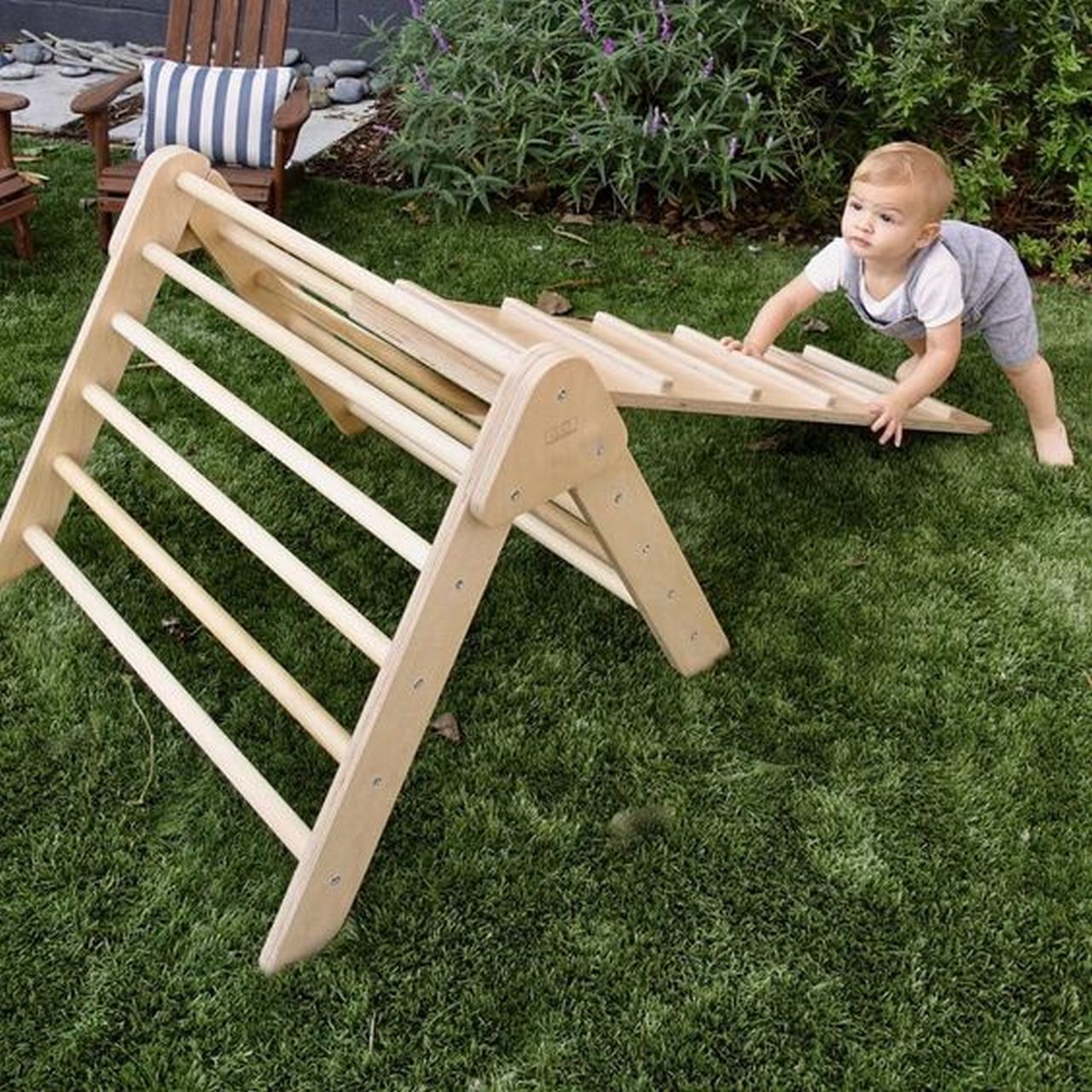 Full attention – especially when involved in caring activity times
Dr Pikler's approach advocates that carers and parents should avoid multi-tasking and turn all their attention to their baby when engaging in an explicit caring activity. Dr Pikler said that babies interpret this attention as love and that it brings stillness and focus to lives which may have been overcome with the need to be more productive.
Slow down
Dr Pikler observed that babies do better when they are in calm, slow environments. She says babies become over-stimulated and fretful when caregivers are stressed and jump through caring tasks quickly and suggests carers aim to create an atmosphere of peace to ensure the baby feels respected and doesn't become upset.
Build trust and work on your relationship during caring activities
Further to the principle above about slowing down Dr Pikler claims taking time when participating in caring activities, such as nappy changes, bathing and dressing, offers a valuable opportunity for a baby to bond with a carer, and that babies will often become an active partner in these activities when the conditions are optimal. Dr Pikler observed that babies given security and freedom during caring activities will learn what they need to do and will become competent and cooperative partners.
'With', and not 'To'
Dr Pikler viewed babies as active participants rather than passive recipients of care and encouraged carers to take a cooperative approach in all their interactions with babies. She said an important component in this is talking to babies every step of the way, so they know what is about to happen and are given the option to help. Patience on the part of the carer is also required to ensure babies have the time to respond.
Babies should not be put in a position they couldn't put themselves in
Dr Pikler was a strong advocate of the free movement of babies and claimed that propping a child into a position they couldn't achieve on their own or that they couldn't get out of, was equivalent to trapping them. She said free movement gives babies the opportunity to learn through experimentation and teaches them how to overcome challenges and derive a sense of satisfaction and achievement.
Further to this, Dr Pikler was opposed to baby equipment such as hammocks, swings, prams and walkers, which she claimed were more about convenience for the carer rather than in the best interests of a baby's development.
Babies need uninterrupted playtime
Dr Pikler's approach asserts that babies in a nurturing environment given space, time, and the physical capacity to explore are fully capable of entertaining themselves. She said that offering babies uninterrupted opportunities to explore and learn about their world helped them develop confidence and self-esteem and that this process helps them learn who they are and develop a sense of being.
Educators/Carers should tune-in respectfully
Dr Pikler said carers need to be more responsive and respectful of a child's physical and verbal cues to ensure the development of a culture of mutual respect. She said that when carers ignore the explicit messages given to us by children, it increases the likelihood they will ignore the messages and requests made to them by carers in later life.
Benefits of the Pikler approach
Marlen says that Dr Pikler recognised the key to assuring children's physical and mental health is through creating a secure attachment. One of the best testimonies of the importance of her work is embodied in a study following a group of children who spent their early years at Lóczy.
The research funded by the World Health Organisation showed that they went on to be well-adapted and successful, showing no signs of delinquency and poor outcomes in adult life as was usually observed in children who spent their early years in an institution.
Consequences
If nappy-changing is carried out to this level of mastery, then there are several important consequences for the child and the day-to-day relationship between the child and the carer. The child is filled up emotionally by this special time with the carer and slowly internalises the full, calm and gentle attention given. Rather than rushing through the care moments, the child has rich moments of a one-to-one relationship, and this is a key to achieving secure attachment and the emergence of self-initiated exploration and play.
The high art of care as practised at the Pikler Institute works. It takes training, time and practice like any art. It necessitates an ongoing process of observation, self-reflection and team support. Those of us who have undertaken this training have experienced many uncomfortable realisations of our own unconscious cultural habits as carers (and parents) of children. But isn't this an essential journey anyway for those who wish to work with our youngest children?
Introducing Anna Tardos
The daughter of Emmi and György Pikler, Anna's own upbringing not only embodies but also marks the start of the 'Pikler Approach'. 
Anna Tardos joined the team at Lóczy part-time in 1956, and 1961 began full time alongside Dr Pikler. Her work at Lóczy included research, pedagogical work, and management. Tardos regularly held lectures and seminars about the development, care and education of infants and young children, not only in Budapest but also in many countries around the world. In 1998, following on from Dr Emmi Pikler, Dr Judit Falk and Dr Gabriella Püspöki, she became the director of the Institute for ten years before the government closed the Infants' Home and dissolved the Institute in 2011. Tardos has carried on the work of her mother Emmi Pikler and has contributed greatly to the English-speaking world with her knowledge of Pikler and the Pikler Approach. Today she provides support to the Lóczy Street Daycare Center and Pikler Parent-Child groups. As the president of the Hungarian Pikler Lóczy Association, she actively participates in organising and teaching courses offered at Lóczy and abroad.
Today
Lóczy continues to be the 'headquarters' for Pikler's work today, it is home to the Lóczy Street Daycare Center, Pikler Parent-Child groups and to highly skilled professionals. They not only deliver Pikler Training but also train trainers. Since Pikler's death in 1984 the team at Lóczy have diligently carried Pikler's work on and forward, keeping the core of her approach intact.
People from all corners have been drawn to Pikler's work, many have trained at Lóczy, and official Pikler organisations have sprung up around the world, making her approach available to many more.
Emmi Pikler's approach continues to inspire people, from daycare, early childhood education, and families – across cultures, countries and languages. Those who have grasped and applied Pikler's ideas find peaceful and cooperative working relationships with children, extremely low illness reports in care facilities, harmonious family life, healthy and thriving children, and their personal growth. 
When looking for ways to explain how Pikler's work can be so effective in so many different contexts (cultures, countries, and ages), we begin to see that 'the approach' is in itself a culture. Anna Tardos explains, "The application of Emmi Pikler's respectful and affectionate image of the baby, has helped babies to develop well, and adults to change their internal representations of the baby's capacities and their role as care providers." (Introducing the Piklerian Developmental Approach: History and Principles, The Signal World Association for Infant Mental Health Newsletter 2010).
As Dr Pikler's legacy continues to spread, grow and 'culturalise', many acknowledge Emmi Pikler as a 'first teacher' and the origin of an exemplary approach to raising children.
My Baby Nursery has the best range of high chairs for your baby. Check them out here.