Many parents use sheepskin for tummy time, nursery plays rugs, and line prams, bassinets and cots. Wondering about the safety of your baby sleeping on sheepskin (or any other material) is natural for parents. Here we look at the facts and provide answers to guide you in your decision.
Whether sheepskin is for sleeping, pram comfort or playtime, it is essential to ensure that the fleece is medically tanned. This means that no harmful chemicals (particularly chrome based) are used in the process, and there is no danger of your baby breathing in something that may cause them harm. Look out for manufacturers such as Bowron, Kaiser or Fellhof, who produce a range of products specifically for the babycare market.
Many parents find that sheepskin helps their baby sleep; however, it is important to follow recommended guidelines for safe sleeping. Research has found that infants placed supine (on their backs) on sheepskin are not at an increased risk of SIDS. Further information from the report can be found here.
Some parents choose to wait until their baby is old enough to easily roll over unassisted before using sheepskin, so sleep on. This is typically from the age of 6 months old and coincides with a reduction in SIDS. Almost 90% of cases of SIDS occur in infants under six months of age.
Babies are prone to creating a path of destruction. Even if you cover your sheepskin rug in a sheet or muslin, spillages and leakages still get through to the fleece and need to be cleaned. If you catch the accident right away, the best option for immediate action is to spot clean the specific area.
First, shake off any surface liquid outside bloat any remaining liquid with a clean towel. It can be tempting to throw water or other liquids directly onto a stain, which will only spread the stain further.
For best results, you want to take the time to soak up as much of the liquid as you can initially. The carpet stain remover is effective in removing stubborn stains from sheepskin. Both wet and dry carpet stain remover is available in the cleaning section of most supermarkets.
Sheepskin loves a nice breezy spot to dry, ideally out of direct sunlight. Do not put your rug in the dryer, as this can cause the natural leather of the sheepskin to dry out, warp and could develop cracks over time.
Think of the leather side of your sheepskin like you would your skin. If it dries out too much, it will crease and crack. For best results, hang your sheepskin to dry out of direct sunlight or lay flat on a towel in the shade until completely dry.
If used with advice from your health professional, sheepskin rugs can be safe and beneficial for babies. Longwool sheepskin is lovely and soothing on your baby's skin, perfect for supervised play with muslin or sheet over the sheepskin where your baby's head is resting. This will mean the baby still gets all the amazing benefits of sheepskin and ensures the fibres are kept away from the nose and mouth.
If you intend to use sheepskin for sleep, Plunket* advisors "If you want to use a sheepskin, use a short-hair type, and cover it with a sheet." This advice will vary from country to country. It is important that you do your research and follows the advice of your local childcare professionals when choosing bedding or comforters for babies.
There are differing opinions on whether it is safe for babies to sleep on sheepskin. It is generally recommended that sheepskin be used purely for supervised use to reap the benefits of the sheepskin and stay safe at the same time.
If you are thinking of using sheepskin where your baby sleeps, it is best to cover it with a sheet or muslin so the baby can breathe clearly but still provide the soft comfort sheepskin is renowned for. If you are unsure or have any concerns or questions about using sheepskin for babies, make sure you consult your health care advisor.
Sheepskin is naturally breathable due to the complex active 3D structure of the fibres. The air flows through its fibres, creating pockets of air that help to regulate your baby's body temperature.
Sheepkins' amazing fibres draw moisture away from the baby and into the heart of the fibres. This means sheepskin can maintain a dry surface next to the skin. What an absolute miracle fibre!
For all the summer babies out there sitting in hot car seats, en route to the next exciting episode, sheepskin will diminish any chance of sweaty, clammy backs. It works to regulate body temperature and keep our little ones comfortable and happy.. a win for everyone!
Wool is an amazing fibre that has been used to keep babies warm and snug for generations. Beautiful fine merino wool garments are now widely available and popular for baby ware, including sleep sacks, baby clothing and blankets. Sheepskin rugs are still used for floor rugs, car seat covers and bedding.
The best thing about the natural wool fibre is its ability to regulate a baby's body temperature. A pure New Zealand sheepskin baby rug can increase circulation, soothe inflamed skin and rashes as well as provide a naturally antimicrobial environment which can lead to reduced occurrence of colds and sickness from harmful bacteria.
Baby sheepskin can provide the ultimate cosy liner for baby strollers or car seats and be a super soft platform for supervised play. If you plan to use your sheepskin products in a baby's bassinet, crib or for sleep, it is recommended that you use short wool sheepskin products and cover with a sheet. Always follow safe sleeping practices recommended by local childcare researchers.
The Common Uses Of Sheepskins With Babies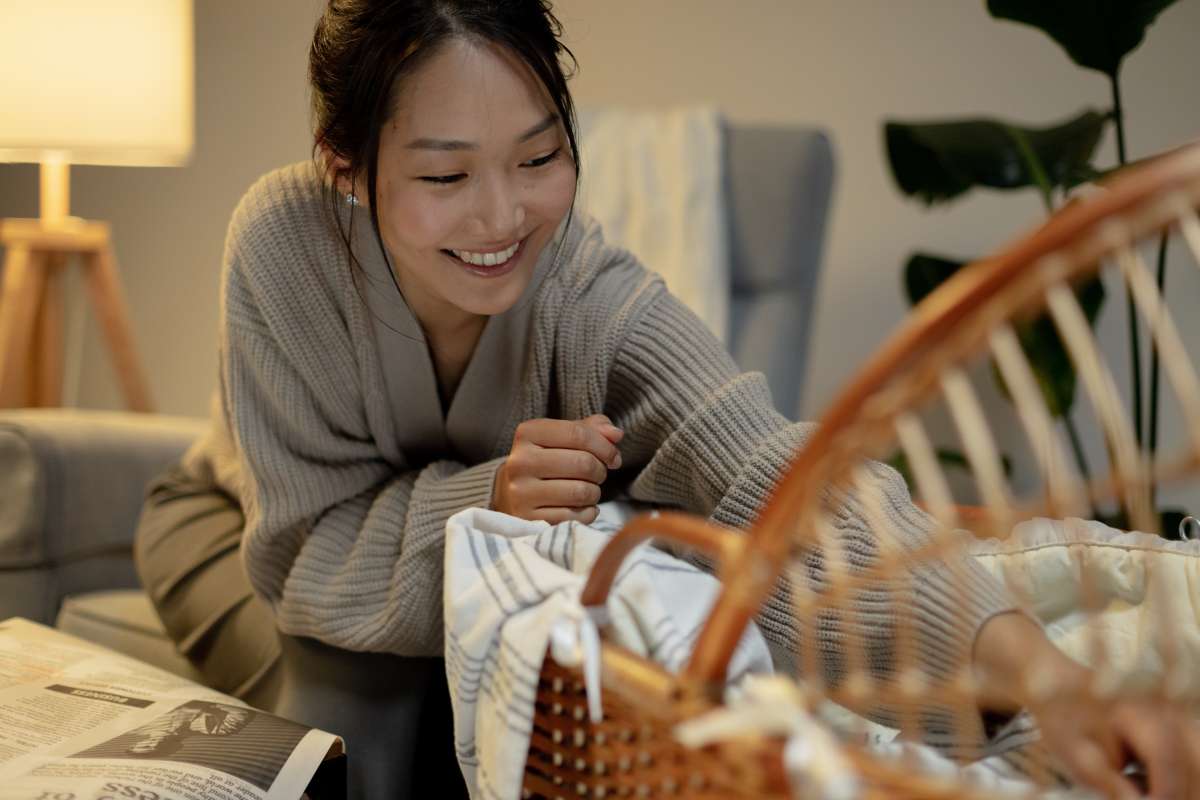 Is it safe for babies of all ages? What are the benefits?
One profound aspect is the number of high-quality photographs taken with babies on top of the rugs. You only have to google sheepskin baby and find 100's pictures. This would suggest that sheepskins could be used more for aesthetics. 
Much like parents that love to have framed pictures splashed throughout the home of their offspring at any age. But the sheepskin is something that is not strictly necessary in this case. They could use many other items. But when you look at baby photography in general, the pictures of the baby with a blanket, headdress, rug, toys and more. 
Their parents choose to adorn their baby with these typical items, and now and again, it turns out to be sheepskin. It's likely that the tradition became popular and spread to other regions. Combine that with the fact that sheepskin is considered to have natural benefits to the health of babies and humans of all ages, for that matter.
Several pieces of research support this, including a study presented at the European Respiratory Society (ERS) International Congress from the European Lung Foundation, found babies that slept on animal fur for the first three months after being born were less likely to develop asthma or allergies later on in life. This is due to being exposed to microbes found in natural animal furs. Therefore it seems best to not keep your infants wrapped in cotton wool but wrapped in sheep wool instead! Ok, not literally.
In contrast to this, it is generally recommended by the public education campaign to; Safe to sleep to not use any blankets, sheepskins or pillows in your baby's crib. They claim it increases the risk of SIDS (Sudden Infant Death Syndrome). 
Despite this, there was a New Zealand study group that examined SIDS risk factors among a control group. The study concluded that there was only an increased risk when the infant was prone or face down. Not when lateral or supine (face up). In addition to this, they found a decreased risk of SIDS for infants that shared beds with another. 
Keep this in mind if you choose to allow your child to sleep on a sheepskin at all. It might be best to use the sheepskin for play and tummy time. In other words, purely supervised use to reap the benefits of the sheepskin and stay safe at the same time.
The chemicals used in the tanning process should be considered too. However, it is the underside leather that is chiefly affected in the tanning process. The chemicals from certain sheepskins can leave a lasting smell and thus can be inhaled. 
Chemicals like formaldehyde are potentially harmful to humans. So you must check with whatever company and persons you purchase from. 
Type Of Wool Would Suit Babies If It Is For Practical Use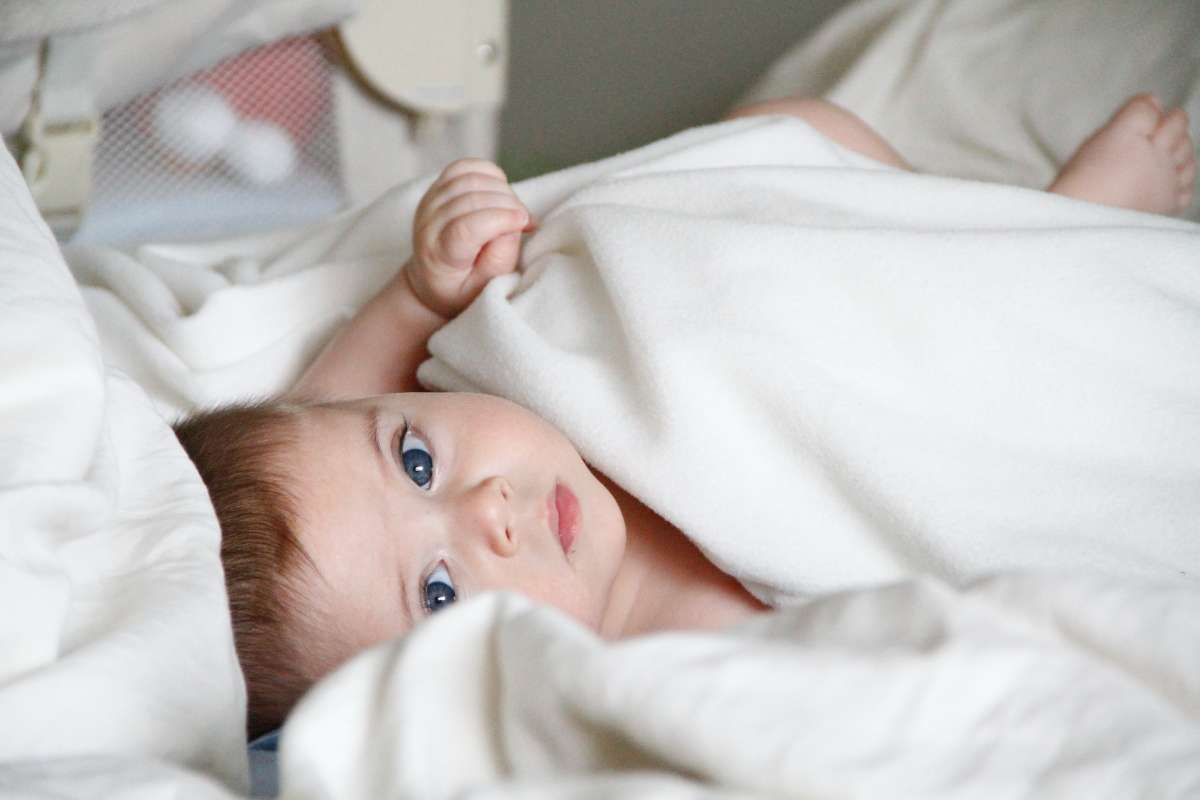 Several types of sheepskin, like Icelandic, Tibetan and Mongolian, have much longer fibres than their counterparts. We recommend sheepskins with soft, dense and shorter wool. So that excludes the types mentioned above. In this circumstance, it is intended to benefit the baby's comfort level, not their sense of beauty. 
We have produced a sheepskin specifically for infants. This wool is dense and comfy. Not only that, the wool is cut shorter, which would reduce the risk of SIDS. Lambskins are another prudent choice for newborns as it is softer than regular wool. The drawback is that it's less durable. So consider this with your purchases.
Lastly, the benefits. To state the obvious, wool is generally soft and fluffy. Thus more comfortable to sit or lay on as opposed to the floor. Wool fibres wick moisture away from the skin and air, and it is a good insulator. This keeps your child warm and dry. Wool is hypo-allergenic and can trap dust, allergens and other air particles. It is less likely than to release them back into the airways of your child. Once trapped, they can be removed by gently vacuuming.
In conclusion, choose a sheepskin with soft, dense and short fibres. Environmentally friendly and decide whether or not to allow your baby to sleep on them. If so, never in a prone position.
Benefits Of Sleeping On Sheepskin For Babies
Sheepskin has become ever more popular in recent years, lining everything from your favourite boots to baby rockers and strollers. But aside from being soft and cozy against your skin, sheepskin has several surprising benefits for both adults and babies.  
A growing number of research studies have proven that sleeping on sheepskin and other animal furs not only helps to regulate body temperature for infants, but it can also increase circulation, soothe inflamed skin and rashes as well as provide a naturally antimicrobial sleeping environment which leads to reduced occurrence of colds and sickness from harmful bacteria. 
One study in also found that sleeping on sheepskins decreased the chances of developing asthma and allergies later in childhood.
Studies have shown no increase in SIDs for babies sleeping on sheepskins when placed on their backs. But sheepskins have many other uses other than overnight sleeping.  
Sheepskin's deep pile confirms the baby's body and creates a cozy mat for tummy time or general playtime. It can also be used as a liner for bassinets, Moses baskets, strollers, cars seats and rockers. Below are just some of the proven benefits of sleeping on sheepskin:
Temperature

 - The sheep's skin is a thermoregulator, keeping the baby warm in winter and cool in summer. Also allows the baby's skin to breathe, diminishing chances of sweating and, therefore, possible colds.

Humidity

 - The sheep's wool is rich in lanolin and naturally impermeable. The air flows through its fibres, creating a pocket of air that keeps your baby's skin dry.

Calming

 - The sheep's skin is an electrical semiconductor, creating a calming effect, eliminating the muscular tension and stimulating the circulation in the tissues. 

Anti-bacterial

 - Made of 100% protein fibres, the skin creates an environment unfavourable to the development of bacteria, keeping your baby safe from illness. 
According to a recent story in SF Gate, it's common practice in Germany for parents to place a sheepskin in their baby's bedding. It's soft, pesticide-free, and good at regulating temperature — keeping babies cool in the summer and warm and cozy in the winter. Thanks to the availability of sheepskin at the uber-chic retailer IKEA.
That's good news, say the experts, who point to a recent study presented at the European Respiratory Society International Congress that found that babies who sleep on animal fur such as sheepskins in the first three months have a decreased risk for asthma age 10. 
These kids also experience less incidence of hay fever and wheezing. The theory, according to researchers, is that animal fur is loaded with beneficial microscopic organisms that help to bolster a baby's immune system.
If this theory sounds familiar, it's because it is. It's the standing tenet of the hygiene hypothesis that experts have been arguing about for 25 years — that when babies are exposed to small quantities of germs and bacteria at a young age, they are more likely to have stronger immune systems as they get older.
Dangers Of Sheepskin
But not all health experts praise this new study. Many are worried about the correlation between SIDS, Sudden Infant Death Syndrome, and babies who sleep in soft bedding.
We do not recommend that babies sleep on sheepskins, as some of the first studies on SIDS demonstrated that sleeping on sheepskins increased the risk for SIDS.
These experts argue that a sheepskin liner for the stroller or car seat or a sheepskin nursery rug might be better ways to expose babies to animal skins without increasing their risk for SIDS.
Conclusion
New parents get loads of advice on everything from feeding to dressing to swaddling. But no category brings more unsolicited — or solicited — counsel than that of babies and sleep. Do they need a crib or a bassinet? And what about co-sleeping in your bed? Should they be warm or cool or dressed warmly but without blankets? Should their mattresses be firm or soft or softly firm and without any chemical off-gassing?
Got all of that?
Now here's one more piece of advice to add to the baby/sleep puzzle: a new study has found that babies who sleep on animal skins are less likely to develop asthma. Oh, but some health experts also warn that babies shouldn't sleep on any soft bedding.
Figure that one out!