Parents equate the beloved baby monitor with peace-of-mind because seeing is believing and baby monitors provide us with that luxury. It's also that genius device that allows for easier sleep training. Thankfully, gone are the days of having to gingerly creak open the nursery door for a covert peek while risking being seen by your wide-eyed baby looking for a way out of a nap! The latest high-tech baby monitors are now priced for the masses resulting in millions of families buying one, two or even three baby monitors to help parents add another level of protection for their little ones. However, some parents are missing important information to use the baby monitor in a safe manner.  I've put together some tips to help educate you about the proper use and installation of your baby monitor so you can enjoy precious peace of mind. 
In the early days, you may see all the baby products around and think you need it all. But as you get to grips with you baby essentials checklist you may find that some things you don't need at all.
Baby monitors are a popular choice for keeping an eye on your baby as they sleep. It is recommended the safest place for your baby to sleep for the first six months is in your room, so baby monitors are a way of keeping an eye on them when they have moved to their room.
Check out our range of baby nursery products and furniture for all your baby needs.
Read Up
Creating a safe sleep environment is the goal of every parent.  To achieve that goal, you need to read the manufacturer's instructions on your new baby monitor before you use it. I know this is not NYT Bestseller material, but it's an important read. Additionally, please note the safety tag on the electrical cord of the baby monitor and read that as well. This info will help ensure the utmost in safety while using your monitor. 
Location
When installing your baby monitor, be sure to choose a location in the nursery that is at least 3 feet away from the crib (pack and play, bassinet, etc.) where baby sleeps. More times than I can count, I've seen baby monitors placed inside the crib or bassinet or hanging on the crib rail. I know that newborns cannot grab much, let alone a monitor but it's still advisable to keep the monitor at least 3 feet away from the crib. If you are mounting the monitor onto the wall, it makes sense to do so 3 feet away now so you won't have to move it later as baby grows and his or her reach elongates. 
Angle
Choose a location for the baby monitor that gives you the best view of the crib. Wall is mounting up high, and out-of-reach allows for a better viewing vantage. Some newer monitors come with an easy wall mount features, like VTech's Safe&Sound® Pan & Tilt Full Color Video Monitor making a DIY installation a snap. The latest developments in technology provide consumers with the option to see in the dark as well. Heck, you can see better with VTech's infrared LED night vision in the dark than you can see with the naked eye. VTech's latest monitor also has cameras that will move up and down and left to right via remote control to give you a better look at junior who might have rolled to the end of the crib out of a static camera's view. All the technology makes supervision day and night easier, resulting in a relaxed and more confident parent!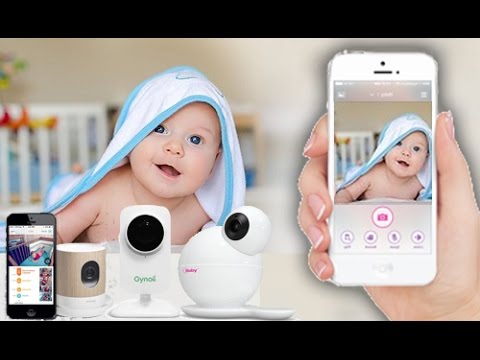 Cord Control
Even if the baby monitor is out of reach, often the dangling cord can still be accessible. Baby monitor power cord management is made easy with VTech's Video Monitors because they included a genius cord management system within the mounting bracket for storing any excess electrical cord. Another option for cord management, which is a trick of the trade used by professional child proofers, is cord control or concealment kits that cover and mount electrical cords in the nursery. Cord covers enclose wires and mount with double-sided adhesive onto baseboards, walls or ceilings. It can be cut to customize it to fit any length, and the white plastic surface can be painted to match your home decor. Be sure to train the cord away from the crib by at least 3 feet. Check ALL electrical devices in the nursery (lamps, iPods, sleep sound machines, clocks, etc.) and make sure those power cords are also at least 3 feet from the crib. Please childproof all outlets in the nursery with sliding outlet covers to prevent electrical shock.
Never
Do not use baby monitors in the bathroom or around water, as it's an electrical shock hazard. Babies and children should never be left unattended in the bath. 
Installation Quick Tips
NEVER place/attach the baby monitor in/on crib with baby

Make sure the baby monitor's electrical cord is 3 feet away from the crib

Conceal baby monitor's power cord with a cover or use wind up feature

Never use the baby monitor in the bathroom or plugin near water

Plug baby monitor into a childproofed electrical socket
Set up… to fail 
While no baby monitors have received a paltry one star, 15 scored three stars or lower for how easy they are to set up. Needless frustration and head-scratching usually start with the instruction manuals, which can be badly laid out and hard to follow. Text is typically small and diagrams tiny and cramped, meaning you're left to work it all out for yourself. With some monitors, important information, such as warnings about the strangulation risk to your baby from power cords, isn't even included in the manual. Wi-fi baby monitors are useful as you can view your baby from your smartphone, wherever you are, but these can be a pain to set up. With one baby monitor that we tested, alongside downloading the app to your phone, you also had to register for an account, then register the camera, before connecting it to your router. Even for relatively tech-savvy parents, this would prove to be a time-consuming and rather tedious process.
Sound quality is key 
Regardless of whether they're using audio, wi-fi, or video baby monitor, 43% of parents put crystal-clear sound quality as the most important factor when buying a baby monitor. Poor quality models have a sound that's too quiet on lower settings, but if you turn up the volume the audio becomes muffled and distorted – not great if you're trying to keep an ear out for your baby crying. If you want a video monitor, 31% of parents said good video quality was a key factor for them. We see monitors with excellent video quality, such as the Motorola MBP36S Digital Video. However, with others, the picture is very disappointing. You'll be left peering at a fuzzy, jerky and blurred picture of your child, and be left wondering if they are fast asleep or wide awake.
So, Are Baby Monitors Bad?
Baby monitors are not bad.  They allow us to ensure our baby's safety and keep our sanity at the same time. But, (and this is a big "but") they can be dangerous if used improperly (for example, letting your baby nibble or pull on the cords and ignoring frayed wires from wear and tear of the baby monitor).
Since 2002 the U.S. Consumer Product Safety Commission (CPSC) has recorded seven deaths and three near-suffocation from the cords of baby monitors.  How does this happen? It can happen when the baby monitor is placed too close to the crib, and the baby wants to play with the cord.  This can result in the baby accidentally wrapping the cord around his neck. This is scary.
My Baby Nursery has the biggest range of nursery baby monitors for you to choose from.
How to Properly Use a Baby Monitor
The most important thing to do is keep the baby monitor at least three feet away from any part of the crib, bassinet, play yard, or other safe sleep environments. That's roughly the width of the crib plus six inches. Place the monitor far away, and tuck in the cords so curious little hands don't even think about playing with them. Never position a monitor inside or on the edge of a crib.
While you're at it, examine the areas your child eats, plays and sleeps every time they meet a new physical milestone. This is a good time to do a general safety check.
Can your baby rollover?  Great!  Get on your belly on the floor and look at the world from their perspective.  You'll pick up on things you might otherwise miss that way.

Can your baby sit-up?  Awesome! Repeat the above (and lower the crib mattress).

Can your baby crawl, pull to stand, cruise, walk or run?  Wonderful! View the world from their perspective as I instructed in number one above. Make sure their environment is safe. Kids are usually taller than we think they are and can always reach things we never thought they could.
Other Safety Tips
Place the cords of your window blinds up and out-of-reach. Use electrical outlet covers. Add door knob covers. Make sure household cleaners and medications are out of reach and locked. Make it a priority to follow these safety tips as soon as your child meets a new milestone, if not before. A good rule of thumb is to be six months ahead of your baby, safety-wise.
To keep your baby safe, immediately check the location of all monitors and other products with electric cords, including those mounted on the wall, to make sure cords are out of your child's reach.
Check out our post on What's needed in a baby's nursery?
Ways To Use Baby Monitors
Bedtime. 
Yes, we still monitor our kids at night while they sleep. Our preschooler and our toddler share a room, so it's nice to be able to make sure they go to sleep at bedtime. I keep the parent monitor on my nightstand every night so that if one of them needs something during the night (like my son has to use the bathroom or my daughter has a bad dream), I can come to the rescue quickly.
Naptime. 
So we didn't use to use the monitor during nap time, and then last December, my son swallowed part of his sister's hair clip that I had left on top of the dresser. Long story short, we had to rush to the emergency room, and he had to have it surgically removed. Anyway, it could've easily been prevented if I had just used the baby monitor during nap time. Yes, you're awake, and you can probably hear if your child needs you, but seeing what your child is doing can give you huge peace of mind. Also, since only my daughter naps now, using the monitor during nap time has made it possible for my son and me to play outside while she sleeps. The VM343 comes standard with 1,000 feet of range, so it's easy to stay connected to my daughter from any room in the house – even from outside.
Transitioning to a toddler bed. 
Now that we've covered sleeping, there are lots of other ways to use a baby monitor, and this one is a must! Switching to a toddler bed is a big deal. Our son started climbing out of his crib at 18 months, so we had to switch him for safety reasons. Having a video baby monitor helped a lot because I was able to see when he was actually in the bed and when he was trying to play with toys or read his books. With our daughter, we used the VTech Safe&Sound VM343 Pan & Tilt Full-color Video Monitor, and it made a big difference. It was easier than ever to keep a close eye on her thanks to the monitor's remote pan and tilt camera featuring 2x zoom. It was easy to scan her room straight from the parent unit, and I didn't have to worry about not being able to see her just because she wasn't in her bed.
Watching them play so I can get work done around the house. 
Sometimes I need to clean the bathrooms or mop the floors, and I can't have the kids running free around the house while I do. Being able to stick them in the playroom and shut the door and not worrying about what they are doing has been AMAZING. The camera is discreet and pretty small, so my kids ignore it while they play. And not only does the VM343 have automatic night vision, so it works great in the dark, but it also works great during the day because the large 4.3-inch LCD screen has full-colour video. So I can watch my kids clearly and clean the bathrooms without worrying about what they are doing!
Safety. 
Like I said before, we stopped using the monitor for a while, and our son had to go to the ER because I couldn't see what he was doing. Using a monitor has given me great peace of mind when I can't be in the room with my kids. I try not to have anything in their room that they could play with or potentially swallow, but if there's something I miss I'll be able to see them before something happens. I'm pretty chill on a lot of things, but the safety of my kids is not one of them.
Traveling to new places. 
I ALWAYS bring a baby monitor when we are travelling. You never know how your kids will react to being in a new room and in a bed that isn't their own. Having a video baby monitor like the VM343 is a necessity! Plus it tells the temperature so you can see if your child might need an extra blanket or some fleece pyjamas that night!
Communicating. 
Whether I'm telling the kids to get back in their bed or asking my husband a question while he's helping tuck the kids in and I'm in our bedroom, being able to use our baby monitor for communication has been great. The monitor features a two-way, talk-back intercom so parents can soothe their child without needing to enter the child's room and disrupt nap time or bedtime.
The need for a baby monitor could depend on the size of your home. If you live in a small flat you may find hearing your baby stir in the night isn't a problem and don't feel you need one. If your house is big and you may be a fair distance from your baby as they sleep, a monitor can help you hear them at all times.
Having a monitor can help you distinguish what kind of cry it is. Without having to go in and disturb them, you can hear the cry from the monitor and know whether it is a hungry cry and you need to go in or if your baby is distressed or they are simply groaning in their sleep and haven't really woken up – and going in would risk properly waking them up!
The downside of this is that with a monitor you may hear virtually every sound your baby makes which may disturb you throughout the night as babies do make a lot of noise and not all of it requires your attention. 
As your baby gets older, if you find yourself having to go into the room to check on them for every noise you hear through the monitor, you may find your continuous in and out maybe what is disrupting your baby and not the noises they make. Remember, babies do fuss and cry a little even in their sleep, so it is not always a necessary reason to go into them straight away.
On the upside, many baby monitors now include a video option where you can see your baby sleeping.  These can give you peace of mind to see your baby is OK and you can visibly check whether they're groaning a little or a lot and weigh up the likelihood of them settling back to sleep without you.
Some monitors also include sensor pads to go under your baby's mattress that alerts you if your baby hasn't moved in a certain amount of time.
However, it is important to remember that whether you use a baby monitor or not, it is not a replacement for parental supervision of your baby and will not prevent or solve any sleep issues. It is simply a tool to help you monitor your baby without having to disturb them too often going to check on them in their room.
As parents, we have the ongoing responsibility of educating ourselves to help us better do our job of raising our kids and keeping them as safe as possible in the process. The uber information age offers us easy access to new studies, technology and revealing stats every day. This safety education combined with many new, high-tech innovations, made available to consumers from safety savvy products manufacturers, help to make our all-important jobs as parents easier and less stressful as we can cover so many more bases than ever before. So please continue being a practitioner parent by reading up as much as you can AND being vigilant with supervision and I'll work hard to bring safety issues like this into the light.  Be well and be safe!