Bassinet Vs. Crib: What's The Difference And Which One Is Best For Your Baby?
If you're wondering what the differences are between a bassinet and a crib and which one is best for your baby, you're not alone! As a parent, safety is always on your mind, with safe sleep at the top of that list.   Gone are the days when caregivers relied on the sarong cradle to soothe a newborn child. Parents now have a dazzling array of bedtime options for their babies – from cots that can be placed beside an adult bed with one side lowered to self-rocking electronic cradles.
How to choose a cot bed
Your newborn baby could be sleeping up to 18 hours a day, so making sure you have the right sleeping arrangement for them is crucial. There are many cot beds to choose from, varying in price, style and features. It can be challenging to know which one would suit your needs, so luckily, we are experts in this area and have created a highly comprehensive guide to help you find the right product!
A Moses basket or crib can be used for a newborn baby instead of a cot, though some parents prefer a cot or cotbed from the start. There are many similarities between the two, but there's a critical difference that sets them apart – longevity. While a cot is suitable from birth to approximately two years, a cotbed may be used from birth to about five years. Some cotbeds can even turn into little sofas and last longer still!
Both a bassinet and a crib are safe places for your baby to sleep. But they do have a few essential differences that we're going to break down for you.
My Baby Nursery has the best baby cot furniture selection to make your baby room a dream come true
Cot Bed
Cot Bed<span style="font-weight: 400;"> is usually the most popular choice. A cot can be converted into a toddler bed once baby outgrows the cot. It fit a standard cot bed mattress size of 140 x 70 cm. suitable from birth and up to four years at least.
Four years of sleep space in one, no need to purchase a toddler bed. Smoother transition to bed for your child.

Require slightly more substantial space to fit in your home.

Familiarity with the cotbed may help smooth your child's transition from cot to a 'big bed', too.
If space is an issue for you, though, a cotbed may not be suitable. The Foundation for the Study of Infant Deaths (FSID) recommends that your baby sleeps in your bedroom for the first six months. If a cotbed is too large for your room, opt for a cot instead.

The pros and cons of Cotbeds
A cotbed has removable sides and end panel so it can convert to a short, low bed for a toddler. More significant than a cot, but smaller than a single bed, a cotbed requires a mattress and bedding designed specifically for it.
Bassinets are available in a variety of colours and decor. Many even come with ruffled designs, hoods, and storage beneath the bed. Over the years, exciting features have been added to bassinets, like:
Expert tip: Once your baby reaches 20 pounds or can roll over on their own, a bassinet is no longer a safe sleeping option. Based on the development and growth of your baby, plan to transition them out of the bassinet around four months of age.
What Is A Bassinet?
A bassinet is a bed specifically for babies from birth to about four months old. They are shaped like an oval, have mesh or cloth sides, and are generally designed for easy mobility. The base of the bassinet raises the bed level to the average adult's waistline. Many parents have found this taller structure helpful in laying their baby down.  Still, experts say the safest option is neither a co-sleeping cot nor a sarong cradle. It is a traditional crib with a firm mattress, with no drop sides or wide gaps between slats.
First, let go through the differences of crib, cot and cot bed.
In the US, a crib is a cot/cot bed. In the UK, a Crib usually refers to a small portable cot with a length about 1 meter or less, designed only for the first few months of the infant. Essentially, the crib is an alternative version of a Moses basket, that may attach onto or be put aside of parent's bed.
Benefits of co-sleeping close at night.
Usually last less than six months, costly compare to the traditional Moses basket or years of cot/cot bed. Cot in the UK, usually fit a standard cot mattress size of 120 x 60 CM. A cot suitable from birth up to two years old. They are compact for smaller nursery room and ideal to position in parent's place as well.
Pro – Compact, great for limited space.
Con – Once you grow out, you will need to purchase a toddler bed.
A cotbed may seem to be the hands-down winner over the cot – and there's some evidence of this in the vast range now being sold. Although slightly more expensive than the average cot, a cotbed will be in use for twice as long, so can be more cost-effective. Though do remember to factor in the cost of purchasing an extra mattress and bedding, if necessary, when the cotbed is converted, consider too that you'll still have to buy a single bed at some stage.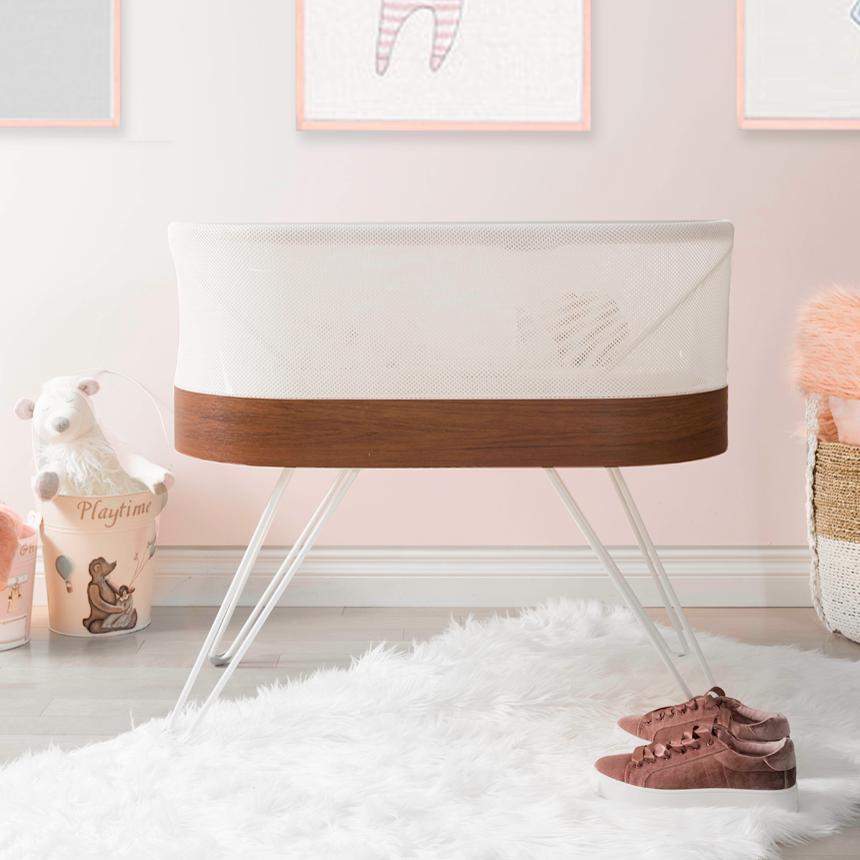 What Is A Crib?
Merriam Webster defines a crib as a small child's bedstead with high enclosing, usually slatted, sides. Cribs are a safe option for keeping older babies in their beds. And while they come in a variety of styles, shapes, and sizes, below are the four main types of cribs.
When it comes to choosing cots, parents should seek reputable retailers and ensure that products come with clear safety instructions. The latter is especially crucial for those buying second-hand cots or using hand-me-downs.
Traditional Crib
A traditional (or standard) crib is rectangular. These cribs don't come with any extras as convertible cribs do, but the simple — yet effective — design is easy to set up. Avoid giving your baby stuffed toys, pillows and other loose items as there is a risk of suffocation, especially to babies younger than five months who cannot yet roll and push things away. These objects are also not safe for older babies as they may use them to clamber out of the cot. Most domestic cots are made of natural wood, with Pine being the most commonly used. 
Poplar is another softwood but not as widely available as Pine. Birch, Beech and Oak are hardwoods, which make them more expensive. Furniture made of trees is often a little more resistant to wear and tear.
Ideally, the cot can be used again for another new baby, but not the mattress; cot mattress must be replaced with new for each baby. Some parents also feel that the size of a cotbed leaves their newborn looking a bit lost! One solution is to use a Moses basket or a crib for the first few months, then move to a cotbed.
Mini Crib
A mini crib is also rectangular, but it takes up less space. The traditional crib uses a standard crib mattress of 28 inches wide and 52 inches long — like Newton Baby's Crib Mattress — whereas the mini crib uses a crib mattress of 24 inches wide and 38 inches long.
Firm mattresses are useful as they reduce the danger of suffocation. They should lie flush against the edges of the cot so that your baby does not get trapped in a gap. The experts also recommend cribs with slats no more significant than 4.5cm to 6cm to prevent babies from slipping through.
Style and features of cot bed are personal preferences. Stylish design such as sleigh would cost you more. The retail price will increase if the cot has more curves or upholstery. Cot design with straight lines only with little profile detail would cost much less but may serve the purpose well also. 
Convertible Crib
A convertible crib is also rectangular and can eventually be converted into a toddler bed or daybed when your little one outgrows the traditional crib. While the setup for convertible cribs is more extensive than that of traditional cradles, extra hardware and sides can be put together to transform the crib to fit your growing baby. Also, the cost of a convertible crib is a little more than the price of a traditional crib, but you may find this investment beneficial in the long run.
If you are first time parent, ask advice and think about what features may be relevant to you. The drawer underneath cot for storage space, teething rails to protect teething baby and the cot, drop side for petite or health issue, the height of cot base, etc.
A significant consideration is whether you plan to have more than one child. Although a cot tends to have a shorter lifespan than a cotbed, it may prove cost-effective if it can be used for future siblings. If you buy a cotbed, it will be required for your next baby before you have a chance to turn it into a bed for your older child. You'll have to buy a cot or second cotbed for your new baby.
Round Crib
The round crib is the least common type of crib available.
Its unique design makes it the most expensive option on our list. But the style and size of a round crib provide your baby with more open space to move around and play in as they grow.
Our exclusive range of baby nursery products will help create the perfect baby nursery for your baby.
Cots – the pros and cons
Cots vary in size, but are usually smaller and cheaper than cotbeds, have fixed sides (though some have a team that will drop down for ease of access to your baby).
An advantage of choosing a cot rather than a cotbed is that you can select one to fit the available space in your room. Some children are happy to remain in a cot for longer than the two years suggested by many manufacturers, while others move from cot to full-size single bed with ease.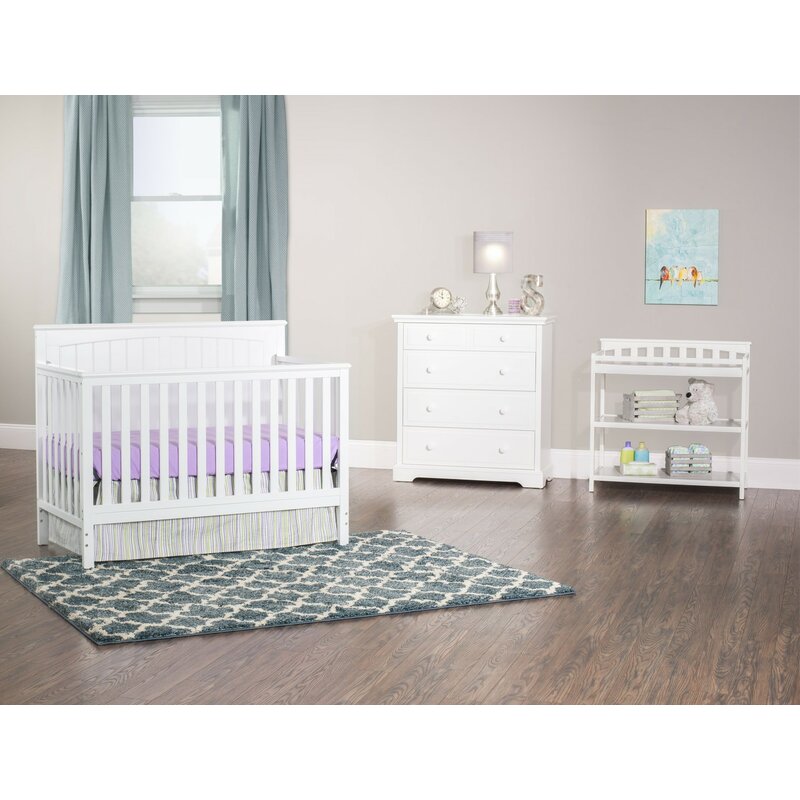 Space to position the cot
Before you purchase your cot, always double-check dimensions to where you are going to place the cot in your home!! It is recommended that baby sleep with parents in the same room for the first six months. Plan how are you going to do this, if the same cot would fit in your room as well as nursery room? Same going for nappy changing space, it needs to be convenient to you, day and night.
For safety, DO NOT place children cot/bed near heat sources, windows and other furniture.