When it comes to buying the necessities for your baby, you want to know where you can find quality products at a reasonable price.
You also want to find convenient stores and have items in stock so that you don't have to wait days for delivery.
This article is about finding the best places for parents of babies and toddlers and expecting mothers looking for quality items at an affordable price without having extra trips into town or waiting weeks on end for deliveries - we hope this helps!
This blog post will introduce some of the best baby shops in Sydney, New South Wales.
Add a header to begin generating the table of contents
Ultimate List of the Baby Shops in Sydney, NSW
My Baby Nursery - Baby Shop Sydney

EVERYTHING YOU NEED FROM NURSERY TO PRAMS
Specialising in baby products, including nursery furniture, manchester, prams, car seats, high chairs and many many more items, My Baby Nursery truly is your one-stop shop for everything to prepare for the arrival of your new baby as well as everything you'll need as they grow.
BABY NURSERY FURNITURE
Our range of nursery furniture has everything parents-to-be need. All our nursery products are designed to take the hassle out of nappy changing, storage and bedtime, so you have nothing to worry about except treasuring special moments with your baby! We are proud to stock an original range of change tables, cots, nursery storage and much more.
BABY COTS - BABY FURNITURE COTS ONLINE
Is there anything more gorgeous than a sleeping baby? Yes, a baby sleeping in a beautiful cot – safe and sound. A key piece of the nursery puzzle, there are plenty of things to consider when buying a cot.
With an endless range of products on the market, a quick trip to the local baby shop just won't suffice. Luckily we've scoured the baby stores to find the best sleep options for your precious little one that'll also suit your nursery budget!
BABY BASSINETS FOR YOUR NURSERY ONLINE
Decorating your child's nursery is one of the simple pleasures of being a parent. But to ensure your baby's comfort and safety, you should always consider more than just looks when buying baby products and nursery furniture. At My Baby Nursery, we have a vast collection of the best baby bassinets.
Babies are born with an instinct to be close to their mother, but when she can't be there, they need a safe spot.
A bassinet is designed for this purpose and comes in many shapes and sizes. We have compiled a list of some of our favourite baby bassinets in a range of prices to suit every budget.
Choosing the right bassinet is important because it offers your baby safety as well as comfort while he or she sleeps!
Baby Kingdom - Baby Shop Sydney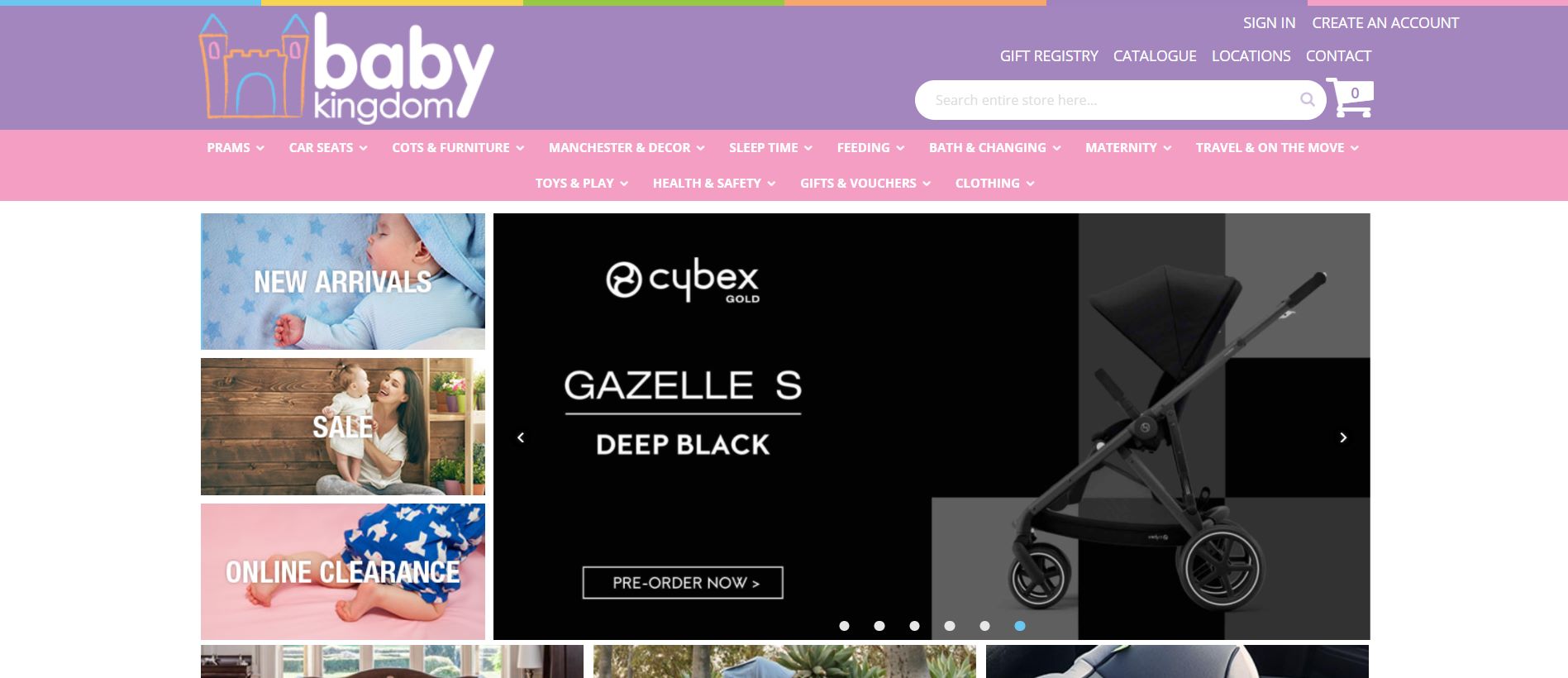 02 8700 1901
ONCE UPON A TIME...
Baby Kingdom is one of Australia's leading baby nursery retailers, with three huge superstores in the Sydney region. Specialising in baby products, including nursery furniture, manchester, prams, car seats, high chairs and many many more items, Baby Kingdom truly is your one-stop shop for everything to prepare for the arrival of your new baby as well as everything you'll need as they grow.
A family-owned business since 1995, Baby Kingdom discovered a need for a specialty retailer with quality products in an industry that provides care and advice for one of the most important experiences in your life.
With this in mind, we took our first steps to create an environment and memorable experience for all new parents.
Baby Village - Baby Shop Sydney

1300 355 070
Baby Village is one of the most experienced baby stores in Australia. Our range has been carefully selected yet has a highly comprehensive offering for mum and bub all under one roof. Cots, Prams, Strollers, toys, dummies, high chairs and lots more!
Just as the name suggests, Baby Village is all about people, most importantly our customers - baby, mum, dad, grandparent, family or friend. Outstanding service is one of our most impressive qualities. A wonderful shopping experience is essential for our customers, so we will go out of our way to ensure you receive nothing less than the best. We offer exceptional product knowledge and highly trained sales advisors to answer any questions you may have. All sales advisors have had many years of experience and will help guide you through the product choices available, making sure you select the right products and brands for your lifestyle.
The safety of your baby is of the utmost importance to us, thus stocking only the most trusted baby brands, including Bugaboo, Safe-n-Sound, Stokke, Medela, BabyBjorn, Ergobaby, Mountain Buggy and much more. And we will continuously strive to provide the best possible prices to ensure you always get value for money.
Come explore all we have to offer and be inspired by the experience, product range and value for money.
Baby Shops Frequently Asked Questions
During the second trimester, you will probably be belly-deep in decisions, from birth plan choices to nursery designs to what to buy.
Even if the weeks are flying by, you'll be ready for the baby's arrival by focusing on the only seven things you need.
Car seat
This is top on the list because you really won't be able to leave a hospital without it — a staffer will probably even check to make sure it's properly installed.
Start doing your homework early to wade through safety reviews and the various types of seats available. Then install the seat well in advance of 40 weeks, preferably with the help of a certified car seat technician.
Compatible stroller
From there, you might consider investing in a compatible stroller adapter, which is the best thing in the world when you're running an errand and don't want to disrupt the baby by moving the little one from the comfy car seat.
Baby food
Breastfeeding
If you decide to breastfeed, you may benefit from using a breast pump to stimulate supply or to store milk if you plan to go back to work while the baby is still nursing.
Many insurance providers cover the full cost but are sure to check with them before purchasing a pump in case there is fine print about how to go about it.
Formula feeding
If you plan to formula feed, you will also need to stock up on some good bottles with varying capacities for your growing baby.
Make your life a little bit easier by getting some bottle-specific cleaning brushes, too!
Diapers
Whether you opt to go with disposable or cloth diapers, you will want to keep that baby's bum covered!
Disposable
For disposables, stock up ahead of time by keeping in mind that newborns can easily go through 10 diapers in a day.
Cloth
If you're considering reusable cloth diapers, there are different types of reusable cloth diapers, so do some homework before deciding what might work best for your family.
The up-front investment is a bit greater but should pay off if you stick with a cloth.
Wipes
In either case, you will also want plenty of wipes, a good surface for diaper changes and probably a stink-containing trash can.
Sweet little baby clothes
As cute as a nakey baby, maybe, a baby in clothes is even more adorable. Besides that, clothes are essential for regulating the little one's temperature.
Onesies
Depending on the season, you'll want a supply of onesies (long sleeve or short sleeve), pants, and sleepers.
Hats and socks
Regardless of where you live, you'll also want a couple of hats and socks to keep the baby from losing too much body heat.
Sensitive detergent
To clean it all—which you'll be doing a lot!—you want some unscented or baby-specific detergent, depending on how sensitive mini's skin is.
Baby blankets
For many babies, "security blanket" has a very literal meaning.
Swaddle blankets
Swaddling babies replicates the way they felt in the womb and helps prevent the so-called Moro reflex, which their own sudden, involuntary movement can trigger.
However, you might hold off on stockpiling too many types of Swaddlers because babies can be picky about what they like or may refuse them all together.
Receiving blankets
Even in that case, you'll want a few receiving blankets to help keep the babe warm, clean up some little messes in a pinch and even serve as burp cloths.
Burp cloths
Warmer blankets and actual burp clothes can come in handy, too.
You'll need plenty of changes of clothes. As a guide, the following will see you through for a newborn baby:
six singlets

six jumpsuits

two jumpsuits for nightwear

three tops

two cardigans or jackets (if it's winter)

three cotton bunny rugs and three muslin (gauze) wraps

an infant sleeping bag (as an alternative to wraps)

a couple of cotton hats

a few pairs of socks.
Newborn babies need to be kept warm. So in cold weather, it can be easiest to dress your baby in layers. Then you can take layers off when you're at the shops or in other warm places.
As a guide, dress your baby in the same number of layers you're wearing, plus one extra layer for warmth.
Although it's important to keep newborns warm, it's just as important that your baby doesn't overheat, especially during sleep. 
You can wash baby clothes with the rest of your laundry, but try to avoid using strong detergents and fabric softeners. Laundry detergents labelled 'sensitive' or 'gentle' are less likely to irritate your baby's skin.
Clothes with poo on them need to be soaked in nappy sanitiser before washing. Nappy sanitiser also makes a handy pre-soak once your baby is eating solids – even with a bib, your baby's clothes will get covered in food and drink.
Cotton. Cotton fabric is the most popular choice for children's and baby apparel. Cotton is soft and highly absorbent, and it is gentle against a baby's skin.
Organic fabric, and organic cotton fabric, in particular, is the perfect choice for babies, as it is grown without chemicals and fertilisers.
Banana Baby - Baby Shop Sydney

(02) 95502883
Banana Baby is now located in St Peters. St Peter is located 10 km from Sydney CBD. We are minutes from IKEA Tempe and Sydney Airport.
We have a large showroom display of all your baby needs. Products listed on this online shop are on display in-store. We also have a large display of nursery furniture and a large range of prams and strollers. Many popular cots and furniture are in stock and ready for immediate pickup.
241 Princes Hwy
St Peter
NSW 2044 Australia
We are located on the corner of Edith St and Princes Hwy.
There is plenty of street parking. Parking on Princes Hwy is allowed after 10 am on weekdays and anytime on weekends. For warehouse pickups, please park on Edith Ln for loading dock access.
We have been family owned since 2005. The store is constantly growing with new products each week.
Baby Bunting - Baby Shop Sydney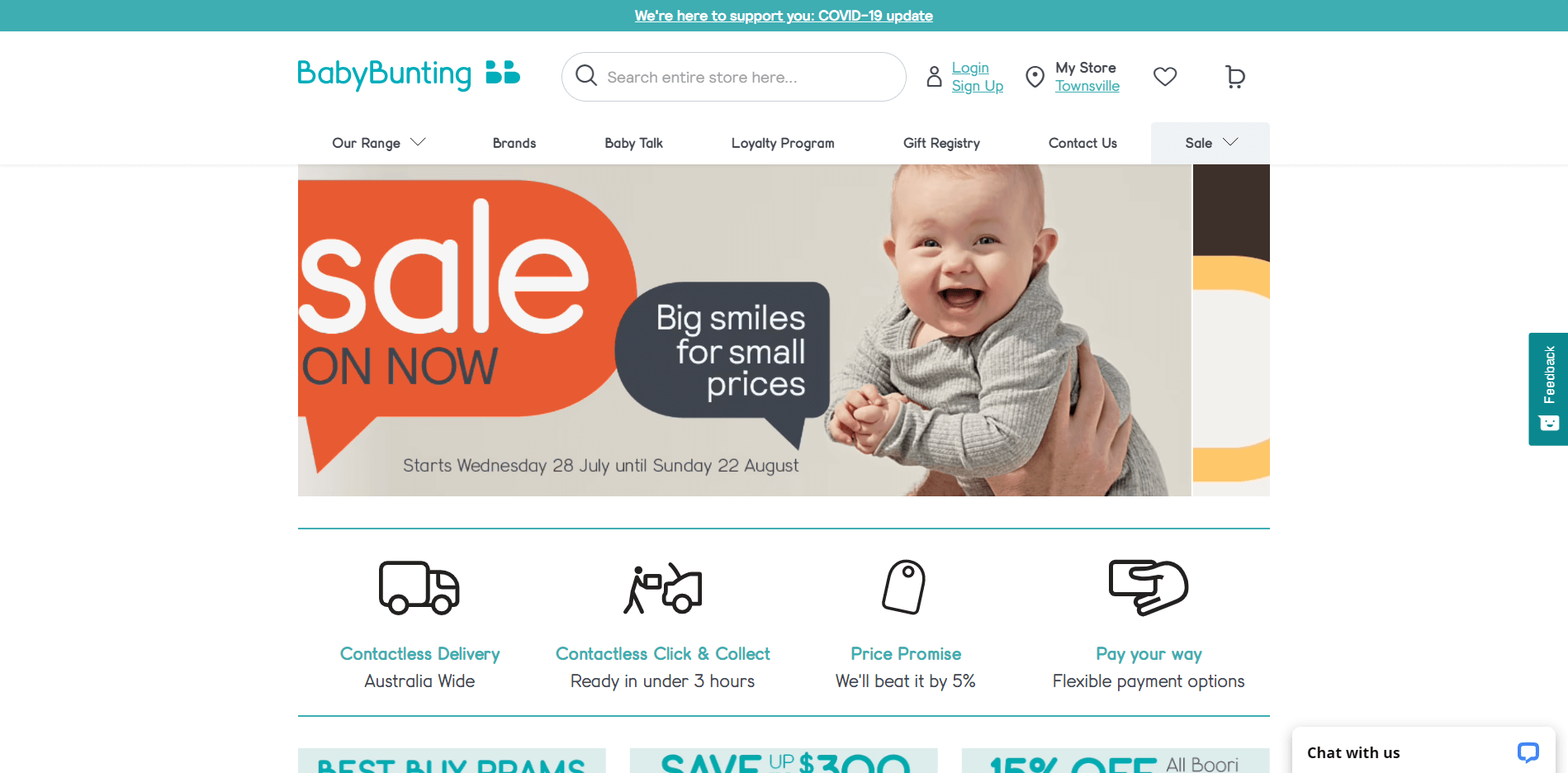 1300 422 291
Who Are We?
Established in Melbourne as a family-owned business in 1979, Baby Bunting is now Australia's largest specialty nursery retailer and one-stop-baby shop.
From humble beginnings with a single store in suburban Balwyn, Baby Bunting now employs more than 700 people across its 50 national superstores and 11,000sqm warehouse in Melbourne.
We pride ourselves on providing our customers with excellence in service, expert advice, great quality, and value.
As a specialist retailer, we cater to parents with children from newborn to three years of age. With over 6,000 lines, we provide parents with the greatest range in prams, car seats, carriers, furniture, nursery, safety, babywear, manchester, changing, toys, feeding, and much more! We offer an unrivalled choice across all the best brands, including Bugaboo, Silvercross, Steelcraft, Britax Safe n Sound, Maxi Cosi, Infasecure, Ergobaby, Boori, Oricom, Medela, Bonds, Huggies, Bright Starts, and more!
Our parenting rooms - equipped with a microwave, change table, baby scales and glider chairs enable parents to attend to their baby's needs in comfort. These elements, coupled with onsite parking and a strong focus on customer service, provide parents with an enjoyable experience and a unique shopping destination.
We also offer a variety of services, including gift registry, click & collect, accredited car seat fittings and lay-by.
Visit us in-store or shop online!
Babyography - Baby Shop Sydney

(02) 9939 3956
Starting from humble beginnings as a small shop in Avalon Beach in 1996, Babyography has grown to become a well known and respected retailer on the Northern Beaches of Sydney.
Owner operated for over 22 years, we offer friendly, experienced advice in order to help navigate new parents through the vast world of products on offer. What seems like an overwhelming array of choices is made easy and fun with friendly, knowledgeable staff who will give you the "WORD ON BABY" from the "must-haves" to the "nice to haves" and everything in between!
We cater to a variety of price ranges and tastes, from well known classic brands to boutique furniture and soft goods you won't find anywhere else on the Northern Beaches of Sydney! 
Come and visit us in our Northern Beaches baby shop or shop online at your convenience; we can't wait to meet you!
Baby Care Nursery - Baby Shop Sydney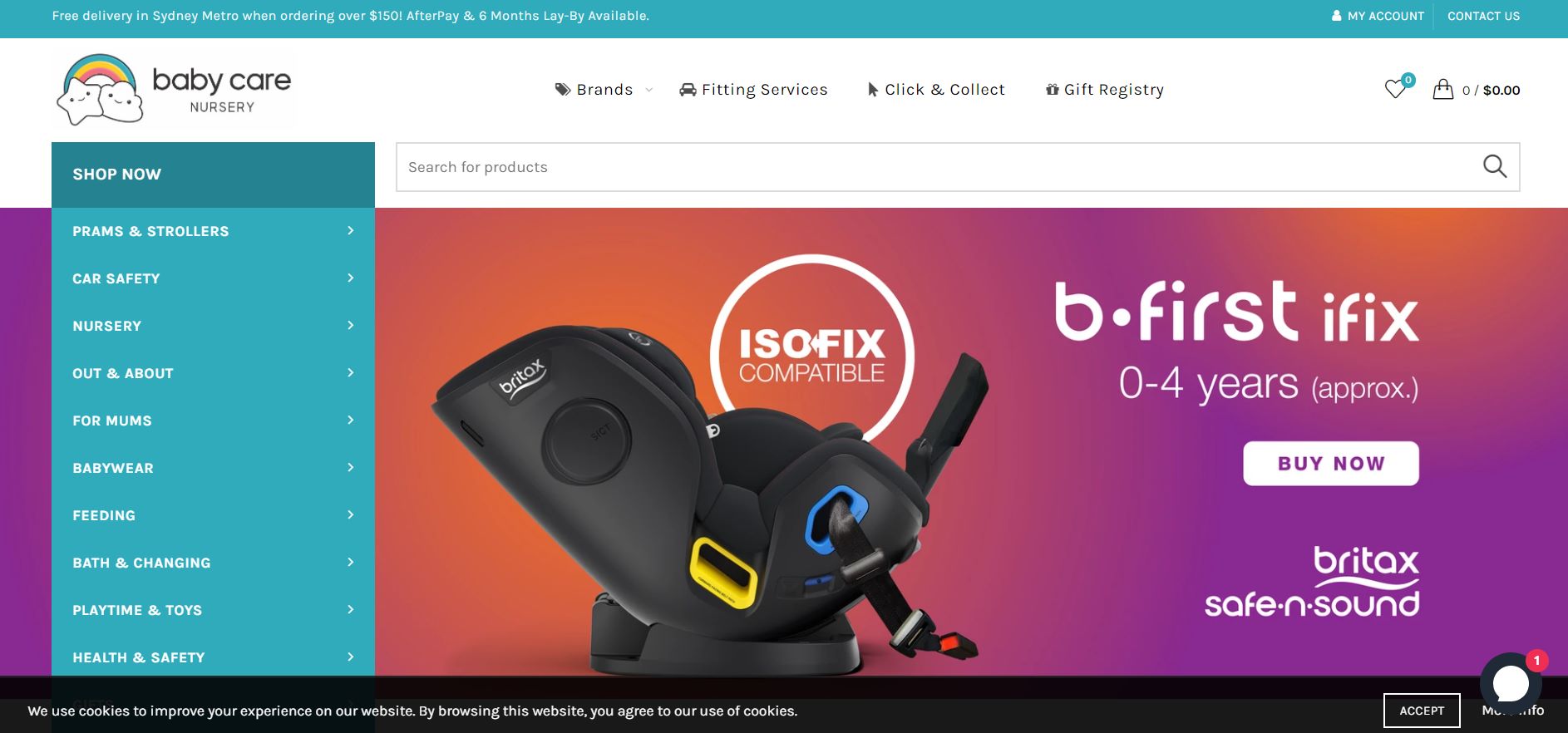 (02) 9724 6190
Baby Care Nursery is a family-owned and operated business that was originally established in 1986.
We have a carefully selected range of products from Australia's leading brands to cater to all the needs of bubs, mums and dads.
We know how overwhelming shopping for a newborn or baby can be. So our goal is to provide the best service, experience and prices to our customers to help make your parenthood journey as easy as possible.
So if you can't find what you're after, don't know where to start, or are simply looking for advice and/or recommendations, just contact us here at Baby Care Nursery.
Mother and Baby Shop - Baby Shop Sydney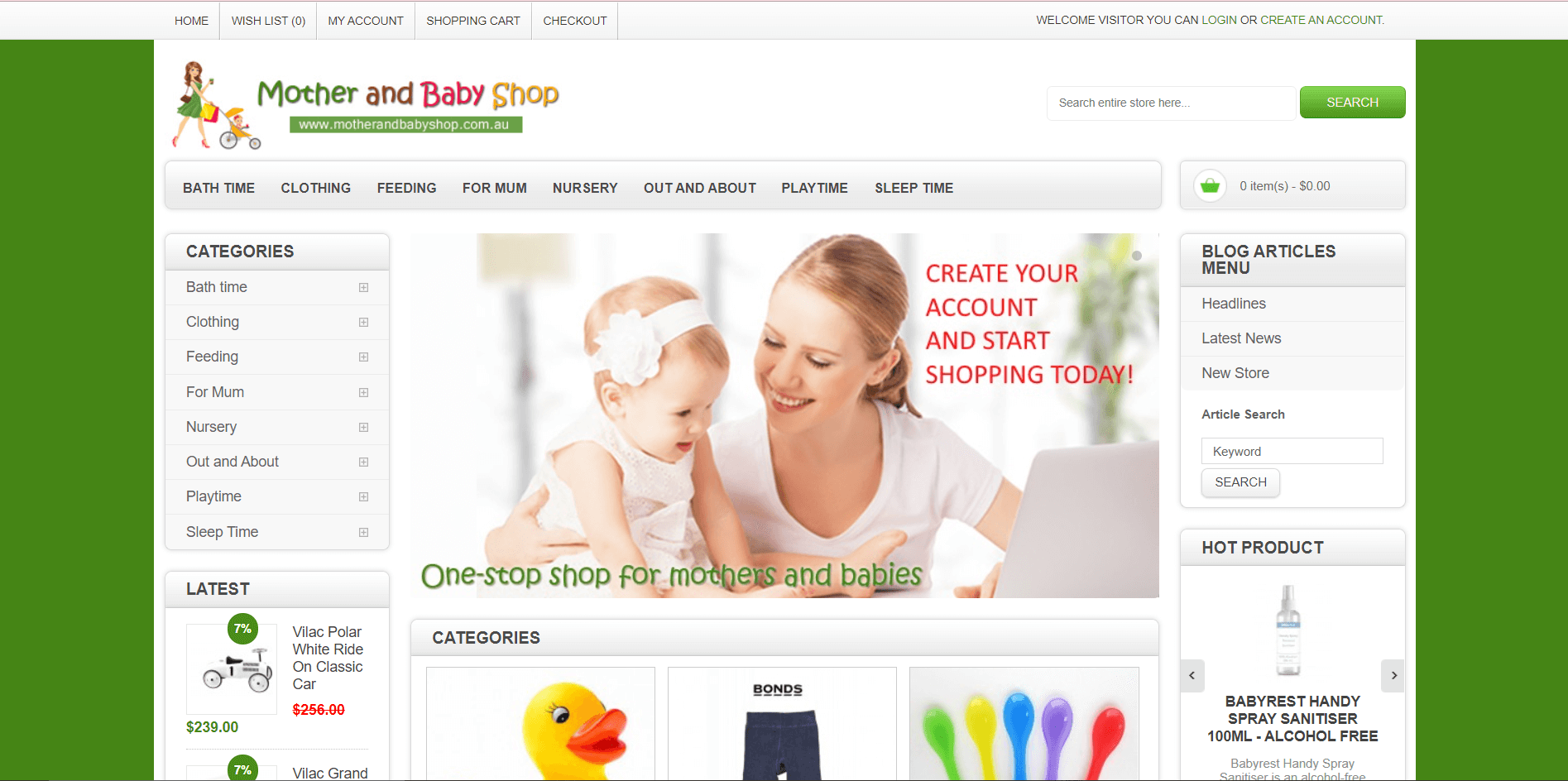 sales@motherandbabyshop.com.au
Mother and Baby Shop is an online Australian retailer providing various products that suit the needs of mothers with young children. From single suits, through blankets, to playpens, we will assist you with a product that will make your life as a parent easier. We ourselves are a family business and understand that being a parent is not always an easy thing. 
Our goal is to provide a one-stop-shop so that you don't need to spend hours walking around various retail stores in various shopping centres. We understand that customers appreciate high-level customer service but also flexibility in doing business which is why we are open to negotiating on prices when your order reaches $200 (there may be an exception to this rule if you are buying multiple products of the same brand). If you want to enquire about a special deal just for you, contact our sales department.
We constantly look for new products and new suppliers, so if you are one, feel free to drop us a line at suppliers@motherandbabyshop.com.au. If you believe you could help us grow our business by offering us marketing services such as advertising or promotion, email our marketing department marketing@motherandbabyshop.com.au. Our accounts department accounts@motherandbabyshop.com.au will be happy to assist you with any payment enquiries. For generic enquiries, visit the "Contact us" section.
Aussie Baby - Baby Shop Sydney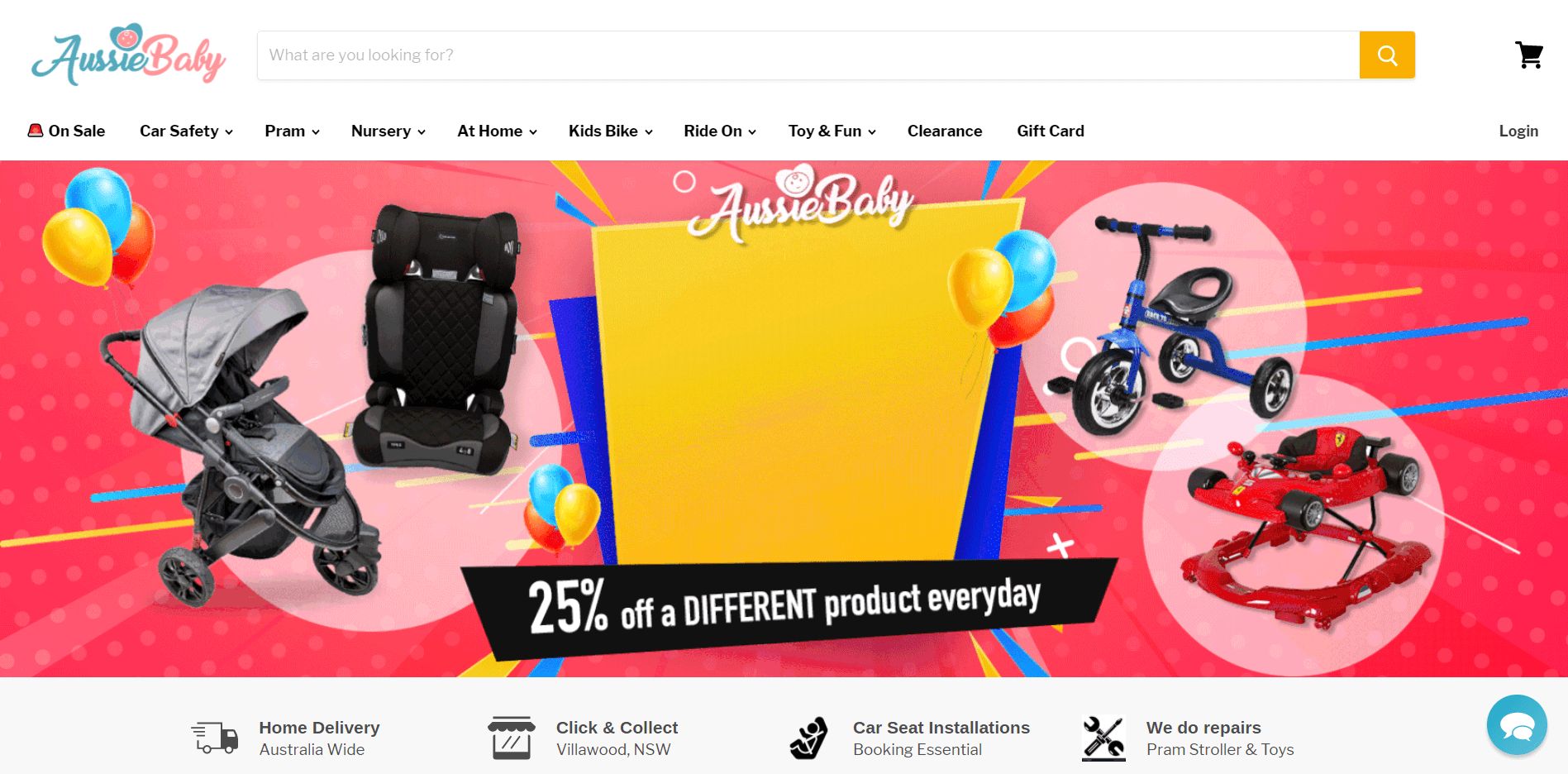 (02) 9755 9503
Baby Equipment and Toys Repair
Notice something wrong with your product? Bring it in for repairs.
Aussie Baby has over 20 years in repairing baby products and children's toys. We specialise in repairing Baby prams, nursery items, children and adult bikes and trikes, ride-on toys, scooters and children's battery-operated vehicles.
If your product was purchased from us and is still under warranty, we will repair it without charge. If the product is not under warranty or not purchased from our store, a quote for repair pricing will be provided after inspection.
The Aussie Baby team looks forward to being of assistance.
Child Restraint Installation & Cleaning Service
Car seat installation can be quite a hassle for parents, if done incorrectly, it can put your child at risk of severe danger as well as risking a hefty fine with the loss of demerit points.
Car seat installation in Sydney, Australia. With over 10 years of experience and a team of licensed technicians, Aussie Baby is here to help with any car seat installation needs you may have, ranging from baby capsules, convertible car seats, convertible booster seats and booster seats.
We only charge $30 per car seat, and a certificate of installation can be provided upon request. Locks, clips, seat protectors and tether strap extensions can also be purchased and may be necessary for the installation process.
We also provide a cleaning service for all vehicle child restraints. Feel free to bring your old car or booster seats to wash and watch it be transformed to be as good as new. Cleaning prices start from $30.
Whether it's installation through the conventional method or using the ISOfix system, Aussie Baby is ready to be of assistance.
Shop Aussie Baby - The Australian Specialist in All Your Baby Needs
Established in 1996, Aussie Baby is located in the heart of Sydney, New South Wales. We are proud to offer nationwide distribution for all your baby needs. Our commitment to you is based on the belief that you deserve the best service possible. Our staff are here for you and will go out of their way to make sure your orders are handled efficiently and with satisfaction guaranteed.
We've got a range of baby products that cater to parents of all age groups. Whether you're just starting out or you're adding to your family, our range of products is sure to meet your needs. When it comes to your baby, we know what you need. We provide parents with the greatest range in prams, car seats, carriers, furniture, nursery, safety, baby walker, bouncer, rockers, changing, toys, feeding, and much more! You'll find an unrivalled choice across all the best brands, like Aussie Baby, Steelcraft, Britax Safe n Sound, Maxi Cosi, Infasecure, Mother's Choice, Oricom, Phillips Avent, Sweet Dream, Tiny Love, and more.
We also offer a variety of services, including gift registry, click & collect, accredited car seat fittings and lay-by. Moreover, we provide repair services for baby products and children's toys. We specialise in repairing baby prams, nursery items, children and adult bikes and trikes, ride-on toys, scooters and children's battery-operated vehicles.
Visit us in-store or shop online!
BabyNest - Baby Shop Sydney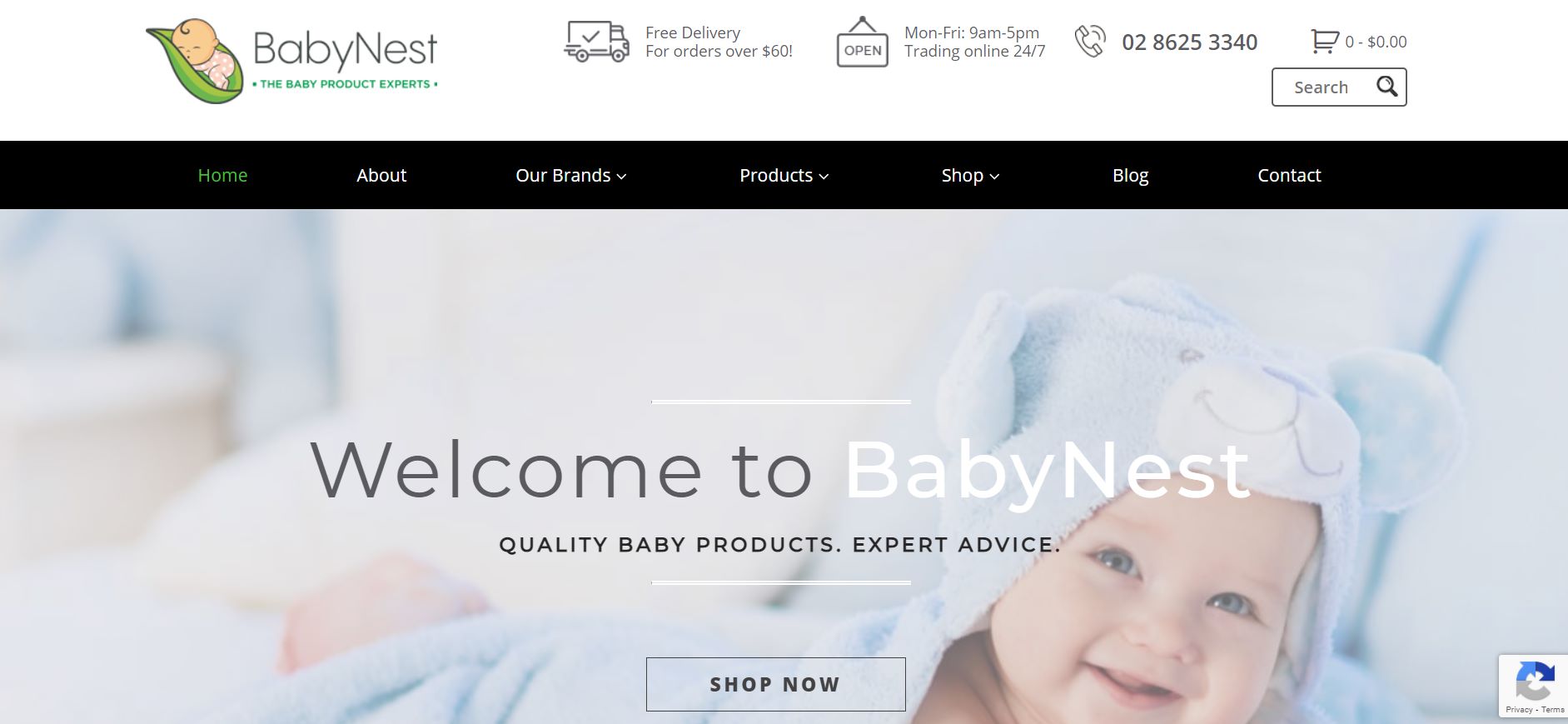 02 8625 3349
QUALITY PRODUCTS. EXPERT ADVICE
At BabyNest, our passion is to bring the very best baby brands to parents in Australia.
We are baby product experts with over 40 years of experience sourcing and distributing leading brands like MAM, Sassy, Dream Baby, Heinz, Les Folies, Gaia, Cloud B, Luv Me, Ever Earth, Huggies and more. We have award-winning products and award-winning brands, and there's a good reason why.
We have the experience and the ability to source the very best products internationally – to help make parenthood easier.
WE'LL HELP YOU FIND A SOLUTION
Our whole team has expert knowledge of every product, and we are always on the end of the phone to give you advice and offer solutions to your parenting problems.
Over the years, we've helped thousands of parents to overcome problems with feeding, colic, teething, soothing, bathing, sleeping – simply by suggesting the right products for you and your baby.
Let us help you.
WE'RE INDUSTRY EXPERTS
… we care about making your job easier.
Parents from all over Australia come to BabyNest for advice and solutions.
Our decades of experience in the baby industry mean that we are widely regarded as industry experts. There's not a lot of us out there.
But we're not just industry experts, we're parents too…
…and we understand just how hard it can be in those first few weeks, months and years of parenthood.
We know that an innocent little face can turn to tears with pain and discomfort.
BabyNest products are handpicked from international brands with impeccable safety records and proven success stories.
We only import brands with purpose – brands backed up with research by midwives, doctors, paediatricians, dentists, researchers and most importantly, parents.
It's critical to get it right in the first few months of your baby's life. Talk to us – you'll get product advice and recommendations from people in the team who are passionate about babies … and passionate about helping you.
THERE'S NOT MUCH WE HAVEN'T SEEN …
Many new parents experience some of these common issues in the first few weeks and months of their parenting journey:
colic

sleeplessness

breast/bottle refusal

nipple confusion

teething

oral problems and more.
We've seen it with our own babies, and we've seen it a thousand times with customers, friends, a family who are tired, exasperated and frustrated with spending money on different brands that don't work.
Our fast, spot-on advice to parents is as rewarding for us as it is beneficial to you. This is backed up by decades of experience and knowledge.
OUR BRAND VALUES ARE WHAT SET US APART
Brands
The team at BabyNest is committed to bringing the best brands to Australian parents to give them solutions to problems and make parenting easier.
Innovation
We are innovative, stimulating, educational, safe and ahead of the game. We were one of the first dedicated online baby product retail stores in Australia and introduced many incredible brands into the Australian market.
Quality
Quality and safety for babies is our primary focus. Every product must have a great story to tell and pass BabyNest quality control procedures.
All our brands must have a purpose and make a difference to your child.
Empathy
We have genuine empathy for the challenges parents face. We respond quickly with expert
advice, and we try to give you the very best solution. We need to remember that each child is different, and if your problems persist, you may need advice from a medical practitioner.
The BabyNest team members try to find the best possible solution. When you speak to any member of the BabyNest team, you are speaking with an expert and not just a salesperson.
As one of the longest-running online baby businesses, you will find a wealth of information and credible, affordable solutions to your and your baby's issues.
When you have a parenting problem, we'll help you solve it.
WHY WE CHOOSE OUR PRODUCTS
Quite simply, we know what works for Australian parents.
We look for brands that invest in extensive research and development and that have superior quality control.
We look for international brands that comply with Australian and international standards.
And brands with quality that meet the BabyNest criteria.
You care about finding the right product for your child's individual needs.
Products that meet the toughest international compliance standards…
…and make your parenting journey easier.
We are committed to bringing the best brands to Australian parents to give them solutions to problems and make parenting easier.
Baby Things Zetland - Baby Shop Sydney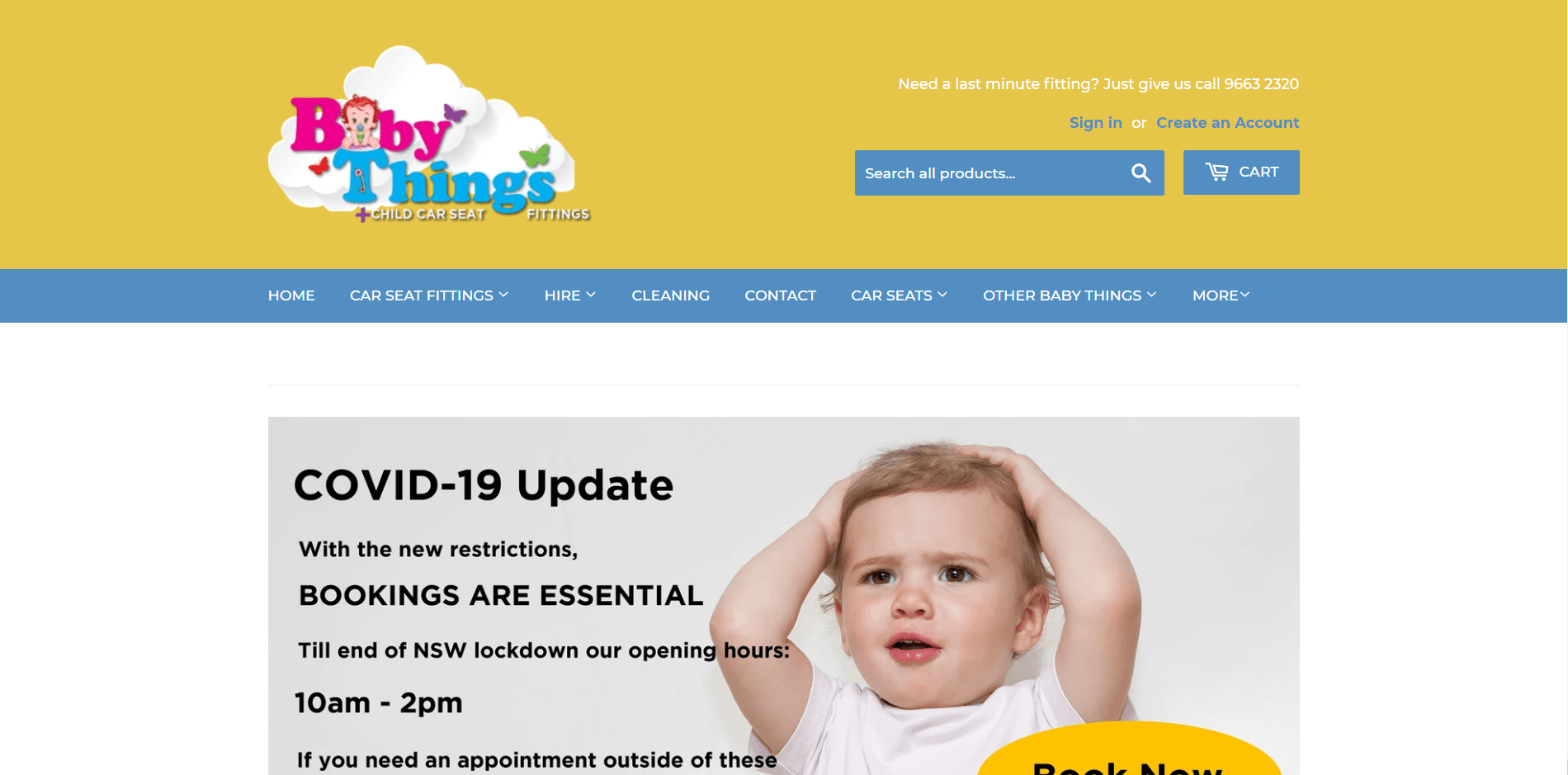 9663 2329
RESTRAINT FITTING
At Baby Things, we know our car seats. Our fitters are experts when it comes to car seats and fitting them into all vehicle types. We love the challenge of a tricky fitting and will happily advise you on the best solution to the most difficult car seat situation.
HIRE SERVICE
Do you need to hire a capsule for your newborn? Maybe the grandkids are visiting from interstate? Or do you want to try our a pram before buying it? Then our hire service is for you.
Short and long term hires are available.
GET YOUR CAR SEATS CLEANED
Are your car seats looking a little worse for wear? With our thorough cleaning service, your car seats can be revitalised and be given a new lease of life.
No bookings are necessary, and a loan seat can be arranged while your seat is getting cleaned.
Aussie Bubs - Baby Shop Sydney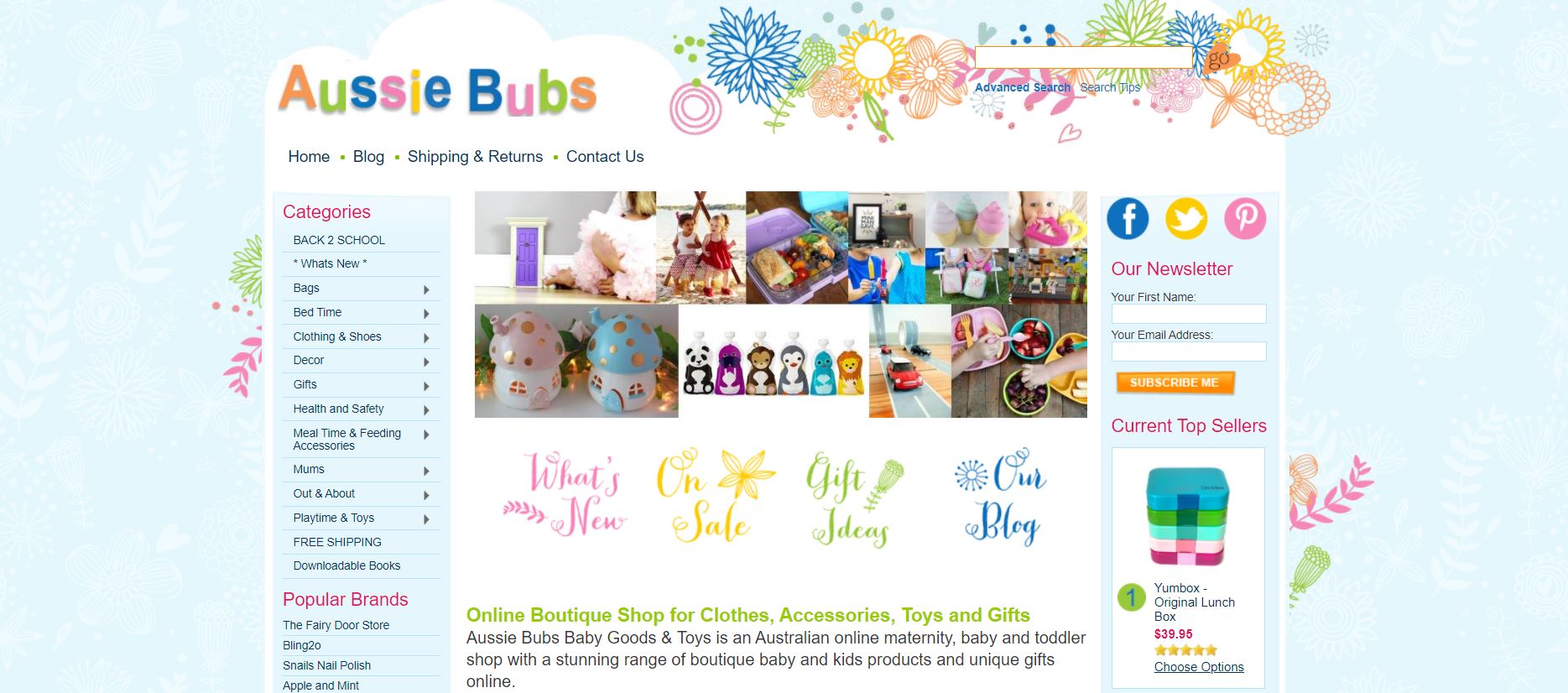 sales@aussiebubs.com.au
Online Boutique Shop for Clothes, Accessories, Toys and Gifts
Aussie Bubs Baby Goods & Toys is an Australian online maternity, baby and toddler shop with a stunning range of boutique baby and kids products and unique gifts online.
Unique and Affordable Products for Babies and Kids
Our online baby boutique stocks a huge range of stylish and practical items for all stages of life with a bub – from bedtime to mealtimes, everyday life, or to just having fun with the family.
Try our charming Squooshi reusable food pouches for fresh, fun animal snacks or buy delightful Lil' Fairy Doors and give the gift of imagination! Check out the stunning range of MummaBubba Teething Jewellery for mums that little ones love getting their teething into and fabulous Bibska Bibs for those little dribblers.
Perfect Gifts for Any Occasion
Browse our convenient online store today for organic baby clothes, gifts for mums to be, creative new baby gifts, birthday or Christmas presents and practical everyday essentials at great prices.
The Corner Booth - Baby Shop Sydney

02 9660 7992
The Corner Booth is an independently owned concept store in the heart of the Annandale village in Sydney.
We started our life as the children's store back in 2002, and for a number of years, we dreamed of creating a unique lifestyle store- a shop filled with products that we loved and in a space that people would love to visit. In 2015 we took the plunge!
We hope to be a place where the best of everything you could imagine is available. Carefully curated products that have been thoughtfully designed and made, sourced locally and from around the globe.
We aim to be your local gift store- that one-stop shop for that perfect baby gift, toddler present, interesting new book, or treat for the home.
Expect to find your favourite baby and children's wear brands, favourite women's wear, accessories and lifestyle offerings.
For those that are unable to visit our bricks and mortar store, we have gathered together some of our favourite products in our online shop. Our informed staff are always happy to help and advise you regarding purchases –so why not give us a call or email us? We would love the opportunity to assist you.
Please be aware that on occasions that prices and promotions may differ between our online shop and bricks and mortar store. Unfortunately, due to different operating costs, we are unable to price match between the store and online shop.
With an ongoing desire to inspire and delight our customers, we hope you love The Corner Booth as much as we!
Purebaby - Baby Shop Sydney
1300 894 203
Our Story
Purebaby is an Australian owned company creating unique, organic clothing for babies and children. Established in 2002, Purebaby was born out of a desire for beautiful and simple products made with awareness and care. In search of a natural alternative for her first daughter Samara, Mirabai Winford, Purebaby's Founder and Creative Director, was unable to find quality organic garments.
Purebaby's vision is to create beautiful babywear without compromising on social responsibility. Our collections are designed and manufactured with love and respect for the world in which we live, the world where our children will grow and play.
The certified organic cotton used in the Purebaby ranges is soft, strong and resilient, allowing delicate young skin to breathe naturally. It is grown without harmful chemicals, using methods and materials that have a low environmental impact. Discover more about the benefits of organic cotton.
Although the design is at the heart of the brand, Purebaby is also passionate about nurturing our communities, supporting a number of wonderful organisations. We're also equally committed to sharing our abundance of knowledge through our Nesting Workshops, designed to make the journey into first-time parenthood that little bit easier.
At Purebaby, we're always growing and expanding. Currently, we have 23 stores nationally, including concessions in David Jones. Our collections are also enchanting parents all over the world, with international distribution to more than seven countries worldwide, including the US, UK and the Middle East.
Always inspired by the beauty in nature, each Purebaby piece is soft and comfortable — beautifully designed, beautifully organic.
Feel The Difference
An item of Purebaby organic clothing begins its life as the purest, softest organic cotton available. We want you to feel confident that our clothing is the safest and healthiest choice for your baby, so we choose organic cotton certified by the Global Organic Textile Standard (GOTS).
This means that our certified organic items contain at least 95% organic fibres, and our dyes are free from harsh chemicals, bleaches and other irritant and pollutant materials.
We create our beautiful pieces in the hope that they will be used through generations of little ones, being passed down, given as gifts and donated.
Our breathable cotton maintains its softness, durability and quality, even when it is washed and worn time and again and will keep its shape and softness for many years.
It is important to us at Purebaby that you can feel the quality and softness in every single garment, as we want no less than the best for your little ones.
Dreambaby - Baby Shop Sydney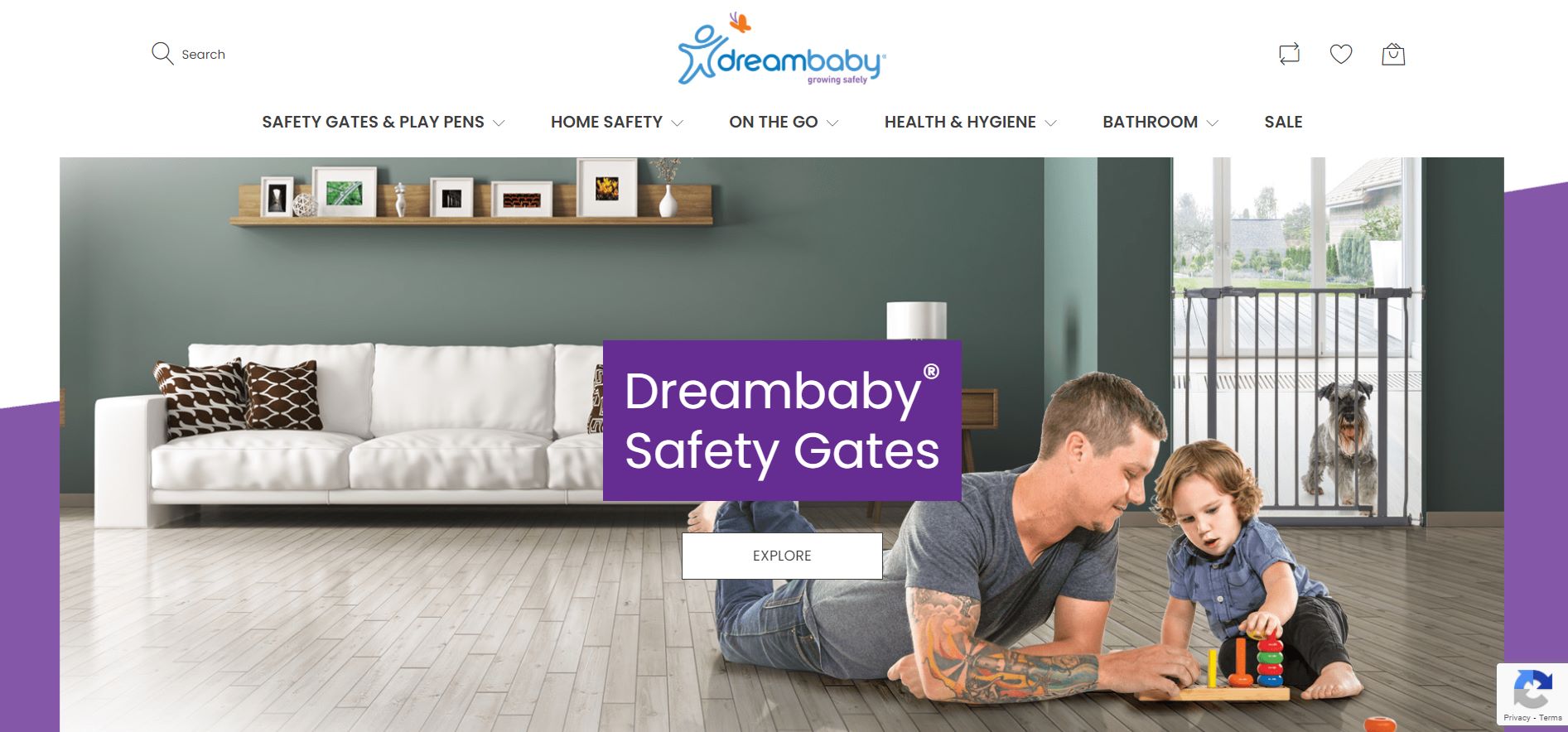 02 9386 4009
SECURE SHOPPING
We are committed to ensuring that your information is secure. Unfortunately, no data transmission over the Internet or any wireless network can be guaranteed to be 100% secure. As a result, while we strive to protect your personal information, DREAMBABY cannot ensure or warrant the security of any information you transmit to us or from our online products or services, and you do so at your own risk. Payment transactions are encrypted using SSL technology. Before purchasing on our website, ensure you are using an SSL enabled browser.
ABOUT DREAMBABY®
Dreambaby® is an internationally renowned child safety brand available in more than 100 countries. We pride ourselves on manufacturing top quality, durable, and cost-effective items to ensure safety, health, and comfort for every young family. Our products are designed not only to make your home safer but also to make life easier for you and your family. Whether it's in the kitchen, bathroom, car, or out and about, we can help put your mind at ease with award-winning safety gates, locks, latches and more.
Simply Bubs - Baby Shop Sydney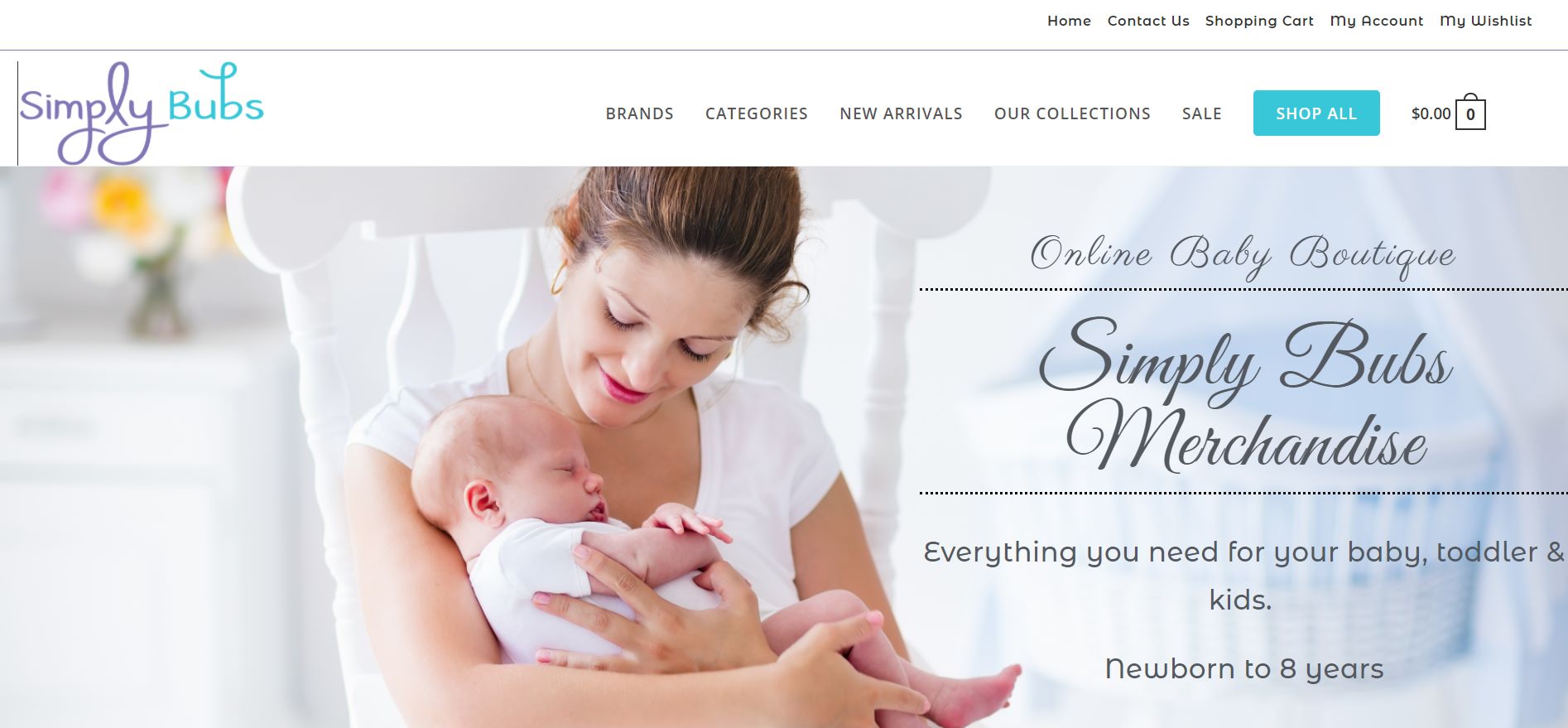 sales@simplybubs.com.au
Product Safety
We understand how important it is to ensure that the items you buy for your child are of good quality and safe.
Product safety comes first, we have done the research to bring you a range that will satisfy all your babies needs and meets safety standards.
Our focus is to bring you reliable service with the best quality products that you can trust.
Luxury of Online Shopping
With the convenience of online shopping, we are open 24 hours a day, 7 days a week. Orders are delivered to your doorstep or any address you would like them delivered to.
Our products are stored locally onsite at our Sydney or Melbourne warehouse and dispatched directly to you. Being a local business with stock on hand means you don't have long delivery wait times. 99.9% of our orders are received within 2-5 business days in Australia and New Zealand. 
Packed with Love & Care
Every item sold on our website is handpicked, and quality checked.
We only sell what we would personally use for our own baby and gift our own family and friends.
Every order is packed with care in our signature blue or purple wrapping, then packaged to ensure it reaches you safely.
Our Brands
We have partnered with some of the best known brands in Australia and Internationally to bring you (our customer) quality branded and licensed merchandise.
Simply Bubs Merchandise is an authorised retailer of all the brands and licensed products we sell. This means when you buy from us, you are guaranteed to receive authentic branded licensed products. We represent trusted brands such as Bumkins, Cherub Baby, Nanny Pickle, and the list goes on.
Our most popular brands are the classics we all grew up with like Sesame Street, Beatrix Potter, Minnie Mouse, Mickey Mouse and Disney, plus the new millennial ranges of In the Night Garden, Giggle and Hoot and PJ Masks. 
Infancy - Baby Shop Sydney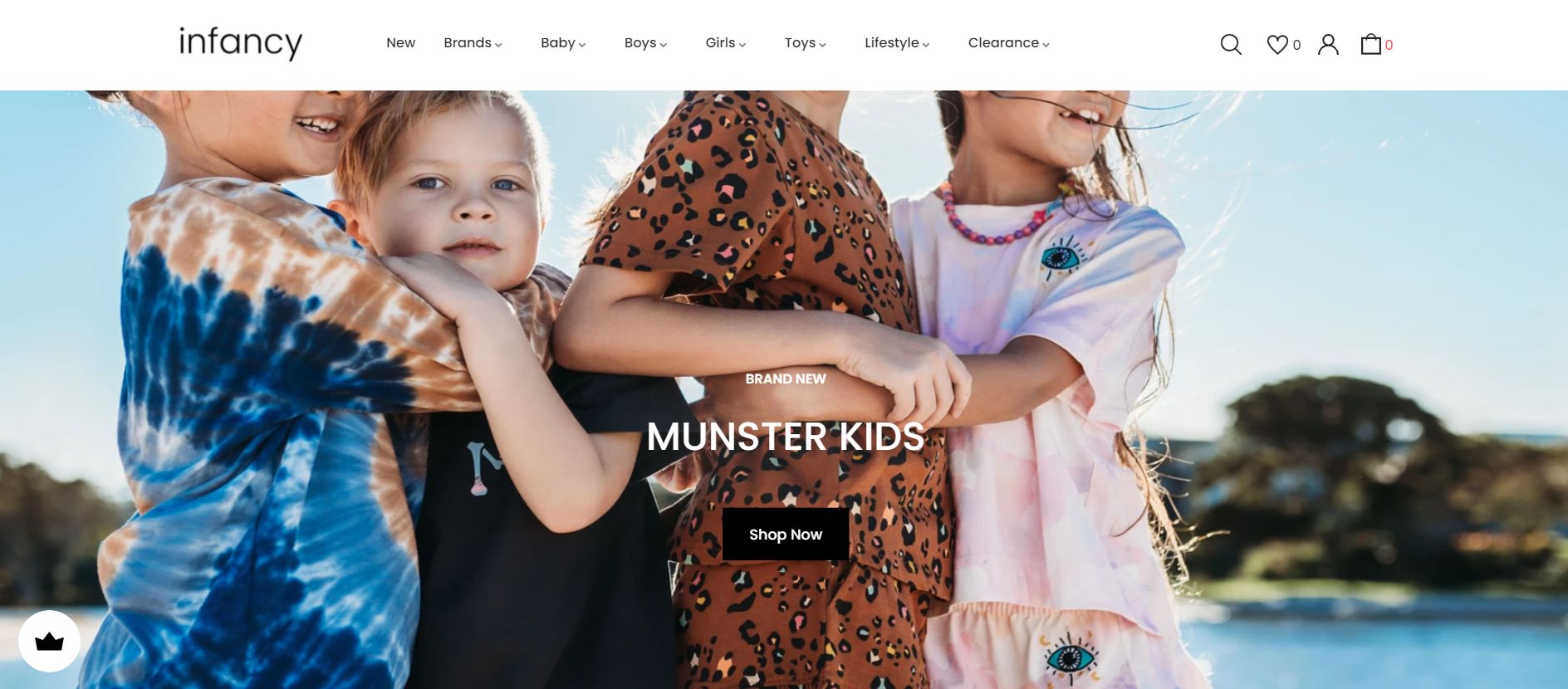 0497 005 634
ABOUT US
Hi, my name is Telma, and I'm a proud mother of three and shop owner of Infancy. Together with the most amazing girls, we run a beautiful kids store in Rozelle, Sydney.
WHAT WE DO
We stock high-quality baby and kids fashion as well as toys, books and homeware. These products are packed with care to give you the best selection of kids products. Infancy offers extended customer service, warranty and guarantees, as well as a flexible return policy. With this personal approach to service, we want Infancy to be a trustworthy kids store that belongs on your favourites list.
Summer Lane - Baby Shop Sydney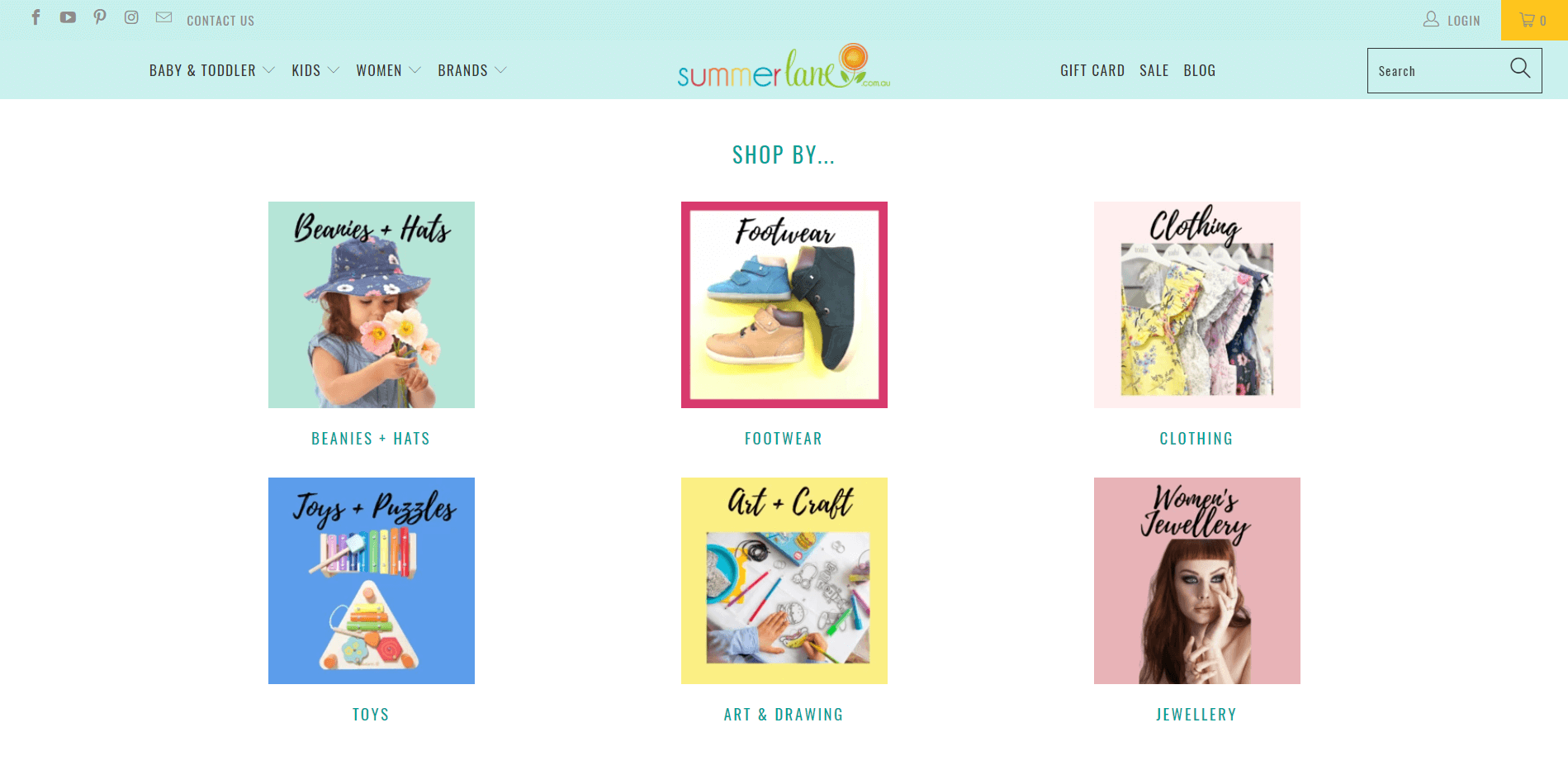 Our Story
Hello! I'm Jessie, and Summer Lane is our family-owned business based in Sydney.
Our business has been growing since 2010 through hard work and determination. From simple beginnings through our store in Dulwich Hill, till today where we ship all over Australia and the world via our online store.
Today, our store has expanded our range to include lifestyle products, footwear for children and women, apparel, toys and many more for babies, kids and women. We are passionate about helping people find the perfect gift, accessories and apparel for themselves, their families and friends.
All products that are stocked at Summer Lane are about quality. Often these products have been tried and tested, recommended or raved about by either our team or our customers. 
Our Vision
Summer Lane's vision is to deliver happiness through the creation of happy memories through our products and customer service experience to everyone around the world. All team members are trained to deliver this vision; our products are curated to satisfy the following three key areas:
Live it - The products that are sourced by Summer Lane need to be functional yet stylish.

Love it - They need to be items that will be loved by the child, the parent or the gift giver.

Gift it - The products are loved so much that our tribe is willing to gift them to friends, families and strangers.
Our Journey so far
In 2015, our head honcho (Jessie) took out the Business Person of the Year Award (Marrickville) in the 2015 Inner West Business Awards. In the same year, Summer Lane also won Triple J's small business competition. In 2016, Summer Lane was a finalist at the prestigious Optus MyBusiness awards retail category.
Thank you for reading, and we are looking forward to creating more memories with our tribe. 
Mimijumi - Baby Shop Sydney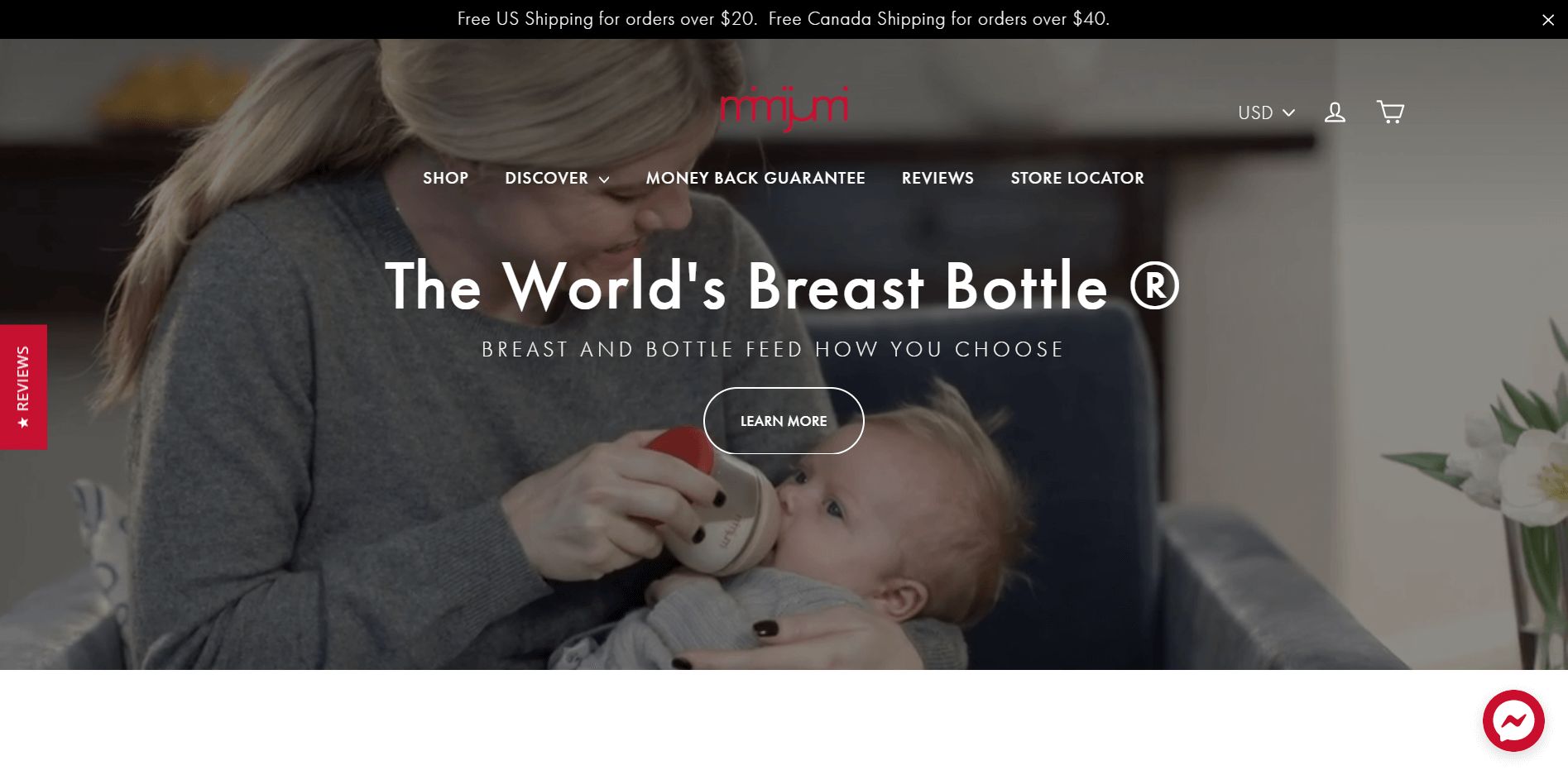 02 8957 4333
WHAT MAKES MIMIJUMI DIFFERENT / MORE EFFECTIVE FOR INFANTS AND PARENTS?
mimijumi bottles are designed to feed the baby similar to the way the breast does. 

The dome-shaped top makes the latching and drinking experience the closest to breastfeeding that a bottle can be. This makes the transition comfortable and natural between breast and bottle. 

mimijumi's bottles mimic the mother's breast and the way it moves to deliver milk. This minimises confusion between the breast and bottle.

Some parents rely on mimijumi as the "back-to-work bottle" because it makes the transition easier for mum to return to work.

The breast-like function soothes the baby and allows parents and caregivers a more successful bottle-feeding and bonding experience.

The skin-like tone and shape of the dome/top are natural to the baby. 

With mimijumi, milk flow is regulated by the baby (like the breast), so each nipple "stage" lasts for a very long time (about 9 months to one year) such that the two stages of nipples are all that is needed.

The clear body is angled for comfort and has measurement markings' showing how much liquid is inside.
HOW DOES MIMIJUMI WORK SO NATURALLY?
mimijumi's dome and nipple are soft and shaped for effective latching.

Like the breast, the baby must latch to express the milk. Milk flow is regulated by the baby's sucking action.

The nipple flattens and stretches while feeding, behaving like the breast. 

The simple and effective patent-pending venting mechanism relieves air pressure during feeding, preventing colic.
WHO USES AND RECOMMENDS MIMIJUMI?
Based on testimonials, babies who had refused many competitors' bottles enjoy mimijumi bottles. "I love the mimijumi bottles, they are the only bottles that my daughter would latch on to." Katrina, NJ mom (see testimonials)

Lactation consultants like mimijumi's natural bottle design and milk release since it reduces nipple confusion.

Karen Todaro, a Registered Nurse and International Board Certified Lactation Consultant, states that mimijumi "is so breast-like in appearance, that babies are less likely to have a problem transitioning between breast and bottle. She recommends it for not only bottle-picky babies, but for all newborns as an aid to prolonging breastfeeding, a natural way to enhance immunity, and prevent obesity and diabetes later in life."

Parents who seek flexibility between breast and bottle.

Parents and caregivers love that mimijumi relaxes the child while feeding.
SPEND LESS ON YOUR BOTTLES
High-quality materials mean that our bottles last longer than many others on the market.

Longer lasting bottles mean that you spend less as they don't need to be replaced as often.

If for any reason you are not entirely satisfied with the product, we offer a no-quibble returns policy and a lifetime guarantee against manufacturing defects and faults.
SIMPLE TO USE
Each bottle is comprised of only two parts and can be assembled one-handed. 

Fewer parts simplify storage.

A wide opening makes filling and cleaning easy.

The bottle is two parts, and the components are interchangeable.

Non-slip bottom lends stability.

Nipples are easy to clean, requiring no special brushes.

Top-rack dishwasher and boil safe. The nipples can be cleaned in microwave steriliser bags. 
MIMIJUMI MATERIALS ARE SAFE
mimijumi bottles are made from the safest materials to ensure worry-free and healthy bottle feeding.

All materials used are free from the oestrogenic activity and contain no BPA or phthalates.

The clear bottle material is Grilamid® nylon, a safe, durable clear plastic that passes all global safety standards.

The nipple is made from medical and food-grade silicone. 
About mimijumi
mimijumi is a design-driven company that specialises in simple, safe and natural products for the modern family. Through the design and production of infant care essentials, mimijumi products are made for both baby and parent to create the most natural experience possible.
This design is based on the psychological dynamics of feeding/soothing items as transitional objects. The benefits of breastfeeding are well known, but breastfeeding is not always practical in today's society. Created with input from designers, mothers, nurses, physicians, and lactation experts, mimijumi's first product, the Very Hungry bottle, was conceived as a natural, modern and stylish complement to breastfeeding.
Here you can find out who we are, what gets us out of bed in the morning, how we make our products and what we are excited about.
Vision
mimijumi specialises in the design and production of infant care products. mimijumi was founded in January 2008 by two psychiatrists and an industrial designer with the goal of creating new products that will revolutionise the parenting process.
Every detail on a mimijumi product is considered and crafted with high attention to detail resulting in the best quality possible. This thinking and the craftsmanship required to create our products are part of the mimijumi DNA that includes the design and engineering process, all printed collateral, manufacturing of the tools all the way to the final product on the shelf.
mimijumi takes the consideration and craft of analog design processes and translates these into the digital world. By that, mimijumi creates its very own visual appearance that looks shockingly quiet yet refined. All this effort is spent to attract customers that are willing to see more than a couple of coloured surfaces, customers that won't believe the common flattened, low-resolution design standard available on the market. Instead, these customers will understand the quality and craft of the purchased product.
Baby Brands - Baby Shop Sydney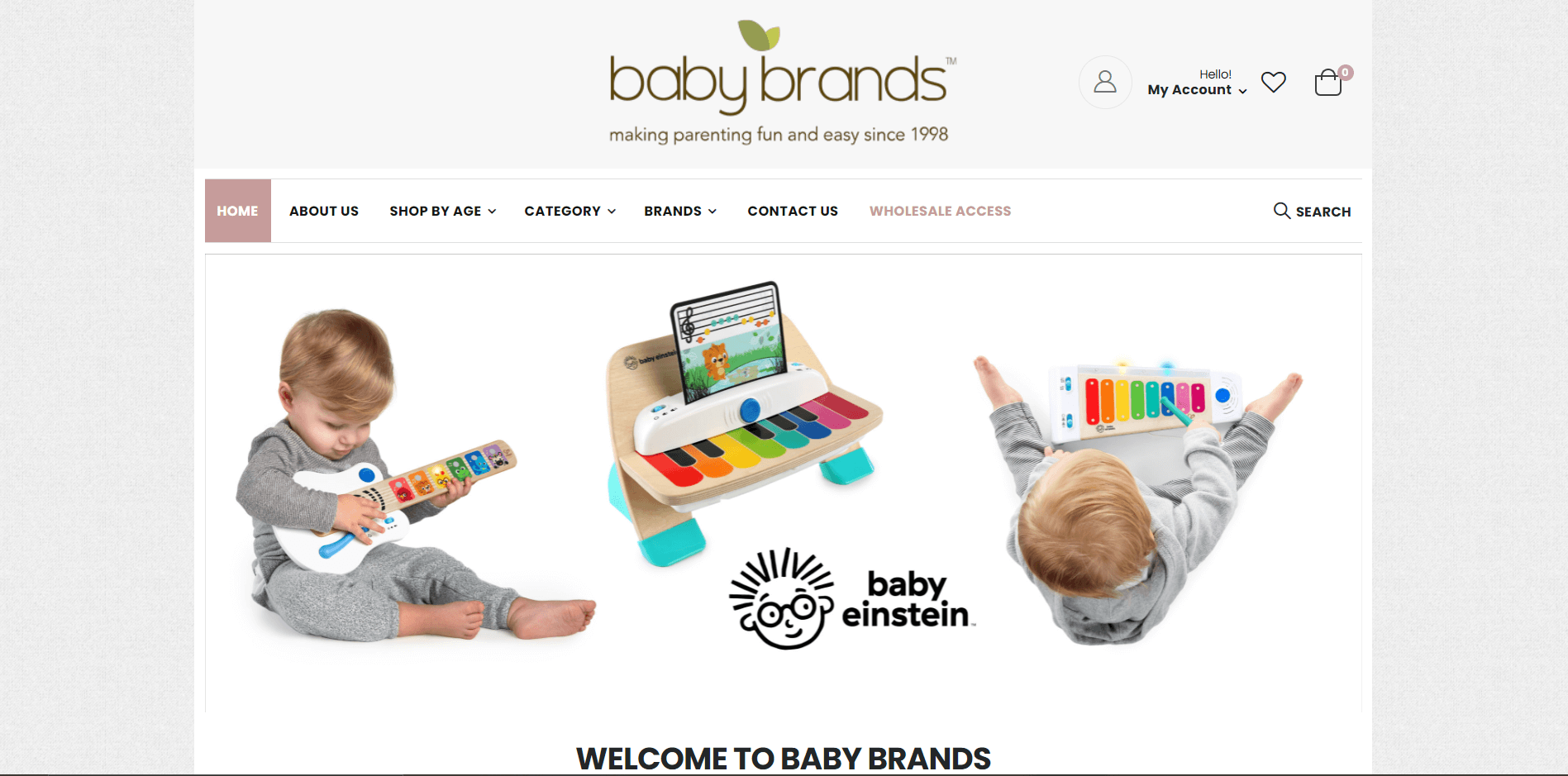 02 8911 0641
Who We Are
Baby Brands began in 1998. It was started by a mum like so many other businesses in the nursery category. The idea was to find the best baby brands around the world and share them with like-minded retailers and parents. Baby Brands has introduced many great brands and categories to Australia. Baby Einstein, Taggies, Swaddle Me, Halo, Diono, Mebby, Pabobo, Hug-a-Bub and Manduca baby carriers, among many others.
We have even created our own brands when we couldn't find one to fit a need in the market. Discoveroo Educational Toys and Games is an example of this. Also, Forevermore Keepsake Albums, Gently Eco Nappies and TwoNomads Travel Accessories. Some of these we have even taken to consumers in other countries like New Zealand, the US, Canada, UK and Israel.
The Little Baby Shop - Baby Shop Sydney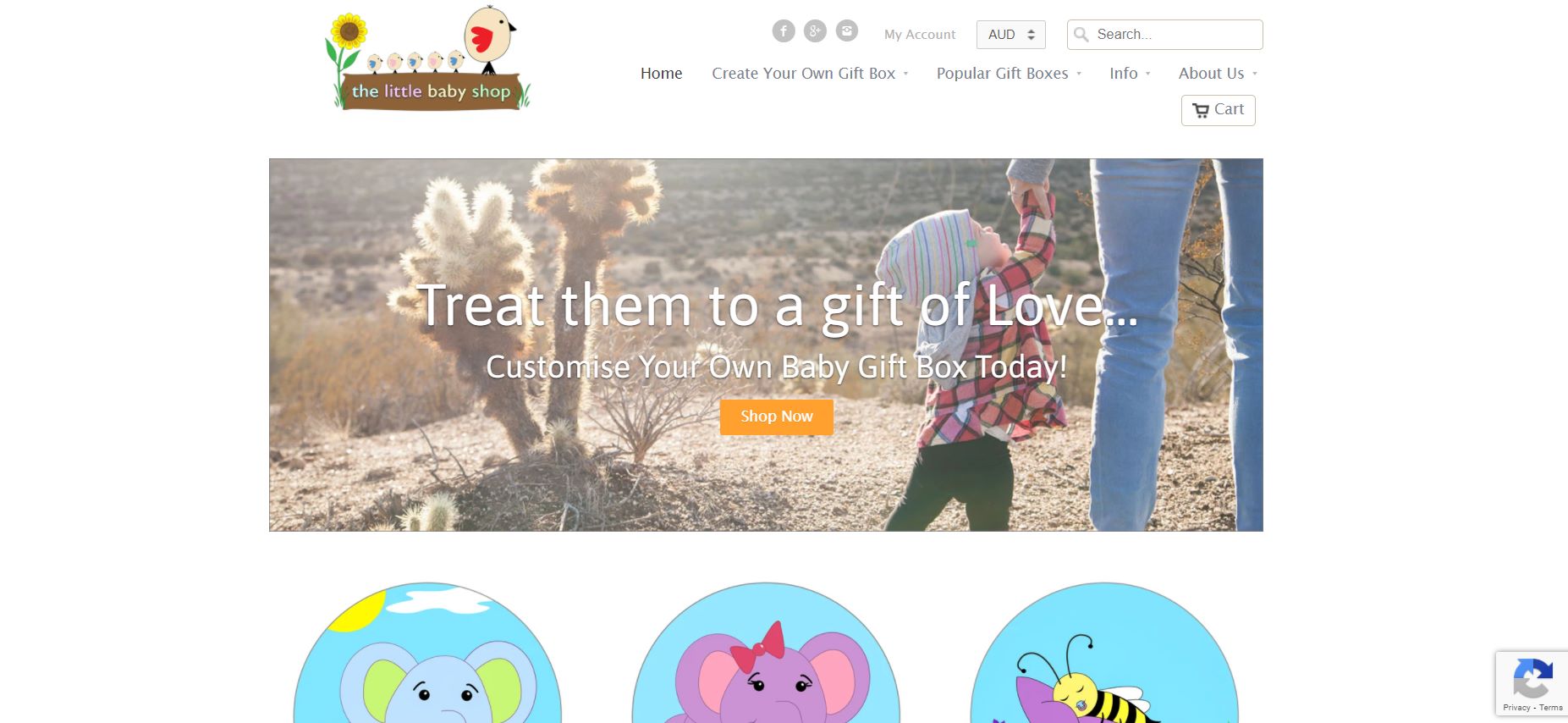 452 068 524
Baby Gifts Online
Welcome to The Little Baby Shop, where you are sure to find the perfect baby gift for that special little someone. If you are looking for the perfect premium baby gifts, baby shower gifts, christening gifts, newborn gifts or baby birthday gifts, you've come to the right place!
Check out our large collection of Baby Gifts, Baby Boy Hampers and Baby Girl Hampers. We have created them especially for mums and babies all across Australia, including Sydney, Melbourne, Perth, and Brisbane! All of our baby hampers have been carefully designed to be genuinely practical and fun and are sure to leave a lasting impression for every occasion! 
Every single baby gift that leaves our shop is delicately put together with all of our love and care and is sure to melt the hearts of your family and friends!
What Sets Us Apart?
The Little Baby Shop is a premium baby gift shop that offers a large range of luxurious baby gifts and baby hampers, ideal for newborns, baby showers and christenings. We pride ourselves on delivering beautifully packaged baby boy and baby girl gifts with our signature baby gift boxes delicately crafted with the baby's name. Our loyal customers love our stunning gift wrapping and the extra touches we bring to the gift experience for mums and dads across Australia. 
Celebrate the wonderful occasion of welcoming a new baby into the world with a luxuriously prepared baby gift from The Little Baby Shop. We offer quick delivery to all locations within Australia, including Baby Gifts Sydney, Baby Gifts Canberra, Baby Gifts Melbourne, Baby Gifts Brisbane, Baby Gifts Adelaide, Baby Gifts Perth, and Baby Gifts Hobart. We also deliver to rural and country locations within Australia to ensure no one misses out. Be sure to check out our delivery schedule for further information. 
Send Something Unique
Don't spend hundreds on flowers that will likely wilt in just a few days - send the new parents a bespoke baby hamper filled with baby keepsakes, baby clothes, baby toys and baby accessories for a gift they will cherish. At The Little Baby Shop, we stock an extensive range of quality baby gifts from trusted brands to suit all tastes and budgets. Send a bespoke baby gift hamper today and make your gift stand out from the rest!
Our Promise To You
We are in the business of creating happiness, and part of this is ensuring that our loyal clients and customers are kept happily satisfied throughout the entire order process. We take great care in ensuring that your gift arrives trouble-free but in the very rare chance that something goes astray, rest assured that we will take care of the issue for you as a matter of priority. We pride ourselves on our great track record of customer satisfaction - just check some of our real testimonials to see what our customers are saying about us.
When you order from us, take great comfort knowing that your order will be in good hands. Order a baby gift today through our secure online portal and find out why we are one of Australia's most loved baby gift services.
BBV - Baby Shop Sydney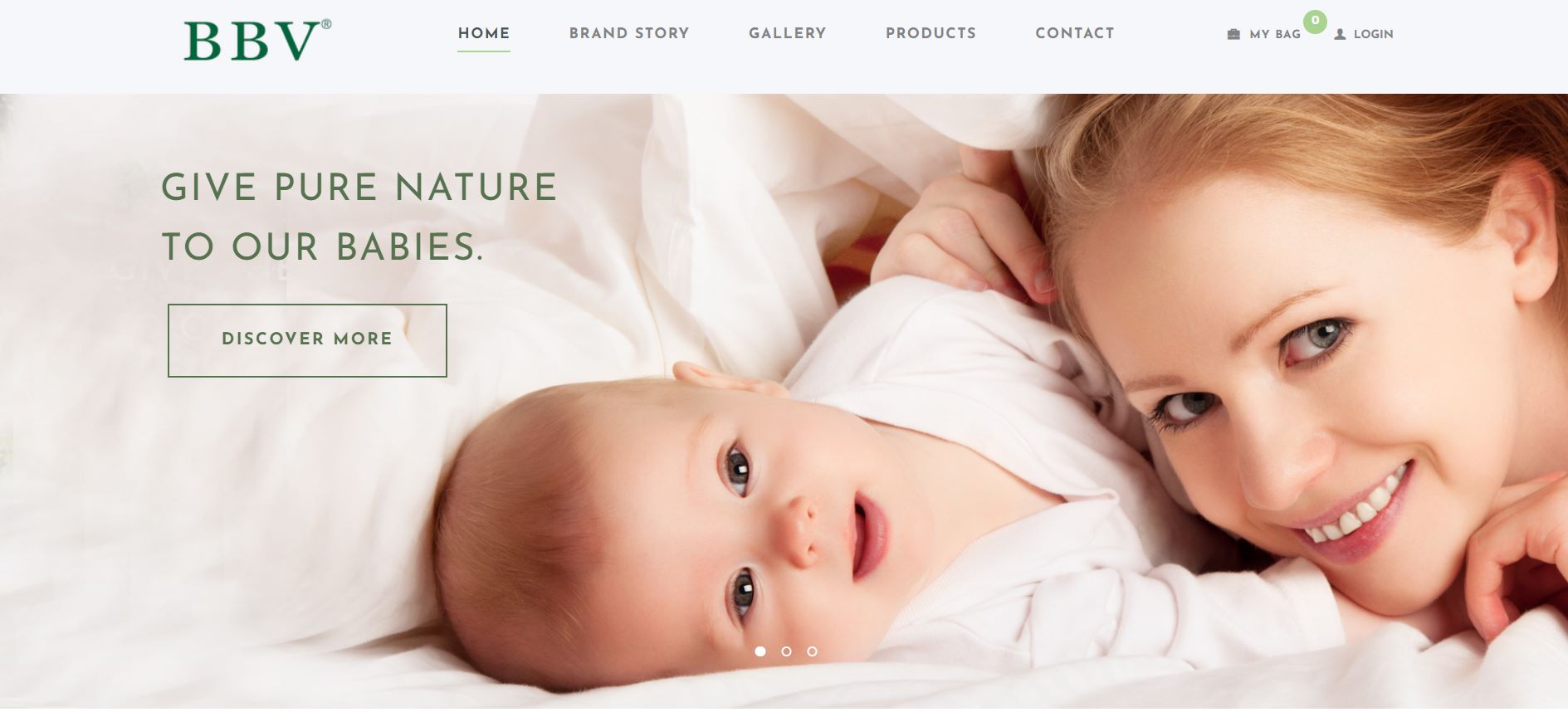 02 8213 6108
Give Pure Nature to Our Babies
A mum wants to give everything good to her baby when she became a mum. A diligent and best mum knows what good products should be chosen for her baby by heart. Australian BBV brand adheres to the "The style of nature" concept. It was established by an Australian mother who wants to bring the best products for the baby's skin in order to give pure nature to babies. BVB puts mum's love and this purity together to develop safe, natural, organic and reliable products for your baby's skin with utmost care.
ACO INTRODUCTION
ACO provides the most strict management standards for organic production, the Australia organic standards (need to reach 95% organic ingredients can use the "bud" logo), ACO is Australia's most important auditing, certified organic and biodynamic operator licensing agency. ACO maintain leading global market access for organic standards compliance and can provide services for companies to enter Japan, the United States, Canada and the European market and any markets of the global. The majority (80%) of organic products in Australia hold ACO organic certification, providing a guarantee for organic integrity, make every customer using any product with the ACO logo completely assured. Most BBV products are strictly certified by ACO, you can see most of the BBV products with ACO logo.
Attipas - Baby Shop Sydney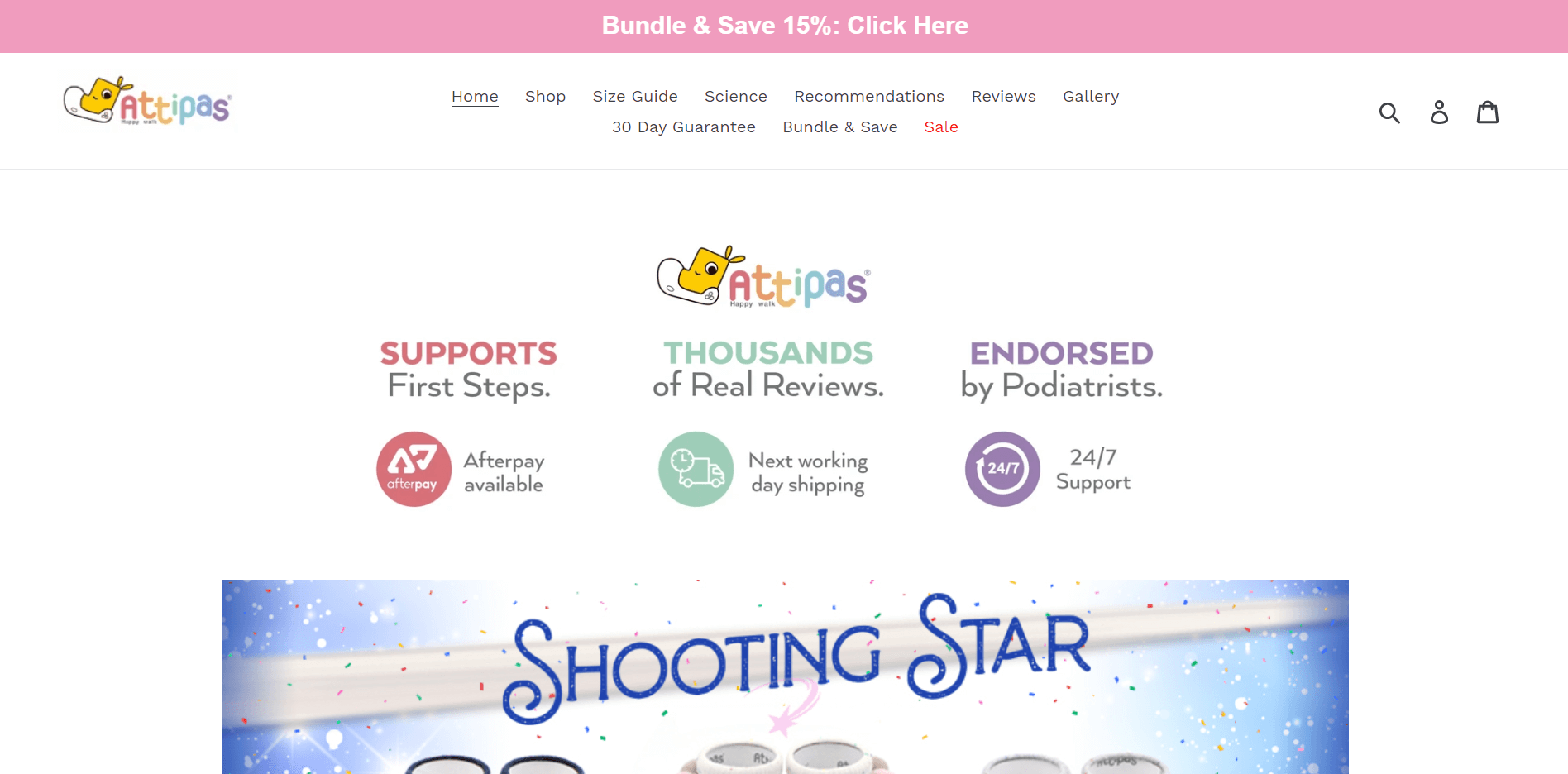 1300537448
As featured at the Oscars
Attipas are the number one choice of shoes for babies, toddlers and preschoolers. As light as a sock but more supportive than a pre-walker, Attipas will support your little one from their very first steps until 4 years of age. Based on seven years of research, Attipas are award-winning and have been endorsed by Australian podiatrists. Lightweight. Flexible. Convenient. Breathable. Safe. Attipas shoes are Walking Science.
Caroline Africa (Founder & CEO)
Founder Caroline Africa discovered Attipas shoes in Japan for 7 years and made it her mission to bring Attipas shoes to Australia and generate awareness about the importance of toddler foot health, especially in the early stages of pre-walking and first steps.
Now Australia's #1 choice of footwear for babies and toddlers, Caroline has been featured in the media, including Today Extra!, news.com.au, Season 4 of Shark Tank Australia and at the 2017 Oscars Award Ceremony in LA.
Stokke - Baby Shop Sydney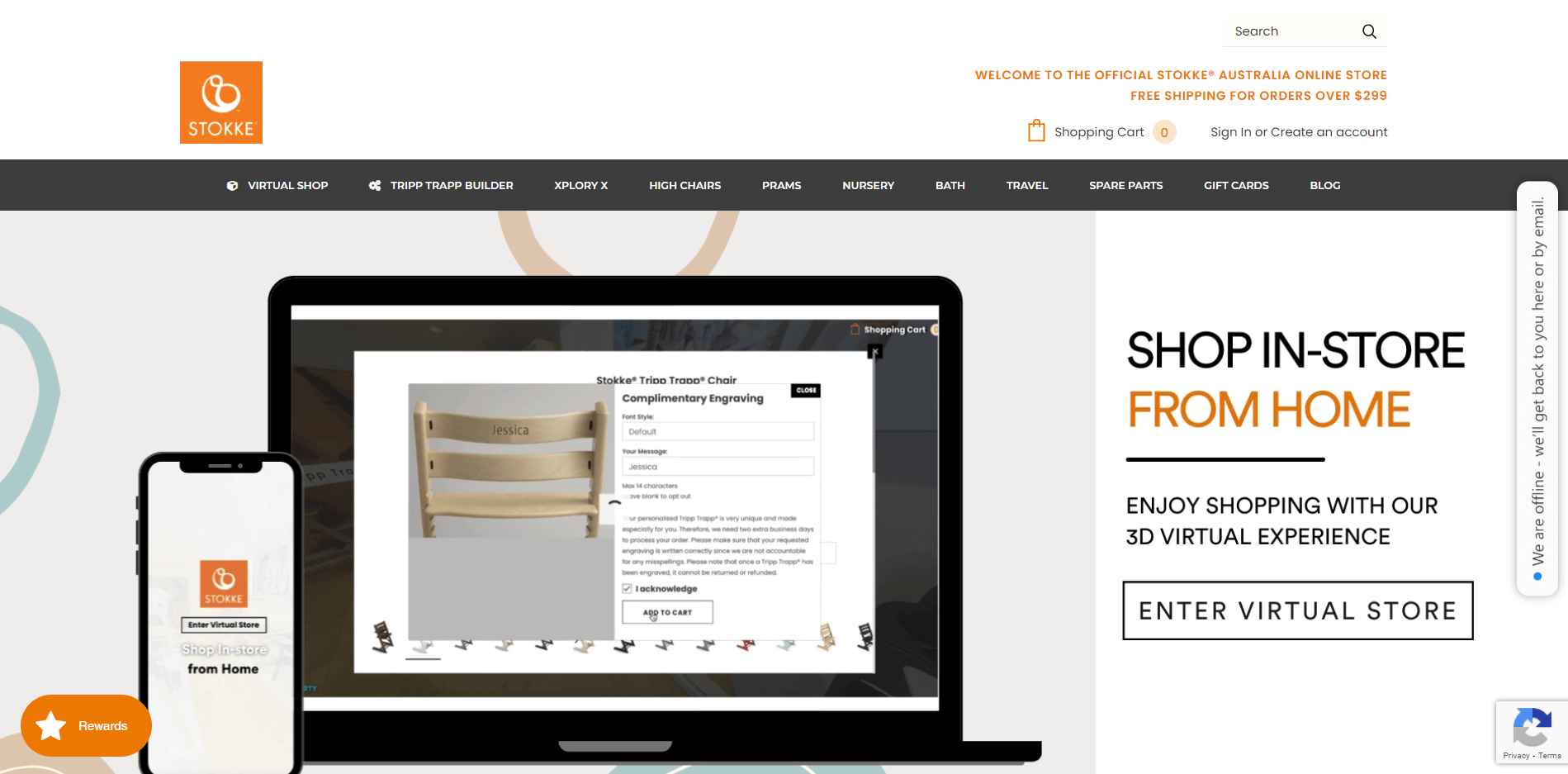 02 8863 2888
ABOUT STOKKE
Stokke AS was founded in Ålesund, on the west coast of Norway, in 1932. Stokke provides worldwide distribution of premium children's furniture and equipment within the highchair, stroller, baby carrier, home textiles and nursery market segments.
History
Stokke started out producing bus seats and furniture for adults when the company was first established in 1932. Our collection consisted of recliners, ergonomic seating solutions and home office systems. The first product for children was launched in 1972 - the iconic Tripp Trapp® chair designed by Peter Opsvik. In the late 1990's the children's collection expanded to include a nursery system that could grow with the child. Our first stroller was launched in 2003 –the innovative Stokke® Xplory® introducing the concept of high parent-facing seating to the industry.
Since 2006 Stokke has focused exclusively on premium children's furniture and equipment within the highchair, stroller, baby carrier, home textiles and nursery market segments. Today, Stokke continues a long tradition of designing smart, sustainable products that promote bonding and healthy development for a whole new generation of children and their families.
Philosophy
More than forty years after the launch of Tripp Trapp®, the Stokke philosophy continues to be based on one core concept; to design products that are in the best interest of the child. All of our products are designed to encourage child development and to strengthen the bonds between parent and child. From our high, parent-facing strollers to our award-winning ergonomic baby carriers and versatile line of adjustable seating solutions, Stokke prioritises the needs of the child above all else.
Stokke knows that it is of the utmost importance that children have a sense of connection with their loved ones to feel safe and secure. That is why a "higher is better" and "parent-facing" approach is taken toward so many of our products. These features promote better eye contact and interaction between parent and child.
Design
Our human-centric focus on design ensures functionality, exceptional ergonomics and unparalleled comfort. Sophisticated engineering delivers tailor-made technical solutions that are integrated in our products. All our products are developed to fit seamless into any interior -with timeless design to make them never go out of style.
Ownership
Stokke was established in the small coastal town of Ålesund, Norway, in 1932. Three generations of the Stokke family owned and operated the company until early 2014. The company is today owned by NXMH, an investment company based in Belgium, wholly-owned BY NXC in South Korea. NXC is the largest shareholder in NEXON Corporation.
Distribution
The Stokke Collection is distributed worldwide under the Stokke® trademark through selected specialist stores represented in over fifty countries.
The Baby Industry - Baby Shop Sydney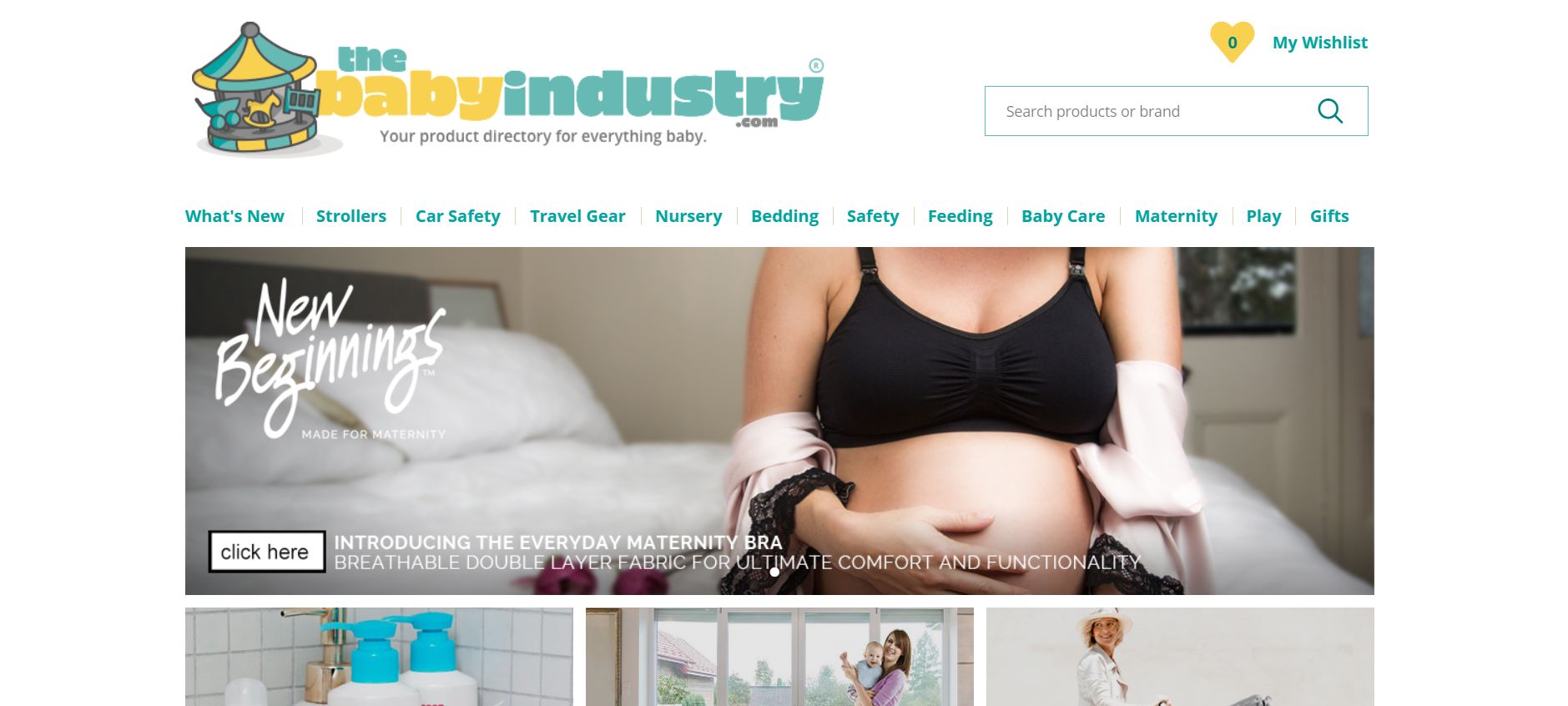 info@thebabyindustry.com
About us
thebabyindustry.com is a new and exciting concept in the baby market allowing parents to easily find what they are looking for, review products as well as get feedback from other parents about baby products - all on one site. Everything a parent needs!
We are a baby product directory allowing you to find exactly what you are looking for via our extensive search options.
We are also a baby community site allowing parents to REVIEW products as well as start or join in DISCUSSIONS about specific products allowing you to get feedback from fellow parents. It is like one big mother's group!
It is an unbiased platform where you REVIEW, DISCUSS, and make product selections.
We also offer a personalised and interactive WISHLIST option. Creating your perfect baby list has never been so easy. Our amazing WISHLIST allows you to easily add and delete products, sort by filters within your Wishlist and organise by categories. Then print, email or share with whoever you would like.
No more searching for hours on hundreds of websites. TBI is a baby product directory allowing you to find the products you are looking for in one location in an easy, fun and informative manner.
We have created a detailed and informative search platform where you can search for exactly what you are looking for using a predictive search bar, sort functionalities as well as tailored filters. You can also COMPARE products making decision making that much easier. Product searching has never been so fun!
With exceptional knowledge in the Nursery Industry spanning over 15 years specialising in baby retail, marketing and online, we are excited to bring you an extensive range of baby products and detailed information about each product to assist you in finding what you are looking for from products listed on www.thebabyindustry.com
There are many more exciting features to assist you in making the best product choices from all products that are available on www.thebabyindustry.com, and there will be more to come. 
Shorties - Baby Shop Sydney
02 9560 0078
About Us
Shorties Children's Wear Store was opened in 2004 in Newtown Sydney by Celia Morris, owner and designer of Dragstar Clothing, to fill a need in the market for fashionable, original and retro-inspired clothing and toys for newborns and children up to fourteen years old. A New current larger store was successfully established in 2017 in Leichhardt, Sydney. 
Shorties supports handmade and handcrafted products made in small runs by local designers. We also stock previously unseen children's fashion labels that mix in with one of a kind handknits and original tops, skirts and dresses made in bold and vintage prints. Shorties do not stock logo oriented brands, mass-produced and cheap imported labels.
With new products arriving weekly, it is always worth popping into our or Leichhardt store. If you can't get in, shop online, we post items Australia wide.
We offer free gift wrapping as part of our service.
Beaches Baby - Baby Shop Sydney
02 9905 1718
WELCOME TO BEACHES BABY
The best tried and tested baby and parenting products and special gifts from overseas, including the Wubbanub!
Join our Latch Antenatal Breastfeeding Workshop - Available via Zoom, Online Download and lockdown pending - in Person!
Postnatal Doula services, including breastfeeding counselling also available on the Northern Beaches of Sydney.
Hello! 
I'm Peta, and I am passionate about new parents. 
I've got 2 beautiful children, Matilda and Angus and Giphy, our crazy Brussels Griffon dog, and they all keep me busy most days. 
Since having my daughter, I've become passionate about Parents, Birth and Feeding. I had my daughter whilst living in New York. Birth is full of interventions and people handling me. 
My son Angus was born in a beautiful, peaceful home birth under the watchful eye of an incredible midwife. A journey I am so grateful I was able to achieve. And one that made me realise the raw power of women in birth. 
Two very different experiences and ones that have taught me so much about the importance of decision-making tools, feeling safe and secure and having good support around you. 
I am a Certified Childbirth and Postpartum Doula and a CLEC – Certified Lactation Educator | Counsellor, and on returning to Australia, I opened Beaches Baby, a parenting hub in Freshwater for all things connection in parenting. Unfortunately, after almost 2 years, Covid and high overheads took their toll on the business, and sadly we stepped away from that project. 
What this time did give me, however, was a HUGE insight into everyone's different journey of parenthood, birth and feeding. I have spoken with hundreds of women, helping them debrief their birth and feeding experiences, worked through the tears of trauma, working towards letting go and building better experiences for their next birth. I have made minor tweaks to feeding positions and styles and have been able to help Mums get away from using nipple shields and feel more confident in their feeding. 
I have coached many couples through our unique Hatch and Latch programs and seen the amazing positive impact and the effect it has had on birth and feeding outcomes as well as relationships. 
I would love to work with you and your family to help you get the best experience possible.
I am passionate about creating a space where parents can connect with other people and find community. Thank you for joining our little village here at Beaches Baby. 
BURRITO BABY - Baby Shop Sydney
burritobaby.com.au
0427 996 205
WHO WE ARE
Say hello to Burrito Baby' mumtrepreneurs' Nadine Lipworth and Lisa Kelly Rope, who met in 2017 after giving birth to their respective bubs Sasha and Xavier. Nadine and Lisa came across each other in 'Mothers group' and instantly connected over shared experiences of new motherhood - crying bubs, raging hormones and general bewilderment about what they had got themselves into! They most definitely have shared one common experience- lack of sleep! Cue all mums everywhere sighing in acknowledgement!
With baby Sasha, Nadine had a difficult time trying to get her very alert and active babe to sleep and soon discovered the only way was with a super-duper tight swaddle. Lisa also discovered that tight swaddling helped with Xavier. Nadine and Lisa live across the road from each other and soon collaborated in their search for the right swaddling technique and fabric. The non-stretch muslin just wasn't cutting it!
Both Nadine and Lisa had had the fortunate experience of receiving 24-hour care at the Prince of Wales Private Hospital in Sydney for a week post-birth, yet were still completely overwhelmed upon returning home with these new wondrous bubs. The midwives at the hospital showed them how to bath, nurse, care for and most importantly, SWADDLE their bubs. Dads, Dave and Brad, were on hand with wrapping duties in hospital and at home, yet it quickly became apparent, this parenting gig is a two-man job at best of times, not least in the middle of the night when it comes to swaddling a screaming baby! Surely, SURELY there's an easier way to get the most important job done (short only of feeding said baby!) hence Burrito Baby was born (excuse the baby pun!). 'Wrap artists' Nadine and Lisa to the rescue!
WHY OUR SWADDLE WORKS
PRE-FOLDED SHAPE
Our Essential Multiway Swaddle comes pre-folded which means, no more fumbling and folding with one hand in the dark! Swaddling is no longer a two-man job, with one holding the baby and the other preparing the swaddle. 
SECURE HANDS UP OPTION
Until your babies arms reach the armholes in our swaddle, we recommend swaddling arms down; however, when your baby is big enough, we recommend trying the arms-up option. Some babies just prefer having their arms up near their faces, and there's nothing wrong with that! Their little handies help self-soothe. Our secure arms-up option means that this swaddle works for every baby. 
GRAND SIZED FOR EXTRA STABILITY
Our Essential Multiway Swaddle is 130cm x 130cm and is perfect for the growing baby. 
GLOW IN THE DARK PLACEMENT
This has never been done before but is so logical! Now you can see exactly where you need to place your baby for a safe wrap in the dark of the night. 
PREMIUM EXTRA STRETCHY FABRIC
Wrap your baby 'Burrito Tight'! Made with a premium stretch fabric, the Essential Multiway Swaddle is capable of keeping your babies arms and hands in all night whilst allowing free movement in the legs and hips. 
SUITABLE FOR BABIES OF ALL SIZES
Suits Every Baby, All Sizes All the way from newborn to a rolling baby, our wrap will be the perfect sleep aid. It's large enough, stretchy enough and safe enough to see you through the toughest of nights. Until your baby is big enough for its arms to easily reach the armholes in our swaddle, we recommend swaddling arms down.
August Lane - Baby Shop Sydney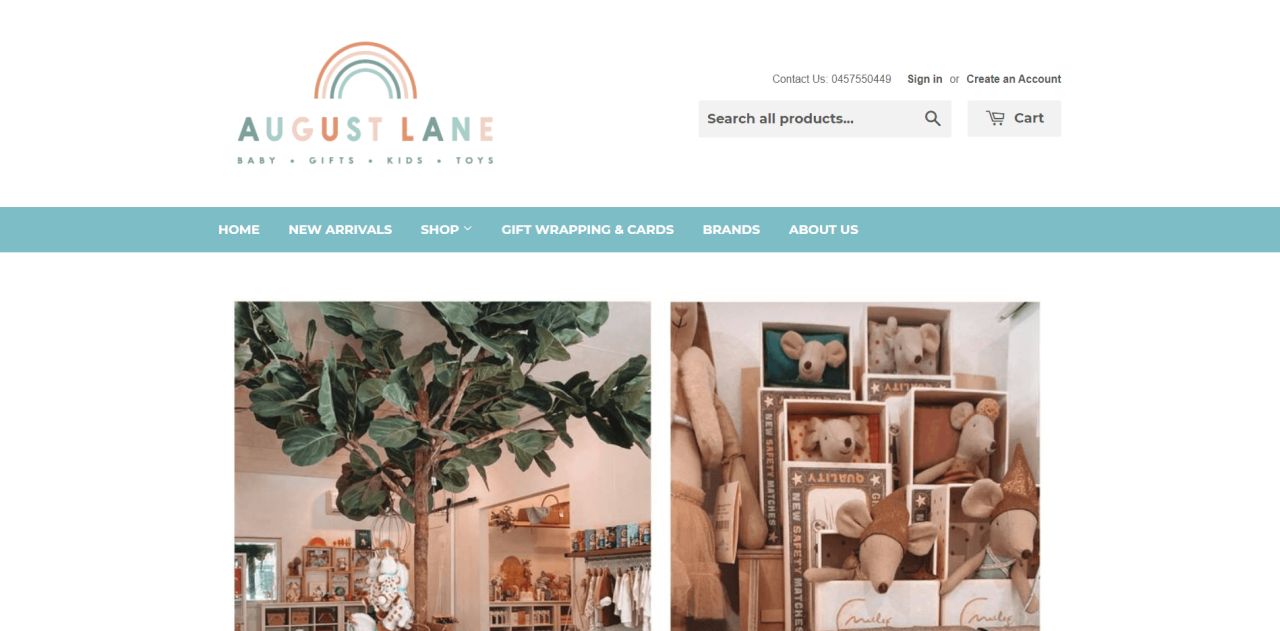 0457550440
ABOUT US
August Lane is a Bespoke Children's Boutique located in Camden, NSW. We gather amazing products from all around the world as well as your favourite Instagram brands to bring you an eclectic assortment of beautiful products. 
With the birth of a new baby and the first grandchild for our family, our love for design was soon put to good use customising the nursery for our new arrival. We soon found that other people shared our love for handmade, unique & practical baby accessories.
As a result, August Lane was created in 2015, with the name being inspired by our newest addition to the family being born in August.
Our store style is modern with a vintage twist, we love all the modern products and trends, but we also try to include a few vintage style pieces as we love to have things that remind people of their own childhoods.
Hire For Baby - Baby Shop Sydney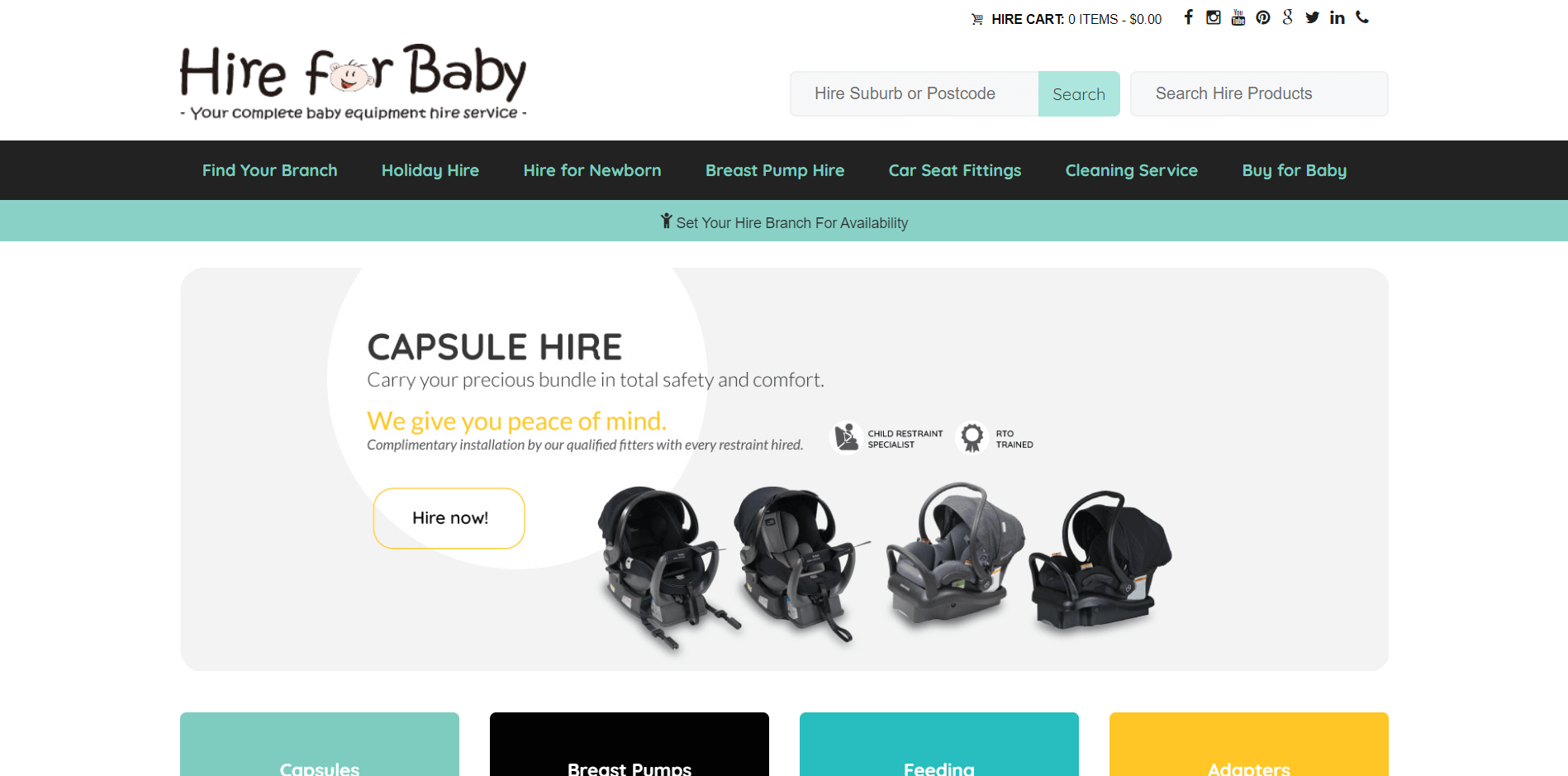 1300 363 756
Hire for Baby
The complete baby equipment hires service.
Let Hire for Baby help you with all your baby equipment hire needs for a day, a week or a few months with our friendly, professional service. Here at Hire for Baby, we offer high-quality baby equipment rental services at great prices. We stock a wide range of products, from car capsules and car seats to breast pumps and portacots.
You and your baby deserve the best, so hire baby equipment from one of our 75 branches all around Australia. From Perth, Darwin and Adelaide and with baby equipment branches located all along the East Coast from Brisbane, Sydney and Melbourne. All of our baby equipment for hire is purchased brand new, carefully cleaned & safety checked to ensure it is in the best possible condition for your use.
Why buy when you can hire your baby equipment?
For your fast-growing baby, buying expensive equipment like rockers and swings may not make sense. What your baby uses now might not be of any use after a couple of months. We at Hire for Baby provide an extensive range of cost-effective, hygienic and completely safe to use baby equipment from capsules, strollers to prams and portacots.
Our restraint fitters, who are trained, provide complimentary fitting of hired baby capsules and car seats (when you collect) so that you can rest assured of your baby's safety. Save your time, money and storage space by hiring for home – capsules, bassinettes, hammocks, strollers, swings, entertainers and much more. We also stock baby twin prams and baby twin strollers.
For holidays, reduce stress, excess baggage fees (and potential damage to your baby equipment in transit) by having prams, portacots and car seats waiting for you on arrival. Hiring makes sense for a stress-free holiday! Prices vary according to the item & length of hire, so email us or ring your nearest branch today for a quote!
Our History
Hire for Baby was originally established as Hire for Babe in NSW in 1988, with the first franchise granted in 1992.
Within 30 years, it has grown into a nationally recognised network of over 75 franchises – Australia's largest baby equipment hire organisation and one of the largest restraint fitting networks in Australia.
The aim for Hire for Baby is to strengthen, develop and expand the brand across Australia, whilst maintaining a strong focus on the needs of both its customers and corporate relationships. We are one of few companies investing in regional towns by establishing services back into communities.
Hire for Baby strives to
Provide prompt, caring customer service.

Provide safe, clean equipment in good working order.

Provide a valuable service at a competitive price.

Keep up to date with all aspects of equipment and car safety.

Make it easy for our clients to do business with us.
Why buy when you can hire instead?
Hire for Baby saves your money, time & storage space by offering a cost-effective way to access safe, clean, quality baby equipment. We pride ourselves on our professional customer service and friendly, experienced staff.
UrbanBaby - Baby Shop Sydney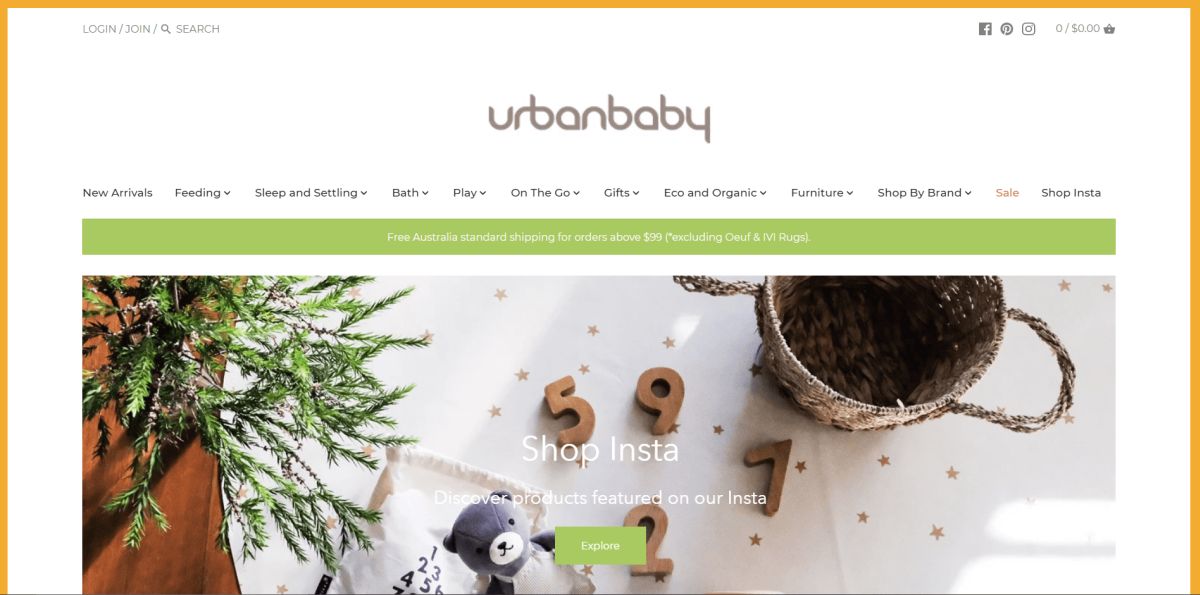 +61 2 9526 6183
About Us
Proudly owned and operated in Australia, UrbanBaby is a small family business story, with a small team in our Caringbah warehouse, servicing both Australian and a global range of customers for over 18 years.
With the humble beginnings of the UrbanBaby Padded Travel Cot Sheet, and after experimenting successfully with the sale of their favourite baby products, UrbanBaby.com.au went live in 2002 
The UrbanBaby Promise
We promise to provide our customers with prompt, efficient, reliable and friendly service. 
We are constantly looking for new products that will enhance your life as a parent and strive to make your online baby shopping experience easy and convenient. 
Please join our email list to get all our updates on new products and special sales.
We dispatch most items the next business day. If you do have an order with some urgency, please call us, and we will accommodate you as best as we can.
We will notify you as soon as possible if there are any problems or delays in delivery.
Our operating hours are Monday to Friday between 9 am and 5 pm. You, of course, can shop outside these hours (that's the beauty of online shopping, right).
We will answer/return all emails/telephone calls as soon as possible on the same day or the next business day. We encourage your feedback and will respond promptly.
Babyworth - Baby Shop Sydney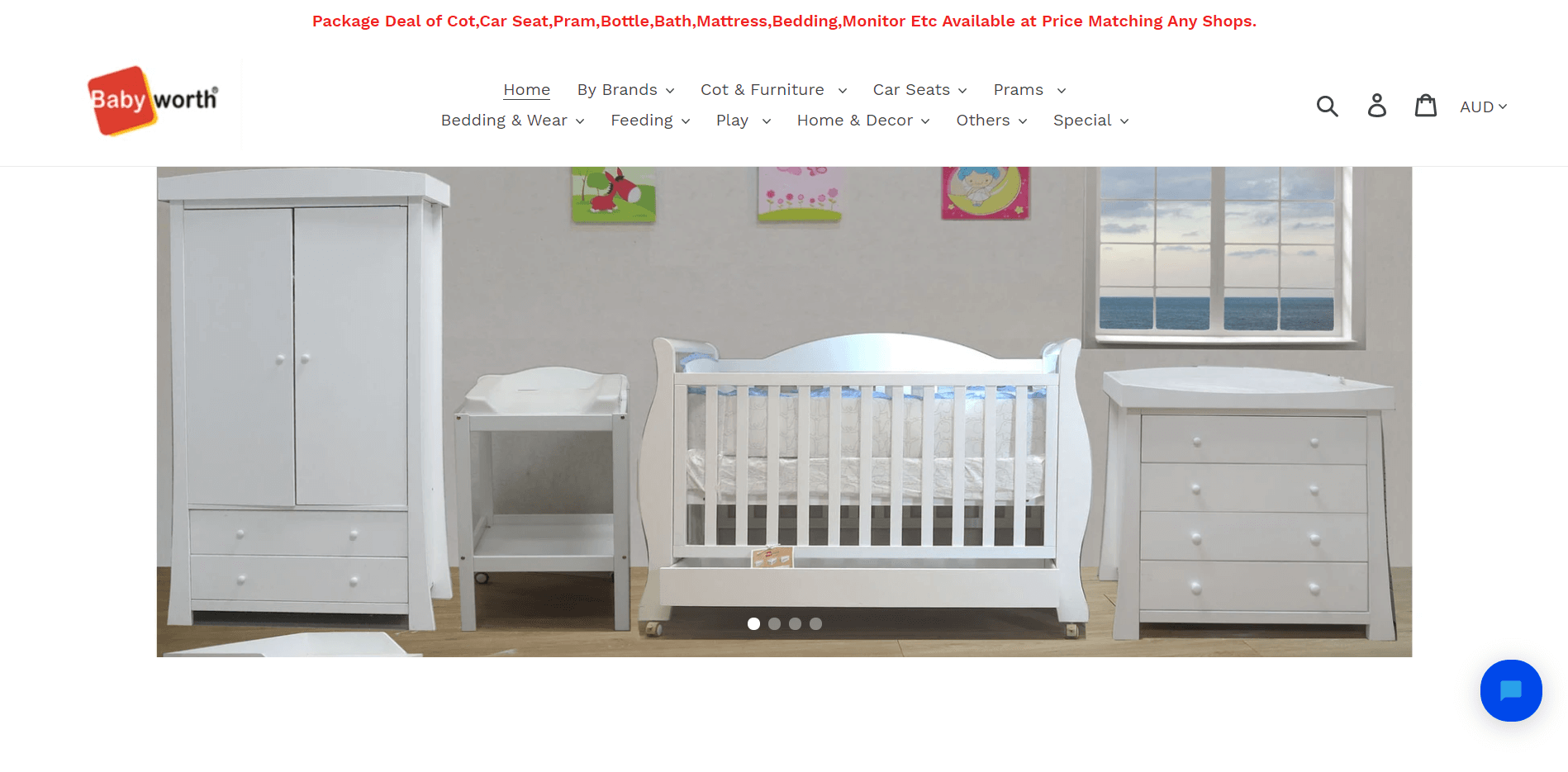 02 9584 3533
Babyworth Stores
We have been a manufacture wholesaler and retailer of baby products and home decor items for over 20 years in Australia. We are an authorised distributor of the famous trusted brands including Maxi Cosi, InfaSecure, Mother's Choice, Safety 1st, Grotime, JOOLZ, Babyrest, Chicco, Valco Baby, Angelcare, Childcare, Bebe Care, Aussie baby, Heavenly Dream, Avent and some others as well as our own brand Babyworth, Homeworth and Healthworth.
We supply a big range of products including cot, change table, chest, robe, other nursery furniture, mattress, car seat, pram, feeding, high chair, portable cots, home safety, monitors, photo frame, picture frame, canvas picture, print pictures, home decor items, clothing, toys and more.
We are based in Sydney and have warehouses in Sydney, Melbourne, Adelaide, Brisbane and Perth. To service our customers over Australia.
We distribute our products to our customers over Australia from our nearby warehouses by couriers as well as to deliver some package orders for some areas by our staff.
Redsbaby - Baby Shop Sydney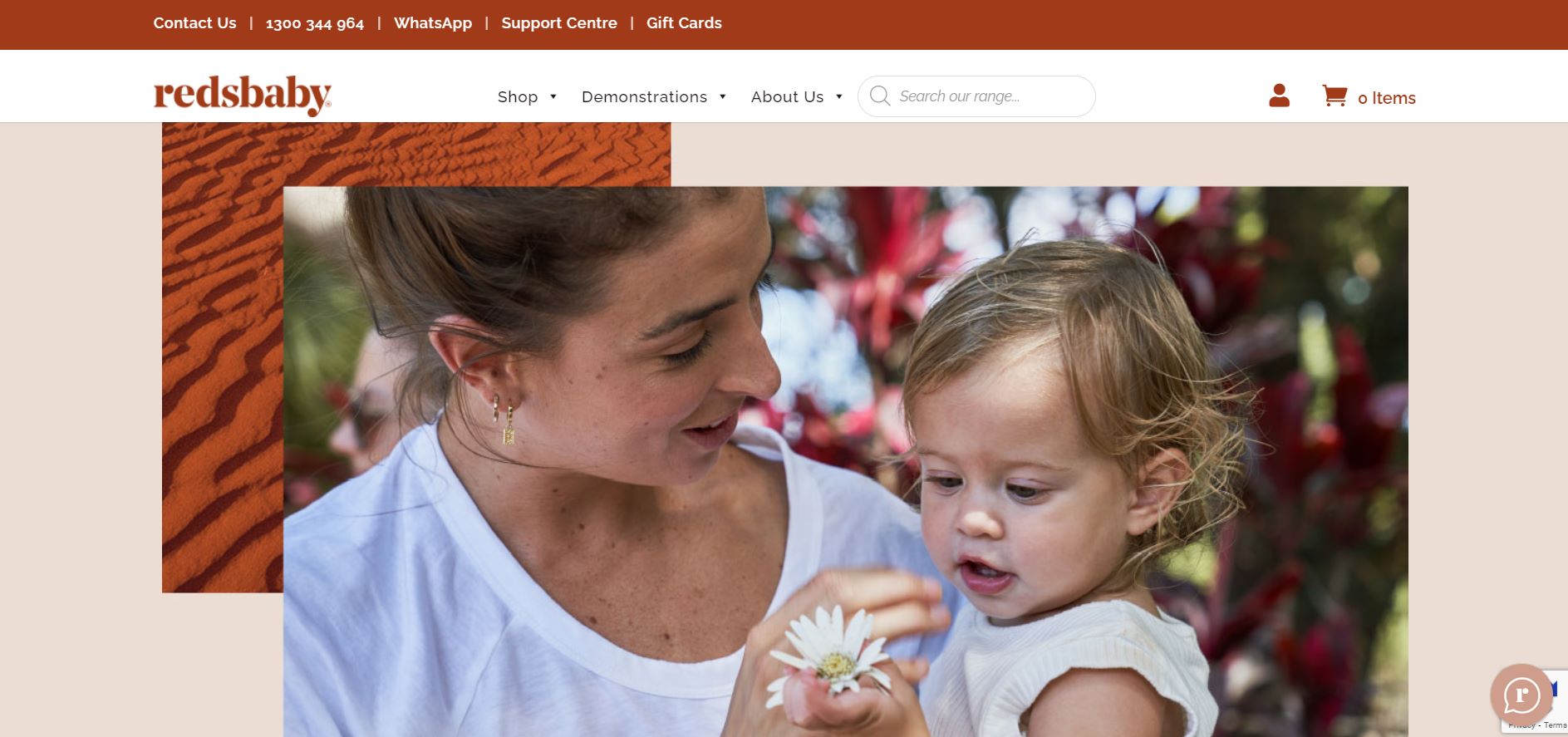 1300 344 965
Redsbaby was founded in 2013 when parents Meagan and Brett set out to create a pram designed specifically for Australian families.
What began from humble beginnings has grown into a range of beautiful and innovative baby products all made for the same purpose, to enrich the family journey.
As our story unfolded, so did our greater purpose; in supporting our community, planet and championing the diversity of our Australian culture.
We are passionate about cultivating a diverse and inclusive. 
Workplace. Our team comes from all different backgrounds and experiences, creating an environment where unique ideas and innovations. 
Thrive. Together we strive toward our common goal to enrich your family journey.
We believe that everything we do should have a greater purpose.
We are committed to protecting our beautiful planet, giving back to our communities and championing the diversity of our Australian culture.
SWEET THING - Baby Shop Sydney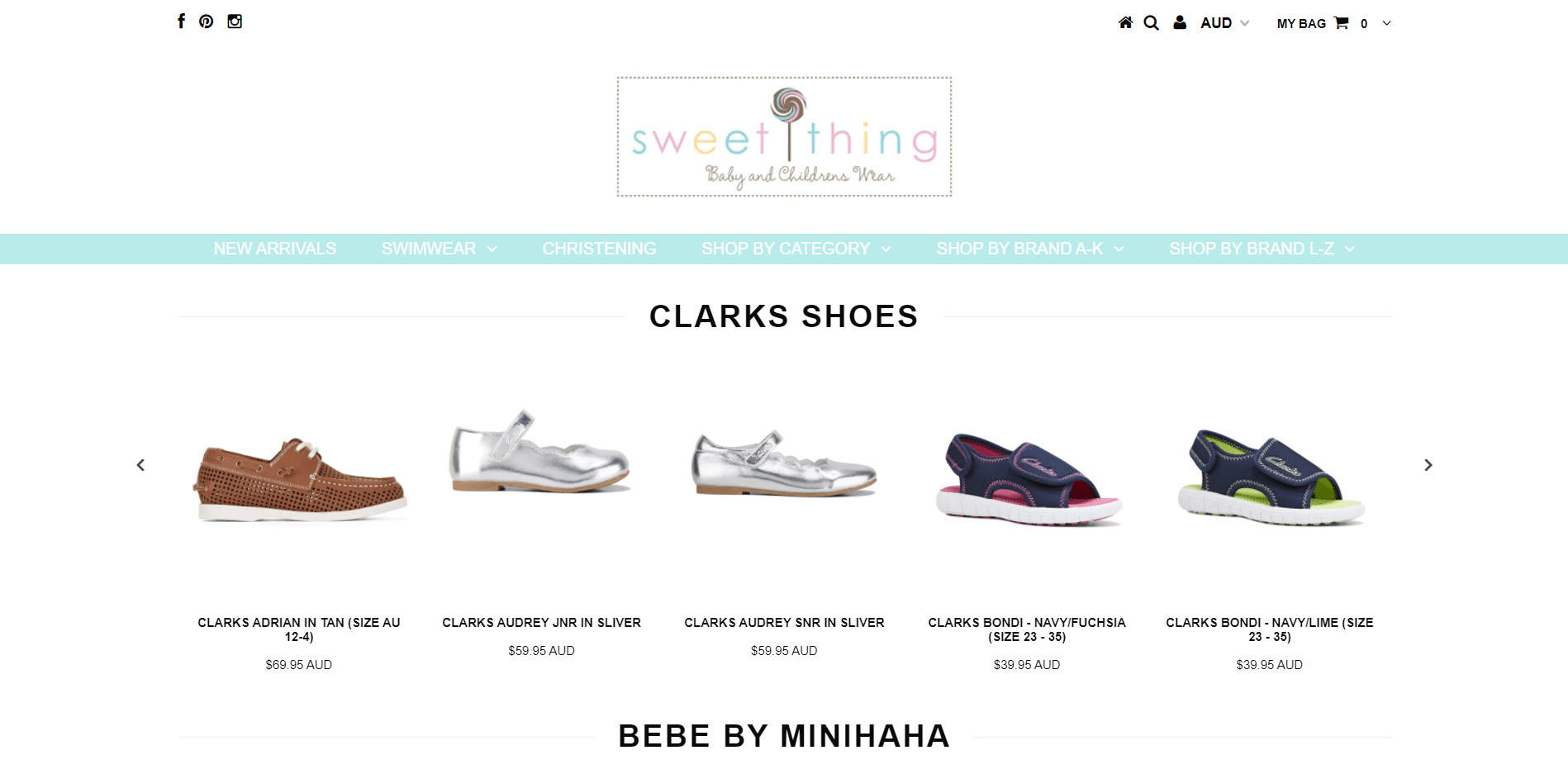 02 8883 0649
Founded in September 2007, Sweet Thing has grown from a store originally located at Stanhope Gardens Shopping Village to 2 stores at Rouse Hill Town Centre & St Ives Shopping Village.
Excellent customer service is what we strive for. If you need help, we are only an email or a phone call away.
We cater for boys & girls in sizes from Premature to 14/16. We aim to be a one-stop shop so you could get the whole outfit from top to toe. We are parents ourselves, so we understand the lack of time issues parents have to face these days.
 We specialise in 
Christening for babies to 2 years

Holy communion

Flower girls & page boys

Newborn clothes and accessories

Boys & girls toddlers casual & formal outfits

Shoes from popular & trusted brands

Gifts wares

Birthday presents
Welcome to our stores,
Ryanna, Gwen, Alicia, Jodie, Tanya & Evi
Cot King - Baby Shop Sydney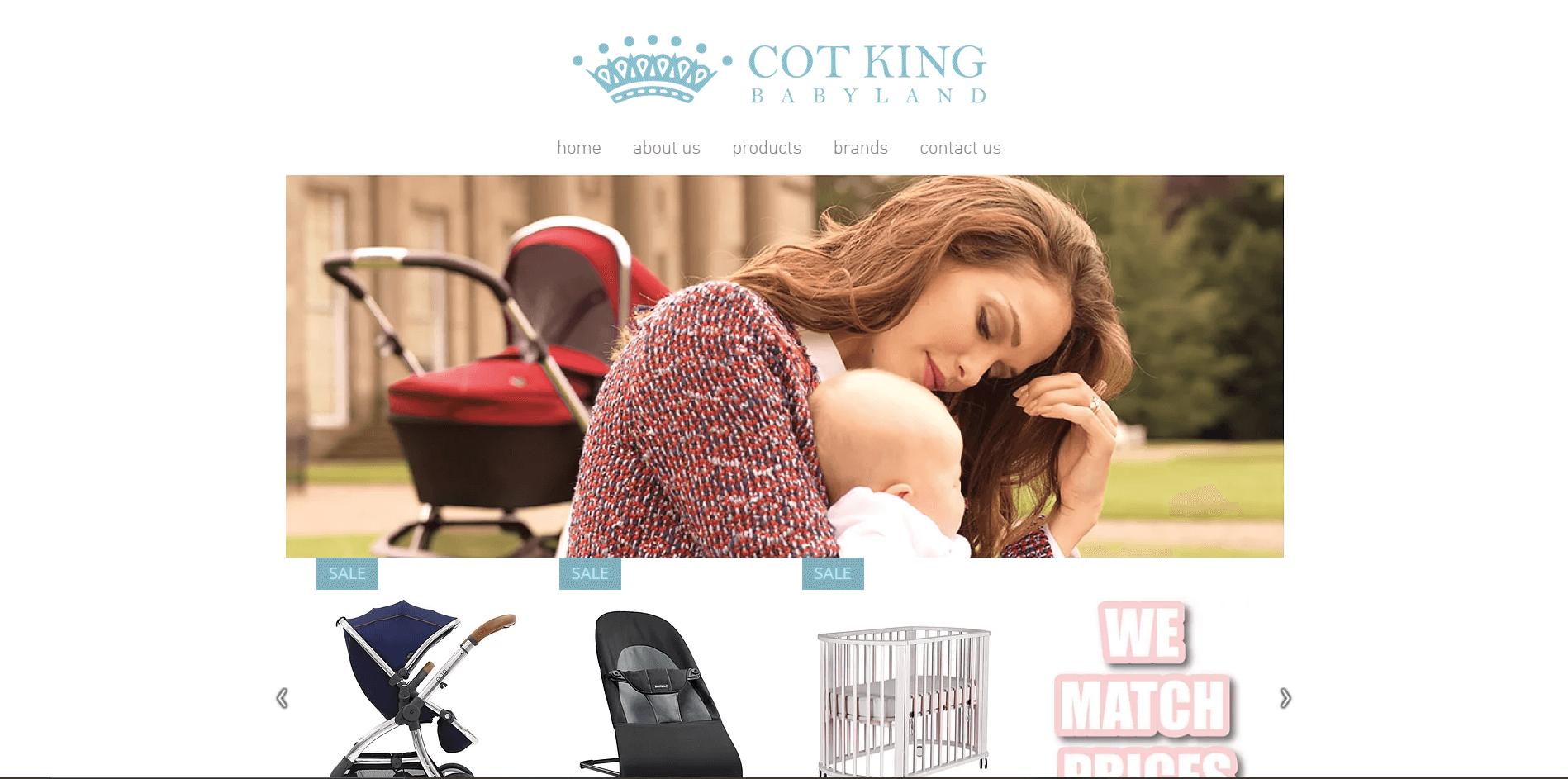 02 9642 7783
We have been supplying childcare equipment throughout Australia since 1969 & have been distributing from the same premises in Chullora, Sydney for over 25 years. We are fully Australian owned. We supply quality, durable products and deliver both within and outside Australia. We maintain a specialised range of baby goods for use within the childcare industry and the hospitality industry.
(Established 1969 - Incorporating Babysafe Products)
Babies 2 Infinity - Baby Shop Sydney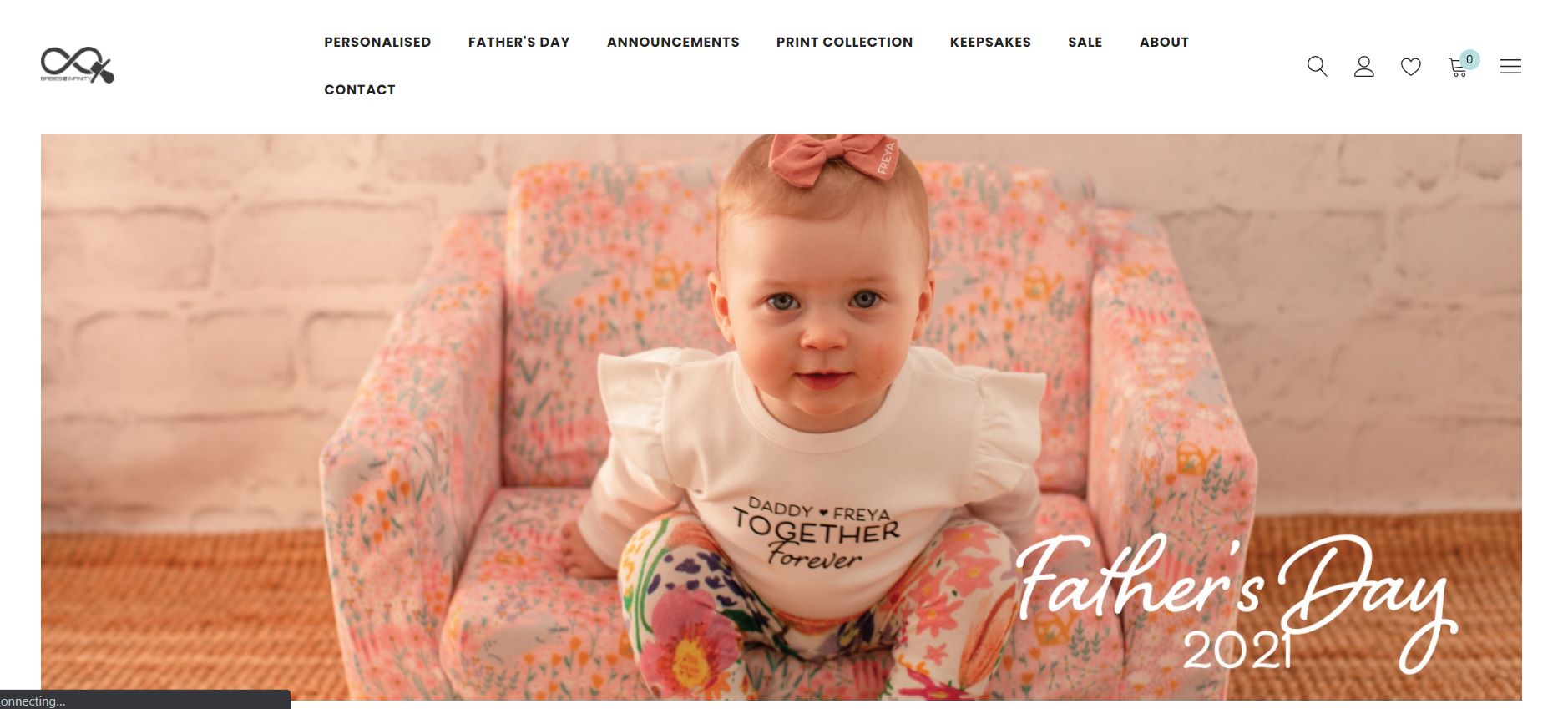 Welcome to Babies 2 Infinity, a family-owned and operated business right here in Australia, focused on quality fashion that is just as unique as your little bub. 
When my son, Finn, was born, I was on the hunt for stylish, high-quality items of clothing for him and couldn't help but notice a hole in the market when it came to style and individuality. Wanting to steer away from fast fashion that was produced by the masses and simply wasn't durable enough for little bubs on the go, I started to design Finn's clothes myself. I fell in love with the creation process, and as a result, I now offer the same service to you here at Babies 2 Infinity. I believe luxurious items should be easily accessible for all parents, and so I've developed a high-quality range that will suit every baby. Our personalised range says exactly what you want it to – designed to truly celebrate the little life you've created.
We source from all over the world to bring you exciting, high-end products. Our design and printing studio is located in Sydney.
Babyskin - Baby Shop Sydney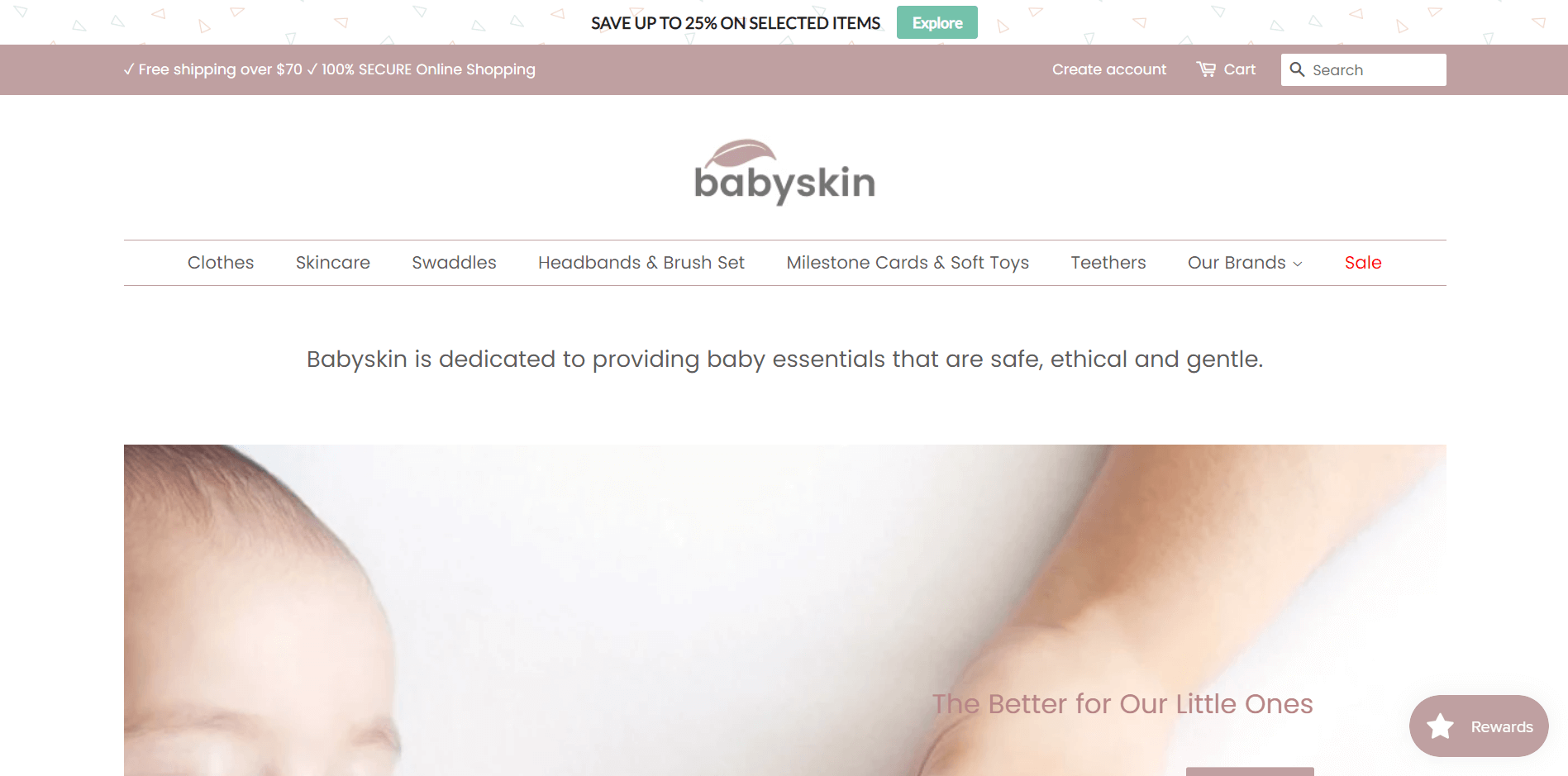 Hello and welcome to Babyskin, an Australian online store based in Sydney with environmental awareness. My name is Pascale, owner of Babyskin.
It all started with baby Jordan. He really sparked my passion for natural and organic baby products, as well as my very supportive husband Ben. 
Our mission is to offer other mothers and families simple, easy access to a wide range of eco-friendly and chemical-free products to protect the baby's very delicate skin. We focus on providing quality Australian brands, plus a few well-known brands from overseas, and of course from France, our birthplace. 
From nourishing skincare to teething remedies, our secure and user-friendly one-stop shop features natural and organic baby essentials to support you and your journey to nurture your treasured little ones and giving them the very best start.
We hope you enjoy your shopping experience with us.
With love,
Pascale, Ben, and Jordan.
ThatBabyShop - Baby Shop Sydney

1300 76 75 20
ThatBabyShop is part of the ECO Imports P/L group established in 2004. We are based in Sydney, Australia and 100% Australian owned. Our mission statement is to provide the best products at the best prices.
ECO Imports specialises in the import, distribution and retailing, via our online stores, of a large range of internationally sourced products.
For more information, please use the Contact Us page.
ThatBabyShop is pleased to be partnered with:
ECO Imports Pty Ltd - International Import and Distribution

Yardgames Australia - Australia's Specialist Supplier of Giant, Outdoor and Educational Games

Yardgames New Zealand - The biggest giant outdoor games in New Zealand

Yardparty Australia - The biggest giant outdoor games available for hire in Australia
BabySafe Child Restraints - Baby Shop Sydney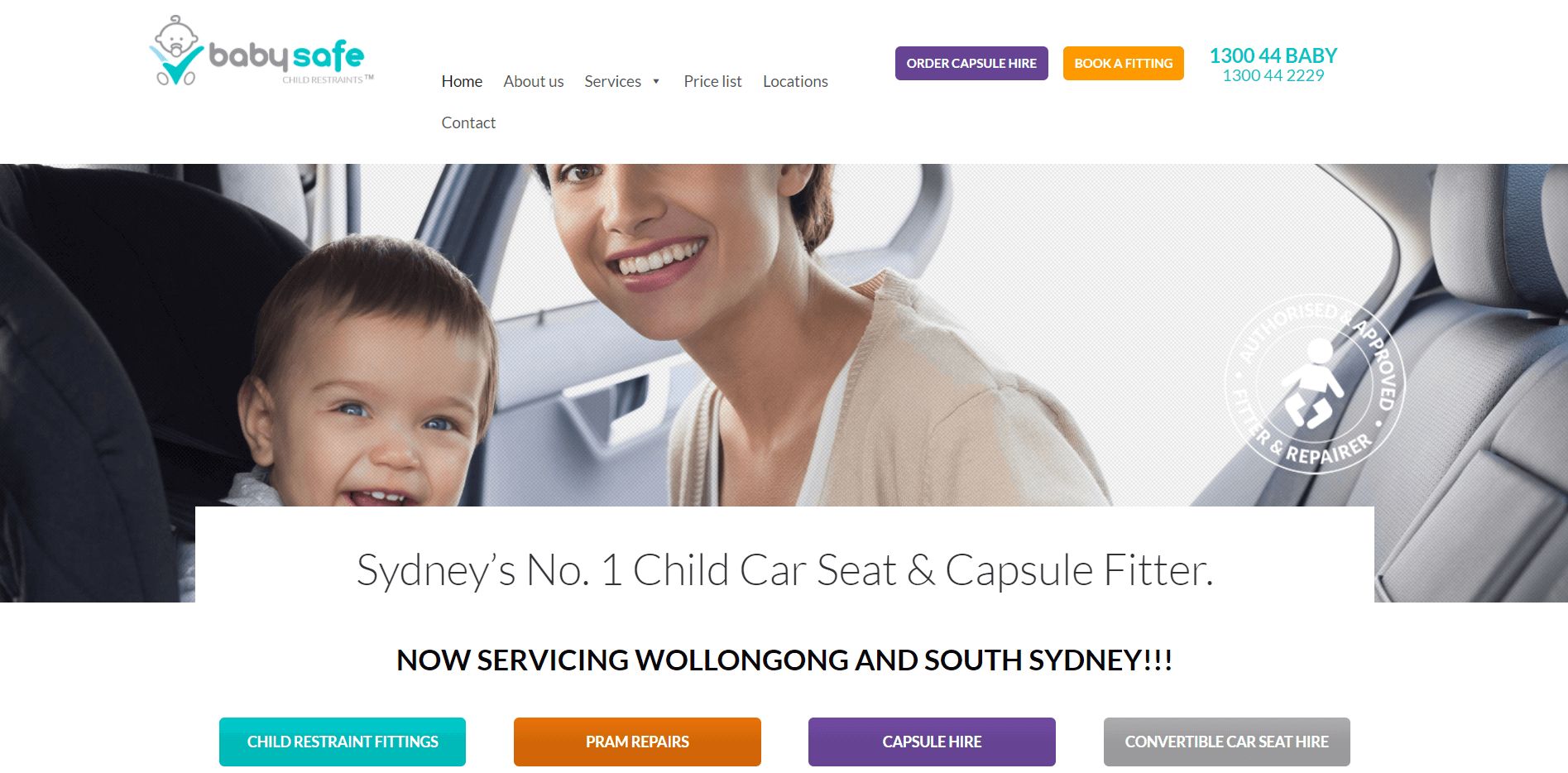 babysafechildrestraints.com.au
1300 44 2220
BabySafe Child Restraints is an Authorised Child Restraint Fitting Station
Our staff are highly trained in fitting, inspecting and adjusting all types of child restraint systems. We have been trained by the RMS (formerly known as the RTA) to locate and create vehicle anchor points in all types of vehicles.
BabySafe Child Restraints was established in June 2012. Director Robert Mesite started BabySafe Child Restraints due to the fact he is a new dad and found a lack of service in the local area for new parents. At BabySafe Child Restraints, we simplify the process of making sure your most prized possession is safe. The last thing you need to worry about while pregnant is "how do you fit this thing".
OUR SERVICES INCLUDE:
Child Restraint fitting, inspections and adjustments;

Child Restraint harness adjustments;

Child Restraint rotation (rearward facing to forward facing);

Locate and install vehicle anchor points;

Family day care inspections;

Capsule Hire;

Stroller, Pram and Jogger repairs.
Authorised Child Restraint Fitting Station
We cover Sydney's Northern Beaches, North Shore, Hills District and now Wollongong and South Sydney!!!
BabySafe Child Restraints are authorised by the NSW RMS to professionally install, inspect and adjust child restraints. Our staff are highly trained to locate and create vehicle anchorage systems. BabySafe staff are not only trained by the RMS but are also required to complete our in the house training program, developed to familiarise staff with all makes and models of child restraints. This includes training workshops with the child restraint manufacturers to stay up to date with the latest designs and features. It is also a BabySafe policy for our staff to complete ongoing training as well as being subject to strict in house auditing and performance reviews. Rest assured, your most prized possessions are safe with us!
My Little Dream Co. - Baby Shop Sydney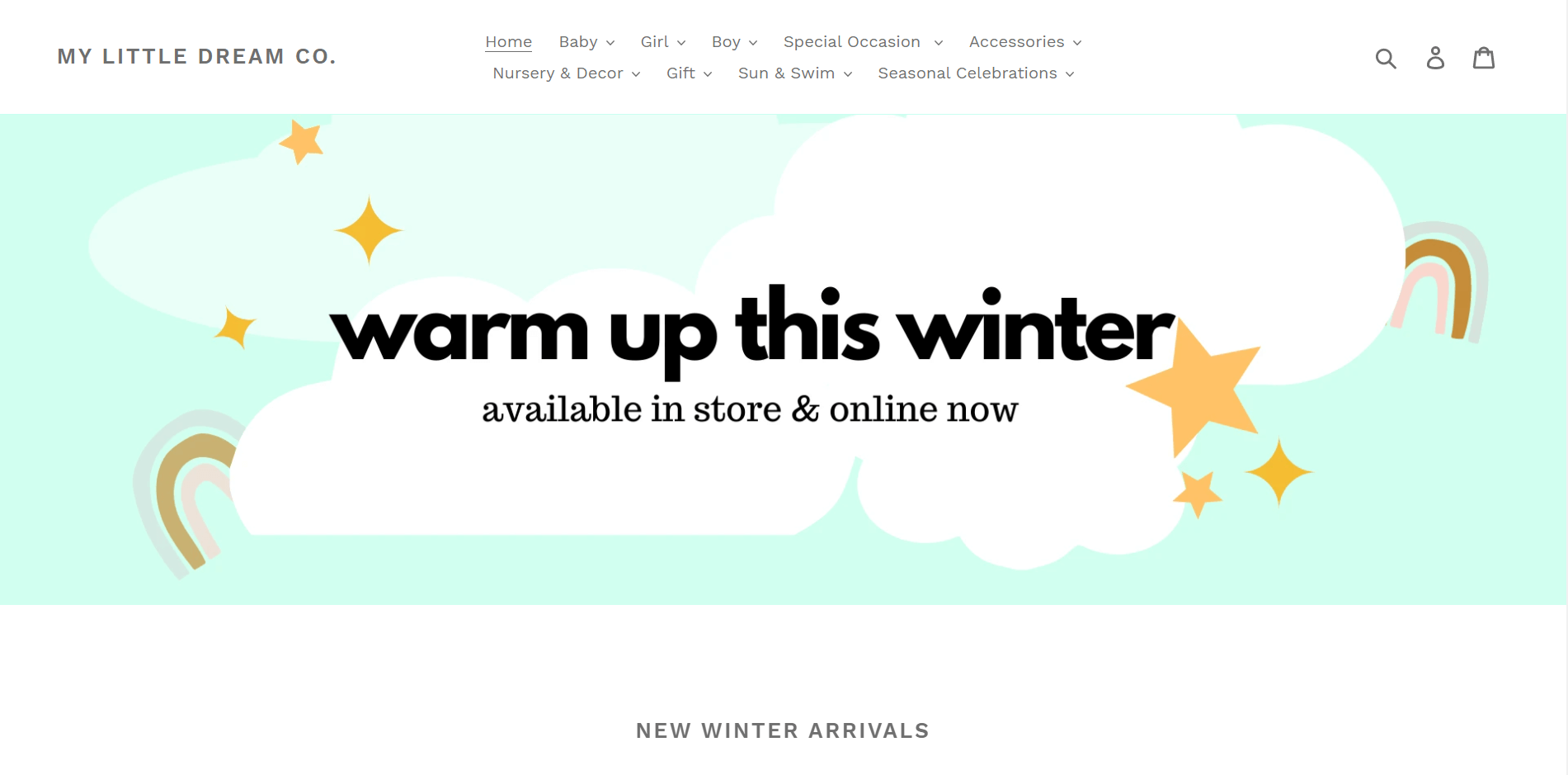 (02) 9542 1253
My name is Sue, and I am the founding dreamer behind My Little Dream Co. MLDC sprung from my childhood book, The Little Dream. This book explored the hardship of the little dream fighting against all of the big dreams to achieve what she believed in. I strive to instil this in my own life, the lives of my two daughters and all others I meet to try and help all dreams come true. This book influences our philosophy here at MLDC, where we bring to you innovative and quality products to fulfil each little dream of all of our beloved customers, whatever age they may be. 
We showcase a range of carefully selected fashion, toys, books and decor, with a focus on Australian made products. We stock unique clothing, shoes and essentials for newborns to 14yrs, as well as a diverse range of fabulous gifts! 
We LOVE what we do and offer our customers an authentic and personalised service. 
Thank you for the privilege to help you find that something special for your Little Dream.
Lots of love the Dreamers xoxoxo
Adrienne & The Misses Bonney - Baby Shop Sydney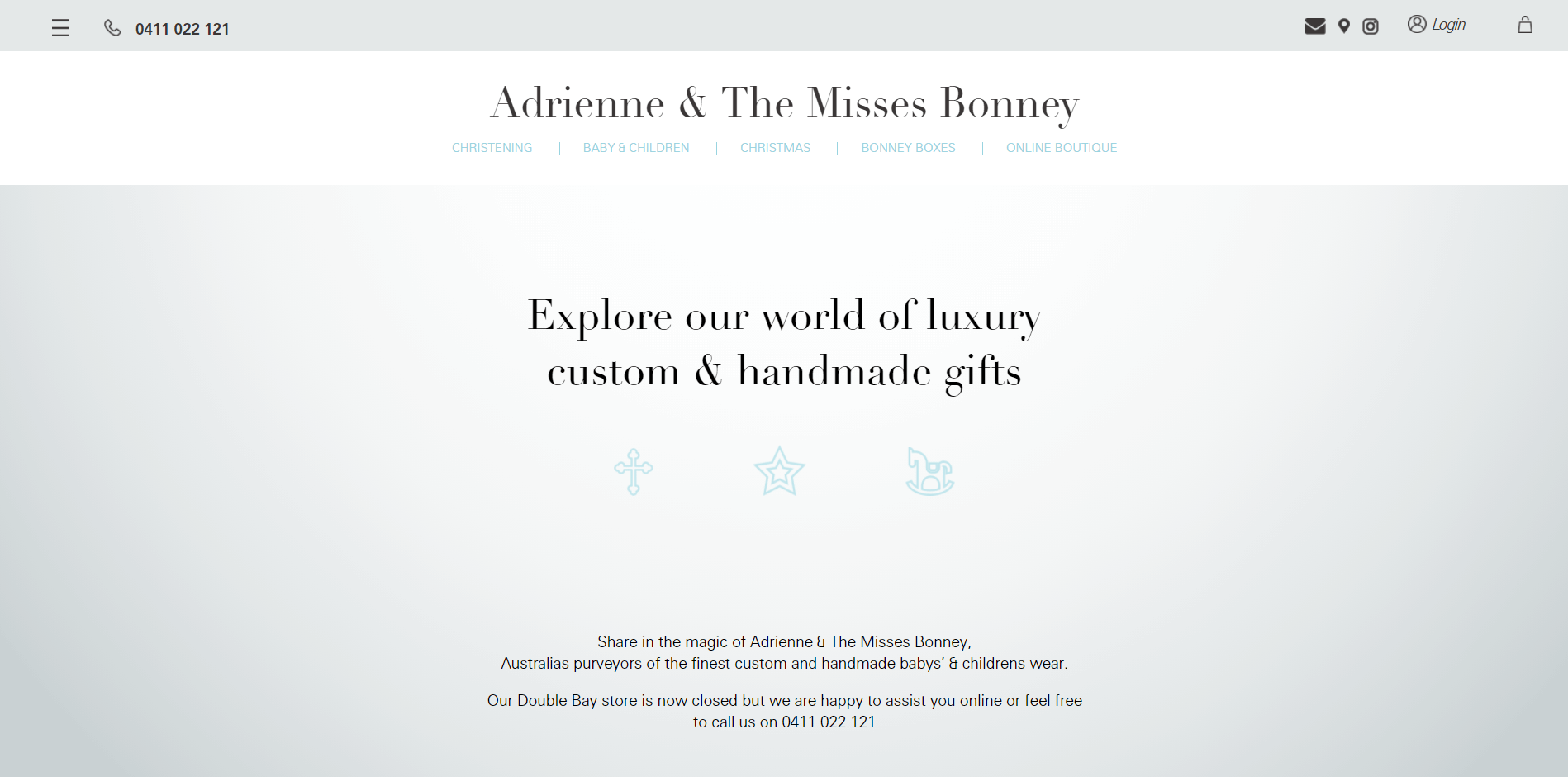 0411 022 120
For over 100 years, Adrienne & The Misses Bonney has been a passion for those who love beautiful things.
A Distinguished History
In 1906, Narissa and Clarissa Bonney – daughters of Sydney's Judge Bonney, opened The Lavender Room on Cremorne Wharf in Sydney, where they sold their own exquisitely hand-embroidered baby items under the Misses Bonney label. They soon became Australia's purveyors of the finest handmade babies and children's wear.
Their success was such that, with the opening of the Harbour Bridge, they set up shop in Rowe Street in the heart of the city. This was a temporary move for the sisters before they took up permanent quarters on the seventh floor of the St. James Building in Elizabeth Street.
In 1940, the St. James Building also became the address of Miss Ruth Edwards. Miss Edwards opened a salon, named after her sister Adrienne, making lingerie and finery for the ladies of the day.
The Misses Bonney and Miss Edwards soon became firm friends. During the war, a shop on the Elizabeth Street frontage became vacant, and they joined forces, and the name Adrienne & The Misses Bonney was born.
In the late 1960's the building was demolished, and the "partnership" was broken. Adrienne moved to Double Bay and the Misses Bonney to the State Theatre building in Market Street.
The aged proprietors were finding it extremely difficult to maintain the business and were considering closing. At that time in 1970, Ms Terry Berry visited the Misses Bonney to purchase their trademark bell rattle for a friend's baby. Terry was distressed to learn of the proposed closure and offered to buy The Misses Bonney — it was either that she said or saw part of Sydney's history disappear forever.
Terry continued the tradition with the manufacture of handmade babies and children's wear, supplying boutiques in Sydney. In 1978 Terry and her sister Kaylene Hansen purchased Adrienne in Double Bay and put the two businesses back together.
Uncannily history was repeating itself… shops founded by sisters were once again in the hands of sisters.
Terry and Kaylene were driven by a determination to see Adrienne & The Misses Bonney reclaim its rightful position on Sydney's retail scene. Apart from wanting to return the store to its former glory, supplying handmade and embroidered goods of the highest quality, Terry and Kaylene wanted to return to its ethos of service – making people's dreams come true.
Since that time, the business has grown from strength to strength and offers something for everyone, from the traditional children's wear and christening robes, nursery decorating services to ladies fashion and nightwear and special gifts for all. They also offer an interior design service for your home, office or yacht.
Whilst they have always enjoyed royal patronage and the custom of the wealthy and famous from around the world, Terry and Kaylene point out that everyone can share in the magic of Adrienne & The Misses Bonney – there is something for everyone and every purse.
After an incredible 50 years as custodians, Terry and Kaylene will be retiring on 30 March 2020, and the retail store in Double Bay will close its doors, but the service will continue online at www.adrienne-bonney.com.au.
Tell Me Baby - Baby Shop Sydney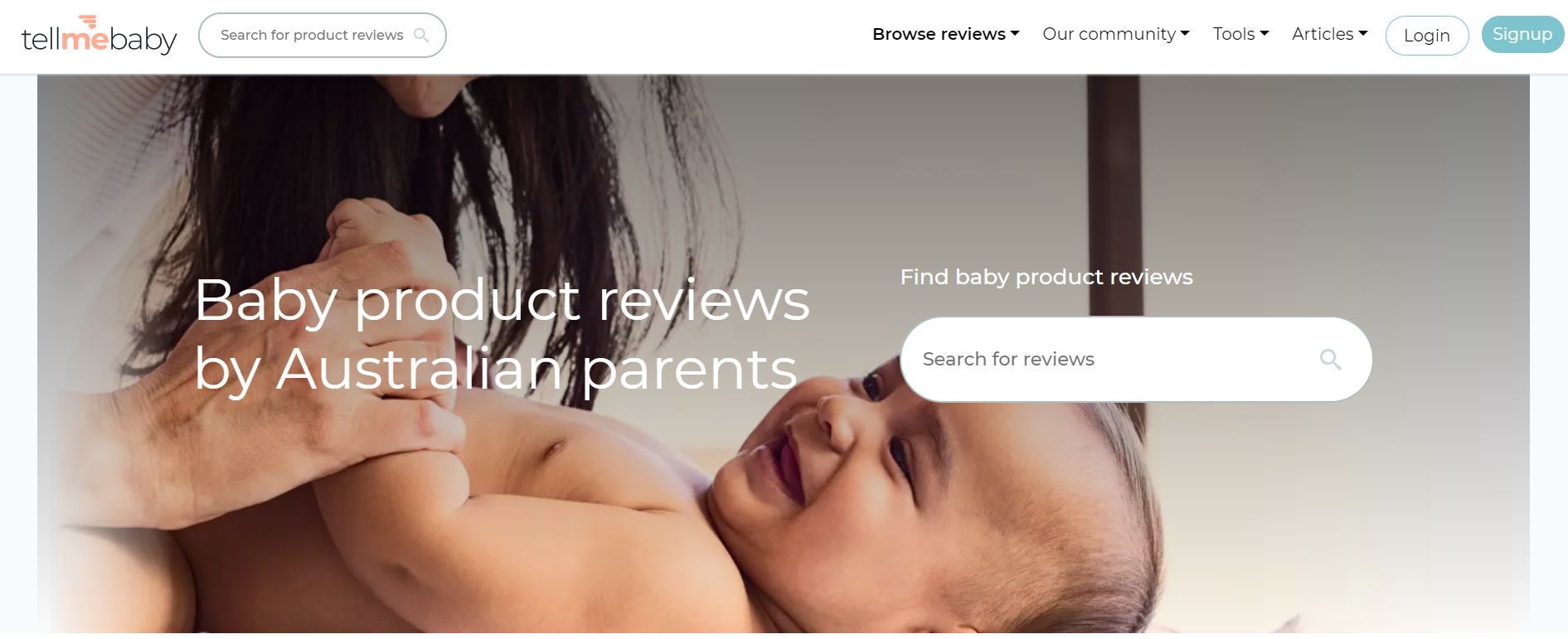 community@tellmegroup.com 
About Us
When Julia and Mat Colbron became parents for the first time, they turned to the Internet for guidance and much needed help (as many new parents do). They quickly became overwhelmed by the sheer volume of misleading and contradicting information; product reviews came from consumers trying out free samples with an obligation to the brand supplying them, or blog posts spouted biased advice with some kind of promotional skew.
In the end, it was the advice from other parents that made the most sense, steering them through the challenges and uncertainties of their new and unfamiliar roles.
With this philosophy of parents helping other parents, Julia and Mat founded Tell Me Baby, an online community where parents can swap unbiased, honest advice about products, share their most sacred parenting tips and offer genuine support to each other.
The go-to resource for child-related products
Tell Me Baby has grown into a powerful community. Parents have a place to voice their stories, to learn from other parents in a safe and trusted environment, and to feel a part of something bigger. It's now the go-to resource to seek clarity about child-related products.
Tell Me Baby is quickly expanding into Australia's most interactive, respected and talked about digital parenting communities.
Bonza Brats - Baby Shop Sydney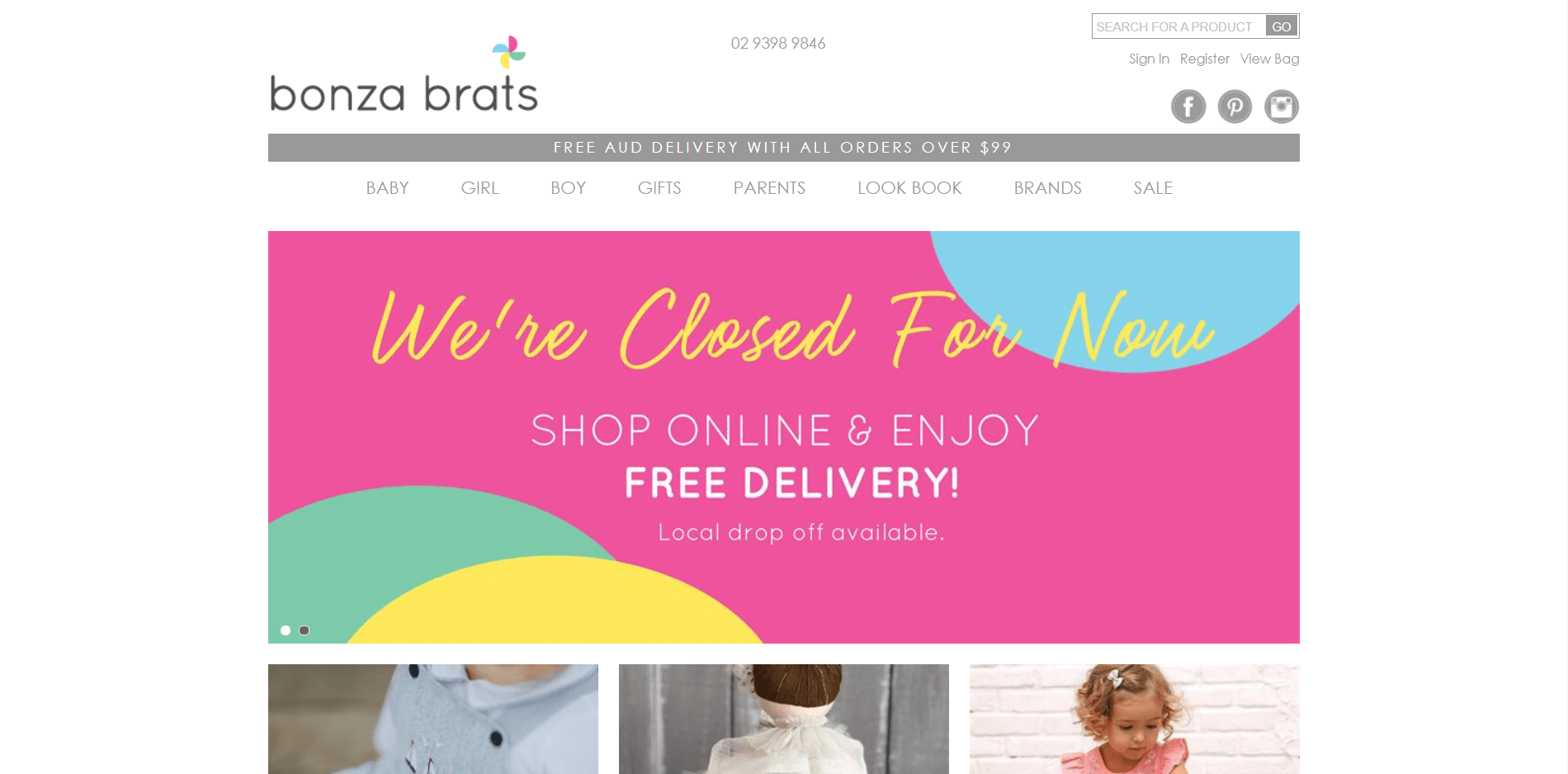 02 9398 9847
Welcome to Bonza Brats Online
Thank you for visiting our online store. Our goal is to create an enjoyable online shopping experience for every Bonza Brats customer looking to buy clothes, toys, gifts and accessories for babies, toddlers, boys or girls. We showcase a vast collection of in-season premium fashion for kids from both local and overseas labels. 
Memories begin here!
We have been one of Australia's most respected children's retailers since 1986. Our experienced buyers know what kids love to wear and what toys they love to play with. You can shop with confidence knowing that all our products are of the highest quality, are wonderfully wearable, and, of course, super comfy, wash after wash.
Buy the brands that make you smile!
Fill your kids' wardrobes with gorgeous clothes and accessories for special occasions and everyday adventures from our large and diverse range of fabulous Australian and international brands. Brands such as Munster Kids, Minti, Tutu Du Monde, Boboli, Bebe, Seafolly, and more.
Discover our collection of newborn gifts that will delight baby and mum. Find Sophie the Giraffe, Alimrose squeakers, dolls and more. Keep any child entertained and intrigued for hours with books, toys, arts and crafts from Djeco, Petit Collage, and Eeboo. 
With our regular influx of new arrivals, we're confident you'll always be able to find that unique and perfect gift.
Our Store
Bonza Brats has been a leading children's wear retailer in Sydney, Australia, since 1986. Our aim is to provide the Bonza Brats customer with an outstanding choice of high quality, premium fashion, gifts and accessories for bubs to teens. We're known for great Australian fashion brands, including Munster Kids, Minti, Paperwings Seafolly and Toshi. Our customers tell us that 'gorgeous', 'stylish' and 'comfy' are some of the words to describe our range of clothing and gifts.
Whether you have $100 to spend, or just $10, you'll find something special in our ever-growing range of wonderful gifts for all ages. We're especially proud of our growing range of gifts for newborns and love to help our customers find the perfect gift for their new arrival.
Our staff love children and are trained to advise you on size, trends and suitability, with many having years of experience and knowledge to help you make the right decision.
For customers in Sydney, we encourage you to visit our store in Royal Randwick Shopping Centre and utilise your exclusive Club Bonza Membership discount for all purchases of full-priced items. It's free to join and fun to shop!
Visit us in-store or shop online and enjoy our extraordinary range of unique products.
Welcome to Bonza Brats, and we hope you enjoy your shopping experience with us!
Deb, Hermione and Jasper xx
Perfect Little Bundles - Baby Shop Sydney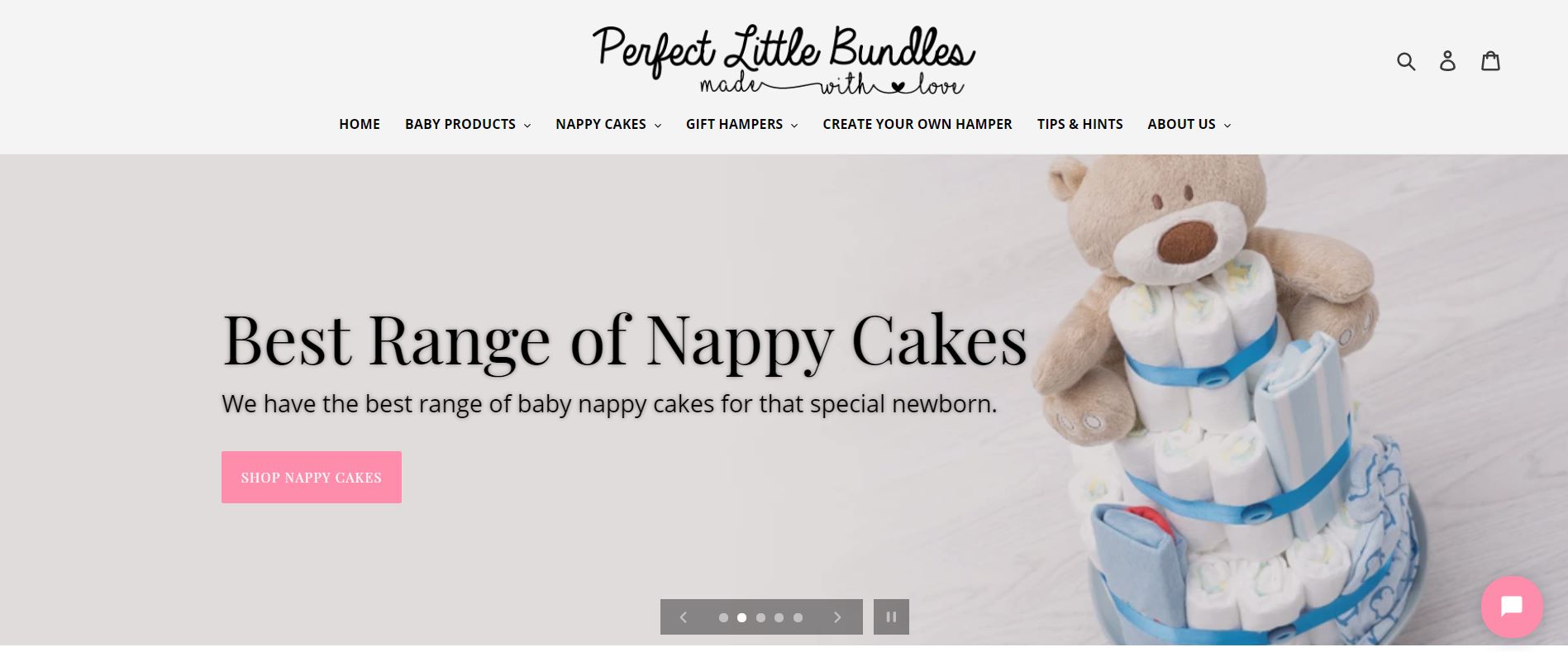 1300 644 993
About Us
Perfect Little Bundles offers a wide range of unique Nappy Cakes and Newborn Baby Gift Hampers Available for delivery in Australia Wide. We also offer a create Create Your Own Baby Gift Hamper with lots of fun to create to suit your taste and budget. We are based in Sydney with the delivery of our Nappy Cakes, Newborn Baby Gifts, and Baby Gift Hampers Australia wide.
Perfect Little Bundles aim to provide beautiful baby gifts and nappy cakes to suit many budgets and tastes whilst taking the stress of shopping for that perfect gift. Shop for a gift for your family member, friend or colleague from the already beautifully curated Perfect Little Bundles from the comfort of your home or office. We take the stress out of buying the perfect gift, your personalised message will be printed onto the swing gift tag, and our courier will deliver the gift on your behalf. We stock some of the best brands in the baby business, including Marquise, Sapling Organic, Alimrose, Snuggle Hunny Kids, Jellycat, Emotion and Kids, ES Kids, Nature Budz, Lilly & George, Hello Little Bead and Living Textiles, just to name a few.
As Mum's and Dad's, we know the excitement of receiving a gift from a loved one. All our gift hampers are presented in a White Gift Box with a magnetic closing lid, contents are carefully placed with crisp white tissue surrounding. The Gift Box is tied with satin ribbon and a swing gift tag with your personal message. We have had a love for gifting for many years and know the wonderful feeling of not only purchasing but receiving a beautifully curated baby gift hamper has. All our Perfect Little Bundles baby gift hampers and nappy cakes are made with love, the love you want your loved one to feel when they receive your gift.
One Fine Baby - Baby Shop Sydney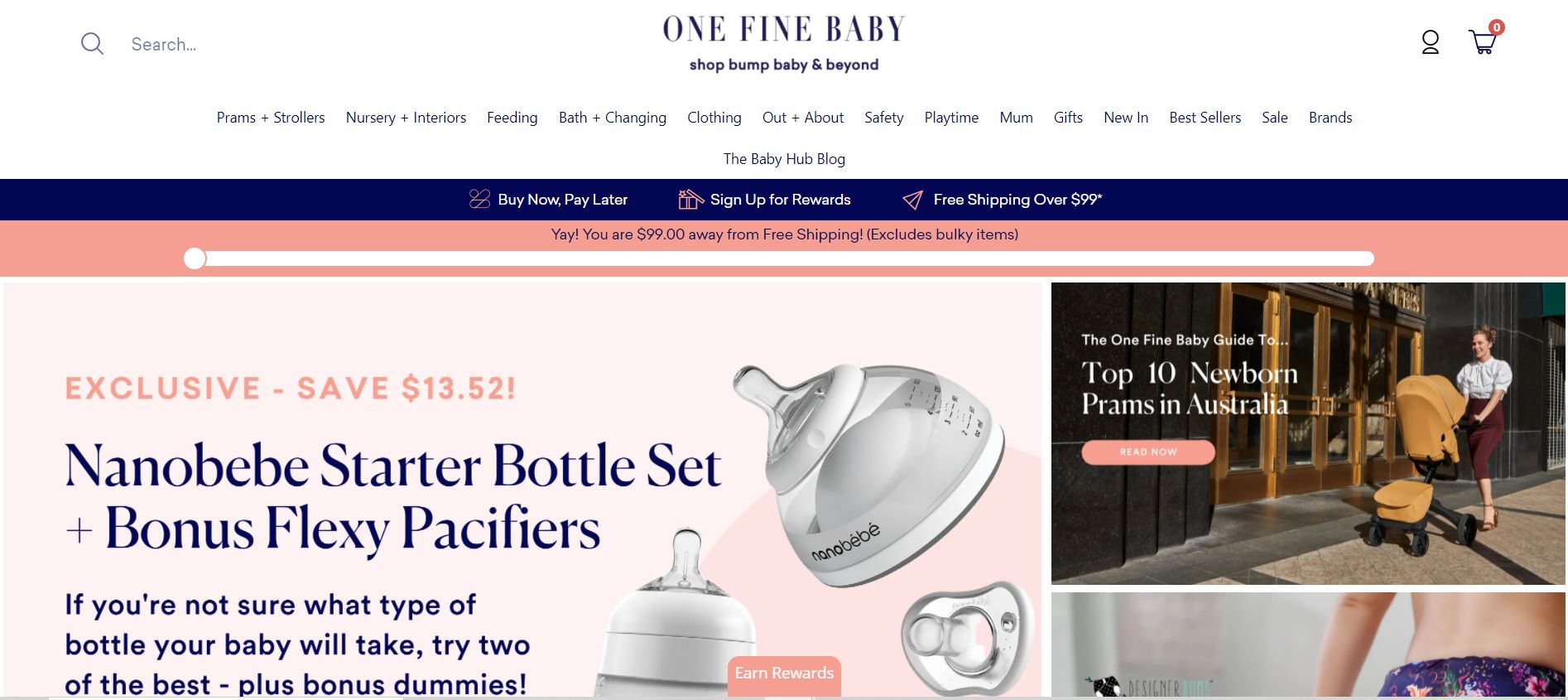 (02) 8072 0670
Welcome to One Fine Baby, Australia's most stylish baby fair and online shop. Get ready for lots of sh*ts and giggles! Not really… get ready because we've curated the ultimate go-to edit, just for you. Discover the best products for bump, baby and beyond. Think newborn sleepwear, skincare and stylish threads, to practical prams, dreamy nursery décor, bedding and maternity wear. Plus, read achingly real reviews, get honest expert advice, save products to your wish list and plan your gift registry (hello, baby shower), all while doing the 2 am feed. Brilliant!
You're also invited to the One Fine Baby Fair, which launched in 2014 and now attracts over 40,000 registered visitors in Sydney and Melbourne. Here's your save the date! We're popping out in Melbourne on May 29 and 30, 2021, and in Sydney on August 14 and 15, 2021.
We also welcome you to connect with the One Fine Baby team headed by CEO Nadean Richards. Our dynamic teams are equal parts girl bosses and mummy-in-chiefs, so we've been there, and we're doing that! We get it!
So get ready! Shop 'til you pop. Then once you pop, shop.
MyBabyCuddles - Baby Shop Sydney

info@mybabycuddles.com.au
Pure, Natural & made with LOVE
Welcome to "My Baby Cuddles", a new brand and wide range of Pure Organic, Neutral baby clothing made with LOVE,
My Baby Cuddles Philosophy
 My Baby Cuddles approach is simple. We provide gender-neutral, Unique, and Simple designs using "Global Organic Textile Standard" (GOTS) certified organic fabrics, non-toxic materials and other high-quality accessories for our baby clothing collection. 
Our aim is also to provide exceptional online customer experience and product satisfaction.
My Baby Cuddles believes "childhood is a celebration!" So, the colourful prints, cute character motifs and designs are inspired by the "joy and love children bring into our lives".
My Baby Cuddles celebrates childhood by supporting families with gender-neutral, thoughtful designs, quality, certified organic materials that are soft, strong and resilient, allowing delicate young skin to breathe naturally. My Baby Cuddles focuses on unique designs with beautiful child-friendly motifs using natural fibres and fabrics for our range of baby garments and accessories.
Brand Vision…
Don't know the gender of the new addition to your family or loved one's family yet?
Want to get a head-start on baby clothes shopping?
My Baby Cuddles range of unisex baby clothes has your bases covered!
My Baby Cuddles Vision is to create beautiful unisex baby wear without compromising on social responsibilities. Our collections are designed and crafted with love and respect for the Universe, where our children will live, grow, play, learn and have fun wearing My Baby Cuddles clothing.
Why choose Organic Baby Clothing?
My Baby Cuddles uses GOTS (Global Organic Textile Standards) certified organic cotton fabric that is soft, strong and durable that allows your precious baby's skin to breathe easily.
Non-organic baby clothing is often made from synthetic fibres manufactured with petrochemicals, acrylic, polyacrylonitriles, PVC, and esters that are linked to a variety of health problems.
Our products carry authenticity codes issued by GOTS. We also use GOTS certified natural dyes to colour and print our products. Therefore, our organic baby garments are produced to control and avoid exposure to toxic chemicals used in the making of most everyday fabrics that your precious little babies are otherwise vulnerable to.
From organic cotton to recycled packing materials, our products are made for minimal environmental impact.
Baby Boxes - Baby Shop Sydney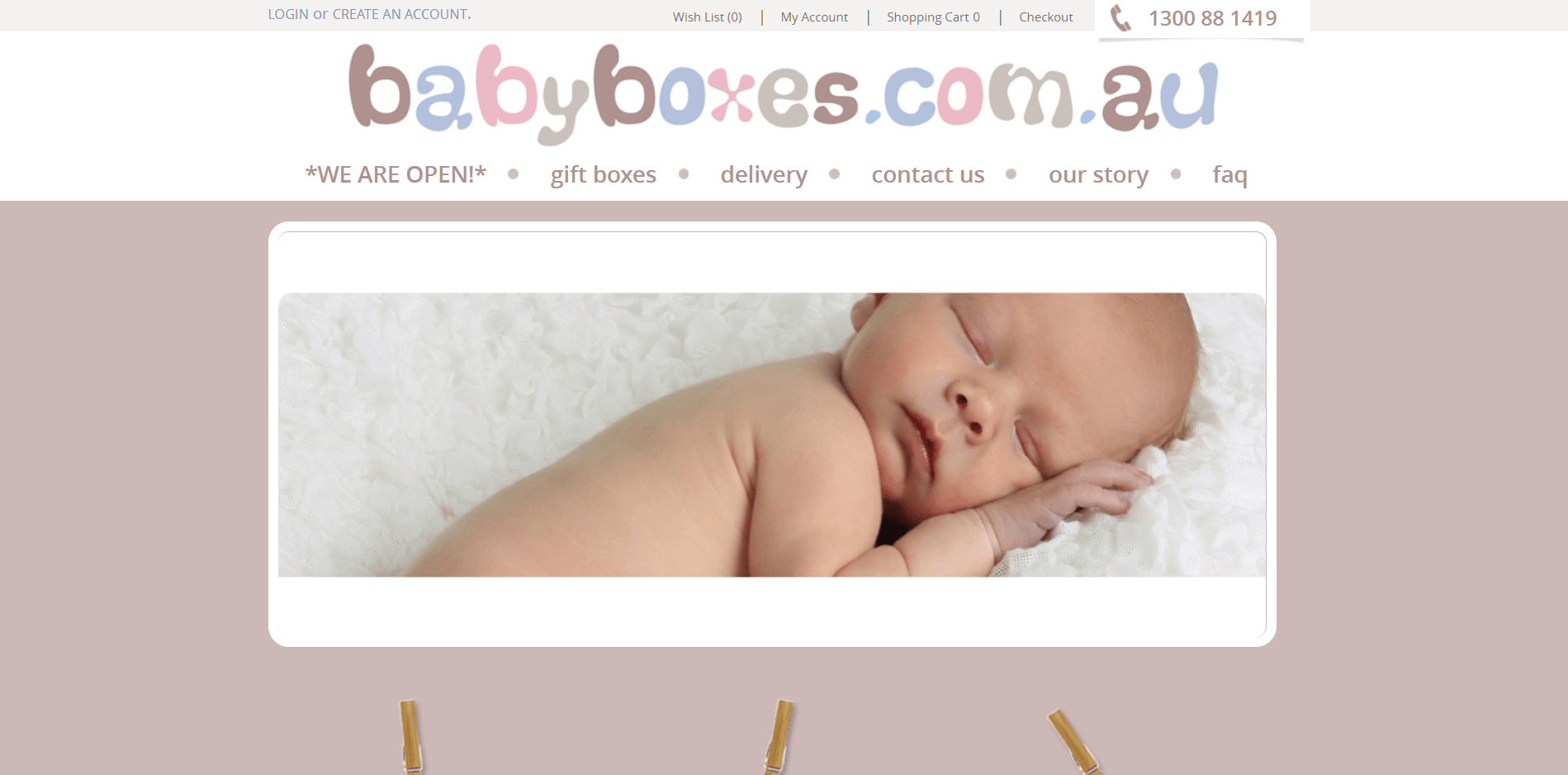 1300 881 418
SPOIL MUM, DAD & BUB WITH PRECIOUS & PRACTICAL BABY GIFTS IN AUSTRALIA
Stumped for the perfect gift to celebrate a new little bundle of joy? Don't spend hundreds on flowers that will wilt in the hospital ward - send new parents a unique present that they will use and cherish. At our quality online store, we supply a luxury range of modern and tasteful present boxes filled with stunning yet practical baby gifts in Melbourne, Perth, Sydney, Brisbane, Adelaide and throughout Australia.      
Baby gifts online
At our exclusive store, you can purchase breathtakingly beautiful baby presents online and have them delivered directly to mum, dad and tot. Our luxury baby boxes will arrive in a gorgeous keepsake package, tied up in a beautiful, quality ribbon - everyone loves to open a gift box tied up in ribbon! When new parents look inside our boxes, they are blown away by the contemporary design of our infant clothing in organic cotton. They will know you have really thought of them and chosen a quality product. Our couriers promptly deliver our spectacular array of baby gifts in Perth, Sydney, Adelaide, Brisbane, Melbourne and throughout regional Australia.  
Presents for the whole family
Here at Baby Boxes, we don't just think of the newborns, after all, mum has to do a lot of the work! Spoil new mums with a pampering gift pack that is just for her.
Big Bro and Big Sis!
We even have the siblings covered. We provide packs that contain a Big Bro or Big Sis T-Shirt and plush puppy – which goes together perfectly with our Little Sis & Little Bro tees.
Buy baby gifts online in Adelaide, Perth, Sydney, Brisbane and Melbourne
Celebrate new life with one of our beautiful, personalised baby gifts. Australia has a birth rate of one baby every 1 minute and 44 seconds, as per figures in 2012. That's a lot of babies to celebrate! Buy our baby gifts online, and we will deliver your baby gifts in Brisbane, Adelaide, Melbourne, Perth or anywhere else in Australia. Get it delivered straight to the hospital or wait until mum and bub are back at home. You can have your babybox delivered on the same day you order our baby presents in Sydney! Call us on 1300 88 1419.
Go to our checkout to purchase your products, and we will deliver your baby gift boxes to Brisbane, Adelaide or anywhere else in Australia. Get it delivered straight to the hospital or wait until mum and bub are back at home, you tell us what you prefer, and we will make it happen. You can even have your babybox sent straight to the hospital on the same day you order in Sydney!
Bub Gifts - Baby Shop Sydney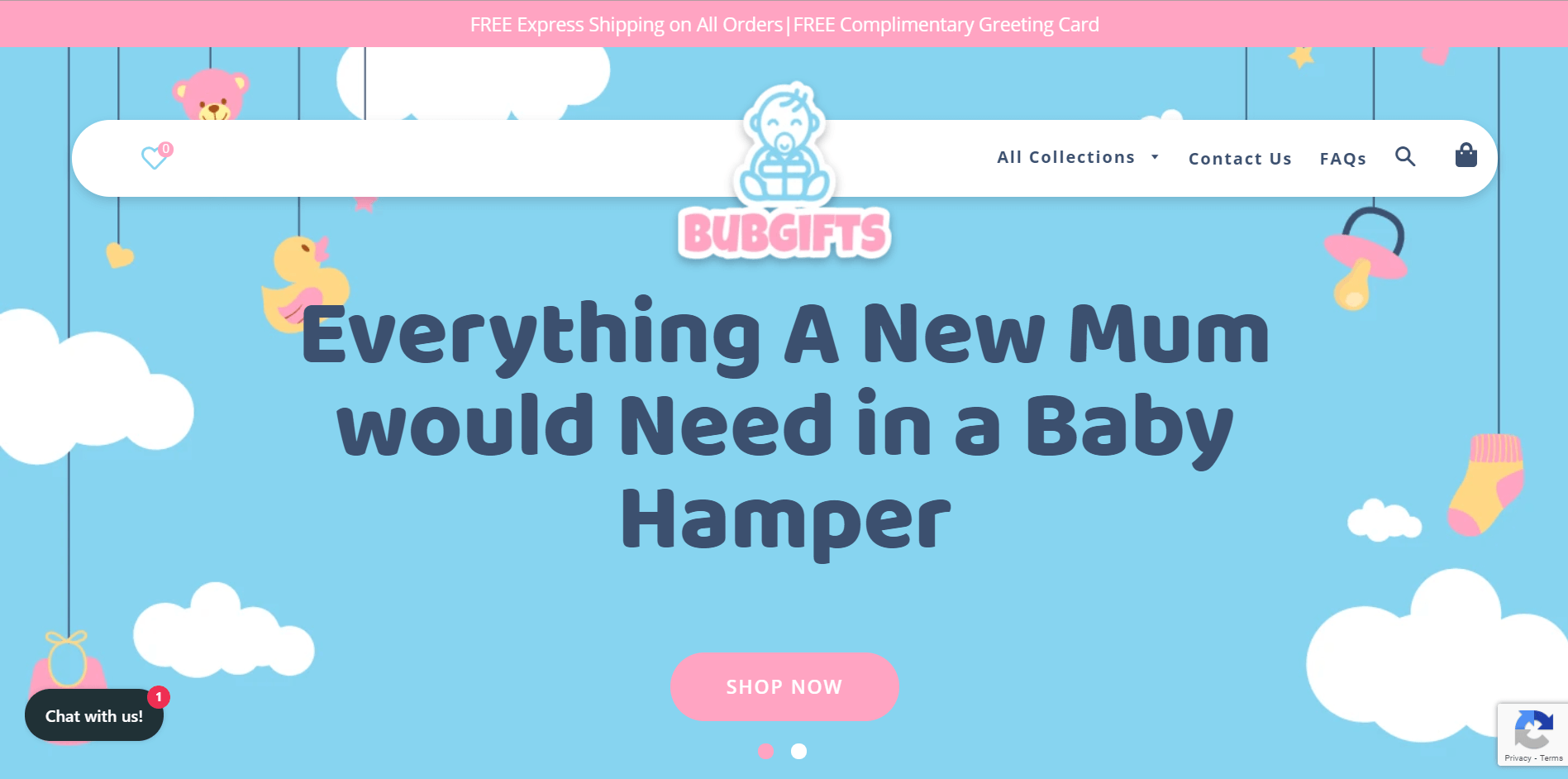 info@bubgifts.com.au
Our Story
Bub Gifts is an Australian company committed to providing excellent quality and adorable baby hampers for families, friends and corporate customers.
Our Products: We offer an exclusive range of baby hamper perfect for celebrating newborn arrival, baby shower, or pregnancy 
Our Customer Service: Our friendly team is Australian based and is more than happy to assist you in selecting a gift or answer any questions. 
Our Attention to Detail: Our team puts a lot of care into packaging each product to ensure it gets to its destination looking fabulous
Our Commitment
Each Bub Gifts hamper is made to order with high-quality baby essentials to make it a truly unique and practical gift for new parents.
Free Delivery
Free standard Australia wide delivery with Australia Post 
Made to Order
Each Bub Gifts Hamper is made to order with high-quality baby products. 
Customer Service
Our team is always here to assist with your purchase or answer any questions.
Love N Care - Baby Shop Sydney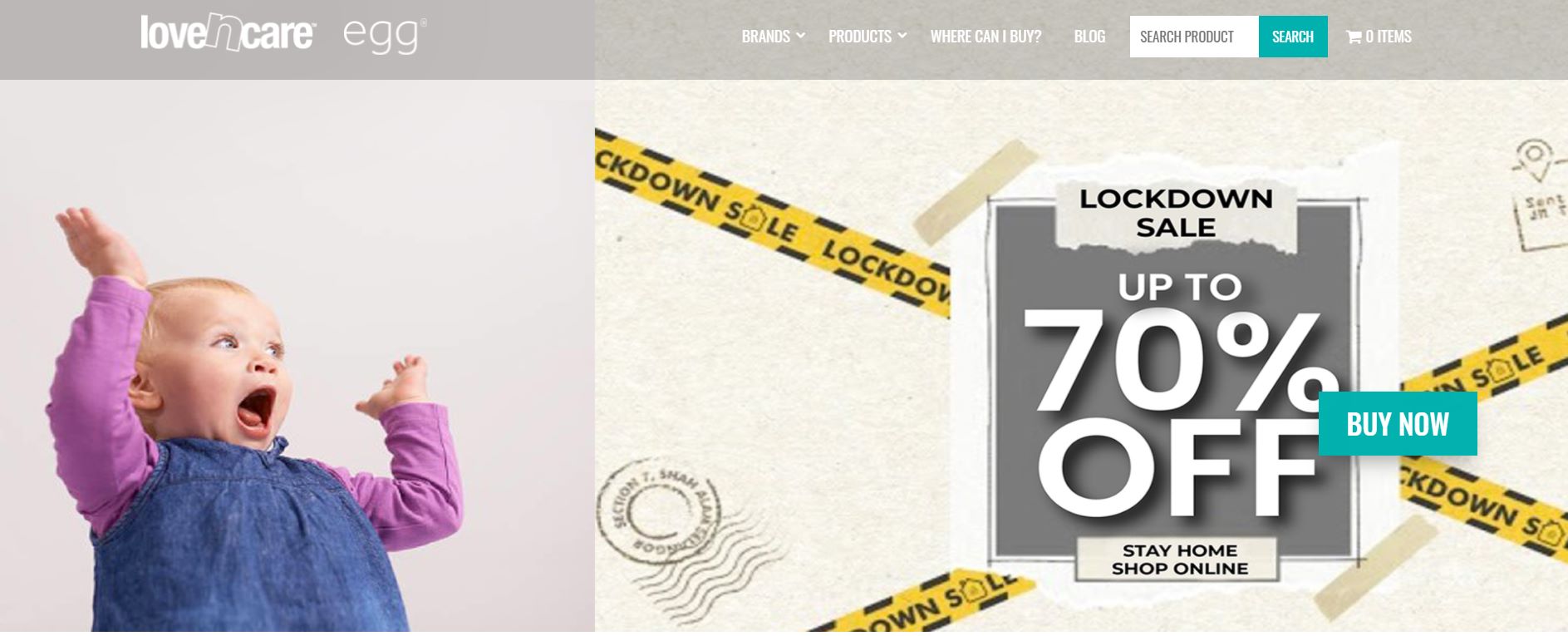 1300 732 590
About Us
Congratulations, you're about to embark on the most amazing journey.
Love N Care has been helping parents in Australia do this since 1987 by developing comfortable and reliable strollers, prams, walkers, cots with drawers, and other baby products that increase your mobility and make your life as a mum or dad just that little bit easier.
Place your order to buy online or shop from our stores and give your baby the best care and loads of love!
1987

 Love N Care First Catalogue 

1995 

Evolving Baby product range 

1999 

Baby Product range and establishment of Love N Care Name and our Hi-Rise Tandem. 

2005 

Sponsorship with Hazem Elmasri and X-trail Jogger 

2010 

Choice award winners – Best Baby Brand

2017 

Egg Stroller, Capella and Mutsy Range included. 
Tidy Babies - Baby Shop Sydney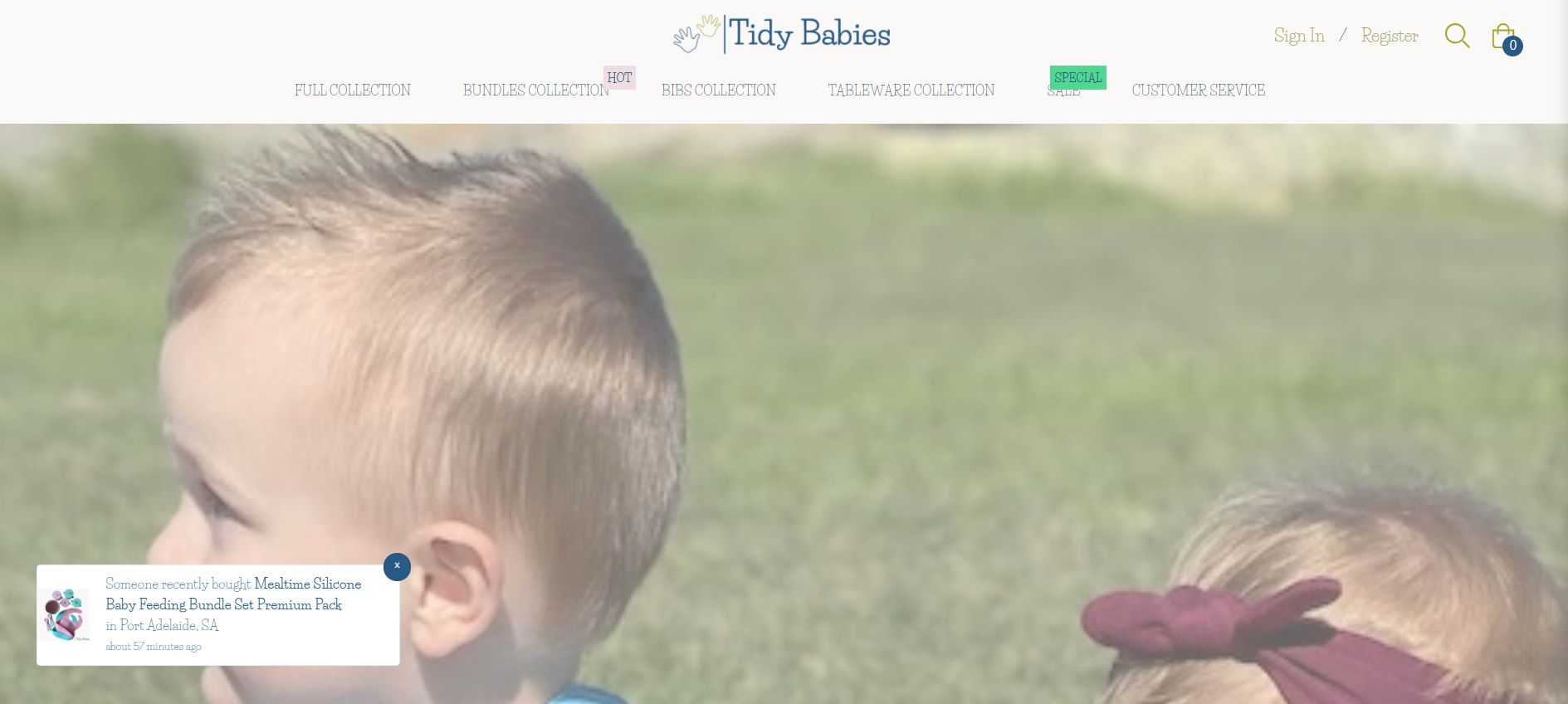 info@tidybabies.com.au
Messy starts with Tidy, and as we know, babies are naturally curious and fascinated by the world as they grow and develop. Things that were unattainable become second nature to them very quickly. They start exploring, experimenting and getting themselves messy. With food, within their environment, during play and out and about. We all know they are messy, but no one tells you how messy until you have your own!
As new parents, when you are trying to tick the list of what you might need to keep your baby looked after, keep your baby safe, engaged and have fun at the same time, you really have no idea where to start.
You walk into a baby shop for the first time with the purpose of getting everything on that list, you are immediately overwhelmed by the choice and the amount of decisions you need to make. Things exist that you never knew existed or how to use them. You get excited by the proposition of what to buy to set up your child's life.
With that overwhelming experience of catering for your baby, 'Tidy Babies' was established by Indiana and Dmitry as a way to help parents get what they need to keep babies tidy and as mess-free as possible.
Both of us have experienced that overwhelming feeling of being a new parent, trying to find things that work, that are safe, that are practical. It's time-consuming, and you always try to look for something special for your child. Sometimes it's more for us than them!
Our son Nikolai is our inspiration. A boisterous, headstrong 18 months old individual who is a whirlwind of energy and personality. Always curious, always independent, always getting himself messy by exploring the world around him.
Inspired by Nikolai's drive, energy and that messiness of his, we started thinking about how to keep him tidy and be practical, plus have fun doing it.
With that in mind 'Tidy Babies' concept was born. A shop where parents can find safe, practical and unique accessories all in one place to cater for different activities.
With months of planning and research, trialling and experimenting with the range and personally approved by Nikolai, we've created offerings to keep your babies tidy during mealtime, teething time and playtime.
We also wanted to make a unique proposition where some of our range can be personalised. With babies being little individuals, naturally, we want them to stand out, so we've allocated a selection where Classic Cotton Bib can be turned into a personalised stylish accessory with your babies name embroidered. We also have a name print option on Cotton Bandana Bib and Long Sleeve Smock Bib. A small point of difference to make it extra special for you and your baby!
As we grow with your help, we'll continue working on bigger and better offerings to make it that little bit easier for you. We would love to hear your suggestions about what you would like us to stock.
We also welcome our customers to get in touch to provide feedback on their purchases and experience with us.
Thank you for your support and trust in us to keep your babies tidy!
Kauri Kid - Baby Shop Sydney
02 8006 8449
Our Story
The concept of Kauri Kid surfaced in the early hours of the morning, the place where all great ideas come from. Sleep-deprived, milk stained, overtired and struggling to find natural, durable and local baby essentials in one place. 
After spending hours scrolling through store after store, I wanted to create a go-to, one-stop shop for all your natural baby needs. Saving on time, money in shipping and the carbon footprint whilst also supporting local businesses across Australia and New Zealand.
With neutral, earthy colours and luxurious organic fabrics, we know you will fall in love.
 - Allie, Founder of Kauri Kid