If eating vegetables is one of your toddler's least-favourite activities — right up there with sharing toys and taking "no" for an answer — consider this: One of the simplest ways to get your child interested in eating vegetables is to eat yours.
Not convinced it could be that easy? If you've ever caught your child "talking" on your phone or shuffling around in your shoes, you know that toddlers like to do what you do. 
So if you're eating veggies with gusto, there's a good chance your little copycat will eventually take notice — and maybe even take a bite.
Don't get frustrated, though, if she doesn't dig in immediately. 
Count on at least ten exposures before she ventures a nibble of the food. Then allow up to 15 tries before she acquires a taste for it.
Until then, if you're worried your toddler is missing out on nutrients, it's legit to use some smoke and mirrors to get vegetables onto your child's plate while she's developing her palate. 
To that end, here are sneaky ways to get your toddler eating vegetables — even if she doesn't know it yet!
We have a wide range of nursery high chairs for your baby. Check them out here.
Selective Eaters Vs. Picky Eaters
Let's start here. The way we talk about food and food choices has an early and lasting impression on kids. 
Maybe you know this because it's still impacting your opinions and food choices as an adult! 
While we could write a series of posts on why not talk about food or our bodies negatively in front of kids or use fun foods as a reward, we'll stick to veggie talk here.
Labelling a child as a "picky eater" will likely only reinforce pickiness. Extended family members (who your child is around very often) may make frequent comments. 
Hearing "Charlie won't eat this" or "Charlie won't like that" while his grandmother made a separate meal for him all of the time is in no way helping your child become less picky. 
If it is spoken about at all in front of your child, maybe say "they're selective right now", or that they're "learning this food" if they aren't in love with it yet.
Why Eating Vegetables Is Important for Children
Vegetables give your child energy, vitamins, antioxidants, fibre and water. They help protect your child against chronic diseases later in life, including heart disease, stroke and some cancers.
A healthy diet means eating plenty of vegetables, plus a wide variety of foods from the other main food groups.
The Australian Dietary Guidelines recommend that children aged:
1-2 years should have 2-3 serves of vegetables each day

2-3 years should have 2½ serves of vegetables each day

4-8 years should have 4½ serves of vegetables each day.
If your child finds it hard to eat enough vegetables, it's important to keep encouraging them. If you help your child develop healthy eating habits now, it sets up healthy habits for life.
How to Get Your Picky Toddler or Child to Eat Vegetables
If your toddler turns up her tiny nose at vegetables, try using these tips — and yes, tricks — to boost her interest.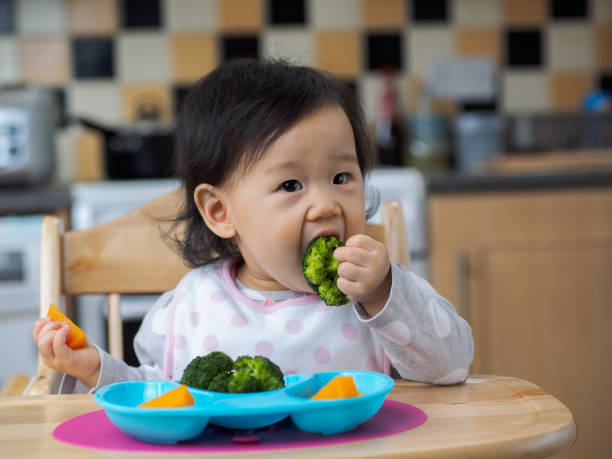 Set a Good Example With Vegetables
Your child learns about food choices from you, so the best way to encourage your child to eat vegetables is to let them see you eating and enjoying them yourself.
Family meals are an excellent time to teach your child about healthy eating, including eating vegetables. 
Family foods like stir-fries, curries, roasts and pasta all taste great with more veggies. A bowl of salad on the side is a quick and tasty option too.
If your child sees you and their siblings filling plates with vegies to enjoy, your child will probably want to do the same.
Keep Offering
Sometimes, it may feel useless to put the broccoli on their plate when you "just know" they're going to toss it to the side or ignore it. 
But, one day, they'll taste it… and maybe spit it out. Then, the next time perhaps they chew it… and again spit it out. 
Eventually, with most foods, they'll probably wind up gobbling up the two trim pieces you put on their plate and then whine for more as if you should have known they'd want a ton of that food! 
Don't offer an entire portion, just a piece or two with a meal they're comfortable with. 
That way, food waste isn't an issue, and they don't get nervous seeing an overwhelming amount of food. 
Be sure to switch up preparations, too, cause that can make all of the difference.
Prepare Them Together
Preparing food together is another great way to get toddlers to eat veggies because when kids are hands-on, they feel like they've had some control. 
They'll be way more interested in something they had a part in creating – and saw from start to finish – than something you made behind the scenes and just appeared before them.
Start with something as simple as them adding spinach to a smoothie and progress to letting them stir chopped veggies in a bowl with oil, salt and pepper. 
Depending on their age, understanding of a hot stove and desire to listen, have them toss a few pieces of veggie into a pan to cook.
There are countless little tasks you can give them when you make meals, sides, and snacks. Sometimes it makes cooking a little messier, but in the long run, they are learning excellent skills and hopefully tasting new foods with more excitement, too!
Involve your child in the prep work. The more you expose your child to vegetables, the more excited she's likely to be about them. 
Recruit her help when you're shopping for vegetables (or growing them in the garden), washing them in the kitchen sink or sprinkling them into salads and pasta.
My Baby Nursery has the best range of high chairs for your baby. Check them out here.
Keep Trying With Vegetables
It's normal for children to say they don't like some vegetables when they first taste them. If your child doesn't like a particular vegetable, try offering small amounts of the vegetable with another healthy food that your child likes. Also, keep encouraging your child to try and taste vegetables.
Your child will probably change their mind about vegetables eventually. Some children need to try a new food up to 10 times before they accept it and another ten times before deciding they like it.
Use Praise When Your Child Tries Vegetables
If you praise your child each time they eat or try vegetables, they'll be more likely to eat vegetables again.
Praise works best when you tell your child exactly what they did well – for example, 'Peri, I love the way you tasted your pumpkin and broccoli!'
Try not to let praise become the focus of the meal, though. You aim to encourage your child to eat vegetables because your child likes them, not because your child wants praise and rewards from you.
Punishing your child for not eating vegetables can turn vegetables into a negative thing for your child. 
If your child refuses to eat their vegetables, try not to make a big deal about it – try another time again. 
It's best to take your child's meal away after about 20 minutes or when everyone else has finished eating.
It's not a good idea to use food as a bribe. For example, avoid saying, 'If you eat your broccoli, you can have some ice cream for dessert'. 
This can make your child more interested in treats than healthy foods. It also suggests that eating healthy food is a chore. And it can encourage overeating.
Get Your Child Involved in Cooking With Vegetables
If you get your child involved in planning and cooking family meals with vegetables, they're more likely to want to eat the vegetables they've helped to prepare.
For example, you could let your child:
choose vegetables for dinner when you do the shopping

put chopped vegetables in the steamer or saucepan before you cook them

arrange sliced capsicum, tomato and mushroom on a pizza base

wash and toss salad leaves.
Older children can help with grating or chopping vegetables when you feel they can safely handle sharper kitchen tools.
Take children shopping with you when you can—seeing many different vegetables can make children more curious to try them.
Offer Vegetables as Snacks
Vegetables make great snacks. If you stock up on vegetables for snacks and limit unhealthy snacks in your home, your child will be more likely to choose vegetables when they're hungry.
Here are some vegetable snack ideas:
Keep a container of chopped vegetables, like cucumber, carrots or capsicum, in the fridge. A bowl of cherry tomatoes on the bench is another option.

Offer older children frozen baby peas, but note that these can be a choking hazard for younger children.
Serve vegetable sticks with dip, natural yoghurt, cheese or wholemeal pita bread.
Go for Vegetable Variety, Taste and Fun
Try to choose veggies of different shapes, colours, textures and tastes – the more variety there is, the more likely your child will find something that they're interested in eating. If you serve new vegetables with food your child enjoys, the entire focus of the meal isn't on fresh vegetables.
Remember that taste matters. For example, you could try roasting veggies with fresh herbs and lemon juice or finely sliced broccoli in a stir-fry or on a pizza. This will probably appeal more to your child than large steamed pieces of vegetables.
You can have fun with vegetables too, especially with younger children. For example, you might sometimes like to make a vegetable face for a snack plate – grated carrot for hair, cherry tomatoes for eyes, a bean for a nose and capsicum strips for a mouth.
Get Vegetables Into Meals in Other Ways
In the short term, you can disguise vegetables in foods you know your child likes to eat. For example, you could include pureed or grated vegetables in pasta sauce or soups.
This won't change your child's behaviour and thinking about vegetables, though, so it's also important to regularly give your child vegetables in their original form. 
When you do this, your child has the chance to get familiar with and learn to like different tastes and textures.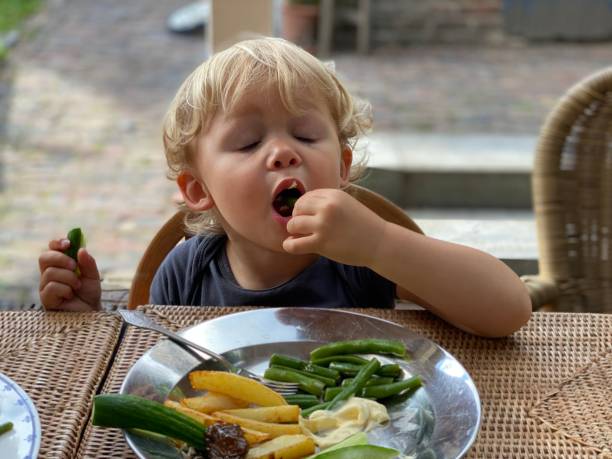 Add Veggie Purées to Kid-Friendly Meals. 
Puréed vegetables can slide easily under a toddler's taste radar if you add them into mainstay meals. For instance, mix cauliflower or yellow squash purée into mac 'n cheese or pizza sauces, or tuck it between lasagna layers.
Get Inspired by Stories. 
Scramble puréed broccoli into eggs for some "green eggs" with her ham or serve up "Hungry Caterpillar" tortilla rollups.
Make "veggie Patties." 
Substitute hamburgers for veggie burgers made in part with diced veggies — it counts as a vegetable! Or, you could shred zucchini, beets or carrots and mix them into meatloaf, meatballs and burgers.
Trade Pasta for Vegetables. 
Instead of noodles, serve up spaghetti squash and top with a healthy sauce. Or, if you have a spiraliser, you can make zucchini, cucumber, beet or sweet potato noodles. (Never underestimate the appeal of fun colours!)
Trick Out Your Tacos. 
Trade taco meat for packaged veggie crumbles. Your whole family may not be able to tell the difference.
Bury Veggies in Baked Goods. 
It may seem like a mismatch, but you can slip a bushel of veggies into sweets without anyone noticing.
Substitute white-bean purée for some of the butter in cookie recipes; bake a package of puréed frozen spinach into brownie mix (honestly, it tastes good!); 
Add shredded zucchini or carrots to sweet muffins and bread; hide beets in chocolate cake, puréed carrots and squash in yellow cakes, or mix pumpkin into pancake batter. Who said baked goods couldn't be good for you?
Make Food Art. 
Ants on a log. Cucumber snakes. Banana trees. Shaping foods into fun "food art" can pique your child's interest in eating. At this age, playing with your food is a good thing!
Make a Veggie-Juice Sipper. 
Add carrot juice to apple juice and serve it as is, or blend the mixture with ice to make a shake (add yogurt to turn it into a veggie-fruit smoothie). 
Make Frozen Pops. 
Even more fun: Pour the juices into ice-pop trays and freeze your ice pops. Your toddler never has to know how healthy her icy treat truly is.
Hide Vegetables in Food
Hiding vegetables is never a good idea, nor is it a long term solution, as it can lead to mistrust about food and being tricked into eating something.
Toddlers need to learn about vegetables in their whole form early on to begin to accept them.
It is helpful to add extra veggies to a homemade pasta sauce or pureed veg into a smoothie – but our toddlers are not learning to enjoy the unique flavour of each vegetable. They are not interacting or making connections with the actual vegetable.
Other Tips for Getting Vegetables Into Toddlers
Try to recognise your insecurities and hang-ups about new and different foods. It's so important that we recognise our hang-ups about food to appreciate how daunting a plateful of vibrant vegetables might be for a toddler.

Never ask your toddler to eat, try or taste. Go back to basics and start at the very beginning having fun with discovering food and exploring the origin, shape, colour, texture or smell – there are lots of different ways to experience veggies

Children do not like surprises. Prepare children for what's to come on their plate. You can do this by letting your child help you get the meal ready, wash the vegetables for you, sing about the vegetables, or count the pieces of chopped veg prepared to be cooked.

Use simple picture books or wall charts about vegetables to look at and talk about with your child. How many do they know or recognise? Where do they grow? 

Visit a fruit or vegetable farm, greengrocers or local supermarket vegetable aisle. Point out all the different varieties of a particular product. Are there any you don't recognise? Choose something new to take home and explore, but do not talk about eating it!
Best Vegetables for Toddlers and Young Kids
The best vegetables for kids are chock-full of fibre, vitamins, minerals and antioxidants. 
Bonus: Many of these foods don't have a super-strong flavour — perfect for picky eaters. Here are a few to serve up:
Broccoli

Carrots

Cauliflower

Celery

Cucumber

Squash

Sweet peppers

Sweet potatoes

Tomatoes
Healthy Vegetable Recipes for Toddlers and Kids
Try these veggie-packed meal ideas for picky eaters:
Cucumber snakes: Cut three cucumber slices in half to make six half-moon shapes. Arrange the slices to create a "snake" body and add a piece of shredded carrot to create a tongue.

Veggie pizzas: Top a mini cauliflower pizza crust with tomato sauce and shredded cheese, then sprinkle on sliced red and yellow bell peppers, mushrooms and broccoli.

Ants on a log: Put one tablespoon of peanut butter on a celery stick.

Potato face: Cook a baked potato or sweet potato and let your child "decorate" it with vegetables of her choosing — cherry tomatoes for lips, broccoli for earrings and olives for eyes (and a little shredded cheese for hair).

Vegetable caterpillars: In a row, alternate different-coloured chunks of cooked vegetables — zucchini, cucumber, bell peppers and squash. Or, make a rainbow-coloured caterpillar by adding hunks of cherry tomatoes and purple beets.

Veggie quesadillas: Pile sliced bell peppers, cooked black beans, carrots and shredded cheese onto one half of a tortilla. Fold the tortilla over, and cook on each side for a few minutes until lightly browned.
What Do You Do When Your Toddler doesn't Eat Vegetables?
Do not react or respond negatively in any way at all. Continue to offer a wide range of vegetables in different shapes and colours at every snack and mealtime.
Should I Force My Toddler to Eat Vegetables?
We should never use force about feeding our toddlers. Bribing is never a good idea either, as it sets up the food in question to be demonised further. Forcing your toddler to eat their greens to get some chocolate puts even more dislike on the greens in question.
Be patient and continue to offer vegetables even if they are refused; it can take up to 15-20 offerings before your toddler begins to accept.
Why Do Toddlers Hate Vegetables?
As babies, we are born with a preference for sweetness due to breast milk being sweet, and babies need to learn to like the bitter flavour of vegetables.
Vegetables can also require more chewing. A hungry toddler may be less inclined to chow down on fibre-rich vegetables when simple carbohydrates can be consumed quickly and provide the necessary instant energy to fuel their play.
Looking for a baby high chair? Look no further. My Baby Nursery has you covered.