The best cot beds suit a family's budget and tastes and match their child's stage of development. Cot beds are a brilliant buy because, unlike a conventional cot, your baby can sleep in a cot bed beyond toddlerhood when you can convert it to a big kid's bed.
But how do you work out which are the best cot beds to consider buying? And how do you choose the right one for your baby or child?
All the cot beds in this lineup are suitable from birth. Our testers tried them out over several weeks with their babies, aged between 12 weeks and two years old.
To help you decide which is the best cot bed for you, read on to determine what our testers thought of each one they tried.
Here are some other considerations and features to consider when purchasing the best baby cot for your little one:
Adjustable Mattress heights: Most cots have adjustable height positions, so when your baby is young, you can gain easy access to them. 

Storage

Cot-top changer

Teething rails

Drop-down sides

Travel cots
A cot will probably be your baby's bed until two or three years old. It should be strong and sturdy without cracked or broken slats, with no jagged points or edges. If you buy a new cot, it should conform to BS EN 716-2:2008, as all new cots on sale have to meet this standard.
Best cot beds overall: Great Little Trading Company Little Wren Cot Bed. 

Best premium cot beds: La Redoute Willox Adjustable Cot Bed. 

Best budget cot beds: Mack & Milo Amburgey Cot Bed with Mattress. 

Mamas & Papas Franklin Cot Bed.

SnüzKot Skandi Cot Bed. 

Mokee Mini Cot Bed. 

Boori Oasis Oval Cot.
Cot beds tend to vary more by design, but on average, the size of a cot bed tends to be around 145 x 75cm. Whilst a standard cot should be big enough until your child is about 2, the main benefit of choosing a cot bed is that it will be suitable for your child until they are about 4 or 5.
Cots are a contained sleeping environment where children can be left to rest. Cots must be safe and secure. You do not have to buy the latest or most expensive model of the cot.
Should I choose a cot bed or a cot? 
Once your baby grows out of a Moses basket or bassinet, which most parents use for a newborn, they will need to move into a cot or cot bed. There are pros and cons to each.
Cot beds 
A cot bed has removable sides and a removable end panel that can be converted into a toddler-sized bed.

Your child could outgrow an old-fashioned crib or cot by the time they reach one or two years old. The big advantage of a cot bed is that it will last years longer than a cot because you can use it as a junior bed. 

Most cot beds will last until a child is seven or eight years old. But this will depend on their weight, and how much wear and tear they put the bed through.

Cot beds are larger than cots – generally around 70cm wide – so they give your baby a bit more space to roll about and stretch their arms. They're not necessarily that much more expensive.

If you have the space, it might make sense to buy a cot bed from the outset, as it will last longer, and you can avoid the hassle of having to buy two separate pieces of furniture. 
Cots
Cot prices start at around $70 for a basic cot, up to around $700 for a luxury solid-oak model. 

Cots are generally smaller than cot beds – around 50-60cm wide – so if your baby's bed is in your room until they are six months old, as is the current advice, a cot may fit more easily if space is limited. 

Sizes do vary, though. Cots designed to fit 'standard-sized' cot mattresses are a few centimetres narrower than cots designed for 'continental-sized' mattresses, although they're often a similar length (around 140cm). Measurements should be displayed on the cot label. 

You can buy bedside cots with a removable side so that you can position them right next to your bed. You can adjust the base, so your baby's mattress aligns with yours, making night-time feeding easier. 

If you're planning on more than one child with a small age gap between them, a cot may be more suitable, as you'll more than likely use the cot for the new baby and buy a single bed for your older child. 
Cot and cot bed types
A standard cot or cot bed – rectangle shape, fixed sides – isn't your only option. You could choose to go for a drop-sided or sleigh cot or cot bed or one with a drawer or storage built-in.
Drop-sided 
Some cot beds and cots have one side rail that can drop down to give better access for getting your baby in and out.  
Drop-sided cot beds and cots are particularly useful if you're short or have a larger build, as the drop-side makes it easier for you to get your baby in and out.  
There are different ways to lower the drop side. Some drop-sided cots and cot beds have a nudge-and-lift mechanism, which is helpful because you can operate it with one hand while you've got your baby in the other. 
Others have catches, a trigger mechanism or a foot pedal. There has been some controversy over drop-sided cots in the USA. The drop-side and the back rail are usually removed when converting a drop-sided cot bed into a junior bed.  
Sleigh 
Sleigh cot beds are popular with parents. The name comes from their wavy design, making them stand out from their straight-sided counterparts.  
When you're buying, check that the sleigh-shaped ends, which are usually bolted on either side of the head and footboards, don't create a dip or groove between the pieces of wood where your baby's clothing could get caught.  
Sleigh cot beds can be either drop-sided or have fixed sides. The side rails will be removed to turn the cot into a bed. 
Cot beds with drawer 
Some cots and cot beds utilise what's essentially dead space beneath the base and the legs by including a drawer. A cot bed with a drawer might be ideal for you if your baby's nursery is small and lacks storage space.  
It's possible to get sleigh cot beds and cots with drawers.
Size 
If space is limited, you may decide to go for a cot rather than a cot bed. A cot is the smaller of the two, measuring approximately 120 x 60cm. 
Cot beds come in different designs so that that size can vary, but the average is around 140 x 70cm.
Things to check before you buy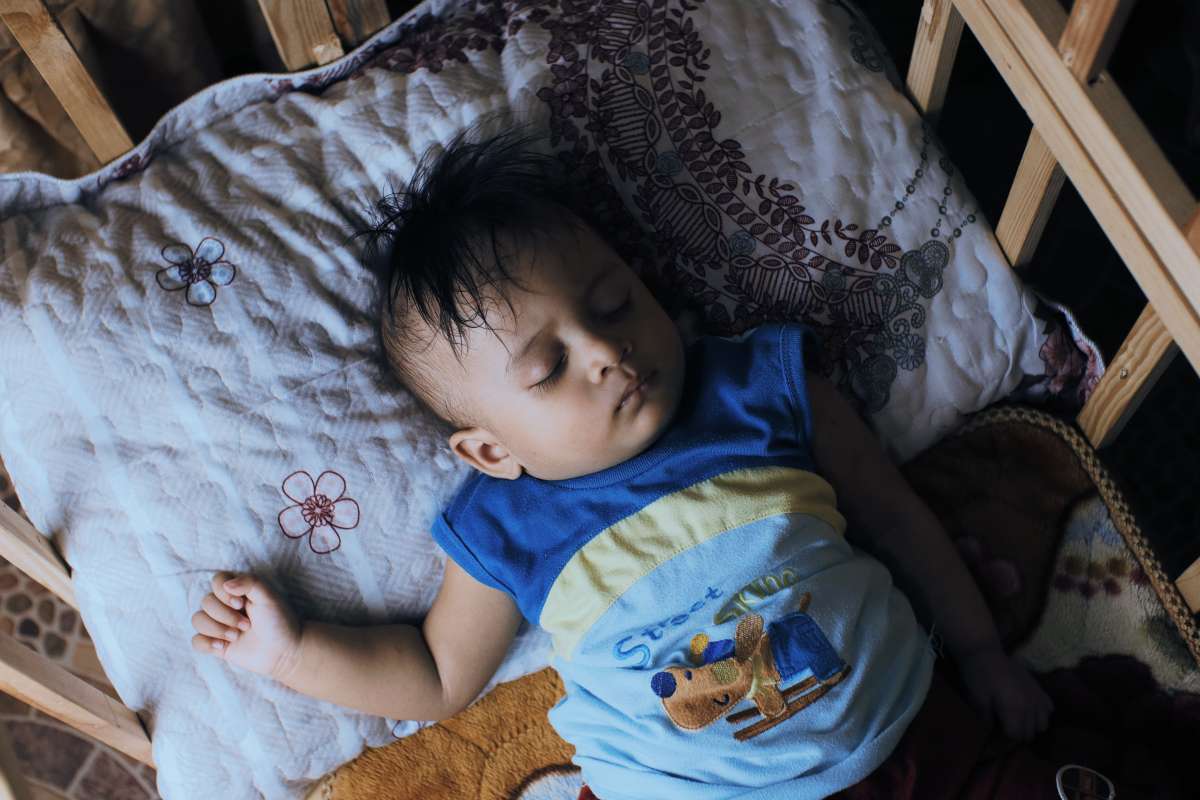 The benefit of a cot bed is obvious; it converts from a cot to a bed. This means you won't need to buy a toddler bed when your baby outgrows the cot and is ready to start sleeping in a big bed. In other words, you'll save money. And who doesn't like doing that?!
But the other advantage of a cot bed is that it can help your little one transition from sleeping in a cot to moving into a bed. It's a big change for a little one, and the familiarity of going to sleep in the same piece of furniture can help smooth this important transition.
Before you decide which is the best cot bed, remember that your baby should sleep in the same room as you for the first six months of life. That means it's important to check the dimensions of the cot bed to ensure it will fit in your bedroom if you plan to use it from birth. Some cot beds are bulkier than others so if you're short on space in your room, choose one of the more compact models.
Alternatively, you could use a Moses basket beside your bed for the first six months and then move your baby into a cot bed in the nursery. Finally, consider the design and style of your baby's room. Since a cot bed will be in use for longer than a standard cot, choose one that will suit the look and feel of your little one's first bedroom.
Height-adjustable base 
Most cots and cot beds have a base that you can adjust as your baby grows, usually with three positions.  
When your baby is small, the mattress sits on the highest base level for the first few months so that you can lift your baby in and out easily. 
The instructions usually recommend that the lowest position is the safest and should always be used as soon as your baby starts to move about a bit and pull themself up, which can be about eight months old.  
You may think it's pointless going for a three-position cot bed in this case, but it's normal to use the second-height position for the bed mode, as the lowest one can be a bit low for a bed. With a choice of several heights, you can adjust the bed to suit your child, however old they are. 
Cot mattress
Don't forget, whatever cot or cot bed you go for, it's crucial to get the right type and size of the mattress to go in it. The Lullaby Trust, which promotes advice on safer sleep for babies, recommends that you buy a new mattress or, if using a second-hand mattress, carefully check that it is clean, dry and free from cracks or tears beforehand. 
Your mattress should be firm, with no sagging, and should fit the cot or cot bed snugly with no gaps. Read more about Cot mattress and baby bedding safety in our dedicated guide. 
Mattresses are normally sold separately from a cot or cot bed, giving you a choice of different types, but the manufacturer will recommend which size you should use. See our pick of the best cot mattresses.  
Size 
Cot beds are generally bigger than cots, and although there's a lot more variation in sizes, most cot beds are quite similar: around 146cm long and 77cm deep, and between 90cm and 105cm tall at the head end. 
Cots are generally around 50-60cm wide and 140cm long. Most cot beds have side rails that are around 84-87cm high in the highest position, which makes them challenging for shorter people to reach over to lay a sleeping baby down. 
A cot bed with a drop side will reduce this height, making it easier to reach your baby when the base is in the lowest position. Double-check the cot bed you choose will fit in your bedroom (where your baby is meant to sleep for the first six months), as well as where you plan to put it in the nursery. 
Teething rail 
Munching on the edge of a cot is a habit many teething babies relish. Choosing a cot with a teething rail – a protective covering on the side edges of the cot – helps to protect your cot bed and your toddler from damage caused by each other. 
Casters 
Some cots have casters or mounted wheels – handy if you want to move them into a different room. It also makes for easier cleaning under and around the cot. 
Colour 
White and grey are the two most popular colours if you don't want to go for a standard wooden finish, but you can also get blue and pink cot beds and a host of other colours.  
Wood or not? 
Check whether the cot or cot bed you're buying is made from wood or MDF, an engineered wood product. 
You'll generally pay more for a wooden cot bed than for MDF, but the cost will depend on the type of wood. For example, a plywood cot will cost less than one made from real mahogany.  
Remember to check whether the 'mahogany' on the label is real mahogany or a finish on top of MDF.  
Second-hand cot safety
When it comes to the safety of your baby, you can never be too careful – especially when creating a safe sleeping space. Using a second-hand cot could save you some cash, but there are some essential safety tips to read first.
Do:
get a copy of the original instructions – many can be downloaded from the internet 

buy a new mattress for the cot

check whether the cot conforms to safety standards – look in the instructions for a BS number, or check for markings on the cot itself

make sure it's in good condition, and nothing is broken or worn out 

measure the bar spacing: the bars should be no more than 6.5cm apart, so your baby can't get stuck between them

check that there's at least 50cm between the top of the mattress and the top of the cot

check there are no protrusions on the top rails where your child could catch their clothing or get anything caught around their neck

make sure the drop-side mechanism works smoothly and stays reliably in the 'up' position

check that the drop-side is secure and can't be lowered by a child

check there are no footholds, cut-outs or ledges in the sides or the ends that could help a baby climb out

make sure that the mattress is the right size – there should not, at any point, be a gap of more than 3cm between the mattress edge and the cot

remove any transfers on the inside of the cot because they could come off and become a choking hazard.
Don't:
accept a cot unless it comes with the original instructions, or you can get a copy of them from the manufacturer; they contain important advice for using the cot safely

use an old family heirloom, as it probably won't meet current safety standards

use a worn, dirty or damp mattress

choose a mattress with handles – they may trap your baby's hands or feet

stick decorative transfers and labels on the inside of the cot or anywhere else your baby can reach.
What Cot Design Is Best?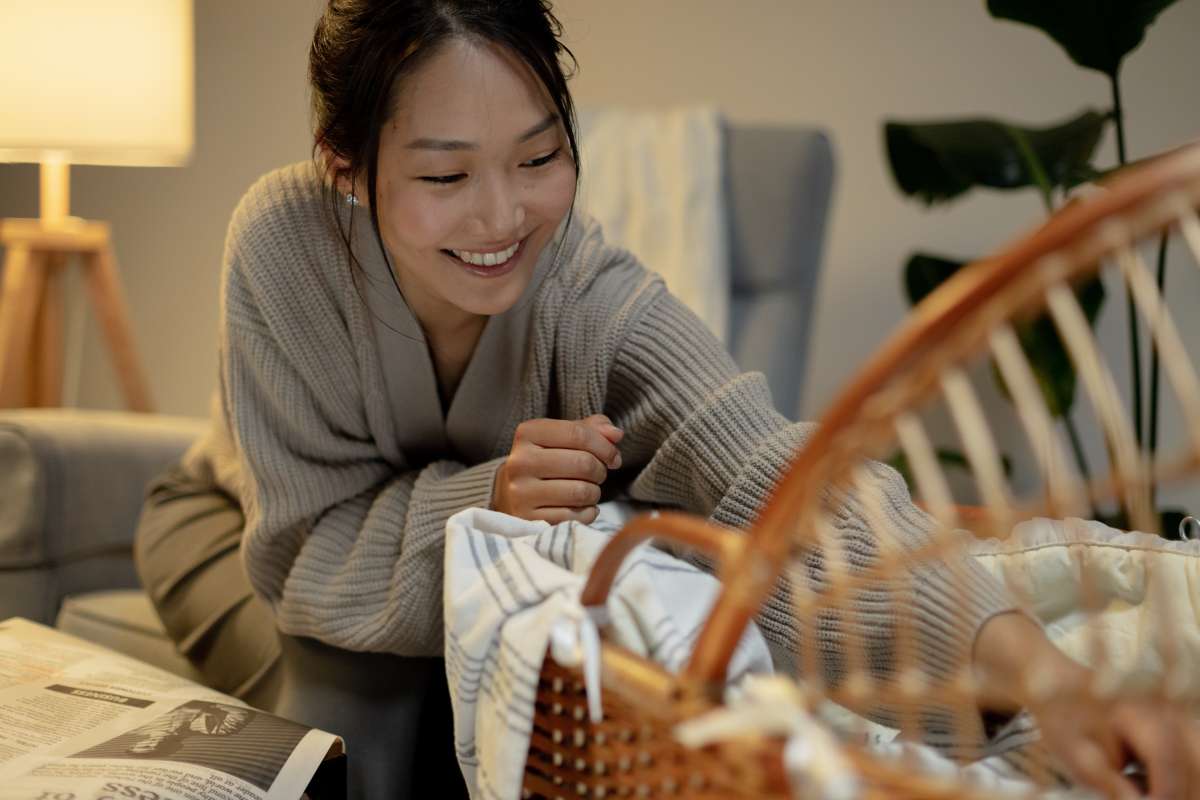 It is worth thinking about the available space before choosing your cot. It is advised that your baby sleeps in the same room as you for the first six months, so if you are limited to space, a cot will be better than a cot bed. 
Here are some other considerations and features to consider when purchasing the best baby cot for your little one:
Adjustable Mattress heights:

 Most cots have adjustable height positions, so when your baby is young, you can gain easy access to them. As they get older and more mobile, you can drop the base down, so they can't climb out of the cot. Three height options are fairly standard.

Storage:

 Some cots come with under-bed storage, such as large pull-out drawers to store baby's things, which can be useful if limited space.

Cot-top changer:

 This is a changing unit that slots on top of your cot and is used with a change mat. This can be a great space-saving feature.

Teething rails: 

These are plastic coverings that cover the rails and prevent damage to your baby's teeth (and his cot!).

Drop-down sides:

 As you adjust the base to a lower position, if you suffer from a bad back, a drop-side cot, where the sides slide or fold down, means you can lift your baby out with ease. It is worth noting that these have been banned in the US since 2011 after some accidents, but these remain legal in the UK. 

Travel cots: 

Whether it's a weekend away with friends or a trip abroad, a travel cot is a bed your baby can sleep in when you are away from home. There are lightweight, tent-style or pop-up cots and more traditional and robust, collapsible travel cots, which are more robust but heavier.