You know why it's so important to put your baby in her car seat, no matter how short the drive: Car crashes are one of the leading causes of injury and death among children, and most occur within 25 miles of home (and not, as is often believed, on highways). A crash at even 30 miles per hour creates as much force as falling from a three-story window. But using a car seat —especially the first time —can be tricky. How do you know it's installed correctly? And how can you protect your newborn's floppy head? Here's everything you need to know to ensure you're using your little one's car seat as safely as possible.
One of the most important jobs you have as a parent is keeping your child safe when your child is riding in a vehicle. Each year, thousands of young children are killed or injured in car crashes. Proper use of car safety seats helps keep children safe. But, because so many different seats are on the market, many parents find this overwhelming. If you are expectant parents, give yourselves enough time to learn how to properly install the car safety seat in your car, before your baby is born, to ensure a safe ride home from the hospital.
​The type of seat your child needs depends on several things, including your child's age, size, and developmental needs. Read on for more information from the American Academy of Pediatrics (AAP) about choosing the most appropriate car safety seat for your child.
An infant car seat is designed for infants. This is usually from birth until your baby is at least two years old and reaches the weight limit for the seat. When he or she will likely need a bigger seat. These car seats are designed to ride in your car in the rear-facing position only.1 
The infant car seat can also double as a carrier. (Don't place the car seat in the grocery cart—even if it clicks, it's not designed for that and is very dangerous. Instead, consider a sling or other carrier.) Many models of this infant car seat can either be strapped into the car directly or into a base that stays strapped into the car seat. Multiple bases can be purchased for multiple cars.
An infant car seat can last you six to 24 months, depending on the growth rate of your baby and the size of the car seat. Some babies outgrow the infant car seat faster than others. Once your child reaches the maximum weight OR height limit for the seat, it's time to switch to another type of car seat designed for older babies and toddlers.
Getting a new car seat doesn't necessarily mean that you should turn the car seat, so it's facing forward. You'll want to keep your child rear-facing as long as possible because it's safer. The National Highway Traffic Safety Administration recommends keeping your child in a rear-facing position until he or she is three years old or has reached the height or weight limit designated by the car seat manufacturer.
Car seats are almost a necessity for babies who are three years of age or below. Even the law asks parents to use car seats and booster seats until the age of 12 years for their children. Suppose you have got to run to a supermarket to purchase some groceries, it will be extremely difficult for you to carry your child along. They may slip in your arms, or there are chances that you may even drop the groceries. So, car seats provide you with the convenience of leaving your child in the car for some time while ensuring their safety during your absence.
Since protecting your child is one way of showing love to them, by using car seats, you can turn trips in the car into dreamlike journeys for them. Child car seats are designed in such a way that they are perfect for small children to fit in. They make for the most useful device to transport little children travelling by car. They have a structure that is proportionate to the size of your child, along with a security system that protects them in cases of severe side impacts. A safety harness is also there that is more than useful for smaller babies. So, having such car seats for your babies helps you drive confidently without worrying about your child because you know they are safe inside their car seats.
Looking for a car seat for your baby? Look no further. My Baby Nursery have a wide range for you to choose from.
Car Safety for Children: What you must do?
Parents need to set a good example for their children by always wearing their seatbelts every time they sit in the car. Children always learn from their elders.
Once you are inside the car with your children, ensure that all seatbelts are fastened before you begin to drive. You must not start driving while your child's seat belts are twisted or undone. If your child has a habit of removing their straps or undoing their buckles, keep a watch over them through the rearview mirror. In case you find their belt unbuckled, stop the car and buckle up the belt again while telling them its importance.
You can even reward your child or give them incentives for not touching their straps and leaving their buckles alone. It is one sure way of discouraging your child from playing around with the straps and buckles.
Check out our range of the best baby car seats for your baby.
Where your children must sit?
If your child is four years or below, they must not sit in the front seat while travelling, particularly if your car has more than one row of seats. Remember, it is always safe to seat your child in the back seat. However, if all other seats are occupied than they can be seated in the front but using a booster seat with a secure seatbelt. Do not carry your child on your lap as you sit in the car. It is unsafe even if you are wearing the seatbelt.
Important stats you should know.
According to the Center for Disease Control and Prevention, there are more than 650 children under the age of 12 who died as occupants in crashes involving motor vehicles and more than 140,000 children were also injured in 2011 in the U.S.

They also conducted a study from which they discovered that more than 618,000 children between the ages of 0 – 12 rode in vehicles without using a booster seat or child safety seat in just one year. And out of all those casualties, 33% of the toddlers were not safely buckled.

According to the National Highway Traffic Safety Administration, a child under the age of 13 is involved in a car accident every 34 seconds. They also made a statistic that demonstrates there are more than 1,700 fatalities and 840,000 injuries every year from vehicle crashes off public highways.
All those facts above clearly show that injuries from car accidents are the primary source of death among toddlers and children in the U.S. It also demonstrates how the proper use of a car seat that's suited for your child's weight, height and age is fundamental to the safety of your child when travelling by car. The risk of car accidents is also reduced, and as a result, more and more lives are saved.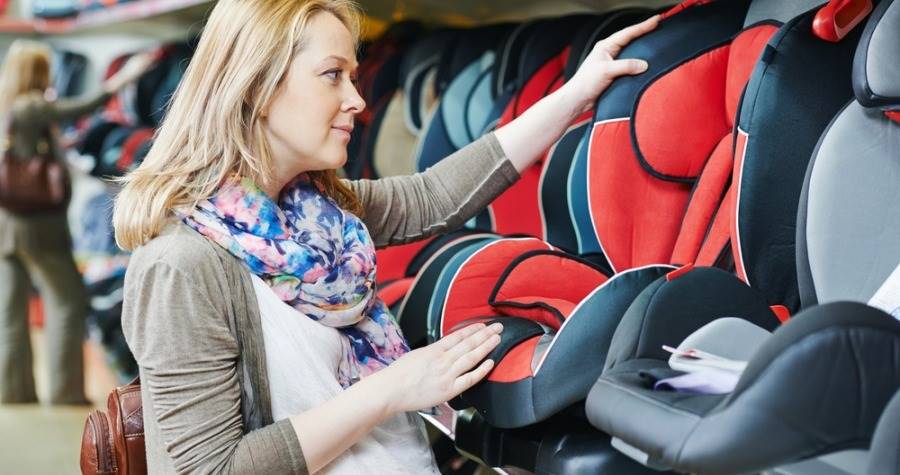 How to choose a car seat?
It is advisable, and it is good if you prepare yourself and your car for a car seat before you have a baby in your life. Install the car seat for newborn or infants well before your due date and ensure the proper fitting and safety for your little one.
Choose a car seat of good quality, and it should be secure for your infant or a small child.

The base of the car seat can easily be installed in the car. Look out for a 5 point harness seat as they are very safe. Before buying a car seat, make sure that the baby car seat has a latch to secure it in place.
As per practice, a 45-degree angle installation is the safest for your baby, before buying a car seat check that there is an indicator at the base which would help you view the angle of installation. There are a number of car seats available in the market. You can select the car seat that can be detached easily and fit into baby strollers with just a simple click. A padded seat which has head support and soft cushions would be comfortable for your baby, especially during long travel.

Select the car seat with a fabric which has good moisture absorbing capability, removable and also easy to clean so that you can wash it occasionally.
There are car seats with a canopy to protect your baby from the sun so you can go for it.
Keep Your Child Happy In The Car
Knowing that your children are bored or unhappy inside their car seats can make driving a little difficult for you. So, it is important to always have a chat with them as you drive. Talking is another way you can distract them from the straps and buckles around them. You may discuss how beautiful the weather is, point out sights to them through the windows, or even sing along with them.
For good behaviour, always praise your child. If you know that they do not like sitting in their car seats, yet they do not take off the strap or undo the buckle, praise them for their good behaviour. For a subtler approach, you can tell them that you like to drive the car when they keep their seatbelt fastened.
Keep in mind that your child may need attention anytime. So, stay prepared because you may need to pull over your car any time they are not okay or feel uncomfortable. You can provide them with books to read or hand-held games to play with to make them forget that they are travelling. Ensuring that your child is happy and busy playing with their toys or reading books tucked inside their car seat will mean that they are not distracted by the straps and buckles around them which will allow you to concentrate on your driving.
What about airbags?
When combined with safety belts, airbags protect adults and teens from serious injury during a collision. They have saved lives and prevented many serious injuries. But young children can be injured or even killed if they are riding in the front passenger seat when an airbag opens.
Airbags were designed with adults in mind. They must open with great force (up to 200 miles per hour) to protect an average-sized, 165-pound (75-kilogram) male from injury. While this force is okay for adults and bigger kids, it can be dangerous for small kids, possibly leading to head and neck injuries.
Protect your baby or toddler from air bag injury by following these rules:
Never place a rear-facing infant seat in the front seat of a car that has a passenger-side airbag.

Place child safety seats in the back seat.

If you have no choice and must place a child in the front (that is, if your car is a two-seater or if the car seat will not fit in the back seat), push the passenger seat as far back as it will go.

All kids under 13 years of age should always ride in the back seat, and the middle of the back seat whenever possible. All passengers must have their seat belts buckled.

A law allows carmakers to install a manual cut-off switch that temporarily disables a passenger-side airbag. As recommended by National Highway Traffic Safety Administration, if you must place a child in a booster seat in the front seat and your car has this cut-off switch, use it to disable the airbag for the entire ride. Be sure to switch the airbag back on when you remove the booster seat.
My Baby Nursery has a wide range of baby car seats to help you choose.
Prevention and Solution
Below are the recommendations proposed by the Community Preventive Services Task Force:
When producing a car seat, manufacturers must meet the safety guidelines proposed.

To help increase awareness of the parents regarding the use of restraints while at the same time decreasing the risk of car accidents that can lead to fatal injuries, then education programs have become very important and helpful in this regard.
In conclusion, it's important to ensure you buy a car safety seat for your baby or child whether you live in a country that has a law which obliges parents and children to use a car seat or not. Because the truth is that accidents happen all the time, and you never know how a car seat can save your child's life in the event of a collision.