Expecting couples tend to make for some excited yet confused shoppers. Putting together a baby's wardrobe can be pretty puzzling and worrying as it is difficult to ascertain the correct size which may perfectly fit a baby.
Also, there are so many types of baby clothes available that selection becomes a task. Buying clothes for a baby is not the same as buying clothes for yourself. It is essential to keep a few things in mind while buying baby clothes so that you may get the best thing for your baby. Online baby product directory at My Baby Nursery.
Most Important Factors to Consider When Buying Baby Clothes
Congratulations! You're going to have a baby.
This baby is the most precious gift you will ever receive. You cannot wait to start nesting, put together the first outfit, and gather the best pieces for the first wardrobe of this new life.
When you buy baby clothes, you want to make sure that your baby will be comfortable and safe in the outfit.
You also want the baby to have all the style and comfort in every piece of clothing you dress them in.
With so many styles, brands, and fabrics of baby clothes in the market, it can be overwhelming to choose the appropriate one for your baby boy or baby girl.
You start to seek out (or is volunteered) advice from your parents, in-laws, neighbours, college buddies, and the person sitting next to you at the OBGYN office.
You then find yourself with an overload of information and perhaps conflicting advice; you end up being simply — more confused than when you first started.
To make buying baby clothes more enjoyable, we listed the six most important factors to consider when buying baby clothes.
We hope to help you make an intelligent and informed decision on creating that very first baby capsule wardrobe for this little being that will be the love of your life. 
Fabric
Imagine a cute baby has joined your family.
Your first reaction is to want to dress your precious baby girl or baby boy up in funky, trendy, bright, and sometimes expensive clothes to complement all the cuteness overload.
However, there are times when those cute outfits come at a price other than money; some babies start to get rashes and other skin irritations.
Many times the fabric of the clothes is the culprit.
Babies, especially newborns, have susceptible skin.
So, when buying baby clothes, most parents would defer to picking out pieces made from cotton. However, there are also alternatives like soy-based fabrics that are sustainable (gentle on the environment) and silky smooth (soft on babies), perfect for baby clothing.
So our recommendation would be to consider fabrics like cotton (especially organic cotton), azlon from soy, and rayon from bamboo.
These fabrics are from nature or derived from natural resources and have good properties to make them a good fit for baby clothes. Avoid bright colours as they may contain fluorescent agents.
Baby clothes made from materials like nylon and polyester may cause skin sensitivity and discomfort because of their inability to take up moisture and regulate babies' body temperature, so they should be avoided. 
Safety
When buying baby clothes, safety is essential and sometimes overlooked by busy parents and families.
Every year, millions of baby clothes are recalled because of failure to meet safety standards. Hence, it is vital to buy baby clothes that don't raise safety concerns. 
Do not buy any baby clothing with decorations like bows, buttons, flowers, and hooks because they can cause choking hazards.
If a piece must contain embellishments, it should be firmly attached. Also, avoid picking clothes with drawstrings and waistbands because they pose strangulation hazards. 
When you buy baby sleepwear, either pick the ones made from flame-resistant fabrics (chemically treated) or snug-fitting to safeguard babies from burns.
This is particularly applicable to baby sleepwear sizes 9-14 months -babies are very mobile during this stage. 
Safety first: no buttons, bows, or ties. Stay away from clothes with tiny buttons, decorative rhinestones, or bows because they can choke risks. Dresses with long ties or that pull tightly around your baby's arms, legs, or neck are also unsafe. Make sure decorations are sewed on tight.

Pick fire-safe sleepwear. Labels on your baby's sleepwear will indicate whether it needs to be worn snugly to be fire-retardant or if the fabric itself is flame-retardant. Flame-resistant materials have specific laundry instructions for you to follow to keep the retardant from washing away. This is one place where secondhand items may not be a good choice — if they've been washed incorrectly, they've lost their effectiveness.
Size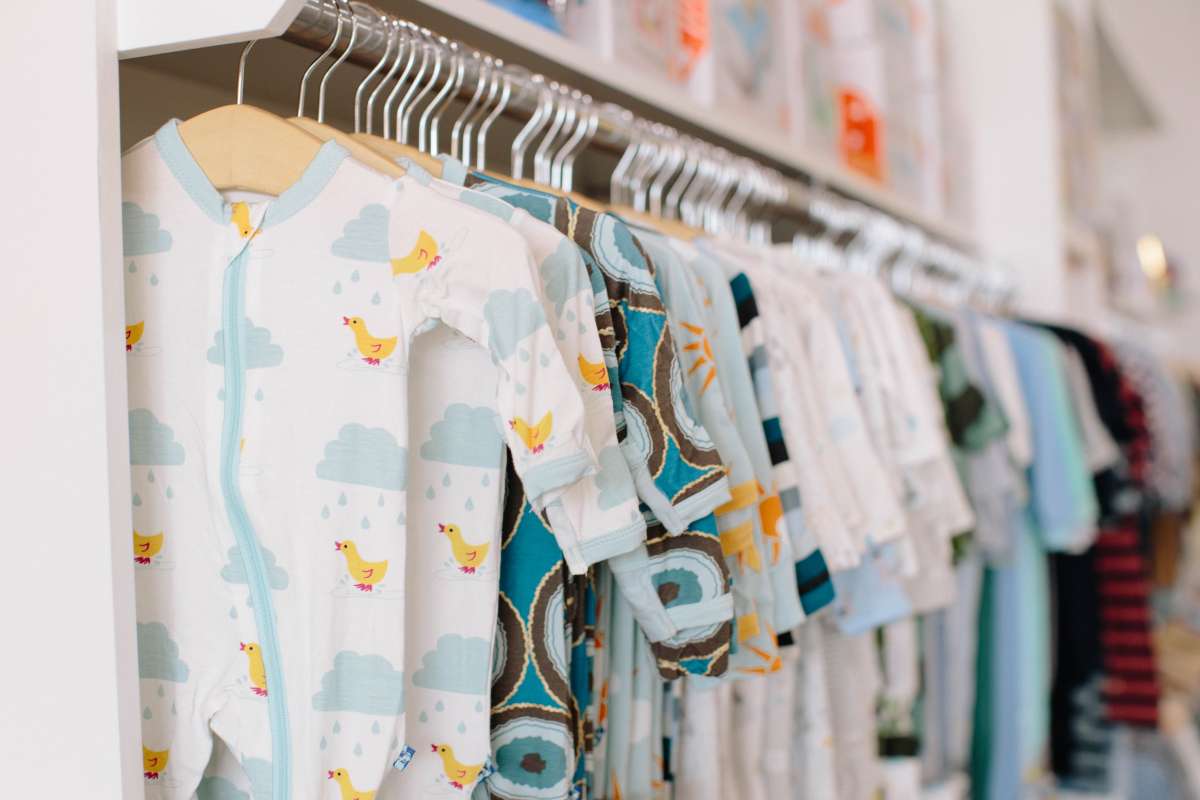 Buying an adorable baby gown for your baby only to find it too small is a disappointment and a hassle of time and effort to make an exchange.
Ensure you buy clothes that fit the baby right. The appropriate size is not only comfortable but also allows the baby to move quickly. Babies grow at a fast rate, be sure to account for the growth rate when making purchases.
Most clothes have standard measurements to guide you if you are unsure of the size that will fit your baby well. However, keep in mind these are general guidelines, and very often, babies fall in between sizes (for example, their height is 3-6 months and weight is 6-9 months). 
Shop by your baby's weight, not age. Age doesn't mean much when it comes to baby clothes; different brands size clothing differently. Weight is a better measure, and it is listed along with age on many baby clothes.
If you can't decide on sizes, our recommendation is always to buy the bigger size to compensate for growth spurts.
Also, ensure that baby clothes are easy to put on and take off. Between diaper changes, feeding, and burping, the last thing you want are onesies that require a lot of effort to change in and out of.
Choose clothes with snaps and zippers as opposed to buttons. Again, avoid fanciness and consider practicality.
If you are in the stores, try out the photos and zippers to make sure they are easy to snap on and off or zip on and off.
Style & Functionality
When buying baby clothes, you should consider their functionality.
They would spend most of their day sleeping for newborns, so definitely pick out something comfortable, like a kimono bodysuit, onesies, sleep sack, baby footies, or a gown.
Again, you want to pick styles that are easy to put on and take off. 
Also, consider the practicality of clothes.
Resist the urge to buy adorable sailor outfits if the baby would benefit more from bodysuits.
Similarly, do not spend too much on clothes that your baby will hardly ever wear, such as fancy party wears.
One or two sets for special occasions are enough. For newborns, please limit the number of newborn-sized clothes because babies grow fast, as we mentioned prior.
If you choose not to find out about your baby's gender until birth, keeping a gender-neutral palette would be ideal. Many brands have unisex baby clothing collections to choose from, alongside pink for girls and blue for boys. 
Lastly, choose clothes that will launder easily and last through many washes. Babies change through outfits several times a day.
Usually after feeding or a diaper change.
Therefore, buy clothes that don't require extra TLC in their laundering process to help save time and effort on your end.
Avoid knits and wool because they have special laundering conditions that may be overwhelming.
Think about how comfortable clothes will be to put on and take off. Dressing a wiggling newborn can be a bit of a struggle. Follow these tips when you choose clothes to keep dressing easier.
Wide necks or snaps at the neck make dressing easier. (If you pick clothes that pull over the head, do it quickly because babies panic when their breathing is blocked or when they can't see you.)

Snaps and zippers in the front are more accessible to put on and take off than those on the back.

Loose sleeves pull on and off easier than tight ones.

Snaps or other accessible openings at the crotch make it quicker and easier to change diapers – you don't have to take off all your baby's clothes.
Choose washable. Buy clothes that say "machine washable" on the label to avoid the time and energy of hand-washing or ironing.
Clothes made from 100% cotton are ideal since they're comfortable, durable, and wash well.
Cost
When buying baby clothes, don't default to the lowest priced in the name of frugality.
Never compromise quality for the price. We spoke about how fast babies grow and how sensitive their skin can be.
Buying top quality and well-designed clothes will give you peace of mind and create a lot of oohs and aahs photographs of lasting memories.
Choose quality over quantity. There are many parent-designed, thoughtfully made, and affordable baby clothes, both online and offline.
Season
When buying baby clothes, factor in the season and the geographical climate you are in.
Buy season-appropriate clothing and think ahead. If you are purchasing in January, you might want to consider choosing something suitable for spring as you would only get 2-3 months out of winter clothes. Also, consider your geographic location (especially when buying a baby gift).
What one wears in Southern California will be different from New York.
If you are buying online, look for product descriptions carefully, as it often will tell you if the fabric is light or heavyweight.
When this is overlooked, you may end up making pre-purchases on clothes that your baby will not get to wear.
Millions of clothes are tossed out annually, and a lot of them unworn. It is a significant contributing factor to the waste of our natural resources.
Plan, choose thoughtfully and get the most usage out of the baby clothes you have your eyes set on.
After considering all the factors above, we hope some tips and reminders will help you choose the ideal outfit for this bundle of joy in your life. My Baby Nursery is your one-stop baby product store.
If you want to live minimally with the most thoughtfully created pieces, baby son's new arrivals will bring you much delight. Dressing babies and gifting a new parent has never been easier!
Essential Baby Clothes You Should Buy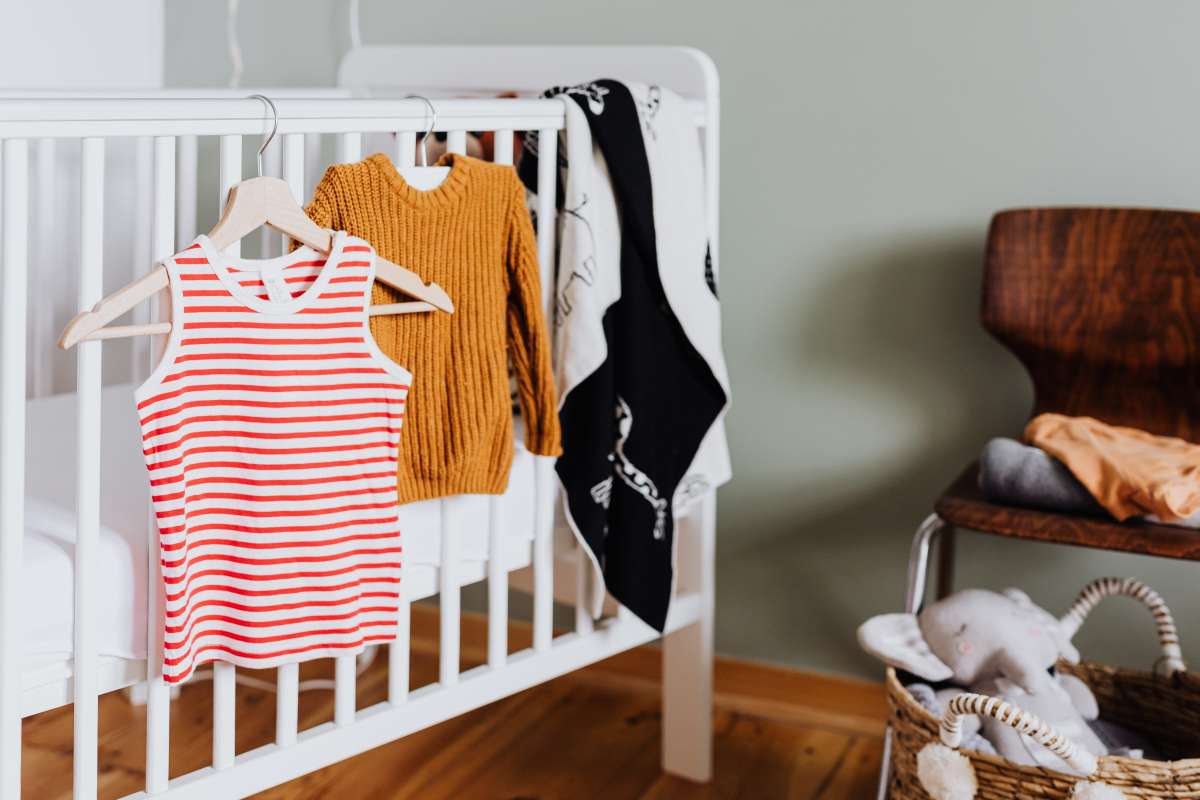 Some of the essential baby clothes that you should buy for your baby can be:
2 to 4 Infant Gowns
These gowns offer easy diaper access and are convenient to wear. They are usually available in soft cotton and hence will keep your baby irritation-free and clean without any hassle.
3 to 6 Bodysuits/Onesies
Bodysuits with side-snap Ts or kimono style, which have a broadhead opening and relatively loose legs for more effortless dressing, are a good buy.
4 to 6 Vests or Undershirts
Vests with snaps at the sides or shoulders which allow wide head opening may be best suited for your baby. Also, undershirts which snap below the crotch are preferable or else they would ride up.
4 to 8 One-piece Pyjamas
One-piece pyjamas also make excellent daytime clothing for a baby. These are comfortable, and your baby would wear them with ease.
2 to 3 Blanket Sleepers
Blanket sleepers are being preferred by most parents today. Blanket sleepers are a safer and practical alternative to the usual blankets for babies. So go ahead and buy one for your little one.
3 to 5 Pair of Socks and Mittens
You may like getting your baby a few pairs of soft socks to keep him warm and cosy, even in summers when the air conditioner is usually running.
You can also buy mittens to cover your baby's hands and to prevent him from scratching himself.
3 to 5 Sweaters or Jackets
Depending on the weather conditions, your baby may require a few sweaters made with soft wool. Select the ones that button up at the front for convenient dressing.
Tips to Buying Baby Clothes
There are a lot of easy ways to shop for clothing for your unborn child. Keep these tips in mind:
Buy Larger Sizes
Remember, people love to give baby clothes to new moms.
And chances are, friends and family will gravitate toward buying you newborn or 0-3 month sizes of clothing.
And here's the thing: Many newborns don't even fit into a newborn size, even when they're born, and if they do, they can quickly grow out of that size (like in a matter of a few days or weeks).
Also: Don't forget that newborns are only awake for about 45 minutes at a time, so chances are you'll want some basic onesies for that stage.
Stick to 6-12 months+ when buying your clothing, since you know for sure you will need those eventually.
Take Advantage Of Sales
The good thing about pregnancy is that it takes nine months to create a human life.
And that means if you're due in May, summer clothes will be on sale when you have the urge to shop.
So take advantage of the lower prices while you can while paying attention to seasonality.
Remember that you're more likely going to have the motivation to shop for clothing pre-baby versus when you have one crying or crawling around, so be sure to stock up now while you still have the drive to do so!
Opt For "Easy" Clothing
We all can get caught up in what looks the cutest (and, yes, totally go for some cute things!), but when the baby comes, you're going to want stuff that's easy to put on and easy to get off.
Think clothing with snaps and zippers or stretchy elastic pants or shirts that you can get on and off quickly.
Beware of buttons—babies can be wiggly and antsy, and it can take a lot longer to button up a piece of clothing than you may think.
You'll especially want to be aware of zipping or snap pyjamas for middle-of-the-night changes.
Don't Forget The "Other" Clothing.
It's tempting to want to stick to onesies, but your baby will need other pieces of clothing—things like bodysuits, socks, hats, pants, PJs, swaddles and more.
If you plan to buy clothing yourself, it's probably better to buy the "others" rather than the onesies, since most people will get you onesies as gifts.
Also, remember that when you buy a shirt, the baby will need a bottom to go with it.
Even when they're in a onesie, it's good to put a base on for full coverage. Those are a great piece to stock up on as well.
Go Softer When Possible
The smaller the size of the outfit, the softer you'll want the material to be.
Babies, especially newborns, are still getting used to the world around them, which means they may start with pretty sensitive skin.
Certain clothing materials might cause them to break out in a rash, which can be concerning for new moms.
Opt for organic clothing, which is made of softer materials than others (plus it reduces their contact with potentially harmful chemicals), or looks for pieces without tags in them, which can irritate the skin.
Think About The Seasons
The weather plays a vital role in what kind of clothing you buy, and it requires a bit of math.
For example, if your baby is born in June when he or she is six months old, it'll be nearing the colder months.
So that means, if you were to think of buying 6+ month-sized bathing suits, it's probably actually better to stick to cozy sweaters and long-sleeve attire for that size bracket.
Vice versa, if you're buying for 12+ months, you'll want to get some more spring or summer clothing in those sizes in this situation.
Consider Secondhand Clothing
You may scrunch your nose up at used clothing, but chances are your baby will grow so quickly and sometimes won't even get to wear the same outfit twice.
They will also likely need to be changed several times a day thanks to spit-up and diaper blowouts, and that means they may not be in an outfit for a very long period either. Used clothing comes in handy in these situations.
Thankfully, it's easy to come by these days, whether you scour social media garage sales or take up offers from your mama friends.
Get A Few Gender-Neutral Pieces
If you choose not to find out the sex of your baby, you're likely buying clothing in non-gender-specific colours like whites, greys and yellows.
But if you know whether you're having a boy or girl, you may stray towards more blues or pinks—and there's nothing wrong with that.
However, if you're planning to have more kids in the future, you'll want to have a few gender-neutral pieces on hand so you can reuse them quickly if it's the opposite gender of what you have now.
Consider it a resourceful purchase!
Do Away With Choking Hazards
Of course, as a parent, you spend a ton of time making sure your child is safe at all times.
But safety also means the type of clothing you put your kids in. Clothing with features such as bows, buttons, flower decals, rhinestones and so on can be choking hazards.
For the younger years, while tempting, it's best to do away with pieces that contain these types of features (even though they're cute!).
If you do choose to get clothing with features like these, make sure they're a bit older (over six months) and that the items are firmly attached to the dress.
Resist The Temptation (Just A Little Bit)
It can certainly be a struggle not to buy every single cute outfit you see, but sometimes it's best to try to hold off a bit, at least for your wallet's sake.
While, of course, it's wonderful to shop for your future child, chances are you're going to get a ton of clothing as gifts from friends and family, so you don't want to spend unnecessary money if you don't need to.
Go for it if it's something you absolutely can't live without, but otherwise, you may want to hold off until at least your baby shower is over (plus, you may get some gift cards to offset the cost, too!).
Think ahead — wisely.
Some babies never fit into the "newborn" size.
Others may even grow out of 3-month-old size clothes after only one month. So, buy items in the 6-month or 1-year size to have on hand.
Some clothes can be worn a little bit until your baby grows into them. It's not a great idea, though, to buy seasonal clothes, like swimsuits or winter coats, well in advance.
It's impossible to predict your baby's size.
Conclusion
Buying clothes for a baby can be perplexing, but it will be a fun experience if you know all the things you need. Check out My Baby Nursery for all your baby product needs.
Remember not to buy too many clothes for your baby as he will grow soon and those clothes won't fit him. So, believe in the appropriate quantity and have a happy shopping experience.