We must teach our children about safety. We need to move away from old terminologies such as stranger danger. We need to help our children learn about personal safety. A child needs to learn strategies to protect themselves. Check out My Baby Nursery for all your baby product needs.
Promoting Child Safety at Home
Your adult-friendly home has many potential hazards for a child. But you can keep your child safe by finding out what the risks are and then preventing or removing them.
But even when you think you've removed all the home safety hazards, the reality is that children can still have tumbles and falls. That's why supervision is one of the keys to child safety at home.
Once your child is upon his/her own two feet, he or she is ready to conquer the world, and every day is a new adventure. This is an exciting and fun stage of life but certainly has its risks and dangers too. The following are things you need to know to keep your budding explorer safe.
Also, as your child grows and learns to climb and open things, you need to be alert for new hazards. You'll probably need to change the environment to ensure your home is still a safe and creative place to play and explore.
Baby Furniture and Equipment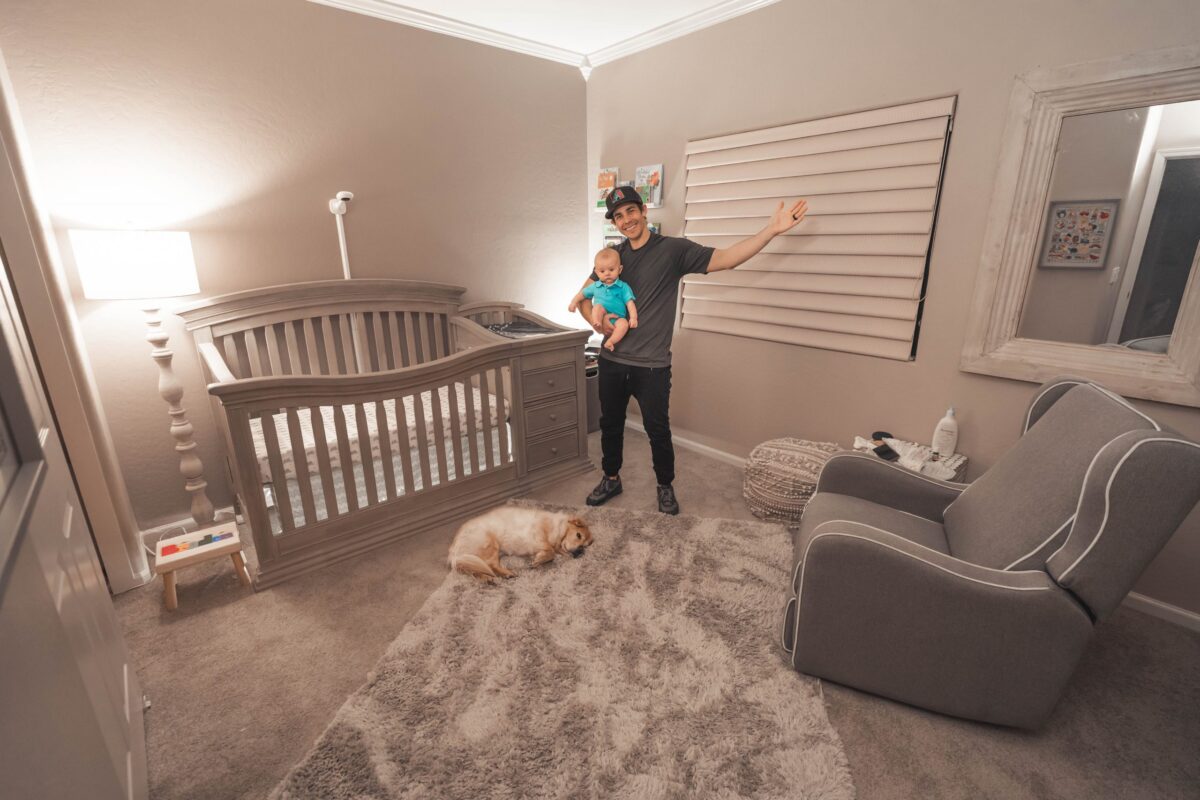 Safe baby furniture and baby equipment will help to protect your child. Always look for cots, mattresses, portacots and high chairs with the Australian Standards mark. 
There are no Australian Standards for change tables and safety gates, so it's crucial to look carefully at the safety features of any tables and gates you're interested in. 
Poisoning
Children continue to explore their world by putting everything in their mouths, even if it doesn't taste good. Your child can open doors and drawers, take things apart, and open bottles quickly now, so you must use safety caps on all medicines and toxic household products. Keep the safety caps on at all times or find safer substitutes to use. Contact Poison Help for more information.
Your child is now able to get into and on top of everything. Be sure to keep all household products and medicines completely out of sight and reach. Never store lye drain cleaners in your home. Keep all products in their original containers.
Poisoning is a particular danger because children this age (1-4 years old) are curious about everything! Younger toddlers will be inclined to put things into their mouths, and preschoolers are curious about items found in drawers and cabinets. 
Protect your child from accidental poisoning:
Keep all medicines (and vitamins as well) out of the reach of children.

Never refer to medicine as "candy."

Store all cleaning products or other dangerous products out of the reach of children or in a locked cabinet.
Poisoning Prevention
Poisoning is one of the leading causes of injury to children under five, and common household chemicals and medicines often poison children.
You can make your child's environment safer by:
removing potential poisons

storing chemicals and medicines up high in a locked cupboard or cabinet

Putting a child-safety latch on the doors of cupboards where you keep household poisons.
Burns
A kitchen is a dangerous place for your child during meal preparation. Hot liquids, grease, and hot foods spilled on your child will cause severe burns. A safer place for your child while cooking, eating, or unable to give him your full attention is the playpen, crib, or stationary activity centre, or buckled into a high chair. It's best to keep your child out of the kitchen while cooking.
Children learning to walk will grab anything to steady themselves, including hot oven doors, wall heaters, or outdoor grills. Keep your child out of rooms where hot objects may be touched or put a barrier around them.
Your child will reach for your hot food or cup of coffee, so don't leave it within your child's reach. NEVER carry your child and hot liquids at the same time. You can't handle both.
If your child does get burned, immediately put cold water on the burned area. Keep the burned area in cold water for a few minutes to cool it off. Then cover the burn loosely with a dry bandage or clean cloth. Call your doctor for all burns. To protect your child from tap water scalds, the hottest temperature at the faucet should be no more than 120°F. In many cases, you can adjust your water heater.
Ensure you have a working smoke alarm on every level of your home, especially in the furnace and sleeping areas. Test the alarms every month. It is best to use smoke alarms that use long-life batteries, but if you do not, change the batteries at least once a year.
Little fingers want to touch everything, so you need to take extra precautions to keep your child from being burned:
Keep your child in a safe place while you are cooking or ironing.

Turn pot/pan handles inward on the stove.

Never allow children to be unsupervised in the kitchen.

Keep items such as matches, lighters, curling irons, candles, and hot foods and liquids out of a child's reach.
Burns and Scalds Prevention
To prevent burns, keep your child away from fire and hot surfaces. Keep a close eye on your child whenever they're near things that can burn – especially around stoves, ovens, microwaves, heaters and other appliances.
Hot food and drinks and too-hot baths constitute a significant cause of scalds for babies and children. Here are some simple safety precautions to avoid these risks:
Keep hot food and drinks away from and out of reach of children.

Avoid holding your child if you're having hot food and drinks.

Always test the bath water temperature before bathing children – the safest bath temperature is 37-38°C.

Has the hot water delivered to your bathroom at a maximum of 50°C? You still need to mix cold water with the hot water coming out of your taps to get the right bath temperature for babies and children.
Falls
Children of this age fall often, either because they are still a little unsteady on their feet or because they are enjoying the thrill of climbing. Some tips to keep your child "well-grounded":
Keep doorways leading to dangerous areas, such as basements or attics, locked.

Keep safety gates at the top and bottom of each stairway.

Keep window guards on all windows.

Put skid-proof pads underneath all rugs.

When grocery shopping, use the safety strap to buckle your child into the seat and remain close to the cart at all times.

Keep a close eye on your child when climbing on the furniture or at the playground so you can react quickly in case of a fall.
Falls Prevention at Home
Falls are the most common cause of injuries and visits to a hospital in every age group. To prevent serious falls:
Lock the doors to any dangerous areas.

Use gates on stairways and install operable window guards above the first floor.

Remove sharp-edged furniture from the room your child plays and sleeps in.
At this age, your child will walk well and start to climb, jump, and run as well. A chair left next to a kitchen counter, table, or window allows your child to climb to dangerously high places. Remember, your child does not understand what is dangerous.
You can help keep your child safe by watching the new skills they're learning and the new places they can reach – and then adjusting your home. For example:
When your child starts crawling, install safety guards across entries to stairs and balconies. And you still need to supervise your child on stairs and terraces.

When your child starts climbing, lock windows – particularly upper-storey windows – restrict window openings, or shield them with firmly attached window guards. This will stop your child from climbing out and falling.

Leave a hall light on at night, or use sensor lights to make it easier for older children to get to the toilet without tripping.
Don't leave babies unattended on raised surfaces like change tables, sofas or beds. Babies might roll or wriggle off and fall. If your child has a severe fall or does not act normally after a fall, call your doctor. 
Choking
This age group is particularly susceptible to choking because so many things – both foods and non-foods – go into their mouths. The following are some critical tips for preventing your child from choking:
Until age 4, avoid foods that can block the airways, such as peanut butter, hot dogs, popcorn, whole grapes, raw carrots, raisins, nuts, hard candies or toffees chewing gum.
Provide safe finger foods such as bananas, well-cooked pasta and vegetables, o-shaped low-sugar cereals (such as Cheerios).

Keep items such as coins, buttons, balloons, safety pins, barrettes, and rocks out of your child's reach.

Follow age recommendations on toys, especially those with small parts, and make sure toys are in good repair.

Be vigilant. Small children put many things in their mouths. A watchful adult is often the best defence.
Electrical Safety
Here are tips for electrical safety at home:
Get a licensed electrician to install safety switches, which cut the power off quickly to avoid electrocution.

Get a licensed electrician to do any repairs.

Replace electrical appliances and cords if they're worn.

Use PowerPoint covers.
Furniture Safety
Children can be seriously injured if furniture tips and falls on top of them. Here are ways to reduce the risk of this happening:
Check that furniture is sturdy – your child shouldn't be able to pull it down or knock it over. Anchoring furniture like bookshelves and wardrobes to the wall or floor reduces the risk of them tipping.

Brace or strap televisions to the wall or entertainment unit. 

Move furniture with sharp corners away from areas where children run around, like hallways and near doorways. If you can't move the furniture, pad its corners with foam or corner protectors.
We have a wide range of safe baby nursery furniture to help you create the perfect room for your baby.
Glass Safety
When children are running around at home, it's easy for them to run into glass windows and doors. Here are tips to keep your child safe around glass:
Install safety glass in windows and doors or apply shatter-resistant film to windows and doors of older homes.

Put stickers on glass at eye level.

Household tools and backyard safety
Some simple precautions can help you keep your child safe around household tools and other backyard safety hazards:
Lock away hand tools like saws and drills, and keep lawnmowers, chainsaws and other sharp tools out of reach.

Make sure your child is out of the way when you're using tools.

Unplug and store tools away whenever you take a break.
House Fires
House fires can be caused by cooking accidents, smouldering cigarettes, electrical faults, candles, incense and children playing with lighters and matches.
Working smoke alarms are an essential fire safety precaution.
By law, your home must have at least one working smoke alarm installed on each level. For overall fire safety at home, you should install a smoke alarm outside the sleeping areas of your home. It's also an excellent idea to install alarms in bedrooms where people sleep with their doors closed.
Test your smoke alarms every month and replace batteries each year. Replace the smoke alarms themselves every ten years.
Strangulation and Suffocation Prevention
Many homes have everyday items that could strangle or suffocate a child. These items include soft toys and bedding, blinds, cords and ropes, bags, boxes and packaging.
Here are some essential safety tips to keep your child safe from suffocation and strangulation:
Keep stuffed toys, cushions and piles of clothing out of cots and prams.

Wrap blind cords in cleats attached to the wall at least 1.6 m above the floor.

Tie knots in plastic bags, and keep them away from children.
Water Safety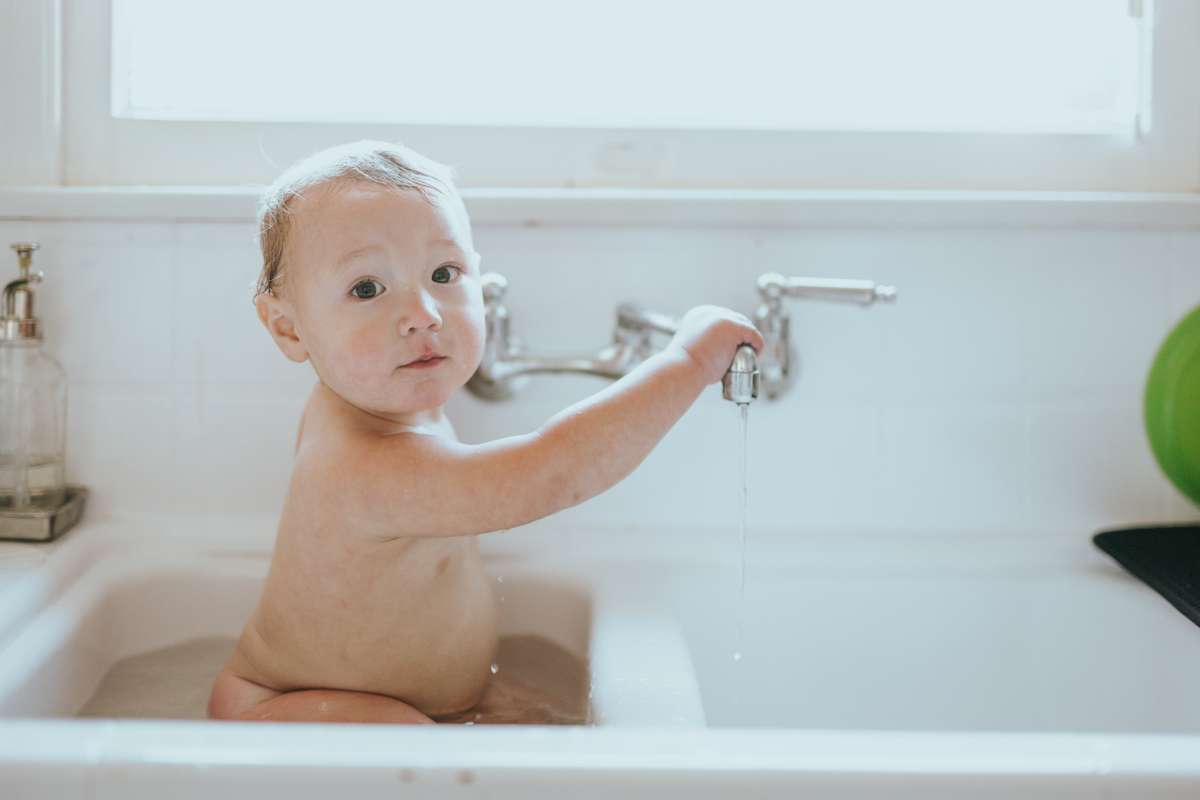 Water safety depends on 100% active adult supervision whenever your child is around water. This includes baths, pools, ponds, dams, rivers, creeks, baths and buckets with water.
At this age, your child loves to play in the water. NEVER leave your child alone in or near a bathtub, pail of water, wading or swimming pool, or any other water, even for a moment. Empty all buckets after each use. Keep the bathroom doors closed. Your child can drown in less than 2 inches of water. Knowing how to swim does NOT mean your child is safe near or in water. Stay within an arm's length of your child around water.
If you have a swimming pool, fence it on all four sides with a wall at least 4 feet high, and be sure the gates are self-latching. Most children drown when they wander out of the house and fall into a pool that is not fenced off from the house. You cannot watch your child every minute while he or she is in the place. It only takes a moment for your child to get out of your house and fall into your pool.
If you have a pool, by law, you must have a pool fence and self-locking gate that meets Australian Standard AS:1926. Regularly check and maintain the pool fence and gate to make sure it's in proper working order. Never leave the gate propped open.
For bath safety, always supervise and give your full attention to babies and children under five years in the bath. Never leave children alone in the tub or bathroom. Never leave older children or siblings to supervise.
Firearm Hazards
Children in homes where guns are present are in more danger of being shot by themselves, their friends, or family members than being injured by an intruder. It is best to keep all guns out of the home. Handguns are especially dangerous. If you choose to own a gun, keep it unloaded and in a locked place, with the ammunition locked separately. Ask if the homes where your child visits or is cared for have guns and how they are stored.
And Remember Car Safety
Car crashes are a significant danger to your child's life and health. The crushing forces to your child's brain and body in a crash or sudden stop, even at low speeds, can cause severe injuries or death. To prevent these injuries, USE a car safety seat EVERY TIME your child rides in the car. All infants and toddlers should ride in a rear-facing car safety seat as long as possible until they reach the highest weight or height allowed by their car safety seat's manufacturer. Most convertible seats have limits that will permit children to ride rear-facing for two years or more. Be sure that the safety seat is installed correctly. Read and follow the instructions that come with the car safety seat and the instructions for using car safety seats in the owners' manual of your car. The safest place for all infants and children to ride is in the back seat.
Do not leave your child alone in or around the car. Keep vehicles and their trunks locked. Children left in a car can die of heat stroke because temperatures can reach deadly levels in minutes. They can be strangled by power windows or knock the vehicle into gear. Always walk behind your car to ensure your child is not there before you back out of your driveway. You may not see your child behind your vehicle in the rearview mirror.
Others
When riding in a vehicle, your child should be restrained in a safety seat appropriate for his/her size and age.

Childproof your home and practice standard home safety tips.

Never leave your child alone in or near water. Small children can drown even in very shallow water, such as the bathtub, wading pool or toilet.

Children should wash their hands frequently, especially after playing outside. Kids this age still put their hands and other objects into their mouths often, which is the chief way of transmitting colds and viruses.

An adult should always supervise outside play.
Conclusion
Often, injuries happen because parents are not aware of what their children can do. At this age, your child can walk, run, climb, jump, and explore everything. Check out our range of baby playpens at My Baby Nursery.
Because of all the new things he or she can do, this stage is a hazardous time in your child's life. It is your responsibility to protect your child from injury. Your child cannot understand danger or remember "no" while exploring.