New parents today have similar concerns, especially with several newer products. Walking through the aisles of a large baby store or shopping the sites on the Internet can yield seemingly countless choices.
One of these newer items is an infant sleep hammock. Typically made from mesh, these hammocks are often designed to be attached to a crib, and the baby is suspended in the hammock over the crib mattress. 
The inventors and designers of sleep hammocks claim traditional crib designs can lead to risks due to suffocation and arms and legs getting trapped between crib railings. However, sleep hammocks have several risks of their own.
Infant sleep hammocks have not been tested in strong, peer-reviewed studies, nor are they approved by the Consumer Product Safety Commission for infant sleep. There is no evidence that they are as safe as a traditional firm crib mattress.
The Academy of Pediatrics (AAP) recommends that babies sleep on a flat, firm mattress for every sleep, both at naptime and nighttime. Much like adult-sized hammocks used for relaxation, an infant sleep hammock is not flat or firm and could lead to unsafe sleep positions in a newborn. 
Infants sleeping in the hammocks have been photographed in the "chin to chest" position, which has been reported to interfere with breathing and lead to suffocation. 
Also, as the hammock is suspended over a crib, a baby could roll out of it without warning, falling to the crib mattress below or even out of the crib altogether, leading to serious injuries.   
As mentioned above, the AAP has created guidelines for babies to sleep safely. 
When correctly used, the hammock sleep position did not compromise the upper airway of sleeping infants. The significance of a shorter duration of sleep in the hammocks is unclear. These findings should not be applied to all baby hammocks or older babies, particularly once the infant can roll.
The usual recommendation is to stop using the hammock when the child is two years old.
Babies can generally sleep in the Amby baby hammock from birth to about 12 months. Many babies sleep in it for much longer. Ideally, it's best to use the hammock from birth. Many mothers in Australia take the hammock to the hospital with them.
We will not compromise on safety. Our customers can rest assured that your baby is safe in an Amby Air Baby Hammock that has been successfully tested against the UK and European safety standards.
Hammocks are helping an increasing number of women in the remote mountains of Ifugao, a province in the northern Philippines, reach hospitals to give birth. The ad, an improvised hammock, is an indigenous tradition used to transport the sick and elderly through mountainous terrain.
ABCs of Safe Sleep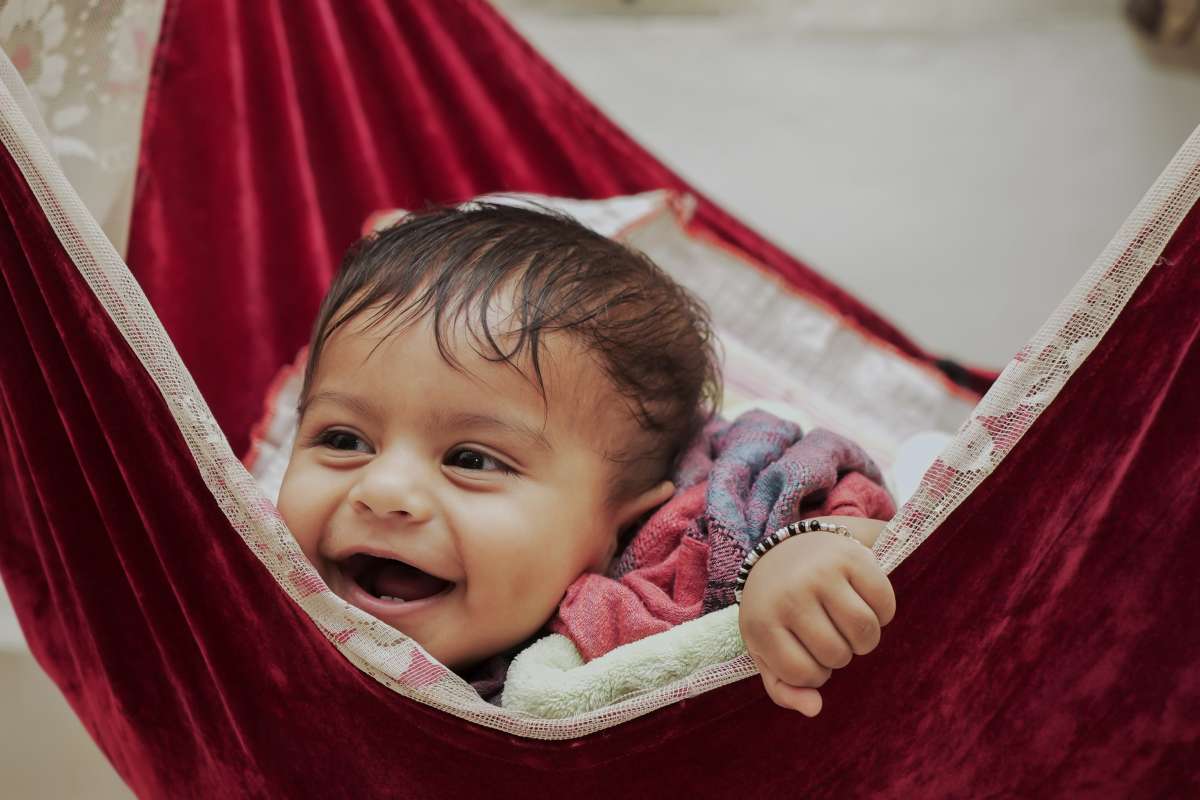 Summarised below as the "ABCs of Safe Sleep," these recommendations can guide parents and families on which of the sleep options available today would be safest for an infant to sleep in:
A stands for Alone. 
This means that a baby should sleep alone, in a separate space, for every sleep (naps and nighttime). This space could be a crib, a portable crib or a bassinet. 
Studies have shown that sharing a room with a baby can decrease the risk of SIDS (Sudden Infant Death Syndrome) by half. However, a recent study published by the AAP showed that babies have an increased chance of dying if they share beds with their parents.
B stands for Back. 
Since 1992, the AAP has recommended that all babies sleep on their backs, not their stomachs or sides.  
This position has been shown to decrease the risk of SIDS and other sleep-related deaths because babies are less likely to suffocate on other objects or their gases when they are on their backs. 
C stands for Crib. 
Babies should sleep in their cribs (or a safety-approved portable crib or bassinet). To prevent the risks of suffocation and death, the crib should have a firm mattress with a fitted sheet. 
There should be nothing else in the crib besides a baby, such as blankets, stuffed animals, toys, bumper pads, or pillows, because there is a chance that a baby could roll over and suffocate on these things. When it is cold outside, swaddling a baby during sleep is a safer option than loose blankets in a crib. 
What Is A Baby Hammock?
Generally, as parents, one of the decisions we have to make when bringing a baby home is where they will sleep.
This looks different for every family, but it is something parents should research beforehand and have plan A (and b, and c) in place so that you are not making a rash decision in a sleep-deprived state. Should a baby sleep in a crib, bassinet, pack n play, mini crib, baby hammock, parents' bed? The list goes on!
One option you may explore is a baby hammock for cribs.
These devices are made of mesh and attached to the crib rails to stay suspended over the crib creating a "womb-like" experience, so they say.
Statistically, the peak age for SIDS and other sleep-related hazards is 3-6 months. Newborns can use crescent womb from birth, and babies typically begin transitioning into a crib or toddler bed when they can sit up unassisted, attempting to crawl, or voluntarily rolling over.
As of this time, infant/baby crib hammocks have not been tested in strong peer-reviewed evidence-based studies, nor are they approved by the Consumer Product Safety Commission for infant sleep. 
There is no evidence that they are as safe as a firm crib mattress for sleep.
Are you wondering what exactly a baby hammock is? The name says it all, as it is a hammock for babies. But while we, as adults, might use this type of commodity for outdoor fun, the infant variety is destined for household use only. Depending on the manufacturer, it comes in various designs and styles.
Baby hammocks as a crib are usually attached to a wooden pole to hang from the door frame or ceilings. Some models use a freestanding frame as support. 
As a general rule, they are made using natural and breathable fabrics that cover a wool futon mattress designed to provide your baby with the comfort they need to engage in a healthy slumber.
At this point, it's important to mention that a baby hammock as a crib bears no resemblance to an adult hammock. 
The former is solely intended as a bed for infants under two. At the same time, the latter is a purely recreational fixture that is usually handy for camping and other relaxing activities that involve spending time in nature.
Thus, products made from netting and string are unreliable and should not be considered a sleeping alternative for your baby. 
Trustworthy manufacturers fabricate baby hammocks as a crib from unbleached calico. What is more, these items are tested to withstand a maximum weight of 33 pounds, which is more than enough to keep an infant safe.
Lessons From The 1980s: The Crib Cuddle Recall
Baby hammocks and their dangers are not new. In 1985, a product called the "Crib Cuddle" was recalled by the Consumer Product Safety Commission after being linked to the death of a five-week-old infant who was strangled by the product. There were also two other "near misses" attributed to the hammock.
The CPSC concluded: "The Crib Cuddle can be dangerous if an infant, in moving about, can reach the edge of the hammock and place his or her head over the edge, possibly resulting in suffocation. CPSC states the following:
Hammocks can become unstable, causing the product to tip forward, causing a baby to become wedged into one corner or side and suffocate.

Hammocks intended to be used by infants and young children can suddenly twist around a child's neck, causing them to strangle.

Babies placed on soft bedding (including hammocks) can become wedged in positions where they cannot breathe.

Babies and young children using hammocks can fall from the high surface, causing injuries.
So Why Are Unsafe Products On The Market?
The Food and Drug Administration (FDA) issues recommendations for manufacturers of baby products, as does the Consumer Product Safety Commission, which requires third-party testing for many baby items.
The problem with baby hammocks, however, is that they are largely untested and only subject to recall when something goes wrong. There are standards for almost all items, but passing common standards to be sold doesn't make them safe for sleep. Only items that pass bassinet, Playard or crib standards are safe.
Anyone can sell anything online, and anyone can buy anything. Certainly, you have parents who do swear by these so that you can see some recommendations this way. So people will buy these.
The product currently has safety certifications that cover lesser safety regulations, such as the sharp edges rule for toys (16 CFR 1500.51-53). Or flammability standards for textiles. They are in a loophole; currently, the hammocks don't count as cribs or mattresses.
There are no mandatory safety standards for crib hammocks, classified as an "infant inclined sleep product." There is a voluntary safety standard for such products (ASTM F3118-17), and the CPSC is working to cover crib hammocks under that standard. 
But as of this writing, crib hammocks fall into a loophole—they aren't bassinets, cradles or cribs; all of which are covered under mandatory safety rules.
That said, if you're enamoured with the idea of your baby rocking in a hammock, there is a good time to use such devices: When you're present and watching.
If the parent is awake and doing dishes in the kitchen and the mom and dad are watching, that is fine. Because they can react to any unsafe situation that might come up. 
But if it's a situation where the parent is sound asleep, and the baby is sound asleep, it might become unsafe for any number of reasons.
Do Baby Hammocks Prevent SIDS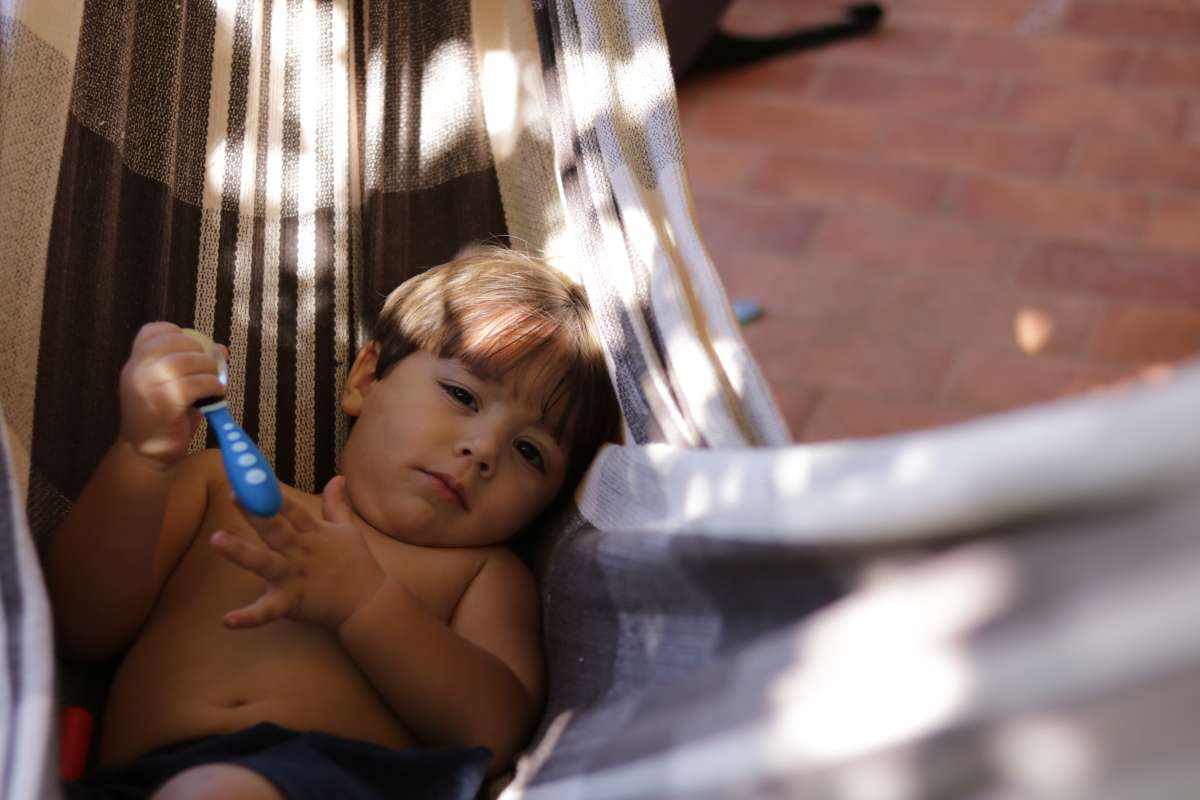 According to the FDA, "To date, the FDA has not cleared or approved a baby product to prevent or reduce the risk of SIDS. The Agency is not aware of any scientific studies showing that a medical device prevents or reduces the risk of SIDS. Baby products with such claims can pose a suffocation risk to infants. 
As a result, the agency cautions parents and caregivers not to purchase or use baby products with claims to prevent or reduce the chance of SIDS."
Any device that claims it reduces or prevents the risk of SIDS (Sudden Infant Death Syndrome) should be reported to the FDA. 
It is also worth noting that anything labelled as a "sleeper" is not approved for sleep. Only things labelled as a bassinet, crib, or pack n play have been approved as safe sleep for babies. 
It is also important to differentiate between SIDS (Sudden Infant Death Syndrome) and ASSB (Accidental Strangulation and Suffocation in Bed). Where SIDS does not have a known cause (a diagnosis of exclusion), ASSB deaths are classified after a thorough investigation of sleep space and autopsy.
Contrary to some beliefs, SIDS is not choking, apnea or suffocation. Those can be categorised under deaths caused by ASSB, Accidental Suffocation and Strangulation in Bed.
Hazards To Consider
The main hazard concerning baby hammocks is using one to cradle babies older than nine months or who have learned how to crawl and roll over. 
On the one hand, the little one could spin straight out of it, leading to serious injuries and potential death. In addition to this, suffocation also becomes an issue once the infant is old enough to wiggle around.
The child can roll over on their face but then rotate back. This means that their face remains buried within the sultry fabric of the hammock, which causes asphyxiation when it's not promptly observed by a parent or caretaker. 
Furthermore, the dangers don't end here. The infant could also move to one side and bury its nose into the fabric.
Such occurrences can lead to death in less than two minutes. Slow suffocation is also possible when your child is resting in a hammock. This happens if the mattress curves upwards due to motion. The infant's head gets pushed into the chest, which impedes breathing and crying.
Moreover, babies just a few months old don't possess the bone strength to raise their heads just yet. When their neck falls into a certain position, it usually stays like that unless otherwise supported by an adult. 
Thus, keeping an eye on the little one in the hammock and ceasing usage if you notice this type of event is crucial for their safety and well being.
Conclusion
Is baby hammock good or bad? As a parent, it is best to review all of the information available to make an informed decision. 
It is best to look at your intention for using a baby hammock and what baby hammock you are looking to purchase specifically. Baby hammocks should never be used in the crib (as nothing attached or added to the crib is safe) or used for unsupervised sleep.
There are many options out there that are not baby hammocks that can be used safely for sleep and awake time without the added worry of the baby injuring themselves.
Your options would be a crib, play yard, or bassinet for sleep and things like a swing or play mat for awake time! If you have a fussy baby, then check out ring slings or baby carriers to stay hands-free while also comforting your baby.