Making your baby's cot is a simple and quick everyday task but remember that how you make it is really important. Use the following guidelines that have been supplied by SIDS and Kids Australia as part of their Safe Sleeping Guidelines to ensure your baby is as safe as it can be.
Check any crib for safety before placing your baby in it — whether it's a new crib or a hand-me-down; at home, in a childcare setting, or at a relative's home.
Make sure that:
The slats are no more than 2-3/8 inches (6 centimetres) apart and aren't cracked, loose, splintered, or missing.

There are no decorative cutouts on the headboard or footboard in which the baby could become caught.

There are no sharp or jagged edges.

The sides latch securely.

Drop-side latches can't be released by the child.

No screws are sticking out, and all screws are accounted for.

Tightly attached corner posts are no more than 1/16 inch (1.5 millimetres) high.
Inside the crib, make sure that:
The crib sheet snugly fits the mattress (never use an adult sheet).

The mattress fits snugly against the sides of the crib, and there aren't big gaps between the mattress and the crib.

The mattress is kept at its lowest position once your child can stand.

The mattress is firm, not soft.

Soft toys, comforters, blankets, and pillows (adult pillows, throw pillows, or infant doughnut pillows) are never kept in the crib.

There are no bumpers in the crib.

There are no mobiles or toys with strings or ribbons longer than 7 inches (18 centimetres) hanging above the crib.

Mobiles are removed when the baby begins to push up on their hands and knees, or by five months, whichever comes first.
Also, check that:
There are no cords from drapes or window shades that could cause strangulation anywhere near the crib or within the baby's reach.

The crib isn't subject to a safety recall.
No more than 2 3/8 inches (about the width of a soda can) between crib slats so a baby's body cannot fit through the slats; no missing or cracked slats. No corner posts over 1/16th inch high, so a baby's clothing cannot catch. No cutouts in the headboard or footboard so a baby's head cannot get trapped.
Your baby will spend a lot of time in the crib, napping during the day and sleeping at night. It's very important to make sure it's always a safe environment. Always place your baby to sleep on their back to help prevent sudden infant death syndrome (SIDS).
Most babies transition into the crib between 3 months to 6 months. If your baby is still sleeping peacefully in the bassinet, it might not be time to rush into transitioning the baby to a crib. But the longer you can determine the resistance encountered with your baby.
Safe sleep can help protect your baby from sudden infant death syndrome (also called SIDS) and other dangers, like choking and suffocation. Put your baby to sleep on his back on a flat, firm surface, like in a crib or bassinet.
A crib is defined by Merriam Webster as a small child's bedstead with high enclosing, usually slatted, sides. Cribs are a safe option for keeping older babies in their beds. And while they come in various styles, shapes, and sizes.
Signs That It's Time to Lower Your Baby's Crib
It's important to know when your baby's crib needs to be lowered to avoid injury. Every year, 10,000 children are taken to the emergency room for crib-related accidents, with many related to children falling out of their crib. Many children fall out of their crib because they are tall enough to stand up and get out.
Pediatrics says she advises parents to lower the crib before thinking they need to.
"Let's say once you get to six months but definitely before nine months because children's milestones are met at such a variable rate," says Gold. "Some kids are sitting all by themselves (without any support) at six months, and some kids are sitting solo at nine months."
Keeping that in mind, here are some other signs that it's time to lower the crib mattress.
They are trying to pull themselves up to a standing position. If they can do this, there's a chance they will be able to flip themselves over the crib rails.

They have reached 36 inches. The American Academy of Pediatrics makes this recommendation and advises that at this point, they get moved into a toddler bed.
Recommendations, also keep in mind that the AAP recommends that the crib rail is at least 26 inches from the top of the crib mattress. This is for your baby's safety.
It's important to note that you don't have to drop the crib to the lowest point right away. As long as you are lowering it enough to meet safety standards and safety guidelines, you can do it gradually.
It counts to know how active your baby is and what they can do. This will be the best indication of when to lower your crib. You may have to do it sooner than recommended if your baby is developing at a faster pace.
"Very active infants can figure out a way to get their leg over the top and fall out of the crib," says Gold.
She says when this has happened, it's usually because the child was already standing up in the crib holding on and the crib had not been lowered.
Also, keep in mind that you should never be using a crib with a drop-side rail. The American Academy of Pediatrics deems these unsafe, and they should be avoided.
As you look at when to lower the crib, you may have heard of some people lowering the mattress to the floor. This is pretty uncommon and should only be done if your crib was made to do so. 
Review the manufacturer's instructions to see if this is even an option. In most cases, dropping the crib to the lowest setting is sufficient. If they need it any lower, they should probably be in a toddler bed.
Lower the Crib Mattress in Your Baby's Crib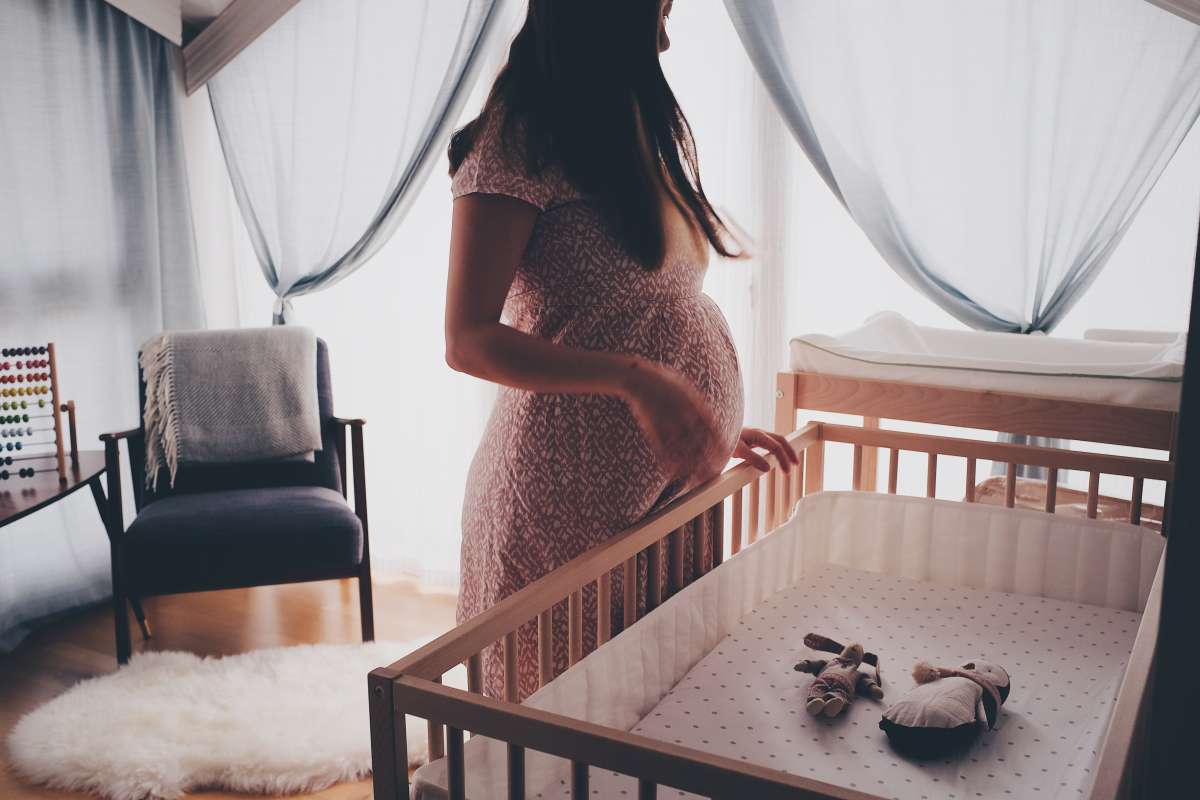 Since all cribs are made differently, you'll want to consult the assembly instructions for details on how to lower your specific crib. But, there are some basic rules that most cribs follow when it comes to adjusting the mattress level.
Decide which mattress setting you want your crib to be at.

Remove all bedding. Be sure all sheets are out, as well as the mattress protector. This will make it easier to change the mattress set. Also, always be sure there are no crib bumpers around. Bumper pads pose a suffocation risk, according to the AAP. You also want to avoid any quilts or other blankets because they can cause a strangulation hazard and suffocation risk.

Make your mattress level adjustments. As you consult the manufacturer's instructions, you'll be able to make sure the crib is still properly stable as the mattress level is adjusted. Whatever adjustment you make to lower the crib mattress at the foot of the crib needs to be done at the head.

Make the bed. Once you have a lower crib mattress, it's time to put the sheets and mattress protector back on so that your baby can have a good night's rest. Be sure to keep your baby on his back when he sleeps to prevent the risk of SIDS (sudden infant death syndrome).
As you're lowering your baby's crib mattress, this is also a good time to ensure other safety precautions are in place. This includes ensuring that the mattress fits firmly and that there are no gaps. Also, any corner posts on the crib that may lead to injury or snag clothing should be removed.
Suffocation risk. These toys should be reserved for playtime outside of the crib. The same goes for pillows, heavy blankets, and comforters. None of these should have a place in your baby's crib.
Ensure Safe Use of a Baby Crib
Proper use of a baby crib is a major factor in protecting one's infant child. A crib is a place you will sometimes leave the baby unattended, so ensuring its proper assembly, use, and awareness of risks is essential to maintaining safety. 
Improper use can lead to irritability in the baby, injury, and Sudden Infant Death Syndrome (SIDS). There are several steps you can take to ensure the safe use of a baby crib.
Checking the Crib's Assembly
Assemble the crib properly. Follow the manufacturer's instructions very carefully when assembling the crib. Baby cribs are manufactured to conform to strict safety standards.
Assembling the crib incorrectly may endanger your baby.

Contact the store or manufacturer if you are having trouble with the instructions.

Contact the store or manufacturer if you are missing any pieces of the construction.
Examine the crib for problem areas. Look for places the crib pieces could inflict injury or places that are accessible to the infant that should not be.
Check for loose fittings, including bolts, screws, joints, awnings, etc.. that could collapse the crib and fall on the infant.

Look for sharp edges or rough spots. This could include improperly sanded wood on the crib frame, metal protrusions, and improperly fastened screws.

Check the mattress support hooks. Be sure the mattress cannot accidentally flip and entrap the child.

Ensure there are no gaps larger than two fingers between the sides of the crib and the mattress so the baby's body cannot slip out.

Avoid corner posts over 1/16th inch high so a baby's clothing cannot catch.
Use only a fitted bottom sheet for crib use. Again, make sure it is crib linen for a baby.
Be extra careful that the fitted crib sheet fits securely, without slipping off at the corners. This could become a suffocation hazard otherwise.
Check for crib recalls regularly. As safety protocols may change and problems are discovered, you should stay alert to see if your crib is included.
Keep a record of crib product serial numbers.

If you have a warranty in effect, keep the documentation in a safe and secure place.

A recall may be issued through the store, manufacturer, or government, so stay informed on these fronts.
Consider using a bassinet. If the crib is not a comfortable option, the bassinet is a simpler choice that sometimes is used for the first few months of infancy and even passed through families.
Be sure the bassinet is cleaned appropriately if it is a re-used one.

Check that the bassinet sits firmly on its stand. It would help if you were keeping the bassinet/stand near the parent's bed (s).

Examine the bassinet and the stand for loose parts or linens.

Use only the authorized mattress (or padding) and fitted sheet for the bassinet. Always make sure you use sheets that will fit snugly around the mattress--check the dimensions for a match.

Don't add toys with stuffing or additional non-fitted bedding material.

Don't let things dangle into the bassinet, such as from a mobile, curtain cords, or window blinds.

Place your baby, so they rest on their back in the bassinet.

Do not use bassinets for infants that can already sit, climb, or otherwise move significantly on their own.
Using the Crib Properly
Place the crib in the right areas. This is more of a case of avoiding places that could pose hazards to the baby.
Avoid placing the crib near a window with blind, curtain cords or baby monitor cords; babies can strangle on cords.

Avoid placing the crib near drafty areas to prevent illness.

Avoid placing the crib near high foot traffic noisy areas, so the infant's sleep isn't interrupted.

Please don't put the crib near places where it could be prone to falling or tipping over.
Place the baby back-first into the crib. This will reduce the chance of injury.
This applies to short naps or sleeping for the night.

Ensure the mattress is firm and not loose from the crib frame.

Consider moving the crib in the same room as the parent(s), at least for the first few months.
Use a sleeper instead of a blanket. The sleepers are not as bulky as blankets but should be plenty warm and comfortable with reduced suffocation risk.
Check that whatever sleeper you buy is suitable in size for the crib. Ask your crib manufacturer if you are unsure.

Never attempt to double-up on the sleepers or blankets as the infant could get tangled up in them.
Place the baby with feet to the foot of the crib if you use a blanket. When the baby is in the crib, you want to ensure the blanket will not easily unravel and allow the infant to get tangled.
Tuck the blanket around the crib mattress

Cover the baby only as high as their chest.
Use the crib only as long as it suits your baby's size/age. If the baby or toddler is tall enough and old enough to climb out frequently, it may be time to switch to a bed.
Parents can delay the transition somewhat by lowering the mattress (if possible) or raising the rails (if possible).

The transition can frequently happen between ages 1 1/2 to 3 1/2

Parents may need to coax the child from the crib to a bed with a "party" or have them select the bed themselves.
Learning About Cribs and SIDS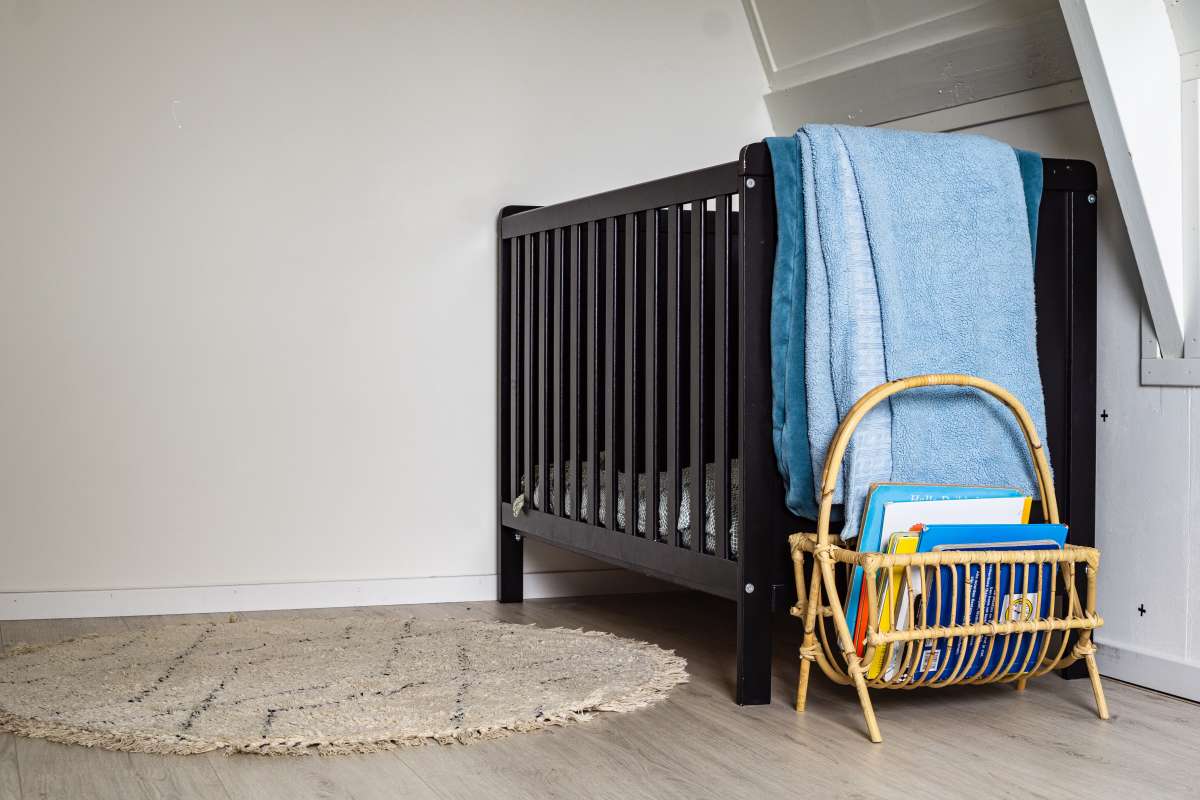 Stay aware of Sudden Infant Death Syndrome or SIDS. This is one of the most serious threats to an infant while in the crib. Its cause is largely still unknown.
Babies born premature and with low birth weight seem at higher risk for SIDS.

Babies whose mothers didn't get medical care during the pregnancy, mothers who smoked, and situations where twins or multiple babies were born also posed a greater risk for SIDS occurring

Regarding cribs and sleeping, when babies sleep on their bellies or sides (and roll over onto their bellies), they may not breathe well and increase the risk of SIDS.
Be aware that SIDS has no symptoms. There are no warning signs beforehand at all.
Babies who die of SIDS seem healthy before being put to bed.

SIDS victims show no signs of struggle and are often found in the same position as when placed in the bed.
Knowing the only diagnosis of SIDS is possible after death. SIDS is diagnosed usually when no other cause of death can be found.
Medical experts review the baby's and parents' medical histories

Doctors will study the area where the baby died

An autopsy is also performed.
Take steps to prevent SIDS. These are steps you can take when caring for your baby in its crib, especially during sleep times to reduce the risk of SIDS.
Be sure the baby is sleeping on its back. Check periodically to ensure they have not rolled over.

For at least the first six months after birth, allow the baby to sleep in their crib/bassinet in the same room as the parent(s).

Check periodically that no foreign objects, including additional bedding, are in your baby's crib.

Test the crib mattress for firmness and ensure its attachment is secure frequently.

Make sure the fitted sheet is not slipping off the mattress corners.

After your baby is about a month old, consider giving them a pacifier at nap/sleep times.
Get a support group for SIDS after an incident. There is no sure way to prevent or test for SIDS. If the unfortunate should happen, consider joining a support group for grief counseling.
Look for SIDS-specific support groups.

Consult a psychologist.

Talk with family, friends, and clergy.
Conclusion
When it comes to lowering your baby's crib, it's important to remember that you need to keep your baby's growth and milestones in mind. Your baby may grow faster than the recommendations of when to lower the crib mattress, or your baby may grow slower. 
You need to be aware of how your baby is developing and whether it is time to lower the crib in the name of safety.
Rather than keeping track of the baby's age, you should be aware of what they can do in the crib. Be sure to keep one step ahead of their development so that your sleeping baby always has a safe place to rest.