My Baby Nursery is committed to researching the top products for you to buy. Some external links are affiliate links, and we may earn a commission on items you buy (at no extra cost to you).
Playpens are available in different varieties and forms. They come with features that you can choose from. Use a playpen to let your baby play inside while you are busy doing other works. They come in a variety of designs and dimensions. You can choose the model of playpen depending upon the size of your apartment and the times you want to take the playpen outdoors. A few playpens come with inserts of bassinets that make it convenient for the baby to take naps after playtime.
When it comes to registering for baby gifts or preparing for your little one, a playpen or play yard isn't a necessity. However, this handy piece of baby equipment is nice to have, especially if you travel frequently or have other small children. The right playpen can keep your baby safely contained while you tend to other tasks, and many styles also double as travel beds.
A baby playpen is a piece of baby furniture. During the child's fast-growing years, safety becomes more and more important, and this is the time when you should invest in a playpen. It forms a precise play area for the kid. It is also very convenient for parents, as they can allow the child to be alone in it while they do other household work like cooking, washing or even attending a phone call. Some of them have vertical bars, while some others if made up of fabric, may have small windows on the side walls. This helps the person keeping an eye, to see through it and know what the kid is doing inside. It is closed from all sides, making the baby stay in the confined play area. There are many varieties of playpens available to choose from. Each one has some unique features which might confuse you while choosing one of them. The following paragraphs deal with some of the ideal features that a playpen should have, which might help to do away with the confusion.
We have a wide range of playpens for your baby right here at My Baby Nursery.
Why buy a playpen?
A playpen gives you a safe space to keep your child while you answer the door, catch up on a little housework, or get yourself ready for work.
Some experts feel that playpens can restrict children, and in the past, they have been overused. However, the design of your house, or your circumstances at home, may mean you occasionally need somewhere safe to place your baby for a short period. In these situations, a playpen can be useful.
Today's playpens are more than safe: they're good-looking and easy to fold and pack away. Some also double as travel cots or can be converted into room dividers, stair gates, or fireguards.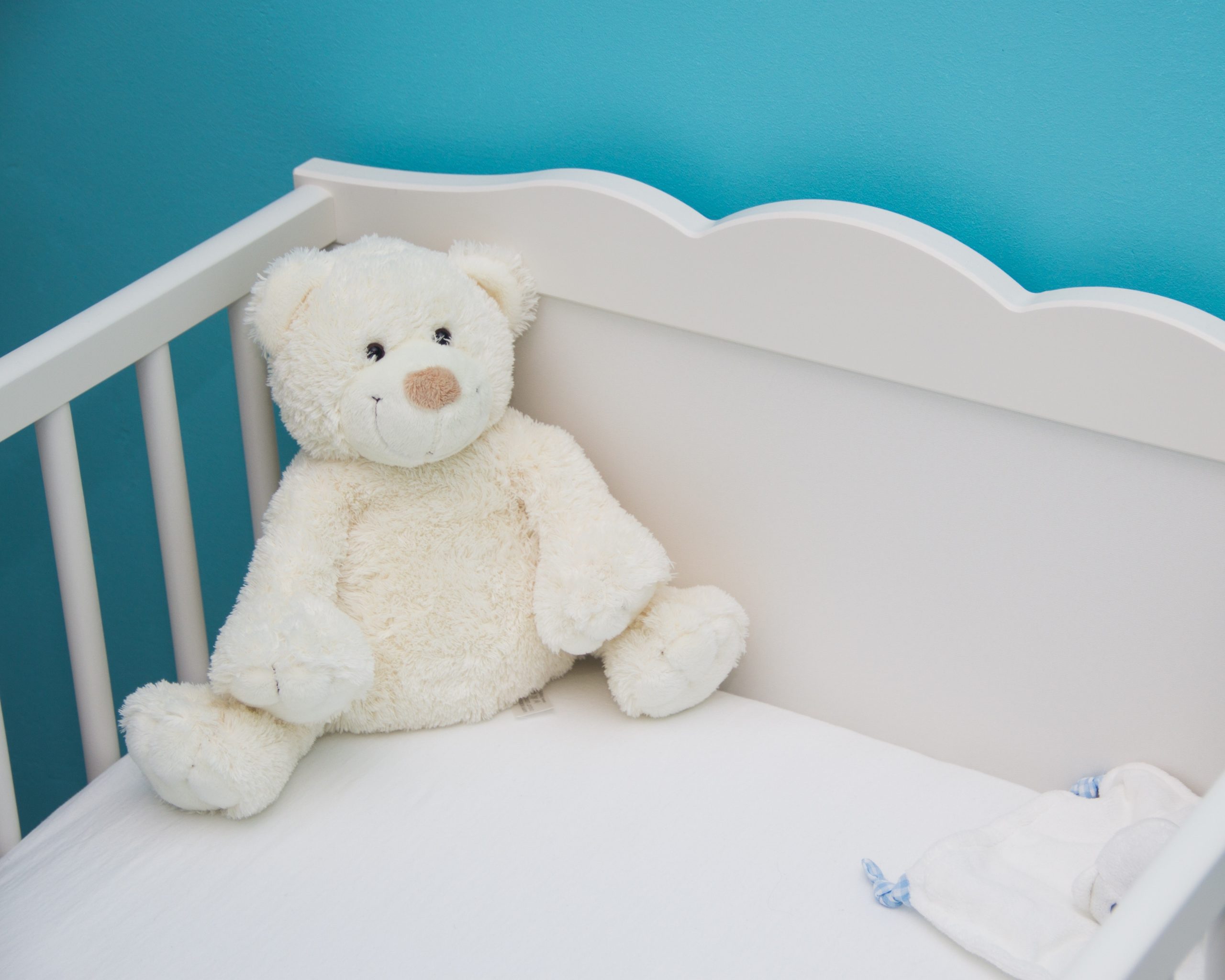 From what age can my baby use a playpen?
A playpen comes into its own when your child is just beginning to crawl at about six months or seven months. However, it's a good idea to buy a playpen before your baby's moving around too much, so she can get used to it.
Before you go ahead and buy a playpen, think about how and where you'll use it. For example, do you want your baby to be able to nap in it? Will you take it away for weekends and holidays? Thinking about how you will use your playpen will help you to make the right choice when buying.
What else should I think about before buying a playpen?
Always check that the playpen you intend to buy meets current safety measures. Look out for the BS EN 12227: 1999 or 2010 safety mark.
Don't use a playpen if it's damaged, dirty, or has holes in the sides of the floor padding. If you want to use a second-hand playpen, give it a thorough check to make sure that there are no loose parts or damage.
How do I keep a playpen safe and fun?
When setting up a playpen, think carefully about where you put it. Playpens should be kept away from windows, open fires, heaters and radiators.
Keep a few favourite toys or books in the playpen so that your child associates it with some of her best-loved things. You could even transform the pen into a ball pool by putting a layer of large plastic balls over the base.
However, be careful not to put anything in your playpen that your baby could use to lever herself out. Babies can be amazing to escape artists! It's also best not to dangle toys with ribbons from the side of the playpen. Your baby could use them to tip over the pen, or she could get tangled up in the ribbon.
Cleaning
Cleanliness is very important when it comes to babies since their immune system is not yet well-developed. So the playpen should be easy to clean. You should avoid complex structured models which are difficult to clean.
Some amazing baby playpen designs include music and lighting, which can keep the baby entertained for longer without getting bored. In the case of fabric models, there are colourful pictures painted on the walls as well as on the floor mat, to attract the baby. According to experts only infants and toddlers should be allowed to play in a playpen, because they are the ones who have developed their muscles to play, and can utilize the playpen to its fullest.
These are the important things to be considered before buying your baby a playpen. If you follow the above criterion, you will have the best one for your kid.
Tips for buying a playpen
Duration of use
Consider how long you will be using the playpen before you buy one. They can also be used outdoors and when you travel in all the seasons as a few varieties of playpens are weatherproof. A playpen can be used to create a safer place for the baby to play in an enclosed area. You might have to stop using the playpen once the baby grows into a toddler.
Weight and height of the baby
Playpens come in a variety of designs. You can choose a playpen depending upon the weight of the baby. A playpen comes with just a wall build-up or with a flooring area. Choose the design of the playpen depending on the weight of the baby. A playpen that comes with the flooring has a lower weight limit compared to the other designs of the playpen, which can be used even when the baby grows into a toddler. Choose a playpen that is taller than the height of the baby. A playpen that has vertical bars is the best that can be used so that the baby can take the support of the playpen to stand up and play.
The material used for the playpen
Durability is an utmost important feature to look at when it comes to buying a playpen. A few people also look at the aesthetics of the playpen that blends well with the interiors of their home. The wooden playpen is the most common variety that is bought for the child to play in. It is organic and poses no health hazards. There are also playpens that are made in metal as well as a fabric that you can choose from.
Dimensions of the playpen
Playpens come in many dimensions and shapes. A rectangular shape of the playpen is the most used and is a common type of a playpen that is bought by the parents. Hexagonal, as well as optional sizes of the playpens, are present that you can choose from. Whatever be the dimensions of the playpen that you choose from, ensure that you choose one that has a lot of ventilation and requires lesser storage space.
Detachable items
A playpen that comes with a canopy, detachable lid, and wheels is easy to move and is portable. When you take a playpen with a canopy outdoors, it protects the baby from the sun and weather. A playpen that comes with a detachable lid locks the baby securely inside the playpen. Playpens come with wheels, choose a playpen that has these features as it makes it easier for you to move the playpen around.
Easy in cleaning
A playpen must be easy to clean. A playpen that can be cleaned easily boosts and protects the immune system of the baby. The baby will not inhale germs if the playpen is easy to clean. Babies have the habit of putting things in their mouth. If they lick the playpen that is easy to clean, it will pose no hazard to their health. Choose models and designs of playpen that are easy to clean. Complex models of the playpen are difficult to clean as they have hard to reach areas where the dust settles in.
Other features to look for in a playpen
If you have a budget that can fit in a playpen with extra features like the music, storage space for toys, bassinet attached, changeable table, rocking attachment, and more you can go for this model as it provides safety as well as entertainment for the baby to play. Playpens are not very expensive. You can choose a playpen that comes with many features depending on your budget. A few playpens have floors, napper changer, and combination playard and playpens.
We have compiled a list of some of the top-selling baby playpens on Amazon.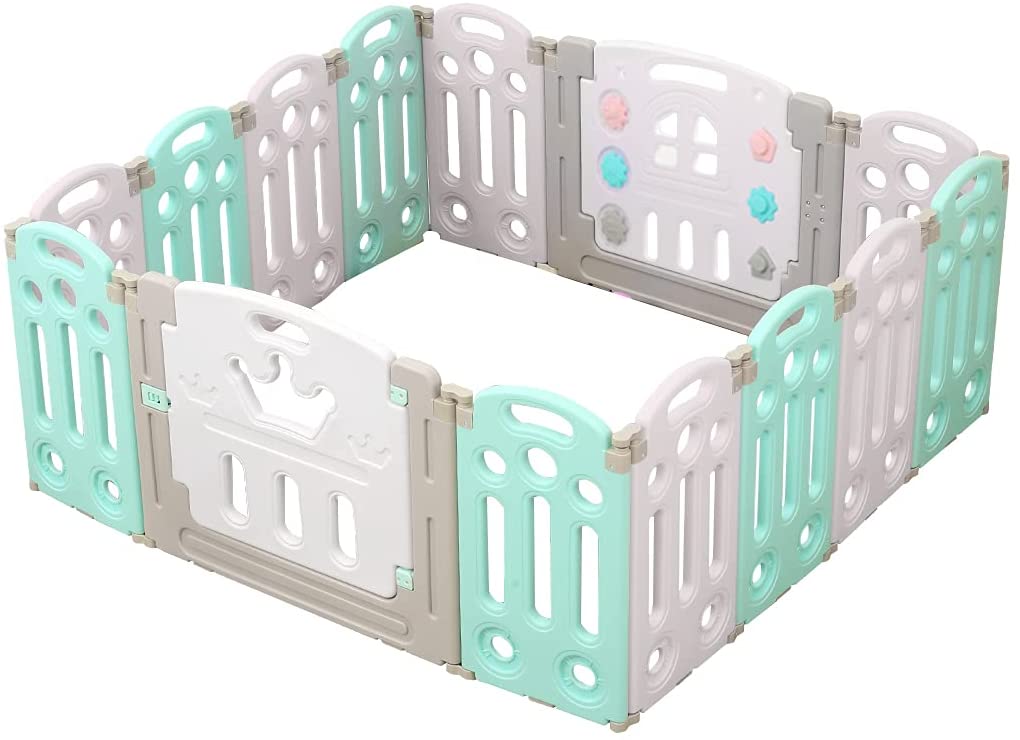 BoPeep Kids
Playpen Baby Safety Gates Kid Play Pen Toddler Fence Room 14 Panels
Create an ideal imaginative play area for your beloved growing children with the help of the BoPeep Kids Baby Foldable Playpen.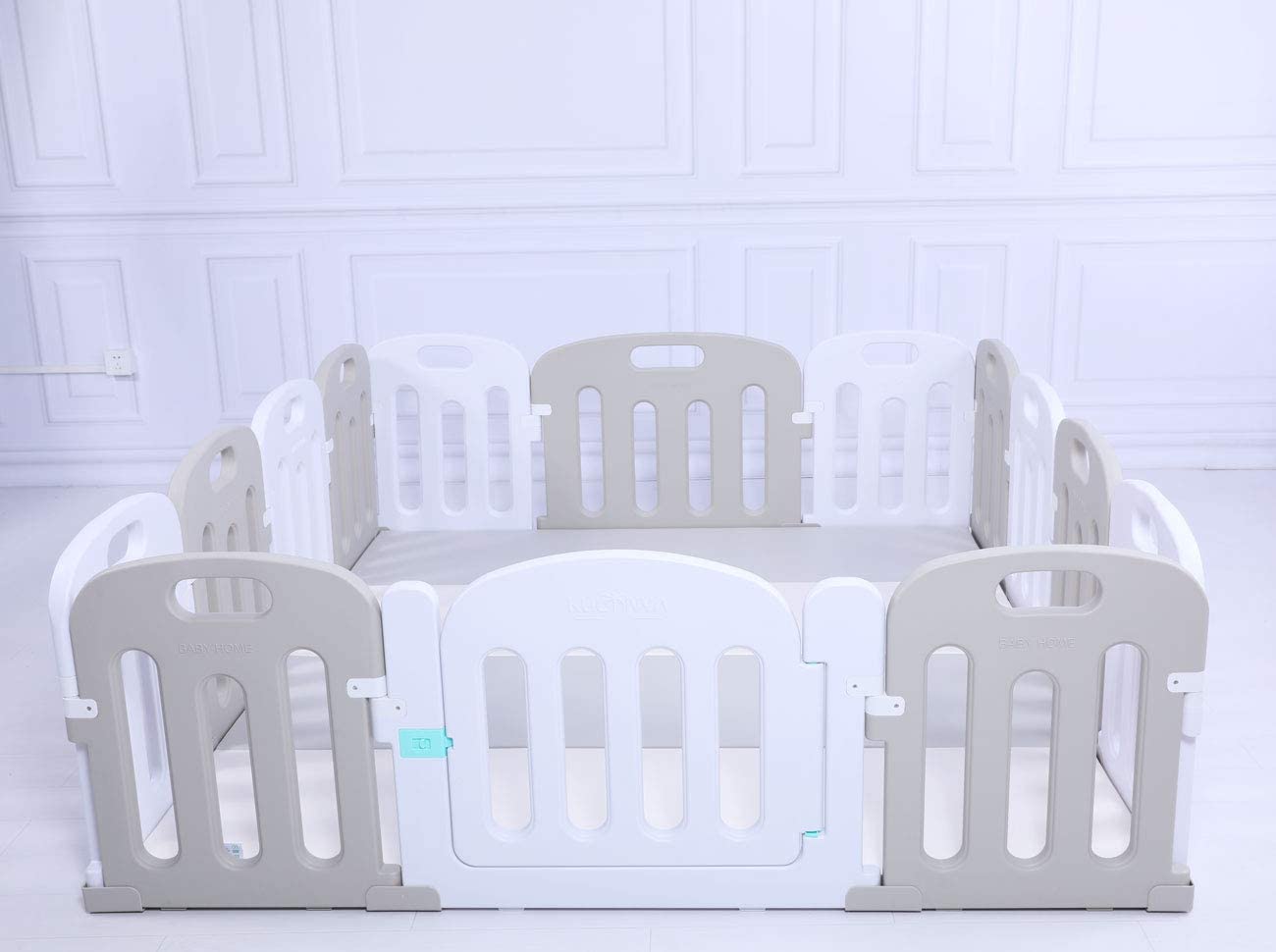 AU Choice
Premium Quality Baby Kids Playpen Toddler Baby Safety Gate + Slide + Play Mat Options Home Indoor Playroom
The Premium Quality Baby Kids Playden combines safety and durability as your baby's first discovery centre. It features a height that's perfect for children to stand up and walk around, while the area inside is plenty of room for them to play and explore. The anti-clipping design of the junction will ensure that your child can't get stuck by the product, either.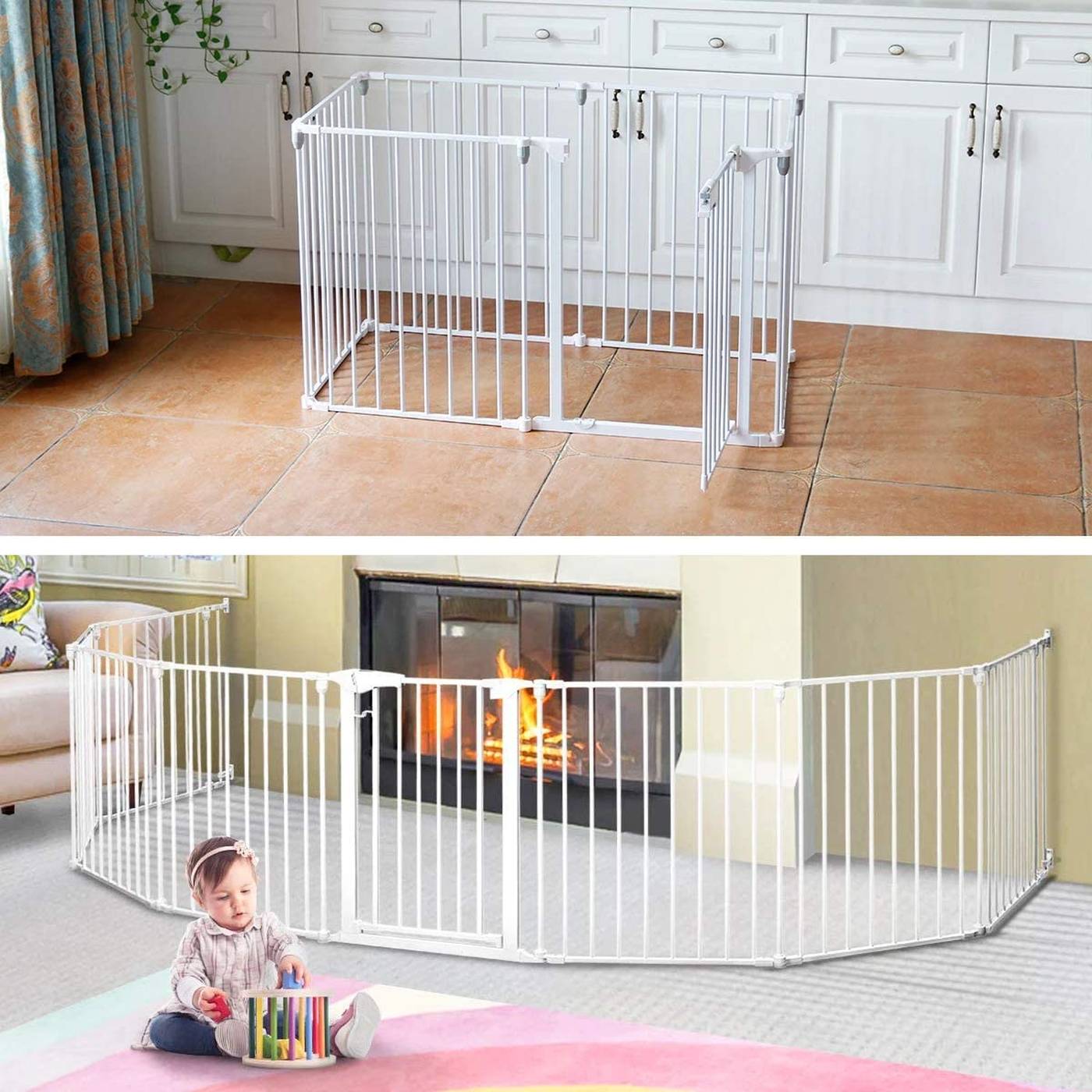 Yozzi
3-in-1 Super Wide Adjustable Baby Safety Gate and Play Yard Pet Playpen
This is no ordinary baby gate. We know you want safety that won't compromise the look of your home or allow critters in. The package comes with the necessary mounting hardware to keep climbing children at bay while allowing easy access for you and your guests. The one-hand release latch will have them out-of-the-way in seconds when the company arrives so foot traffic can flow right through - no awkward balancing act to disable the barrier during a potty break needed here either.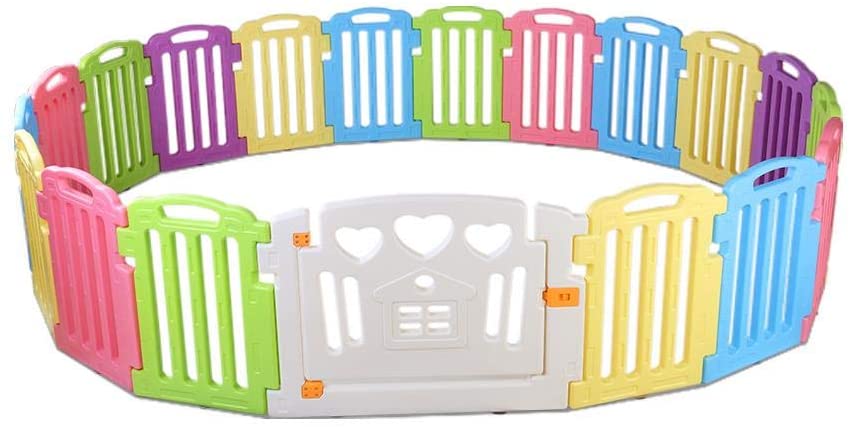 cuddly baby
19-Panel Plastic Baby Playpen with Interactive Safety Gate for Kids Toddler
You can finally breathe a sigh of relief as you keep your baby safe and sound without worrying about anything coming in contact with their skin! This Cuddly Baby Playpen has everything to make playing and learning more enjoyable for kids: 19 panels, safety joints, interactive safety gate and door lock, plenty of toys – the list goes on. Take advantage of this amazing opportunity before someone else does!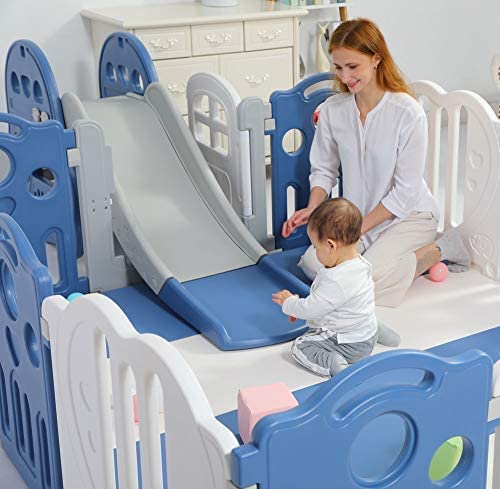 AU Choice
Premium Quality 148x173cm Kids Baby Playpen Options Toddler Baby Safety Gate Room Home Indoor
The Premium Quality Baby Kids Playpen is the best play area for your little adventurers in the home. The rubber base keeps it sturdy,65cm high panels are perfect for children learning to stand and walk,the safety lock on it ensures parents' peace of mind when they face hands full with life. Come take a look at this sweet baby pen!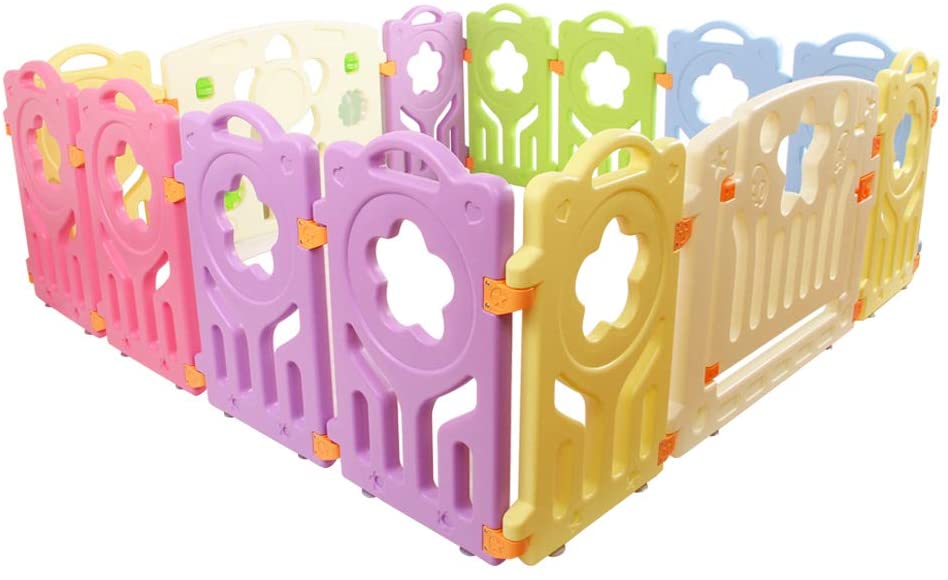 Timsolo
Baby Playpen Kids Toddler Plastic 14 Panel Interactive Safety Gate Divider Lock
We all live in busy lives that constrain us from spending much time with our babies. With the installation of this playpen, pat yourself on the back for providing your baby with their own personal minibox! The Playpens are easy to assemble and light-weighted; you'll be donning it in seconds within a minute or so after unpacking. It can brightly decorate up any area where it is installed, making things more fun for both adults and children alike.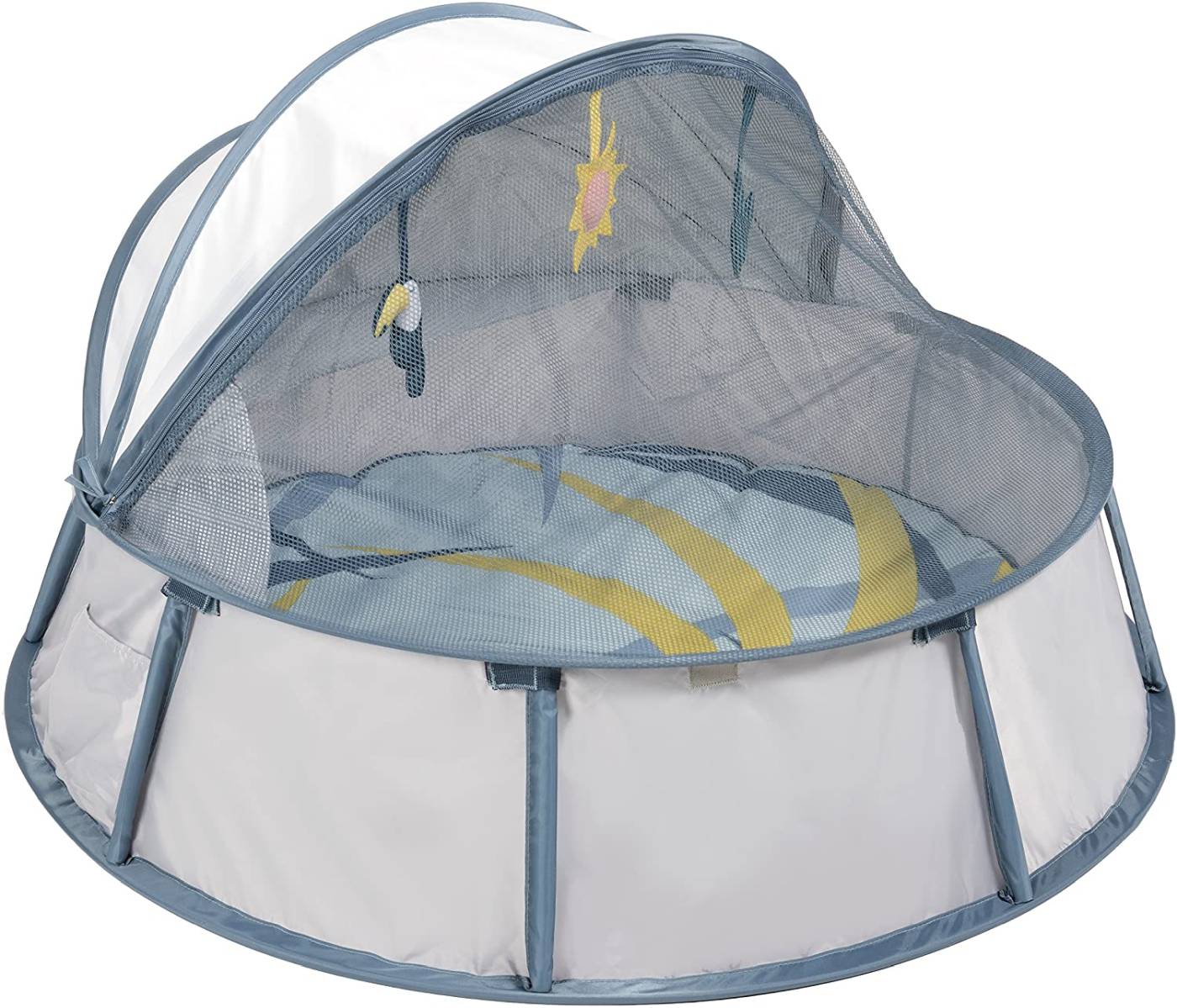 Babymoove
Babymoov Babyni Playpen, Activity Gym & Napper with Pop-Up System
With this playpen baby can enjoy the outdoors without any of the harshness. With UV protection, sand-proof canopy and a mosquito net, your child will be comfortable while you relax by the sea!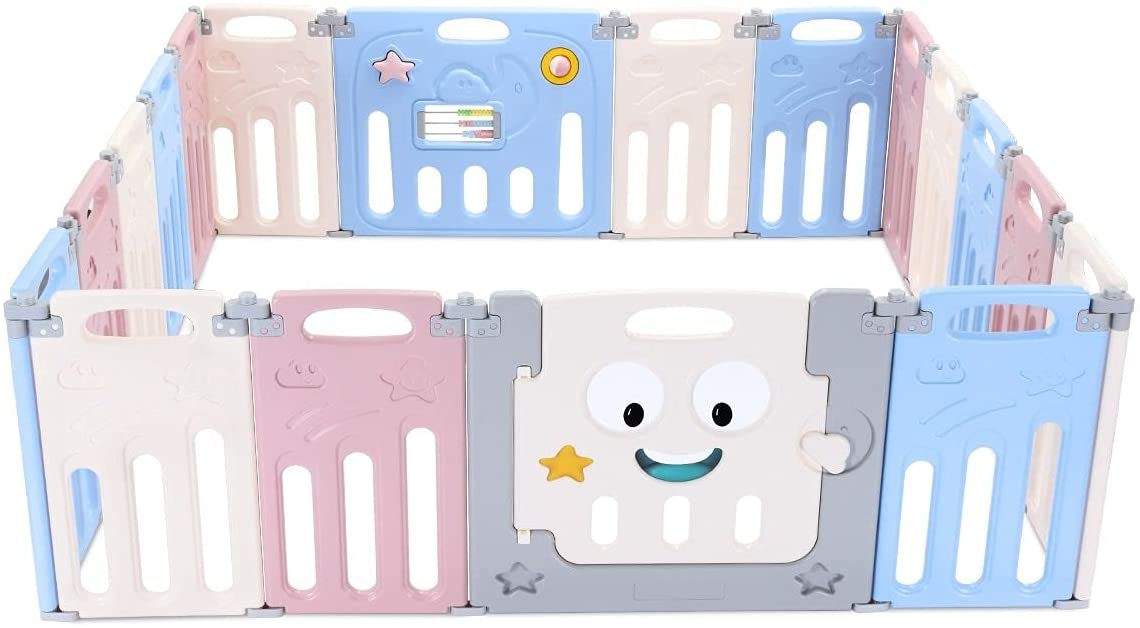 AUSWY
Baby Playpen ABST 18 Panel Safety Gate
The AUSWY Playpen is a welcoming place for babies to grow and learn. It's designed with safety, durability, and creativity in mind, so that parents can rest easy knowing their child is playing in comfort. Get ready for boundless fun with the 18 Panel Design- you'll be able to create any play space your imagination desires!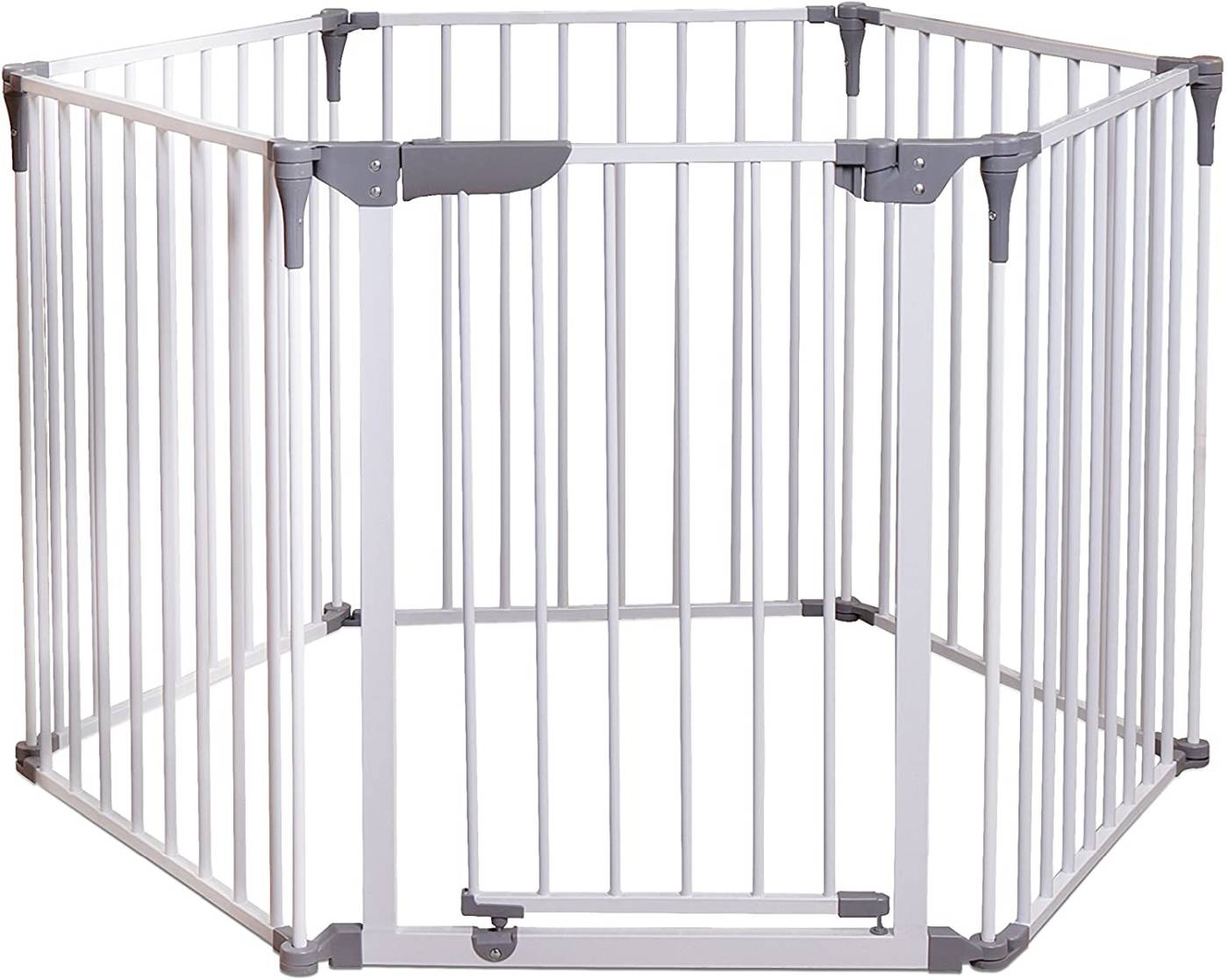 Dreambaby
Royale 3-in-1 Converta Play-Pen Gate
Whenever you want to keep your kids in one place but want them to have some space, this multi-purpose play pen is the answer. Six panels create a gate that surrounds more of your room - not just an area of rug or carpet. One side works as a convenient walkthrough door! The sturdy metal construction will last for years and doesn't need tools for assembly. Give indoor spaces without yard access the same functionality of outdoor yards with this convertible playpen.
Important Considerations When Choosing a Baby Playpen
Traditional playpens, which were square, featured a flat padded bottom and sides with bars. Today, the designs have changed significantly, and many manufacturers call playpens "play yards" or "players." Essentially, both playpens and play yards serve the same purpose.
Playpens and play yards come in a variety of different styles, and they also offer a wealth of features that may or may not come in handy for your situation. Choosing the right model for your needs takes a bit of thought and research. Before you settle on a specific playpen, consider the following factors.
Check out our range of baby playpens at My Baby Nursery.
Expected Use
You can use a playpen to create a safe zone for baby to explore and play. However, many people also use play yards as travel beds. Some designs even feature a bassinet insert, changing table, mobile, and other features, making these products handy for travel. Some playpens are even weather-safe so that you can use them outdoors. Knowing how you plan to use your playpen is essential when you start shopping.
Weight of Baby
Your baby's weight is also an important consideration. Some models are just walls that set up on the ground, and this type of playpen does not have a weight limit. However, many designs have an integrated floor, which is rated to support a certain amount of weight. Besides, extra features like a bassinet or changing station may have a lower weight limit than the main playpen.
Size of Enclosed Area
Playpens vary significantly in size. Some are about the size of a mini-crib or around 40-inches long and 30-inches wide. Others are hexagonal or octagonal and constructed of separate 36-inch wide panels. Some can even be expanded by adding extra panels to make them larger. If you'll be using the playpen mostly for play, you may want to invest in a larger model. Be sure to check the dimensions of any playpen you are considering before making a purchase decision.
Folded Size
Will you be doing a lot of travelling? If so, you may want to purchase a play yard that folds up into a compact shape and takes up minimal trunk space. Even if you won't be travelling with the playpen, you'll still need to store it. Many people prefer a playpen that folds up easily and compactly.
Construction
The old-fashioned bar design for playpens is long gone. Today, you can choose from playpens constructed of several plastic panels or those made of mesh and metal tubing. Either way, it's very important the model you choose offers plenty of ventilation and visual contact with your baby, and it's also essential that the playpen is safe and sturdy.
Ease-of-Use
Will you be leaving the playpen set up, or will you be storing it often? If you'll be taking it up and putting it down a lot, you'll need a model that's easy to assemble and use. You don't want the assembly to be a hassle, especially if you're dealing with a cranky baby.
Extra Features
You can still buy a standard playpen, but most models include plenty of extra features. These are a few of the options you may encounter:
Toys to entertain your baby, including mobiles, activity bars, integrated lights and sounds, and more

Attached wheels to make transporting the playpen easy

Bassinet for infants

Diaper stacker or storage space for baby essentials

Changing table

Separate rocking attachment for lulling your little one to sleep
Budget
Depending on the features you need, you can spend between $75 and $250. Before you begin shopping, it's important to know your available budget.
Types of Baby Playpens
Once you've identified the features that are important to you, you can examine the available models to see which ones match up with your needs. There are three main types of playpens on the market.
Standard Playpen
If you need a playpen to use as an occasional indoor play space for your child and don't need something that doubles as a crib or changer, a standard playpen may be the best option. Consisting of a raised floor and mesh sides, this type of play yard doesn't include all the extra bells and whistles that can significantly add to the price. It's one of the most affordable options you can find, often ranging in price from about $75 to $175.
Playpens Without Floors
Some playpens also come without floors and are called baby playpen gates, allowing you to set them up in the corner of the family room or even outside on the lawn. This type of playpen usually has more space than a standard or travel option, but it can't double as sleeping quarters. Instead, its main function is to keep baby safely contained while you do other tasks. Some of these models include integrated toys to help keep baby entertained while others are more simple. Expect to spend between $65 and $200 on this type of playpen for toddlers.
Travel Play Yards
If you're planning to do a lot of travelling and need a bed for the baby, there are lots of great options out there. In general, these playpens are smaller than other types, and they also tend to fold up a bit more compactly. Depending on the features you need and the size of your baby, you can expect to spend between $70 and $250 on this type of playpen.
Safety of Playpens
Like all baby products, it's important to consider safety when purchasing a playpen. Keeping up with product recalls is a great way to do this. Keep these tips in mind to help:
Send in the registration card that comes with your playpen. This will help the manufacturer contact you if there is a recall.

When you're in baby retail shops, scan the bulletin boards for recall notices that may apply to your item.

Enter the brand of your playpen in the recall search field to see if it has been recalled by the Consumer Products Safety Commission, which is the government body that handles recalls of baby gear.
My Baby Nursery has a wide range of baby nursery playpens for your little bub.
Do Your Research
Ultimately, choosing a baby playpen comes down to assessing your needs, budget, and other factors. The right play yard for you may be a travel model, an indoor/outdoor enclosure, or a simple and affordable option that folds compactly. Whichever model you choose, doing your research will help ensure you're happy with the result.
Remember, playpens should only be used for a short period. Always keep an eye on your baby as much as possible, even when she's in the playpen.
Now that you're armed with all the facts, you're ready to go out and search for a baby play yard of your own – one that will enhance your family life and help your child's development rather than hinder it. It's entirely okay to buy second-hand if that's what you would rather do. Still, if possible, try to avoid buying second-hand playpens online – you won't be able to look at them before you purchase, and you can never be entirely sure of their condition. Look for second-hand playpens in dedicated 'pre-loved' baby equipment shops for the best choices.
If you'd rather stick to buying your playpen new, many more avenues open up to you – including, of course, an entire internet's worth of shopping options! Just be sure to check the listings for safety features, weights, sizes, restrictions, and anything else that you're going to need to know or think about before you commit to a particular playpen.
Above all, buy a playpen with your baby first and foremost in your mind – and they're sure to love it.