Designing a nursery is fun and exciting. Not only are you creating a delightful oasis that encourages your newest addition to grow and learn, but you're also providing them with a comfortable place that nurtures a sense of safety.
Keeping this in mind, choosing the right crib is one of the most important decisions you'll make before the baby's birth--after all, it is where they'll spend approximately the next two years of their life.
With so many factors to take into consideration, you might be wondering where to begin. To help save time, we've compiled a guide that delves into crib types, as well as crib basics, safety and other factors that play a big part in making an informed choice.
Make sure the mattress fits.
There shouldn't be any gaps or openings between the crib and the mattress because a baby can get trapped in the smallest spaces. A full-sized crib has interior dimensions of 28 inches by 52 inches, and the mattress should be 27 1/4 inches by 51 5/8 inches and no more than 6 inches thick.
Some newborns also sleep better in a smaller, cozier space (it's more womblike). But most babies are ready to switch to their crib by 3 or 4 months.
Depending on the brand and quality you decide to go for, expect to spend anywhere from $100 to $1000 for a new crib. However, you'll have more than enough quality options between $200-500.
They come with one, two or no drop-sides and parents should decide which model they prefer before narrowing their search. Typical costs: According to Consumer Reports, economy cribs cost $100-$150; mid-priced cribs, $150-$450; and high-end ones, $450+.
In a nutshell, no. You don't have to spend $1,000 on a crib if that's not in your budget. Safety is the most important feature. Cribs that meet the guidelines of the U.S. Consumer Product Safety Commission or the National Institutes of Health are your best choices and are available in all price ranges.
Types of Cribs
When shopping for different crib types, it's important to consider more than aesthetics. The six cribs mentioned below are some of our favourites. Read on to find out practical information about each, as well as their pros and cons.
Standard Cribs
When you picture a crib, this will probably be the one that comes to mind. Long-lasting and sturdy, standard cribs have a simple construction--4 fixed sides with slats throughout.
Standard cribs are ideal for parents planning to have multiple children. They're durable and come in many different designs, including two colour tones, mixed materials and colourful finishes.
Spindle cribs, a variation of standard cribs, feature slats that come in interesting designs such as square, round and rectangle.
Pros: 

Some babies enjoy a little extra room for stretching out—especially as they get older. A standard crib will have a good amount of space for the baby to get comfortable. Standard cribs are highly prevalent, with many models, styles, and finishes available to suit nursery décor. Most standard cribs have at least three and sometimes four levels of mattress height for adjustments as the baby grows, meaning these cribs can typically be used until the child is ready for a toddler bed.

Cons:

 Standard cribs (as opposed to mini cribs and crib alternatives like bassinets) take up a significant amount of space. When compared to smaller sleepers, standard cribs are usually more expensive, they have more complicated assembly and disassembly, and they are not easily moved once assembled.

What to look for:

 One of the major benefits of standard cribs is the possible design/colour options compared to convertible cribs. Parents are likely to find many style options to align with nursery décor. Parents should be sure to check the crib safety use regulations (typically a height limit). Additionally, parents should ensure crib selection aligns with modern safety requirements. The AAP observes that while older cribs, for example, may have aesthetic charm, they may harbour hazards that have since been improved by regulations. For example, in 2011, the U.S. Consumer Protection Safety Commission set a process prohibiting the manufacturing, sale, and even donation of drop-side cribs in the United States.
Bottom line: while they make for an excellent sleeping solution in permanent homes, families who are constantly on the go might want to look for another option, as standard cribs are large and hard to transport between locations.
Convertible Cribs
Also known as a "lifetime crib" or 3-in-1 crib," convertible cribs are making a swift gain in popularity due to their ability to grow with your child. For instance, some make a simple transition to a toddler bed, while others add a third step and transition from a toddler bed to a daybed or full bed—ensuring it stays with your little one into adolescence.
Convertible cribs are often an ideal choice for parents who aren't planning on having more children or those who are looking for a long-term furniture solution.
Typically, these cribs have a timeless design or a subtle colour scheme, meaning you avoid a potentially dated look as your child gets older. Another benefit: convertible cribs are the most long-term cost-effective option, as you'll only need this one bed for the majority of your childhood.
Pros:

 Convertible cribs offer options to parents as babies grow. Once babies have outgrown their crib years, convertible models will transform into another bed type. The likely goal here would be for parents to save some money in the long term, planning for when babies will need a toddler bed, etc. Some models can be converted into toddler beds, day beds, and even full-size beds. Convertible crib models are popular options readily found in baby furniture stores.

Cons: 

Convertible cribs are more expensive upfront. The conversion rails are sold separately, which will be an added expense later. Furthermore, parents may consider purchasing conversion rails right away because if / when models are discontinued, the rail kits become unavailable. Depending on the brand and style, a convertible crib can be much more expensive than a standard crib after all rails, tools, and even a new mattress for some models are acquired. Some parents find convertible cribs more difficult to set up than standard cribs.

What to look for:

 One of the first considerations parents will want to make when selecting a convertible crib is how many functions are included with each particular model. Typically, convertible cribs are marked as 2-in-1, 3-in-1, 4-in-1, etc. The 2-in-1 models will usually include the crib format and an option for a toddler bed set-up. Some beds even include a 5-in-1 option which includes two configurations for the full-sized bed (with or without footboard). Parents should also consider the price and availability of the conversion kit (some kits may need to be ordered) and whether special tools will be required.
Bottom line: if you decide to take this route, be sure you love how it looks as you're in it for the long haul. Convertible cribs carry a larger up-front price tag than other alternatives, and little manual labour (as well as a conversion kit) is required for each transition.
Bassinets
One of the more versatile options for new parents is a bassinet. Ideal for the first few months of life, this type of crib makes it easy to keep an eye on the baby as you lie in bed.
Due to their smaller size, bassinets are a wonderful solution for apartments and lofts, too. They don't take up much floor space and are easy to move from room to room.
Some even rock back and forth--helping your new addition fall asleep during naptime.
Bottom line: while a solid choice as a short-term sleeping solution, bassinets have a limited lifespan. It's recommended that once a baby is 3-6 months old or rolling over, parents move them to a bigger crib.
Travel Cribs
Does your family's lifestyle mean you're often away from home? Take a travel crib into consideration. Not only is the crib type ideal for vacations (they can be packed up and taken on the plane), it also works for shorter weekend trips to Grandma's house.
Travel cribs tend to be very soft and lightweight, often featuring a mesh or aluminium construction. Most also come with a storage bag for added convenience.
Another benefit: they're known for quick setup times, with some being ready to go in less than 30 seconds.
Bottom line: like bassinets, travel cribs are not recommended for use as a permanent sleeping solution. Also, they're prone to wear and tear due to their material makeup.
Mini Crib
Another popular solution for families in smaller living spaces is the mini crib.
Don't let its small size fool you. This compact crib type has many features as its larger counterparts, including an adjustable-height mattress and casters that make gliding from room to room a breeze.
Bottom line: babies will quickly outgrow their mini crib, meaning parents will likely have to invest in a larger one before making the transition to a toddler or twin bed. Also, wheels on the bottom mean parents need to check the locking brakes.
Choosing the Best Crib for Your Budget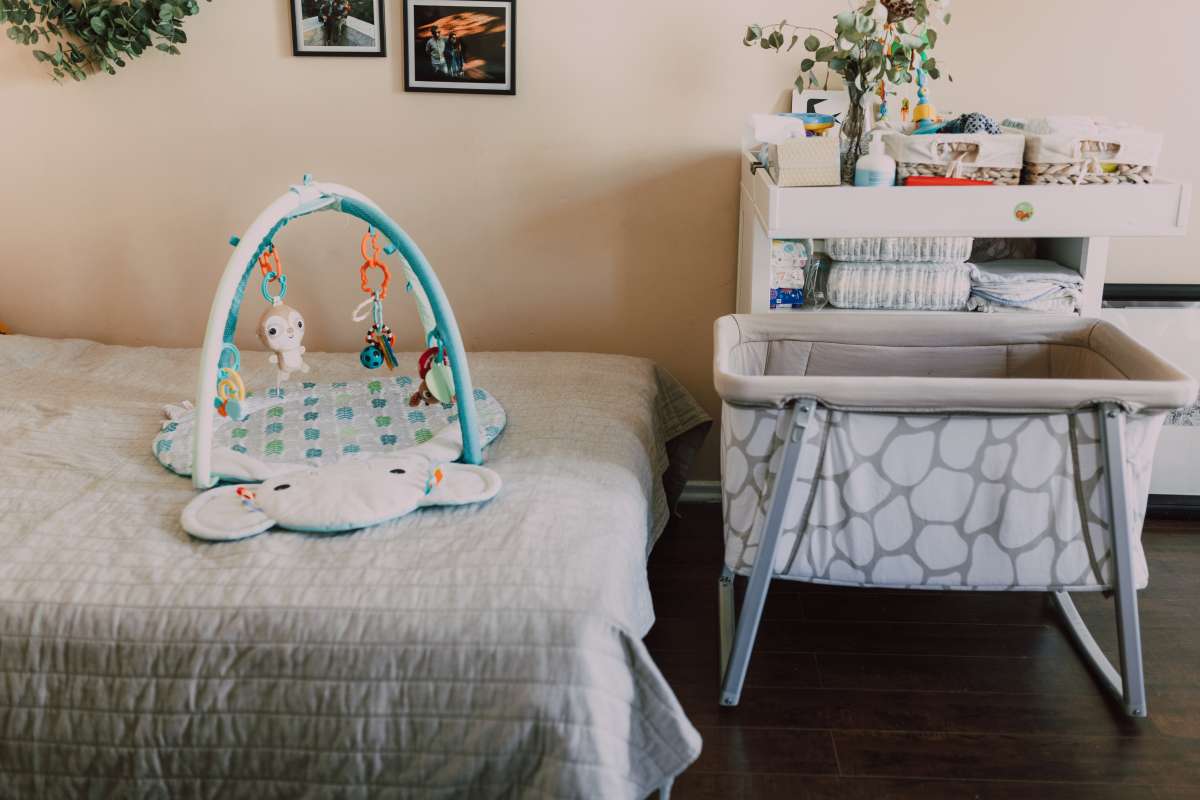 The price point for cribs will vary significantly between brands and styles. Lower cost cribs come in at around $150, and higher-priced models can cost $800 and beyond. Many of the best cribs are around $200-300, though luxury versions are considerably more than that.
Impacting factors include wood or other materials used to build the crib, the finish, style, brand, retailer, and extra features. Additional costs will include a mattress (usually not included except for portable cribs and some round cribs) and a conversion kit and tools (if applicable). 
Finding the best crib mattress can also be a bit of a challenge for your budget - expect to pay an additional $150-300 on a crib mattress. Be sure to check out our reviews of the best crib mattresses to find a high quality, safe, and comfortable crib mattress that doesn't break the bank! Portable and standard cribs are typically the least expensive options. 
Convertible cribs are usually the next price point, followed by multipurpose cribs. Specialty, round cribs are usually at or above the average prices of multipurpose cribs.
Safety Guidelines
Historically, new parents made cribs out of whatever materials they could find—hollowed-out logs, pine, wicker and even papyrus. Thankfully, those days are long gone. In today's world, one of the most well-researched aspects of any given crib is how safe it is. 
As of 2011, all cribs manufactured must meet the standards put forth by the Consumer Product Safety Commission (CPSC). One of these standards is that the date of manufacture must be printed somewhere on the crib—making it easy for parents to ensure it's up to code.
Later that same year, more government agencies joined the conversation about crib safety. The Federal Government itself joined forces with the CPSC to ban drop-side cribs due to the dangers they present. 
Additionally, the Academy of Pediatrics noted the risks posed by bumpers, and the Food and Drug Administration did the same for sleep positioners. Other safety precautions parents should take are listed below.
Sidebars: 

The sidebars of a crib should be no more than 2-3/8" apart (or about the width of a soda can). Why? This spacing helps prevent the baby from slipping out or getting stuck. Cribs with cutouts on the headboard and footboard should also be avoided for the same reason.

Corner posts:

 The height of corner posts should not exceed 1/16th of an inch. Anything taller can catch your child's clothing.

Bare is best: 

There should be no toys, stuffed animals, pillows or blankets inside the crib with your child. The only bedding they'll need is a waterproof pad and fitted sheet. Most parents find laundry day easier if the bedding is machine washable, and be sure to use a mild detergent that's unscented not to agitate the baby's skin. If your little one seems cold, use a swaddle blanket to warm them up.

Dust bunnies:

 Babies are sensitive to dust and dander. Therefore, the underside of the crib should be vacuumed often, especially if you use a crib skirt. As an additional measure, keep pets off the crib to prevent marking and the spread of fur.

Cords and strings:

 Keep the crib away from windows, curtains, cords and anything else your little one can pull. Hanging baby mobiles are fine as long as they're kept out of reach.

Mattresses: 

The crib mattress should be a snug fit, reaching every corner of the crib's frame. If more than two fingers fit between the crib and the side of the mattress, the mattress is too small.

Inheritance:

 If your crib is a hand-me-down, be sure it meets current standards. Check for stable hinges, as well as sharp or protruding pieces. If it's made of wood, ensure the finish is smooth and splinter-free.
Other Parameters to Consider While Buying A Crib:
Slats:

 The slats of a crib should be no more than 2-3/8″ apart. Anything more, and there is a chance of the baby's arms or legs getting stuck in the gap.

Corner posts: 

The height of corner posts should not exceed 1/16th of an inch. Anything higher, and there is a danger of your child's clothing getting caught in it.

The minimum distance between the top of the lowest mattress height and the top of the crib side rails should be 26 inches.

Paint:

 Ensure that the brand you have chosen only uses non-toxic, baby-safe paints on its nursery products.

Crib mattress:

 Mattresses should be bought along or as soon as a decision on which crib to buy. Crib mattresses should fit snugly in the crib and be no more than 6 inches thick. Please read our guide on how to select a crib mattress here.

Mattress sheet: 

Along with getting a well-fitting mattress, it's important to get a few soft fitted sheets that fit perfectly over the crib mattress. These and a few waterproof pads prevent any accidents from seeping into the mattress.

Side rail 

– Cribs with a drop-side no longer meet safety requirements. Buy only cribs that have fixed, stationary side rails.

Check the CPSC website to see if the crib you have chosen has been recalled.
Safety checklist while setting up your nursery
All cribs come with assembly instructions. It's essential to follow them so that the crib is set up the right way. Make sure the crib is steady and seems sturdy.

Crib bumpers are not necessary and can pose a suffocation or strangulation risk.

When it comes to accessorizing a crib, Bare is best! However tempting it may be, the crib and mattress should be devoid of any extras – pillows, soft toys, blankets should be avoided.

Place cribs away from windows and ensure no loose strings or cords are hanging over the crib.

Vacuum the underside of a crib regularly to avoid the collection of dust

Ensure the nursery or room where the crib is kept has adequate ventilation.

While we recommend buying a new crib if you must purchase a second hand one, make sure that it meets current safety standards.
Creating a Safe Sleeping Environment
If a mattress is not included with the crib, parents should ensure they select a mattress measured exactly to fit the crib's dimensions. According to the Academy of Pediatrics, the mattress should be very firm and not sag under the baby's weight. Sheets should be fitted tightly to the mattress size.  
"The top of the crib rail should be at least 26 inches from the top of the mattress." Parents should search for cribs with numerous levels for mattress height to gradually lower the mattress as babies grow taller.
Slats or bars around the crib should be no farther apart than 2 3/8 inches. The sleeping space inside the crib should be bare, without pillows, blankets, or toys. Additionally, parents should completely avoid using bumper pads that tie on or otherwise prop against crib slats or sides.  
A statement from the AAP asserts, "Crib bumpers are decorative only; they do not serve any safety purpose whatsoever. The science is clear that crib bumpers pose a serious suffocation hazard to children, and that evidence has grown since CPSC first began reviewing this issue in 2012." Further, the AAP recommends that crib headboards and footboards be solid without decorative cutouts to avoid fingers and limbs getting caught. And cribs should not include corner posts, as these could snag clothing and cause safety issues.