Camping with a baby requires some essential items and need-to-know tips. Introducing a small child to the wonders of the outdoors is something many new parents look forward to. 
But, the prospect of camping with a baby can be a bit daunting, even for experienced campers. 
For couples who enjoy camping, having a new baby might feel like it means they'll have to put their outdoor adventures on hold for years until their newborn is old enough to survive a camping trip. 
However, there are plenty of ways couples can head to the outdoors with their infant children—even at an early age.
There are, however, several aspects to consider before going camping with an infant, and you'll want to take a few extra precautions to make sure that everyone, even your first-time camper, has a great time safely.
Knowing how young is too young and what you'll need for your trip to accommodate a small child goes a long way to ensure the whole family enjoys the journey. In addition, knowing when to go camping is essential for younger campers as the three most important things to keep in mind are warmth, food, and boundaries
Here are some tips for how to camp with your baby and still have a good time:
Check out our range of baby nursery bedding manchester to ensure a good night's rest for your bub.
Preparing for the Outdoors
Before you go on your first camping trip with your infant child, it's essential to get your little one used to the idea of sleeping in a tent outside and away from the luxuries of home.
This is particularly important for children who have spent most of their time in a city environment.
You can prepare your kids by pitching a tent in your backyard (or living room) and letting them sleep in it overnight before you venture off to a real camping trip. 
Allowing your kid to get accustomed to a sleeping bag (or portable "crib") before you go can help your child sleep through the night while in the wilderness.
You should also make sure you have everything you'll need to ensure that you and your family have a safe, fun, and relaxing vacation. 
After all, camping is supposed to be a relaxing and enjoyable experience. You don't have to be afraid of taking your infant on a camping trip as long as you follow a few precautions and guidelines for camping with children.
Packing for Infant Campers
There's nothing like the memories you make on a ​family camping trip, so don't let nature scare you out of a great experience—just come prepared.
Along with essential items you can find on any camping checklist, such as a tent and sleeping bags, you'll also need to bring the right gear and supplies to keep your baby happy on your camping trip.
Additionally, bringing along an extra "play tent" can help keep your shared "​family tent" cleaner.
Baby necessities start with a blanket, stuffed animal, a favourite toy, and plenty of long-sleeved shirts and pants to keep the bugs off sensitive skin. The list can also include an infant carrier, stroller, and a portable playpen. 
In addition, if you want to take a weekend-long camping trip and plan on bathing your infant, a plastic tote makes for a great portable bath basin.
Another thing to keep in mind with infants and toddlers is that you'll have to bring extra diapers—and a way to dispose of them. 
Some campsites will have dumpsters or garbage cans, but others might require that you pack all of your trash out with you. If that's the case, make sure you have smell-proof containers for used diapers.
Setting Boundaries and Rules
As your kids get older, you'll also want to bring colouring books and other books about the area that you can read together. 
You'll also want to set boundaries and rules to ensure your growing child doesn't wander too far away from camp and get lost.
Although it's not necessarily dangerous to take your younger children camping, it's essential to communicate how destructive nature can be, especially for infants and toddlers. 
Along with bringing portable playpens and keeping an eye on your infant, you should also let them know where it's safe to go and where it's not.
Along with safety rules, you should also maintain a routine with small children to reduce crankiness and tantrums. 
Although camping can be quite relaxing for adults, kids still need to take naps and eat meals on their regular schedule to avoid becoming overtired, hungry, and ultimately moody.
Where to Go Camping With a Baby
Many of the places you'd consider camping as an adult are suitable for bringing a baby along. 
That means state parks, national parks, and private campgrounds are all reasonable options. As you narrow down your choices, here are some tips:
Limit Driving Time: 
If the thought of camping with a baby seems daunting, then don't add a long car trip to the mix. 
For your first family outing, eliminate the stress of travel and choose a campsite that's close to home. 
You won't have to get a super early start to make it to your destination, and if things don't go as planned while camping, you can call it quits without having invested hours of driving time. 
If you want to eliminate driving altogether, set up the tent in your backyard to give family camping a test run only feet from your house.
Choose Campsites With Amenities: 
A campsite with a bathroom and playground nearby is probably not your vision of an actual wilderness excursion. Still, those things can be very convenient with a baby in tow, especially during your first outing or two. Then, when you're more comfortable with camping as a family, you can head farther afield.
Try to Get Distance from Other Campsites: 
If you're making reservations ahead of time, try to find a site that has a little distance between it and the neighbouring areas. The extra space can make the whole experience feel a bit more remote and help reduce your worry about noise issues.
Seek Shade:
Keeping little ones out of the direct sun is an essential step in protecting them from UV rays, so if you can, choose a shady spot.
Meal Planning for a Baby
Planning a camp menu can seem like a lot of work, but it's not so bad if you focus on keeping things simple for you and your baby. 
For adults and older kids, one-pot meals, like pasta, oatmeal and chilli, make meal prep, cooking and cleanup easy. However, if you want to make more elaborate meals, check out our collection of recipes.
To plan food for your baby, consider first what they eat at home; most likely, you'll be able to stick pretty close to that. 
If they're breastfeeding, then the menu is super simple. But if your baby drinks from a bottle or eats solids, you can still journey out into nature with just a couple extra considerations:
Keep Things Clean: 
If you're bottle-feeding, make sure you have a way to keep everything clean. You can boil water at your campsite to sanitise your bottles. If you're mixing up the formula, make sure you have access to clean, potable water.
Bring Convenient Foods: 
If your child is eating solid foods, there are convenient options like squeeze packets with pureed fruits and vegetables in them that don't require refrigeration unless open. 
An older kid can squeeze one of these into their mouth, but with a real little one, you can pack small amounts onto a spoon and feed it to them. 
If your baby is old enough to enjoy finger foods, try soft fruits, scrambled eggs, avocado and beans. It's possible your child can even eat some of what you're having. 
Of course, follow your pediatrician's guidance on what's appropriate for your child to eat.
Tips for Sleeping in a Tent With a Baby
Let's be honest: Getting a solid night of sleep with a young baby at home can be challenging enough. 
Add all the newness of a camping trip, and there's a good chance you and your little one will be up a few more times throughout the night than is usual. 
Try to take this in stride (and bring along a little extra coffee for the morning). Here are some tips for handling sleep while camping:
Be Flexible: 
Every family has its way of working on sleeping with a baby, and it's up to you to decide how you'll handle that while camping, but know this: Camping is going to disrupt your regular nighttime routine. 
Try to be adaptable and understand that you might have to take a break from any sleep training techniques you've been employing at home so that you and your baby can get through the night. 
For example, you might have to allow your little one to stay up later than usual until it gets dark or nurse more frequently in the middle of the night for comfort.
Bring a Big Tent:
If you have a big family camping tent, bring it. You'll appreciate having extra space to spread out and get comfortable. 
And a big tent gives you room to use a portable crib/play yard (see next tip).
Use a Portable Crib/play Yard: 
This is an excellent idea if your baby is used to sleeping in a portable crib/play yard (and if you have a tent that's large enough to fit it).
The familiarity of the crib may help your little one settle down and stick to the nighttime routine. 
And even if you don't use it for sleep, the crib can come in handy when you need to contain your mobile baby while cooking dinner.
Bring a Few Favorites from Home: 
Almost everything outdoors is a toy to your tiny tot, so don't feel like you have to bring along every item from home. 
But, packing a few unique things, like a stuffed animal and some books, can help comfort your baby in the new environment.
How to Dress Your Baby for Camping
A comfortable baby is a happy baby. So to keep your little one having a good time on your camping trip, follow these clothing tips:
Dress Baby in Layers: 
Just like when you dress yourself for a day outside, think about what layers you can bring for your baby, so you're ready to adapt to changing weather. 
You'll want a base layer that goes next to skin, a middle layer that provides warmth and an outer layer that offers protection from wind and rain.
Avoid Cotton: 
On a casual car-camping trip with a good weather forecast, you can use many of the everyday clothing items you have at home. 
But if you anticipate cold and wet weather, it's wise to bring along clothes made from synthetics or wool that do a better job of insulating and drying more quickly than cotton. 
For cold weather, try wool socks, fleece pants, fleece jackets and insulated jackets. 
If you anticipate rain, you'll need a shell jacket to shed the raindrops. On sunny days, consider long-sleeve shirts and pants that breathe well so your child will be protected from the sun but won't be too hot. Learn more about dressing in layers.
Don't Overdress:  
For sleeping, you can add a sleep sack or fleece bunting for extra warmth. But be wary of overdressing your baby. 
It's easy to add many layers for fear that they will get cold at night. 
Check the forecast for the low temperatures and think honestly about how those compare to the temps in your house, and adjust your baby's outfit accordingly. 
With experience, you'll get to know just how many layers your baby needs to sleep comfortably at night.
Check out My Baby Nursery's baby nursery sets to fit out your dream baby room.
Diaper Per Usual: 
You are diapering your baby while camping doesn't have to be drastically different from what you do at home, especially if you have a bathroom nearby to dump waste and dispose of diapers. 
If you use cloth diapers at home, you don't have to abandon that while outdoors. Instead, bring along an airtight bag for storing dirty cloth diapers until you get home where you can wash them. 
A portable changing mat gives you a place to put your baby down for diaper changes, but you could also use a sleeping pad or blanket.
How to Protect Your Baby from Bugs and Sun While Camping
The general recommendation is to not apply bug repellent or sunscreen on babies younger than six months old. 
So if you're taking a real little one out camping, you'll want to consider other methods of protection, like clothing, for example. 
Here are some tips (always discuss any specific concerns with your pediatrician):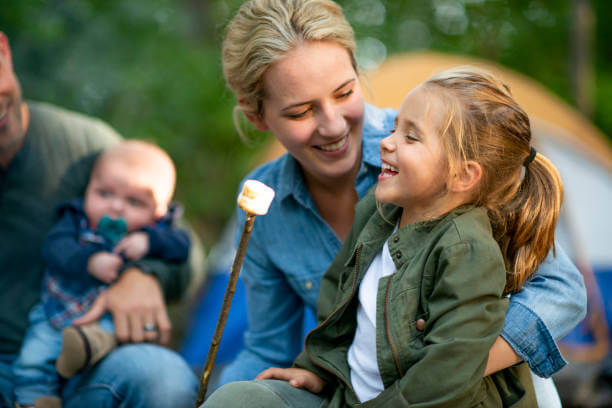 Limit Exposed Skin: 
The Centers for Disease Control and Prevention says not to use insect repellent on babies younger than two months old, while the Environmental Working Group says six months old. 
If you want to avoid using repellents, try to limit the amount of skin that's exposed. Pants tucked into socks, a long-sleeve shirt and a hat are pretty compelling. 
You can also try other ways of deterring insects, like wearing head nets, setting up a screened-in shelter or lighting citronella candles in your campsite.
Seek Shade: 
The Federal Drug Administration (FDA) recommends checking with your doctor before applying sunscreen on babies younger than six months old. 
Your first line of defence against the sun is to keep your baby away from it as much as you can.
Look for a shady campsite or places to play that are out of the sun. You can also dress them in sun-protection clothing and use an umbrella to block the sun. 
If you need sunscreen on, check with your pediatrician about the appropriate age to do so and then test the sunscreen on a small patch of skin to make sure it doesn't cause a reaction.
Tips When Camping With a Baby
Do a 'camping With a Baby' Trial Run.
Pitch up your tent in your back garden and try a night outdoors. 
It's a great way to road test your upcoming trip and figure out what baby camping gear you'll need. You may even need a baby-friendly tent.
The great thing is, if you forget something while you're in your back garden, you can pop back into the house and get it, but you know you'll need it when camping correctly. 
A trial run will also help you figure out any items you don't have but will need to purchase.
Choose a Campsite Close to Home
If it's your first time camping with a baby, choosing a campsite close to home is a good option, just in case, things don't go according to plan. 
You can pack up and quickly return to home comforts without having to worry about travel times. 
You can always venture a little further on your camping trips when you get the hang of camping with your little one. Please take a look at our campsites to find out which one is closest to your home. 
Check the Weather Forecast
It might be a given, but checking the weather forecast before you pack can be the difference between a successful camping trip and a cold and wet one. 
Although the weather is infamously unpredictable in Australia, the weather forecast should give you a general idea of whether you can expect blue skies or rain showers.
Once you have a better idea of the forecast, you can pack accordingly. Nevertheless, it's always a good idea to pack some waterproof and thermal clothing, because things can change instantly! If the forecast is predicting wet weather, read our guide to camping in the rain. 
Pack Plenty of Nappies, Nappy Sacks, and Wipes
Nappies weigh nothing when they've not been used, so pack plenty. Equally, pack plenty of nappy sacks to dispose of used nappies quickly. 
You will need plenty of wipes, too, because you will use them for more than just changing time. 
They're handy to have at feeding time, too. 
Pack Portable 'everything.'
Portable baby camping gear will make your outdoor adventure much more accessible. Items that are quick to set up and take down are a great time and space-saver. Here's some essential, portable gear you will need when camping with a baby:
Baby camping chair

3-in-1 bassinet, nappy bag and changing station

Pop up playpen

Changing Mat

Travel Cot
Make Time to Do Nothing
Although camping with a baby can be a fantastic, memorable experience for the whole family. 
There's no doubt that it can also be very tiring. So while it's essential to make sure you're doing lots of fun activities and exploring the local area, it's equally important to set aside some time for doing absolutely nothing.
Whether you're napping, relaxing or just reading, having some downtime will give you a lot more energy for the rest of your trip. 
Pack 'breathable' Clothes for Baby
Babies can't regulate their temperature well and will get sweaty during the day, especially if attached to mum or dad in a carrier. 
At night they can quickly cool down and will need to be clothed to keep warm. Either scenario requires 'breathable' clothing. 
On a hot day, dress your baby in light clothing and on a fantastic night, start light, but add layers as needed. It's advised that you pack a baby sleeping bag, some midweight sleeper suits, a hat and some baby mittens for those cooler nights.
Pack Baby's Comforter and Their Favourite Toy(s)
Are soothing your baby while camping can be made easier if your baby has a comforter or a favourite toy that helps to settle them. 
It gives them a little bit of familiarity when in a camping environment. Don't forget to pack a dummy, blankets or cuddly toys, whatever it may be that puts your baby at ease.
mother and baby Delmont
Get a Baby-Friendly Tent
Camping with a baby requires a tent that's roomy enough to store your baby camping gear and sleep the family!
Be mindful of how many your tent sleeps, and make sure it has plenty of space outside the sleeping areas to ensure that you get the best family tent for your trip.
Choose a Quiet Pitch on the Campsite
To prevent your baby from being disturbed or disturbing other campers, try and pitch your tent as far away from on-site facilities as possible. 
This will help you and your fellow campers enjoy a more restful night's sleep.
Take a Travel Cot
If a baby sleeps all through the night, then usually the parents do too. That's why it's essential to have a portable travel cot. 
Boasting a flat waterproof mattress with a strong frame and base, travel cots are worth considering to ensure your baby has a comfortable sleep. 
When choosing which model is best for you, remember to find one that will fit comfortably in your camping unit.
Get to Know Your Neighbours
Chat with your camping neighbours to give them the 'heads up' that you're camping with a baby. 
No parent should have to justify or be made to feel guilty about bringing their baby camping. You could get packs of earplugs and hand them out to your fellow campers as a considerate gesture.
Make Sure Mum Is Comfortable
Feeding a baby whilst camping can be uncomfortable, so make sure Mum has everything she needs to make feeding time a little more relaxing. A sturdy camping chair and cushions are certainly worth packing.
Pack a Baby Carrier
There are few better ways to explore the countryside than on foot. So if you're thinking of doing some walking on your next camping trip, take a look at our guide to our favourite walks in the forest. 
If you're planning to do some walking with your baby, owning a reliable baby carrier can make the whole experience a lot better. 
Lightweight pushchairs can be handy when visiting local attractions, but a baby carrier is convenient when heading into the country. 
Don't Stress
Babies can pick up on signs of stress from their parents, so keep calm and remember that your baby is highly adaptable and resilient. 
Rather than trying to get them to fit around your camping routine, you will need to adjust your camping style to suit your baby's needs. But, whatever happens, keep it fun!
Check our range of nursery set furniture for your baby room here.