Your due date is rapidly approaching, which means your baby could arrive any day now! You're likely excited and nervous about going into labour. You can reduce that stress by planning and having your bags packed and ready no later than four weeks before your due date.
Not sure what to pack? We've created the essential newborn baby hospital bag checklist to help! We've even put together three more lists for supplies mommies-to-be, and their partners will need — a labour bag, a recovery bag, and a partner's bag. We have the best range of baby nursery blankets to keep your baby just right day and night. 
Before we get to those, we'll focus on when to pack your hospital bag and the essential items you'll want for your baby.
Hospital Bag for Mom: Labor and Delivery
Hospital Paperwork, Id, and Insurance Card. 
Have copies of your medical records handy so that your healthcare providers can quickly review your medical history. Hospitals require your ID, any medical cards, and insurance documents upfront, so make sure you have a copy of these readily available.
Hospital Paperwork
Completing a portion of the hospital paperwork before your delivery date helps streamline the admitting process and makes your labour go as smoothly as possible. Pack your copy of any completed hospital paperwork at the top of your bag so you can reach it easily if the nurses need it.
Photo Id
Be sure to add a photo ID at the top of your hospital bag checklist. You'll need it to verify your identity when you check-in.
Typical forms of ID include:
Driver's license

Federal or state ID card

Military ID card

Passport
If you don't have a photo ID, talk to the hospital admittance staff before your due date to make other arrangements.
Insurance Information
A final piece of paperwork you'll need when arriving at the hospital is your insurance information. If you complete your admittance forms before your due date, the hospital may have this information on file, but it's better to be prepared just in case.
Birth Plan
Birth plan, if you have one. You might have discussed your birth plan with your medical team, but having a few copies printed and available for your healthcare providers means that everyone can refer to it if last-minute questions arise. If you haven't written your birth plan yet and you're thinking of having one, check out these pointers on what to include in your birth plan for some valuable tips.
Please include a copy or two of your birth plan on your hospital bag checklist so you can refer to it during your labour. Packing several copies of your birth plan and distributing them to the doctors and nurses helps keep everyone involved in the delivery of your baby informed and on the same page.
Something to Wear During Labor
Make sure to pack a comfortable outfit to wear in the delivery room. This may be as simple as an oversized t-shirt or hospital gown or something as specialized as a birthing gown or birthing skirt.
Bathrobe
A soft bathrobe helps pace around during labour or afterwards if you spend some time in the hospital.
If you'll be in a birthing pool, throw in a dark-coloured sports bra and include one or two towels for drying off after. Your hospital or birthing location will probably have its towels, but you never know. It's better to have and not need than to need and not have.
Socks
You may feel the need to walk around during your labour. However, hospital floors are notoriously cold. Your feet may get cold during work. Bring a pair of slippers just in case. Non-skid socks will also do the trick if that's what you prefer.
Slippers and Flip-Flops
You'll want slippers that are comfortable and easy to slip in and out of to wear as you walk around the hospital ward. Pack some flip-flops for use in the shower.  
Something to Help You Relax and Pass the Time
Sometimes labour can start and then take hours to progress. Pack something to divert your attention and keep you occupied. We suggest some relaxing music, a good book, or your favourite magazines.
Stress Balls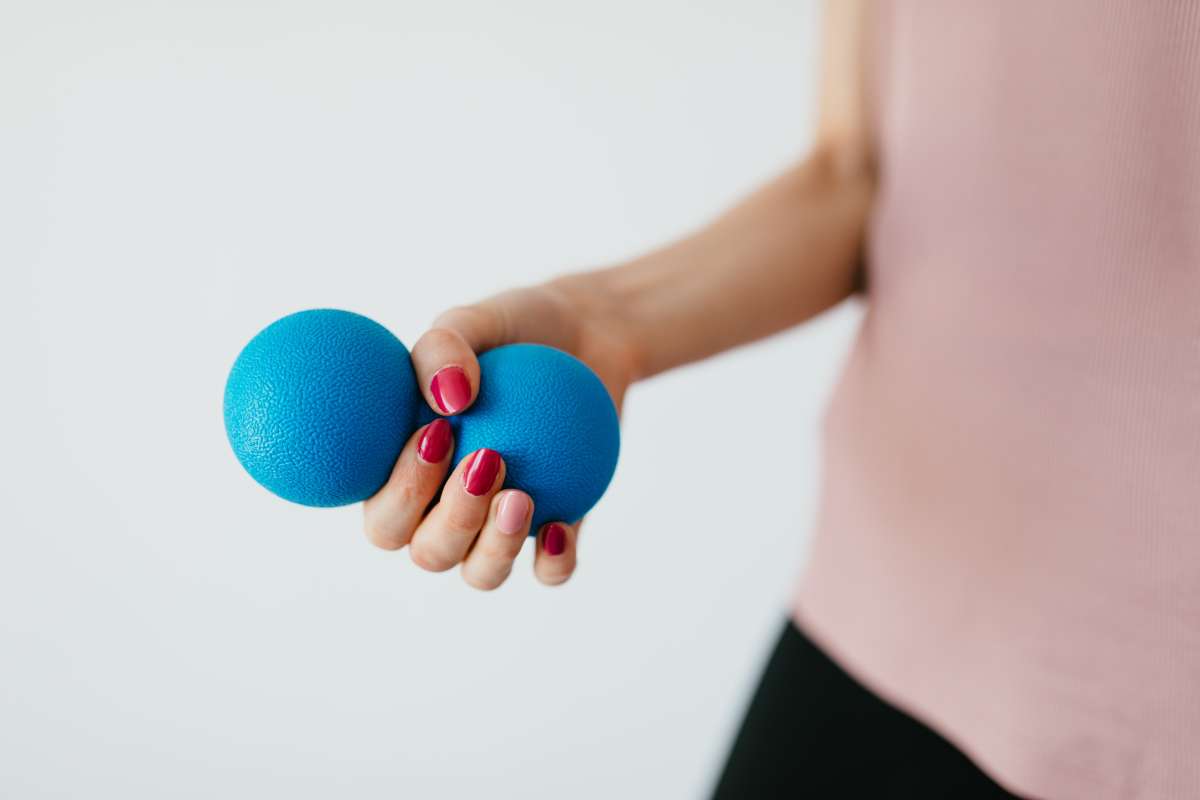 Speaking of relaxing, what do you do to relax when you're stressed or in pain? It's natural to clench your hands into a fist or grab someone else's hand to help relieve your pain, especially during labour. Stress balls are a neutral object for you to squeeze when you need to ease labour stress.
Relaxing Entertainment
Pack some things to help you pass the time like a book, magazines, a tablet with movies or series downloaded on it, or a music player.
Skin Cream and Lip Balm
Hospitals can have arid air. This can dehydrate your skin quickly and leave it dry and itchy. Be sure to pack hydrating products like Mustela's Ultimate Hydration Bundle, including daytime and a nighttime skincare regime.
You're also going to be doing a lot of heavy breathing during labour. This often causes chapped and dry lips. You can easily prevent this discomfort by adding a small lip balm to your bag.
Lip Balm
Your lips can get chapped during labour. Having some lip balm on hand will help keep your lips hydrated and comfortable.
Body Lotion or Massage Oil
Some moms-to-be find a little massage during labour relaxing. If this could be you, pop some lotion or oil in your hospital bag.
Water Spray and Sponge 
During labour, if you start to feel hot, it can help spray some water on your face and neck or sponge some cool water on your forehead.
Snacks and Water
We recommend easy-to-digest foods like fruits or crackers to help keep your energy levels up during the hours before delivery. Ensure this is okay with the hospital first because they may already have these things available for you.
Headband or Ponytail Holder
You'd be surprised how annoying long hair can be when you're in the throes of labour! Avoid being bothered by pulling your hair back with a headband or ponytail holder.
Comfortable Pillows 
The hospital will probably have two thin pillows you can use during labour, but that might not be enough to keep you comfortable. We suggest packing a few extras just in case. If you do bring an extra pillow or two, cover it with a pillowcase that is a colour other than white. That way, the hospital won't confuse your pillow for theirs.
Eye Mask and Earplugs
To help you get to rest in a busy and bright maternity ward, an eye mask and earplugs could be just what you need during the downtimes of labour or for your well-deserved shuteye after the delivery.
Camera
Though you might not want to take pictures of the birth itself, you'll want photos of your sweet baby afterwards!
A camera or smartphone is a necessity for this situation. And don't forget a charger so your camera or phone will always be ready to capture those priceless moments with your newborn.
Hospital Bag for Mom: After Delivery
Nursing Gown and Bra
If you choose to breastfeed your little one, having a nursing gown and bra will ease your nursing experience. And you can enjoy easy accessibility while nursing with these essentials.
Nightgowns
You'll need something comfortable to sleep in during your hospital stay, and a soft, loose nightgown is a good option. Choose a front-opening style if you plan to breastfeed.
Underwear.
Pack several pairs of comfortable underwear that are large enough to wear over heavy-duty maternity pads.
Bras
Be prepared with a few nursing bras or other comfortable, well-fitting bras.
Heavy-Duty Maternity Pads
The hospital will provide some of these, but you may want to pack a few heavy-duty maternity pads, just in case. It's normal to bleed a lot after birth, and maternity pads are softer and more absorbent than standard pads. Initially, you may need to change pads every one to two hours, but the flow will start to decrease within a few days.
Toiletries and Cosmetics
Pack the toiletries you use every day, so you have what you need during your hospital stay. Be sure to include items like your toothbrush, toothpaste, shampoo, soap, deodorant, hairbrush, and moisturizing skin lotion.
Don't forget also to bring a towel and flip flops for the shower. The hospital may provide a towel for you, but some women prefer to use their own.
You may also want to consider bringing some makeup for pictures. Of course, we know makeup is not a top priority, but if you decide to use a little foundation, bronzer, or mascara, you'll be happy to have your cosmetics on hand.
Expert tip: remember to pack your cleansing wipes. These are small, convenient, and great for removing makeup or cleansing your skin while you're in the hospital.
Toiletries
Don't forget tissues, hairbrush, comb, deodorant, toothbrush, toothpaste, shampoo, conditioner, hairdryer, hair clips, and hair ties. Pack a plastic bag to pop dirty clothes in.
Cosmetics and Skin Care Products.
If makeup is part of your usual routine, then don't forget your cosmetics. Plus, make sure you pack some moisturizer, as your skin may feel drier than normal. Glasses and contact lenses (if you need them). It may seem obvious, but sometimes it's these little things that can escape your attention when packing your hospital bag. Don't forget a contact lens solution and a lens case if you use contact lenses.
Postpartum Cream
Continue using your Stretch Marks Serum after giving birth. This serum helps reduce the appearance of recent stretch marks. We suggest massaging the serum onto problem areas every evening and every morning for two months.
Phone and Charger
Unless you opt for a little digital detox during this particular time, don't forget your phone and charger. You can stay in touch with loved ones, use it to take those first few pictures, and post your special news on social media.
Clothes
Aside from your nightgown, you might choose to take some comfortable clothes to wear during your hospital stay. Pack an extra outfit to wear home. Choose something loose-fitting, with a drawstring or elastic waist.
Handouts and Reference Books
You might have received some handy notes from your prenatal classes or have some reference books about newborns. The doctors and nurses will give you lots of personalized guidance, but you might find these resources more valuable once you have your newborn in your arms.
Snacks and Drinks
Labour can sometimes be very long, so you could consider packing some snacks and drinks. However, speak to your medical team about whether you will be allowed to eat or drink anything during labour. Also, consider packing some of your favourite snacks for after work, as you may feel like some comfort food during your hospital stay.
Hospital Bag Essentials for the Birth Partner
Encourage your partner to pack their bag of essentials for the birth.
While they won't need quite as much as you and the baby, having their gear on hand can make the time at the hospital much more accessible.
At a minimum, we suggest they pack:
Change of clothes (you never know when they might spill their coffee)

Cell phone charger (they'll probably have their cell phone on them, but they'll need the charger if labour goes long)

Entertainment (laptop, tablet, book, magazines, etc.)

Snacks and water
If your partner plans on staying with you after the birth, they'll need to include a pillow, blanket, eye mask, earplugs, and toiletries in their kit.
Sometimes, though, if you live close to the hospital, the nurses will encourage your partner to go home and get a good night's sleep so they can come back fresh in the morning. This is especially common if you plan on breastfeeding your little one.
The nurses will be there to help you, so your partner may have nothing to do. They're better off recuperating at home so they can support you the next day when you need it the most. Talk to your doctor, and the hospital about what they recommend and then your partner can pack their bag accordingly.
Snacks and Water 
Labour can be thirsty work even for supportive partners. Consider packing some snacks and water, as well as change for the hospital vending machines.
Phone, Camera and Video Camera, Plus Chargers and Batteries 
Don't forget to pack a phone to stay in contact with loved ones and for some entertainment during downtimes. The camera will come in handy to take some happy snaps. (Make sure the camera's memory card has plenty of free space on it.)
Clothes 
Labour is an unpredictable process, so a change of clothes is always a good idea, as you never know how long the stay will be.
Toiletries
After a long labour, you might need to freshen up in the shower. Most hospitals are okay with this, but you can confirm this beforehand.
Spare Glasses or Spare Contact Lenses 
It might be a long day, so having spares of these essentials could come in handy.
Small Pillow 
You might appreciate getting a bit of rest during downtimes, as well.
Entertainment 
Something to do: books, a tablet, and a music player are all excellent options.
Hospital Bag for Your Baby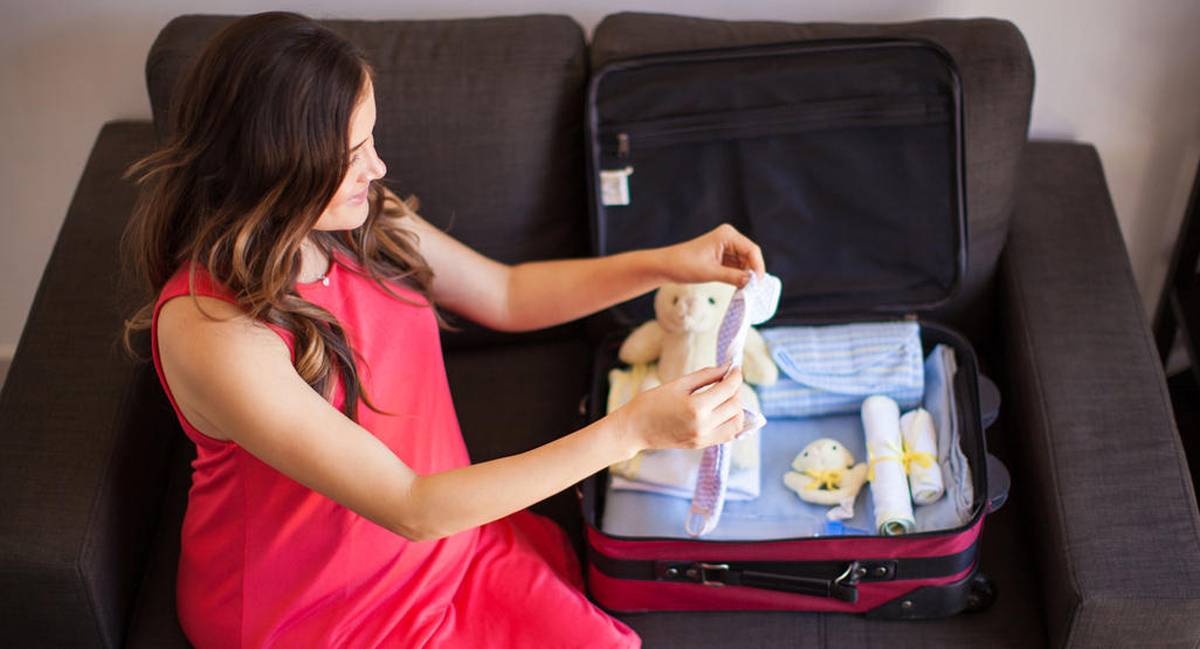 Bodysuits 
Hospital policies can vary on what newborns can be dressed in, so consult with your healthcare provider in advance about what to pack. You may need to add to what the hospital provides in terms of accessories and layers. Remember, with bodysuits; it's a good idea to choose those that fasten up at the front.
Socks and Booties 
Newborns can get cold quickly, so take some socks and booties just in case. Even during skin-to-skin contact, your newborn can wear a hat and socks.
Blanket 
The hospital will likely provide blankets, but a blanket of your own is always good to have on hand to use during skin-to-skin contact. It can also be used to keep your baby warm in the car seat on the way home.
Going-Home Outfit 
Consider the weather conditions: a bodysuit, booties, and hat could be fine during the warmer months, but in winter, pack mittens and a jacket or snowsuit, as well.
Car Seat 
This isn't for the hospital bag, but the right car seat should be installed in your car around the same time you pack your baby bag, so it's ready for the hospital. Looking for a car seat for your baby? Look no further. My Baby Nursery has a wide range for you to choose from.
When to Pack Your Hospital Bag
Ideally, you should have your bag ready to go (besides last-minute items like your toothbrush) by 36 weeks or 37 weeks pregnant, just in case you go into labour before your due date.
Some items are essential (you'll need a car seat, for example); others will make you feel comfy and remind you of home. We asked Babylist parents what their must-have items were and also drew on our own childbirth experiences.
Whether it's your baby's bag, your labour bag, your recovery bag, or your partner's bag, it's always a good idea to have them packed well before your due date so you won't be running around in a panic when you go into labour.
Trust us; you'll already be anxious enough! And besides, you never know if your baby will decide to arrive early.
We recommend going through your hospital bag checklist anywhere from 35 to 38 weeks into your pregnancy.
In most cases, you'll still have two weeks or so before the birth, and you'll need everyday items like your toothbrush and phone charger while you're at home. Please make a list of things you can't pack early and toss them in your bag right before leaving the house.
Choose Your Items Wisely
When packing your bags, keep in mind that, barring long labour, you may only be in the hospital for one or two nights. Though that may seem like a long time, you're going to be busy recovering from delivery and feeding and changing your baby.
Once you pack your bag, you'll be all set to head to the hospital when the baby is ready to come. Check out My Baby Nursery for all your baby product needs.
Neither you nor your baby has any use for the five designer outfits or the box of stuffed animals that your family already bought. Stick to the essentials, and you and your baby will have a happy delivery and a smooth trip home.