A baby jumper is a fun activity that allows your baby to use his still developing leg muscles. Baby jumpers are essentially a seat attached to an elastic strap. Your baby sits in the seat and uses his toes to push off the ground. Baby jumpers rely on this up and down movement to keep your baby delighted.
Many parents agree that an active baby sleeps better at night and use a baby jumper as a solution to get rid of their baby's excess energy. A pooped baby is a sleepy baby.
Baby jumpers are one of those standard pieces of baby equipment that every single parent should own. Don't underestimate the power of baby exercise- a playing baby is a tired baby, and tired babies sleep more soundly.
I admit that the jumper is a "sanity saver" in our house. It could entertain my kids for hours if I let them stay in it that long, but I don't. The reason is that the fabric seat the child sits inputs their hips in a bad position developmentally. That position stresses the hip joint, and can actually cause harm like hip dysplasia, which is the malformation of the hip socket. That's not to say you should never use a jumper – I certainly do – just keep the time in the jumper or activity centre to 10 to 15 minutes and no more than twice per day.
Jumpers that hang in a doorway are the same situation but with a twist. They have the added danger of being able to swing freely from side to side…right into the door frame. Overly enthusiastic "jumpers" (like my son) can pinch fingers, knock their head on the door frame, etc. Dr. Craig also explains, "A baby's head is proportionally larger than the rest of their body and is very heavy. Swinging too much or with too much force can cause injury to their neck." As a mom and a rehab nurse, jumpers that hang in the doorway and swing freely are not things I recommend.
So with a ton of jumpers to buy, which one should you jump at? A fancy one that folds away? A cheap and basic one? What about those special ones that fit in the doorway? I've researched, read reviews, asked around, and used my own experiences to pick the best baby jumper.
Looking for baby nursery toys? Look no further. My Baby Nursery has you covered. 
Types of Baby Jumpers
The choice of jumpers is overwhelming. Let's take a look at the available types to narrow it down. Baby jumpers are usually classified into three main categories.
Doorway Jumper
As the name already gives away, these jumpers are to be used in doorways. With a clamp, you can attach them to the frame of the door. A bungee-like elastic cable attaches to this clamp. At the other end is the baby's seat, suspended from straps that connect to the elastic.
With this kind of jumper, babies have a bit more freedom than with stationary ones. They can jump a bit to the left and right and easily turn around. You can put a carpet in the doorway to give your baby something soft to land on.
Doorway jumpers fit on regular door facings, so check yours before you buy one. I got one for my eldest child, forgetting that our house was still under renovation and without door facings. I wish someone would have given me the same advice because it took a while before I was finally able to use it.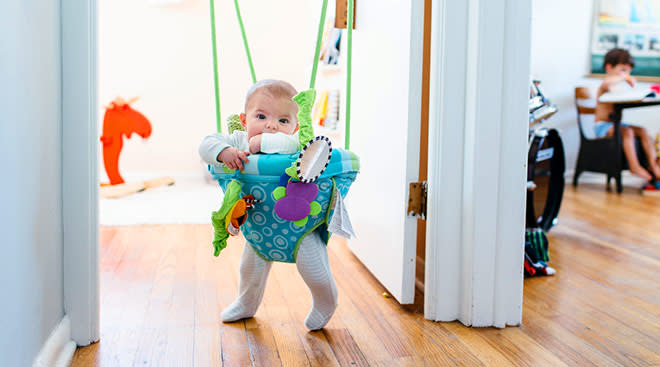 Stand-Alone Jumper
A stand-alone or stationary jumper also has an elastic cable and a seat but comes with its own frame. So there's no need to hang your jumper somewhere. Make sure to consider the footprint of this device—some of them are quite bulky and not easy to travel with.
You can, however, move them from room to room or outside to your garden or terrace. Your little one can play with the jumper while being outside. Therefore, doorway jumpers are more limited in use than stationary jumpers.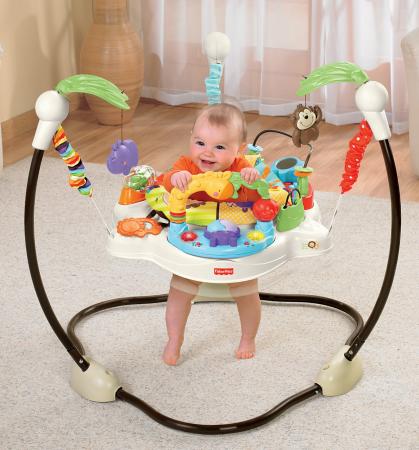 Activity Jumper
To be classified as an activity jumper, the device should have a tray with games and toys.
The best activity jumpers are usually stand-alone jumpers. They are equipped with a more extensive board in comparison to their attached congeners.
Unlike bouncy seats or baby swings, baby jumpers allow your little one to use his leg power to move around while standing upright. Three to six months is the typical age when babies can hold their head up alone for 10-20 minutes, so parents should wait for this milestone before using a jumper. Your baby's physical abilities, as well as the space you have for a jumper, determine which type of jumper is best for you.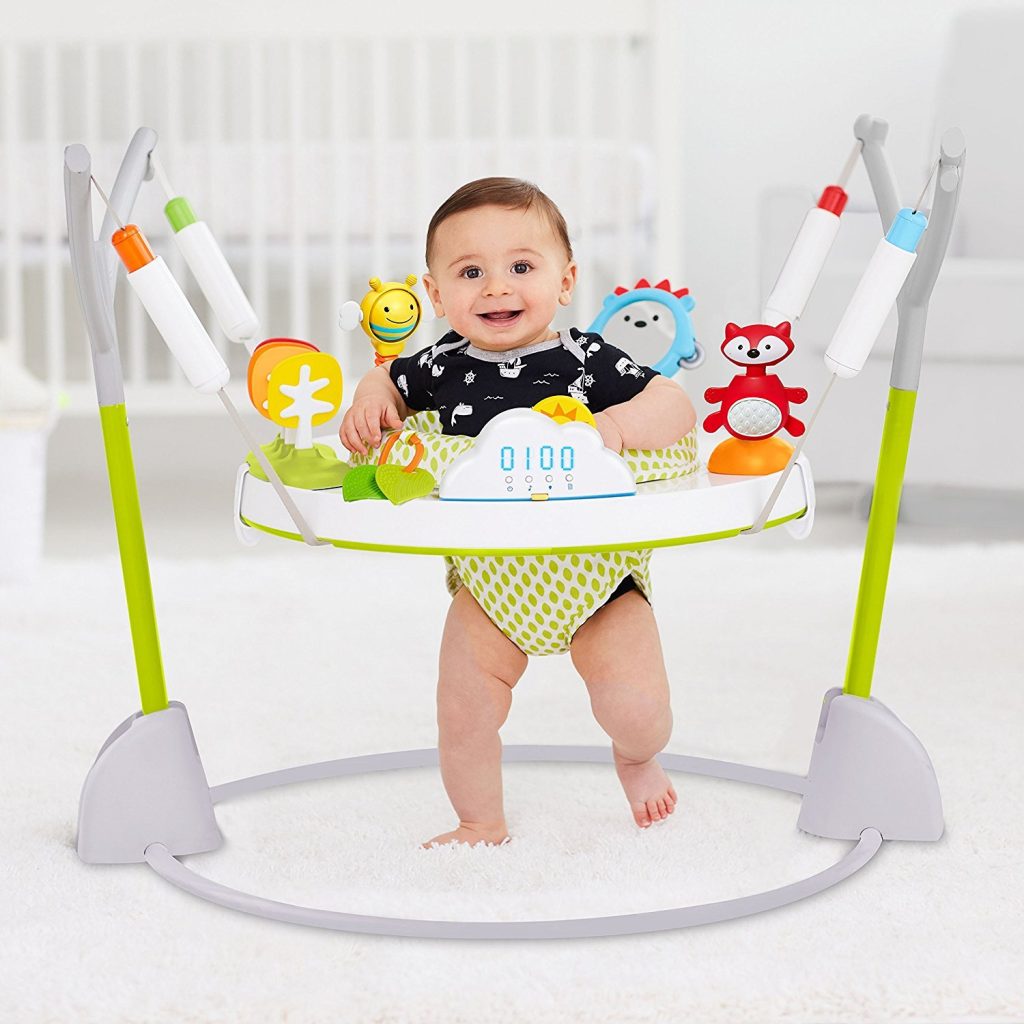 What to Look for When Choosing the Best Baby Jumpers?
Apart from choosing the jumper type, there are a few other features to take into consideration. Through my research over six years of mothering and testing baby products, I came to the below points.
It's All About the Size
To me, the size or footprint of the jumper is a significant feature. With so much baby gear lying around already, I always give thought to the measurements of my next purchase.
Doorway jumpers have the smallest footprint as they are hanging from an existing doorway. They also don't take up much closet space.
Stationary jumpers, and especially the ones with activities, are much bulkier and can't always be stowed in a regular wardrobe.
Manufacturers understand our need for space, so try to decrease the footprint. Some jumpers can be folded, while others have removable legs or frames.
Sit Down and Relax
As your baby might spend a considerable amount of time in the jumper's seat, it's crucial to select a comfortable one.
Despite many jumpers being height-adjustable, some babies still can't reach the floor while they're on the lowest setting. My advice is to choose a seat that's lined with plush padding. This will help to relieve some of the pressure on your little one's upper legs. Also, try to limit the amount of time in the device.
Almost all seat covers can easily be removed and cleaned in the washing machine. Just take into account that the padding will need some time to dry. I always wash it after bedtime, so it can dry overnight while my baby doesn't need it.
Some activity jumpers have seats that can turn 360 degrees. This feature makes it possible for your little one to use all the toys and activities on the tray—even the ones at the back.
Storage
The possibility of storing a jumper is connected with its size. The bigger it is, the more difficult it is to find a suitable storage place.
Many activity jumpers are equipped with substantial trays for toys and therefore have a considerable footprint. If your living space is limited, you might want to opt for a doorway jumper which is easily removed and stowed away.
Additional Features
Other things to look for are:
Toys and activity stations to stimulate your baby's development.

Height-adjustable jumpers so you can use them longer.

Music, sounds, and lights.

Lightweight material for portability.

Easy to clean frames and machine washable fabrics.
Jump for Joy
In some of the best baby jumpers reviews, parents often report that their child doesn't show much interest in the toys or even in the jumper itself. Each baby is unique, so not all will like the same jumper.
A bit of advice I can give you is to observe your little one's playing habits. If you feel that using a baby jumper is the right thing, use this observation experience. Choose the one with the toys or features your baby likes most.
At what age can your baby use a jumper?
Most parents follow the rule that if your baby can support his head without help, then he is old enough for a baby jumper. The obvious exception to this rule comes when manufacturers put a minimum age weight or height limit on their baby jumper.
Do baby jumpers help with leg development?
It is a myth that baby jumpers help develop your baby's leg muscles and motor coordination. Many experts suggest that baby jumpers delay your baby from walking and only recommend 20 minutes of baby jumper use per day.
As always there are two sides to the story. Many mothers report that their baby bounced with joy each day and learned to walk independently without any problems whatsoever. Ultimately it comes down to your decision as to whether a jumper is appropriate for your little one.
Precautions and Maintenance
How exciting it might be when your baby is a jolly jumper; these products always have to be used with extra caution.
Proper Assembly
Always follow the instructions of the product to assemble it correctly. If you purchased a doorway jumper, pay extra attention to correctly attaching the clamp each time you use it.
Putting on the safety harness isn't as straightforward as with stationary jumpers. Make sure you put it on your baby in the correct position.
Jumping Limits
Your baby might love to spend time in a jumper. However, it's important to respect the limits of the device and your child.
To avoid accidents or injuries, never pass the indicated maximum weight limit. A baby should not be able to crawl out by themselves.
Many jumpers don't specify a minimum age or weight but do point out that it is advised to wait until a baby can hold up their head independently.

Jumping Surface
Follow the following points to maximize safety:
Place the jumper on a flat surface to avoid tilting.

Don't use the jumper in the proximity of a stairway.

Make sure the floor is cleared of sharp objects.
The Best Baby Jumpers Reviews
When it comes to our children, we always want to make the best choice. With so many possibilities, it's easy to lose the bigger picture. I reviewed the best baby jumpers on the market to help you out.
Fisher-Price Rainforest Jumperoo – Best Foldable Baby Jumper
The Fisher-Price Rainforest Jumperoo is bright and colourful. Various animals of the rainforest will keep your little one entertained. It's easy to assemble and will have your child bouncing in no time.
The free-standing steel frame can be partially folded to reduce the device's footprint and make it easy to move from room to room. That's why I consider it the best foldable jumper. The size of the activity tray, however, can't be diminished, so the storage area still needs to be spacious.
This jumper needs batteries to power up the electronic games, but they last quite a long time. Five stations, motion, music, and lights will stimulate your baby's senses. Some parents have reported that the nursery songs are annoying so beware if you are sensitive to that.
The seat can turn 360 degrees, making the toys in the back just as accessible as the ones in the front. You can also adjust its height to three different levels so that you can use it over a more extended period.

Check out our range of toys for baby nursery here.
Evenflo Door Jumper
If you're looking for an inexpensive, easy to install option, the Exersaucer Door Jumper (Johnny Jump Up) by Evenflo is a great doorway jumper. This jumper can be found at Walmart for under $20. It features a framed seat with cushioning around the seat top and adjustable straps. For added safety, the springs are fully enclosed. It attaches to any standard door frame with at least a half-inch trim.
This jumper is designed for babies up to 24 pounds, and you can choose from three patterned fabrics. The Bumbly pattern has bright, bold colours like aqua and spring green with a circular geographic pattern under bee characters. For a more feminine look, the Mariana pattern has black and white flowers with pink accents. The Owl pattern has navy blue, spring green, greys and light blues with an all-over owl cartoon print. Care.com lists the Johnny Jump Up as one of their Top 5 Jumpers.
Evenflo ExerSaucer Jump and Learn Jumper, Jungle Quest
With a total of 58 fun activities for your baby, the Evenflo ExerSaucer Jungle Quest themed Jump and Learn Jumper, came in third. These toys are age-appropriate, developed hand in hand with the Child Development Institute making them ideal for your child's entertainment and skill development. They are not only entertaining but also help your baby develop their motor skills.
The overall jumping, rocking and spinning activity this bouncer provides aids in the leg, back and neck development for your child. This jumper is designed with a unique balance bounce base that provides a soft landing pad for your baby, enhancing their coordination, stability while encouraging core strength building. It can also be adjusted to three heights to accommodate your child's growth.
The detachable and machine-washable seat pad makes it convenient for cleaning purposes. The seat also comes incorporated with sounds and lights ideal for baby entertainment and encourages their movement. It requires 6AAA batteries to work and has a battery life of 2.25 hours.
Baby Einstein Neighborhood Friends Activity Jumper – Best Height-Adjustable Baby Jumper
This activity jumper has over 12 activities on three different stations. The seat gives the possibility to swivel 360 degrees so all of them can be enjoyed. And, if that's not enough, there are several hooks where you can attach your baby's favourite toys.
You can adjust the height to five different settings, which makes it one of the best height-adjustable jumpers. The chair will grow with your child and have a more extended period of use. The lowest one is a bit higher than most jumpers. If this bothers you or your baby, you can put a pillow under it—make sure it's flat and sturdy to create a safe surface.
A new version of this jumper is also available, where a more elaborate activity centre has been added in comparison to the old one. This ocean-themed jumper teaches numbers in several foreign languages.
Jolly Jumper on a Stand for Rockers
If you are looking for a stable, secure and best baby jumper suitable for your 3-month to walking age child, then you can check out this fantastic Jolly Jumper on a Stand for Rockers. It can be put into use as soon as your baby can hold their head up and supports a weight of up to 13kgs.
Its design incorporates a 52 inches high frame and floor footprint size of 50 by 43 inches, and this should be enough rocking and jumping space for your young one. This jumper is versatile and can be used either outdoors or indoors.
The saddle is scientifically designed to provide a firm back support for your baby, encouraging upright and correct posture while in the jumper. Stability is enhanced by the sturdy frame and non-slip feet, ensuring your child's safety.
The jumping and rocking movements improve your baby's balance, coordination, and muscle strengthening. As a stationary jumper, this jumper doesn't come with toys or other accessories, and this makes it a suitable baby exerciser since it discourages distractions by toys, etc.
This jumper provides a wide range of height adjustment enabled by a chain from the base, and it can even accommodate 3 to 11 months growth. It has an easy setup process.
Disney Baby Finding Nemo Sea of Activities Jumper – Best Activity Baby Jumper
On the Disney Finding Nemo jumper, you'll find real movie characters. They're not only fun for your baby, but you might also enjoy recognizing them. It's priced less affordably, but the Disney figures might be worth it to you.
A few of the toys are removable so your little one can play with them anywhere. And if the activities on the jumper are not to your child's taste, you can use the hook to attach their favourite toy.
This activity jumper is quite bulky, so the manufacturers came up with a design with detachable legs to increase storage possibilities.
A minus is a large number of batteries the device needs. Each electric toy needs three, and they don't last very long. Make sure you have some spares, or even better, rechargeable batteries.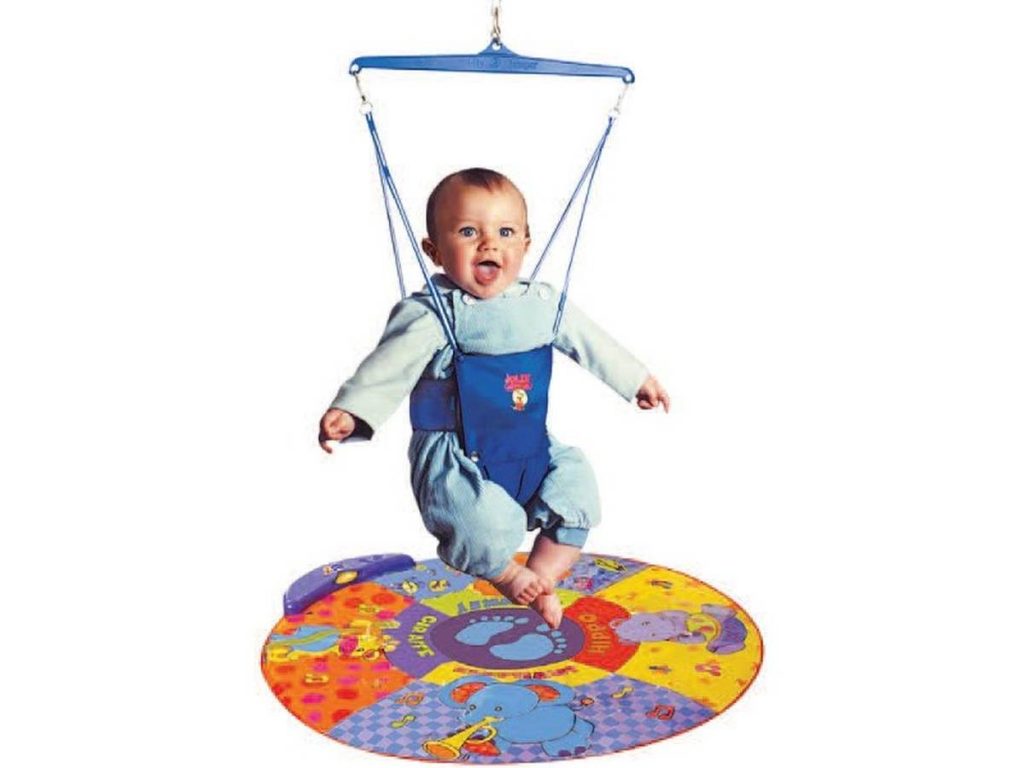 My Baby Nursery has a huge range of baby toys for your baby room.
Graco Doorway Bumper Jumper, Little Jungle
Another doorway jumper tops our list, the Graco Doorway Bumper Jumper, Little Jungle. It is designed with a strong bounce string that provides your baby with incredible jumping action.
The hidden safety cord accentuates the jumping and leg action too. This jumper is very portable and can be easily conveyed while travelling or when changing the jumper's positioning room to room.
It is designed with a no-mark clamp that ensures no marks or damages are left along with your doorway frames due to jumper usage. The high-back seat is removable and machine washable, also having been made with nylon it can also be wiped to save on time. Non-twist strap and plastic dome prevent entanglement, and so you can quickly place or remove your baby from this jumper.
This jumper is also height adjustable offering you a vast adjustment range; however, it can only accommodate weights of up to 25lbs. The built-in toy tray and two soft toys let your baby bounce and play simultaneously. This jungle-themed jumper is incorporated with forest animals and toys that add a safari feel to your child's fun time.​​​​​
All of this adds up to a baby who doesn't have the necessary skills to walk or crawl as they should. Between the baby experiencing improper hip and back alignment, combined with the encouragement of standing on the tiptoes and the lack of control for those core and leg muscles, baby just can't do what they should. In any case, there is some evidence that normal walking will be delayed in babies who use walkers, jumpers, or bouncers.
Besides being bad for baby, jumpers can be dangerous. There is a big chance that your baby can become injured when in a baby jumper. Babies can slip out of seats or pinch fingers in the springs. Supports can break, and babies can get hurt.
The type of jumper that is suspended from a doorway is extremely dangerous. Babies can jump so hard that they pull the jumper off of the doorway and fall. They can also jump so wildly that they collide with the door frame on either side or with an object in front of or behind them. There's also a strangulation risk for older babies who could somehow become entangled in the long cord. Sounds impossible, but all parents know that babies are little Houdini's when they want to be.
Now, this all being said, a few minutes every day or two isn't going to turn your baby into an invalid. It certainly won't hurt them. The studies have shown that constant, extended time in jumpers or walkers is what hurts your baby. If they jump around while you take a 10-minute shower, it's going to be alright.
Be sure to minimize baby's risk. Please don't use doorway jumpers if you can help it! They're an accident waiting to happen.
Make sure your jumper is in good working order. Make sure that you have it properly adjusted for your baby's size and height. Check to make sure that baby is secured and can't get out on their own. Find a jumper that doesn't have a crazy amount of bounce or suspension, as that can minimize risk and increase cognitive stimulation.
And as always, be within earshot and line of sight so that you can come running if the baby needs you!