Christmas, birthdays or just because choosing gifts for kids can be tricky! 
Now let's begin with the 1-year-olds. We learned that the key to pleasing this age is in finding toys that will stimulate and surprise their growing minds. 
Babies' brains develop so quickly — something like a million neural connections per second. So to keep them interested, you have to add sensory or mobility features to the mix.
The more senses you can appeal to within an experience, the more learning will happen.
Although your baby won't understand his one year birthday, there's still a whole lot to celebrate. 
Countless developmental milestones marked his first year of life, and most babies have figured out how to sit up, crawl, pull up to stand, and even walk by the time they're toddlers. 
Their grasp of the language is exploding, and they can hold a fork, pick up a Cheerio, and give hugs and kisses. It's crazy to think he was in your womb only a year ago! 
If you need first birthday gift ideas, consider selecting items that aid in developing large and fine motor skills, vocabulary, and language.
Most parents will tell you that their kid has too many toys – so when it comes to gifts, how do you choose the right one without merely adding to the clutter? Instead, follow our advice for a grant that truly stands out – and will stand the test of time.
Check out our extensive range of baby nursery change tables.
How to Invest in the Best Gifts
The best toys are multifunctional, long-lasting, and engaging. In addition, items made of high-quality materials like wood or heavy-duty plastic are more likely to withstand inevitable abuse from a toddler. 
A toy with a recommendation for age two and up can still make a first-rate gift for a 1-year-old. 
Safety standards dictate that any toy with a choking hazard has to be labelled for ages three and up, so if a toy is suitable for a 2-year-old, it's usually safe for a 1-year-old. 
Your toddler may not use the toy precisely in the way it was meant to be used, but that's a good thing: It reinforces the idea that flexibility and creativity are welcome.
How to Choose the Perfect Gift for Your Child
Consider their age and level of development. First, check the label – most toys come with advice on age appropriateness. Second, use your judgement. 
Just because your little one is four doesn't necessarily mean he's ready for a balance bike – think about the individual and go from there. 
And third, think about what materials the toys are made with. We've also put together a handy piece appropriately.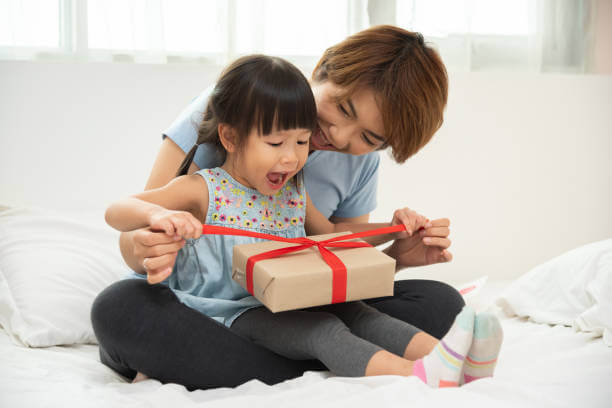 Toys by Age Group.
Each toy is made with a specific age group in mind. Some have small parts which could be swallowed. 
Others need a higher level of cognitive skills to be able to be used. As a general guide, look for toys that would suit the child's age you are buying a present for.
Think About the Child. 
What do they love to do? Are they into the park, the pool, or heading outdoors generally? Do they love going to the museum or library? Are they obsessed with dinosaurs or superheroes? Think about a gift that could feed their interest.
Consider Gifts Children Can Share.
Not literally, but gifts that kids can use to play with other kids (or even their families) like board games or puzzles. 
Again, these will be useful for years and can help foster a healthy, fun sense of healthy competition for older children.
Remember That Toys Help Kids Learn. 
And often, toys are the primary way that kids learn. So choose toys that both foster creativity and free play, as well as ones that teach more "formal" skills like numeracy and literacy.
Check With the Parents. 
If the gift is for someone else's tot, check with the parents before buying. The child may already own the item, or the parents may have objections.
Choose Gifts With a Long Lifespan. 
In our largely wasteful world, a toy that can be used for years is highly prized. As a result, items like Lego, bikes and blackboards can be used for years and handed down to other children.
Remember Safety. 
As much as possible, choose non-plastic toys made of sustainable materials, free of BPAs, phthalates, PVC or toxic chemicals and dyes.
If in Doubt, Buy a Book. 
This is a rule we go back to again and again. Books take up very little space, have an infinite shelf life (pun intended), and be handed down.
Don't Overlook Classic Toy Options. 
While everyone appreciates a creative or unique gift, it's often easiest and best to go with the tried-and-true. 
Little kids have loved red wagons, wooden blocks, stuffed animals, dolls, rattles, and drums for generations, and they still do. 
One-year-olds don't recognise fads; they want things they can push, pull, pile up, knock down, shake, and cuddle.
Classics like building blocks, nesting toys, and shape sorters (think "the square peg doesn't fit in the round hole") are great options because they're fun and educational. They also stimulate creativity, coordination, and problem-solving.
Spur the Imagination With "make-Believe" Toys. 
By the time they're one year old, kids try to mimic practically everything they observe other people doing. 
If they see you fixing the sink, they want their toolset; if they see a mother holding an infant, they want their baby (doll) to cuddle; if they see you chatting on the phone, they want something to babble into.
Simple, age-appropriate costumes like firefighter hats, royal crowns, or superhero capes also help stimulate kids' desires to play and pretend.
Consider Feeding or Bathing Gifts. 
With messy one-year-olds, feeding time and bath time often happen one right after the other. 
In both cases, fun implements and toys can make getting messy and cleaning up afterwards more enjoyable.
Ergonomic, high-quality utensils, bowls, and spill-resistant cups with favourite characters on them are always welcome additions to mealtime. 
Likewise, even the humble rubber duckie can bring a bit more joy to bath time.
Buy a Few Sturdy Toddler Books. 
It's never too early to start building up a personal library for a child, but make sure you pick books that can stand up to lots of use and probably some abuse. 
Little kids love books they can hold, flip through, twist, toss, and chew on.
Either board books (with rigid, tear-resistant pages) or soft books (which can be twisted and wrenched without ripping apart) with few words and colourful pictures are fine choices for a kid celebrating a first birthday.
Don't discount the notion of buying clothes. You may reflexively assume that all kids turn up their noses at getting clothes for gifts. 
Remember, though, that a one-year-old will probably be more intrigued by the bow or wrapping paper than the actual gift regardless. So a whimsical onesie or playful pyjamas can make a fun but practical gift.
When in doubt, buy the bigger size. Kids this age grow amazingly quickly. Also, while it's tempting to buy a fancy, frilly dress or tiny suit and tie, opt for comfortable, practical clothes in most cases. The kid and the parents will get much more use out of such clothing.
Looking for the perfect nursery portable cot? My Baby Nursery have you covered. 
Make the Fun Last. 
Toys made with cheap plastic, mystery materials, or shoddy construction may save you some money, but they aren't likely to last long in the hands of a toddler. 
Even worse, they may present a health or safety hazard. 
Opt for sturdy toys made of solid wood, durable plastics, or strong fabrics with secure seams. Check safety recall notices and toy evaluations online to ease your mind further.
You can also "age-up" a bit, so the toy remains attractive to the child longer. A toy that may present a choking hazard must be listed as "ages three and up" so you can safely buy a slightly more complex toy aimed toward two-year-olds. 
A younger kid will still find a way to play with it, even if not precisely in the intended fashion.
Chart the Child's Progress With Your Gift. 
A one-year-old is likely to have already and additionally received an abundance of toys, so it's OK to pick out a gift based on sentiment more than play. 
Since you're celebrating how quickly this little one is sprouting up, a month-by-month photo collage or a personalised growth chart will probably touch the parents' hearts.
Look Into Labeled or Monogrammed Gifts. 
Whether it be a photo frame or album, towel or blanket, or t-shirt or travel bag, you can get pretty much any type of gift personalised with a child's initials, full name, or any other kind of message. 
Some personalised gifts may be targeted toward future appreciation, while others can be more immediately useful.
For instance, labelled sippy cups, bowls, bibs, or bath towels will probably come in handy right away and maybe particularly appreciated if more than one child is in the house.
Create a Time Capsule. 
Especially if you're sure the child will be buried in new toys anyway, there's no shame in choosing a gift they'll appreciate years from now. 
You can create a small but sturdy "time capsule" box and fill it with trinkets, souvenirs, clippings, photos, and a letter from you that represent the child's first year. Mark it. "Do not open until 20xx." 
Buy a Savings Bond or Long-Term Similar Investment. 
A savings bond placed in the child's name can serve as another type of "time capsule", and the kid may even be more eager to "open" in seventeen years. 
Also, if you feel awkward about giving cash for a one-year-old's birthday, this can feel more tangible and personalised.
Take some time to read over the procedures and regulations regarding purchasing a savings bond (or other investment product) in a minor child's name.
If you feel guilty about buying something the kid won't immediately appreciate, tie a slight rattle or another toy to the ribbon on the package, and the child will be plenty happy too.
Factors to Consider When Choosing a Gift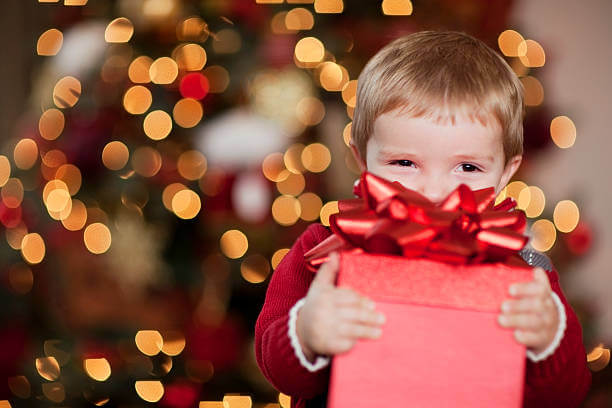 Educational
Just because a toy is educational doesn't mean it's boring! With so many educational games available, look for sturdy, attractive and affordable ones, like ours.
Useful
Adding to a child's plastic toy collection just because you need to give them a present is rather pointless. 
On the other hand, giving them a practical gift benefits everyone. Some of the best gifts my boys have been given are things they can often use, such as chalkboards, dress-up sets or our Constructive Eating kids cutlery and plate sets.
Hobbies
Older children are more likely to have specific hobbies they enjoy, such as playing sports or drawing. 
A few carefully chosen items based around a hobby are always popular. For instance, a solar-powered plane would suit an aviation made boy, while a girl who likes sewing would love to make her teddy bear.
Hands-On
Kids love to be active! Some hands-on science experiments would fit the bill perfectly for older kids. For younger children, how about a pair of Happy Monster Feet Stilts?
Gift Ideas for Your One Year Old
Don't know what to buy for a 1-year-old child? We've got you covered with these first birthday gift ideas for girls and boys. 
Pulling and Pushing Toys
Walking requires the most effort of all the physical milestones a child might reach during the first year. 
Pushing toys will help build the strength and coordination babies need. In addition, many have extra play features—like built-in shape sorters, bead mazes, music, or moving pieces— that add to the toy's longevity. 
If your baby is starting to pull up to standing, find a plush toy with a broad handle and a low centre of gravity for maximum stability. Some models offer control over how fast the wheels spin.
Once babies are walking without support, you can graduate to pulling toys—especially those with bright colours and kinetic parts that will come to life with motion. 
These engaging toys teach toddlers to look back while moving forward, which helps to improve balance and build confidence.
Fill-And-Spill Toys
If a toy falls on the floor, an infant won't search for it—but 1-year-olds might start seeking objects that vanish. 
Fill-and-spill toys are the perfect first birthday gift ideas since they introduce toddlers to the concept of losing and finding things.
When babies reach one year, they're getting to be in control of so many of their movements. They're starting to understand cause and effect, and they're mastering the concept of object permanence. 
They suddenly can think, "Hmm, I put this in and then when I spell it out, it's not there anymore. So I wonder where it went." 
Sorting and Stacking Toys
Shape sorters and stacking toys allow toddlers to recognise shapes, match colours, and manipulate small objects. 
Blocks are one of the most open-ended and long-lasting toys, and child development experts highly recommend them.
We want to see toddlers use one hand to stabilise and the other hand to manipulate. These toys can help with coordination and bilateral motion. 
Anything a 1-year-old can do in a sitting is excellent because this builds core strength, enabling him to work more effectively on fine motor skills development.
In the beginning, please keep it simple with blocks that are relatively small and uniform, like iconic wooden alphabet blocks or colourful plastic blocks. 
A 1-year-old can stack a few blocks at a time and then learn spatial relationship skills and fundamental physics and math concepts.
Rocking and Rolling Toys
Rocking toys help build core strength and balance, and the back-and-forth motion provides soothing sensory input for 1-year-olds. 
When choosing designs, the best option is a rocker that is low to the ground—it will reduce the chance of injury if a child loses balance or trips while getting on and off.
Most 1-year-olds love to zoom around on their very own set of wheels, but they're not coordinated enough to pedal a tricycle yet. 
Instead, your first birthday gift idea should be a ride-on toy that allows him to roll and push with his feet to gain momentum. 
This builds muscle tone, coordination, and body awareness. Look for one that is low to the ground and has a sturdy handle for extra support. 
You can also get a tricycle with a push bar for the parent. Your child won't get too much of a workout initially, but sitting on the trike should inspire him to figure out how to make it go. Plus, a tricycle will grow with your child for several years!
Jamming and Grooving Toys
Musical toys hold great appeal for toddlers, who gravitate toward anything that helps them make noise. 
Although 1-year-olds may not be ready for instrument lessons, they can still benefit from musical experiences. 
Exposing children to music stimulates areas of the brain that deal with language development, social skills, and gross-motor development. 
Making music provides endless opportunities to practice imitation, conversational turn-taking, and social cooperation. 
Toys that create music are better than those that make noises on their own. 
Toddlers love repetition, so if you want an electronic musical toy, choose one with volume control. 
Once they are confident on two feet, a whole new musical experience will be waiting for them: dancing! 
Toys for Creating and Pretending
During the following year, your tot will gain the language skills for following instructions. Until then, choose art materials that are easy to clean. 
Some creative-focused baby's first birthday gift ideas include finger crayons, finger paints, Play-Doh, and washable markers. 
It's also OK to buy art supplies that are more appropriate for slightly older children so that siblings can have fun together. 
But creativity isn't just about drawing, of course: Make-believe is another way for expression and play. 
Your 1-year-old is just learning how to pretend, so collect age-appropriate toys that will enhance imaginative play. 
Consider baby dolls, toy trucks, and play food (although these are usually best for older toddlers, given their small size).
Toys for Soothing and Snuggling
Most parents have a nighttime routine involving a bath and books, so why not buy first birthday gifts related to the ritual? 
You can find plenty of shape sorters and stackers made for the bathtub; toy boats and rubber ducks are also a hit. 
What's more, books are a fail-safe gift for children of any age. Yet, they're essential for social and language development. 
Reading books aloud repeatedly helps toddlers understand anticipation and practice prediction and allows for a chance to develop vocabulary and language skills. 
For a toddler-size attention span, choose board books that are relatively simple with bold, vibrant pictures and interactive elements (like cutouts to poke little fingers through, touch-and-feel pages, or finger puppets).
At My Baby Nursery, we have a huge range of portable cot for baby!