Are you tired of struggling to get your newborn to sleep? Learn how to get him (and you!) a good night's rest with these sleep-through-the-night strategies that can help the baby go to sleep and stay snoozing until morning. 
You can ease your stress and better prepare to set your baby's sleep schedule by understanding which parts of her sleep routine are in your hands — and which aren't.
Looking for bedding manchester for the baby nursery? Look no further! My Baby Nursery has you covered.
Understand Your Baby's Sleep Needs
During the first two months, your newborn's need to eat overrules her need to sleep. She may feed almost every 2 hours if you're breastfeeding, and possibly a little less often if you bottle-feed.
Your baby may sleep from 10 to 18 hours a day, sometimes for 3 to 4 hours at a time. But babies don't know the difference between day and night. So they sleep with no regard for what time it is. That means your baby's wide-awake time may be from 1 a.m. to 5 a.m.
By 3 to 6 months, many babies can sleep for a stretch of 6 hours. But just as you think your baby is getting into a nice routine — usually between 6 and 9 months — normal developmental stages can throw things off. For instance, when your baby begins to associate bedtime with being left alone, she may start crying just to keep you around.
Set a Bedtime Routine
A study of 405 mothers — with infants between 7 months and 36 months old — showed that babies who followed a nightly bedtime routine went to sleep easier, slept better, and cried out in the middle of the night less often.
Some parents start their baby's bedtime routine as early as 6 to 8 weeks old. Your baby's routine can be any combination of regular bedtime activities. The keys to success:
Put Your Sleepy Baby to Bed
Starting when your baby is 6 to 12 weeks old, soothe her until she is drowsy. When she's on the verge of sleep, put her down and let her drift off on her own. Don't wait until she's fully asleep in your arms; this could be a behaviour that may become a struggle to get rid of later in her life.
This routine will teach your baby to soothe herself to sleep, and you won't need to rock or cuddle her to sleep every time she wakes up during the night.
Developing a rhythm
Newborns sleep 16 or more hours a day, but often in stretches of just a few hours at a time. Although the pattern might be erratic at first, a more consistent sleep schedule will emerge as your baby matures and can go longer between feedings.
By age 3 to 4 months, many babies sleep at least five hours at a time. At some point during a baby's first year — every baby is different — he or she will start sleeping for about 10 hours each night.
Safety First: Lower SIDS Risk
Ideally, your baby should sleep in your room with you, but alone in a crib, bassinet or other structure designed for infants, for at least six months, and, if possible, up to one year. This might help decrease the risk of sudden infant death syndrome (SIDS).
Adult beds aren't safe for infants. A baby can become trapped and suffocated between the headboard slats, the space between the mattress and the bed frame, or the space between the mattress and the wall. A baby can also suffocate if a sleeping parent accidentally rolls over and covers the baby's nose and mouth.
Every time you put your baby down to sleep, whether it's at night or for a nap during the day, the American Academy of Pediatrics recommends that you do the following to lower the chances of SIDS (sudden infant death syndrome):
Let Your Baby Cry It Out — Should You or Shouldn't You?
One crying-it-out type of sleep training is the well-known Ferber Method, also known as "Progressive Watching" or "Graduated Extinction." The goal is to teach your baby how to sleep on her own and put herself back to sleep if she wakes up during the night. Richard Ferber, MD, director of the Center for Pediatric Sleep Disorders at Children's Hospital Boston, developed this method. He advises parents not to start this training until their baby is at least 5 or 6 months old. Here's an overview of how it's done:
Adopting this method might be difficult during the first few nights. But you'll likely see improvement in your baby's sleep pattern by day 3 or 4. Most parents see an improvement within a week.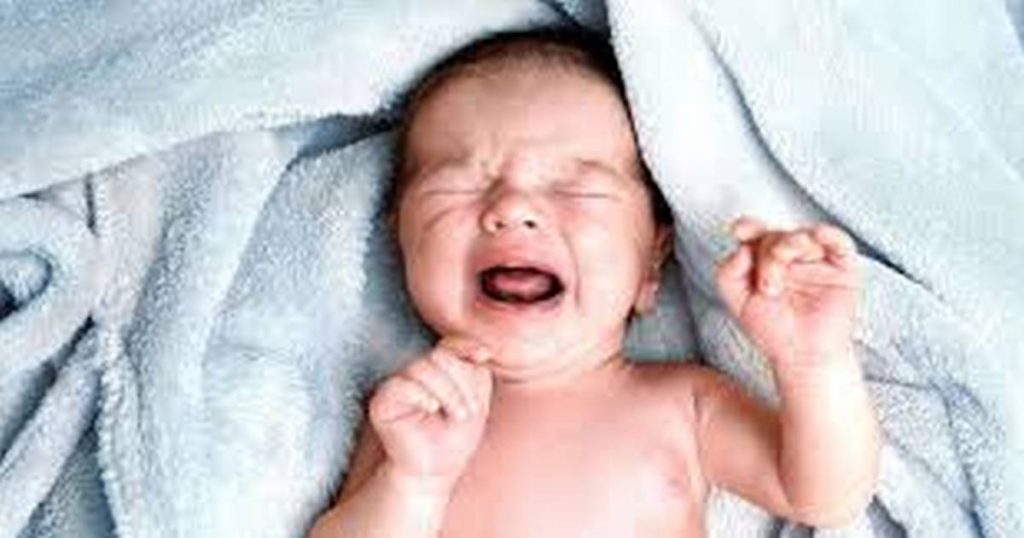 Encouraging good sleep habits
For the first few months, middle-of-the-night feedings are sure to disrupt sleep for parents and babies alike — but it's never too soon to help your baby become a good sleeper. Consider these tips:
The Bedroom Temperature
Our modern homes tend to be well insulated, retaining heat and saving us money on our fuel bills. Central heating quickly and efficiently heats our homes too. This can and does cause a problem with sleep. The optimal room temperature range for the best sleep is 15-18C, or 60-65F. Unlike most infant room thermometers indicate, 18C/65F isn't the best temperature for sleep – it's at the very top end of the optimal range! Trying to cool the bedroom to somewhere in this optimal range can help sleep. If you have to air-condition and are in a hot country, you're not going to get this low obviously, but turning the AC down a degree or two is worth thinking about. This doesn't mean the child should be cold at night. The aim is "warm body, cool room". More on this later!
The Bedroom Humidity
Temperature aside, air conditioning and central heating can cause trouble with sleep in another way. Playing havoc with room humidity. Anything that dries the sleeping environment can mean that the child wakes more for milk. Where an adult may take a glass of water to bed to place next to their bed, babies and toddlers tend to wake and cry for milk if they have a dry mouth. This doesn't mean that fixing the humidity will stop the child from needing to feed at night, far from it, but it will remove those extra humidity related feeds. This tends to be more of an issue for children who are mouth breathers, sleeping with their mouths open. The best humidity for sleep is around 30-50%. If you use air-conditioning or central heating, you may consider adding a humidifier to the room.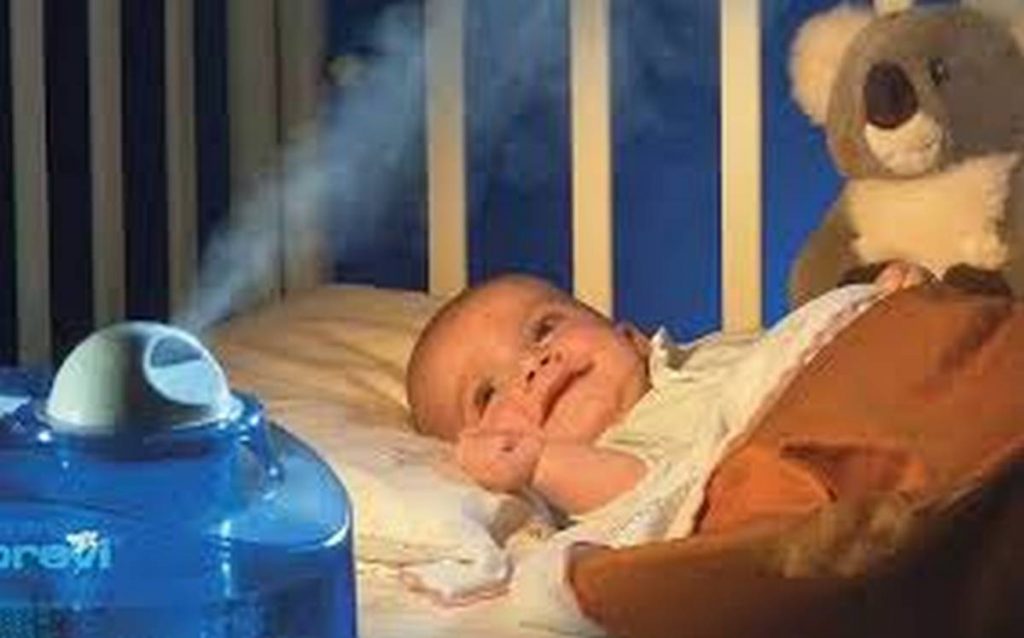 Bedding and Night Clothes
Remember, in point three, and we discussed "cool room, warm body"? This is where what you dress your child comes in. Sometimes adding an extra layer of clothing, such as a long sleeve vest, or upping the tog rating of a sleep sack can help sleep. Generally speaking, in the optimal room temperature zone, you're looking at 2-3 togs. While sleepsacks can help to keep kids cozy, by avoiding loose blankets and duvets that fall off the bed (I don't recommend either under 4years), they can also inhibit sleep when the child rolls over and gets caught up in the huge amount of extra fabric around their legs. Some children also really hate having their feet covered by anything, unsurprisingly since we tend to sleep better with the ability to have our feet exposed. For this reason, I always recommend sleep sacks that have separate legs and uncovered feet, like these, or these (tip: leave the booties off!).
My Baby Nursery have a wide range of baby nursery cot bedding and manchester to give your baby the perfect night's sleep.
Bedtime Music
If you sing your baby to sleep or use a mobile, or stuffed animal that plays music for fifteen or twenty minutes at bedtime, you could be causing your child to wake more. Why? Babies and toddlers have very short sleep cycles, lasting for 40-60 minutes depending on age. At the end of this sleep cycle, one of three things may happen. 1. They move straight into a new sleep cycle, 2. They wake fully and need your help to start a new cycle, or 3. They rose slightly, but not fully, and if all is well, they start a new cycle independently. Number three is where it is important to consider any constants in the room. If a child goes to sleep with music, that music needs to be present ALL NIGHT. At the end of a sleep cycle, that slightly rousing child needs to hear the same sounds as when they went to sleep, if they don't, then the sharp change in environment may cause them to wake fully and need your help. Some companies try to get around this by designing noise and motion-activated music players. These rarely work, and I don't recommend them. Because they 'catch' the child too late, when they are already roused and moving/crying. They have already woken properly by the time the music cuts in again. If you sing your child to sleep, consider recording yourself and playing your recording on loop all night, or consider playing special alpha music for children recording all night. Alpha music for children is recorded to resting pulse rate 60BPM and includes elements of white noise, heartbeats and simple repetitive music. This is mine (it's on iTunes too). Pop the music on during the bedtime routine and turn it off the next morning. If you have an older child (2yrs plus), who sleeps through, but the issue is more getting them to sleep independently at the start of the night, then consider a children's meditation recording instead. This is mine (also on iTunes)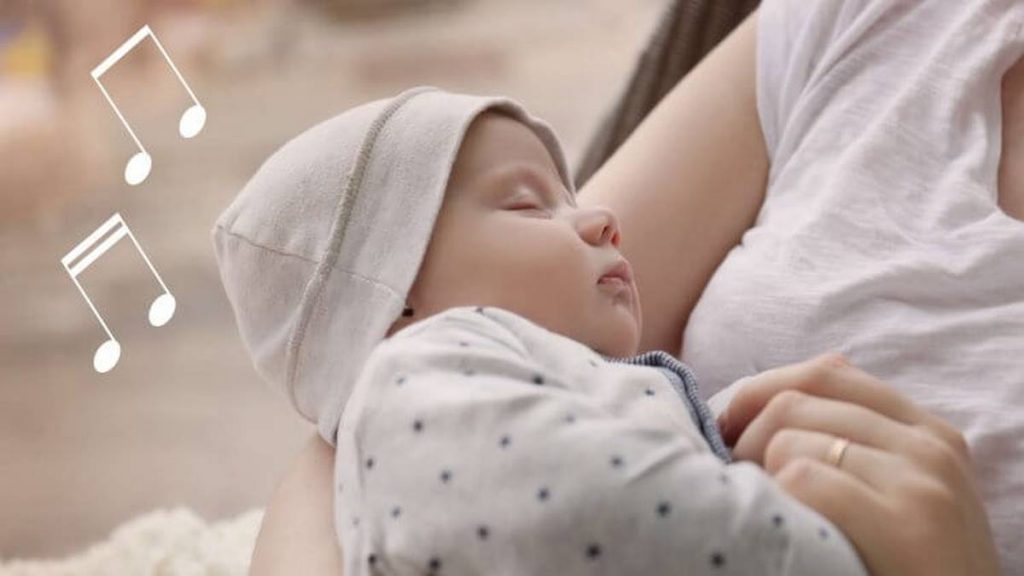 Bedroom Scent
This follows on from point five. The smell in the world that relaxes your child the most is the smell of you. If you could bottle your smell and spray it around your child's bedroom, it would surely comfort them. Many people pop muslins in their tops to absorb their scent and then leave the muslin with the child, or one of their t-shirts or pyjama tops. This can work well for some, but some – most – need more. To get more, you need to condition a smell, i.e. you need to take a scent and make it yours. The easiest and most effective way to do this is to select an aromatherapy oil that you like (and is safe to use around babies and children). Lavender and chamomile are particularly good for sleep, blended together. Pop some of this oil on as scent/perfume each day for a month or so and then diffuse it in an aromatherapy diffuser in the room your child sleeps in for an hour or two before bedtime. You can get some diffusers that double up as humidifiers and red night lights too, which are a good buy. Note, this is only recommended once your baby is at least 12 weeks of age. Before this, it's best to keep any scent that isn't you away.
Keeping it in perspective
Remember, getting your baby to sleep through the night isn't a measure of your parenting skills. Take time to understand your baby's habits and ways of communicating so that you can help him or she becomes a better sleeper. If you have concerns, talk to your baby's doctor.
The Best Baby Sleep Tips Ever
So you've stepped past delirium and are about to lose your mind from lack of sleep completely. Don't worry, and all new parents have been there. Here are our top expert-approved baby sleep tips.
Spring into action at the first sign of sleepiness.
"Timing is critical. Tuning into your baby's natural biological rhythms—by reading her telltale drowsy signs—ensures that when she's placed in her crib, melatonin (the powerful sleep hormone) is elevated in her system, and her brain and body will be primed to drift off with little fuss. If you wait too long, however, your infant can become overtired, so not only will she have lower melatonin levels, but her brain begins to release wakefulness hormones like cortisol and adrenaline. This makes it difficult for your baby to fall asleep and stay asleep and can lead to early wake-ups. So don't miss these cues: When your little one is still, quiet, disinterested in her surroundings, and staring off into space, melatonin is peaking in her system, and it's time to go to bed." – Jenni June, a sleep consultant in Los Angeles
Drown out the sound with sound.
"Blackout shades and a white-noise machine transform a nursery into a womb-like environment—and muffle the noise and light from outside. Half of a baby's sleep is REM, or rapid eye movement. This is the light-sleep stage in which dreams occur, so it can seem as if almost anything will wake him: Your phone rings in the living room, you laugh too loudly at your Netflix show, you pull a tissue out of the box. But that is less likely to happen with a white-noise machine running because the background noise covers it all. Some have timers, but I prefer the ones that plugin, so they stay on all night. Marpec Dohm is my favourite. I tell parents to test the volume by having one person stand outside the doors and talk. The white machine should muffle the voice but not drown it down completely." – Brooke Nalle, a sleep consultant and founder of Sleepy On Hudson in Dobbs Ferry, New York
Don't give up on swaddling.
"It's the first piece of advice I give to new parents, and they often say, 'I tried swaddling, and my baby hated it.' But sleep changes so rapidly in those early weeks and that what she hates at 4 days might work in 4 weeks. And you'll get better with practice too. It's common to swaddle loosely the first few times or feel flustered if your baby is wailing. it'sIt's worth another shot, as long as she is still too young to roll over. Try different styles of swaddles, like the Miracle Blanket, which wraps snugly around, or the Swaddle Up, which lets your baby keep her hands up by her face–and maybe make it a little tighter to leave one of her arms out." – Linda Szmulewitz, a licensed social worker and founder of The Chicago New Moms Group and Sleep Tight Consultants
Drop the temp.
"We all sleep best in a cool room, including babies. Aim to keep your thermostat between 68 and 72 degrees Fahrenheit to give your baby the most comfortable sleep. If her fingers feel chilly, that's normal. To reassure yourself, put your hand on her chest. If it's warm, she's warm enough." – Nalle
Prepare for quick changes.
"Hunting for a fresh crib sheet after your baby soaks his diaper or spits up is miserable in the middle of the night, and turning on the lights can wake him up more fully, meaning getting him back to sleep can take an eternity. Instead, double layer ahead of time: Use a regular crib sheet, then a disposable waterproof pad, then another sheet on top. That way, you can just peel away the top layer and pad, throw the sheet in the hamper, and toss the waterproof pad. Also be sure to keep a one-piece, a swaddle, or asleep sack nearby–whatever it is your baby needs to continue the night comfortably–so you're not hunting through drawers every time your baby's diaper leaks." – Aimi Palmer, a sleep consultant and cofounder of AB Child Solutions, in London
Take turns.
"If you have a partner, there's no reason both of you need to be awake every time the baby is. Maybe you go to bed at 10 p.m. and sleep until 2 a.m., and your partner sleeps in the early-morning shift. Even if you wake to nurse, let your partner handle the diaper change before and soothe the baby after. This way you'll both get four or five hours of uninterrupted sleep–which makes all the difference." – Nalle
Change your baby's diaper strategically
Changing the diaper before the middle of the night feeding prevents the baby from waking up too much after feeding is finished. When the baby wakes up to change the diaper and re-swaddle to prepare him for sleep immediately following a night feeding, if you change the diaper after the night feeding, the baby may become too awake, making it more challenging for him to fall asleep.
Now, I've also heard from parents of very young newborn babies (Think: Birth to 3 weeks) sharing that the baby poops right after a night feeding. This is very common during the early newborn phase when babies are still working out the flow of their digestive tracts.
If your baby is consistently stooling after a night feeding, then certainly, just wait to change the diaper until after the feed. Once your baby's gut matures, and he or she stops stooling immediately after a night feed, you can go back to changing the diaper before the feed.
Send an early riser to a new time zone.
"Waking at 5 a.m. is rough, and it's one of the hardest things to fix. Parents often try making their baby's bedtime later, but what you need to do is shift his circadian rhythm, as if he's flying to Bermuda and needs to function in a new time zone. That means everything (lunch, the afternoon nap, bathtime) needs to move to a later time. If you shift by 15 minutes each day, you can adjust his body clock in about a week." – Nalle
Help her find her pacifier.
"If your baby cries because she's hungry or wet, that's understandable, but waking up in the middle of the night because she can't find her pacifier is frustrating for all. You can teach her to find it on her own: Put a couple of pacifiers in one corner of the crib, and every time she loses one in the night, go in and help her reach for it herself by bringing a hand to that corner. This shows her where the pacifiers are, so if one goes missing, she can find another and get back to sleep. She should figure it out in about a week." – Jodi Mindell, Ph.D., a Parents advisor, associate director of the Sleep Center at the Children's Hospital of Philadelphia, and author of Sleeping Through the Night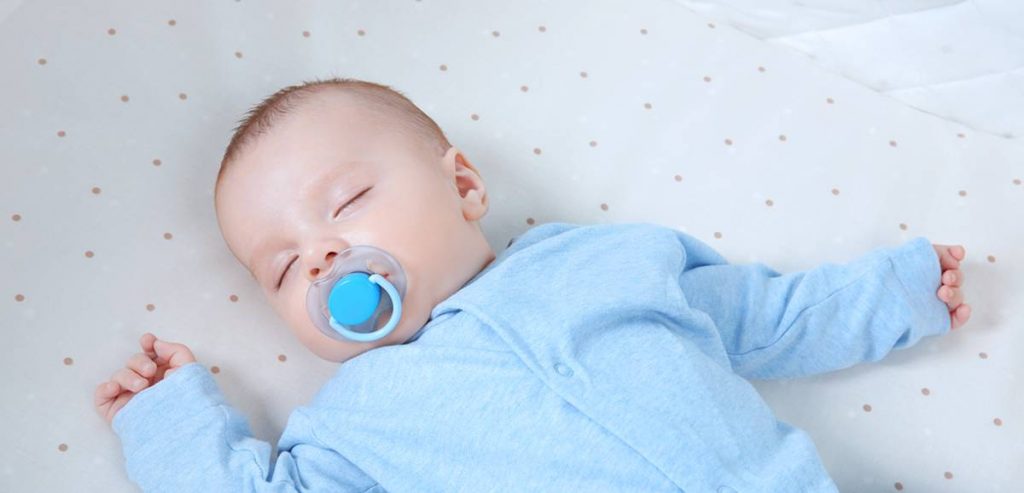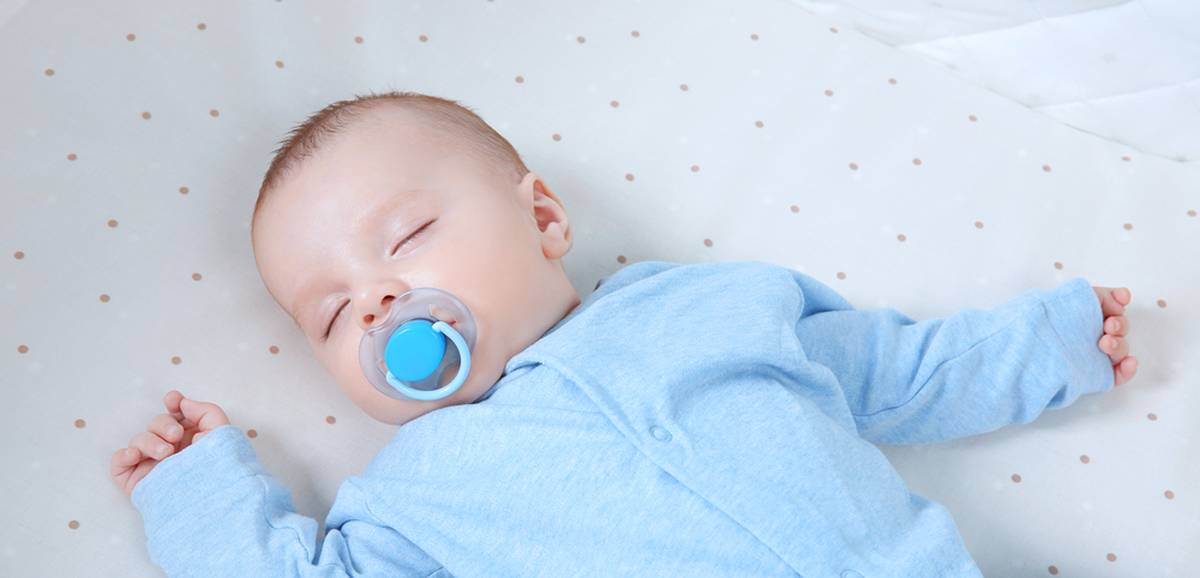 Don't worry if naps are a hot mess.
"Yes, consistency is key, and the safest place for your baby to sleep is on her back in a crib. But many babies under 6 months don't nap best there, so don't beat yourself up if she falls asleep on your chest or in a carrier or a car seat (as long as you are alert and watching her), or if you wind up pushing a stroller around the block for 40 minutes so she'll get some shut-eye. You're not wrecking night sleep by letting naps be a little more haphazard in the first six months. Most babies don't start developing a real nap schedule until 5 or 6 months, and even then, some nappers will put up a fight and others will be way more flexible about napping on the go." – Szmulewitz
Check out our range of baby nursery bedding manchester to ensure a good night's rest for your bub.
Master the four B's: bath, book, bed, bottle.
"A consistent bedtime routine can work wonders. The order is up to you, but it usually involves a soothing bath, a story, and one last feeding. I also like to add a quick massage with lotion, gently squeezing and releasing the baby's knees, wrist, elbows, and shoulders, wherever there's a joint. Then you might do a final 'closing up' of the nursery: Now we turn out the light, now we start the white-noise machine, now we sway beside the crib, now I lay you down–and that's the signal that it's time to sleep." – Nalle
Following these tips may not magically encourage your child to sleep through the night, but hopefully, they should have a positive impact, without the need to sleep train.