A Pikler triangle is a climbing structure for children. And it's not "Pickler" or "Picklar" which are common misspellings. The name comes from its creator, Dr. Emmi Pikler, a Hungarian pediatrician.
Dr. Pikler developed a child-rearing approach based on a kind and respectful relationship between an adult and infant, through tender care moments, a naturally paced motor development, free movement and uninterrupted play. Dr. Pikler believed in the child's inherent ability to guide his or her own motor development.
This is where the Pikler's triangle comes into play. The Pikler triangle is a climbing structure that children learn to navigate on at their own pace. The Pikler triangle allows children to explore their body, learn their own boundaries and respond to their climbing needs. It also helps develop gross motor skills, physical strength and agility, encouraging free movement and free play.
It can be introduced at six months old and generally can be expected to be used up until age 5.
Around six months of age, babies can use the rungs of the Pikler triangle to pull up and stand. As they develop, children begin exploring the structure by climbing partway up then back down (around 1-2 years of age). Older children (around 4-5 years of age) typically "master" the Pikler triangle and are able to climb all the way to the top and climb over and down the other side.  
Though the Pikler triangle is optimal for six-month-olds to 5-year-olds, it can still be useful for those outside this age range. For instance, newborns could lay under the Pikler triangle with toys hanging from the rungs, similar to a play gym. Older children will likely find creative uses for the Pikler triangle, such as forts, puppet shows, or other open-ended play.  
Looking for a car seat for your baby? Look no further. My Baby Nursery have a wide range for you to choose from.
So where does the triangle come into it? 
Fundamentally: if a babe cannot climb, she just will not climb. We are born with a logic that is innately designed to protect us, and when we test the boundaries of our abilities, we learn from the experience.
We try to walk, and we fall, hence finding the limit of our centre of gravity's translation within our base of support. It is the founding theory of neuroplasticity – our nerves, that is, our brain is malleable, and hardwares what we practice, so we find stability, improve our control, our balance.
The Pikler Triangle allows our children to learn their own boundaries in their own time and in a way that keeps parental heart palpitations to a minimum (compare to placing toddler on high playground platform then running underneath, waiting for when they plunge themselves off the edge – we've all been that ballistic helicopter at the bottom, admit it).
As the triangle is only a metre from the ground, and as babies and toddlers will only get that high when they are ready, the need for buzzing aerodynamics is kept to a minimum. The triangle doesn't need to be adjusted as your child grows because it is the foundation on which they reach developmental milestones, at their own pace.
Babies as young as 6-8 months can pull to stand using the rungs and children as old as 4 and 5 can climb to the topmost point, continuing to learn new skills and develop their proprioceptive control in a creative way that also fosters a sense of imagination.
What starts as a climbing frame can become a castle, a helicopter, a treehouse, a teepee. You'll witness how their mood determines how far they will push themselves each day, and each month they'll try something new.
Babies as young as 6-8 months can pull to stand using the rungs and children as old as 4 and 5 can climb to the topmost point, continuing to learn new skills and develop their proprioceptive control in a creative way that also fosters a sense of imagination.
What starts as a climbing frame can become a castle, a helicopter, a treehouse, a teepee… You'll witness how their mood determines how far they will push themselves each day, and each month they'll try something new.
The Pikler Triangle is the triangle piece Camille is climbing on – the ramps and bridge are extra pieces we have collected over time.
It is a sturdy indoor climbing structure that encourages little ones (ages six months to 6 years) to practice gross motor development skills and physical challenges at their own pace. Babies begin by pulling up on the rungs as they learn to stand, and can slowly teach themselves to climb up and over.
The idea behind the Pikler is empowering children to safely explore what their body is capable of independently of their parents; encouraging curiosity and self-confidence in their own physical abilities! 
The Pikler Triangle is associated with the Montessori method for learning. Still, it is based on observations of Dr. Pikler, who believed in respectful child-rearing, free movement and independent learning through play.
If you have a toddler, then we all know how much of a troublemaker they can be at times. The moment you take your eyes of them, they are going to pull off a crazy stunt which might potentially put them in danger. Unarguably, one of the biggest mysteries in the world is that why do toddlers like to climb up in high places so much? Is it because it makes them feel like their favourite superhero? We would never know. Parenting is never an easy task, especially if you are the proud parent of a toddler. However, there are some items like a toddler learning tower you can invest in that can not only further enhance your parenting experience but also become a source of enjoyment for toddlers. One of those things that we are talking about is a pikler triangle. Just as the name suggests, a pikler triangle is a triangular-shaped toy which looks similar to a ladder. There are many parents nowadays who are investing in the triangle because not only can it help them control the climbing habits of their child, but also there are other benefits which it provides. So, why should you invest in the triangle? Let's see below. 
Improved Coordination 
Research has shown that during the first five years, a child picks up new things faster than anyone. It might not seem like much to you, but walking in itself is not an easy task. There is no hard and fast set of instructions which one could write down that would teach someone to walk. Even then, our toddlers are able to learn it. If your child is still learning how to walk, then a pikler triangle can certainly prove to be extremely helpful. Climbing the triangle is going to certainly improve their sense of coordination and make it easier for them to learn to walk.  
Check out our range of the best baby car seats for your baby.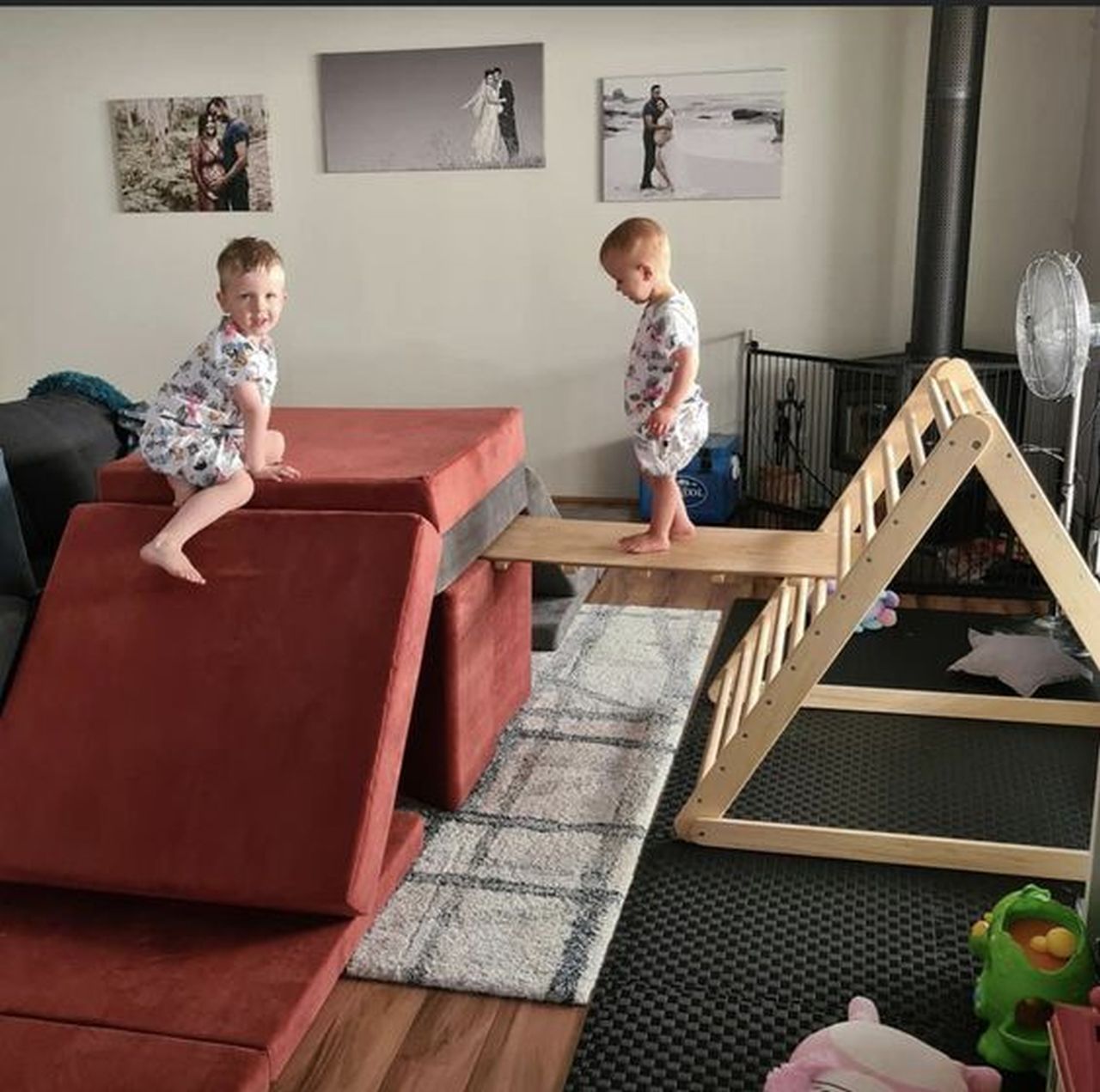 Quality Time 
As we previously mentioned, something is fascinating about climbing which children cannot seem to avoid. This is why, if you are tired of your toddler's climbing habits, then buying a pikler triangle might provide you with a solution to your problem. Children are curious, and the more you tell them not to do something, the more they are going to do it. This is why a triangle toy can prove to be a great investment because then your child will be able to climb to their heart's content without actually getting in trouble due to its safe structure.  
Available in Different Sizes 
Another major benefit which pikler triangle provide is that they are available in different sizes. Not only can you find one for children under the age of 4 but also, there are bigger triangles for the age group of 5 to 9. This is why, if you run a daycare centre, or just have multiple children, then you will most likely be able to find a triangle for them to keep them entertained.  
Easy to Store 
If you do not have enough space in your house, then there is good news for you. Pikler triangle can easily be folded, which means that you can conveniently store it anywhere you want in your home whether it is under your bed, inside the cupboard or just making it stand against the wall. 
Common Misconceptions and Safety Tests 
Contrary to what many people believe, buying a pikler triangle is not going to motivate your child in becoming a climber in the future. However, it can prove to be highly beneficial for their cognitive development as well as toning their muscles from an early age and strengthening their bones. Before you purchase a triangle, make sure that you properly inspect its quality. It is always better to purchase it from a reputable seller because these toys do not really undergo any safety checks to test their durability. So purchasing it from someone reliable can keep your child safe. 
These are just a few of the countless reasons why pikler triangle is so popular nowadays. So, if you were sceptical about investing in them, then they are certainly worth the money. Find the ultimate solution to your child's climbing habits and purchase a triangle so they can climb to their heart's content without actually getting in danger. 
What guidelines should I follow when using my Climbing Frame?
We recommend this to be used on a soft but sturdy surface such as a rug, carpet or grass. Please do not use it on a concrete surface. 
It can be used indoors or out but is designed to be used with supervision. Do not ever leave your child alone to play unsupervised. Please wipe your frame dry if it happens to get wet.
These products are designed to be used with minimal adult intervention. A child will only climb or explore as far as they feel confident. Helping your child to climb may be seen as a fun option, but it puts your child in danger of reaching milestones they are not yet ready to achieve on their own. Every child will reach these milestones in their own time, and these climbing frames are designed to assist your child no matter what their developmental skills are.
Please ensure you follow the weight limit guidelines. These guidelines need to be considered, particularly when multiple children are playing together. 
Will my child tumble?
Possibly. The more important question is, would you like them to tumble in the safety and security of their own environment while rapidly developing their gross motor skills, or would you prefer them to tumble on the playground when you're not around to comfort them? Tumbles and toddlers are inevitable. However, the use of a specifically designed toddler climbing frame can help to ensure your little ones are confident on their feet.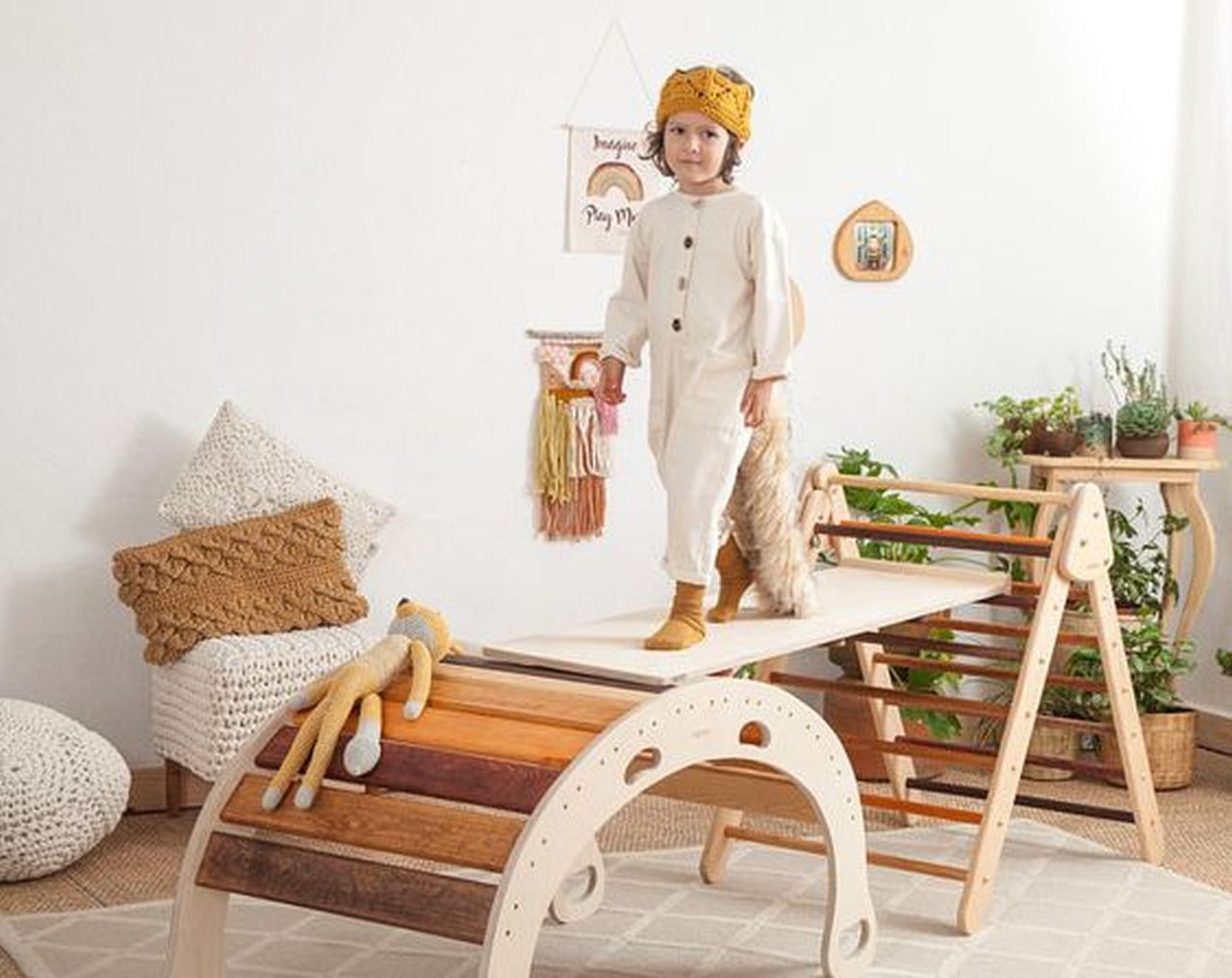 What to look for when buying a Pikler Triangle
There are lots of Pikler Triangle variations, some are bigger, some smaller, some have ramps or slides.
Here are some of the key things to look for when buying a Pikler triangle:
Age appropriateness: When it comes to Pikler Triangles, the advice is to be guided by your child's own developmental stage. However, most triangles come with a recommended age range.
Fold: A Pikler Triangle that folds is easy to pack away and store, which is handy if you don't have much space.
Add ons: There are optional extras that can be added to a Pikler Triangle including ramps, rock walls, slides and smaller triangles. These help extend play as children grow and become more confident.
Size: Again, this depends on your child's age, and also how much room you have available to set up a Pikler Triangle. Mini Pikler Triangles are perfect for babies trying to learn to stand.
Weight limit: Most Pikler Triangles have a hefty weight limit that will take the weight of a couple of toddlers.
Indoor/outdoor use: Some Pikler Triangles are designed to be used both outside and inside, which is handy if you have a soft patch of grass outside. If you're only using it inside, invest in good quality, soft baby play mat for underneath the triangle.
Safety: It's worth noting that there are currently no mandatory safety standards for Pikler Triangles in Australia. Playground equipment for parks, schools and home use are currently excluded from mandatory Australian safety standards.
Is the Pikler Triangle Safe?
Safety is a top concern among parents, especially for those with kids. If you buy it for your kid, you will be surprised by how soon they want to try it. Like most kids, they will be cautious at first, until they figure out how to pull themselves. While this product is entirely safe, you might consider staying close at first to ensure. For added safety, make sure that your Pikler triangle sits on a soft surface with no sharp objects around.
What Is the Best Age to introduce Kids to a Pikler Triangle?
Based on recommendations from Montessori, this toy works best for kids from six months to six years. It is best if you introduced your kids to the Pikler as soon as you can. And when your kid gets older, they will undoubtedly find better ways of utilizing the toy. The versatile nature of this toy makes it perfect for parents who are looking for an affordable toy that will remain practical in several seasons.
How Does the Pikler Triangle Help Children?
For those who know this play item, there is a good reason why kids love it. Here is a list of benefits offered by the Pikler triangle:
Encourages the development of gross motor skills such as balance, strength, and grip

It supports active imagination

Cultivates confidence
The Pikler triangle has a lot to offer as far as a child's development is concerned. Therefore, parents are advised to introduce it to their young ones early and let it grow with them.  
Most parents do not understand what a Pikler Triangle is all about. It is just a wooden triangle with some rungs on its sides. Ideally, this indoor structure is designed to help kids to enrich their gross motor skills at their own pace. For starters, the kid starts by pulling on the rungs when they are learning how to stand. As they get older, they can then embark on climbing.
The idea behind using the Pikler triangle and ramp is to empower kids to explore their capabilities without seeking support from the parents. Often associated with the Montessori Method of learning, the Pikler triangle is one of the best tools used to encourage curiosity and confidence in young ones. That said, here are some common concerns from parents about this learning aid.
My Baby Nursery has a wide range of baby car seats to help you choose.