The Pikler Triangle poses a challenge for babies and toddlers, and the sense of accomplishment they and their loved ones get from completing it is amazing to see. More than anything, pikler triangles help with independence. That is one of the foundations of Montessori teachings. They independently work on their motor development skills without even knowing it. This toy also encourages and builds on children's imagination. To them, our toy is more than a developmental tool – it's a rocketship, a pirate ship or anything else they want it to be.
At what age is it safe to start using one?
While some like to state as early as six months, we agree with REI and Montessori Professionals in the recommendation that as soon as your little one is actively moving, you can move the triangle into their "Yes space" to strengthen their trust with it. Remember, the "Yes space" is an area where the child feels completely safe. 
We have the best storage solutions for your baby nursery. Check them out here.
The Pikler triangle is available in 3 sizes: Small, Medium and Large.
Small Pikler Triangle.
The small triangle is meant for babies and young toddlers during the crawling and climbing stage. Once the child starts to show eagerness to climb on things around the house (or even on parents), which usually happens between the 7th and 9th months, he or she is ready to start climbing on our small triangle.
The small triangle is particularly enhanced by adding a ramp to go with it, either the reversible ramp or the rock climbing board. Both are very useful for your baby as a «beginner's option» because you can adjust the angle for the climbing ramp depending on which rod of the triangle you place it on. Begin on the second rod, and as your child gets the hang of it, you can place it higher.
Small triangles are also ideal for RIE approach groups, «mommy and me» playgroups and daycare services, given the age range they are designed for and their durability.
Medium Pikler Triangle
Our medium triangle is meant for children between 1 – 5 years old. It has a weight limit of 40 kg/88 lbs, and its footprint when unfolded is 95cm/ 37.5 in x 61cm/24 in.
Medium triangles are a very good idea for toddlers that, for whatever reason, have not been able to fully develop their initial motor skills and muscle strength, and that is slightly over a year old. This triangle size allows them to pursue their movement and climbing needs without it being too challenging for their age, especially if combined with a ramp; but it also will provide enough climbing challenges to help them develop and improve their initial gross motor skills.
It's also a great option for siblings where one has started to climb, and the other is 2 or 3 years old, especially if you add a ramp. They will both be able to get their climbing energy to work, develop and play together.
Large Pikler Triangle.
Our Large Triangle is for kids between 2- 7 years old. Its weight limit is 50kg/110 lbs. Its footprint when unfolded is 34″ x 24 1/2″.
If you have more than one child, you can complement the large triangle with two ramps, a climbing arch for a younger sibling, or a rocker for an older sibling. The triangle is a very versatile piece, and it's easy to build an entire set combining it with other climbing structures. It's great when it comes to building an obstacle course too!
As a fun change, you can cover the triangle with a colourful play-silk or a blanket to create a tipi, a fort, a wild animal's den, a cave, or any other themed little cozy and private space for your child. In there he or she can spend some resting time with toys, a book, or even take a nap.ᅠ
Concepts and Practices of the Pikler Approach
The Pikler triangle was designed by Dr. Emmi Pikler (1902 -1984) to give kids the opportunity to climb at their own pace, learn to control their movements and discover their own body's limits. This can be done in a safe environment at home –when playing outdoors is not possible.
The principles of Dr. Emmi Pikler's approach to raising healthy babies: This approach is based on renowned Hungarian pediatrician Emmi Pikler's research into gross motor development and emphasises treating babies with respect by telling them what you are going to do before you do it, encouraging them to participate in their own care and supporting them to solve their own problems.
It is said that in Budapest, "Pikler babies" can be recognised even when they are older because they move with grace and freedom. Dr. Pikler believed this is because they were not sat up before they were ready to move into a sitting position on their own, were not walked by having their hands held but were allowed to learn to walk at their own pace, and were not strapped into swings and infant seats, but were allowed to move naturally and at will and freedom and allowed to spontaneously follow their own in-born developmental timetable.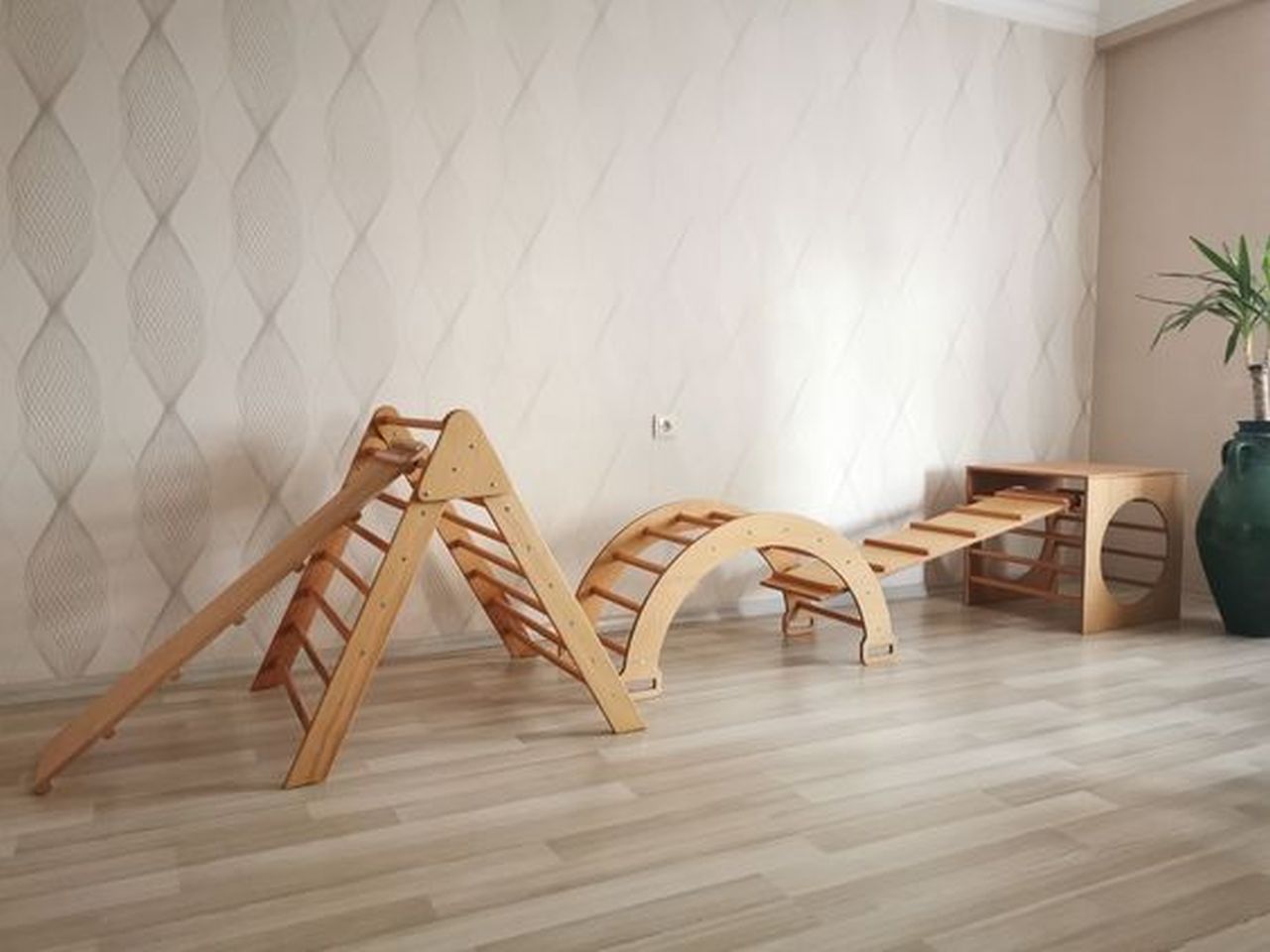 Basic Principles:
The value of self-initiated activity from the earliest age, i.e. allowing plenty of time on the (baby-proofed) floor for uninterrupted exploration and play.
The value of building a trusting relationship with a consistent caregiver who is respectful of the child's personality and needs. This involves sensitive observation of the child as well as slowing down and tuning in during the daily caregiving routines of dressing, feeding, bathing and nappy changing and communicating what you are doing. Taking the time to observe our babies will teach us about them and their needs.
The value of sustaining each child in building self-awareness. This is done through encouraging active participation in whatever is going on – alone or in interaction – rather than simply perceiving the child as an object to be bathed and fed: "I'm putting on your sweater. Can you give me your hand?" Parents and caregivers can take advantage of the natural daily caregiving routines such as feeding, changing, dressing and bathing to slow down, tune in to and nurture our children.
The value of providing a stable, consistent, predictable routine. Babies have their own innate drive to develop and given a sound environment, and they will flourish without "extra" help.
The value of trusting your baby's own timetable: He can sit up by himself without support when he's ready to do so; he can walk on his own timetable. When his muscles and bones are ready for these new adventures, he will do them himself. Dr. Pikler would never put a baby into a sitting or walking position until he or she was ready to do it on their own.
The value of trusting your baby to solve his or her own problems when possible. If your crawler gets stuck under the table, you can get close, offer support and see if he/she can extricate themselves on their own. The satisfaction on his/her face will be worth it!
The value of empathising when your baby expresses their own distress rather than trying to plug him/her with a pacifier, jostle or distract the child. Babies need a lot of time for free movement and uninterrupted play.
In short, Dr. Pikler reminded us that babies are unique individuals, and we should treat them as such!
Looking for a baby high chair? Look no further. My Baby Nursery has you covered. 
Emmi Pikler's 4 principles of Curriculum
The value of the self-initiated activity of children from their earliest age.

The value of building a trusting relationship with a consistent professional caregiver whose attitudes are directed by respect for the child's personality and understanding of his needs.

The value of sustaining each child in building self-awareness. This is done through encouraging active participation in whatever is going on – alone or in interaction – rather than simply perceiving the child as an object to be cleaned and fed.

The value of fostering optimal health in the children, reciprocally influenced by the first three points.
Best Uses for a Pikler Triangle
A climbing triangle looks lovely indoors or out, is a beacon of sustainable craftsmanship and is so much more than just a wooden climbing frame. It's a great present for boys and girls, it folds up behind the sofa, so it can transform a sitting room into a playroom by day! 
Our best ways to use the climbing triangle and slide! 
A climbing frame and slide

A crawl tunnel

A drying rack for clothes

A crossbar for a baby mobile 

Throw a rug over and use it as a tent

A car racing track

A step ladder for high shelves

A Xylophone

A teddy bear's catwalk

A backrest for reading
Ideas How to Play a Pikler Triangle
The Montessori-aligned Pikler Triangle is one of the best investments I have made for my toddler's play area. It has helped my toddler develop agility and a keen sense of body awareness. The Pikler Triangle provides her with the opportunity to test, learn and experiment with her gross motor capacities and limits.
Not a day goes by that she's not climbing on and sliding down from the Pikler Triangle. Right now, as my toddler approaches her second birthday, I have noticed a leap in her abstract thinking and imaginary play. Without adult direction or instruction, my toddler has been creatively using the Pikler Triangle as a 'monkey bar' to hang from, an 'observation tower' to watch me hustle around the house, and has barricaded herself underneath in a 'house'. I love seeing how she is starting to think out of the box with the Pikler Triangle.
Following this interest, set up five fun, open-ended activities that utilise the Pikler Triangle beyond gross motor activities for my toddler to further her creativity and imagination.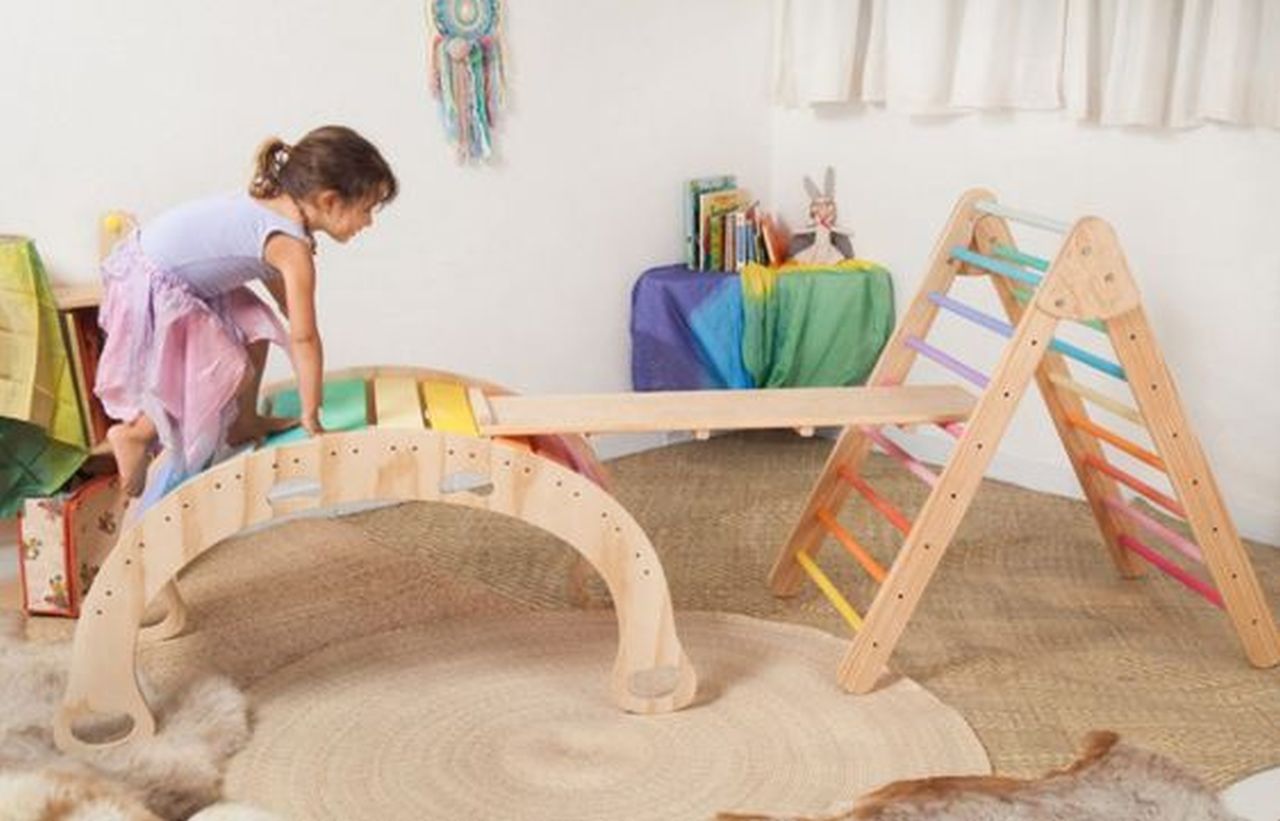 Life-size Abacus
In recent months, Miss 23 months has been displaying a keen interest in numbers. She has recently done rote counting to 12 and one-to-one correspondence to 5, taking me by surprise.
To further this early interest in maths, I created this life-size abacus using the Pikler Triangle. I had previously been eyeing the newly launched IKEA MULA Abacus.
Steps to creating this life-size abacus:
Cut strips of coloured construction paper (10 for each colour) and curl up each strip (like how you would make paper chains) to make paper 'beads'.

Tape the curled paper 'beads' around the rungs of the Pikler Triangle. Make sure the paper 'beads' are slideable on the rungs.

Place ten paper 'beads' of identical colour on each rung. You can introduce ten colours in total to help with counting to 100 (for preschoolers). I used five colours so that the quantity doesn't get too overwhelming for my toddler.
We practised one-to-one correspondence by pushing the paper 'beads' and verbally assigning a number to each 'bead'. This life-size abacus is a hands-on activity that makes counting (and math in general) fun and highly visual. For older children, you can extend the learning to sets, multiplication, addition and subtraction with this life-size abacus.
Rescue Mission
This is a fun activity for young children, and babies included once they demonstrate keenness in fine motor activities. In fact, I believe this would make a great play date idea as older children can leverage their refined fine motor abilities to tie ribbons for the younger ones to undo. In the process of experimenting with different ribbon untying ways to 'free' the stuffed toys, problem-solving skills and cognitive development are enhanced.
Ribbons of differing colours, textures and lengths can be used to increase the tactile sensory experience.
Pinball Color Learning Game
This idea originated from a fellow mom friend, who also practises Montessori parenting.
Steps to creating this pinball game:
Tape colourful wooden blocks onto inclined Pikler Triangle ramp in a way that directs balls to slide down into awaiting coloured holders

Label the coloured holders

You might like to switch up the arrangement of wooden blocks for balls to take different routes and drop into different coloured holders
Outdoor Camping Tent
Weather-proof camping, in the comfort of home!
This setup is extremely easy — a blanket draped over the Pikler Triangle, a campfire crafted from toilet paper (TP) rolls and crepe paper and a "In the Forest" National Geographic Kids book for topic exploration and learning.
Apart from learning about forest animals, you can take the opportunity to explore new topics like how fire can be created, and the use of fire in outdoor camping and everyday life.
Obstacle Course
This is a great problem-solving indoor activity for children to explore, test and retest different ways of getting through an obstacle course. It is more challenging than using the Pikler Triangle alone, and the complex setup provides opportunities for children to test their physical limits in various ways (e.g. learn to fall safely).
A timed challenge can be added to hone children's reflexes.
What's flexible is that this setup can easily be customised to your child's gross motor ability and the available furniture items you have at home. You can get really creative — throwing cushions, cardboard boxes, laundry baskets etc. into the mix!
This is my obstacle course setup:
Crawling path on the Waldorf board before climbing up the Pikler Triangle

Balancing beam path across the Pikler Triangle ramp which was placed on an IKEA FLAT table

Ending with a jump off the table onto a soft bean bag which provides a safe landing
"A child who is allowed to move freely and without restriction is more careful and learns how to fall safely, whereas children who are overprotected and whose movements are restricted put themselves in more danger because they have not experienced their own capacities and limits."
Looking for baby nursery storage solutions. Check out the range at My Baby Nursery.