When the weather outside is frightful, it doesn't always leave your skin feeling delightful. Cold temperatures, windy days and dry heat leave many people with itchy, dry skin. Some people deal with eczema only during the winter months, and those who deal with it year-round often find that winter exacerbates the condition, especially for babies.
Getting a good crib sheet is important not only for your child's comfort but also for safety. The best crib sheets fit the mattress snugly, without any wrinkles or excess loose fabric that would pose a health risk to your child.
If your little one has sensitive skin or eczema, choosing proper crib mattress sheets is even harder because you need to pick the right breathable material that won't irritate their skin.
From my experience, it isn't easy to find crib bedding that is soft, delicate and doesn't dry the baby's skin out.
All three children have skin irritations and various allergies, and my oldest one had eczema on her face as an infant.
Because the sheet comes in direct contact with child skin, it's important to choose the best fabric – hypoallergenic, free of toxins, chemicals and common allergens.
This way, it won't make their skin inflammation or dryness worse, especially when they move a lot in their sleep.
After testing dozens of baby bedding, we finally found sheets that work well for my kids' dry and itchy skin.
If your little one has eczema, contact dermatitis, erythema toxicity, heat rash, newborn acne or other skin diseases (or has sensitive skin), this list is for you.
Yes! Satin Crib Sheets are Naturally Hypoallergenic and Mold/Mite Resistant.  they're perfect for your little one's sensitive skin!
The sheets are made from 100% organic GOTS-certified cotton with a jersey knit. These organic fitted crib sheets are extremely soft, breathable, free from harmful chemicals, and durable.
Cotton: Cotton is the automatic choice for many parents since it's a popular natural material. Crib sheets made of cotton are typically soft and breathable. However, if the crib sheet isn't preshrunk, it could shrink with washing and jeopardize the fit.
All Mulberry Park Silks products are Oeko-Tex® Standard 100 certified and have been tested and guaranteed to be free of all harmful substances, including toxins and irritants. This ensures that the silk products you bring into your home are safe, natural, and healthy.
What is Eczema
Eczema is a condition where patches of skin become inflamed, itchy, red, cracked, and rough. Blisters may sometimes occur. It's a group of skin conditions that result in the skin becoming irritated or inflamed. Atopic dermatitis is the most common form of eczema, although other types exist.
 It's estimated that about 3 per cent of adults and children in the United States deal with this skin condition and individuals who suffer from eczema end up with itchy skin. A rash often appears, and skin may appear scaly, dry or thick.
While eczema can be controlled, some individuals have flare-ups of the condition that may respond to certain conditions or substances, like the dry conditions that often come with winter. Even exposure to coarse or rough materials is enough to aggravate eczema in some individuals.
The Importance Of Crib Sheets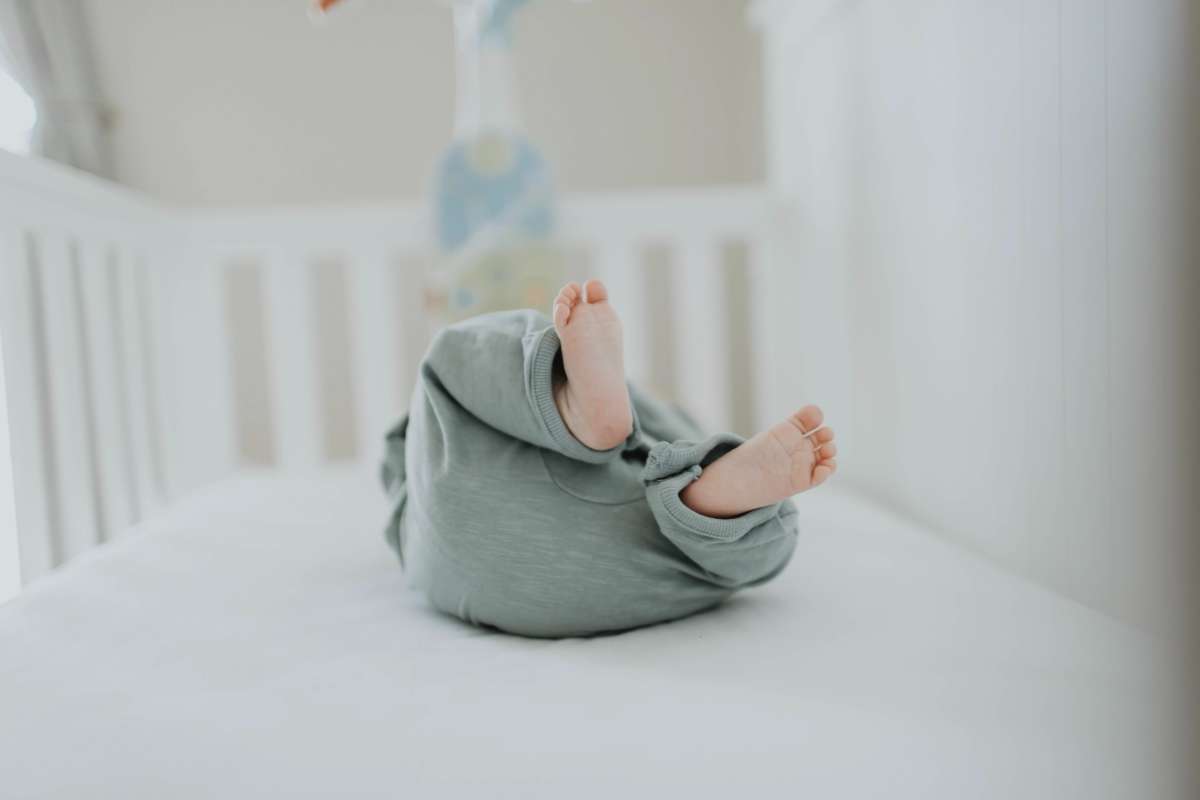 Crib sheets are important for covering the mattress. The reason is that it provides warmth and comfort to your child while sleeping. This is especially important if you are looking for the best crib sheets for babies with eczema. 
The skin of a baby with eczema is particularly sensitive, so please choose your crib sheets more carefully. There are several features and materials to keep in mind.
Some comments about sheets for babies with eczema
 If you don't think this is a serious problem, let's look at what people are saying.
Eight month old has eczema, and the patches on his cheeks have recently got a lot worse - much redder, 'wet,' and easily infected - and we think it might be because he's rolling over and sleeping on his tummy and rubbing his face on the sheet. He has ordinary Mothercare brushed cotton sheets. Are these bad for babies with eczema? Should he be using something else? What should I look for in a sheet, and where do I get it from? He uses an organic cotton sleeping bag with nickel-free zip, and this seems to be okay. Thanks, everyone!

Cotton should be fine 

- maybe it is what the sheet is washed in? are you doing non-bio etc.? Also, if he is repeatedly infecting, maybe you need to change the sheet daily, or if that is a bit of a bore, cover the sheet with muslin at head level and change that daily? The muslin might also be cooler and a bit less abrasive than the brushed cotton. 
It may also be that he is just dribbling a bit more and lying on it because he is on his front, which may irritate his cheeks. I don't know if you can do much about that, but maybe doubling up with a muslin will again soak that up a bit more than the sheets? 
My only other thought is if you have a cot mattress like mine - cotton ticking on one side and plastic on the other - maybe try and turn it so he is sleeping on the cotton side rather than the plastic side, as it may let everything breathe a bit better. But that may be a long shot...
Thanks, everyone

 - you've saved me spending money on stuff I don't need - brilliant! I wash the sheet most days because it's sticky and dribbly, so I'll make sure I do it every day. I do so much washing that one little extra sheet won't make much difference! He has Fucidin antibiotic cream, but perhaps he needs a course of antibiotics. I'll speak to the GP tomorrow. Isn't eczema awful? I've never had it, but I hate seeing my baby itchy and sore and hate feeling like I can only do so much to help. It's hard for mums to cope with too. You know what I mean...
Best Crib Sheets for Baby with Eczema
Crib sheets are important for covering the mattress. The reason is that it provides warmth and comfort to your child while sleeping. This is especially important if you are looking for the best crib sheets for babies with eczema. 
There are several features and materials to keep in mind that I want to show you in this article. Read on below to get more information about finding a good crib sheet that meets your needs.
Burt's Bees Baby Crib Sheet – Best Overall
This is a well-known brand that makes other products. Many people are happy with this product, especially for their children with eczema. It is a very soft sheet and not irritating to the skin because it is 100% cotton. 
Some people don't like the fact that the logo is stitched in the middle. There are concerns that it may irritate the skin, but there doesn't seem to be a situation where this happened. A few people have noted that the material ripped in the corners after a few months of use and washing. Overall, people are happy with this product.
This product is Global Organic Textile Standard (GOTS) certified, meaning it is made of at least 95% certified organic fibres.
Natemia- Best Durability
Overall, people were happy with this product as it is very soft and fits well on the mattress. This is a jersey knit fabric, which tends to be stretchy, flexible and insulating. It is very comfortable to sleep on. 
One customer stated that this sheet was very tolerable for her child with sensitive skin issues. Natemia sheets are durable and hold well to multiple washes. A few have started a chemical smell that faded with time and washes, but not everyone. 
If you use a DockATot, you're probably better off looking at the Magnolia Organics crib sheet as these sheets spread out too thin. Natemia crib sheets come in only two colours, white or grey.
This product is GOTS certified.
Cuddly Cubs – Best Gift
These crib sheets are jersey knit, which allows air to pass through the fabric and ventilate and keep your child comfortable well. Cuddly cubs come in two patterns: elephants and white/grey/mint herringbone. It comes packaged in an aesthetically designed box that can be given as a gift, even a baby shower gift. 
They are durable sheets that hold up well to multiple washes. A few customers have stated that the sheets shrink and don't fit well after washing. Overall, these sheets are stretchy enough to fit the mattress after washing.
Magnolia Organics Crib Sheet- Best Colors
These crib sheets are produced with interlocked knitting, making the sheet stretchy. Customers have stated this product is very soft, and their child with eczema tolerated it well. It provides a thicker feel which is more durable than other brands. 
There are many eye-pleasing solid colours to choose from. A few people have stated a bleach smell, but it disappeared after washing. Most did not notice any smell at all.
This product is GOTS certified.
American Baby Company – Best Designs
These sheets are jersey knit fabric and come in various colours and patterns. They give the most options compared to other brands mentioned in this review. 
Other important features include 9 inch deep pockets to fit around a 6-inch crib mattress easily, but it can make the sheets a little baggy. This crib sheet is very soft and durable to hold up to multiple washes. 
Overall, people were happy with the softness of this sheet and thought they were a good value for the price. In addition, many were pleased with the colour and design options.
Solly Baby Crib Sheet
In my opinion, this is the best crib sheet for babies with eczema or other skin conditions. Frankly, it's the best and softest crib sheet we have ever tried!
Even though they are on the higher end, they are my absolute number #1. There are several features why we love them.
Solly Baby Crib Sheet is buttery soft. In contrast to all other sheets in this ranking, this one is made from 100% certified TENCEL™ Modal fabric.
It feels crazy soft, and it has just the right amount of stretch in it. Even though this material is not as natural as organic cotton, it has many advantages.
It feels incredibly lightweight, yet it's durable and doesn't easily wear down, even if you machine-wash it frequently. According to many parents, it is WAY SOFTER than cotton and so MUCH MORE breathable. This means no rubbing on baby skin or itchy rashes.
Modal is a moisture-wicking, extremely breathable fabric, perfect for all seasons and temperatures. It doesn't trap the heat inside – which means it protects the baby from getting sweaty or overheated, and it doesn't trap the moisture between the baby's skin and the sheet (which could lead to catching a cold, getting rashes etc.).
And because it's stretchy, it fits snuggly on the standard mattress in the baby's crib without any wrinkles or creeping up. Snug fit and smooth surface mean a lower risk of SIDS or suffocation.
Solly Crib Sheets come in many beautiful colours and lovely prints that fit different nursery decors (including Boho decorations).
They use only non-toxic dyes, free of harmful chemicals, heavy metals, phthalates and flame retardants. No skin irritants, no chemical smell.
Pehr Crib Sheet
These organic cotton crib sheets are available in many beautiful colours with GORGEOUS prints that you and your little one will love.
Pehr crib sheet dimensions are 28″ x 52″ x 8″, and it fits snugly on a standard crib mattress. Like Natemia sheets, this one is also machine-washable and softens with each wash.
Here are the main reasons why the Pehr crib sheet is suitable for babies with skin problems:
It's made from brushed cotton. It's naturally hypoallergenic, breathable and crazy soft.

It is GOTS certified, which means at least 95% of textiles are organic.

The print was made with non-toxic inks and dyes.

It's tested to be toxin-free: no formaldehyde, flame retardants, phthalates (these are particularly nasty), pesticides or herbicides.
This type of material keeps your baby from sweating and allows their skin to breathe. Your baby is less likely to have an allergic reaction or get overheated.
What materials should I look for in a crib sheet?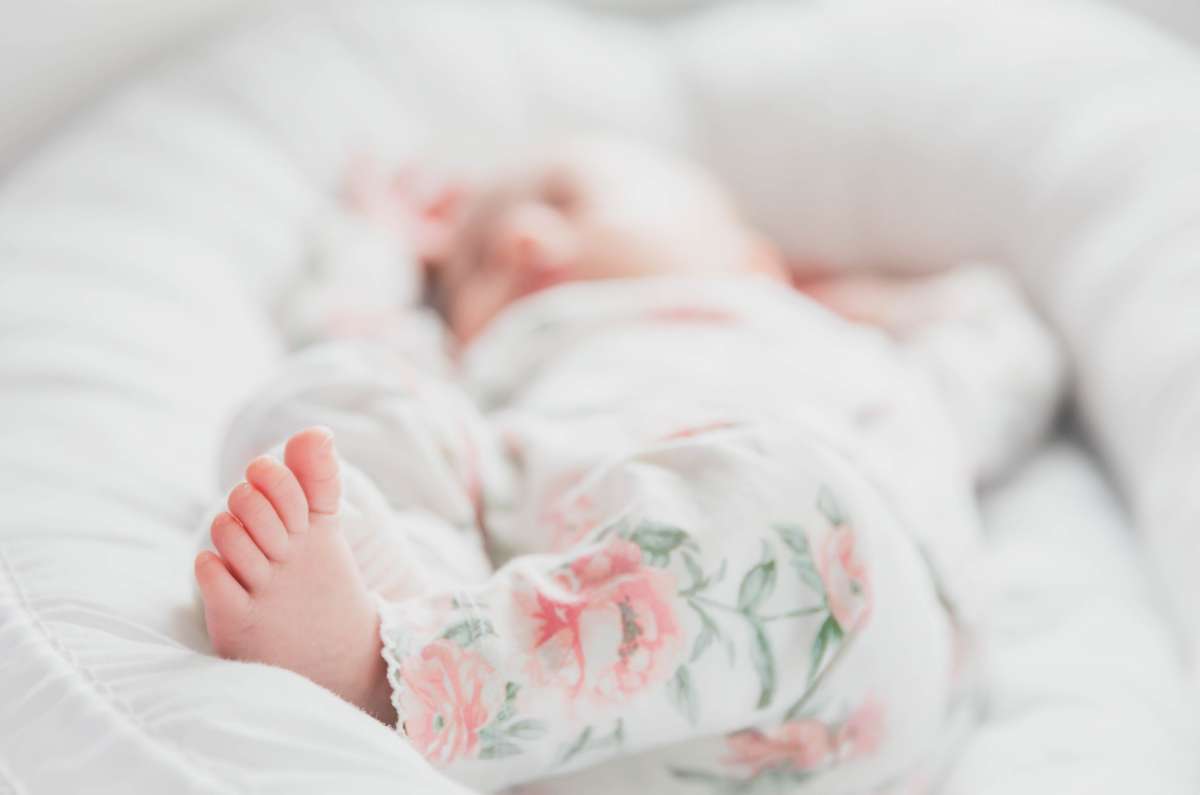 There are a variety of materials, including cotton, polyester, flannel, fleece, natural fibres. It is overwhelming to figure out the best crib sheets for a baby with eczema. This is especially true because there are so many options to choose from.
Cotton
The benefits include:
breathable fabric that absorbs moisture

Cotton less irritating for sensitive skin 

It stretches so easier to get a snug fit over the mattress

Keeps cool in the summer and warm in winter
The downside of cotton is that it is prone to wrinkling, so it might not look as neat.
Polyester 
The benefits of polyester include:
Durability 

Wrinkle-resistant so looks neater 

More affordable than cotton 
The downside of polyester are: 
Synthetic fibre 

Doesn't absorb moisture well 

Not as breathable 

It can be irritating to the skin 
Flannel
Made from cotton and cotton-polyester blends 
Pros- 
Absorbs moisture 

Breathable 

Keeps warm during winter 
Cons- 
Not as breathable 

Too heavy to use in summer and warm weather 
Bamboo
This type of crib sheet is made from bamboo fibres and come from 4 varieties of bamboo sheets discussed below.
Viscose (aka Rayon)– this is produced as cellulose of bamboo through a chemical process using carbon disulphide. There is concern about the safety of this process. 

Lyocell– manufactured with non-toxic solvents that are environmentally friendly 

Linen– same production process to make cotton linen but using bamboo material. This makes it durable but wrinkles easily. 

Blend– bamboo and cotton blended with the ratio of 60% bamboo rayon/40% cotton or 70% bamboo rayon/30% cotton. This makes it stronger but not as soft. 
Pros- 
Absorbs moisture 

Durable 

Keeps warm in winter and cool in summer 

Less irritating to sensitive skin 

Anti-bacterial properties 
Cons-
Wrinkles easily 

Not cost effective 
BilobanSheets - Why we're the Best Sheets for People with Eczema
BilobanSheets

 are made from high-performance, breathable poly-fibre – the same material used for athletic-grade exercise clothing. Here's a look at some of the BilobanSheets benefits that make them stand out as the best sheets for people with eczema.

Soft and skin-friendly

 – If your skin is already dry, irritated and itchy, the last thing you want are sheets that feel scratchy. BilobanSheets are soft and skin-friendly, even if you put them on your bed right out of the package. They feel wonderful on your skin.

Durable and Washable 

– Ever had those little balls build up on your sheets after you wash them several times? Those roly-polies don't feel good on sensitive, dry skin. BilobanSheets are durable and washable with proper care, even after many washes.

Moisture-Wicking Properties 

– Do you deal with night sweats along with eczema? If so, you'll love the moisture-wicking properties of BilobanSheets. These poly fibre sheets use advanced technology to achieve a tight weave that naturally repels liquids. Instead of absorbing moisture as cotton does, it wicks away sweat and moisture, so you stay cool and dry throughout the night.

Hypoallergenic 

– BilobanSheets are hypoallergenic, making them an excellent choice for people with eczema, sensitive skin and allergies.

Stain Resistant 

– These sheets are designed to be stain resistant so that stains won't set in quickly. Although as with any stain, early treatment is key. They also dry super-fast, so they'll be ready to go back on the bed after drying for just 20 minutes on medium heat in the dryer.

They Don't Fade

– To prevent skin problems, it's important to wash your sheets weekly. The great thing about BilobanSheets is that the colours won't fade, and the whites won't become dingy, even if you wash them weekly. That means your sheets will continue to look beautiful even if you use them all the time.
Baby skins are soft and very much sensitive, and nursing mothers should be careful of things that come in direct contact with their baby's skin—stuff like dresses, beddings, stockings, and so on. 
If your little one has eczema that makes his skin even more sensitive, it is advisable to use soft and breathable organic cotton sheets that will fit the mattress. Also, ensure you wash your baby's bed sheet often, as dirty bedsheets can also be harsh on your baby's skin.