When it comes to your child's health, you want the best. You want someone who knows what they're doing and has a lot of experience with children. Finding a paediatrician is not always an easy process, but we're here to help. What do you know about paediatricians? They are skilled doctors who specialise in the diagnosis and treatment of children.
Melbourne is a beautiful city with many great attractions, but what if you want to find out more about your child's health? You can search for a local paediatrician on our website! We'll provide information on how to find one near you. Our directory will give you all the details needed so that you can make an informed decision before making an appointment.
Best Paediatrician Doctor Melbourne, Victoria
Dr. Anton Harding Paediatrician Doctor Melbourne, Victoria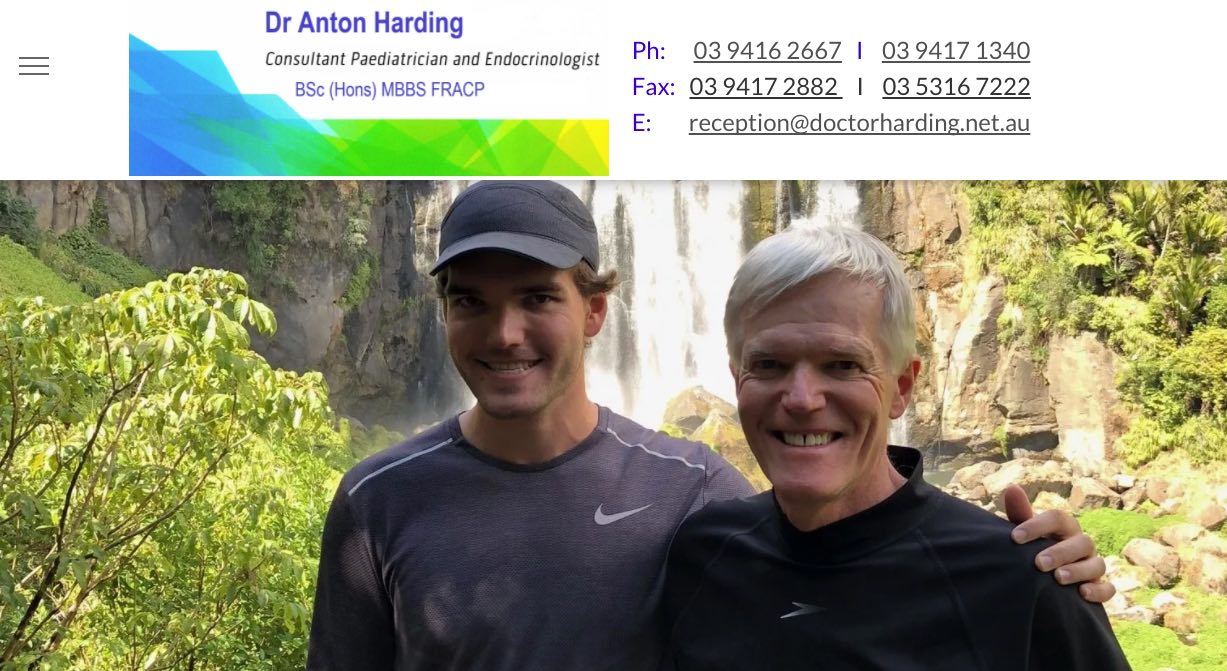 03 9416 2667/ 03 9417 1340
Dr Anton Harding is a consultant paediatrician and paediatric endocrinologist.
He works at the Royal Children's Hospital, the Austin Hospital and Epworth Hospital, Richmond. Dr Harding has over 35 years of experience in general paediatrics and paediatric endocrinology, covering diabetes and the latest in insulin pump therapy technology. He established paediatric diabetes and young adult diabetes services at the Austin Hospital, teaches medical students and supervised paediatric trainees. He is also an examiner for the RACP.
Dr. Anton has a busy private practice in Victoria Parade, Fitzroy, and has four adult sons - two of whom have followed him into medicine.
Dr. Anton Harding manages children and adolescents of all ages out of his paediatric practice in Fitzroy. Seen by many families throughout the city, his approach is care and understanding, refined by over 35 years of industry experience. From paediatrics and endocrinology to diabetes and developmental to behavioural issues, Dr. Anton is your child's specialist in Fitzroy. Read on to learn more about the services we provide, or call today to make an appointment.
Specialties
Dr. Anton Harding can utilise his more than 35 years of experience in looking after the following areas of medicine:
General Paediatrics
Paediatric Endocrinology
Diabetes (Insulin pump therapy)
Growth
Puberty Disorders
Asthma
Adolescent Problems
Dr. Anton is available for a private consultation at his rooms in Fitzroy and has a monthly private paediatric diabetes clinic at Epworth Richmond with a diabetes educator and dietitian. He is also available in public clinics at both RCH and Austin Hospital. Please phone or email to make an appointment.
Dr. Brendan Chan Paediatrician Doctor Melbourne, Victoria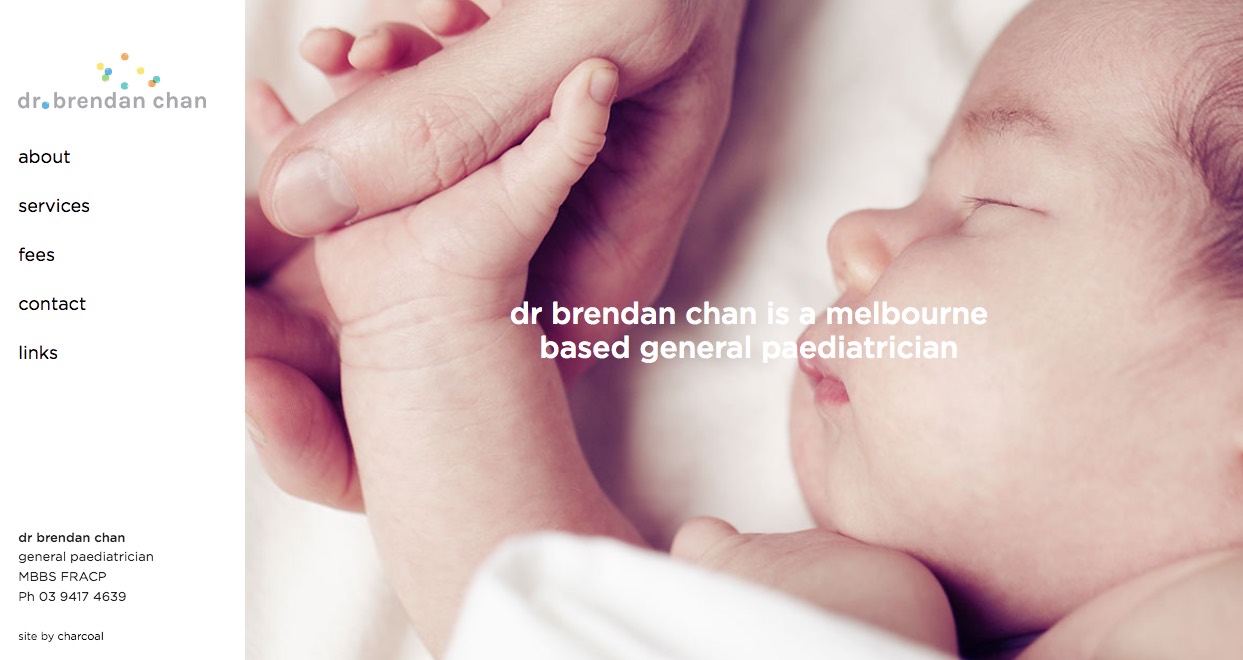 brendan-chan-paediatrics.com.au
03 9417 4639
Dr Brendan Chan is a General Paediatrician with interest in
Neonatal (newborn) medicine
Acute and emergency paediatric medicine
Common childhood medical conditions such as unsettled babies, issues with growth and development, asthma and constipation
Childhood neurodevelopmental and behavioural conditions, such as Autism Spectrum Disorders
Brendan completed his undergraduate medical studies (MBBS) at The University of Melbourne in 2001. Following completing his medical internship, he commenced Paediatric specialty training at the Royal Children's Hospital, Melbourne, in 2003.
During his paediatric training, Brendan completed terms in the following areas: Endocrinology
Oncology
Neonatal Intensive Care and Special Care Nursery
Neurology
Emergency Medicine
General Medicine
Rehabilitation Medicine
Child and Adolescent Mental Health
Brendan completed his paediatric training in 2012 and is now a Fellow of the Royal Australasian College of Physicians.
Brendan's current practice revolves around three main areas:
Neonatal Medicine
Brendan looks after newborn babies born at the Epworth Freemasons Hospital, East Melbourne, St Vincent's and Mercy Private Hospital, Fitzroy.
He has admitting rights to the Special Care Nursery of both hospitals, to which some newborn babies are admitted for management of conditions including:
Prematurity
Newborn premature lung disease (Hyaline Membrane Disease)
Newborn infection (sepsis)
Jaundice
Consulting rooms
Brendan has consulting rooms at Epworth Freemasons hospital, where he sees children up to the age of 17.
Emergency Department medicine
Brendan continues to work in the public health system at The Northern Hospital. He was the first consultant Paediatrician employed in the newly-completed (2014) childrens' section of the Emergency Department.
In addition to these work commitments, Brendan enjoys teaching medical students at The Northern Hospital and Epworth Freemasons Hospital and mentoring specialty doctors-in-training at The Northern Hospital.
When Brendan does find time for himself, he makes it up to his wife, Marie, by going shopping with her a lot! Of course, it's helpful that he enjoys it too. He also enjoys fine (and not-so-fine) dining and drinking….and then burning off the calories he has eaten and drank by pounding the pavement. He is an avid sports fan but has a habit of following teams that are currently mediocre – Melbourne (The Dees) and Aston Villa (The Villains), and the San Francisco 49ers.
Services
Neonatal/Newborn Medicine
We will see your newborn baby when your attending obstetrician makes a referral at Epworth Freemasons Hospital or St Vincents and Mercy Private Hospital. This will usually occur in the days after the birth of your newborn child.
A referral to see your baby may occur for several reasons, including:
A routine newborn examination
Prematurity
Jaundice
Respiratory difficulties
The possibility of newborn infection, including fever
Newborn feeding difficulties
Parental request
Attendance at an elective/emergency caesarean section or a high-risk delivery, e.g. a delivery by forceps or Ventouse
When asked to see your newborn child, they will generally ask you some questions regarding your pregnancy and delivery history that may be relevant. Will then fully examine your child and manage any issues that may arise, as above. Often, these issues can be managed simply on the postnatal ward. However, sometimes, these issues may require your child to be admitted to the Special Care Nursery for closer monitoring and more specialised management, such as administering intravenous antibiotics, supplemental oxygen, or nasogastric feeding.
When asked to consult your baby, you will endeavour to see your child each day unless you are transferred to the Park Hyatt Hotel. If this occurs, then will only attend if there are any other additional issues that I need to follow up on or if new issues arise, as noted by the midwives.
Consulting Rooms
As a general paediatrician, Brendan sees children of all ages up to 17 years of age. He sees a variety of conditions, including (but not limited to):
Irritable and unsettled infants
Constipation
Asthma
Delays in milestone development, e.g. motor or speech delay
Autism Spectrum Disorder assessments and ongoing care
Seizures and epilepsy
Melbourne Paediatric Specialist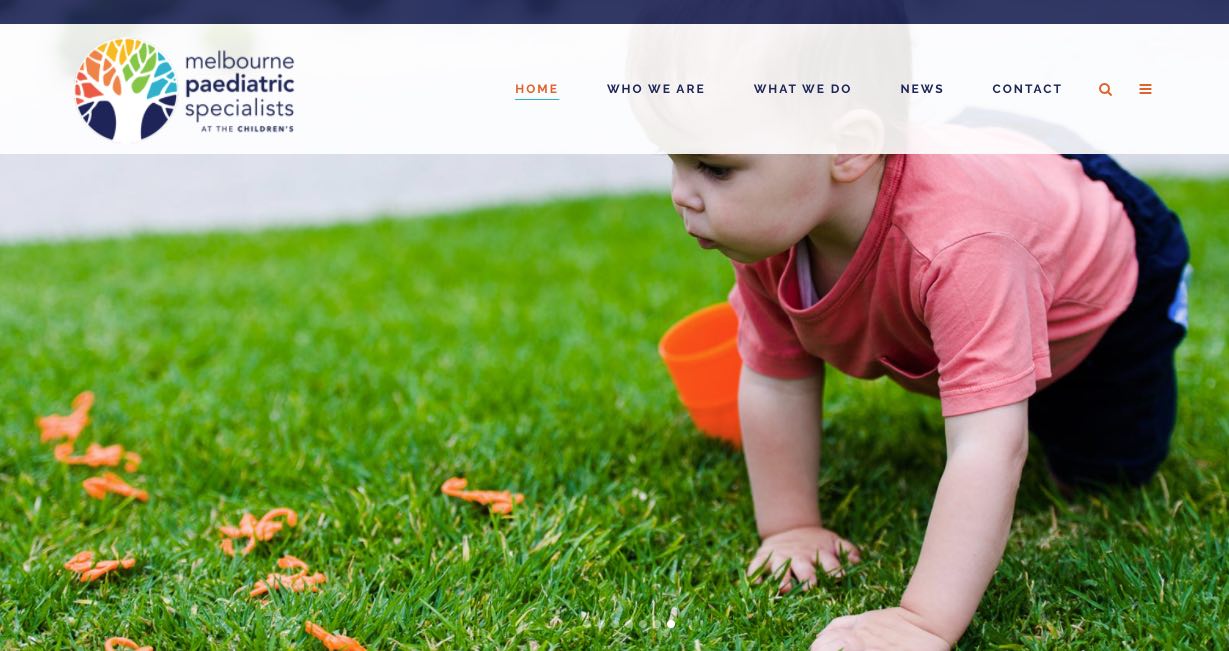 melbournepaediatricspecialists.com.au
03 9948 5005
Melbourne Paediatric Specialists
Melbourne Paediatric Specialists at the Children's brings together many of Australia's most highly experienced children's doctors and allied health professionals at a specialist clinic facility in Parkville, Melbourne.
Paediatricians & Paediatric Sub-specialists
Our unique group practice includes over 25 paediatricians who cover the spectrum of general and subspecialist paediatric care, enabling the provision of expert diagnosis, treatment and care for babies, children and teenagers across many acute and chronic illnesses.
Allied Health
Our allied health team includes highly experienced paediatric neuropsychologists, paediatric physiotherapists, speech pathologists and clinical psychologists with expertise in Children's Health.
Frequently Asked Question About Pediatrician Doctor
A pediatrician is a medical doctor who treats children. They provide Preventive health maintenance and ongoing monitoring for healthy children. Medical care for children who are acutely or chronically ill.
In Australia, paediatricians are specialist physicians trained in a parallel system to their colleagues who treat adults. Patients are referred to paediatricians by general practitioners. Consequently, general paediatricians in Australia see a broad range of presentations.
If you think your child needs to see a paediatrician, visit your GP and discuss your concerns with them first. They will assess your child and make a referral to an appropriate paediatrician. You can also see a paediatrician without a referral from your GP.
A recent study found private out-of-pocket costs for an initial consultation with a general paediatrician in Melbourne ranged from $40 to $222, averaging $128. 
It is recommended that parents bring their children to their pediatrician 7 times between the ages of 1 and 4 for wellness visits.
You may want to choose a pediatrician for a child born as a preemie, with a congenital disability, or who has other health concerns. Some babies need to see a pediatric specialist and a doctor focused on a particular area of health for children.
First, it's important to understand the difference between the two kinds of doctors. Pediatricians spend at least 4 additional years after med school studying kids' health. General practitioners (GPs) are family doctors. They are incredibly well-trained generalists.
Melbourne Children's Clinic Pediatrician Doctor Melbourne, Victoria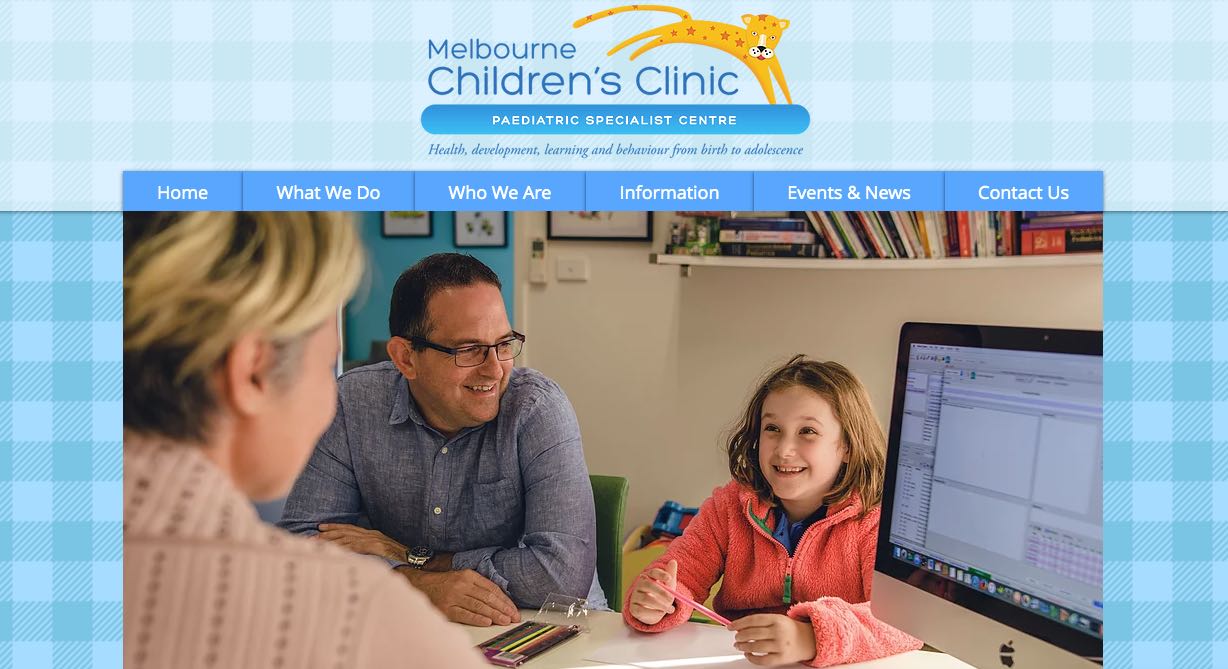 03 9813 5700
The Melbourne Children's Clinic has been at the forefront of paediatric care since it was established in 2001. Here you will find a centre of excellence with the wide-ranging expertise of paediatricians, subspecialists and surgeons, child psychologists and paediatric dietitians in one location. The Melbourne Children's Clinic was the first of its kind: a private multidisciplinary paediatric clinic where paediatricians come together with allied health professionals and other paediatric specialists to provide comprehensive assessment and treatment for your child.
Our clinic is staffed by highly experienced and sought after specialists: experts in their fields. Our excellent reputation means that we receive referrals from throughout the state, interstate and overseas.
Here you will find a warm and welcoming space, from our friendly receptionists, to our inviting toy-filled waiting room with blackboard wall and latest magazines to our compassionate and skilled health professionals. We strive to partner with you to bring the best possible outcomes for your child and family through expert paediatric care.
The clinic is conveniently located in Camberwell Road, close to the Junction.
General Paediatrics
General Paediatrics encompasses comprehensive care for infants, children and adolescents across a broad range of acute and chronic illnesses including, but not limited to:
Asthma
Infections
Growth concerns
Abdominal pain
Headaches
Sleep difficulties
Infant distress
Feeding difficulties
Challenging behaviours
Constipation
Bedwetting
Learning concerns
Paediatricians will liaise with other involved health professionals, preschool or school, and can advocate for your child and coordinate care, a particularly important role when care needs are complex.
Melbourne Developmental & Behavioural Pediatrics Doctor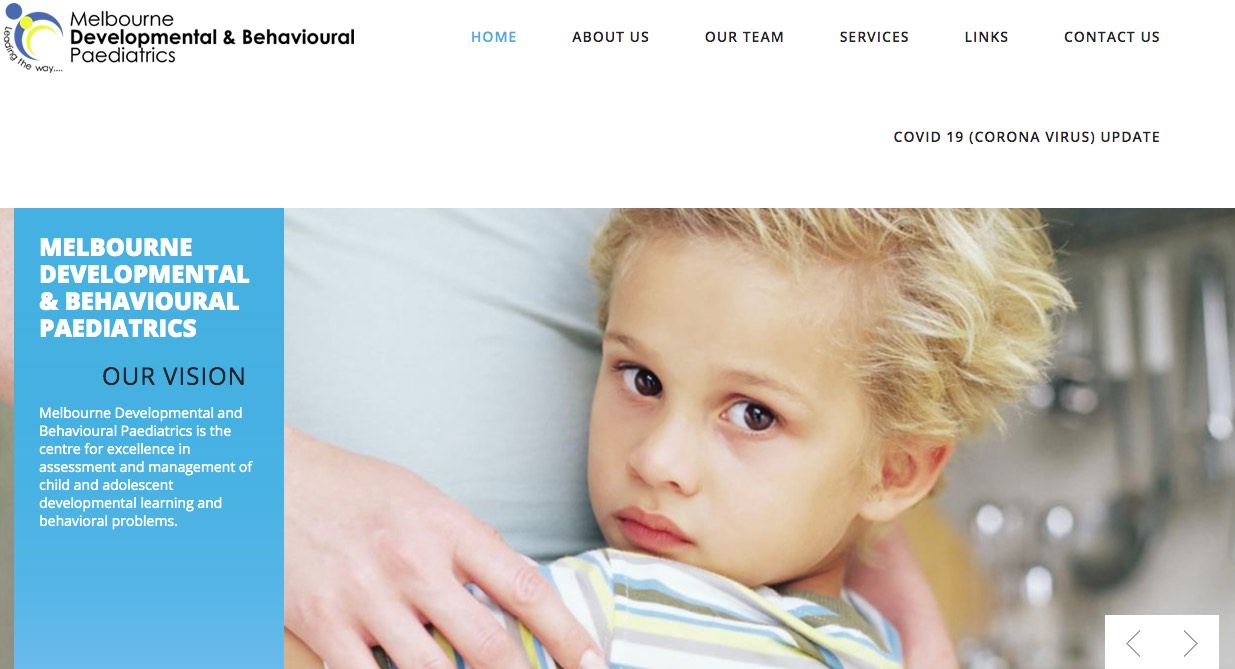 09841 9388
MDBP brings together the very best paediatric specialists who have been at the forefront of child and adolescent assessment and management for over 25 years. We are the place where many doctors bring their children and where paediatricians throughout Australia request additional expert opinions. Our enviable reputation means we receive many referrals from interstate and overseas, so you can be assured that your child will receive the very best care available.
We Bring Together The Best Paediatric Specialists Who Have Been At The Forefront Of Child And Adolescent Assessment And Management For 25 Years.
We are the place where many doctors bring their own children and where paediatricians throughout Australia request additional expert opinions. In addition, because of our reputation, we receive referrals from interstate and overseas.
Our paediatricians see children for comprehensive assessments. We work with parents, carers and teachers on behaviour management and see children for counselling, social skills, and anger management. AT MDBP, we help coordinate and oversee developmental facilitation programs. We are also experts in fine-tuning medication treatments if required.
Our Services
We provide formal developmental and behavioural paediatric assessments and multimodal treatments in conjunction with on-site psychologists, speech pathologists and occupational therapists as necessary. These may include:
Evaluation of irritable infants & management strategies to help babies settle
Assessment & management of sleep problems in infants, toddlers & older children
Helping parents deal with feeding, sleeping & toileting problems
Evaluation of children with suspected developmental delay
Autism assessments including multidisciplinary input from psychologists and speech pathologists
Assessments of child behavioural difficulties, working with parents, caregivers & teachers on behaviour management strategies.
Multidisciplinary assessment of children with learning difficulties
Liaison with schools to implement remedial educational & behaviour management programs
Evaluation of children with attentional & listening problems for possible ADHD or APD
Individual counselling with older children to help with self-control, emotional regulation & anger
Social skills training using role-playing in the office & to facilitate parents as coaches at home
CBT based relaxation work to assist children with anxiety problems
Family sessions to assist with conflict resolution
Medication options as part of a treatment package to assist children with various developmental & behavioural difficulties
Medical management of adolescents with eating disorders
Dr. Martin Tuszynski Paediatrician Doctor Melbourne, Victoria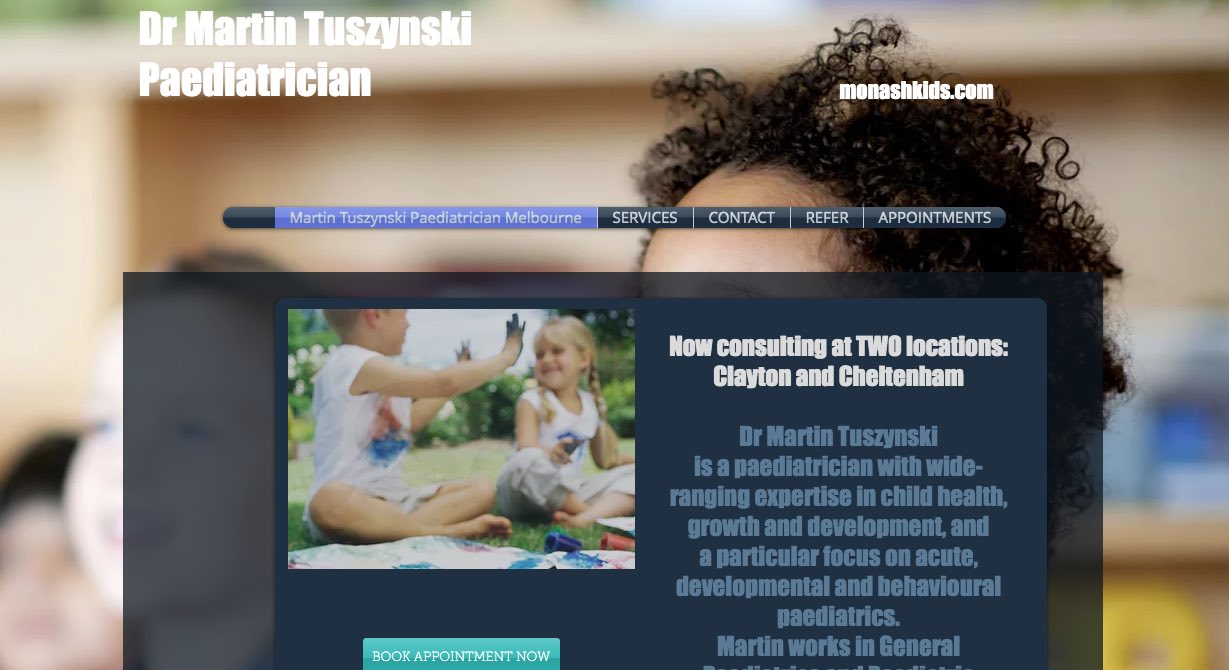 1300 121 000
Dr Martin Tuszynski is a paediatrician with wide-ranging expertise in child health, growth and development, focusing on acute, developmental and behavioural paediatrics.
Martin works in General Paediatrics and Paediatric Emergency at Monash Children's Hospital for most of the week but also consults privately.
Referrals are accepted for infants, toddlers and school-aged children up to 16 years of age.
Services
A wide range of paediatric presentations is seen. A back to basics approach is emphasised. Most childhood issues and behaviours do not have to amount to a definitive diagnosis or label unless, of course, one is clinically apparent and relevant. However, it is important to explore the less overt and so often ignored factors that may be contributing to the picture. Assessing and investigating childhood issues is always a team effort where parents, guardians, carers and the kids themselves can ultimately provide most of the clues. Not everything needs to be treated, as many symptoms are simply a normal part of childhood and growing up. However, explanation, advice and guidance are crucial.
Growth And Development
Growth in infancy and early childhood is influenced by several factors, including environmental, dietary and genetic. In addition, physical illness can sometimes be an issue.
It must be remembered that development is a spectrum, and everyone is different! There does not have to be a "disorder" to explain individual characteristics! Nevertheless, significant deviation from normal should be noted and evaluated.
Unsettled Infants
Babies are indeed bundles of joy. However, an irritable and crying baby can cause a lot of stress for parents and the whole family.
It must be remembered that the majority of crying in infants is normal. It is their way of communicating with the world! Most parents will be able to tell why their baby is upset. There is often not a medical explanation for this, and it is part of normal development. However, excessive crying and unhappiness can sometimes have an underlying cause that may be addressed.
Physical Health
Australia has one of the highest rates of asthma in the world. Many children present to hospitals all year round with shortness of breath, cough and wheeze. Luckily the majority of kids will grow out of their symptoms as they get older. That is little comfort now, of course, if they are consistently coughing through the night or having to keep their puffer under their pillow at all times.
The rate of allergy seems to be rising with ever-changing and often confusing messages about ways to prevent it. Unfortunately, school lunch box choices have become a lot more complicated, even if your child is not allergic.
Abdominal pain and headache are common complaints. While certain symptoms immediately invoke a red flag, sometimes no specific explanation can be found. For example, back and neck pain needs to be treated seriously in children, but can some of the rise in these presentations be explained by inactivity and time spent slouched over an electronic device?
Melbourne Paediatrician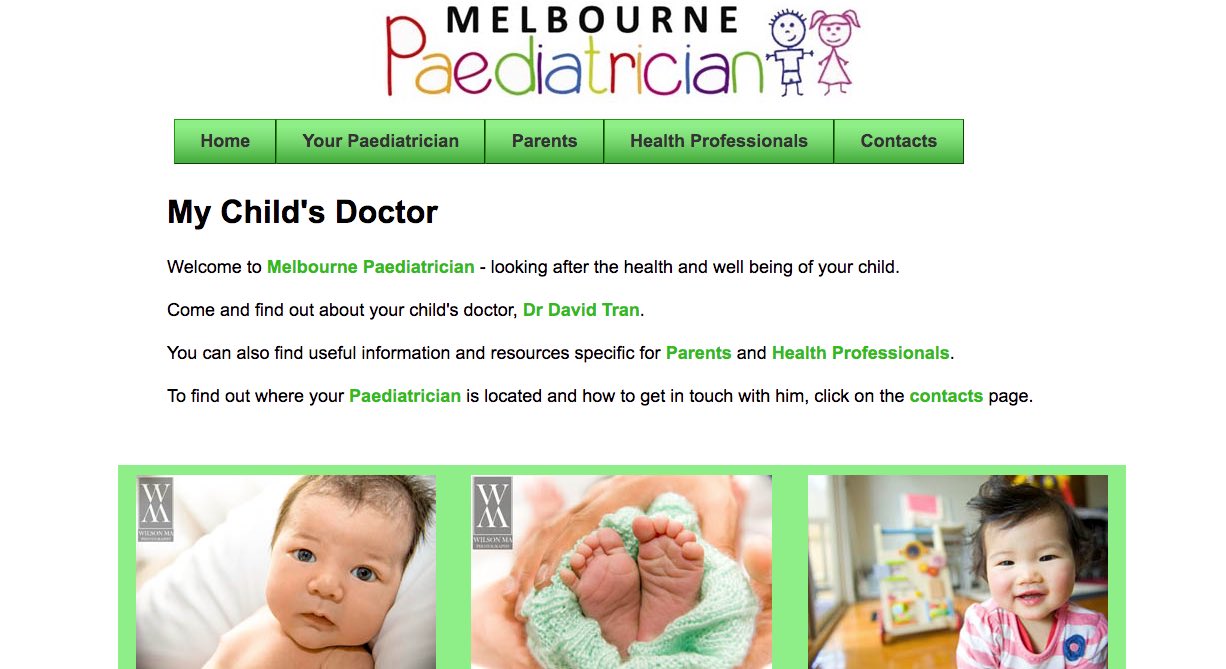 03 9468 0490
Dr David Tran is a Melbourne trained General Paediatrician who has a keen interest in looking after the health and well being of children of all ages. He did his Paediatric training through the Royal Children's Hospital in Melbourne and has had experience in Neonatal Medicine, General Paediatrics and Adolescent Health. David is a Fellow of the Royal Australasian College of Physicians.
South East Melbourne Paediatrics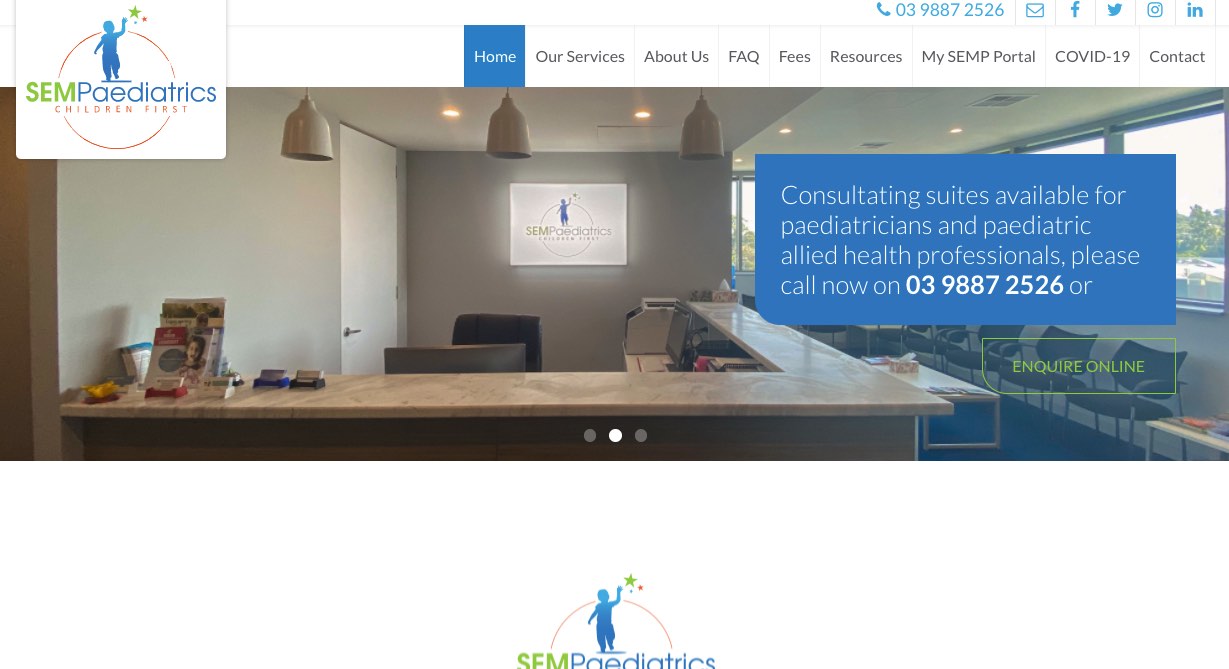 03 9887 2526
A centre provides specialised services for children from newborn to 18 years of age by very experienced Paediatricians, Paediatric Subspecialists, Paediatric surgeons, and Allied Health Professionals.
Our services involve a wide range of General Paediatrics, including Neonatology, Allergy, Asthma, Eczema, and Behavioural problems, including ADHD and Autism Spectrum Disorder. We also provide subspecialty services in Paediatric Haematology, Paediatric Allergy and Immunology, and Paediatric Surgery. In addition, our Allied Health services include paediatric dietetics, psychology and speech pathology.
Our dedicated team always put children first and provide care with commitment, compassion, excellence and respect.
Western Children's Health Centre -Paediatrician Doctor Melbourne, Victoria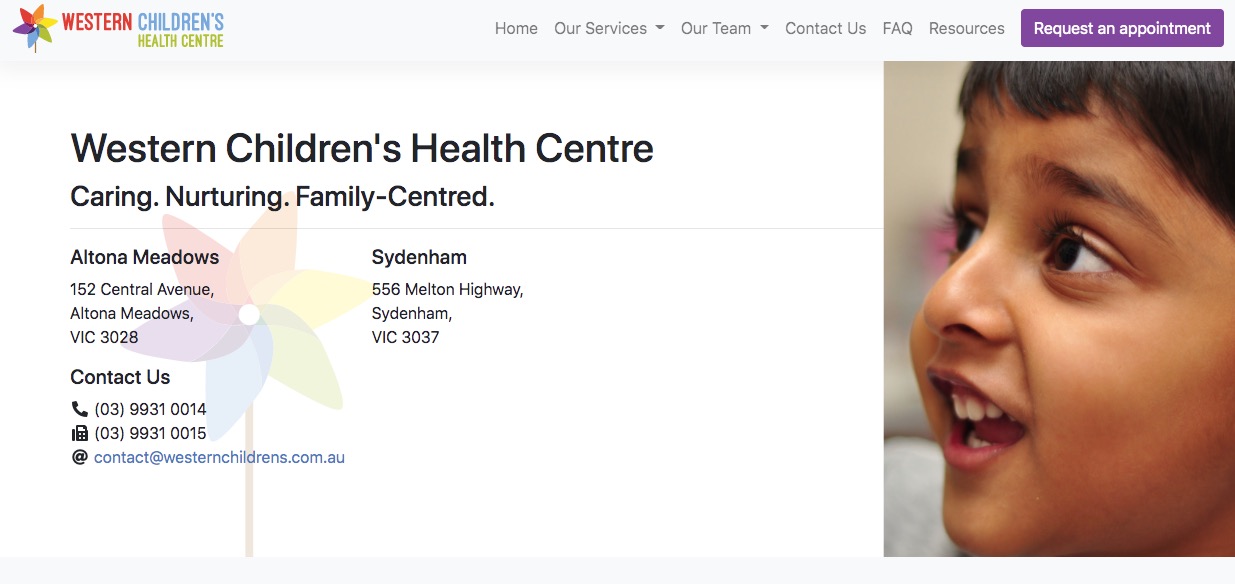 03 9931 0014
Western Children's Health Centre is a private multidisciplinary paediatric clinic, which provides full health services for children and adolescents up to 16 years of age. Our stellar team of practitioners includes paediatricians, ENT surgeons, speech pathologists, occupational therapists, audiologists and dietitians, all of who can provide you and your child with holistic and comprehensive care.
We have 3 conveniently located, purpose-built, welcoming rooms throughout the western suburbs. Our main location is located in Altona Meadows, in the heart of Melbourne's western suburbs, close to public transport and parking.
General Paediatrics
General paediatricians are doctors who care for children ranging from newborn babies, infants, children and adolescents. Visits to the general paediatrician range from a simple 6-week checkup for your newborn to ongoing care for children with complex and chronic medical conditions.
Paediatric Allergist & Immunologist
Paediatric Allergist & Immunologist focuses on allergic conditions affecting babies and children and includes common conditions like food and environmental allergies.
Paediatric ENT
Paediatric ENT focuses on conditions affecting babies and children and includes common conditions such as ear infections, hearing problems, nasal breathing issues, tonsillitis, snoring and sleep issues. Treatment may involve surgery such as grommets and adenoid and tonsil removal.
Behavioural Paediatrics
We see children with developmental delay, Autism Spectrum Disorders, Attention Deficit Hyperactivity Disorder, oppositional behaviours, anger issues, sleep disorders, learning difficulties, language disorders, tics and Tourettes Disorder, anxiety and depression, and a range of other conditions.
Dr. Nicole Robins-Browne Paediatrician Doctor Melbourne, Victoria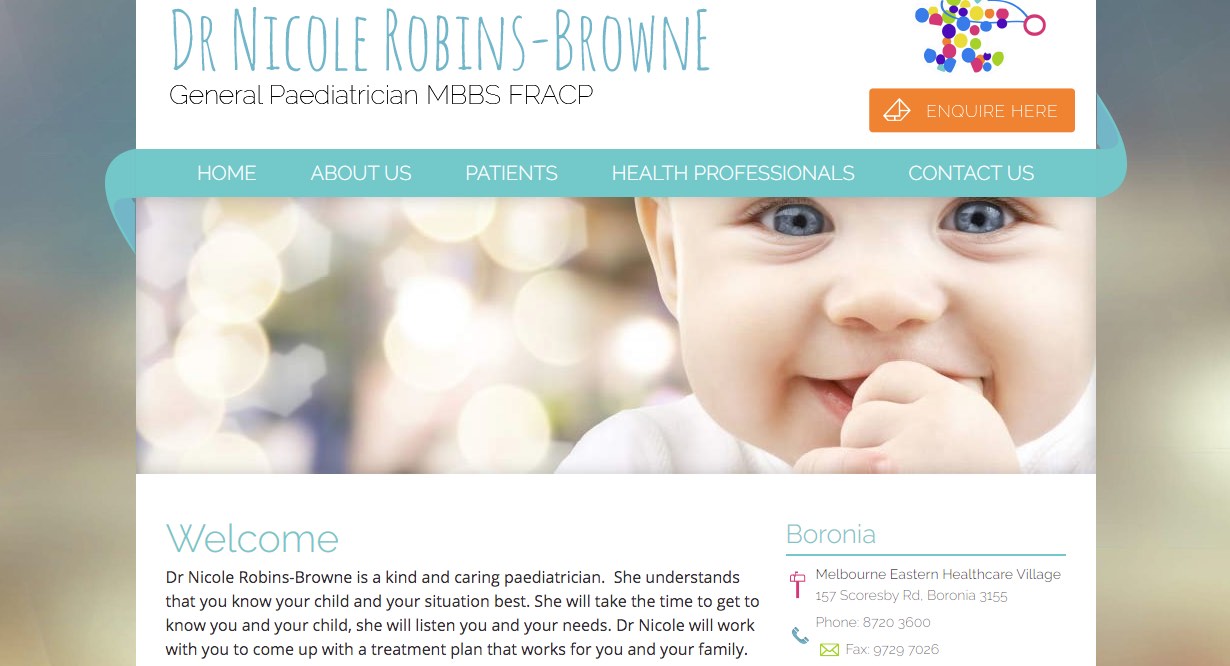 8720 3600
Dr Nicole Robins-Browne is a kind and caring paediatrician. She understands that you know your child and your situation best. She will take the time to get to know you and your child, and she will listen to you and your needs. Dr Nicole will work with you to come up with a treatment plan that works for you and your family. Dr Nicole sees patients aged 0-18 years. She is interested in a wide range of paediatric problems. She has a particular interest in developmental medicine, autism and behavioural problems. She is also interested in asthma, eczema, bed wetting and general paediatric problems. Dr Nicole studied at the University of Melbourne and trained at the Royal Children's Hospital. She has worked as a consultant at the Royal Children's Hospital, the Austin Hospital and Eastern Health.
Melbourne Neonatal Network Paediatrician Doctor Melbourne, Victoria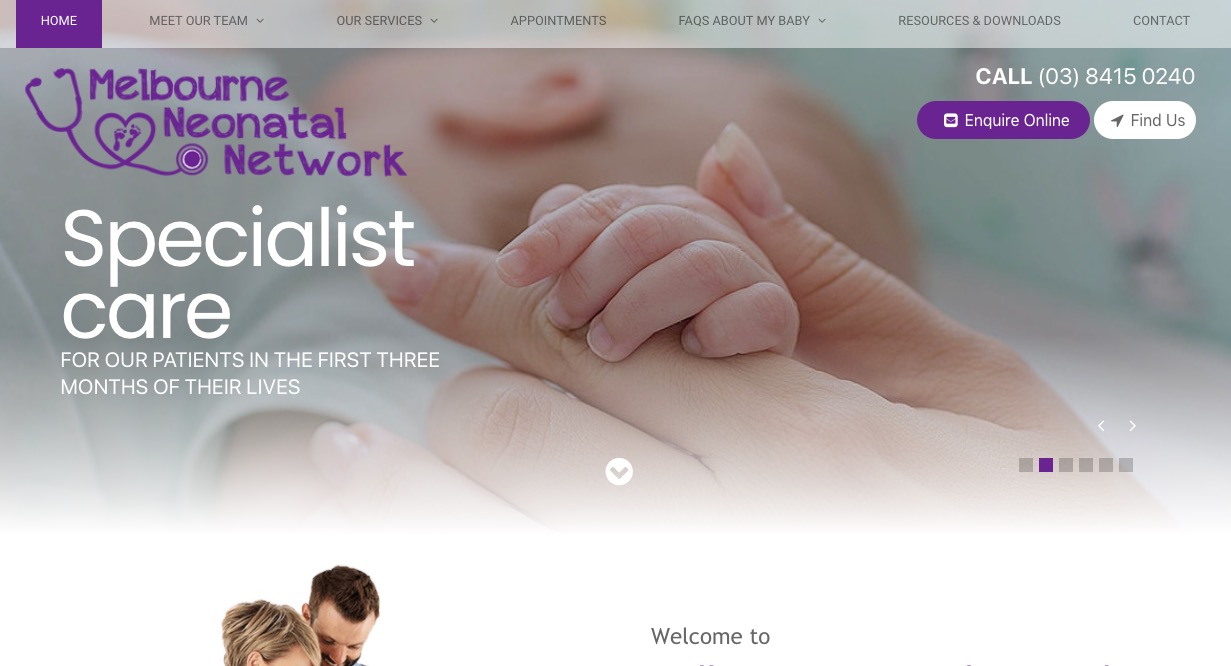 melbourneneonatalnetwork.com.au
(03) 8415 0240
Melbourne Neonatal Network is a group of neonatal paediatricians who look after newborn babies. Most of our patients are born at St Vincent's Private Hospital and the Epworth Freemasons Maternity Hospital and are referred to us by their mother's obstetrician.
Working collaboratively
Often we are required to attend the birth of a baby, but sometimes we become involved with a baby's medical management after their birth. We are then responsible for the medical care of each baby while they remain in the hospital. We normally visit each of our babies every day. By working collaboratively as a group, we can provide sustainable and safe cover at all times of the day and night for all babies under our care.
Specialist care
After a baby is discharged from the hospital, we continue to provide specialist care for our patients in the first three months of their lives (this is the duration of an obstetrician's referral). Thankfully, most babies remain well and do not require any further care from us. However, some will need to be seen again in our consulting rooms as outpatients.
We also accept referrals of babies in the first three months of life whom we have not seen in the hospital; general practitioners and obstetricians generally make these referrals.
Our Services
Before birth
During pregnancy, an ultrasound scan sometimes uncovers an abnormality in the developing baby. This may have implications for the remainder of the pregnancy, the birth of the baby and their care in the first weeks of life. Therefore, at the request of an obstetrician, we will meet with the family, explain the significance of the abnormality found, and make a plan for the care of the baby. These consultations take place in our consulting rooms and normally take 45-60 minutes. A detailed management plan is then drawn up and communicated to the referring obstetrician with a copy to the family.
At birth
Sometimes, it is necessary to have a paediatrician present for the birth of a baby. This is to ensure that a baby starts regular breathing and establishes a normal circulation immediately after their umbilical cord is cut. The need for a paediatrician to attend a birth is often clear weeks earlier, but sometimes it only becomes clear just before birth. Common scenarios are described below:
Elective Caesarean section -your obstetrician's secretary will arrange with our clerical staff for one of us to attend the birth. This may be one day or up to six months in advance! We will write to you explaining what will happen at the birth.
Emergency attendance in the birth suite -occasionally, a paediatrician is required to be present for a vaginal birth. This may be because of twins, a premature birth, if the baby has become stressed or if the birth is anticipated to be complicated in any other way. Your obstetrician will call one of us to attend at short notice.
Emergency Caesarean section - quite frequently, it becomes clear during labour that it will be safer for a mother and her baby for the birth to occur by Caesarean section. In this situation, your obstetrician will contact one of us to attend the birth, again at short notice.
After birth
If your baby's birth happens without any problem, there is no need for a paediatrician to be present. Your obstetrician and midwife will make sure that the baby starts breathing regularly and establishes a normal circulation. Later that day, or in the subsequent days you are in hospital, your obstetrician may ask one of us to visit you to examine your baby and then continue their routine medical care. This may be because of a problem being detected with the baby, at your request, or because your obstetrician wishes for your baby's medical care to be provided by a paediatrician.
Having attended the birth or having seen your baby afterwards, we will continue to supervise your baby's medical care. As well as performing and documenting your baby's routine newborn examination, we will continue to be available 24 hours per day in the unlikely event of an emergency. Because we share the responsibility for each other's babies in the evenings and overnight, and at the weekend, someone other than your primary paediatrician may attend at these times.
Special Care Nursery
In the unlikely event that your baby becomes unwell, they may need to be admitted to an area where closer observation and special treatment can be provided. Common reasons include jaundice requiring phototherapy treatment, premature birth (less than 36 weeks gestation), birth weight less than 2500g, suspected infection and infants of mothers requiring insulin for diabetes. In addition, babies in special care nurseries are closely observed by specially trained midwives and may require continuous electronic monitoring, extra oxygen, and intravenous fluids and antibiotics.
After discharge from the hospital
When a baby is born, the local council of the suburb of their parents home address is notified, and a Maternal and Child Health Nurse (MCHN) in that community is assigned. Within one week of going home, the MCHN will visit you and your baby at home, check that you are well, feed well, and put on weight (if this does not happen, please contact your local council). Subsequently, the MCHN will arrange a program of visits for your baby at your local Maternal and Child Health Centre.
Most babies feed well, put on weight and have no active medical problems. These healthy babies do not need to come back and see a paediatrician, but all babies need a routine check at six weeks to ensure that their newborn examination has remained normal. A GP is the ideal person to perform this examination. If you don't have a GP in your area, ask your MCHN or a friend in the area who has children for a recommendation. Every baby, infant and child should have a local GP in case they develop an illness that requires a timely review in the community.
If your nurse is concerned about your baby, she may recommend that you see either your local general practitioner (GP) or come back to see the paediatrician who saw your baby in the hospital. In an emergency, she might even send you to the hospital with your baby.
Telephone support - Very simple problems may be able to be sorted out over the phone by a discussion with one of our highly trained staff. Less simple matters may require a chat with your paediatrician. However, it is very difficult to advise without actually seeing your baby, so you may need to visit your MCHN or GP in the short term. At the same time, arrangements are made for you to come back and see your paediatrician.
In-person - If your MCHN or GP suggest you come back to see your paediatrician, please ring our friendly clerical staff, who will ask some simple questions to establish how urgently your baby needs to be seen. While a few appointments are kept aside to address urgent matters within a few days, non-urgent problems will typically be assigned an appointment within two to four weeks.
Dr. Luke Sammartino Paediatrician Doctor Melbourne, Victoria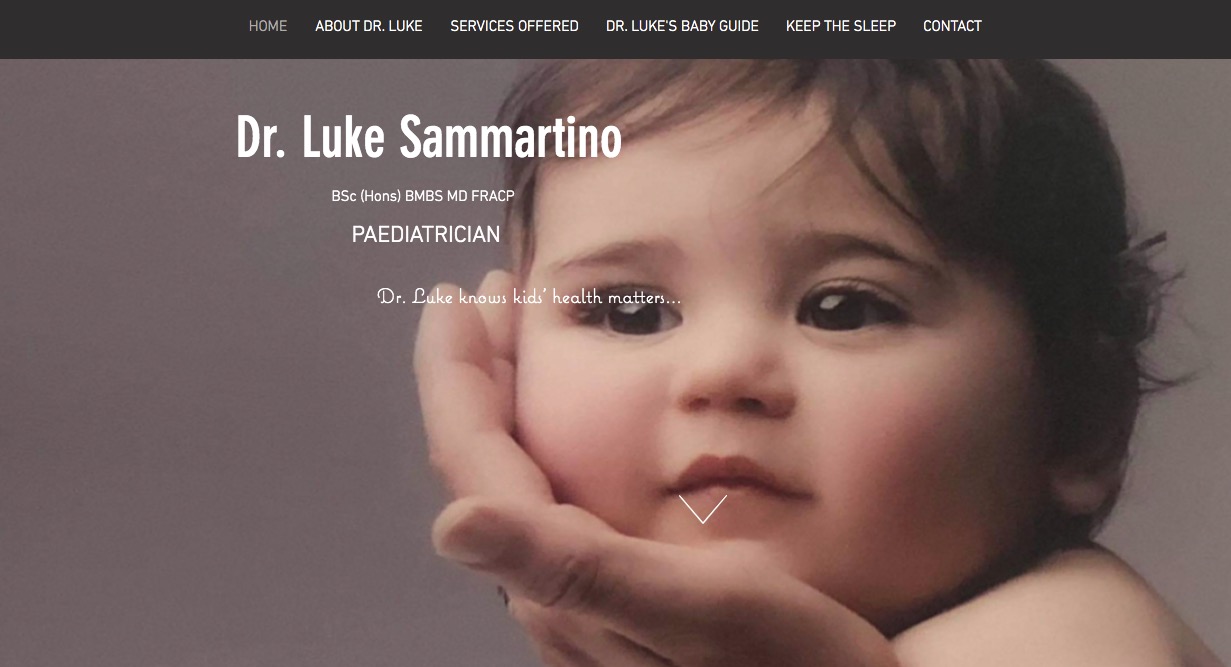 03 9467 9185
Dr. Luke Sammartino is a paediatrician who has practised in Melbourne for more than 20 years. He offers a complete paediatric service for babies and young children, including immunisations, allergy testing, developmental and behavioural assessments—everything you need to keep your child happy and healthy.​
Dr. Luke has attended the delivery of well over 3,500 babies. He has put his knowledge and advice as a doctor and a parent into his book 'Dr. Luke's Baby Guide'.
Dr. Luke has made a career caring about children and their health. He has capped off his medical training with a doctorate of medicine that investigated paediatric acute bronchiolitis, a children's chest disease. His doctorate, and other research work, has been widely published. Dr. Luke is married with four children.
Services Offered
General Paediatric, Neonatal, Chest, Developmental and Behavioural Assessments (including Autism and ADHD)
Skin Prick Allergy Testing for both Adults and Children
Immunisations
Second paediatrician on site
Emergency Clinic - Rapid Review Service
Kids Scan Ultrasound for both Adults and Children
GastroFIT (Breath Hydrogen Testing) for both Adults and Children
Travel Clinic - Travel Vaccinations & Advice for Adults and Children
Fairfield Paediatrician Doctor Melbourne, Victoria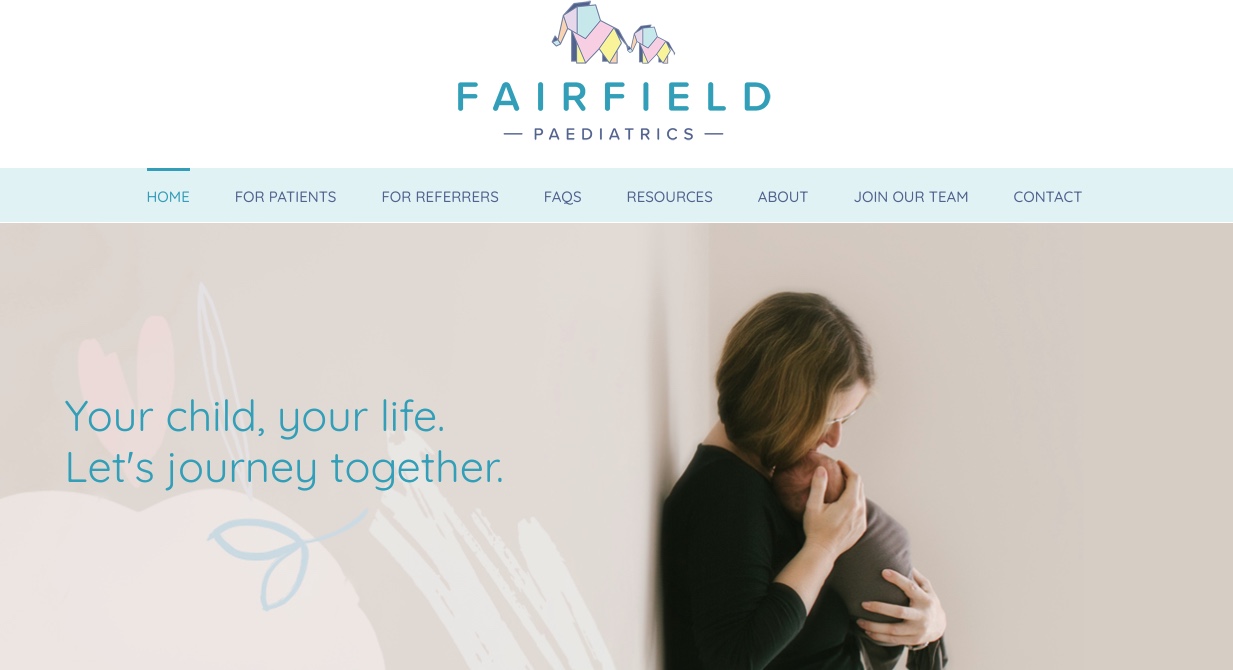 1300 755 047
Children bring their families the most amazing joy, worry, and concern from when they are conceived. But, much as there are many different ways to cook a potato, there is no "right" way to raise a child. Although we believe every child and family is unique and we respect and admire individual differences, we will find the right solution.
Dr. Cathy Coates' experience in both acute and outpatient general paediatrics is a unique skill set, with families receiving streamlined care for all forms of acute and outpatient paediatric conditions.
However, all children share the same qualities of innocence, dependence and immense curiosity about the world around them and being allowed to witness this daily is a true privilege.
Children bring their families the most amazing joy but also worry and concern from the time they are conceived. Much as there are many different ways to cook a potato, there is no "right" way to raise a child. Although we believe every child and family is unique and we respect and admire individual differences, we will find the right solution.
Dr. Cathy Coates is the director of Fairfield Paediatrics and an experienced paediatrician who lives and works in the local Fairfield community.
She has over 8 years of experience as a paediatrician based at Latrobe Regional Hospital in Gippsland and was head of the department for almost 2 years before deciding to return to Melbourne.
She is the mother to a fabulous 5-year-old son who provides her with the most amazing belly-laughs but who also frequently challenges and out-wits her. The 4-legged furry member of the family never fails to deliver a very efficient vacuuming service after every meal!
Dr. Cathy Coates has an ongoing appointment in the paediatric Emergency Department of Monash Medical Centre. She has worked as the consultant-in-charge regularly for the last 9 years, whilst also working as a general paediatrician at Latrobe Regional Hospital (LRH) as her "day job". Her experience in both acute and outpatient general paediatrics is a unique skill set, with families receiving streamlined care for all forms of acute and outpatient paediatric conditions.
Surrey Hills Paediatrics Doctor Melbourne, Victoria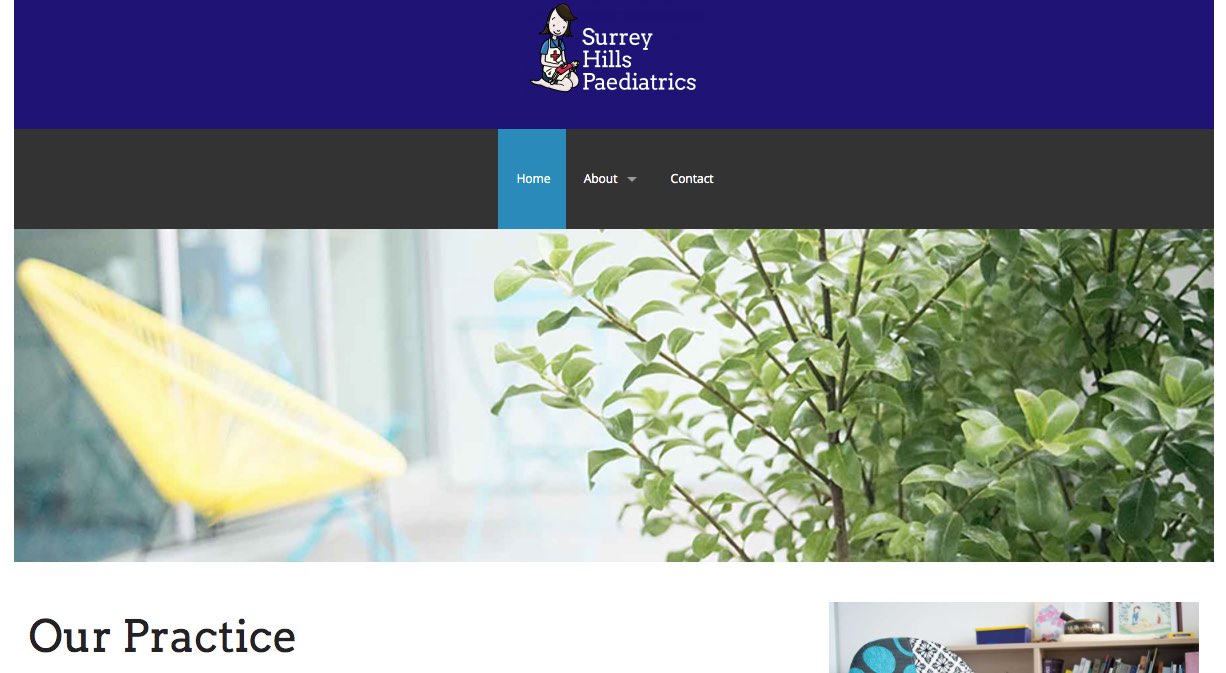 90784838
Surrey Hills Paediatrics is a small, family-friendly paediatric clinic in the leafy eastern suburbs of Melbourne, close to Surrey Hills Railway Station.
Our consulting rooms have a friendly non-clinical nature.
Dr Elisa Rough is a Melbourne trained general paediatrician with a special interest in nutrition and mind-body medicine. We try to maintain close links with other health and education professionals involved in your child's care.
Papillon Paediatrics Doctor Melbourne, Victoria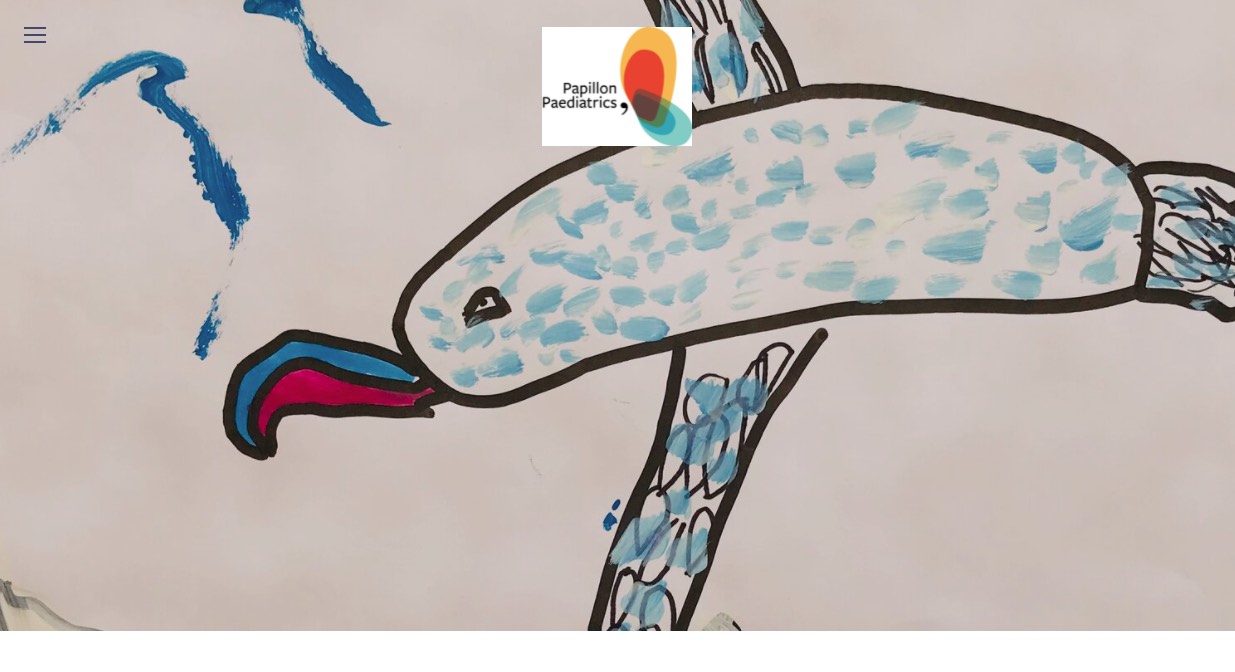 03 9808 0595
Papillon Paediatrics is a private paediatric clinic in Box Hill South, accepting referrals from across greater Melbourne and Victoria.
At Papillon Paediatrics, we are committed to understanding your child within the context of their family, school and community. We provide formal assessment, management and follow up of children with various medical and developmental conditions. We believe in a team approach to your child's care and specialised needs.
Our paediatricians have available and can see your child within 4-6 weeks.
Our Services
Child Health
We provide holistic paediatric care to the whole community in a multidisciplinary setting. Our services, led by consultant paediatricians, are supported by allied health and education professionals. We assess and manage children with the following conditions and more.
Poor Growth
Sleep
Constipation/ Encopresis
Asthma Management
Care coordination for children with complex medical conditions
Adolescent Mental Health
Chronic Fatigue Syndrome
Eating Disorders
Child Development
We provide assessment, management and follow up for children with a range of developmental challenges. We are also happy to see vulnerable children, for example, those in Out Home Care.
Autism Spectrum Disorder
ADHD
Anxiety/Depression
Challenging Behaviour
Learning Difficulties
Developmental Delay
Language Disorders
Developmental Trauma
Behavioural Assessments
We provide complete assessments for the following conditions:
Autism Spectrum Disorder
Fetal Alcohol Spectrum Disorders
Attention Deficit Hyperactivity Disorder
Dr. Michaela Murray Paediatrician Doctor Melbourne, Victoria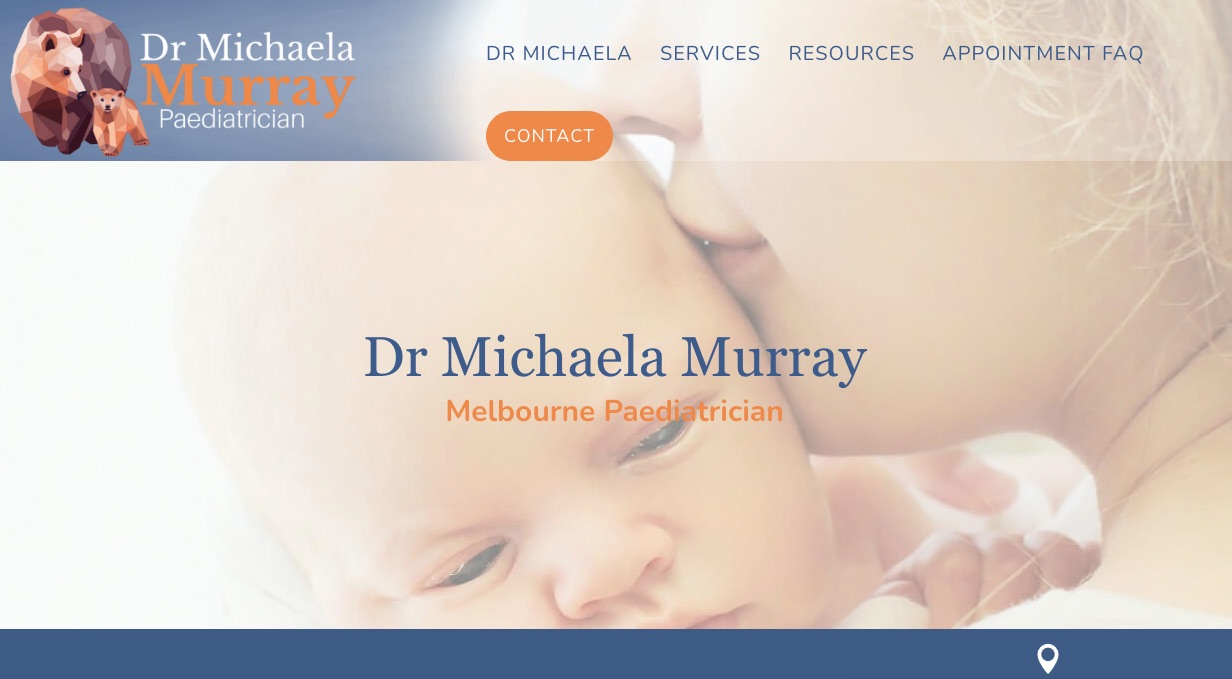 03 9426 8810
There is never a dull moment when you're talking to children. That's one of the reasons why she loves being a Paediatrician.
As a General Paediatrician, she sees babies and children of all ages, with a focus on children's development, behaviour and general medical problems. In addition, she treats children in my own consulting rooms in Melbourne's East, hospitals, and outpatient clinics.
She trained as a Paediatrician at the Royal Children's Hospital and The Mercy Hospital in Melbourne.
Dr.  Kim Drever Paediatrician Doctor Melbourne, Victoria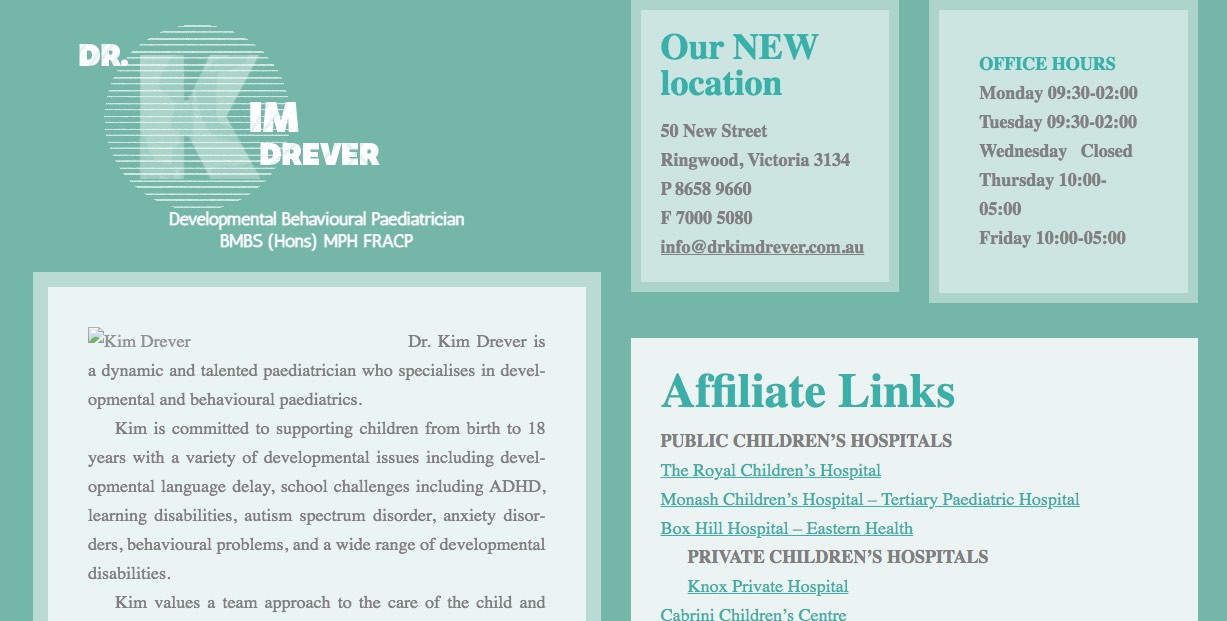 8658 9660
Dr. Kim Drever is a dynamic and talented paediatrician who specialises in developmental and behavioural paediatrics.
Kim is committed to supporting children from birth to 18 years with a variety of developmental issues, including developmental language delay, school challenges including ADHD, learning disabilities, autism spectrum disorder, anxiety disorders, behavioural problems, and a wide range of developmental disabilities.
Kim values a team approach to the care of the child and their family. In particular, she believes there must be close working relationships between all clinicians, allied health professionals, educators, and services to promote the child's best outcome.
Kim has also worked in the remote regions of Nepal, working in women's and children's health services.
Kim undertook her paediatric specialist training at the Royal Children's Hospital Melbourne, working in adolescent medicine, child and adolescent psychiatry, forensic paediatrics, and general paediatrics. She also worked for several years at the Centre for Community Child Health at RCH, where she was responsible for paediatric training fellows in developmental and behavioural paediatrics. In addition, she ran the specialist multidisciplinary clinics, including the ADHD Clinic and School Function Clinic.
Kim undertook a Masters in Public Health degree as she sought to become more learned in health policy and population health as it pertains to children and families. Much of the knowledge that she acquired during that time has formed the basis for her commitment to early childhood developmental assessment and intervention.
Kim obtained her medical degree from Flinders University in South Australia, graduating with Honours in 1998. She won a scholarship to practice child and community health in Central Australia.
Waverly Paediatrician Doctor Melbourne, Victoria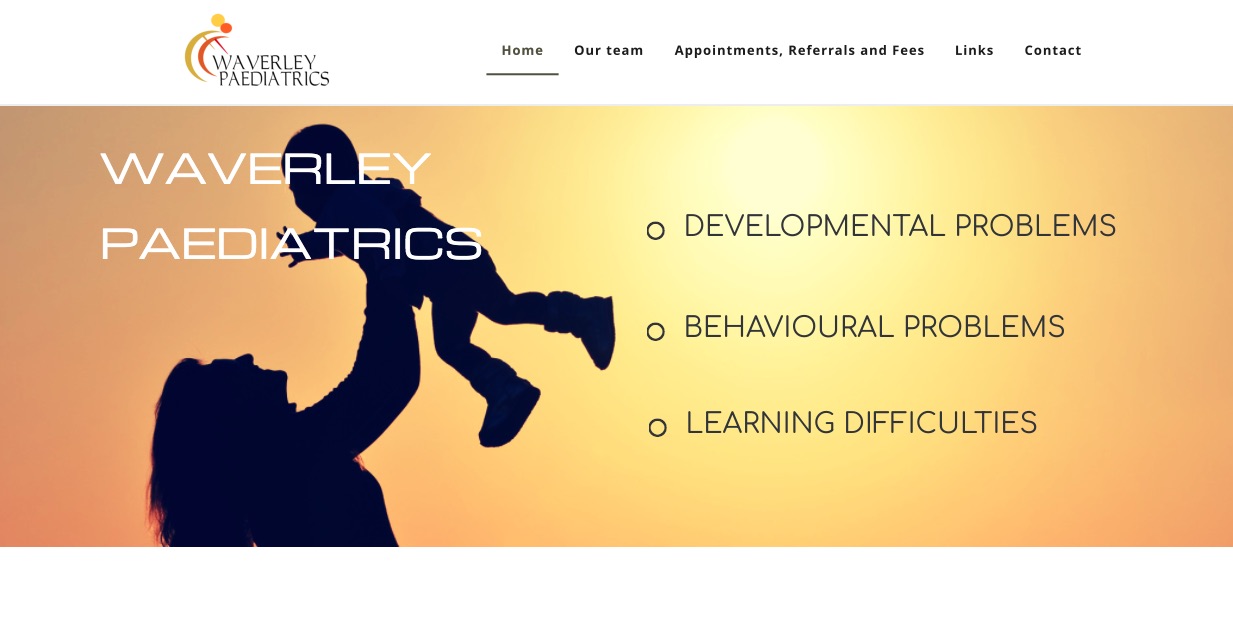 (03) 9561 1774
Waverley paediatrics has a dedicated consultant paediatrician providing his services in the Glen Waverley and Frankston areas. The centre is supported by a multidisciplinary
A team including psychologists, speech pathologists, occupational therapists and audiologists.
Our vision is for children and adolescents to achieve their full capacity (mentally, emotionally and physically) through appropriate expert paediatric support.
Our mission is to provide expert assessment, support and management to ensure children and adolescents and their families receive the best quality paediatric care.
Our service includes assessing and managing a broad range of behavioural and developmental conditions for children and adolescents. We work closely with families, general practitioners, and other paediatric specialists to deliver the highest quality paediatric care.
Waverley Paediatrics Team
We are made up of an experienced consultant paediatrician (Dr Nabil Ameen) and a team of allied health professionals' specialling in the assessment and management of developmental and behavioural paediatrics.
Dr Ameen is an experienced consultant paediatrician with over 20 years of paediatrics experience in both South Australia and Victoria.
He has extensive expertise in Developmental and behavioural paediatrics. He works closely with families, general practitioners and other paediatric specialists to ensure the highest quality of care is delivered.
Dr Ameen is also a founder member of the Neuro and Behavioural Paediatric Society of Australia. The staff at Waverley paediatrics comply with State and Commonwealth privacy laws.
Stem Allergy and Paediatric Specialists Melbourne
(03) 8578 5661
Why 'Stem'?
Like plants that stem from seedlings, children need the right environment and support to help them grow and thrive.
Whether it is a general paediatric issue, allergic problem or behavioural concern, we have experienced paediatric specialists who will take time and care to diagnose and manage your child's issues in a nurturing and supportive atmosphere.
Our Philosophy
At 'Stem Allergy and Paediatric Specialists', we truly care about our patients and their families, focusing on high-quality, individualised patient care. Our aim is to support your child's needs, to help them grow and flourish while managing their developmental and health-related concerns.
Complete Children's Health Paediatrician Doctor Melbourne, Victoria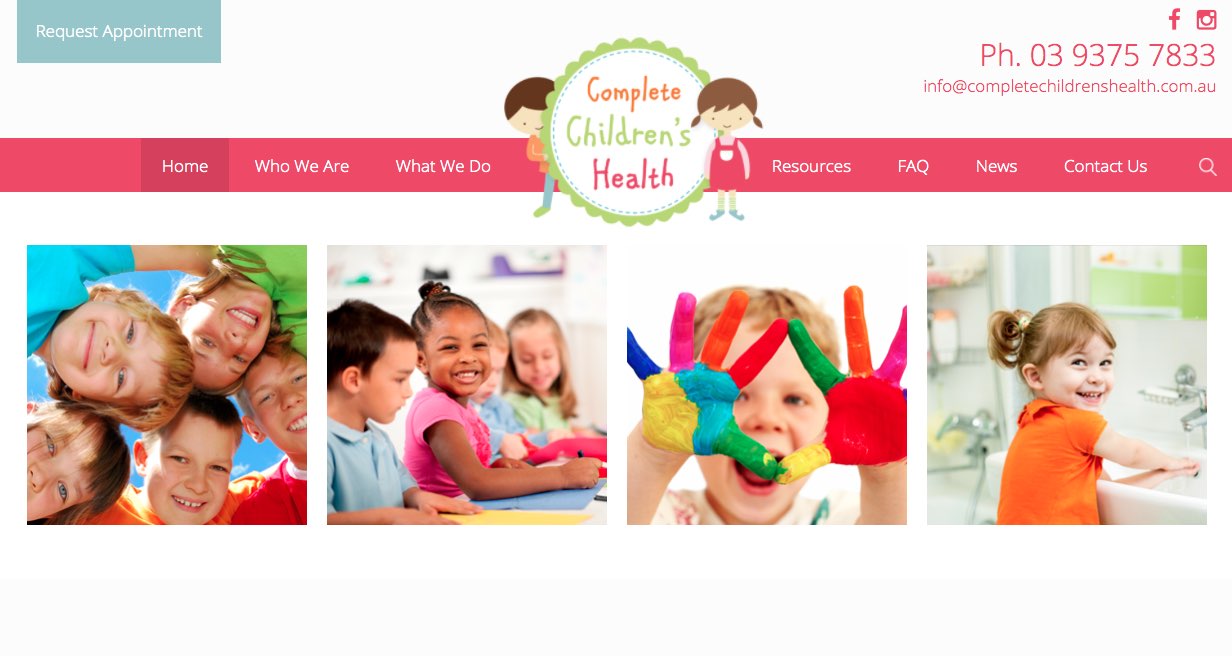 completechildrenshealth.com.au
03 9375 7833
Who We Are
Complete Children's Health was founded in 2008 in Moonee Ponds by its directors Dr Yolanda Arduca, Dr Natashia Dilla and Dr. Jo Martin. They had a vision of establishing a centre of excellence providing paediatric care in the community, using a holistic and multidisciplinary approach, in a welcoming and family-friendly environment.
Whilst the directors still own and operate the clinic, and our service has since expanded to include a variety of sub-specialists and allied health services. In 2015 we were thrilled to open a second site in Keilor to meet the growing needs of our patients, the communities we serve, and the colleagues we work alongside. Our expert clinical team comprises highly skilled paediatricians who are friendly, experienced, well-established and cohesive in their approach. They meet regularly to discuss clinical issues and support one another.
Our priority is to provide the highest level of care to both patients and their families. This is done through thorough assessment, investigation and treatment of a wide range of medical, developmental, learning or behavioural issues our young clientele and their families face. At our clinic, we see children from the ages of birth to adolescence.
In addition to our expert general paediatricians, our team includes a group of allied health and sub-specialty doctors.
Complete Children's Health prioritises the highest level of care for both patients and their families. We value thorough assessment, investigation and treatment of a wide range of medical, developmental, learning or behavioural issues our patients and their families are facing.
General Paediatrics
General Paediatricians at CCH are experts in the care for children and adolescents from birth to 18 years with many different conditions and illnesses, which can include (but are not limited to):
Acute medical conditions such as infections or asthma
Newborn checkups
Infant feeding, growth and sleep issues
Allergy, eczema, asthma and allergic rhinitis (hayfever)
Bedwetting, continence (soiling or wetting), toiling issues and constipation
Growth and puberty concerns
weight management
Sleep issues
Diabetes, thyroid issues and vitamin D deficiency
Headaches, migraines or recurrent abdominal pain
Neurological conditions including Cerebral Palsy and Epilepsy
Developmental and Behavioural conditions

Autism Spectrum Disorder (ASD)
Attention Deficit Hyperactivity Disorder (ADHD)
Developmental Delay
Anxiety and Depression
Anger Management issues
Challenging and Oppositional Behaviour
Tic disorder and Tourettes syndrome
Learning difficulties and language disorder
As general paediatricians, we aim to work closely with your child and family, your GP, your child's educators and allied health professionals to maximise their health and well-being.
Dr.  Sing-Jill Chow Paediatrician Doctor Melbourne, Victoria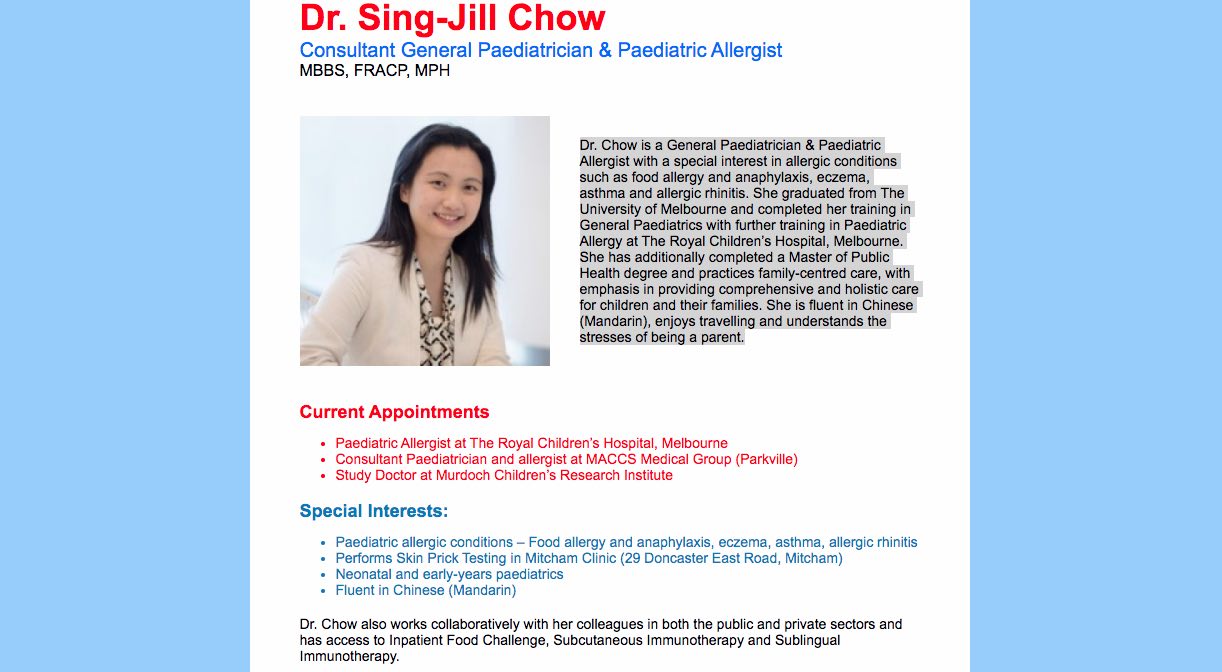 (03) 98742333
Dr. Chow is a General Paediatrician & Paediatric Allergist with a special interest in allergic conditions such as food allergy and anaphylaxis, eczema, asthma and allergic rhinitis. She graduated from The University of Melbourne and completed her training in General Paediatrics with further training in Paediatric Allergy at The Royal Children's Hospital, Melbourne. She has also completed a Master of Public Health degree and practices family-centred care, emphasising providing comprehensive and holistic care for children and their families. She is fluent in Chinese (Mandarin), enjoys travelling and understands the stresses of being a parent.
Dr. Ania Hargrove Paediatrician Doctor Melbourne, Victoria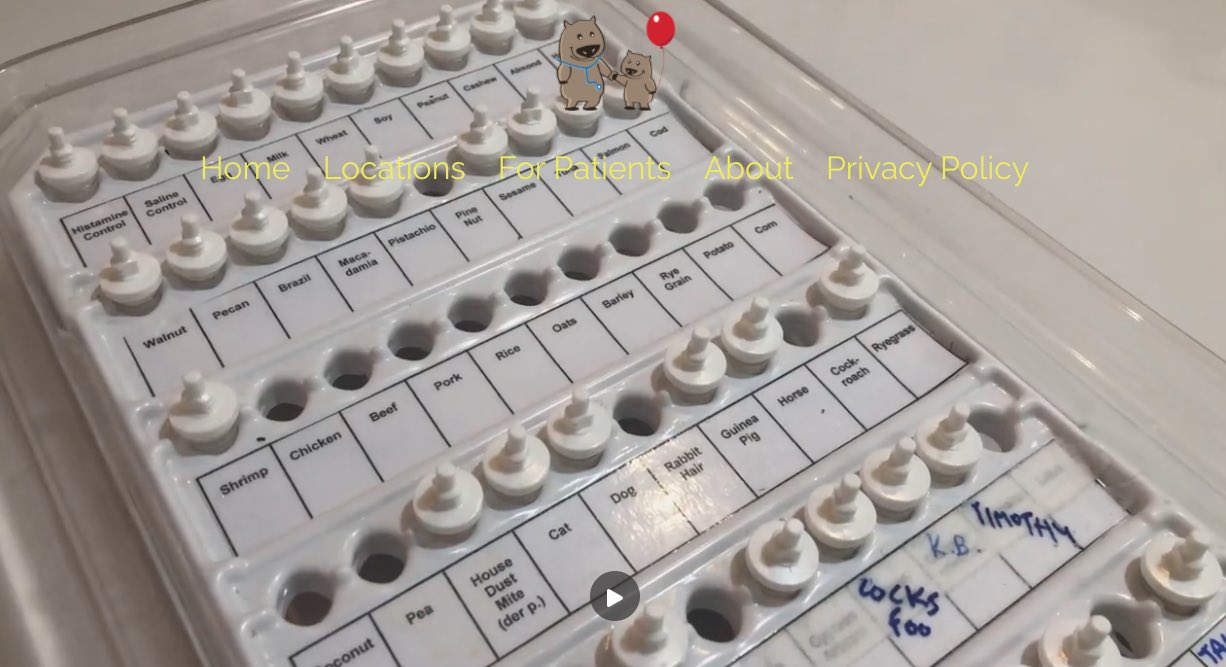 paediatrician.melbourne
03 8899 6261
Dr Ania Hargrove graduated from the University of Melbourne Medical School in 1996. She became a Specialist Consultant Paediatrician in 2004 after obtaining her Fellowship of the Royal Australasian College of Physicians and then completed further training in Paediatric Allergy at the Royal Children's Hospital.
Dr Ania enjoys seeing all General, Developmental and Behavioural paediatric problems in her practice and also has a special interest in Paediatric Allergy.
Dr Ania has worked for many years at the Royal Children's Hospital, Melbourne.
Over the years, she has also been extensively involved in teaching and examining medical students. She continues to teach paediatrics at the University of Melbourne and Monash University.
General Paediatrics
Clinical interests:
Developmental and Behavioural Paediatrics including ADHD, Autism Spectrum Disorder, learning difficulties, speech and language delay
Anxiety and mood disorders
Sleep problems in babies and children
Baby feeding difficulties and children's eating struggles
Toileting issues, constipation, bed wetting
and all general paediatric medicine
Dr. Susan Hinckfuss Paediatrician Doctor Melbourne, Victoria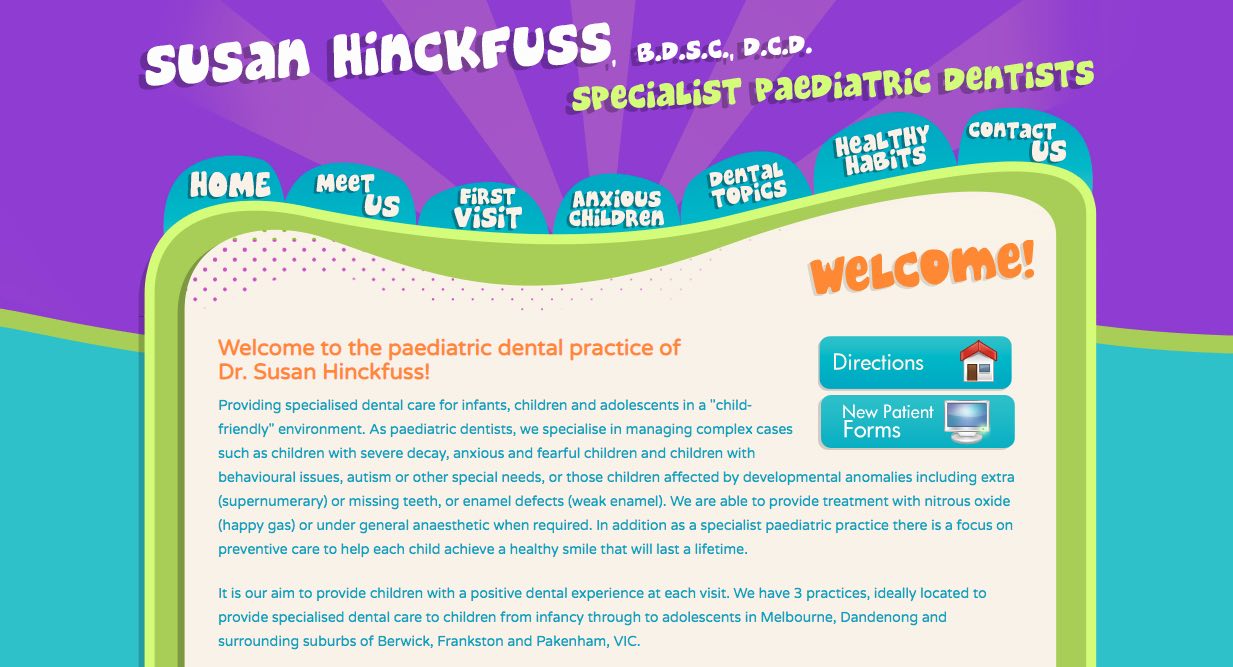 9650 9321
Providing specialised dental care for infants, children and adolescents in a "child-friendly" environment. As paediatric dentists, we specialise in managing complex cases such as children with severe decay, anxious and fearful children and children with behavioural issues, autism or other special needs, or those children affected by developmental anomalies including extra (supernumerary) or missing teeth, or enamel defects (weak enamel). We are able to provide treatment with nitrous oxide (happy gas) or under general anaesthetic when required. In addition, as a specialist in paediatric practice, there is a focus on preventive care to help each child achieve a healthy smile that will last a lifetime.
It is our aim to provide children with a positive dental experience at each visit. We have 3 practices, ideally located to provide specialised dental care to children from infancy through to adolescents in Melbourne, Dandenong and surrounding suburbs of Berwick, Frankston and Pakenham, VIC.
Bakers Road Specialist Centre Paediatrician Doctor Melbourne, Victoria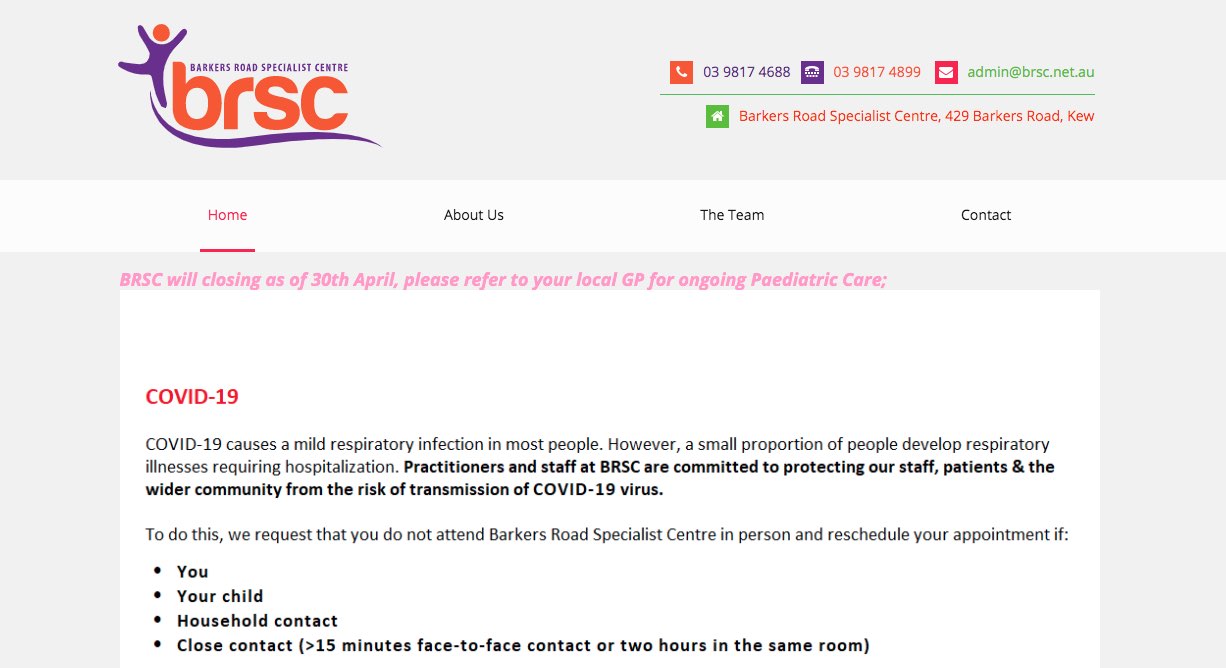 03 9817 4688
Established in 2004 by Melbourne paediatrician Bronwyn Cathels, Barkers Road Specialist Centre provides highly trained and experienced paediatric care for acute, chronic and complex medical conditions.
We provide our patients with the latest evidence-based medical care through our close connections with academic teaching hospitals and participation in continuing medical education.
We strive to meet our patient's unique needs as they grow from infants through childhood to young adults. We see children as central players in an extended team. Therefore, we emphasise family centred care and also work closely with schools, kindergartens and other allied health professionals to optimise children's potential.
Special Interests include:
Food Allergy
Asthma and allergic rhinitis, eczema
Continence (constipation and wetting)
Developmental delay, disability and intellectual disability
Autism Spectrum Disorder
Attentional difficulties including ADHD
Feeding, sleeping and behavioural concerns
Learning and educational difficulties
Heart Wise Paediatrician Doctor Melbourne, Victoria
1300 870 772
We provide you with accessible and accurate testing when you need it.
Our staff are well trained with many years of experience in echocardiography for both adults and kids.
Services
Echocardiography uses ultrasound waves to create the image of your heart, and it's a function that we can measure and check non-invasively. It is safe, accurate and requires no preparation or fasting for the procedure. A transthoracic echocardiogram carries no risks. We will require access to your chest. There's a chance for slight discomfort when the electrodes are removed from your skin. This may feel similar to pulling off a Band-Aid. This appointment requires 30 mins. For young children, parents are welcome to bring a toy or a show on a mobile device to keep them still and comfortable through the test.
Our tests are performed by highly-skilled, experienced, accredited and compassionate technicians who are familiar with children.
ECG (Electrocardiogram) measures the electrical rhythm of the heart by attaching 10 stickers to the chest. This takes 5-10 minutes and gives us a digital reading.
Holter Monitor – This little box attached to 5 stickers on your chest will record the electrical activity of your heart for 24 hours. You will be able to do most of your normal daily activities, including sports. The only limitation is not getting the monitor wet (i.e., no shower, bath, or swimming). It takes 10-15 minutes to attach.