While working on your baby registry, or as you begin to set up a safe sleep space for baby in your room, you might be aware that there are a few different options for your newborn.
Deciding between a Pack n Play or bassinet to use for your newborn during their first few months of life depends on a number of factors.
You need to pick an option that will best suit your family's lifestyle, the amount of space in your nursery or bedroom, consider cost, and look for the safest option.
With a newborn coming soon, the amount of baby products out there starts to feel seriously overwhelming!
How do you know which ones you need?
Today, we're going to make things a little bit easier with a full discussion to help you decide, Pack n Play or Bassinet?
We have a wide range of playpens for your baby right here at My Baby Nursery.
What is the difference between a bassinet and a Pack 'N Play?
A bassinet is a very small crib that is for your newborn baby. Traditionally, it has a hood and most often is movable. Some of them can be placed on the floor while other bassinets have structures that the bassinet sits on top of. Bassinets are typically smaller as compared to the Pack 'N Play, and your baby will typically outgrow this when the three-month milestone is met.
The Pack 'N Play is branded by Graco, a company that makes American baby products. Their branded "Pack 'N Play" is used synonymously with a sleeping and playing space that is portable for your child. This portable play space can typically be packed up into a smaller folded space so that you can travel with it or store it somewhere convenient.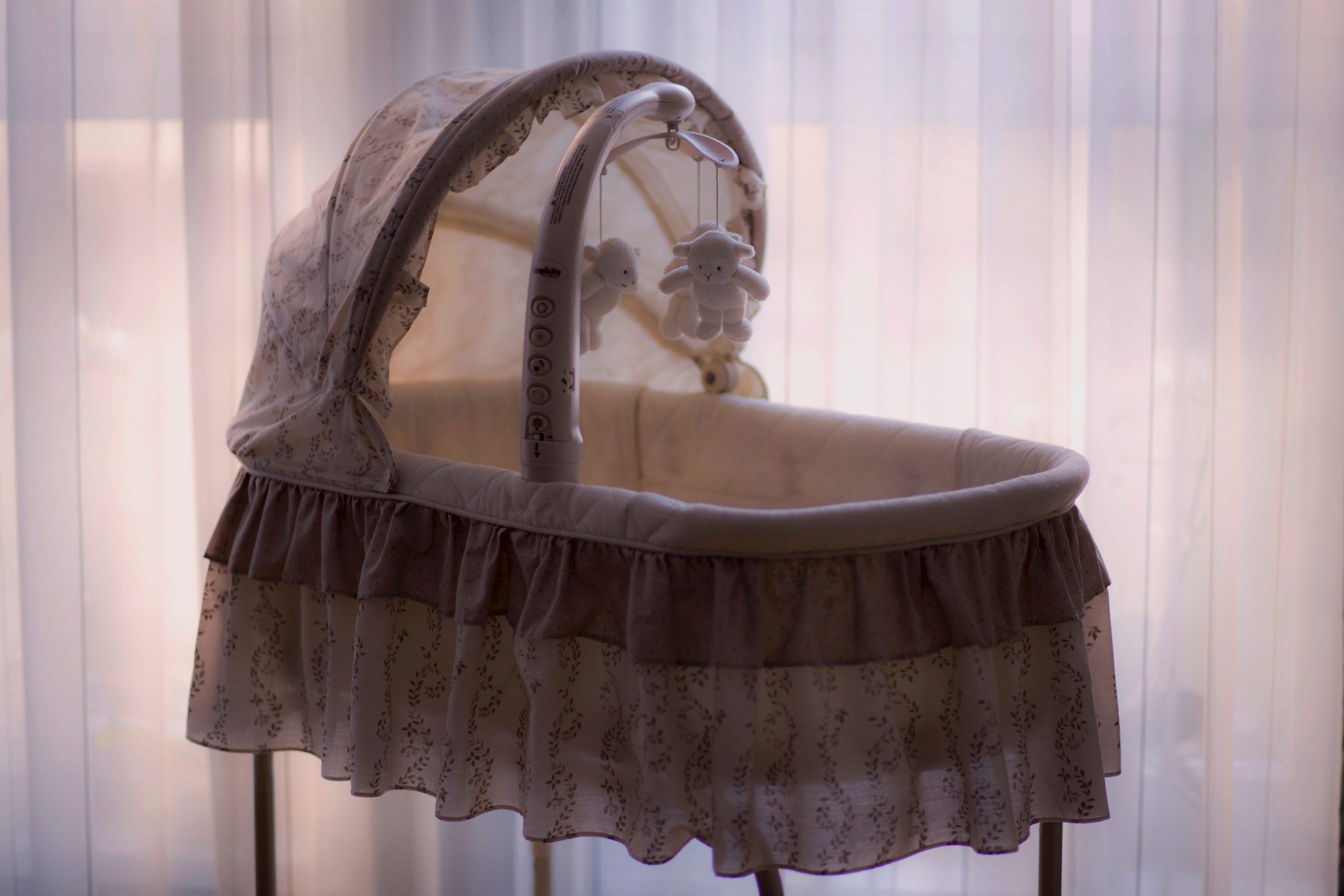 What is Bassinet?
A bassinet, or Moses basket, is asleep space designed for newborns and infants.
Bassinets are usually around waist-height and have a small sleep area, perfect for a baby that is 0-3 months old.
Most bassinets have a weight limit between 15-20 lbs and do not provide enough space for use with a baby that is rolling (source).
Bassinets have a small footprint and are about even with the height of your bed, making them a perfect, and safe, bedside sleep space for your baby. Getting them in and out for nighttime feedings is a breeze.
Pros And Cons Of A Bassinet
Pros:
Portable – they are light and can be easily moved from room to room

Takes little space – a bassinet is slightly bigger than a newborn; some models can even be folded for easy storage

Nice for travel – if you move a lot, you can easily take a small and light bassinet with you so that your baby can take a good nap no matter where you go.
Cons:
Babies quickly outgrow them – their small size may be a great advantage when it comes to portability, but since it is so small you can only use it until your baby is about three months old.
Only good for naps – it is perfect for a quick nap. But if your child is fully awake, they would probably want to get out of the bassinet and play. You would have to buy an additional piece of furniture, like a player, so that your baby can play safely while you keep an eye on them.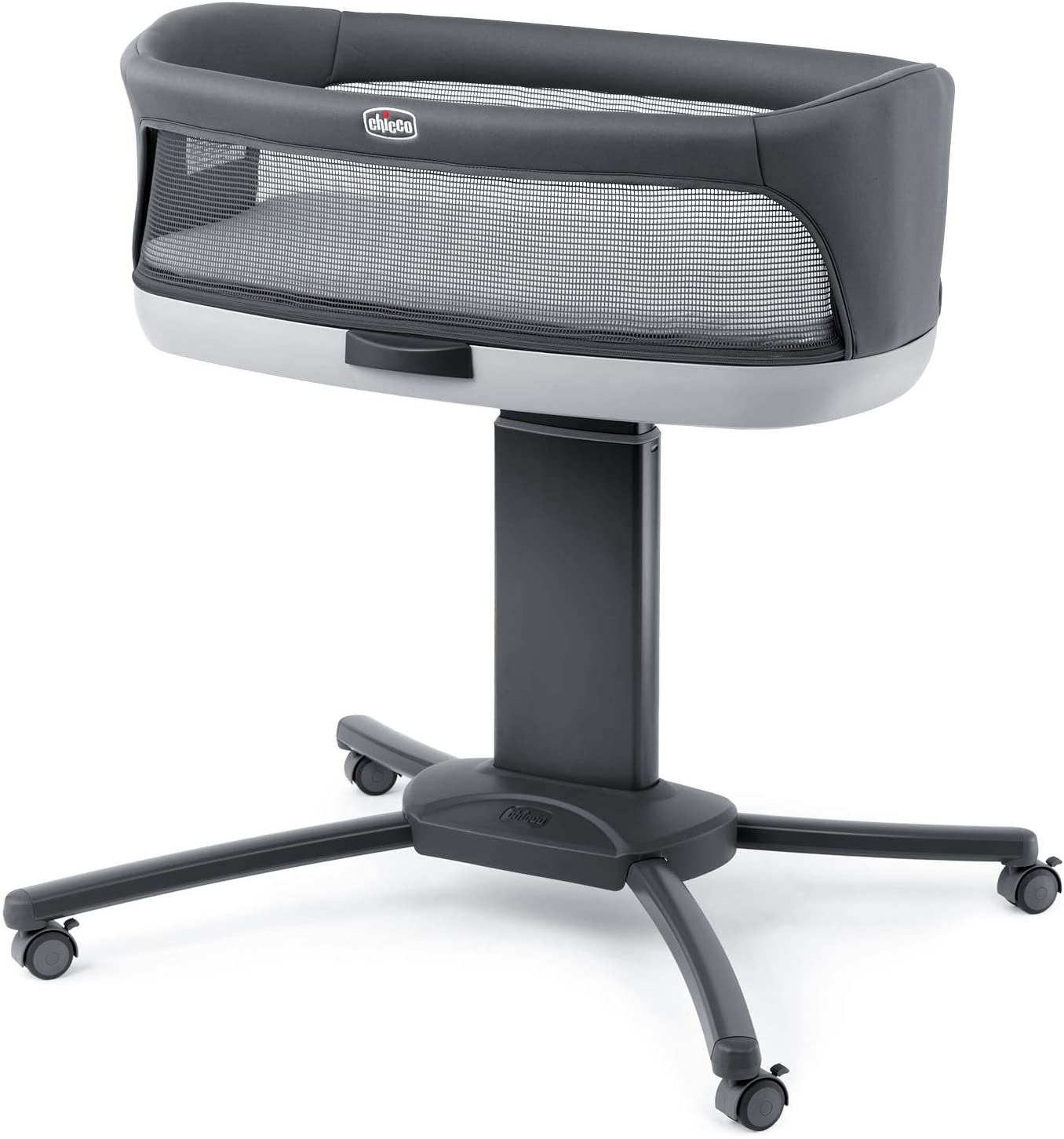 Chicco
Close to You SE Bedside Bassinet
Keep your newborn comfortably close day or night with the Close To You SE Bedside Bassinet. The dual bedside sleeper and mobile bassinet glides smoothly over beds for easy overnight feedings and from room to room for convenient daytime use. Four rubberized swivel wheels and a range of height adjustment allow you to easily maneuver the bassinet and glide it over the bed for close, comfortable sleep. The sturdy, level bassinet features soft mesh sides for visibility and airflow.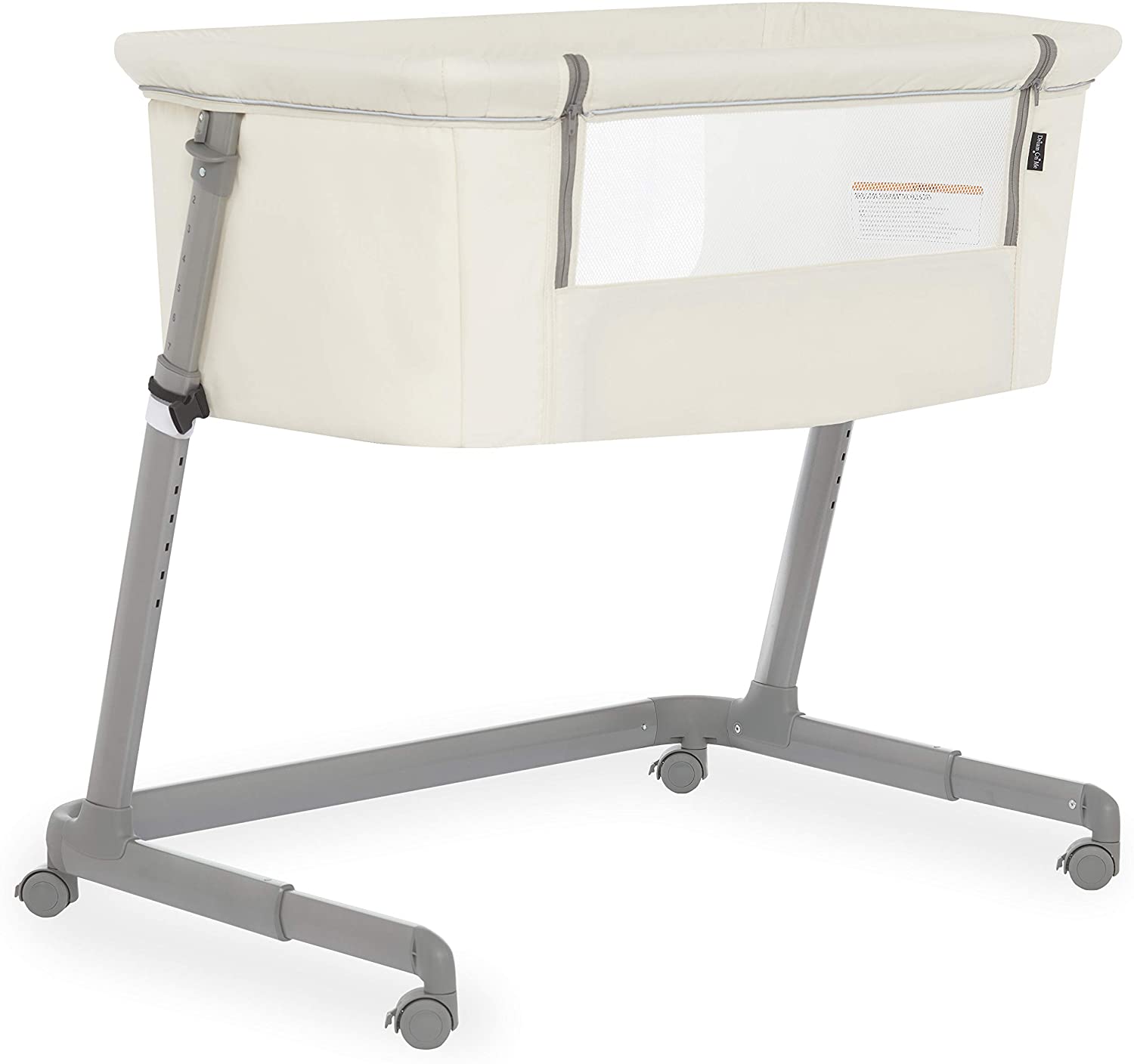 Dream On Me
Seashell Bassinet & Bedside Sleeper in Pearl
In a world where we can be anything, be cozy and keep your little one calm with Dream on Me Seashell bassinet and bedside sleeper. This ASTM approved bassinet and bedside sleeper ensures safety easily securing tightly to your bed frame with a sturdy strap system. The adjustable height mechanism accommodates all types of beds leaving no gaps and making an ideal solution for sleeping closer to you!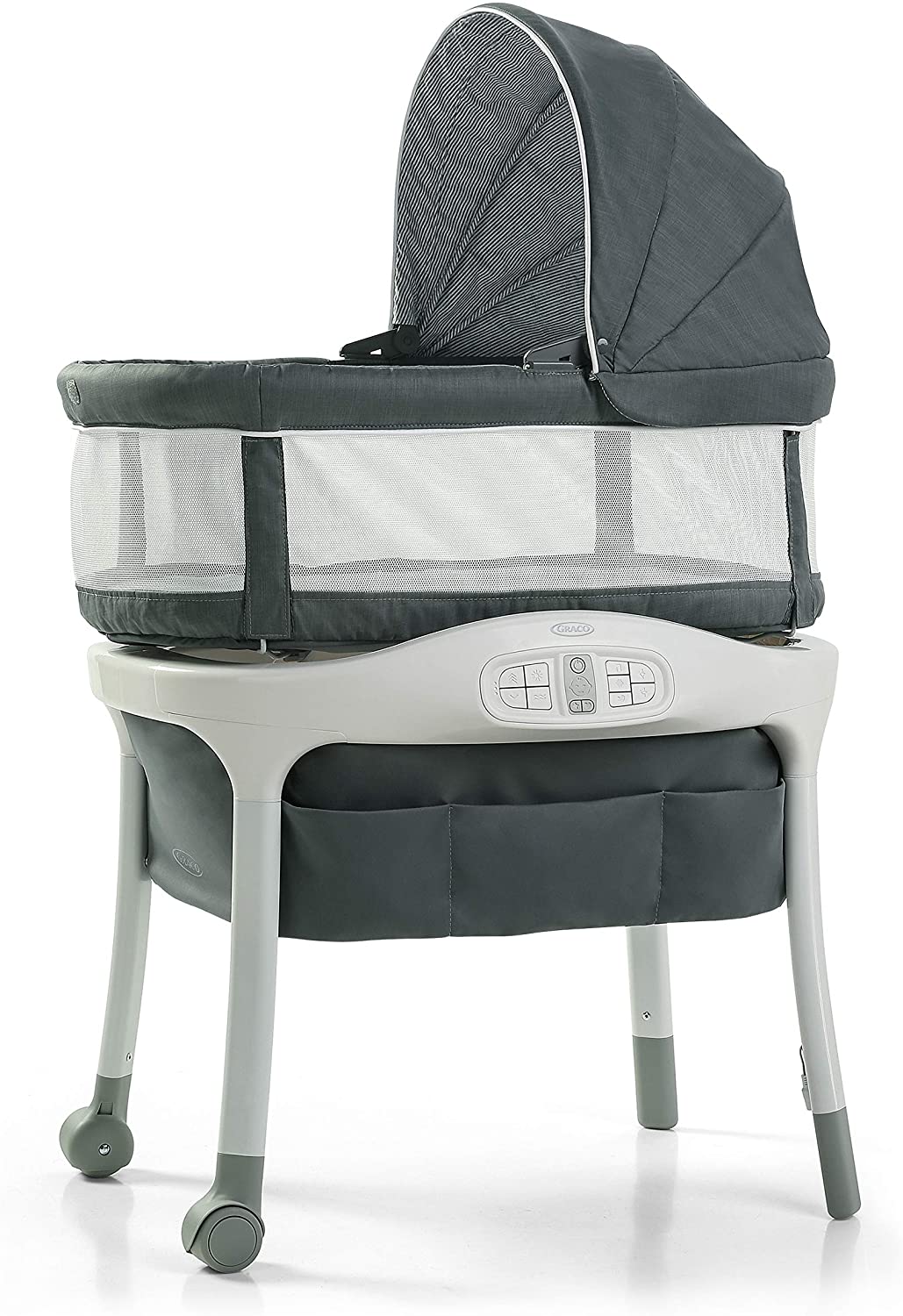 Graco
Sense2Snooze Bassinet with Cry Detection Technology
Graco Sense2Snooze Bassinet with Cry Detection Technology is the only baby-operated bassinet by Graco. It uses a built-in microphone to detect baby's cries and responds by adjusting varying soothing settings to help soothe baby back to sleep.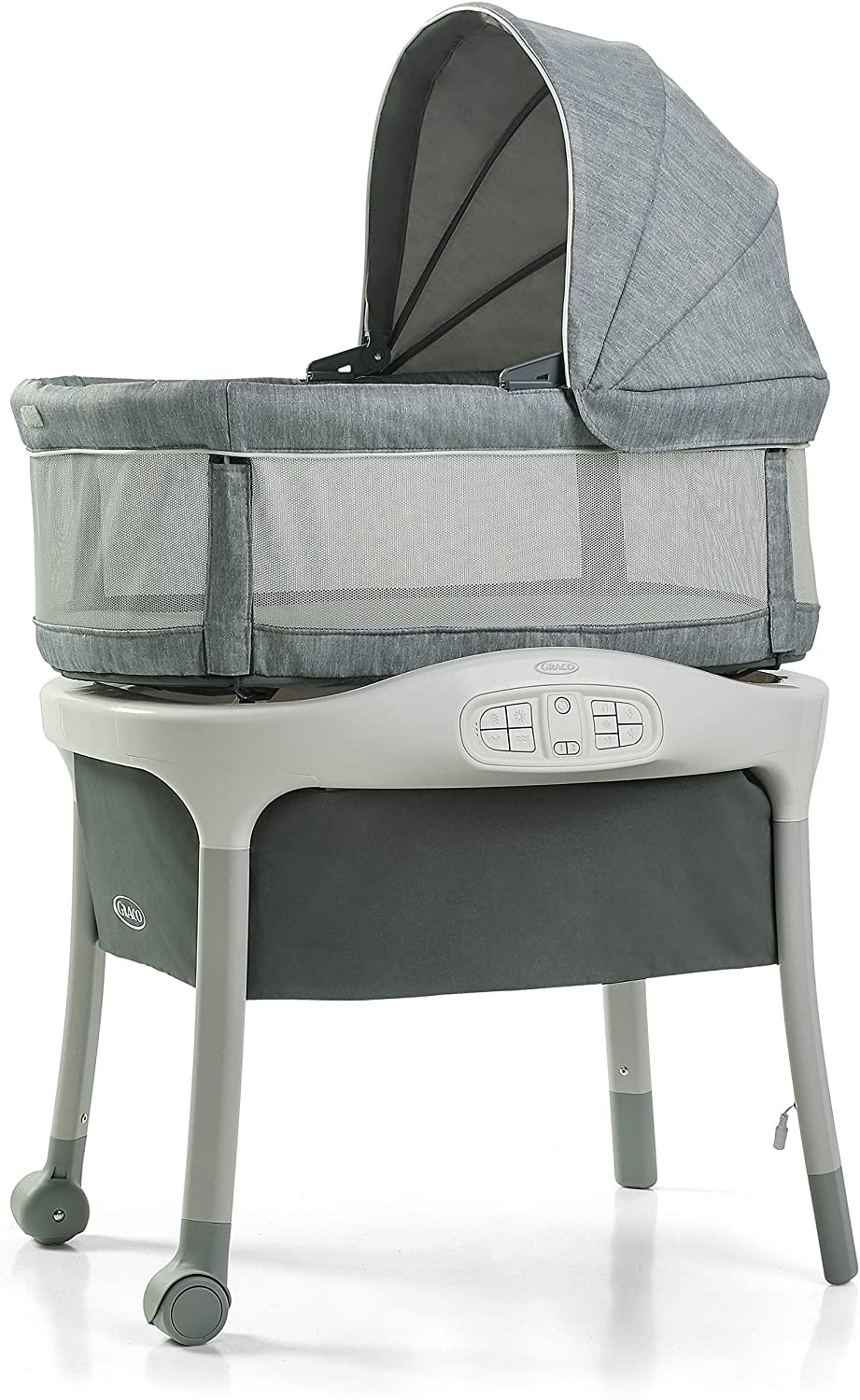 Graco
Move 'n Soothe Bassinet
The Graco Move 'n Soothe Bassinet includes automatic motion and other calming settings to help soothe baby to sleep. With 3 different speeds, 2-speed vibration, white noise, 10 sleepy songs, and 10 soothing sounds, the Move 'n Soothe Bassinet helps to soothe baby. Dimmable lighting on the parent controls makes it easy to adjust the settings day or night. The cozy bassinet also allows airflow and visibility with mesh sides.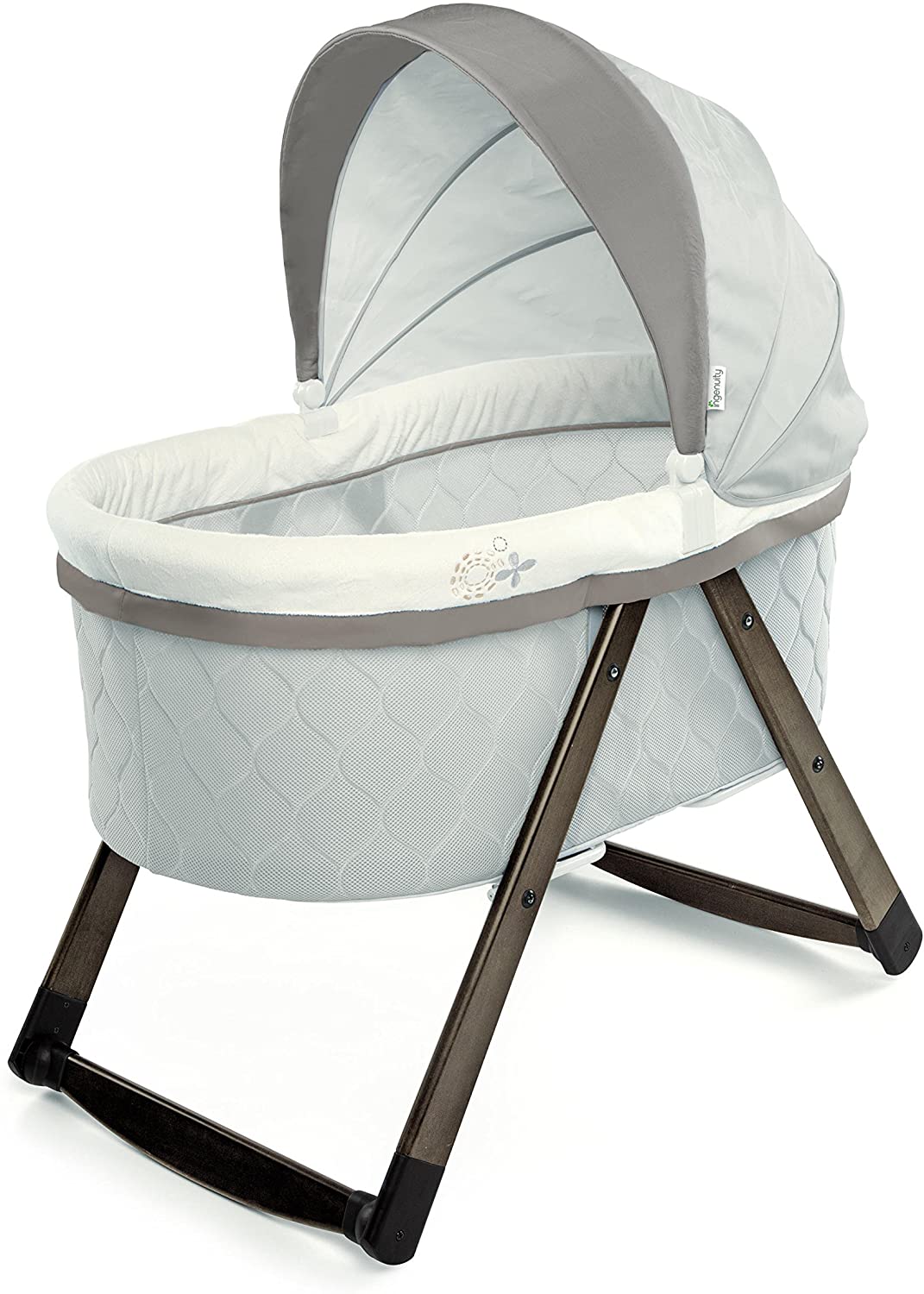 Ingenuity
Foldaway Rocking Wood Bassinet - Carrington
Enjoy more peaceful moments from naptime to nighttime. With Ingenuity's smart design, this sleeping bassinet is a dream for parents and babies. The unique foldable frame collapses and features a handle for easy transport, so you can move the bassinet seamlessly from room to room. For afternoon snoozes, the DreamComfort fabric diffuses light to create a dimmer sleeping environment. This premium fabric is also made to promote airflow giving baby a cooler and comfortable space to rest. When baby is this calm, everyone can rest easy.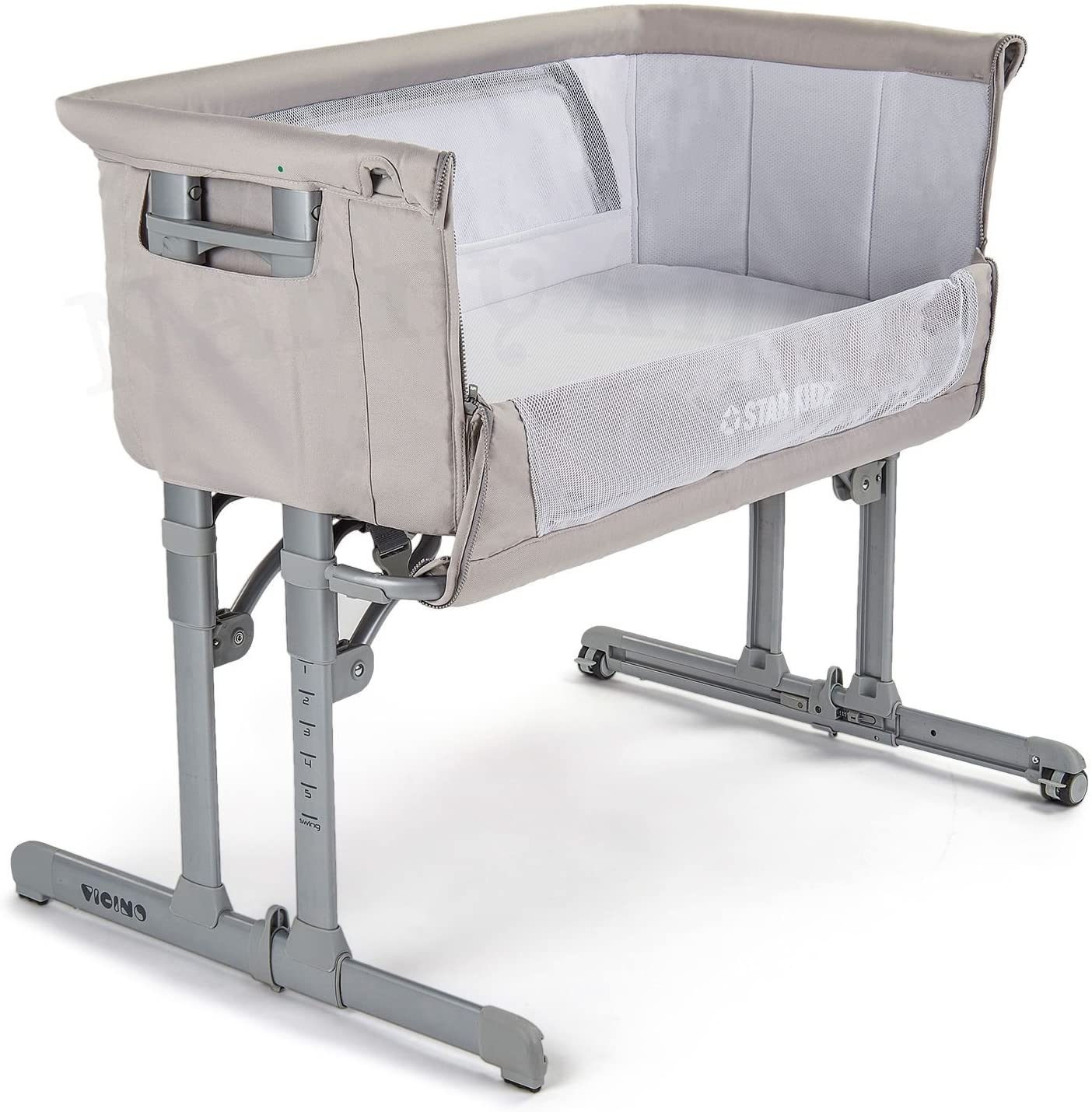 Star Kidz
Vicino Deluxe Baby Bedside Bassinet
The Star Kidz Vicino Delux baby bassinet is a bedside bassinet, which means it is placed next to your bed. The patented design can be rocked and can also swing! Not many bassinets have these features, but the ones that do aren't anywhere near as good quality or half as portable. This problem-solving lullaby assistant has not one but TWO net windows for improved air circulation - meaning fresher dreams for your little one. Washable vinyl fabric on all surfaces means mama will never have another raw nosebreak with this stylish sleep solution due to bacteria buildup. Never sleep deprived again thanks to the ingenuity of our new product line mama, she deserves some zzz's too!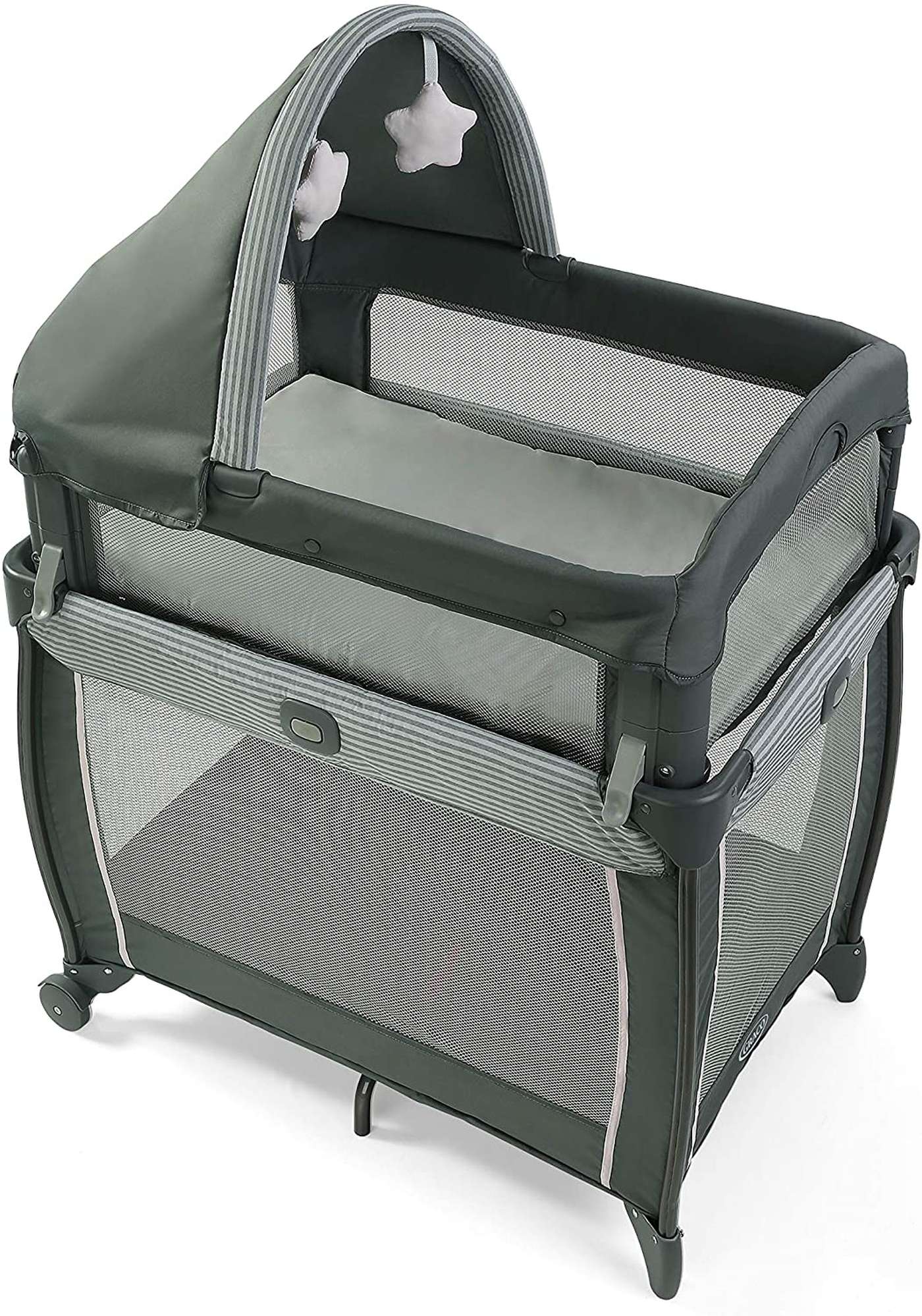 Graco
My View 4 in 1 Bassinet
The Graco®My View™ 4-in-1 Bedside Bassinet offers four different ways to use, plus grows with baby and folds for travel! For newborns, the raised bedside bassinet perfectly positions baby at eye level. For infants, the bassinet lowers to crib-level and is removable for use anywhere! Finally, the bassinet is able to provide even more space for a growing toddler.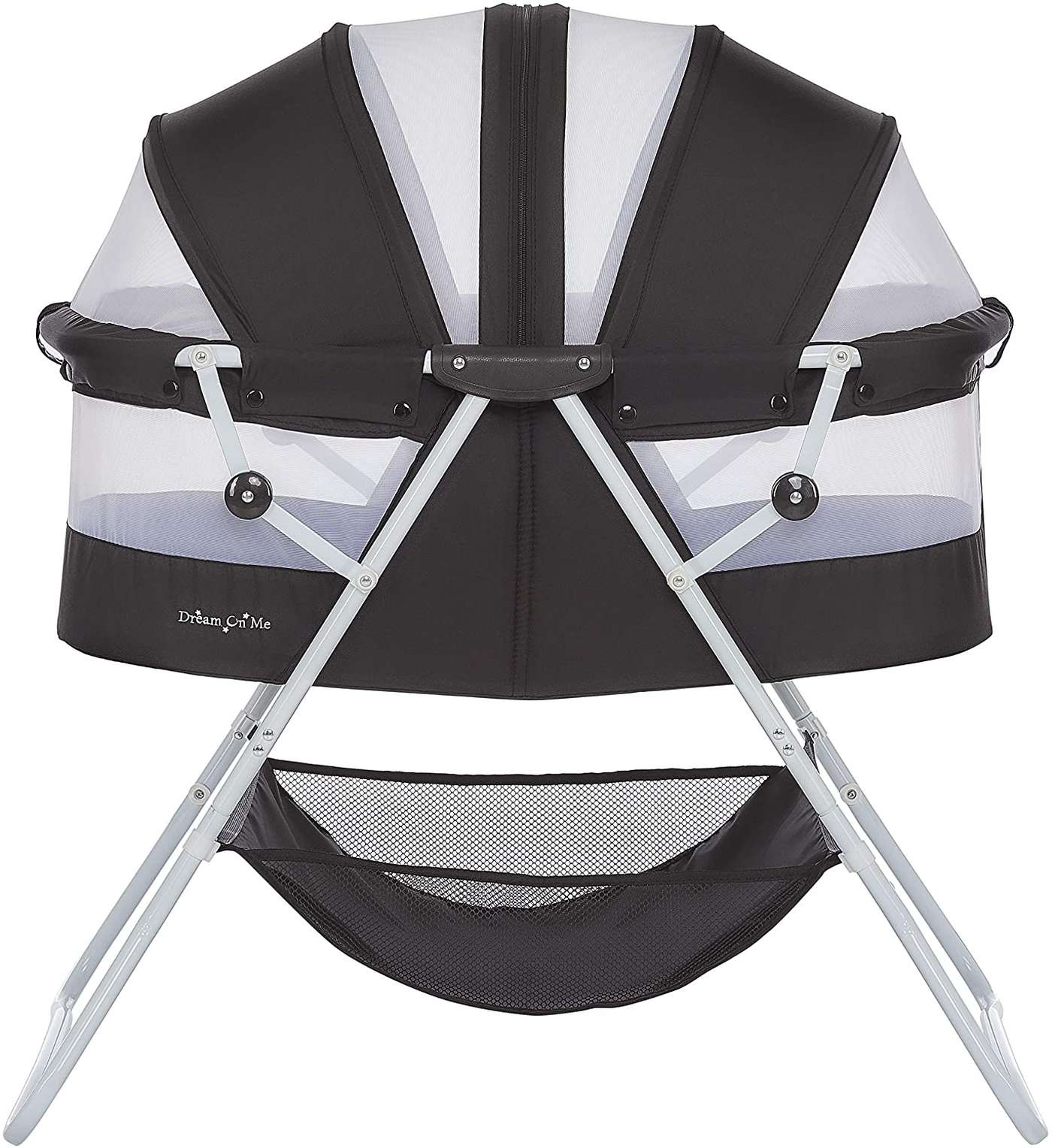 Dream On Me
Karley Bassinet
Lightweight, stylish and spacious- the Karley Bassinet is every new parent's dream come true! One of its standout features is its portability. Weighing 12.4 lbs, it comes with a no-tool assembly & a lightweight aluminium frame, which allows you to move it from room to room.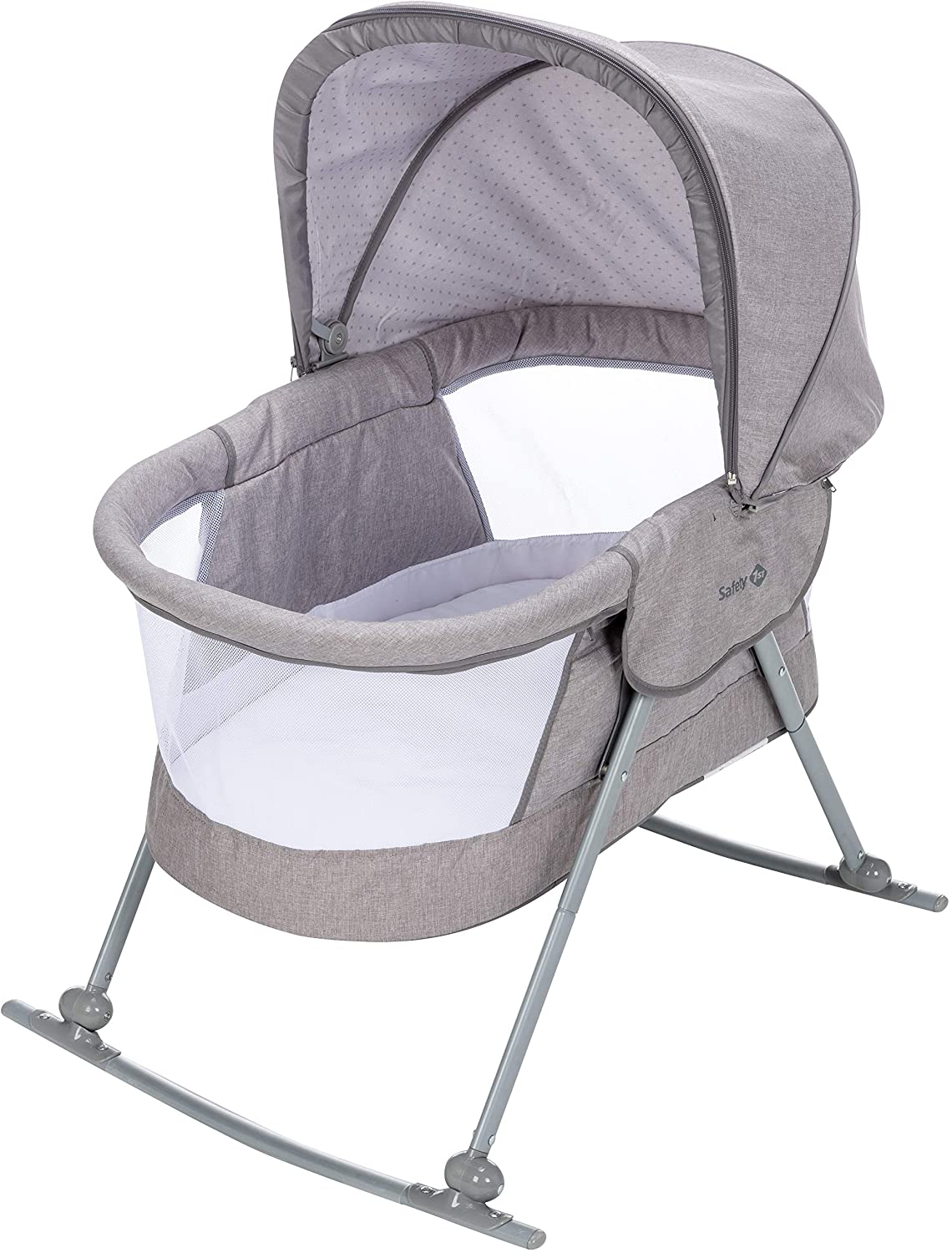 Safety 1st
Nap and Go Rocking Bassinet
Your growing child needs plenty of rest, but that doesn't mean you have to schedule your day around nap time. The Safety 1st Nap and Go Rocking Bassinet lets your little one sleep anytime, anywhere, whether you're out at the playground, park or grandparent's house. The bassinet gently rocks side to side to lull your baby to sleep, so you don't have to worry about rushing home when your little one turns into a sleepy grump.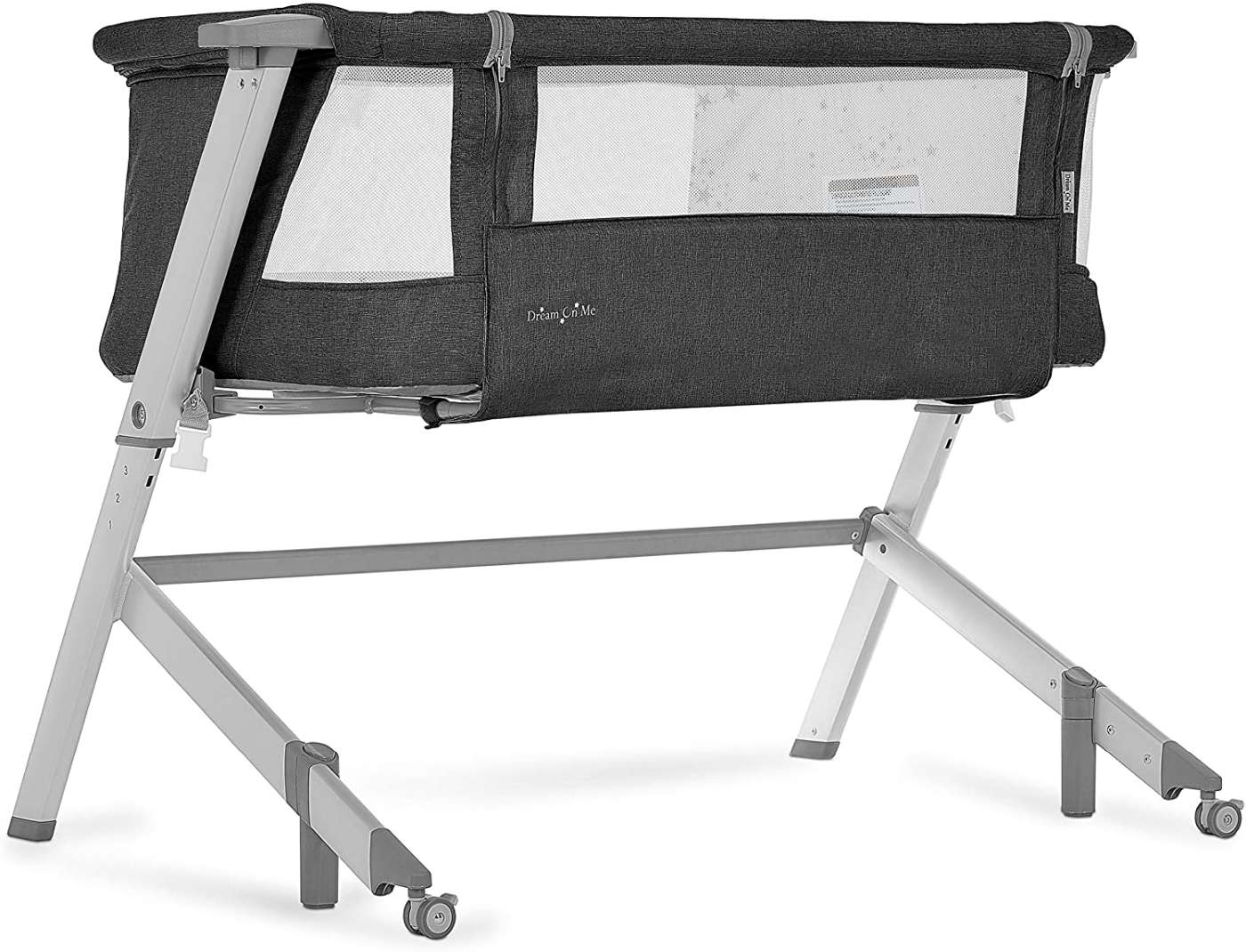 Dream On Me
Skylar Bassinet & Bedside Sleeper
Fall asleep knowing your little one is close with The Dream On Me Skylar bassinet and bedside sleeper. The Skylar bassinet is JPMA certified. ASTM-approved bassinet and bedside sleeper ensure safety easily securing tightly to your bed frame with a sturdy strap system.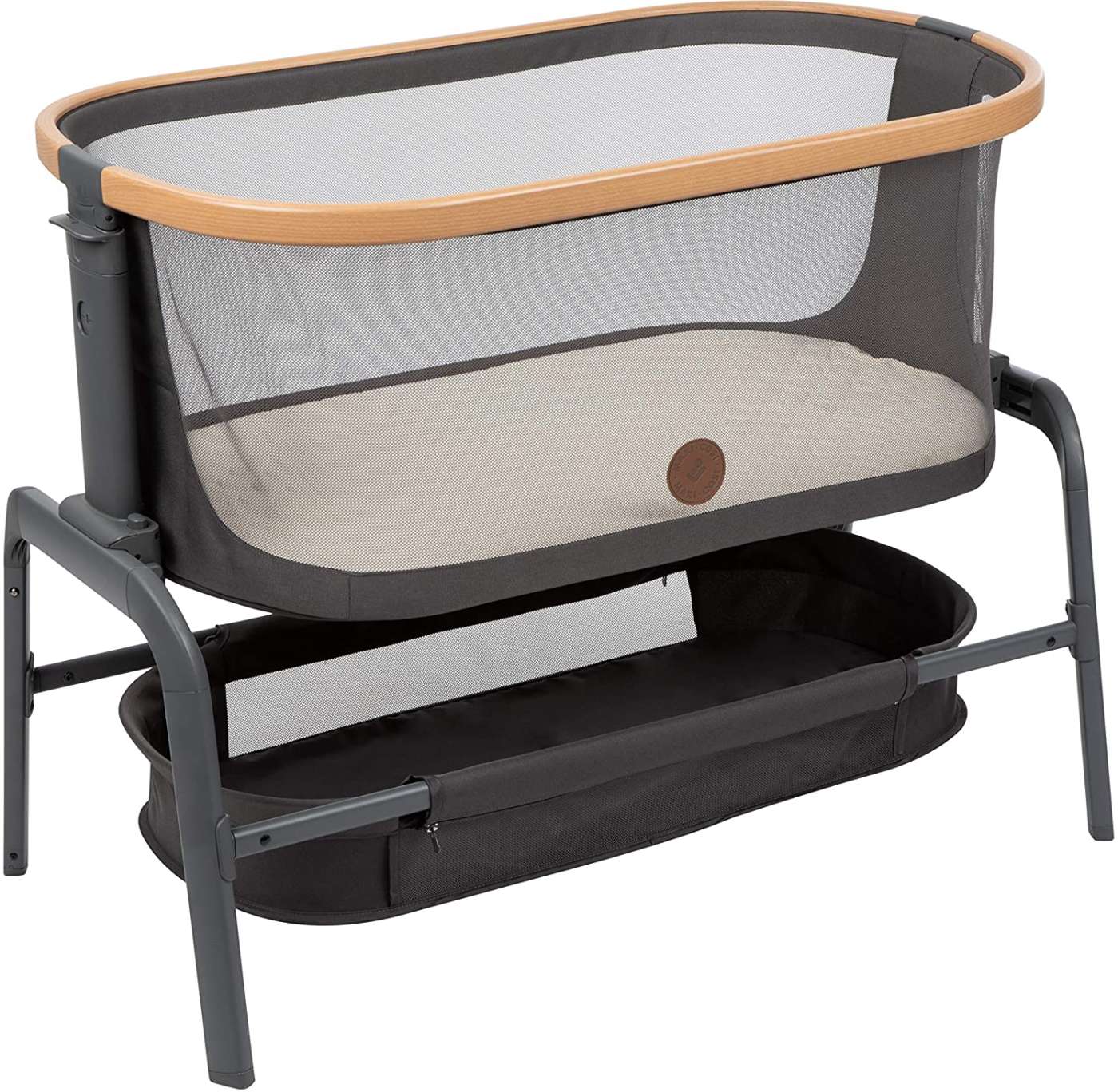 Maxi-Cosi
Iora Bedside Bassinet
Getting your little one to fall asleep can be tricky. But with the Maxi-Cosi Iora Baby Bassinet, your little one can rest comfortably at home or wherever you travel – all within an arm's reach. Rest time starts with the supportive mattress that offers just the right amount of comfort for nighttime sleep or daytime naps. Then there's the breathable mesh siding that lets the air flow through and gives you a quick glimpse of your little one.
What is a Pack n Play?
A Pack and Play, or playard, is a larger, portable crib-like product.
They fold up easily for travel and have a footprint of about 30×40 inches. Pack n Plays have a weight limit of 28+ lbs (depending on the model) and a height limit of 35 inches (source).
Pack n Plays have tall walls that are around 30 inches high, and a firm, flat sleep space at the bottom. For this reason, Pack n Plays can be used for babies that are rolling, pulling up, and even walking, just like a regular crib.
Some Pack n Play models come with accessories that convert the top of the product into a bassinet or changing table for use when you baby is very young, but they do take up a far bigger footprint than bassinets do.
Pros And Cons Of A Pack 'N Play
Pros:
Multifunctional – they are versatile. They can act as a crib or a playpen; some models even have a changing table and a portable napper.

Affordable – they come with an attractive price making it a cost-effective investment.

Portable – they usually have wheels for portability. They can also be folded for easy storage and travel.
Cons:
Heavy – they are usually bulky and heavy

Hard to use – folding and unfolding takes effort

Portability – while pack 'n plays are made portable, because of their size and weight, it is unlikely that you will often move it around the house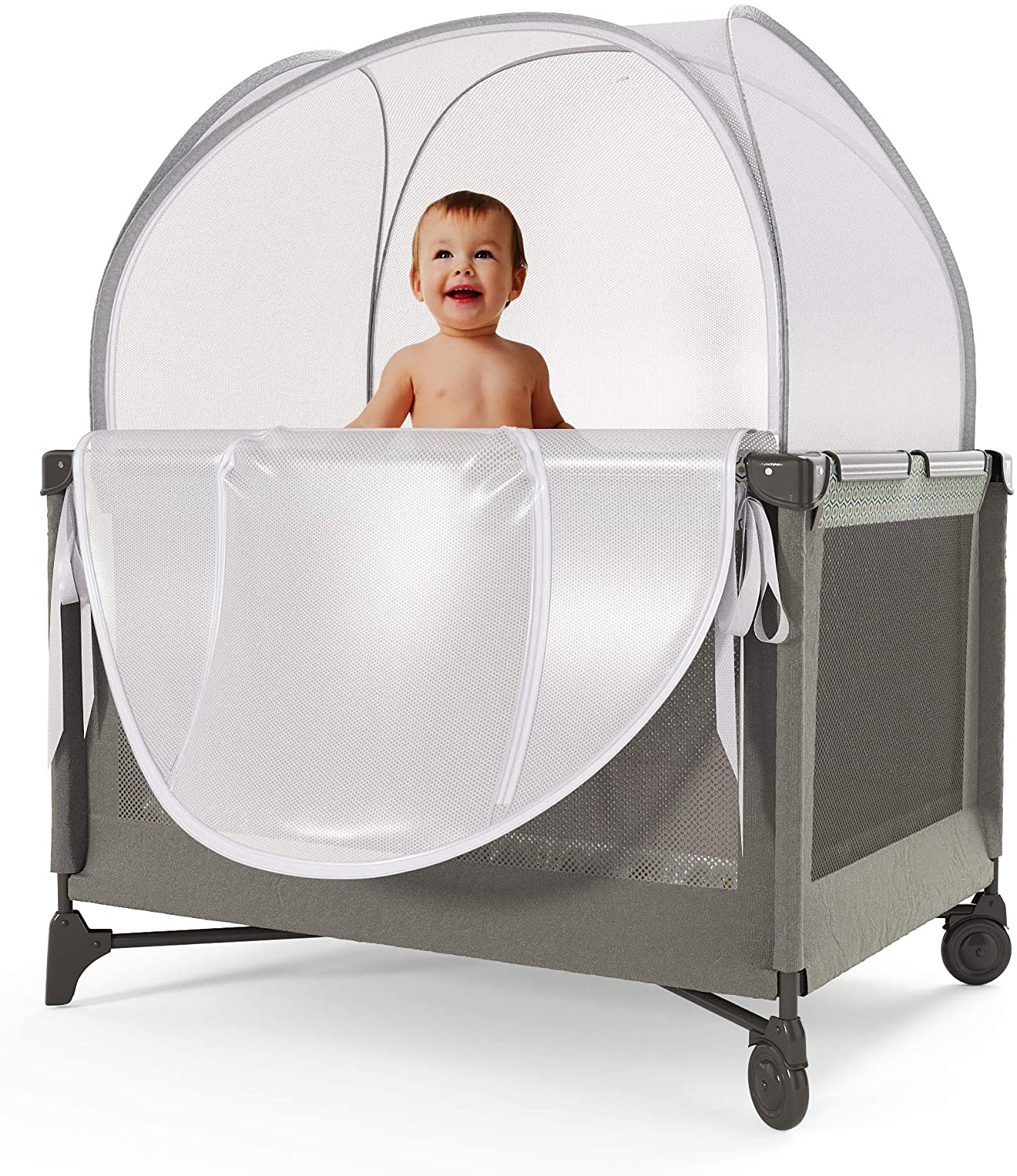 Nahbou
Baby Crib Tent Pack n Play
Keep your baby safe in a Nahbou Baby Crib Tent Pack n Play. The clear, 360 degree mesh is soft and comfortable for baby with an auto lock zipper to make sure they stay secure while hanging out! This product features a washable & reusable bpa-free net cover that assembles in seconds around the crib keeping both mosquitos and cats out of the picture.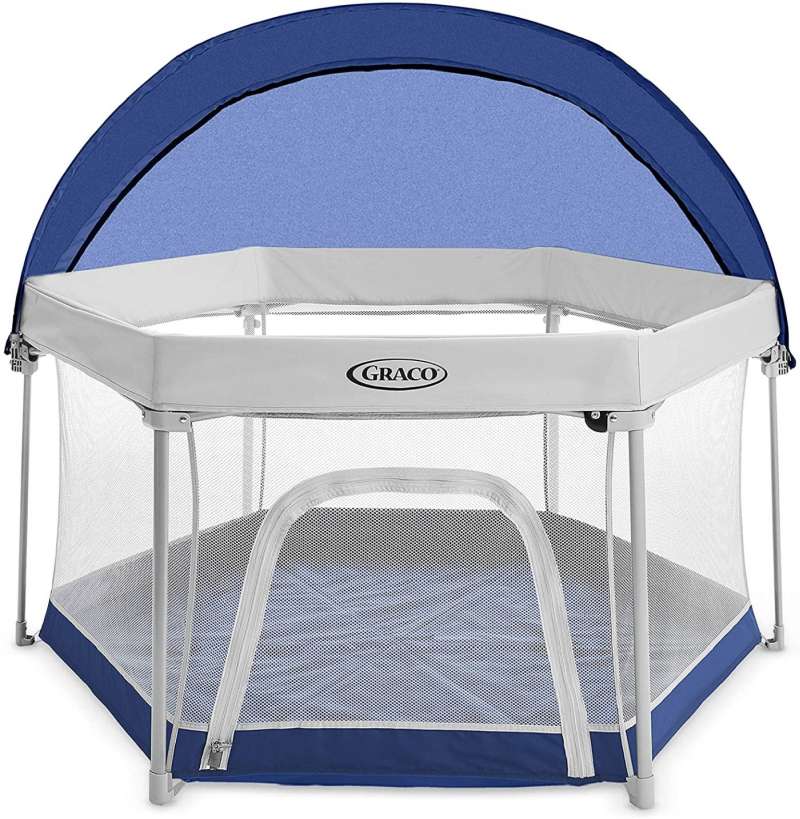 Graco
Pack 'n Play LiteTraveler LX Playard Outdoor and Indoor Playspace
For indoor or outdoor use, the Graco® Pack 'n Play® Lite Traveler™ LX Playard folds up compactly for easy travel and storage. The LiteTraveler is the most compact folding outdoor play yard* (*vs. the leading competitor), featuring a one-step setup and fold for easy use.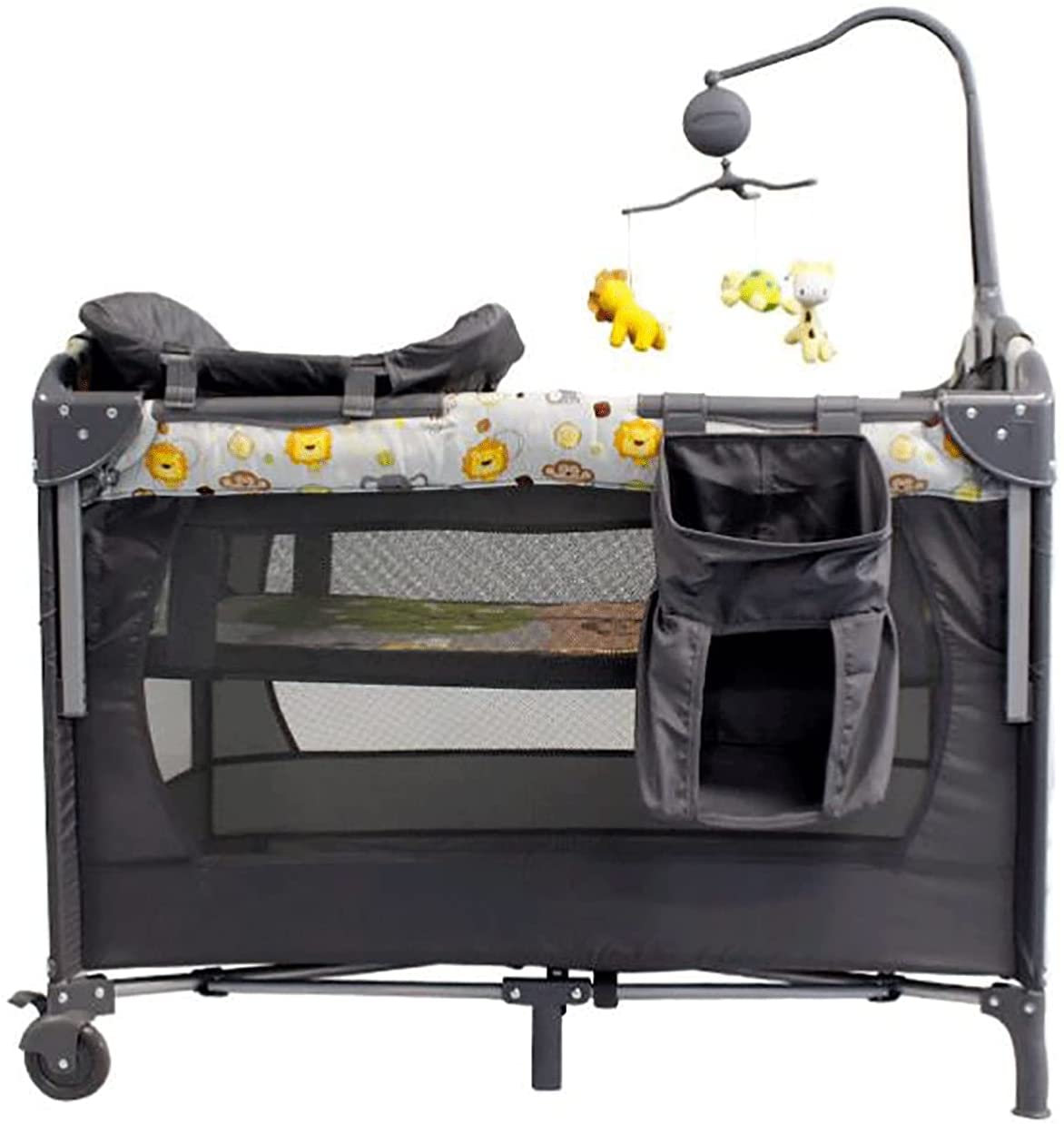 GYF
Travel Cot, Bedside Baby Cot, Bassinet and Bedside Foldable Travel Cot
At 4.5kgs, the travel cot is lightweight and portable which means that you can conveniently take it on the go to bedside your little one around the house or when travelling. Hold up to 25kg of weight (depending on product type) with sturdy railing and mattress, perfect for restless children who like to stretch!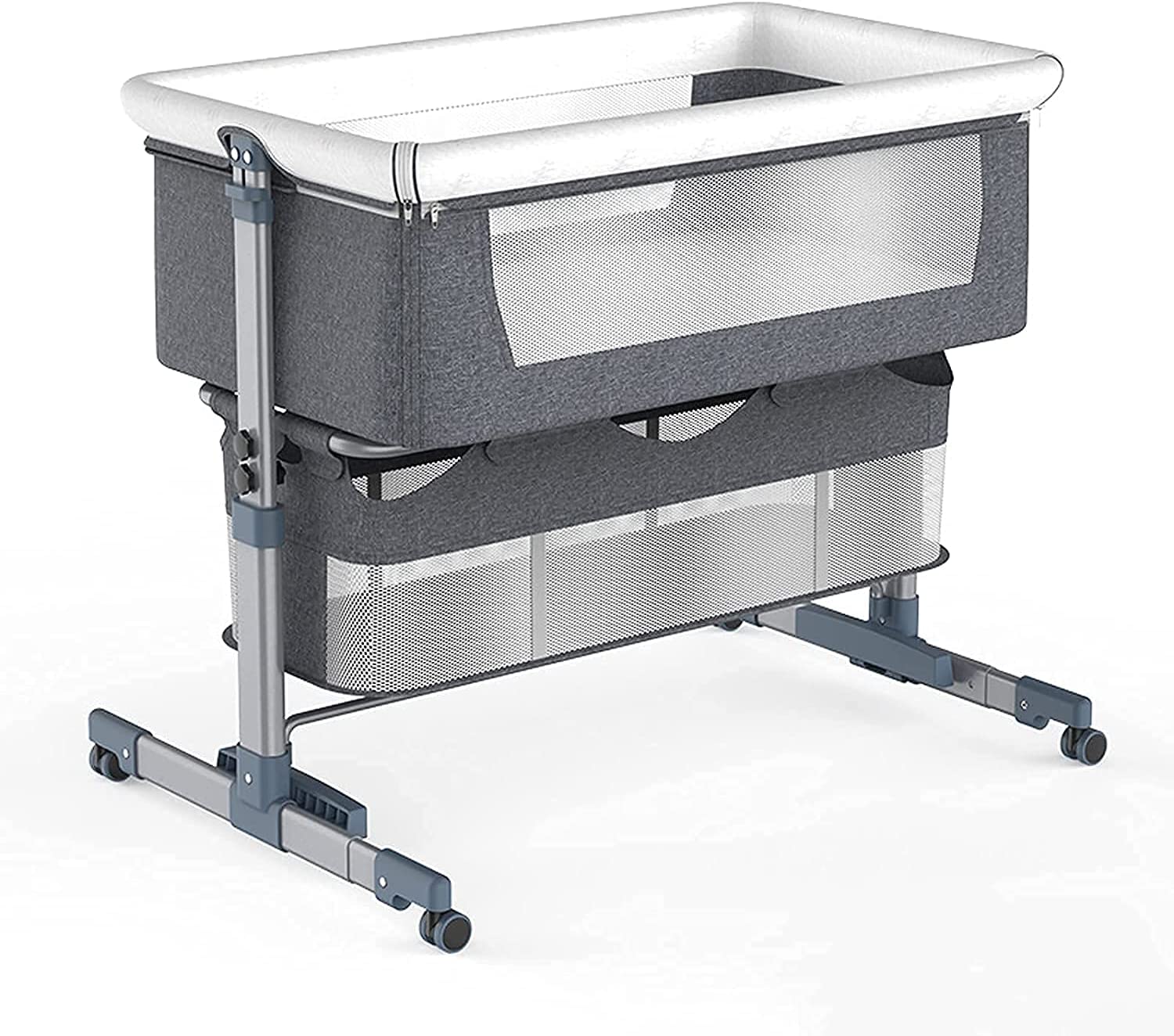 Lamton
Foldable Bedside Crib,Portable Travel Cot
The Lamton Foldable Bedside Crib is ideal for traveling families with newborns who need a safe spot to rest while mom and dad are cooking up a storm. It also provides convenient, compact storage with one-key folding feature.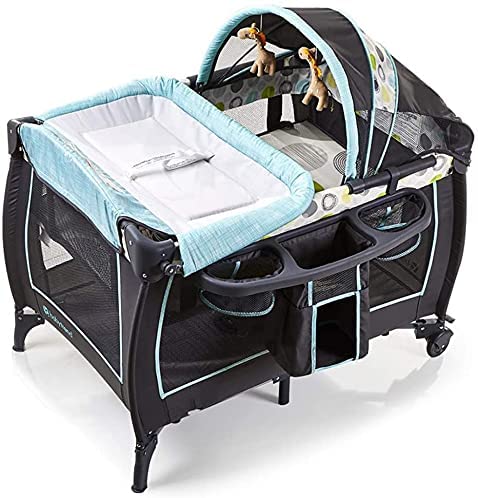 LCNING
Portable Child Baby Travel Cot Bed Playpen
The Portable Child Baby Travel Cot Bed Playpen is the perfect solution for any sleep deprived parents. This lightweight, easy to move around product consists of sturdy wheels and snap-on legs that are perfect for use on carpet or hardwood flooring. No need to break your back trying to get this thing in or out of place when you can just glide it into place! When it comes time to tidy up, this baby play pen folds down conveniently into a handy carrying case for storage in tight corners of your home.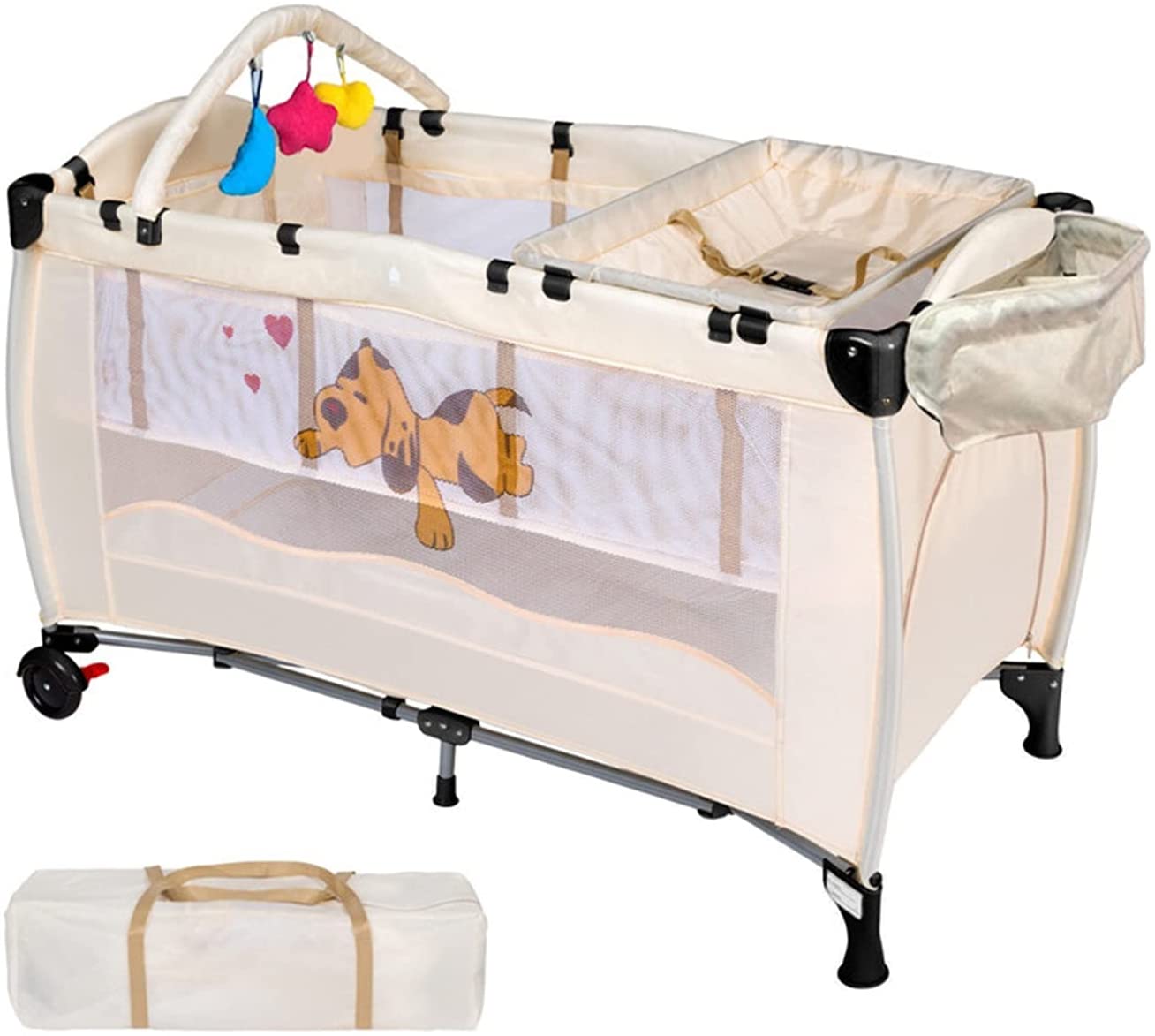 AOZLOVEC
Baby Travel Bed
We all live in busy lives that constrain us from spending much time with our babies. With the installation of this playpen, pat yourself on the back for providing your baby with their own personal minibox! The Playpens are easy to assemble and light-weighted; you'll be donning it in seconds within a minute or so after unpacking. It can brightly decorate up any area where it is installed, making things more fun for both adults and children alike.
What is a playards versus a Pack 'N Play?
A playards is another term for the Graco branded Pack 'N Play. They essentially mean the same thing. It is a portable, multifunctional piece of furniture that is a crib, travel crib, and napper. Some of these playards have bassinets attached to them as an additional piece of equipment as well as musical mobiles. 
What's the difference between a bassinet and a crib?
A bassinet is typically a smaller piece of furniture that is also portable. You would have a bassinet for when the baby is newborn to three months, basically, the time when the new baby is being adjusted in the home. A bassinet is smaller and allows the baby to nap.
A crib is a larger piece of furniture that is situated in the baby's room and will stay there until the baby is potentially 2-3 years old.
What's the difference between a playpen and a bassinet?
A playpen is a more basic version of a playard that allows your little to have a secure play space and sleep. A playard will typically have more bells and whistles, such as a removable bassinet, changing station, toys, lights, etc. tied to the playpen.
A bassinet will rock and allow your kiddo to sleep. No playing, sleep. Typically, a bassinet will cost half the price of a playard.
How do you choose between a playard, a bassinet, or a crib?
Here are the three things you have to ask yourself when choosing between each of these types of baby furniture. I've also added my personal experience below each one.
Factors to Consider Bassinet or a Playard
Age of your baby
If you are researching sleep options while pregnant, then you should consider yourself shopping for a newborn.
However, if you are deciding which will work better and you already have a six month old, the choice for you will be very different.
Age of your baby is a very important factor. This is because bassinets can only be used for 4-6 months.
Bassinets are perfect sleep spaces for infants, but once your baby starts rolling, or goes over the 15-20 lbs weight limit, it will be important to transition them to a different sleep space.
On the other hand, Pack n Plays can be used from birth until your little one is 2-3 years old depending on their height and weight.
When deciding, it?s helpful to keep safe sleep recommendations in mind.
The American Academy of Pediatrics recommends baby sleep in your room, in their own sleep space, for the first 6-12 months of life. If your Pack n Play or bassinet will be used in your room for baby's nighttime sleep, this may factor into your final choice.
Space in your nursery or bedroom
The safe sleep recommendation of rooming-in for the first 6-12 months is the perfect segue into the next factor to consider: space.
Depending on where you are planning to set up your bassinet or Pack n Play, you should think about size and footprint.
The Pack n Play has a far larger footprint than a bassinet does. This can make it harder to fit into your bedroom that may already be full of furniture, or into the nursery if it?s especially small and you want to set up a crib as well.
Check out our range of baby playpens at My Baby Nursery.
Portability
Pack n Plays fold up for easy storage and travel. Most models come with a travel bag, and the mattress becomes a sort of casing for the product?s frame.
They are quite compact. This makes Pack n Plays a great choice for families that plan to travel a lot because the baby will be used to sleeping in their Pack n Play at home and on the go.
Some bassinets do have a removable sleep space, like this one from Pottery Barn, which makes it easy to have a baby nap or sleep in other places around the house in their familiar environment.
Additionally, you can look for bassinets that are on locking wheels, which makes them easy to move around your room for accessibility.
Additional features
Much more deluxe? Pack n Play models come with a variety of features. For example, Graco?s line of care station playards come with a flat bassinet attachment for the top, a vibrating, inclined napper/lounger, a diaper caddy and a mobile.
Once the baby starts rolling, easily transition them into the Pack n Play for a regular crib-like sleep space.
Bassinets also come with a range of features. More traditional, basket-like bassinets don't have any frills. However, you can find options that offer music, vibrations, and electronic mobile attachments.
Cost
Both bassinets and Pack n Plays are available at a variety of price points.
On Amazon, you can find bassinets for as low as $52, in the $100-$300 range, or over $1000 for the SNOO Smart Sleeper Bassinet. In other words, there?s a bassinet for every budget!
Just remember that you won't be using it much beyond 4-6 months.
Pack n Plays range in price from about $60 for the most basic models to the $150-$250 for the more deluxe choices. A Pack n Play will certainly last your family longer than a bassinet.
Safety
The safest place for your baby to sleep is in their own space, on a flat firm surface with a tightly fitted sheet.
It's recommended that they sleep in your room for the first six months, and ideally the entire first year because new research shows that room-sharing can reduce the risk of SIDS by up to 50% (source).
Keeping these recommendations in mind, both a bassinet and a Pack n Play fit the bill. Both offer a flat, firm surface and tightly fitted sheets designed for the product.
Bassinets/Pack 'N Plays Vs Cribs/Mini Cribs
Bassinets are usually designed to be small and portable so that you can carry your resting baby from place to place. Bassinets are used for babies from birth to about four months.
Both full-size and mini cribs are bigger than bassinets and will serve you for years as your baby grows. In terms of portability, full-size cribs are permanent structures. They take quite a lot of space, and will probably stay in the room where you built them as long as you use them. In contrast, mini cribs are usually lighter, smaller, and equipped with wheels, which allows you to move them from room to room. Still, they are not as easily portable as bassinets are.
Pack 'n Plays are similar in size to mini cribs, but they are not designed for night sleep. The mattress that they come with is usually quite thin, which is acceptable for short naps, but not that comfortable for night sleep. Also, unlike (mini) cribs pack 'n plays fold and can fit in a compact bag. They are lighter and portable, which makes them great for travel.
Do I need a Bassinet and a Pack and play?
In short, you certainly don't need both. However, if your budget (or baby registry!) allows, I do think it's worth having a bassinet and a Pack n Play.
Even though you will only use the bassinet for the first 4-6 months, the convenience of having a baby at your bedside for the middle of the night feedings when they are newborns is invaluable.
I have LOVED this bassinet for both of my babes, and consider it a must-have for the early weeks and months.
But if you can only get one, definitely go with the Pack n Play.
A Pack n Play gives you the most value for your money. If you invest in a deluxe version, it will include a bassinet and changing area, and convert to a travel crib as they get bigger.
They are also more versatile and can be used as a safe play area for baby in your home in moments that you can?t let them roam free once they? Re crawling. Pack n Plays are also travel-musts for most families.
How to use a Playard instead of a bassinet?
If you decide to go with a play yard instead of a bassinet, it is very easy to use it in the same way. 
If you opt for a pack and play with a removable bassinet, make sure the bassinet sleep space has a firm flat surface before allowing your baby to sleep there during the night.
The inclined nap/loungers that come with some playards are not meant for nighttime sleep.
If you get a more basic Playard, place your newborn to sleep on their back in the centre of the playard's mattress.
It's certainly fine to use a pack and play for newborns to sleep as long as you are following safe sleep guidelines.
Because the AAP recommends room sharing, you should set the playard up in your room for nighttime sleep. This will also make nighttime feedings easier because you won't have to go far.
My Baby Nursery has a wide range of baby nursery playpens for your little bub.
Is a pack 'n play or a bassinet safer?
Safety standards of baby products are extremely high these days.
If you go with a pack 'n play or bassinet that's new or in good condition, from a well-known brand, it should be 100% safe for a baby.
The most important thing, no matter where your baby sleeps, is that you follow safe baby sleeping guidelines:
No loose materials in the bed. No pillows, blankets, or extra bumpers.

No toys for sleeping.

Don't let the baby sleep in your bed (only next to it in a bassinet or similar sleeper).
If you follow the best practices, it won't matter much if you're using a pack and play or a bassinet for safety reasons.
As you research this, you'll find parents who swear by pack and plays, and other parents who swear by bassinets.
The truth is that they're both incredibly useful for different situations.
If your budget allows, I'd consider both.
A bassinet will SAVE YOUR LIFE when you first bring baby home and need to keep a close eye on him. Bassinets that rock or vibrate are especially helpful for tough sleepers.
A pack 'n play will better serve you as baby grows and you need a playpen, changing station, and more rolled into one. It can be your warzone headquarters in the living room or somewhere else in the house.
In any case, I hope this guide helped you understand the differences between these two products as you get ready to welcome your new baby!
Now that you know all about bassinets and Pack n Plays, you are ready to make a decision. Pack n Plays are more of an all-in-one option, but nothing beats the convenience and perfection of a bassinet during the first few months.