Hobart is a beautiful city with many shops and restaurants, but what do you do when your child needs something for their new home?
Whether it's just a few items or an entire nursery set, there are plenty of places in Hobart that can help make this process easier.
We have compiled some of our favourite baby stores that we believe every parent should visit when going through town.
Some of these stores will be great for buying clothes for your new bundle of joy, and others will help equip your nursery with supplies. We've included links at the bottom, so feel free to click around and explore!
Add a header to begin generating the table of contents
Ultimate List of the Baby Shops in Hobart, Tasmania
My Baby Nursery - Baby Shop Hobart

EVERYTHING YOU NEED FROM NURSERY TO PRAMS
Specialising in baby products, including nursery furniture, manchester, prams, car seats, high chairs and many many more items, My Baby Nursery truly is your one-stop shop for everything to prepare for the arrival of your new baby as well as everything you'll need as they grow.
BABY NURSERY FURNITURE
Our range of nursery furniture has everything parents-to-be need. All our nursery products are designed to take the hassle out of nappy changing, storage and bedtime, so you have nothing to worry about except treasuring special moments with your baby! We are proud to stock an original range of change tables, cots, nursery storage and much more.
BABY COTS - BABY FURNITURE COTS ONLINE
Is there anything more gorgeous than a sleeping baby? Yes, a baby sleeping in a beautiful cot – safe and sound. A key piece of the nursery puzzle, there are plenty of things to consider when buying a cot.
With an endless range of products on the market, a quick trip to the local baby shop just won't suffice. Luckily we've scoured the baby stores to find the best sleep options for your precious little one that'll also suit your nursery budget!
BABY BASSINETS FOR YOUR NURSERY ONLINE
Decorating your child's nursery is one of the simple pleasures of being a parent. But to ensure your baby's comfort and safety, you should always consider more than just looks when buying baby products and nursery furniture. At My Baby Nursery, we have a vast collection of the best baby bassinets.
Babies are born with an instinct to be close to their mother, but when she can't be there, they need a safe spot.
A bassinet is designed for this purpose and comes in many shapes and sizes. We have compiled a list of some of our favourite baby bassinets in a range of prices to suit every budget.
Choosing the right bassinet is important because it offers your baby safety as well as comfort while he or she sleeps!
Tiny Footprints - Baby Shop Hobart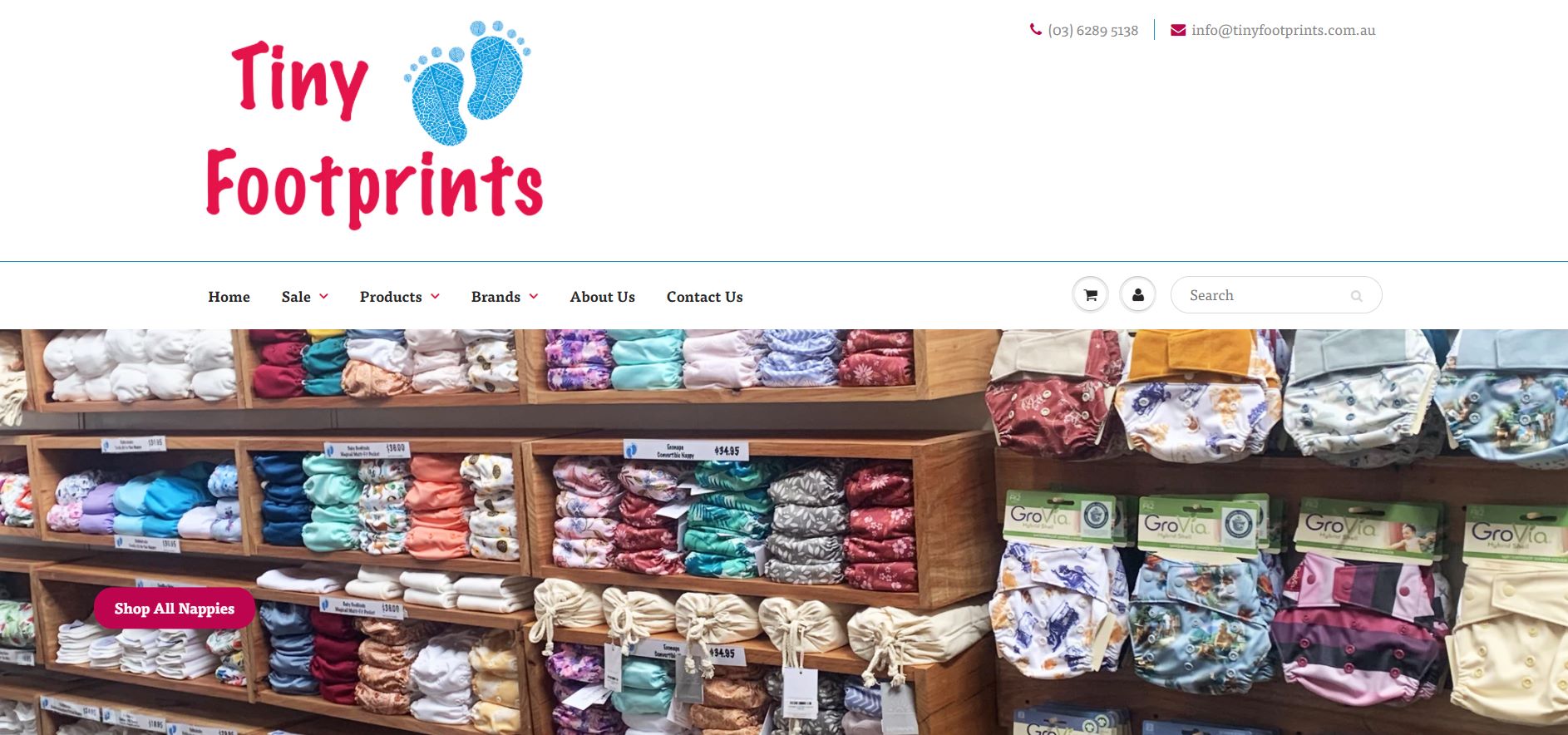 (03) 6289 5133
Tiny Footprints is a children's store with a simple philosophy: if you can re-use it, then you should re-use it!
We aim to provide choices for the eco-conscious shopper who is no longer satisfied with a resource-hungry, throw-away style of consumerism.
Our products have been selected in the hope that they will be used and used again.
They include:
Modern cloth nappies

Classic toys which can be passed down through the family

Food storage solutions that replace plastic wraps

Clothing made from natural fibres

Baby products made from natural materials

Chemical-free hygiene items
At Tiny Footprints, we believe that just because something is natural and reusable, that doesn't mean it has to be plain and unattractive. We have tried very hard to find beautiful, appealing, well-made items to please discerning and thoughtful consumers.
We are a small, locally-owned, family business whose operators endeavour to live by the principles of the store:
Think about your environment

Minimise your impact

Protect your family

Realise that decisions made now will have repercussions in the future.
Baby2kids - Baby Shop Hobart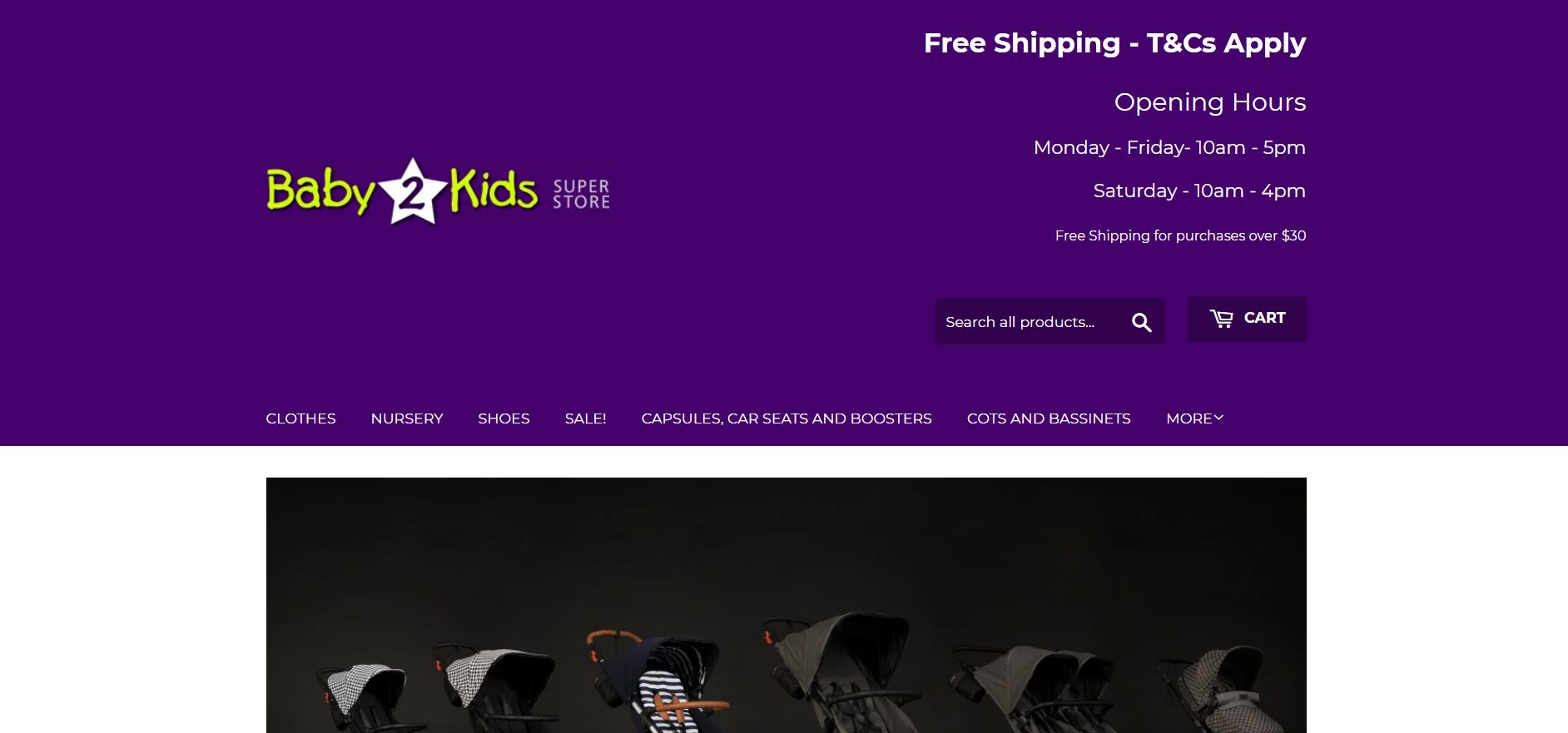 (03) 6244 5338
Baby2kids is a Tasmanian owned family business that opened in 2003. Now firmly established on the eastern shore in Rosny for the past 15 years, the Baby & Toddler store offers the complete solution to all your nursery and baby needs. In store, you will find a very large variety of strollers, prams, both 3 and 4 wheeler buggies, some companies exclusive to us at Baby2kids catering to all individual needs of parents.
We also showcase the quality and well-known brands of cars seats, capsules, boosters, bassinets, cots and a large variety of nursery furniture, portacots, rockers, swings, mobiles, soft toys, books, as well as a huge gift line range from companies such as Boori International, Grotime, Bebecare, Safe and sound, Babylove, Infa secure, safety First, Bubba blue, Little Linen, Phil & Teds, Mountain Buggy, Steelcraft, Baby Jogger, Valco, Bugaboo, Baby Bjorn, Ergo Baby Oi Oi nappy bags, Isoki bags GR8X bags, Penny Scallan bags and accessories and more.
Baby2kids also have an extensive range of quality designer clothing from New Born to size 6 boys& girls.
We also have an extensive range of footwear and sleepwear.
Our ranges include s in Hobart ), Gaia organic, Bebe, Fox & Finch, Hootkid, Wilson & Frenchy, Baby Paws, Walnut canvas, ergo Pouch, love to Dream, Skeanie, Surefit, Bibi and more.
At Baby2kids, we have a huge floor space with many well-known quality brands to offer you the complete overview of what is out there in the land of baby and toddler products- so whether you are looking for the complete package or just looking for a quality nappy bag, reusable nappy options, a great outfit or basics all in one suit, a bumbo seat or a great cot and furniture to complete your little ones room - we have it here at Baby2kids - but BEST of all we have the knowledge and experience to guide you best to suit your needs.
ASK US about our great Package Deals, Layby (for instore sales) is available, Gift Vouchers and we have a great LOYALTY CARD.
Baby Shops Frequently Asked Questions
Every first-time mom has wondered what she needs for the baby, the items we should buy now before the baby comes.
You don't want to buy anything you'll barely use once the baby arrives… but you also want to avoid not having an item once you finally get home (solo store runs with a crying baby are no fun).
Perhaps you've already crossed off most items on your registry list but can't help but feel like you forget something. Or you're simply wondering what things been-there, done-that moms wished they had but didn't think to buy beforehand.
Must-have baby things to buy before birth
Crib and/or bassinet

Crib mattress

Darkening curtains

Swing

Baby monitor

Swaddles

Receiving blankets

Sleep sack

Changing table or dresser

Changing pad and covers

Diapers

Wipes

Portable changing pads

Diaper cream

Diaper pail

Car seat and stroller system

Diaper bag

Baby wrap or carrier

Medicines

Baby toiletries and household supplies

Practical baby clothes

Burp cloths

Breast pump and pump parts

Hands-free pumping bra

Milk bottles and nipples

Pacifiers

Bottle drying rack

Nursing pillow

Nursing tops and bras

Bibs

Formula

Baby bathtub

Washcloths

Bath towels
One of the reasons for keeping your baby's growth in mind lends itself to budgeting. It's only natural to see an adorable, fun-sized item on the hanger and want to splurge on it. But can you afford to do that more than once or twice?
As a new parent, you'll want to save your money for the necessities: diapers, wipes, formula if you're not breastfeeding, and more. It's essential to stay practical, buying items that fit well for longer (i.e., stretchier material) or are reasonably priced at the least. 
This point goes for anything from the neck down—shirts, outer layers, shorts, onesies, even socks and shoes. Of course, items like hair accessories have natural longevity and will be able to fit your baby's head for a long time.
Whenever you want! Gathering some pieces of clothing before your baby arrives can be a nice activity and a way to bond with your little one.
That said, if your baby has yet to be born, don't splurge on a zillion newborn-sized onesies — some babies never fit into the "newborn" size or grow out of it quickly.
Clothes should be comfortable, soft and easy to take care of.
Stretchy jumpsuits that fasten at the front are best, as well as tops with envelope necks, which are easier to get over your baby's head. Jumpsuits with zips can make dressing your baby quick and easy too.
Clothes made from cotton are a good choice. Cotton clothes will keep your baby cooler in hot weather than clothes made from synthetic fibres. Cotton also washes well and is gentle against your baby's sensitive skin.
It's also important to look out for clothes with a low fire hazard label. Newborn rompers and jumpsuits should have this label.
Sustainable material is one that's produced in a planet-conscious way. These create precious materials for baby items and toys without sacrificing natural resources.
This means they might be made out of recycled materials, like rPET (an Elva favourite), recycled cotton ( which helps reduce water and energy) or organic GOTT certifies linen (which uses 100% of the flax plant, so nothing goes to waste).
Sustainable baby materials offer a win-win situation. Why? Well, the fabric is incredibly soft, soothing and comforting whilst it also reduces your carbon footprint. So, mums, you'll feel great when you do your bit to secure a greener, cleaner future.
Lily and Dot - Baby Shop Hobart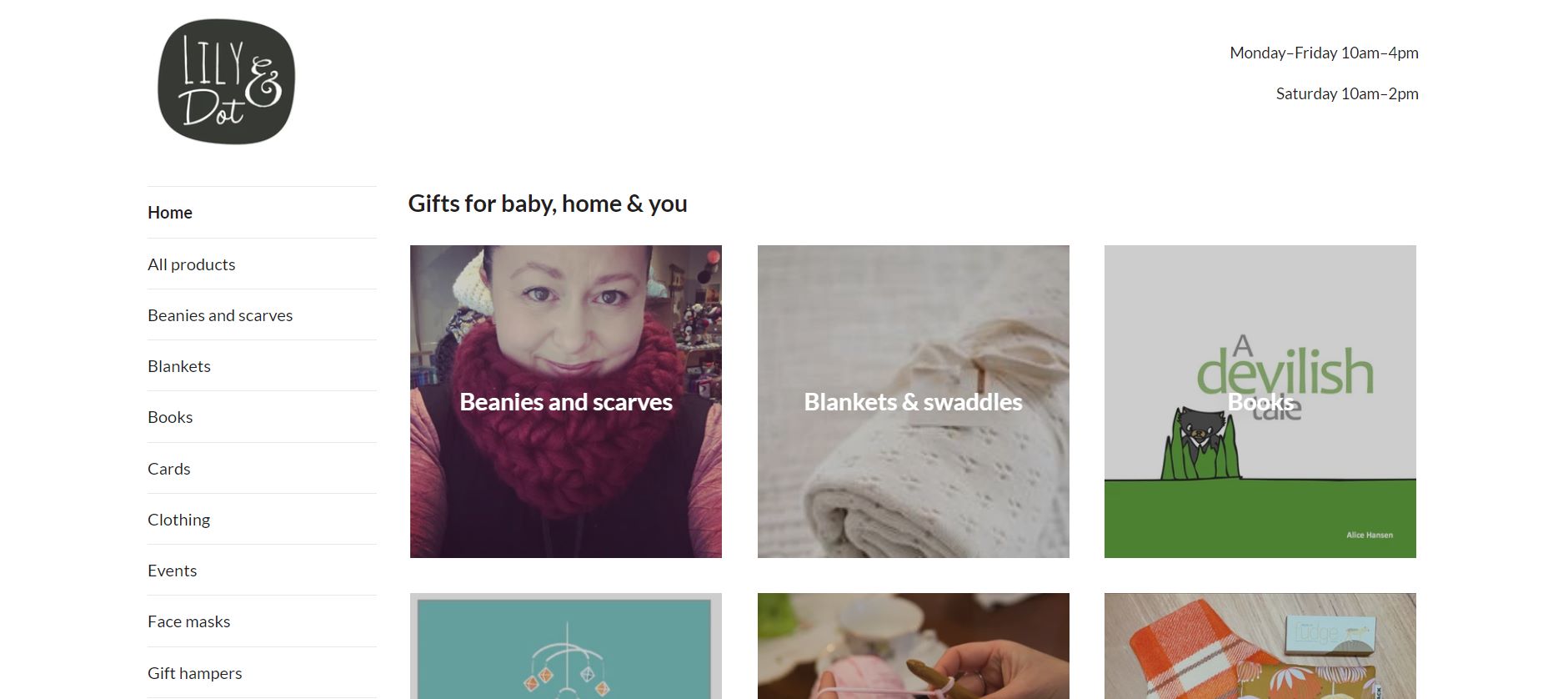 0450 944 241
Our story
Welcome to our gift collection for baby, home and you, sourced from Tasmania and beyond.
Lily & Dot is named after my late grandmothers, who taught me to sew and crochet – traditional crafts that inspire both our gifts and our popular 'crafternoon' program.
Online and in our Midtown Hobart store, you'll find jewellery, crochet blankets, baby clothes, ceramics, softies, storybooks, candles, cards and exclusive handmade gifts.
Visit our Facebook page for upcoming craft workshops held at the spacious Basket & Green Café, opposite our little store, or ask about a private group class and learn a skill for life over tea and treats.
Katinka
Baby Bunting - Baby Shop Hobart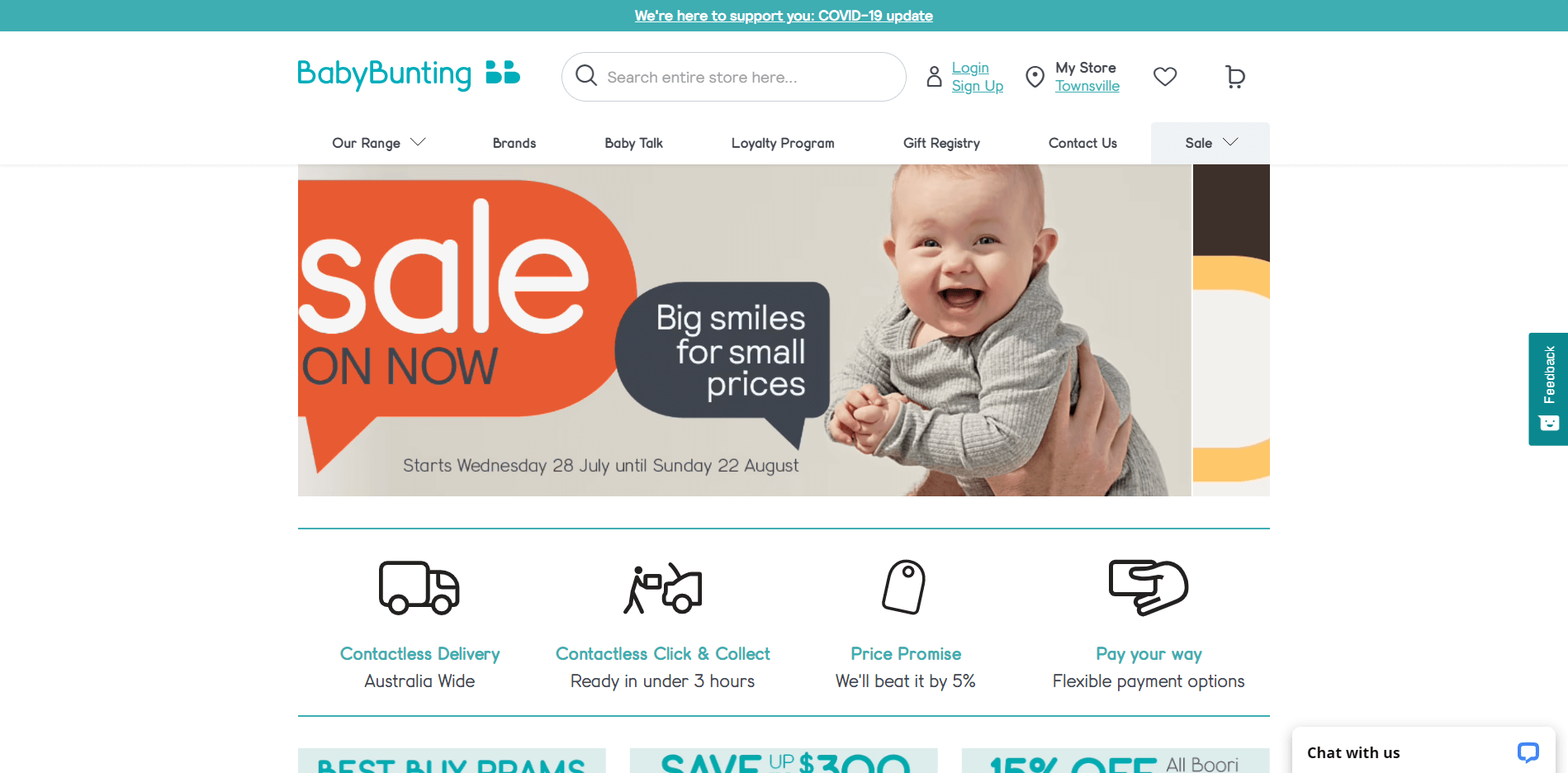 1300 422 291
Established in Melbourne as a family-owned business in 1979, Baby Bunting is now Australia's largest specialty nursery retailer and one-stop-baby shop.
From humble beginnings with a single store in suburban Balwyn, Baby Bunting now employs more than 700 people across its 50 national superstores and 11,000sqm warehouse in Melbourne.
We pride ourselves on providing our customers with excellence in service, expert advice, great quality, and value.
As a specialist retailer, we cater to parents with children from newborn to three years of age. With over 6,000 lines, we provide parents with the greatest range in prams, car seats, carriers, furniture, nursery, safety, babywear, manchester, changing, toys, feeding, and much more! We offer an unrivalled choice across all the best brands, including Bugaboo, Silvercross, Steelcraft, Britax Safe n Sound, Maxi Cosi, Infasecure, Ergobaby, Boori, Oricom, Medela, Bonds, Huggies, Bright Starts, and more!
Our parenting rooms - equipped with a microwave, change table, baby scales and glider chairs enable parents to attend to their baby's needs in comfort. These elements, coupled with onsite parking and a strong focus on customer service, provide parents with an enjoyable experience and a unique shopping destination.
We also offer a variety of services, including gift registry, click & collect, accredited car seat fittings and lay-by.
Visit us in-store or shop online!
BONDS - Baby Shop Hobart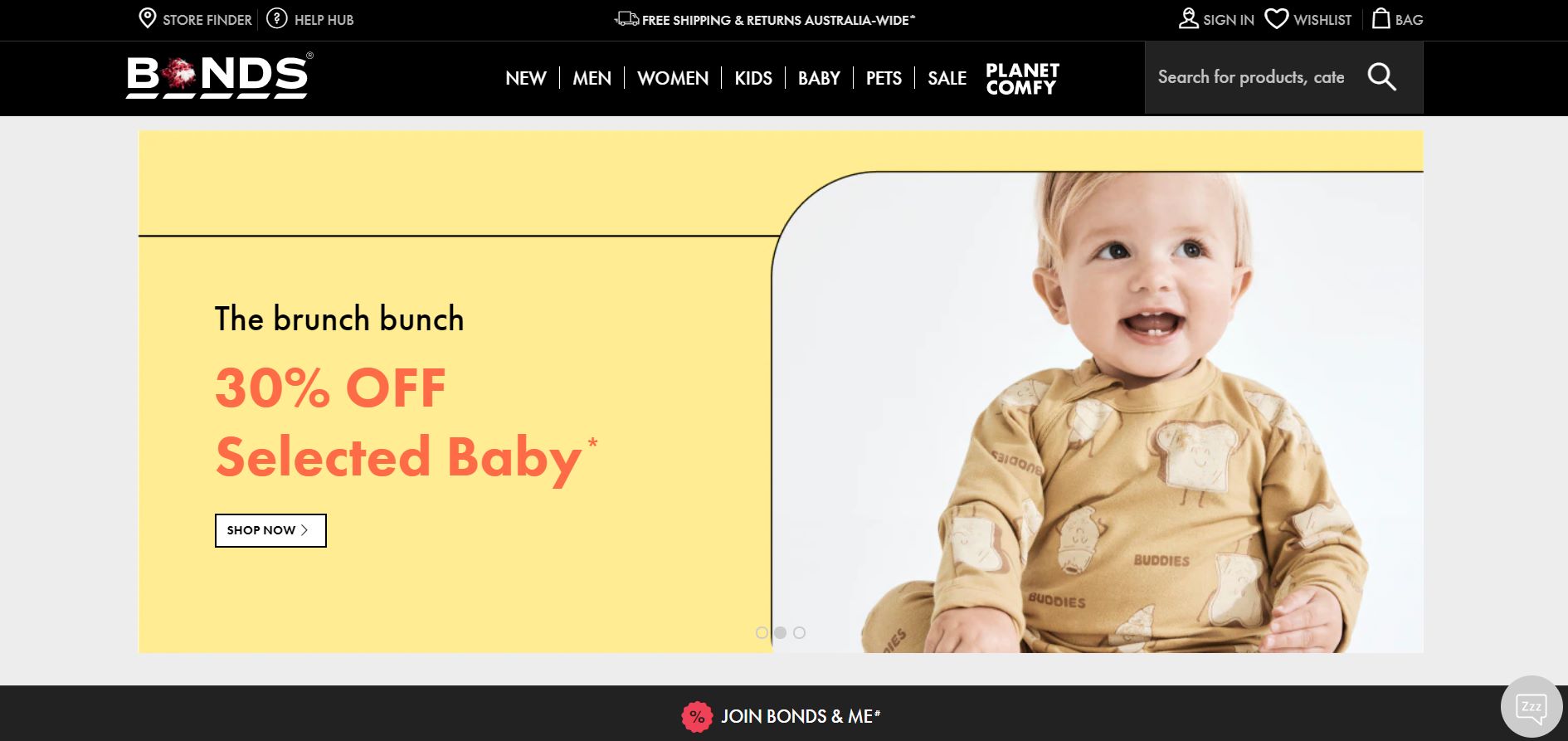 (03) 6234 3743
SHOP BONDS FOR THE COMFIEST CLOTHES ONLINE, UNDIES ONLINE AND SOCKS ONLINE.
Bonds Australia online offers the comfiest men's, women's, kids' and baby clothes, undies and socks at affordable prices. With everyday wardrobe essentials including tees, hoodies, and socks, Bonds has a style for every member of the family.
Bump up your basics with the Bonds range of men's and women's underwear, bras, trunks and briefs. Browse our extensive collection of men's and women's clothing, including trackies, shorts, activewear, swimwear, sleepwear and more. Step out in comfy style in our wide selection of men's, women's, kids and baby socks and tights. Update their everyday essentials with our adorable range of boys' and girls' trackies, hoodies, tees, skirts, dresses and more. Babywear is what Bonds does best. Stock up on all your must-haves for newborns and toddlers, including baby clothes, Zip Wondersuits, socks, underwear and more.
With so many comfy options to choose from, Bonds is the go-to place for all your wardrobe needs. Start shopping now!
Mother Goose - Baby Shop Hobart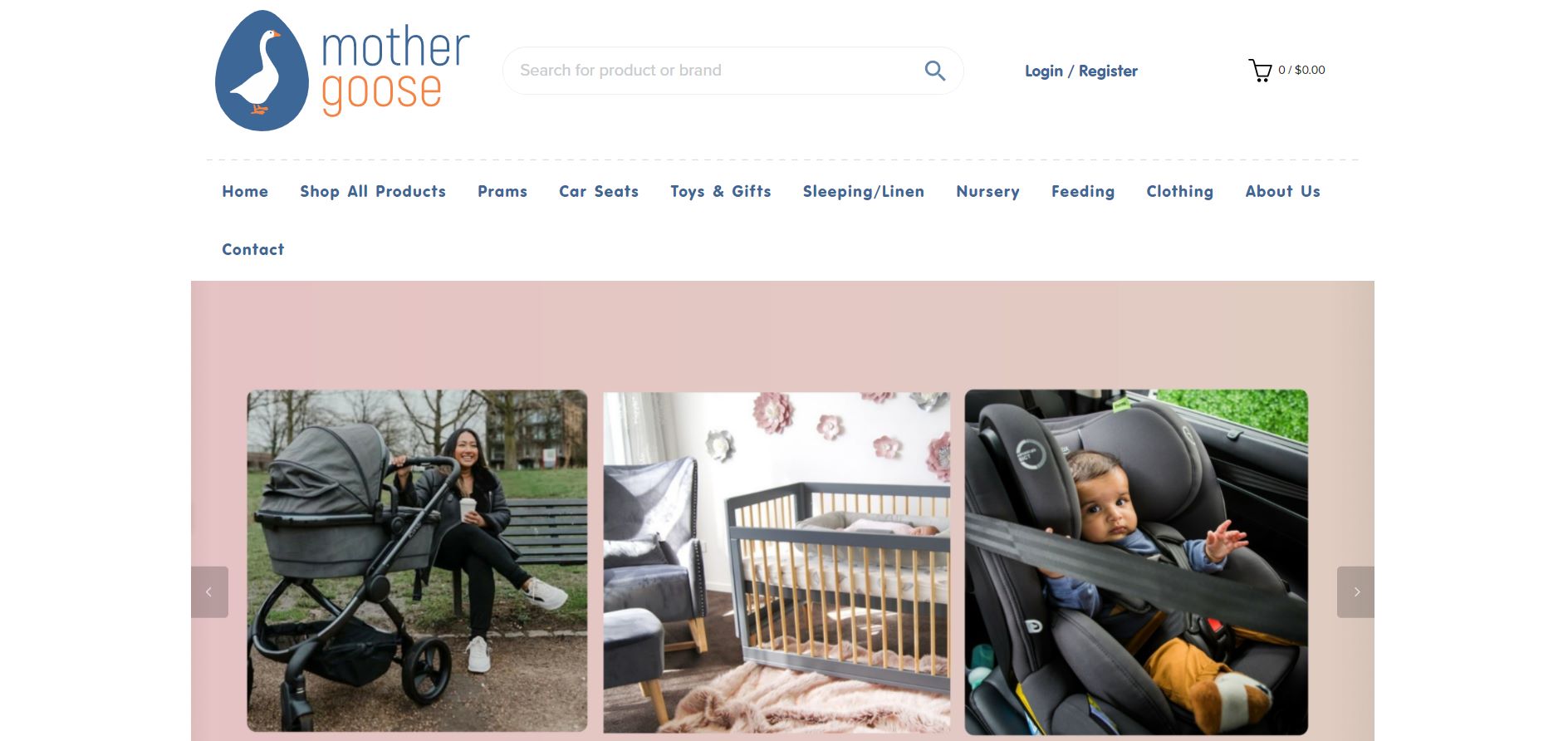 (03) 6229 1809
Mother Goose is a family-owned and operated business. Craig and Allison are locals and reside in the Huon Valley with their four children. They value honesty and customer service, two key elements their business offer. Mother Goose has been providing knowledge and customer service to the greater community for 25 years, with Craig and Allison taking over the business in March 2010.
Craig is passionate about car seat safety and keeping children safe on the roads. He is an accredited child restraint installer. With training through the Australian Child Restraint Institute. One of the fantastic services Mother Goose offers its customers is a professionally installed car seat, as all seats purchased at Mother Goose include a free installation. The message that needs to be communicated to consumers is that every situation is unique, and as such, what car restraint may be good for one child/car/situation may not be necessarily good for another, so before travelling with your precious cargo, it is worth popping in to speak to Craig or one of the friendly, educated staff at Mother Goose to see what restraint will best suit your child and your situations needs.
Having had four children themselves, Craig and Allison understand the decisions expecting parents and parents have to make and offer honest, valuable advice. The team at Mother Goose are like an extended family. Jenni Rhiannon, Sarah, Elisha and Brittany are all friendly, Knowledgeable staff whose key concern is meeting the customers requirements in a way that makes them feel a part of the Mother Goose family. We appreciate that this is a memorable time in people's lives, and we at Mother Goose aim to make it an enjoyable experience, a part of the parenthood journey that can be cherished. However, it is not only expecting parents who get to experience this wonderful customer service but anyone who walks through the door. Further to their fantastic customer service, knowledge, free accredited car seat installations on seats purchased at Mother Goose, they also offer 6 month layby terms.
Ultimately, as only 'Mother Goose' can, we will look after you and your family.
Adairs - Baby Shop Hobart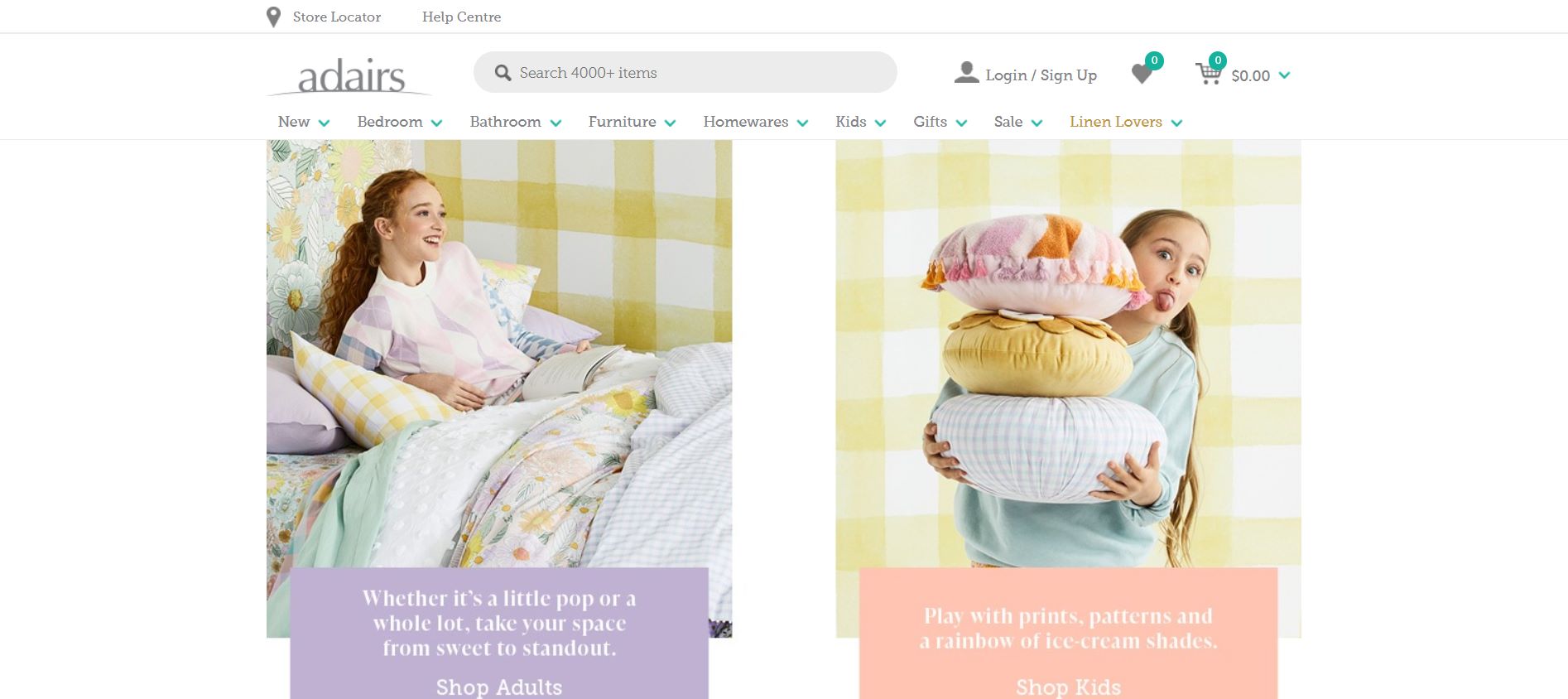 Adairs is a specialty retailer of homewares and furnishings, and our purpose is to inspire you to make your home better: better to live in, better to touch, better for all your everyday moments. Adairs began as a family-owned brand back in 1918, and we're still a family at heart. We value our Linen Lovers community, which we also see as family, which continues to grow every day, and we welcome every member who joins our community.
Our biggest pride and joy is sharing new season arrivals with you and collaborating with local Australian artists to offer unique pieces for your home. Our product range, our friendly team, our expertise and our keen eye for quality & design are all here to help you create the home you love. We are passionate about giving you the confidence and creativity to make your home an extension of you.
Our Community
Adairs is committed to supporting the community that supports us through a variety of initiatives.
Orange Sky Laundry
We love and appreciate the safety of a home. Currently, there are 116,000 people in Australia experiencing homelessness, so we've partnered with Orange Sky, who are helping to positively connect people experiencing homelessness through free laundry, showers and conversation. You can help us support Australians in need by making a donation today at any of our stores, no matter how big or small. You can also choose to take home your shopping in an Adairs reusable bag, all designed in-house to suit your style. 100% of profits from the reusable bags are donated back to Orange Sky.
Bushfire Relief
Our hearts go out to all families, communities and wildlife devastated by the bushfires across Australia. With many thousands affected by this disaster, the Adairs Retail Group has made a donation of $50,000 to the Australian Red Cross to support our communities and assist in their recovery. Whilst there is urgency for immediate donations, Adairs recognises the journey to re-build these communities will take time, and we will continue working with charity partners to support this process.
Our Environment
Reusable Tote Bags It's time for a change. We are introducing reusable totes across selected stores to reduce the use of plastic bags. Exclusively designed in-house, they come in different colours and prints to suit your style. We guarantee you'll sleep better knowing you're helping the environment, and at a small cost, they have a big impact. We would love to encourage change in whichever way works for you, and we welcome you to reuse old bags that you may have at home to carry your Adairs purchases in. 100% of profits from the reusable bags are donated back to Orange Sky.
Our Sponsorships
Adairs are a proud sponsor of the Deakin Melbourne Boomers Women's Basketball Team since 2018. The Deakin Melbourne Boomers have been a part of the Women's National Basketball League (WNBL) since 1984, making the club both the oldest WNBL club and the longest-running elite-level women's sports team in Australia. Both Adairs and the Deakin Melbourne Boomers have shared values committed to supporting women in sport and empowering women in the community, on and off the court.
Toys to Enjoy - Baby Shop Hobart
03 62247183
At Toys to Enjoy, we sell toys that rekindle treasured memories and create wonderful new memories for the next generation.
Toys to Enjoy was established in 1985 by Loretta Olsen. Her view was to sell wooden toys, other classic toys and nautical gifts.
From rag dolls (some locally made), wooden toys, such as trucks, trains, blocks, clockwork toys and doll houses, we stock toys that many generations have loved to play with.
Our wooden toys are ethically sourced and have non-toxic paint.
In a disposable world, it is great to show children that wooden toys can be repaired rather than being thrown away.
We search the world to source the best classic and wooden toys and stock from over 30 different countries all over the globe.
Having sold classic and wooden toys for over 30 years, we have sound knowledge of which toys are best suited for different age groups and are happy to advise you.
We have seen the children of our early customers become lovely adults, who proudly tell us that their children love the truck/train/dollhouse from their childhood. They bring them into our shop to buy new toys to create, pass on to siblings and neighbours' children, or be retained for the next generation.
Classic and wooden toys nurture creative thinking through imagination play, which is essential for brain development. The durability of our toys means that children can play with them for years and, the only limit is their imagination.
Playing with classic and wooden toys helps a child with their gross and fine motor skills, problem-solving skills, creative thinking senses, manual dexterity, and manipulation of objects.
Toys to Enjoy for Classic Toys
Experience the excitement of an old fashioned toy shop at Toys to Enjoy, the Galleria Building, Salamanca Place.
A family-owned specialist shop for classic toys, e.g. Wooden toys (trucks, cars, trains, blocks, dollhouses, parking garages, fire stations, push along, pull along, pulldowns, tool kits and benches, mobiles, shape sorters, abacus and alphabet frames, spinning tops, puzzles, rocking horses and chairs, cradles, block trolleys, tea sets etc.); rag dolls, baby dolls, and plush toys; jack in boxes; cloth books; puppets (string, hand and finger); and tin toys (classic windups including robots, spinning tops, tea sets, 'planes). We also stock a wide range of nautical gifts (dioramas, tall ships, clinker-built dinghy's, sail boats, pond yachts etc.).
We search the world to bring you the best classic toys. We sell exceptional quality, safe toys from over thirty different countries at reasonable prices. Our toys are suitable from birth to 100 years of age.
Classic toys link the generations, foster learning through play, inspire individuality and reward curiosity. We want children to enjoy good quality toys that create happy childhood memories. Our classic toys help reduce screen time; improve dexterity, hand-eye coordination and imagination; modelling real-life to work through situations, and educate (at an age-appropriate level) in preparation for school.
Toys to Enjoy is a family-owned and operated business. It is a well-loved and longstanding toy shop, established in 1985. We offer friendly, knowledgeable service (we were finalists in the Hobart City Council Customer Service Awards the only year we entered, we have received numerous certificates, letters of appreciation and a National Award for not selling toys of violence). Our backgrounds are in teaching, design, and safety. We are open every day (Monday to Friday 10 am – 5 pm, Saturday 10 am – 2 pm, Sunday 10 am – 4 pm) and are happy to post items anywhere. We also deliver within central Hobart and the Northern suburbs for purchases over $180.
CLUCK - Baby Shop Hobart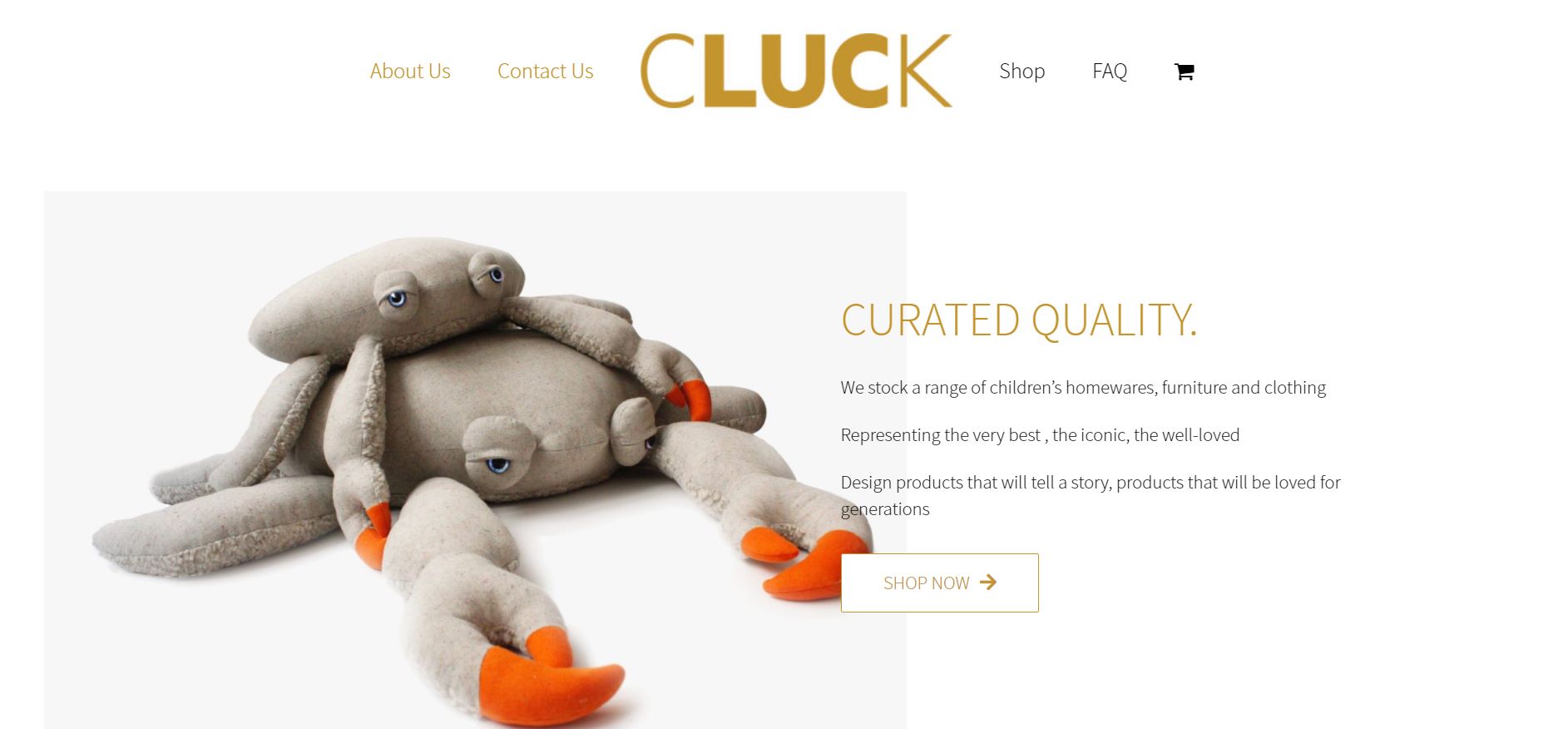 03 6224 1619
Welcome to CLUCK – a children's concept store by LUC design.
Our award-winning store LUC was established in 2013 by Lucy Given, the store has received national acclaim and international awards for the well-curated and presented a selection of iconic and luxurious home products and fashion.
We have often been asked by customers in our LUC store if we sold children's products, and to be honest, it was not something Lucy had considered.
However, after much conversation and consideration (and a few new family members arriving at team LUC during 2020), We believed there was a gap in the market for quality (and interesting) children's products.
We also believed children's products could easily be a 'stand alone' enterprise – rather than just being another 'department' within our existing store, with many of our existing suppliers carrying children's products within their ranges it was an exciting prospect to be able to offer such iconic design in a new environment.
Another retail space presented itself to us soon after we relocated to our beautiful new store in Macquarie Street – in fact, right opposite us! It was a no-brainer to take both sides of Hobart's busiest street and create not one but TWO beautiful retail spaces.
We have sourced some exciting new brands and proudly showcase our existing design brands, and, like our LUC design store – we provide products that will be used everyday, be loved for a lifetime and be passed down to siblings or other generations for many more life times.
Our mission is to offer classic, well-made, product that withstands trends, to provide heirloom pieces that will not be discarded.
Seed Heritage - Baby Shop Hobart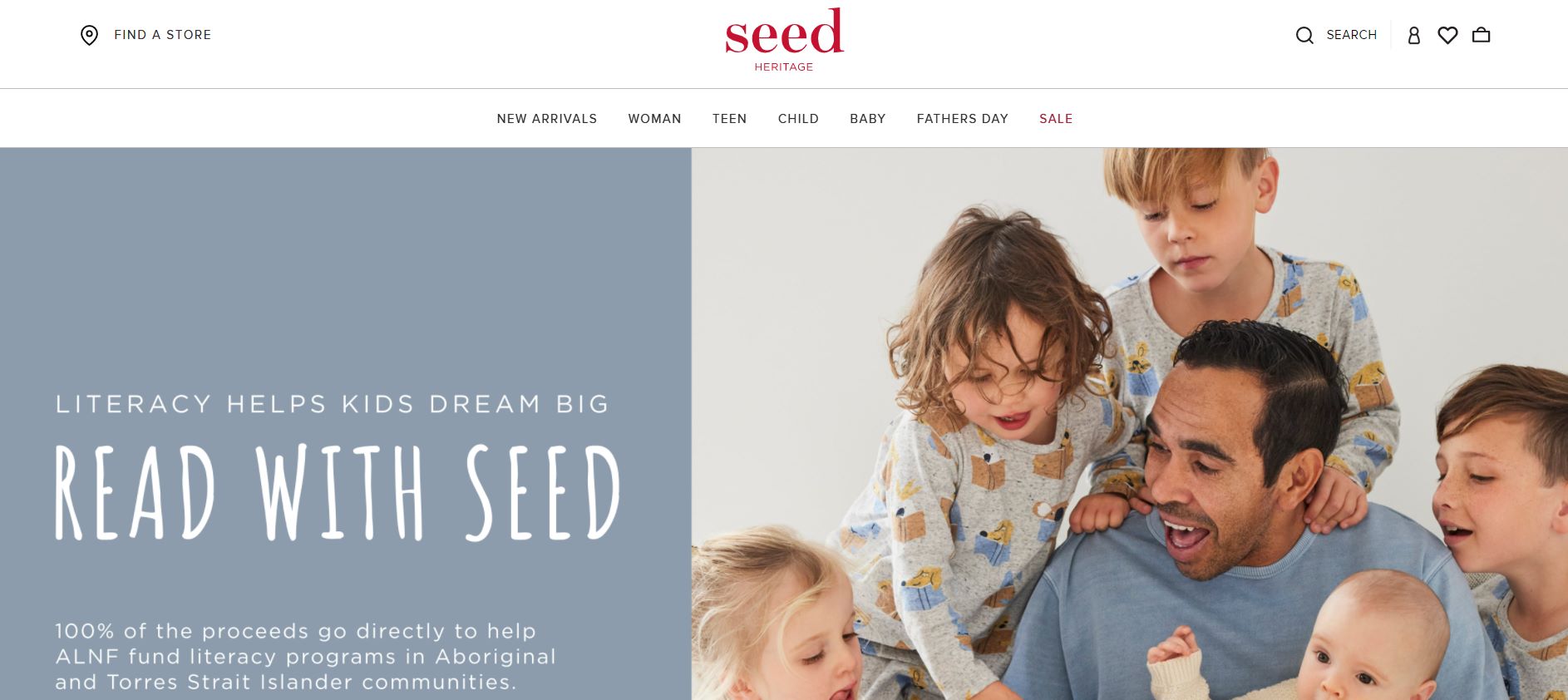 03 6213 6109
Seed Heritage seeks to provide an unparalleled shopping experience and brand aesthetic, comprising of beautifully designed apparel, accessories and footwear for women, teen, child and baby.
Our beginnings…
Established in 2000, Seed Heritage began as a childrenswear boutique with a single shopfront in Armadale, Victoria. From day one, our focus has been on beautiful, unique designs and products made from natural fibres and fabrics. Our range expanded to include a baby collection, followed by women's apparel and later a range for teens. Since then, we've launched Collection, a women's capsule range of sophisticated, luxe, trend-led styles, and Seed Party!, a fun, sparkly range for girls aged 1 to 10.
Our philosophy ….
Seed Heritage seeks to connect with customers by offering one-of-a-kind and compelling retail experience. Our approach is simple: We believe in great design, high-quality products and exceptional customer service.
Our stores….
Our stores are designed to capture the rich history of our brand while reflecting our signature pared-back style. Seed Heritage stores are comprised of 'pods' – key product sections inspired by our brand name – creating a considered, engaging space that both adults and children can enjoy.
Our designs …
Seed Heritage has become a destination for all your sartorial needs. Collections are updated monthly, ensuring the new product is always available. Our womenswear is accessible while still maintaining a strong design aesthetic and modern edge. Our younger customers enjoy options that are both classic and playful. We have wardrobe staples plus extra fun party pieces for those times that call for something a bit more special. Every piece is exceptionally designed and made to last.
Our greatest supporters …
Over the years, Seed Heritage has garnered a loyal following from those shopping for themselves, their little ones, and others too. We now reach a global audience, boasting more than 200 stores in destinations including New Zealand, Hong Kong and Singapore. Our online store is always open and ships worldwide.
The future belongs to the things that grow.  
Country Road - Baby Shop Hobart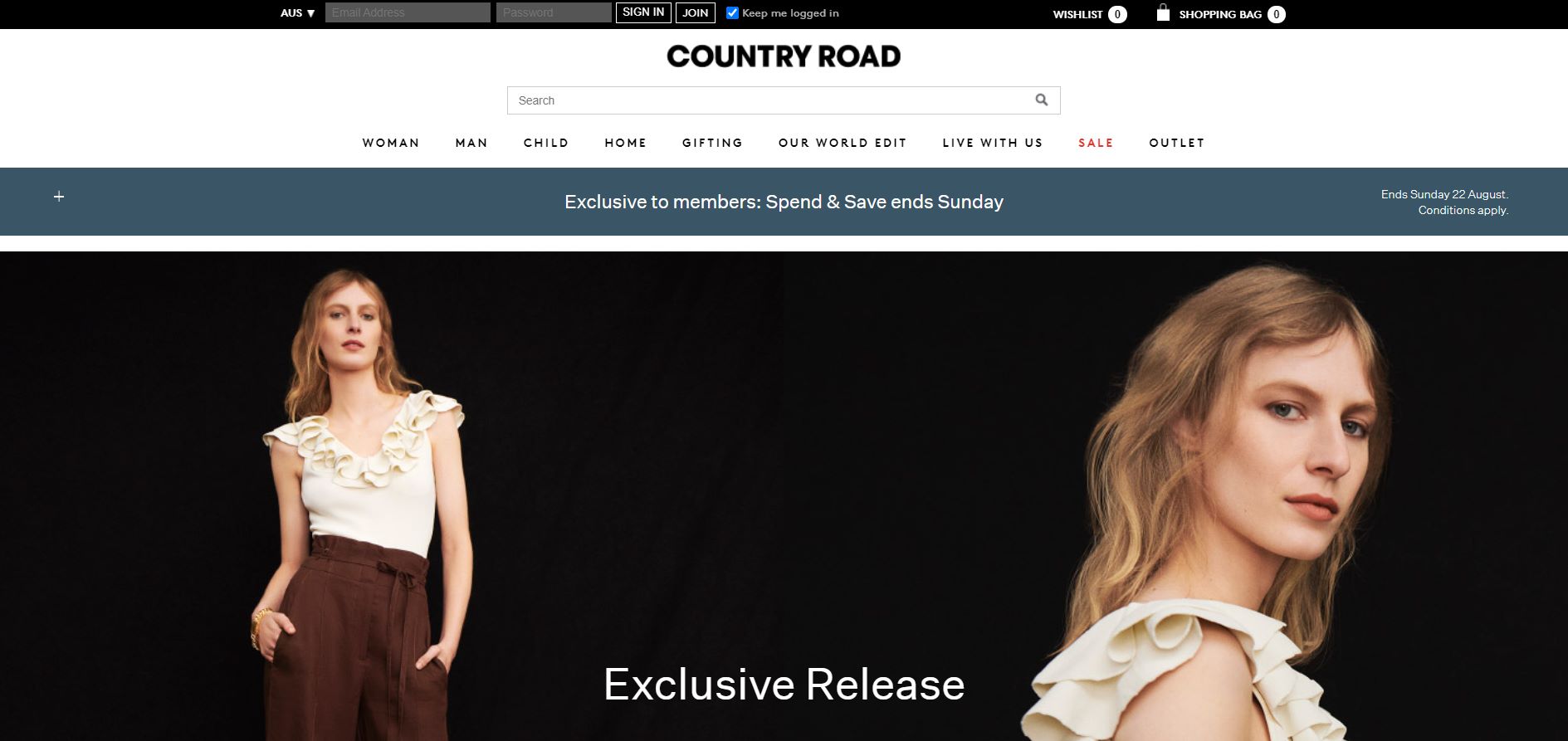 03 6234 7278
Inspiring a modern Australian lifestyle is at the heart of everything we do.
We're here for every moment, and our philosophy is simple: we design beautiful products that are made to last.
Our premium fabrics and quality craftsmanship inform every design across Woman, Man, Child and Home.
We are Country Road, and we invite you to live with us.
Our History
Country Road began as a team of four who set up shop in Hawthorn. Led by Stephen Bennett, they started with a simple shirt, known now as a Country Road icon.
The name was chosen to reflect the brand's ethos; Country was chosen to signify a strong desire to create a product with authenticity, while Road acknowledged the way forward.
A simple aesthetic became synonymous with the brand. The label quickly evolved into Australia's first lifestyle brand, styling first our wardrobes before reworking our homes.
From start to finish, inspiration to final product; every product is considered well-constructed and hard-wearing, yet effortless in approach.
The Teddy Bear Shop - Baby Shop Hobart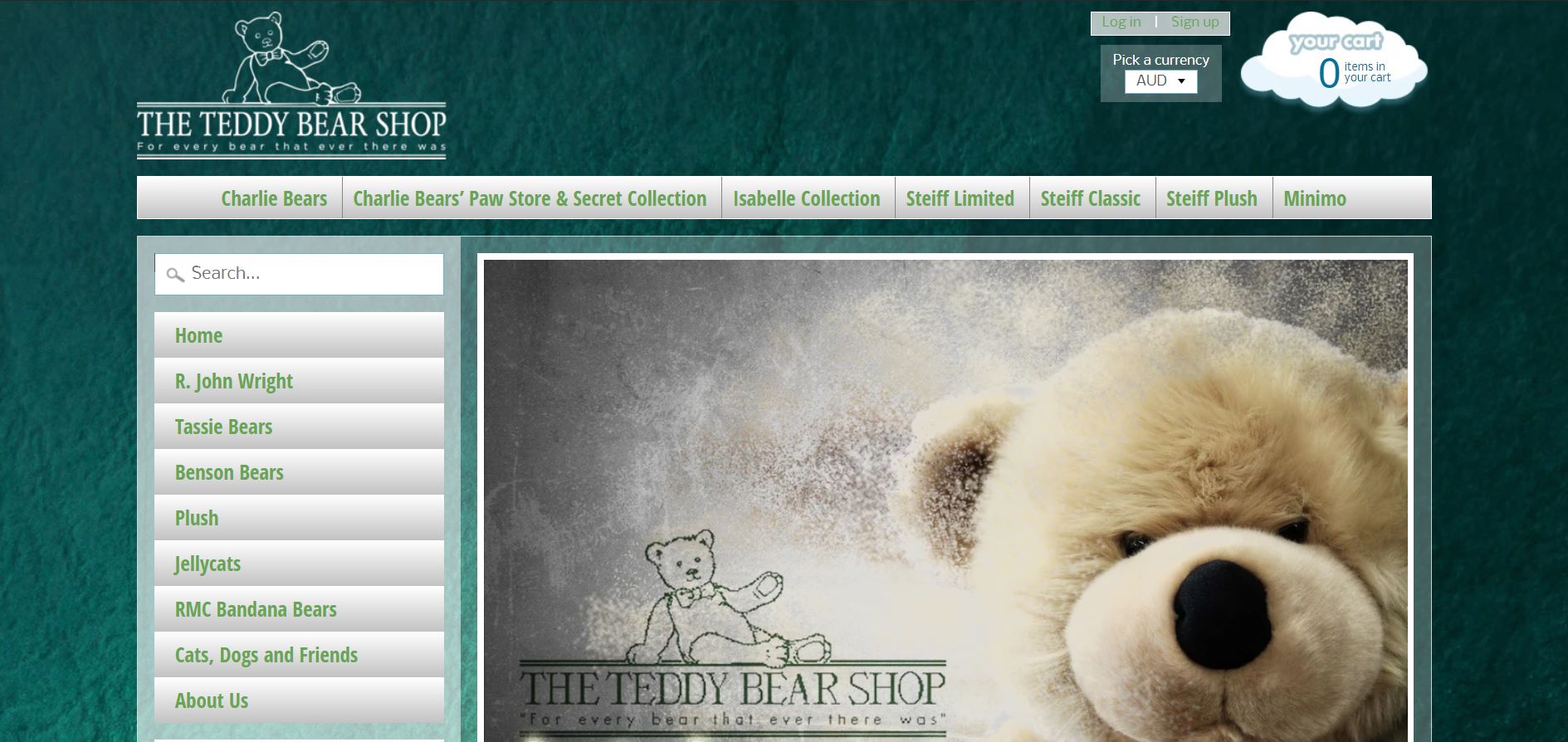 03 6234 7719
The Teddy Bear Shop Hobart has been established for over 37 years and offers you a vast array of Teddy Bears, Soft Toys, Figurines and Collectables for you to choose from. Teddy bears are among the most cuddled and beloved of childhood and adult companions. If there is a specific bear that you're looking for or wanting to add to your collection and are having trouble finding it, contact one of our knowledgeable and friendly staff, who will endeavour to find it for you through the extensive contacts that they have. 
Have a special occasion? Then why not contact us about how best we can meet your individual needs: every bear from The Teddy Bear Shop will come complete with its very own personalised birth certificate!
Buying a teddy bear is a wonderful experience, and we're here to help in any way that we can.
We are open Monday to Friday 10 am 'til 5 pm, & Saturday 10 am 'til 3 pm. 
The Teddy Bear Shop is situated at 145 Collins Street, Hobart. We are close to Centrepoint Carpark and one block from the CBD.
The Teddy Bear Shop is owned by Ma'at Trading, a Tasmanian family partnership. Our ABN is 80 283 465 969. Ma'at Trading and The Teddy Bear Shop are registered with the Australian Business Register.
Ankalia Textiles - Baby Shop Hobart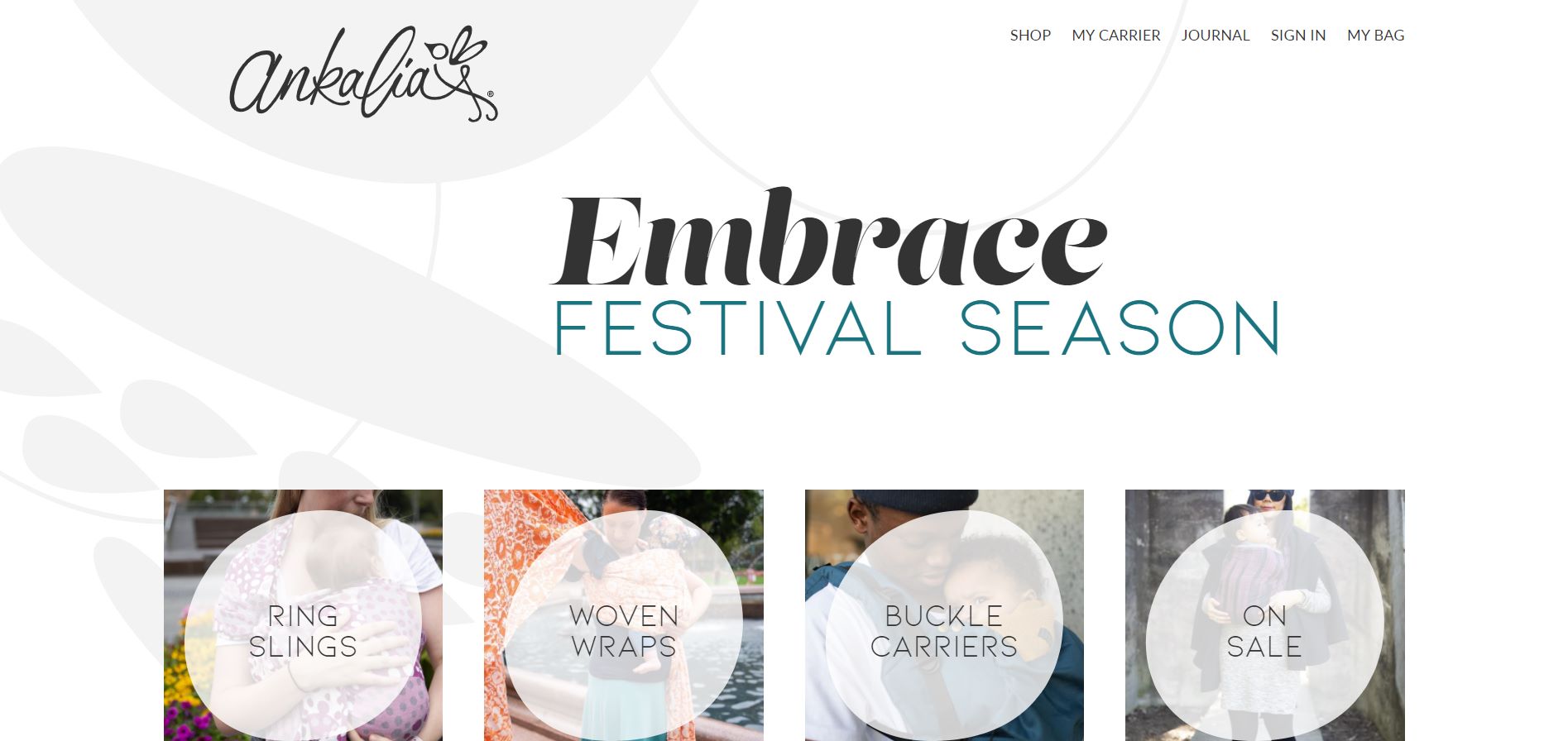 Anaklia Textiles is proudly Australian made and owned. We offer a range of babywearing ring slings, buckle carriers, woven wraps and accessories for all caregivers and children. We are proudly accredited by the International Hip Dysplasia Institute and winners of the 2017 Telstra Business Awards. Ankalia also respects Aboriginal and Torres Strait Islander people and cultures. The company acknowledges the past, present and future Traditional Owners of the land it works on.
Founded in 2014, Ankalia Textiles has quickly established itself as Australia's leading manufacturer of Australian-made baby carriers. Kellie has built many of her own personal ethics and values around sustainability and reducing waste, slow fashion, supporting women in business and supporting Australian companies into Ankalia's business practices.
Our team works with local suppliers, artists and textile mills to craft, design and weave premium-quality baby carriers and products designed to take caregivers through many seasons of babywearing and parenting. Ankalia carriers are Australian designed, woven and hand-finished.
Baby Restraint Fitters - Baby Shop Hobart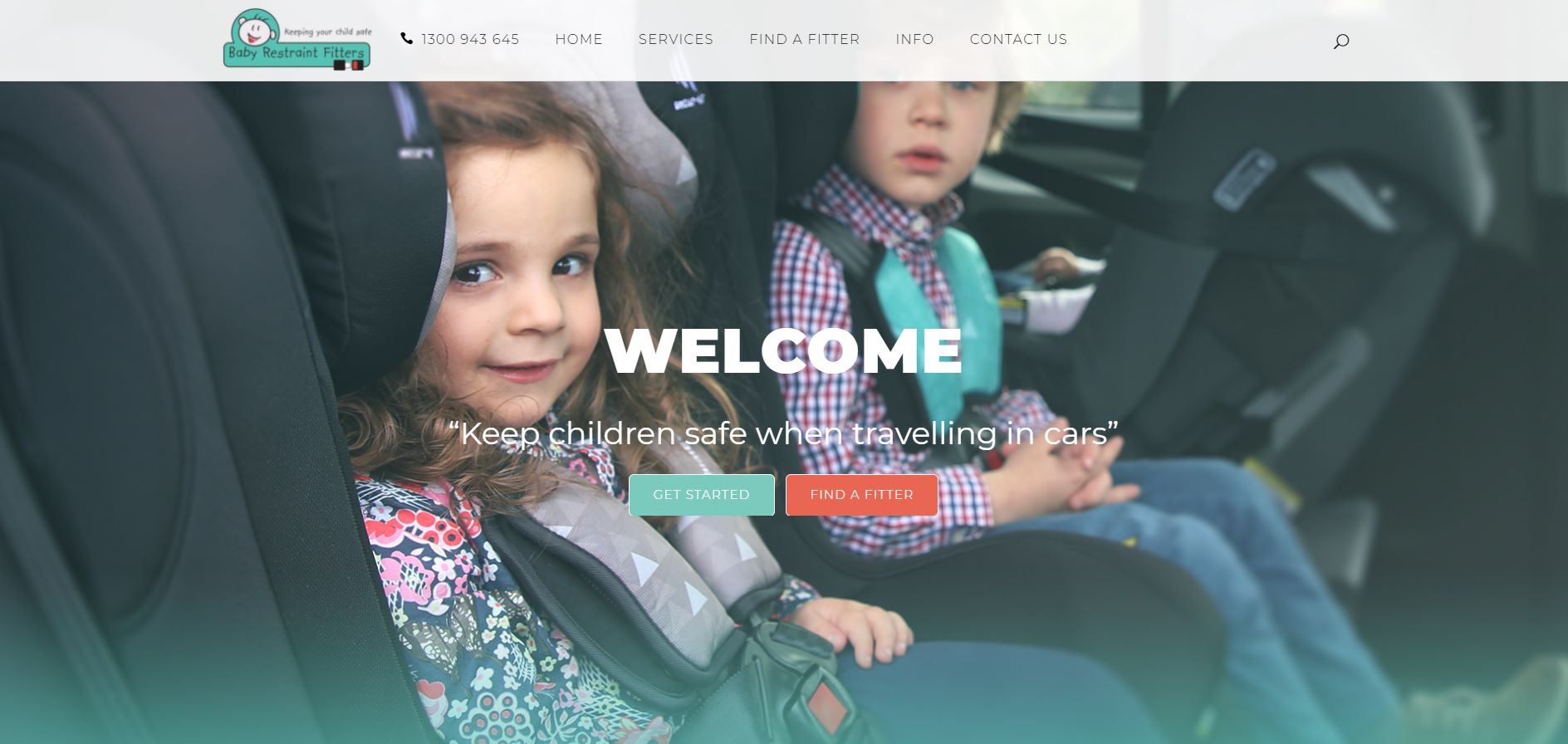 1300 943 646
Baby Restraint Fitters by Hire for Baby is an extension of our complete baby hire equipment service… our service now extends to include child car restraint fitting for your personal equipment. Hire for Baby brings you a site dedicated to understanding child car restraints with an emphasis on the importance of ensuring our children are safe whilst travelling in cars.
Our franchisees are professionally trained and accredited by organisations including Mobility Engineering, ACRI and WA Roadwise. We deliver a service that ensures that car restraints are fitted correctly. This service includes ensuring that you understand how to use your child restraint correctly.
Whether we install your own car restraint or hire from us, we can assure you the highest quality installation and service is provided.
With the national car restraint laws in effect since November 2009 (NB: this is different for each state) regarding child restraints, Hire for Baby are offering an opportunity for families that are perhaps unaware of the current and future requirements regarding child restraints to understand the new laws and have their restraints correctly inspected and refitted, if required for a small fee.
The new laws will require children to be appropriately restrained in a motor vehicle in a suitable approved child restraint from birth up to the age of seven.
The Law Also Deals With The Issue Of Children Sitting In The Front Seat Of A Vehicle.
Children up to four years of age must be restrained in the rear of the vehicle (where the vehicle has two or more rows of seats);

Children aged between four and seven years will not be permitted to sit in the front seat unless all other seating positions are already occupied by children under seven.
By specifying the type of restraint to be used at different ages and where children must be seated in a vehicle, the new laws will reduce the risk of injury caused by the use of unsuitable restraints for a child's size. Source: RTA
The authorized training for Hire for Baby Franchisees is an accredited training that has been delivered by Australian Safety and Engineering Training in conjunction with Mobility Engineering, which is the same organisation that conducts the training for the RTA fitting stations. Their training, listed as 69800 – Course in Selection and Installation of Child Restraints and their accreditation can be found by following this link:https://training.gov.au/Training/Details/69800
Furthermore, all of our organisations and franchisees are suitably insured for these activities.
As a result, we believe that our organisation offers equal service to that of the RTA network.