Cot bed safety is always a parents' biggest concern, especially because of dangers such as SIDS. We'll spend hours trawling websites for the five-star kid's products and pour over reviews and recommendations before parting with our cash, knowing that we're making the best possible choices for our child. Unfortunately, however, sometimes companies can get it wrong.
When buying a cot bed for your little one, it is best to make sure it's as safe and as practical as possible. It's all about keeping your baby safe and comfortable, so they have the best sleep possible.
Here are three crucial cot bed checks you really must do before buying to make sure you've got the best cot bed safety possible.
We recommend that your baby's cot mattress be at least 10cm thick. Your baby's weight will be concentrated on a small area of the mattress, and you don't want their body sagging through and hitting the base underneath.
For the first six months of your baby's life, the safest place for them to sleep is in a cot and the same room as the person looking after them for all their sleep.
Most children move from a cot to a bed between 18 months and 3½ years. There is no set time to move your child, but it is probably safest to wait until they are 2. You might consider moving your child into a bed when: they have outgrown the cot.
Place your baby on their back to sleep, in a cot in the same room as you, for the first six months. Keep your baby's head uncovered – their blanket should be tucked in no higher than their shoulders.
It's different to a cot in that a crib can have a rocking that helps soothe the baby, and importantly it's larger than a Moses basket but immobile. Do many parents wonder how long they can use a crib? Well, it's smaller than a cot, so the baby won't be in there past the point of them sitting up, which can be from 5 months.
Advantages of Using a Baby Cot
Talking of parenting, I want to tell all fellow parents that you have committed yourself to the most rewarding yet most arduous task in life - that is, the task of parenting a new baby, of raising a child. 
A country's culture and practices impact parenting and raising a child as much as it influences food and festivals. These influences can be seen in the way we dress our baby, how we feed our baby, and how we make small babies sleep or children sleep.
Co-sleeping is widely practised and is popular in the parenting style. As true with most things, opinion on children or babies co-sleeping with parents versus babies independent sleeping or babies sleeping independently in a cot differs from parents to parents.
There are many advantages of parents co-sleeping with babies. Many mothers find co-sleeping with babies a lot more convenient for managing night feeds. However, there are many arguments in favour of making the child sleep independently. And a lot of parents, mothers, and fathers will rage about how a simple piece of baby furniture, a baby cot, has improved their lives.
It, of course, boils down to personal choice, but if you are considering independent sleeping for babies, then it is advisable to invest in a good baby cot for your baby so that it can be used from day one of the baby's arrival. A newborn baby cot also comes with a lot of features and varieties, and it is recommended that you understand your options by having a look at baby cots online and then buying a baby cot.
A baby cot has a lot of advantages, especially for mothers who look after the baby alone for most of the day. The infant cot will not only get used during the nighttime but will prove to be a piece of very helpful baby furniture in managing your baby during the day as well.
There are many advantages to letting your baby sleep in a baby cot, like:
Baby can sleep more peacefully without getting disturbed:
When sleeping in a baby cot, your baby will be able to sleep peacefully and get a night of undisturbed sleep. Often, if your baby sleeps with you in the same bed, your or your partner's movements can disturb the baby's sleep, waking them up and, in turn, waking you up to put the baby back to sleep.
No danger of baby rolling off from the bed:
If you manage your baby alone during the day, sometimes going to the bathroom can also become tricky! If your baby is a few months old and is awake and you have to go to the toilet, then you will face the dilemma of how to leave the baby alone? But if the baby is in the baby cot, you can be sure that the baby won't fall off accidentally and hurt themselves as all baby cots have a railing for child safety.
Adding a few baby cot accessories like a child mobile to the cot will keep the baby entertained in the baby cot too! Till the time your baby does not learn to get up and stand on their own, you can easily let your baby sleep, play or lie down awake in the baby cot as you do other work or take rest yourself.
Sleep training of baby can be started right from birth:
Babies that sleep with their mothers ask to be fed more often during the night as the physical proximity with the mother, her smell, and the disturbances due to sleeping with adults tend to make the baby demand more night-time feeds. This frequent waking up in the night is detrimental to sleep training. Once the baby gets used to sleeping with parents, the habit will be very hard to break or change when they grow up.
For mothers who breastfeed their babies and babies who like to be breastfed multiple times during the night, using a baby cot attached to the bed is a good option. One can easily take care of the nighttime feeds without having to wake up fully or without making your baby too restless.
When your baby sleeps near you safely in the baby cot, you will be able to hear your baby's cries or stirring and immediately tend to your baby.
A baby cot will help you let your baby sleep safely, without them running the risk of getting accidentally hurt either by you rolling over them or accidentally stepping over their delicate body. 
Please remember for baby cot safety. You must make your baby sleep on their back in the baby cot to avoid the dangers of SIDS or Sudden Infant Death Syndrome. It is an important thing to remember and pay attention to when you make your baby sleep in the cot to ensure the safety of your baby.
There are different types of baby cots available in the market these days, and a lot of them can also be attached to the grownup's bed. This means that you can easily breastfeed your baby in the middle of the night without the need to get up and go all the way from your bed to your baby's cot. Baby cots come with adjustable side railings or foldable railing, which allow you to keep them next to your bed.
As you will use the baby cot, sure you will find more advantages as it is a piece of useful baby furniture to have in the house.
Also, remember that a baby cot can be used right from birth till your baby is double the height of the side railings of the baby cot. One can easily buy a baby cot online, and it is an option that will save you a lot of hassle.
Cot bed safety checks
Width between bars
The space between the bars should be no more than 6.5cm to prevent your baby from getting stuck. This is particularly important to remember when buying a second-hand cot bed, which might not adhere to the latest safety standards.
Height adjustable base
This allows you to alter the height as your baby grows, keeping them secure from when they can pull themselves up to stand. The distance between the top of the mattress and the top of the cot sides should be at least 50cm to prevent your baby from climbing out when they become more mobile. You need to make sure that your baby's arms or legs cannot get caught down the side of the cot or between bars.
Drop sides
It is worth considering whether you want fixed or drop-sides. US safety regulations on cot beds were changed in June 2011, banning drop-sides after many babies were killed after being trapped beneath them. British nursery furniture experts state that the differences in UK cot bed design mean that it would not be possible for incidents like those in the US to happen on a British-made bed – but if you're still worried, fixed-side cot beds are available instead.
Circulation
Some experts recommend cots with four sides that have bars to allow air to circulate freely around your baby when they sleep.
British Safety Standards Code
When buying a cot, you need to look out for the British safety standards code: BSEN716, which should be on all cots and the BSI number: BS 1877-10:1997 for the mattress for your cot.
Not only should you look at your cot when thinking about cot bed safety, but you should make sure the mattress follows British standards too. The firmer the mattress, the better. There's no need for a duvet or toys etc., in your little one's bed to start with either. Could you keep it simple and safe? Our guide to baby bed safety explains more.
Concerns surrounding kids' cot beds had come to light after a particular item was recalled from sale when it nearly caused the deaths of two young children. The Baumhaus Nutkin cot bed was recalled from sale in 2013 after two children were seriously injured. The Nutkin cot bed, by Baumhaus, was pulled from stores after the bed brought two young children very close to serious harm or death.
The concerns were the potential 'trap-hazards', i.e. places where children could trap their head and neck in the gaps at the top and their fingers in the drill holes. It was also concluded that children's clothes could snag on the sides of the bed, also potentially trapping them.
This Is What You Should Consider When Choosing A Baby Cot
Safety Rails
These beds are assembled in such a way as to ensure that no sides can be moved or opened. This is the most traditional type of cot bed. Beds with drop rails can be an excellent option for helping parents avoid back pain. Instead of bending down and lifting the baby out of the cot, you can drop the rails using a locking system located at the end of the rails.
Convertible Ones
Convertible cot beds are a practical option because they can be used as your baby develops. They also help toddlers to get used to sleeping in a bigger bed. Those fitted with adjustable safety rails offer several advantages. They prevent the risk of falling while offering young children more independence.
Choosing The Right Material
Cots with fixed safety rails are usually made of solid wood or plastic coating around the edges. For environmental reasons and to prevent health issues in children, an increasing number of manufacturers now prefer to coat baby cots with natural, allergen-free waxes.
Comfortable Mattress
Beds for newborns don't usually come with a mattress. Opt for a firm mattress to avoid the risk of suffocation. The mattress must be the same size as the cot. Opt for organic cotton if possible.
Style Matters
After months of planning the nursery, you do not want to place an old-looking, boring cot there. Ultimately, your choice of cot will come down to personal taste. Whether you're setting up a nursery or planning to set up the cot in your room, you will have to think about style.
The different types of cot mattress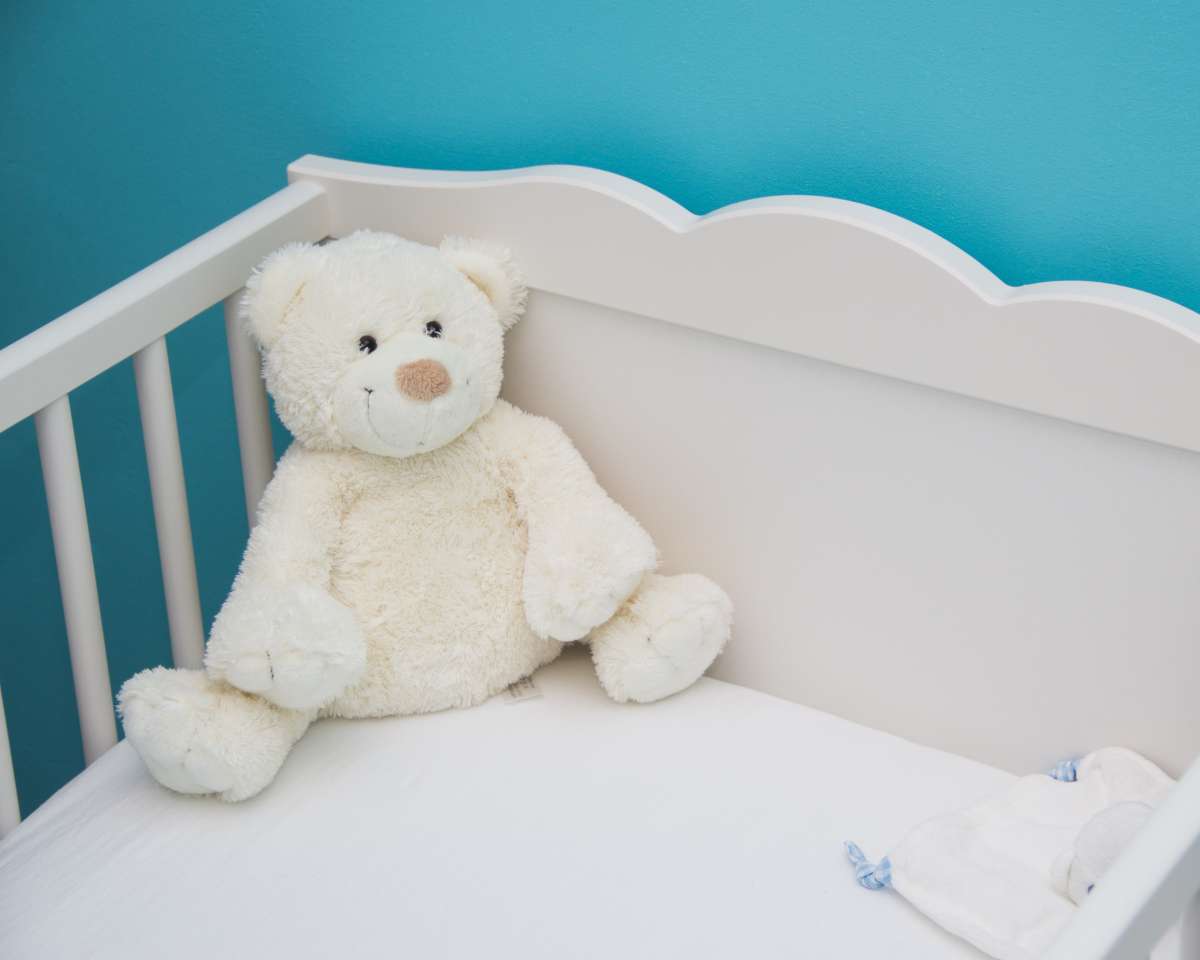 Foam versus spring? Spring versus pocket spring? Or natural? We discuss the pros and cons below.
Cot frame
Depth: the distance between the top of the mattress and the top of the cot sides should be at least 50cm to prevent your baby from climbing out when they become more mobile.

Cot bars should be vertical; if they are horizontal, your baby could use them as a ladder to climb out. Also, the distance between the bars should be no more than 6.5cm apart so your baby can't get stuck between the cot bars.

It is also recommended by some experts that a cot with bars on all four sides is better, as it allows air to circulate freely while your baby sleeps.

If your cot has a solid head and footboard with shapes cut out, check that your baby's limbs cannot become caught in any of the spaces.
Cot mattress
The Lullaby Trust recommends you buy a new cot mattress, or - if using a second-hand mattress - carefully check that it's clean, dry and free from cracks or tears. Your cot mattress should be firm, with no sagging and fit the cot snugly, with no gaps.

Mattresses tend to come in two sizes, standard and continental and should fit the equivalent sizes of cots commonly available in the UK.

The mattress needs to be kept as clean and hygienic as possible. You can either use one with a wipe-clean covering or a removable top panel that you can wash at a high temperature. Alternatively, you could use a mattress protector, which covers the mattress to stop it from getting wet if the baby dribbles or their nappy leaks.

Choose a mattress that feels firm rather than soft. Your baby needs support while he is sleeping. It should be no thinner than 8cm.

Check it conforms to safety standards - mattresses should carry the BSI number BS 1877-10:1997.

There are three main types of mattresses you can choose from: foam cot mattresses, spring-interior cot mattresses and coir cot mattresses. There are pros and cons to each of these. Do your research, test, touch and feel each type and decide what suits you and your family best.
Foam cot mattress 
Generally speaking, foam cot mattresses are the least expensive type. They're usually just a piece of high-density foam with a wipe-clean, waterproof PVC cover. Some will come with two sides: a cotton side and a wipe-clean side.  
Some foam mattresses have ventilation holes, but these aren't necessary, and you might also see hypoallergenic foam mattresses advertised. You'll see the type and strength of foam referred to in many different ways: 'highly resilient, 'dent resistant', 'combustion modified'. 
You could also see the combustion modified high resilient (CMHR) foam number quoted. In theory, the higher the number, the firmer the mattress support is supposed to be. 
Spring or pocket-spring cot mattress 
A simple spring mattress is made of springs secured into a rigid frame. These are then surrounded by layers of foam and fabric. Pocket-spring mattresses are the most expensive type. These are coiled springs, each sewn into their pocket.  
Unlike a regular spring mattress, each spring in a pocket-spring mattress can move independently of the others, so the mattress is deemed to be more comfortable and give better support. These springs are, like regular spring mattresses, covered by layers of foam and fabric.  
Spring cot mattresses often have a cotton cover and wipe-clean material on the other side. 
Coir or natural fibre cot mattress  
These have a core of coconut fibre with other layers of different materials. The fibres are coated in latex for strength and protection, and the natural fibre filling helps air circulate through it. This type is available with a wipe-clean covering.
Conclusion
Some cot features make babies' sleeping environments safer. Please find out what to look out for when choosing a cot and read our cot safety guidelines.
Babies need lots of sleep, and during the first two years of their life, they will, on average, spend more of their time sleeping than not. If your baby sleeps in a cot, you should consider cot safety. It's worthwhile spending time choosing the right one for you and them.