Babies mean big baby gear purchases — and a crib may be the biggest one you'll make right now, both in size and expense.
And it'll take some big consideration, too. Your baby will be clocking a lot of hours in that crib until he graduates to a bed, so you'll want it to be just right — the right style, right size and right colour. But more than anything else, you'll want it to be safe.
There's plenty to keep in mind when it comes to safe sleep for your sweetie, and brushing up on crib safety basics is a key place to start. Cribs that fail to meet the current standards can risk entrapment, strangulation or suffocation.
Fortunately, the Consumer Product Safety Commission (CPSC) has set strict standards to ensure that cribs on the market today are strong, durable and safe for your baby. That makes shopping a lot easier (and less nerve-wracking) for you.
You'll still want to double-check that the crib you're eyeing meets the latest guidelines, though. (These nursery-worthy picks fit the bill.) That's especially true if you're thinking about using a second-hand crib, which may not be up to snuff. Here's everything you need to know about crib safety for babies and newborns.
For infants under 12 months of age, follow these practices to reduce the risk of SIDS (sudden infant death syndrome) and prevent suffocation:
Drawing of a Crib
Place the baby on their back in a crib with a firm, tight-fitting mattress. 

Do not put pillows, quilts, comforters, sheepskins, pillow-like bumper pads or pillow-like stuffed toys in the crib.

Consider using a sleeper instead of a blanket.

If you use a blanket, place the baby with feet to the foot of the crib. Tuck a thin blanket around the crib mattress, covering the baby only as high as their chest. 

Use only a fitted bottom sheet specifically made for crib use.
Check Your Crib for Safety
There should be:
A firm, tight-fitting mattress so a baby cannot get trapped between the mattress and the crib.

No missing, loose, broken or improperly installed screws, brackets or other hardware on the crib or mattress support.

No more than 2 3/8 inches (about the width of a soda can) between crib slats so a baby's body cannot fit through the slats; no missing or cracked slats.

No corner posts over 1/16th inch high, so a baby's clothing cannot catch.

No cutouts in the headboard or footboard so a baby's head cannot get trapped.

Cribs incorrectly assembled have missing, loose or broken hardware, or broken slats can result in entrapment or suffocation deaths. Infants can become strangulated when their head and neck become entrapped in gaps created by missing, loose or broken hardware or broken slats.
For mesh-sided cribs or playpens, look for:
Mesh less than 1/4 inch in size, smaller than the tiny buttons on a baby's clothing.

Mesh with no tears, holes or loose threads could entangle a baby.

Mesh securely attached to the top rail and floor plate.

Top rail cover with no tears or holes.

If staples are used, they are not missing, loose or exposed.
Bottom line: The best way to keep babies safe in their crib is to follow the AAP's safe sleep guidelines. Place the baby to sleep on their back with nothing in the crib—that means no blankets, pillows, stuffed toys or crib bumpers—except a fitted sheet.
Place cribs and other nursery furniture away from windows, and keep cords from window blinds, shades, and baby monitors out of reach. If possible, use cordless window coverings. Bare cribs are best. Do not put pillows, blankets, sleep positioners, bumper pads or stuffed toys in the crib with the baby.
If the sound of your baby banging his head bothers you, move his crib away from the wall. Resist the temptation to line his crib with soft pillows, blankets, or bumpers because these can pose a suffocation hazard and raise the risk of sudden infant death syndrome (SIDS) in babies less than one-year-old.
Crib Safety Features
No missing or broken hardware or slats. No cutouts in the head- or foot-boards. Slats no more than 2 3/8 inches apart (the width of a soda can) Corner posts no higher than 1/16 inch.
Mesh Crib Liner. Mesh crib liners are the most common crib bumper alternative that people use. These are safer for your baby than the normal solid crib liners. The mesh design allows air to flow through, which significantly reduces the risk of suffocation.
How do I know if my crib is safe?
All cribs manufactured since 2011 have been required to meet strict safety standards set by the CPSC. That said, it's still a good idea to double-check that the crib you're planning to buy ticks all the boxes.
Combing through the safety checklist is even more important if you're thinking about a used crib that might not meet current standards, especially if the crib is more than ten years old. Here's what to look for.
The crib is the right size.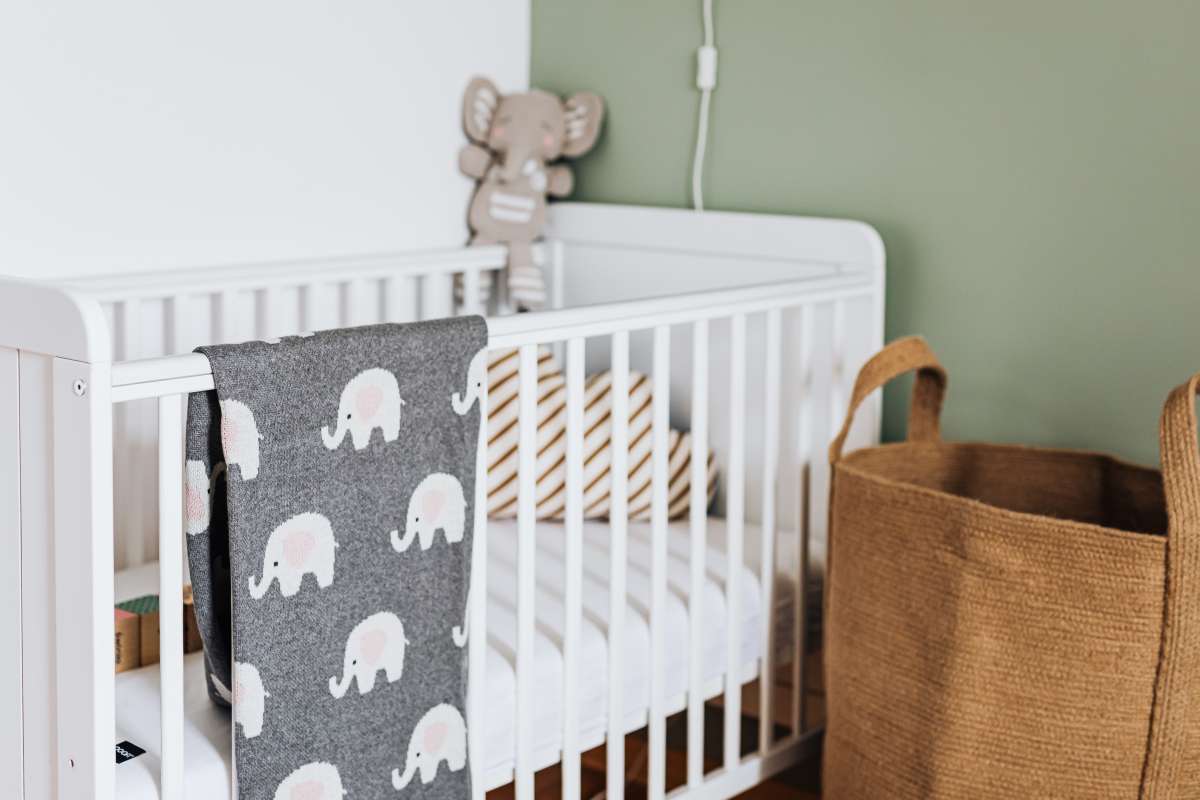 The crib bars or slats should be no more than 2 3/8 inches wide (about the width of a can of soda), and none of the bars should be cracked or missing. The top of the crib rail should be at least 26 inches from the top of the mattress.
Finally, the corner posts should line up flush with the top of the headboard or be much taller — more than 16 inches. Posts in between these heights could catch your little one's clothes if he tries to climb out.
The corner posts are smooth.
Corner posts should be flush with the end panels (and if there are small corner posts, they shouldn't be more than 1/16th of an inch high). If you're considering a used crib with fancy finials or knobs, you'll need to see them off and sand down the rough edges, outside and far away from your baby's room.
The hardware is firmly secured.
In a safe crib, the hardware — bolts, screws, etc. — should be firmly secured, with no sharp edges or rough areas and no spots that can pinch or otherwise injure your beautiful babe. The crib's wood should be free of cracks or splits. (And the entire crib — sides, slats and all — should be very sturdy with tight joints.)
Never substitute a crib's original parts with something from the hardware store. Instead, the parts must be obtained directly from the crib's manufacturer.
The paint colour is nontoxic.
Consider more than the colour when it comes to crib paint. Cribs made before 1978 may have led to their finish, posing a serious health risk to babies and young children. 
If you have a hunch that your prospect's paint is lead-based, have it stripped outside your house while following best practices from the Environmental Protection Agency (EPA). Then start from scratch with a high-quality, lead-free enamel (check the paint label to make sure your choice is safe as a nursery item). For a natural nursery, stick to non-toxic paint with zero volatile organic compounds (VOCs).
Any crib with peeling or cracked paint (even lead-free) should be avoided or refinished.
The mattress fits snugly inside.
Make sure the mattress fits snugly against the inside of the crib. To ensure crib safety, try the two-finger test: If you can fit more than two fingers — Mom's, not. Dad's if he has big hands — between the mattress and the crib, the mattress isn't a good fit. (The harder it is for you to make the bed, the better for your baby.)
Prefer to make sure that the numbers line up? A full-size crib mattress should be at least 27 1/4 inches by 51 1/4 inches and be no thicker than 6 inches.
Also, if the mattress is new, pull off that plastic and throw it away immediately. Make sure, too, that the mattress itself is firm since soft mattresses raise the risk of SIDS. Instead of going by the firmness level on the mattress label, test it yourself: If you push down hard, the mattress should stay firm and spring right back.
Avoid soft toys and bedding.
Make sure never to put plush toys or soft bedding in the crib with your baby (and that includes the adorable pillow and comforter that comes with the crib bedding set) because they can pose a suffocation hazard.
The American Academy of Pediatrics (AAP) also strongly advises against using bumper pads, as they increase the risk of SIDS and other crib deaths.
You should steer clear of any soft bedding in your sweetie's crib until at least his first birthday and ideally the 18-month mark. For babies 12 to 18 months, a transitional object like a small stuffed animal or a thin blanket can help with sleep challenges and is considered safe.
It would help if you avoided crib bumper pads altogether, even after your tot turns one and the SIDS risk has dropped dramatically. While they likely won't pose a suffocation hazard once your baby is a toddler, a curious tot could try to climb on them in an attempt to wriggle out of the crib — and potentially get hurt.
Stay away from headboard and footboard cutouts and drop-sides.
You'll also want to avoid cribs with headboards and footboards with pretty decorative cutouts, which are prohibited by the CPSC. And always pass on a hand-me-down drop-side crib.
Follow safety practices for bassinets too.
Make sure that if you plan on having your baby start in a bassinet or portable crib with bassinet features, you also need to follow similar best safety practices for that kind of crib too. 
That includes, among other things, avoiding bumpers, pillows, toys and soft bedding and making sure the mattress fits snugly into the bassinet (i.e. using only the mattress that comes with or fits that specific model).
As with cribs, having the newest model bassinet or portable crib is strongly recommended. But if you're trying a second-hand one, always use it with a mattress that matches the type of bassinet you've borrowed since the product's safety rating is based on the mattress it originally came with. 
Wicker bassinets and Moses baskets should be avoided entirely because they have jagged parts that can cause splinters or other injuries and pieces that can break off and become choking hazards for babies.
Picking out the right crib for your baby's nursery can take a fair bit of consideration and shop around. But while you're thinking about colours, fabrics and overall look, don't forget to think about safety too. 
Opt for as new a model as possible that's up to the most recent and strictest safety standards established by the CPSC. Following the most up-to-date crib safety guidelines will not only help your baby sleep more safely — it will help you sleep more soundly.
5 Tips for Crib Safety
Crib Safety Tip #1: Back is Best
Baby should be put to sleep on his back until he is a year old, although once he learns to roll from back to front, it's okay to let him continue sleeping on his stomach.
Crib Safety Tip #2: Swaddle Securely
In the early months, swaddling the baby will help him fall into a deeper sleep. Make sure any extra swaddle material is tucked securely under the baby. Once the baby begins to roll, you'll need to break him from the swaddle.
Crib Safety Tip #3: Goodbye Plush
The Baby's crib should be free from all bumpers, blankets, pillows, and toys. Extra items, especially padded ones, increase a baby's risk of sleep-related death. While it may be cute to pick out the perfect crib bumper to match your nursery, this is one item to skip.
Does your little one use a pacifier at night? If you're worried about pacifiers falling out between the crib bars, try using a mesh crib liner; it gives the convenience of keeping a pacifier inside the crib while securely attaching to the baby's crib and is made of breathable material in case the baby is resting alongside it.
Are you afraid your baby might be chilly without a blanket? Making sure the baby's room is heated properly, dressing the baby warmly if needed, and using sleep sacks for colder weather are all good alternatives to putting the baby to bed with a blanket.
Crib Safety Tip #4: Lower is Better
Most cribs have adjustable mattress heights. The highest level is the easiest for parents to reach in and get the baby, but as the baby learns to move, you'll want to reevaluate if you need to lower the baby's crib mattress.
Baby's head shouldn't be peering over the top of the crib rail if she's on all fours. Once the baby can stand, you'll want to place the mattress at the lowest level to prevent the baby from climbing out.
Crib Safety Tip #5: Create a United Front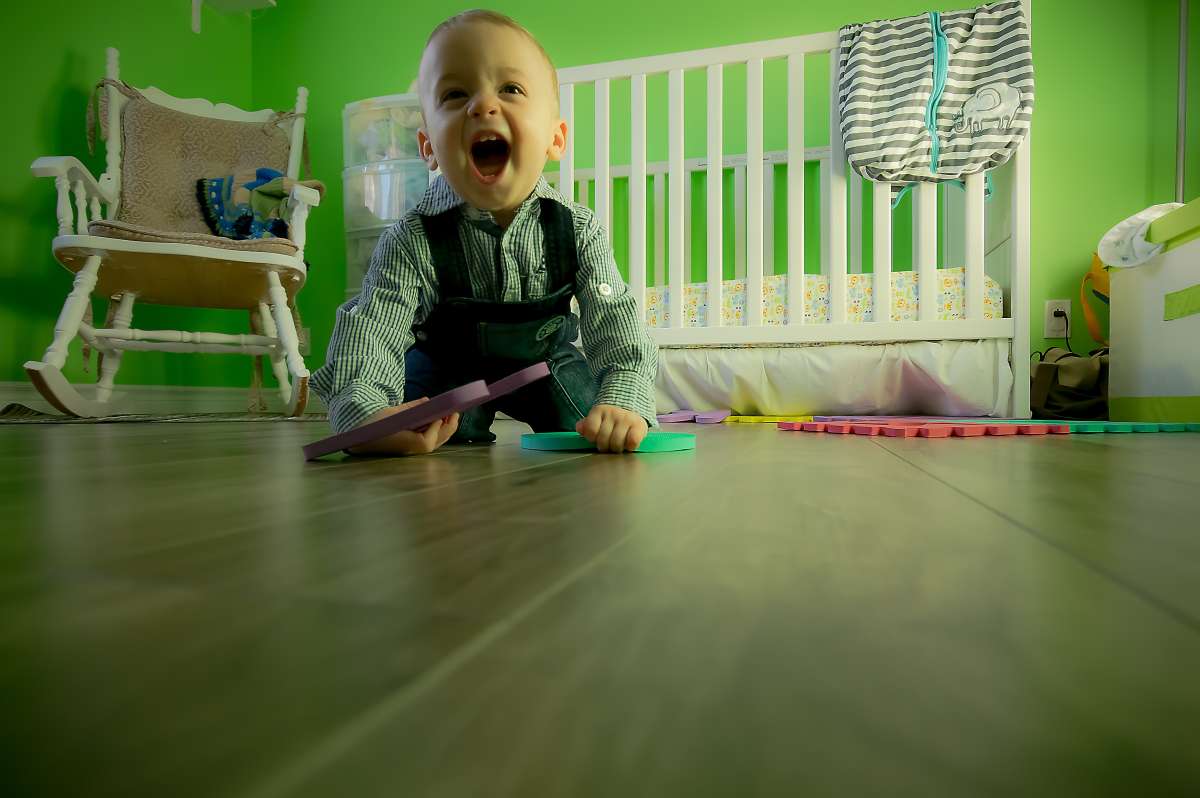 Perhaps the most important element of crib safety is that you're practising it consistently. Make sure you're communicating clearly with your spouse, grandparents, and caregivers about how the baby sleeps and best practices regarding crib safety.
When you're confident that everyone is on the same page about crib safety, you can rest easier. And as a new parent, couldn't you use a little more rest and spend a little less time worrying about how your little one is sleeping?
Essential Crib Safety Standards to Look for
If you have found a crib model that looks great and accommodates all the important factors listed above, here are the major certifications you must look for to ensure the crib is safe for use:
Consumer Product Safety Commission (CPSC)
All the cribs sold in the United States must comply with regulations as laid out by the CPSC. The Consumer Product Safety Commission standards focus on structural safety. Hence, the commission has set strict regulations to ensure that the material used to make cribs on the market today is durable and completely safe for your baby.
American Society for Testing and Materials (ASTM)
Secondly, the crib you want to buy must be certified by the American Society for Testing and Materials (ASTM) so that you are assured of no potentially harmful chemicals present inside the wood finish, composites, and glue. Compliance with the ASTM standards is a federal requirement for all the cribs available in the market.
Juvenile Product Manufacturers Association (JPMA)
Additionally, it is better to choose a crib that has also been certified by JPMA as it guarantees to meet the highest safety requirements. Foundationally built on ASTM standards, the JPMA certification signifies that the crib meets all retail requirements as per the federal and state laws, including the ASTM standards.
Greenguard Gold Certification
Greenguard Gold Certification assures that the crib has been tested while manufacturing to possess negligibly low yet permissible amounts of volatile organic compounds (VOCs).
This ensures your baby breathes in good indoor air quality with low risks of pollution and chemical exposure. Although not mandatory, finding Greenguard Gold certification is better and ensures enhanced safety for your baby in the crib.
Important Certifications to Look for in a Crib Mattress
While buying a crib mattress, these are some of the main testings and certifying bodies that you must look for.
Greenguard Gold Certification - If your mattress possesses the Greenguard Gold certification, you can be assured of its safety and use with your little one. A Greenguard Gold certification tests the crib mattress for thousands of chemical emissions to keep the baby healthy in good indoor air quality.

JPMA Certification - The JPMA certification ensures that the crib mattress has been tested by an independent facility and meets or exceeds the safety standards set by the ASTM.

CertiPUR-US Certification - If you want to buy a foam crib mattress, you must additionally look for the CertiPUR-US seal to ensure the mattress has been tested for volatile organic compounds, ozone depleters and other heavy metals.

Global Organic Textile Standard (GOTS) - If your crib mattress claims to be "organic", a GOTS certification ensures the same as such mattresses are tested to contain a minimum of 70% organic fibres.
Effective Tips & Baby Sleep Safety Guidelines For Maximising Crib Safety
Since your baby will spend most of their time in their crib, here are some useful safety tips and recommended sleep guidelines you can follow to prevent injuries in the crib.
First of all, read the manufacturer's instructions carefully before assembling the crib and make sure to test it with something heavier than your baby's weight before you put them inside.

Moreover, choose a firm mattress that fits your crib perfectly without any gaps in the corner.

The snug crib mattress must be covered by a baby-safe fitted sheet.

For the first six months or a year, it is better to share your room with the baby. This way, you will be able to keep a close eye on them until they learn how to sleep independently.

Always place your little one to sleep on their back to prevent the risks of SIDS.

Consider giving a pacifier to your baby during daytime naps and bedtime, as sucking on a pacifier requires forward positioning of the tongue, thus reducing the risk of oropharyngeal obstruction and SIDS.

However, the type of pacifier you choose also plays a huge role in enhancing your baby's safety during sleep. These days, many pacifiers come with various decorative elements attached to them. You must ensure you don't use such pacifiers during the baby's nap time or when you are not around, as the ornamental elements can potentially harm babies.

In case you cannot resist buying a cute, decorative pacifier, it is better to look for a model that comes with detachable elements so that you can take them off when you put the baby to sleep.

Keep all items out of reach of the baby in the crib – including the crib mobile.

Ensure the crib is free of stuffed toys, pillows, blankets, and movies. This means that the crib must be empty when you put your baby in there.

Since a loose blanket can increase the risk of accidental suffocation until your baby is at least 12 months old, it is rather recommended to dress your tot in a wearable blanket or onesie.

If any hardware in the crib needs replacement, obtain them from the manufacturer rather than substituting the original parts with anything you find from a hardware store.