If you are a parent of an incoming kindergartener, then this blog post is for you! Finding the right kindergarten school for your child can be a difficult task. There are so many factors to consider, and you want to make sure that you find the best fit for your family.
Melbourne is a beautiful city with many things to do for your children. However, as you are considering what school they should attend, you must consider the best kindergarten schools in Melbourne.
One of the things we looked for was a school with excellent teachers and great facilities. We also wanted to make sure that our daughter had friends she could play with every day after class (and have some fun on their playground). Finally, after reviewing many schools, we found one that really stood out from all the rest.
If you're interested in knowing more about this topic, please continue reading!
Best Kindergarten School in Melbourne
St Mary's Kindergarten Melbourne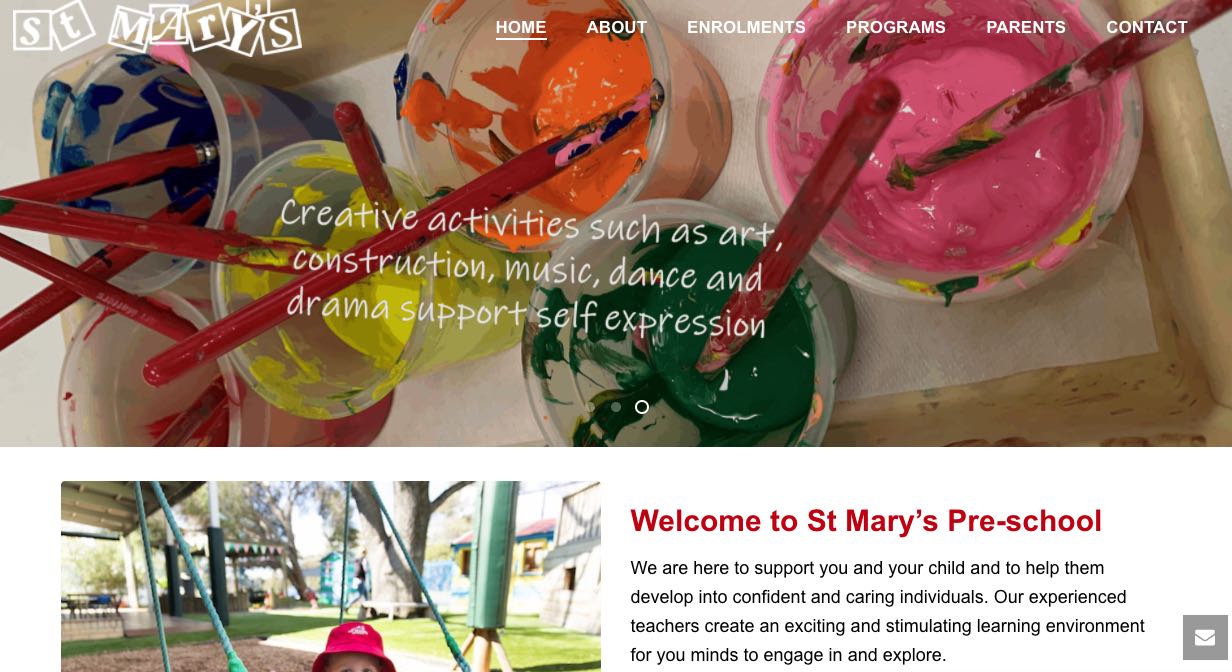 039329 6662
Our experienced and passionate educators offer three and four-year-old kindergarten programs within the tranquil grounds of St Mary's historic church.
We offer a varied and active play-based program that focuses on developing children's physical, social, emotional and intellectual skills. Our professionally trained educators have created a learning environment that is designed to help children grow and develop confidence. We strive to help children reach their potential and prepare them to start school with a positive learning experience and strong relationships with trusted adults. We develop and implement high-quality programs that encourage children to feel secure and happy in a positive and relaxed learning environment.
Our educators recognise the important role families play in a child's learning journey, and we encourage a shared partnership between children, families and educators within our kindergarten community. Our programs are inspired by your child's imagination and developmental needs, and they allow children to learn at their own pace and become responsible for themselves.
St Mary's Kindergarten has been rated as Exceeding National Quality Standard. Click here to find out more about the National Quality Standards.
Facilities and programs
We are a sustainable kindergarten. This means respect for our environment is critical to us, and we believe that this should start at an early age.
Our outdoor space features a beautiful native garden that includes a Casuarina forest, bushfire-themed grassland, and a lush tropical garden. There are also vegetable gardens, a sandpit and an open play area. This garden encourages the children to seek out and find private play spaces where they can explore and experiment without feeling that they are under constant observation. Children can also get their hands dirty with sand, mud, dirt, water and other elements from nature. Shady areas protect children from the sun.
Our indoor play space is well lit with natural light and offers views of the garden areas.
Little Assets Kindergarten Melbourne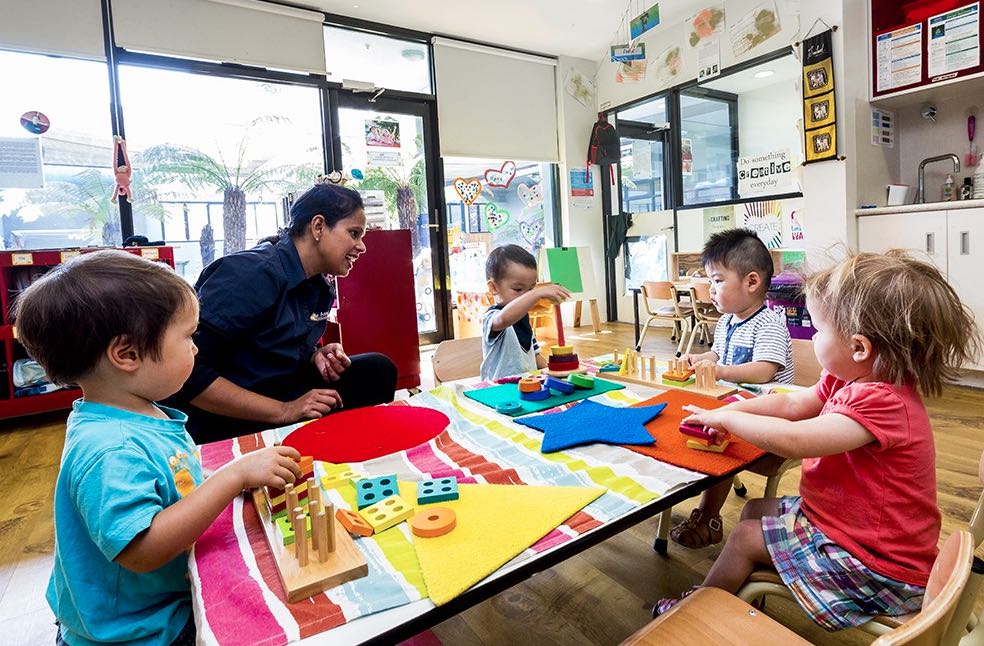 03 9620 2887
Everyone needs that peace of mind in knowing their child is happy and thriving when spending time apart at a family daycare. That's why at Little Assets, we're committed to providing a safe, nurturing environment where your child can learn and grow – while having fun. Our passionate, qualified educators offer a play-centred curriculum based on the Australian Government Early Years Learning Framework. So, your child will receive the best quality education provider and care to help them reach their full potential. It all happens at one of our quality child care centre's near you, offering indoor/outdoor play and learning areas for specific age groups from six weeks to six years.
Little Assets is proudly owned and operated by Asset 1, an active participant in the Australian property industry since the mid-1970s.
Asset 1 is more than just property developers of new residential housing. They are visionaries – creators of real communities like ours, who are continually strengthened by solid business strategies and profitable growth.
Together with Asset 1, we look forward to flourishing as a childcare community – now and into the future.
Little Assets was founded on the belief that every child deserves the best possible early childhood education. And we believe this begins with providing a safe, nurturing and engaging environment where your child feels happy and loved.
A place that values every child's identity, culture, individual strengths and interests – to build their confidence, wellbeing and enthusiasm to learn.
This is who we are at Little Assets.
We are a centre that embraces the effectiveness of play-based learning. We are a centre that embraces the effectiveness of play-based learning, using the practices, principles and outcomes of the Victorian Early Years Learning Framework and National Quality Standards. We continuously encourage children to make choices, discover, create, explore, communicate openly – while having fun in our welcoming, well-resourced environments.
We also believe in continuous professional development for our educators, ensuring your child always receives the best quality education.
Finally, we celebrate the diversity of every family, recognising that learning primarily happens at home. For this reason, we strongly value an open partnership with families – one in which we'll always honour the individual needs and aspirations of you and your child.
Because every child deserves the best possible early childhood education.
At Little Assets, we understand that deciding who will care for your child when you're apart is a big step. That's why we take pride in providing a safe, nurturing learning environment for your child – and for you.
We want you to feel as comfortable and inspired as your little one when they engage in our beautiful indoor/outdoor learning spaces with natural elements. Our encouraging educators, by their side.
We want you to have confidence in knowing your child is receiving a dynamic, high-quality education. One that is centred around your child's unique self. Structured by progressive, flexible routines. And celebrates the fun of being a child.
We're here for your child – and for you because working together is how the best learning happens. So, we welcome you to engage us with any questions or concerns.
And of course, enjoy our centre as much as your child will.
Kids On Collins Kindergarten Melbourne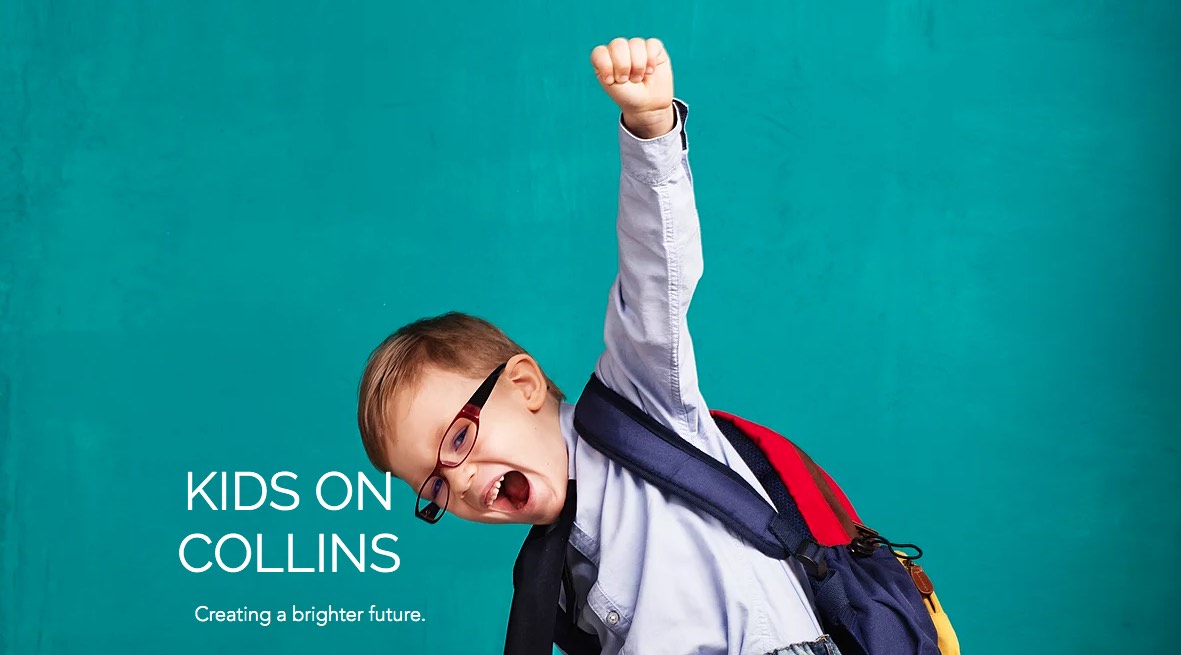 071 318 2172
Kids on Collins has been established with the vision of creating a beautiful, inviting and safe space where your child has room to grow, learn, create, and develop the foundational skills essential to their success at school and throughout their lives.
Our school and curriculum have been thoughtfully designed to provide a complimentary immersive and stimulating environment conducive to intellectual and emotional development. In addition, we incorporate proven and respected early-learning educational practices into our carefully designed curriculum.
Our teachers and assistants are selected based not only on their qualifications and experience but also on their genuine love of working with young children. They are committed to ensuring your child will blossom while recognising your child as the unique individual they are. ​
We also assist working parents by offering classes for babies and providing older children with the option of attending nurturing after-care and holiday programs.
FAQ About Kindergarten School
If you answered yes, then your child is most likely ready, and you can begin the countdown to kindergarten! However, if you think your child may not be ready for school, you may want to consider other preschool options like Montessori school or homeschooling until your little Einstein is ready for the first grade.
Separate school, private or French-language school: the choice is yours. You know your child best, and you would want a school — public or private — that builds on your child's strengths.
What you should factor into your decision:
School proximity

School transportation, e.g. bus schedule

Special interests like language, arts and alternative programs

School curriculum structure

Your financial situation

School amenities, i.e. playgrounds, gymnasium, physical activity time, etc.

Talk to other parents in the community. Does the school have a good reputation?
Your child's first academic teacher should be warm, loving, positive, and capable—someone who helps your child (and you!) embrace the classroom as a second home. We recommend that Kindergarten teachers have at least five years of teaching experience and/or a master's degree. Ideally, teachers have a major other than education for their BA, and a master's in an education-related field.
The best Kindergarten classrooms focus on developing social and emotional skills necessary for lifelong learning–patience, self-control, focus on the task at hand, ability to follow directions.
Whether it's Monday or Wednesday, Tuesday or Thursday, or mornings every day, your child's learning time will remain the same.
"The days you choose to send your child to kindergarten really doesn't matter," says Irene Ioannou-Skanderis, a mom of two and teacher. "All kindergarteners get the same amount of time from their teachers."
The very best schools are small schools where every child is known and understood by many adults on campus. The focus should be on highlighting the positive and training students to consider their alternatives and make good choices.
The best Kindergarten classrooms focus on developing social and emotional skills necessary for lifelong learning–patience, self-control, focus on the task at hand, ability to follow directions.
Class size is very important! Studies show that classes with fewer than 20 students yield significantly better outcomes than classes with 20-plus and that fewer than 10 students is ideal.
The best schools meet the individual needs of the children. For example, if a child arrives in kindergarten reading chapter books, the school should not require the child to sit through lessons learned long ago. However, it's perfectly normal (and OK!) to arrive in kindergarten not yet knowing how to read.
As Benjamin Franklin said, "Tell me, and I forget. Teach me, and I remember. Involve me, and I learn." Trips and speakers create hands-on opportunities to bring learning to life and to expand your child's world!
As enticing as technology is and as important as it will be later in their lives, five and six-year-olds need to:
Work with all their senses.

Put their hands on as many lessons as possible.

Spend time outside.

Build their knowledge through projects, art, song, drama.

Play.
There will be time later for screens. And the foundational skills learned in a solid Kindergarten class will serve students well when they are developmentally ready for the technology.
Qv Children's Centre Kindergarten Melbourne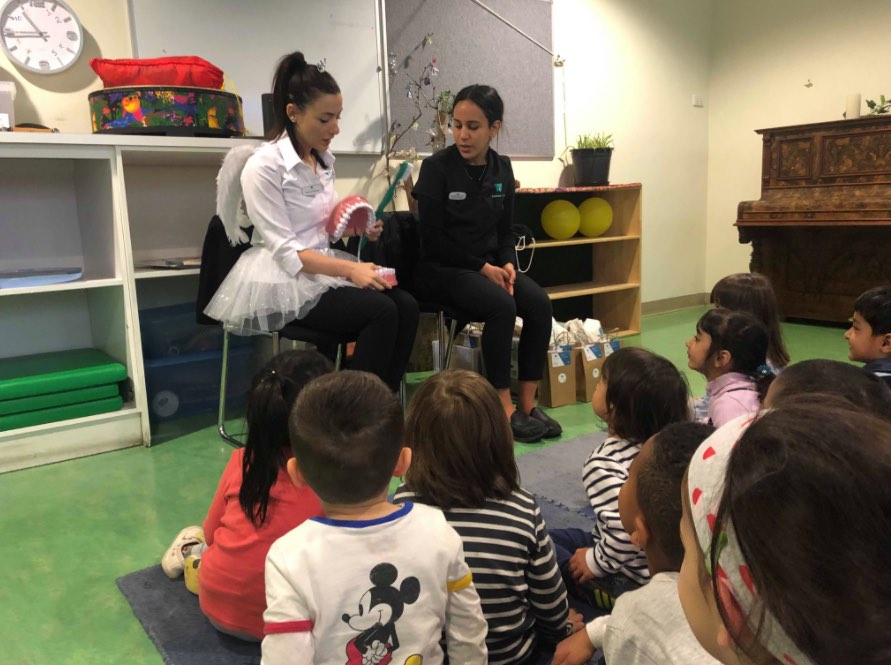 (03) 8616 0350
QV Children's Centre in Melbourne City, which continued to provide excellent After School Care care, education and support for the children and their families of Melbourne City, Australia.
QV Children's Centre is a seventy-five purpose-built place childcare centre in the heart of the CBD. Tucked away in the QV building, we are one of the city's best-kept secrets! Our caring and professional educators embrace all children and families in their services, creating learning environments that nurture, inspire, educate, and offer a sense of belonging.
We are proud of our enduring relationships with parents and families. We work closely together so that each child experiences a smooth transition before your child starts at QV. Our educator's design an orientation program to suit you and your child's needs.
Our play-based learning programs are structured around the children's interests and needs. These programs are fully flexible and are based on an open-ended approach in cooperation with parents and families. We also have a parent group that meets bi-monthly, and we encourage all new families to come along.
We recognise the importance of a healthy lifestyle, and we have an extensive menu provided by our onsite cook. Our menus are based on the nutritional and cultural requirements of the children. Fresh steamed vegetables are made daily for our babies who are being introduced to solids. We provide morning tea, lunch and afternoon tea.
Sentia Early Learning KIndergarten Melbourne
(03) 9629 9860
It is a beautiful space immersed in an atmosphere of safety and joy, crafted to inspire children, build their confidence, and take their first steps toward a lifelong love of learning.
Each day at Sentia is a story that gently unfolds as your child gathers experiences from meaningful exploration, curiosity and friendships. Located in the heart of Melbourne's CBD, our child care and kindergarten space actively encourage every child's creativity, boundless imagination and sense of wonder and play.
Why Choose Us?
We are a family. With loyal and long-serving staff, we have created a unique culture of care and learning. We take joy in helping you care for your child. We want you to feel a part of our family and make your family life easier.
Having your child close to your workplace is just one of the many Sentia advantages. The ability to spend some extra quality time with your little one, whether it's commuting to and from work, popping in to breastfeed at lunchtime or joining in a short parent celebration, are priceless moments that we want you to cherish.
We hope that you and your child join us at Sentia and become a valued members of our connected and caring community.
Our Early Learning Centre
From our spacious rooftop playground with spectacular views over the Yarra River and beyond, Sentia is a hidden gem tucked away in the heart of Melbourne.
With years of experience, we know the recipe for providing a comfortable and happy space for children - a safe, bright and positive environment where children can explore, bond and imagine.
As a single, privately owned service, our very own Sentia families have had the greatest influence on our culture and values. As a result, we are able to listen and adjust with ease, and, as educators, it has been a privilege to create a boutique values-based model.
Our Program
In an increasingly fast-paced world, we believe an unhurried approach in the early childhood years offers the healthiest and strongest foundation for a child's academic, social, and personal growth.
Our program focuses on developing opportunities for children to discover, explore and learn through play. Children are given a voice and the power to make decisions regarding their play, learning and social interactions. This empowers them to build confidence and resilience while teaching them to be kind, civil and collaborative. These are the foundation blocks for their futures.
Sentia follows the Early Years Learning Framework (EYLF) from birth to 5 years, including a fully-funded Kindergarten program run by a qualified kindergarten teacher. Every child's learning development is documented by the curriculum plan, their visual portfolios, reflection journals, newsletters and projects on display.
Enhancement Programs
With a range of activities from arts, music, yoga, and sports, our focus is always on nurturing your child's wellbeing.
We also regularly explore the wonders of our city with walks to nearby historical and cultural sites to create a sense of place and strengthen the children's connection to the local community.
Genius Childcare -Kindergarten Melbourne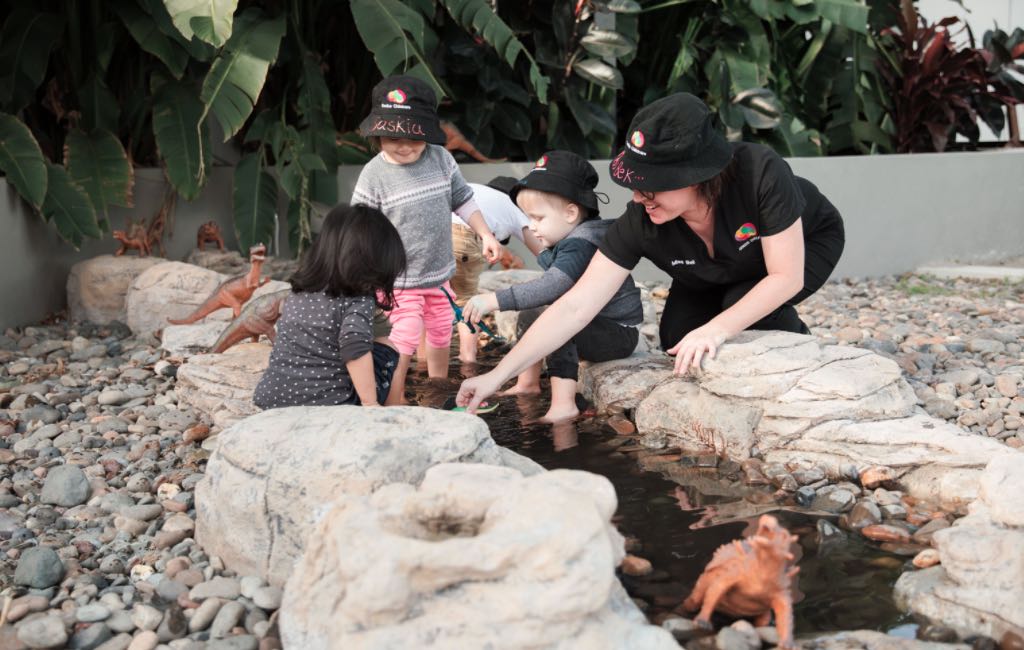 1300 955 540
Inspire a lifetime.
We exist to bring the best of every learning style, to give your child a rich, unique and inspiring learning environment.
Genius Childcare is an innovative and holistic early years education for preschool-aged children. We offer state-of-art, purpose-built childcare facilities, a diverse and thoughtful curriculum, and passionate, highly-skilled educators to lead the way.
Australia's leader in premium childcare.
We aim to create cherished and precious memories, as well as create strong foundations for lifelong learning and prepare your son or daughter to develop to their full potential.
Why Choose Genius?
Our curriculum is based on the Early Years Learning Framework (EYLF). The principles, practices and outcomes are essential to support and enhance young children's learning from birth to five years of age. As well as their transition to school and works in synergy with the National Quality Framework. The EYLF strongly emphasises play-based learning and recognises the importance of communication, language, social and emotional development. Our centres also offer a Funded Kindergarten Program, delivered by an Early Childhood Teacher, for children in the year before they attend formal schooling.
We recognise and support responsive, meaningful and respectful relationships and interactions as the foundation for providing quality education.
We intend to keep you up-to-date on all aspects of your child's learning and development, as well allowing you the room to share your unique insights on your child's needs. This is all to create an individualised approach to learning so that each child can tap into their own inner Genius.
Environment And Sustainability
We believe a child's environment is the key to their learning and development. For this reason, we are committed to presenting Genius children with a naturally-inspired environment that creates wonder, invites exploration, and guides them on their path to self-discovery.
Genius Childcare facilities are designed to be stimulating, interesting, and visually appealing, as these factors help nurture children's capacity to learn and grow. Careful attention was given to creating an appropriate space for the age and interests of Genius children. Our natural wood interiors and abundance of indoor plants foster a connection with and appreciation for nature. Genius Childcare centres also feature a number of interactive spaces and adventure zones to encourage investigation, play and social interaction.
When developing the concept for our Genius centres, it was important that we create spaces that were beautiful and peaceful and environmentally sound. We endeavour to encourage and support sustainable practices in a number of ways, including the following:
placing a strong emphasis on recycling and conservation
utilising natural resources wherever possible
promoting mutually beneficial relationships with our surroundings
incorporating technologies that enable us to achieve these goals
Goodstart Early Learning - Kindergarten Melbourne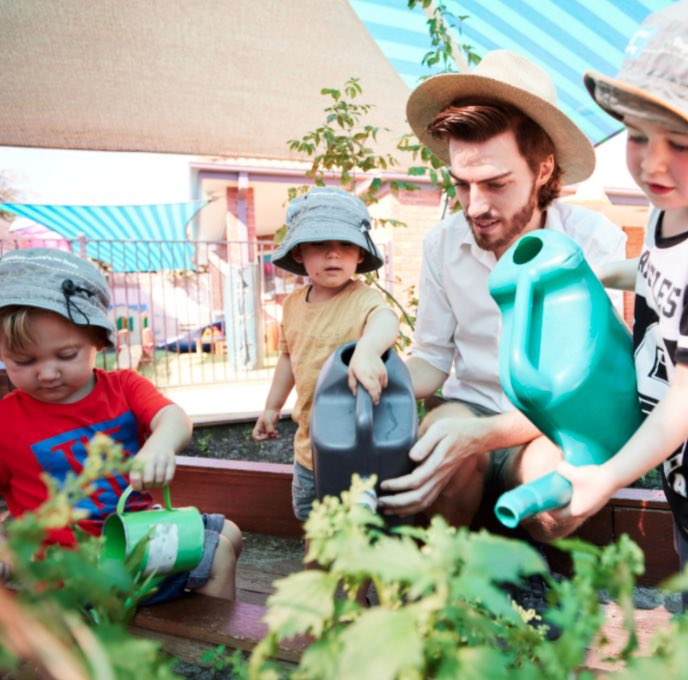 1800 222 543
Goodstart was founded on a vision of giving children the best possible start in life through access to quality early learning.
In 2009, a consortium of leading community sector organisations – The Benevolent Society, Mission Australia, the Brotherhood of St Laurence and Social Ventures Australia – came together to initiate the formation of Goodstart.
We're For Children, Not Profit
At Goodstart, we're all about laying the foundation for better lives through great early learning experiences. We're entirely Australian owned and not-for-profit, with every dollar we spend directed towards helping children reach their full potential. Everything we do contributes to a better outlook for Australia's children and a happier, more prosperous society.
We Make Every Moment Count
Right from birth, children are ready to learn, and at Goodstart, we employ the most up-to-date thinking in early childhood education to create stimulating, age-appropriate learning environments that give children a secure base and the confidence to explore.
We Take Safety Seriously
Yes, we offer plenty of opportunities to get messy, explore, and try new things. However, we also follow strict health and safety guidelines, keep our first-aid qualifications current and ensure our comprehensive child safety policies and procedures are followed at all times.
We Have A Big Heart
Goodstart is a social enterprise. We reach out to all families and communities, especially those facing disadvantages; we embrace and celebrate diversity. We speak up for those children and families at risk of being left behind.
Lemon Tree Children's Centre - Kindergarten Melbourne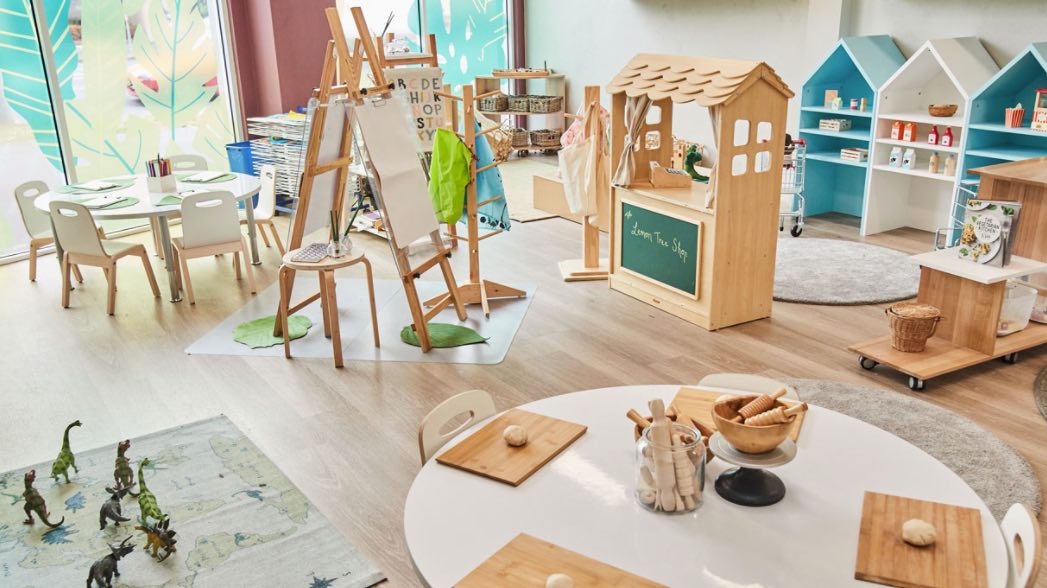 (03) 9347 4949
Lemon Tree Children's Centre in Carlton who continued to provide excellent After School Care care, education and support for the children and their families of Carlton, Australia.
Lemon Tree Children's Centre is a 60 places centre catering for children aged 6 weeks – 5 years of age. Each child's individual needs are taken into consideration when settling, planning and programming for them, and our educators are trained to help you and your child feel comfortable in the new surroundings.
Our environments and learning experiences are reflected in the research and knowledge of emergent curriculum, Reggio Emilio, and the National Australian Early Years Learning framework.
Children's learning is fostered and enhanced through exploration, play, and experimentation, while their educators are challenged and supported. We look forward to meeting you here at Lemon Tree!
Guardian Childcare and Education - Kindergarten Melbourne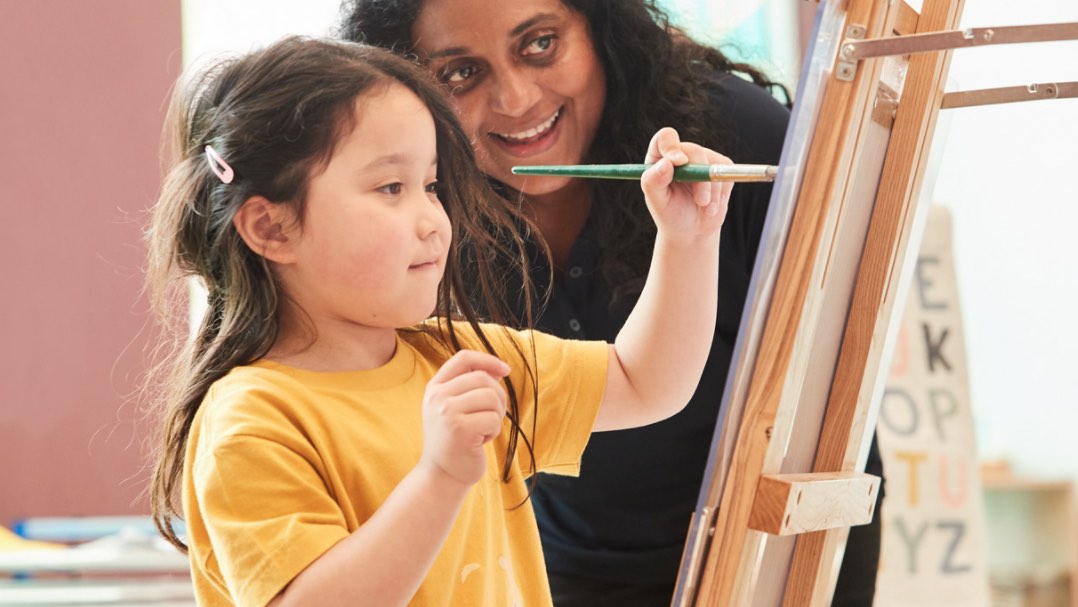 03 8582 4260
Founded in 2004 with 28 managed Centres, Guardian Childcare and Education has grown to more than 120 owned Centres across Australia. We are a collection, all united under the one vision: To deliver the highest quality of childcare and early learning to Australian families.
Guardian was initially created to provide day-to-day management of privately-owned childcare Centres. But in 2006, the focus shifted to owning and managing our own – allowing us to merge our experience of childcare management with our unique Curriculum expertise. To form a truly holistic childcare experience for families, children and educators.
Growth is at our heart. Growing the minds of our children and the careers of our people and growing as a business to improve the quality of education and care that we provide. And steadily growing the number of services we own and operate by acquiring and opening more of Australia's best early learning Centres. We do this based on the needs of local families and communities for high-quality childcare that focuses on the care and the importance of early education. It's all in the name: Guardian Childcare and Education.
With 92% of our Centres meeting or exceeding the National Quality Standard, we are proud of our steadfast commitment to the highest-quality education and care. Our Centre Teams partner with our families to deliver the world-class curriculum – based on the renowned Reggio framework – that has made us a leader in the childcare sector.
We pride ourselves on being a place that families can trust, where our people thrive, and children grow.
Our Preschool & Kindergarten Program
The Guardian' Moving on Up to School' Preschool Program is led by teachers with specialist early childhood university degrees. Our contemporary approach gives your child the full benefits of a structured daily learning program while you are supported with the longer care hours we provide. That means your child gets the best start to their schooling, while you're able to better juggle the day-to-day thanks to longer care hours than those provided by community-based preschool and kindergarten programs.
Our Preschool and Kindergarten programs have been lovingly and carefully crafted to purposely deliver on the Early Years Learning Framework (EYLF) and the National Quality Standard (NQS) for early childhood. Our practices and programs connect directly to the foundation stages of the Australian School Curriculum, from which children will be taught when they enter the formal schooling system.
The Guardian Curriculum is our very own inspirational guide for excellence, drawing from world-leading research to ensure the highest quality of teaching and practice.
 Lilian Cannam Kindergarten Melbourne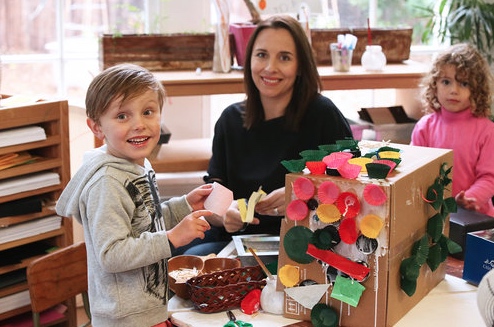 liliancannamkindergarten.org.au
(03) 9699 3695
Lilian Cannam Kindergarten is a historic, not for profit community run kindergarten located in South Melbourne. We offer programs for 3 to 5-year-olds.
For nearly 100 years, LCK has provided a large outdoor sanctuary for inner-city children and a connection to our local environment and community. We believe in an emergent educational philosophy to ensure we remain socially relevant, intellectually engaging and meaningful to children and families.
Donvale Preschool. Kindergarten Melbourne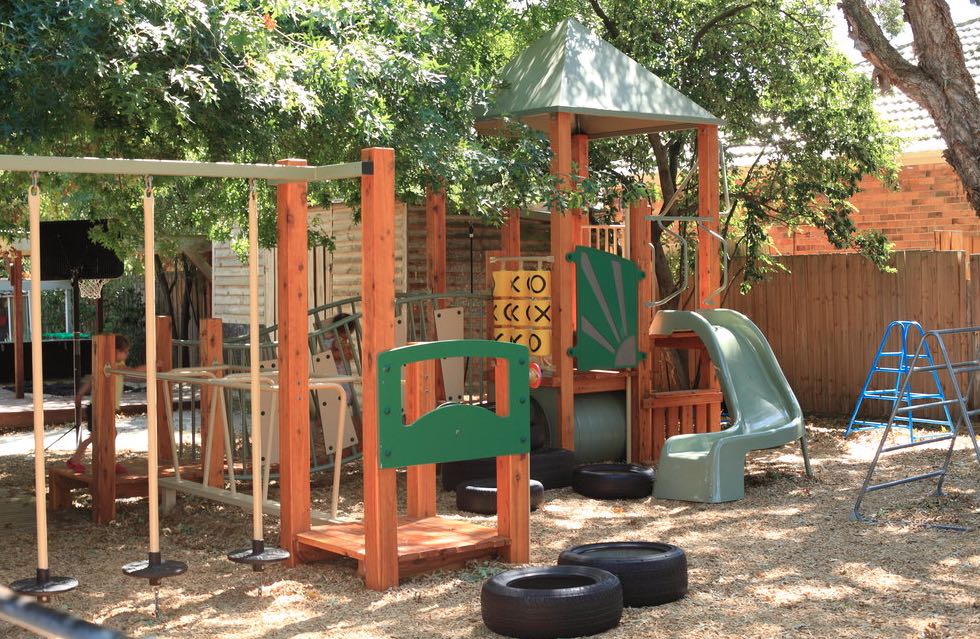 (03) 9874 6848
We are proud to offer large, well-shaded, secure grounds and a beautiful and vibrant kindergarten room. Our teachers are passionate, committed and experienced and provide a nurturing, caring and friendly environment.
Our Philosophy
We acknowledge and believe that children belong first to a family. We believe in working in partnerships with our families and strongly encourage family participation at all levels and times within the centre. We will also support our families with advice, encouragement and resources should they be required.
We believe that all children have the right to high-quality early childhood education that is sensitive to their needs and is provided within a safe, caring, stimulating and healthy environment.
We believe that all children should be treated with equity and their diverse backgrounds acknowledged by celebrating the significant occasions and beliefs of both our families and the local community. We recognise that every child, regardless of age, gender, ability, culture or religion, is an individual; equally deserving warmth and attention. We will endeavour to help every child within our care to reach their full potential.
We believe in providing an inclusive and high-quality developmental program in which every child feels welcome and valued and where our children are encouraged to have fun and learn through play.
We view children as capable, competent co-contributors and acknowledge them as active participants in their own learning. We believe that our programs should be based on a combination of child-initiated learning, adult enriched learning, children's interests, the local community and intentional teaching.
We recognise the importance of strong mental health in relation to children, families, and staff. We strive to use a mental health lens in relation to all aspects of our service and incorporate key aspects of the Be You initiative.
We believe in providing facilities that are ever-changing to the needs of our children, staff and families. We will endeavour to always look at ways to enhance and improve our environments, both indoors and outdoors.
We believe in the value of exposing children to the natural environment and materials and acknowledge that children will explore these environments in a variety of ways. Further, we believe in the value of teaching children how to care for, explore, respect and maintain these natural spaces and materials.
We believe in the value of allowing children to take educated risks within their play. We strive to employ caring and compassionate staff; whose personal philosophy reflects our own. We recognise and value the knowledge and commitment of our educators and fully support their continued professional learning.
We believe in promoting a team environment where healthy discussion and debate is encouraged. This team approach encompasses a positive environment to mentor both students and fellow early childhood professionals. In addition, we believe in continuous improvement and researching different and more efficient practices to extend a strong team of passionate and dedicated educators.
We follow the guiding principles of the National Quality Standards and the Early Years Learning Framework, encompassing the values of Belonging, Being and Becoming. Donvale Preschool is a child-safe service, and we ensure that the safety and well being of the children is paramount.
We believe that a philosophy statement is an ever-changing document that grows as new insights are gained, and current practice is evaluated.
St. Kilda Steiner Kindergarten Melbourne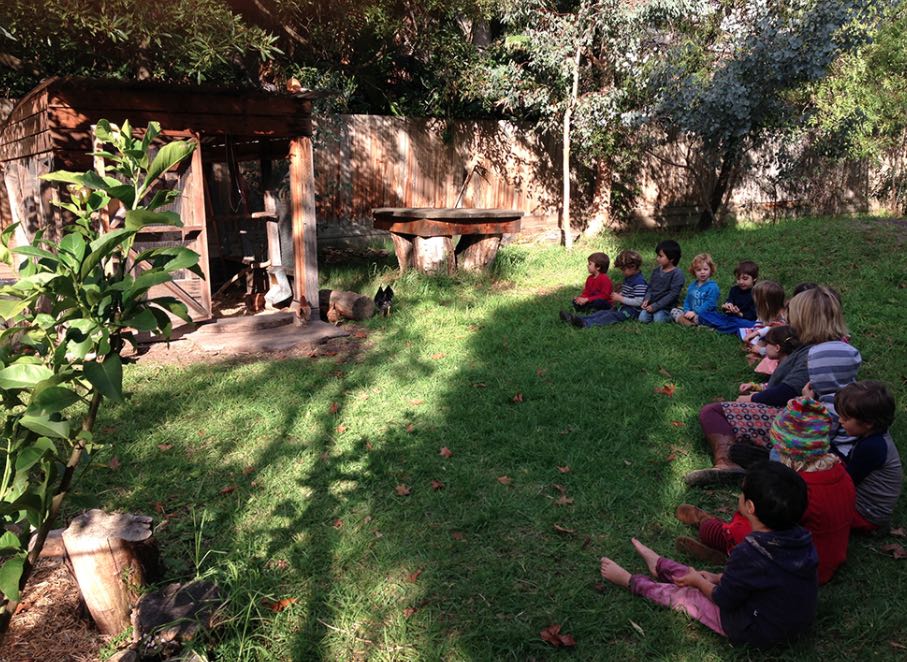 stkildasteinerkindergarten.vic.edu.au
(03) 9527 5168
Childhood is a time for learning about the essentials. About goodness, beauty and truth.
Childhood is a time to be loved and to love, express fear and learn to trust, be allowed to be serious and calm, and celebrate with laughter and joy. Children have a right to dream, and they need time to grow at their own pace. They have the right to make mistakes and the right to be forgiven.
Children need to develop self-mastery, to transform themselves and bring forth their highest capacities. Children have a right to be spared violence and hunger, to have a home and protection.
They need help to grow healthy, with good habits and sound nutrition. Children need people to respect, adults whose example and loving authority they follow. They need a range of experiences; tenderness and kindness, boldness and courage and even mischief and misbehaviour.
Children need time for receiving and giving, for belonging and participating. They need to be part of a community, and they need to be individuals. They need privacy and sociability. They need time to rest and time to play, time to do nothing and time to work. They need moments for devotion and room for curiosity. They need protective boundaries and freedom for creativity.
They need to be introduced to a life of principles and given the freedom to discover their own.
They need a relationship to the earth, animals, and nature, and they need to unfold as human beings within the community. The spirit of childhood is to be protected and nurtured. It is an essential part of every human being.
Program
We value the importance of play as one of the healthiest ways the child digests life's experience. In recognising the importance of the development of healthy sense perception, we provide the children with a balance of large and small group activity and ensure that quiet times are included in our daily rhythm.
We have a rich supply of found materials and handcrafted toys that inspire open-ended play. We give high regard to our role in a sustainable future; we grow our own food, eat organically and use environmentally safe products. We prepare all of our meals with the children and encourage their participation in caring for all aspects of the kinder, providing a very embedded approach to both the National and Steiner curriculum St Kilda Steiner Kindergarten in Melbourne provides nurturing, engaging and stimulating learning programs to encourage children to explore, discover and learn by building essential skills. We provide quality Kindergarten programs in Victoria for children that help in creating positive outcomes and bright futures.
You should choose our kindergarten in Melbourne because we design a safe, inviting and stimulating learning environment for your child. We will develop a program that creates capacity in your child to express and recognise feelings.
Westgarth Kindergarten Melbourne
03 9486 4147
We recognise children as knowledgeable, whose intelligence is based on experiences within their contexts and whose learning begins when these experiences are challenged (Glaserfeld). We support children's play, and it is their work; it is used by them to practice what they know and to explore the unknown. We advocate that children play in nature; they are happier, smarter, healthier, and kinder (White). We honour the child's right to 'not know' and their right to experience all the emotions that ensue 'knowing'.
Our pedagogy is deliberate and based on issues of social justice, local issues and current research. We are activists and willing to reform our approaches and perspectives in response to an evolving community.
The home of 'bush kinder'.
We advocate children playing in nature because we know they are happier, smarter, healthier and kinder when they do.
Our pedagogy is deliberate and based on issues of social justice, contemporary issues, current research and passion.
Middle Park Kindergarten Melbourne

(03) 9690 1220
At Middle Park Kindergarten, our aim is to provide high-quality education in a warm, caring and engaging manner. We are fortunate to have passionate and dedicated educators to respond to our children's needs, abilities and interests while recognising and nurturing their uniqueness. Together with our supportive parents, our children forge wonderful friendships, creating a very special place.
Within our close-knit community, Middle Park Kindergarten nurtures and inspires young learners to unlock their full potential. Our passionate teachers draw on their experience and the National Quality Framework to deliver a kindergarten program with four key areas at its heart.
Children at Middle Park Kindergarten:
Feel Empowered
Receive Quality Education
Belong to a Strong Community
Respect their Surroundings
We believe all children can be successful, competent and capable learners.
Middle Park Kindergarten provides a nurturing and safe environment in which young children are valued and respected.
We encourage children to explore, investigate new ideas of interest, and play a variety of activities with friends.
We treat children as capable learners, encouraging their desire to construct meaning and to develop a deeper understanding of how the world works.
Our teachers guide our children to be active inquirers and to develop independence.
Our teachers have a holistic view of the child and acknowledge that all areas of development are interrelated.
Our teachers provide activities to empower children to discover positive ways to express themselves and to problem solve.
We support further education and training opportunities for our teachers and attract the best staff for the benefit of the children.
Relationships between children, parents, teachers and the wider community are essential for a child's learning and development.
Our kindergarten fosters enduring and respectful relationships between children, families and the wider community. We celebrate diversity, value giving back to the community, and teach our children social awareness.
We help to develop each child's sense of identity through indigenous language, sport and music programs.
We have close relationships with local schools, including Middle Park Primary, to enable a seamless and supported transition into primary school for each child.
Our children learn to respect their surroundings, where they explore and play safely and sustainably.
We provide a supportive natural environment with a variety of learning of areas.
We actively encourage children to take responsibility for caring for the environment and their personal health. We water and care for our fruit and vegetable gardens, worm farm and compost, and teach healthy eating habits and oral hygiene.
We are committed to sustainable environmental practice across all aspects of the kindergarten. We use natural materials, recycle everything we can, and opt for paperless methods of communication.
Batman Park Kindergarten Melbourne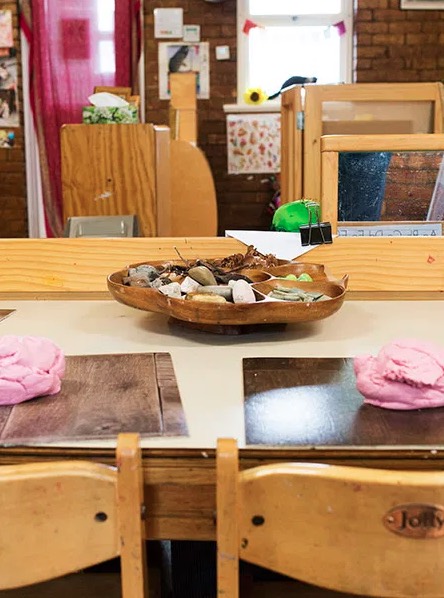 (03) 9481 0237
Batman Park Kindergarten is dedicated to providing a quality preschool program that strives to meet the needs of children. We offer both three-year-old prekindergarten and funded four-year-old kindergarten sessions in our two-room kindergarten in the heart of Northcote. Our highly skilled Educators create a nurturing and stimulating environment that provides children and families with a positive first educational experience. In addition, Batman Park Kindergarten is fully committed to the safety and wellbeing of all our children.
Batman Park Kindergarten has been an important part of the Northcote community for generations. The kindergarten is ideally located within the local community park and is easily accessible by tram, bus and train. As a two-room kindergarten, we are one of a diminishing number of kindergartens that continue to offer both three-year-old and four-year-old programs.
We offer both three-year-old prekindergarten and funded four-year-old sessions, providing a nurturing and stimulating environment that gives children and families a positive first educational experience. Parents manage our kindergarten in an elected Committee of Management.
Batman Park Kindergarten acknowledges the Wurundjeri People of the Kulin Nation as the traditional owners of the land. In addition, our learning community recognises and values Aboriginal and Torres Strait Islander culture.
We believe that all children have their own unique sense of identity and individual needs. Children learn in different ways and at different times and believe all deserve to be treated with equity and fairness. They have the right to self-expression and to make decisions and choices that influence their learning and well being. When nurtured and valued, we believe that children are empowered as capable learners.
Play is essential in the development of children, and we celebrate the abundant learning that comes with it. Play is meaningful when interests are acknowledged, and children are involved and contribute to decision-making. We embrace children's ability to explore, create, problem-solve, collaborate and imagine when they play. We incorporate intentional teaching and child-led learning into our practice to allow opportunities for all learning styles and recognise special and additional needs.
We acknowledge families as the child's first teacher. Families are invited and encouraged to contribute to the program, bringing diverse skills into our learning community and group identity. We acknowledge and celebrate diversity in beliefs, culture and tradition. We embrace and support the forging of connections between the kinder and families, families with one another, and the friendships that develop to enrich the kinder community. The park directly outside our kindergarten lends itself to a wonderful informal gathering place before and after kinder sessions.
The local community within and around Northcote is important to Batman Park Kindergarten, and we work strongly to maintain and establish relationships with many local groups, businesses, organisations and charities. Our cherished 'Fun Day' for the families at Batman Park Kindergarten and the wider community is a calendar highlight.
We are committed to implementing sustainability into learning and practice. This is done by using natural, pre-loved and recycled materials, child-maintained herb and vegetable planter boxes, worm farm and compost, solar panels and LED lights, and the use of local, environmentally-friendly products.
Educators, the committee of management, and families can participate in the quality improvement of Batman Park Kindergarten. We want all those involved with the kindergarten to feel informed, equipped and empowered.
Alfred Road Kindergarten Melbourne
(03) 98894038
Come and explore what Alfred Road Kindergarten has to offer your child and family.
Our centre's philosophy is simple. We honour the original meaning of 'kindergarten': A garden for children where they can learn through play.
The kindergarten years play an important role in your child's development. During this short period, they develop and learn much faster than any other age.
A lifelong love of learning begins here.
Young children need to stretch their bodies to stretch their minds. At ARK, we provide a supportive and encouraging environment. Our open-ended, play-based program is designed to ignite their interests and imagination.
Our years of experience have to lead us to create a unique approach to learning. One that instils children with the confidence to makes choices establish self-awareness while encouraging them to work through challenges.
We aim to provide an enriching and supportive environment and engage with others within our multi-cultural community with gentle guidance.
Our Purpose
To provide a positive, playful and nurturing environment for our children to learn, have fun and grow.
Davis Street Kindergarten Melbourne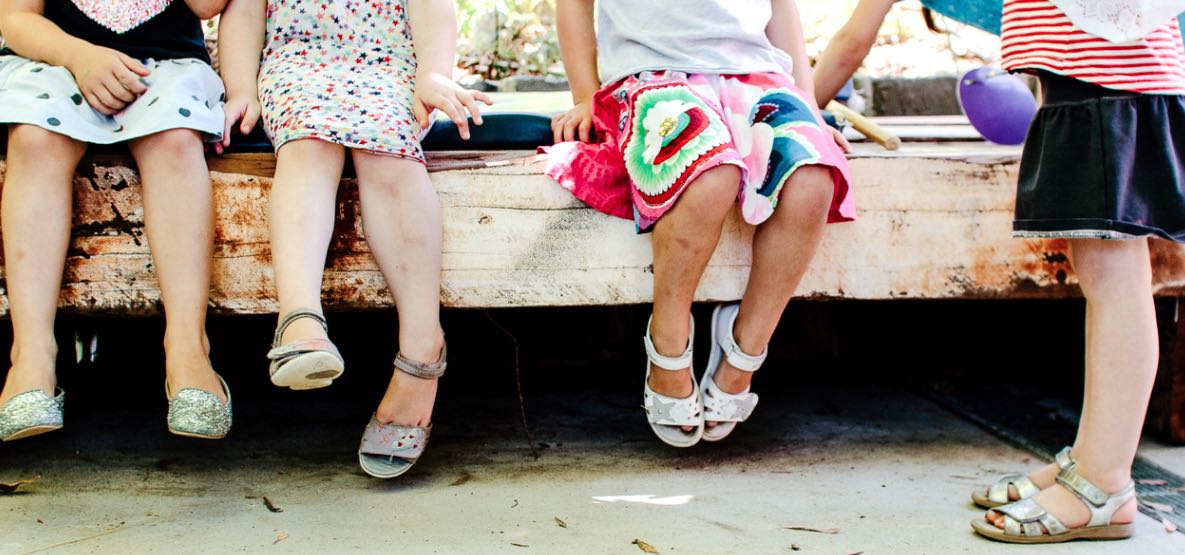 davisstreetkindergarten.org.au
03 9817 1492
Davis Street Kindergarten is over 55 years old. We opened in 1959 and have been serving the community by providing quality kindergarten educational programs ever since. We are operated by a parent run Committee of Management. We have the largest gardens of any kinder in the area and have the greatest range of four-year-old programs. Our Pre-Prep program has been available for over 20 years. We believe that children:
It should be celebrated and have fun.
Are capable and competent.
Can think creatively, think independently.
Learn best in a social context.
It should be respected.
Families
Are primary educators of children.
Are a valued resource of the Davis Street community.
Our Philosophy
The educational projects of Reggio Emilia inspire the Davis Street Kindergarten programs. Reggio Emilia is recognised worldwide for its innovative approach to education, where children are seen as competent and are valued for what they bring. Children are encouraged to investigate and explore as they make sense of their world. Davis Street Kindergarten embraces this philosophy by recognising the uniqueness of each person and the importance of building a learning community. We are committed to:
Recognising the potential of every child and the need to provide opportunities for growth in all areas of intellectual, social, emotional and physical development.
A belief that parents are an integral part of the educational community.
A belief that children can find their own solutions in a cooperative and supportive environment and develop independence and responsibility for their learning.
Developing children's sense of wonder and curiosity and a belief that exploration and investigation lead to knowledge and understanding.
The belief is that children are born with multiple languages with which they make sense of their world; expressive, communicative, symbolic, cognitive, ethical, logical, imaginative and relational. Giving children the opportunity to develop all these is vital.
Empowering children with a sense of what is possible and cultivating imagination.
Celebrating the richness of different cultures and values and appreciating the individual nature of each child.
A belief that children's learning occurs in a social context where they learn to work in a group that values everyone's contribution and develop respect for others rights and beliefs.
Our Facilities
Davis Street Kindergarten is located at 40 Davis Street Kew on council-owned property. Our facility consists of one building and two gardens. The building houses the Pre Prep room and a sessional room. The sessional room hosts the Rosella 3YO program and the Cockatoos and Koalas 4YO programs. In addition, there are two gardens – a 'Big' and 'Little' garden. The main entrance is through the beautifully landscaped Little garden.
Boroondara Kindergarten Melbourne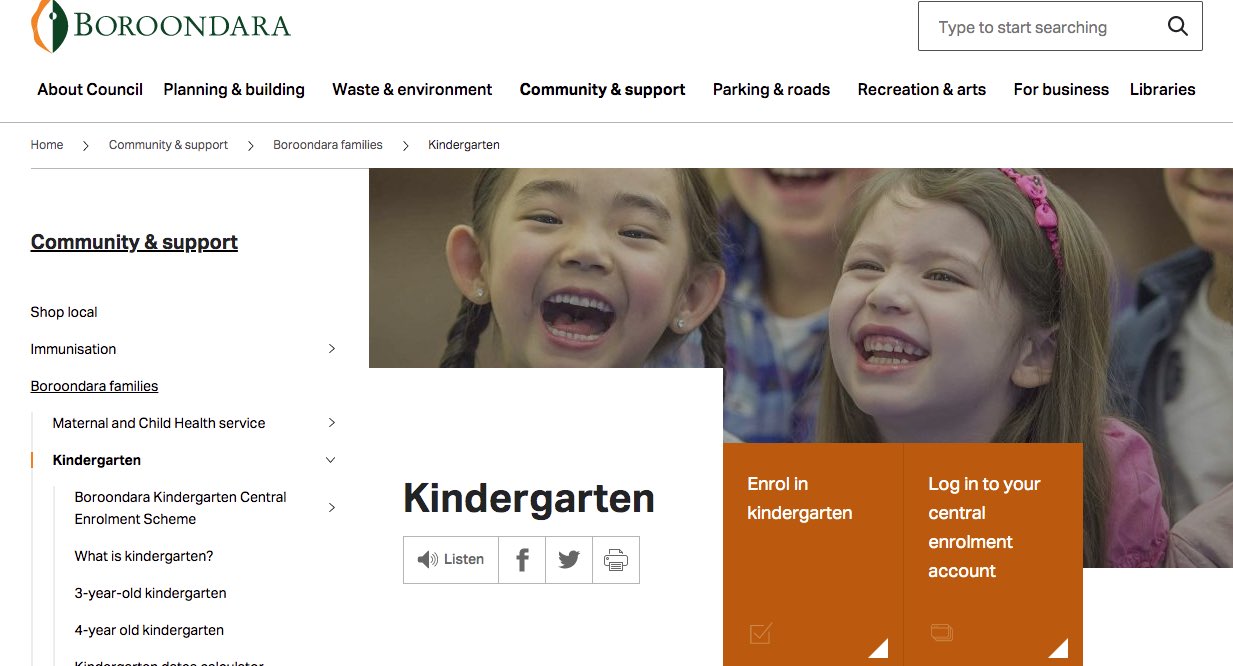 (03) 9428 3619
Located in the vibrant and multi-cultural Richmond precinct, Boroondara Kindergarten is a serene oasis where children can learn, explore and discover in a safe and caring environment. Our kindergarten is a well-resourced centre offering an enriching indoor and outdoor learning environment. We have been supporting local children and our community by providing high-quality kindergarten programs since 1914.
As a community-based centre, we value and respect our partnerships with families and the local community. We encourage and support families to participate in our programs and their child's learning journey.
Our dedicated educators deliver stimulating play-based three and four-year-old kindergarten programs that support children's interests and capabilities.
Boroondara Kindergarten has been rated as Exceeding National Quality Standard.
Enrolment information
If you wish to be placed on our waiting list, please email the following details to boroondarakindergarten@ecms.org.au:
Name of child
Date of birth
The gender of the child
Language/s spoken
Address
Telephone contact
Country of birth
Please note that enrolments can't be taken over the phone, only via email.
Please email your enrolment enquiries to boroondarakindergarten@ecms.org.au or call 9428 3619.
Facilities And Programs
At Boroondara Kindergarten, we're committed to creating a welcoming place where children, families and educators feel a strong sense of belonging, space to explore identity, freedom to grow and learn and opportunities to contribute in meaningful ways. Fundamental to these elements is our commitment to building mutually respectful relationships with and between children, families, educators and the community.
Our kindergarten programs ensure children, families, and educators engage in learning experiences that reflect children's interests, experiences, knowledge and skills. We provide opportunities that emphasise children's meaningful learning about themselves, others and the world around them through open-ended play.
Identity is essential to our kindergarten community. We celebrate and promote families' culture and language and encourage children to build a bridge between their home and kindergarten. We live in the here and now, engaging in life's joys and complexities, looking to express our potential, dreams and needs.
We're committed to children's rights as declared in the United Nation's Convention on the Child's Rights and to making these rights real in children's lives. We are guided by the principles and outcomes of the Early Years Learning Framework for Australia – Belonging, Being & Becoming and the Victorian Early Years Learning and Development Framework. Our professional practice is underpinned by Early Childhood Australia's Code of Ethics.
Brookville Kindergarten Melbourne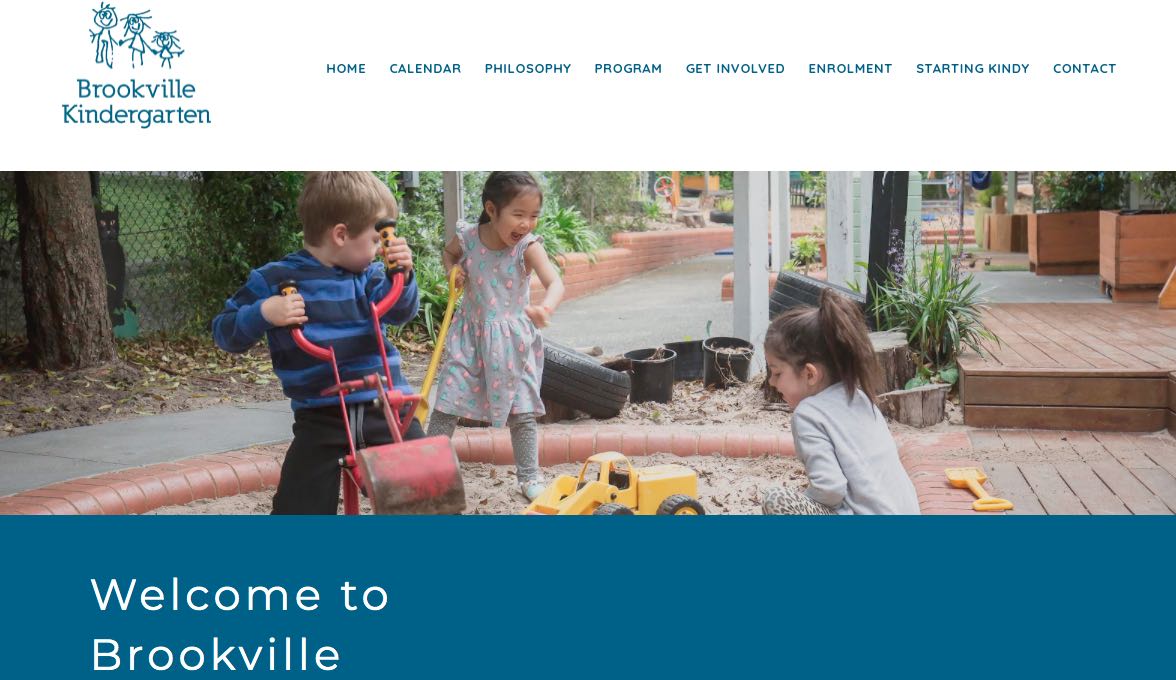 (03) 9827 2091
Brookville Kindergarten is a community kindergarten that offers high-quality early childhood education and cares to families who reside in the City of Stonnington and the broader community. Located adjacent to Brookville Gardens and Toorak Primary School, it is staffed by a team of qualified, experienced and passionate teachers and educators.
Full-Day Programs
We take pride in offering five kindergarten programs - all of which are offered as full-day programs (school hours). These include two 3-year-old programs, two 4-year-old programs and a combined 3 and 4-year-old specialist French program called Ecole Française de Melbourne.
A Strong Focus On Your Child's Development
With three educators per room, our staffing ratio far exceeds the recommended regulatory requirement, which ensures that your child's interests and development are nurtured.
Beautiful & Natural Facilities
Our beautiful, open-spaced natural grounds and welcoming indoor spaces are designed specifically to enrich the learning possibilities for all children. In 2019 we completed a significant upgrade to our 'Yellow Room' outdoor area, and in early 2020 we completed a new landscape in our 'Green Room' outdoor area. This year, we are looking to create a permaculture garden in our 'Blue Room' outdoor area.
Our Mission
To provide the community of the City of Stonnington with a high-quality play-based education and care kindergarten program that nurtures, enriches and celebrates each child's unique qualities, strengths, interests, skills, learning styles and dispositions by adopting a holistic approach to long-life learning and global citizenship inclusive of and in collaboration with parents, families and the broader community.
Our History
Brookville Kindergarten was opened officially on 26 August 1952 as both a kindergarten and maternal and child health centre for families residing in Prahran. Unveiled by the Mayor of Prahran, Cr HR Petty, the kindergarten, complete with the latest equipment for preschool children, cost the City of Prahran just over 11,000 pounds. The official and original plaque remains in the front foyer as a symbol of the long-standing history and service to the community still valued highly and practised today.
The Kindergarten Community
As a community kindergarten, we are always looking to engage with the people, schools, families and businesses in our area.
We encourage you to get involved by:
Volunteering: Parents are encouraged to come and play while also supporting the children and educators.
Becoming a class representative: The Class Rep's role is to help the teaching team create an inclusive and welcoming parent group. This is generally through getting-to-know-you gatherings such a morning tea or organising a term holiday catch up such as a play in the park for the children and parents of your respective group.
Donating goods or services for fundraising
Donating objects for the children's creative play, i.e. boxes and more boxes!
Attending special events such as excursions.
Helping out with the Welcome BBQ or End of Year BBQ.
Joining the Committee of Management
 Glass Street Kindergarten Melbourne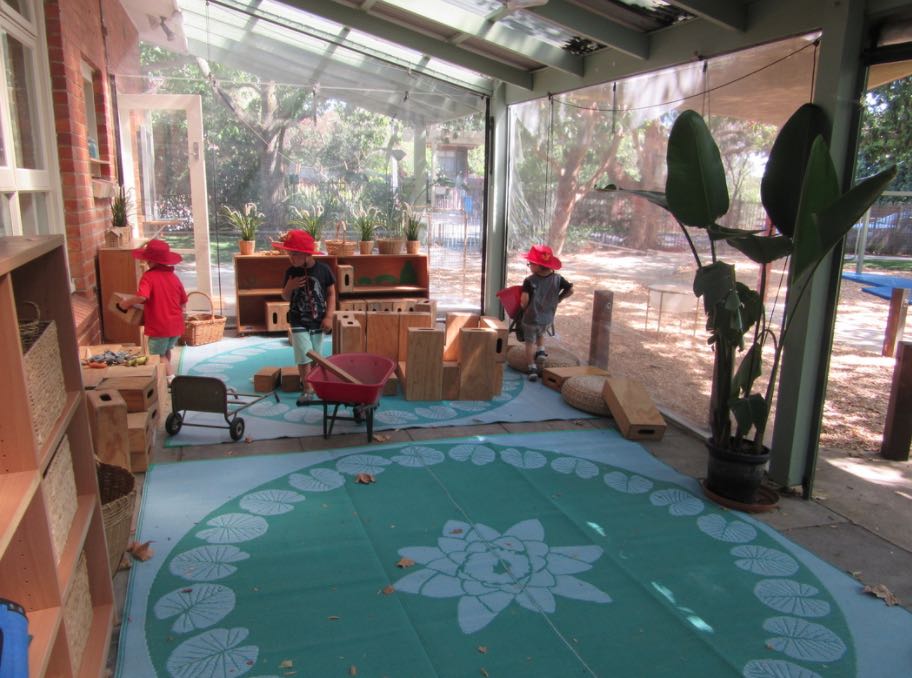 03 9859 6049
Glass Street Kindergarten is a not-for-profit community-run kindergarten located in the leafy streets of Kew East. We offer a rich and engaging kindergarten education program for children in our three-year-old group and four-year-old group.
Our educators are dedicated to creating a learning environment that fosters a strong sense of community. They actively promote and encourage parental contribution and involvement while building strong community partnerships. It is a great place to meet other parents and children in the local area. We encourage parents to be active participants and, in doing so, visibly demonstrate an environment of teachers, parents and children working together collaboratively.
Our landscaped playground is nestled in a canopy of tall trees, which provide excellent sun protection in the warmer months. We look forward to welcoming you to the kindergarten and are sure you will find it a rewarding experience for you and your child.
Our Philosophy
Glass Street Kindergarten originated in the 1950s in the nearby scout hall. The current premises grew from the strength of community spirit. Local people banded together to raise funds that would allow for the construction of a new building for the families of Kew East. In 1956, on our existing site, Glass Street Kindergarten was officially opened. Today, the large European and native trees provide a beautiful canopy of shade, colour and beauty for the children at our kindergarten. We take pride in our outdoor space and the endless learning opportunities it provides the children.
Our Vision
A space where all children, families and educators belong.
Our Mission
Glass Street Kindergarten is committed to providing a nurturing, inspiring and inclusive learning environment for all community members. We celebrate and value the history and stories of the past, present and future generations.
We Believe
At Glass Street Kindergarten, we believe all children are competent. We aim to provide an inclusive approach where each child's voice is listened to and respected. We are committed to providing a happy, safe and welcoming learning community for our children.
We believe play-based learning is essential for children because it contributes to their overall development and wellbeing. Our educators are responsive to children's ideas, provide an open-ended environment and scaffold learning to support children's education.
Family-centred practise is core to what we do. We endeavour to form inclusive and trusting partnerships with our families. The inclusion of different cultures and diverse communities is highly regarded and valued. We recognise our long history of local community contribution as integral to the life of our kindergarten. We highly value and respect our community of families of the past, present, and future and pay our respects to the Traditional Owners of the Land.
Our educators are committed to best practices and strive for continuous improvement. We believe reflecting on all aspects of our teaching leads to developing joyful and better educational outcomes for our children.
Childrens Garden Kindercare Melbourne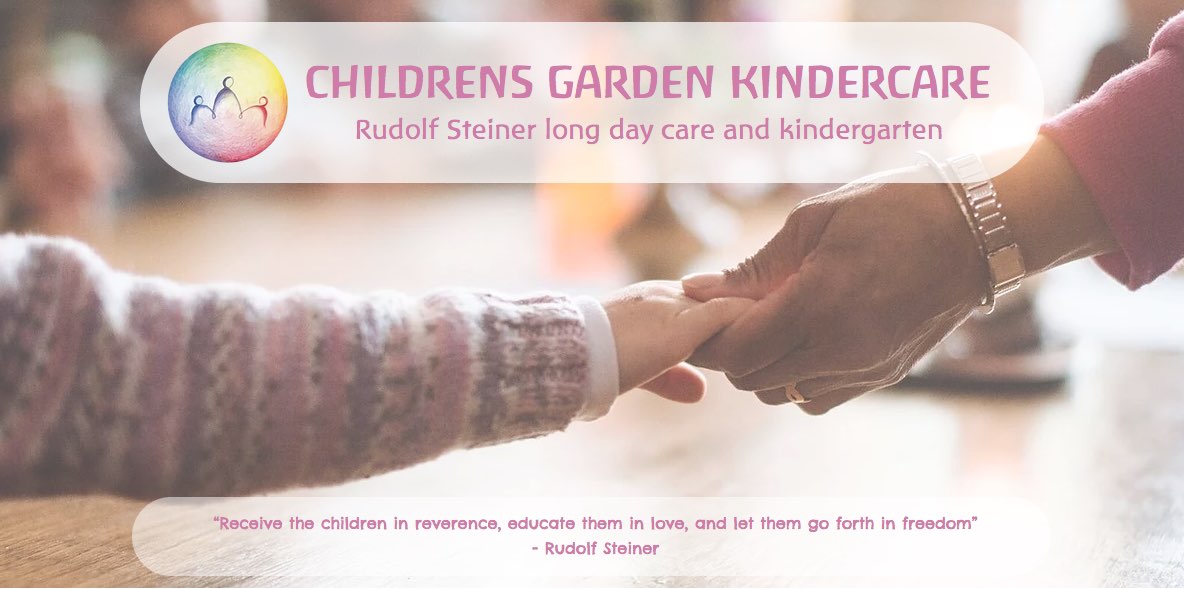 03 9699 1913
Childrens Garden Kindercare is committed to providing an alternative form of child care where the early years of childhood are protected and nurtured. Children are welcomed with love and surrounded by warmth, wonder and wisdom. Our care will give the children the best start to develop a secure sense of personal wellbeing, a love for learning, individual confidence and empathy for others.
We care for young children in a beautiful, safe and organic environment. We provide consistent daily, weekly and seasonal rhythms for the children to rely upon and develop within. Through this, the children can run, play, rest and explore as positive educational foundations are laid for their future. Our professional and dynamic team provides exceptional care that meets the changing needs of the developing child.
Programs
The programs are a rich combination of indoor and outdoor domestic/farm-like activities and free play with intentional teaching or planned activities. In Ring-o-Rosie the program centres around a strong rhythm that includes indoor and outdoor play, meal times, singing, storytime, simple art and crafts and sleep. We keep it calm and simple for our littlest ones.
In Spring Star, children are learning quickly to run and climb. In addition, they are allowed to exercise their developing gross motor skills on excursions and through a greater variety of activities, including baking, painting, gardening, crafts, and longer stories and singing circle times.
In our Peppercorn and Fig Tree Kindergartens, the program includes excursions further from the centre, more complicated verses, fingerplays, stories, cooking, paper art, beeswax and clay work and longer time in free-play. Thus, in a play-based curriculum with educators dedicated to ongoing learning, children acquire the basic foundations for all the social sciences, language, creative thinking, mathematics, music, arts, problem-solving and negotiation.
The University Of Melbourne Kindergarten Melbourne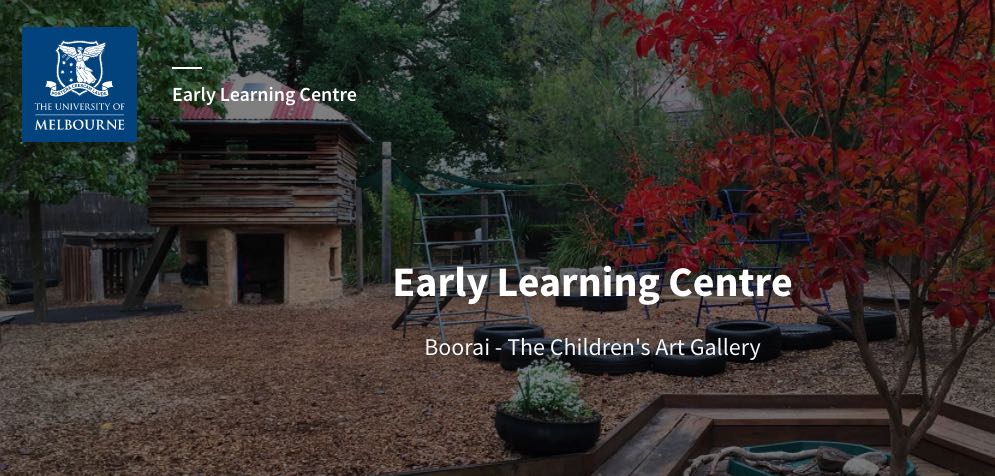 13 13 6352
Welcome to the Early Learning Centre (ELC), the University of Melbourne's research and demonstration kindergarten. The ELC provides long-day education and care program for 89 two to five-year-old children per day. Approximately 170 children are enrolled on either a full time or part-time basis.
The ELC provides an exemplary educational experience in a humanistic and environmentally mindful setting. Growing and learning at the ELC instils in children personal qualities such as empathy, integrity, respect and tolerance. The aim is to enable children to become confident, enthusiastic learners who are flexible, open-minded and able to navigate change in a fast-moving world.
The programs are designed, implemented and evaluated by Victorian Institute of Teaching (VIT) early childhood teachers who adopt an inquiry approach to teaching and learning which encourages multi-modal in-depth investigations which integrate language, mathematics, the arts, science, information communication technology and education for sustainability (EfS).
Children participate in a range of community-oriented programs beyond the ELC, including the Learning in Nature & Community Connections Programs.
Specialist teachers offer a range of enrichment classes in 2D & 3D art, dance, music and Chinese language. In 2018, the ELC was awarded the Exceeding Rating in all Quality Areas by the Australian Children's Education and Care Quality Authority (ACECQA).
The Programs
Three-Year-Old Program
To be enrolled in the 3-year-old program, children are required to turn three years of age by the 30th of April in the year of entry. Children cannot be enrolled in another funded kindergarten program at any other early childhood service.
Four-Year-Old Program
To be enrolled in the 4-year-old program, children are required to turn four years of age by the 30th of April in the year of entry. Children cannot be enrolled in another funded kindergarten program at any other early childhood service.
Enrolment Options
The University of Melbourne Early Childhood Education Services operates Queensberry Children's Centre, Swanston Street Children's Centre and the Early Learning Centre. Attendance is limited to one University of Melbourne Early Childhood Service. The Early Learning Centre offers full-day integrated funded kindergarten programs for children aged between 2 years and 5 years of age. A minimum booking of 2 days per week is required for all enrolments. Part-time enrolments are required to include either a Monday or Friday booking. Half-day enrolment is not available.
Renown Kindergarten Melbourne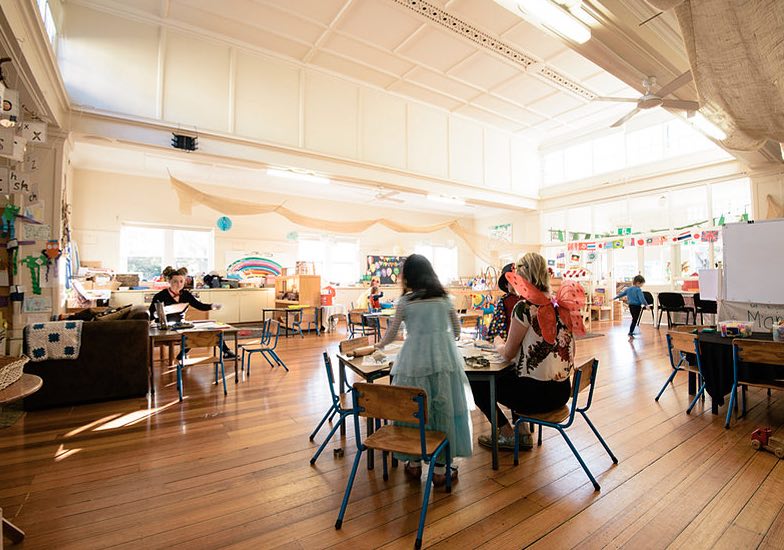 03 9827 4747
Renown is a Community Kindergarten conveniently located in South Yarra near the Jam Factory and has been providing children with their first schooling experience since 1920.
Renown Kindergarten offers a dynamic learning program in a nurturing and safe environment for all our children to explore, grow, learn and express their individuality. This journey takes place in the cosy environment of the historic buildings and playground and is guided by dedicated teaching staff, with both Australian and French programs available.
​​Our Philosophy
Community
We embrace the identity and contributions of our community and foster these connections to enhance the quality of our care and education.
Children
We view children as unique, capable and knowledgeable, each with a voice and a gift that should be championed.
Educators
We strive to empower children to learn, grow and explore. We facilitate, listen, and reflect to guide children to develop their identity and nurture their sense of being, belonging, and becoming.
Families
We value the diverse perspectives of our families and work to cultivate positive and respectful relationships, working together to contribute to the outcomes of each child.
Learning
We enact a holistic approach to learning and are guided by the needs and interests of each child and the collective group to ensure that learning is beneficial and joyous. We place great value on the importance of play and the endless opportunities this provides for children to grow and develop.
Ascot Kindergarten Melbourne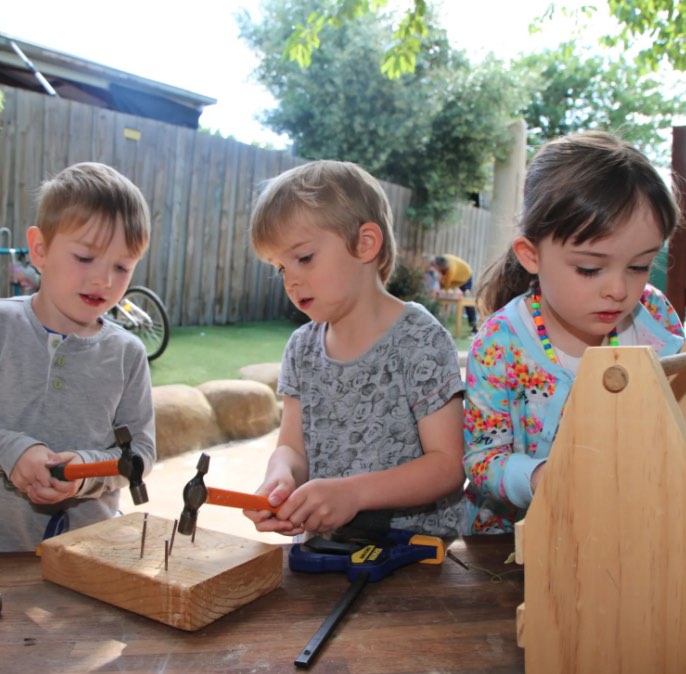 03 9375 3548
At Ascot Kindergarten, we recognise that each child is unique, and we are committed to providing a stimulating learning program that reflects students' interests. Our passionate and dedicated staff offer quality, play-based education in both our three-year-old and four-year-old programs. We offer a friendly environment that welcomes the involvement of our families and community.
Ascot Kindergarten is a community-managed, not-for-profit kindergarten established by residents in 1946 and is still managed by a volunteer parent committee today. Local community members established our kindergarten over 70 years ago, and it is still managed by a volunteer parent committee today.
The involvement and participation of families in the community life of the kindergarten is greatly appreciated, not only by the staff and committee but also by the children who feel that the kindergarten is their special place outside the home.
Our philosophy is based on our professional knowledge of child development and social values. The philosophy is reflected in our teaching and in the programs we offer and evolve to reflect our community.
Brunswick Kindergarten Melbourne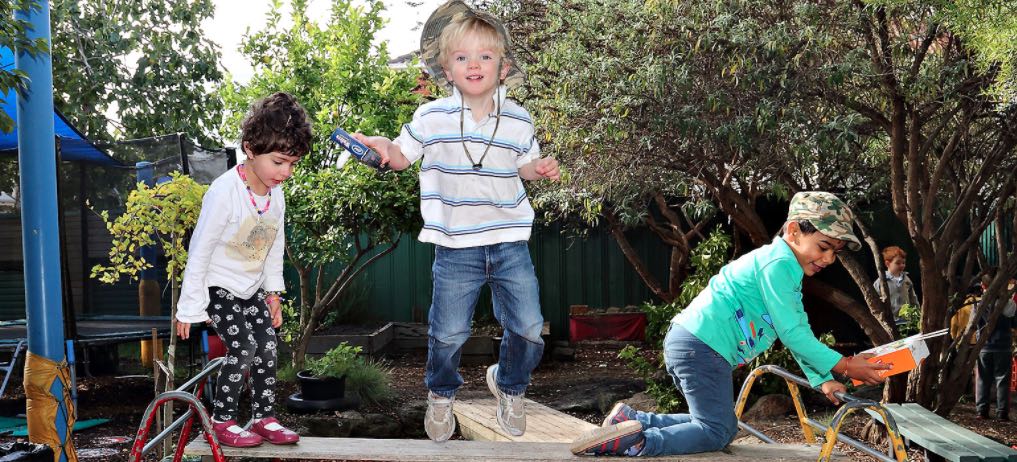 (03) 9380 8948
Brunswick Kindergarten is committed to providing a stimulating learning program for three to five-year-olds in a diverse environment that reflects each child's interests and uniqueness. One of the best features of Brunswick Kindergarten is our warm and friendly atmosphere welcoming both children and parents alike. Brunswick Kindergarten is still solely owned and run by the parent community.
Brunswick Kindergarten was first opened on 1 June 1924. There were only eighteen children enrolled. The kindergarten was established and run solely by the parents and friends of Brunswick for the children of Brunswick.
During the depression days of the 1930s, many children were malnourished and at risk from diseases such as scarlet fever, diphtheria and polio. The kindergarten helped to feed the children and to supply their clothing. Throughout these years, the community of the kindergarten banded together to help everyone. A large tree in the children's outdoor environment has stood there since its planting in 1931 and is a symbol of this era's resilience and community spirit.
In the 1940s, the kindergarten continued to work with the children of Brunswick as a contribution to the war effort. In 1943 the kindergarten joined the Brunswick Crèche and the Albert Street State School to form the Brunswick Children's Centre for Child Care in Wartime.
The service provided a full-day program that included a two-course meal for the children, helping more than sixty mothers working in the industry while their husbands were at war. During these times, the mothers cooked, sewed and made general repairs. Fathers made the furniture, chopped wood, painted and maintained the gardens. Many local sporting clubs made donations. The Brunswick community as a whole saw the kindergarten as vitally important for their children's education and wellbeing, so assisted where ever possible.
Philosophy
Brunswick Kindergarten is committed to providing a stimulating learning program for three to five-year-olds in a diverse environment that reflects each child's interests and uniqueness.
We believe that the indoor/outdoor play-based program we provide empowers each child to learn and grow as competent individuals who can be instrumental in their decision-making processes. This incorporates the following understandings:
All children are individuals who learn and express themselves through a variety of experiences.
Learning outcomes will be unique and creative rather than standard and homogenous.
All children learn best through child-initiated experiences, adult supported, open-ended, flexible, spontaneous and fun. These experiences must allow them to take their time, explore, revisit and consolidate their learning.
All children learn best in an environment that provides opportunities and experiences to explore and participate in experiences based on their own interests so that not all learning is structured or formal.
All children are naturally curious, and by encouraging them to ask questions, their learning becomes more relevant and authentic. Children are thus engaged in learning which is personalised and focused on their understanding of the world.
All children benefit from risk-taking behaviour that allows them to test, push and redefine their boundaries as they gain confidence in their own abilities.
Social and emotional development is the foundation for a positive approach to all learning. Children who have high self-esteem and belief in their abilities will have the tools to advance their skills and learning.
We encourage you to play an active role in your child's education and their kindergarten year. We encourage you to drop in at any time and to give us information about your child's interests and what they are curious about. We also encourage you to talk with us at any time about any concerns about your child's development and progress.
 St Catherine's Early Education Centre - Kindergarten Melbourne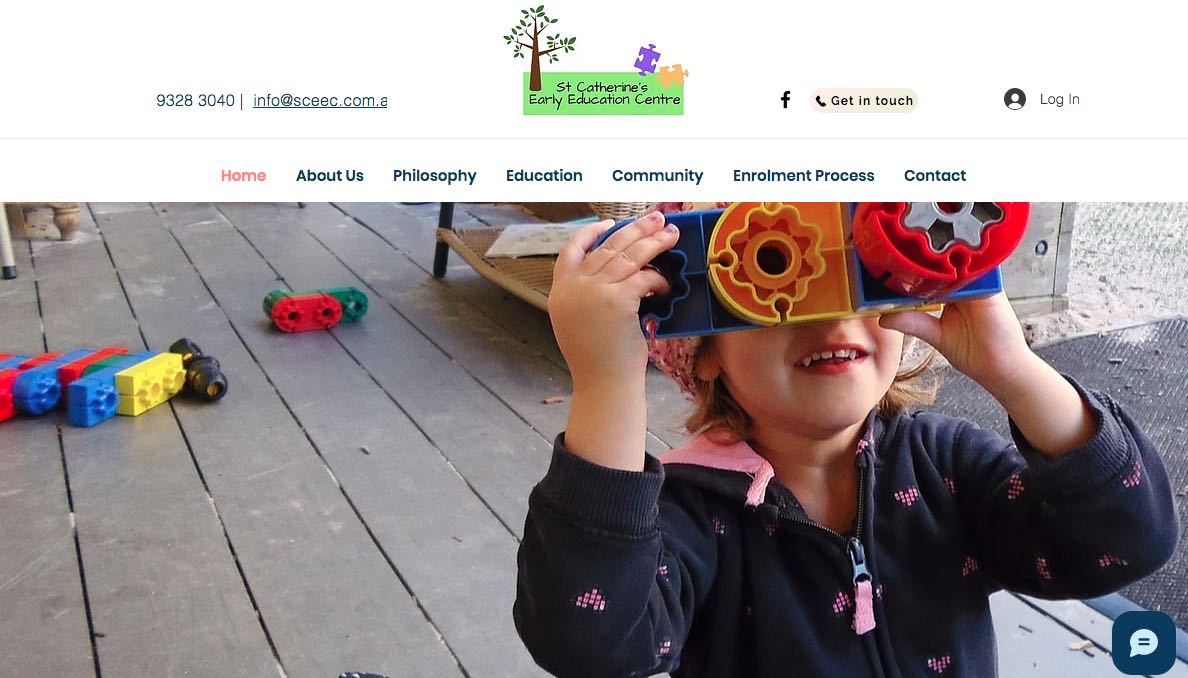 9328 3040
From language and literacy development to social skills and creative expression, the children at St Catherine's Early Education Centre (Childcare) are constantly exposed to new activities and environments to thrive. We build on the strengths and interests of each child to help build a solid foundation where they can develop their futures.
Our centre provides a fun and safe environment where your child will learn, grow and develop through play and planned experiences. Our centre is filled with interesting materials, resources and equipment that encourages exploration and promotes your child's physical, social, emotional and cognitive development.
Our experienced educators create and teach programs based on play, our environment, family and community ties, and developmental learning outcomes.
We aim to encourage each child's independence, self-confidence and respect for self, others and property through guidance, positive reinforcement and role modelling.
Our Philosophy
St Catherine's Early Education Centre will be inventive and unique to ensure that St Catherine's community is distinctive within the early childhood education field.​
We acknowledge the traditional owners of the land on which we stand. We respect the Elders, past and present, extending our respect to all Aboriginal and Torres Strait Islander people who are the traditional custodians of this land.
At St Catherine's, we value and work under the National Quality Framework guiding principles and National Quality Standards. In delivering our education and care curriculum, we follow the principles, practices and learning outcomes of the National Early Year's Framework.
Our Vision
We recognise the uniqueness of each child and the importance of play in the lives of children. Working in partnership with families, we will be committed to providing exceptional education and care within a welcoming environment that embraces diversity and the local community.​
We deliver the highest level of care and education for your child in a warm, nurturing and safe environment.
We will respect the children's right to feel safe, secure and comfortable in their environment. Therefore, we will listen and respond to their feelings and needs as required.
As educators, we will work together to create a welcoming environment that the children want to be a part of.​
We will treat all children equitable and give each child an opportunity to develop skills for lifelong learning, focusing on each child's strengths and interests.
We will create opportunities for children to build friendships, laugh, smile and jump in puddles.
We will respect and respond to the needs and interests of each child and continually encourage children to develop an understanding of who they are and how they fit into the world.
We will continually encourage and support the development of self-esteem, confidence and independence of children.
We will work in partnership with families to build relationships based on cooperation and mutual respect for the reciprocal roles that each play in the lives of the children.​
We will encourage support and guide to all families in an inclusive environment filled with wonder and awe.
We will include and work towards parent's goals for their children and consider them valuable.
Through our leadership and management, we, as a team, encourage educators to work collaboratively by sharing knowledge and experiences.
We will, as educators, work with the children and discover ideas and provide opportunities for learning through emergent intentional teaching.
We will provide an inclusive environment and aim to increase the children's awareness and respect for cultural differences.
We value belonging to the North Melbourne community and will involve our centre in diverse cultures, communities and events that make up the local area.
We will engage with our community and encourage the children, families and staff to be part of the cultural events and celebrations.
We will expose the children to different members of our community.
Keon Park Kindergarten Melbourne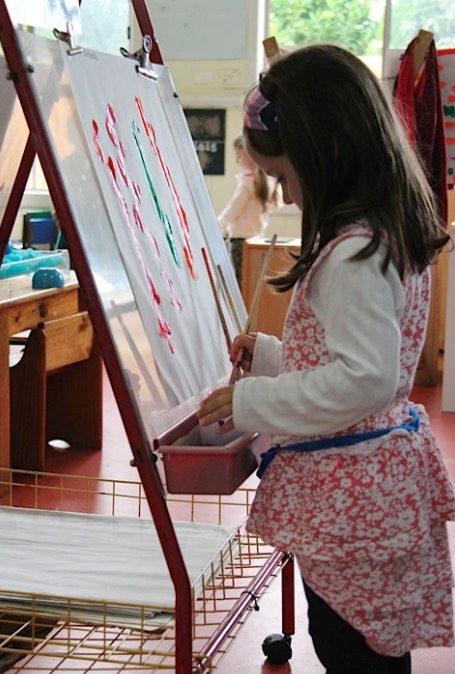 03 9460 1271
We are committed to providing a high-quality preschool program that facilitates learning through play for children.
We believe learning is a lifelong process, and our learning environment promotes development, growth and promotion of life skills through a play-based curriculum.
We believe it is essential to collaborate with families, recognising that families know and understand their children best. Building reciprocal relationships with families and children and creating a strong sense of community and belonging are the cornerstones of our learning environment.
We acknowledge it is important for children to have the opportunity to explore, invent, discover and solve problems in an environment that engages, stimulates, nurtures and challenges them.
Children are provided with learning opportunities to engage and learn with their peers comfortably and be recognised as unique individuals.
Our curriculum reflects the Victorian Early Years Learning and Development Framework (VEYLDF) and the Early Years Learning Framework for Australia (EYLF). The EYLF describes childhood as a time of belonging, being and becoming.
The educating team aims to scaffold learning by focusing on making learning visible to children to build and scaffold on learning experiences. Learning and participation are shared in ways that aim to meet the communication needs of all families.
We promote our belief in strong professional reflection by ensuring the educating team actively participate in networking, reflective practice meetings and professional development opportunities.
The educating team and the committee of management ensure they work closely with each other in contemplating the future direction of the kindergarten and continuous improvement programs.
Our Educators
Our close-knit, dedicated team of educators and co-educators is the reason Keon Park Kindergarten has become a vital part of the Reservoir community. Our educators either live or have lived in the neighbourhood and consequently have formed strong ties to the local community.
They have a diversity of life experiences, interests, and knowledge and bring these benefits into the classroom. All our educators have over 20 years of experience in early childhood education, and all are committed to their own professional development as educators.
Jj Mcmahon Memorial Kindergarten Melbourne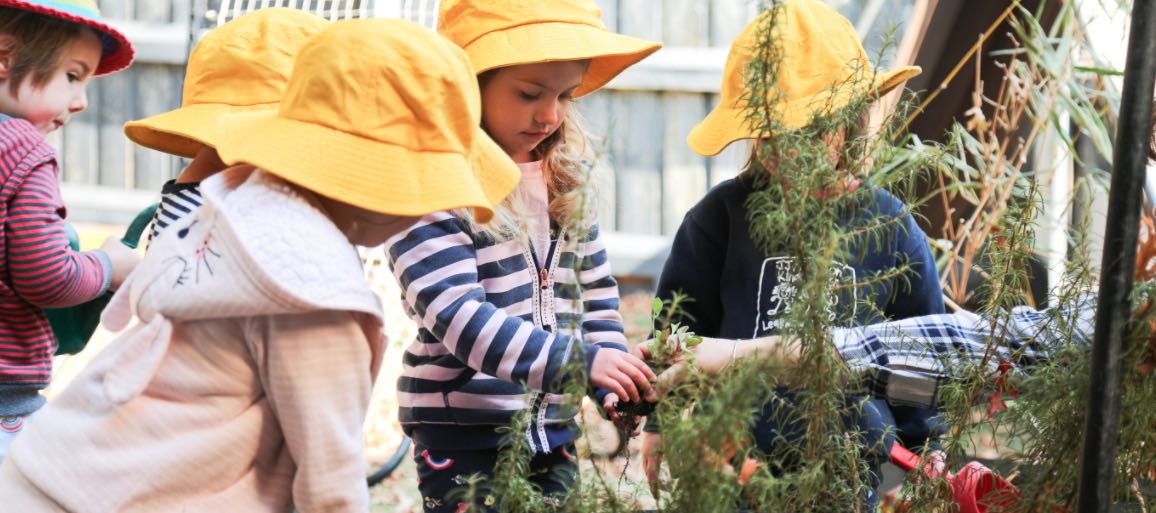 (03) 9817 3624
Established in 1951, we are a friendly community-based Committee of Management Kindergarten in the Melbourne suburb of Kew. We offer three-year-old and four-year-old programs delivered by enthusiastic tertiary qualified teachers that the State Government partially funds. So please enjoy exploring our kindergarten website, or arrange to visit us in person at a mutually convenient time.
Our Staff
Our experienced and enthusiastic teachers and assistants are highly qualified in early childhood education. Our university-trained teachers plan and deliver programs that reflect their specialist knowledge of child development. Most importantly all our staff love their work and the children. Some are past parents from our kindergarten community.
All staff have current First Aid, CPR and Epipen/Anaphylaxis training. In addition, staff are experienced in liaising with outside agencies where a child has additional needs.
Our Philosophy
Our curriculum is developed from the national EYLF and state VEYLDF. Intentional teaching is delivered by staff in the environment of an emergent curriculum. The work informs our teachings of leading educational theorists, and we are inspired by Froebel, Montessori, Reggio Emilia, Steiner and Teacher Tom Hobson in particular.
We believe parents are their child's first teachers and proudly uphold the tradition of the parent-run kindergarten. Parents and families are always welcomed, and your input is vital to your child's success. The sense of community, your family, develops with us here will last a lifetime.
Home Road Kindergarten Melbourne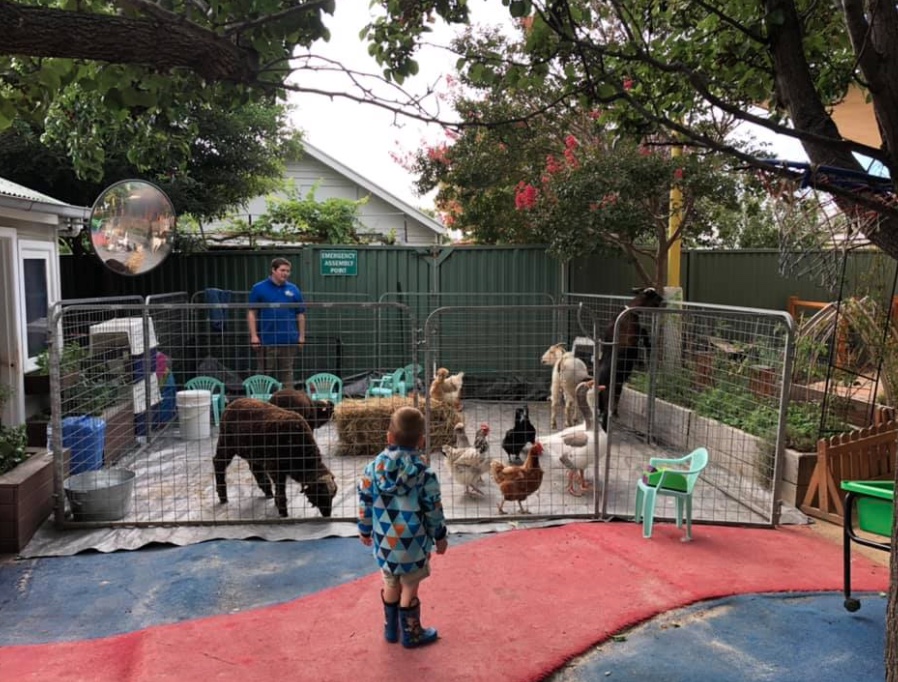 homeroadkindergarten.vic.edu.au
(03) 9391 2958
The Early Years Learning Framework informs our curriculum, the Victorian Early Years Learning and Development Framework, National Quality Standard and the Child Safe Standards.
Our Philosophy
We are a community working to establish the foundations of lifelong learning.
Children
We build trusting and meaningful relationships with the children and families. We believe that play is crucial to the development of each individual child. Therefore, we provide opportunities for each child to lead their learning and for their voices to be valued.
Environment
We have a deep respect for our environment, embedding sustainable actions into our programs. We appreciate the learning opportunities that nature and an indoor-outdoor environment can offer.
Learning
Following the Early Years Learning Frameworks and the National Quality Standard, we support each child in developing life skills, such as a positive attitude to learning, health and wellbeing, self-belief, independence, resilience, persistence and respect. Home Road Kindergarten is committed to providing a child-safe learning environment.
Diversity
Children are given opportunities to explore cultural diversity, the importance of being inclusive and respectful to all. We acknowledge the traditional owners, the first peoples of this land on which we work, live and play. We are dedicated to embedding Aboriginal and Torres Strait Islander culture within our Kindergarten environment and programs.
Community
We believe that our local community's diverse knowledge and experience are a valued resource for our children and educators. Therefore, we have an active presence in the local community.
Collaboration
We are a collaborative team, and we value each educator's unique teaching style. We strive to share new ideas, practices and critical reflection with each other.
Dame Nellie Melba Kindergarten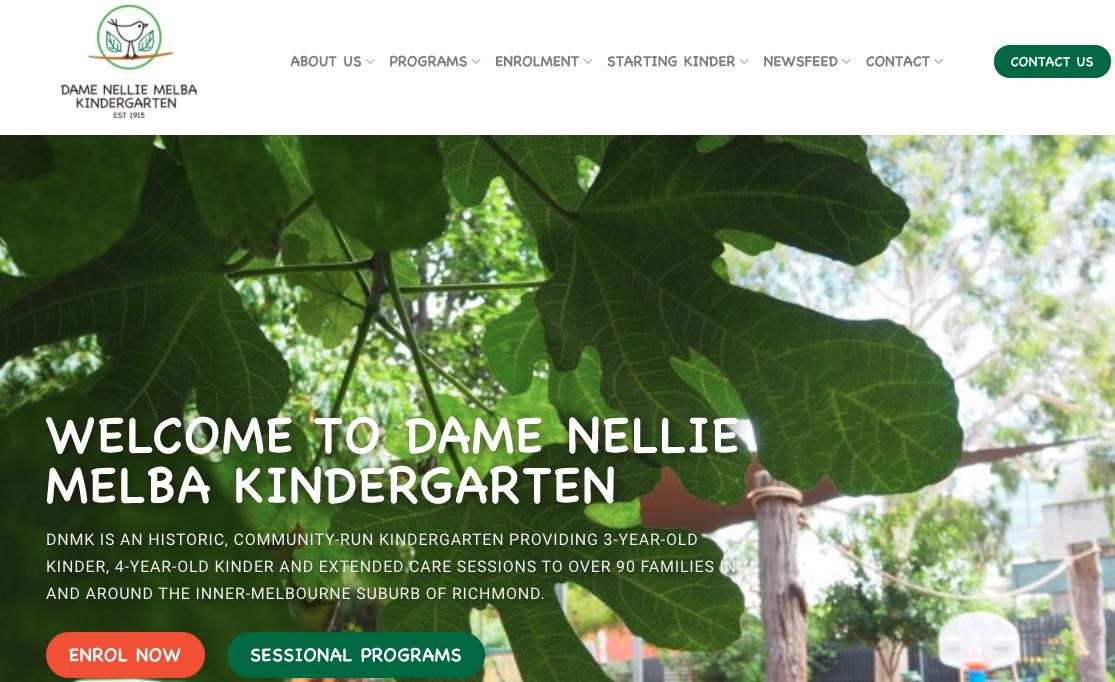 (03) 9428 2282
Celebrating imagination, curiosity and play
We have a holistic view of children's learning and development and celebrate the wonderful ability of children to play and turn seemingly small discoveries into opportunities for creativity, joy and learning. A fallen tree branch can become a rocket ship, and a raised block might be a galleon travelling over the high seas and holes dug in the sandpit can form a new civilisation.
Promoting young spirits' self-discovery
We believe in promoting children's individuality and their ideas and abilities. We encourage autonomy and independence and celebrate the special magic each child brings to the early learning environment, instilling in every child the belief that they can achieve all they want and extend their expectations of themselves.
We value the flexibility and creativity of an evolving curriculum where the children's interests and passions set the foundations for learning outcomes that are relevant, interesting and functional for them. We promote independence and agency with purpose and passion, empowering children to have input into and ownership over the world and the home and away from home, that is, their kindergarten.
Supporting purposeful, educator-led learning
Play is also the context in which children learn. Educators ensure this learning incorporates music, science, mathematics, language, motor skills, creativity, and social skills. Maria Montessori wrote that 'play is the work of young children. Erik Erikson maintained that 'the playing adult steps sideward into another reality; the playing child advances to new stages of mastery.' Our educators guide this process and invite children to investigate, explore, share and delight in the sheer joy of learning.
East Brunswick Kindergarten and Childcare Centre Melbourne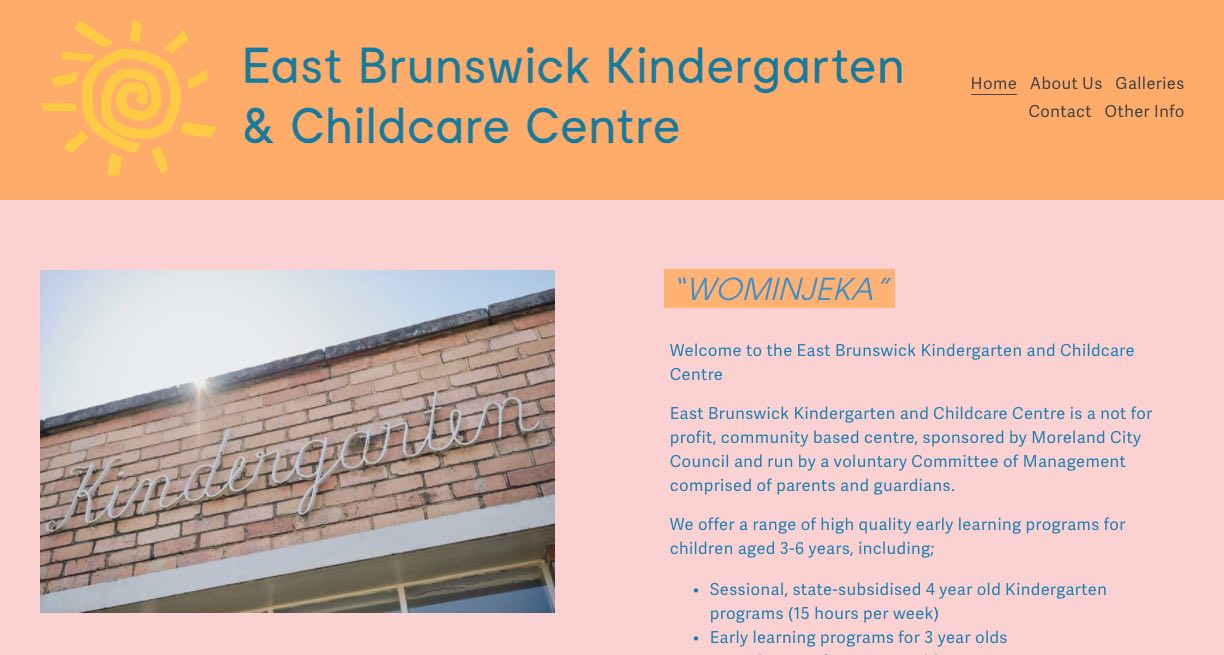 (03) 9489 3037
East Brunswick Kindergarten and Childcare Centre is a not for profit, the community-based centre sponsored by Moreland City Council and run by a voluntary Committee of Management comprised of parents and guardians.
We offer a range of high quality early learning programs for children aged 3-6 years, including;
Sessional, state-subsidised four-year-old Kindergarten programs (15 hours per week)
Early learning programs for three-year-olds
Long daycare for 3-6-year-olds
The primary aims of our programs are to recognise the value of children's play in the learning process and that each child will develop and learn in their way and at their own pace. Emphasis is placed on creativity and the learning process rather than on the end product, with particular recognition of the child's need for space, time, materials, adult support and guidance. Our programs are carefully planned, based on observations, needs and interests of individual children and the group.
Our Programs
At EBKCC, our high quality early learning programs are designed to:
Enhance self-esteem and build self-confidence
Promote a caring attitude towards others
Teach skills of problem solving and assertiveness
Use imagination and creativity
Encourage participation in activities
Foster social skills in a sensitive, positive manner
Develop good communication skills and express feelings in socially acceptable ways.