Planning a baby nursery can be an overwhelming task. With so many baby items available, it can be difficult to figure out which ones are worth buying. The items you buy will depend partly on your personal preferences, but a few nursery decor basics can assist every new parent. These essentials will get you started and inspire you to add the additional items that will be right for you and your parenting style.
You've probably got the big-ticket baby gear in place already, but don't forget these little nursery items for your baby's bedroom — they're sure to simplify your soon-to-be new-mom life.
If I could go back in time, I would have become a wedding planner or someone who decorates nurseries for expecting moms. Why? Because there are two events in a woman's life where she goes above and beyond a rational budget: her wedding and her baby's arrival.
Since any woman can remember, they have fantasized about their wedding day, recreating her wedding dress, the location, the ambience, her shoes – all the details, over and over again. Once that day comes and goes, she begins daydreaming about her baby, from the gender to the name, to the nursery, and the outfits that will be hanging in the nursery's closet even before the baby is born.
There are a ton of to-dos when prepping for baby's arrival, and shopping for all the baby essentials is not least among them. From setting up the nursery to gathering the gear for sleeping, eating and diapering, it's easy to keep busy buying baby must-haves. After all, the number of baby supplies a newborn requires can take any mom-to-be by surprise. But how do you figure out which are the baby items you can forget about, and which are the essential baby items you can't live without? Don't stress: We're breaking it all down for you. Read on for a complete list of things you need for a new baby.
We have a wide range of baby nursery furniture to help you create the perfect room for your baby.
Essential Baby Nursery Items
Let's begin by going down the list of what a nursery should have and why:
Crib
A crib before all else must be safe. This should be obvious, but a crib is where a newborn will spend most of his/her time. According to Baby Center, newborns can sleep 16-17 hours a day (67% of their day), so a good crib is important.
A factor to note before purchasing a crib is the visibility. We had a baby camera on at all times but realized that it's hard to place the camera where the baby was always visible. More than half the cribs available today have sides that are closed off. Make sure you choose one that is barred and visible on all four sides, so you don't have to go to the nursery every five minutes to make sure the baby is well. This minimalistic crib is modern, inexpensive, and sturdy.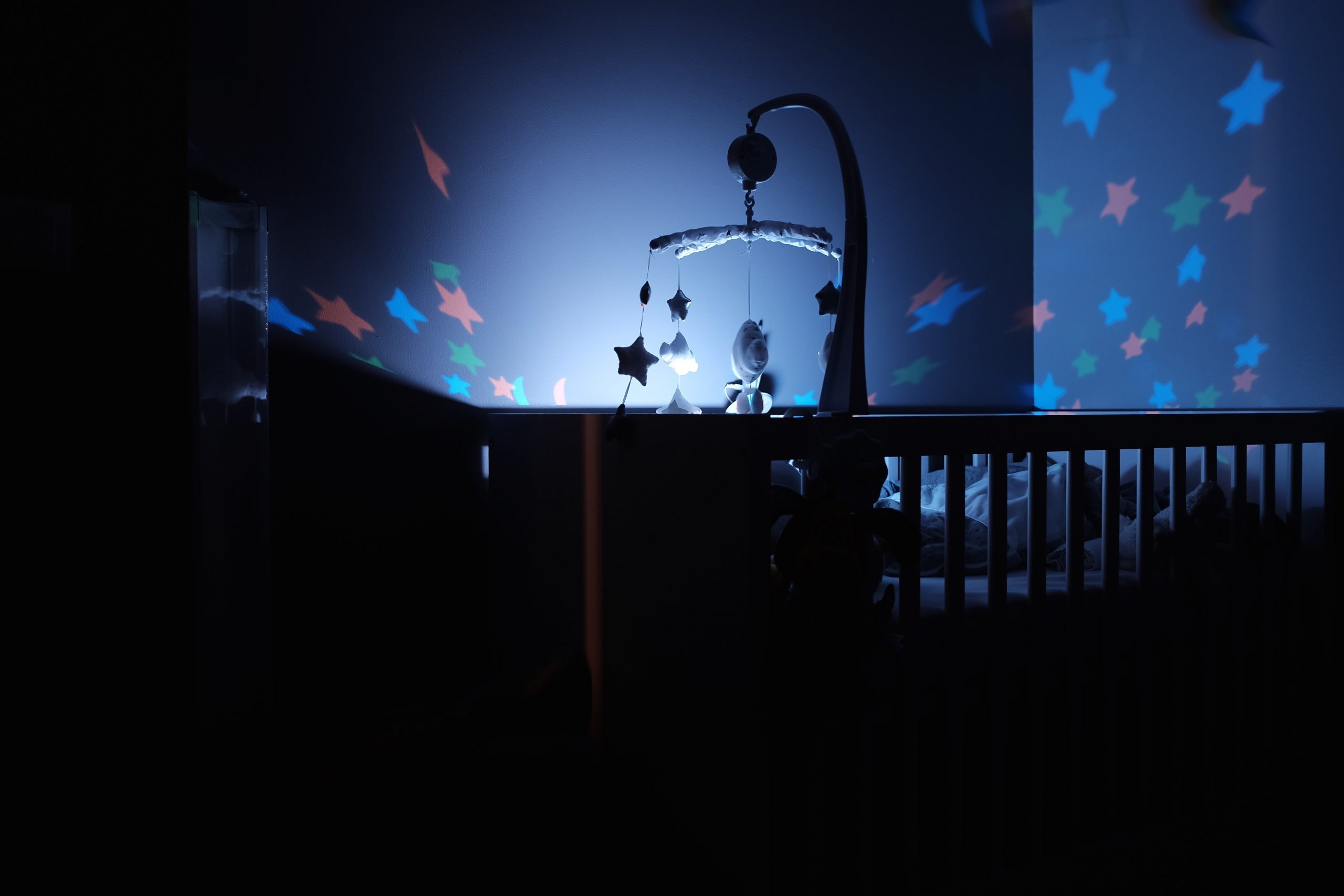 Mattress
Organic versus foam versus waterproof seems to be a big debate when it comes to mattresses. However, there are plenty of great mattresses between $50-$100 that fall in all three categories and are reasonably priced. Pick one that you think is best for your child. I purchased this hypoallergenic crib mattress and still use it to this day.
Waterproof Mattress Cover
Not only does the crib need a waterproof mattress cover, but your bed probably do as well if your baby spends any time on it. There are countless inevitable spit-ups and blow-outs with infants. To save yourself time in the wee hours of the night, cover your mattress with a waterproof cover so that all you have to do is change the mattress cover, instead of having to change and wash the mattress itself. This bamboo mattress protector is a good inexpensive choice.
Crib Sheet
When it comes to fabric and linens, there is a clear distinction in quality. Burt's Bees makes inexpensive organic products from sheets to onesies to lotions. They are dependable and affordable: adjectives you want in all your baby-related products.
Nursing Chair and Pillow
A nursing chair can be any chair that allows you to sit down and feed your baby comfortably. Ideally, this chair allows you to lean, rock, swivel and put your feet up. A newborn will feed every hour, if not more, so make sure your seat is as agreeable as possible. There are many nursing chairs available from $300 to $800. Most are great, but they can only be used for nursing. Instead of purchasing a conventional "nursing chair," I bought a chair from La-Z-Boy. I got a conventional rocking chair that allows for a full extension so that post-baby, my husband, can bring it down to his man cave for further use.
A nursing pillow is important, as well. When nursing your baby, their head needs to be propped up to avoid indigestion and gas. Trying to support the baby in this position without a pillow will lead to carpal tunnel. I purchased a Boppy Pillow and have used it for two years. This pillow can be used for nursing, but it can also be used for tummy time exercises. When the time comes, the Boppy serves as a seat rest for the babies to sit up as well.
Finding the right nursing chair for your baby nursery is an important decision. Check out our range of the best nursing chairs at My Baby Nursery.
Drawers and Dressers
Babies, although small, have a lot of clothing because they require changing about three times a day. This means that closet space is necessary. I suggest getting a drawer or dresser for your baby which will house all the clothes, washcloths, bibs, socks, mittens, and hats that they will need. A drawer or dresser can also be used as a surface for a changing pad kit, so there's no need for a separate changing table. This Serta changing pad will suffice on top of any drawer.
Diapers, Wipes, and Clothes
The necessities of diapers, wipes, onesies, socks, and mittens are needed at the beginning of a child's life. I went with Pampers Sensitive for the first few months for diapers and wipes and am glad I did. This is the most sensitive periods of their lives, so I'm glad I chose the mildest options.
Make sure everything you could need is within easy reach of the changing table.
Think of diapers, wipes, more wipes, changing table covers, laundry hamper, poop bucket (i.e. your diaper disposal system), burp cloths, a pacifier, etc. The last thing you want to do is step away from the baby and risk him rolling off because you need to grab something clean to slide under his butt post-poop explosion.
Avoid clutter.
You'll be carrying a baby back and forth in the middle of the night, and a misplaced chair (or playmat, toy, book, etc.) can be brutal to trip over when you're not expecting it. On this note, make sure you have lots of functional storage space, so you have easy places to tuck things when you're done using them, instead of leaving them scattered on the floor.
Don't be afraid of the dark.
Make sure the lighting in your nursery can mimic nighttime anytime. That means a heavy enough curtain or window shade (some people recommend blackout shades) to fake the dark when it's time for a nap during the day. We installed a very cute window shade only to realize a few months in when we started to use the crib for naps that the shade barely blocks any daylight. And babies are no dummies! Ours thinks bright light means party time and he doesn't want to be left out of whatever fun is being had, so he strains to stay awake even if he's cranky. But he knows that darkness means bedtime, and his eyes get droopy when the lights go out. You don't have to make your nursery a dungeon, but give yourself the option to fake it and you'll all rest easier.
A night-light
Your baby won't be afraid of the dark for another year at least (or maybe he never will), so the mood lighting in your baby's bedroom isn't for his sake just yet. A night-light or a dimmer switch is a nursery essential to keep you (and your partner) from stubbing your toes when you stumble in at 2 a.m. for a feeding. Plus, the night-light's mellow glow (rather than the glare of a bright bulb) will help your baby learn to distinguish between night and day. What else can help your baby drift off to dreamland once you're done feeding? Keep your voice soft and soothing, and post-feeding cuddles short and sweet.
A mom zone
Feeding a new baby provides some of the most moving moments of mommyhood. But it can also take (a long) time, and you'll be almost completely immobile while you're doing it. So put aside table near the glider or rocking chair (or place your seat near a bookshelf) and keep a basket on it, stocked with healthy snacks (a banana and a small container of almonds, say) and a water bottle. Also worth stashing nearby: a few magazines or novels or a Bluetooth speaker so you can listen to music, audiobooks or podcasts — perfect for hands-free entertainment.
One-minute masterpieces
While your face still takes top prize in your baby's gallery of faves, providing colourful pictures boosts his (developing) vision and stimulates his curiosity (what is that?). No need for framing — just attach a line of clothespins to the wall above your baby's crib (make sure it's very securely fastened and safely out of his reach) with removable adhesive strips. Then clip in a variety of pictures — family photos, postcards, greeting cards, or drawings scribbled by big siblings. Since swapping them in and out is easy, your baby (and you!) will always have something interesting to look at.
Open baskets
You're probably used to hiding clutter inside lidded boxes or drawers (or smushed behind closet doors). But your top priority as a new mom will be easy access — especially when you're cradling your cutie in your arms and only have one hand to rummage for a burp cloth or binky. That's why open bins and baskets are a nursery essential. Toss toys into one, outfits in another, blankets in a third, and so on. You'll always be able to grab what you need in a nanosecond — even when your fussy newborn refuses to let you put him down.
A fan
Is it hot in your baby's bedroom? Maybe not, but an electric fan does more than cool off the nursery during naptime. It's a smart source of white noise, that hazy whir that lulls little ones to sleep and masks other household noises, from ringing doorbells to yipping dogs. For another white-noise source, try setting the radio dial between stations for the sweet sound of static. Or try downloading a white-noise app (yes, they exist!), with ambient noises ranging from hair dryers to heartbeats.
A bouncer seat
With a perfectly good (and probably pricey) crib holding court in your baby's bedroom, why take up valuable floor space with a bouncer seat? Well, to a newborn used to being curled up inside your belly, a crib can seem a bit big and flat — and not the best place to watch you fold laundry. That's when a more upright and mobile perch, like a bouncer, comes in handy. It cradles your baby better than a crib mattress does, and its rocking or vibrating movements can mimic the motion of Mom's body. Another bonus: By reserving the crib for naps and nights, you'll provide your baby with a valuable lesson — crib-time equals sleepy-time. One safety note: Be sure your baby is securely strapped into his bouncer and never let him alone when he's in it.
Sturdy boxes
That itty-bitty hospital bracelet! The little white cap he wore at his christening! Even if you wouldn't touch a scrapbook with a ten-foot pole, it's normal for new parents to morph into mini-archivists, storing mementos of their child's baby years. Since you want to keep those items in pristine condition and safely stowed where you can find them, buy a few archival-quality storage boxes and keep them in your baby's bedroom. That way they'll be handy when you want to stash the things you can't bear to part with, from that first pair of teeny-tiny socks to the newspaper you bought the day he was born.
A journal
With so much on your sleep-deprived mind, you won't be able to remember how many bottles your baby had or what times of day he pooped. During those early days and nights, keep a notebook and pencil in the baby's bedroom. Jot down when he napped, pooped, and ate, and you'll know when he's likely to eat or sleep next — and notice when something's off schedule. While you're at it, turn the baby log into a mini-journal. Capture those first milestones (&#34He smiled!) and games (&#34We cooed at each other while I changed his diaper&#34), and you'll preserve those tender (and fleeting) moments forever.
A baby registry
Chances are you're too busy prepping for baby (not to mention too wiped out from carrying your baby-to-be) to belly up to the store and pick up these items. To the rescue: A baby shower! Quick and easy registries will practically do the nursery planning for you. Not only will you find a wide range of products, you'll also be able to read reviews to score the best baby gear possible. It's super simple for you (not to mention your friends and family) to use — plus a no-nonsense way to stock up for the baby bedroom of your dreams.
Sleeping Bags
Overheating is said to be a contributing factor to SIDs, so layering too many blankets which could end up covering their little faces is nit a good idea. If your baby kicks off blankets and gets too cold, they are likely to wake unnecessarily. The simple answer to both of these problems is the baby sleeping bag. Baby sleeping bags are a great solution baby and the best temperature to help them get the best and safest night sleep possible. 2.5 tog sleeping bags can be used for most of the year, with one or 0.5 tog sleeping bags to be used in the warm summer months of the daytime naps.
My Baby Nursery has a wide range of the best baby lighting for your nursery right here.
Snuza 
An alternative to the Angel Care Monitor is a Snuza. The Snuza is a portable breathing monitor the clips onto your baby's nappy. Although we used the Angel Care at home, the Snuza can be used at home in the cot just to monitor breathing. We mainly used the Snuza while out and about, away on holiday or when our babies were sleeping anywhere other than in their rooms. I can highly recommend the Snuza, and once again, it brought me great peace of mind.
Try to choose pieces for your nursery that will last beyond toddlerhood. While it is nice to have cute pieces of furniture with footballs or butterflies on them, think about choosing neutral pieces that will stand the test of time.