The urge to paint your baby's wooden crib is not what only you want to do. Almost all the parents want to give the crib a special look with colourful paints. But is it safe to spray paint a crib? You need to get the answer straight because you shouldn't compromise even for a little bit when the concern is about your baby.
That's why we brought the answer to you here. With our thorough research, we got a better understanding of whether the spray paint will be safe for your baby or not. Also, we have found other amazing pieces of information that you will be glad to know.
Natural or water-based paints that are "Zero-VOC" and non-toxic are safe for your baby and can be used to paint baby cribs, baby furniture or the nursery.
Unfortunately, most commercially available paints contain "Volatile Organic Compounds" or "VOCs", from which you must steer clear.
VOCs are organic compound chemicals in the form of gas emitted in the air through the use of certain products.
VOCs are very common and can be found (among others) in:
Paint, varnishes, paint thinners

Glue, adhesives

Flooring, carpet products

Cleaners, pesticides

Cosmetics, deodorants

Fuel, oil, gasoline, diesel
VOCs can cause many health problems ranging from skin irritations and headaches to nausea and organ damage. As such, you should steer clear from products that contain volatile organic compounds not just for your baby but for you as well.
In short, we found out that if you want to spray paint the crib, that's fine as long as you choose the safe, non-toxic (containing no silicates or lead), non-odour paint without any volatile organic compounds (VOCs). Otherwise, the paint can harm your baby's health. Keep on reading to know more about it!
Milk Paint
Milk paints are naturally VOC free and are non-toxic water-based paint, making it a top pick for painting a crib.
People familiar with paints should be familiar with a classic brand: Rust-Oleum. The brand produces a wide variety of paint products, including chalked ultra matte paint that can be used for your baby's crib. With superior adhesion and coverage, this paint should elevate home décor.
Is Acrylic Paint Toxic To Babies? Children over the age of three can play with acrylic paint. Paints used for specific craft projects, such as painting on canvas, do not contain toxic chemicals. Children under the age of two should use other craft paints instead of the original.
Paint that does not contain volatile organic compounds (VOCs) should be chosen as non-toxic (meaning no silicates or lead). Children's toys and cribs should not be painted with sealants or paint additives that have not been approved for use.
Lullaby by ECOS nursery paints was specially designed without the harsh chemicals in conventional paints. This line of non-toxic, zero-VOC* paint is perfect for cribs, play areas, or bedrooms.
What Type of Paint to Use on a Baby Crib
Here's what you may want to consider when choosing the right paint for a crib:
Only choose non-toxic (meaning no silicates or lead), non-odour paint with zero volatile organic compounds (VOCs). Keep in mind that while the original paint may not contain any VOCs, VOCs are often added when tinting the paint to your chosen colour. Select paints are approved under the SQAQMD-113 regulation, which regulates the VOCs both in the paint base and in tinting agents. It may be prudent to look at a "Waterborne Interior-Acrylic-Enamel'' which meets these standards.

For even greater peace of mind, consider choosing paints that are EN71-3 or ASTM F963-17 certified; these certifications mean the paint should be safe for children's toys.

Do not use sealants or paint additives that have not been approved for use on children's toys or cribs.

The best paint finish depends on personal preference. Many people choose semi-gloss paint due to its visual appeal, low maintenance and durability when dry.
What to Look for in Safe Paint
A great way to choose the safest paint for your baby is to be familiar with the common factors that make paint safe or unsafe.
One of the main factors parents look for in safe paint is the lack of volatile organic compounds (VOCs). These VOCs are substances in the paint that can be released into the air. These substances are the primary reasons why paint has such a distinct smell.
Unfortunately, studies have found many of these VOCs to have both short- and long-term consequences to individuals that inhale them. Common health problems associated with VOCs include eye, nose, and throat irritation, headaches, loss of coordination, kidney damage, liver damage, and more.
This is especially problematic indoors when the concentration of VOCs in the air can be significantly higher.
Baby safe paint for baby cribs should be either low or zero VOCs because infants spend most of their time in these cribs, exposing them to the paint for long periods. A great way to find zero VOC paint is to look at water-based paints or milk paints.
Aside from VOCs, you might also want to steer clear of alkylphenol ethoxylates (APEs) as well. APEs include nonylphenol ethoxylates and octylphenol ethoxylates. Aside from paint, these substances are common in other surfactants. Unfortunately, these substances are highly suspected to be endocrine disruptors – substances that can interfere with the body's natural hormone cycles.
Endocrine disruptors are highly concerning as they are associated with the developmental, reproductive, brain, immune, and other health problems. Thus, it would be best to avoid using products with endocrine disruptors near infants. This is also the reason why you must be seeing more and more products be labelled "BPA-free."
Baby Safe Paint for Crib: 8 Non-Toxic Paints to Choose From
Parents these days are more concerned than ever with the safety of their children. This can be seen in how many parents are switching to natural detergents, using non-toxic cleaners, and even choosing safer options for food. 
But when it comes to the paint for your baby's nursery, there is much confusion about what you should buy. What do you need to know when shopping around?
Many paints on the market today contain harmful chemicals or substances that could be dangerous if ingested or inhaled by a child. The good news is that there are plenty of safe alternatives available that are baby safe so long as you know where to look and what to look for.
Here's what to look for in safe paint and eight non-toxic paints to consider when choosing your baby's crib.
Retique It by Renaissance Furniture and Cabinet Paint
The chalk finish paint by Renaissance Furniture Paint is one many first consider when choosing paint for furniture around the nursery – including cribs. It is designed with the family's safety and the environment in mind. There are numerous reasons why parents choose this paint.
No surface preparation (e.g., sanding, stripping down, etc.) is needed. No prep work needed not only means that it is easier to use, but it also means that anyone can use it regardless of skill level.

Super smooth and chalky finish that will not get scratched by a fingernail.

Non-toxic and zero VOCs.

It is practically odourless.

This paint is hypoallergenic.
You can choose from pints, quarts, and gallons. You could even get a deluxe kit that includes a quart of paint, clear furniture wax, dark wax, a professional paintbrush, a round wax brush, a chip brush, buffing cloth, and some gloves. 
Lastly, parents can choose from more than 40 different colours, giving them a wide range of colours to ensure the crib will surely match the nursery.
Rust-Oleum Chalked Ultra Matte Paint
People familiar with paints should be familiar with a classic brand: Rust-Oleum. The brand produces a wide variety of paint products, including chalked ultra matte paint that can be used for your baby's crib. With superior adhesion and coverage, this paint should elevate home décor. Here are some reasons why you should consider this brand:
A single coat can cover many surfaces (approx. 150 sq. ft.).

Easy application with light prep work needed (e.g., lightly scuff the surface with sandpaper for better adhesion).

It has a velvety smooth finish that can be distressed for those who want a more vintage look.

This water-based paint is low-odour that can be easily cleaned up with soap and water.
Although you only have around ten colours to choose from, you cannot go wrong with a classic. 
The product is only available in 30 oz. cans but should be more than fine for a crib.
Rust-Oleum Milk Paint Finish
Another great product from Rust-Oleum to consider for your baby crib is the Rust-Oleum Milk Paint Finish. Formulated for décor and home furniture, the Milk Paint Finish will do great for giving colour to a nursery.
The Milk Paint Finish leaves a subtle matte effect with a light texture.

Unlike other milk paints, Milk Paint Finish is built with other ingredients that increase its durability to prevent chipping off.

Minimal preparations are needed before the application of this paint.

Water-based, low odour, and low VOC for safety concerns.

Easy to clean up with soap and water.
Unfortunately, parents might not explore their creativity since the Milk Paint Finish only comes in six different colours.
General Finishes Water Based Milk Paint
If safety and environmental awareness are your top concerns, then perhaps the Water Based Milk Paint from General Finishes is the one for you. It is a self-sealing, exterior mineral-based paint known for its low-lustre sheen.
It is a premium, low VOC type of paint – perfect for a baby's safety.

General Finishes uses more than 50% renewable resources formulated from sustainable materials for a lower carbon footprint.

This is a very durable type of paint since it is designed for exteriors. It is resistant to UV, water, and scratches.
Although it says 'milk paint' in the name, it is not a true kind of milk paint because it does not contain milk proteins. However, it should work fine for furniture around the nursery room. 
This paint comes in pints, quarts, and gallons. With over 30 colours to choose from, parents will surely have no problem finding one that they will enjoy.
Old Fashioned Milk Paint
When looking for a zero VOC type of paint, milk paints are among the best options to choose from. Consider the Old Fashioned Milk Paint from Milk Paint. Milk Paint claims that the Old Fashioned Milk Paint was the first commercially available milk paint, and it still uses the same formula as it did back in 1974.
The Old Fashioned Milk Paint is a true milk paint because it contains casein proteins.

It comes in powdered form, which means you can control how thick or think you want to mix the paint.

As a true milk paint, it is environmentally safe, non-toxic, food-safe, baby-safe, completely zero VOC, and is made with natural earth materials.

A slightly milky odour can be smelled when applied, but it becomes completely odourless as soon as the paint dries.
They already have a ton of colours to choose from. However, you can easily mix colours to get your desired shade in powdered form. It should be noted that real milk paint can chip and crack over time. 
Some people prefer this to get that vintage look. However, some parents might be worried about babies ingesting these paint chips.
Although this milk paint is food safe, parents can still apply some wax or sealant to prevent chipping from happening.
FolkArt Home Decor Chalk Paint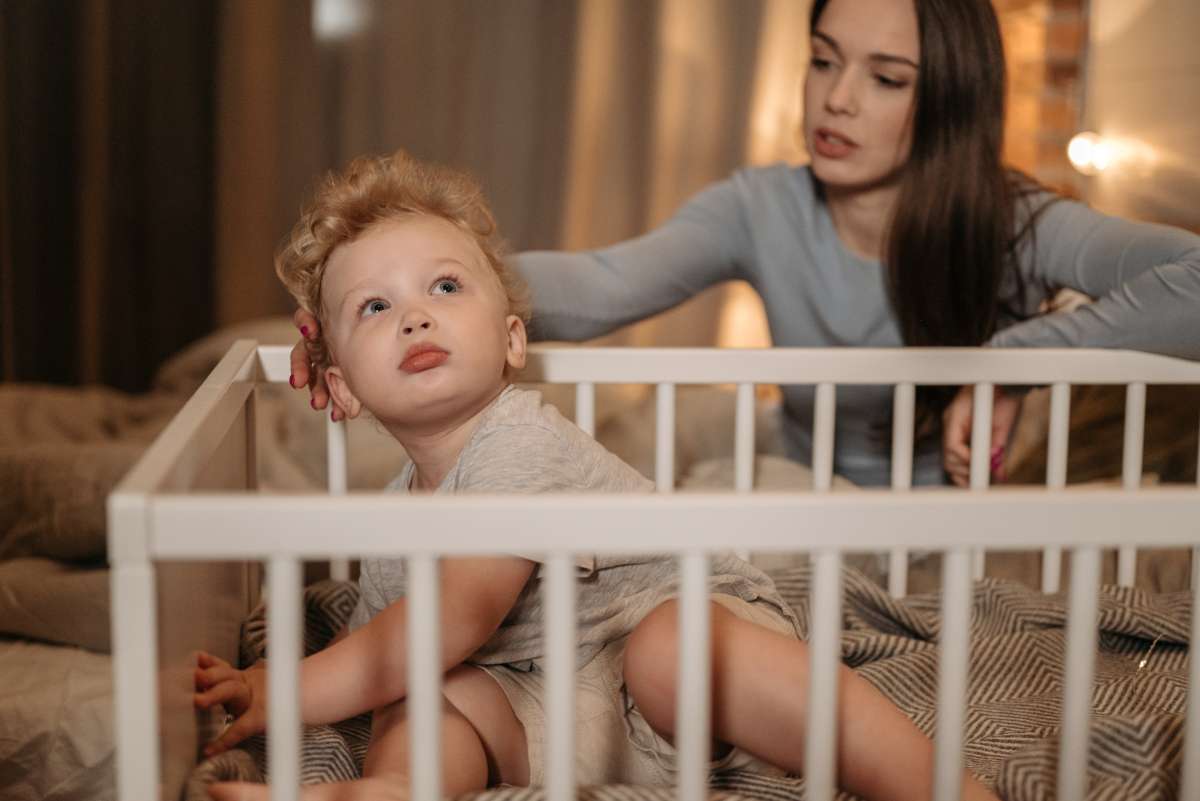 Home Decor Chalk paint from FolkArt is acrylic paint and wax in minutes. Many people prefer this type of paint to be layered and sanded down afterwards. It is the go-to type of paint when parents want the furniture to achieve a distressed look.
Since Home Decor Chalk paint is usually used to get a vintage or distressed look, no preparations are needed for the surface.

It provides surfaces with an ultra-matte chalk finish.

You can use this for a single coat or even multiple layers.

Great way to add texture to furniture.

Importantly, Home Decor Chalk is water-based and non-toxic.
With over 50 different colours to choose from, the parents' creativity can be fully explored in the nursery. Different sizes can be purchased, and bundles of an assortment of colours are also available.
Country Chic Paint
Another chalk paint to consider for your baby's crib is from Country Chic. Country Chic offers an excellent chalk paint formulated specifically for furniture and home décor. Without sacrificing quality, Country Chic paints are both environmentally safe and non-toxic.
Country Chic Paint already contains both primer and topcoat. That means using this paint will require you less time and resources to do a great job.

No surface preparation aside from cleaning is needed. After applying, a coat can dry within 30 minutes to a smooth and chalky finish.

Baby safe for the nursery. Country Chic Paint has very low VOC content and is virtually odourless. It is also devoid of other harsh chemicals found in other paints, such as phthalates, formaldehyde, heavy metals, solvents, and such.
Country Chic offers a wide selection of 55 different colours to choose from, giving parents the ability to paint their baby's cribs in any colour they want.
Miss Mustard Seed's Milk Paint
You can never go wrong with milk paint for a baby's crib, and Miss Mustard Seed's Milk Paint is one to consider. Due to its formula, Miss Mustard Seed's Milk Paint works well with raw wood and minimal preparations.
This type of milk paint has great coverage. A single quart of Miss Mustard Seed's Milk Paint is enough to cover 70 sq. ft.

Excellent choice for safety since Miss Mustard Seed's Milk Paint contains only natural ingredients. However, it does not contain a sealer, so other people might add a coat of wax.
Miss Mustard Seed's Milk Paint has a good selection of 26 different colours to choose from. You can also get additional products from the same brand, such as hemp oil, furniture wax, white wax, antiquing wax, tough coat, and more.
How to Paint a Crib the Right Way
Once you have selected the paint you think will keep your baby safe, let the fun begin! Here are the steps for painting the crib:
Lightly sand the crib.
Choose a medium 180-grit or fine 220-grit sandpaper or sanding sponge. Scuff sanding enables the new paint to bond optimally. After sanding, wipe away dust with a tack cloth.
Apply a primer to the crib.
If your crib is not already painted, or if you are drastically changing the existing colour, apply one coat of primer. If the crib is already painted a close colour to the new one, skip stepping 4.
Allow the primer to dry thoroughly.
The drying time for primer will vary depending on the manufacturer, the room temperature and the humidity level.
Consider lightly sanding again with fine sandpaper.
Unless the paint instructions recommend otherwise, a second, light sanding – also known as "giving it a tooth" – encourages the paint to adhere to the surface. Wipe the area down again with a tack cloth.
Begin painting the crib.
Apply the paint with a high-quality 100% nylon brush in the direction of the wood grain. Avoid applying a thick coat, which can lead to streaking and dripping. Instead, paint one even coat.
Paint a second coat.
Once the first coat is completely dry, apply another coat of paint if necessary, using even brush strokes and smoothing out drips.
Dry once more before use.
Allow the paint to dry for twice as long as the paint manufacturer recommends in a well-ventilated area. Open windows and run fans to avoid any lingering odour before using the crib.
Crib Painting Guidelines
Here's how to prepare for the project and plan your technique:
Wondering if you should be painting while pregnant? Check out this helpful advice from the Five Star Painting® experts before you get started.

If you are painting over paint, sand the original paint until smooth. Be sure to do this in a well-ventilated area and use a mask or breathing protection appropriate for the surface being sanded (N95 or better for wood, N100 or even the P100 respirators for paint which may contain lead, oils or solvents).

If you use an older crib, make sure the existing paint is lead-free and non-toxic. When in doubt, scrape it off! If you're unsure or want help, contact one of Neighborly's local paint experts for peace of mind.

Have fun with colour! Rather than traditional gendered colours, consider neutral, metallic or bright colours to contrast the nursery décor. Here are some great ideas for gender-neutral nursery colours.

Choose a high-quality, 100% nylon paintbrush for best results.

Avoid painting over crib safety components such as screws or latches. If possible, remove them before painting and replace them once they dry.

Allow the crib paint to dry in a well-ventilated area; double the typical amount of drying time.

If you would rather let the pros handle the crib painting project for you, find out if there is a Five Star Painting near you.