Choosing a pediatrician to care for your baby is an important decision you will want to make before giving birth. 
The pediatrician you select will come to know your family well and provide you with medical advice during the various stages of your child's development.
During your baby's first year alone, you will be visiting the doctor at least seven times for well-baby checkups. There could also be unplanned visits for a fever or a first cold.
Parents need to feel they can trust their pediatrician and that the doctor will consider how they want to care for their child.
From the day you learn you're pregnant, you make decisions that last your child's lifetime—like the name you choose for your baby. 
To give your newborn the healthiest possible start, you'll want to find a pediatrician to care for your child from their first wellness visit through the teen years. 
Choosing a pediatrician for your baby is no easy task. After all, this doctor will help your little one through childhood vaccinations, nasty colds, and everything in between. 
But when should you start looking for a pediatrician, and what criteria should you focus on? Here are our top tips for choosing the best pediatrician near you.
Looking for a portable baby cot? Look no further! My Baby Nursery have you covered with our huge range of portable cots.
When Should I Start Looking for a Pediatrician?
It's a good idea to start looking for a doctor about three months before your baby is due. Ask for recommendations from relatives, friends, neighbours, coworkers, and doctors you know. 
Then, check your insurance company's website to see if the doctors are in your plan.
If you're new to an area, start searching for pediatricians on your insurance company's website.
Look at online reviews and ratings, but proceed with caution. Like all online sites, the reviewers' opinions and expectations may differ from yours. Make sure the review site only allows feedback from actual patients.
Of course, doctors aren't the only people in a pediatrics office who care for children. Nurse practitioners (NPs) and physician assistants (PAs) also see young patients. 
They are trained to give shots, check kids for health problems, prescribe medicines — and do many things doctors can do.
Start looking for pediatricians while you're still pregnant—preferably between 28 and 34 weeks along. 
It's essential to have a pediatrician you've already met and respect because you have enough going on after the baby is born.
There's also another benefit of finding a pediatrician early: babies who see the same doctor for their first six months are up to twice as likely to receive basic health tests before they turn 2. 
Sticking with the same doctor also prevents wasted time on things like "going over whether immunisations are up to date. 
If you have a continuing relationship with a doctor, you have the time and comfort to go deeper.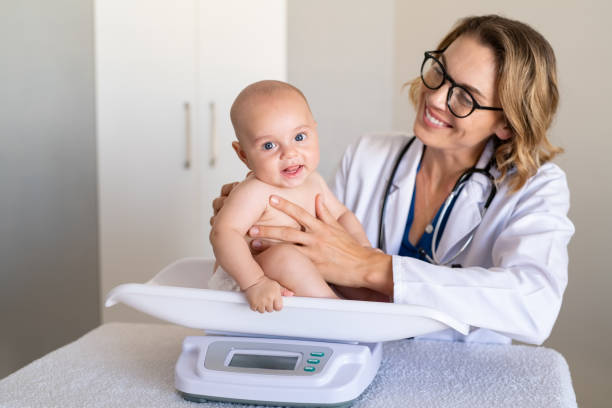 How to Research a Pediatrician?
Searching for a pediatrician may seem daunting, but remember that you're not trying to find "the best doctor in the world." 
You're simply looking for the most effective doctor for you, your partner, and your future child. 
Here are some tips. 
Get References. 
Everyone has different criteria for picking a pediatrician, so you should collect at least three names from friends and coworkers. 
Also, look into the hospitals that your candidates are affiliated with; you'll want one that's both convenient and reputable.
Look into insurance. Call your insurance company about any doctor that sparks your interest since provider lists change frequently. 
Visit the office. Scout out the location of the pediatrician's office. Given how often you'll be visiting, you'll want to choose a doctor that's relatively close to home. 
Schedule a Meeting. 
After whittling down your list, schedule face-to-face meetings with some doctors (up to three is reasonable). 
Ask if the doctor charges for these "prenatal visits"—some do, and the fees probably aren't covered by insurance. You can expect to be accommodated within a few weeks, although some pediatricians do monthly group meet and greet. 
Brainstorm Questions. 
Write a list of questions that might help with your decision. For example: What is the doctor's availability? 
If she works with a group practice, what's the likelihood of seeing her during visits? If your baby has a sudden high fever at midnight, who would be on call—a nurse or your doctor?  
You're trusting this doctor with your most precious possession, and you should ask what you need to know to feel comfortable. 
Avoid inquiring about anything irrelevant, such as their educational history. These questions may make it seem like you're trying to 'catch' the doctor. 
When thinking up questions, ask yourself if you'll care about the answer.
Verify Credentials and Experience
Learn as much as possible about the pediatrician you are considering for your child.
A pediatrician is a primary care physician who specialises in infants, children and adolescents through the age of 18 years. 
They receive training in pediatrics after graduating from medical school. After completing their residency, many become board-certified by the American Board of Pediatrics.
Is the Pediatrician Available and Easy to Reach?
Easy and convenient communication with your pediatrician and your child's health care team may be essential for you. You prefer a clinic with an online patient portal where you can email your pediatrician, schedule appointments and review lab and other test results.
Also, check what is available for after-hours care, particularly with infants. Is there an on-call provider you can reach by phone or online?
Some pediatricians offer same-day visits. That, too, could make a difference for you.
Decide If You Click
Most pediatricians offer free visits to get to know them. These visits allow you to meet the doctor and ask them questions about their style and philosophy of care.
Ask as many questions as you need to be sure you're picking the right doctor for your family. Your pediatrician will be your partner and advisor when caring for your new baby. 
You want to have confidence that your approach to caring for your child is always considered.
For instance, there are many different methods of helping a baby learn to fall and stay asleep through the night. 
You may have reservations about letting your baby "cry it out." It would help if you felt that you could talk to your pediatrician honestly and find another method to try.
See How Your Doctor Interacts With Your Newborn
During your first few visits after your baby is born, pay attention to how the doctor interacts with your child.
Most pediatricians choose this specialty because we are passionate about children and managing their health. But during your first few visits, assess how your doctor interacts with your child to ensure it's a good fit.
Your infant will develop a special bond with your pediatrician. You want your little one to be comfortable with your choice as they grow and develop.
My Baby Nursery has the best baby cot furniture selection to make your baby room a dream come true.
Making the Decision:
What Factors Should You Consider?
Some parents have a gut feeling about the best pediatrician; others weigh the pros and cons of each person. The following factors should also rank high on your list of priorities. 
Is the Office Location Convenient?
As you narrow down your choices for a pediatrician, consider the location of the doctor's office. 
Babies see their pediatrician several times during the first year of life — typically, every 2 to 3 months.
Choosing a doctor close to your home, work, or daycare can be more convenient and save time.
If you don't have your vehicle, you can choose a doctor with offices easily accessible by public transportation.
Does Your Ob-Gyn recommend the Pediatrician?
The good news is that you don't have to choose a pediatrician alone.
Throughout your pregnancy, you'll likely establish a friendly, trusting relationship with your OB-GYN. If this is the case, you can ask them for recommendations.
Also, feel free to get recommendations from your family doctor or primary care physician.
Will the Doctor Do the First Checkup at the Hospital?
As you speak with different pediatricians, ask whether they'll complete your baby's first checkup at the hospital.
Some pediatricians will visit your baby shortly after delivery, but only if they're affiliated with the hospital, you're in.
If not, your baby will have the first checkup from a hospital-affiliated doctor and then have another checkup at your pediatrician's office about five days after delivery.
Do Friends and Family recommend the Doctor?
It would help if you also got pediatrician recommendations from family and close friends.
If they have a great relationship with their child's pediatrician, you may have a similar experience.
What Are the Doctor's Credentials and Experience?
All pediatricians graduate from medical school, complete a residency program, and receive state licensing. But not all pediatricians are board-certified.
Board certification is a voluntary process that requires additional training in pediatrics. Upon completion, doctors take an examination to become certified by The American Board of Pediatrics.
Board certification is a valuable tool because these pediatricians have demonstrated competency in:
patient care

professionalism

communication skills

medical knowledge
How Does Their Practice Operate?
Consider how the office operates to ensure it aligns with your needs.
Some questions may include:
Does the office allow same-day or last-minute appointments?

Are the office hours convenient for your schedule?

Do the pediatrician's offer evening and weekend hours?

If it's a group practice, will your baby see different doctors or the same pediatrician each time?
How Was Your Introductory Visit?
The initial office visit helps you determine whether a pediatrician is right for your child. It's vital to choose a doctor you're comfortable with, as this encourages open communication.
Observe how the pediatrician interacts with your newborn or child. Do they show a genuine interest in your baby? If your baby has unique issues, is the doctor familiar with these issues?
Listen to your gut. If you don't feel comfortable after the visit, this isn't the right pediatrician for you.
For expecting families, pediatrician offices offer similar visits where you can meet the pediatrician and staff, ask questions, and tour the office.
Does the doctor share your views? The American Academy of Pediatrics (AAP) recommends that babies be breastfed exclusively for six months, then be given breast milk along with solids until at least their first year. 
Doctors vary on how much they press the issue; likewise, there are opposing sides to the circumcision debate. If you have strong feelings, either way, make sure your doctor agrees with your view—or at least respects it.
Does the doctor match your other criteria? Other factors may seem superficial but can still affect your rapport. 
For instance, some people prefer a young female pediatrician, but others want a grandfatherly type. 
Some parents will only select a doctor with parenting experience since they appreciate the extra empathy and hands-on experience of being a mom or dad. The most important thing: Do you and this doctor click? 
Does the office run smoothly? From this initial prenatal visit, you can evaluate how the office works. Then, in the waiting room, chat up with other parents and ask what they like and dislike about the practice. 
Also, check out the area: Are there books, toys, or a TV to distract children? Do the receptionists seem on top of internal and external communications?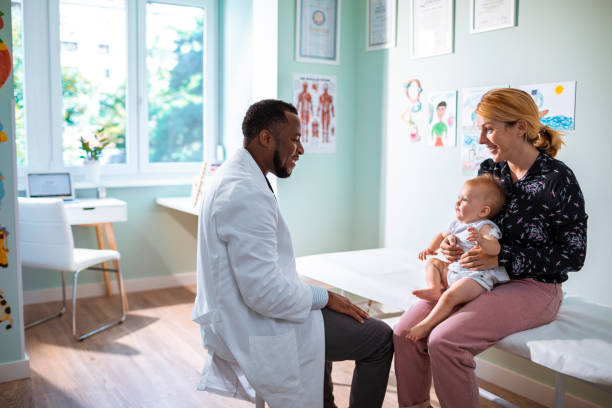 Pediatrician or Family Physician: What's the Difference?
Most pediatricians and the nurses and physician assistants in their practices see children and teens up to age 21. Pediatric training focuses on treating children from birth until adulthood. Family physicians take care of patients of all ages, from kids to seniors.
Both have the same years of training, but pediatricians specialise in children. This gives them an in-depth understanding of children's health needs, like behavioural issues and how to care for a child's growing, developing body.
MD or DO: What's the Difference?
Pediatricians can graduate from medical school with either an MD (doctor of medicine) or a DO (doctor of osteopathy) degree. 
Both degrees train doctors to diagnose and treat diseases — and to try to prevent them when possible.
Programs for DOs usually focus on a holistic ("whole-body") approach to medicine. MDs study medicine in the traditional way. All MDs and DOs must complete a residency — supervised hands-on training — before they are licensed to practice medicine.
Choosing a DO or MD is up to you. Both are equally qualified. But you do want to make sure that your child's pediatrician is board certified.
Interviewing Pediatricians:
What Should I Ask?
Most pediatricians' offices set aside times for expectant parents to visit. First, call the office to set up an appointment. You can tour the office during your "meet and greet" and talk with a doctor or nurse.
Some doctors offer group classes for expectant parents to learn about the practice and discuss newborn care. 
Others offer one-on-one interviews. Many insurance companies encourage these prenatal appointments or classes and will cover their cost. But check first with the doctor's office and your health plan.
Here are some things to consider as you decide if the practice is suitable for your family. First, make a list of your questions to help you organise your thoughts.
What are the office hours? Make sure the schedule works for you. For example, you may prefer a doctor who offers weekend and evening hours.

Does the doctor work alone or as part of a group? If it's a solo practice, how will your child get care when your doctor is not available? If it's a group practice, who will see your child if your doctor is not available?

Is the doctor affiliated with a pediatric hospital if there's one in your area?

How does the office handle phone calls?

During office hours — Can you call in with questions for your doctor at fixed times? Many pediatric practices have a nurse on hand to answer questions.

After hours — If you leave a message with the answering service, how quickly will you get a callback, either from a doctor or a nurse? Does the practice offer telemedicine where you can video visit with a pediatrician or nurse?

Can you email your doctor? Does the practice use electronic medical records to make it easier to share your child's health information? Does the method let you view your child's test results and get health information online?

If your child has an emergency, will the doctor handle it, or will your child be referred to an emergency room or urgent care centre?

How much do services cost? Must you pay in full at the time of the visit, or can you pay overtime?

If other care is needed, how does the practice decide to refer your child to a specialist?

What are the office's vaccination policies? Are all patients required to be vaccinated on the immunisation schedule of the Centers for Disease Control and Prevention (CDC)?

If you haven't yet had your baby, will your doctor come to the hospital to examine your newborn when you deliver?

Besides asking questions like these, your visit is a great time to see how the office runs. Is the waiting area clean and child-friendly? Is the staff polite and helpful to patients in the waiting room and people on the phone?
While you're waiting, talk to the other parents. Ask them what they like best about the practice and why they feel good about the care the doctor provides.
Can I Switch My Pediatrician?
Sometimes parents and pediatricians don't click. But unless a doctor makes a blatant error in diagnosis, consider giving her a few visits before switching.  
If you decide to "break up," call the office and ask them to transfer your records. Only do this after you've found a new pediatrician. 
If your criticism is something the doctor or practice could improve upon, like a cluttered waiting room or delayed call-back times, it's helpful to let the course know. But if you didn't click, then move on.
Looking for the perfect baby nursery cot? Look no further! My Baby Nursery has the ultimate list of best baby cots for you to choose from.